Sure, you could spend your vacation visiting the most popular, touristy beaches in Greece and be shoulder to shoulder with thousands of other people, but that doesn't sound appealing. Instead, wouldn't it be nice to visit some of the beaches where Greeks go to avoid tourists?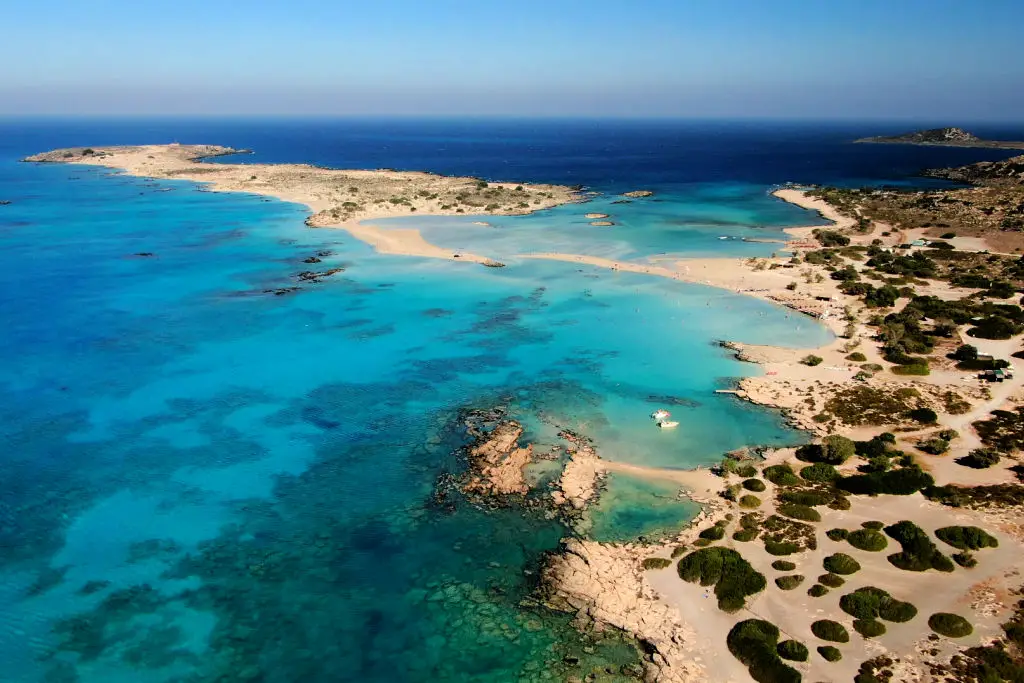 Greece is known for having some of the most stunning beaches in the world. In fact, there may not be another country on the planet with such a diverse array of waterfront. For this reason, we were attracted to explore all of the nooks and crannies and leave no stone unturned.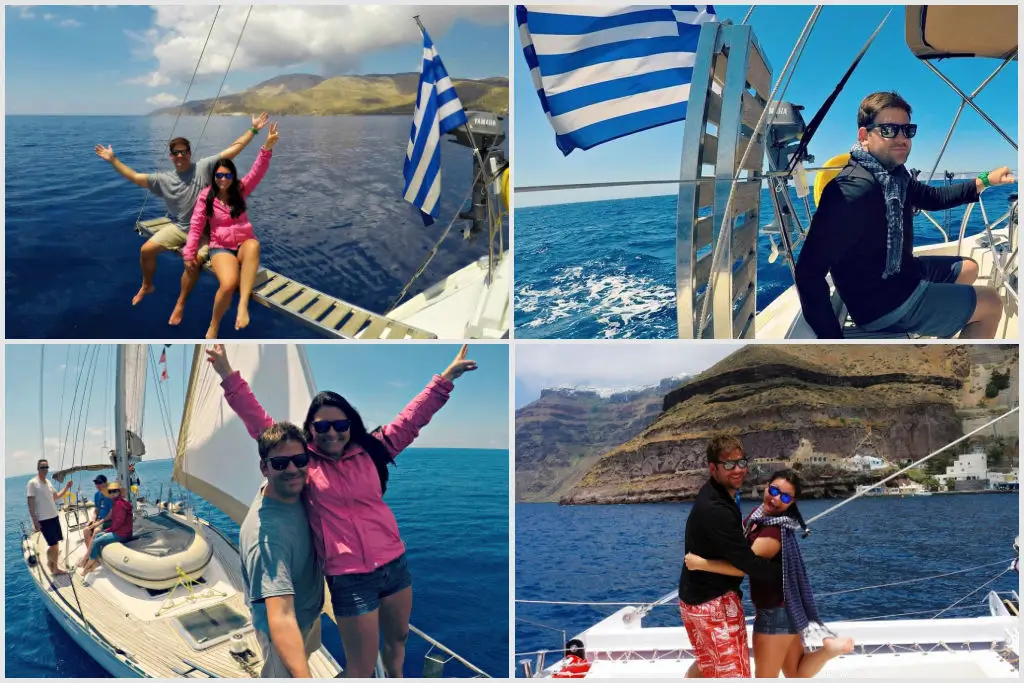 We spent two months traveling through Greece, meeting some lovely locals, asking questions, and trying to find the hidden gems—the beaches below are what they recommended but first, let's take a look at some of the best multi-day island hopping cruises.
Best Multi-Day Island Hopping Cruises in Greece
Best Beaches in Greece – Per Greeks
With nearly 8,500 miles of coastline spread across the mainland and thousands of islands, it could take a lifetime to visit every beach. No worries! The ones below are some of the best beaches in Greece.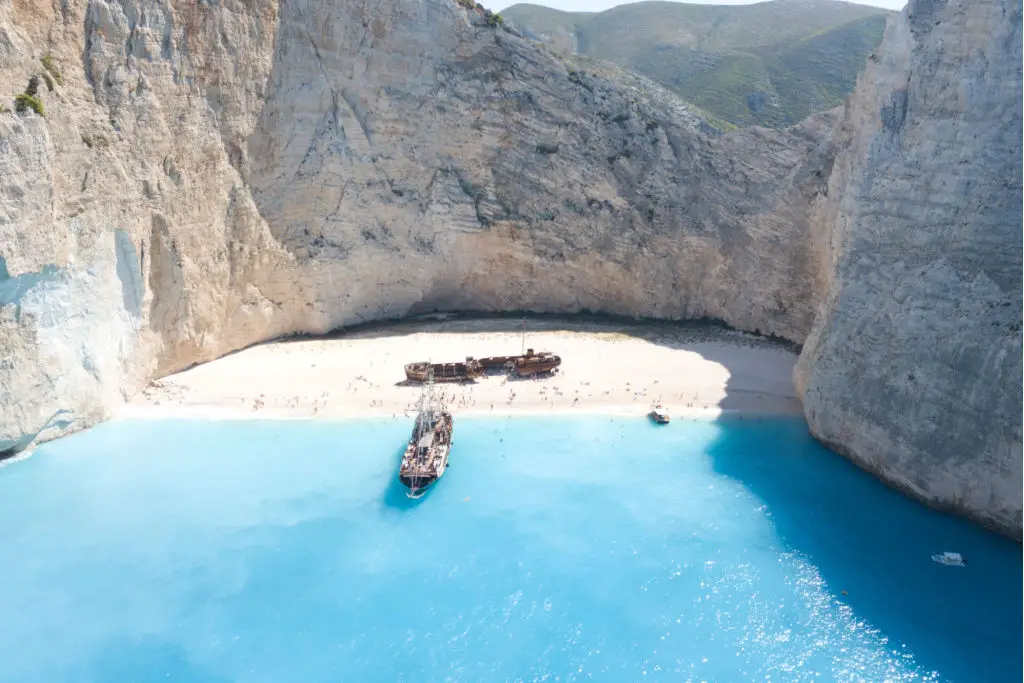 After you've visited the mega touristy beaches of Elafonísi, Shipwreck Bay, and Lalária, try exploring one or more of the picture-perfect coastlines below.
Voutoumi Beach – Antipaxos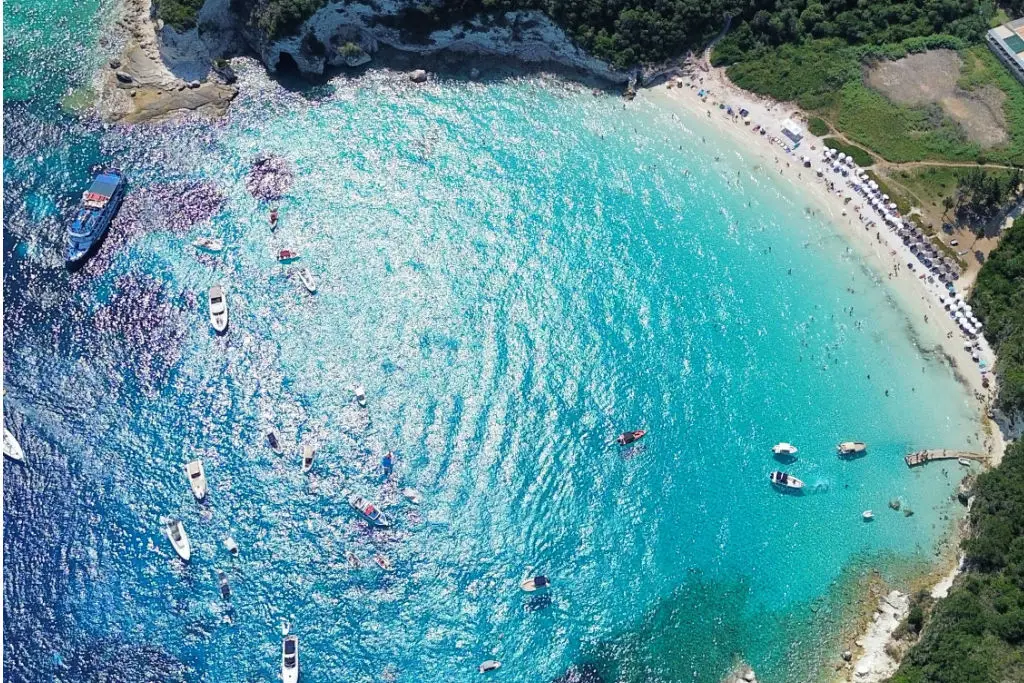 While Voutoumi Beach is popular, it's nowhere near as busy as some of Greece's other most popular beaches. This small cove on Antipaxos is the ultimate beach day—featuring soft white pebbles that transition to sand. Reach it in about 10 minutes by taking a water taxi from Paxos or Gaios.
🚤 Recommended Excursion: Explore Paxos and Antipaxos from Corfu on this 10-hour full-day boat trip excursion. Along the way, passengers visit Voutoumi Beach, Corfu Old Town, Sea Caves, and the white cliffs of Erimitis Bay Beach.
Dei Plus Beach – Epirus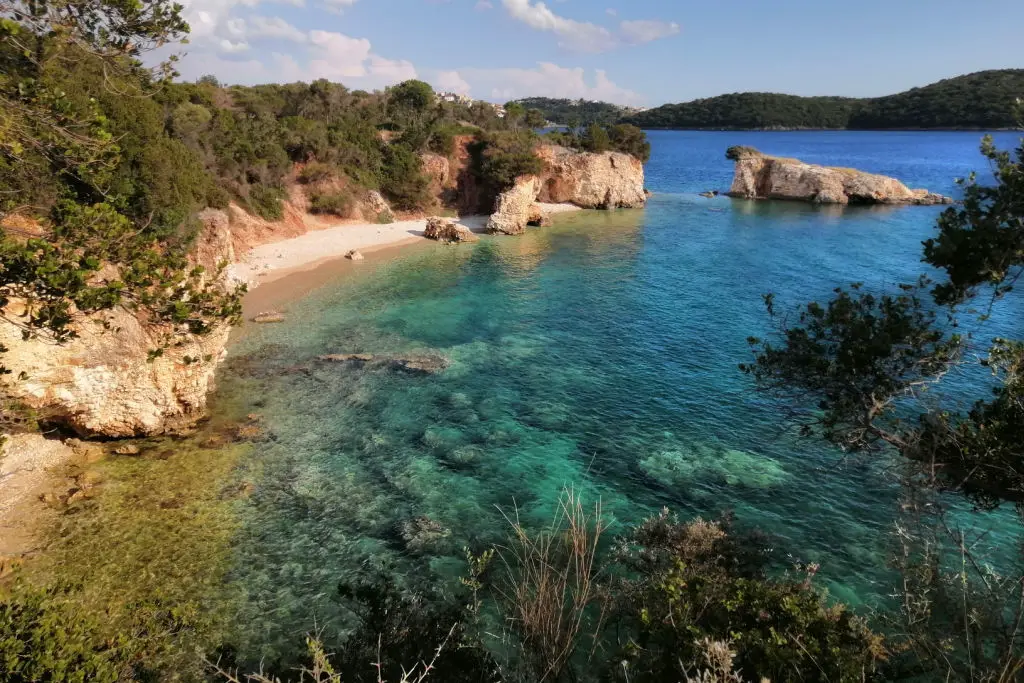 Located about 35 minutes south of Igoumenitsa, visitors of Dei Plus Beach are treated to interesting rock formations along the shore and steep cliffs behind. In line with nature, this beach feels like an escape from the rest of the world.
Lovers Beach – Mykonos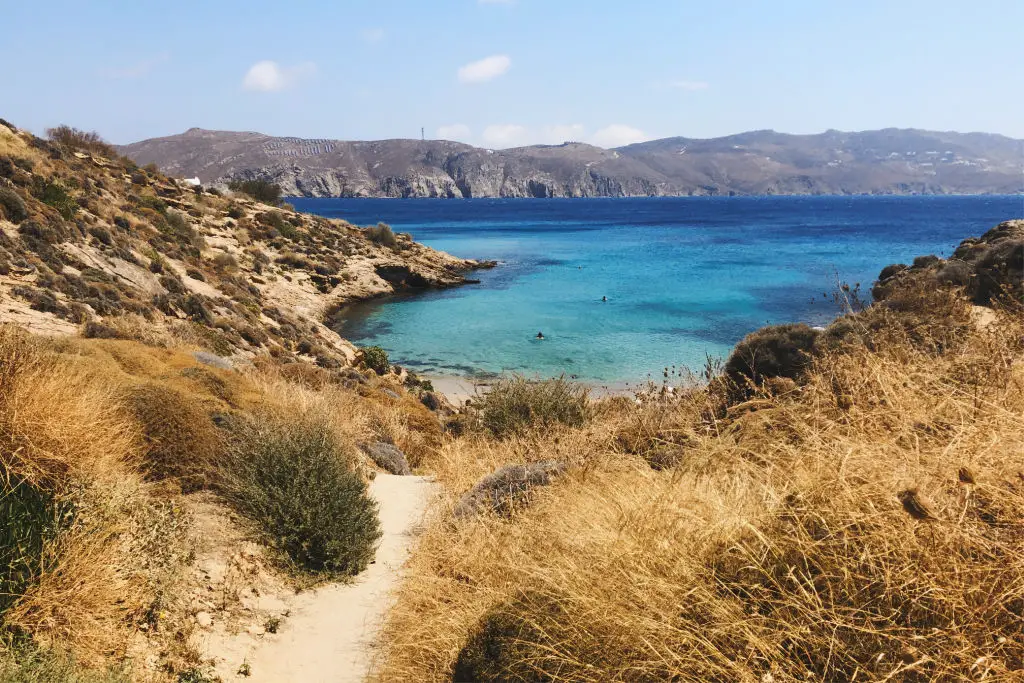 Unless you've visited Kiki's Tavern on the island of Mykonos, you may have driven right past this hidden gem. Visitors of Lovers Beach are treated to a well-protected cove featuring calm crystal-clear waters.
🏨 Willing to choose the best places to stay by yourself or are you interested in getting off the beaten path? Try Trivago: a service comparing the best prices.
Magganari Beach – Ios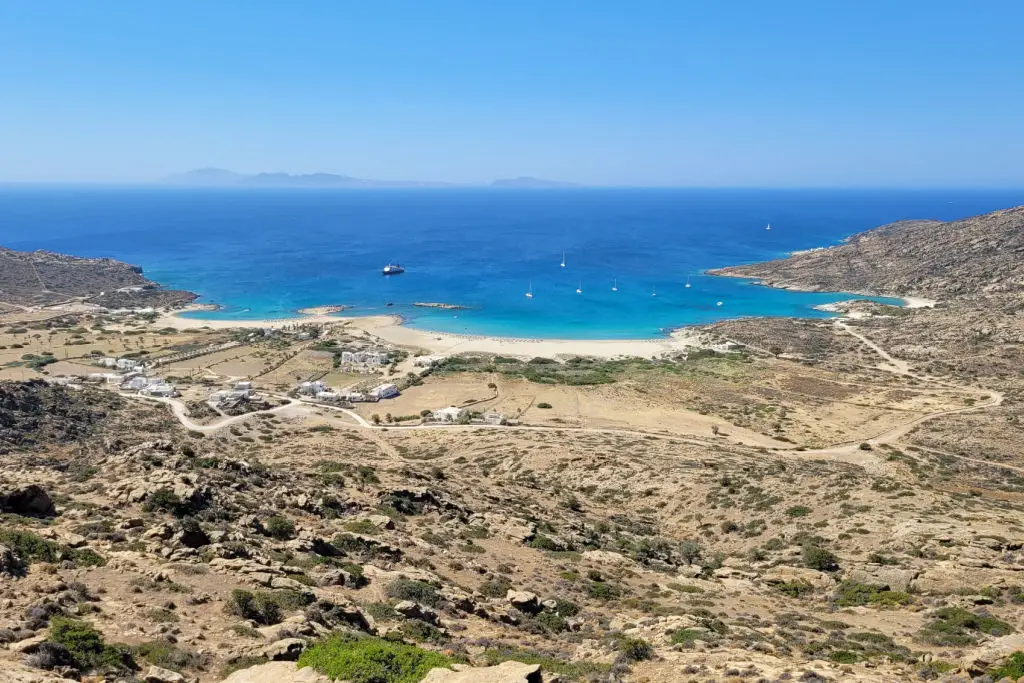 As the nicest beach on Ios, Magganari is everything you'd expect—soft golden sand, clear aquamarine waters, and solid service. As a south-facing beach, expect plenty of sun, and when you feel overheated hit up Antonis, the beachside restaurant. Also, consider taking an island trekking tour to learn about the history, culture, and unique viewpoints on Ios. Finally, for the ultimate Greek beach bar party head to Pathos Club & Restaurant—it's insane!
Where to Stay on Ios?: Look no further than Island House Hotel Studios Apartments, with their self-catering accommodations with kitchenettes, a large pool with loungers, a poolside bar, and barbecue grills—a fantastic value!
Marmara Beach – Crete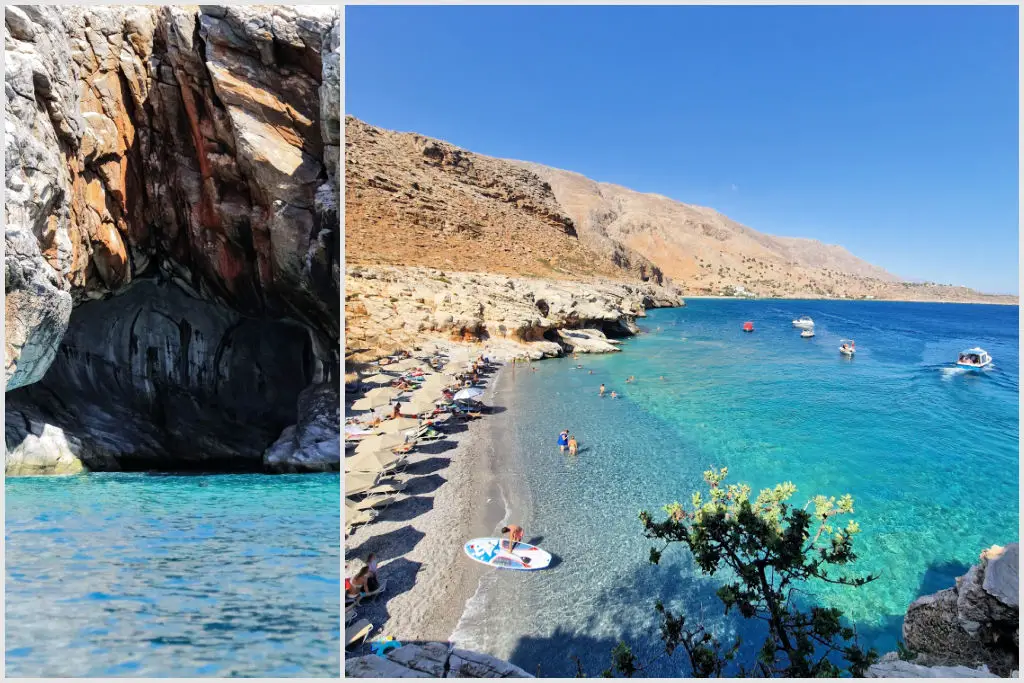 There are what feels like hundreds of beaches on Crete, but this one is off the hook. From the Taverna Agrogiali, enjoy a precarious 15-minute walk along the cliff edge to reach the beach. Conversely, another relaxing option is to take a boat taxi from a neighboring town. Finally, while quite small, Marmara Beach is surrounded by massive dramatic cliffs and there are little sea caves that swimmers can explore—quite special!
🚙😋Looking for a Fun Excursion on Crete? > Be sure to check out the Balos & Falassarna Beach Jeep Tour with lunch and drinks!
Sphaktiria Beach – Pylos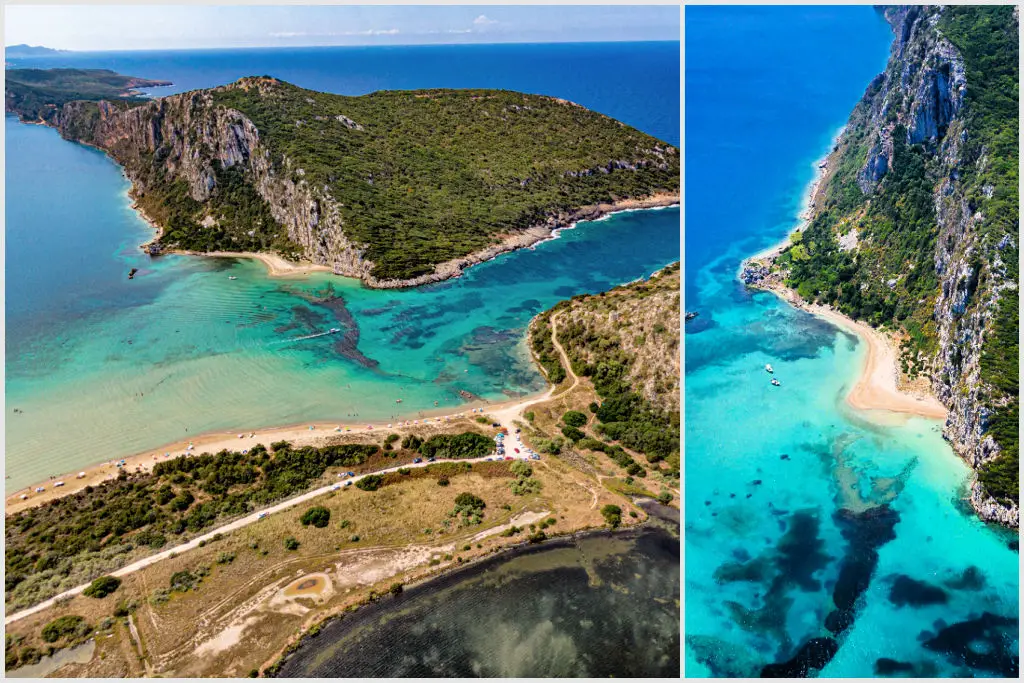 Unique in shape and location, Sphaktiria Beach is only accessible by boat or by taking a short walk/swim from Divari Beach across the shallow waters of Ormos Navarino Bay. Out-of-towners willing to make the journey will be greeted with golden soft sand and lovely crystal-clear turquoise waters. If you're looking for an adventure and to get off the beaten path then this beach is for you!
Vithouri Beach – Euboea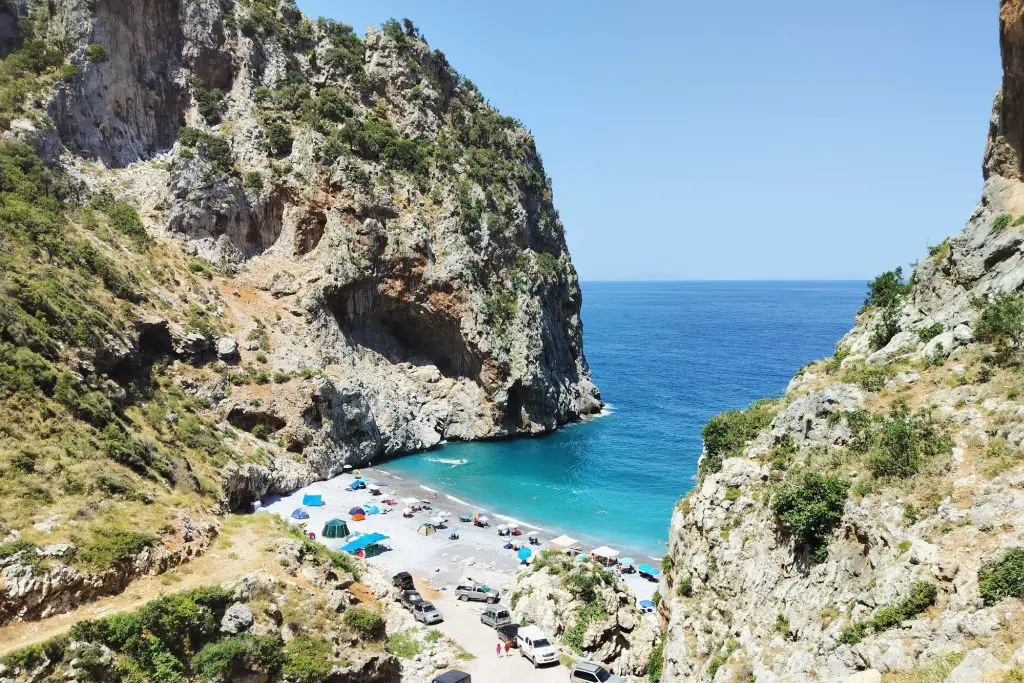 While small, Vithouri Beach is remarkable. Flanked on both sides by towering cliffs, this scenic inlet can only be described as dramatic. Furthermore, visitors who make the journey down a tricky dirt road are treated to a unique blend of white, black, and grey rock beachfront, and wild nature.
Blue Lagoon Beach – Mourtos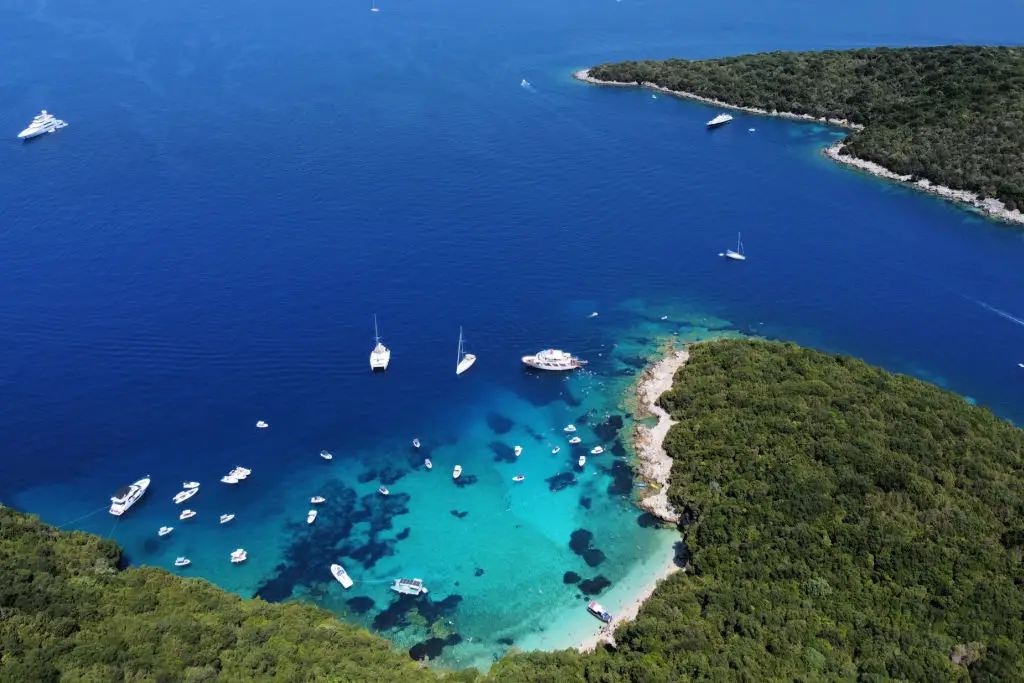 Located on the island of Mourtos, near the village of Syvota, this small but lovely beach is completely inaccessible except by boat. It's a mini-version of Croatia's Blue Lagoon. Marine life is abundant so be sure to bring some snorkeling gear!
Mirtia Beach – Kalamos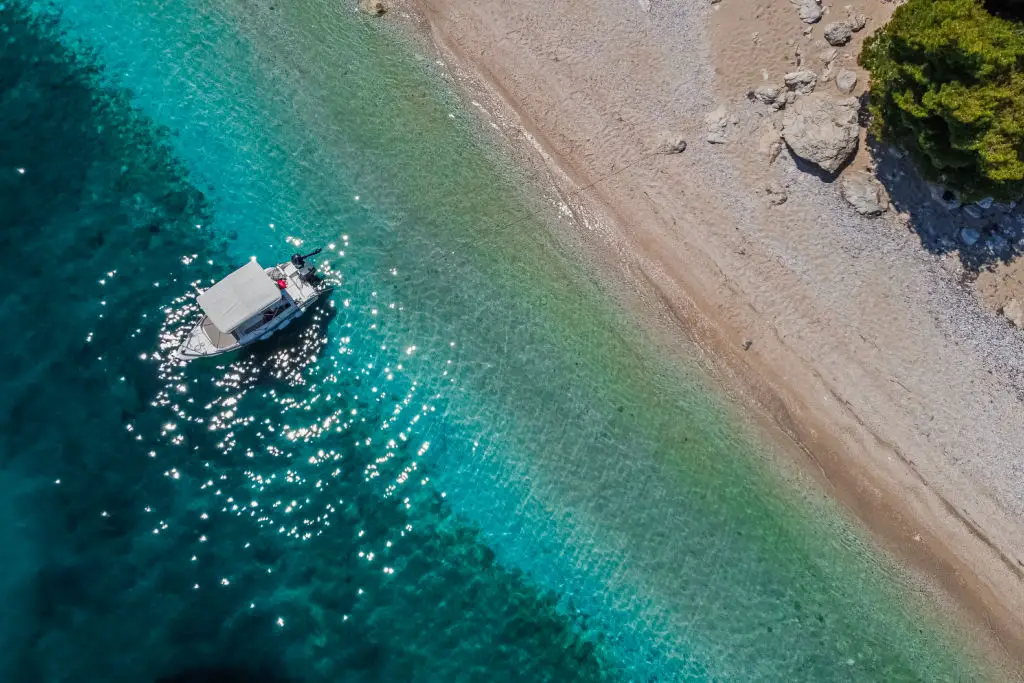 At Mirtia Beach, there are no loungers or beach bars, there is simply nature. Guests must bring everything that they will need, including water and snacks. However, it's worth the effort to spend the day along a long pebbly beach with crystal-clear water.
Xigia Sulfur Beach – Zakynthos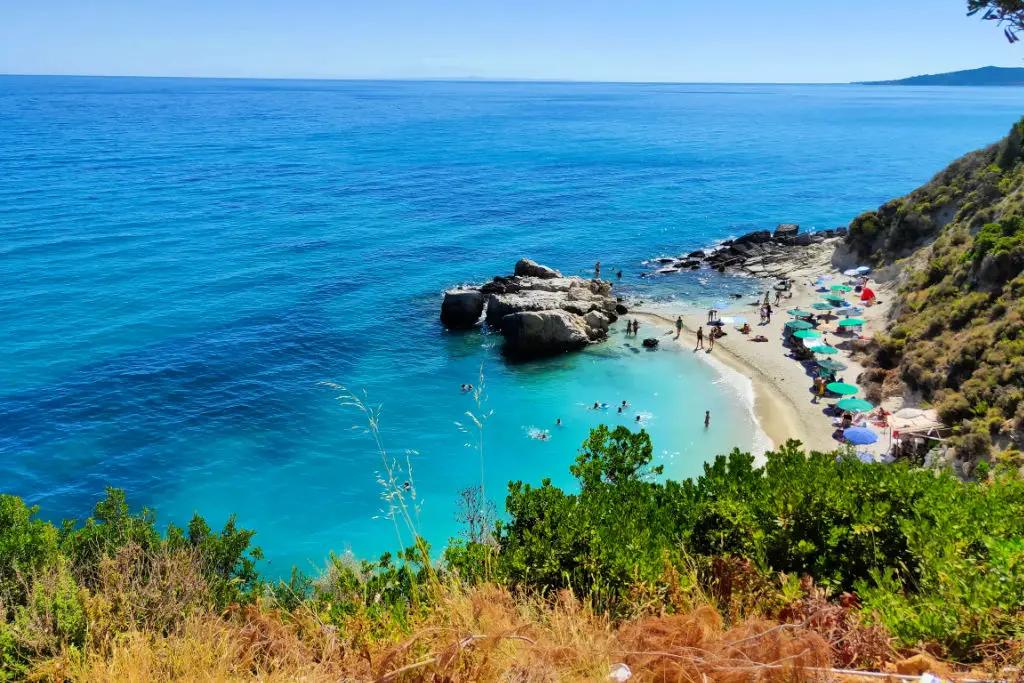 After you've seen Shipwreck Beach head over to the other side of the island and treat yourself to Xigia Sulfur Beach. Conversely, it's located on the northeast section of Zakynthos and is well-protected, and features small lagoon-like pools and dramatic rock formations.
Kalamos Beach – Milos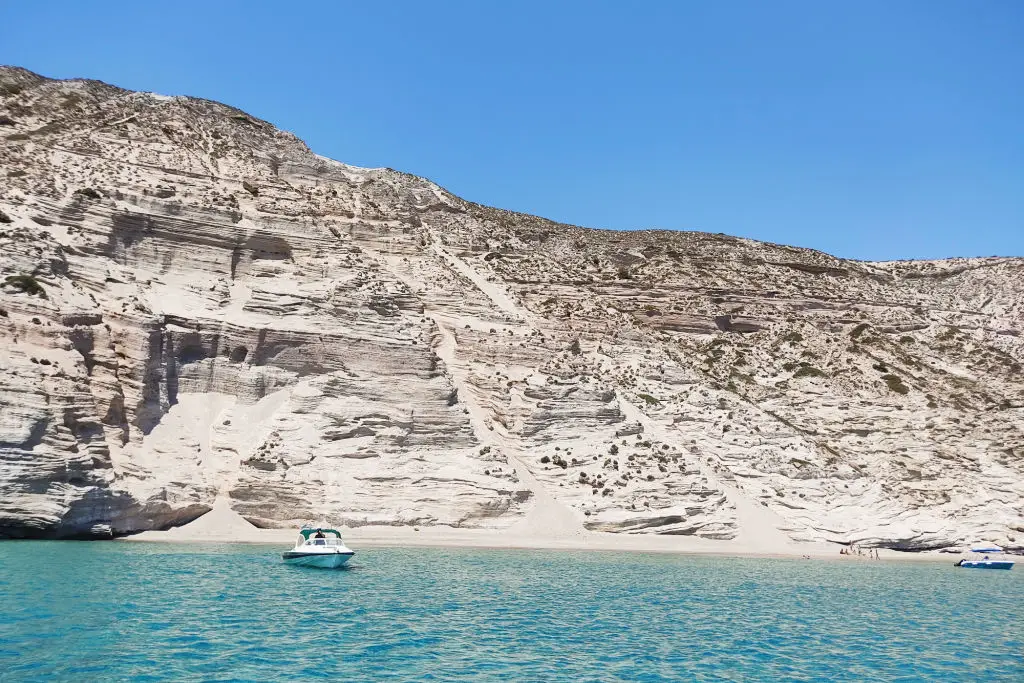 Many yachters say that Kalamos Beach is the most jaw-dropping in all of Greece, and there's good reason, it's stunning. In short, it's located on Milos, this laidback island features breathtaking volcanic landscapes with one of the most impressive sitting along Kalamos Beach. For this reason, visitors are left completely speechless by what they witness. Unfortunately, it's only accessible by boat.
Agios Sostis Beach – Epirus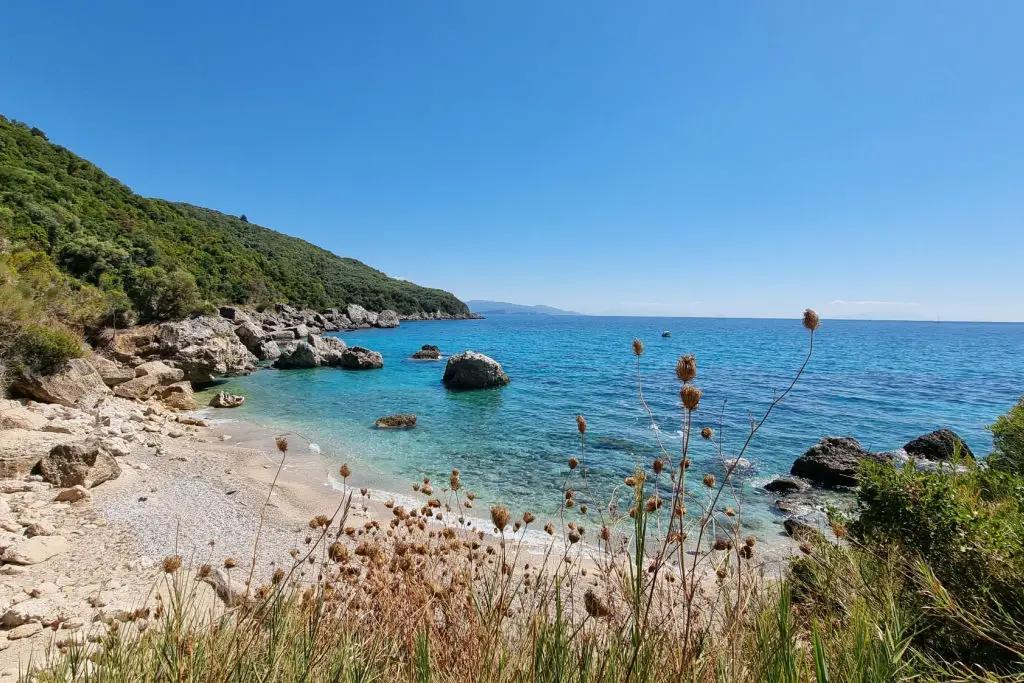 Adventure seekers will enjoy a visit to Agio Sostis Beach. For example, the last section to reach the beach entails using a rope to safely navigate down to the seafront. Furthermore, Agios Sostis was one of the beaches that locals didn't want to tell others about necessarily—it's one of the few places in Greece where someone can go and have a fantastic beach all to themselves. Finally, visitors are treated to a small beach with large rock formations and boulders sitting in the Caribbean-like water—you could say it's Greece's take on the Seychelles.
Kolona Beach – Kithnos
This lovely sandbar beach on the island of Kithnos is a gem. Furthermore, both inlets are well-protected and provide crystal-clear water to enjoy. Try to visit outside of July and August, when boaters arrive from Athens and clog up the bays.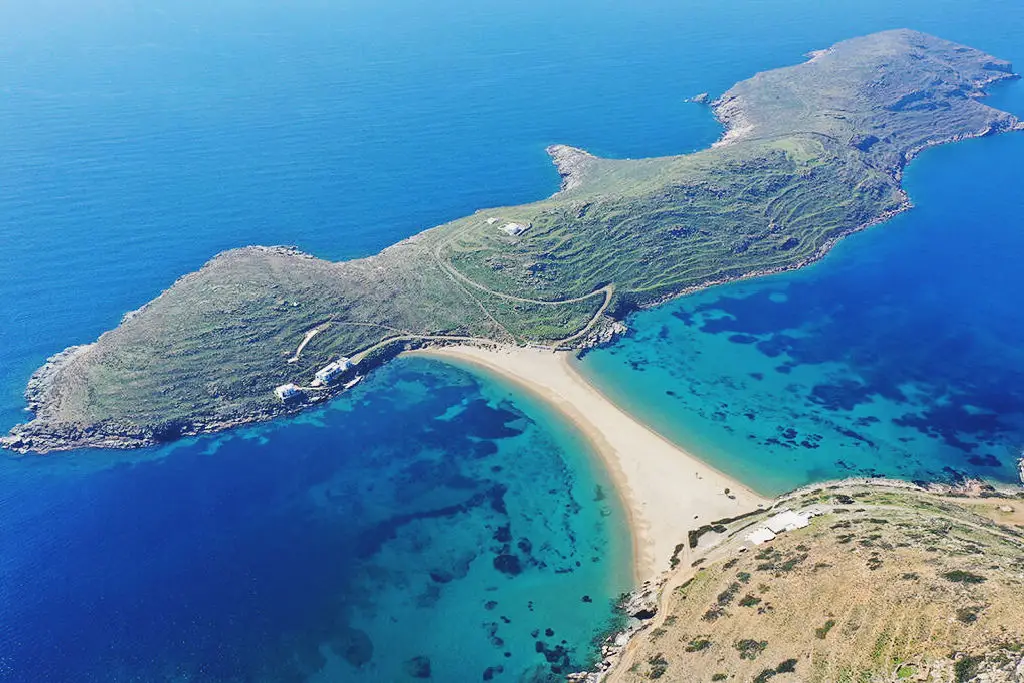 While not the most popular in Greece, the beaches listed above are some of the most natural, beautiful, and unique. Our tip: after visiting the famous postcard beaches such as Shipwreck Beach, which are filled with thousands of tourists give one of these beaches a go and enjoy the escape.
We Need Your Help
Did you find this article helpful? If so, bookmark it and when you're planning your next vacation click on any of the links below before finalizing reservations. You'll get the best price, we'll earn a small commission, and you'll help support future articles.
Thank you!
BEST TRAVEL SEARCH ENGINES
🏘️ Book Your Accommodation
We use Tripadvisor and Priceline's Express Deals to compare prices and reviews in advance and check availability
✈️ Book Your Flight in Advance
To find the cheapest flight options, you can use WayAway and Skyscanner to find the most suitable choice for you
🚗 Reserve Your Rental Car
Use DiscoverCars and Skyscanner to compare prices and view the largest selection of vehicles