Unlike conventional gamblers, many visitors to Las Vegas look to maximize cheap thrills and tap into the energy of Sin City in various ways. Naturally, one of the best methods to do this is to experience exciting thrill rides. From indoor family amusement parks to some of the scariest rides in the world, there's something for everyone in Las Vegas.
As a city that is known for once-in-a-lifetime exploits, many visitors adopt the "you only live once" attitude while in Vegas. Thankfully, there are varying degrees of thrill rides to take you out of your comfort zone, depending on how big of an adrenaline rush you're looking for.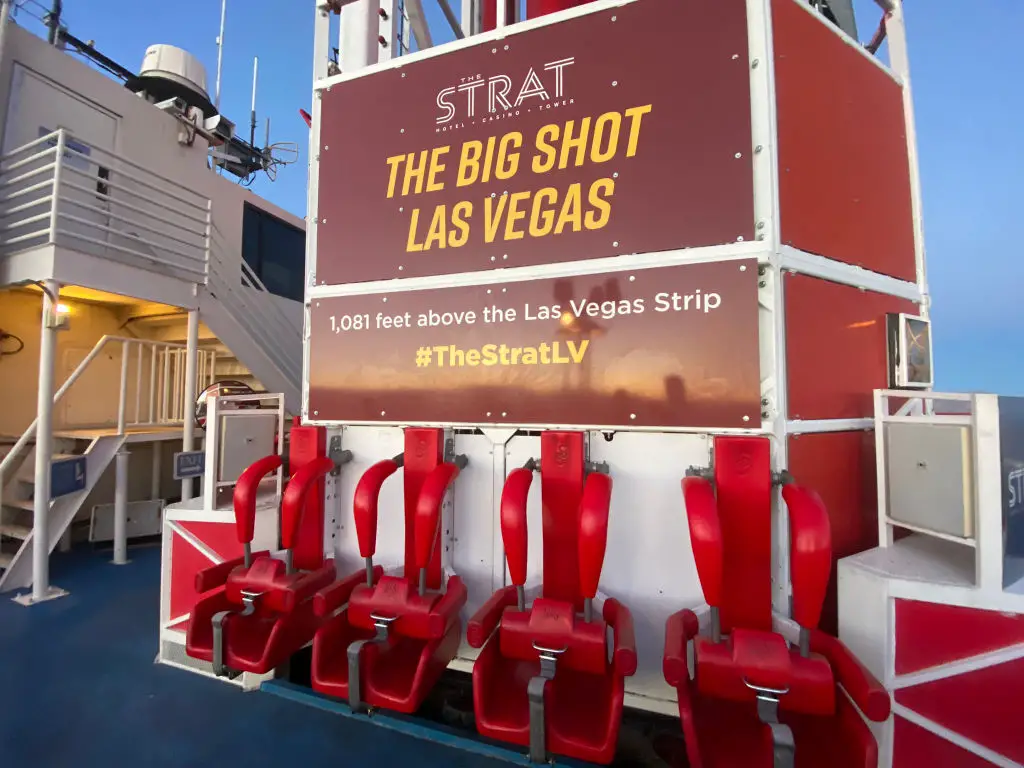 Below is how the scariest Las Vegas thrill rides are ranked.
Las Vegas Thrill Rides > Ranked 🎢😱
With the exception of Fremont Street, most of the city's thrill rides are located along South Las Vegas Boulevard, the Strip. As an easy reference, Las Vegas has six different locations for thrill rides. Below are the scariest thrill rides in Las Vegas, ranked:
Now, let's delve into the details of each of the rides below, starting from most scary to least.
Visitors looking for the biggest thrills in Las Vegas should go straight to The STRAT Tower. As the tallest free-standing tower in the United States, everything becomes a fear factor at 1,149 feet.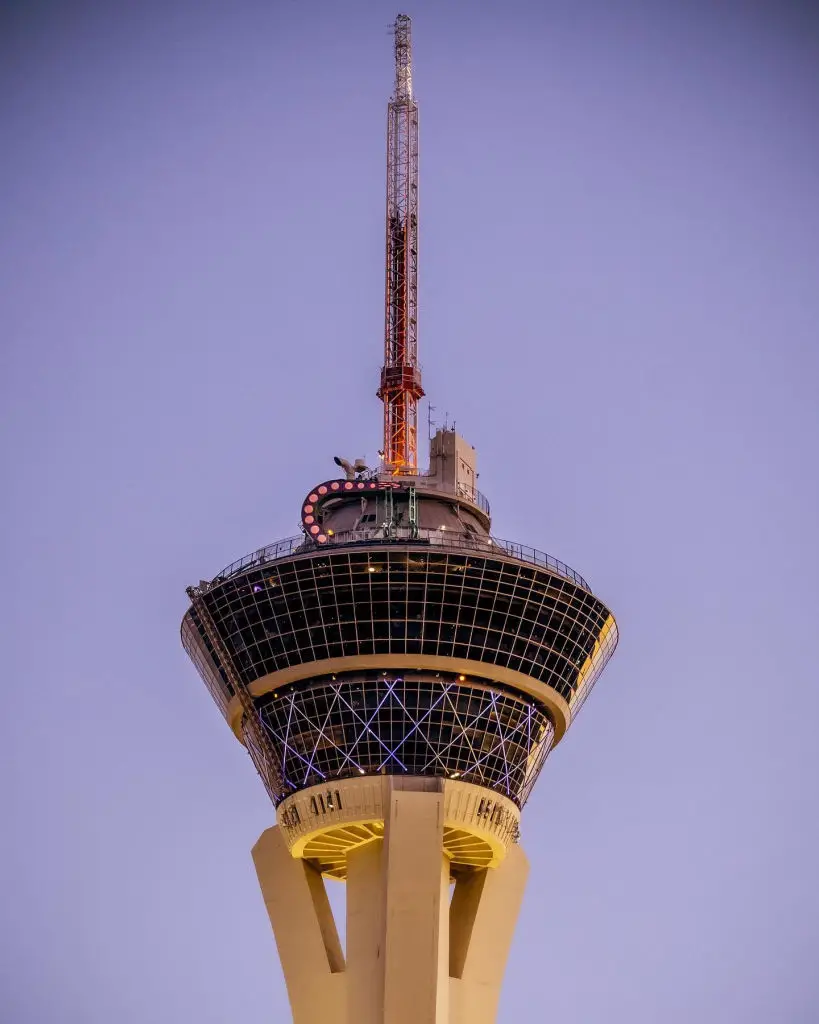 The STRAT Tower offers a variety of ticket packages to easily choose your adventure of choice. For some visitors, going up to the observation tower is enough excitement. Others may choose to ride the two extreme thrill rides at the top.
Big Shot: Drop tower ride
X-Scream: Teeter-totter style roller coaster
While not technically a thrill ride, adrenaline junkies can also SkyJump from the top of the tower in a controlled free fall via a vertical zip line from the 108th floor.
🎢 Big Shot at The STRAT > Buy Tickets
Read: Las Vegas Hotels Without a Resort Fee 💰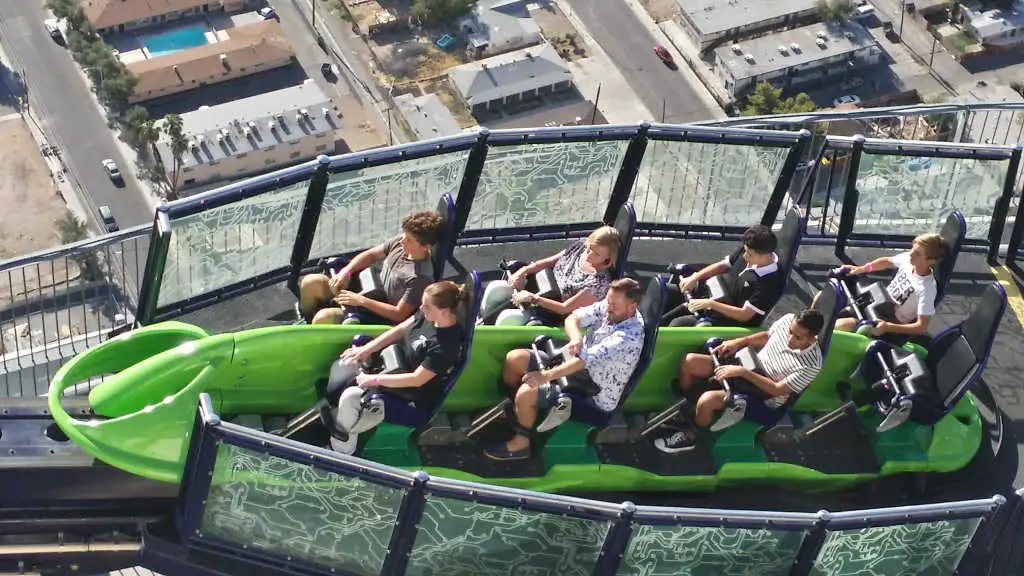 Designed to tap into the innate fear of falling, the X-Scream is a thrill ride like no other. Sitting on the edge of The STRAT Tower, the track shoots riders over the edge at a speed of 30 mph. It rocks passengers like a sky-high teeter-totter that feels like it's about to come off the tracks. Be sure to get the front row because passengers say it offers the most intense experience. Riding at night, with all the Vegas lights, also adds to the thrill.
🎢 X-Scream at The STRAT > Buy Tickets
What Happened to Insanity at The Strat?
If you research the top ten lists of the scariest rides on the planet, typically Las Vegas hosts three of them. They include Insanity, Big Shot, and X-Scream. There's a lot of mystery surrounding what happened to Insanity > click here to find out. At this time, the Insanity ride maintains closed.
A roller coaster ride is a great way to kick off your Vegas trip. While options are limited, the city's most iconic ride is The Big Apple Coaster at the New York-New York Hotel & Casino. The Big Apple roller coaster is often described as intense, with a very rough ride on the body. However, thrill ride enthusiasts claim it's one of those quintessential Vegas experiences that you simply must do.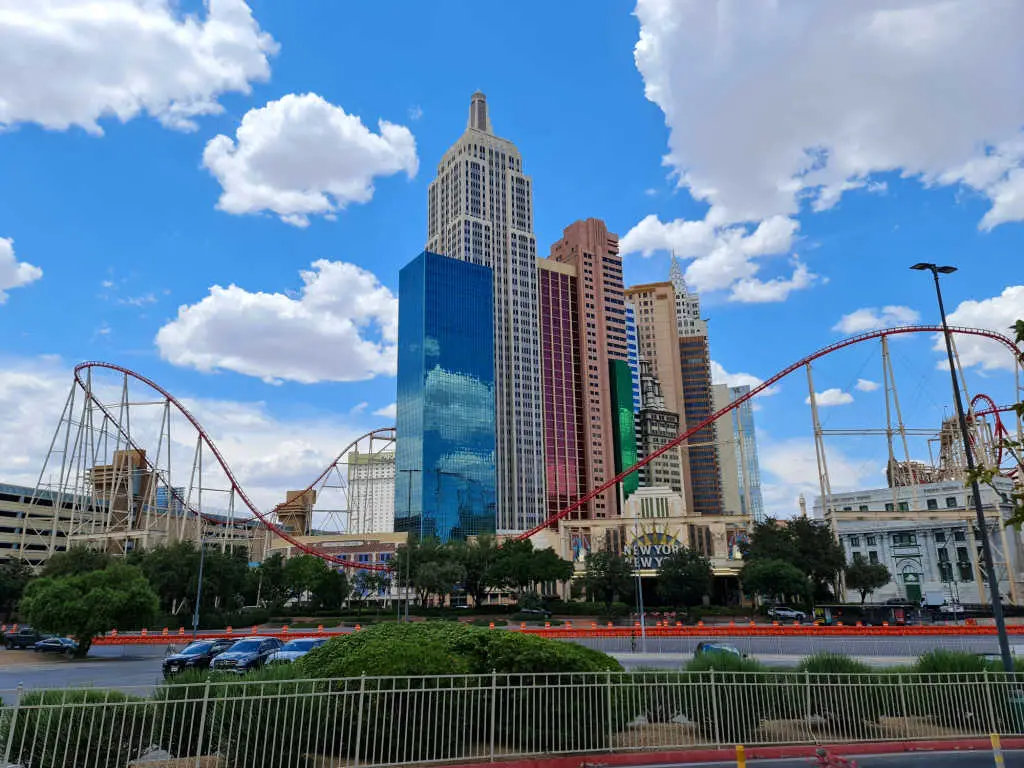 The Big Apple Roller Coaster may look tame from the Vegas Strip. However, the ride becomes more intimidating when seeing it in full view. This is a proper roller coaster ride with a heartline twist, dive maneuver, and 203-foot drop. It also has a duration time of almost three minutes, which is longer than your typical thrill ride.
🎢 The Big Apple Coaster > Buy Tickets
💰
Save up to 50% on Vegas Attractions
One of the easiest ways to save a ton of money in Las Vegas is with a Go City Explorer Pass. It includes all the best attractions, tours, and activities at one affordable rate. If you plan on hitting up just a couple of the major tourist attractions, it's an absolute no-brainer.
For example, going on a helicopter tour over the Las Vegas Strip is one of the best things to do in Las Vegas. Luckily, it's included in the Go City's 3-Day All-Inclusive Pass, making it more affordable than most think! If you want to see a ton of stuff and save a lot of money, we highly recommend the pass. Be sure to check out the 35+ attractions by clicking here. 👇
4. The AdventureDome > Circus Circus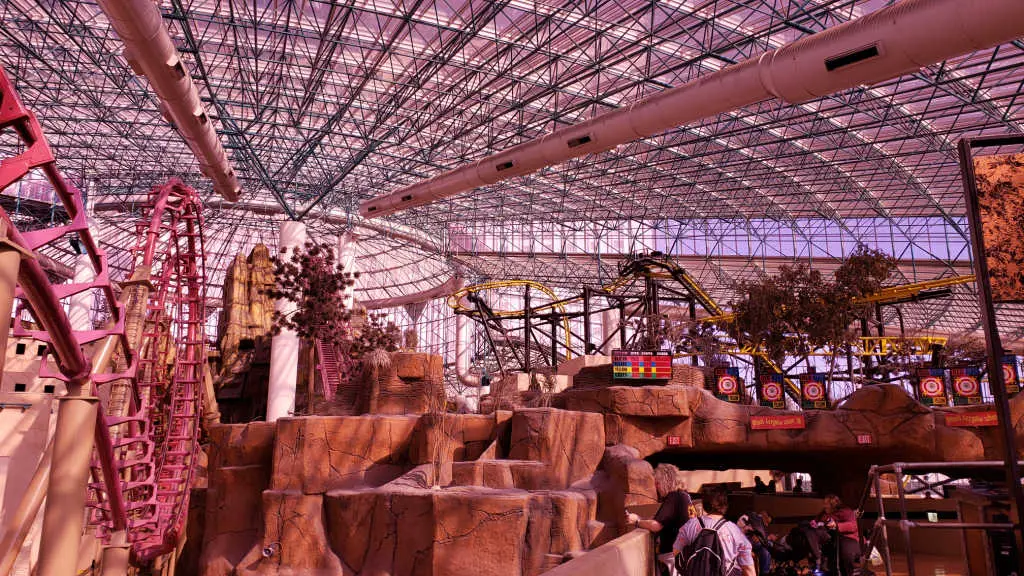 Mainly geared toward families, The AdventureDome at Circus Circus is an indoor amusement park that offers a little something for everyone—from kiddie rides to roller coasters. While costly and very loud under the dome, if you're looking to spend the day enjoying some thrill rides, this is a one-stop shop.
There are two roller coasters, carnival rides, bumper cars, and more. Some guests complain that some of the rides are often shut down, so consider seeing what's open before purchasing the ride wristband. Visitors are allowed to enter the AdventureDome complex for free but a wristband is required to go on the rides. There is a security checkpoint at the entrance.
How Many Roller Coasters Are in Las Vegas

?

Currently, there are three roller coasters in Las Vegas.
The Big Apple Coaster at New York-New York
Canyon Blaster at The AdventureDome at Circus Circus
El Loco at The AdventureDome at Circus Circus
5. Fly LINQ > at The LINQ Promenade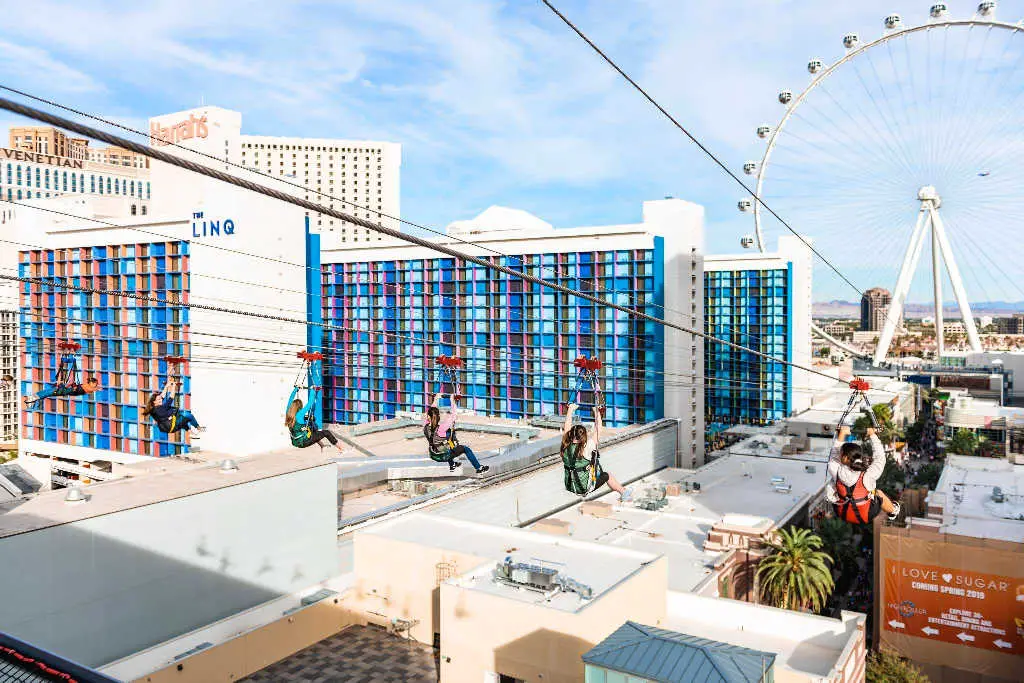 The LINQ Promenade offers the only zip-line experience on the Vegas Strip. Great for groups or for families with teens, there are 10 side-by-side lines where you can all simultaneously glide down at once. Fun either day or night, it's a great way to commemorate your Vegas vacation or bachelor/bachelorette party.
6. Slotzilla > Fremont Street Experience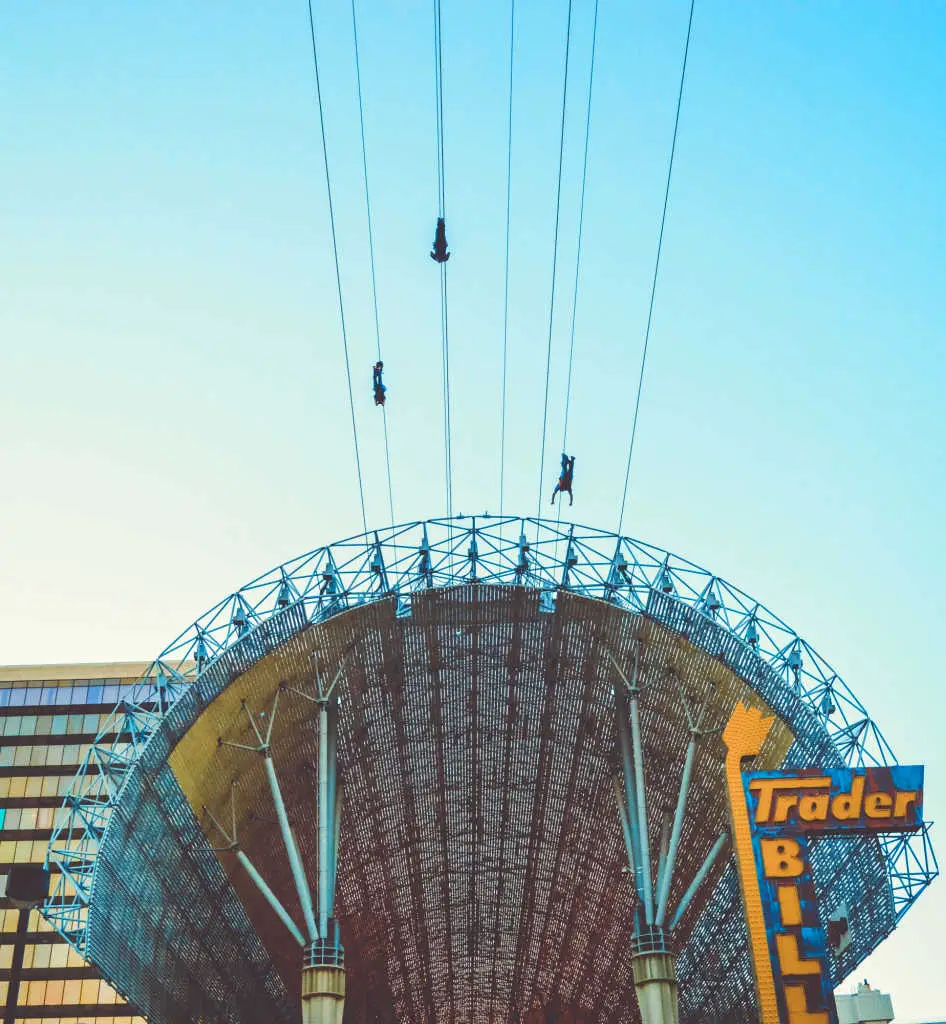 Zip lining is a popular choice for a group thrill-ride experience in Las Vegas. Typically evoking more fun than fear, it appeals to many visitors, especially families and friends. The good thing about zip lining is that it's thrilling enough to get your adrenaline going, without giving your body a beating like on the mega-coasters.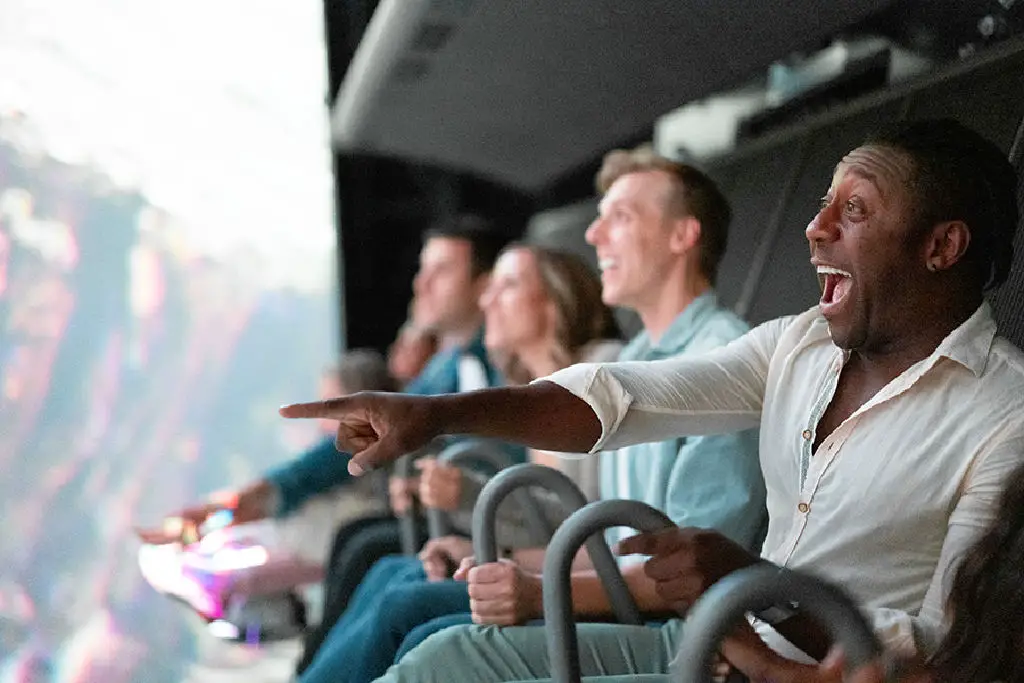 FlyOver Las Vegas gets rave reviews from visitors looking for something thrilling but not extreme. This multi-sensory flight simulation is fun for the entire family. The full immersive ride uses state-of-the-art technology to stimulate all the senses. Choose from three different tours to visit iconic landmarks around the world. If you're not sure which simulation to choose, the Iceland adventure comes highly recommended.
🎢 FlyOver Las Vegas > Buy Tickets
We Need Your Help
Did you find this article helpful? If so, bookmark it and when you're planning your next vacation click on any of the links below before finalizing reservations. You'll get the best price, we'll earn a small commission, and you'll help support future articles.
Thank you!
BEST TRAVEL SEARCH ENGINES
🏘️ Book Your Accommodation
We use Tripadvisor and Priceline's Express Deals to compare prices and reviews in advance and check availability
✈️ Book Your Flight in Advance
To find the cheapest flight options, you can use WayAway and Skyscanner to find the most suitable choice for you
🚗 Reserve Your Rental Car
Use DiscoverCars and Skyscanner to compare prices and view the largest selection of vehicles