The best reverse osmosis filters for travel are lightweight durable, and provide the purest drinking water available. Since the start of 2023, pretty much all the water we consume has been purified using reverse osmosis filtration.
New research shows that much of the global water supply, even in the USA, has containments directly linked to cancer and other serious health issues. Once we decided to travel abroad, one of our biggest obstacles was finding a reverse osmosis system that was backpack-friendly.
Why Reverse Osmosis?
Researchers continue to sound the alarm, saying that much of the world's water supply is contaminated with toxins. In fact, a recent study indicates that 95+% of Americans are exposed to chemicals right from the tap, including nitrates, lead, uranium, PFAs, arsenic, fracking fluids, VOCs including vinyl chloride, and the chlorine used to disinfect drinking water.

It is no longer in your best interest to ignore what's being reported, assuming that the related government agencies are taking the proper precautions to protect you. It is up to you to take action to avoid ingesting pharmaceuticals, forever chemicals, heavy metals, and toxins—only reverse osmosis filters out the most dangerous chemicals, metals, and toxins.
Two Best Reverse Osmosis Filters for Travel
While the market is full of water filters for both home and travel, finding the right one can be very overwhelming. Within the last few years, portable pump-action, squeeze, and gravity-based water filtration systems have become evermore popular with camping and backpacking enthusiasts. While most of these filters remove bacteria, protozoans, and microplastics they typically filter to 0.1-micron absolute filtration—some of the better ones get down to 0.01.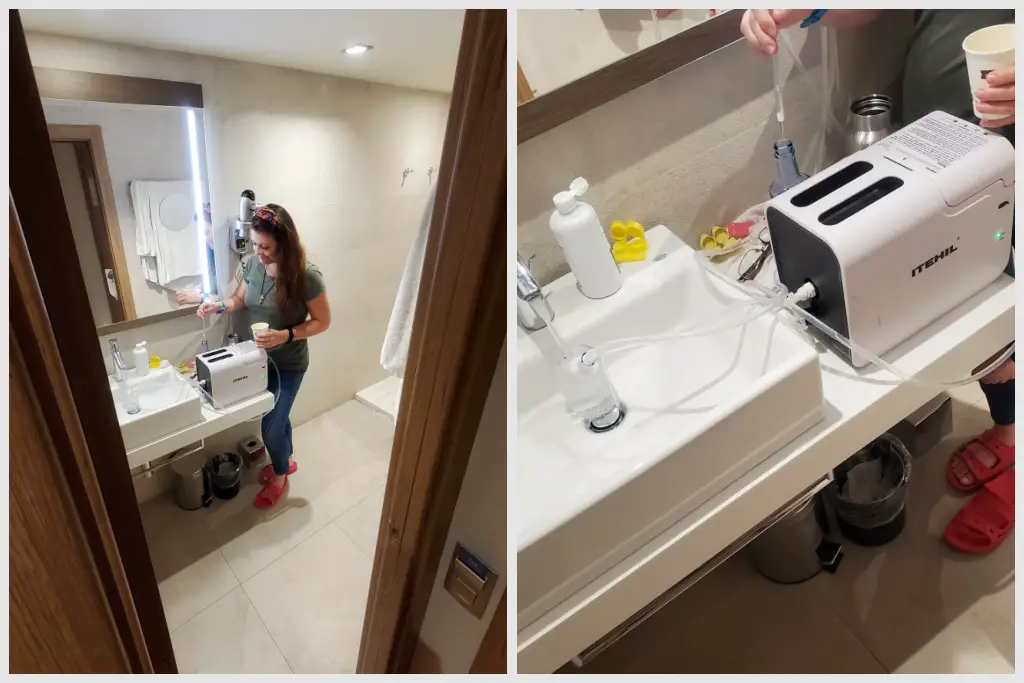 Rather than fuss around with numerous different brands and products, if you cut right to the chase, reverse osmosis is the best method for water filtration available—this is because reverse osmosis uses nanofiltration to remove impurities to 0.001 microns (which is the size of a water molecule). This purification method offers the smallest threshold for particle removal, so it's safe to consider it a "one-and-done" filter.
Thankfully, two great reverse osmosis system options would work well for travelers. We own both of these water filters and would highly recommend either one, based on your needs, of course.
Quick Backstory
While touring the USA in our Honda Accord, we purchased the SimPure Y7-BW water filter. It's an excellent countertop reverse osmosis water filtration system that is hassle-free, easy to transport in and out of rental apartments and hotels, and the filters have a long life of six months (sometimes longer based on the tap water).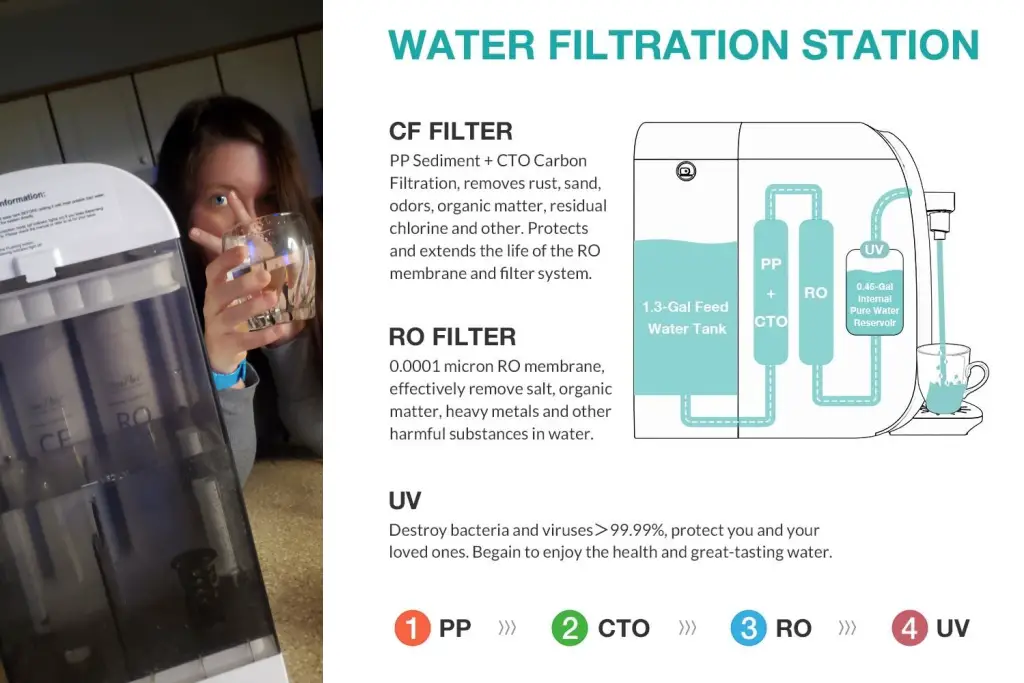 During the planning stage of our trip to Europe, we couldn't imagine not having access to reverse osmosis-filtered water. For this reason, we decided to purchase the ITEHIL Portable RO Water Filter. It's the only reverse osmosis filter currently on the market that can fit into a backpack—there are many other perks to this water filter which we'll discuss below.
Best Two Reverse Osmosis Filters for Travel
We purchased both of these filters with our own money and have not been paid to recommend either of them. However, we do have Amazon affiliate links in this post and may receive a small commission based on the reader's purchases (for which we are grateful).
Both filtration systems, in our opinion, provide better-tasting water, even more than bottled water.
ITEHIL Portable Water Filter – Great for Camping and Backpacking
The ITEHIL Portable Water Filter is the smallest and lightest reverse osmosis unit that can fit inside a backpack. Constructed as a handled cube, it comes with both a hybrid and reverse osmosis filter. Also, it's easily charged with a standard USB Type C cord and can filter up to 27 liters (about seven gallons) of water after about 3.5 hours of charge time.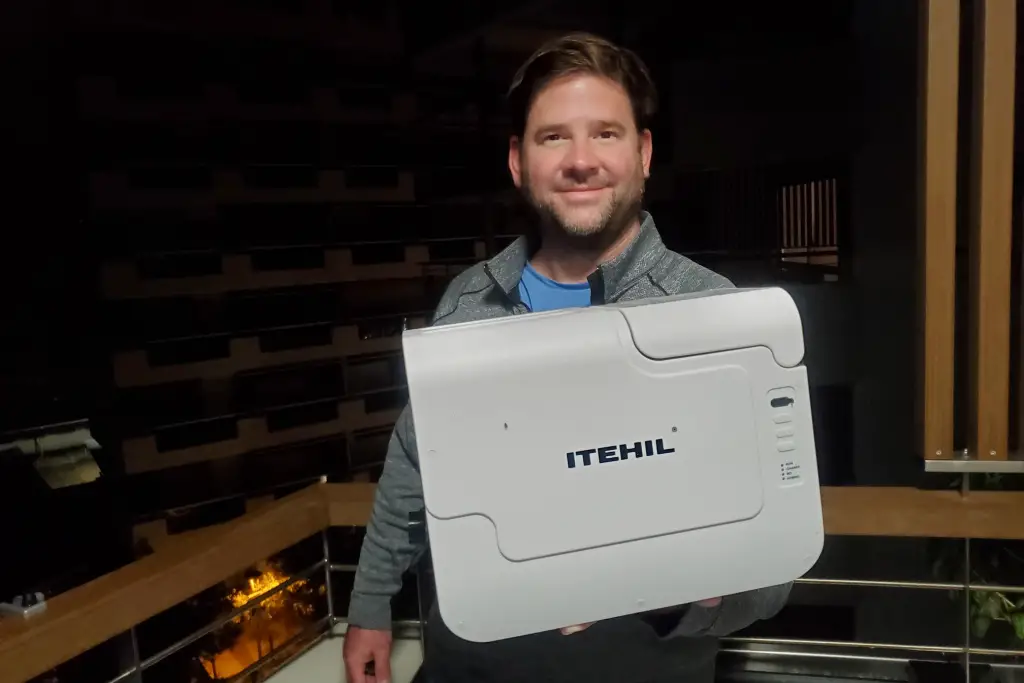 While the ITEHIL Portable Water Filter is bigger than we'd prefer, it's the smallest reverse osmosis filter on the market. Honestly, we're just grateful that we found a filter that meets the requirements of our international travel plans.
💧 ITEHIL Portable Water Filter  > Buy Now
How Big is the ITEHIL System?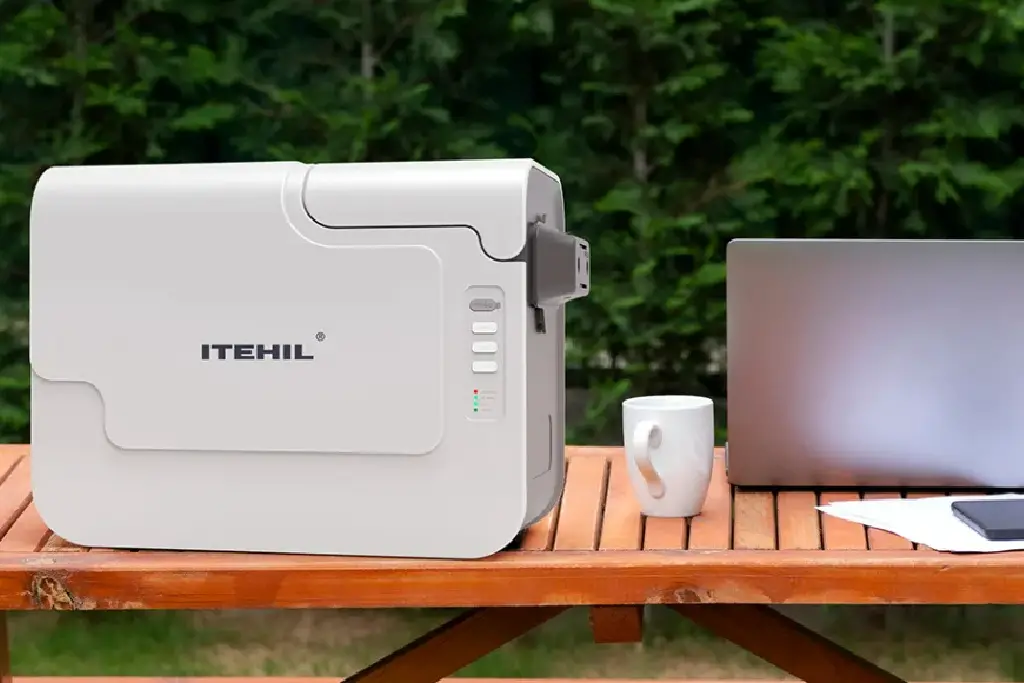 To get an idea of backpack space, essentially we traded in both pairs of our hiking shoes in exchange for the water filter. As another bonus, we no longer have to purchase (or carry) bottled water since we have our filtration system with us at all times. Also, it measures 11.8 inches long by seven inches wide by nine inches high and weighs about 10 lbs.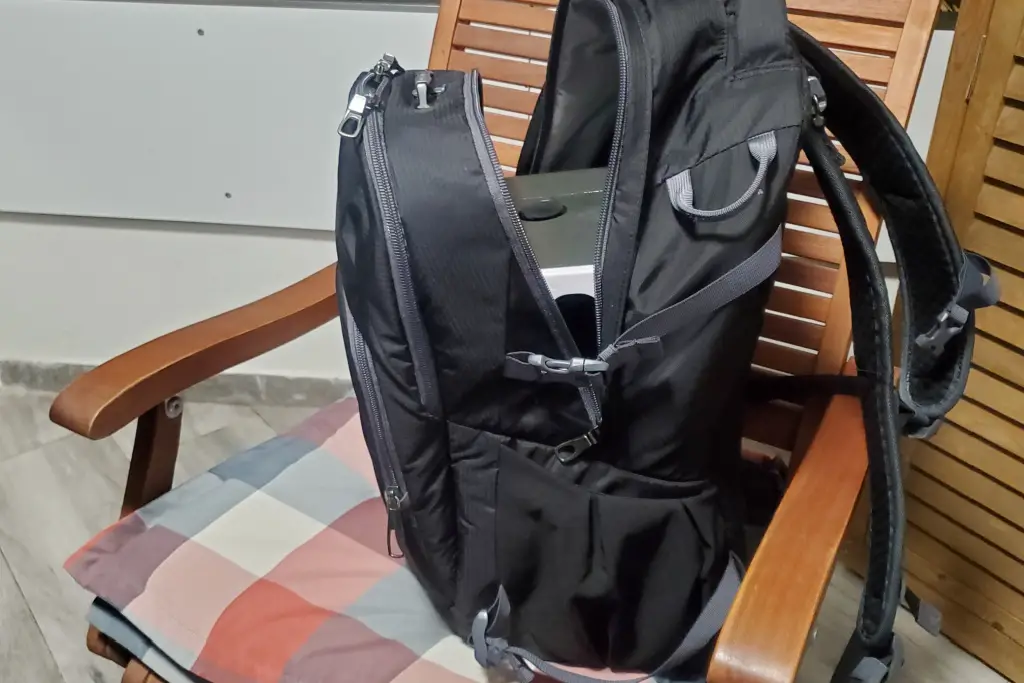 How Long Do the Filters Last?
The ITEHIL comes with both a hybrid and reverse osmosis filter, which when taken out makes the system much lighter. Furthermore, the hybrid lasts up to 350 gallons, and the reverse osmosis lasts up to 650 gallons. Of course, this will all depend on the quality of the water being fed into the system. Also, because this product is geared toward filtering lake, river, and pond water we're expecting the filters to last much longer because we'll only be using tap water.
How Do You Charge It?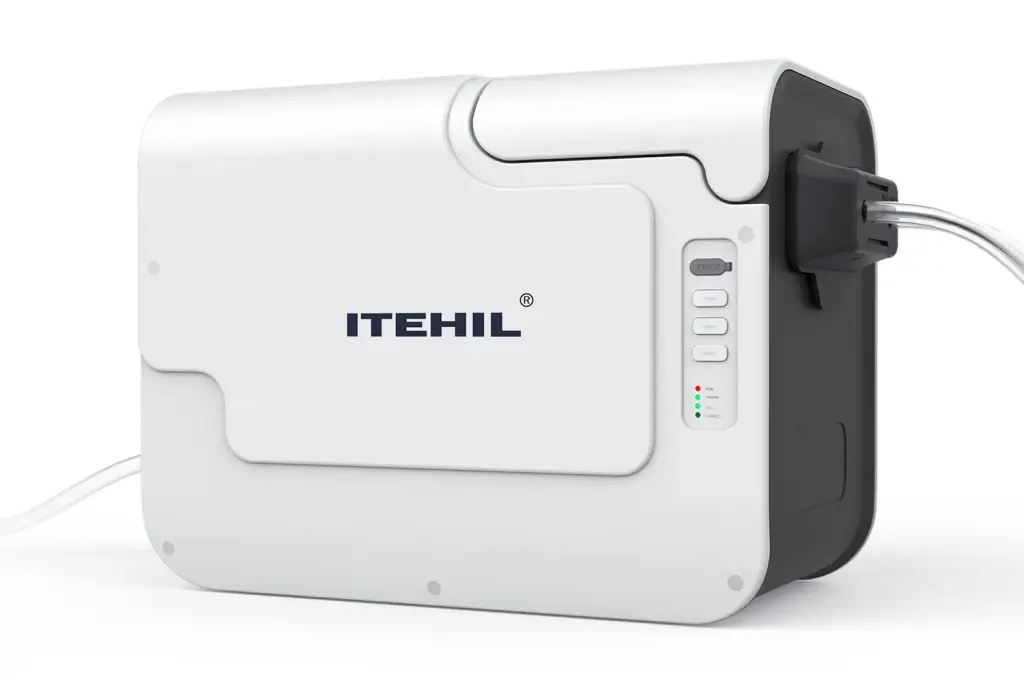 There are three options for charging the ITEHIL Portable Water Filter. They are:
USB-C (like how you charge a cell phone)
Portable power bank
Solar panel
We think it's kind of cool to think that someone walking the Appalachian Trail with a solar panel could have access to cleaner water than all of the communities they walk by.
Traveling With Lithium Batteries
Lastly, one crucial thing to note is that the unit does have a lithium battery. Therefore, you do have to carry it aboard your flight, and cannot be included in checked luggage. However, since the product is geared toward outdoor camping, we weren't concerned with getting hassled by TSA. It simply is a great portable reverse osmosis unit that can be used for all types of travel adventures.
SimPure Y7P-BW – Great for Digital Nomads Traveling by Vehicle
While stateside and traveling by car, the SimPure Y7P-BW UV Countertop Reverse Osmosis System worked wonderfully for us. Requiring no installation or plumbing, we brought this unit from our car to hotels, apartment rentals, or when visiting with friends and family—you can plop it on any countertop, preferably one near a water source.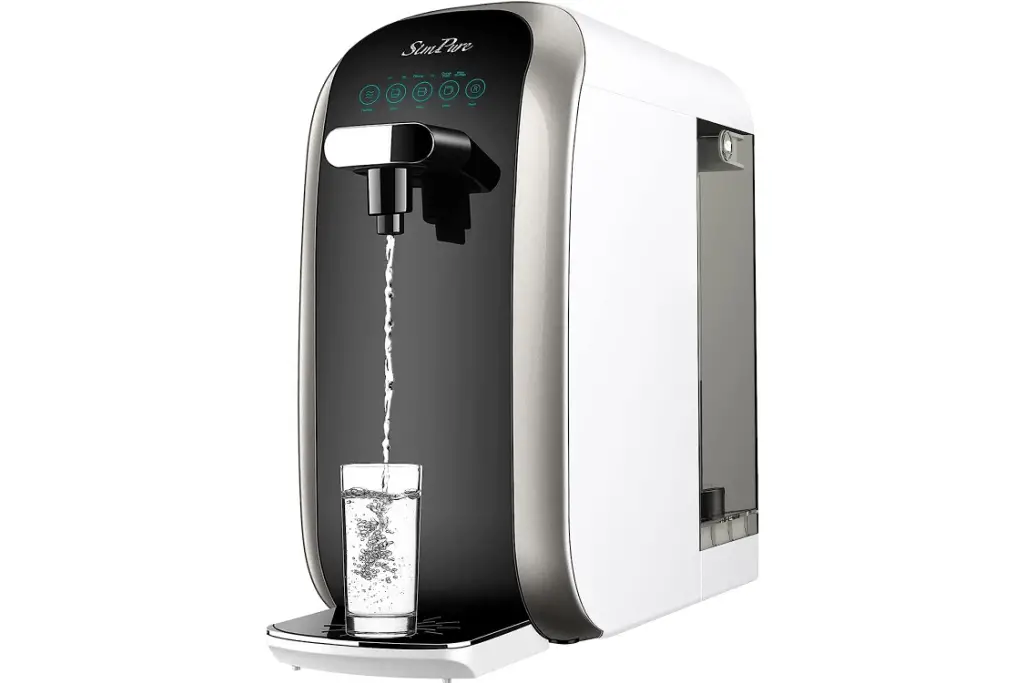 It weighs less than 15 pounds and lasts about six months before the filters need replacing. The water is crisp and tastes great!
The only drawback is that the holding tank has to be emptied in between fill-ups. However, it is a small inconvenience for such an easy reverse osmosis filtration system. Overall, the SimPure is a great option for those traveling by vehicle.
💧 SimPure Y7P-BW Water Filter  > Buy Now
Watch: Check out this sliding scale from the University of Utah showing various cell sizes and scales to learn more about what doesn't get removed from reverse osmosis filtration.
We Need Your Help
Did you find this article useful? If so, bookmark it and when you're planning your next vacation click on any of the links below before finalizing reservations. You'll get the best price, we'll earn a small commission, and you'll help support future articles.
Thank you!
TRAVEL TIPS
🏘️ Book Your Accommodation
We use Tripadvisor and Priceline's Express Deals to compare prices and reviews in advance and check availability
✈️ Book Your Flight in Advance
To find the cheapest flight options, you can use WayAway and Skyscanner to find the most suitable choice for you
🚗 Reserve Your Rental Car
Use DiscoverCars and Skyscanner to compare prices and view the largest selection of vehicles