There are more than 6,000 Greek islands sitting in the Ionian and Aegean Seas. With so many places to explore, it's quite surprising that most tourists only visit Mykonos or Santorini.
Sure, Mykonos has a crazy nightlife and Santorini is breathtakingly beautiful with its steep dramatic cliffs, white cave houses, and black sand beaches. However, there is an abundance of secluded and wild islands that are just waiting to be explored, like the six best secluded Greek islands below.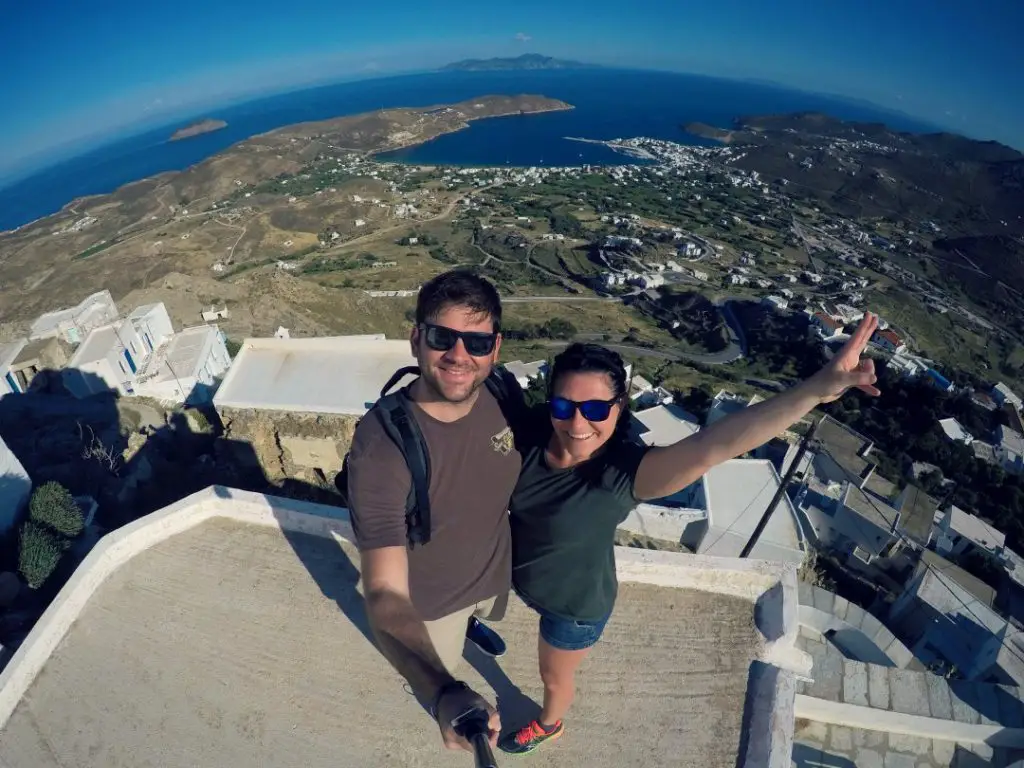 6 Greek Islands You've Never Heard Of
The easiest way to visit these islands is by chartering a yacht or taking a ferry from the mainland. For two weeks, we sailed around the Cyclades Islands. During this time, we documented our sailing adventures through daily vlogs.
Our goal was to share everything that we learned to help others who are interested in sailing (especially first-time sailors), get the most from their holiday. Here's our pick of the six best secret Greek islands.
By the way, the best way to book a sailing tour is through Viator. While passengers looking for larger sailing ships and traditional cruises should book with Cruise Critic to get the best prices.
💰 Budget Tip
:
Check out WayAway
—a new flight aggregator platform that provides travelers with the best rates on airline tickets. Users can also purchase the WayAway Plus membership plan, which
gives cashback
on flights, accommodation, car rentals, tours, and more. We saved a ton of money using WayAway!
1. Ios
Though it's somewhat large for a Greek island, Ios is remote and scarcely visited by tourists. This island is perfect for anyone looking to find some peace and quiet.  This hilly island is lush with peaceful white traditional villages, picturesque arcade-covered alleys, windmills, churches, and blue-domed buildings.
If you're interested in cheese, you've come to the right place. You won't have to look very hard to find local cheeses like kefalotýri, a hard salty yellow cheese, or skotíri , soft goat cheese with herbs, or myzíthra, a soft white creamy, nearly sweet cheese.
2. Kythnos
Kythnos is one of the less-visited islands in all of the Cyclades. It has 65 sandy beaches, miles of low stone fences, cobbled narrow streets, and about 350 white chapels. Take a side trip to Katafýki cave, one of the largest caves in Greece. Along the way make sure to taste the wild mulberries and apricots.
Head over to Kolona beach, one of the most spectacular beaches in Greece. It has coarse golden sand and crystal clear blue waters. It's exceptionally protected from both sides from the wind, making it the ideal place for yachters to waste the day away.
3. Schinoussa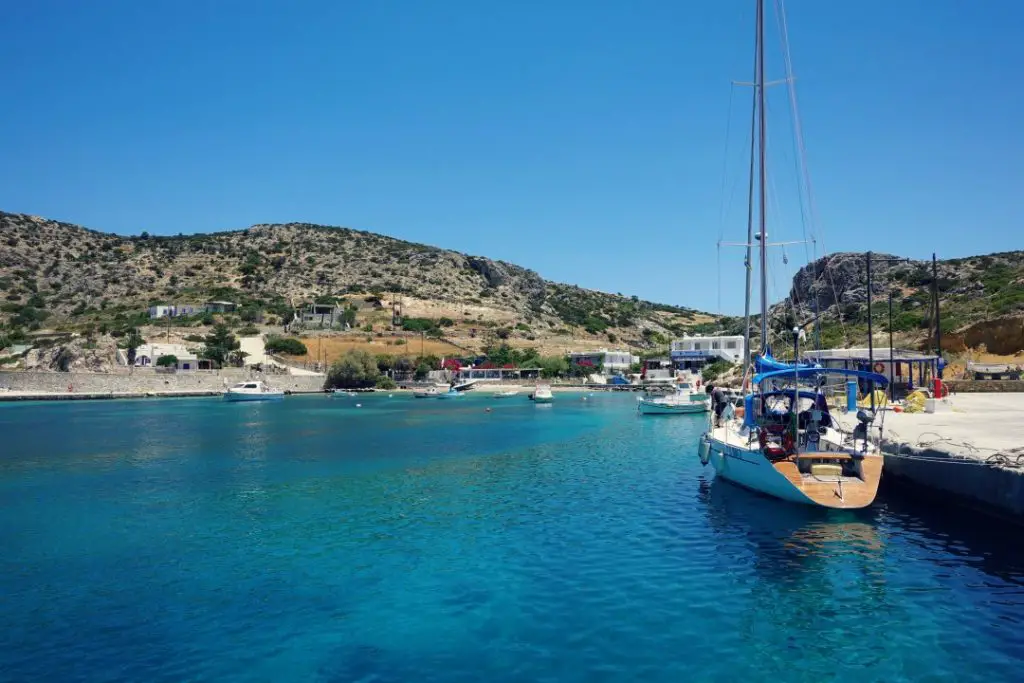 Looking for an authentic taste of Greek island life? Then you should spend a few days on Schinoussa. This small island was once a hideout for pirates and smugglers. Today, it attracts tourists looking for smugglers and pirates, the tiny island now plays host to travelers looking for an unspoiled natural landscape.
Spend your days eating fresh seafood, sailing along the rocky coast, or sunbathing on the secluded beaches. Trust us, you won't be fighting anyone over a spot on the beach. Looking to stretch your legs a bit? There's a two-hour hiking trail that circles the island.
4. Folegandros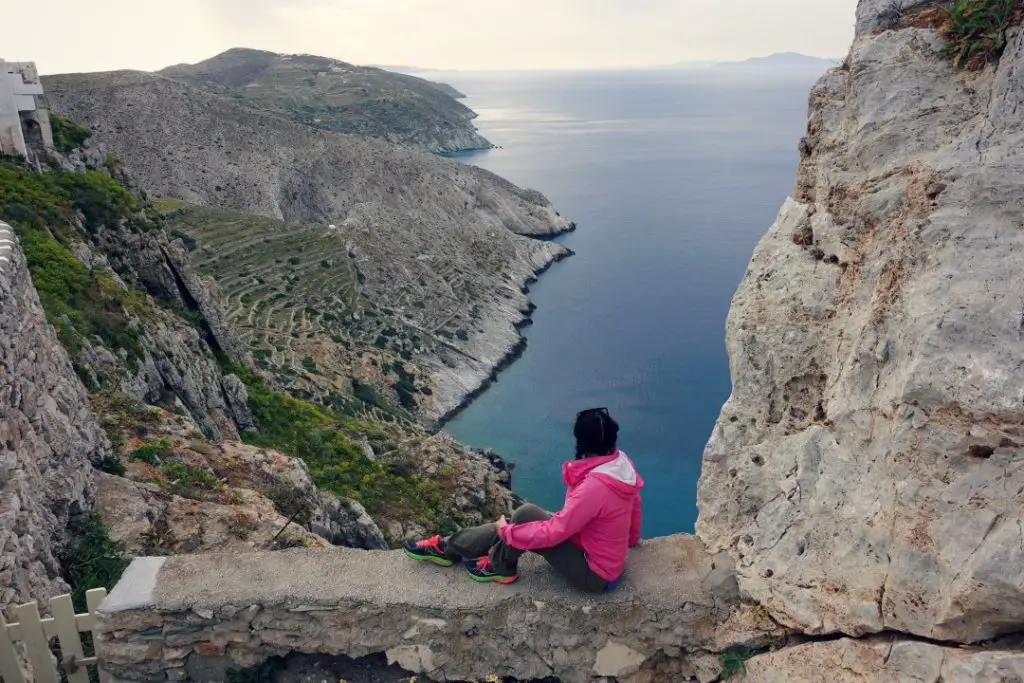 This remote destination captivates visitors with its flawless beaches, radiant blue waters, and the spotless style of its buildings. You simply must stop at the clifftop village of Hóra, the views are awe-inspiring. It might be one of the best viewpoints in all of Greece. Make sure to taste a few or all of the island's culinary delights:
Baked chickpeas
Cooked capers
Kalassoúna: cheese pie made with sourotó and onions
Karpouzénia: a local sweet made of fried watermelon (in Greek watermelon means "karpouzi")
Matsáta: handmade noodles with rooster or rabbit
Sourotó: white goat cheese
Sesame bars
White and red wine
5. Serifos
Serifos is beautifully embraced by the sapphire blue colors of the Aegean Sea and magnificent beaches. The laid back atmosphere of Serifos makes for a relaxing vacation. The casual island also makes for the perfect place to enjoy outdoor activities such as mountain biking, hiking, climbing, and diving.
The main Port of Livadi has several cafés, pastry shops, and fish tavernas. The chora, which means "town" in Greek, is built on top of a rocky hill that overlooks the port. Just imagine the views will easily inspire you to take the half-hour trek to the top.
6. Sikinos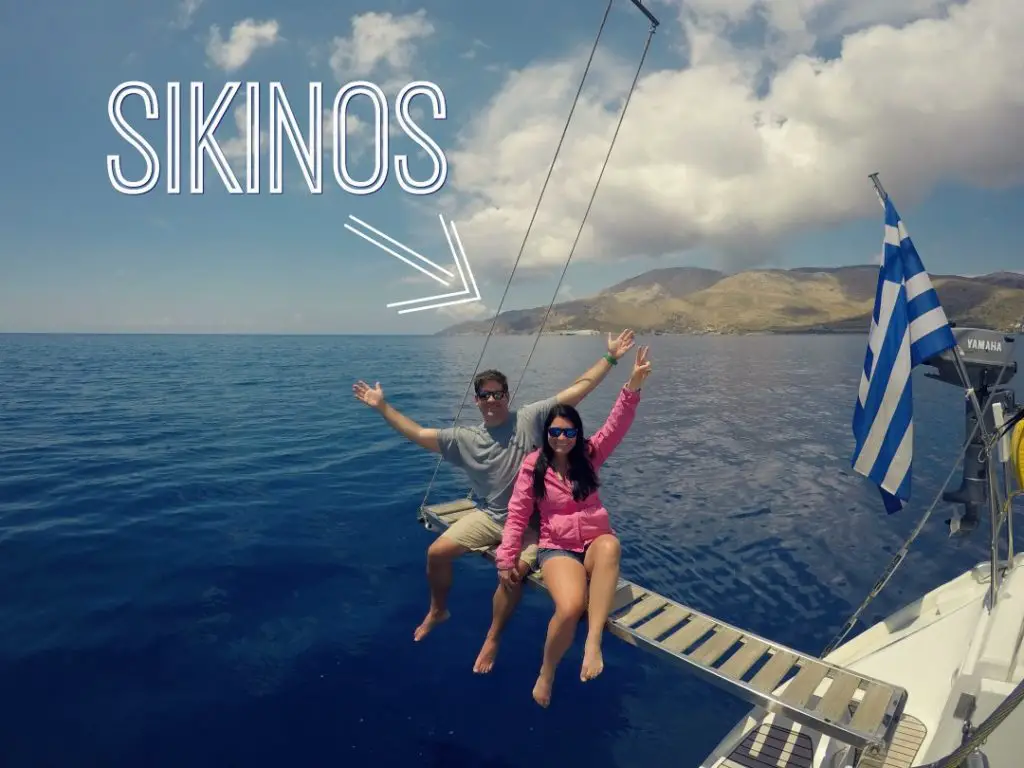 Quiet, remote, and way off any typical tourist's radar, if you're looking for complete solitude, you should head to Sikinos. Just because it's a hidden gem doesn't mean that there aren't many things to see and do.
The numerous trails that cross the entire island make it easy to visit amazing places, like the fortress-monastery of Zoodochos Pighi or the Byzantine monastery of Episkopi.  Essentially, all of the elevated villages on the island make for the perfect place to tip back a cool glass of Greek wine and admire the sunset. Yamas!
DREAMING OF SAILING THESE ISLANDS? LET US RECOMMEND THE BEST YACHT CHARTER IN GREECE.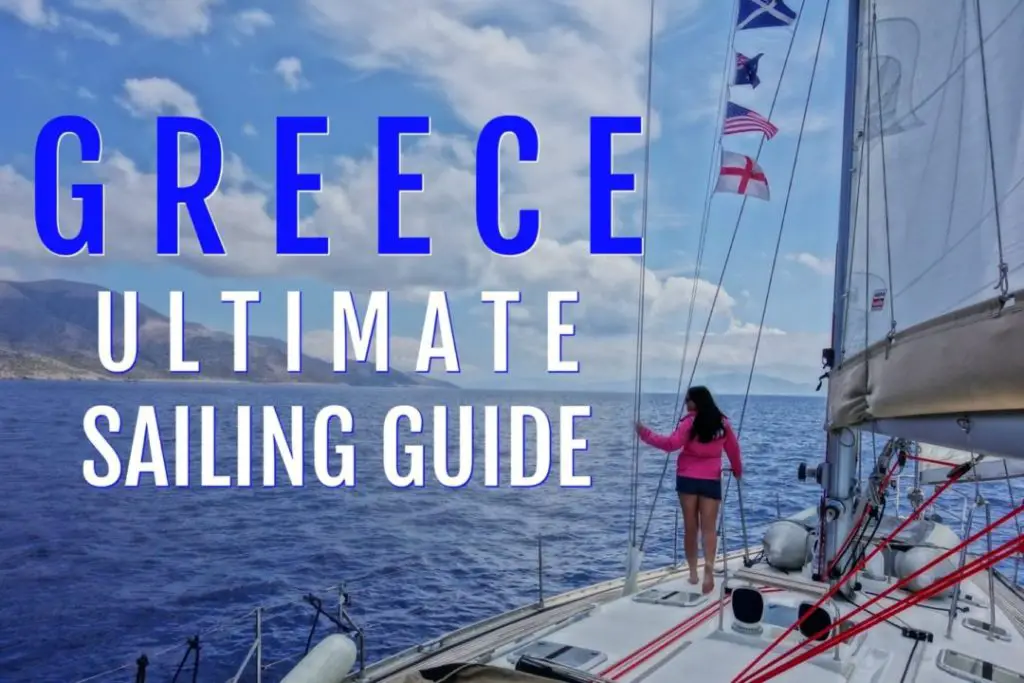 We Need Your Help
Did you find this article helpful? If so, bookmark it and when you're planning your next vacation click on any of the links below before finalizing reservations. You'll get the best price, we'll earn a small commission, and you'll help support future articles.
Thank you!
BEST TRAVEL SEARCH ENGINES
🏘️ Book Your Accommodation
We use Tripadvisor and Priceline's Express Deals to compare prices and reviews in advance and check availability
✈️ Book Your Flight in Advance
To find the cheapest flight options, you can use WayAway and Skyscanner to find the most suitable choice for you
🚗 Reserve Your Rental Car
Use DiscoverCars and Skyscanner to compare prices and view the largest selection of vehicles