If you're looking for the best Mexican restaurants on the Las Vegas Strip, then look no further. Whether it's a no-frills fast food joint or one of the fancy high-end eateries in a mega-casino resort serving modern Mexican cuisine, these are the places that you don't want to miss on your journey down the Strip.
If you're like us, and you've got that craving for Mexican food there's simply nothing else that can satisfy it—not burgers, not pizza, not anything. If you're in Vegas, at some point, whether it's early in the evening or way late at night, at some point you're going to be looking for a burrito, a taco, a chimichanga, a tamale—whatever it is, you're going to find on the list below.
However, before we get into that, if you're looking for some killer things to do in Sin City, you've got to check out these tours.
Top-5 Tours in Las Vegas
💡 After you've hit up the Strip, add one of these thrilling tours to your itinerary!
Do you want to do something unique or get off the beaten path? Click here and Try Viator: the world's largest online marketplace for tours, activities, and attractions with the best prices.
20 Best Mexican Restaurants on the Las Vegas Strip
With so many Mexican restaurants in Las Vegas, it's easy to get overwhelmed when there are so many options. Of course, everyone has their favorite take on one of America's favorite cuisines. That's why reading other people's reviews may not help. We recommend pinpointing exactly what you're looking for and letting your stomach—or your pocketbook, be your guide.
The cheat sheet below helps narrow the choices down a bit.
If you're still undecided, feast your eyes on some of the dishes from the 20 best Mexican restaurants on the Las Vegas Strip below!  
1. Bajamar Seafood & Tacos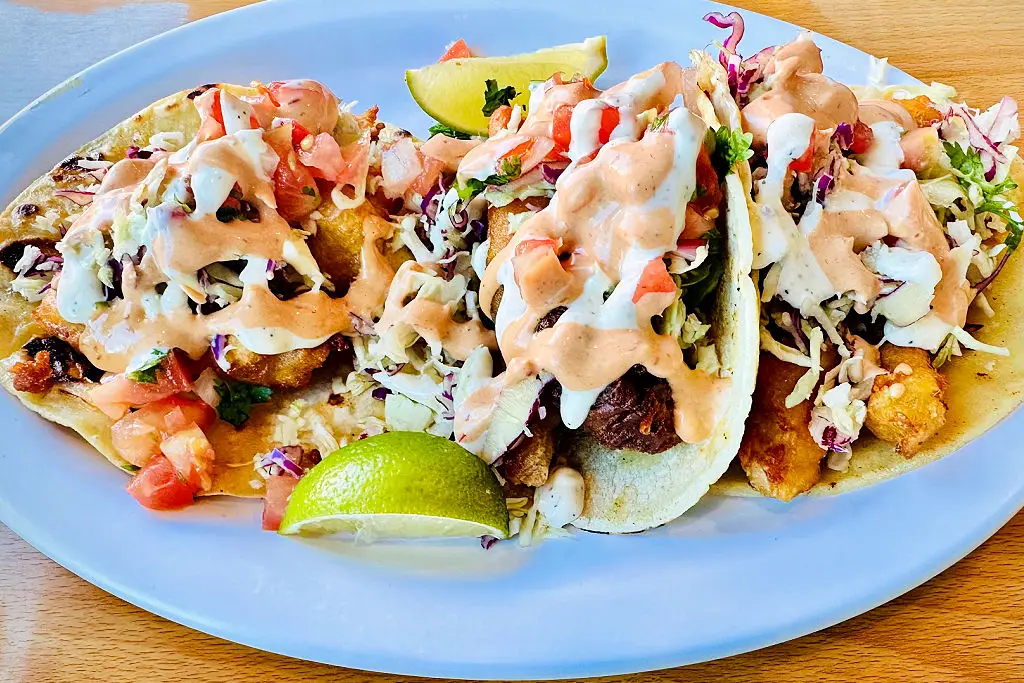 Just a block north of the STRAT, you'll find the best fish tacos at Bajamar Seafood & Tacos—and we're not just talking on the Strip, we're talking about the entire city, region, and the state! We must recommend the octopus chicharron tacos with a side of aguachile bajamar (shrimp ceviche)—especially, if you're looking to crave the munchies.
Location: 1 block north of The Strat
2. Nacho Daddy
When it comes to nachos, Nacho Daddy doesn't mess around. Not only is the atmosphere fun but the food doesn't disappoint with massive nacho plates and crazy entree names like Surf and Turf Nacho or Southern Fried Chicken Nacho. Unless you're like us (fat), it's best to share a plate of nachos. They're huge.
Location: Miracle Mile Shops at Planet Hollywood
3. Sayulitas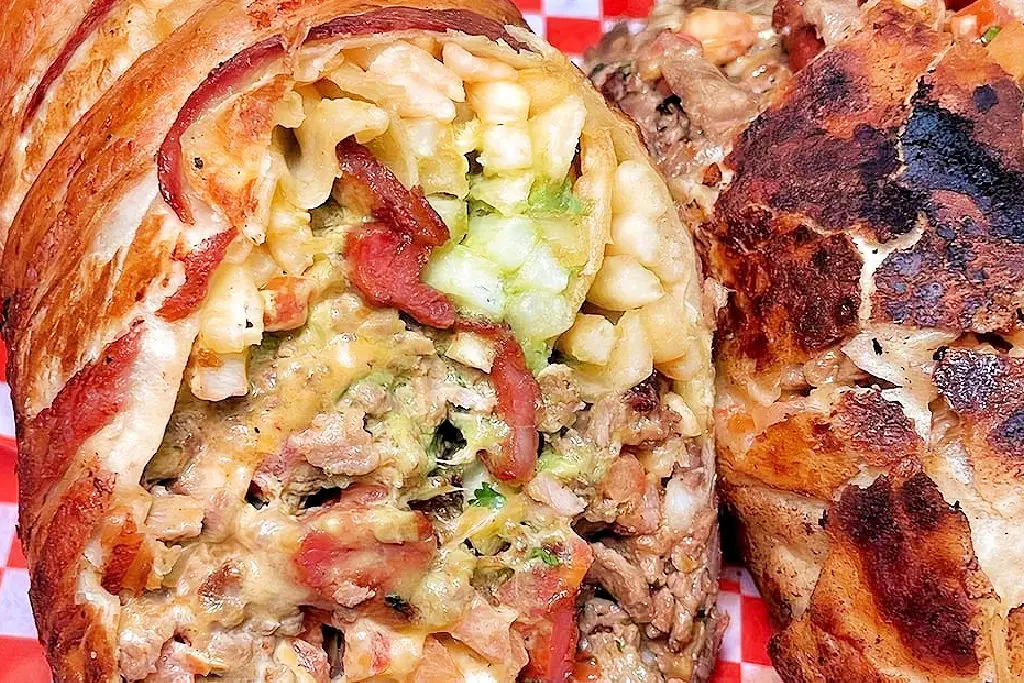 Tasty, huge portions, with a creative twist, basically sums up a dining experience at Sayulitas. Try the bacon-wrapped burrito with a side of carne asada Hot Cheetos fries.
Location: Across the street from the Four Seasons Las Vegas
Do You Like Magic?: When I show up at Sayulitas, I make the burritos disappear. 🤣 ⇒ Here are the best magic shows in Las Vegas!
4. Carnitas y Tortas Ahogadas Guadalajara 2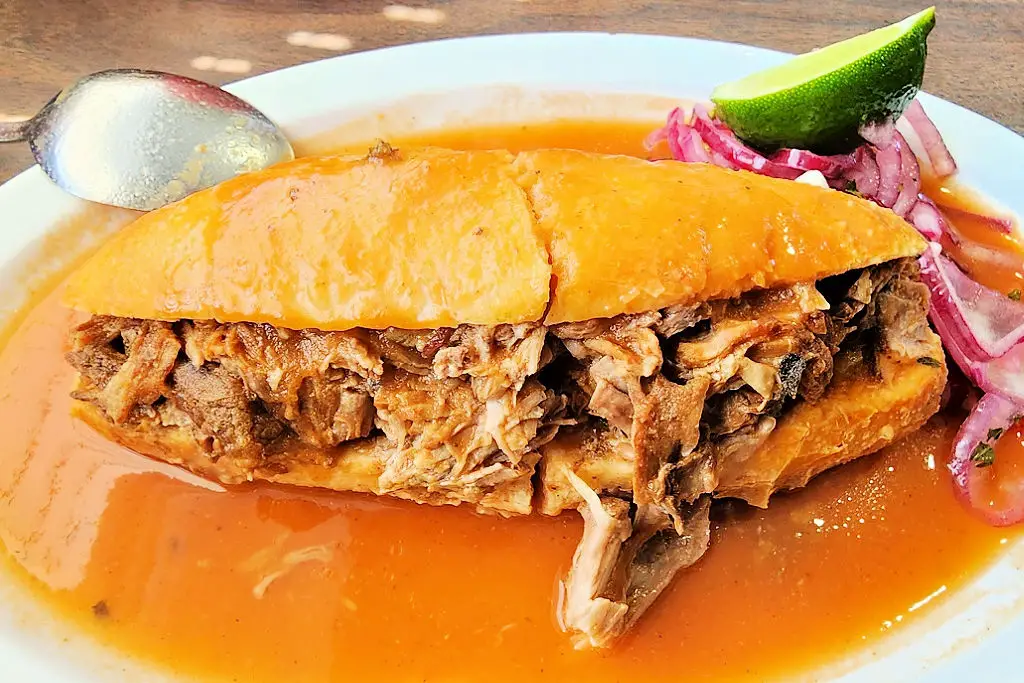 Anyone looking for an authentic Guadalajara torta ahogada will find it at Carnitas y Tortas Ahogadas Guadalajara. This traditional Mexican sandwich is made by filling a hoagie roll with pork carnitas and red onions. Similar to an Italian beef sandwich dipped in au jus, these torta ahogadas are "drowned" in red chile sauce and served with fresh lime wedges.
Location: 1 block north of The Strat
5. Javier's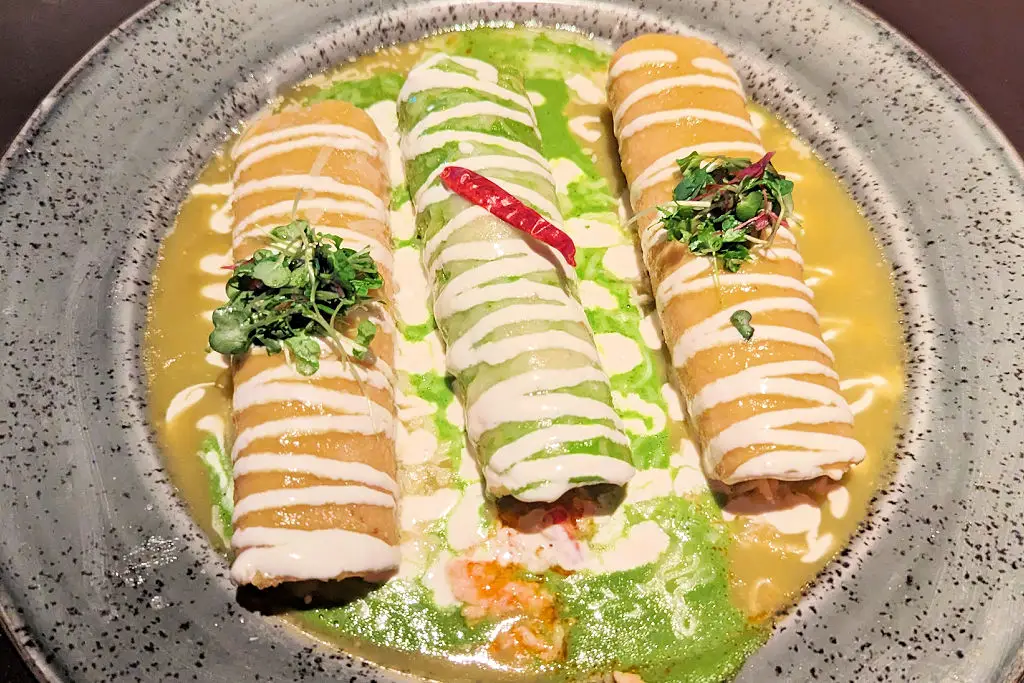 When it comes to high-end Mexican food, there is no better dining experience in Las Vegas than Javier's. The kitchen prides itself on only using the very best ingredients for its dishes, like corn-fed Nebraska beef or chemical-free U-10 scallops. Located next to Aria's casino floor, the energy's off-the-hook with an atmosphere you can only find in the Entertainment Capital of the World.
Location: Aria Resort & Casino
💰 Budget Tip: Don't overspend on Las Vegas shows and concerts. Here's how to get cheap tickets to Las Vegas shows and concerts!
6. Tacos El Pastor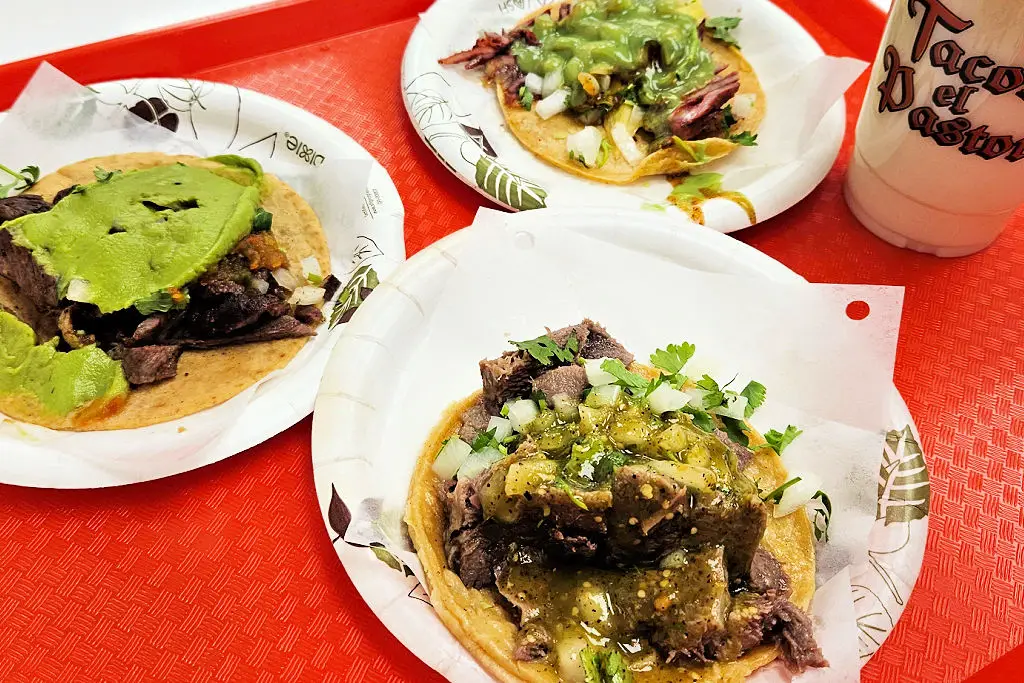 With homemade tortillas and meat cut freshly cut off giant skewers, you can't go wrong with a pit stop at Tacos El Pastor. This place is typically super busy with lines out the door. To accommodate the crowds, management created a cockamamie, yet efficient, ordering system where there are three different lines based on the type of meat (beef, pork, chicken) the customer is ordering. Our tip? Avoid the chicken.
Tacos El Pastor is famous in Las Vegas for late-night eats. It's open until 4 a.m. on Friday and Saturday.
Location: Across the street from Resorts World
Do You Like to Party? If so, check this out ⇒ 8 Psychedelic Things To Do in Vegas While High
7. 664 TJ Birrieria
A nice option for those looking for some outdoor dining and more traditional-style Mexican cuisine. As the name implies, the specialty here is birria, a slow-cooked pulled beef meat used for most of their dishes. Specialties include birria ramen, birria fried tacos, quesabirria, beef consomé, and menudo.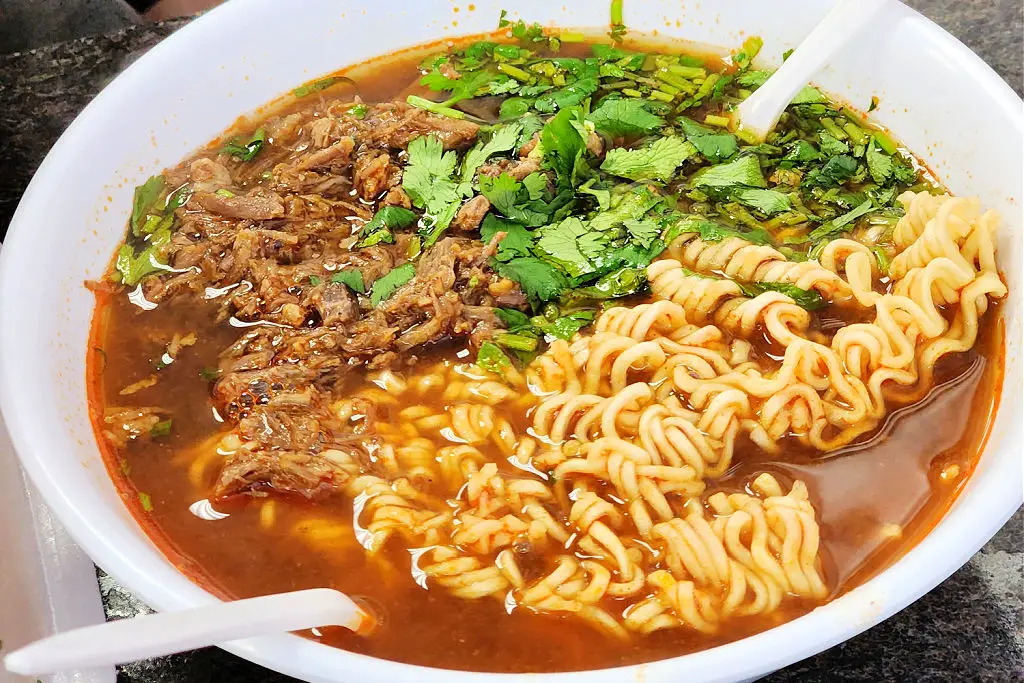 Locals often describe this taqueria as a hidden gem and a great late-night eat. 664 TJ Birrieria sits on the same block as Tacos El Gordo so consider pairing the two experiences for your own mini Las Vegas food tour.
Location: Across the street from Resorts World
8. Tacos El Gordo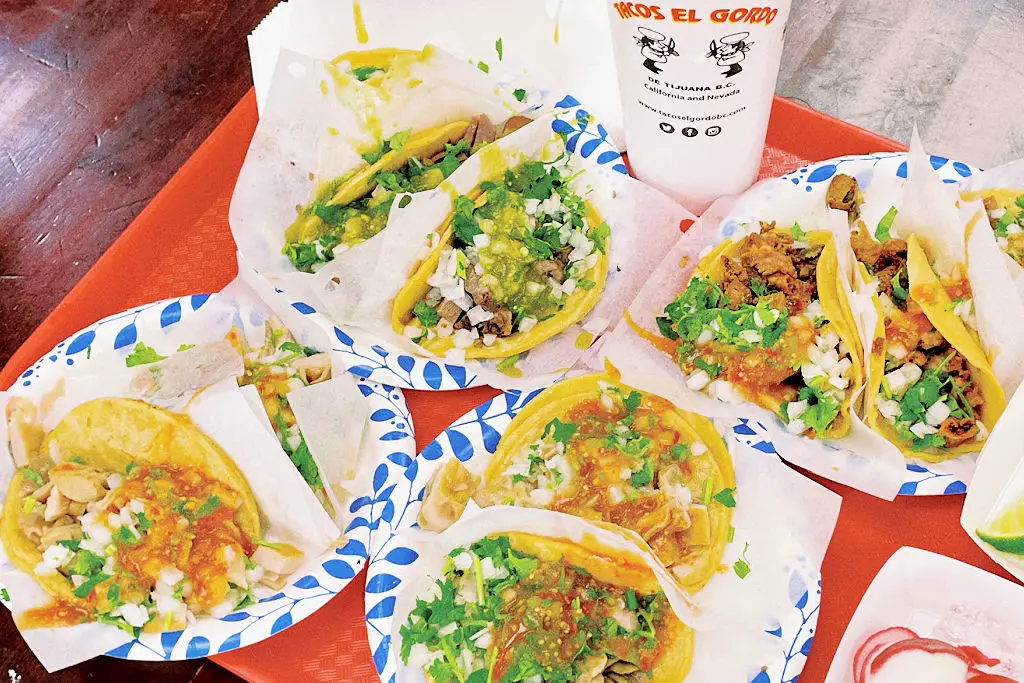 Consistently described by locals as a culinary experience, everyone in Sin City on a budget flocks to Tacos El Gordo. This no-frills taco chain serves up hearty tacos with meat shaved right off spit topped with fresh ingredients and great salsa. There's even a horchata soda fountain machine. Fan favorites include the Al Pastor and the adobada tacos.
Location: Across the street from Resorts World
9. CHICA Las Vegas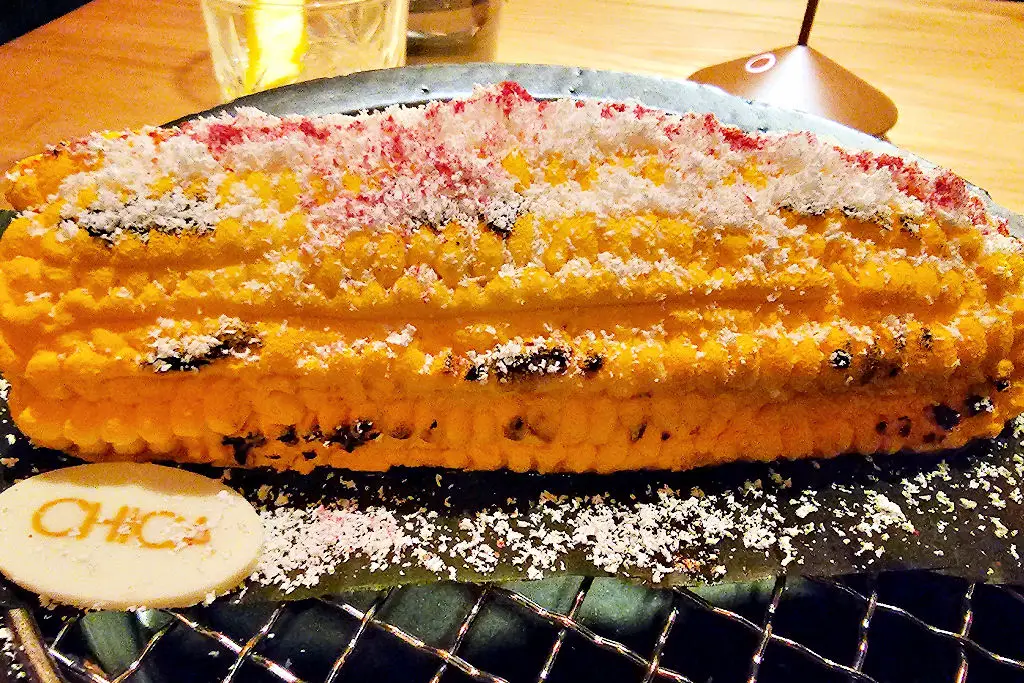 With two other locations in Aspen and Miami, there's little doubt that CHICA Restaurant is looking to attract a sophisticated crowd—so dress smart. Kick off your meal with the quesa-birria empanadas. For the main course go for the fire-roasted salmon with a side of roasted street corn.
Location: The Venetian
10. Hussong's Mexican Cantina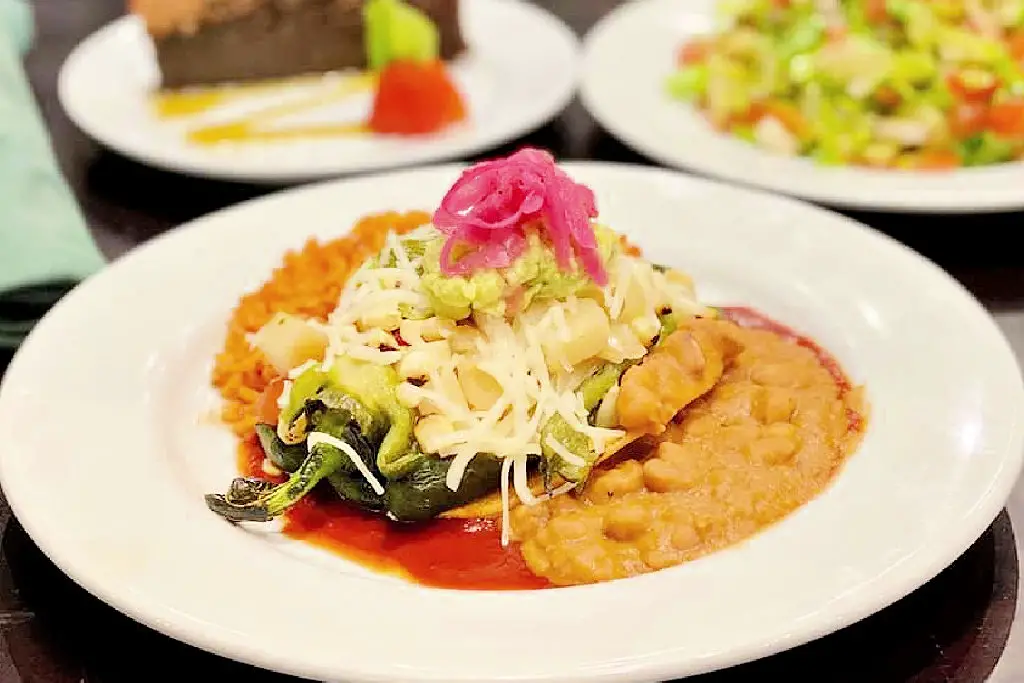 It would be a shame to visit Hussong's and not order a margarita. After all, it's famous for being the cantina that invented the famous drink. For the perfect combo, accompany your cocktail with an enchilada and enjoy the bottomless chips and salsa!
Location: Mandalay Bay
11. Taco Bell Cantina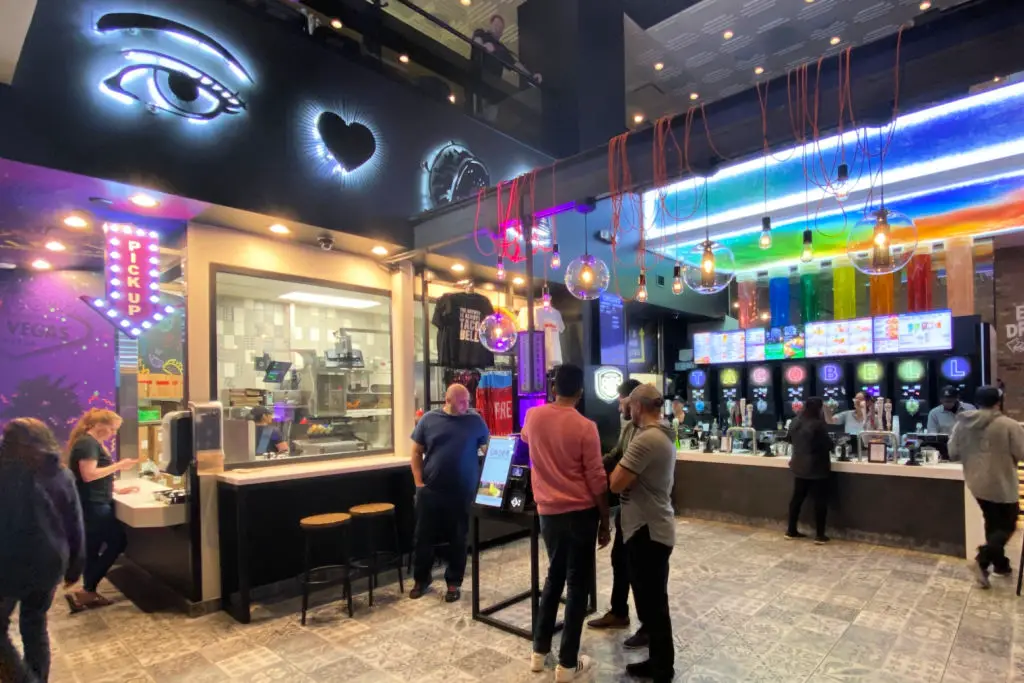 Fact: For some people, there is no better Mexican fast food than Taco Bell—so let's embrace it. For these diehard fans, the Las Vegas Strip Taco Bell Cantina, with its posh interior serving alcoholic drinks, doesn't disappoint.
Location: Miracle Mile Shops at Planet Hollywood
12. SOL Mexican Cocina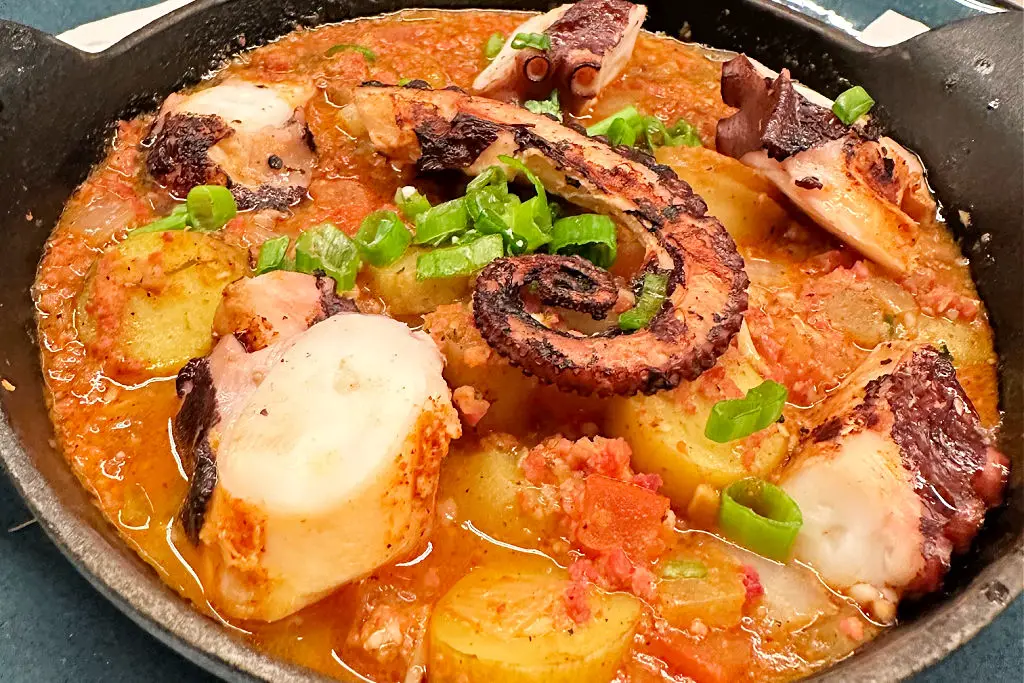 Noted for its live musicians, excellent service, and beautiful interior design, SOL Mexican Cocina is a local upscale food chain offering fresh Baja coastal cuisine. Signature dishes include fresh seafood ceviches, wood-grilled shrimp tacos, and coconut calamari. These days, because it's hard to find anything free in Las Vegas, diners appreciate the complimentary tortilla chip, salsa, and black bean starter offered at the beginning of the meal.
Location: Inside The Forum Shops at Caesar's Palace
13. Cañonita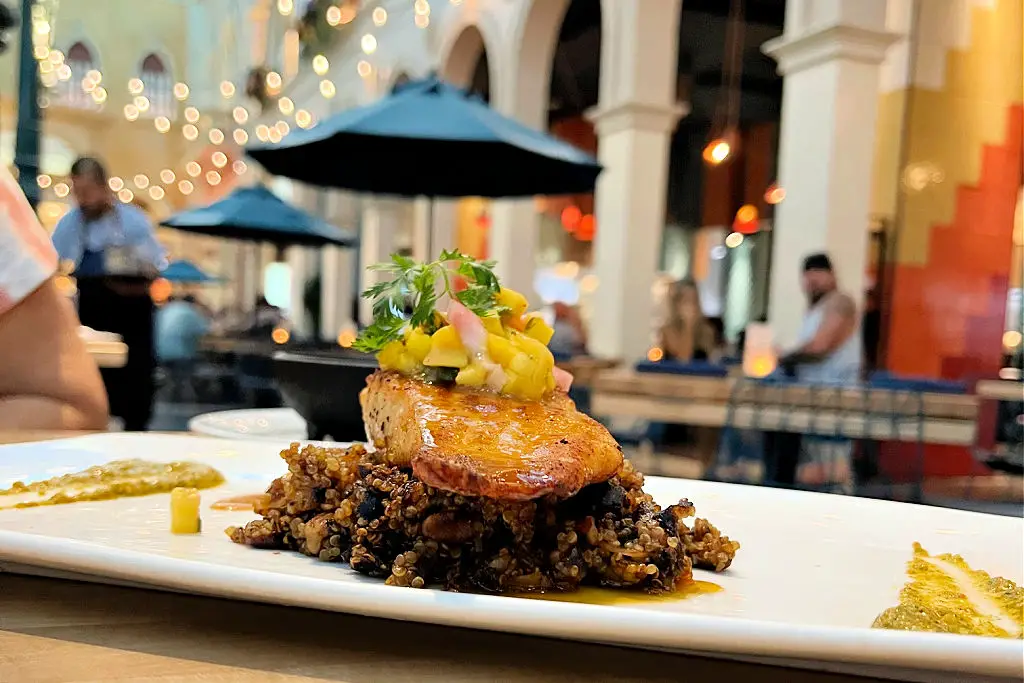 Sitting along the Grand Canal at the Venetian, Cañonita is by its location alone, one of the most unique restaurants in Las Vegas. Order the Santa Rosa Barbacoa—it's guajillo chile-rubbed pork that's served in a banana leaf and is tender, juicy, and packed with flavor. Furthermore, it comes with corn tortillas, chipotle BBQ sauce, black beans, and cilantro rice.
Location: The Venetian Canals
14. Casa Playa
Seafood fans may want to consider Casa Playa, a Wynn restaurant. The upscale menu concentrates on family-style dining and fresh, coastal Mexican cuisine. Popular dishes include seafood towers, American Wagyu shortribs, pork belly al pastor, and lobster tostadas. Casa Playa offers a signature all-you-can-eat weekend brunch on Saturdays and Sundays. The dress code is upscale casual chic. Kindly note that the restaurant is closed on Mondays and Tuesdays.
Location: The Wynn
15. El Dorado Cantina
Consistently winning awards for the Best Mexican Restaurant in Las Vegas, El Dorado Cantina prides itself on serving authentic Mexican cuisine entirely made with organic, non-GMO ingredients. Naturally, the use of high-quality ingredients carries over to the pricing, so anticipate your tab to be "Vegas expensive."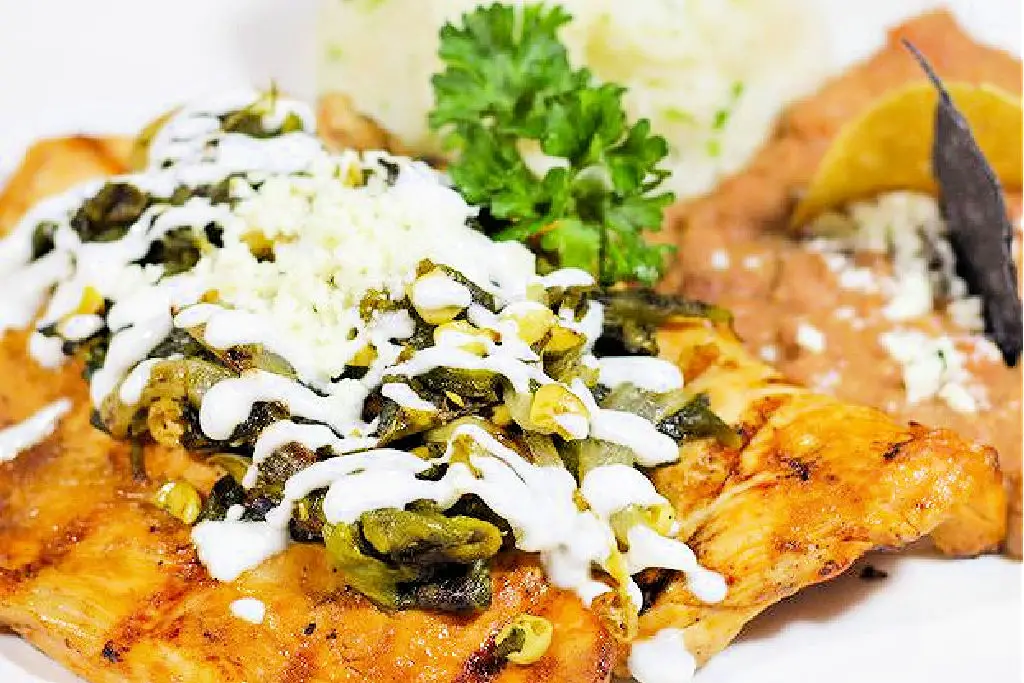 While there are three different locations, the El Dorado Cantina on the Strip ranks highest in guests' overall dining experience. Also, don't let the proximity to the next-door strip club confuse you. While in the same building, it is not connected to the restaurant.
Location: One block west of Resorts World
16. El Segundo Sol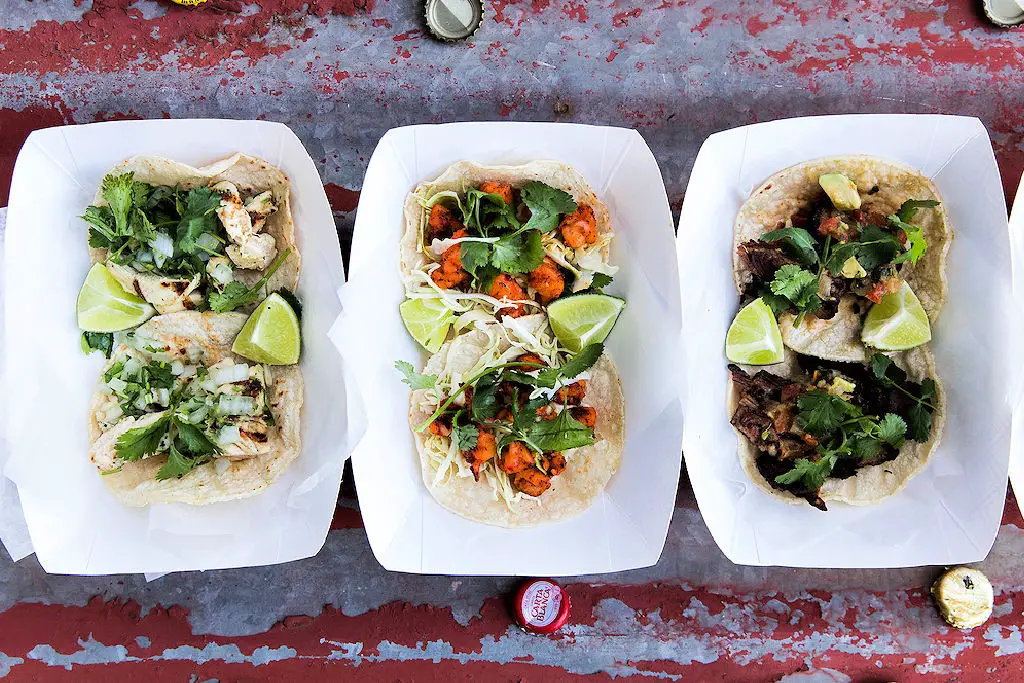 Priding itself on innovative Tulum-inspired cuisine, El Segundo Sol consistently ranks high with both locals and tourists. Its biggest draw is its affordable Loco Happy Hour from 3:30 p.m. to 6:30 p.m., Monday through Thursday. Guests can enjoy the outdoor patio with budget-friendly cocktails, beers, tacos, and appetizers. Flag El Segundo Sol if you're visiting Las Vegas on a budget!
Location: The Fashion Show Mall, across from The Wynn
17. Cabo Wabo Cantina
Vegas is famous for its selection of celebrity-owned restaurants. Owned by Sammy Hagar, Cabo Wabo Cantina offers a blend of the laid-back beach vibes of Cabo San Lucas with the energy of the Las Vegas Strip. With great views of the Bellagio Fountains and outdoor patio dining, the restaurant's central location is a big draw for tourists, especially for the 3 p.m. to 5 p.m. Happy Hour specials.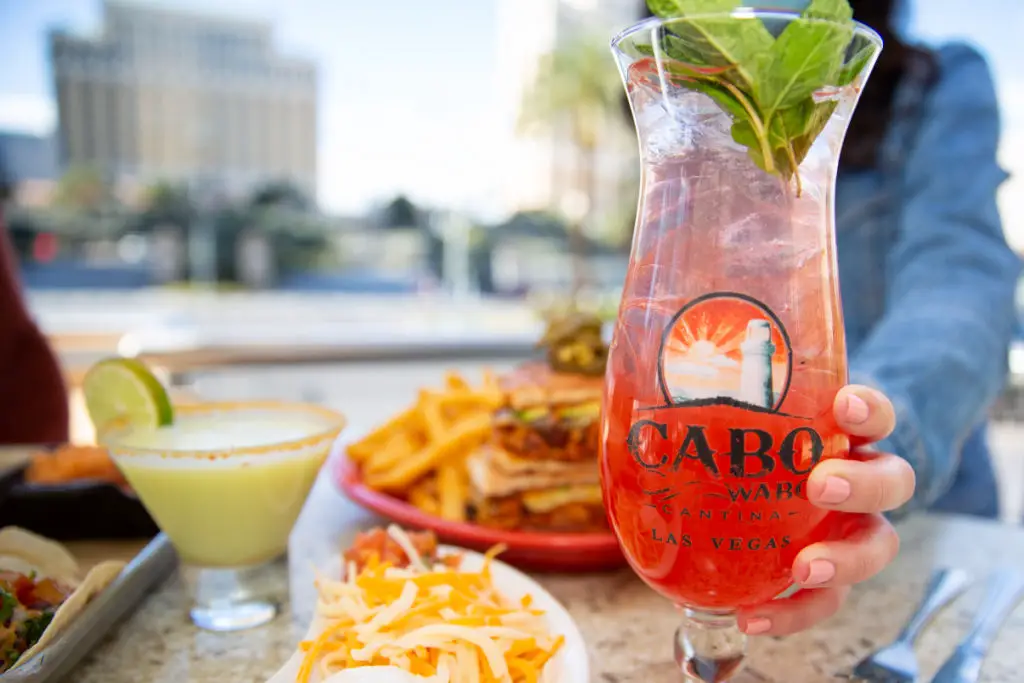 However, guests are typically more excited by the people watching and the view, as opposed to the Cal-Mex cuisine and drinks. Oftentimes, standards, servings, and service are very hit-or-miss. Fans of Sammy may consider enjoying one last Vegas cocktail in his popular restaurant at the Las Vegas Airport.
Location: At the North Miracle Mile Shops Entrance, across from the Bellagio Fountains on the Strip
18. La Salsa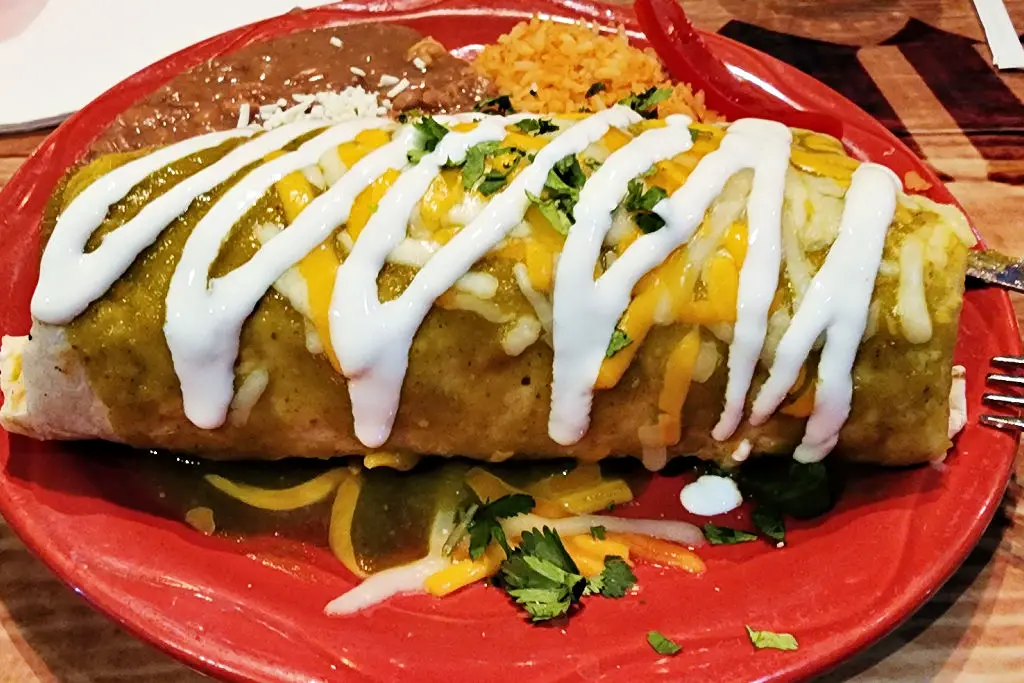 Just about every visitor to La Salsa is impressed by the portion size, fast service, and low prices. With the Miracle Mile Shop's sky ceiling and a giant pink neon yard drink as décor, La Salsa's atmosphere is quite fun.
Location: Miracle Mile Shops at Planet Hollywood
19. Gonzalez y Gonzalez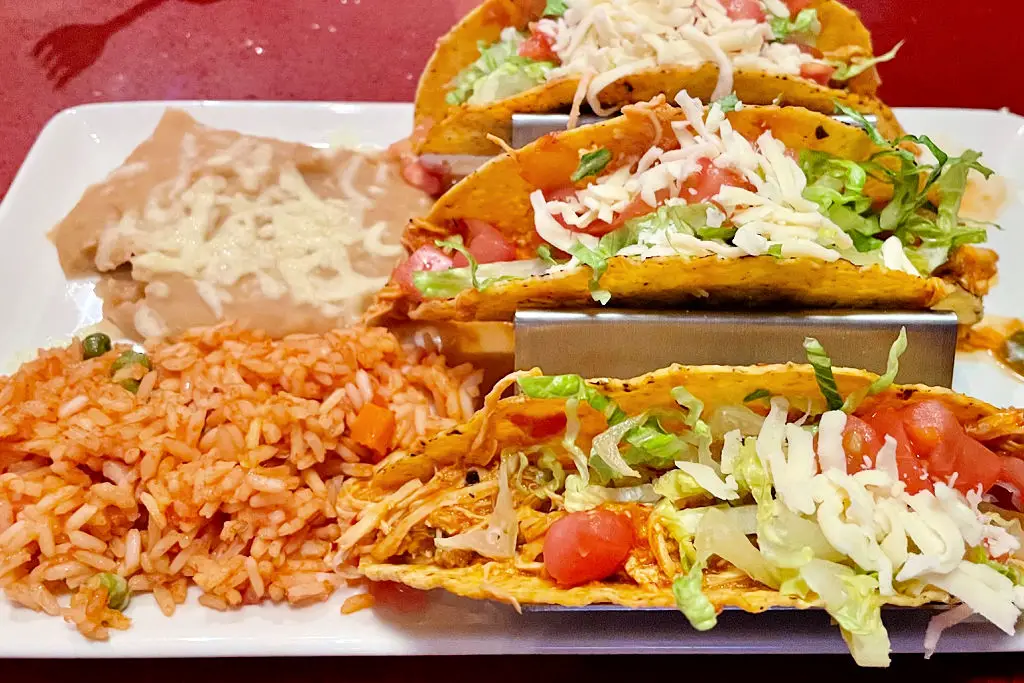 Offering dining experiences for both families and those looking to party, Gonzalez y Gonzalez serves up Americanized Mexican food offering traditional favorites like tacos, fajitas, and burritos. The house specialty is the pozole. The chips and salsa basket is generously huge and pairs well with a margarita or tequila. Latin nights with live music draw in crowds on Friday and Saturday nights from 11 p.m. to 3 a.m.
Location: New York-New York
20. Yolos Mexican Grill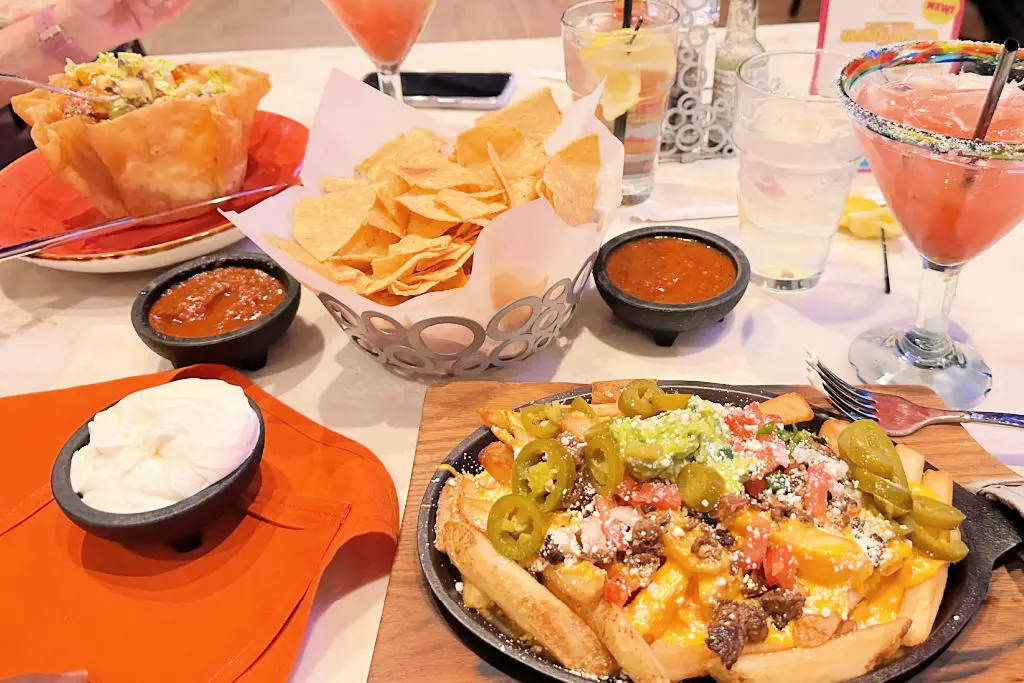 With 60+ tequilas and affordable pricing (for the heart of the Strip), there's not much not to like about Yolos. Claiming to combine flavors from the Caribbean, South America, and the Pacific Rim, diners can taste the international twist that they've added to the traditional Mexican cuisine. Order the Quesabirria tacos which consist of braised beef, birria au jus, red onion, Oaxaca cheese, and cilantro.
Location: Planet Hollywood
We Need Your Help
Did you find this article useful? If so, bookmark it and when you're planning your next vacation click on any of the links below before finalizing reservations. You'll get the best price, we'll earn a small commission, and you'll help support future articles.
Thank you!
TRAVEL TIPS
🏘️ Book Your Accommodation
We use Tripadvisor and Priceline's Express Deals to compare prices and reviews in advance and check availability
✈️ Book Your Flight in Advance
To find the cheapest flight options, you can use WayAway and Skyscanner to find the most suitable choice for you
🚗 Reserve Your Rental Car
Use DiscoverCars and Skyscanner to compare prices and view the largest selection of vehicles