Whether it's during a holiday, retirement, or as a new hobby, many folks have fantasies of sailing off to beautiful destinations around the world. Always intrigued with the idea to charter a yacht in Greece, we jumped on the chance to sail with Seafarer Cruising and Sailing Holidays, the best yacht charter in Greece. As first-time sailors, we knew this would grant us the perfect opportunity to see what yacht life truly entailed.
Yacht Charter in Greece – First-Timer's Guide to a Sailing Holiday
For two weeks, we sailed around the Cyclades Islands in Greece. During this time, we documented our sailing adventures through daily vlogs. Our goal was to share everything that we learned to help others who are interested in sailing (especially first-time sailors), get the most from their holiday.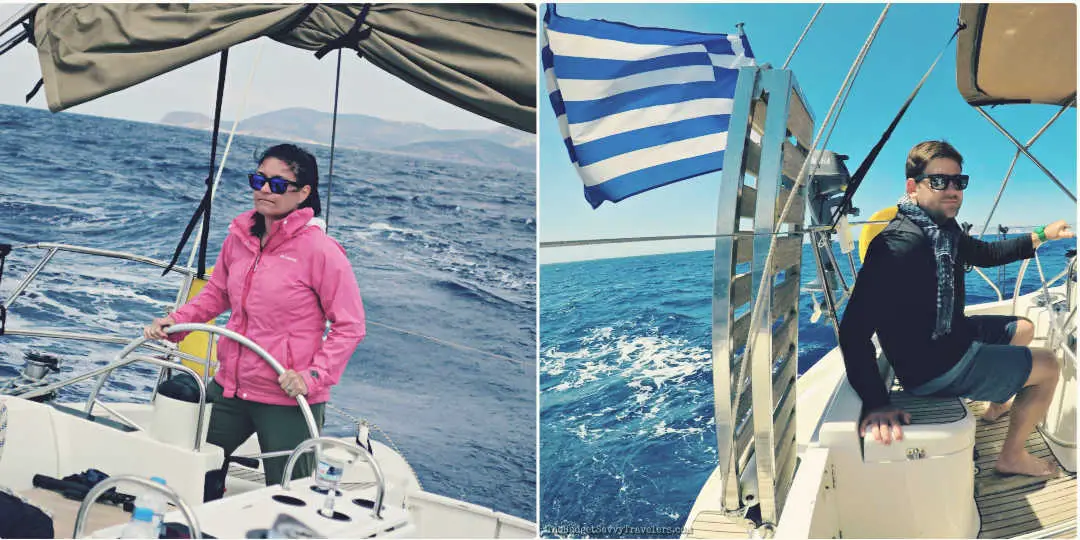 Why Sail Greece – Best Yacht Charter in Greece
Greece has approximately 6,000 islands and more than 10,000 miles of coastline! Sailing offered us a great opportunity to see more than just one or two major islands. In two weeks, we explored secluded bays and visited over ten different marinas.
When you're ready to book your next flight, follow these three easy steps to get the best price.
Some of our favorite spots were the off-the-beaten-path destinations, such as the Little Cyclades and Serifos. You will miss so much of what Greece has to offer if you don't get out onto the water.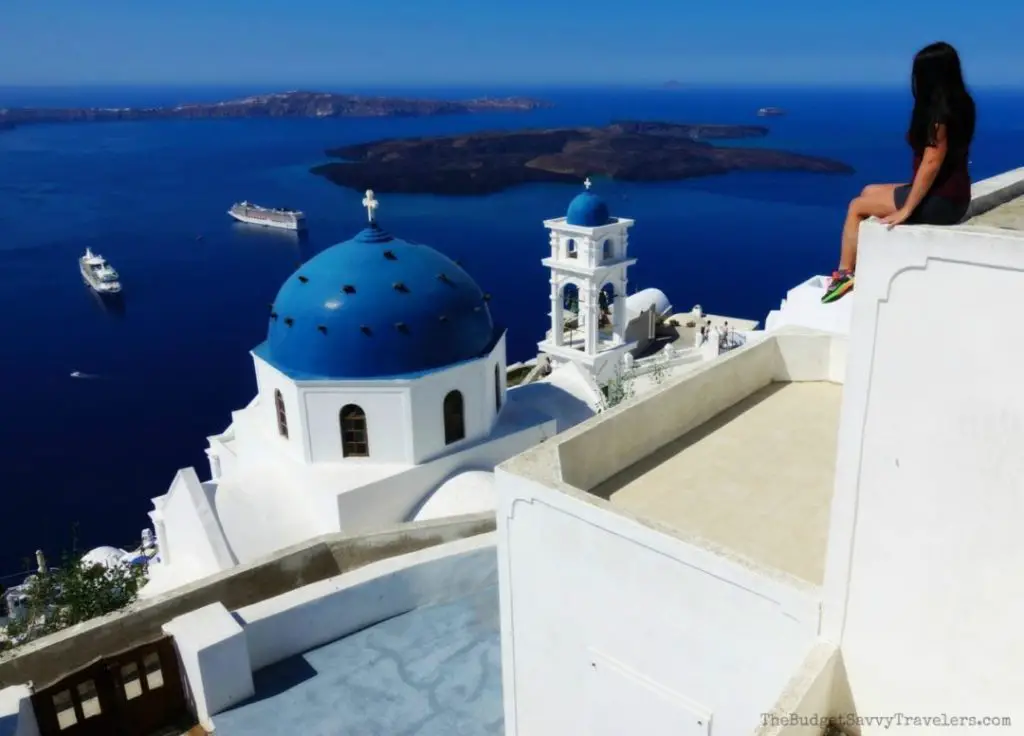 In terms of chartering a yacht, passengers have two options: 1) charter the entire boat or 2) charter a boat with other passengers. While more costly, we prefer chartering the entire boat ourselves.
It's such a freeing experience to have the boat all to yourself. And, you don't have to worry about getting stuck with lame guests. For example, we took a day trip in Croatia on a 30′ motor yacht, and one of the other passengers didn't seem to know the tour was going to take place on the water! With the first wave hitting the boat, she became immediately ill. Basically, the entire day was sort of ruined because the itinerary had to be adjusted for this one passenger.
We use this budget-savvy travel health insurance to protect our trips – get a quick quote.
We recommend that you charter through Sailo.com, it's essentially the Airbnb of boating. You make your reservation directly with the owner of the boat. As a result, you get to charter nice yachts at very affordable prices. Here's how:
Go to Sailo.com.
Click in the search box and type "Greece."
Select your dates You may choose either a day trip, multiple days, or a weekly trip.
Next, you'll be given a list of boats which you can then narrow down based on location, price, and other filters such as air conditioning, Wi-Fi, etc.
However, if you're looking to charter with other passengers, it may be more convenient to make a reservation with Viator. There are several small ship cruise options to choose from, many visiting a variety of islands!
It's that easy!
Benefits of Chartering
Want to know a dirty little secret? Sailing is a lot of responsibility! During our charter, anchor lines got crossed with other yachts. High winds often influenced mooring and unmooring. Every day, intensive planning was done by the skipper to ensure the safe passage of both the passengers and the yacht.
There was paperwork, responsibilities such as getting shore power, and interactions with harbormasters that all needed to be handled at every marina. Behind the scenes, the crew was working hard! As first-time sailors, we were happy to sit back and let the highly-trained experts take care of all the dirty details.
Opportunity to Get Involved in the Sailing
Another benefit of chartering is that guests have the opportunity to get involved in sailing. This was our first time staying aboard a yacht and experiencing what life was like out on the sea. Some days we were actively involved, other days we relaxed and just watched the world go by.
Willing to choose the best places to stay by yourself or are you interested in getting off the beaten path? Try Trivago: a service comparing the best prices.
Finally, chartering a yacht is a great way for couples, friends, and families to explore together. It is extremely affordable and offers great value for groups looking to share a unique holiday experience.
Cyclades vs. Ionian – What's the Difference?
One of the first steps when planning your sailing tour in Greece is to decide what region to explore. There are two main island chains to choose from; the Ionian, which lies in the north, and the Cyclades to the south. It's important to know that these two island groups offer completely different sailing experiences.
We sailed in the Cyclades during mid-May. Due to the unprotected layout of the islands, and the frequent windy conditions, this area offered more of an adventurous sailing tour. If the goal is to maximize sailing time, this may be the preferred itinerary.
Yacht Rental Greece
The lumpy waters tend to keep many tourists away. There were days we'd only see one or two other yachts out on the water. It was wonderfully underpopulated and quiet. Without mass tourism, the Cyclades are known to provide a more authentic Greek island experience.
Southern Greece, in the Cyclades, is known for the Meltemi winds. When sailing the Cyclades, expect windier conditions and lumpier waters. It's important to mention these winds because they can have a dramatic impact on your sailing holiday.
The Ionian region, in northwest Greece, has a completely different vibe and sailing experience. The islands are more sheltered by land which typically lends itself to calmer waters. However, this makes the region more touristy, and populated, and a bigger party scene. For these reasons, the majority of the flotillas will sail around these islands.
What's the Typical Day Like
Depending on the course of the day, mornings typically started around 7-8 am. We began each day with a light breakfast, which consisted of cereals, yogurts, fruit, bread, jams, and coffee or tea. Depending on the wind conditions, we sailed for around five to six hours, with a lunch stop en route to the next marina.
Throughout the day there are opportunities to swim if desired.  Upon arrival, we were free to explore the island. At sunset, we'd enjoy wine and appetizers purchased from the local island shops.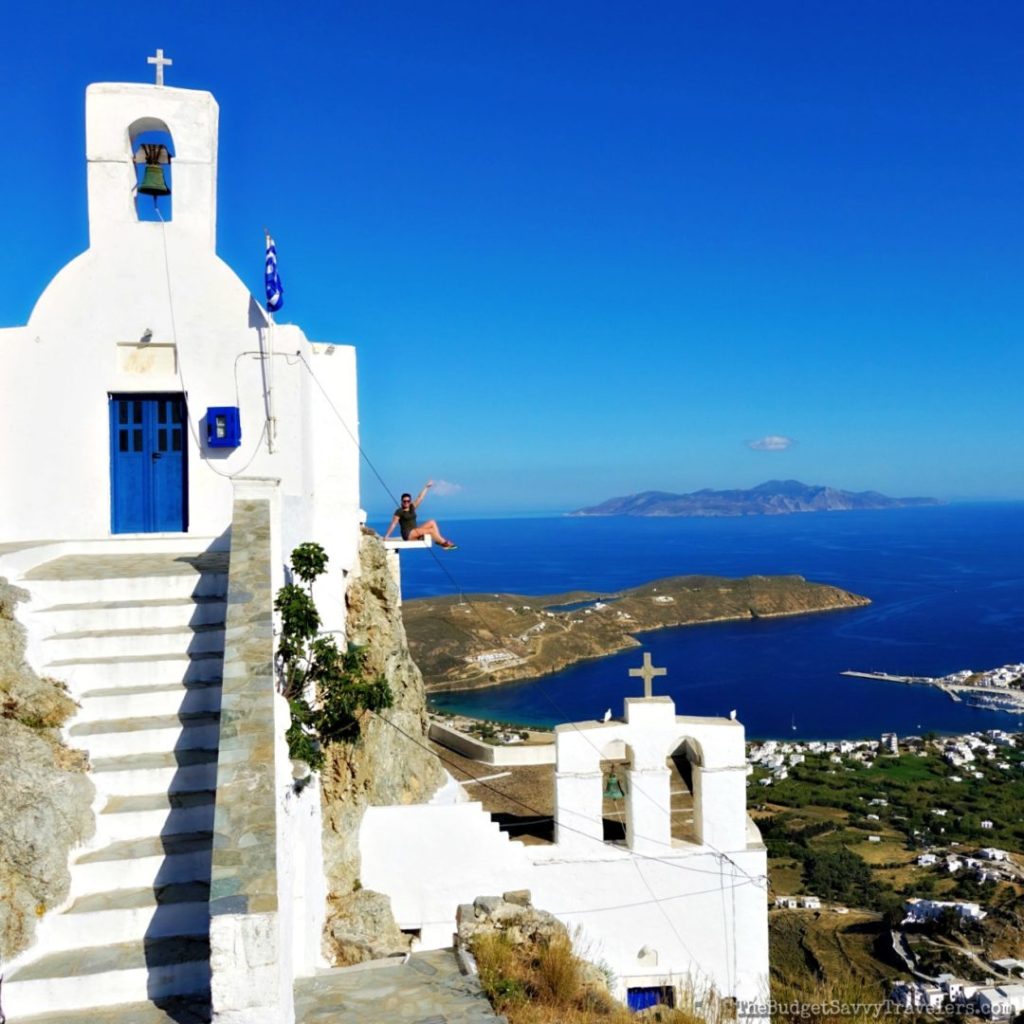 Dinner is not part of the package price. However, there were many tavernas (a small Greek restaurants or cafe) at every marina we visited. We even had the option to prepare meals on board. Purchasing some appetizers and drinks and eating them aboard the yacht before dinner was a great way to save money!
Motion Sickness
We enjoyed experiencing all the faces of the Aegean Sea, from calm and flat to unpredictable and bumpy. But the reality was, the sea was unpredictable and rough. Seasickness came with the territory.
Being prepared and knowing our bodies, really helped us work through any motion sickness. For example, a lighter breakfast with tea instead of coffee was always better. We discovered that muesli and yogurt were harder for us to digest and weighed heavy in our stomachs after departing.
During lumpy segments, we opted to avoid eating lunch altogether and simply enjoyed lunch when we arrived at the next marina. It's okay to wait! At times, we munched on salty snacks like chips or pretzels.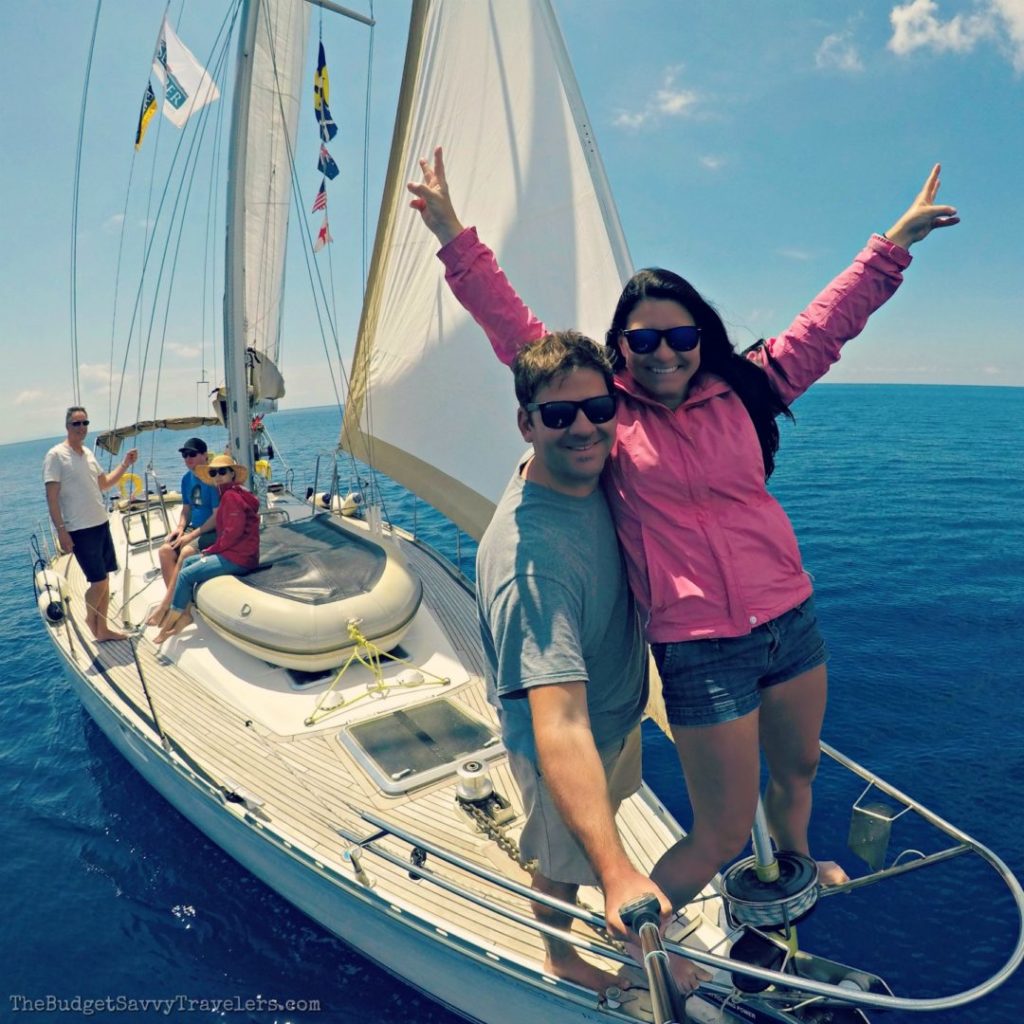 The motion sickness medication typically lasted between 4-6 hours. Often during longer journeys, when the medicine started to wear off, I would lie down in our cabin to rest or read until we reached the marina.
What If You Don't Like Seasickness Pills?
Harry, on the other hand, did not like the drowsiness he felt when taking the motion sickness pills and therefore, he refrained. Harry would rather vomit than be sleepy and drowsy. If he started feeling that his equilibrium was off, he opted to lie down in our cabin.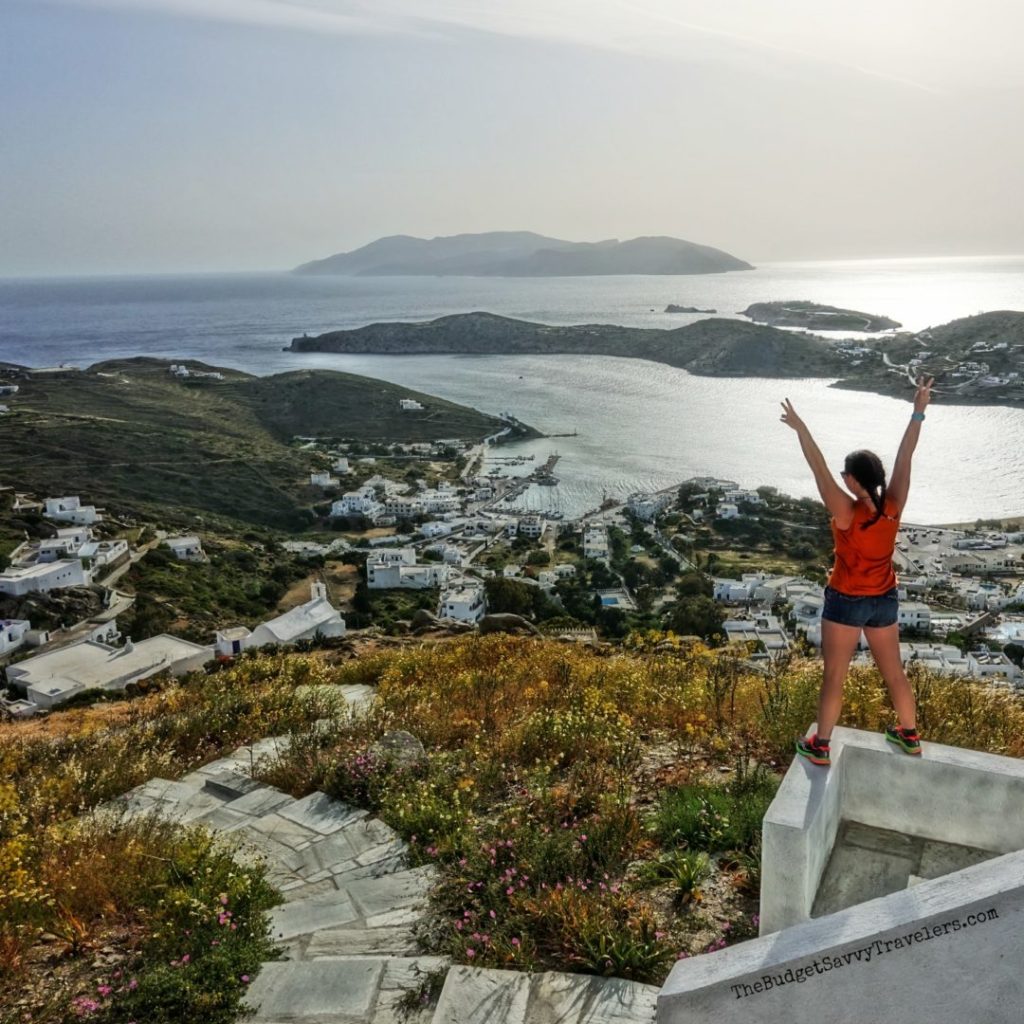 Cabins below the helm of the yacht experience less movement than cabins towards the bow. We never felt ashamed to relax or retire to our cabin if we weren't feeling well. It's normal. It's acceptable. No one judged us if we weren't feeling ill and needed some time to lay down while riding out the waves. The crew wanted us to enjoy ourselves and of course, not throw up.
Reflections On Our Yacht Charter
Reflecting on our time aboard the Malama, I crave to be back on the yacht, sitting on deck riding the waves, and watching the world go by. For us, it wasn't always smooth sailing, but we are travelers who crave an adventure with a story to tell at the end of our journey.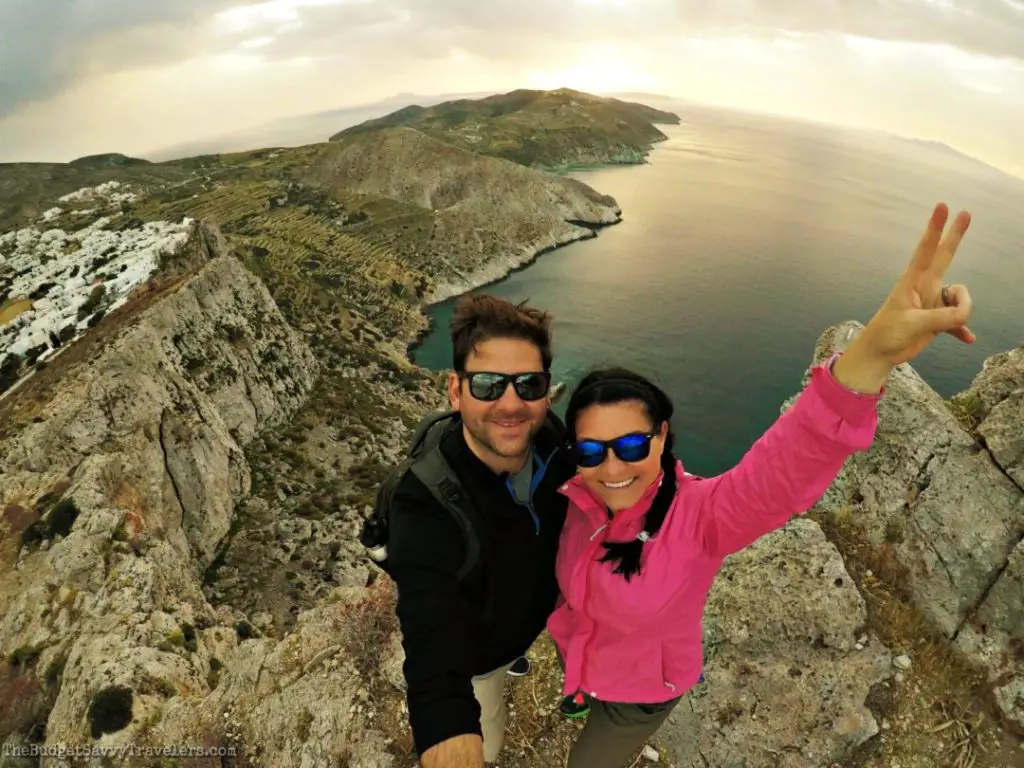 If given the opportunity, we would jump on the chance to sail the Cyclades with and charter a yacht again. We loved the feeling of looking out at the Aegean Sea, often without another soul in sight. We preferred the authenticity of these islands, with many still untouched by cruise ships and mass tourism. For that reason, we were happy with our decision to sail the Cyclades.
We documented life aboard a 52-foot sailing yacht as first-time sailors. It was an adventure of a lifetime. We invite you to watch our two-week documentary series, Rapture of the Deep, to learn more about what chartering a sailing yacht is all about.
What to Bring On Yacht Charter in Greece
Before our departure, our charter company provided a great packing list to help us prepare for our time on the Malama. The following are some insider packing tips to ensure a great trip.
Beach towels were provided so no need to bring them.
There are no outlets in the cabins on the Malama, but the galley has a few outlets and a great (fast) USB charging station. Bring the necessary cords and European plug adapters.
Bring shampoo, conditioner, body soap, and lots of sunscreen.
We packed super light and only brought two small backpacks. Less stuff means more room in the cabin.
Yacht etiquette calls for no shoes aboard. If you have sensory issues like me, consider packing cloth slippers or cozy socks.
Pharmacies were not common in some of the marinas. Bring any medicine and toiletries needed, especially motion sickness medication if desired.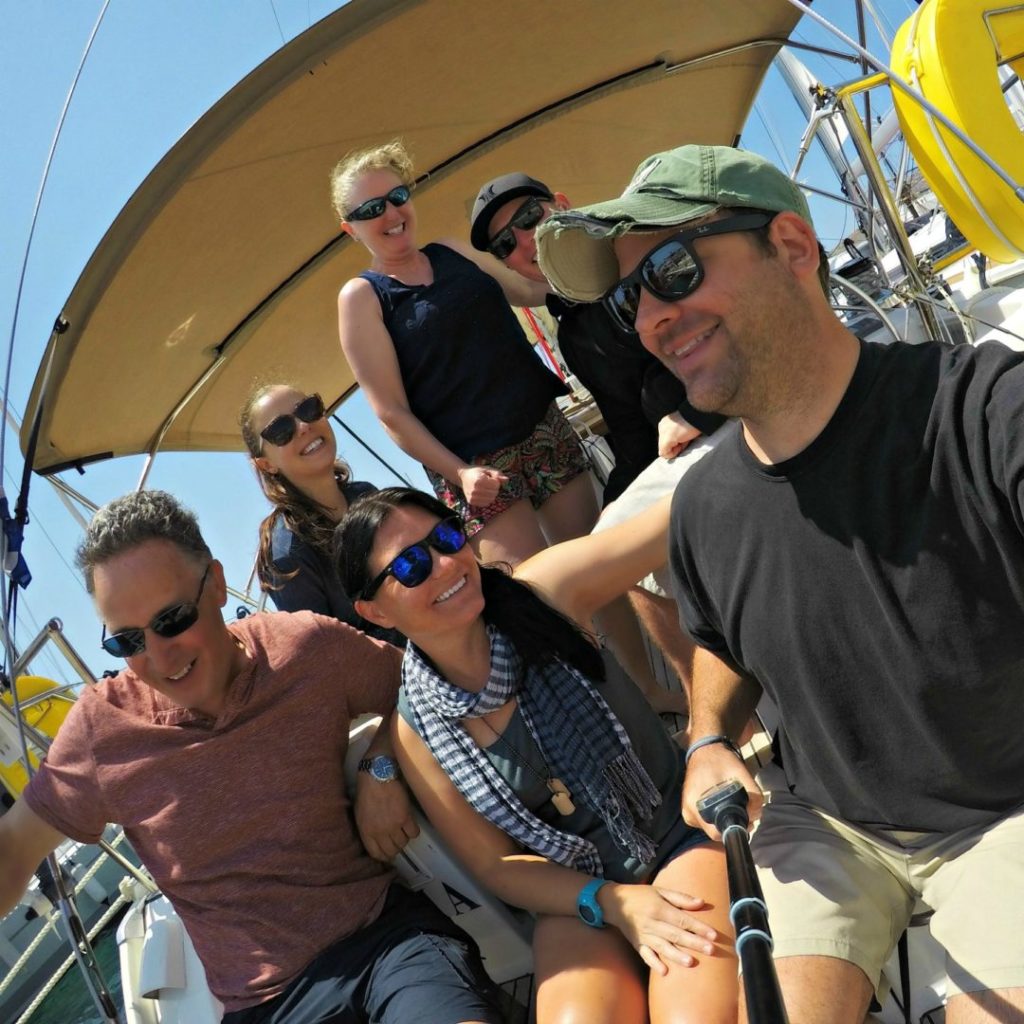 Interested in going on the best yacht charter in Greece? Check out Sailo.com. If sailing on a small boat is just not your thing, be sure to check out CruiseDirect for the best prices on traditional cruises.