Feel like Europe is calling your name? Travelers considering a vacation to the Old World may find a charming city in the U.S. that feels like Europe. Whether visiting Europe is too expensive or you simply just don't have the time, the good news is that there are plenty of good alternatives in the U.S. with similar European vibes.
If you have to postpone your dream trip, or you're simply missing the beauty of Europe, these destinations across America may offer an alternative to classic European summer destinations.
Below are 40 special places in the U.S. that feel like Europe.
1. Desire: Bavarian Village, Germany
Consider: Leavenworth, Washington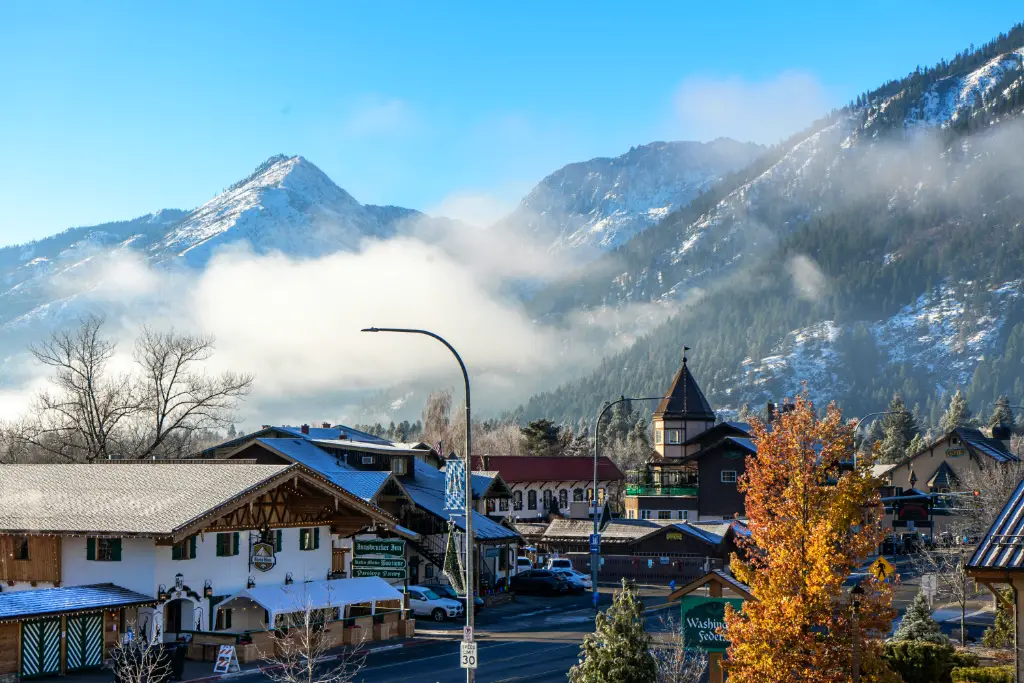 Tucked in the middle of Washington state, Leavenworth is located about 2 hours outside Seattle. On Front Street, the main strip, travelers will discover beer gardens, Alpine-style architecture, and tasty German cuisine. Accommodations are plentiful, with luxury hotels, cabin rentals, cozy B&Bs, and rustic lodges.
After exploring the Bavarian town, the nearby wilderness area offers fun outdoor adventures including hiking, birding, climbing, cycling, and horseback riding. In the summer, travelers can take advantage of the many water-based activities such as kayaking, tubing, river rafting, and paddleboarding. Camping and RV spaces are also available.
Many Americans have decided to travel here for their European-inspired stateside honeymoon or engagement proposal. Leavenworth is so charming, you'll think you've visited Germany without ever having to pull out your passport.
Book Now: Bavarian Lodge
2. Desire: Swiss Alps
Consider: Vail, Colorado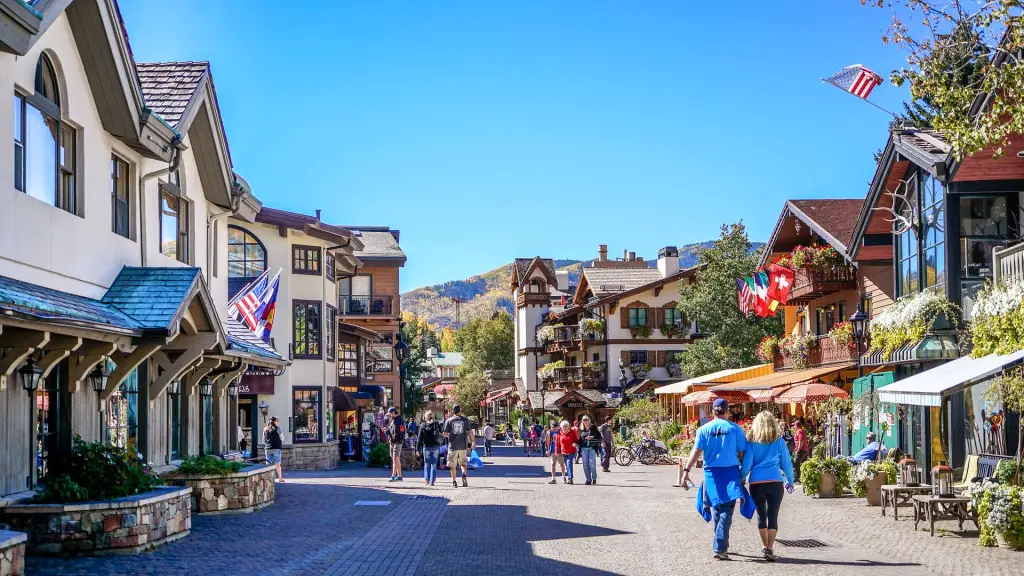 Dreaming of a Swiss Alps vacation? The mountain town of Vail may just be the next best thing. The city is known for skiing, hiking, gondolas, and Austrian-German cuisine, while its cozy chalets radiate Alpine charm. Additionally, many of Vail's hotels are reminiscent of Europe's grand mountain resorts.
Enjoy wining and dining with a backdrop of gorgeous scenery and architecture. Many menus feature tasty European favorites, such as Hungarian goulash soup, bratwurst, pretzels, and schnitzels. Travelers looking for a special occasion splurge may consider Alpenrose Restaurant.
Here you can enjoy their Fondu Gondola experience—a 3-course, Bavarian-inspired menu served inside a cozy gondola. Of course, Austrian wines are paired accordingly with each dish.
Book Now: Sonnenalp
3. Desire: Norway
Consider: Decorah, Iowa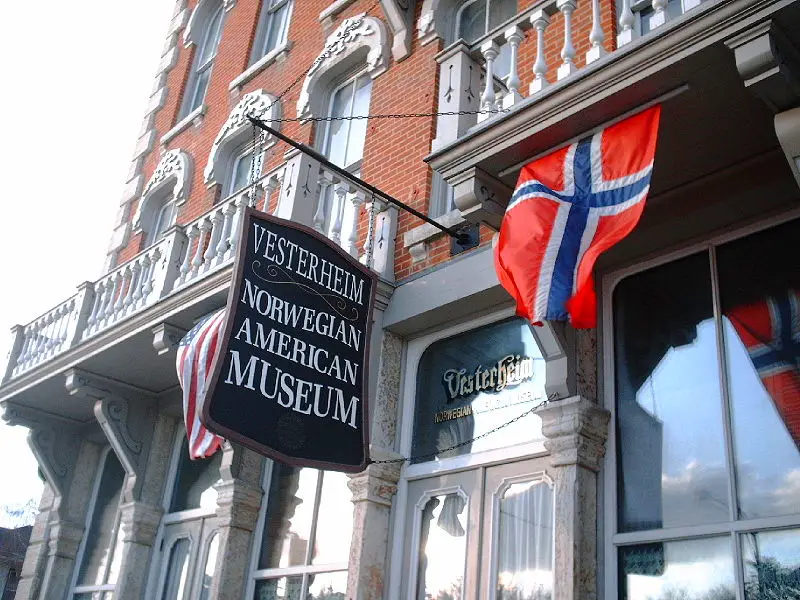 A trip to Decorah, Iowa allows travelers to experience Scandinavian culture right here in the United States. It's a great option for a European-inspired Midwest weekend getaway.
Founded in the 1800s by Norwegian immigrants, this pretty town is nestled in Iowa's rolling hills. Tourists from Norway are surprised by Decorah's locals who seem to be more Norwegian than they are.
Water Street is Decorah's main strip. It offers lots of Nordic flair—gnomes, artisan crafts, and folk art. Additionally, the Vesterheim Norweigan American Museum showcases the most comprehensive collection of Norwegian-American artifacts in the world. The highlight here is the 25-foot wooden boat that sailed across the Atlantic Ocean.
If exploring Nordic culture is important to you, be sure to time your trip with Decorah's most famous summertime celebration, Nordic Fest. Specifically, this festival brings Viking culture alive with folk dancing, combat demonstrations, and traditional cuisines.
Besides exploring Nordic culture, there's a lot to keep you busy in the region. For example, family-friendly activities include farm tours, nature parks, biking and hiking trails, and museums.
Book Now: Hotel Winneshiek
4. Desire: Scottish Highlands
Consider: Southern Virginia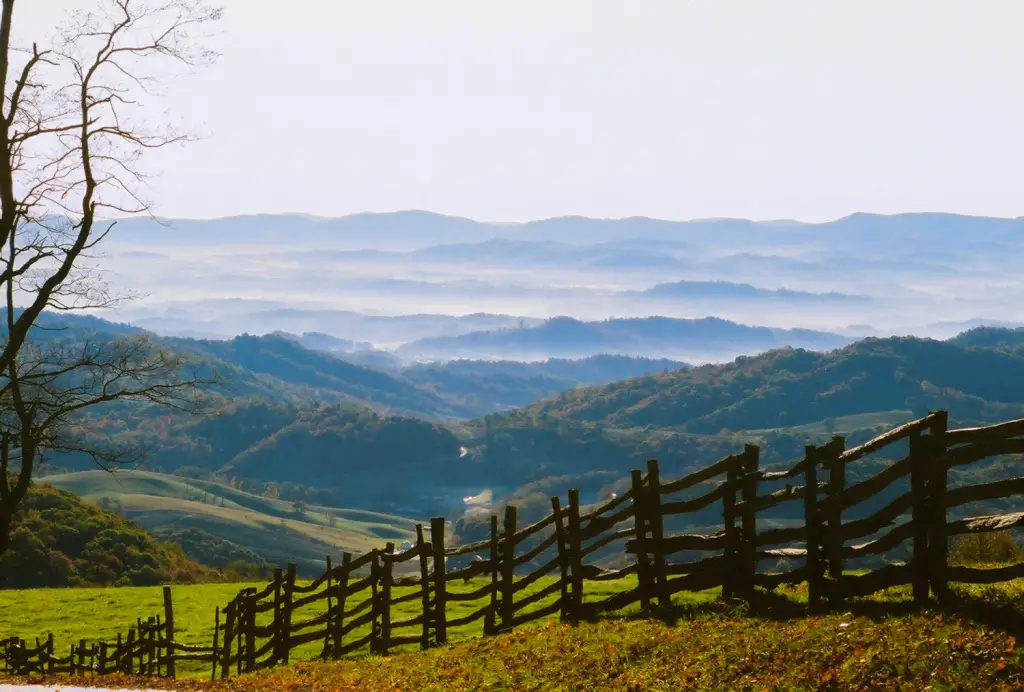 If you love the beauty and hiking of the Scottish Highlands, Southern Virginia offers a comparable experience. Head to Grayson Highlands State Park to spend time among the rolling green hills, misty valleys, and rocky cliffs. The park is located near Mount Rogers and Whitetop Mountain, Virginia's two highest mountains.
The highlight of the Grayson Highlands is alpine-like, scenic peaks that reach over 5,000 feet. Scottish Highlanders may not be part of the landscape, but the roaming wild horses are equally as photogenic.
Facilities include hiking trails, waterfall overlooks, campgrounds, and a visitor center. The park also provides year-round access to the Appalachian Trail and the Virginia Highlands Horse Trail.
Book Now: The Martha Washington Inn & Spa
5. Desire: Tuscany
Consider: Southern Illinois Wine Country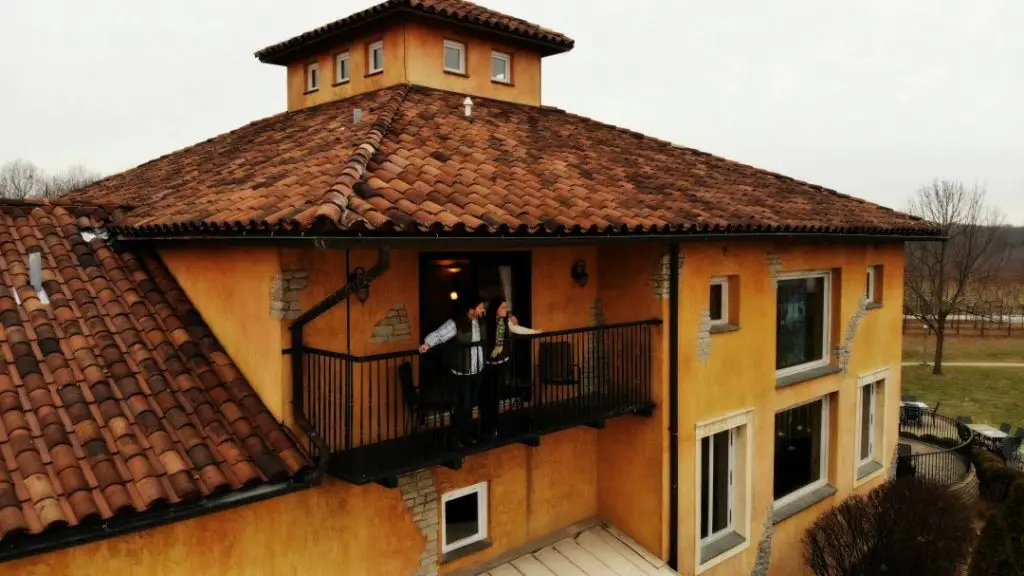 Midwest travelers who have only enough time to explore regionally may want to consider a tour of Southern Illinois Wine Country. If you know where to look, the rolling hills, Italian architecture, and abundance of wineries give off a vibe of Tuscany.
Illinois' Shawnee Hills cover a huge chunk of land—about 2,000 square miles. However, the wine trail only covers about 40 miles. The Shawnee Hills Wine Trail map makes touring the area much easier. Also, be sure to double-check what times the wineries are open because all of the wineries are independent operators.
Above all, the Blue Sky Vineyards provide overnight guests with a truly hidden gem. The property has two spacious suites located just above the winery tasting room. The Tuscany Romance Suite includes a balcony that overlooks the wine bar and an additional balcony with views of the vineyards and Shawnee Hills.
Further, the Tuscany Romance Suite also offers a small kitchenette with a coffee pot, sink, microwave, and refrigerator. A European-style breakfast comes with each stay.
Book Now: Blue Sky Vineyard
6. Desire: Greek Islands
Consider: Tarpon Springs, Florida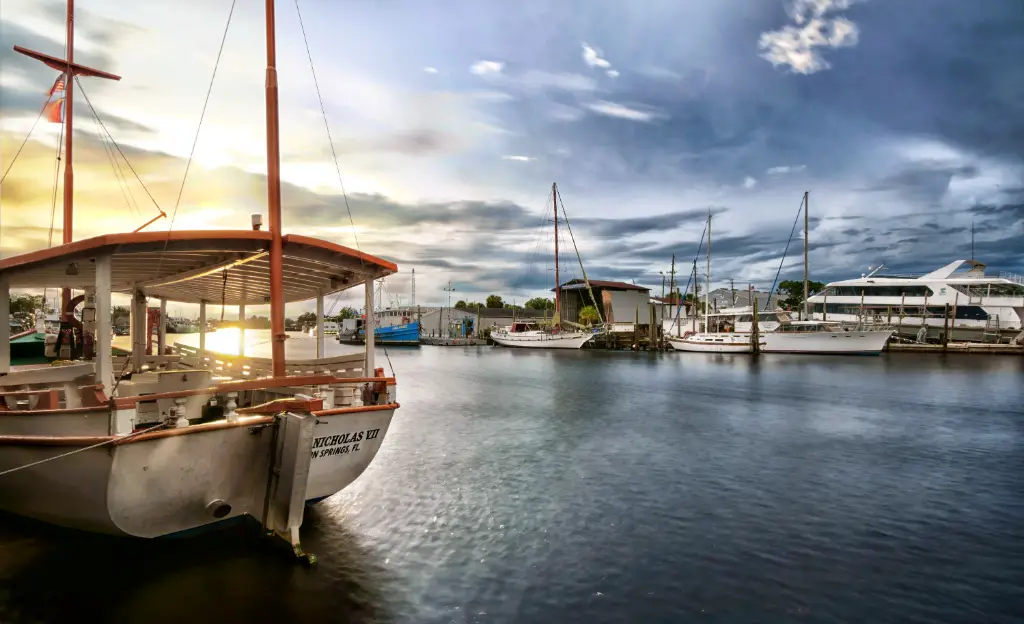 A visit to Tarpon Springs is the closest you can get to Greece in the United States. Greek culture is prevalent here due to having the largest percentage of Greek-Americans in any city in the country.
In the early 1900s, many Greek immigrants settled here and brought their culture, boats, and tasty cuisine with them. Of course, there's a huge concentration of Greek restaurants, bakeries, and eateries. Be sure to enjoy a gyro, some fresh fish, and baklava for dessert.
Visitors will appreciate Tarpon Spring's waterfront allure, with 51 miles of coastline and floating fishing boats along the shore. There is also a charming downtown city center which is listed on the National Register of Historic Places. Additionally, you can stroll down brick streets shopping in specialty shops, art galleries, and antique stores housed in buildings that date back to the late 1800s.
Book Now: Coconut Inn
7. Desire: Aarhus, Denmark
Consider: Solvang, California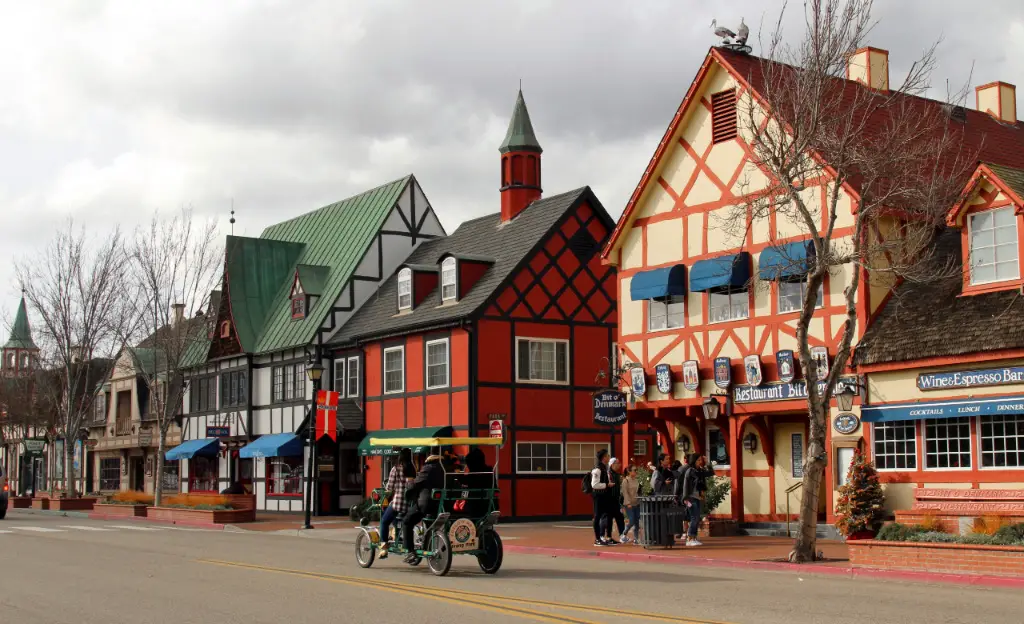 Just a 45-minute drive from Santa Barbara, Solvang is a great destination to experience Danish culture in the United States. The city is purely Scandinavian, full of cuckoo clocks, wooden shoes, and thatched-roofed shops.
Currently, one of the best ways to enjoy the Solvang is on a self-guided walking tour. Visitors can meander through the city, taking in the traditional Danish architecture and the city's main attractions. For example, there are four European-style windmills and a large clock tower.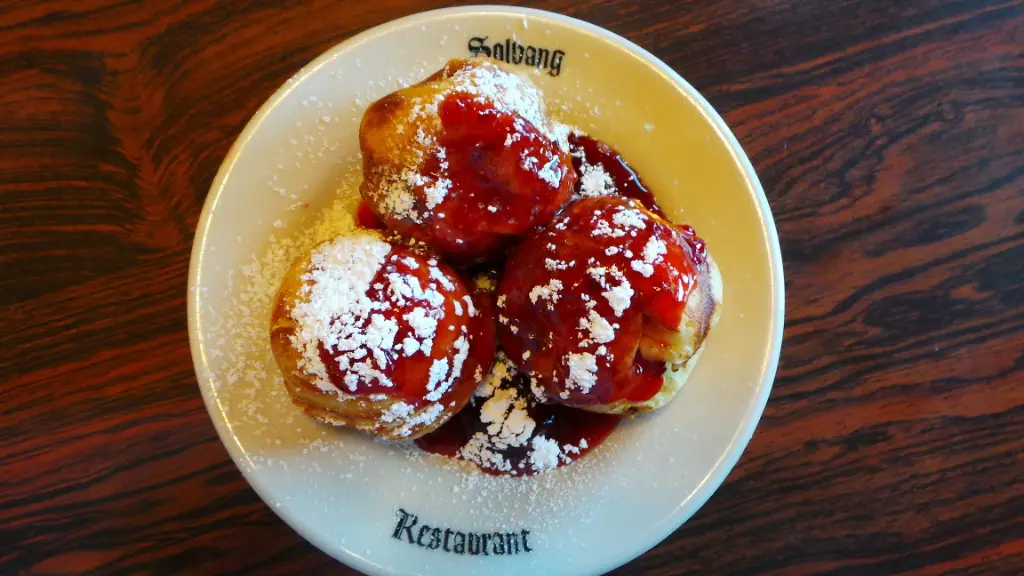 Additionally, some attractions pay homage to Denmark. These include statues and a museum celebrating Hans Christian Andersen, the Little Mermaid Fountain, and a scaled reproduction of Copenhagen's Rundetårn. Of course, be on the lookout for ornamental storks perched on roofs. They are considered good luck in Danish culture.
Book Now: The Winston or the Santa Ynez Inn
8. Desire: Madrid, Spain
Consider: St. Augustine, Florida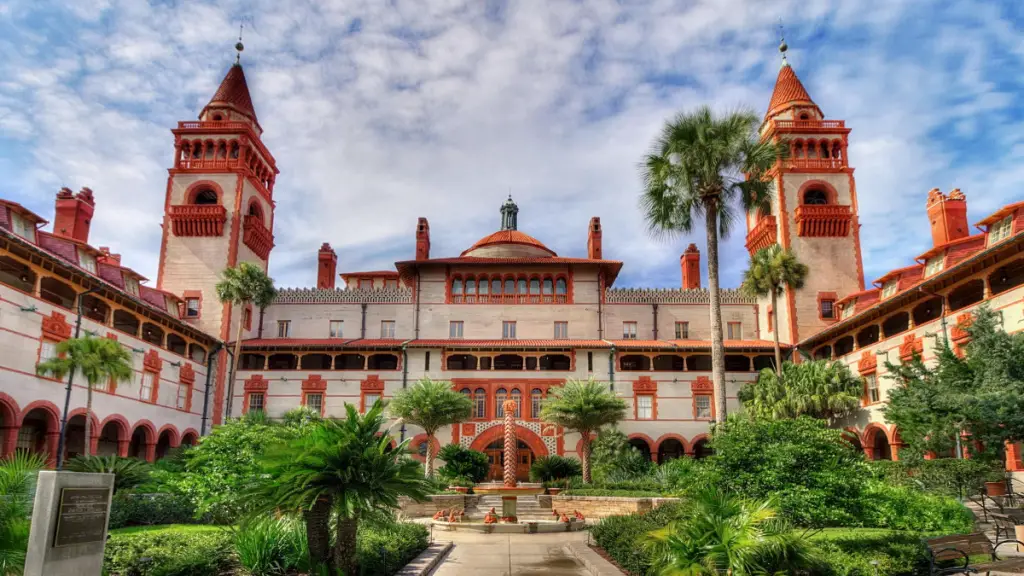 Settled in the mid-1500s by the Spaniards, St. Augustine is the oldest city in the United States. Today, the Spanish influence lives on, especially in the city's architecture. There are many attractions and historical sites that pay homage to the city's Spanish past.
For example, the Castillo de San Marcos is St. Augustine's most notable attraction. This large Spanish stone fortress is over 300 years old and is the oldest structure in the city. Additionally, the Colonial Quarter is quite beautiful and it's a popular place to enjoy traditional Spanish food and fusion cuisine.
Book Now: Bayfront Marin House Historic Inn
9. Desire: Nice, France
Consider: Newport, Rhode Island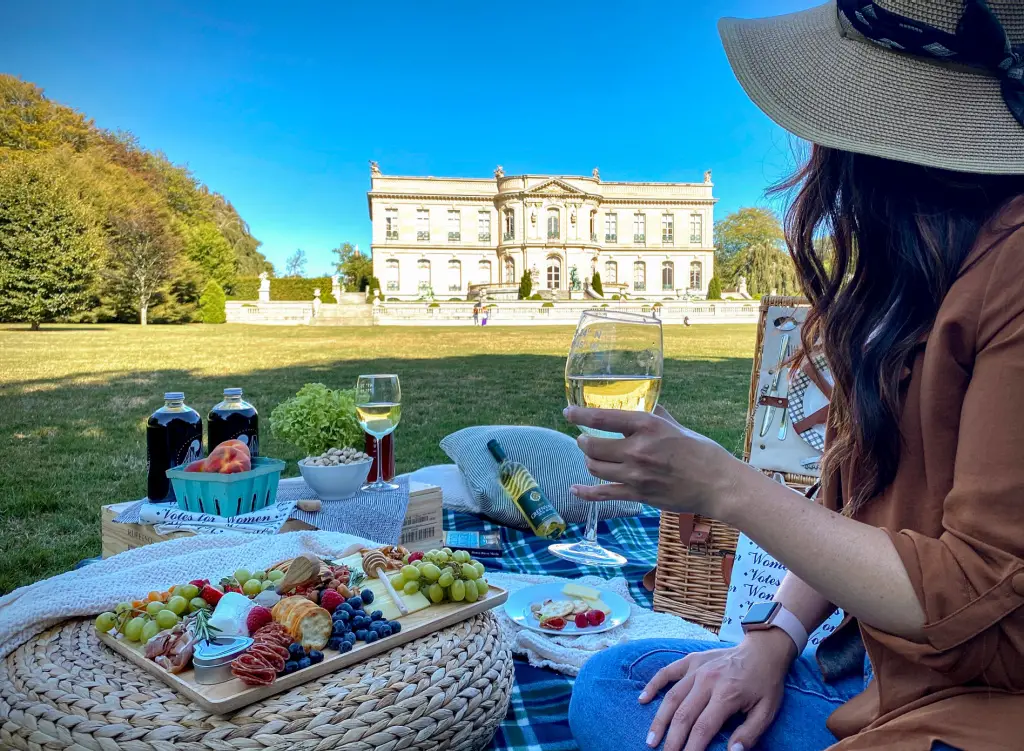 Newport, Rhode Island is where to go if you're craving a trip to the French Riviera. Similar to Nice, Newport's landscape is dotted with sailing yachts, luxury real estate, pebbly shores, and seaside elegance.
Additionally, just like in Southern France, fresh seafood is in abundance. Newport is known for its casual lobster shacks serving up delicious fried clams and lobster rolls.
There's another interesting comparison too! Nice has a coastal walkway which served as an inspiration for famous artists like Matisse, Cézanne, and Picasso. Likewise, Newport also offers a cliff walk—a 3.5-mile stretch where visitors can enjoy natural landscapes and the region's famous Gilded Age waterfront mansions.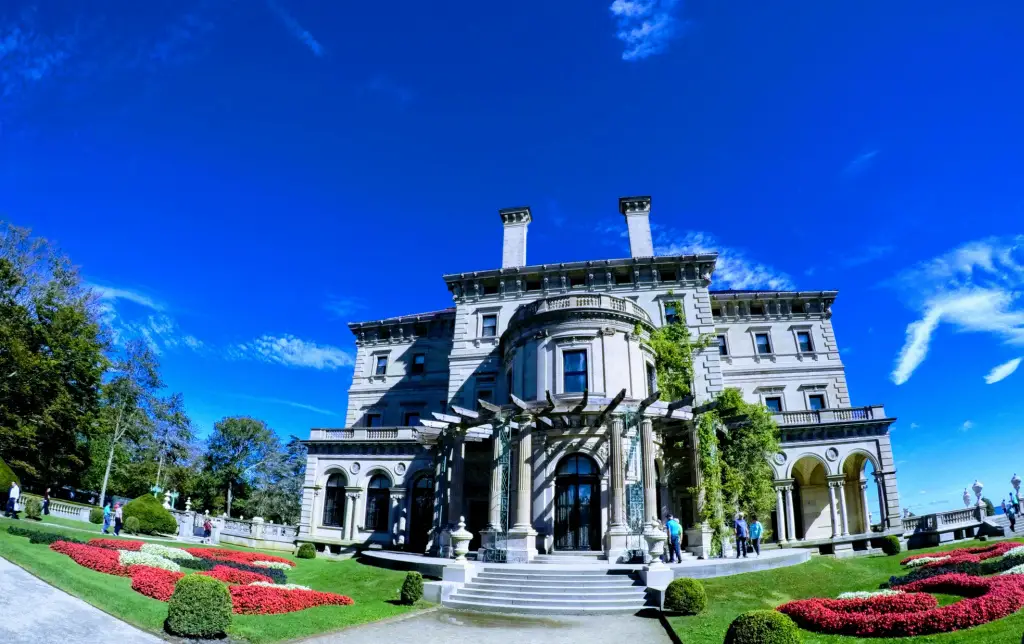 The Breakers is the grandest of Newport's summer "cottages." Cornelius Vanderbilt II had this 70-room Italian renaissance-style villa, located along the Cliff Walk, built in the late 19th century for his family.
Newport is about a 90-minute drive from Boston.
Book Now: Hammett's Hotel
10. Desire: Bern, Switzerland
Consider: New Glarus, Wisconsin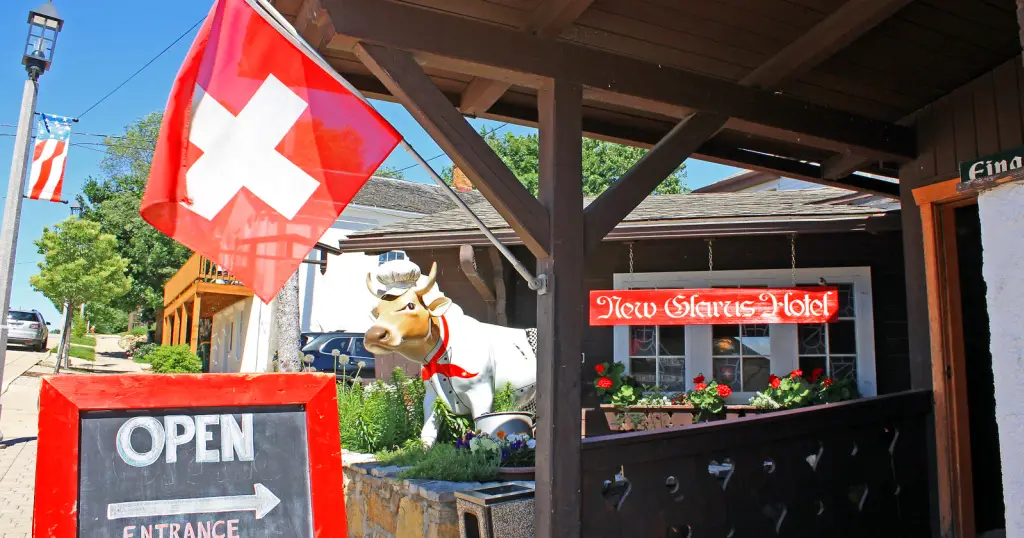 New Glarus is considered America's Little Switzerland. In 1845, it was founded by about 100 Swiss immigrants who set roots in the rolling hills of Green County Wisconsin. Today, the town celebrates it's its farmers, breweries, and cheesemongers who continue to keep the Swiss traditions alive.
What New Glarus lacks in mountain scenery is made up in the city's charming details. For example, red and white Swiss flags sway in the breeze. Street names are thoughtfully written in both English and German and all the town's shops look like little chalets.
During a visit, be sure to try an ale at Spotted Cow, the city's famous brewery, and feast on rahmschnitzel, a creamy breaded veal, at the New Glarus Hotel Restaurant.
Book Now: Chalet Landhaus or Hyatt Place Madison
11. Desire: Cinque Terre, Italy
Consider: Carmel, California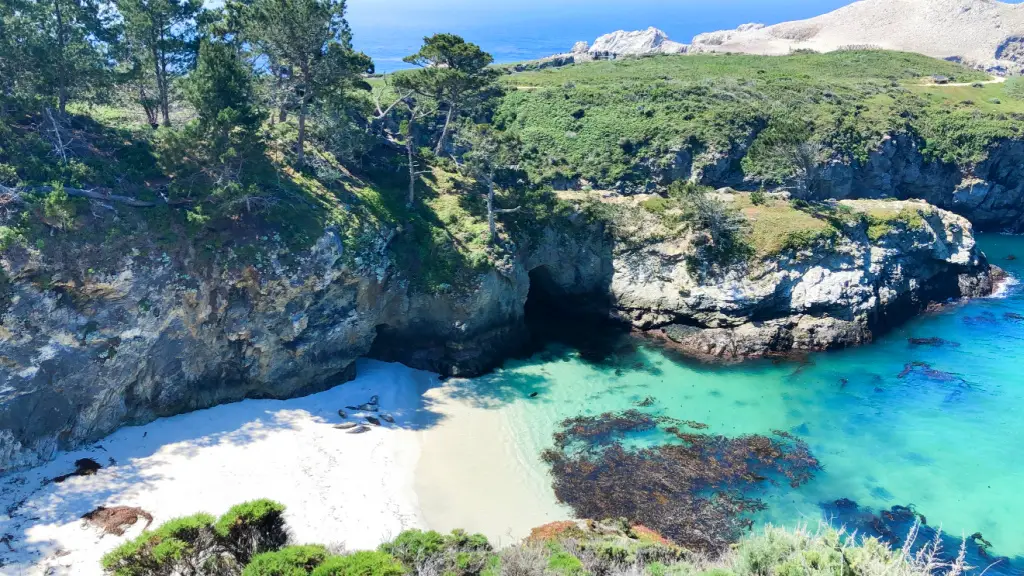 One of Europe's most alluring destinations is Cinque Terre. This famous stretch of five seaside Italian villages is known for its candy-colored homes perched on rugged cliffs, fishing boats bobbing in the turquoise sea, and dramatic vineyard scenery.
The best place to try to replicate the Italian charms is in Carmel. This gorgeous enclave on California's central coast radiates the same coastal magic, with its windswept beaches, cliffside homes, and its wineries, cafes, and shopping boutiques.
Book Now: Carmel Valley Ranch or The Hideaway
12. Desire: Holland, Netherlands
Consider: Holland, Michigan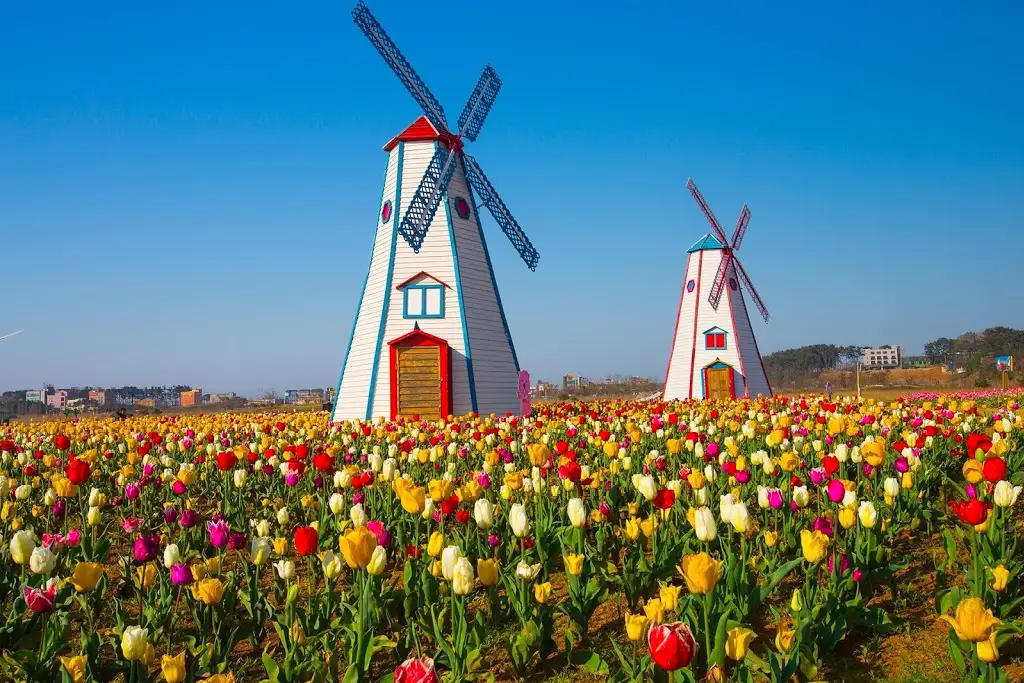 Holland, Michigan is one of America's most European cities. In fact, even the town's name is synonymous with Dutch culture and heritage. Holland's award-winning downtown features Dutch architecture, shops, restaurants, and eateries.
Of course, the best time to visit is in the spring when millions of tulips bloom all over the city. Specifically, be sure to visit the Veldheer Tulip Garden during peak season from late April to mid-May.
As a bonus, because Holland sits on the Lake Michigan shoreline, it offers lots of outdoor fun and adventure. For example, after touring the city, visitors can hike to the top of a dune or play along Michigan's white sandy beaches.
Book Now: Holiday Inn Express Holland
13. Desire: Sweden
Consider: Lindsborg, Kansas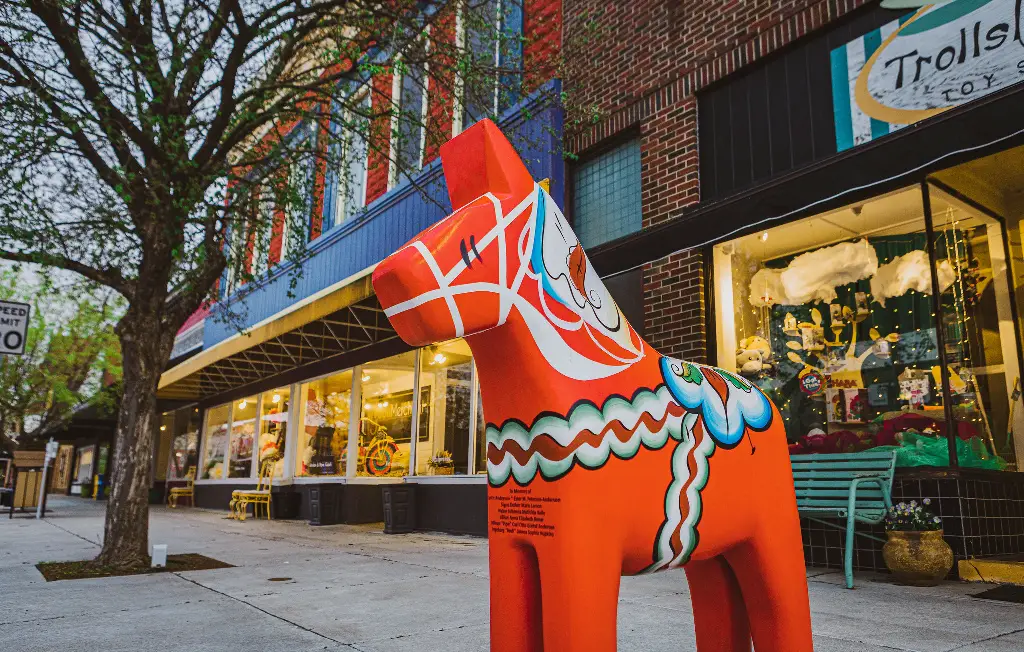 Affectionately called the Little Sweden of the Plains, Lindsborg's Swedish roots are best discovered in its charming downtown. Along the city's main strip, visitors can enjoy specialty shops, tasty eateries, and galleries that all celebrate Swedish culture and cuisine.
One of the most popular stores is Hemslojd, a great workshop where you can purchase traditional Swedish souvenirs and handicrafts. Popular items include Dala horses and figurines called tomtes.
Lindsborg's top attraction is the Swedish Pavilion. This building was originally built for the 1904 World's Fair and it was designed and constructed using native materials from Sweden. Additionally, be sure to take advantage of the scavenger hunt of the colorful Wild Dala horses around the city.
Book Now: Midland Railroad Hotel
14. Desire: Germany
Consider: Frankenmuth, Michigan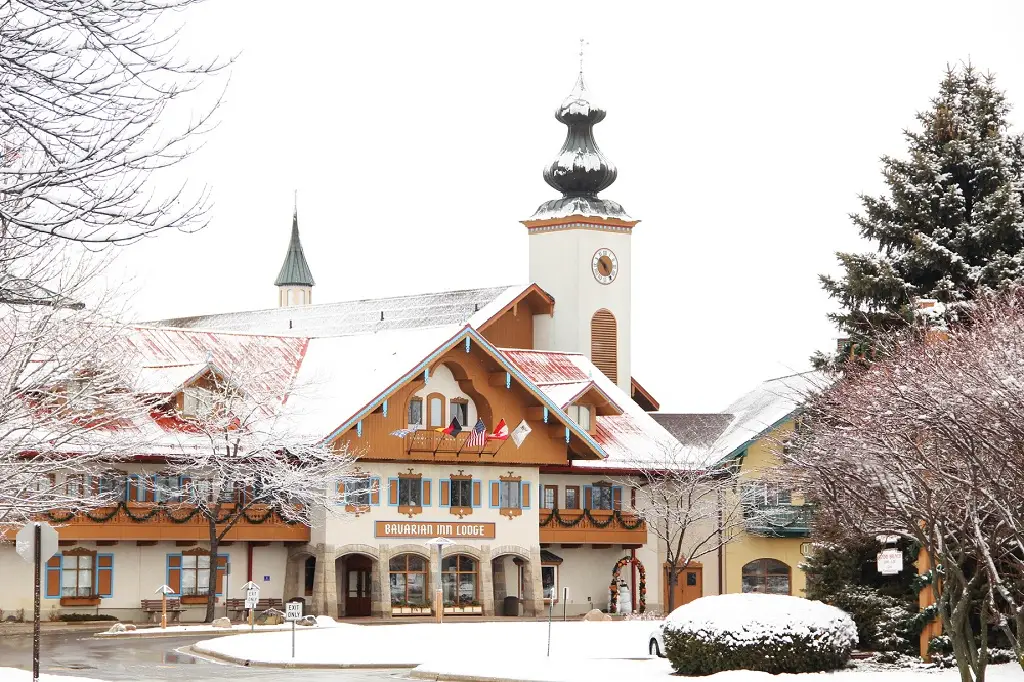 Walking around Frankenmuth in the snow feels like walking through Nuremberg in the winter. Of course, Germany is a popular destination to enjoy charming Christmas markets and holiday magic.
Therefore, it should be no surprise that the city has the world's largest Christmas store called Bronner's Christmas Wonderland. Located at 25 Christmas Lane, it's one of the best shopping experiences in the city. How wonderful that Frankenmuth replicates the holiday spirit all year long!
In addition to shopping, the town has covered bridges, the Glockenspiel Tower, summer biergartens, polka music, and authentic German restaurants. Visitors will appreciate that many of the accommodations are constructed with the same charming Bavarian flair.
Book Now: Bavarian Inn Lodge
15. Desire: Tuscany
Consider: Calistoga, California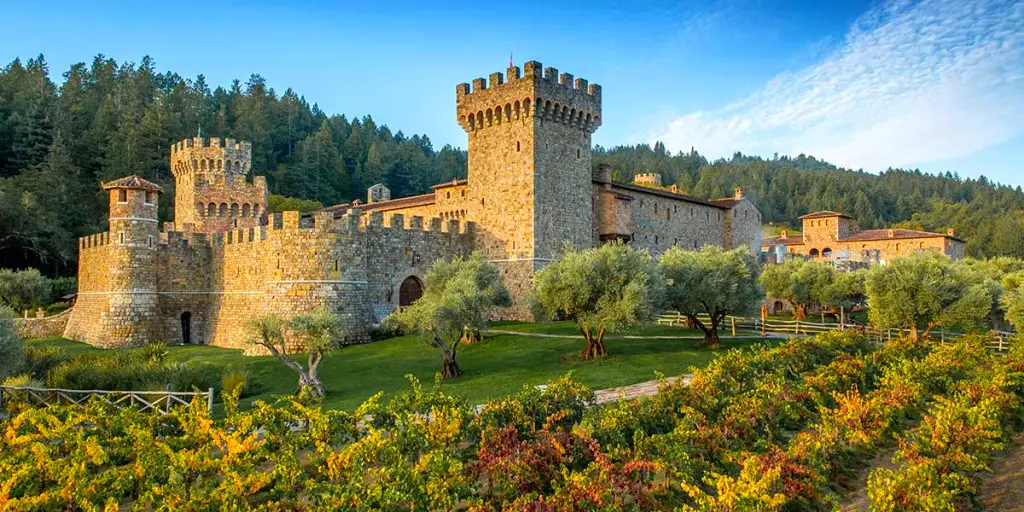 Imagine exploring estate castles and wandering through vineyards, sipping on robust wines while enjoying delicious Italian cuisine. Although it sounds like quintessential Italy, travelers can find a comparable experience in Calistoga, California—a town that sits in the heart of Napa Valley. Two wineries that offer the most Italian experience with gorgeous vineyard views are Castello di Amorosa and Chateau Montelena.
Book Now: Roman Spa Hot Springs Resort
16. Desire: Germany
Consider: Fredericksburg, Texas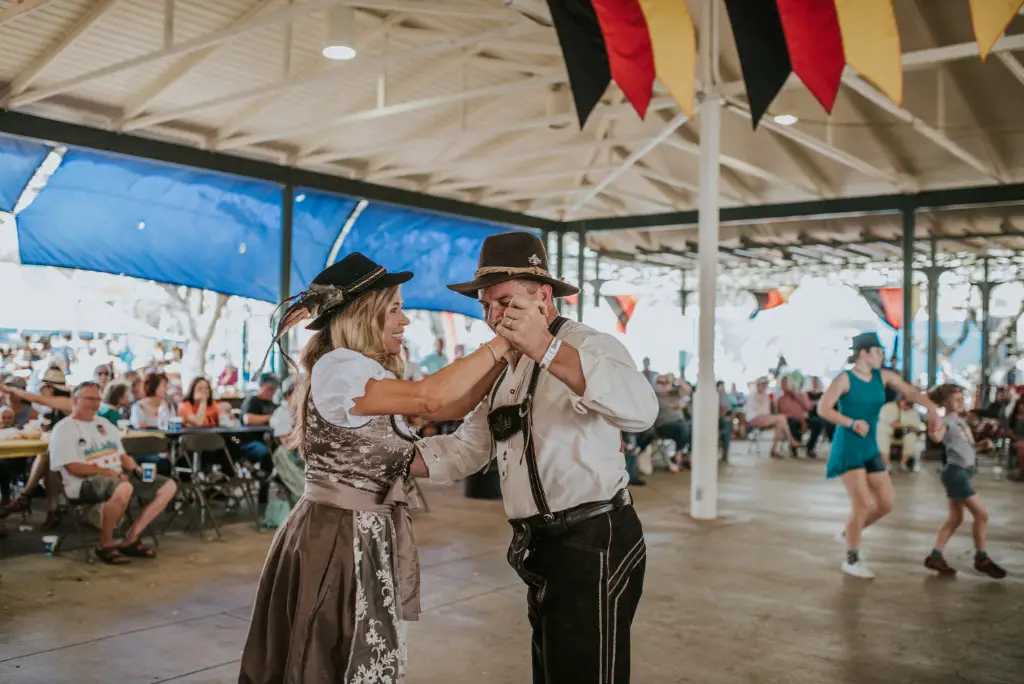 In 1846, captivated by this part of Texas Hill Country, German immigrants decided to settle in the region. Today, Fredericksburg offers a unique combination of German tradition and Southern hospitality. In fact, Fredericksburg is one of the state's most charming cities.
To experience its German roots, head to Main Street to enjoy restaurants, specialty shops, Biergarten, and cozy B&Bs. Some of the city's major attractions include the city square called Marktplatz and the historic Vereins Kirche Museum. Additionally, Fredericksburg is the epicenter of Texas Wine Country and is known to have some of the best wineries in the Lone Star State.
Book Now: Barons CreekSide Cabin Resort
17. Desire: French Riviera
Consider: Charleston, South Carolina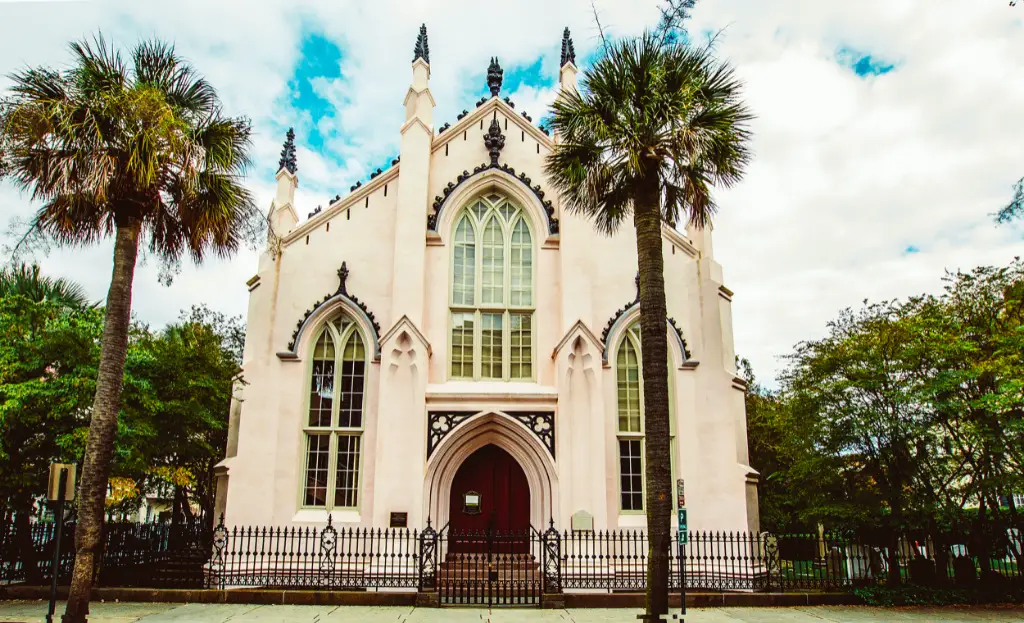 Some say that Charleston is the closest you can get to Europe while still being in the U.S. The city definitely gives off a vibe of the French Riviera with its quaint cafes, cobblestone streets, and street vendors.
Similar to French cities, steeples from historic churches decorate the Charleston skyline. If you're lucky enough to get to see Charleston from the water, you will understand why it's nicknamed the Holy City.
Additionally, the city has an abundance of manicured parks, full of historic statues and monuments. Swaying palms and wild coastal landscapes only add to Charleston's allure.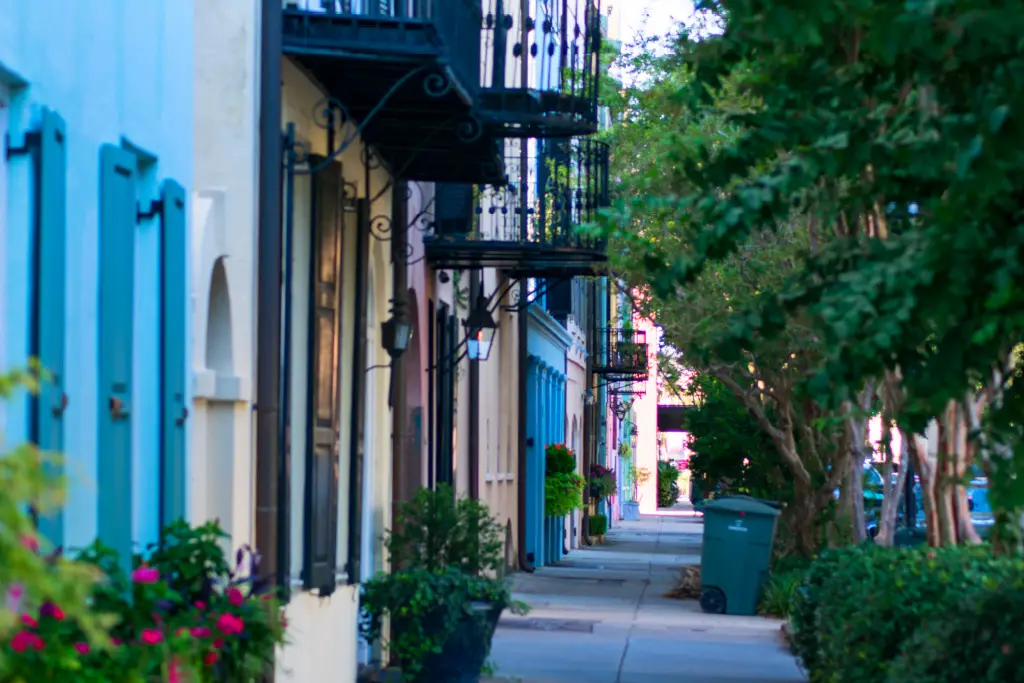 However, Charleston's French Quarter is where you'll discover that glorious essence of Europe. The neighborhood features fine art galleries, restaurants, as well as Charleston's Waterfront Park.
Chalmers Street, the most photographed of Charleston's cobblestone streets, is full of historic buildings. For example, the most notable building is the famous Pink House Tavern, which was built around 1712.
Another must-see attraction is the French Huguenot Church. This beautiful Gothic Revival church houses the sole surviving French Calvinist Congregation in the United States.
Book Now: French Quarter Inn
18. Desire: Netherlands
Consider: Pella, Iowa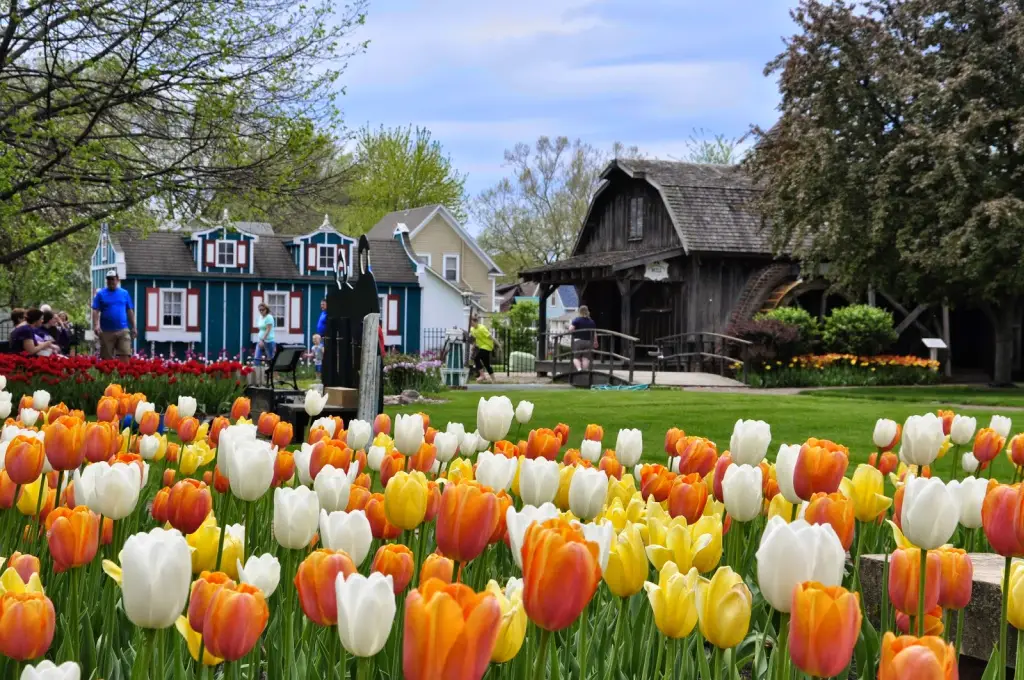 Pella is nicknamed America's Dutch Treasure. Less than an hour from Des Moines, this small town offers a lovely concentration of Dutch culture, architecture, and cuisine. In 1847, Dutch immigrants fleeing religious prosecution decided to settle in the area. In fact, the name Pella is inspired by the biblical city of refuge.
Today, descendants of the original settlers still reside in Pella. Their goal is to preserve their Dutch heritage, through local products, foods, special events, and annual festivals.
Pella's Historical Village is the city's top attraction. It features 21 buildings that offer an interesting look at Dutch immigrant life in the Midwest. The village showcases a church, bakery, clog cobbler shop, and blacksmith. The childhood home of Wyatt Earp is also a part of the site.
Other must-see attractions include the numerous tulip gardens, the Vermeer Mill windmill, and the Klokkenspel, a classic European town square clock complete with motorized figurines.
Tourists also enjoy hanging out in Molengracht Plaza, a replica of an authentic Dutch square, complete with a canal and an Amsterdam-like promenade.
Book Now: Royal Amsterdam Hotel
19. Desire: Bavaria
Consider: Helen, Georgia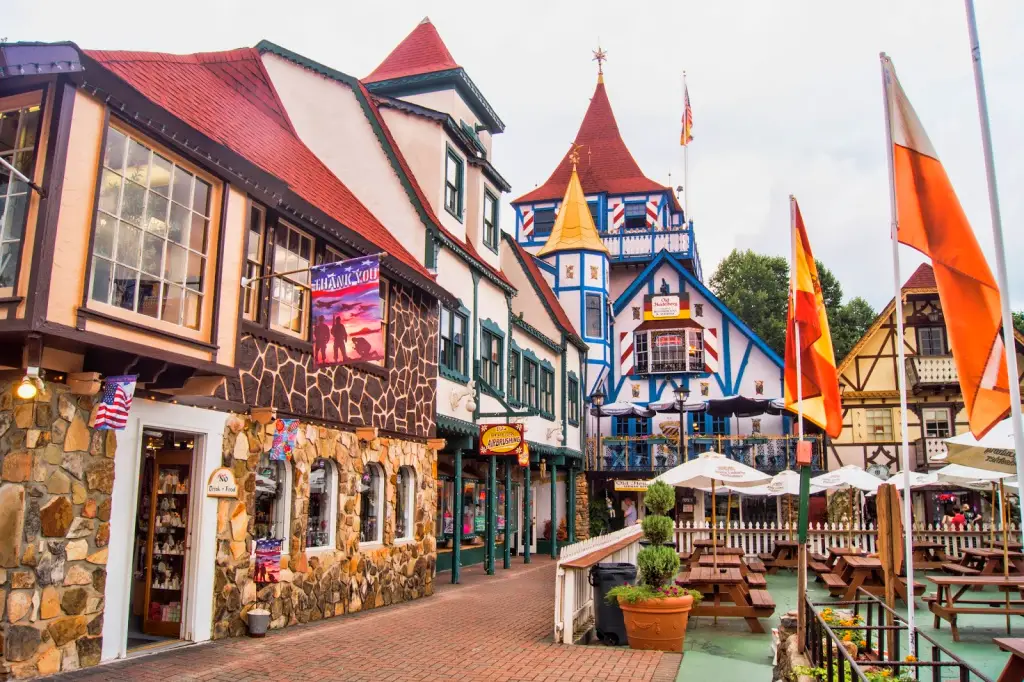 In the 1960s, to boost tourism, city officials decided to turn Helen into a charming alpine village. Therefore, a Bavarian design was incorporated into every building constructed in the city.
Today, Helen is Georgia's third most visited city and a popular stop before a vacation in the Blue Ridge Mountains. Tourists love browsing in the specialty shops, filling up on tasty German cuisine, and enjoying a refreshing brew in the outdoor Biergarten.
Book Now: Valhalla Resort Hotel
20. Desire: Czech Republic
Consider: West, Texas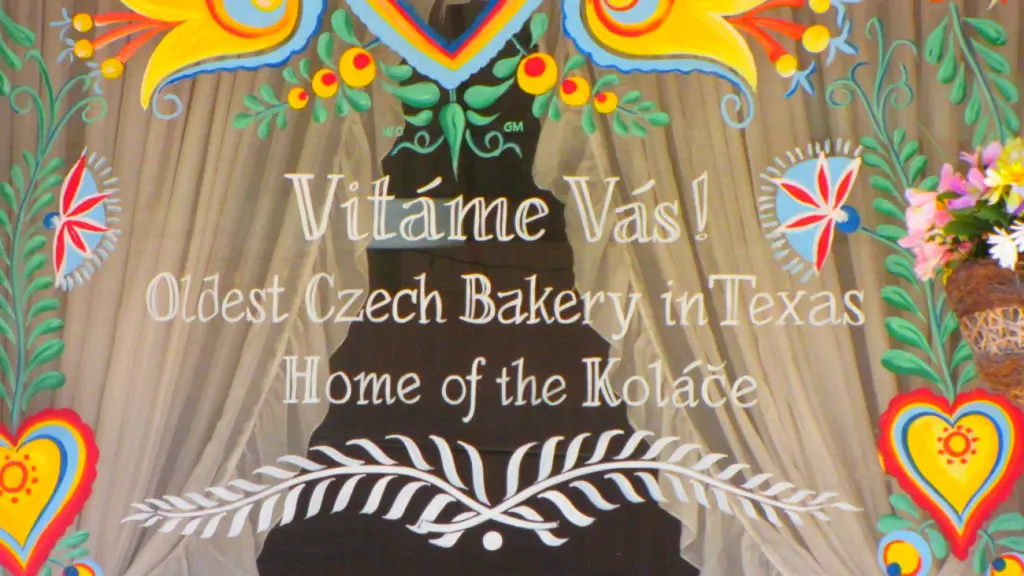 During the 1880s, the new railroad and train depot brought prosperity to West, Texas. Looking for land and opportunity, Czech and German immigrants migrated to the region. Due to the Czech custom of having very large families, by the 1920s, they became the primary culture in the West.
Today, many descendants from the original settlers continue to run family farms and local businesses. Additionally, you'll hear the older residents speaking Czech. The downtown area is where you'll discover Czech bakeries, gift shops, and antique stores. Some travelers passing through decide to stay at the Czech Inn of West.
Book Now: Bed and Breakfast on White Rock Creek
21. Desire: German
Consider: New Ulm, Minnesota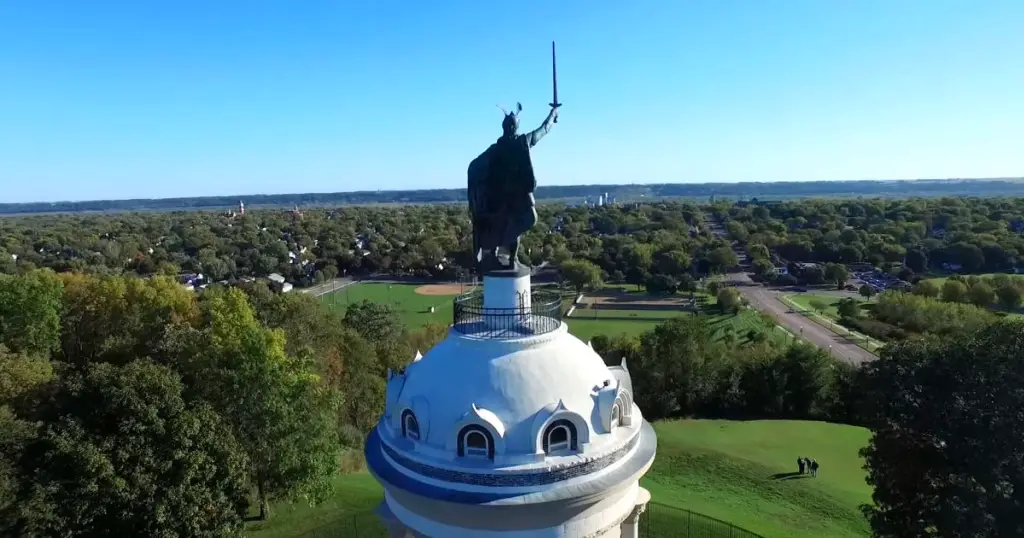 New Ulm is another Midwest destination with European roots. The city was established in 1854 by German immigrants hoping to form a utopian society in America. Today, the German influence is showcased in its restaurants, businesses, and local attractions. There is so much to do here!
For example, the city's top attraction is the Schell's Brewing Company, America's second-oldest brewery. It was founded in 1860 by an immigrant from Germany's Black Forest region. Surprisingly, it is still owned by the same family, six generations later. After a tour, visitors can sip on German craft beers in the brewery's shady Biergarten.
Known locally as Hermann the German, the Hermann Monument (pictured above) features Hermann the Cheruscan, the ancient hero whose army liberated Germany from Roman rule in 9 A.D.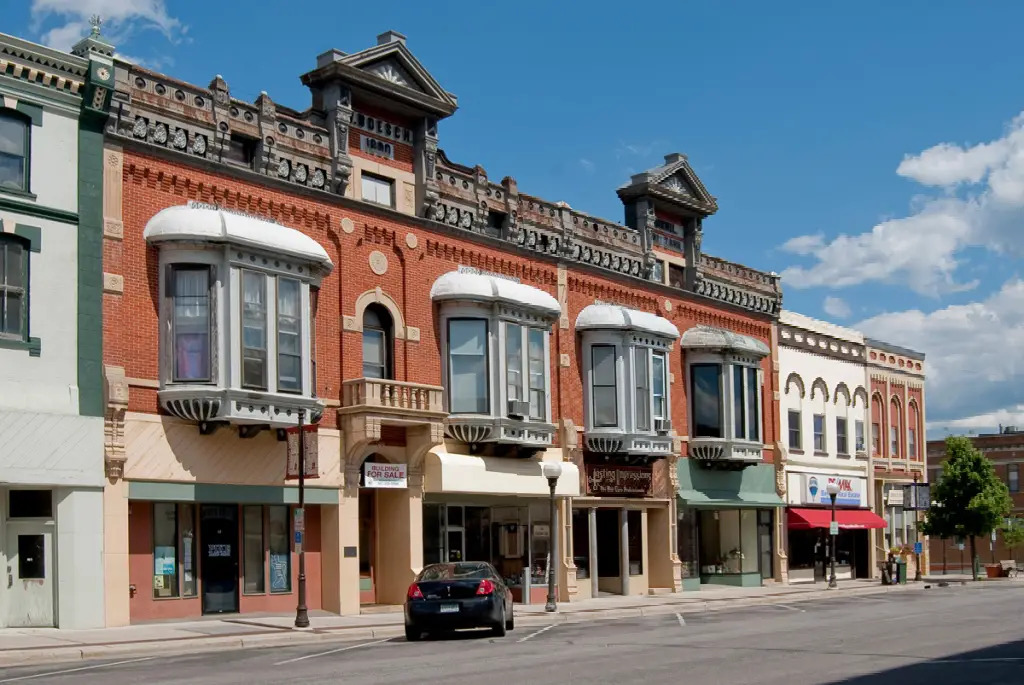 As German immigrants migrated to the United States, the legend of Hermann as the father of German independence and a symbol of honor and pride came with them. A similar monument stands in Detmold. Germany.
Other popular sights include the German Park, the Glockenspiel Clock Tower, and Domeier's German Store. Foodies will enjoy an authentic meal at Veigel's Kaiserhof, a traditional German restaurant established in 1938. Afterward, Turner Hall is Minnesota's oldest bar, featuring German cuisine and drinks since 1856.
Book Now: Best Western Plus New Ulm
22. Desire: Mediterranean Riviera
Consider: Santa Barbara, California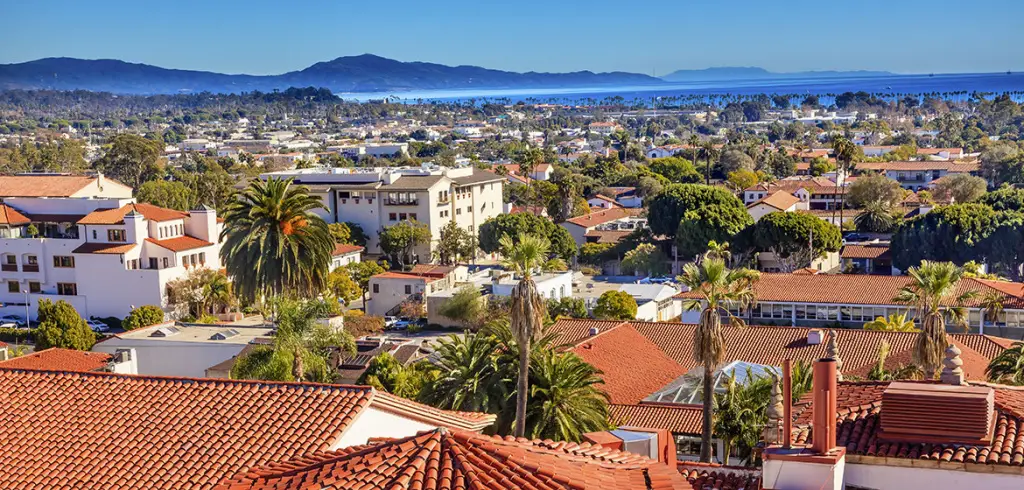 You don't have to fly to Europe to enjoy a vacation with Mediterranean charms. In fact, did you know that Santa Barbara is often considered the American Riviera? The city's beaches, red-tiled rooftops, and dramatic mountain backdrop will make you feel like you've just landed in the Med.
During the day, visitors can relax under shady palm trees in one of the city's grand resorts or at East Beach. Adventure seekers will find opportunities for hiking, camping, and whale watching. Additionally, there's even an electric bike tour on the oceanfront Cabrillo Bike Path.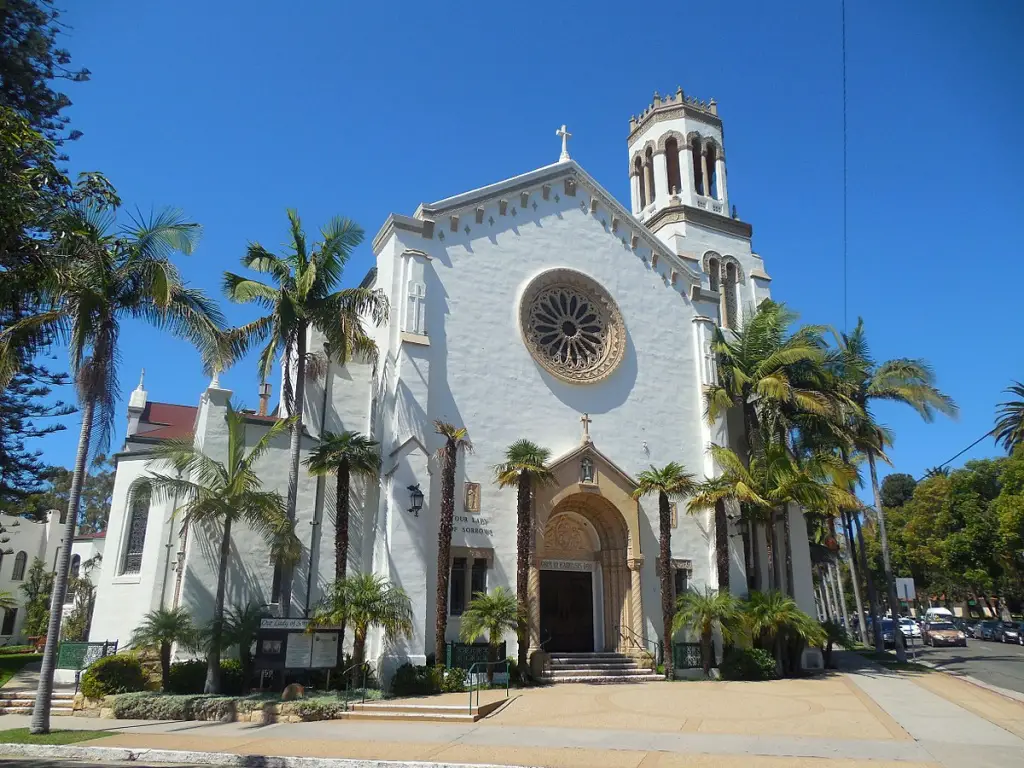 Much of Santa Barbara's Mediterranean essence radiates from its architecture. Spanish settlers constructed many of the city's historical buildings. As a result, the Spanish colonial heritage is apparent in the Our Lady of the Sorrows Church, the Santa Barbara Old Mission, and the County Courthouse.
Similar to a typical Mediterranean holiday, visitors take advantage of the fresh seafood, vineyards, and quality wines along Santa Barbara's wine trail. Some wine lovers come here with one goal only—to sip on world-renowned Pinot Noirs while relaxing on gorgeous Terrazas, or European cafe-style patios.
Pair your visit with nearby Solvang and you have a great European-inspired tour in California.
Book Now: Kimpton Canary Hotel
23. Desire: Montpellier, France
Consider: Montpelier, Vermont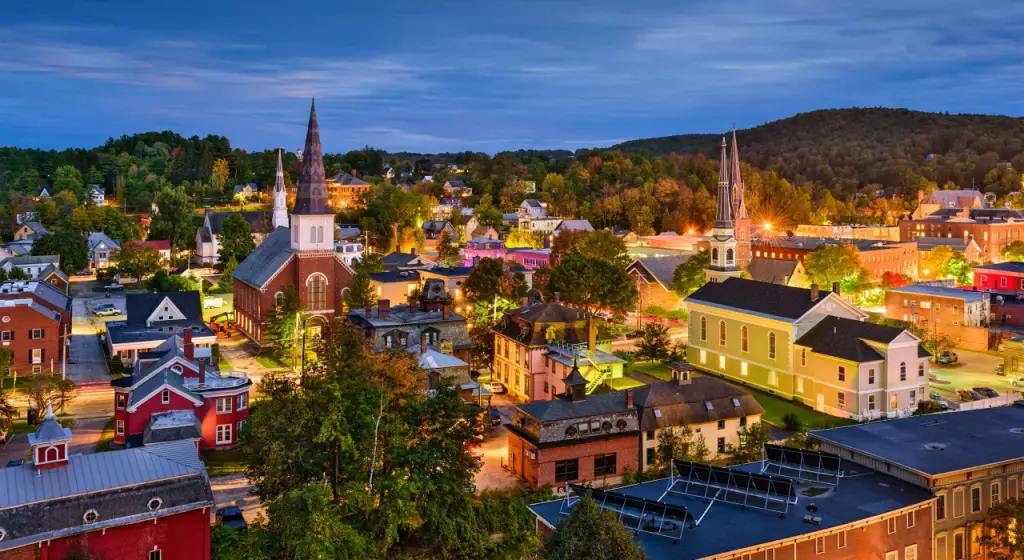 About two hours away from Montreal, the city of Montpelier colorfully mixes New England's charm with vibrant French culture. When the city was founded in 1781, it was named after Montpellier, a city in southern France located near the Mediterranean Sea.
Today, this connection continues to influence the city with its quaint shops, Parisian-style bakeries, cafes, and French-inspired architecture. Of course, similar to their French counterparts, Vermontians spend weekends skiing in the winter and wining and dining in the summer.
Book Now: The Inn at Montpelier
24. Desire: Paris
Consider: Washington D.C.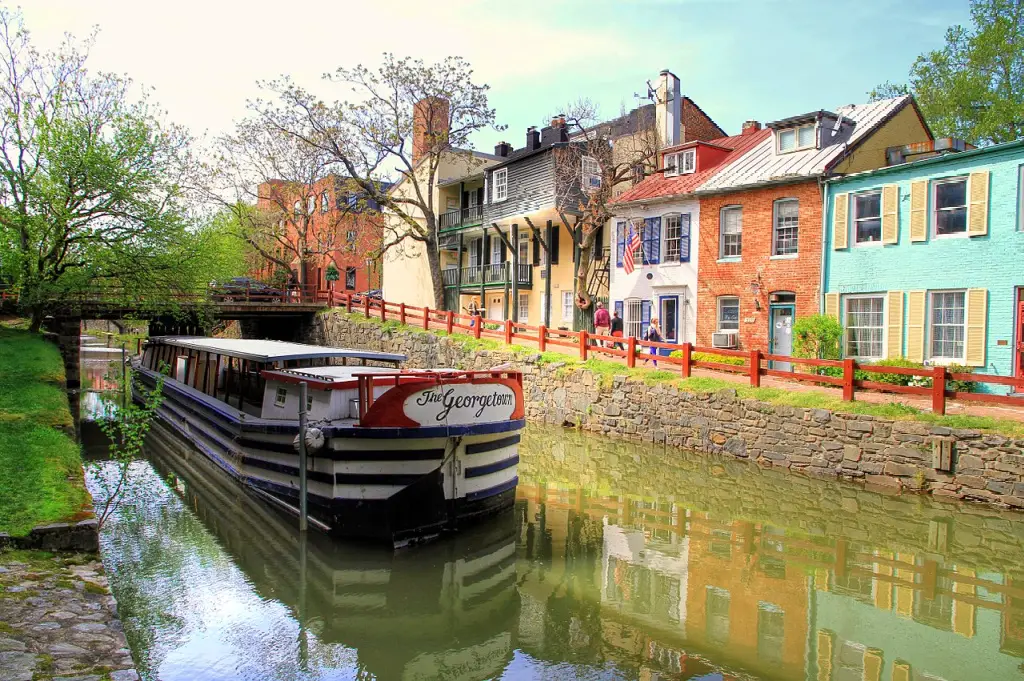 Those paying close attention may see a European influence in America's capital. This is because Frenchman Pierre Charles L'Enfant designed Washington DC to resemble Paris. Consequently, Washington D.C. offers numerous gardens, public spaces, and wide boulevards that give off Parisian vibes.
Likewise, the sidewalk cafes are perfect for people-watching while sipping on coffee or wine. The Georgetown C&O Canal has a slight resemblance to the Canal Saint-Martin in Paris. Of course, with European diplomats living and working in the city, you'll hear a variety of accents and languages as you explore the city.
Book Now:  Canopy by Hilton Washington DC Embassy Row
25. Desire: United Kingdom
Consider: Boston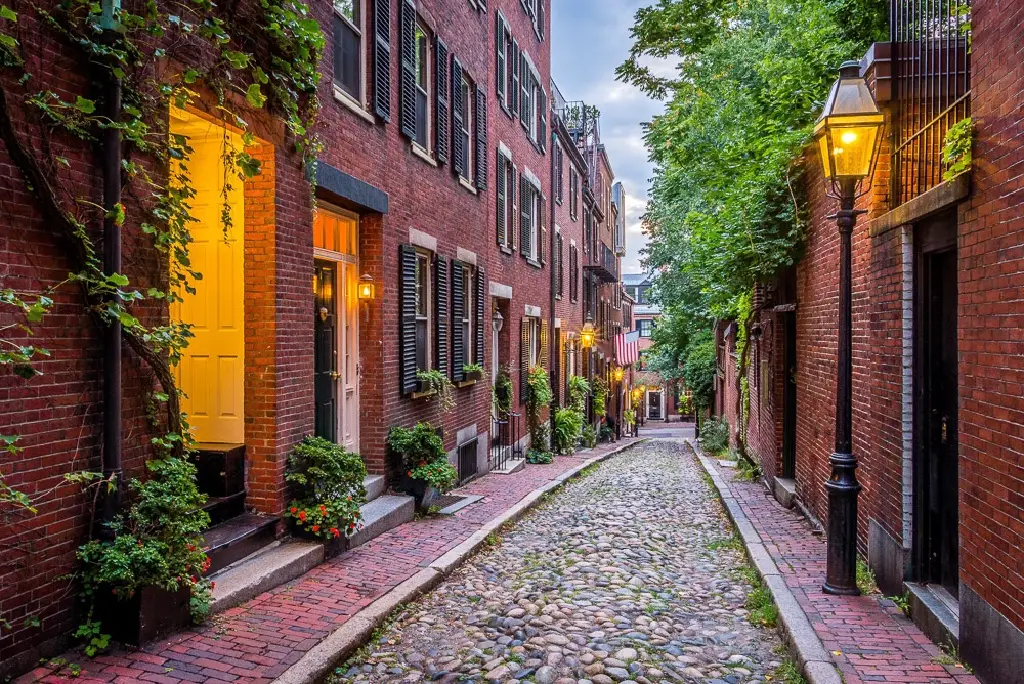 It's undeniable that some parts of Boston are incredibly beautiful. In fact, time and time again, Boston is celebrated as America's Most European City. At the same time, interestingly enough, it's hard to compare Boston to one particular European destination.
Some suggest that it most closely emulates the United Kingdom. To illustrate, Beacon Hill's cobblestone streets and Federal-style architecture offer a nod to Boston's British past. However, Boston also has a little influence from Ireland too, with the essence of Dublin experienced around town.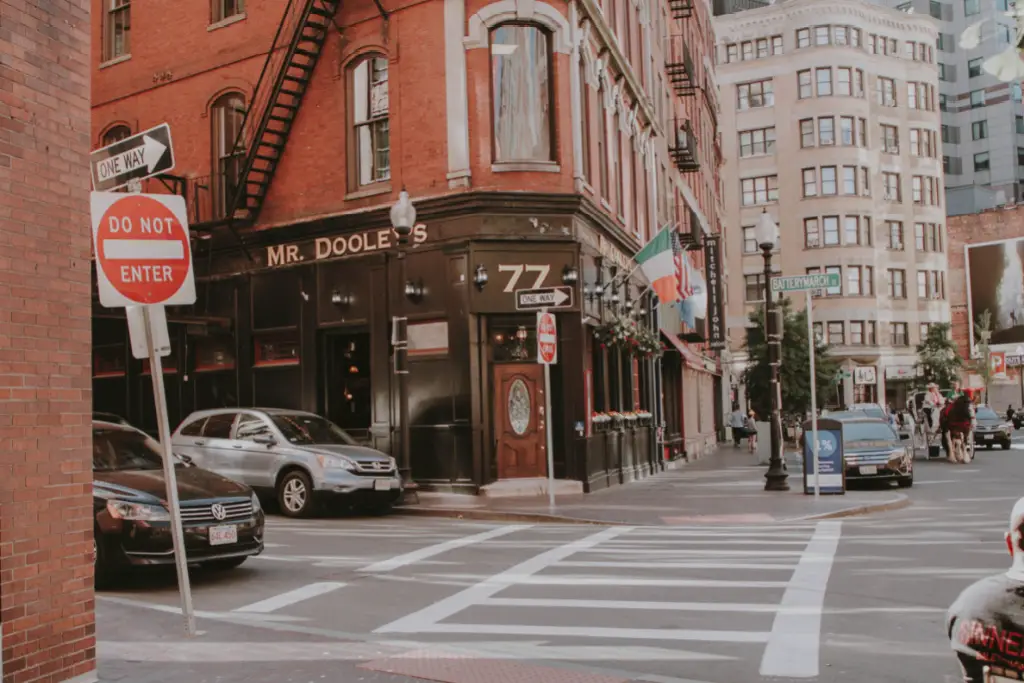 Ultimately, what gives Boston its European essence is its age. Founded in 1630 by English Puritans who fled to the new land to pursue religious freedom, it is one of America's oldest cities.
Additionally, you can find European charms in some of Boston's most prominent attractions. These include the Boston Public Library, the Old North Church, and the Blackstone Block Historic District.
Book Now: The Eliot Hotel
26. Desire: France
Consider: New Orleans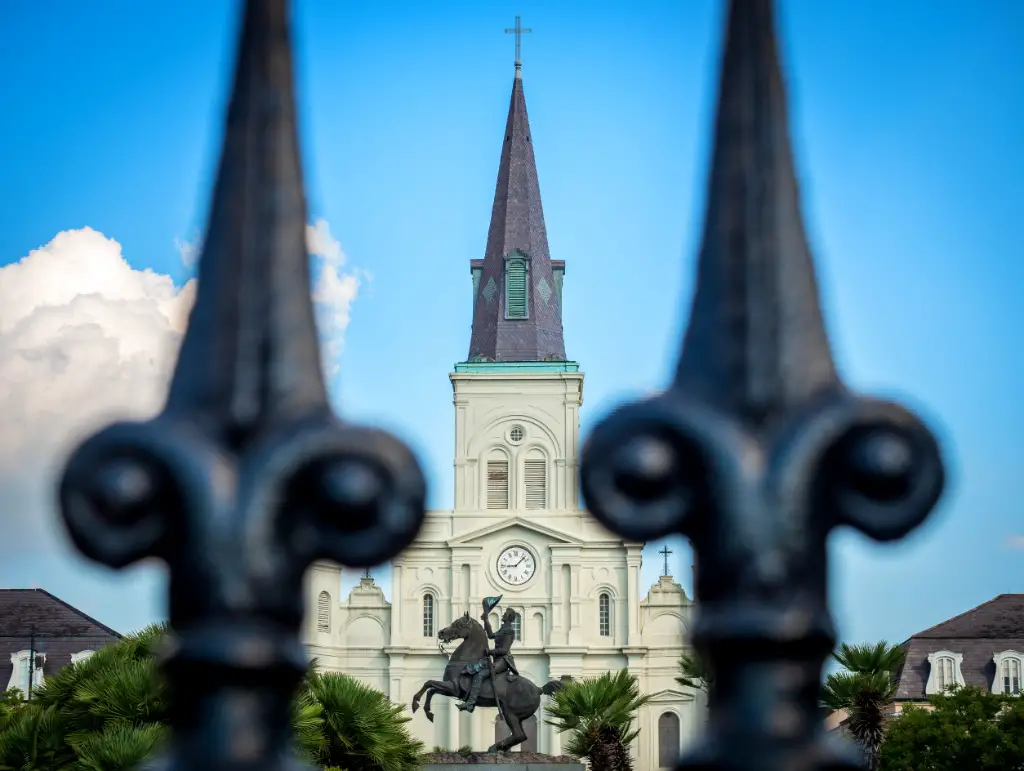 Named after the Duke of Orléans, New Orleans is one of the most unique cities in the United States. Despite its multicultural presence today, French culture has had a major and lasting influence on the city's history since its foundation in 1718.
The French Quarter is the city's oldest neighborhood and where you'll discover that authentic European flavor. Its distinctive architecture and iconic streetcars make visitors feel like they've just stepped back into the past. Jackson Square was also designed in a traditional European-style plan—a central square dominated by the church.
Interestingly enough, coffee first came to the United States via New Orleans in the mid-1700s. In fact, as the French settled across the Mississippi, they brought with them coffee beans that were successfully cultivated on the island of Martinique.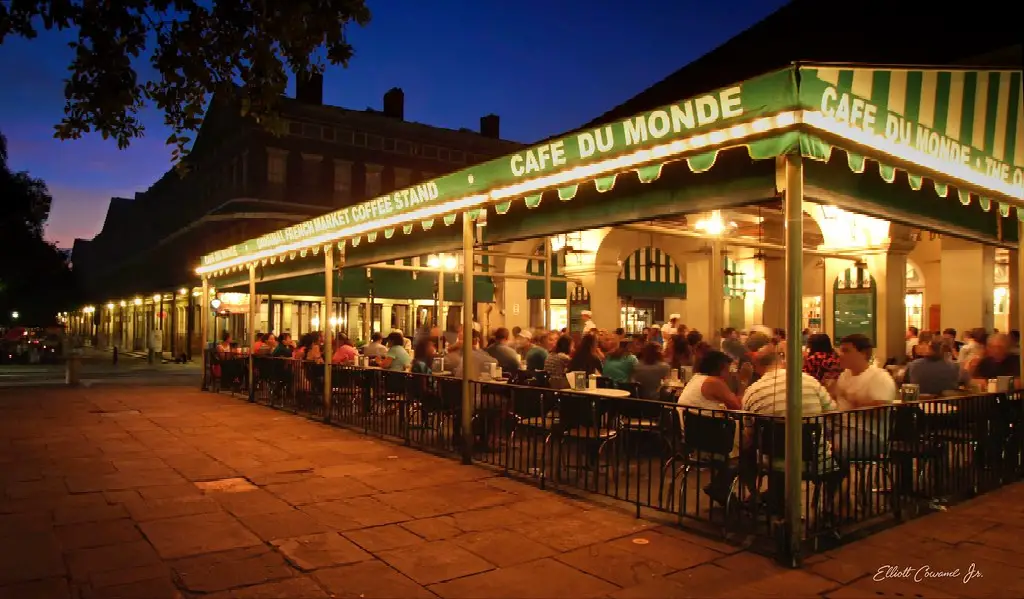 Therefore, many consider a stop at Le Café du Monde a must-do while in New Orleans. Established in 1862, the cafe is considered America's first French market coffee stand. The popular cafe features French-style beignets and café au lait blended with chicory. The taste for coffee and chicory was developed by the French during their civil war. Coffee was scarce during those times, and they found that chicory added body and a chocolatey flavor to the brew.
Book Now: Hotel Monteleone
27. Desire: Netherlands
Consider: Skagit Valley, Washington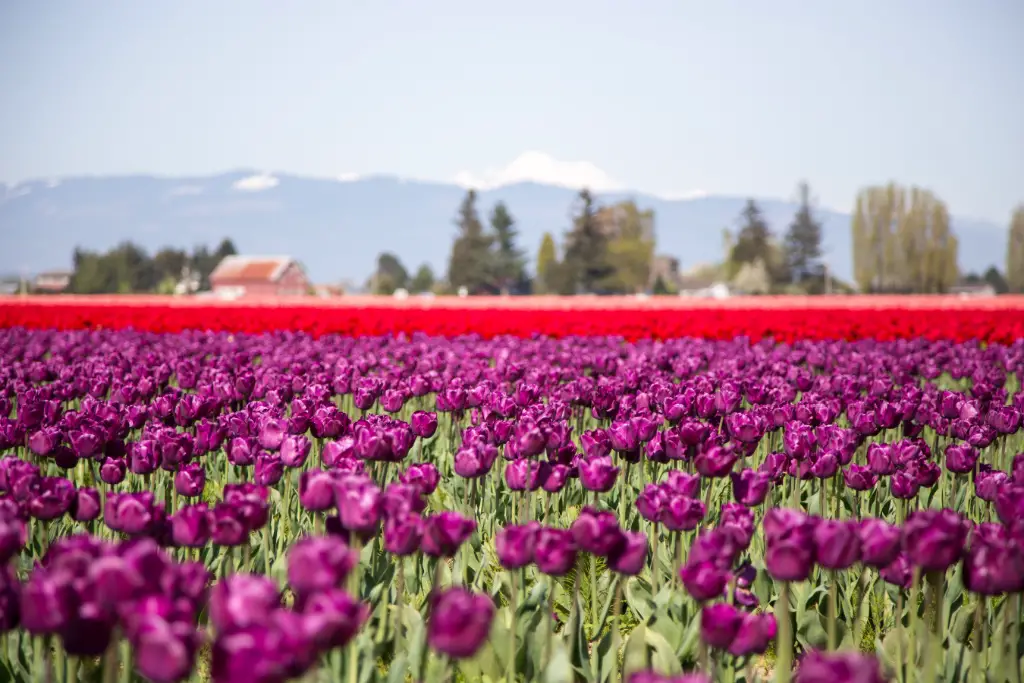 While the Netherlands is the world's top destination for spring tulip fields, it certainly isn't the only place to see them! Washington state's Skagit Valley is well-known for its stunning displays of tulips and daffodils. Therefore, if Keukenhof Gardens in Lisse is out of reach, consider frolicking in the colorful fields during the Skagit Valley Tulip Festival.
Book Now: Hotel Leo
28. Desire: Provence, France
Consider: Sonoma, California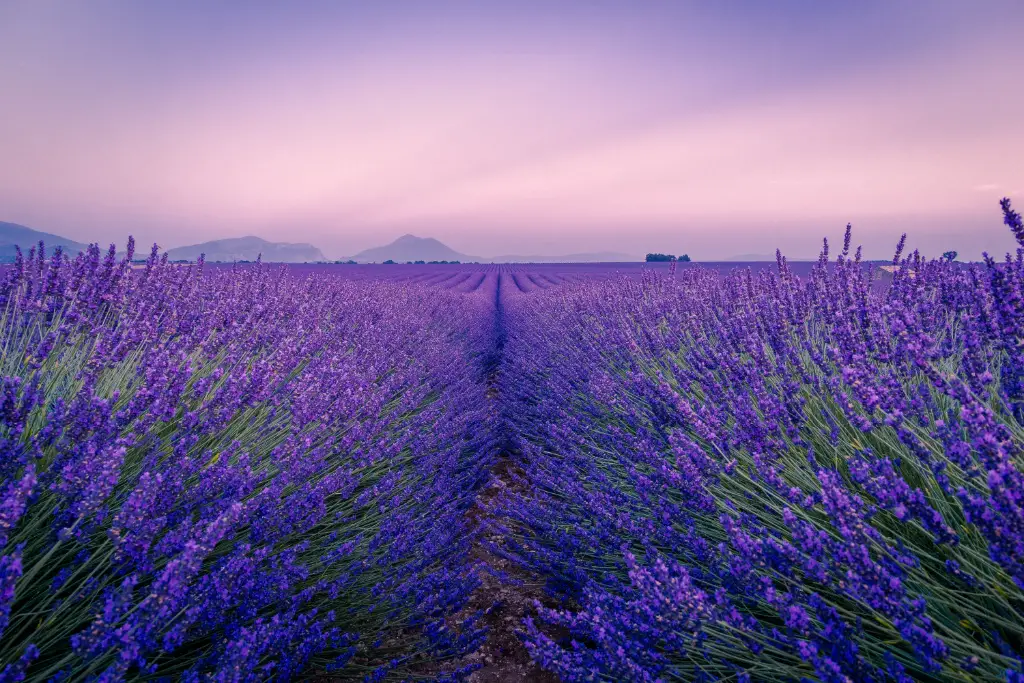 Provence during the lavender season is one of the prettiest sights in Europe. Sadly, these days it's not so easy to visit southeast France. Thankfully, California grants travelers the opportunity to walk through these fragrant fields, allowing some to check off visiting a lavender field from their bucket list.
Of course, wineries and a dramatic coastline are a quintessential part of California. However, did you know that the state is also home to glorious lavender farms that bloom in June and July? The best options for lavender field viewing are at Monte-Bellaria di California in Sebastopol and Matanzas Creek Winery in Santa Rosa.
After capturing some amazing lavender field photos, spend the rest of the day as one would in Provence by sipping on signature rosé wines at a lovely winery.
Book Now: Hotel Les Mars, Relais & Chateaux
29. Desire: Klitmøller, Denmark
Consider: Montauk, New York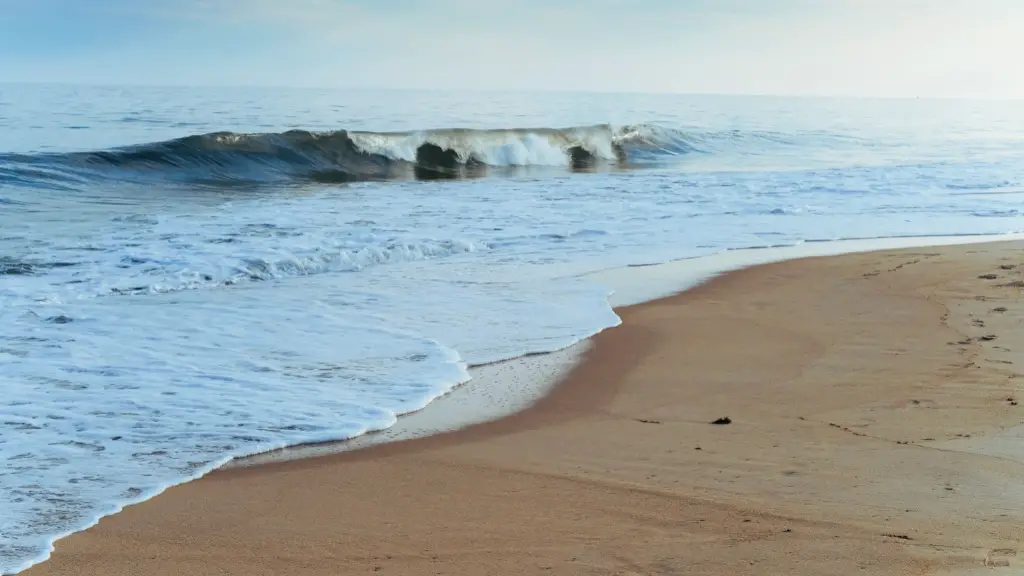 Known as Cold Hawaii, Klitmøller is a Danish year-round surfing hot spot. Its raw location, set on the roaring sea, also makes it one of Northern Europe's best locations for windsurfing. Since a trip to Denmark may not be an option any time soon, Montauk may be the next best thing.
Sitting on the eastern end of the South Shore of Long Island, Montauk features crashing Atlantic waves and sleepy beach towns decorated with picturesque lighthouses. In fact, Montauk is so small that it's actually considered a hamlet, or a community that's even smaller than a village.
Outdoor adventure is in abundance here, with fishing, surfing, wildlife watching, and paddling all available to travelers. Additionally, there are nature trails, seafood restaurants, and beautiful beaches such as Ditch Plains.
With six state parks, there are lots of opportunities to surround yourself with nature and beauty. For example, Montauk Point State Park is home to the national landmark, the historic Montauk Point Lighthouse.
Book Now: Montauk Manor
30. Desire: Greek Islands
Consider: Catalina Island, California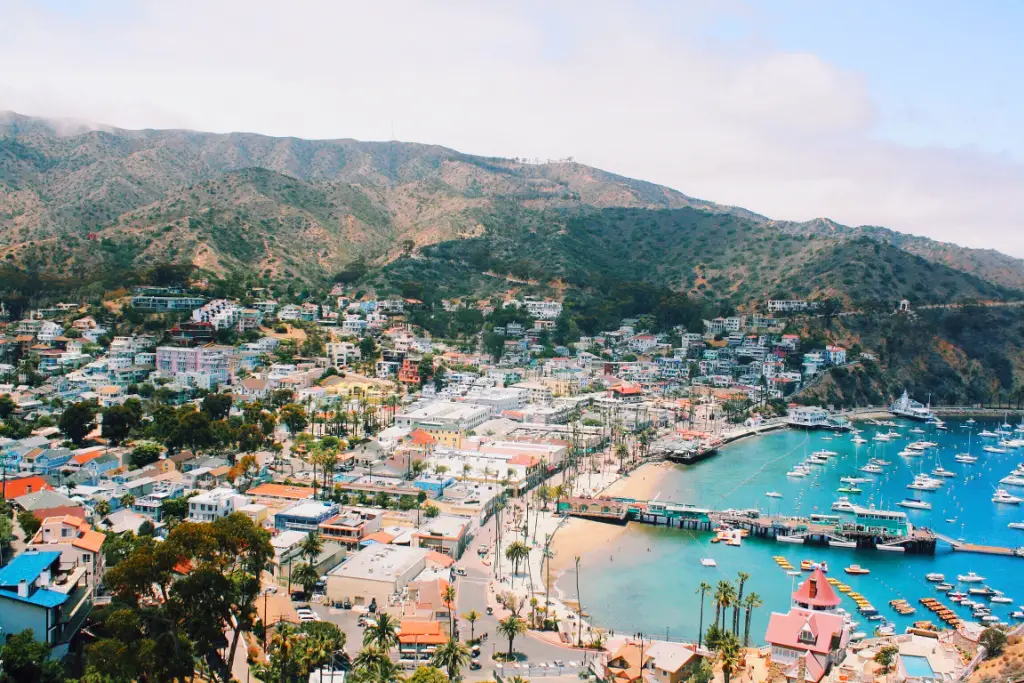 Missing the sunny beaches and Mediterranean breezes of the Greek Islands? Consider ferrying to Catalina Island to pretend you're in Greece for an island getaway. With a similar temperate climate, the holiday experiences are surprisingly quite similar. Upon arrival, warm waters, white-sand beaches, and palm trees welcome all visitors.
Catalina Island is located just 22 miles off the Southern California coast. The idyllic location is so beautiful that over 500 movies were filmed here. Some of the most notable productions include Jaws, Treasure Island, Waterworld, and The Hunt for Red October.
A day on the island typically consists of snorkeling, sunbathing, and sipping on cool cocktails. However, there are plenty of organized activities too. For example, there are boat tours, sunset cruises, and wildlife eco-adventures. Those who like to stay active can hike, golf, kayak, or even go zip-lining.
Book Now: Bellanca Hotel
31. Desire: Germany's the Black Forest
Consider: Great Smoky Mountains, Tennessee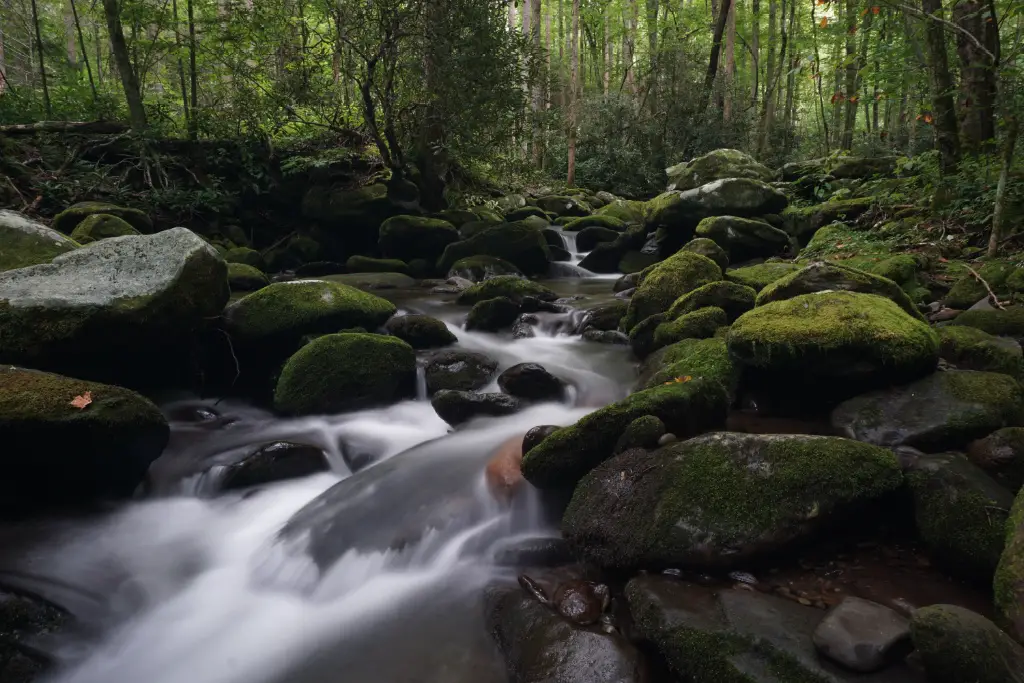 The Black Forest is a mountain range in southwest Germany. It's known for its dense forest, waterfalls, and accessible hiking trails. Thankfully, the Great Smoky Mountains offer a comparable experience right here in Tennessee, along with many other similarities!
For example, just like in the Black Forest, visitors will find scenic drives, cable cars, and mountain chalets with soothing hot tub jacuzzis. Additionally, there are thermal hot springs, located in nearby North Carolina.
Some explorers choose Gatlinburg as their base camp for their Smoky Mountain adventure. Interestingly enough, every year the city celebrates Oktoberfest in the Smokies. The city brings in the fall season with German cuisine, cultural events, and music. This popular fall festival is a great way to experience a piece of Germany while you're on vacation in Tennessee.
Book Now: The Park On Main Hotel
32. Desire: Fjords of Norway
Consider: Ketchikan, Alaska
Sitting at the same latitude, both Norway and Alaska share a similar climate and topography. Although the essence of the two destinations is quite different, surprisingly there still are many commonalities.
First, both destinations offer dramatic fjords, glaciers, mountain ranges, and tundra landscapes. Of course, another similarity is the chance to see arctic wildlife in its natural habitats, such as reindeer (caribou), elk, the arctic fox, and polar bears. Likewise, Alaska and Norway are two popular destinations for dog sledding.
Last, don't forget that each features opportunities for alpine skiing, a fondness for fresh salmon, and a high probability of experiencing the magnificence of the Northern Lights phenomenon.
Book Now: Inn at Creek Street
33. Desire: The Azores, Portugal
Consider: Hawaii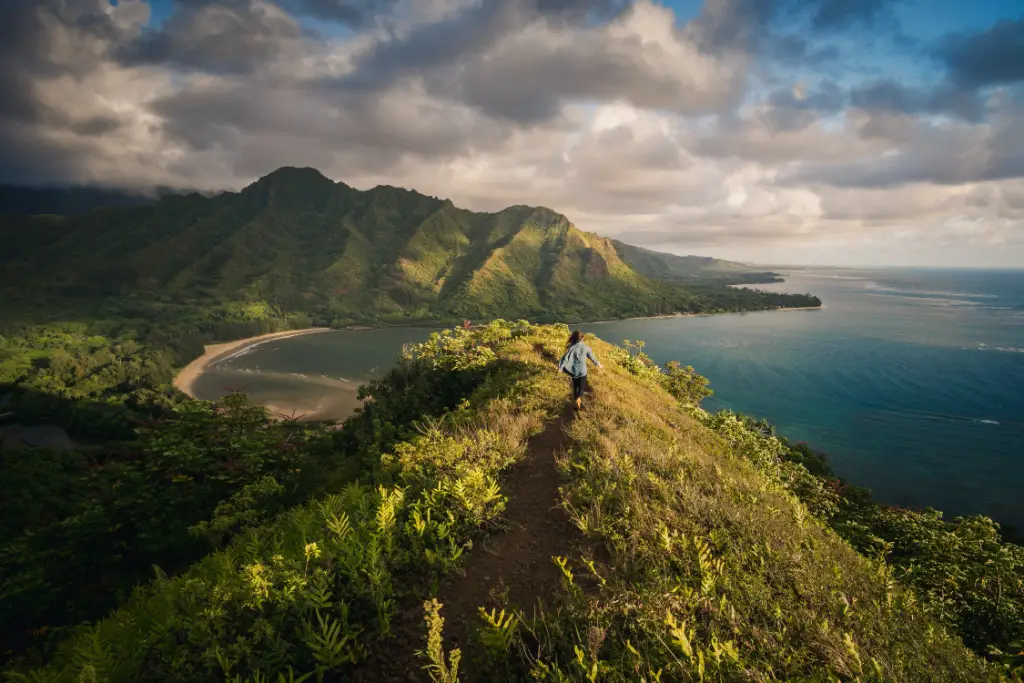 Only a quick 5-hour flight from Boston, the Azores is Europe's version of Hawaii. In recent years, the Portuguese island chain has become a convenient alternative to a Hawaiian vacation for Americans who live on the East Coast.
Despite the massive distance between the two archipelagos, the two destinations are quite similar. In terms of scenery, both boost sandy beaches, wondrous waterfalls, and breathtaking coastal terrain. In the same way, Hawaii matches the Azores with its miles of scenic nature trails, pineapple farms, and laid-back island lifestyle.
Book Now: Moana Surfrider, A Westin Resort & Spa, Waikiki Beach
34. Desire: Cornwall, England
Consider: Cape Cod, Massachusetts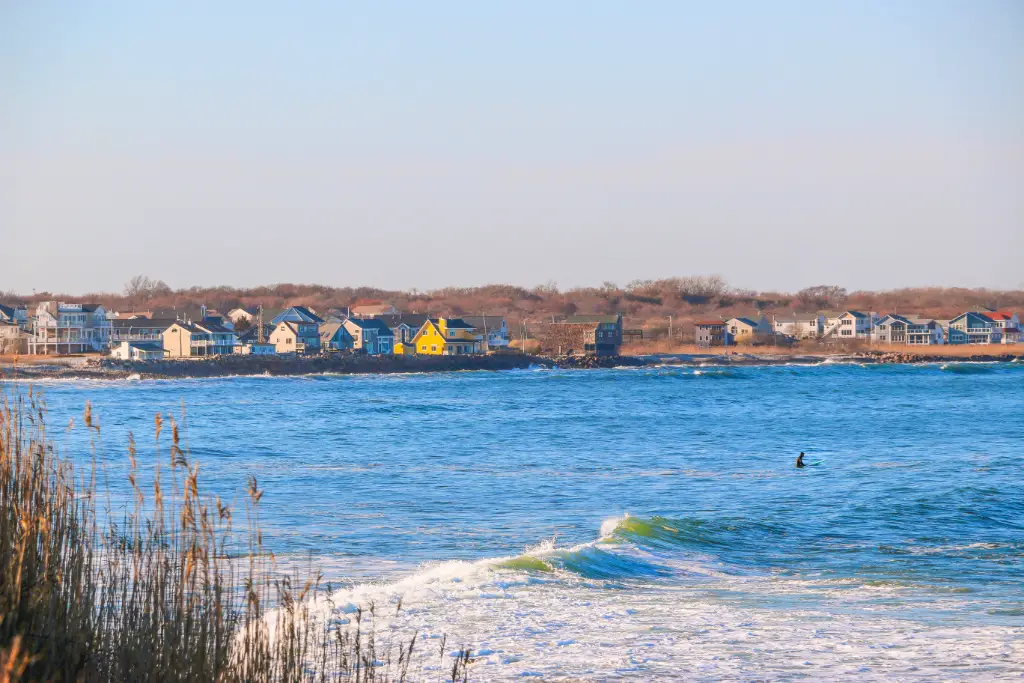 Travelers who love the charming harbors and artsy vibe of Cornwall may find that Cape Cod will satisfy their travelin' soul. Cape Cod can easily double for Cornwall given the miles of stunning Atlantic coastline, fresh seafood, and golden dunes.
People come to wake up to ocean views and spend the day relaxing on Cape Cod's pristine beaches. In fact, the Cape Cod National Seashore may just be the best part of your visit to Cape Cod. Wildlife lovers will appreciate the birding and trails at the Monomoy National Wildlife Refuge.
In town, there are art galleries, gardens, and museums to explore. For example, the Sandwich Glass Museum is a popular tourist attraction where people can learn more about the art of glassblowing.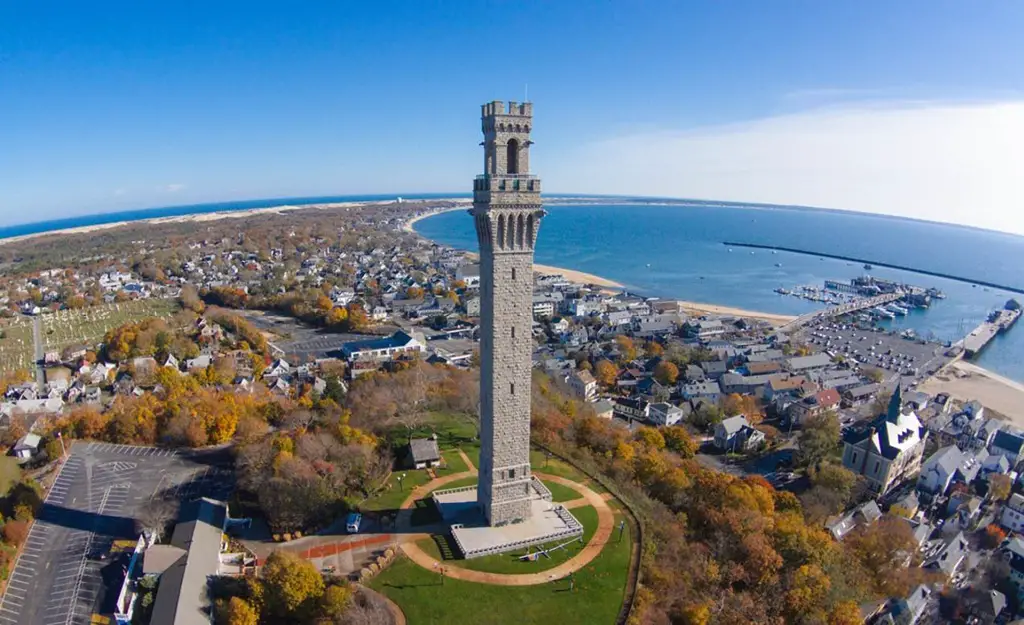 Last, be sure to visit the most European-looking of all Cape Cod's attractions—the Pilgrim Monument in Provincetown. The monument's construction is designed to look like a tower you'd see in Europe centuries ago. Offering a fantastic view at the top, it commemorates the Mayflower Pilgrims' first landing.
Book Now: Candleberry Inn on Cape Cod
35. Desire: Italian Wine Country
Consider: Virginia Wine Country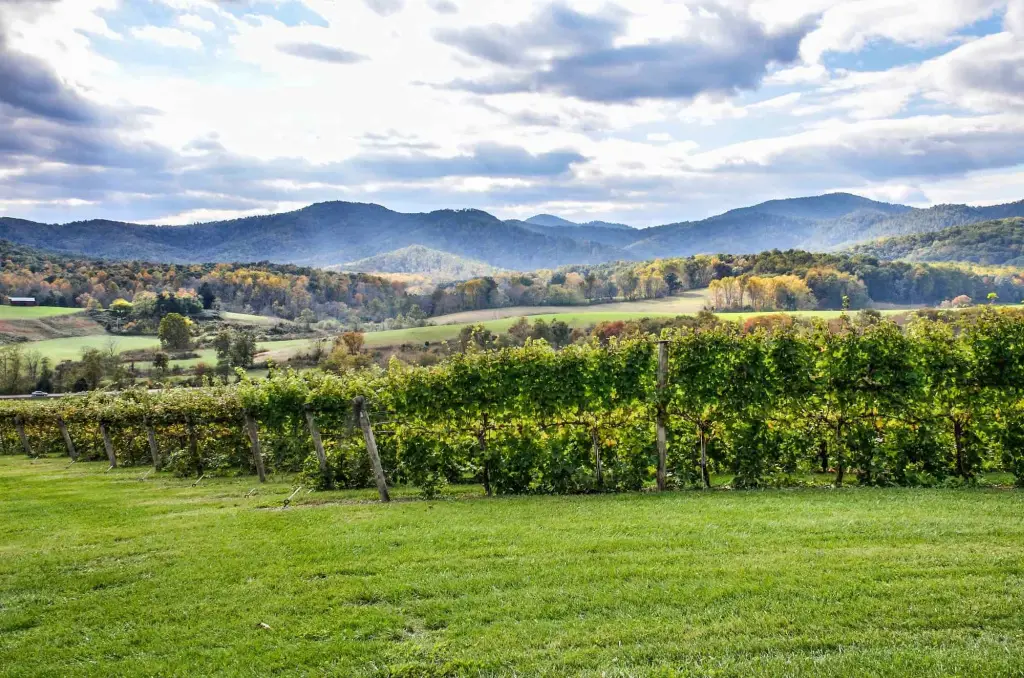 Vineyards, stunning countryside, and elegant gastronomic experiences? See? Virginia is almost like Tuscany. Although the architecture may be more colonial than Italian, Virginia wine country radiates with the same rural charms and historic sites.
With over 300 wineries and many official wine trails to explore, Virginia is becoming an increasingly popular wine destination. The top five varietals produced in the commonwealth are Chardonnay, Cabernet Franc, Merlot, Vidal Blanc, and Viognier.
Furthermore, wine lovers may want to travel to Virginia just to experience the local Viognier alone! Interestingly enough, outside of a few protected geographical regions in France, Viognier is traditionally not a popular varietal.
However, winemakers have discovered innovative ways for it to thrive in Virginia. Viognier grows wonderfully here and thus, is a signature wine of the Virginia wine region.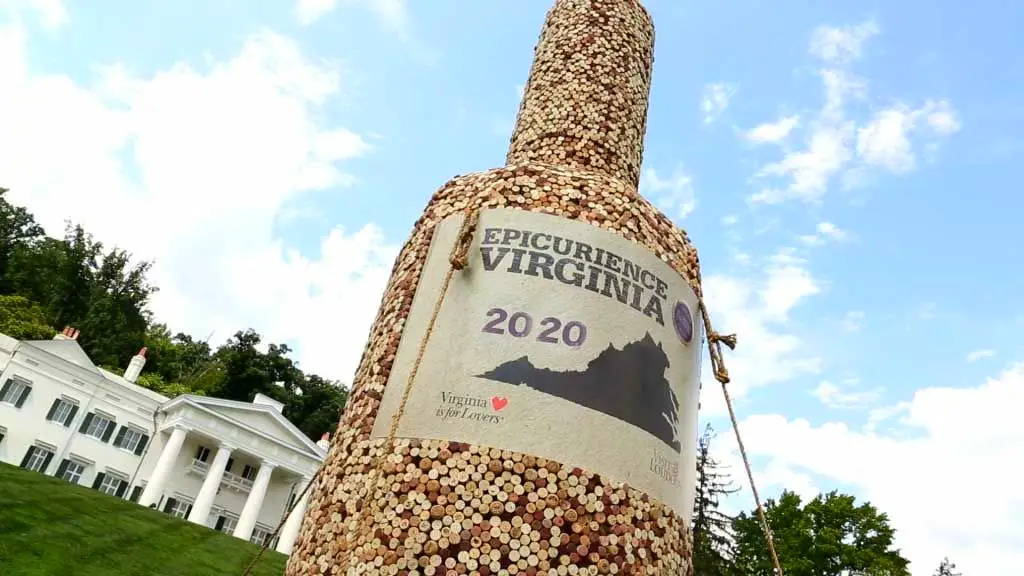 After a long day on the wine trail, travelers can finish the day with a winemaker's dinner, a hot air balloon ride, or a romantic stay in one of the area's many quaint cottages.
Book Now: The Red Fox Inn & Tavern – Inn
36. Desire: European Thrills
Consider: Las Vegas
It may be silly to suggest that the following places would replace a trip to Europe. However, international travel may not always be easy or possible for all people. Therefore, these popular tourist destinations could be a fun alternative.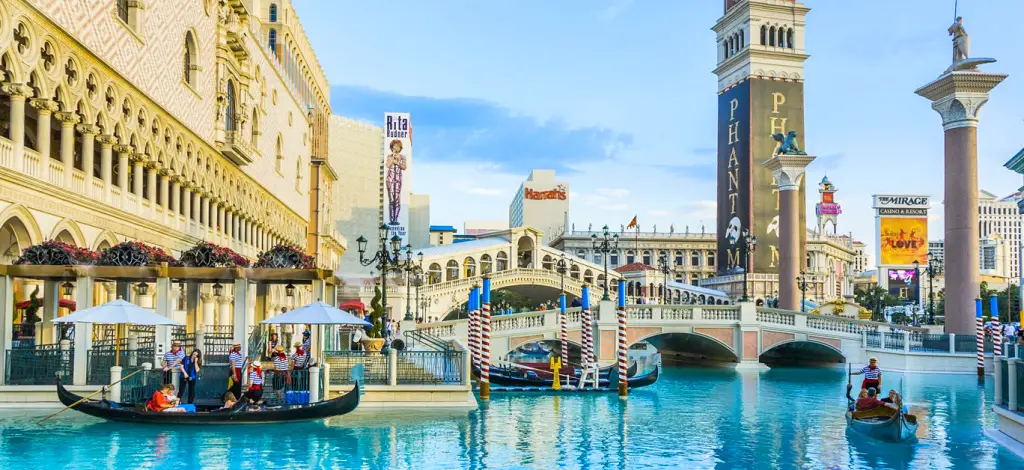 Can travelers find the charms of Europe in kitschy Las Vegas? Beneath all the flashing lights, travelers can enjoy a Las Vegas-style version of some of Europe's best attractions. Consider it mini-tours of Paris, Venice, Rome, and Germany!
For example, lovers can watch the Eiffel Tower sparkle at night at the Paris Las Vegas Hotel & Casino or sip cocktails while watching a Parisian Moulin Rouge-inspired cabaret.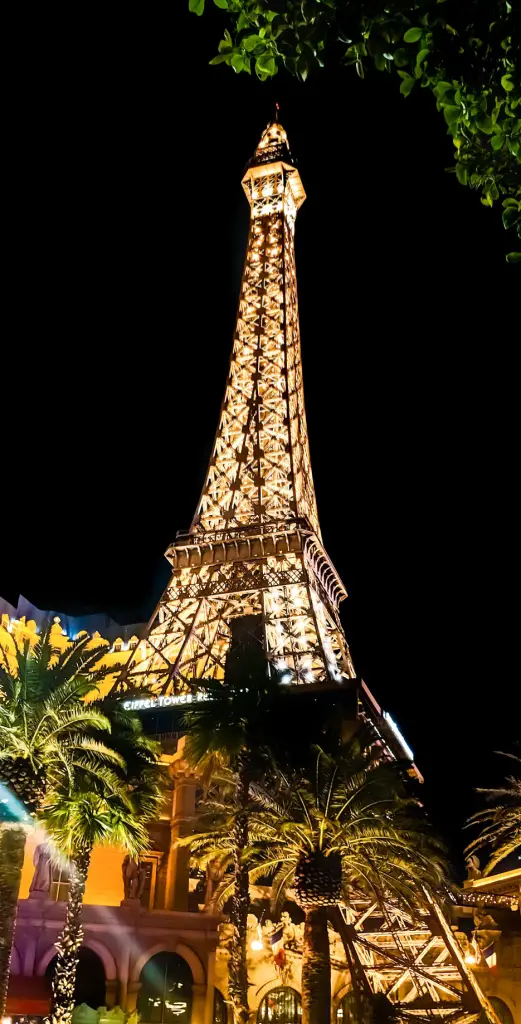 The Venetian Hotel on the Las Vegas Strip recreates the romantic experience of a gondola ride on the Grand Canal of Venice in Italy. Travelers can glide down the canals under graceful bridges, passing striking architectural structures in the replicated Venetian streetscape.
Caesars Palace is another iconic Vegas resort. Its design gives guests a sense of what life was like during the Roman Empire. The resort features a Colosseum, statues, majestic columns, and an ancient temple backdrop.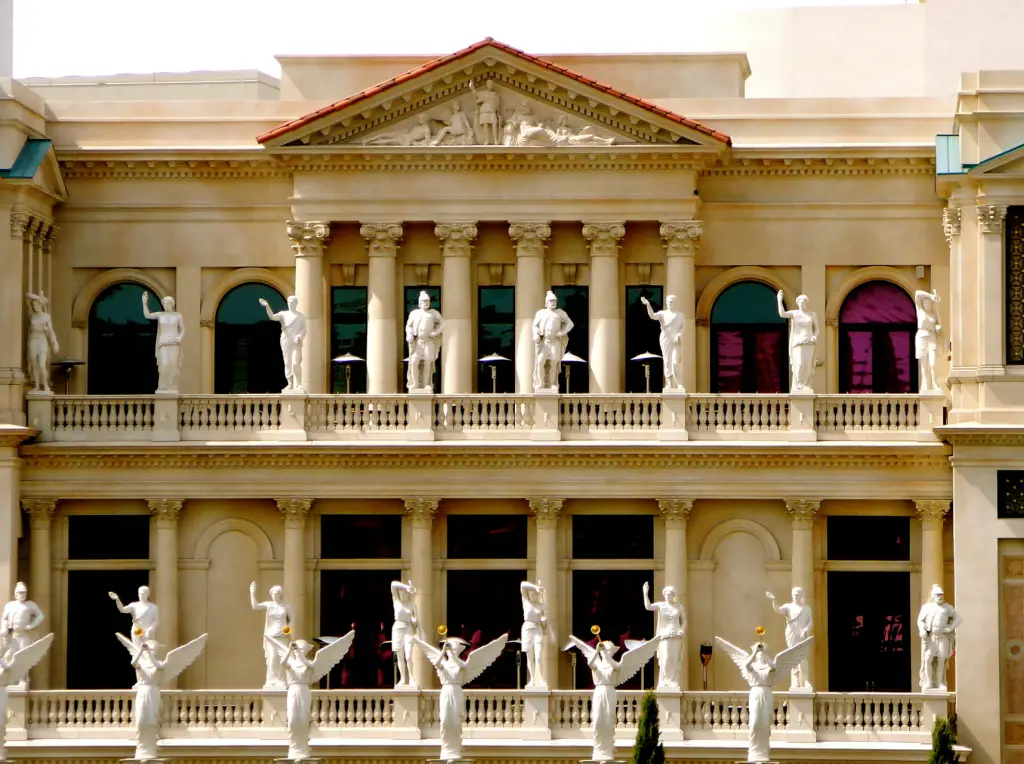 Last, discover Bavarian charms at Hofbräuhaus. This establishment is a fantastic replica of Germany's oldest beer hall where you can enjoy authentic Bavarian food, German beer, and live entertainment.
Book Now: The Venetian Resort
37. Desire: European Enchantments
Consider: Epcot Center
The Epcot World Showcase provides every visitor with the opportunity to travel through 11 countries in a day without a passport or a single flight delay. Centered around a reflective lagoon, travelers can enjoy shows, music, exhibits, and culinary treats from the represented countries—Canada, China, Italy, Morocco, Japan, the United Kingdom, the United States, Mexico, Norway, Germany, and France.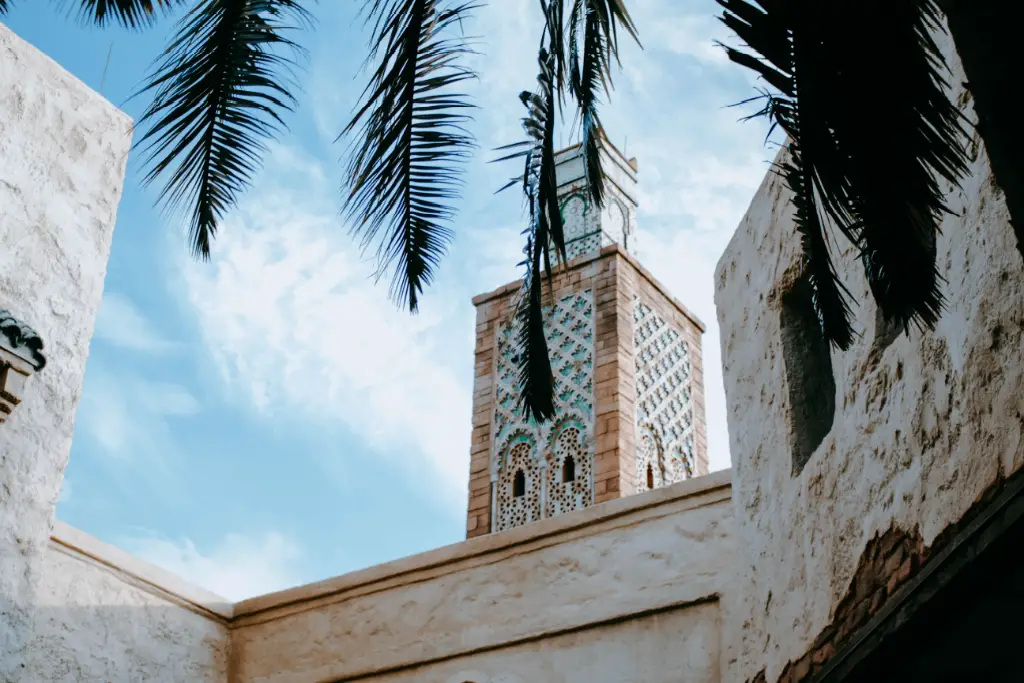 In France, grab a Croque Glace, a scoop of ice cream pressed in a hot brioche bun. For lunch, savor a classic fish and chips, along with a cold pint in the United Kingdom at Yorkshire Fish & Chips.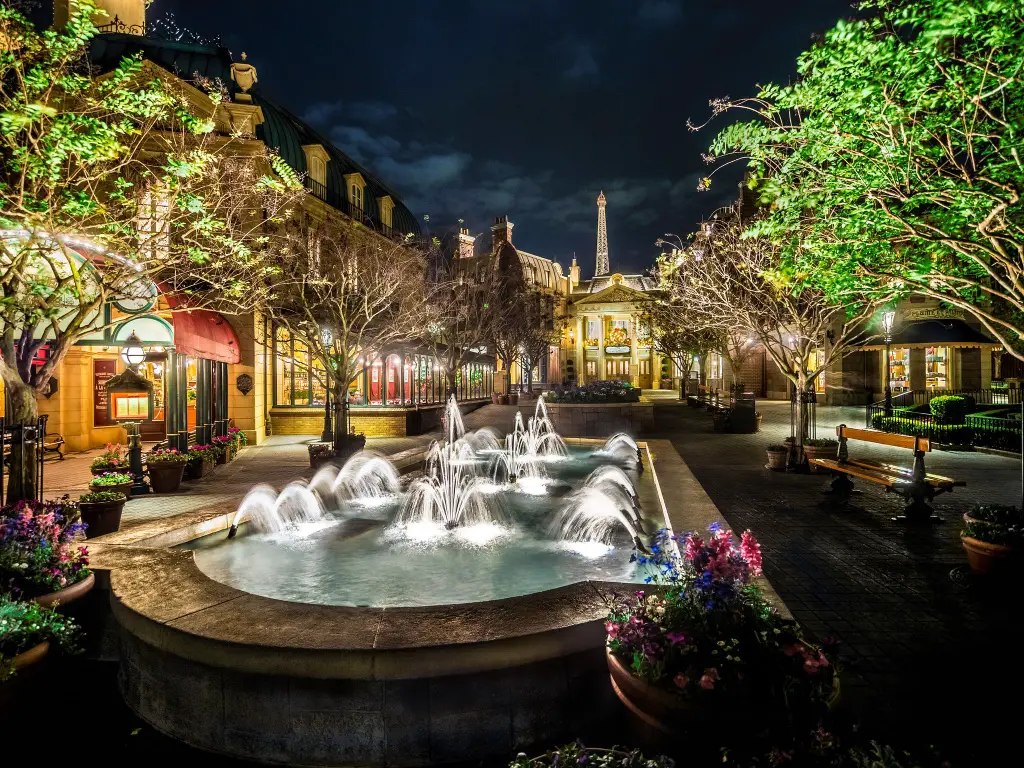 Afterward, tour Epcot's version of Norway at the Stave Church Gallery. This attraction displays historic Viking ruins and artifacts and also offers a virtual Northern Lights display. Lovers of Italy can cool off with gelato while watching the high-energy Sbandieratori Di Sansepolcro Flag Throwers.
Overall, many visitors feel blessed to spend an entire afternoon hopping from country to country in a Disney-inspired global adventure.
Book Now: Disney's Riviera Resort
38. Desire: Spain
Consider: Country Club Plaza, Kansas City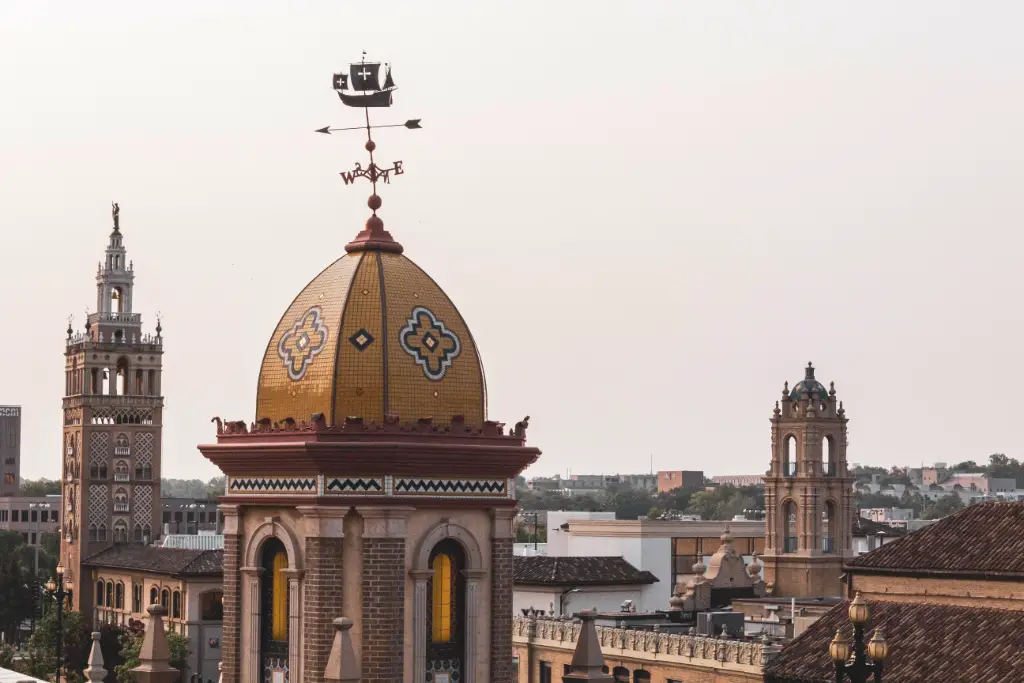 Spain and Kansas City may be a far-fetched comparison but the two destinations have more similarities than you'd think! In 1912, when Kansas City developers were creating the Country Club Plaza, they used the marketplaces of Spain were a source of inspiration.
In fact, after touring Spain they decided to mimic the Spanish architecture to inspire people to want to visit or live near the plaza. The finished project cost $5 million, which was a huge cost at the turn of the 20th century. Using Seville as a model, the Country Club Plaza features a grand tower constructed in the same style as the 12th-century Moors.
Finally, there's another cool connection too! The Giralda belfry was christened in 1967 which is the same year that Kansas City and Seville became official sister cities.
Book Now: The Raphael Hotel, Autograph Collection
39. Desire: Germany
Consider: Hermann, Missouri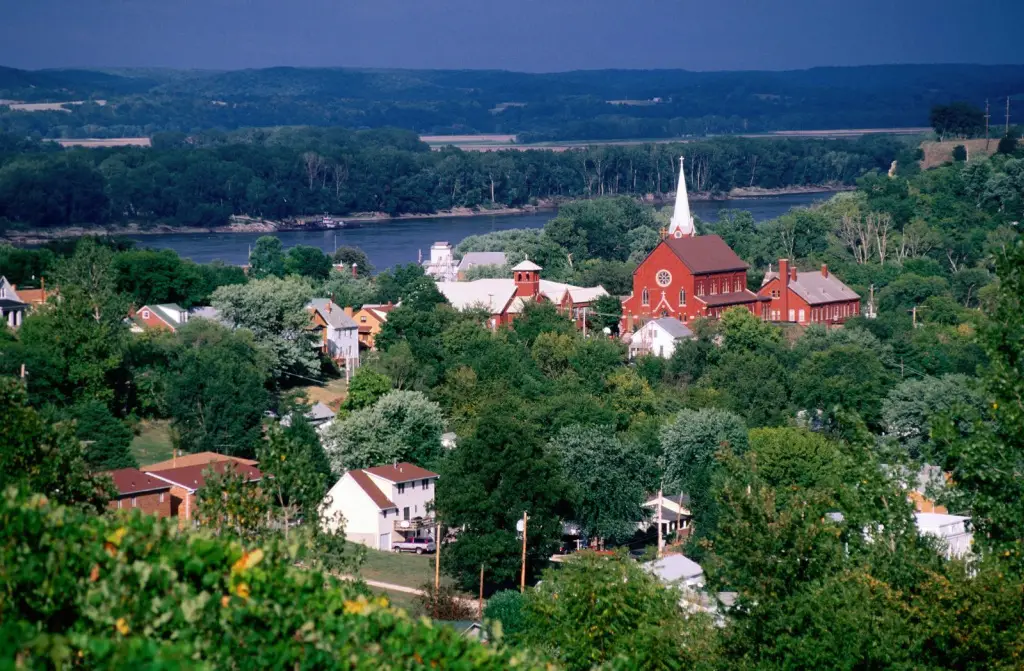 Tucked in the Missouri River Valley, Hermann's 19th-century brick buildings hug the sidewalk, just as they do in Germany. This is because in 1836 German immigrants settled in this quaint town with the hope to preserve German culture in America.
They handpicked this particular location due to its proximity to the Missouri River, which reminded them of the Rhine River back home. Today, their dream lives on primarily through culinary traditions, festivals, and winemaking.
For example, both the annual Wurstfest and Oktoberfest feature German music, a sausage-making contest, and of course, lots of German beer. Thankfully, there are many German restaurants, parks, and museums to explore outside of the festival season. Additionally, the Hermann Farm offers a glimpse of what a traditional German settlement would look like.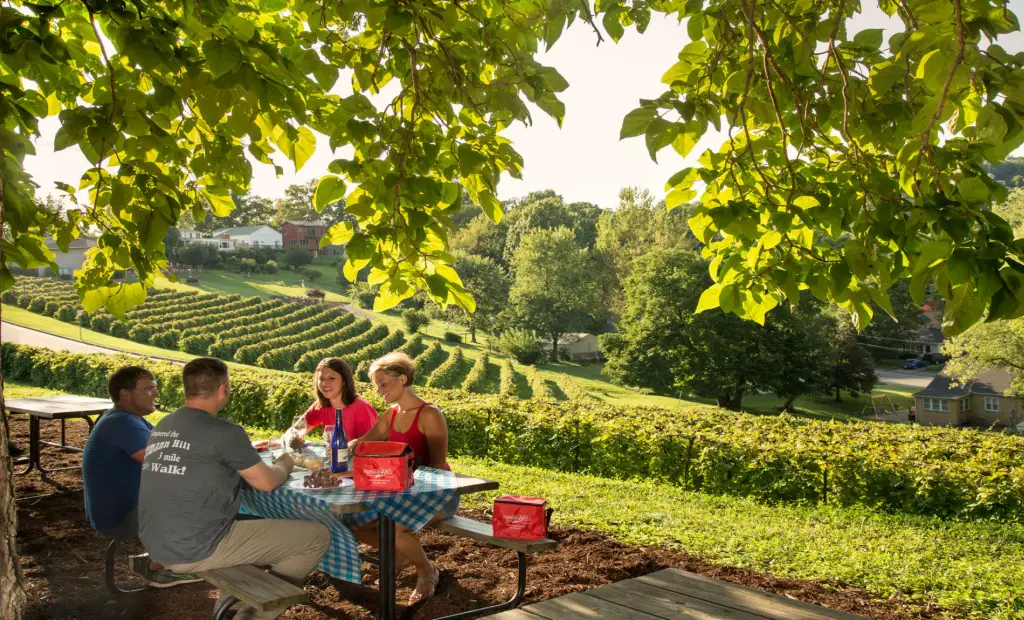 Some travelers choose to pair their visit to Hermann with a tour of Missouri wine country. The climate here is ideal for winemaking. Currently, there are 11 different wineries in the Hermann wine region.
More information about events and tourist attractions is available at the Visit Hermann Tourism page.
Book Now: The Inn at Hermannhof
40. Desire: Palace of Versailles
Consider: Asheville, North Carolina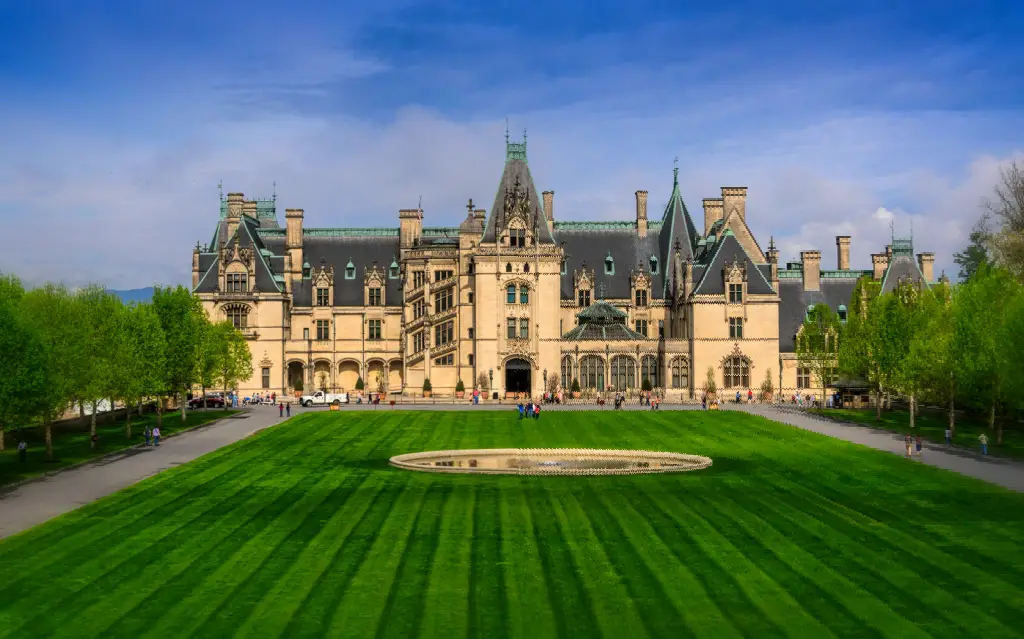 Although certainly not as sprawling as some of the palaces of Europe, The Biltmore Estate is America's premier palatial home. Constructed between 1889 and 1895, the private home was built for George Washington Vanderbilt.
The French Renaissance chateau has over 250 rooms, featuring 35 bedrooms, 43 bathrooms, and 65 fireplaces. It still owns the title of America's Largest Home spanning 175,000 square feet. For comparison, Trump's Mar-a-Lago, built in the Spanish Colonial Revival style, comes in second at 110,000 square feet.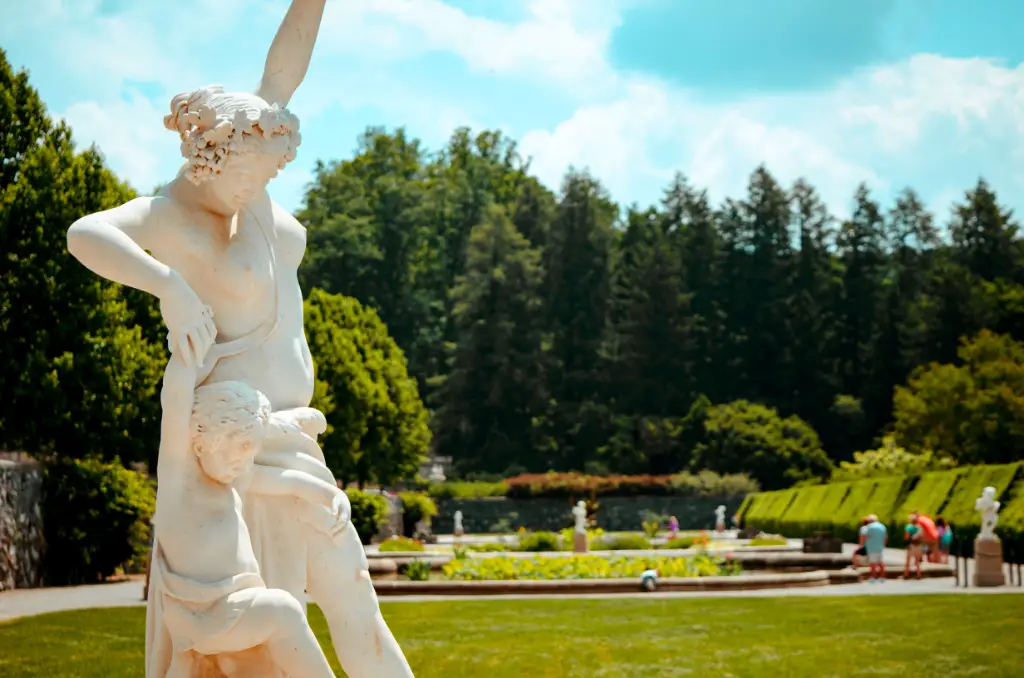 However, Biltmore's French essence is most apparent in its extensive gardens, offering an abundance of color and beauty year-round. With over 8,000 acres of property to enjoy, there are lots of options for visitors to stay busy in Biltmore's massive backyard. For example, the estate has biking, hiking, carriage rides, and horseback riding all available on-site.
Last, the French vibes only continue at the Biltmore Winery. Daytime admission to the estate includes a complimentary wine tasting. Additionally, wine lovers may choose to attend Biltmore's Perfect Pairing: Red Wine and Chocolate event. The daily tasting pairs premium red wines with exceptional chocolate truffles crafted by locally-owned French Broad Chocolates.
Book Now: Princess Anne Hotel

Many travelers wish to travel to Europe. However, not everyone is lucky enough to make their dream come true. Luckily, as the land of immigrants, the United States offers numerous cities that gift us a stateside alternative to Europe.