Croatia's Blue Lagoon is one of those dreamy bucket-list destinations that must be visited. This is the type of place that graces the cover of magazines, postcards, and travel guides.
When tourists plan their vacation, they set out with the goal to visit surreal locations. Of course, the goal is to capture the essence of exploration, finding a secret piece of paradise, or exploring one of the world's most unique treasures. After all, isn't that what taking a vacation is all about?
Here's the Best Blue Lagoon Boat Tour
The Blue Lagoon is easily one of Europe's most epic locations. Although it looks like a hard-to-reach destination, taking a speed boat makes it quick, fun, and easy.
From Split, guests can board a high-speed boat and jet off towards Trogir on the Blue Lagoon & 3 Islands Half-Day Tour—this is the option we chose. If you're pressed for time, like so many travelers are, taking a half-day speed boat tour is the most efficient way to see the lagoon.
Blue Lagoon & 3 Islands Tour > Check Availability
Pitstop in Trogir Croatia
First, we stopped in Trogir for an hour of sightseeing. Most tourists who visit this World Heritage List city fall in love with it, claiming it to be their favorite city in Croatia.
Trogir is sometimes known as "The Museum City" because the small streets are lined with old palaces of noble families. Many passengers enjoy the small town so much that they end up booking a 1.5-hour night walking tour.
Guests may want to grab a drink on the palm tree-laced promenade, a gelato, or a snack at a local bakery. Of course, because this is a half-day tour, lunch is not included. 
Visiting the Blue Lagoon Croatia
Next, we ventured to the Blue Lagoon. The boat trip from Trogir to the lagoon takes about 15 minutes. Immediately, we docked and had about an hour and a half to swim, sunbathe, and explore.
📌 Expat Tip
: After living in Split for two years, we both agree, that if you only have time for one full-day excursion while in Split, make sure to book the
Blue Cave and Hvar Tour – 5 Islands Tour
from Split and Trogir. Stops include Blue Cave, the island of Vis (where Mamma Mia 2 was filmed), and the party island of Hvar!
Blue Cave and Hvar – 5 Islands Tour > Check Availability
It was the perfect amount of time. Swimming masks are available to use in the lagoon. Afterward, we headed back to Split, enjoying the scenery as we made our way back to town.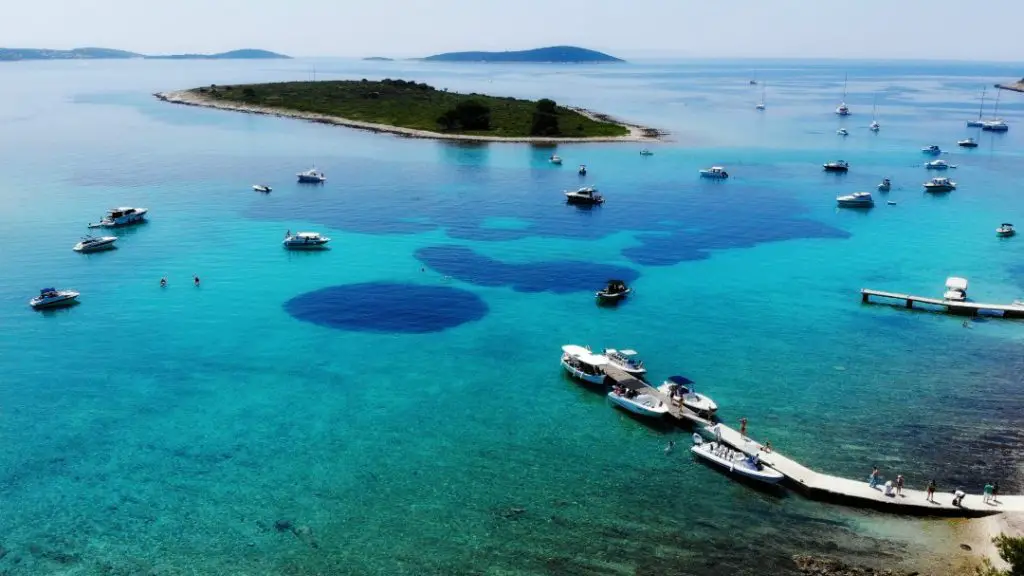 The lagoon is a must-see destination and offers fantastic kayaking, swimming, and snorkeling. It lies just beyond the city of Trogir. Check out our video featuring this Croatian summer hotspot.
We enjoyed the Blue Lagoon: 3 Islands Tour which offers no-nonsense, half-day tours to the lagoon that won't take up an entire day of your holiday. Check out a short video below of our tour!