Aruba has some of the best resorts and best beaches in the Caribbean. We've visited it numerous times and love the friendly people, perfect weather, and tons of exciting and fun things to do around the island!
It's also full of romance. When you combine the beaches, resorts, restaurants, sunset, and nightlife, the whole island just screams romance. A visit to Aruba checks off every box for the ultimate tropical beach honeymoon destination.
In the Caribbean, Aruba is a budget-savvy destination, which is hard to believe because it's one of the nicest places in the region. One of the most convenient and affordable ways to stretch those dollars is by booking a stay in an all-inclusive resort. Thus, drinks, food, and activities are included in the upfront price.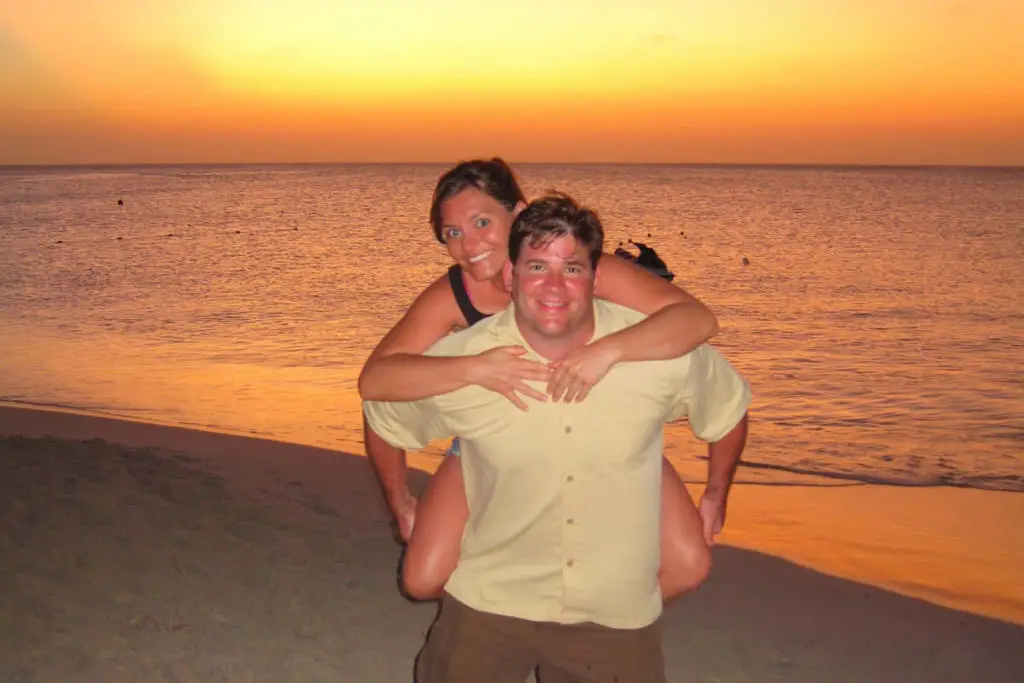 Planning a Vacation to Aruba
An Aruba vacation begins by mixing adventure with beach life. It doesn't matter if you're the type of person that enjoys sipping Mai Tais and sunbathing or you're into hiking and scuba diving. Aruba has all your bases covered.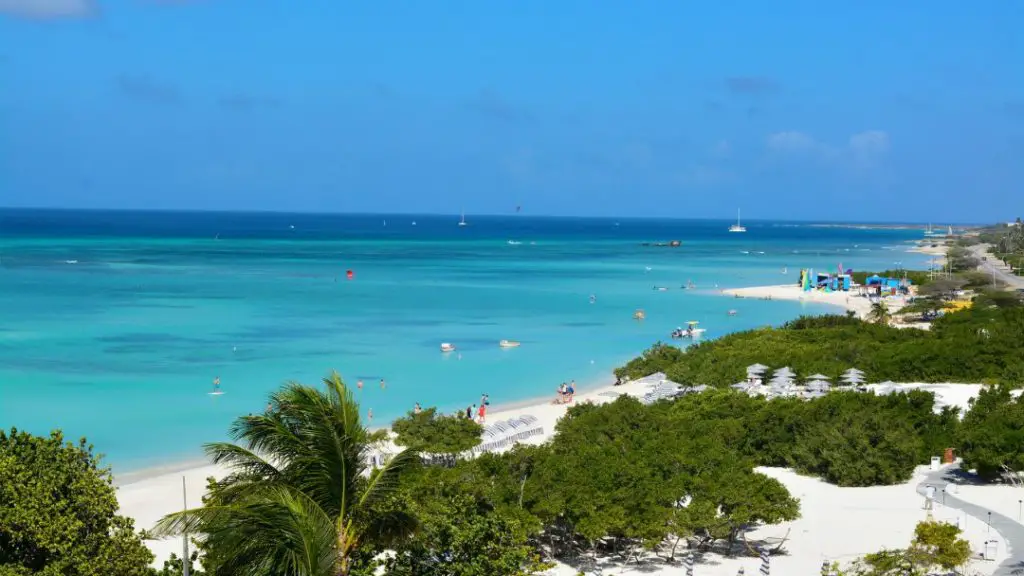 What most people don't know is that Aruba is one of the sunniest places in the Americas. It also sits outside the hurricane belt, so there's very little threat of a hurricane or tropical storm ruining your vacation. The island is more like a dry cactus-filled desert with more than 20 gorgeous beaches scattered around its rim.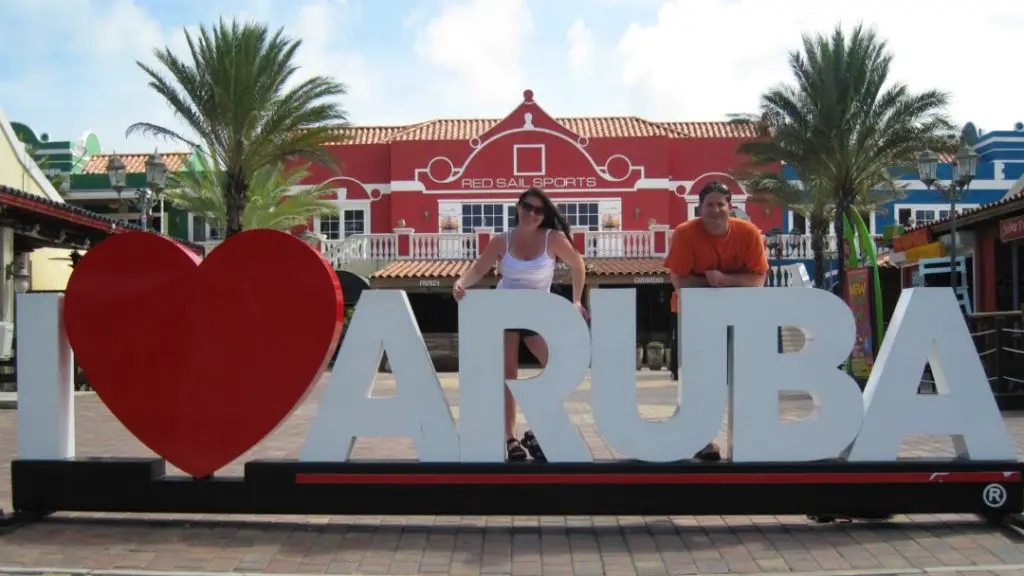 At just 21 miles long and six miles wide, Aruba is a fairly small island, which is why we recommend staying in one accommodation during your time there. The island is so quaint and cozy that it's easy to just rent a car to explore the various parts of the island.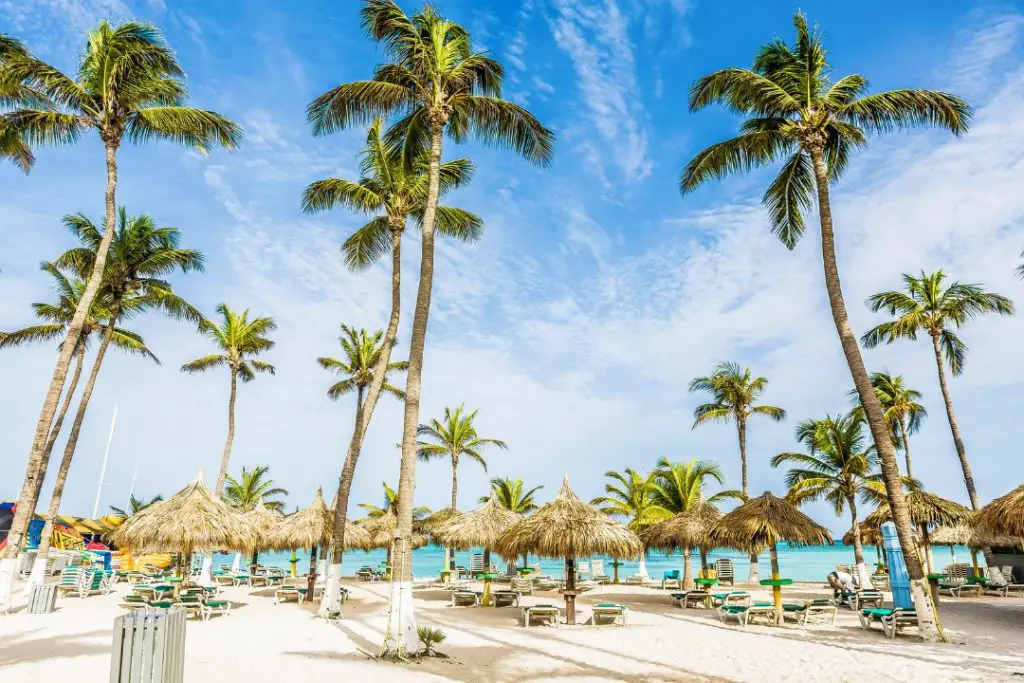 5 Best Aruba Resorts
The best Aruba resorts are located on Divi Beach, Manchebo Beach, Eagle Beach, or Palm Beach. Also, this is where the best restaurants, and nightlife occur on the island. However, if you're looking for a bit of wild nightlife though, you probably want to stay in Palm Beach.
BEST PLACES TO STAY IN ARUBA
Select a hotel or scroll down to view all.
Luckily, all four beaches are right next to each other. Moreover, it's extremely pleasant to walk from one down to the next. Due to the abundance of resorts, it can be quite challenging to narrow it down just to one. No worries. We've got you covered.
Below are the best Aruba resorts. Use this list to plan the perfect dream vacation or honeymoon.
1. Divi Village Golf and Beach Resort (All-inclusive) – Divi Beach
Divi Beach is about ¼-mile long and is a narrow oval-shaped stretch of sand between Oranjestad and Manchebo Beach. It's also home to all-inclusive resorts, with restaurants and hotel rooms just a few steps away from the white sandy beach.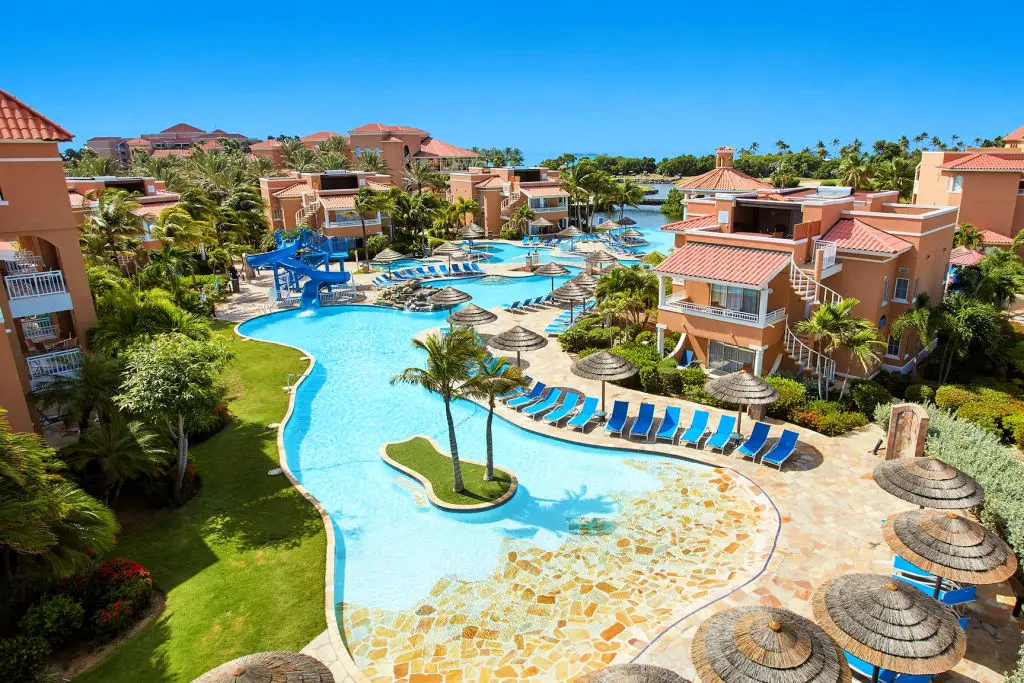 As one of Aruba's best family-friendly resorts, Divi Village Golf and Beach Resort have tons of amenities to enjoy. Guests that select the all-inclusive option will gain access to all three Divi properties on the island, with a complimentary shuttle.
In total, there are 14 restaurants, 11 pools, 12 bars, three beaches, live entertainment, water sports, and free golf. To check prices or to make reservations, click here >> Divi Village Golf and Beach Resort.
2. Bucuti & Tara Beach Resort – Manchebo Beach
Manchebo Beach is a wide stretch of beach on the most western point of the island, located in the low-rise hotel area in front of the Manchebo Beach Resort. Offering a combination of exciting waves, converging currents, and calm waters, Manchebo beach is not crowded and is perfect for relaxing and sunbathing.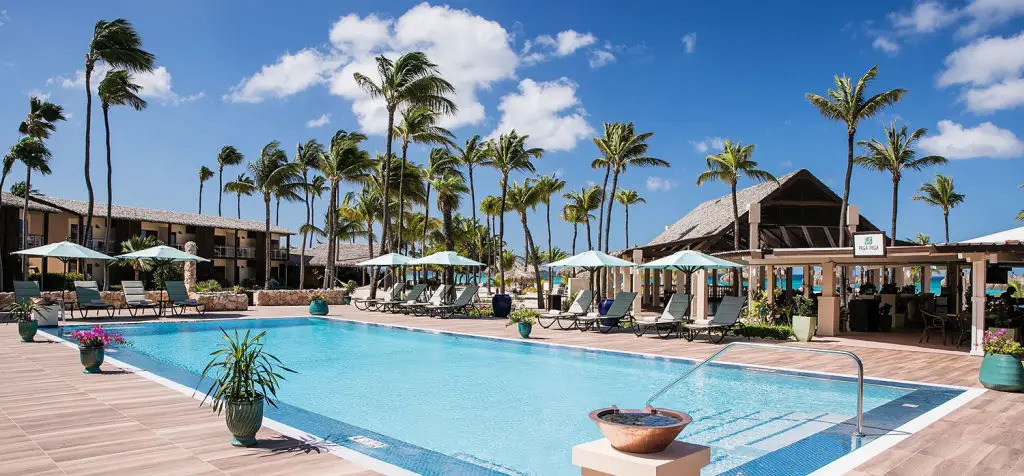 Bucuti & Tara Beach Resort is the only resort in Aruba that offers a tranquil and refined adults-only vacation experience. As one of the most expensive options on the island, it's a great choice for honeymooners, if you can afford it.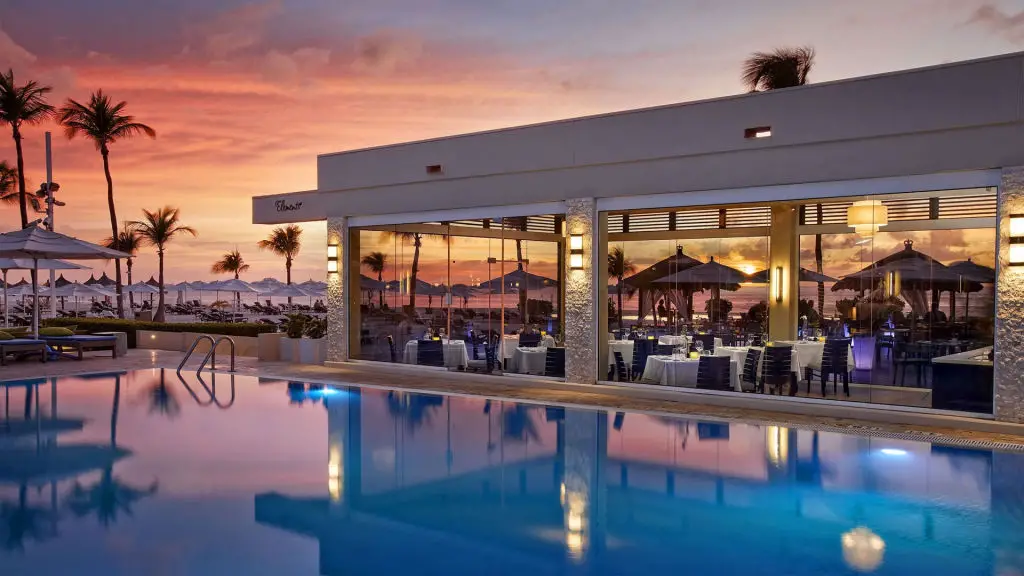 To check prices or to make reservations, click here >> Bucuti & Tara Beach Resort.
3. Amsterdam Manor Beach Resort – Eagle Beach
Eagle Beach has been recently rated as one of the best beaches in the world and is in the top three best beaches in the Caribbean. This pristine long stretch of beach with soft white sands and aqua-blue waters features a variety of water sports. Moreover, the beach is the host of Aruba's most photographed divi tree and is known to be a favorite nestling sport for sea turtles.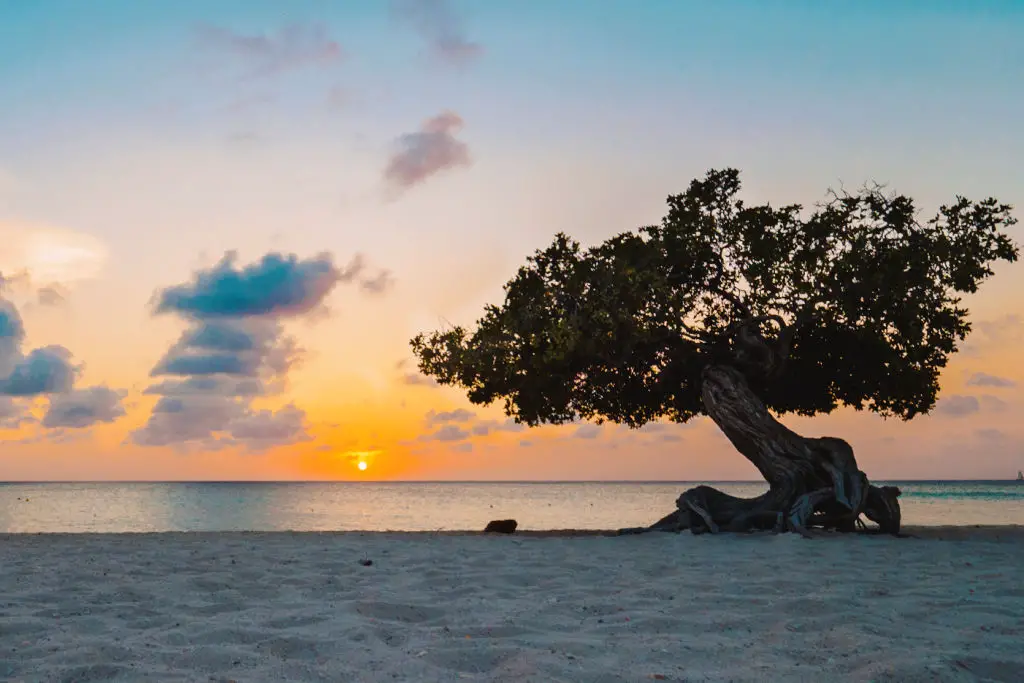 Amsterdam Manor Beach Resort features Dutch Baroque colonial architecture and is located just across the street from Eagle Beach. Accommodations are newly renovated simple, clean, and comfortable.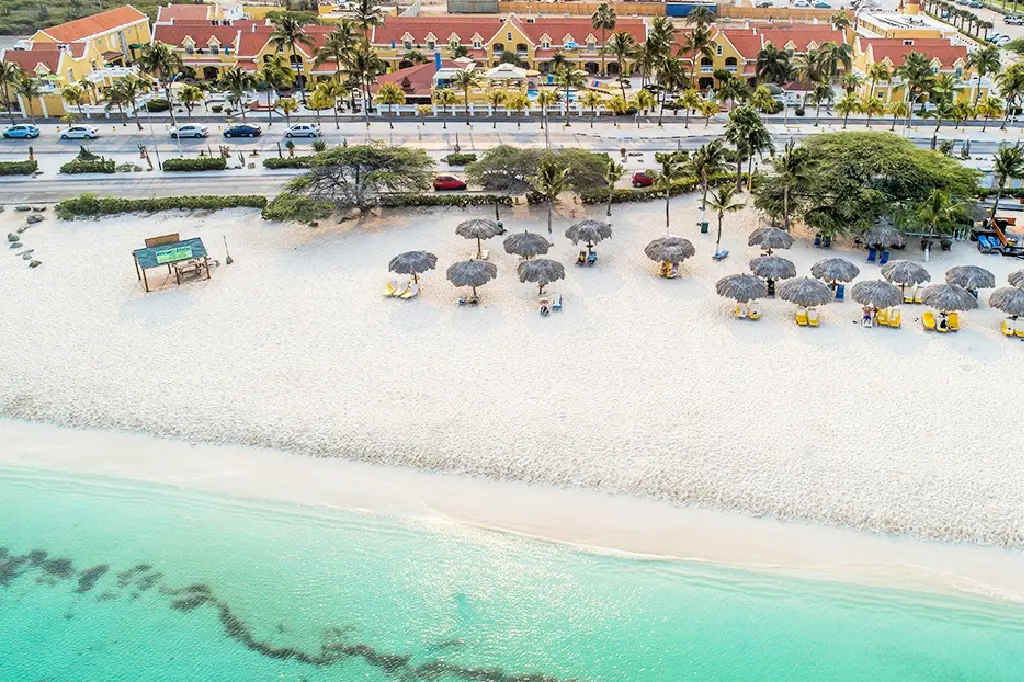 To check prices or to make reservations, click here >> Amsterdam Manor Beach Resort.
4. Hilton Aruba Caribbean Resort & Casino – Palm Beach
Palm Beach is a two-mile strip known for its turquoise waters and white sand. Nearly all of the high-rise resorts are located here. There's a promenade that runs along the beach, which is lined with restaurants and bars, it also makes for a great place to walk. It's great for sun-tanning, swimming, relaxing, and of course partying.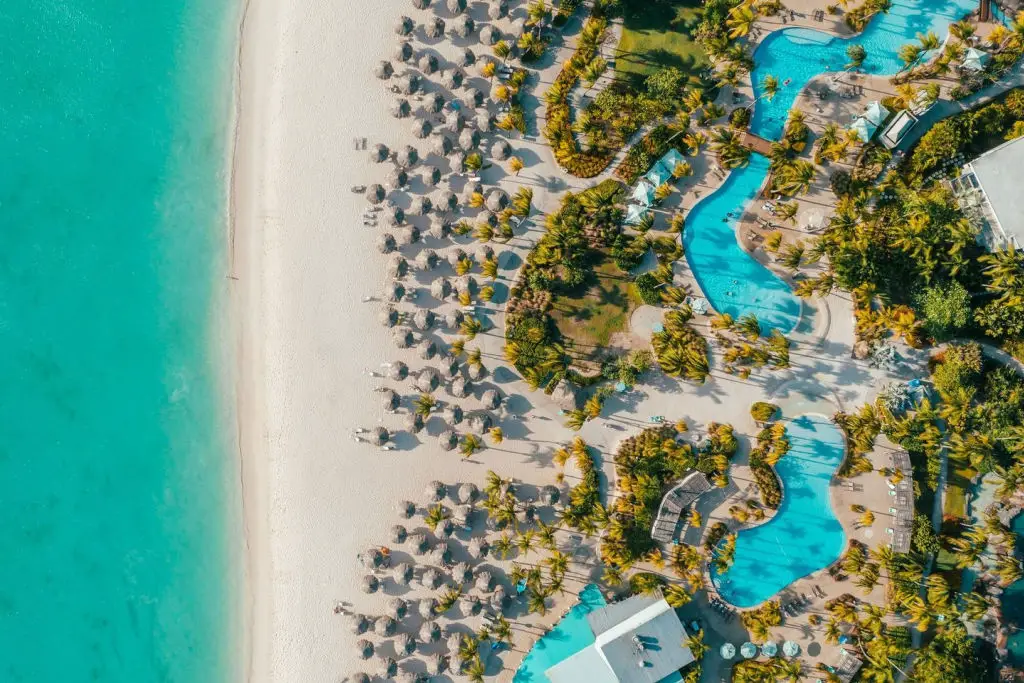 The Hilton Aruba Caribbean Resort & Casino features a spacious studio suite or one-, two-, or three-bedroom suites, and is in the best location for nightlife. All suites contain large private balconies, kitchens, and stunning views of the sea. Additional amenities include a washer-dryer combination and well-appointed baths with Jacuzzi tubs.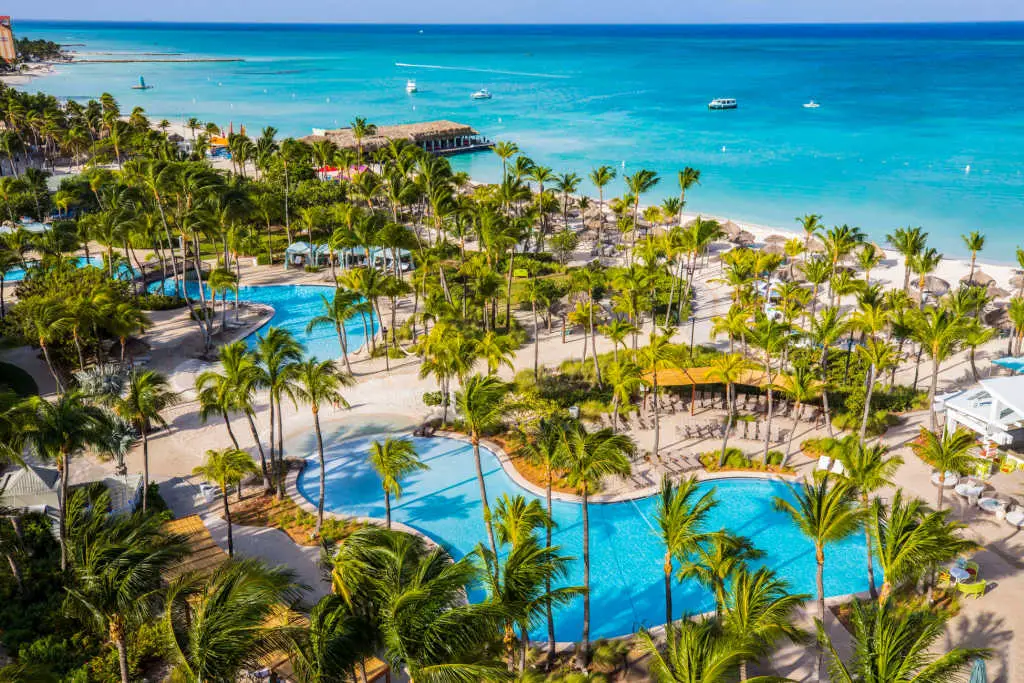 To check prices or to make reservations, click here >> Hilton Aruba Caribbean Resort & Casino.
5. The Ritz-Carlton – Palm Beach
Also, located in Palm Beach, near the end of the northern strip, the five-star Ritz-Carlton is one of the finest luxury resorts on the island. Featuring two massive pools, six restaurants, a luxury spa, and a casino. If you can afford the splurge you can't go wrong.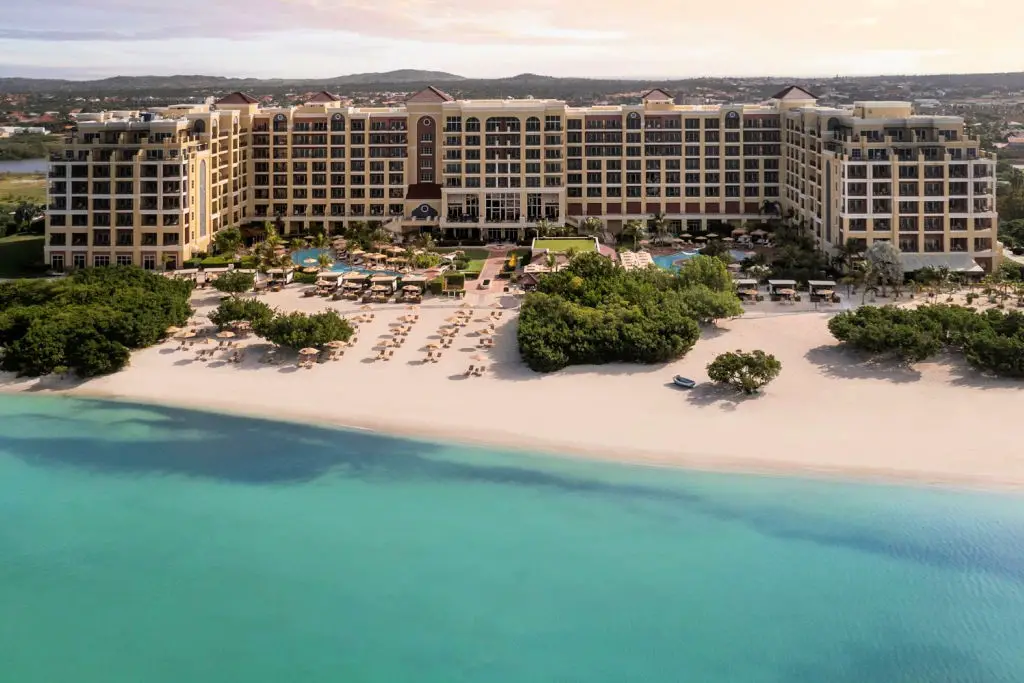 To check prices or to make reservations, click here >> Ritz-Carlton.
Best Romantic Places in Aruba
Aruba is one of the most romantic islands in the Caribbean, bathed in love and warmth. Rest assured, because Aruba is truly the ideal destination for romance, there's always an intimate and private spot to share with your loved one.
Barefoot Dining at Sunset
Passions on the Beach has the best location in Aruba, right on the beach with views facing west. It doesn't get more romantic than tiki torches and soft white sand under your bare feet. Don't be surprised if you witness someone popping the question.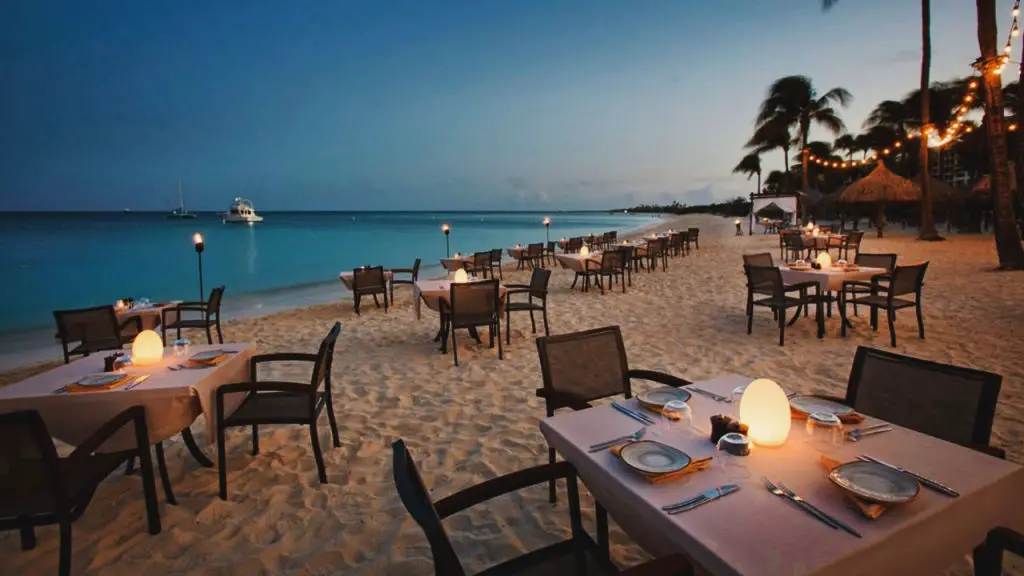 Flying Fishbone Restaurant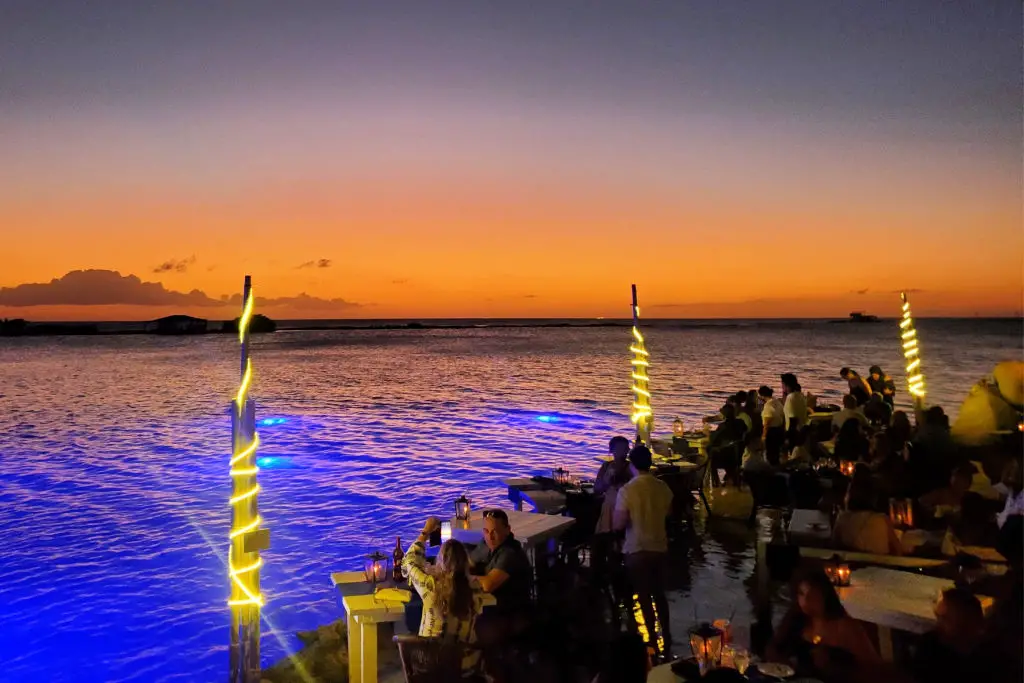 Toes-in-the-sand, tables placed literally in the water, and tiki torches make for quite a romantic evening. Head to the Flying Fishbone Restaurant for a unique dining experience!
Fun Excursions!
Rent a Jeep
Is there a better feeling than driving a jeep with the top down on the way to the beach? No! Also, you may need one to get to Aruba's natural pool. The Jeep Safari is Aruba's most popular excursion!

Not feeling the Jeep Safari Tour? Willing to choose the best excursion by yourself or are you interested in getting off the beaten path? Be sure to check out all of the most popular tours in Aruba.
Natural Pool Aruba
The Natual Pool is situated inside the Arikok National Park. A series of natural landmarks and winding rocky roads will lead you there. To go all out, adventurous travelers may consider taking the Natural Pool Horseback Riding tour.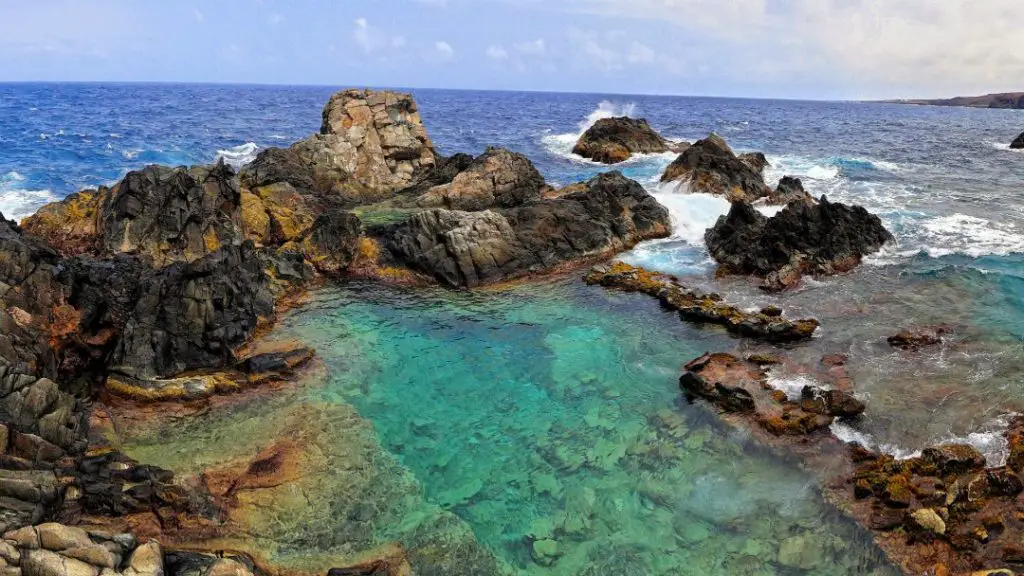 Sunset Cruise
Take a breathtaking sunset sail along Aruba's scenic coastline. Furthermore, along with stunning views, passengers can enjoy an open bar and appetizers.

Massage for Two on the Water
Looking to splurge? The ultimate romance can be found during a relaxing visit to Okeanos Spa.
Located on Renaissance Wind Creek Aruba Resort's private island, the Okeanos Spa is positioned in one of the most secluded areas in Aruba. After the spa, make sure to explore Renaissance Island's private beaches, which feature parading flamingos.
Pre-Dinner Drink at the Lighthouse
Take your rental car to the California Lighthouse and enjoy an elevated panoramic view of the sea and the high-rise hotels. Also, don't forget to bring some chilled drinks to celebrate!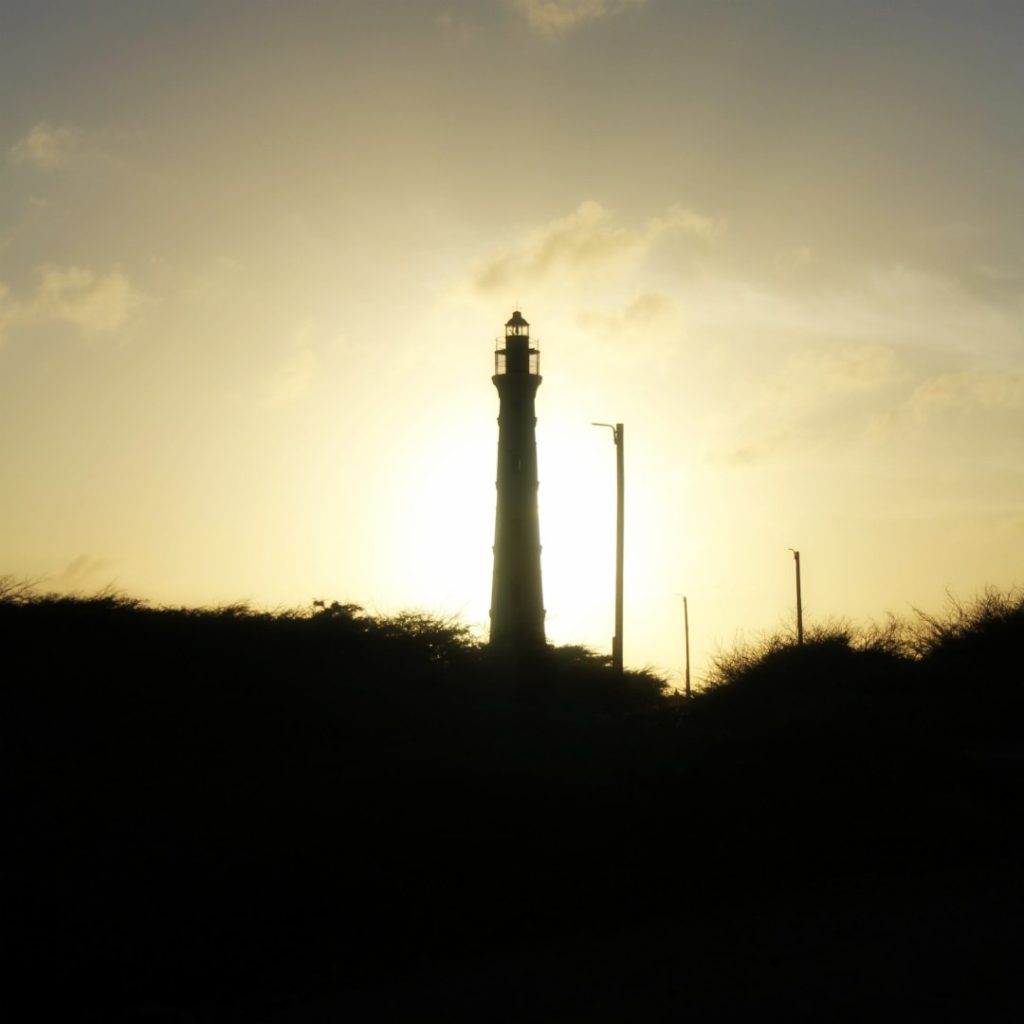 Three Unique Beaches in Aruba
Below are three fun beaches to make day trips to; be sure to bring your own towels, snacks, and water.
Arashi Beach
Arashi is a scenic beach with great huts, sand, and waves. Furthermore, the calm currents make this beach a perfect spot for snorkeling and are a favorite with locals.
Baby Beach
This beach is located on the other side of the island (southeast). Also, the water is warm, shallow, and sheltered from the sea by a man-made breakwater. Moreover, it's extremely popular for snorkeling and sunbathing.
Malmok Beach
This narrow rocky strip is a popular fishing and snorkeling spot. Also, the shallow and calm waters make it probably the best snorkeling spot on the island.
The best Aruba resorts offer visitors a sort of vacation magic. Moreover, with the country's beautiful beaches, perfect weather, and friendly people there's no better place in the Caribbean to plan a trip.