Helicopter tours in Alaska allow passengers to soar high above the glaciers to areas inaccessible by foot or boat. Up in a helicopter, it's possible to take in the "big picture."
When astronauts first see the Earth from space, many are left in a state of awe. Even though they've seen thousands of images of space before, there's nothing that can replicate seeing the Earth firsthand.
This sense of amazement is called the "Overview Effect." For many astronauts, this experience stimulates them spiritually and encourages them to reflect on their relationship with the Earth and humanity.
In many cases, they're rewarded with a religious awakening or left pondering about life in distant galaxies. Overall, this cognitive shift in mindset seems to have an overall positive impact—they come back to Earth with a greater appreciation of life.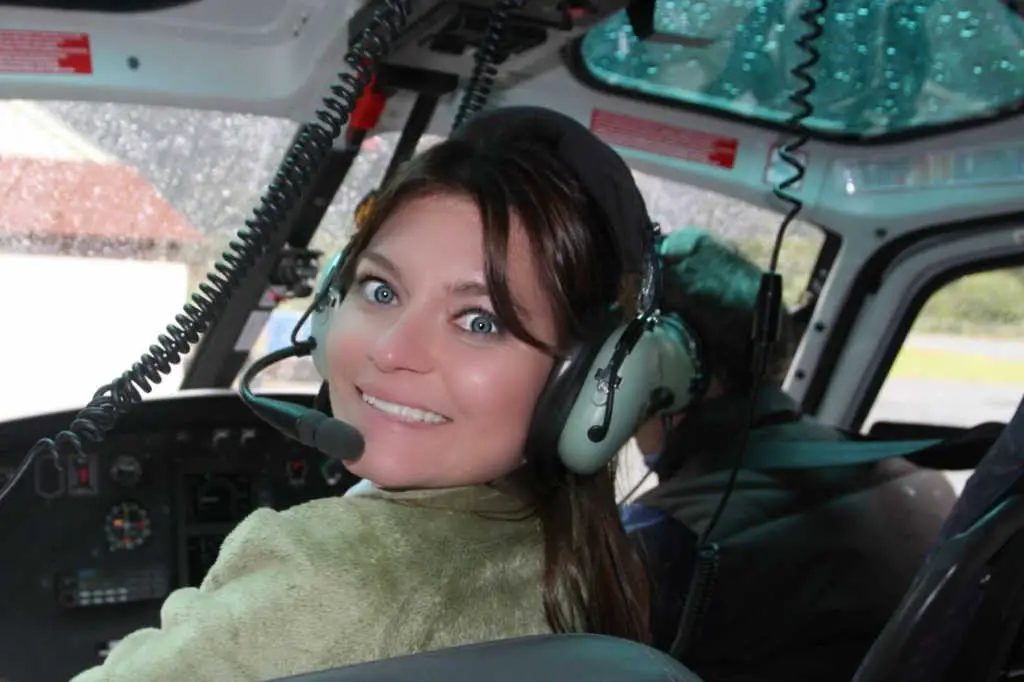 While there's no substitute for entering space, one of the best alternatives, down here on Earth, is to transcend beyond the planet's surface on one of the most insane helicopter tours in Alaska. In short, there's no place on earth like Alaska—the name comes from the Aleut word Alyeska, which means the "Great Land."
When you're ready to book your next flight, follow these three easy steps to get the best price.
Moreover, the wildlife, mountain landscapes, glaciers, turquoise rivers, and marine life make it the ideal location to enjoy a helicopter ride.
🚁⬇️ If you're visiting one of the five towns or cities below on your Alaskan cruise then you have easy access to some of the best helicopter tours in Alaska. With limited seats, you should reserve your spot as soon as possible.
Keep reading to learn more details about the helicopter tours departing from the five locations above.
5 Insane Helicopter Tours in Alaska
The five tours below have passengers flying high above some of the largest and most impressive glaciers in the world—in some cases, even landing on them. Without a doubt, the fun doesn't end there. Depending on the tour, passengers will fly by 1,500-foot waterfalls, walk on glaciers, go on a heli-hike, and go dog sledding—a crazy bucket list adventure!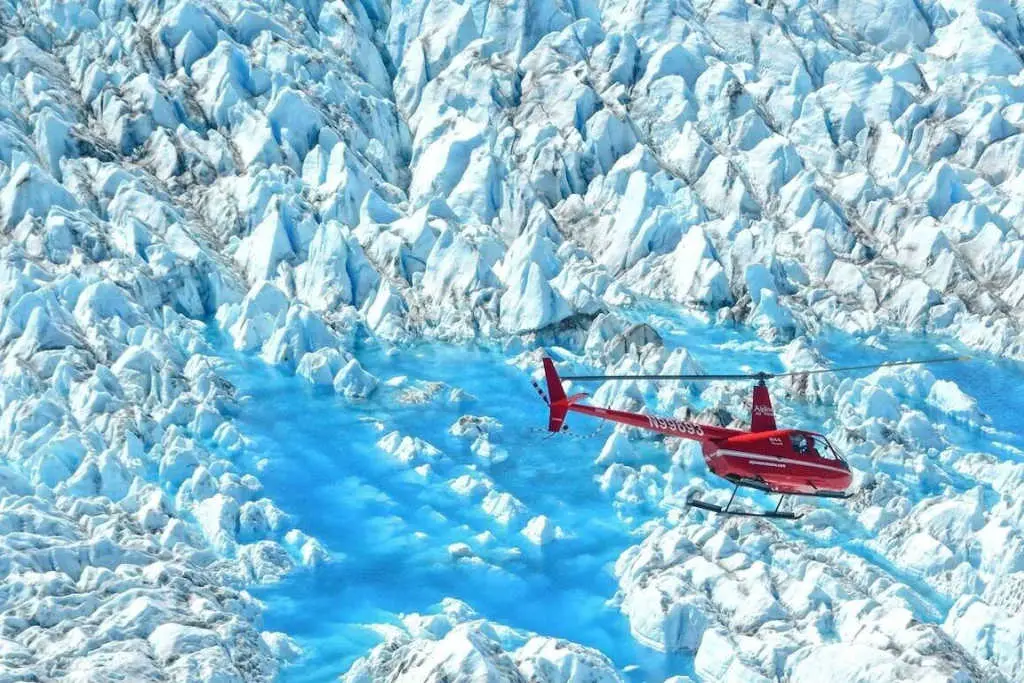 💰 Budget Tip: Cruise ship passengers should pick one (or more) of the locations below that are closest to their port stop and reserve a helicopter ride in advance as rides are limited and in high demand.
Below are five cheap helicopter tours tourists should consider when visiting Alaska.
1. Ketchikan – Mahoney Falls and Mountain Landing (Combo Tour)
Ketchikan sits along Alaska's southeast coast along the protected channels of the Inside Passage. As a popular cruise ship port, the small population of 13,000 can support up to four cruise ships at one time—meaning, during the busiest times, up to 21,000 passengers may be in port.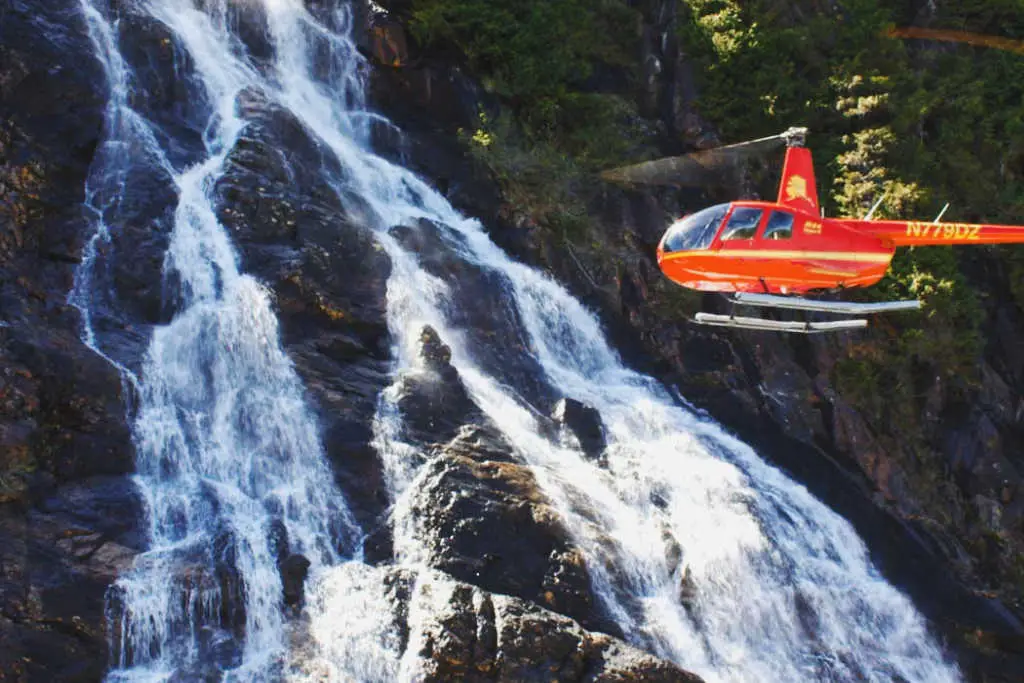 Featuring the snowcapped Coast Mountain range and the Tongass National Forest, this area of Alaska is stunning. Highlights of this tour include viewing Mahoney Falls on Mahoney Lake and ascending to an exclusive helipad on a nearby mountaintop. Also, passengers frequently spot a wide arrange of marine life and wildlife including bears, mountain goats, and eagles.
Helicopter Combo Tour in Ketchikan > Check Availability
2. Juneau – Icefield Excursion on Herbert Glacier
Made up of a whopping 34 glaciers, and straddling the border of Canada and Alaska, the Juneau Icefield is one of the largest icefields in the world. Two of the most famous glaciers in the icefield include the Mendenhall Glacier which many cruise ships pass and Taku Glacier.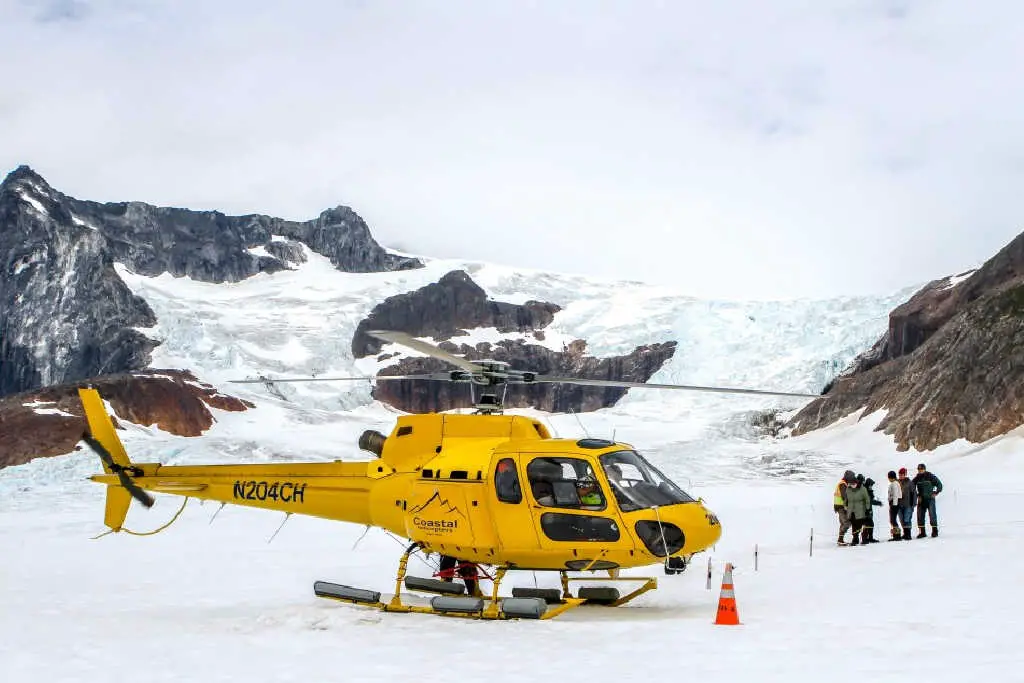 One of the main highlights of this flight is the ability to see the Devil's Paw. Made of granite, the formation is the highest point on the Juneau Icefield. Along with dramatic formations, passengers will also witness deep blue moulins and crevasses.
However, the highlight of flying over Herbert Glacier is when the pilot lands on the glacier. Upon landing, the pilot will escort passengers on a guided walk, making this one of the best helicopter tours in Alaska. Taking a stroll on this icefield may just be the highlight of your vacation to Alaska so make sure to take some epic photos.
Juneau Helicopter Tour and Guided Icefield Walk > Check Availability
3. Seward – Dogsledding on Godwin Glacier
Located deep in Resurrection Bay, Seward is famous for being the gateway town to Kenai Fjords National Park. Also, 50% of all cruise ships in Alaska either end or begin in Seward—this makes it one of the state's busiest ports. As a result, visitors need to be aggressive about making helicopter reservations well in advance.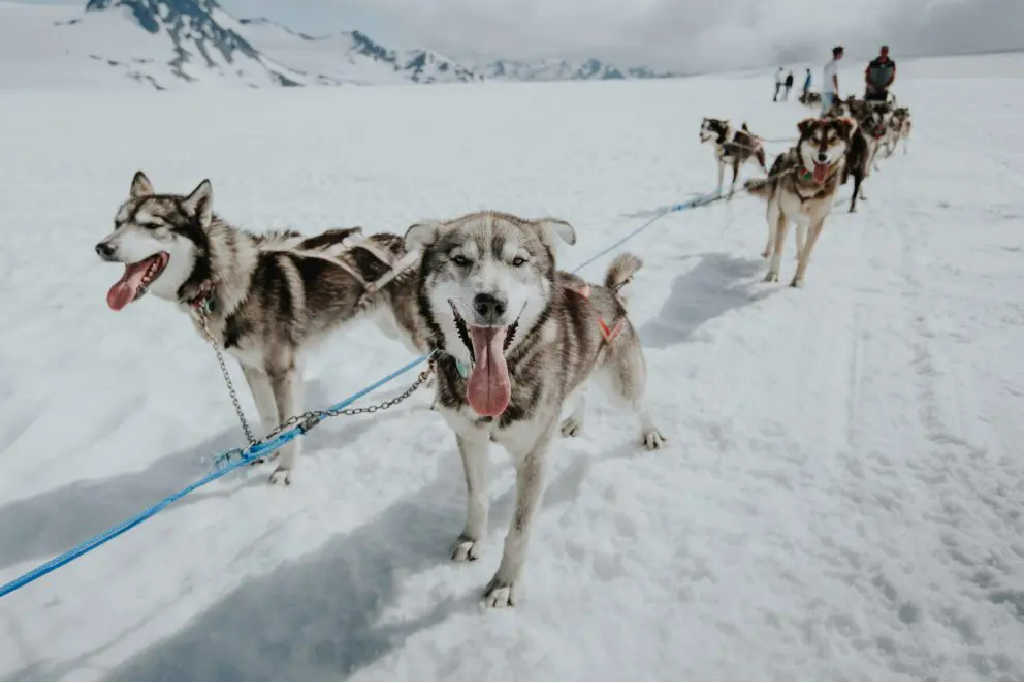 One of the most popular helicopter tours in Alaska is the excursion to Godwin Glacier to go dog sledding. This scenic flight from Seward to Godwin Glacier takes about 15 minutes (one-way) and passes over waterfalls and brilliantly blue glacier ice.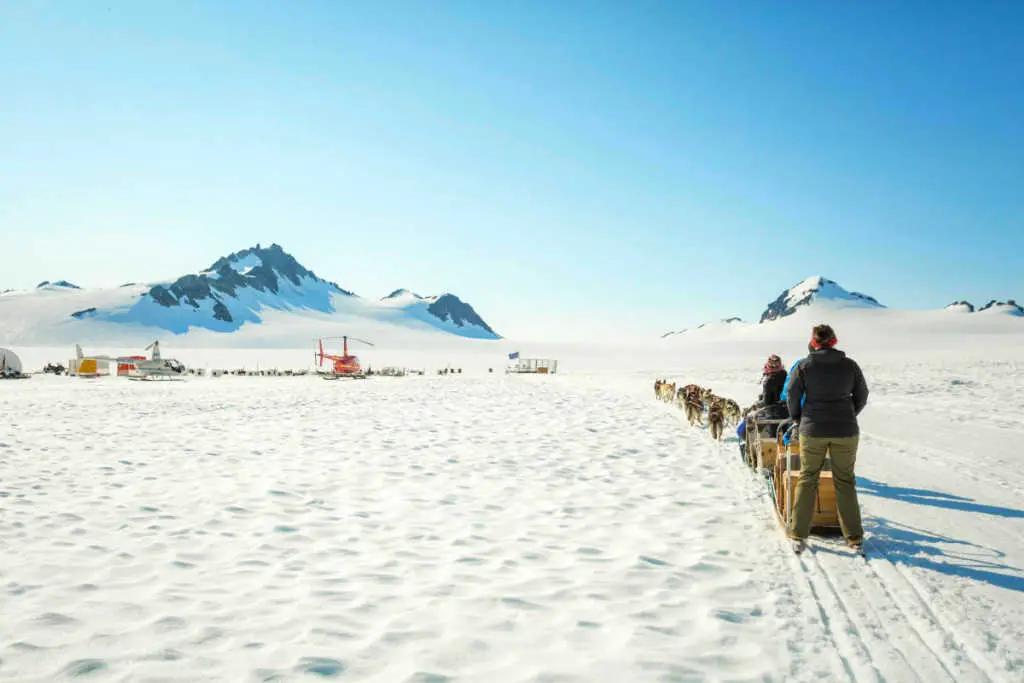 Upon reaching the dog sledding camp, on top of Godwin, passengers are encouraged to get to know their cute four-legged team by cuddling with them. Afterward, guests take a 25-minute dog sledding tour over the snow-covered terrain. Is there anything cuter than a photoshoot with the dog sled team? We don't think so—that's bucket list material!
Helicopter and Glacier Dog Sledding Tour > Check Availability
4. Girdwood – Glacial Pools and Walk
Most passengers taking this flight either drive to Alaska from the lower 48 or rent a car in Anchorage. Furthermore, there is no cruise ship terminal pickup so cruisers will need to find transportation if they desire to take this excursion.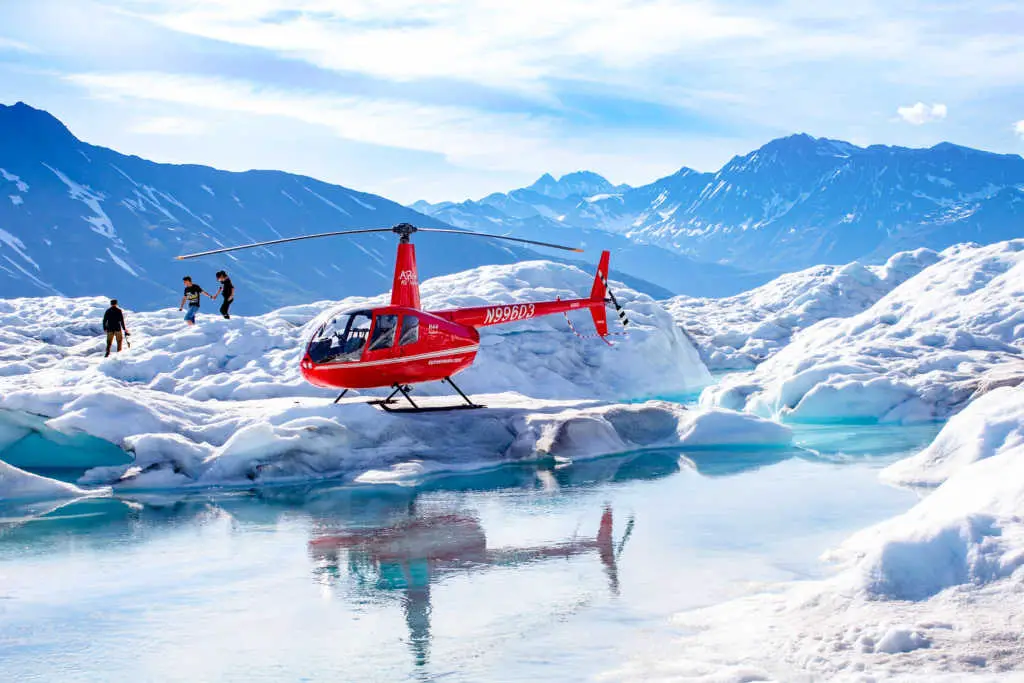 Departing from Girdwood-Alyeska Airport about 30 minutes outside Anchorage, just outside Chugach State Park, but within the boundary of Chugach National Forest, this helicopter tour is all about wildlife and getting up close and personal with glaciers. Highlights of this off-the-beaten-path outing include seeing aquamarine glacier pools and stepping out onto a glacier.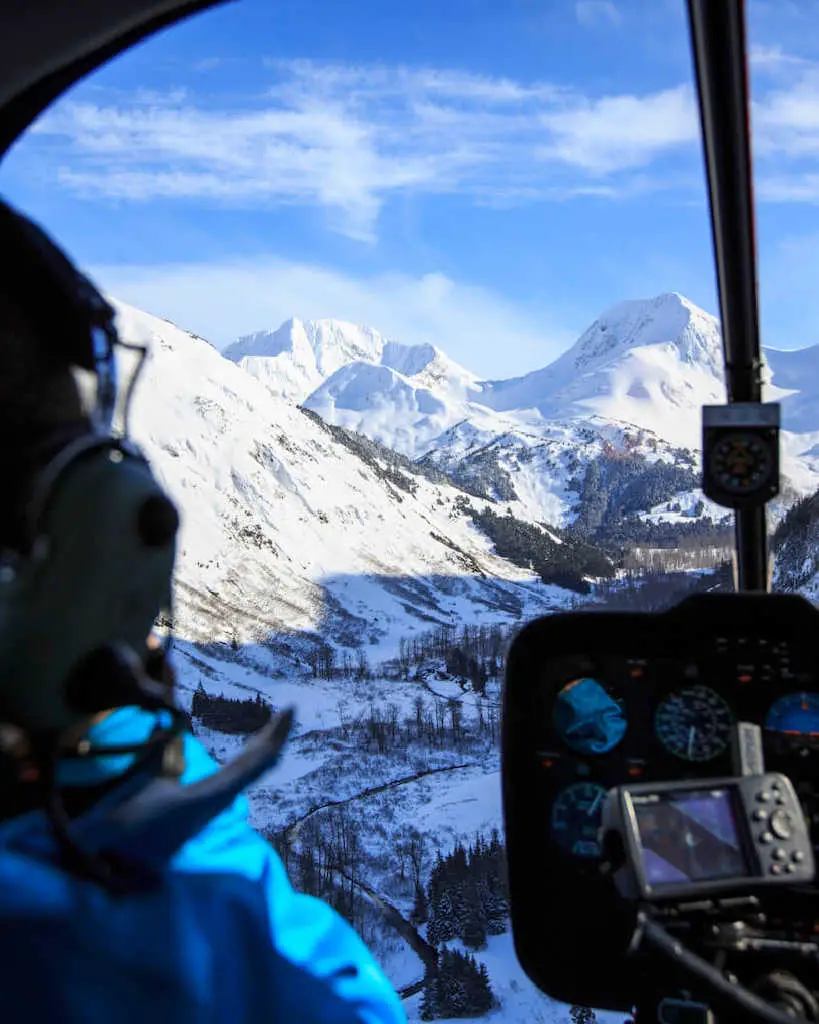 On the way to Colony, Whiteout, and Lake George glaciers look for wildlife along the 20-mile-long River Valley. Frequent spottings include Dall sheep, black bears, and moose.
Girdwood Helicopter and Glacier Landing Tour > Check Availability
High-quality cruise insurance doesn't have to be expensive. Here's what we use.
5. Anchorage – Photography and Heli-Hiking
Tourists looking to combine glacier viewing with photography and/or hiking will enjoy this excursion. Departing from the Knik River Lodge, the helicopters fly high above the Chugach Mountain range. Typically, the route includes the Knik Glacier, Lake George, and Lake George Glacier.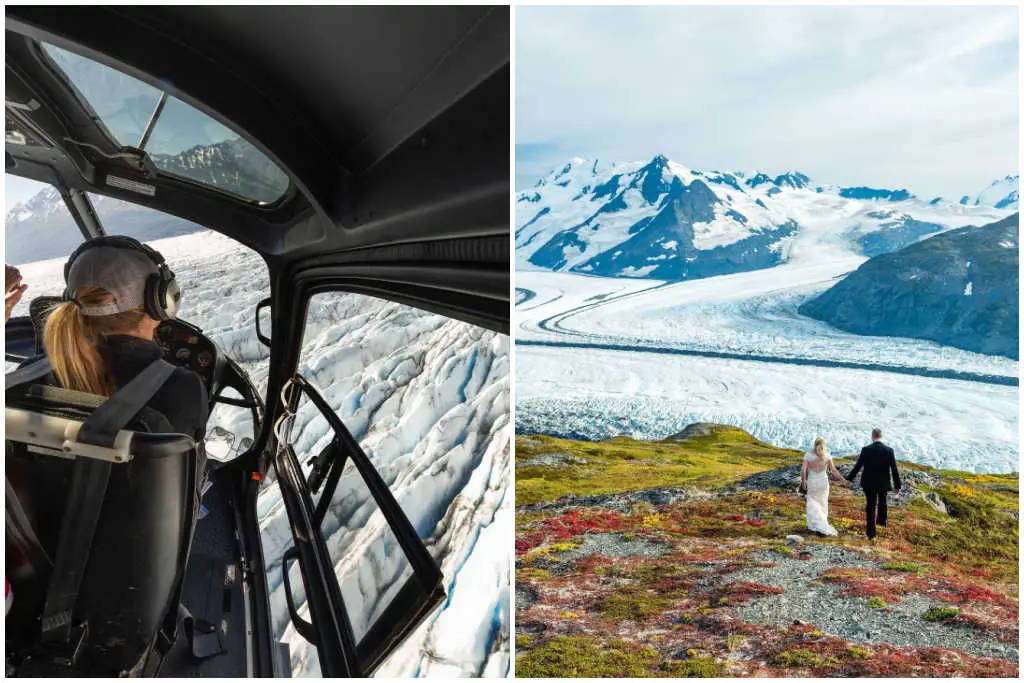 Photography Tip: The Sony RX100 VII Premium Compact Camera is the best travel camera on the market. It's what we use! We love the small size and high-quality photos that it takes.
The best part about this tour is that passengers can customize it based on their desires. For example, guides will inquire whether guests are looking for something more leisurely or strenuous. Finally, the itinerary is completely up to the clients so photography buffs have plenty of time to take the perfect shots.
Anchorage Helicopter and Heli-Hiking Tour > Check Availability
The five insane helicopter tours in Alaska listed above are some of the most popular in the state and allow passengers to take in the big picture. Moreover, nothing compares to the viewpoints and locations that only a helicopter can achieve. Don't be surprised if you walk away from the experience with greater awareness and appreciation for your place in the world.
We Need Your Help
Did you find this article helpful? If so, bookmark it and when you're planning your next vacation click on any of the links below before finalizing reservations. You'll get the best price, we'll earn a small commission, and you'll help support future articles.
Thank you!
BEST TRAVEL SEARCH ENGINES
🏘️ Book Your Accommodation
We use Tripadvisor and Priceline's Express Deals to compare prices and reviews in advance and check availability
✈️ Book Your Flight in Advance
To find the cheapest flight options, you can use WayAway and Skyscanner to find the most suitable choice for you
🚗 Reserve Your Rental Car
Use DiscoverCars and Skyscanner to compare prices and view the largest selection of vehicles