Glacier viewing in Alaska is the ultimate Alaskan experience. With over 100,000 glaciers, there are countless glacier-viewing opportunities in Alaska to explore. Whether you're from Alaska or visiting from another part of the world, glaciers are the state's most unique and awe-inspiring attraction. In fact, Alaska is home to nearly all of the glaciers in the US.
10 BEST GLACIER VIEWING SPOTS in 2024
What Are Glaciers?
Glaciers are massive pieces of ice that have the extraordinary ability to move. It will usually take at least 100 years for a glacier to form—this occurs in places where heaps of snow pile up each year and then melts. As new snow falls it buries and compresses the prior year's snow and over time makes the size of the ice infinitely larger.
With each snowfall, the ice patch grows in size and weight. Glaciers are officially formed when the large piece of ice patch begins to move. At this point, it is no longer simply a massive piece of snow and ice, it's a glacier.
Where Can Glaciers Be Viewed?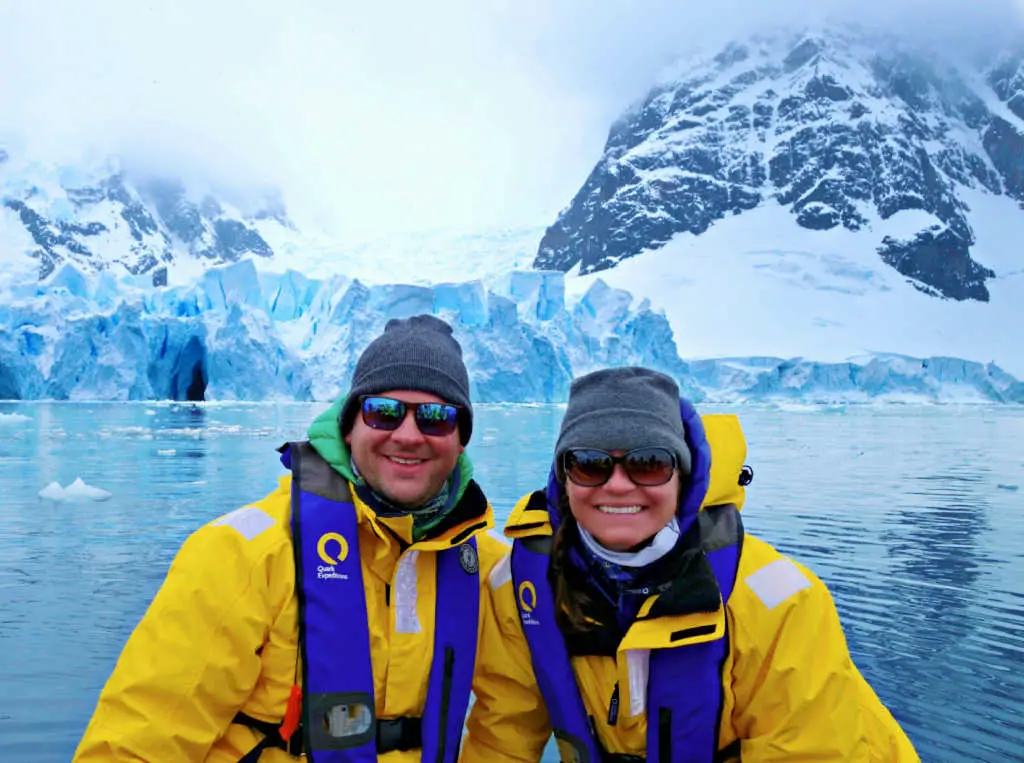 There are glaciers on all continents except Australia. About 10 percent of the world's landmass is covered in glacial ice. Also, glaciers hold nearly 70 percent of the earth's fresh water.
A man who keeps company with glaciers comes to feel tolerably insignificant by and by. The glaciers are able to take every bit of conceit out of a man and reduce his self-importance to zero if he will only remain within the influence of their sublime presence long enough to give it a fair and reasonable chance to do its work.

-Mark Twain
The most beautiful glaciers will oftentimes appear blue—this azure effect is created because the ice absorbs every other color of the spectrum except blue. Antarctica is the most unique location in the world to view glaciers, where nearly everything in sight is a glacier.
Glacier Viewing in Alaska
For most people, visiting Antarctica is simply out of the question. For this reason, the next best alternative is glacier viewing in Alaska—home to the biggest, longest, most awe-inspiring, and most stunning glaciers in North America. The abundance of glaciers in Alaska is so great that when combined they would cover the state of Maine!
Glacier viewing in  Alaska will surely make you appreciate the beauty of Mother Nature. Witnessing massive glaciers rising high above the surrounding valleys, and hanging off insurmountable cliffs is a remarkable experience to behold. Furthermore, Alaska is home to the Bering Glacier—measured at 118 miles, it's the longest glacier in North America.
From its expansive tundra to its snow-capped mountains, Alaska provides visitors with an outdoor adventure that cannot be experienced in any other place. Unequivocally, it's a unique place to explore.
The easiest way to view glaciers in Alaska is aboard a cruise ship. Here is the easiest way to find the best Alaska cruise deals.
Every Glacier is Unique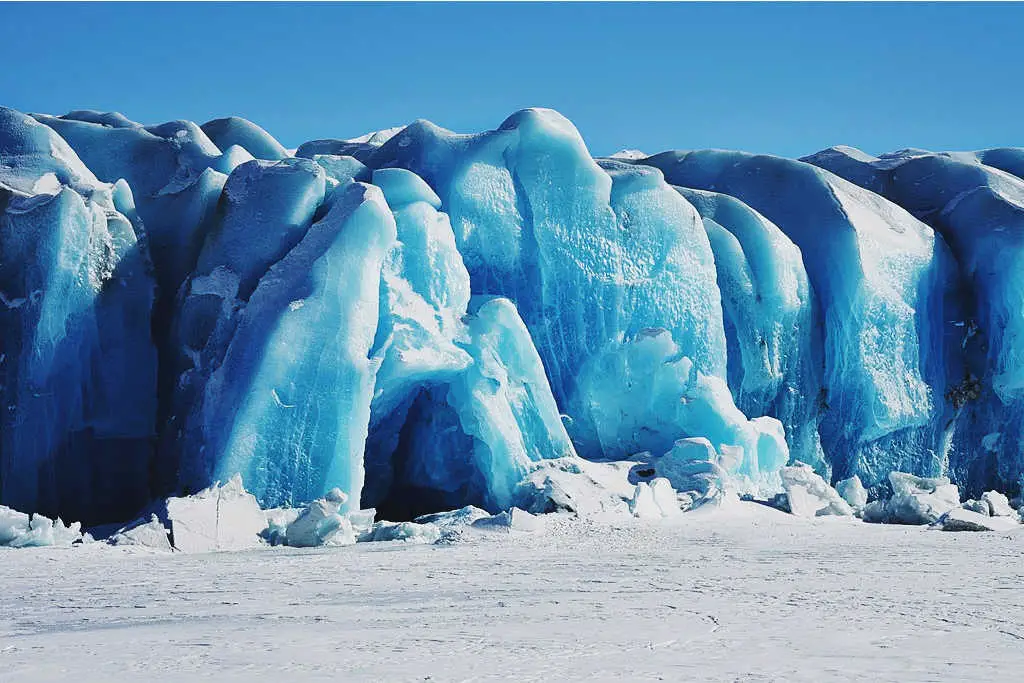 As you begin exploring the 10 most impressive spots to go glacier viewing in Alaska, prepare yourself to be thoroughly impressed. Every glacier is unique in length, depth, color, and position. Therefore, simply seeing one glacier is not enough. However, spending your time seeing the best glaciers in Alaska is time well spent.
What is the Best Rated Alaskan Cruise For Glacier Viewing in Alaska?
Going glacier viewing in Alaska is one of the most popular cruise destinations in the world and the most competitive. For example, the peak cruising season only lasts from mid-June to early August.
There are a lot of people who want to cruise during this short period and have a limited capacity. If you'd like to embark on one of the best-rated Alaskan cruises, then you must book early.
Below are the 10 best-rated Alaskan cruises:
The best budget-savvy cruises to Alaska are through Royal Caribbean, Norwegian, and Holland America. Or, click this link to > see the 25 best Alaskan cruises.
10 Most Impressive Spots to Go Glacier Viewing in Alaska
It's extremely easy for tourists to view glaciers in Alaska. In fact, of the 15 national parks/monuments/preserves in the state, nine adjoin or contain glaciers, they include Denali, Kenai Fjords, Aniakchak, and Wrangell-St. Elias, Glacier Bay, Katmai, Lake Clark, Gates of the Arctic, Kobuk Valley, and Klondike Gold Rush. As a result, the opportunity to view glaciers is abundant, but which are the best?
In Alaska, the journey can be just as exciting as arriving at the glacier itself. Whether you're traveling by cruise ship, exploring by passenger vehicle, or on a flightseeing aircraft, the beauty of the last frontier is sure to be breathtaking. Sorted from the south to the north, here are the 10 most impressive spots to go glacier viewing in Alaska.
1. Twin Sawyer Glaciers in Tracy Arm Fjord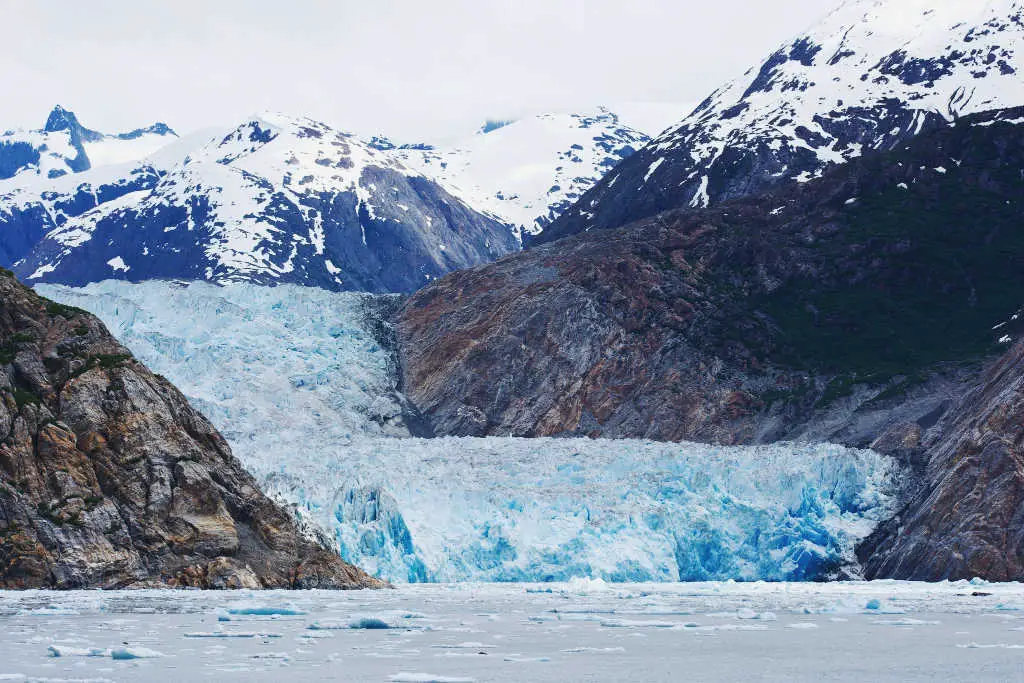 Named the twin Sawyer Glaciers, the South Sawyer and North Sawyer glaciers are located in Tracy Arm fjord—named after the Secretary of the Navy Benjamin Franklin Tracy. The 27-mile-long Tracy Arm fjord sits 50 miles south of Juneau and features twin tidewater glaciers, 3,000-foot cliffs, and numerous waterfalls. Most people visit the fjord as part of their Alaskan cruise itinerary or on a much smaller sightseeing vessel.
Many cruise ships will also offer excursions on zodiacs or sightseeing vessels. The benefit of taking a smaller boat down the narrow fjord is the agility it provides. Passengers can get closer to the glaciers, waterfalls, and wildlife. Also, large cruise ships are not able to access the North Sawyer glacier because of the narrow inlet in which it's located. However, passengers may view it with binoculars as they pass the inlet.
Of the two, travelers seem to be the most impressed by the South Sawyer glacier—it's larger and extends deep underwater, making for wonderfully blue and big icebergs. Finally, for non-cruise ship visitors, Tracy Arm Fjord has two significant advantages over Glacier Bay (#3): It's much easier to get to and it costs about half as much.
Best Cruises to Twin Sawyer Glaciers in Tracy Arm Fjord
2. Mendenhall Glacier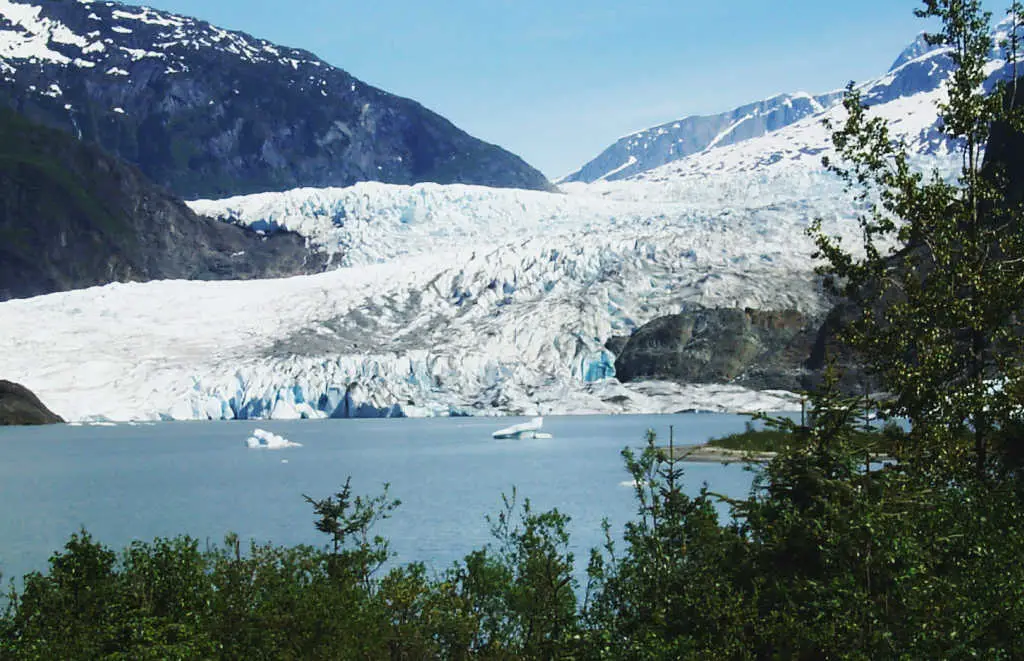 With its convenient accessibility and stunning views, the ½-mile-wide Mendenhall Glacier is one of the best and easiest glaciers to visit in Alaska. Located 12 miles northwest of Juneau, the Mendenhall Glacier is one of the 4o glaciers in the Juneau Icefield—it's also one of the most recognizable.
The Mendenhall Glacier is special because it's positioned within the boundaries of the largest protected forest in the US, the Tongass National Forest. Also, because it's a glacier in the Juneau Ice Field, it's considered to be a 1,500 square remnant of the last ice age.
The road from Juneau takes tourists directly to the Mendenhall Glacier Visitor Center, where the glacier can easily be viewed. Another nice option is to hike to the glacier inside the Tongass National Forest. From the west end of Mendenhall Lake, take the West Glacier Trail to access the most amazing overlooks. Also, be prepared to spot local wildlife, such as one of the park's acclaimed beavers, black bears, or bald eagles.
By the same token, it may be equally satisfying to take one of the hikes from the visitor center. These, however, do not get you very close to the glacier. Despite that, they do pass salmon streams, and cascading waterfalls, and provide aerial views of the surrounding area. Finally, the state-of-the-art visitor center features a couple of interesting exhibits and a bookstore.
Best Cruises to Mendenhall Glacier
Ships that dock in Juneau may take a shore excursion to Mendenhall Glacier.
3. Glacier Bay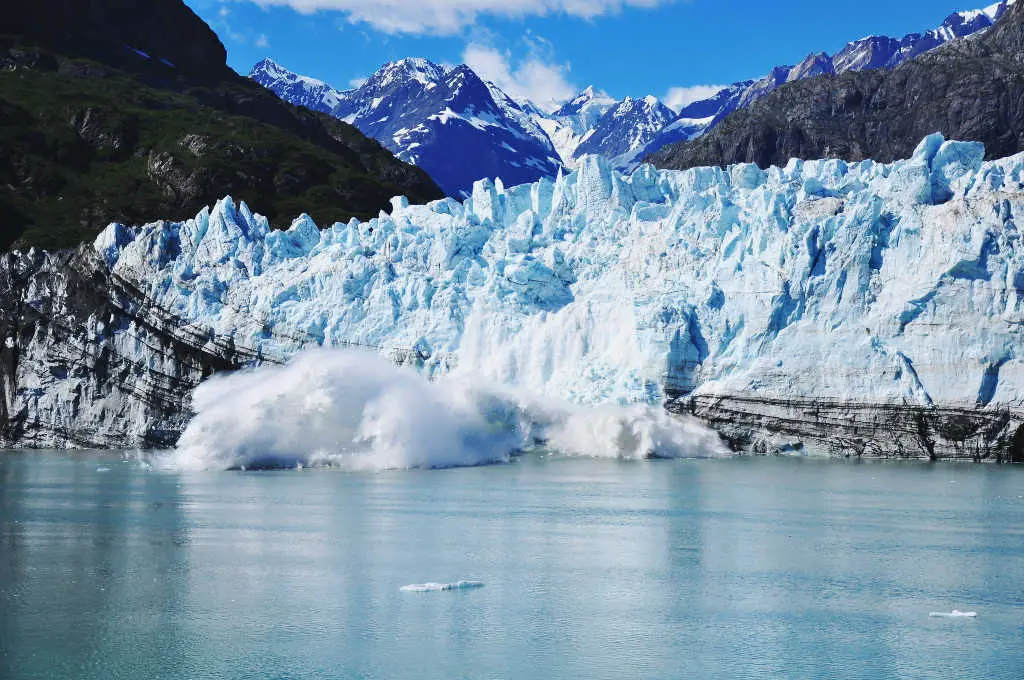 There are no roads to Glacier Bay—visitors arrive via one of three ways:
Cruise ship
Air (landing in Gustavus)
Ferry (from Juneau)
Located about 70 miles northwest of Juneau is the small town of Gustavus—it's considered the gateway to Glacier Bay National Park. Eight miles by road from Gustavus is Bartlett Cove, home to the Glacier Bay UNESCO Heritage Site, Glacier Bay Lodge, and Visitor Center.
Glacier Bay contains more than 1,000 glaciers, however, only 50 glaciers have been named. Also, the giant bay is divided into two major arms, the West Arm and East Arm. The first stop for most visitors is the West Arm which contains the Margerie Glacier—an impressive glacier known for its frequent calving.
Glacier Bay Is Special
Touring Glacier Bay is special because of the abundance of glaciers and the peaceful surroundings. Also, the number of ships allowed to enter the bay is regulated. Therefore, there's a good chance that the ship you're on will be the only one in sight.
Another perk of visiting Glacier Bay is that every ship is boarded by a National Park Service ranger. As a result, the rangers are there to provide expert narration, answer questions, and keep passengers and wildlife safe. Here's a fun way to get familiar with Glacier Bay!
Aboard a cruise ship, expect the tour of Glacier Bay to last about nine to ten hours. Along the way, passengers typically see numerous glaciers, fjords, icebergs, waterfalls, and wildlife including mountain goats, brown and black bears, humpback whales, and sea lions.
For visitors not aboard a cruise ship, it's highly recommended to stay a few nights in Gustavus or at the Glacier Bay Lodge. This extra time will provide a bit of cushion between commuting from Juneau and allow some extra time to enjoy the tranquility of the area.
Best Cruises to Glacier Bay
4. Hubbard Glacier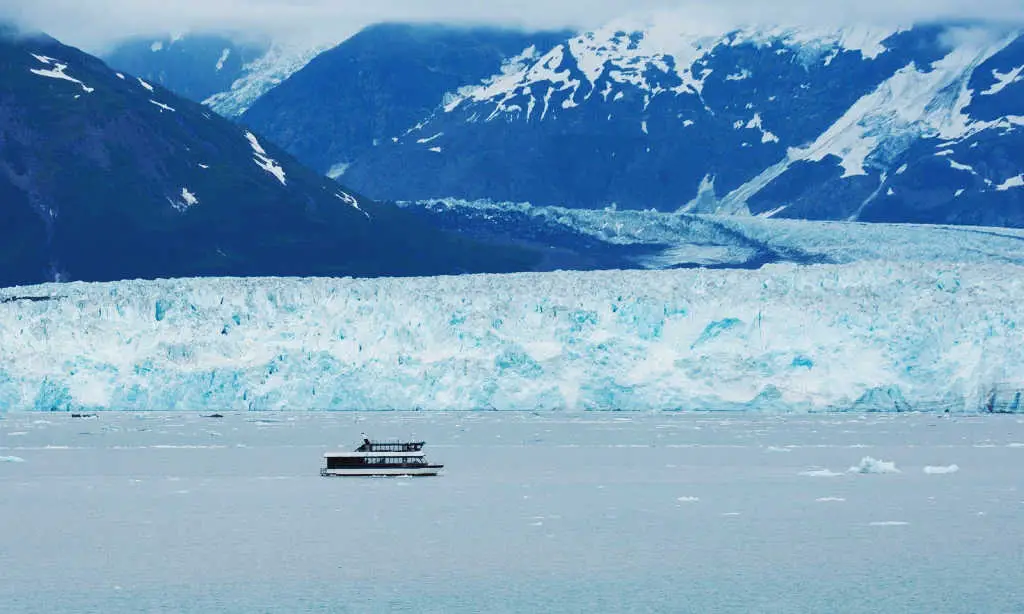 Due to the remote location, most visitors arrive at Hubbard Glacier by cruise ship. Passengers will be glad they're not steering the vessel through Disenchantment Bay. Navigating the waters here can be interesting, to say the least. After all, it's fairly common to come across icebergs that exceed 40 feet in height.
Located about 200 northwest of Juneau, is the massive 76 miles-long, seven miles-wide, and 300-foot-tall Hubbard Glacier. As the largest tidewater glacier in North America, Hubbard is advancing through an interesting, but slow process. In fact, it may soon transform the nearby Russel Fjord into a lake.
With an impressive 400-foot tall facade, witnessing the Hubbard Glacier is an awe-inspiring experience. When it calves, which happens nearly every day, the results are shocking. In the right circumstances, cruise ships can get within about ½-mile of the face to enjoy the show.
Best Cruises to Hubbard Glacier
5. Worthington Glacier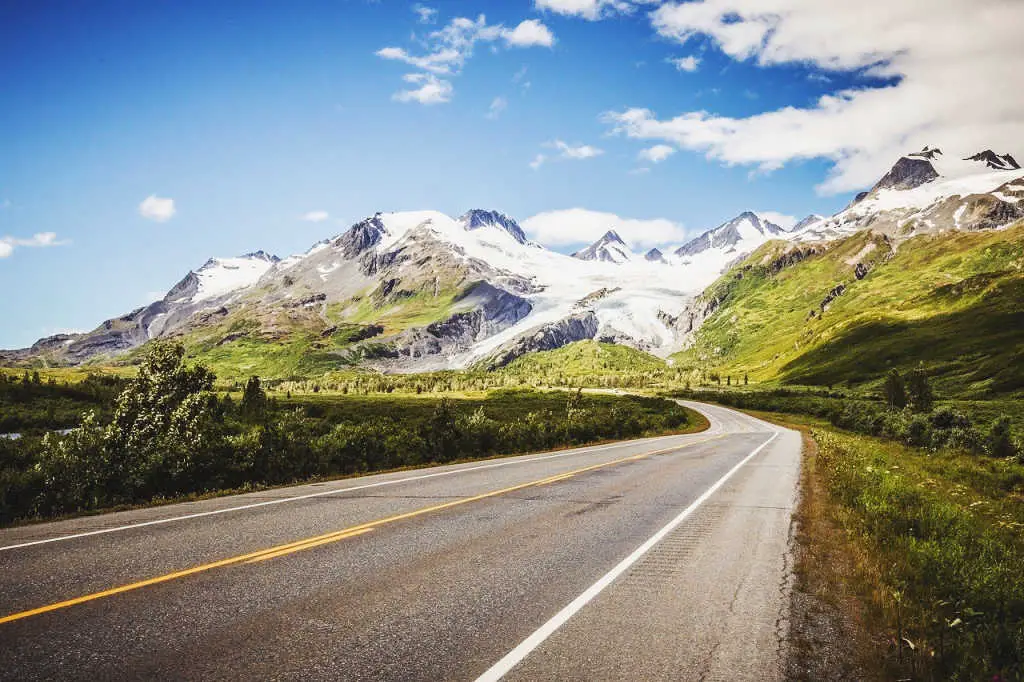 Worthington Glacier is located about 35 minutes by car from the town of Valdez. It's considered to be one of the most road-accessible and walk-up-accessible glaciers in Alaska. Visitors may park at the Worthington Glacier Recreation Site and take the wheelchair-accessible path to an excellent viewpoint.
The Thompson Pass and the Chugach Mountains feed the Worthington Glacier, bombarding it with snow. As a result, if you love snow then this is the place to be. In fact, the average snowfall totals in this area make it one of the snowiest places in Alaska. For example, in the winter of 1951-52, snowfall totals exceeded 80 feet.
6. Columbia Glacier
Columbia Glacier is right around the corner from the town of Valdez—by boat! As the largest glacier in Prince William Sound and the second-largest tidewater glacier in North America, Columbia is a sight to behold. However, the only way to see the glacier is on a day cruise/excursion from Valdez so make sure your cruise ship itinerary includes the port of Valdez.
Columbia Glacier is famous for being one of the fastest-moving glaciers in North America. The amount of ice released into Prince William Sound is truly astonishing. As a result, most vessels don't come anywhere near the face of the glacier and instead, view it from a distance.
The 80-mile round-trip excursion typically takes about seven hours. Also, wildlife viewing opportunities are abundant along the way so it never seems boring. Other nice options for viewing the glacier include kayak and helicopter tours.
Best Cruises to Columbia Glacier
Ships that dock in Valdez may take a shore excursion to Columbia Glacier.
7. Spencer Glacier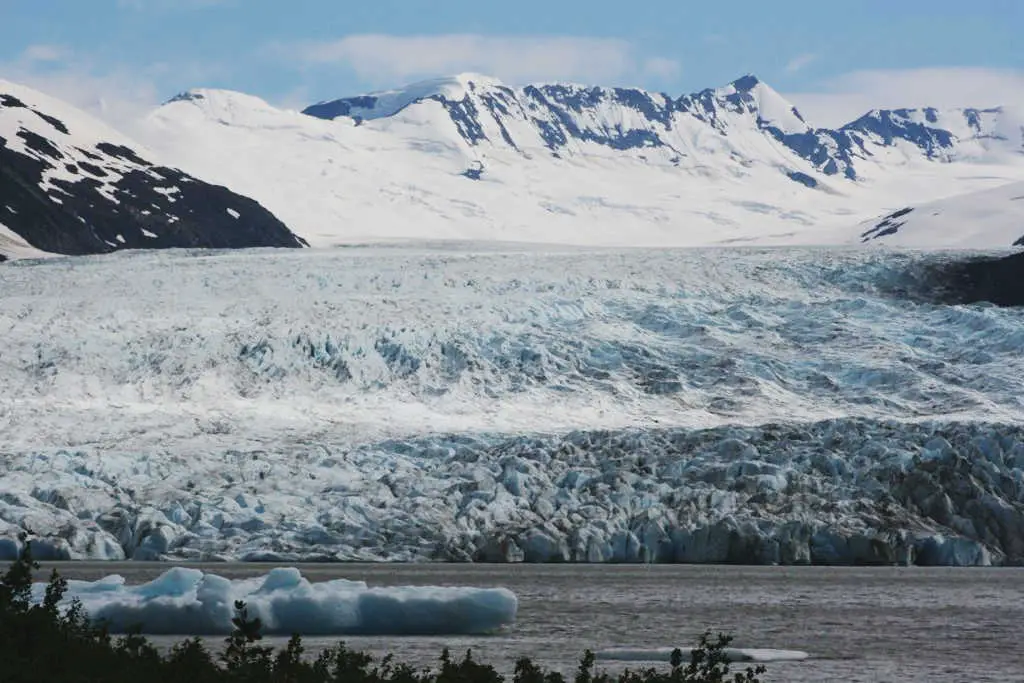 The journey to Spencer Glacier is part of the fun—the only way to get there is by train! Ideally created for day trips, the Glacial Discovery Train departs from Anchorage and travels south, stopping in Girdwood, Whittier, Portage, Spencer, and Grandview. No traffic, no headaches, no congestion—just the thrill of the tracks.
Once passengers arrive at the Spencer Glacier Whistle Stop, they have the option to hike independently or to join a Forest Service staff member for an interpretive 1.3-mile walk. Hikers have their choice between a 2.6-mile or a 6.8-mile roundtrip hike. Either way, visitors have two hours to explore the area.
Robustly beautiful, Spencer Glacier has produced the most gorgeously colored glacial lake. Most visitors are in awe as they witness the dazzling shades of blue released from both the icebergs and the glacier. Also, observing the massive glacier firsthand, and being pushed down the mountain into Spencer Lake will help reconnect you with Mother Earth.
The Spencer Glacier Whistle Stop has been designed as a recreation destination for all ages. Some of the activities available include camping, kayaking, and glacier exploration. Also, thrill-seekers will love the ability in winter to snowmobile or mountain bike to Spencer Glacier.
Best Cruises to Spencer Glacier
Ships that dock in Anchorage may take a shore excursion to Spencer Glacier.
8. Exit Glacier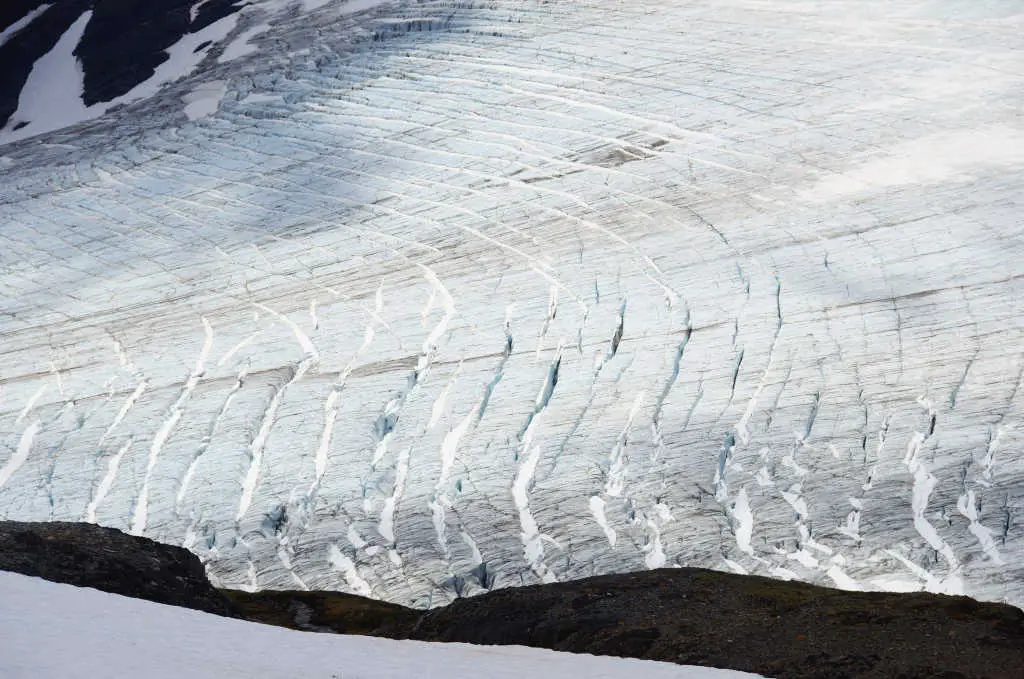 Exit Glacier is one of the most visited glaciers in the world, and the only glacier reachable by road in Kenai Fjords National Park. Not only is a visit to Exit Glacier easily accessible, but it also allows visitors to witness how a glacier reshapes terrain upon its retreat. As a result, it's interesting to see how life reclaims a desolate landscape and observe the process in which bare rock turns to grass, then brush, and eventually trees.
Getting close to the glacier provides visitors with amazing photo opportunities—this is why so many people love visiting it! From the Exit Glacier Visitor Center, guests can reach the face of the glacier, via the Glacier Overlook Trail in about 30 minutes. And, because it's located only 15 miles from Seward, a major port, many cruise ship passengers take excursions to come to see it.
Hikers will enjoy the option of taking the 8.2-mile roundtrip hike up the Harding Icefield. Climbing 3,500 feet, the Harding Icefield Trail provides walkers with spectacular views over the massive glacier. Also, guided hikes allow thrill-seekers to strap on crampons and trek over the ice!
9. Matanuska Glacier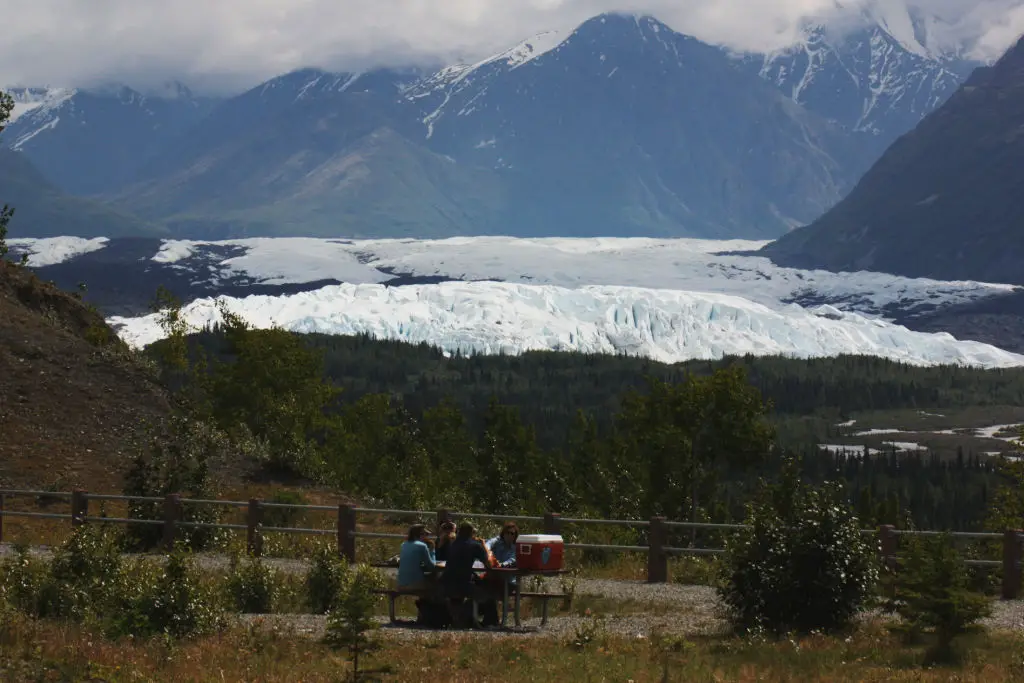 The massive Matanuska Glacier is the largest glacier in the US that's accessible by vehicle. At 27 miles long and 4 miles wide, it's a behemoth—and, it's fascinating to view from the windshield. As one of Alaska's most visited roadside attractions, tourists from all over the world come to see the sheer brilliance of this valley glacier.
It may seem hard to believe, but the land under the glacier is privately held (mile 102) and the owners charge a 30 USD entry fee to walk to the face. However, if you're looking for a free view, head over to the Matanuska State Park. It's here, where visitors can enjoy pristine views, a scenic stroll, wonderful photo opportunities, and public restrooms. Finally, Matanuska Glacier is about a two-hour drive northeast of Anchorage.
10. Ruth Glacier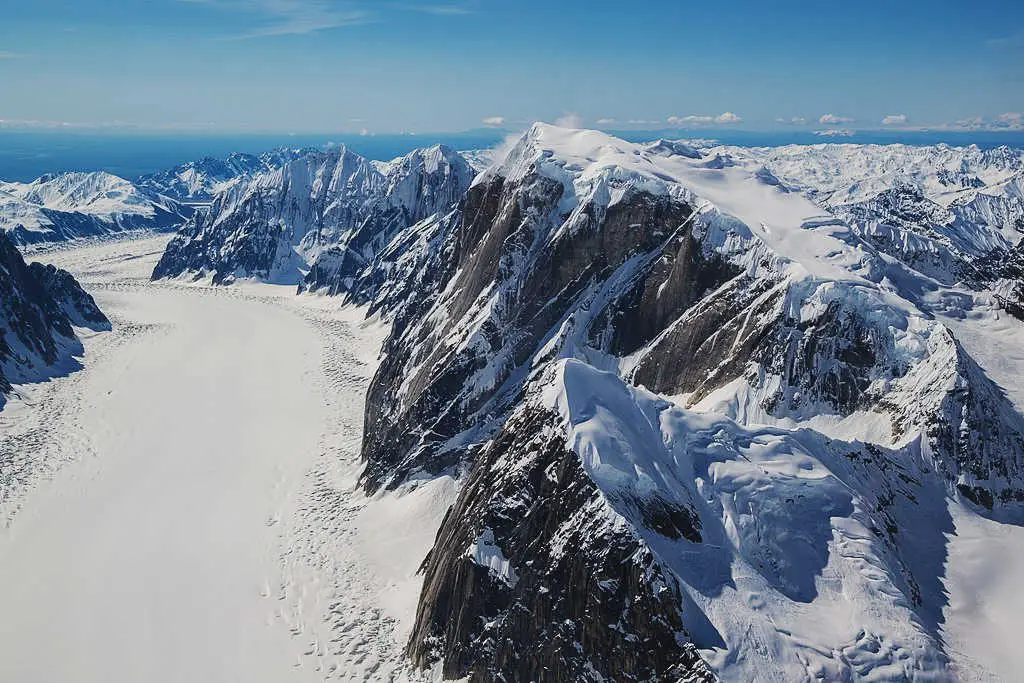 Ruth Glacier is located in Denali National Park, about a two-hour drive north of Anchorage. Tourists flock here to take an epic scenic flight over the Great Gorge of the Ruth Glacier. Visitors compare the experience to seeing the Grand Canyon—and they should. The snow-filled gorge is 3,700 feet deep and the walls of the mountain ascend above it another 5,000 feet.
Tourists that make it this far north will usually take a scenic flight to see the Great Gorge. Other highlights of the flight include viewing the Moose's Tooth, Mt. Dickey, and the Ruth Amphitheater, where pilots touch down so that passengers can walk on the glacier and view Mt. Denali and the infamous Don Sheldon Mountain House.
Travelers looking to combine adventure and luxury into the ultimate vacation will opt to stay in the Sheldon Chalet. Situated at 5,800 feet and on a 4.9-acre rock, the five-room cabin could quite be the most spectacular in the world. It's jaw-dropping! All-inclusive packages start at $2,000+ per guest, per night.
How Long Are Alaskan Cruises?
Typically, an Alaskan cruise will vary anywhere from 7 to 30 nights. Selecting one will depend on how much time you have and what you'd like to see. Many cruisers will combine a land tour to extend the trip a week or two. Generally, a few hinterland excursions to Anchorage, Denali, or Fairbanks are added on.
Where Do Alaskan Cruises Depart From?
The vast majority of Alaskan cruises are for 7 nights and depart from one of the following ports:
Anchorage, AK
Hong Kong
Los Angeles (San Pedro), CA
Nome, AK
Otaru, Japan
Seattle, WA
Tokyo (Harumi), Japan
Tokyo (Yokohama), Japan
Vancouver, BC, Canada
However, most cruises will depart from either Anchorage or Vancouver.
What Are the Best Months to Cruise to Alaska?
Across the various cruise companies, cruises to Alaska will usually take place from early June to late early September. However, if you're looking for the best time to cruise to Alaska, you'll want to select either the first few departures of the season or one of the last departures, usually in late August or September.
The key benefit of selecting one of the first few departure dates is that things will look fresher and less trampled upon your arrival. It's pretty straightforward. As the season progresses there will be a toll incrementally on the environment. The major downside to selecting an early departure date is the weather—it will be colder than an August or September visit.
The key benefit of selecting one of the last departure dates is that the weather will be significantly warmer. Also, the prices may be a bit lower as cruise lines are trying to make that last bit of profit. However, things may not look as pristine when compared to a cruise that took place at the beginning of the season.
Which Cruise Lines Visit Alaska?
Many of the most recognizable names in the cruise industry have ships sailing to Alaska. You can cruise aboard:
Holland America Line
Viking Ocean Cruises
Carnival Cruise Line
Norwegian Cruise Line
Silversea Cruises
Celebrity Cruises
Princess Cruises
Crystal Cruises
Royal Caribbean International
Seabourn Cruise Line
Regent Seven Seas Cruises
Lindblad Expeditions
Hurtigruten Cruises
Un-Cruise Adventures
What Should You Bring to Go Glacier Viewing in Alaska?
Some of the unique essential items to bring on an Alaskan glacier viewing cruise include binoculars, motion sickness medication, waterproof/water-resistant pants and boots, sunglasses, a warm pair of gloves, a winter hat, a scarf or buff, a waterproof bag, and a cell phone dry bag. Also, when it comes to clothing, focus on outfits that are easy to layer.
Safety Tips
If you're planning on driving to Alaska in you're own vehicle or renting a cheap RV, it's important to know that internet access and cell phone coverage are limited. Additionally, if your GPS isn't working because there isn't a signal, you'll have to rely on physical maps. We prefer the latest Rand McNally Road Atlas.
If you plan on getting up close and personal with a massive glacier you better come prepared. Glaciers are made up of ice and are much colder than the surrounding area, and oftentimes windy.
Travelers looking to go glacier viewing in Alaska will want to bring warm, layered clothing, sturdy boots, and a windbreaking layer. Also, if you're thinking about walking near the face of the glacier, make sure to keep a distance of at least the height of it.
More Safety Tips
If you're planning on walking on a glacier it's a good idea to remember that ice is unpredictable. Walking on a glacier can be dangerous. It's important to be properly trained and have the right kind of equipment before attempting to do so. Better yet, hire a guide!
Planning on boating or kayaking near a glacier? Make sure to stay at least ½ mile away. Glaciers are known to create massive tidal waves when calving or shifting.
As for icebergs, keep a distance of twice the iceberg's height. If, at any time something feels unsafe, simply ask a local visitor center or ranger for more information regarding your activities and current conditions.
If, after reading this article you still seem a bit confused or indecisive about which Alaskan cruise to take then you may consider thinking about purchasing this book.
Most travelers agree glacier viewing in Alaska is just about the best thing to do on an Alaskan cruise. Passengers love navigating near the glaciers and witnessing the powerful calving. However, most cruises will only visit one of the "10 Most Impressive Spots to Go Glacier Viewing in Alaska," so it's important to use the best-rated Alaskan cruise list above to find the ideal itinerary before you book.
We Need Your Help
Did you find this article helpful? If so, bookmark it and when you're planning your next vacation click on any of the links below before finalizing reservations. You'll get the best price, we'll earn a small commission, and you'll help support future articles.
Thank you!
BEST TRAVEL SEARCH ENGINES
🏘️ Book Your Accommodation
We use Tripadvisor and Priceline's Express Deals to compare prices and reviews in advance and check availability
✈️ Book Your Flight in Advance
To find the cheapest flight options, you can use WayAway and Skyscanner to find the most suitable choice for you
🚗 Reserve Your Rental Car
Use DiscoverCars and Skyscanner to compare prices and view the largest selection of vehicles