Of the numerous Four Seasons Resorts in Hawaii, the Four Seasons Hualalai is the most extravagant. With rates starting at about $2,400 per night for a standard guest room, this ultraluxury resort on the Big Island is the mecca for anyone longing for serenity. When doing some quick math, the total price breakdown is $100 per hour! You probably shouldn't sleep much at that price.
Following a $100 million property-wide renovation described as tastefully Pacific, the Four Seasons Hualalai (who-a-luh-lie) is where we would go on vacation if money was no object. While other travelers may have a big budget for a self-care holiday, for us, a trip like this isn't happening anytime soon. However, budget-savvy travelers can save, right?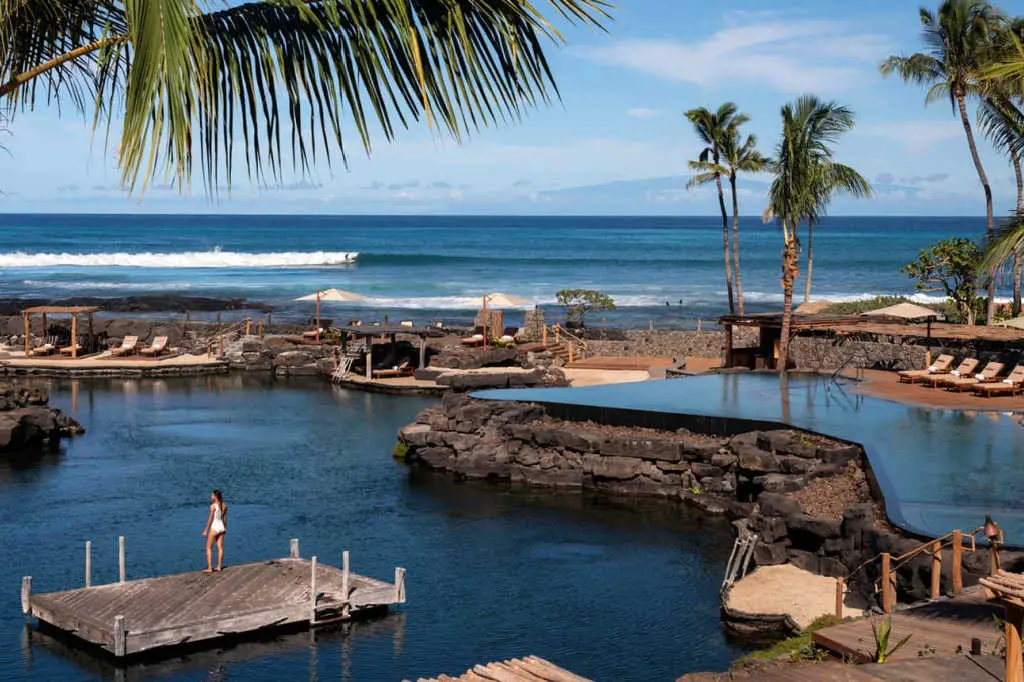 Four Seasons Hualalai – Everything You Need to Know
Sitting on a remarkably peaceful and secluded property along the Kona-Kohala coast, the Four Seasons is surrounded by rugged yet incomparable beauty. Setting the stage for a harmonious stay, guests are treated to white sandy beaches, impressive black-lava stones, and landscapes that stimulate a passion for love. Thankfully, Hawaii's snow-capped volcanoes only stimulate the need to cuddle up with the person next to you.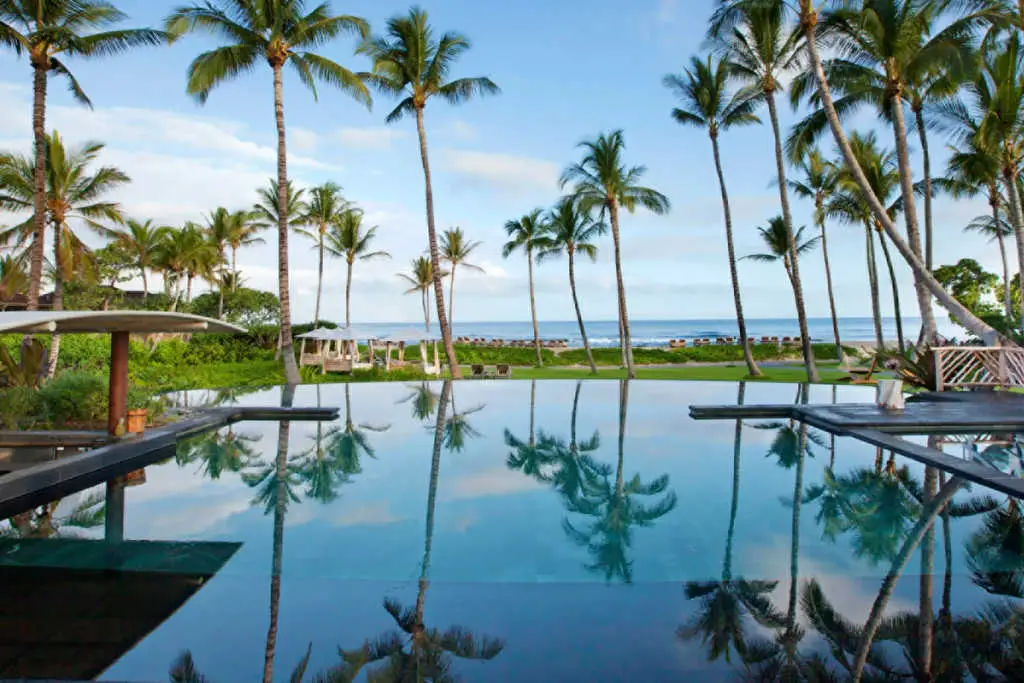 Travelers to Hawaii typically frequent the jam-packed locations of Maui and Oahu. Every year, with more people traveling, it seems increasingly more challenging to get off the beaten path. As a result, it starts to feel like there's no place to truly escape anymore. Even Kauai, the Garden Island, once considered a hidden gem, has become the latest victim of overtourism, where crowding occurs from too many tourists.
"Old Hawaii" Still Found on the Big Island
Whether it's due to Mount Kilauea, the most active volcano on earth, a lack of a party scene, or fewer numbers of extraordinary beaches, the Big Island is off-the-radar for most vacationers. In short, the Big Island isn't marketed like Maui or Oahu—and perhaps it's on purpose.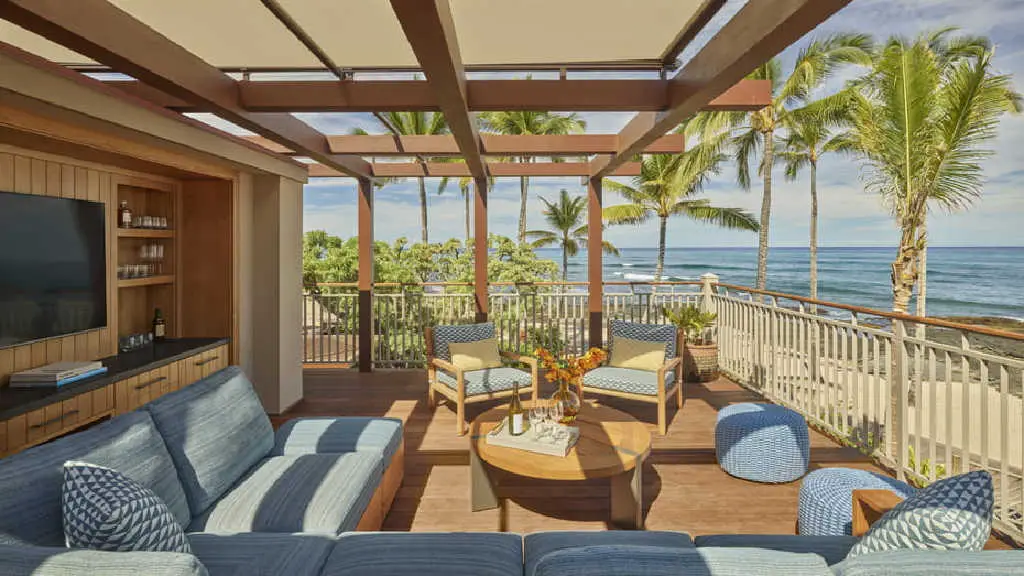 Most tourists to the Big Island stay along the northwest section of the island near Kailua-Kona. This part of the island is at least 100 miles from Mount Kilauea. As a result, this area poses little to no threat to tourists from this distance.
Remarkably, the volcano is so far away that many tourists end up taking helicopter tours of the volcano rather than driving the two-plus hours each way. Generally, the volcano becomes a problem when tourists find themselves yearning for an Instagram shot with molten lava. Nevertheless, if you're yearning for that red-hot shot it's best to go with a guide on an island tour.
Nightlife
The Big Island may not be as happening as Oahu or Maui but it's not necessarily for the tame either. There are plenty of fun things to do once the sun goes down.
One of the best ways to kick off an evening is with a sunset dinner cruise in Kealakekua Bay. Passengers relish in spotting dolphins and other marine life while taking in the live entertainment aboard.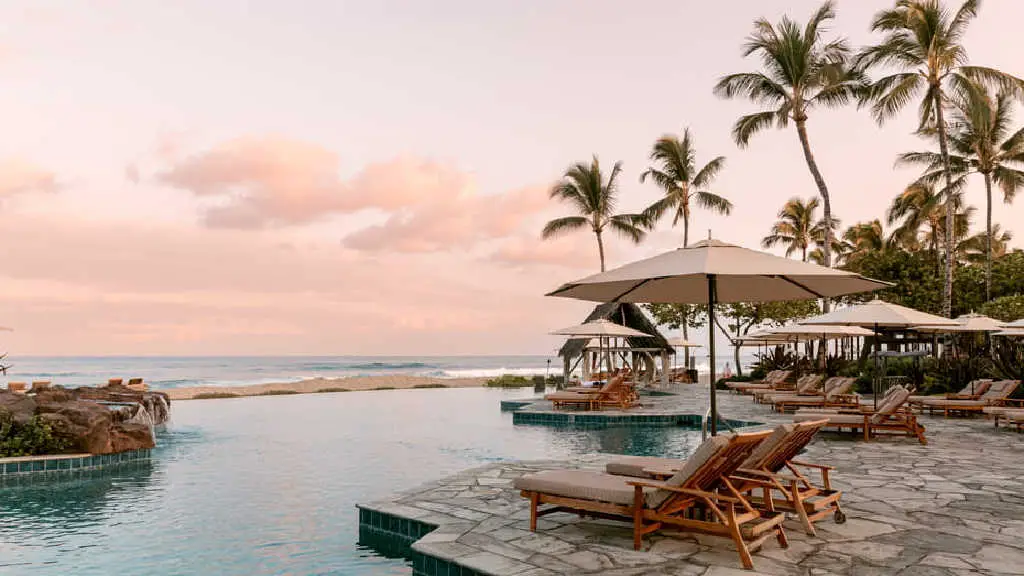 The west coast is lined with several restaurants to enjoy a spectacular culinary experience in an exceptional setting. Standouts include Ulu Ocean Grill and Sushi Lounge at the Four Seasons, Napua at Mauna Lani Beach Club, and Brown's Beach House, all offering breathtakingly beautiful oceanside dining.
Of course, there are plenty of bars to quench your thirst too. Travelers looking for a unique experience should head to Hawaii Cigar & Ukulele Lounge to smoke a stogie. While Huggo's on the Rocks or Don's Mai Tai Bar are the perfect places to sink a drink.
Sometimes the best nightlife on the Big Island is simply taking in the surroundings. For example, a walk on the beach with a sky full of stars may be all the "nightlife" the soul needs. Many repeat visitors come here to enjoy the serenity.
Beaches
From white to green to black, the beaches of the Big Island are perhaps the most beautiful in the world. In fact, many have received awards for being the best in the U.S. As the chain's youngest island, perhaps not enough time has passed to deliver the abundance of beaches as some of its neighbors.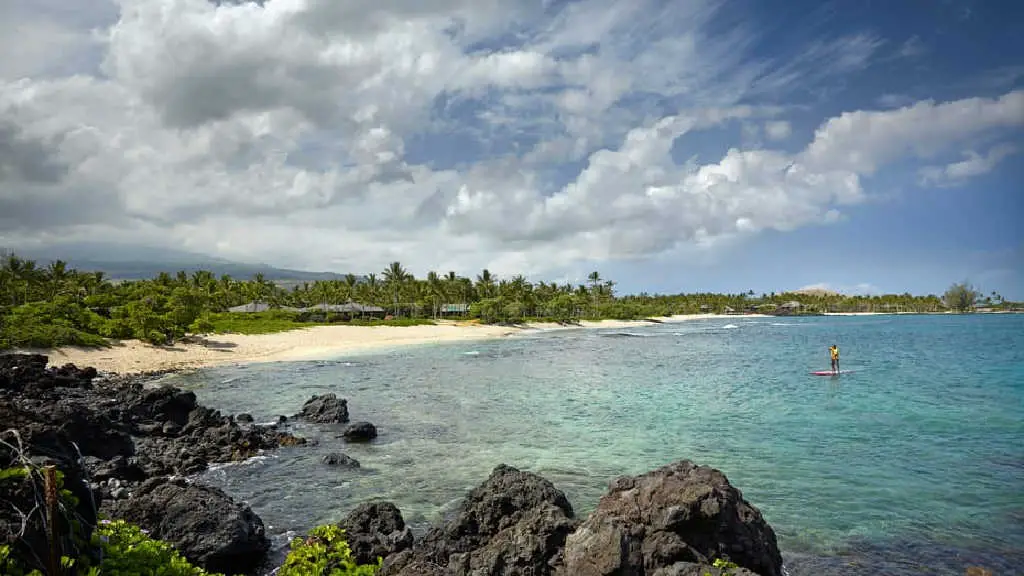 Regardless, of what it lacks in bounty, the beaches that have developed during its short 300,000-year life are stunning. One of the wildest and most scenic, Makalawena Beach, is just a few miles from the Four Seasons Hualalai.
Four Seasons Hualalai – Celebrate Life
There's little doubt that the Four Seasons Hualalai is made for the wealthy. From the elegant, yet extraordinarily minimalistic, island-chic design to the exceptional level of service, no corners were cut. However, that doesn't mean that everyday travelers can't enjoy the good life once in a while.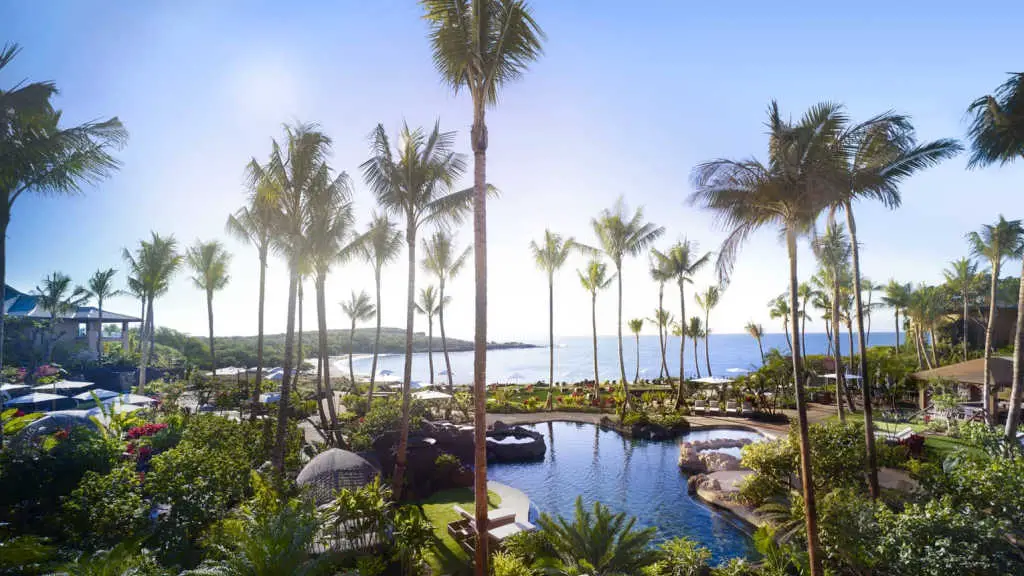 Special occasions such as anniversaries, birthdays, weddings, and honeymoons were intended to be celebrated at a place like the Four Seasons Hualalai. Whether it's swimming in one of eight pools, one of which is the saltwater aquarium pool King's Pond, dining al fresco under the stars, or golfing at the 18-hole, Jack Nicklaus-signature, championship course, it's all about enjoying life to the fullest.
Accommodations
The well-appointed and stylish guest rooms and massive two-story villas, are described as expressing "a warm and homey feeling," which is probably true if you live in a mansion. Yet, normies like us, are blown away by the opulence. On our checkout day, we'd probably get escorted off the property by security because we wouldn't want to leave.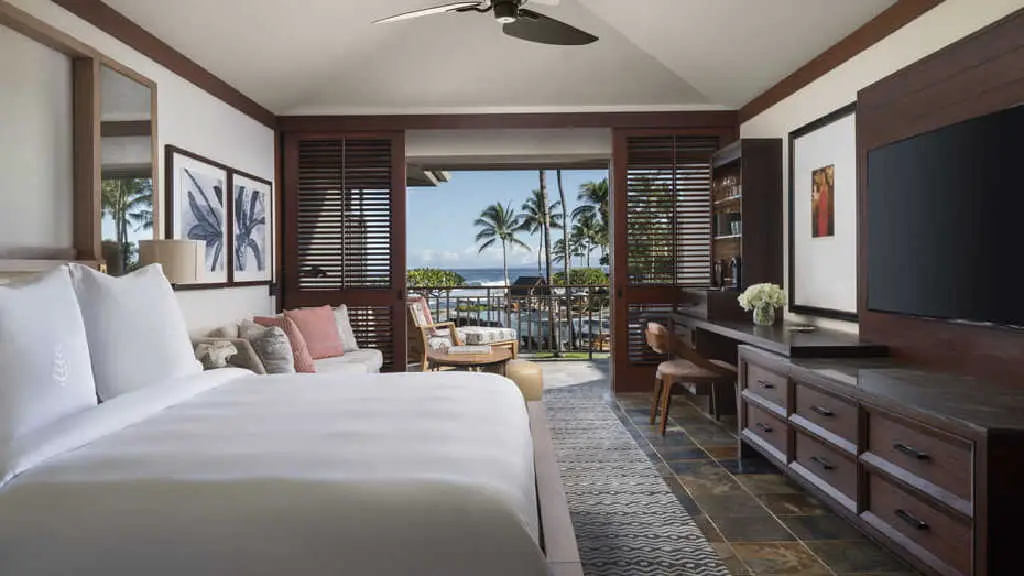 Every guest room has a balcony or patio and faces either the ocean or a pool. Also, many rooms come with an outdoor lava-rock shower, so take note if that appeals to you.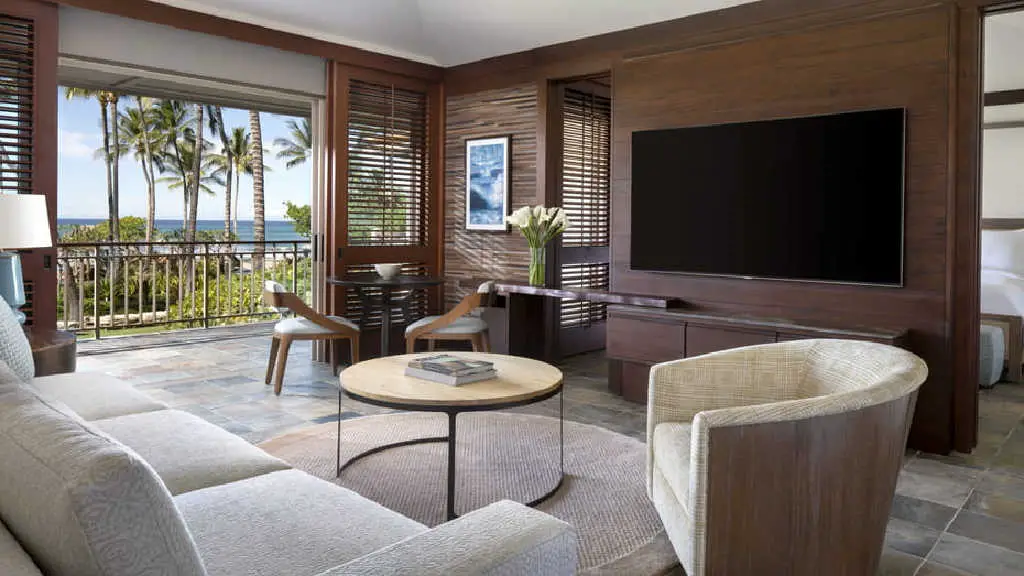 After exploring all of the resort amenities together, it wasn't the snorkeling lesson with the marine biologist or the chef's residence that excites Audrey. Rather, it was the complimentary self-service washers/dryers with detergent and dryer sheets scattered throughout the Resort. While folding our towels she stated, "See, wealthy people don't want to come home with luggage full of dirty clothes." For those that don't know, Audrey's obsessed with laundry.
Local Experiences
Travelers looking to explore beyond the resort are in luck. Only a short drive away, there are a few unique attractions to experience the essence of pure Hawaii. Kua Bay captures the beauty of the perfect Hawaiian beach, with soft white sand, clear water, and calm waters that are perfect for snorkeling. If you're lucky, you may spot the sea turtles that are known to spend time in the area.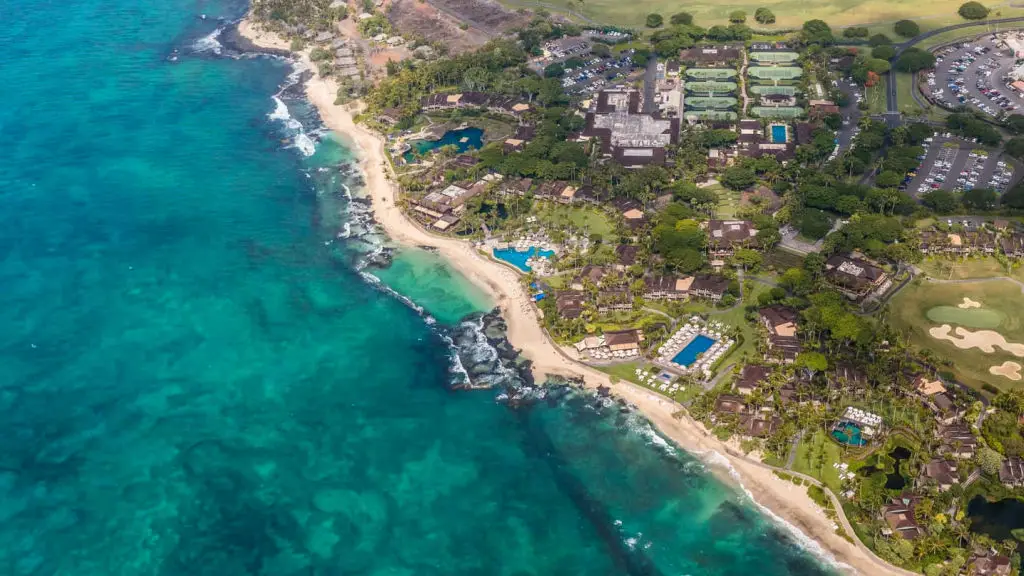 Another nearby attraction is the Kona Cloud Forest. As the only cloud forest in the United States, visitors can marvel at the magic of a real Hawaiian rainforest with its abundance of local plants, birds, and botanical gardens and even go ziplining through it. Naturally, the Big Island plays host to amazing wildlife opportunities. Animal lovers can go horseback riding, take a local birdwatching tour, swim with dolphins, or even visit the Kanaloa Octopus Farm.
Get a Deal
No one wants to spend $100 per hour for a guest room at the Four Seasons Hualalai if they can get it for less. Of course, even rich people like saving money. Our tip, go to Tripadvisor and look under the section "Hotel links." Many times, the hotel provides a 20% off special discount deal simply for booking seven days in advance. Click on the link "Special Offer: Up To 20% Off" to redeem.
Budget Tip: Check out WayAway—a new flight aggregator platform that provides travelers with the best rates on airline tickets. Users can also purchase the WayAway Plus membership plan, which gives cashback on flights, accommodation, car rentals, tours, and more.