The best beaches in Lake Havasu are like nowhere else on Earth—it really is a unique landscape. It may be difficult to imagine that about 100 years ago the area was just dry, desolate land. Now, thanks to the Parker Dam, there's a massive 45-mile-long lake magical oasis in the middle of the Mojave desert.
With over 400 miles of stunning coastline, it's no surprise that Lake Havasu has some of the best beaches in the southwest. Its turquoise waters and clean water make it a winning destination for vacationers looking for tons of fun in the sun.
With over 300 days of sunshine, soft sand beaches, and the London Bridge, Lake Havasu City is the perfect beach destination. While visitors can access a few of the best beaches in Lake Havasu without a boat, having one will allow you to see all 12 beaches.
Best Places to Stay in Lake Havasu
There are a number of affordable options for lodging in Lake Havasu City. Options include everything from a basic motel to a luxurious vacation home with a private pool.
A few things to consider before booking an accommodation include:
Is it within walking distance of a beach?
If bringing a boat, is there convenient parking for it?
Does it have a pool?
Luxurious Vacation Home w/Private Pool > Check Availability
By far, the best budget accommodation is Island Suites—this is where we stayed! Furthermore, the rooms are massive and include a separate bedroom, microwave, refrigerator, stove, and small pool.
Island Suite > Check Availability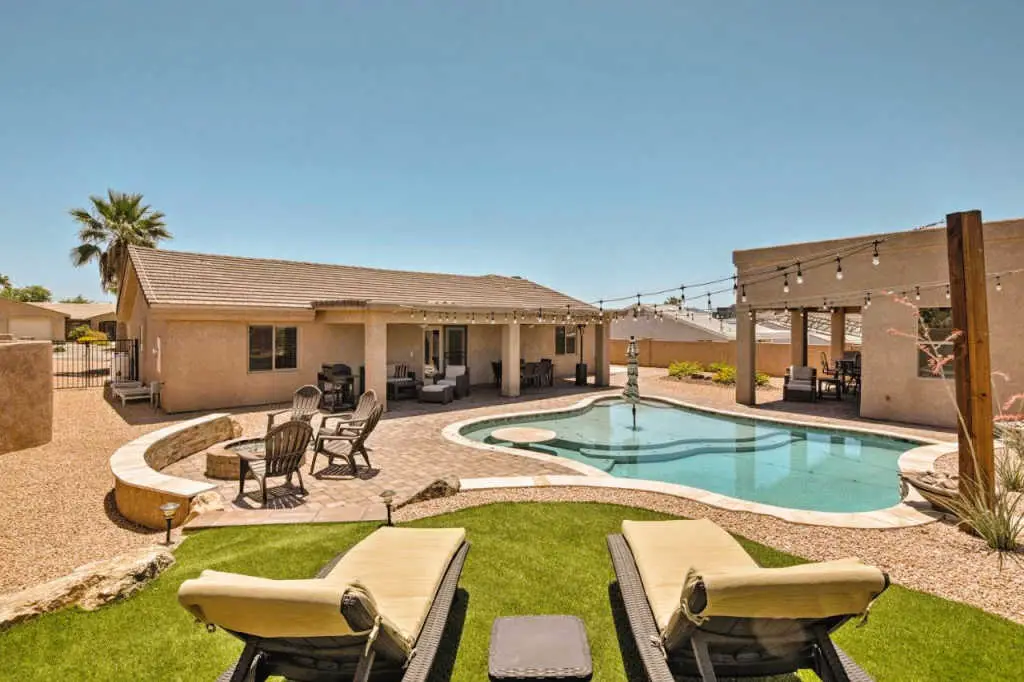 Visitors looking to simply park their vehicle and pretty much walk to the city's main beaches will enjoy staying at either the Holiday Inn Express & Suites, the Heat Hotel, or the London Bridge Resort. Both the Holiday Inn and London Bridge Resort have nice size pools, however, those seeking out a party environment may enjoy London Bridge Resort a bit more.
London Bridge Resort > Check Availability
The Heat Hotel is a boutique-style accommodation with the most amazing views of London Bridge—unfortunately, it doesn't have a pool, but with three beaches within walking distance, it may not matter.
Another nice affordable option, for visitors looking for a quiet or romantic escape, is Havasu Dunes Resort. The adobe-style lodging features spacious studios and one and two-bedroom suites. Also, the resort has three outdoor swimming pools, three hot tubs, and free covered parking.
Havasu Dunes Resort > Check Availability
Best Hotel to Park a Large Boat in Lake Havasu
Travelers concerned about parking their boat may want to consider the Hampton Inn or Quality Inn & Suites. Both properties have large parking lots.
Hampton Inn > Check Availability
Realistically, those owners extremely concerned about their boat should rent a vacation home. Below are three wonderful options.
12 Best Beaches in Lake Havasu
There are plenty of great beaches in Lake Havasu, but which one should you visit? No worries. This article will help to narrow down the most stunning beaches in Lake Havasu, along with the best hotels—whether you're traveling as a family, couple, or flying solo.
Lake Havasu's best beaches make it a popular vacation destination for families, especially those with small children. This is because, unlike the ocean, Lake Havasu offers a safe environment for swimming and beach play. Also, parents can feel secure knowing that there are no dangerous riptides, large waves, or dangerous wildlife, commonly encountered with ocean-based vacations.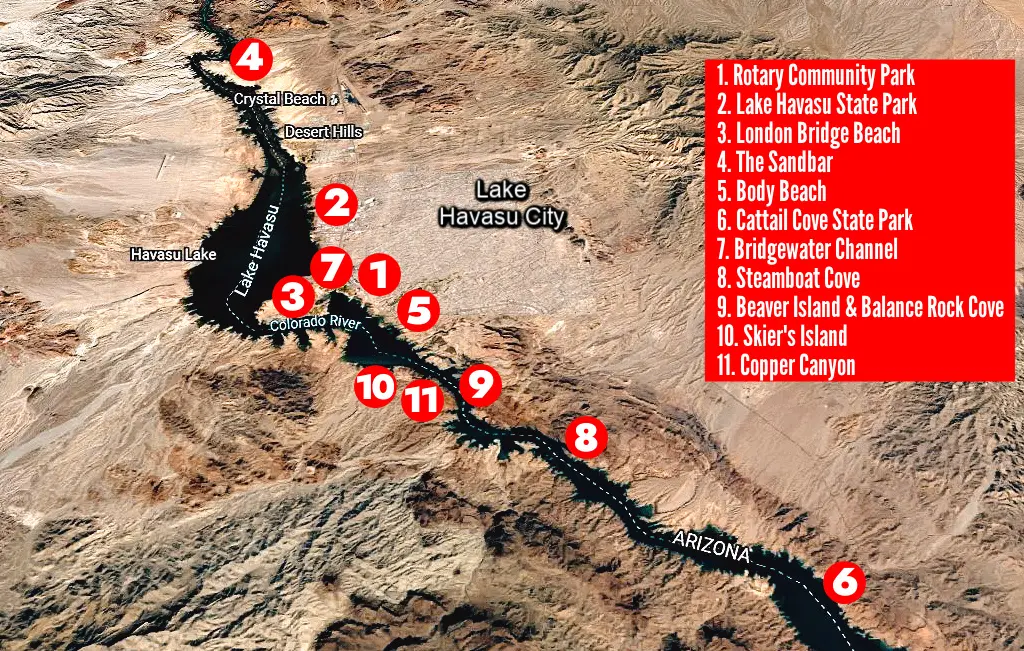 A typical day on a Havasu beach may be spent playing in the sand, enjoying a picnic, or floating on Intertubes and rafts. Afterward, there are playgrounds, a skatepark, and even dog parks to enjoy together as a family.
Now is the time to plan on soaking up the stunning desert landscapes while enjoying the cool clear Lake Havasu waters and just letting your troubles simply melt away.
Below are the 12 best beaches in Lake Havasu!
1. Rotary Community Park
Lake Havasu City's largest public beach is located in Rotary Community Park—it's the one we visit the most. Also, it's positioned at the southeast end of the Bridgewater Channel which means there's plenty of fun boat traffic to watch. Technically, boats are not allowed to beach here, however, they are allowed to drop or pick up passengers or anchor just off the coast.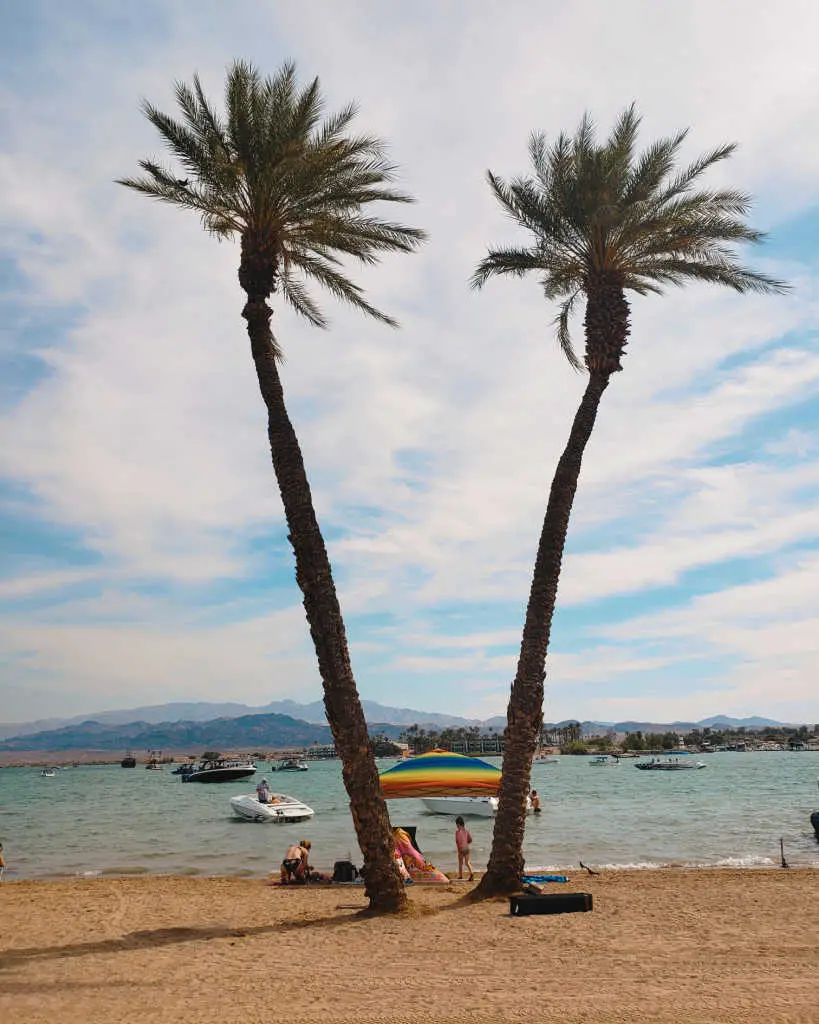 Covering 40 acres, the park has free parking and plenty of space to enjoy the water and the sun. Furthermore, there are numerous picnic areas with barbecues, volleyball courts, a skate park, a walking path, and restrooms. Please note: dogs are not allowed.
Fee: Free
GPS: 34.46535, -114.34245
10 Beach-life Essentials
Below are the 10 beach-life essential items you don't want to forget to bring!
Legless Pirate Corkscrew opener for wine and beer
Hairbrush ties
Igloo Tagalong Cooler (perfect travel size)
Games (football, frisbee, beachball, football)
Solar-powered portable charger with a USB cord
2. Lake Havasu State Park
Located just north of the London Bridge, Lake Havasu State Park features lovely white-sand beaches, boat launch ramps, picnic areas, nature trails, and tent/RV campsites. Furthermore, the camping fee is $35 per night, $40 for beachfront sites.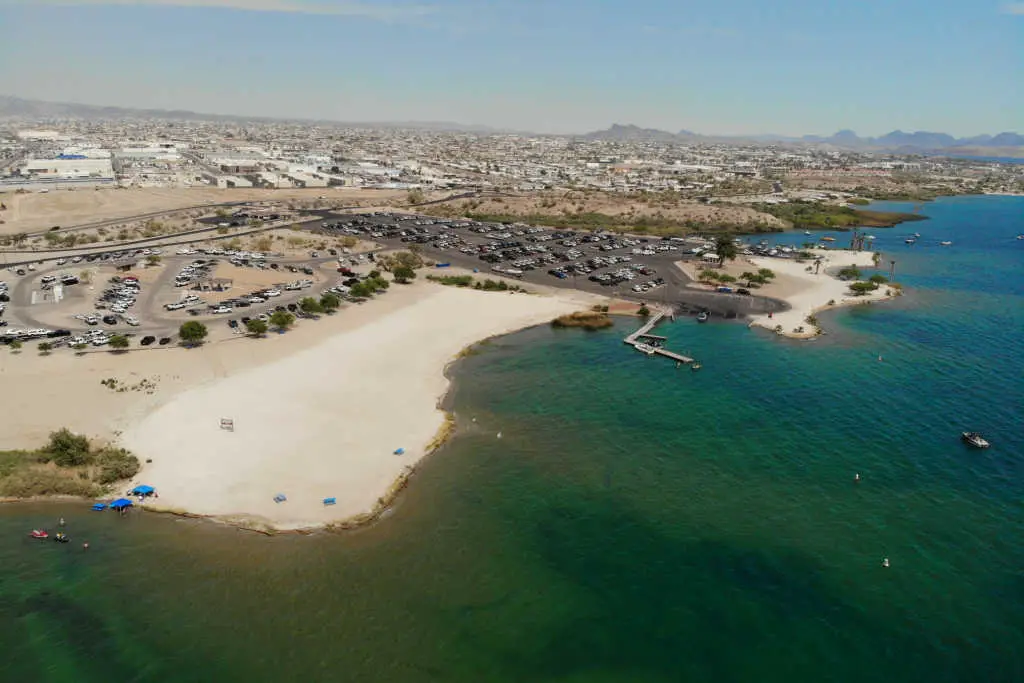 Fee: Day-use fee to enter the park per vehicle: $15 (Monday to Thursday), $20 (Friday to Sunday and holidays).
GPS: 34.49191, -114.35810
4 Popular Tours From Lake Havasu City
3. London Bridge Beach
Visitors to Lake Havasu City must cross the famous London Bridge to access London Bridge Beach. Located kitty-corner to Rotary Community Park, on the southwest end of the Bridgewater Channel, London Bridge Beach is one of the area's most popular beaches.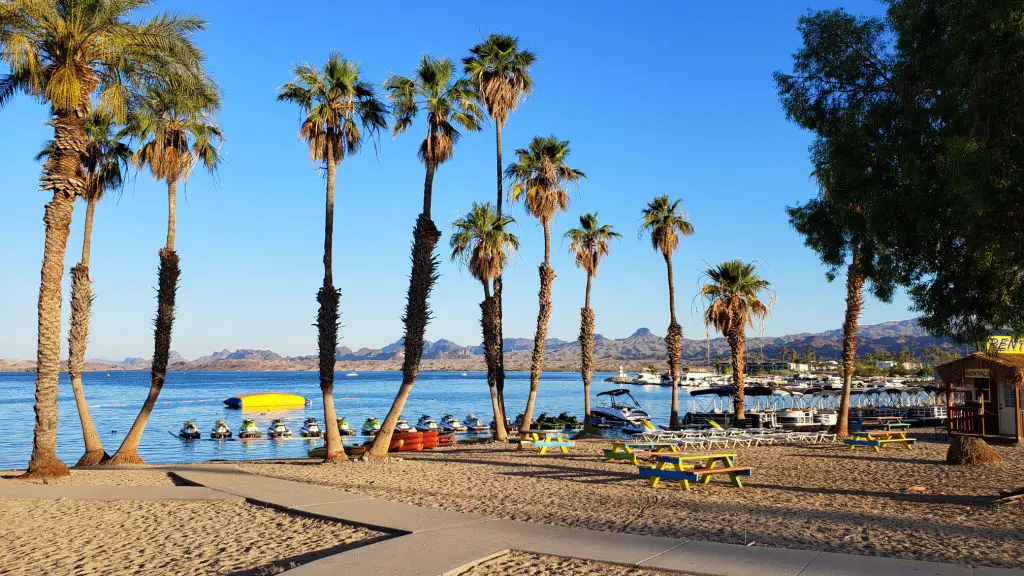 Moreover, the beach is a convenient place to rent wave runners, stand-up paddleboards, kayaks, etc. Finally, there are basketball and volleyball courts, picnic areas, playgrounds, and free parking.
Fee: Free
GPS: 34.46745, -114.34878
4. The Sandbar
Situated in the middle of the Colorado River, The Sandbar is one of the most popular beaching spots in Lake Havasu. Only accessible by boat or jet ski, it sits about 10 miles north of the London Bridge just beyond Blakenship Bend.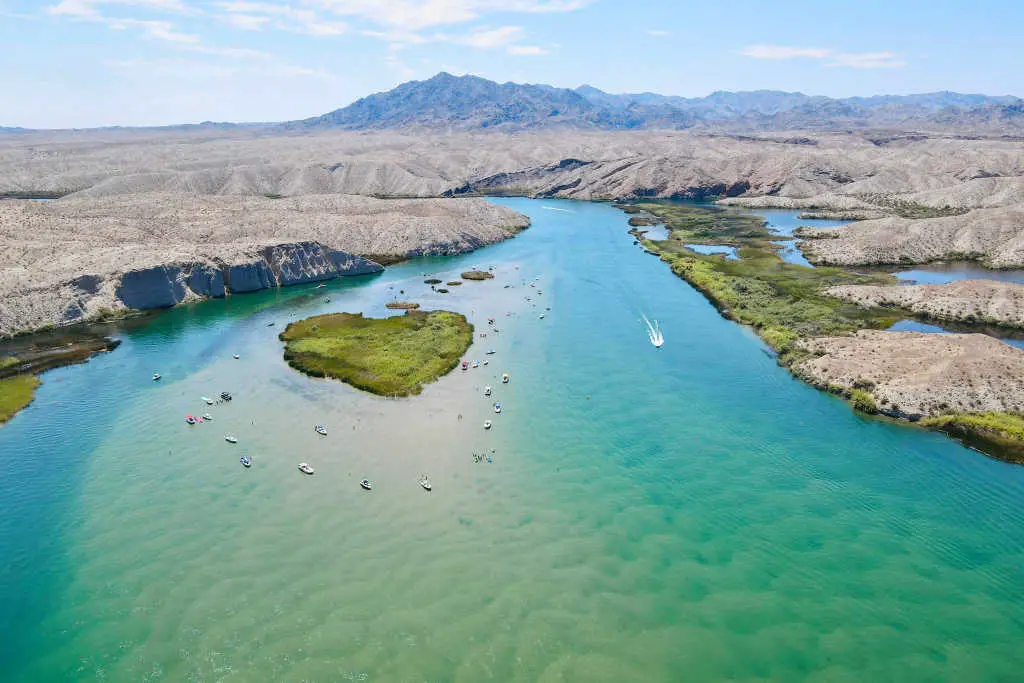 The shallow depth and soft lake bottom attract those looking to party while still being able to enjoy the cool, clear water. It's the perfect place for boaters to turn up the music and enjoy all of Havasu's most beautiful and wild people.
Fee: Free
GPS: 34.597872,-114.427911
5. Body Beach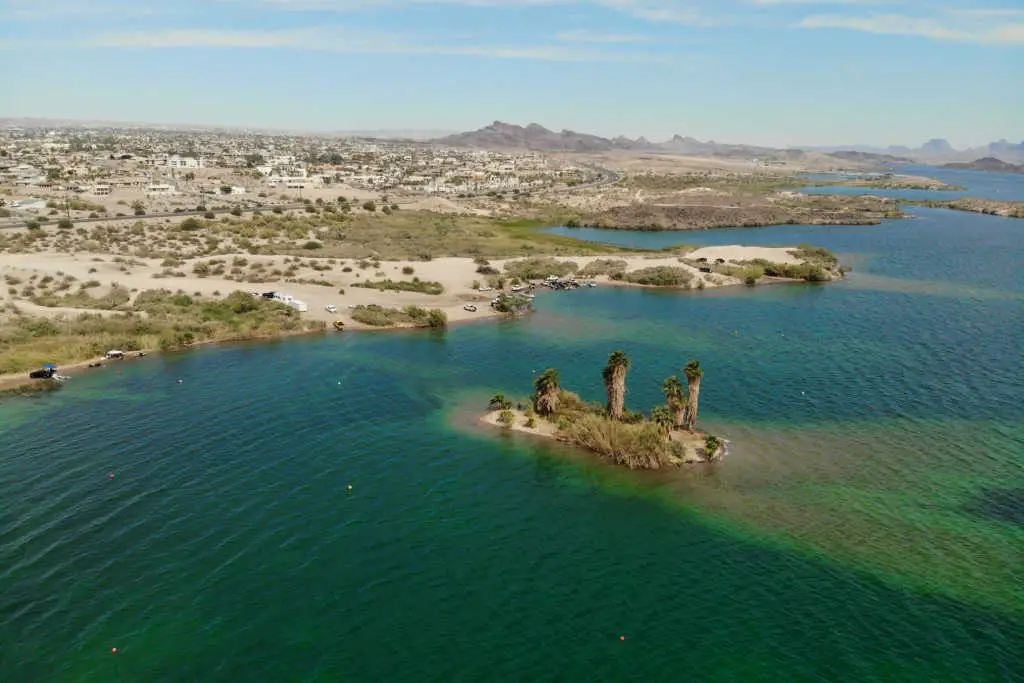 When looking south from Rotary Community Park Beach and London Bridge Beach, beachgoers may notice some jet skis off in the distance driving and skimming across the water at breakneck speeds—this is Body Beach. World-class personal watercraft competitors and the average Joe come here to test, practice, and have fun. If you have your own jet ski, this is a great place to launch it from. Finally, swimmers will enjoy a dip on the shores of Bat Island.
Fee: Free
GPS: 34.45921, -114.33586
6. Cattail Cove State Park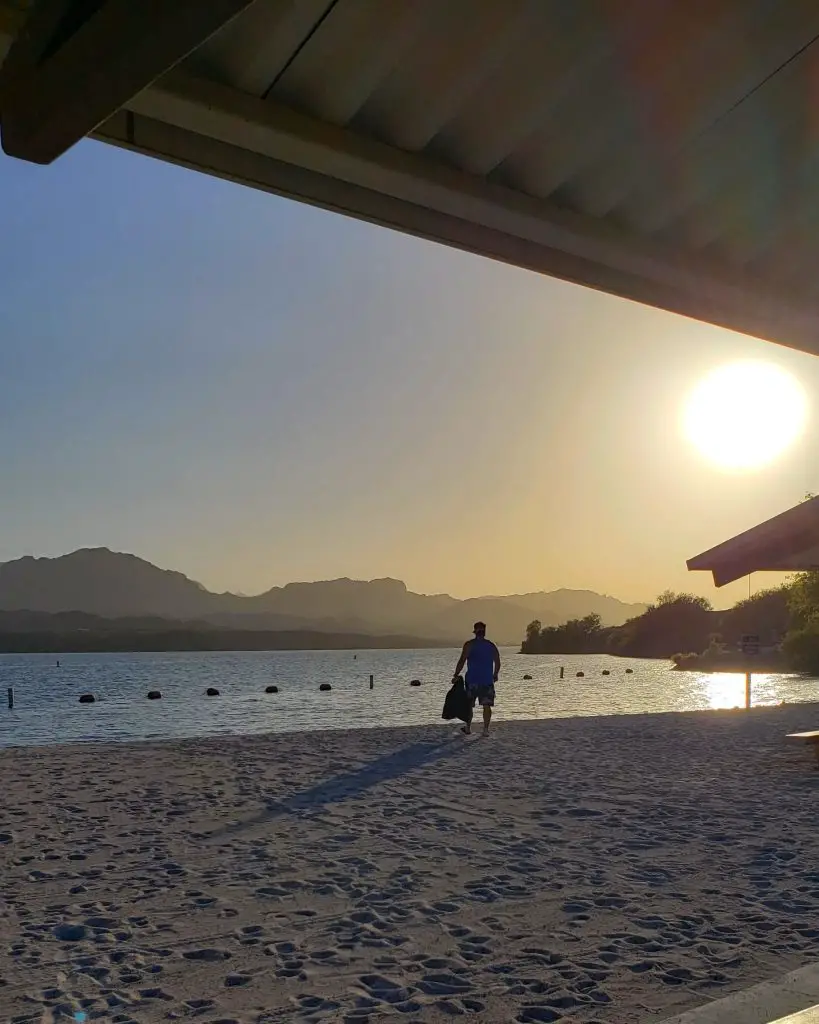 Cattail Cove State Park is located about 10 miles south of Lake Havasu City's city limits. The park features a lovely white sand beach with crystal clear water, 61 campsites, a boat ramp, and 61 tent/RV campsites. Also, there are primitive boat-in camping sites at Three Dunes Campground, about 1 mile north—they feature picnic tables, barbecue grills, and pit toilets. Finally, this area is known to be an excellent spot to fish for bass and catfish.
Fee: Day-use fee to enter the park per vehicle: $10 (Monday to Thursday), $15 (Friday to Sunday and holidays)
GPS: 34.35133, -114.17036
7. Bridgewater Channel
Centrally located near London Bridge, the Bridgewater Channel is where boaters come to show off their boats and party. On a typical summer day, the narrow channel is lined on both sides with dozens of moored boats all blasting their favorite music, and drinking their favorite refreshments.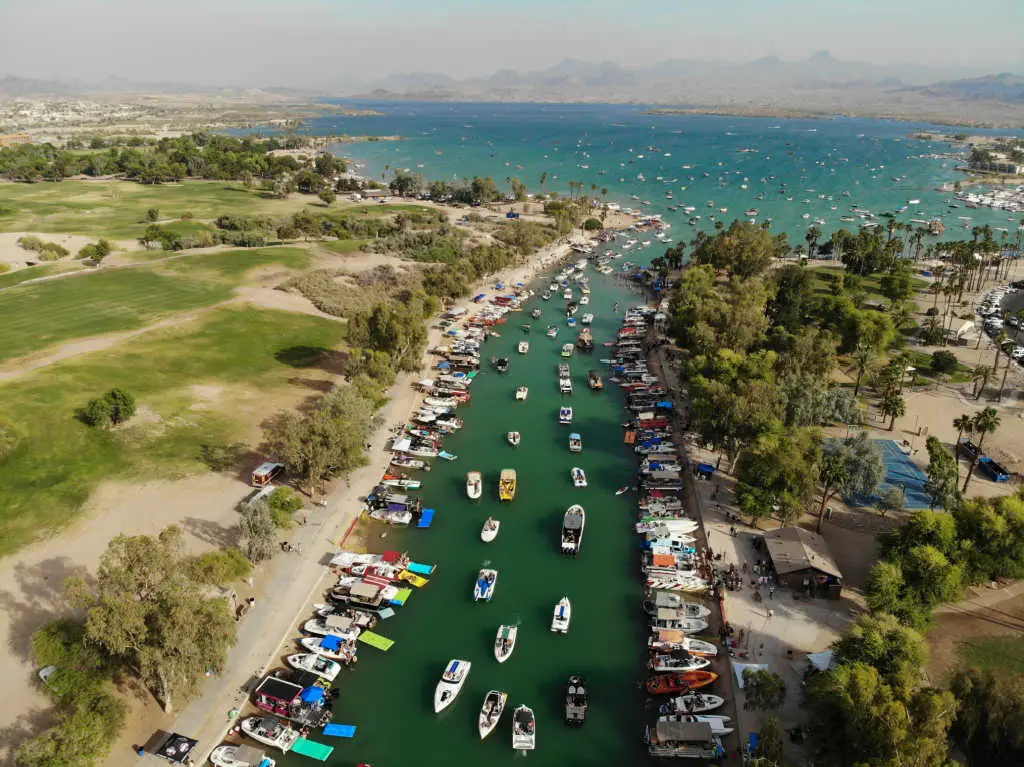 What seems like a non-stop boat parade occurs as boaters slowly make their way through the channel—it's a blast to witness. Additionally, the man-made channel is lined with sand, making it the perfect place to sunbathe. Day mooring is first-come, first-serve along the channel.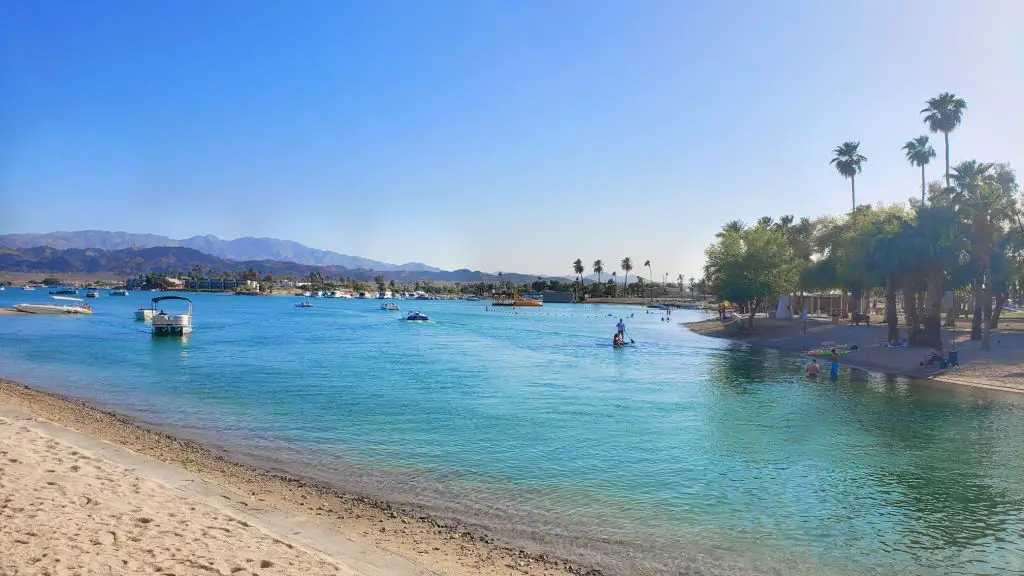 Almost every section of Lake Havasu is open for public swimming. The only part of the lake that has restrictions is the Bridgewater Channel. Specifically, boaters and swimmers are allowed to wade in the channel and cool off in the channel's waters along the shore. However, swimming across the channel is illegal due to the constant moving boat and watercraft traffic.
Tip: As long as you're moored in the channel, Papa Leone's Pizza will deliver right to your boat.
Fee: Free
GPS: 34.46778, -114.34776
8. Steamboat Cove
A favored location for boaters looking for an extended anchoring location, Steamboat Cove is one of Lake Havasu's largest natural coves. Its sheltered surroundings provide an escape when the conditions are windy or when the lake is super busy with boat traffic.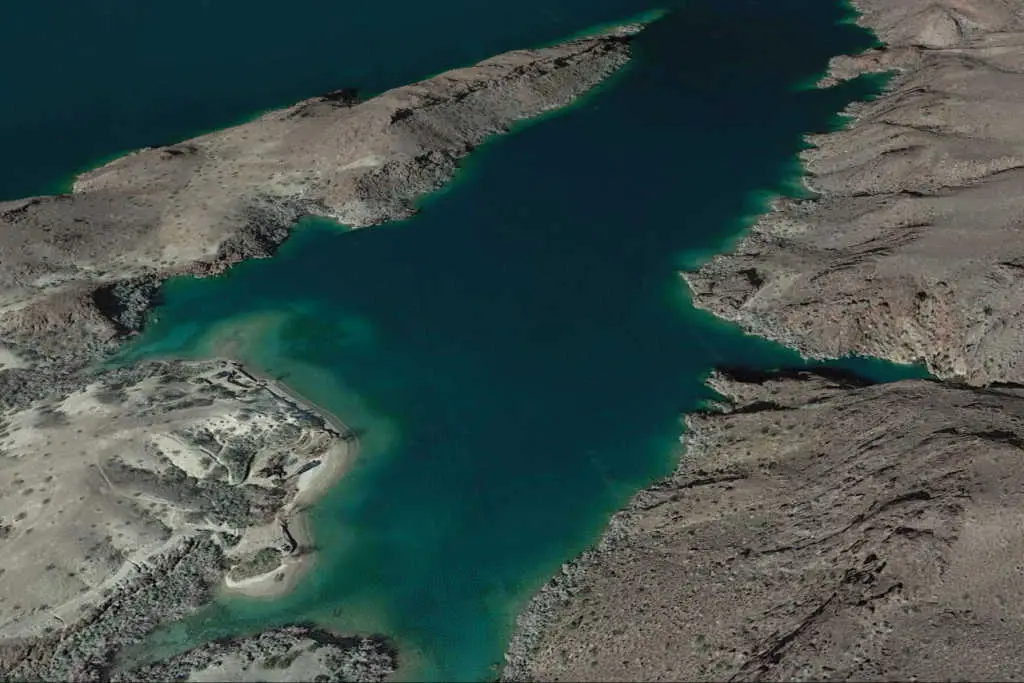 It is located on the Arizona side, near the southern end of Lake Havasu. Boaters can expect a sandy beachfront, picnic tables, and land-based restrooms. Additionally, there is room for boat-beaching along the shore. Some risk-takers shimmy up the cliffs to partake in some cliff jumping.
Fee: Free
GPS: 34.39935,-114.25710
9. Beaver Island & Balance Rock Cove
About 4 miles south of London Bridge are Beaver Island (aka Friendly Island) and Balance Rock Cove—the two landmarks sit adjacent to each other. When combined, it's easy to make an afternoon out of these two alluring locations.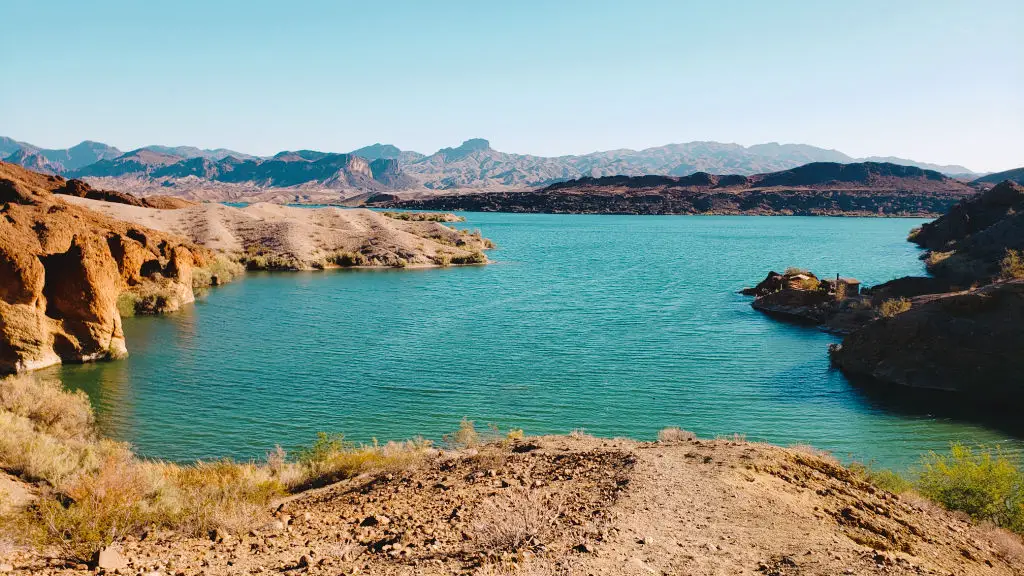 Beaver Island has remote sandy beaches, a picnic area, and bathrooms. Balance Rock Cove, on the other hand, doesn't really have a beach but it's probably one of the most epic swimming holes in Lake Havasu as it's named after a unique formation—a massive rock that is beautifully balanced atop a pillar of stone.
Tip: Balance Rock Cove is the end of Sara's Crack Trail—if you're going to do one hike in the area, do this one!
Fee: Free
GPS: 34.42163,-114.29219
10. Skier's Island
If watersports and water toys are your thing then Skier's Island is your destination of choice. Protected by a large rock islet, the natural cove is a popular spot for wakeboarding, skiing, SUPing, and tubing.
The cove's water depth is just right, ensuring that boaters won't run aground or hit a propeller. Boaters can also take advantage of the beach space along the coastline.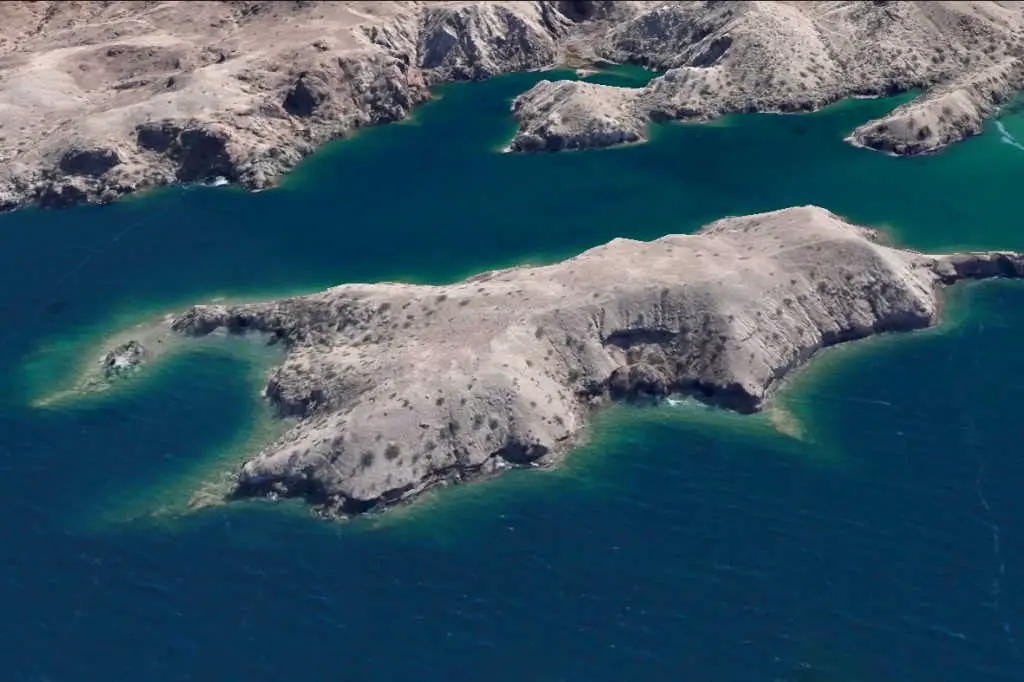 If fishing is your scene, the area around Skier's Island is one of Lake Havasu's best fishing holes. In fact, from 2016 to 2019 Bassmaster magazine awarded Lake Havasu one of the "Top Best Bass Lakes in the Western U.S."
Anglers can take in the lake's scenic beauty while casting for striped bass, bluegill, redear sunfish, crappies, flathead catfish, large and smallmouth bass, and channel catfish.
Fee: Free
GPS: 34.42951, -114.32114
11. Copper Canyon
While technically not a beach, Copper Canyon is one heck of a swimming hole. Earning recognition from MTV's Havasu Spring Break, Copper Canyon is one of Lake Havasu's must-see destinations for boaters. The canyon's name derives from the abundance of tarnished copper, which is visible on the rock formations, and from the abandoned copper mine that sits on top of the ridge. You know you've arrived at the canyon's entrance by the signature keyhole rock formation.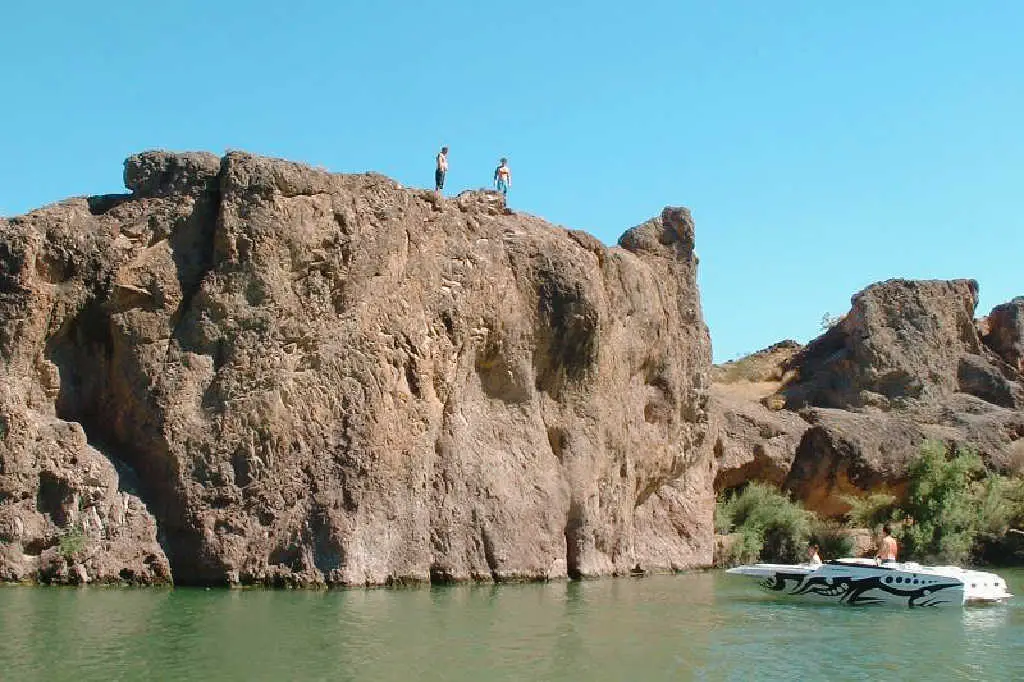 Cooper Canyon was once considered Havasu's party hub, with hundreds of boaters fighting for a spot to spend the day partying in the canyon. In fact, so many boats would be crammed into the canyon that visitors could walk from one side of the canyon to the other by boat!
Today, the canyon features no-wake buoys and an open-access lane which keeps the area a little calmer, along with California patrols and regulations.
One of Copper Canyon's signature features is the 80-foot tall rock jump which is extremely dangerous if you are an inexperienced rock jumper. Thankfully, there are lower-tiered rock jumps that visitors can enjoy too.
Fee: Free
GPS: 34.42638,-114.30749
12. Havasu Riviera Marina Beach
Considered a day-use beach area, the new Havasu Riviera Marina Beach development has a sandy beach with a few beach umbrellas and lawn chairs scattered about. With a sandy entry and water that gets deep quickly, the beach does offer a nice swimming opportunity.
According to the website, the beach is accessible as part of a paid guest pass. However, because the property is still in development, we were able to spend some time here to "check out" the development. Unfortunately, we noted visitors' dogs going to the bathroom on the sand so proceed at your own risk.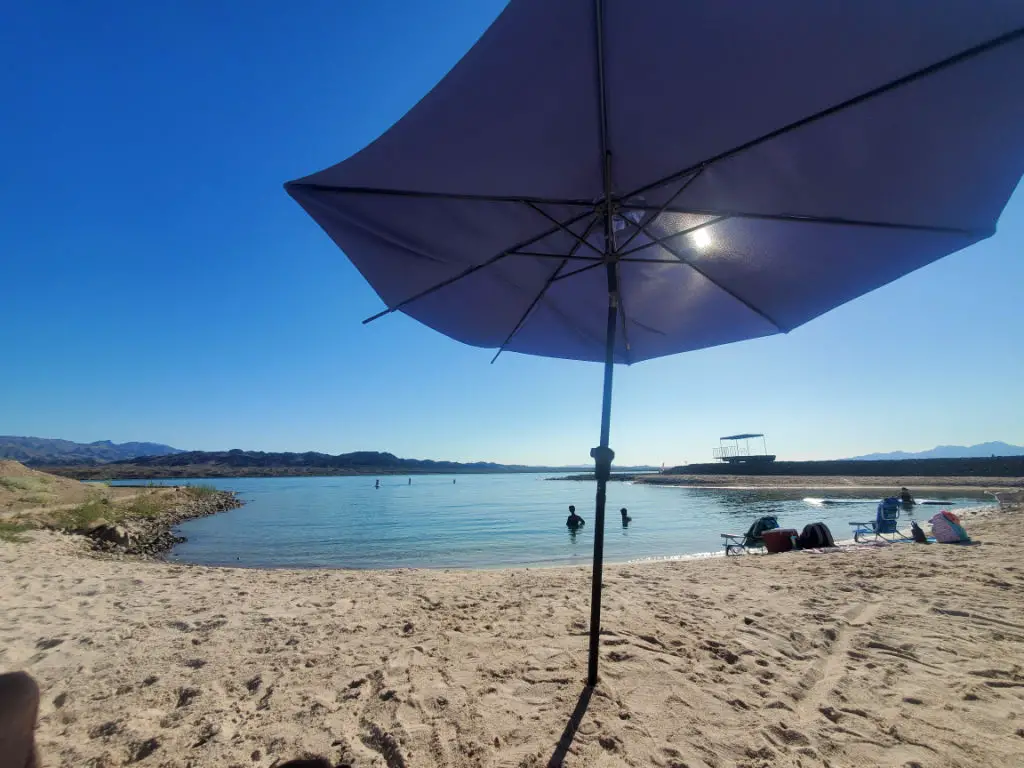 The best beaches in Lake Havasu will satisfy both boaters looking for the party scene and families looking for a safe beach to spend the afternoon. Moreover, Lake Havasu is a truly special place and something for all types of vacationers. When the temperatures soar, it's a great destination to explore beautiful beaches, coves, and bays—now, it's time to enjoy some fun in the sun.