Tucson's Mount Lemmon is slowly gaining notoriety as one of Arizona's most popular Instagram destinations. With today's mantra of "do it for the gram," all it takes is for one eye-catching image to show up in the scroll to get explorers racing to get the perfect shot. This post will share how to get to Windy Point Vista, so you too can showcase this amazing destination on your very own Instagram feed.
Photography Inspires In One Shot
These days, it's no surprise that social media posts can inspire an entire vacation. One of the first things many travelers do when planning a trip is to connect with the region's tourism board before setting off to a new destination.
Thanks to both adventure seekers and locals, Instagram opens the door to all of the hidden gems that a new city or state has to offer. In fact, Instagram is how we often scout out unique places to share with our followers across our platforms.
Visit Arizona
State tourism boards across the U.S. have some excellent Instagram feeds. With the ability to share the very best images from travelers from around the world, their photos put their followers' wanderlust on full throttle.
In the same way, the spectacular image above appeared in our feed from the Visit Arizona tourism board. We saw this shot and it sent us on a road trip up to Mount Lemmon, the highest point in Tucson's Catalina Mountains, in order to find it.
Five Most Popular Excursions in and Around Tucson
Mount Lemmon
When Tucson's temperatures rise, Mount Lemmon is where locals go to find relief in the cooler mountain air. Accessible via The Sky Island Scenic Byway, the 26-mile drive up to the mountain peak is surreal.
Ultimate Cabin Experience: You got to see this Luxury Mountain Cabin with Furnished Deck and Views!
As you gain elevation, the scenery changes from desert saguaros to a pine tree forest. Some accurately describe the landscape as the equivalent of driving from Arizona to Montana in only 26 short miles.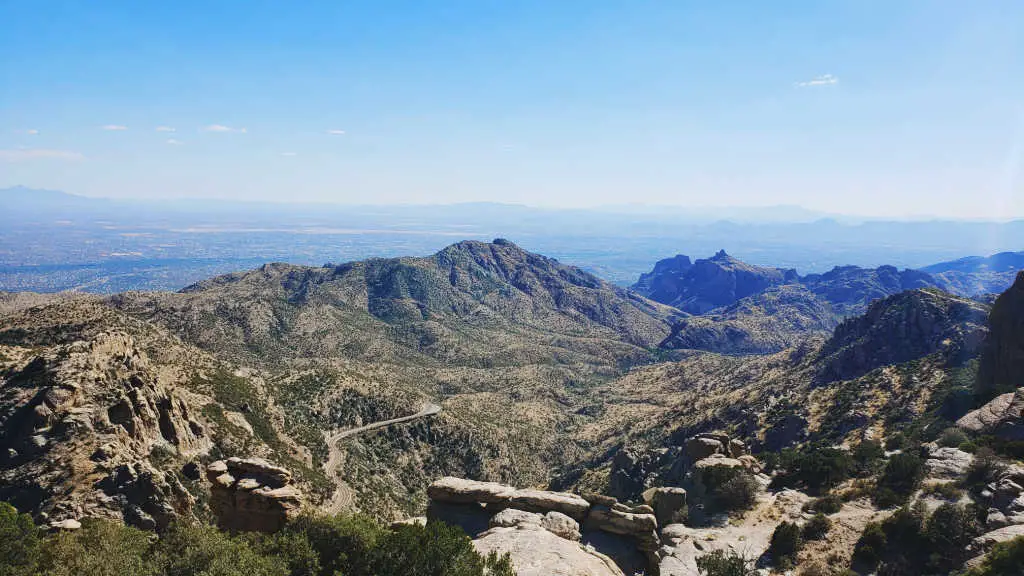 This dramatic change in topography characterizes Mount Lemmon as a Sky Islands in the Coronado National Forest. A sky island is a term used for an isolated forested mountain range surrounded by a different lowland terrain, such as a desert.
To illustrate the stark contrast in environments, Mount Lemmon's elevation of 9,171 feet allows for an unsuspecting winter retreat. The ski resort near the top accumulates more snow than you would think for a summit in the desert. Also, the Mount Lemmon Observatory allows guests to gain a deeper understanding of Earth and its place within the Universe.
Need a Place to Stay?: These Mount Lemmon cabins will make you want to spend two weeks in the woods.
Windy Point Vista
There is truth that photography can inspire in one shot—because an image of a man perched on top of a hoodoo above the Tucson Valley sent us on a mission to find and recreate the same amazing image.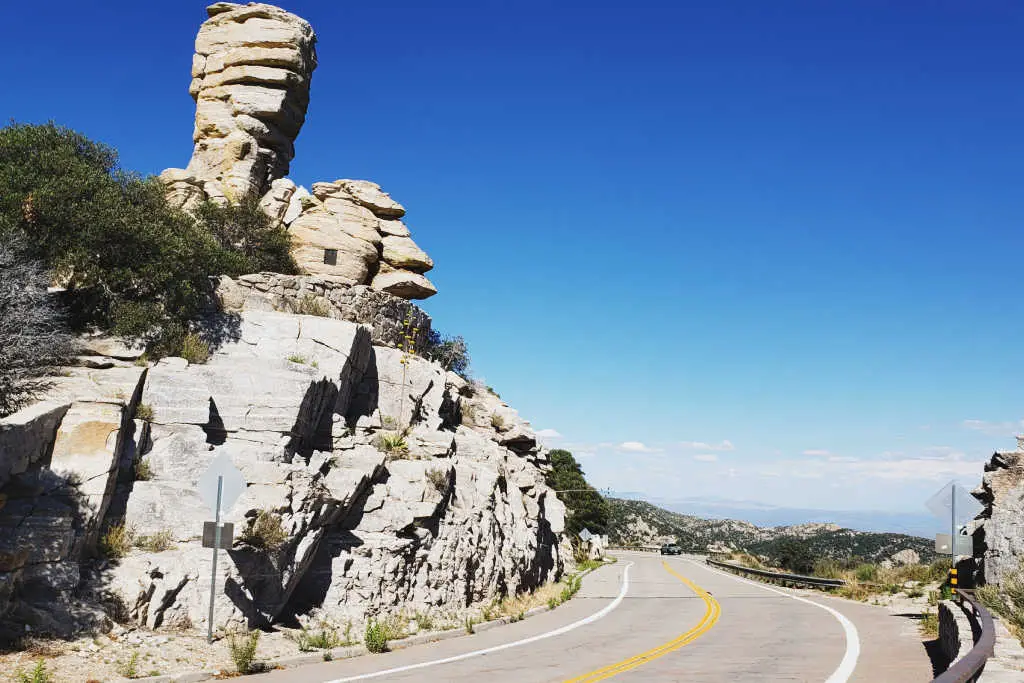 This wind-whipped rock formation sits at Windy Point. At 6,400 feet, it offers the best scenic view along the entire Sky Island Scenic Byway.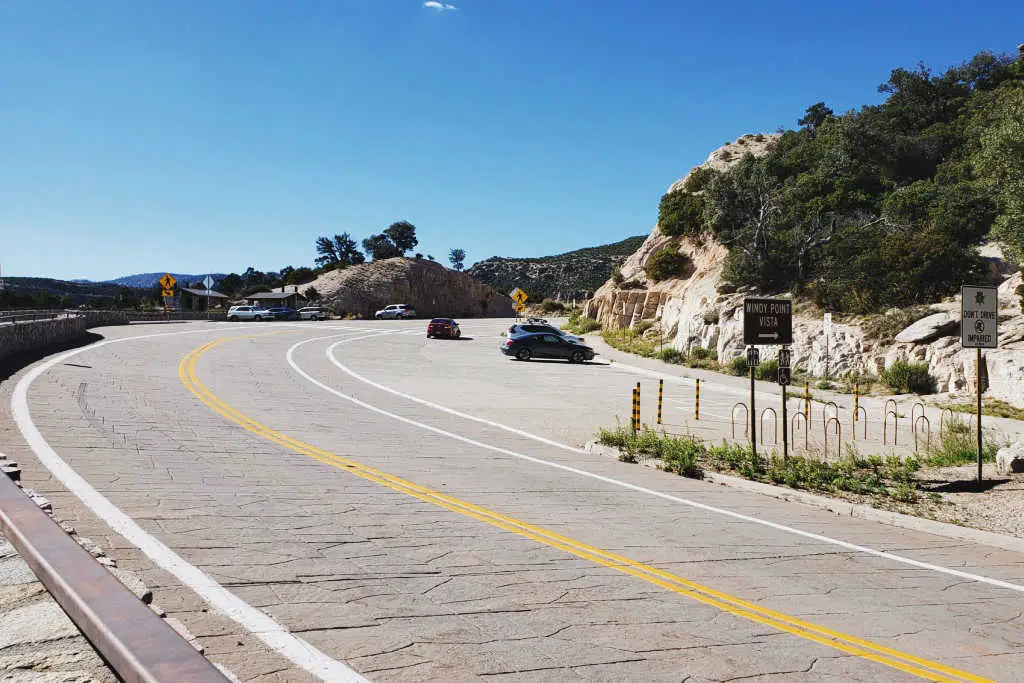 From the pull-off point, you can see the Santa Rita Mountains, Patagonia, and the Tucson Basin.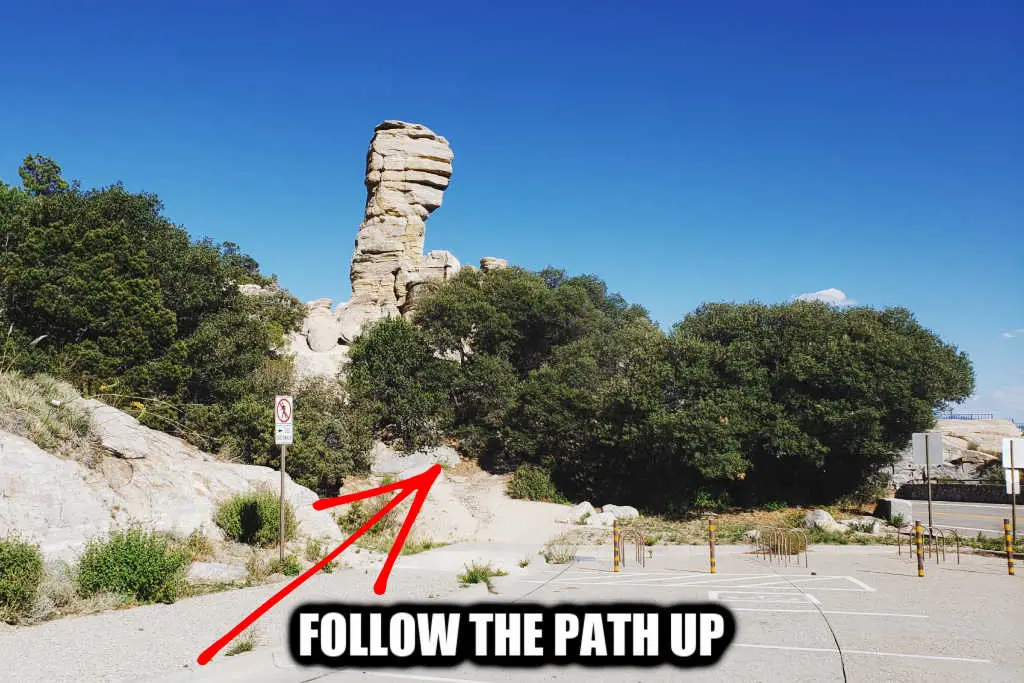 On clear, crisp days, you can even see the Sierra de San Antonio across the Mexico border.
Find the Windy Point Rock Formation
Although Arizonans are familiar with Mount Lemmon, surprisingly many were unaware of where this image was captured. Luckily, with a few simple directions and images, achieving this image is quite easy.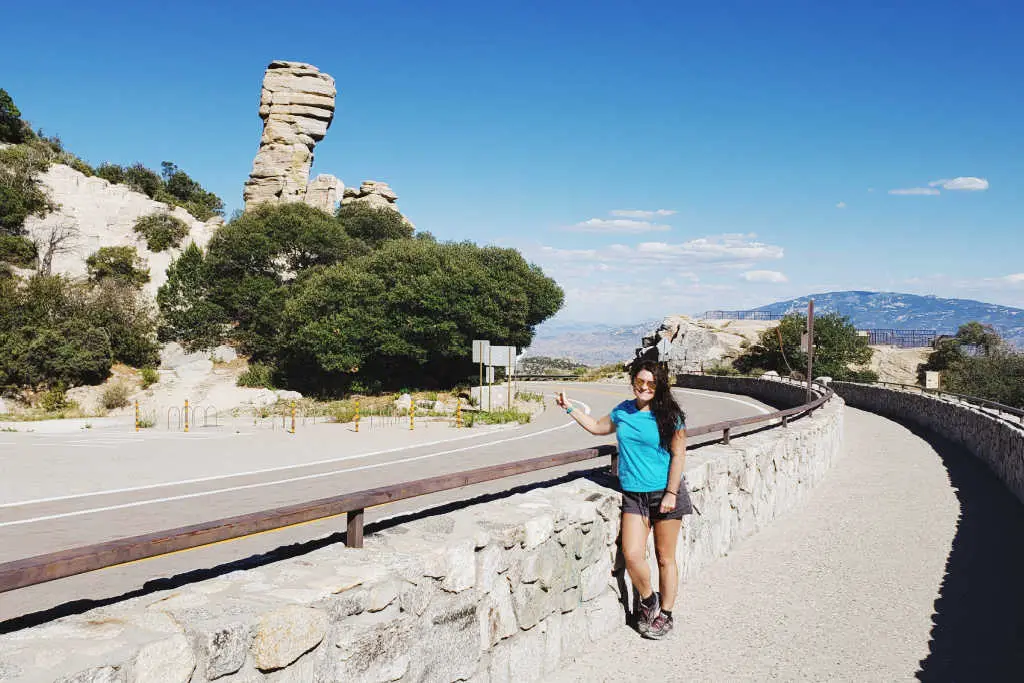 From Tucson, take the E. Catalina Highway to Mount Lemmon Highway. From the base of the mountain, it's about a 20-minute drive to Windy Point Vista. Park at the Windy Point Vista parking lot and enjoy the views!
Windy Point Vista – Arizona's Newest Instragrammable Location
When we arrived at the hoodoo and looked at the middle tier we realized that there was no way in the world either one of us was going to make it, let alone to the top. As a result, we decided to do an "Instagram vs. Reality."
Like just about everything on Instagram, our cover photo is highly edited. We basically cropped Audrey from the lowest tier and moved her to the top tier. Anyone who knows us should know that we have no ability to accomplish that feat, lol!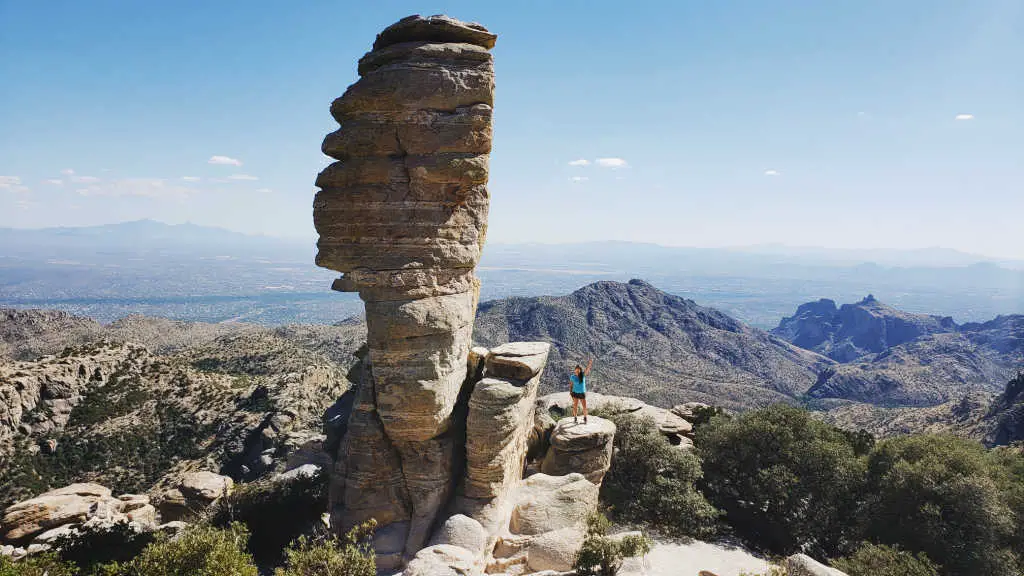 The lowest tier doesn't look like much but it's probably about 15 to 20 feet to the ground, so pretty darn high. Getting to the middle tier safely requires ropes or incredible athletic ability—it's another 8 to 9 feet above the first tier with no way to easily access it.
To be totally ridiculous, the third tier is probably 60 feet above the ground. It would take an astonishing effort to get to the top using ropes and God knows what else? In short, we would probably need to be lowered from a helicopter. Tourists looking to try their hand at rock climbing, for real adventure, should try the Mt. Lemmon Half-Day Rock Climbing excursion.
Regardless of your ability, or ours, the location at Mount Lemmon is now one of the most Instagrammable in Arizona. Personally, Harry was impressed that Audrey even made it to the first tier—it's scarier than it looks.
We Need Your Help
Did you find this article helpful? If so, bookmark it and when you're planning your next vacation click on any of the links below before finalizing reservations. You'll get the best price, we'll earn a small commission, and you'll help support future articles.
Thank you!
BEST TRAVEL SEARCH ENGINES
🏘️ Book Your Accommodation
We use Tripadvisor and Priceline's Express Deals to compare prices and reviews in advance and check availability
✈️ Book Your Flight in Advance
To find the cheapest flight options, you can use WayAway and Skyscanner to find the most suitable choice for you
🚗 Reserve Your Rental Car
Use DiscoverCars and Skyscanner to compare prices and view the largest selection of vehicles