There are a ton of cheap things to do and see in Las Vegas for free if you just know where to look. From free shows and live music to hidden gems and iconic attractions—there's enough to keep travelers busy without ever having to pull out your wallet.
Thankfully, in Sin City, visitors can have fun no matter how much money is in their pockets. This guide will share how to experience Las Vegas for free!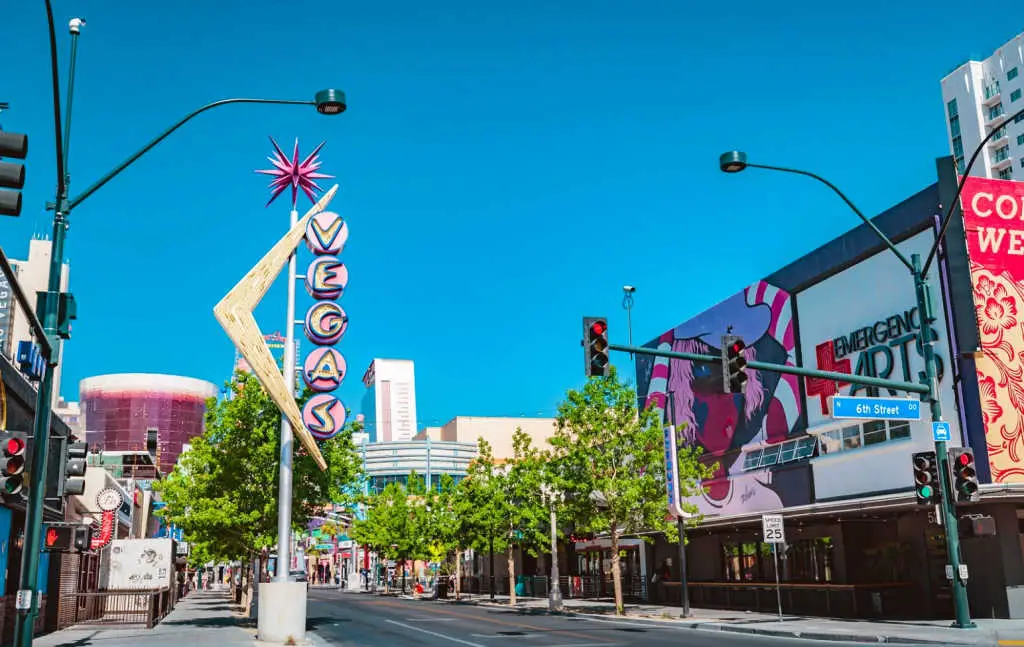 Use these tips to preview all of the attractions and destinations before exploring Vegas. That way when you're out in the city, you'll already have a general idea of where you can find free things to do, activities, and entertainment.
777 Things To Do in Vegas for Free in 2023
There are numerous free attractions beneath all the flashing lights on the Vegas Strip. Of course, simply walking down Las Vegas Boulevard feels like you're jet-setting to some of the best destinations on the planet. Consider your visit to Vegas a mini-tour of Paris, New York, Rome, Venice, Greece, and Egypt. These are all things to do and see in Vegas for free while on The Strip.
💰 Save up to 50% on Vegas Attractions
One of the easiest ways to save a ton of money in Las Vegas is with a Go City Explorer Pass. It includes all the best attractions, tours, and activities at one affordable rate. If you plan on hitting up just a couple of the major tourist attractions, it's an absolute no-brainer.
For example, going on a helicopter tour over the Las Vegas Strip is one of the best things to do in Las Vegas. Luckily, it's included in the 3-day All-Inclusive City Pass, making it more affordable than most think! If you want to see a ton of stuff and save a lot of money, we highly recommend the pass. Be sure to check out the 35+ attractions by clicking here. 👇
1. Tour Italy at The Venetian
Of all the Vegas properties, The Venetian may be the most beautiful. For those who will never make it to Italy, the resort has done a fabulous job in its attempt to replicate the original. Therefore, one of the best free things to do at The Venetian is to take a self-guided architecture tour.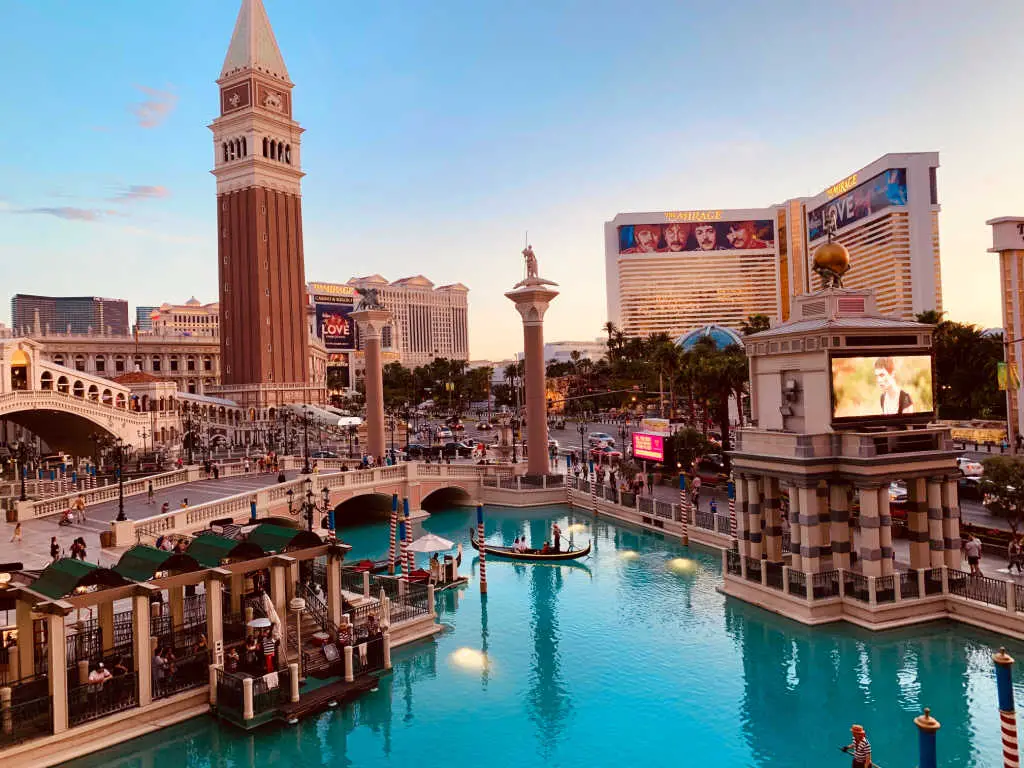 Be sure to view the gorgeous painted ceilings designed by Italian artists to mimic the Sistine Chapel. Furthermore, take advantage of the numerous replicas of signature Venetian attractions such as the Rialto Bridge, St. Mark's Square, the Campanile Tower, and many more.
2. Grand Canal Shoppes at The Venetian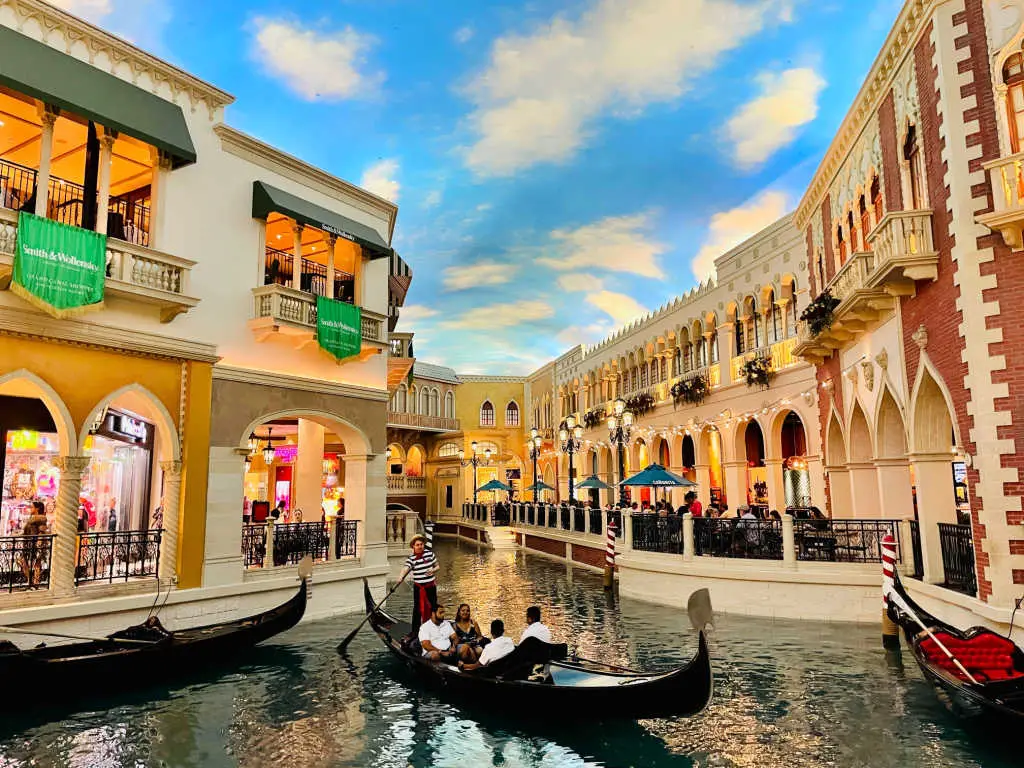 Continue your tour of Italy with a stroll in the Grand Canal Shoppes. Resort designers did a brilliant job replicating Venice with pricey gondola rides, indoor "outdoor" cafes, gelato shops, and lots of opportunities for window shopping for some high-end Italian fashions with price tags so hefty only the elite could afford.
Going to Vegas? You Must Read This ⇒ 😎 How to Get Free Stuff in Vegas – It's on the House!
3. Bauman Rare Books
Housed in the Grand Canal Shops, Bauman Rare Books earned its recognition from its collaborations with the History Channel's Pawn Stars. Specifically, viewers may remember how owner Rick Harrison would bring in the specialty book assessors for historical book appraisals.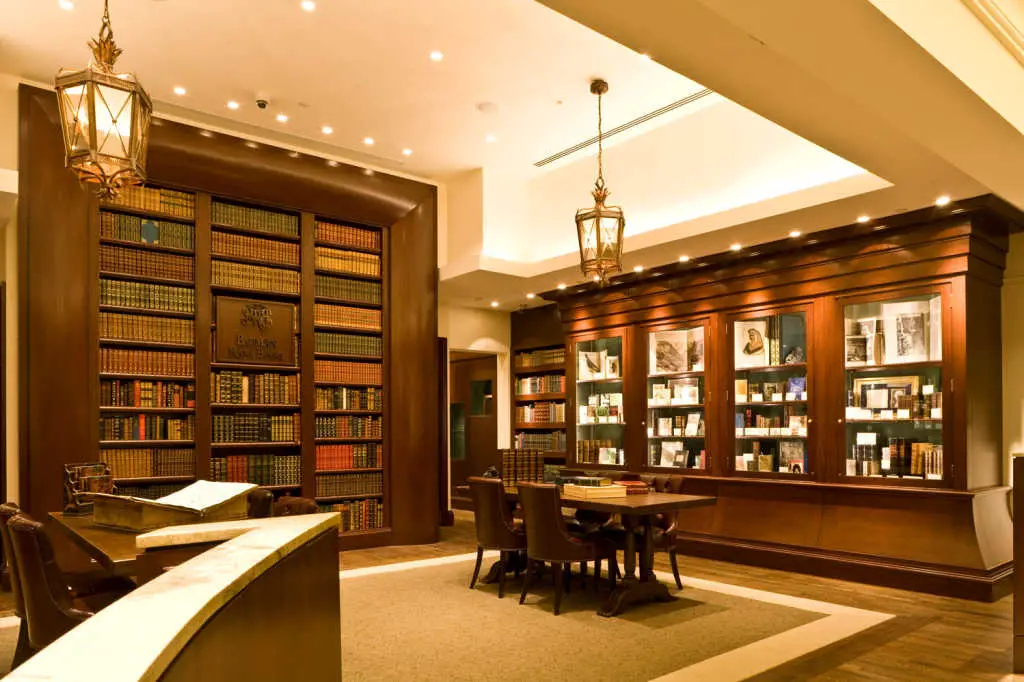 The rare book shop is a history lover's haven, with extremely rare finds like manuscripts signed by Ernest Hemingway and many first-edition novels. Many visitors are in awe at what is actually on display. Others consider it one of the best-hidden gems and museums in the city.
Budget Tip: Check out WayAway—a new flight aggregator platform that provides travelers with the best rates on airline tickets. Users can also purchase the WayAway Plus membership plan, which gives cashback on flights, accommodation, car rentals, tours, and more.
4. Palazzo Waterfall Atrium
The Palazzo Tower at The Venetian is a resort within a resort. To emulate pure Italian luxury, the Palazzo Waterfall Atrium and Gardens are so impressive, that they'll make your local gardener look amateur.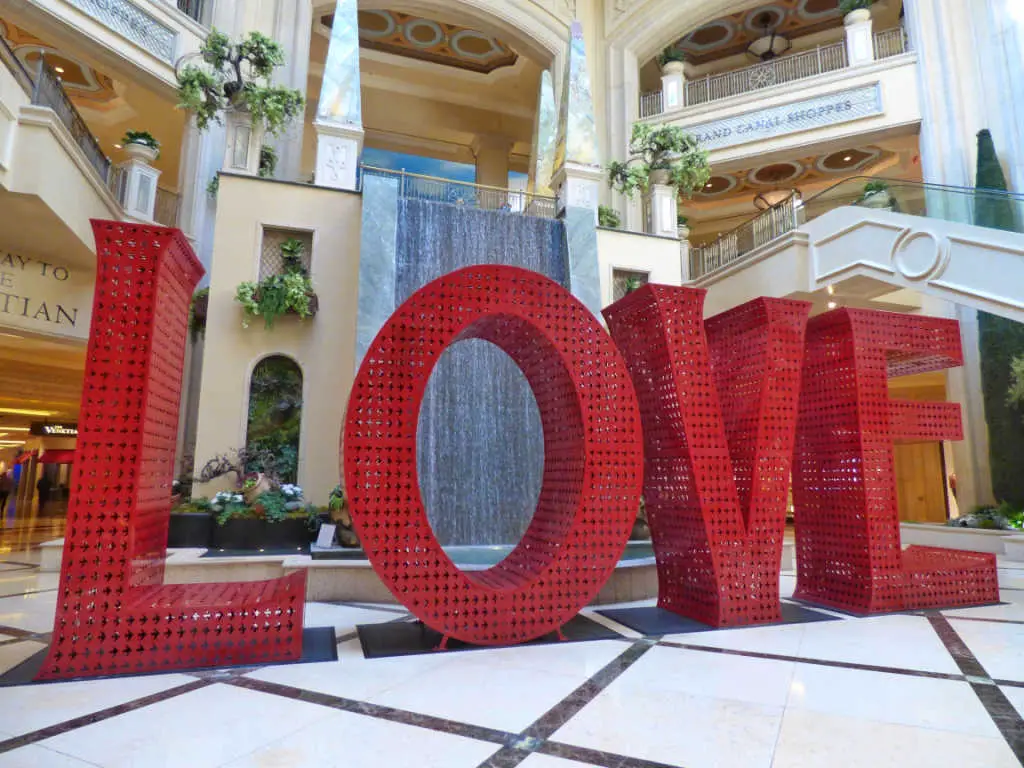 The iconic fountain is near the Grand Canal Shoppes and offers some tranquility from the Las Vegas Strip and casinos. Be sure to look for the LOVE display for a pretty photo opportunity.
5. The Mirage Volcano Show
While some consider the Bellagio Fountain Show the most beautiful, the Mirage Volcano Show is the most exciting. Spectators can feel the fiery heat as loud tribal music sets the scene for a dramatic volcanic eruption.
Sadly, after 30 magical years, the Mirage and its Volcano Show will soon be a part of Las Vegas history. In December 202, MGM sold the property to Hard Rock Hotels and a complete renovation is expected in late 2022.
Check This Out ⇒ 🤘 3 Cheap But Very Nice Hotels in Las Vegas
6. The Mirage Aquarium and Rainforest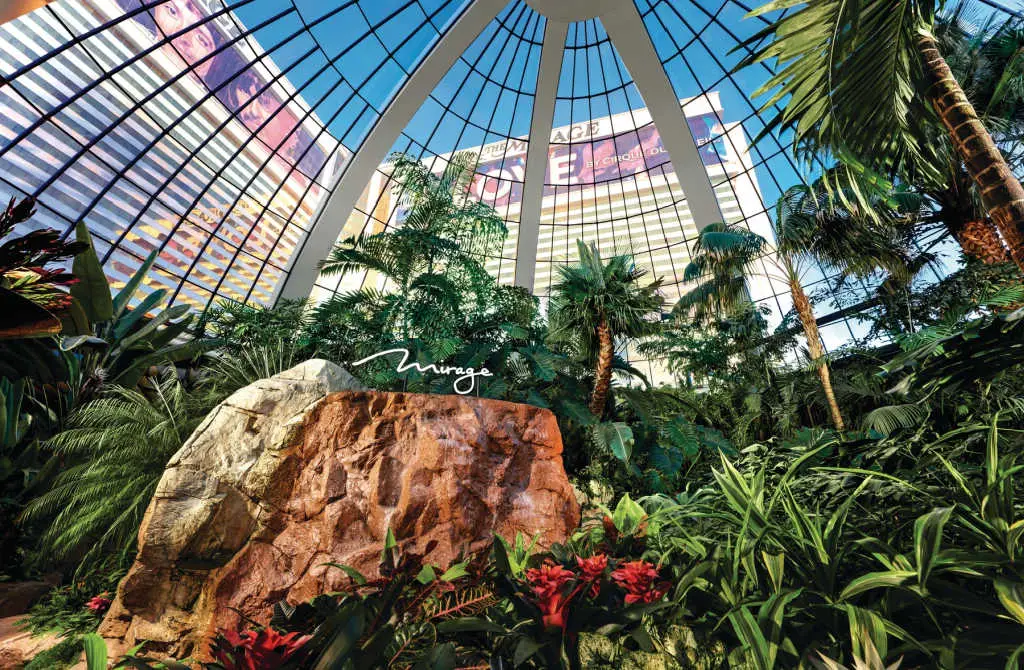 Fans of the Chevy Chase classic "Vegas Vacation" will want to stop for a quick tour of the Mirage atrium, filled with tropical gardens and a 20,000-gallon saltwater fish tank all housed under a 100-foot dome. The palm trees and greenery are so lush that it smells like a breath of fresh air.
These Are the Places We Stay ⇒ 🤑  7 Cheap Las Vegas Hotels on the Strip – Hit the Jackpot!
7. Treasure Island
In the spirit of something that would pique the interest of a pirate, Treasure Island holds areal unique treasure—an item thousands of years old. Located near the cashier cages, a real woolly mammoth tusk with Chinese carvings that took hundreds of years to complete sits in an enclosed case.
8. The Wynn Atrium and Carousel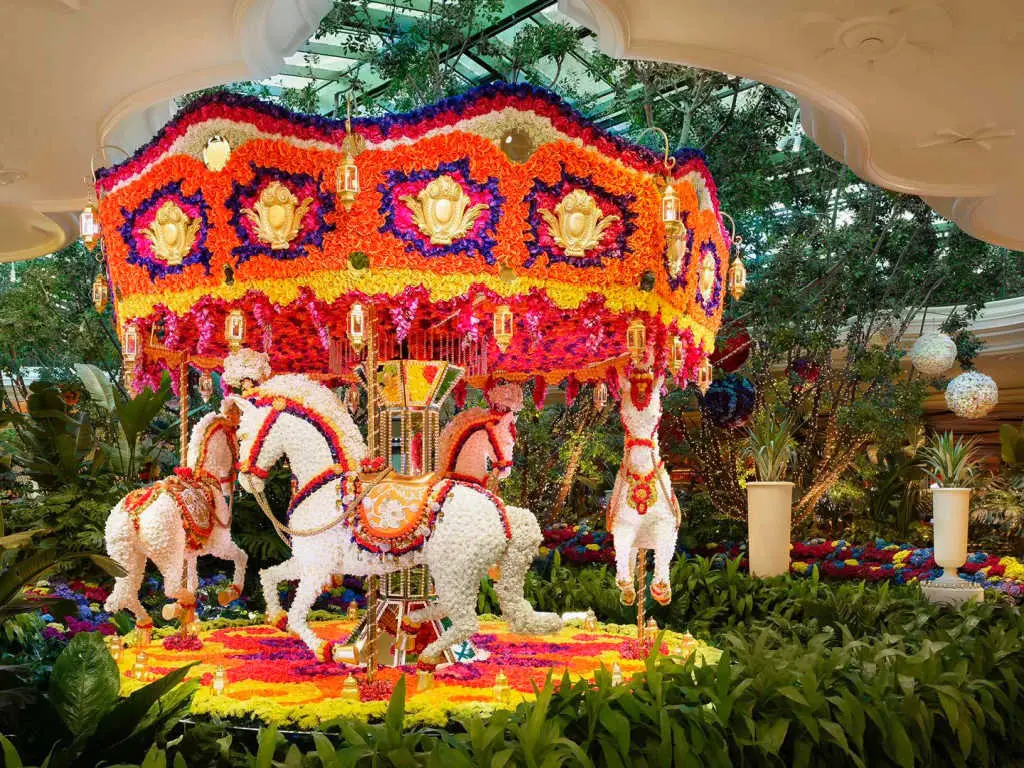 As one of the most elegant resorts on The Strip, Wynn's Carousel of Flowers is an opulent creation of over 110,000 fresh flowers. Considerably more serene and less visited than the Bellagio Gardens, the resort's living floral gallery is a great place to stop and smell the roses.
9. The Wynn Lake of Dreams Show
Deemed the "The Strip's most spellbinding experience," the Wynn's Lake of Dreams Show blends colorful puppetry, robotics, state-of-the-art lighting, and an immersive soundtrack to create one whimsical water attraction. The world-class production team combined 5,500 LED lights, a 90-foot waterfall, and updated technology to create one whimsical water show.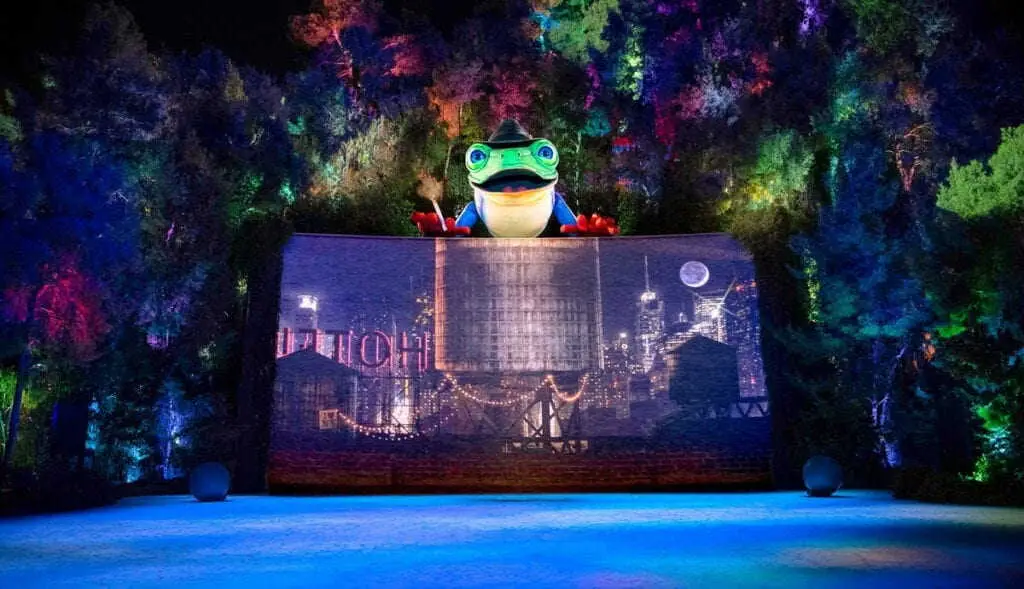 The Lake of Dreams Show is complimentary and runs nightly every half hour beginning at dusk. However, the best way to experience it may be with the signature Lake of Dreams cocktail on one of the resort's outdoor viewing patios.
10. Paris Las Vegas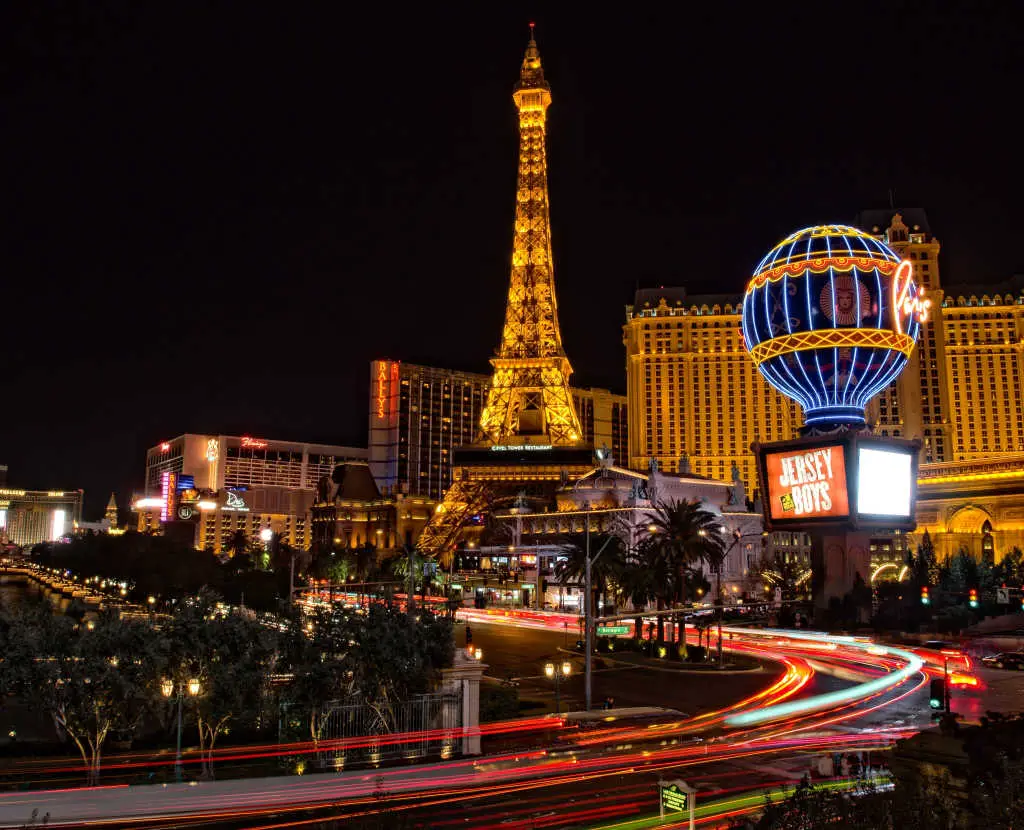 There's no better source of sparkling lights in Vegas than from Paris Las Vegas. Inspired by the Eiffel Tower's Illuminations show in France, each night the half-size version offers a free light show every 30 minutes from sunset to midnight.
11. Flamingo Wildlife Habitat – Flamingo Resort
Not often visited due to its hard-to-reach location, the Flamingo Wildlife Habitat is one of the more unexpected Las Vegas attractions. The four-acre garden offers an idyllic escape with waterfalls, streams, exotic birds, and other small animals.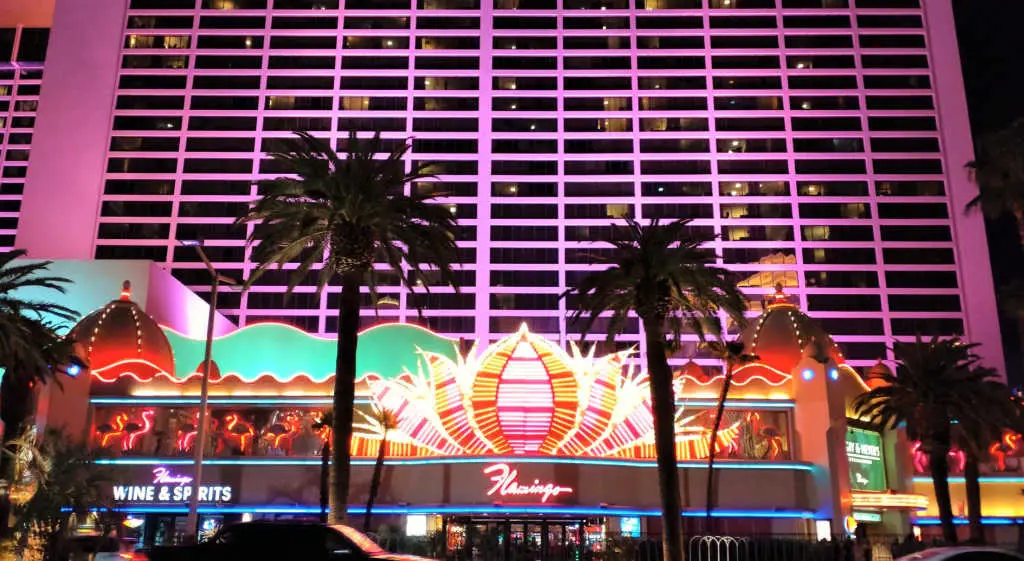 With no cost to enter, this family-friendly attraction is worth a stop to see the resort's pink Chilean flamingos. Keeper talks occur daily at 8:30 a.m. and 2:00 p.m. While there, be sure to look for the Bugsy Siegal Memorial, the celebrity gangster, hidden in the garden.
12. Luxor Sky Beam
Easy to cross off any visitor's list of things to see in Vegas, Luxor's Sky Beam is considered the strongest beam of light in the world. The physics and maintenance behind the light source are massive.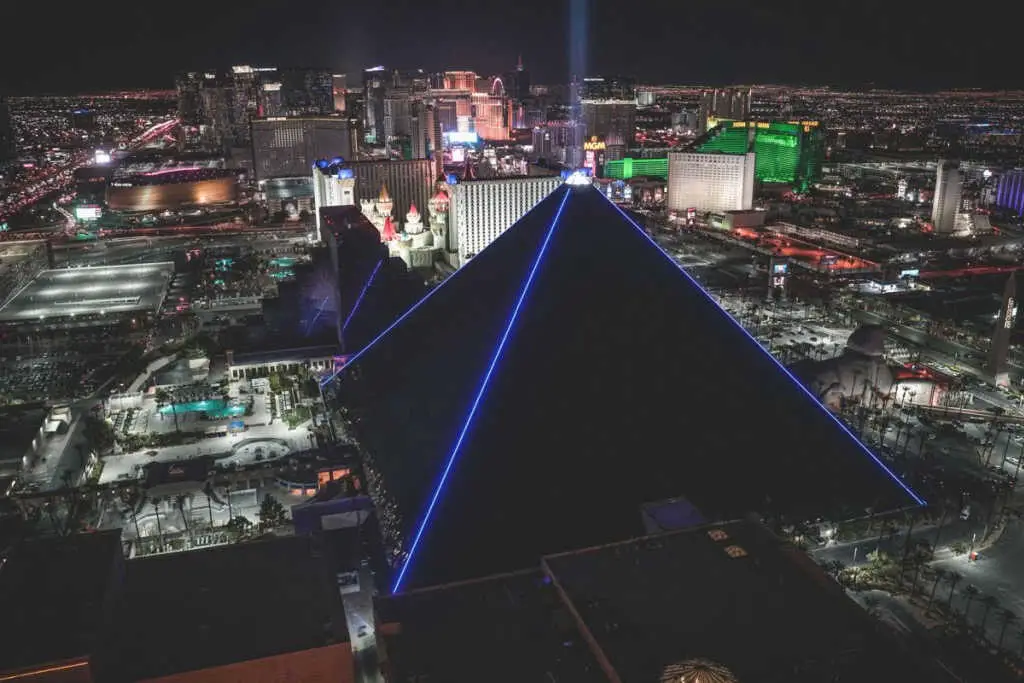 Interestingly, upon completion, no one considered that vermin would become a huge problem for the hotel's technical crew. The massive light attracts an endless supply of moths, insects, and bats creating a constant battle between man vs. bug.
13. The Gallery at Aria
The Fine Art Collection at Aria is the first major art collection to be permanently installed in a public space in Las Vegas. The artists are a mix of acclaimed sculptors, painters, and installation artists.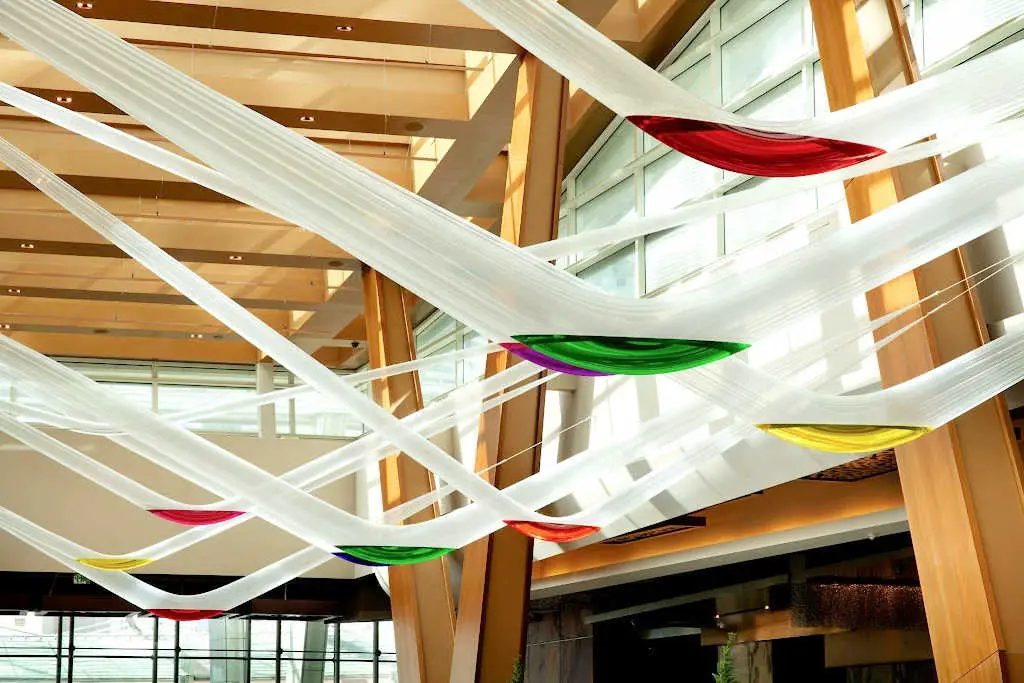 The Aria concierge desk provides an informational pamphlet to share more about each piece and artist in the collection. The pieces are cleverly spread out around the Aria property.
14. The Fall of Atlantis at Caesar's Palace
If you find yourself window shopping for luxury brands at the Forum Shops at Caesar's Palace, take advantage of The Fall of Atlantis animatronic show. Located in front of the Cheesecake Factory in the Forum Shops, the 10-minute fountain show features fire, water, and 9-feet tall talking statues.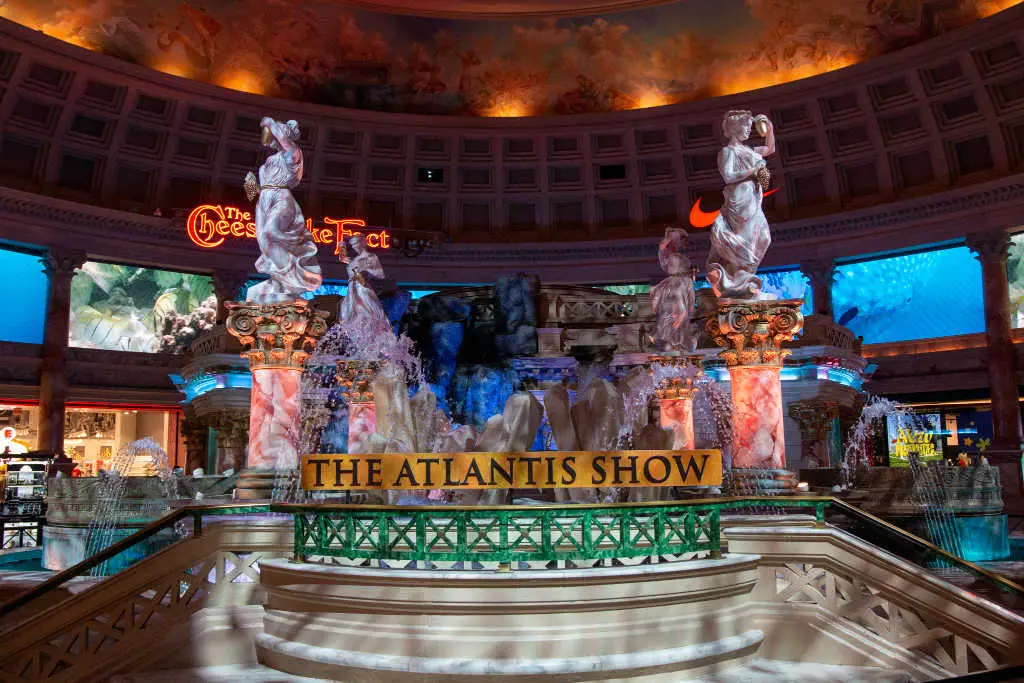 These days, the show appears dated and it's hard to hear the storytelling audio. While there, look for the 20-foot tall winged dragon, the color-changing ceilings, and the nearby 50,000-gallon aquarium nearby. The Fall of Atlantis show runs every hour, on the hour, starting at 11 a.m.
15. Spiral Escalator in Caesar's Palace Forum Shops
There are only a few spiral escalators around the world and Vegas has one of them. Made solely by Mitsubishi, this one-of-a-kind curved escalator is a must-see sight. Fountains, domed ceilings, ornate tile work, and this curved escalator makes the Forum Shops a vision of pure luxury.
16. Bellagio Fountain Show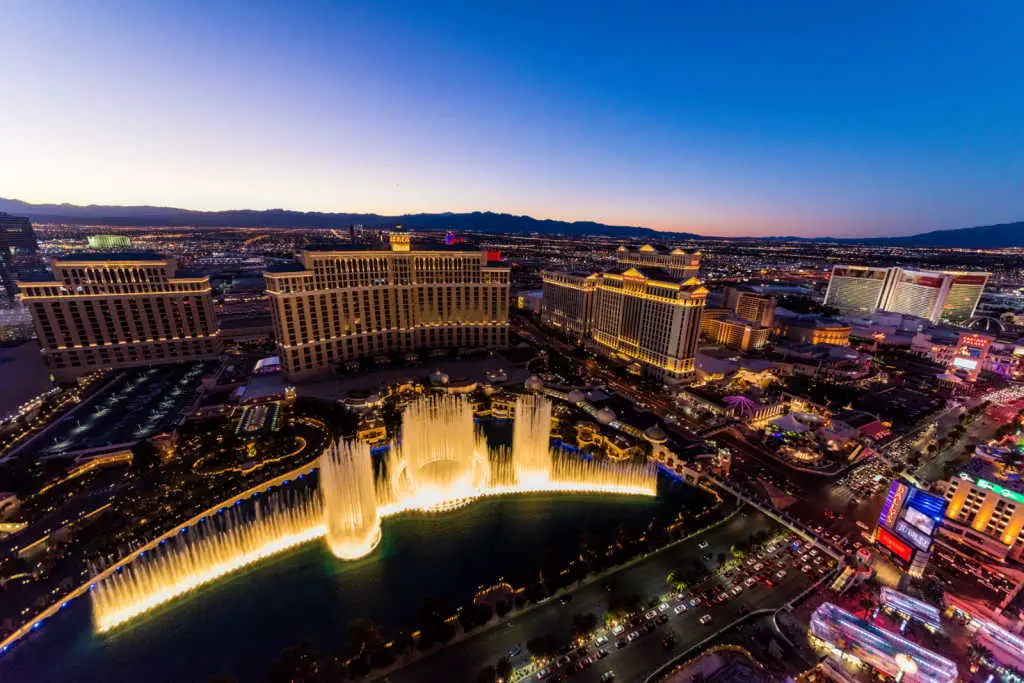 Considered to be the stand-out free attraction on the Vegas Strip, the Fountains of Bellagio is considered the most complex water show ever created. Enhanced by music and light, every performance is said to be unique with each interpretation. The full schedule is online but generally, the show operates from the afternoon until late evening, every 15 or 30 minutes depending on the day and time.
17. Bellagio Conservatory & Botanical Gardens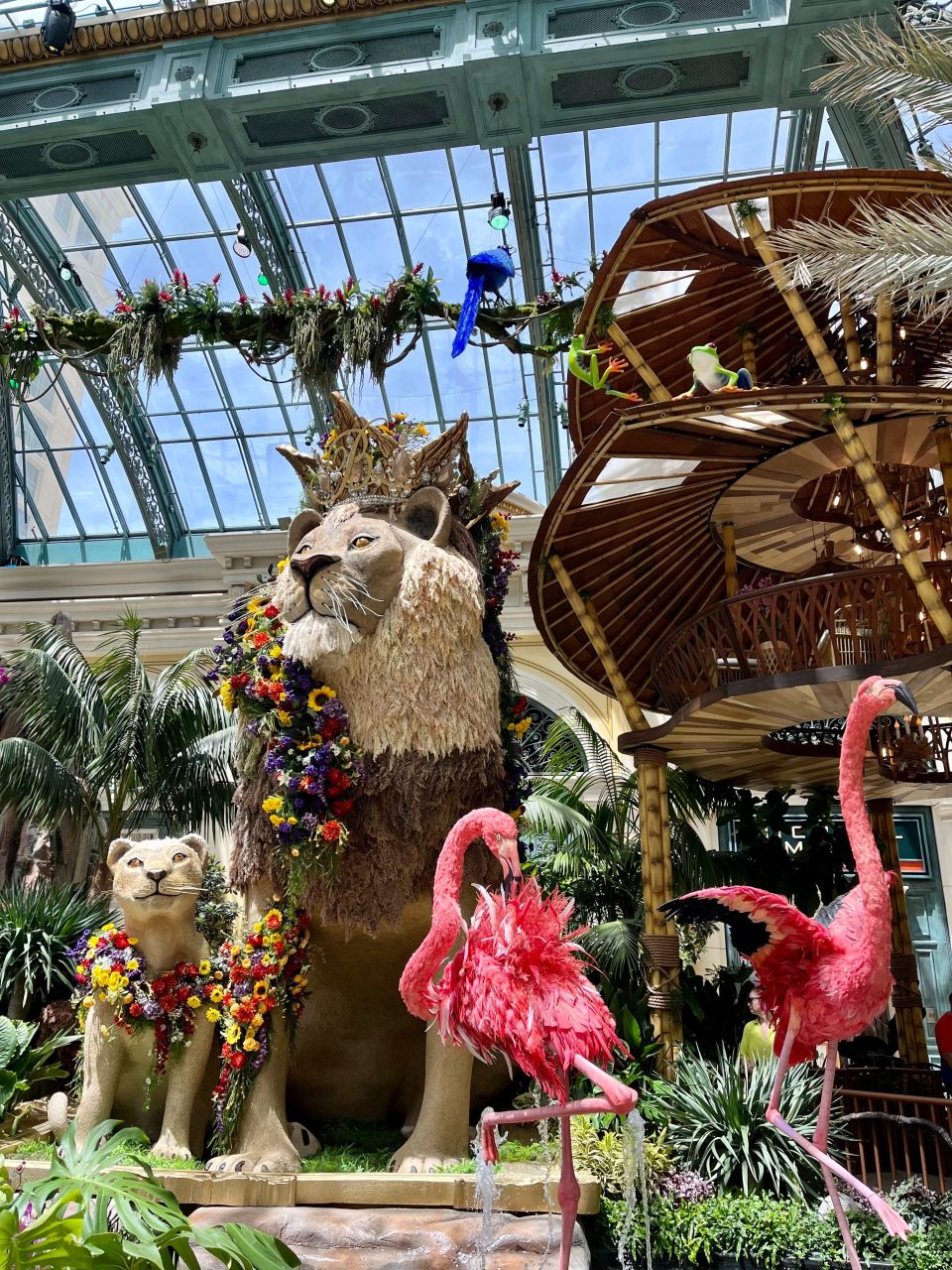 Each season, the Bellagio creates a new spectacular display in the Bellagio Conservatory & Botanical Gardens in a 14,000-square-foot space. Although each creation is considered a seasonal wonder, the winter display is always the highlight with a spectacular Christmas theme.
18. Bellagio Chocolate Fountain
Home to several great free attractions, the Bellagio hosts one of the world's largest chocolate fountains. At approximately 26 feet tall, the fountain took two years to design, engineer, and create for Jean Phillipe Patisserie.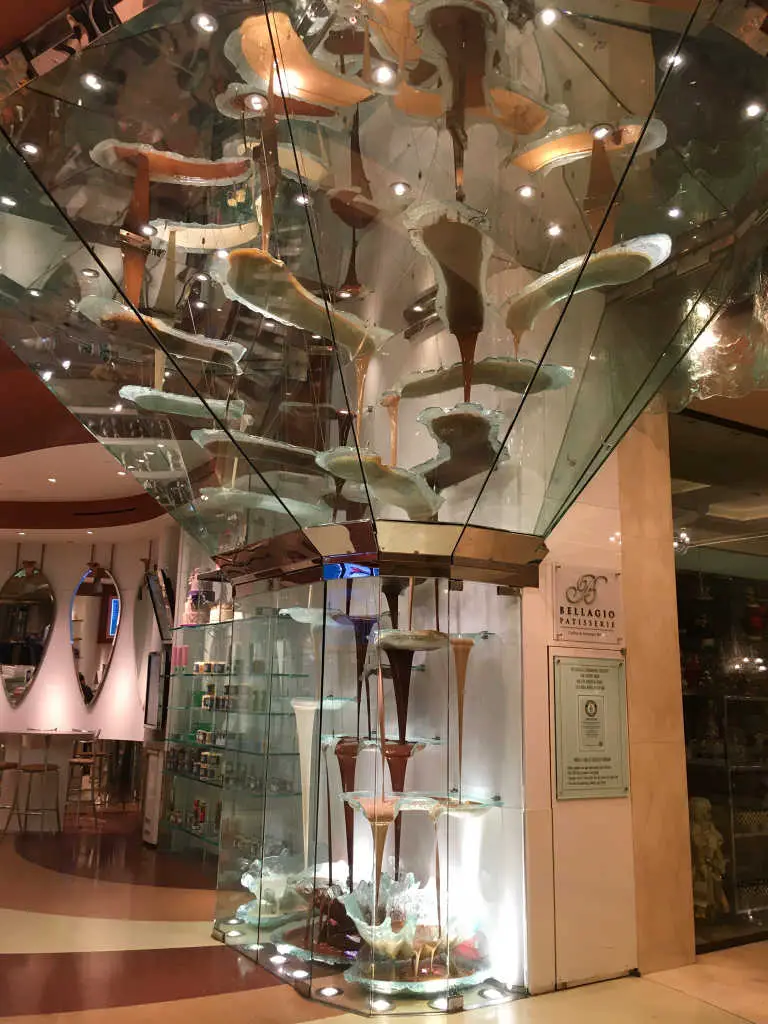 The chocolate cycles at a rate of 120 quarts per minute. The Bellagio Chocolate Fountain use to hold the Guinness World Record for World's Tallest Chocolate Fountain. However, that award now goes to Praline World's 40-foot chocolate fountain in Allhaming, Austria.
19. Bellagio Art
Bellagio's elegant ambiance lends itself to a celebration of fine art. The resort does offer admission-based art galleries on-site. However, budget-savvy travelers can take advantage of the same cultural enlightenment by seeking out the free art exhibits scattered around the resort. For example, folks can marvel at the famed glass ceiling made by sculptor Dale Chihuly that graces the Bellagio lobby.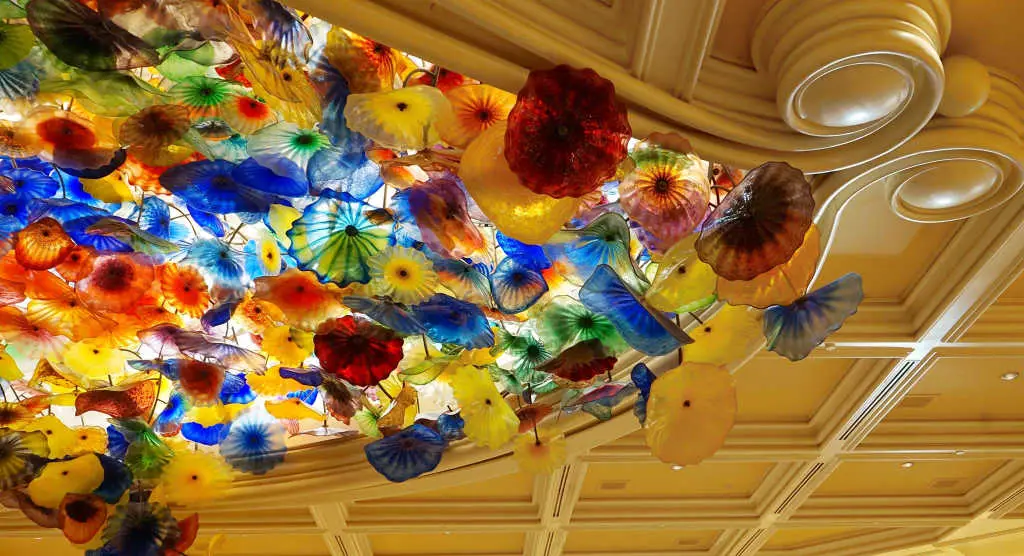 Additionally, located outside the "O" Theatre Lobby, Richard MacDonald's sculptural works are simply magnificent. His 50 bronze statues, some over 8 years in the making, were inspired by the athletes who perform in Cirque du Soleil shows across Las Vegas.
20. Planet Hollywood Walkway Viewpoint
Some tourists come to Vegas and spend hundreds of dollars trying to capture the best view. However, unbeknownst to many, the Planet Hollywood Walkway has one of the best-unobstructed views of the Las Vegas Strip. Located near the mid-point of the strip, the nighttime views are amazing and completely free.
21. Indoor Rainstorm at Planet Hollywood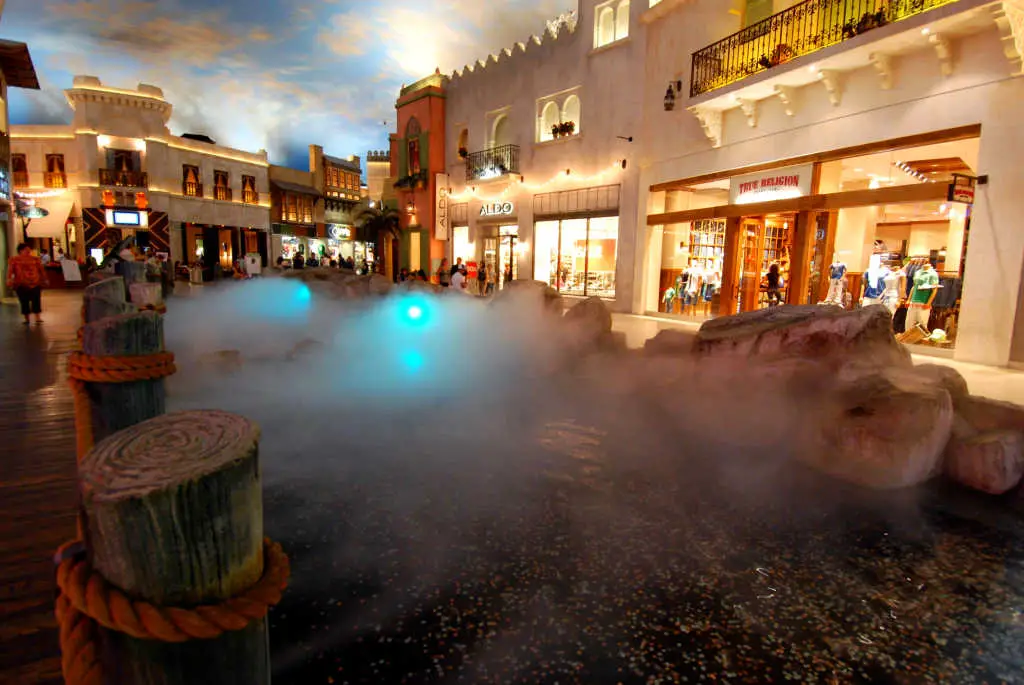 Considered a weather spectacle, visitors can experience an indoor rainstorm at the Miracle Mile Shops in Planet Hollywood. Fog, claps of thunder, lightning, and rain make for a dramatic experience. The attraction runs from 10 a.m. to 11 p.m. daily, at the top of the hour Monday to Thursday, and every half hour on Friday through Sunday.
22. Bally's Swarvoski Starburst Illumination Show
Located at the Bally's Grand Bazaar Shops, the Swarvoski Starburst has a free illumination show that is open to the public. The starburst sparkles with 900 crystals and 1800 LED lights and weighs 4000 pounds. Some consider it a mini-Times Square celebration that sparkles 365 days a year. The show runs every evening from 9 a.m. to midnight.
23. Welcome to Las Vegas Neon Sign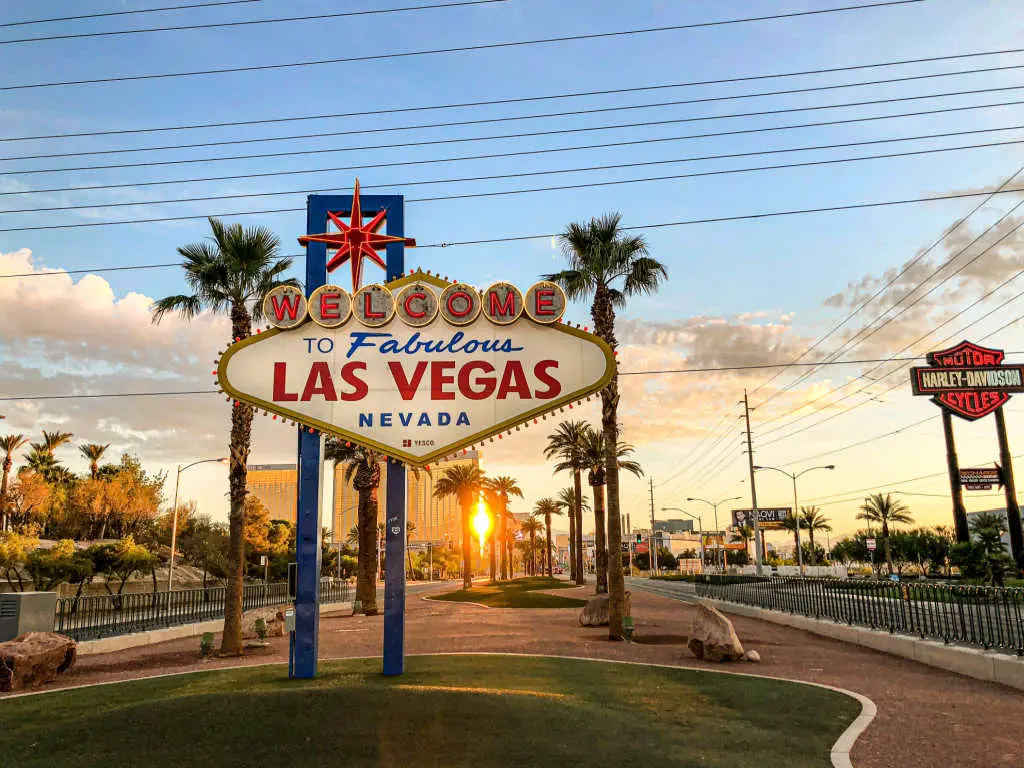 Located just south of Mandalay Bay, a snap at the iconic Welcome to Las Vegas sign is probably the best free souvenir in the city. Now with free, easy parking, the attraction is open 24 hours a day.
24. The (Self-proclaimed) World's Largest Gift Shop
With plenty of parking, the World's Largest Gift shop offers 40,000 square feet of souvenir shopping fun. In fact, just about every kitschy souvenir imaginable can be purchased here.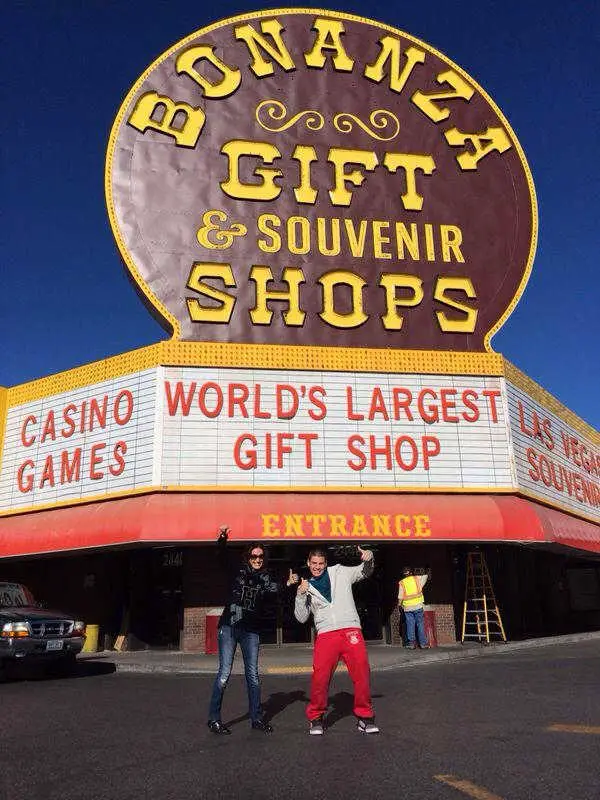 Popular items include 2-year Las Vegas-themed wall calendars, shot glasses, and playing cards. Be advised, that parking is for store shoppers only. If you leave your car here and venture elsewhere, you will be towed.
25. GLOW – Resorts World Facade LED Show
In a way to outshine other Vegas properties, Resorts World decided to take the concept of a free Vegas show to a whole other level. Described as "unique show capsules," GLOW offers 10 different visual performances that transform the building's entire facade into a massive digital storytelling display.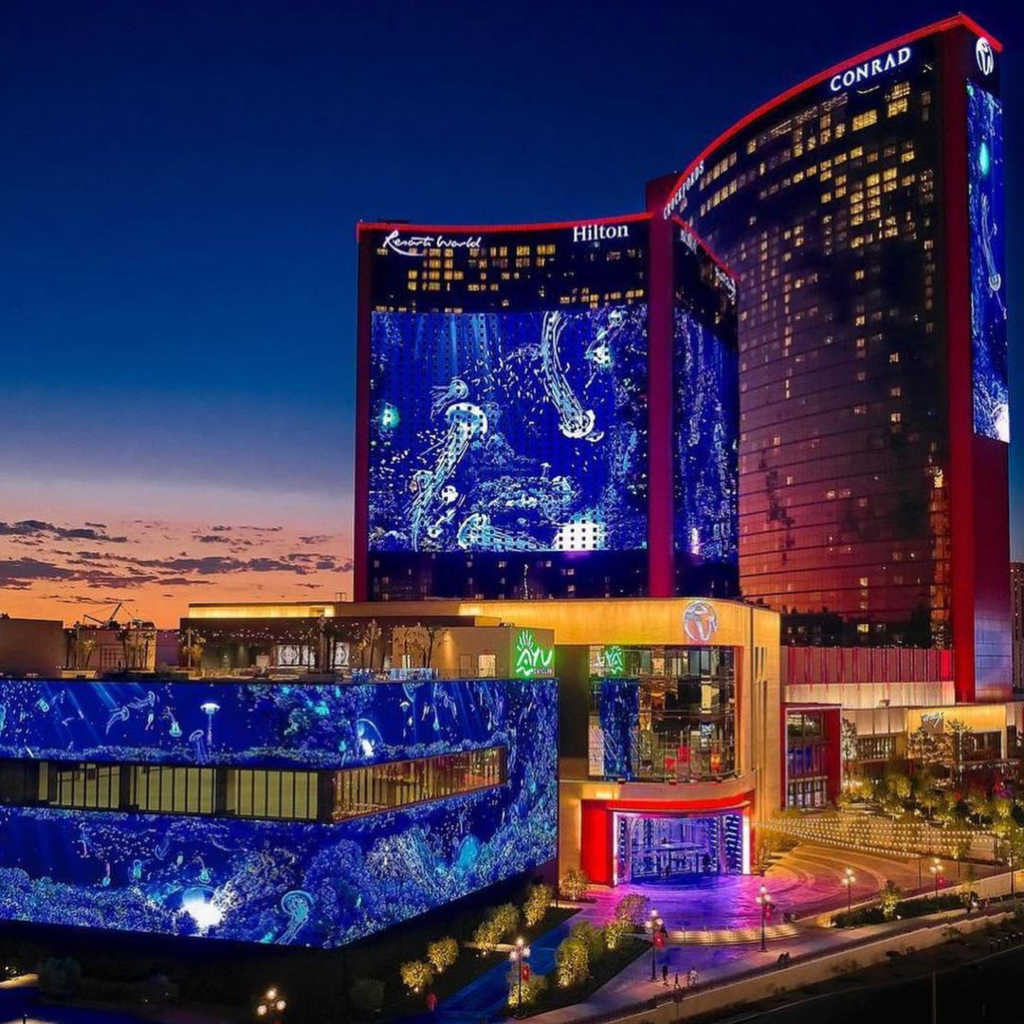 The LED performances run daily, every hour on the hour, from noon to 1 a.m. They can be seen from the hotel's West Tower, East Tower, and the Zouk Nightclub facades.
26. 50-foot LED GLOBE – The District in Resort World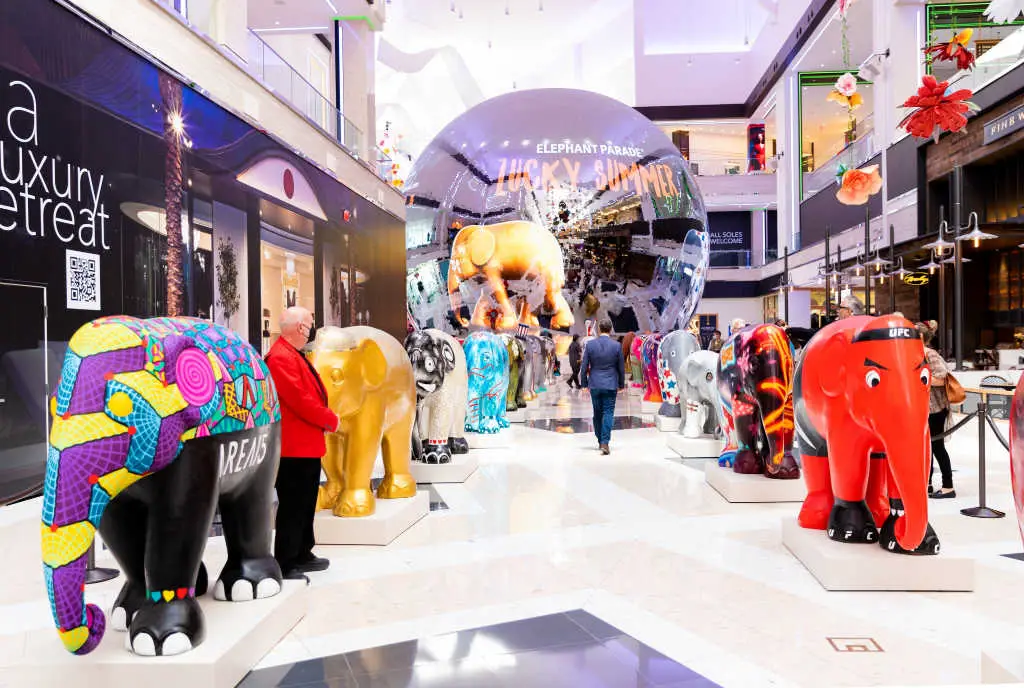 Inside Resort World, a 50-foot LED Globe is considered a part of the hotel's digital storytelling displays. The massive sphere sits in the resort's retail shopping complex called The District. It features five different shows presented 24 hours a day.
27. Art Tour at Resort World
Opened in 2021, Resort World is one of the newer resorts on the Vegas Strip. The Asian-inspired resort celebrates its eclectic art tour featuring a variety of works, such as pieces by Andy Warhol and even Tea Bag Art, a 3D portrait comprised of 20,000 dyed tea bags.
28. Las Vegas Blvd. Gateway Arches and Matching Showgirl Sign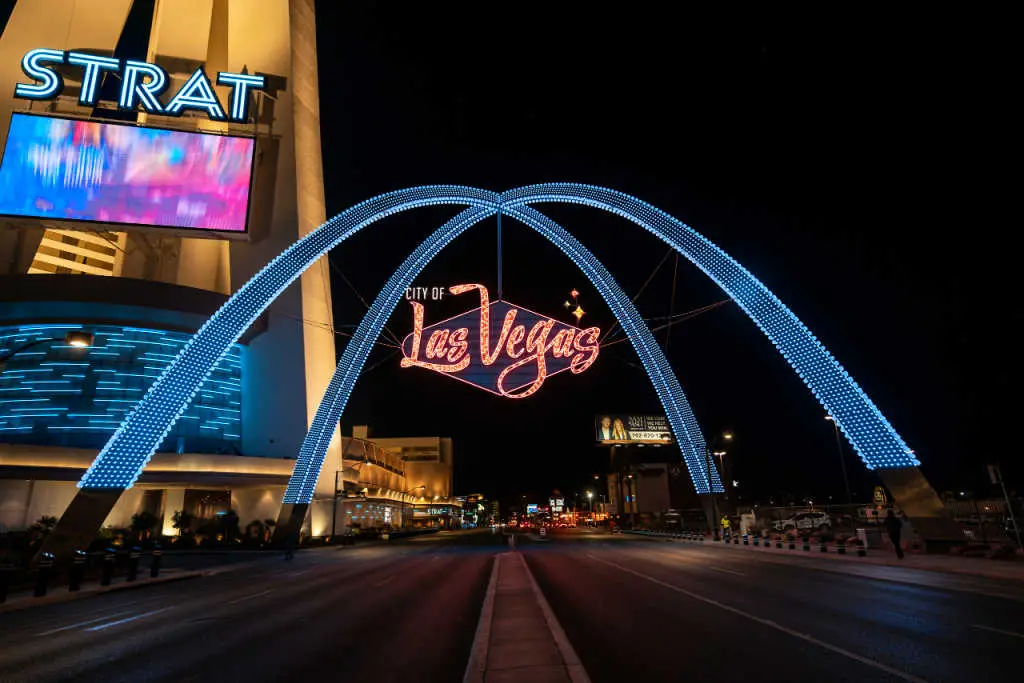 After the original "Welcome to Downtown Las Vegas" sign was destroyed by a car wreck in July 2016, the City of Las Vegas made plans for a new way to signal that people were entering the historic downtown. In 2020, the $6.5 million archway was erected. Nearby, a showgirl sign compliments the 80-foot tall arches. City officials claim that this selfie spot outweighs any other place in Las Vegas.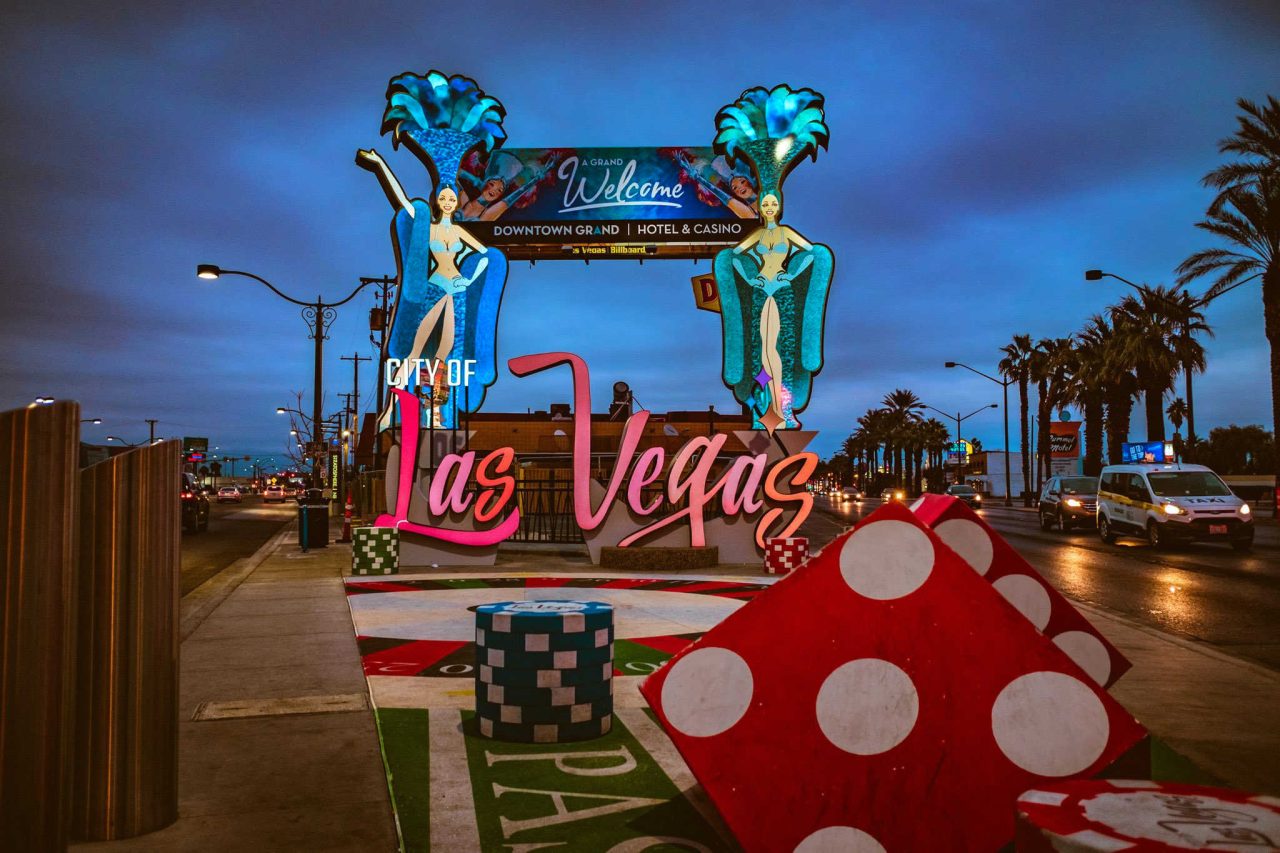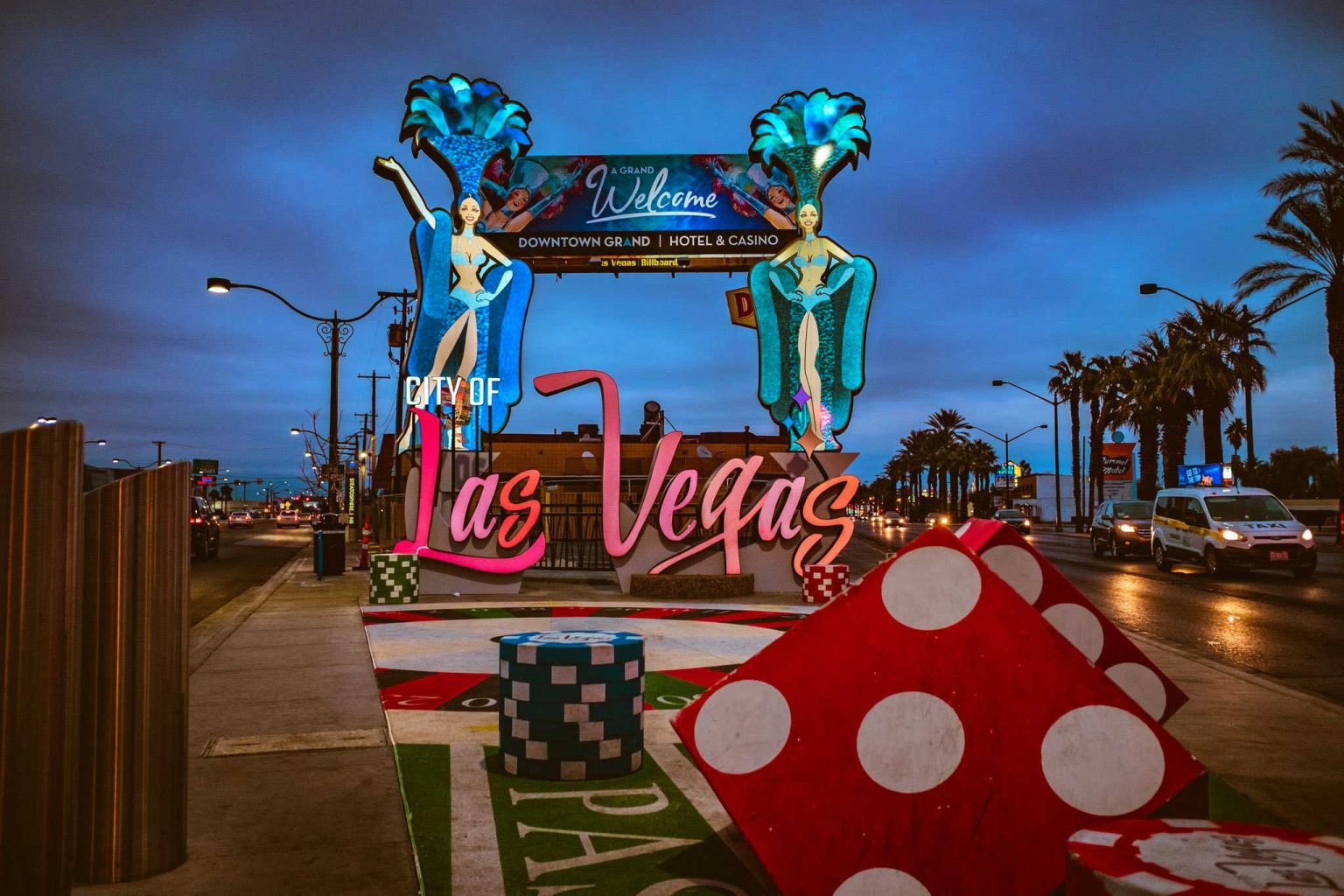 The archway signals that visitors are officially arriving in the city of Las Vegas.
29. Free Vegas Shuttles and Transportation Options
Driving in Las Vegas can quickly ruin your time in the city. Traffic, aggressive drivers, and congestion often make it impossible to move around quickly. Additionally, drinking and driving is never a good idea, especially with the high presence of law enforcement around the city. Thankfully, many hotels and resorts offer free shuttles that are complimentary for guests.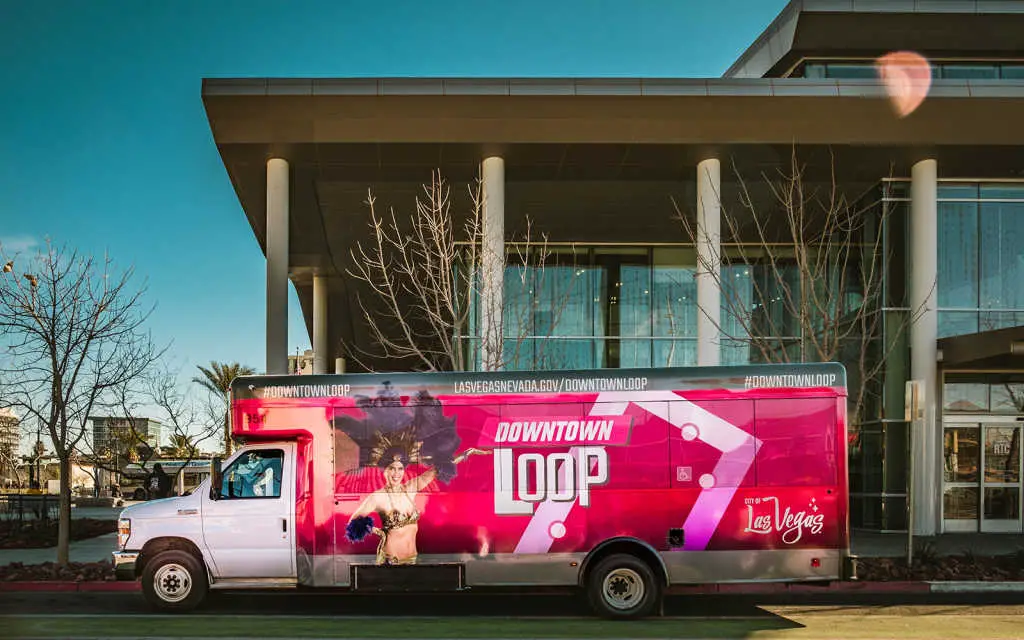 Additionally, the city offers a free public shuttle service called the Downtown Loop. It runs Monday through Thursday from 11 a.m. to 6 p.m. and Friday through Sunday from 3 p.m. to 10 p.m. You can track the Downtown Loop shuttle easily by downloading the GoVegas app.
30. Free Hotel Parking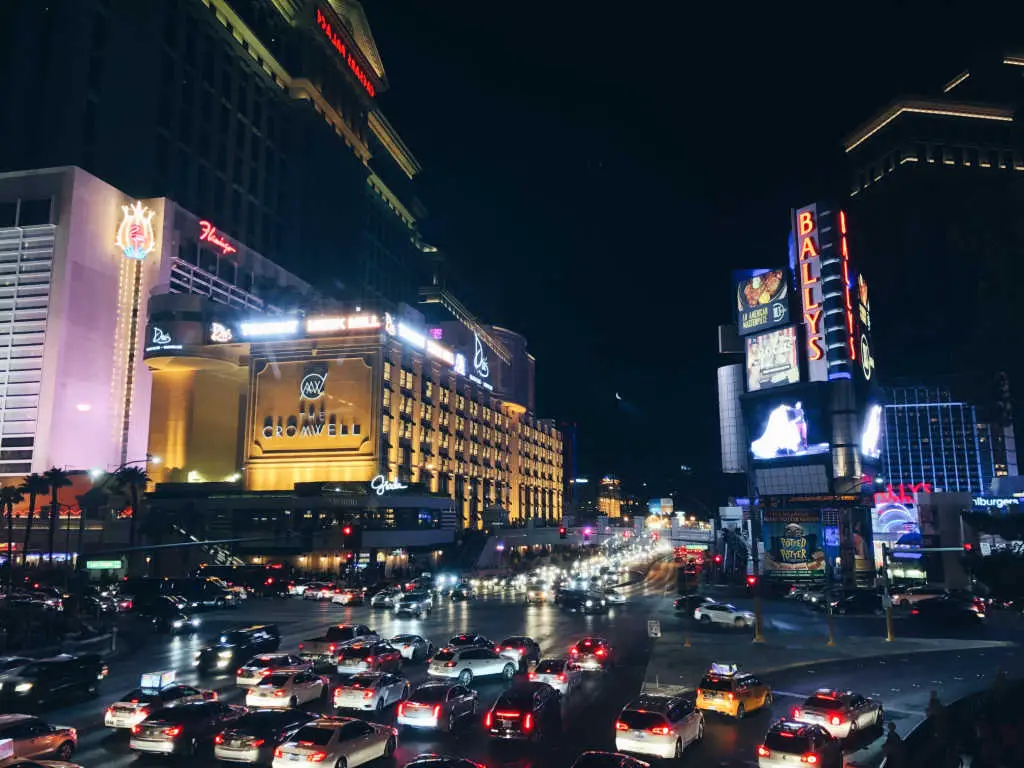 With each passing year, it seems that it's getting exceedingly more difficult to find free parking in Vegas. Below are several major casinos that offer free unlimited self-parking.
Circus Circus
Downtown Grand Las Vegas
Encore
Golden Nugget Las Vegas
Hard Rock
OYO Casino
Palms
Rio
The Orleans
The Palazzo and The Venetian
The STRAT
Treasure Island
Tropicana
Tuscany Suites
Westgate
Wynn
31. Fremont Street Experience
Located off The Strip in Old Vegas, Fremont Street Experience is an attraction all on its own. Gritty, rowdy, and full of sensory overload—some describe it as "the real Vegas." There are street performers, tourist shops, zip lines, and free concerts with famous performers.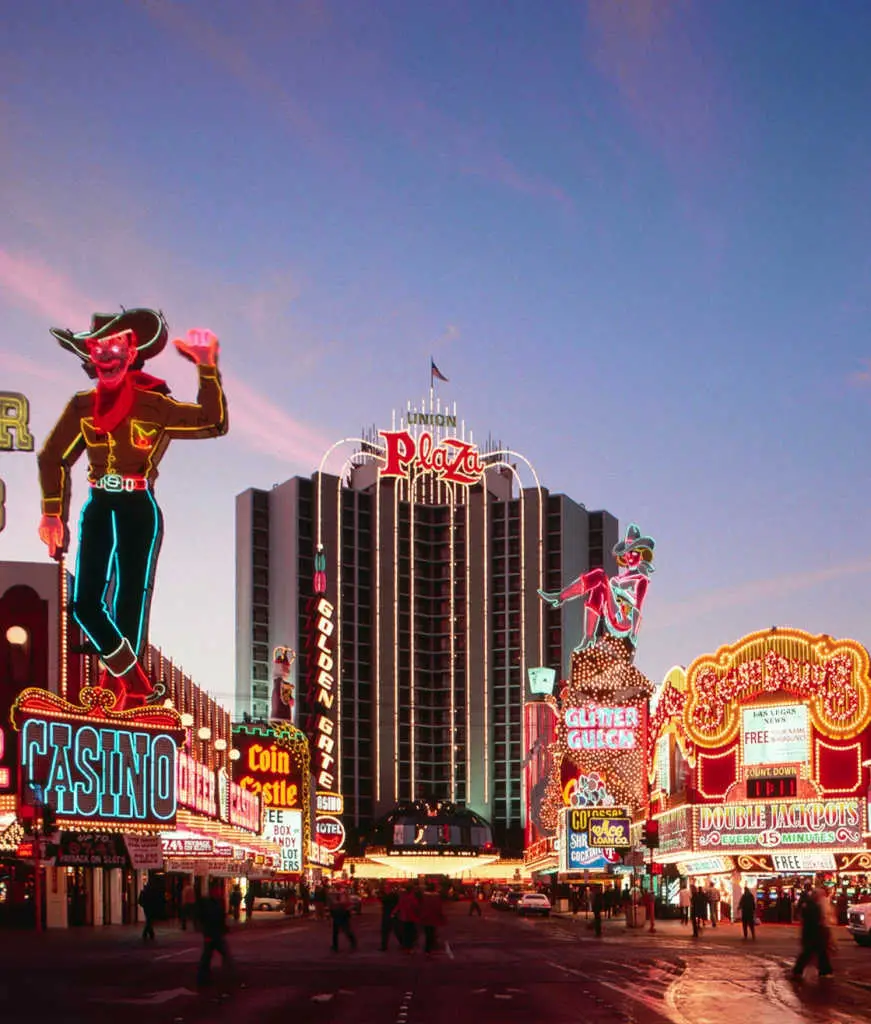 Here you can catch a glimpse of the neon Vegas Vic sign, a Vegas icon since 1951. However, the best attraction is the Viva Vision Light Show. Come after 6 p.m. to witness the largest video screen in the world in action with visual shows featuring the world's best artists.
32. The Mantis at Downtown Container Park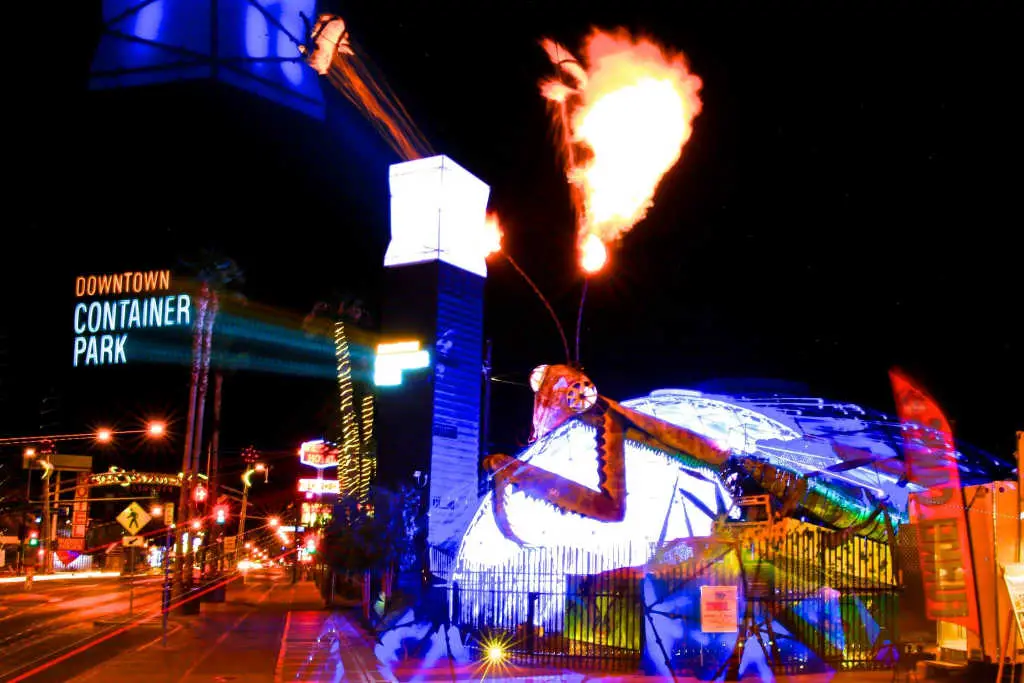 Standing guard outside the city's Container Park shopping district near Fremont Street, The Mantis is a giant 40-foot tall praying mantis that shoots fire from its antennae. Constructed by an aerospace engineer for his wife, the piece first made its debut at a Burning Man Festival, then was moved to Zion National Park before finally finding its home in the Downtown Container Park. Also, the Mantis fire and drum beat show begins at dusk.
33. First Telephone in Vegas
Located just outside Golden Gate Casino, a bronze plaque embedded in the sidewalk marks the site of the very first phone in Las Vegas. The 1907 phone was wall-mounted and hand-cranked and the telephone number was 1.
34. Downtown Container Park
This unique shopping district features repurposed shipping containers and a huge family-friendly park for children. Additionally, the open-air retail center offers bars, restaurants, and souvenir shops.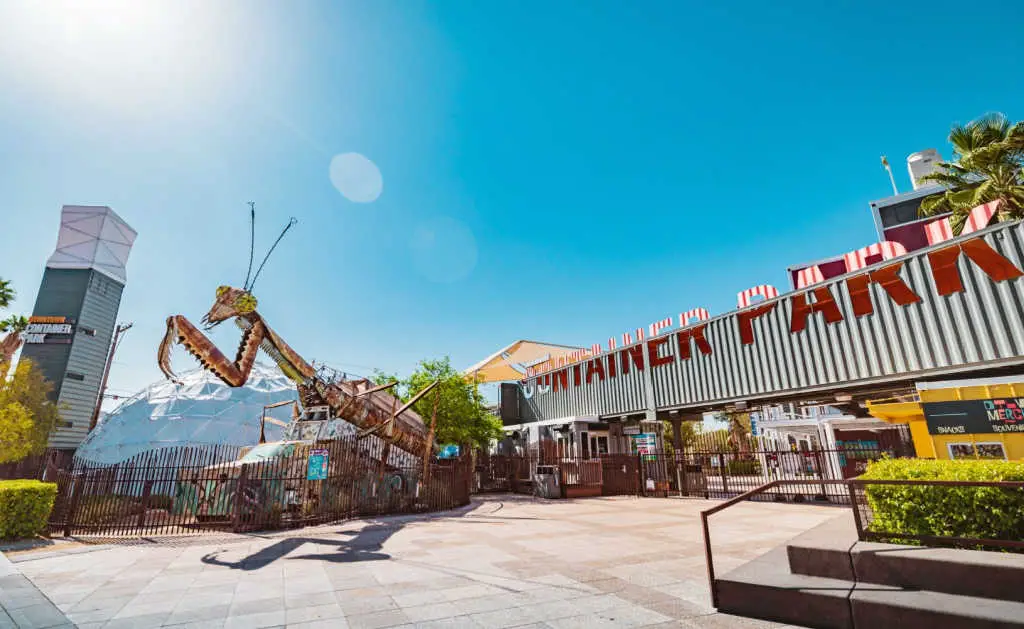 It's a popular place to grab an ice cream cone or a cold drink and relax in the outdoor seating area. Typically quiet during the day, it's best to visit in the evenings when the area is more lively.
35. Shark Tank Waterslide at the Golden Nugget
While on Fremont Street, take time to go to the Golden Nugget Hotel to take a peek at one of the most unique pools in the United States. The hotel has received worldwide recognition for its glass waterslide that runs through a 200,000-gallon shark tank with five species and various exotic fish. Visible from the inside of the hotel, it is free of charge to see.
36. World's Largest Gold Nugget on Display
It only makes sense that the largest gold nugget on display is at the Golden Nugget Casino. Found in Wedderburn, Australia in 1980 by a lucky local with his trusty metal detector behind his trailer home. The nugget's resemblance to a human hand gives it the nickname "The Hand of Faith." This 61-pound chunk of gold is the second-largest nugget discovered in history.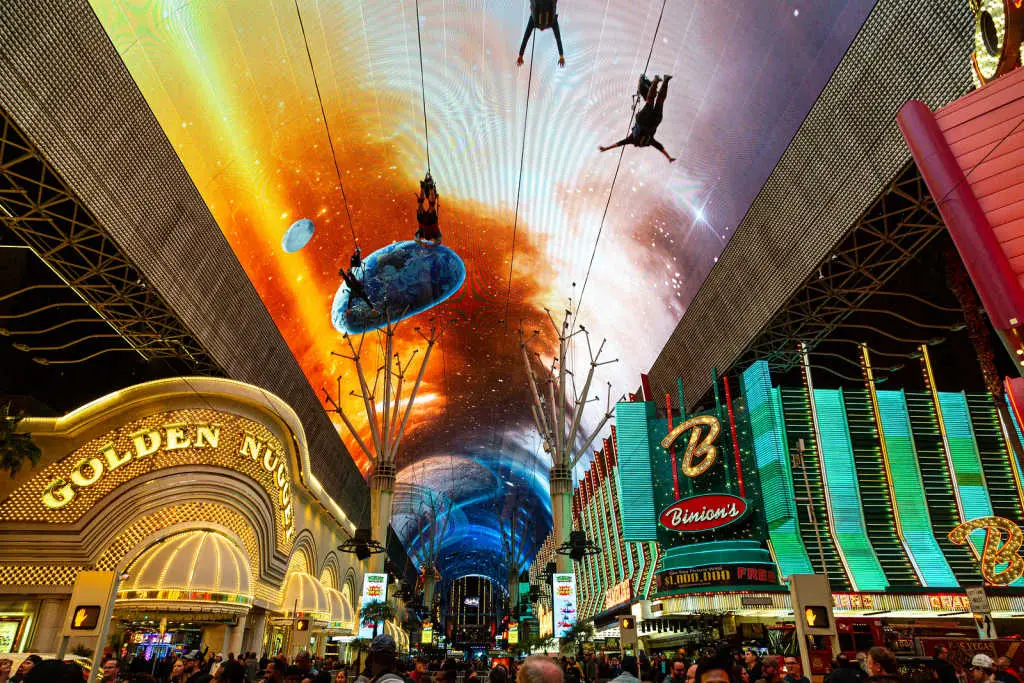 37. Binion's World Series of Poker Signed Table on Fremont Street
Known as "The Place That Made Poker Famous," Binion's Casino hosted the first World Series of Poker game in 1970 before a Poker Room became a Las Vegas staple. Poker fans appreciate seeing the framed table with signatures by several professional poker players.
38. Berlin Wall Urinal at Main Street Station Casino and Brewery
Serving as a reminder of a tumultuous past, over 140 pieces of the Berlin Wall are scattered around the world. In Vegas, the symbolism of a piece being placed behind a urinal does not go unnoticed at the Main Street Station Casino and Brewery. How and why this piece was placed in a restroom is unknown—it was there when the owners purchased the property in the 1990s. Although glass protects the 10-foot wide and 6-foot tall section of the wall, some still take the opportunity to say that they've peed on the Berlin Wall. Security guard escorts are available for ladies who would like to see the piece of history.
39. Neon Martini Glass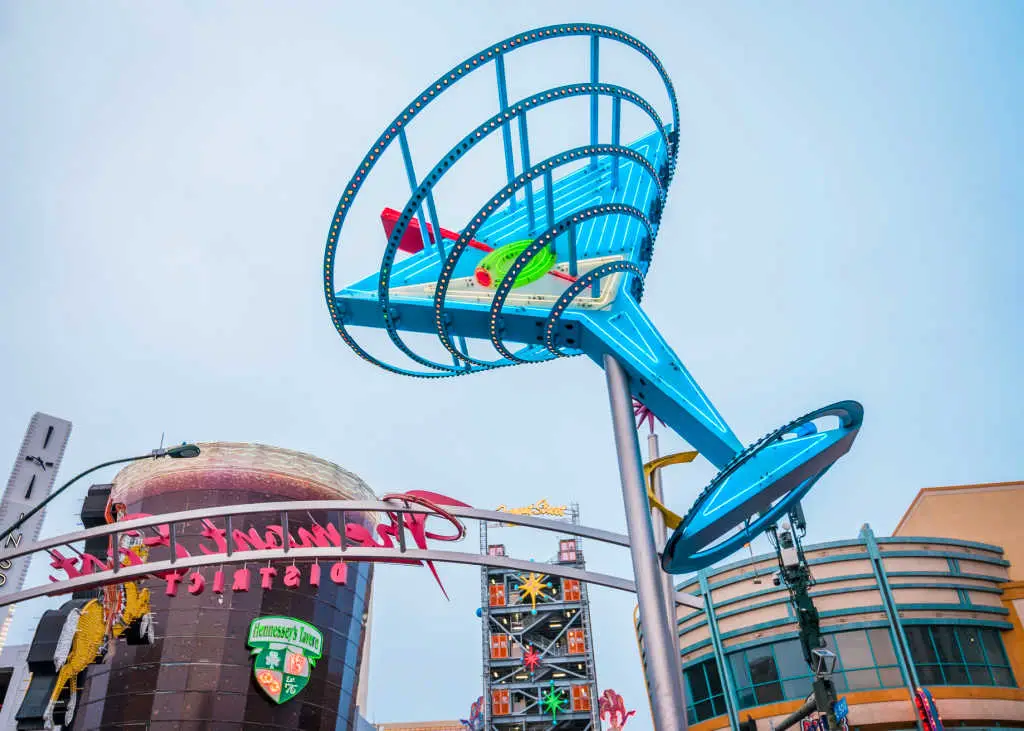 The huge neon martini glass that greets visitors at Fremont East is a dedication to former mayor Oscar Goodman. His love for martinis was so legendary that the city wanted to honor him with a massive version of his favorite cocktail.
40. Silverton Casino Aquarium
Travelers lucky to have their transport can continue exploring outside the Vegas Strip. All a short drive away, these are some nearby attractions that are all free of charge.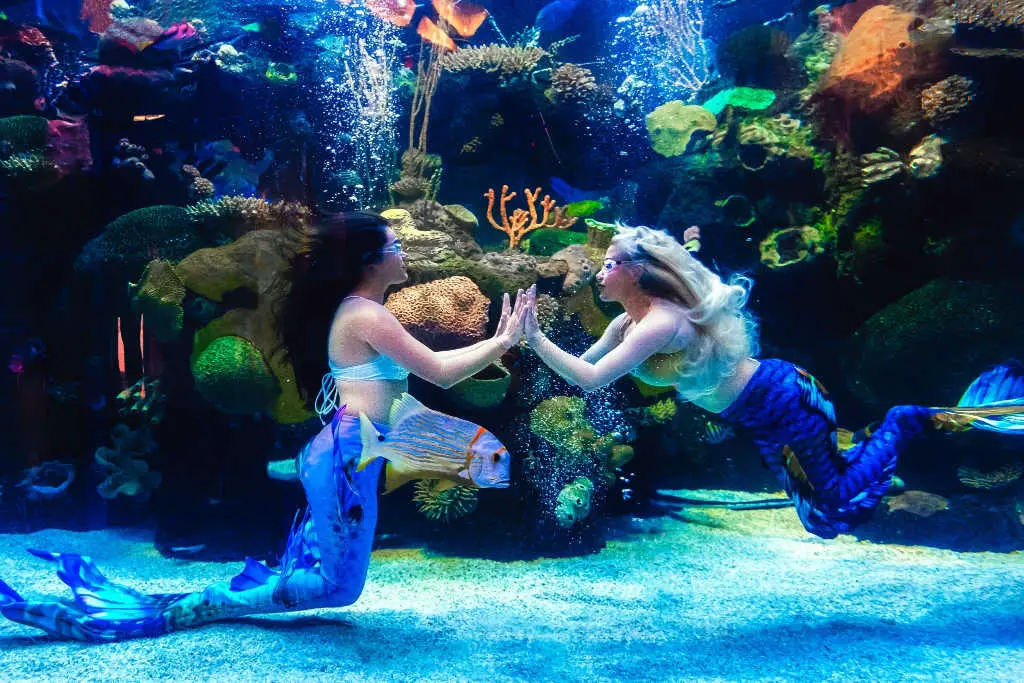 Voted "Best Free Attraction in Vegas," the aquarium at the Silverton Casino is a huge 117,000-gallon tank complete with tropical fish, stingrays, sharks, and real swimming mermaids. Check the schedule for interactive stingray feeds and live mermaid shows that operate daily.
41. Bass Pro Shops Outdoor World Las Vegas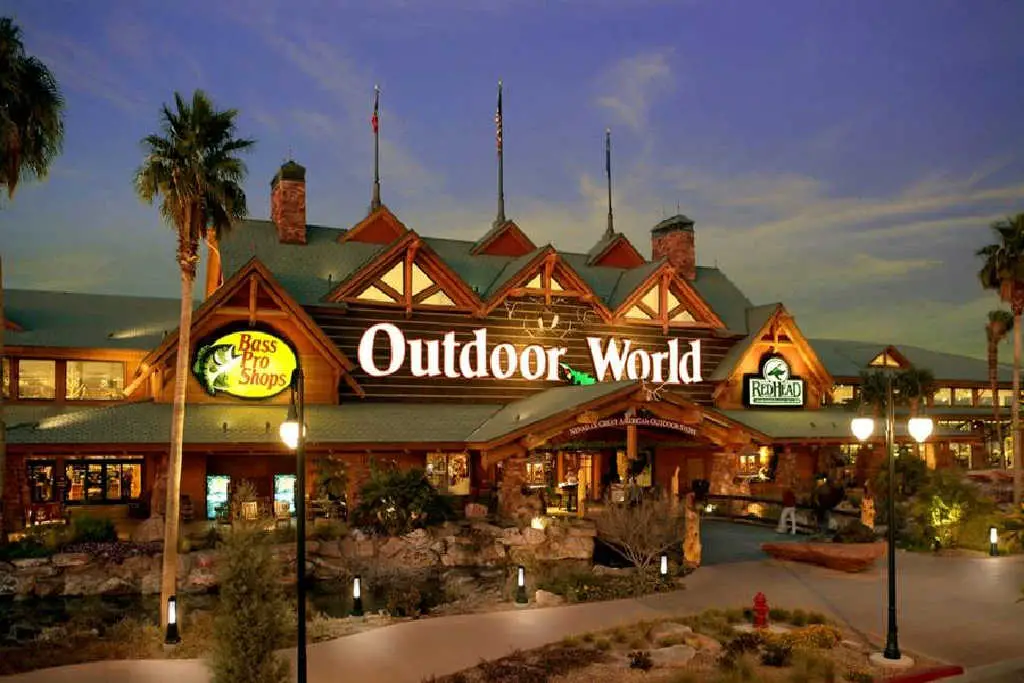 Connected to the Silverton Casino, the Bass Pro Shop Outdoor World Las Vegas is worth a stop for any new visitor. This Bass Pro Shop is popular with international travelers, especially those who haven't experienced such a huge retail store like this before. In addition to massive retail options, there are many great taxidermies and live animal exhibits.
42. History Channel's Pawn Stars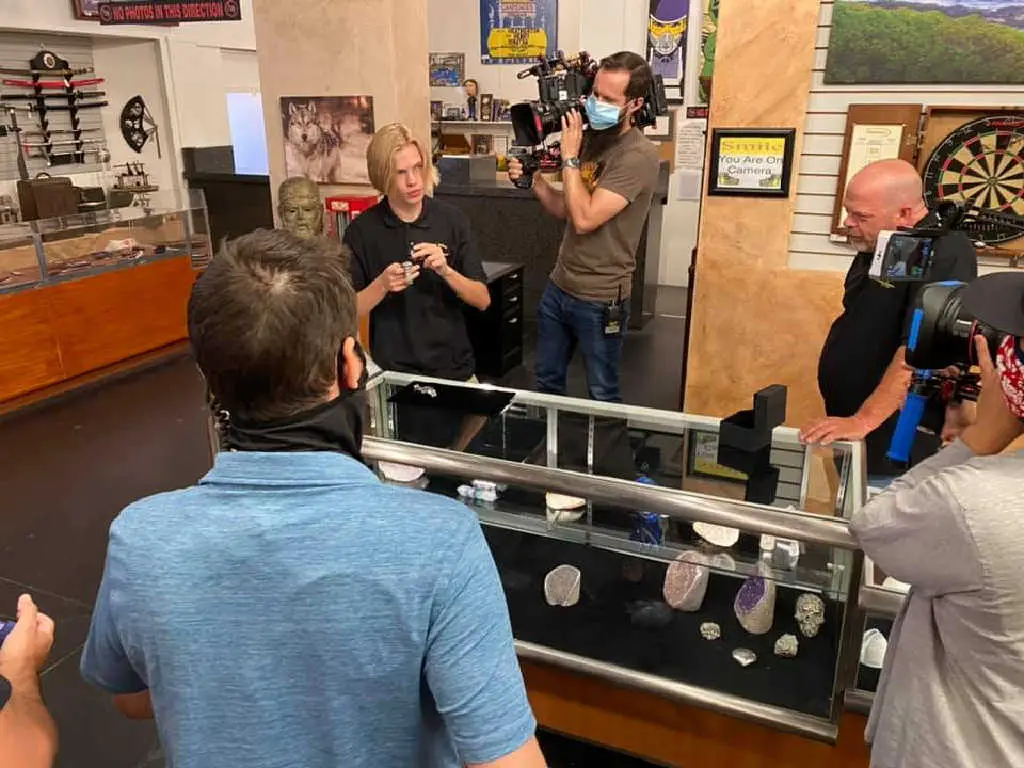 Open to the public, the Gold & Silver Pawn Shop is a working pawn shop where the History Channel films its hit TV show Pawn Stars. There is no cost to park or browse inside. Fans appreciate a first-hand look at where stars Rick Harrison, Corey, and Chumlee film the highly popular show.
43. The Arts Factory
About a 10-minute drive from The Strip, The Arts Factory is a great place for those who love art galleries and creative spaces. This colorful warehouse offers a selection of work featuring about 30 local artists. There is even an art vending machine!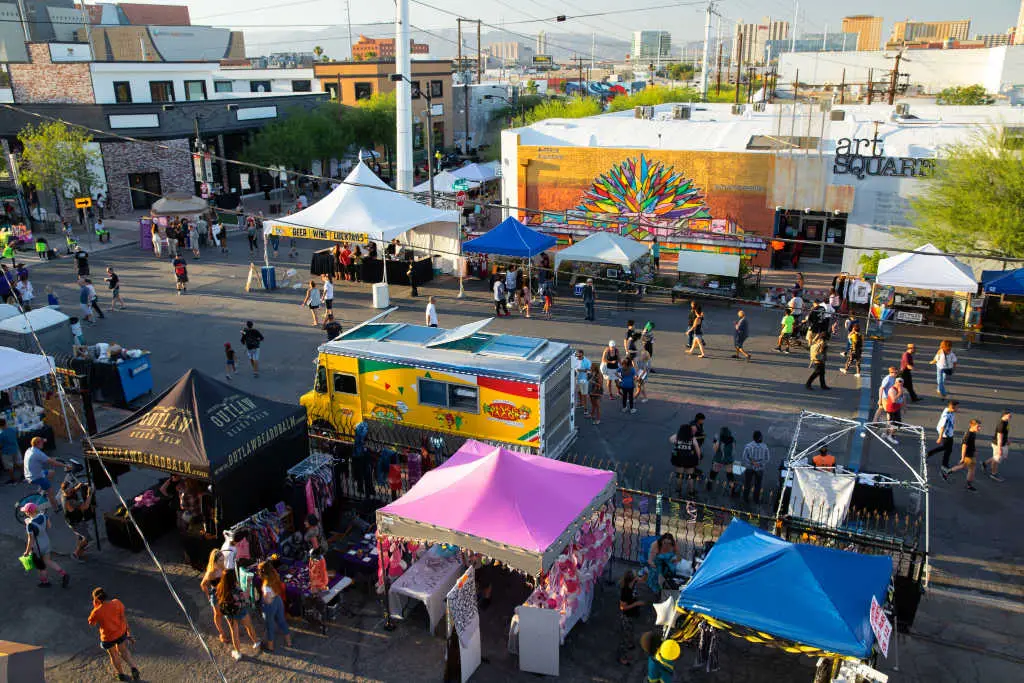 Some locals advise that the best time to visit is during their First Friday events. During the first Friday of each month, the gallery hosts a free festival that celebrates art, food, music, and more. Limited paid parking is available. Therefore, plan accordingly and consider using the city's shuttle service.
44. Sunset Stampede at Sam's Town Hotel & Gambling Hall
Mystic Falls Park is the 10-foot atrium at Sam's Town Hotel. A few times a day, a free show called the Sunset Stampede is presented in the hotel lobby. There are animatronic animals, lights, lasers, and a majestic waterfall. Check the hotel website for showtimes.
45. Free Jazz in the Park Spring Concert Series
Presented by Clark County Parks and Recreation, the city hosts a free Jazz in the Park concert series. Picnicking, blankets, and low-backed lawn chairs are welcome. The multi-day concert series runs in spring before the weather gets too hot to enjoy. Admission and parking are free but tickets are required which are available online on a first-come-first-served basis. The concerts are held at the Clark County Government Center Amphitheater located at 500 S. Grand Central Parkway.
46. Neon to Nature Regional Trail System
To get residents and visitors more active, Clark County has invested in a network of urban trails called the Neon to Nature Regional Trail System. A few trails connect area parks with the largest being Sunset Park to Clark County Wetlands Park.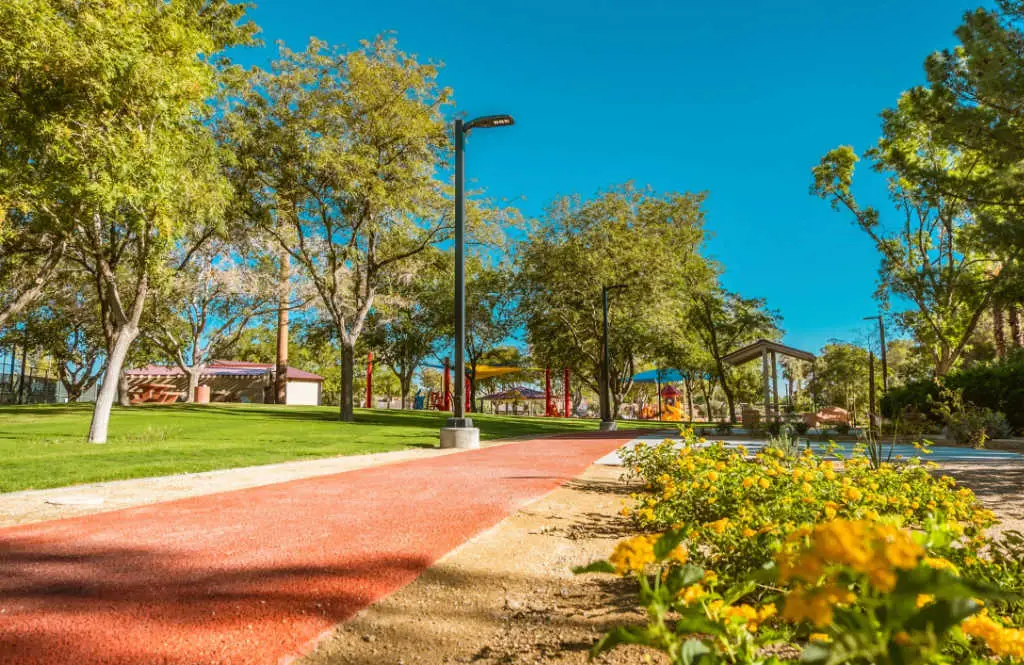 This is a great option to get some movement and physical activity during your time in Las Vegas. There is even a free app to download to help plan your hiking and cycling adventures in the wide number of city parks.
47. Clark County Public Arts
Clark County Nevada offers a magnitude of entertainment and services for those in Las Vegas. As a cultural and creative hub, the Clark County Public Arts community is expansive!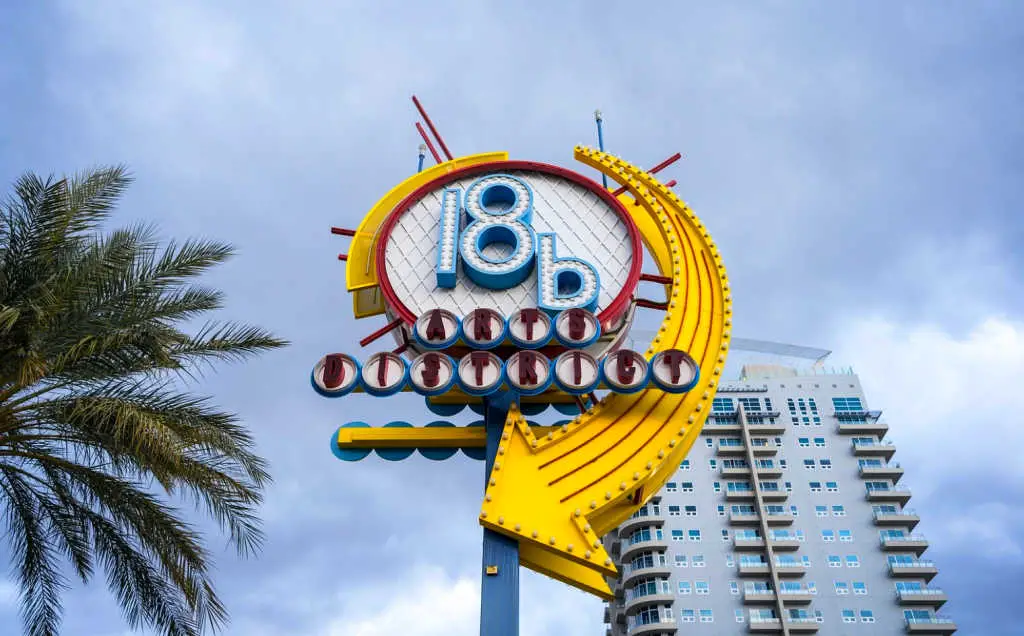 If you're a fan of public art, community outreach, or installment art, then take time to explore the Public Arts tab to open a plethora of free sights to explore. For example, some attractions include the Wetlands Park Sculptures, the Dream Machine Sculpture, and Art Along Flamingo Arroyo Trail.
48. Ethel M Chocolate Factory and Gardens Free Self-Guided Tour
Located in Henderson, about 20 minutes outside, Ethel M Chocolates is a gourmet chocolate factory that offers free self-guided tours. During normal working hours, you can view the chocolatiers and all the machinery at work.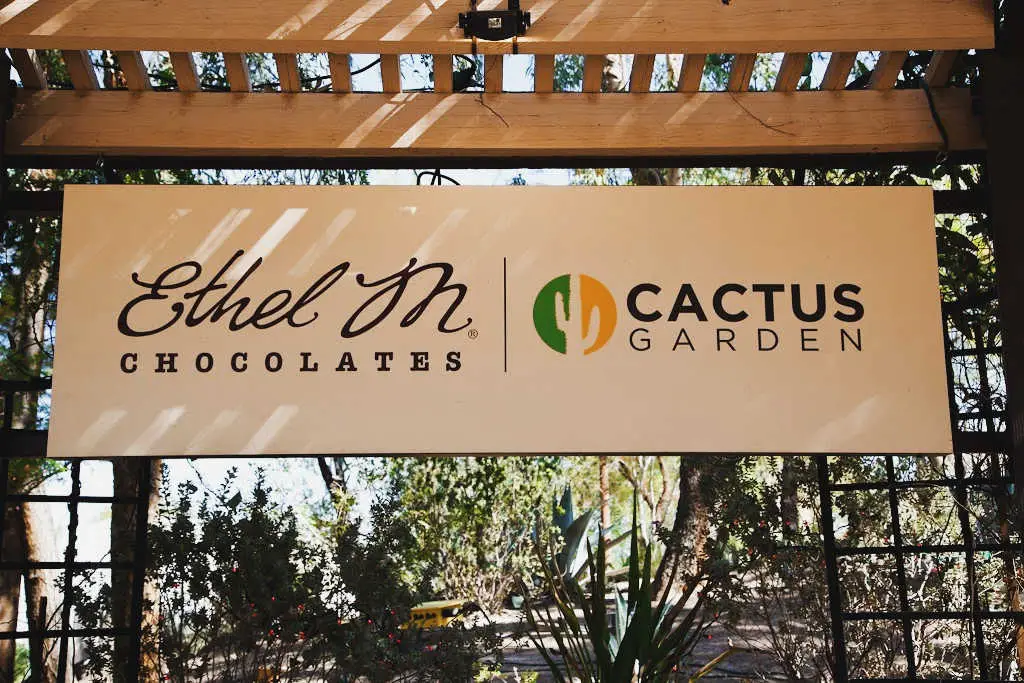 Guests receive a free sample of chocolate too! Additionally, the factory sits on one of the largest botanical cactus gardens in Nevada which are also free to explore. The gardens are most beautiful during Christmas and Valentine's Day.
49. Police Memorial Park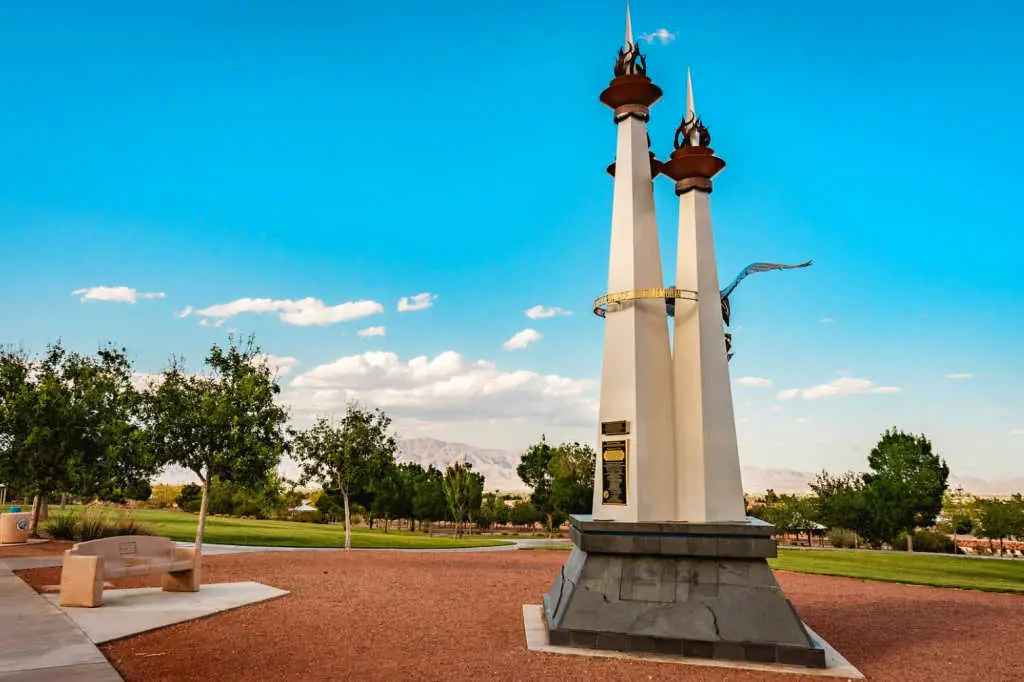 Las Vegas is a community that strongly supports its local police force. The city has a beautiful park strictly and beautifully dedicated to the men and women in blue. Patriots and those involved in public safety will appreciate a stroll through Police Memorial Park.
50. Seven Magic Mountains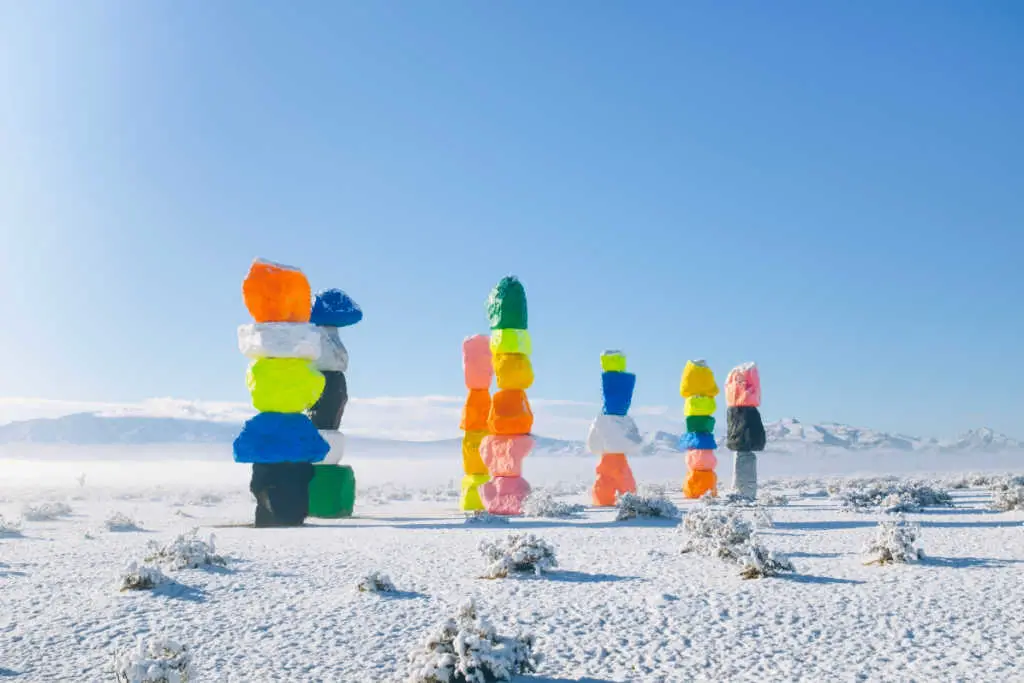 One of the area's most popular destinations for an amazing Instaworthy image is actually outside the Vegas Strip. Seven Magic Mountains is a dramatic neon-colored art installation in the middle of the Nevada desert.
51. Mike O' Callaghan-Pat Tillman Memorial Bridge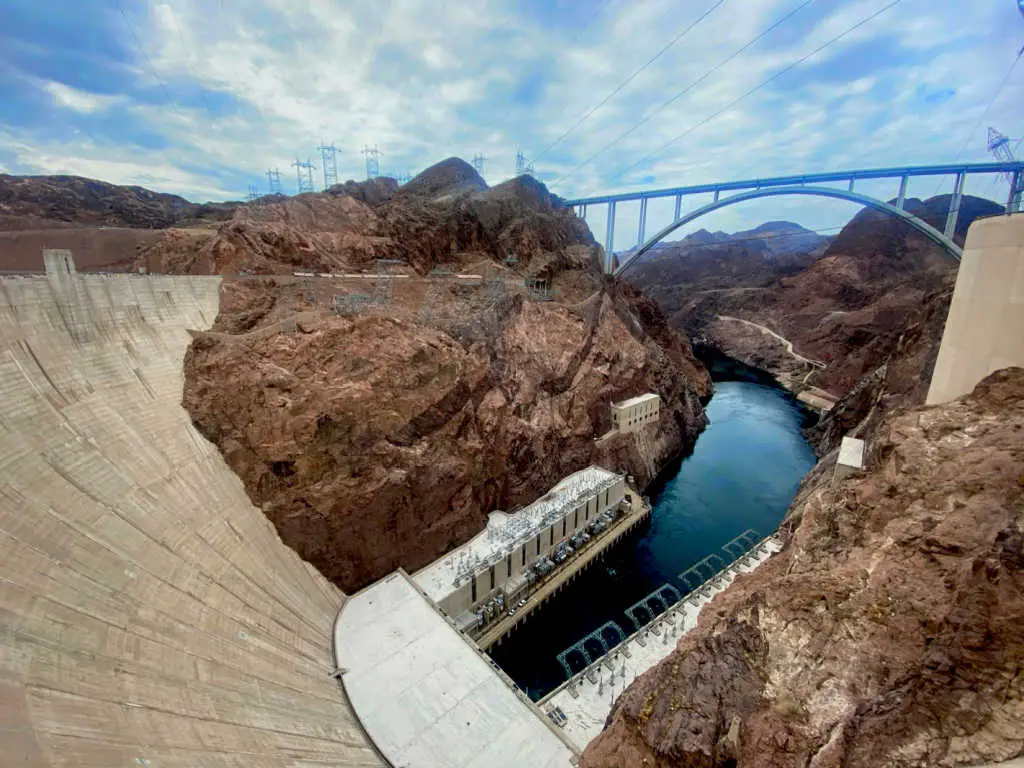 Perched 900 feet above the Colorado River, the magnificent Mike O' Callaghan-Pat Tillman Memorial Bridge is a great place to take in the breathtaking scenery and spectacular engineering of the Hoover Dam. There is free parking along the road, however, those spots tend to fill up quickly during busy tourist times.
52. The Simpsons House – Henderson, Nevada
Originally built for a Fox and Pepsi promotion, this home was designed to be a replica of The Simpsons' cartoon house. Upon completion in 1997, both the interior and exterior were decorated just like the famous cartoon home. However, the contest winner opted to choose a $75,000 monetary prize instead.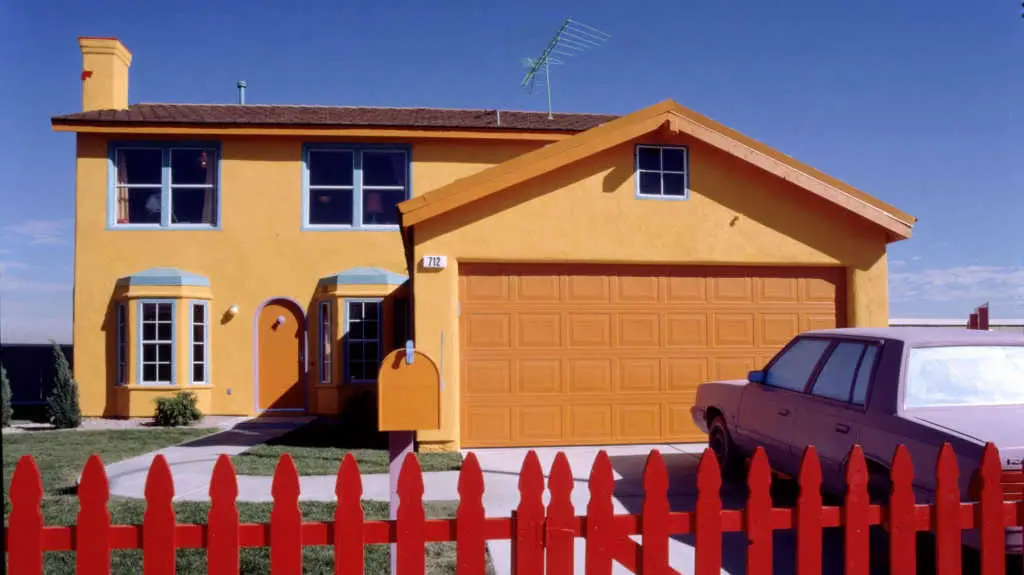 With no one to live in the house, it was repainted and sold to a private homeowner in 2001. Now indiscreet, visitors can see the familiar shape of the home. Additionally, an image of Homer was carved into the driveway by Matt Groening himself. The address of The Simpsons House is 712 Red Bark Ln, Henderson, NV.
53. Las Vegas Splash Pads
From May to October, the City of Las Vegas operates 28 different splash pads open from 10 a.m. to 8 p.m. daily. The splash pads are fueled by clean, safe water, thus making them the perfect place for families to cool down in the city.
54. Las Vegas Walk of Stars
Honoring the many stars who helped make Vegas what it is today, the Las Vegas Walk of Stars plays tribute to folks like Wayne Newton, Frank Sinatra, Elvis Presley, Dean Martin, and Sammy Davis Jr. The project began in 2004 and now stretches four miles on Las Vegas Boulevard, between Sahara Ave and Russell Blvd. See if your favorite Vegas star made the cut!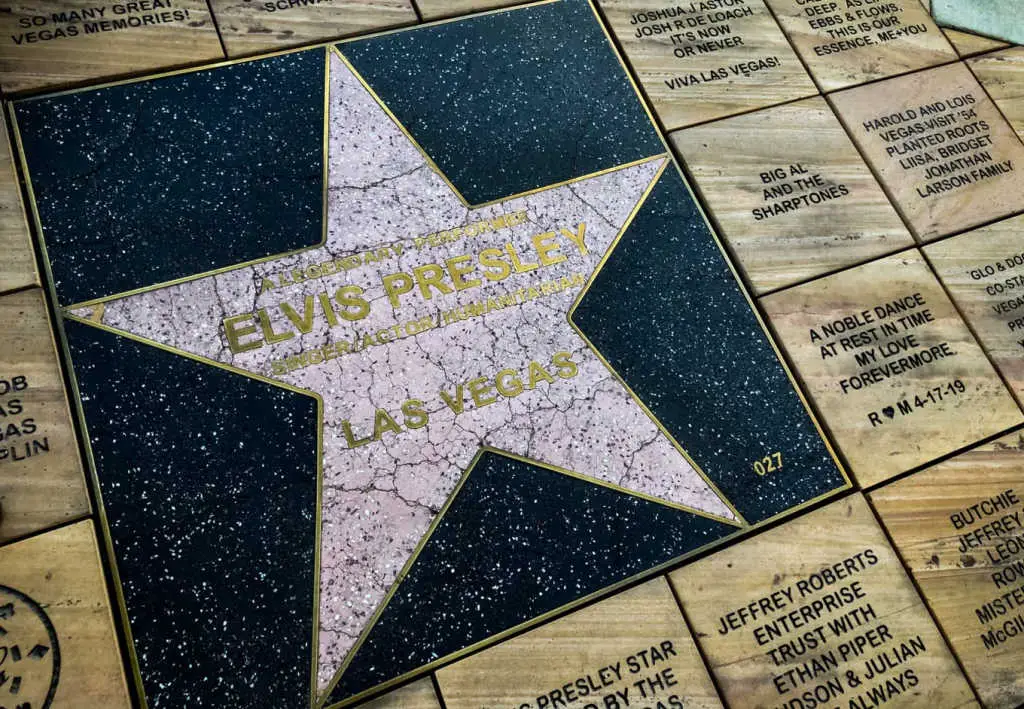 55. Las Vegas Community Healing Garden
Located about 6 miles from the original Route 91 Harvest Music Festival concert site, the Las Vegas Community Healing Garden pays respects to the 58 victims of the Las Vegas shooting. It is located at 1015 South Casino Center Blvd.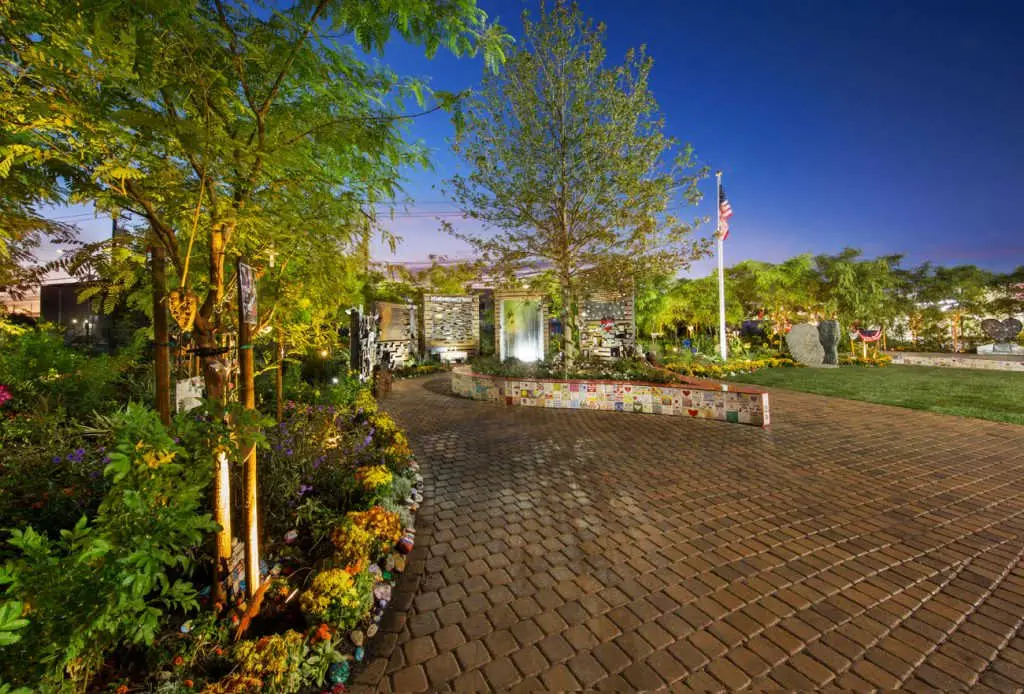 56. Carved Mammoth Tusk
Located at Treasure Island, an intricately carved wholly mammoth tusk of museum quality sits near the cashier cages. The reason it's worth a look is that wooly mammoths haven't roamed the earth for over 4,500 years. On top of that, the tusk's carvings are so detailed that it is believed to have taken generations to complete.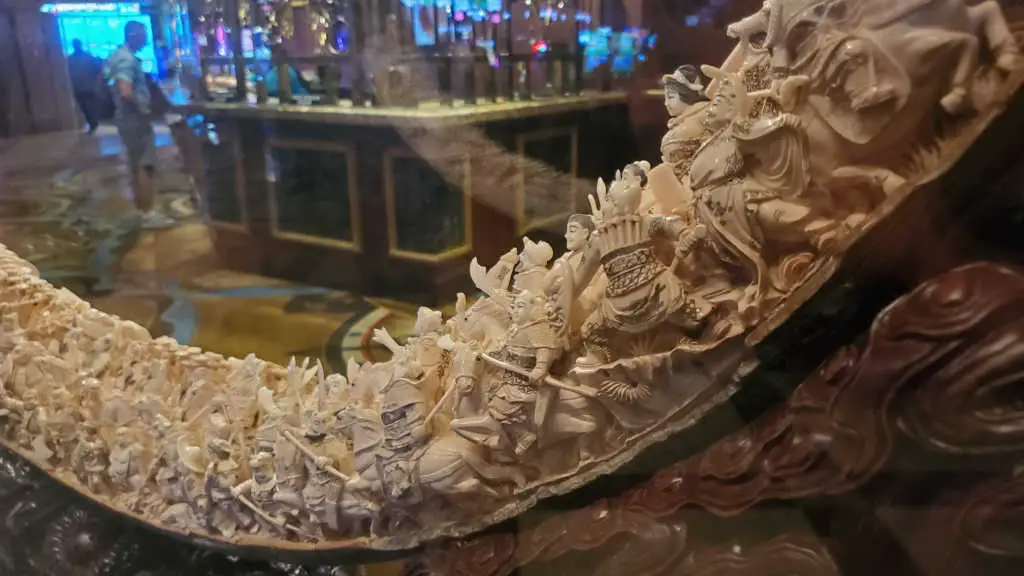 57. Visit the Sphere
Costing $2.3 billion to build, the MSG Sphere is a state-of-the-art entertainment venue that sits one block east on the Las Vegas Strip. Constructed from 2019 to 2023, the venue is 366 feet high and 516 feet wide at its longest point. As an artistic digital masterpiece, the Las Vegas Sphere has truly established itself as a new global landmark.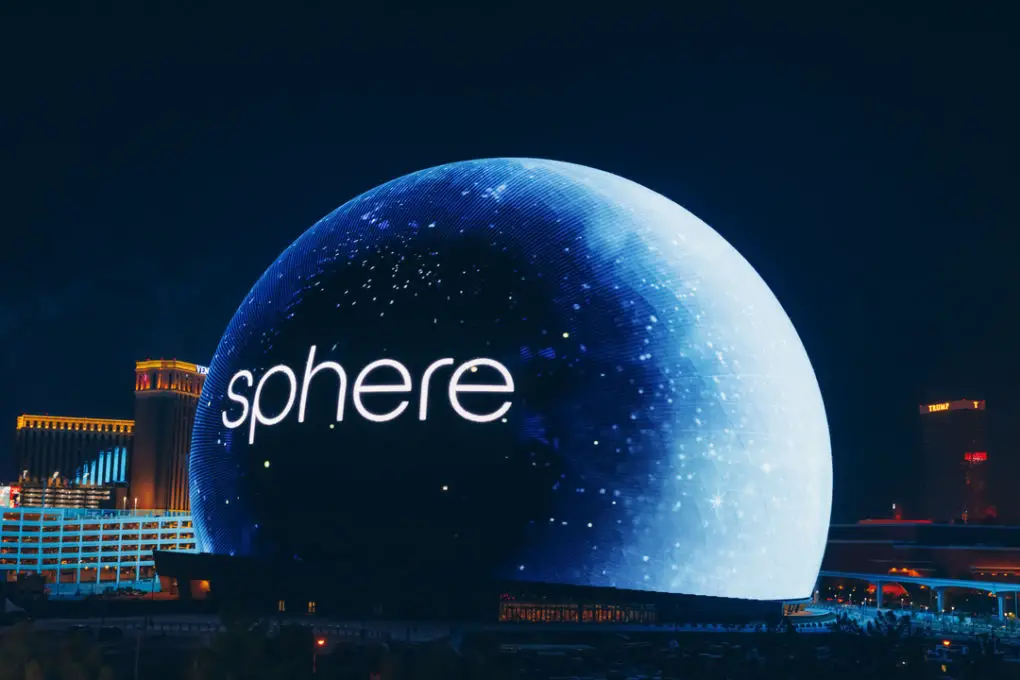 777. Symphony Park
In Vegas, there's no better number than 777. It has a higher consciousness attached to it which is why we decided to end the best things to do in Vegas for free with this number.
Many people believe that when you see 777 it's a message from the spiritual world—meaning that your problems in life will soon disappear. Of course, when visiting Vegas this probably means you'll hit the jackpot, which we hope happens for you!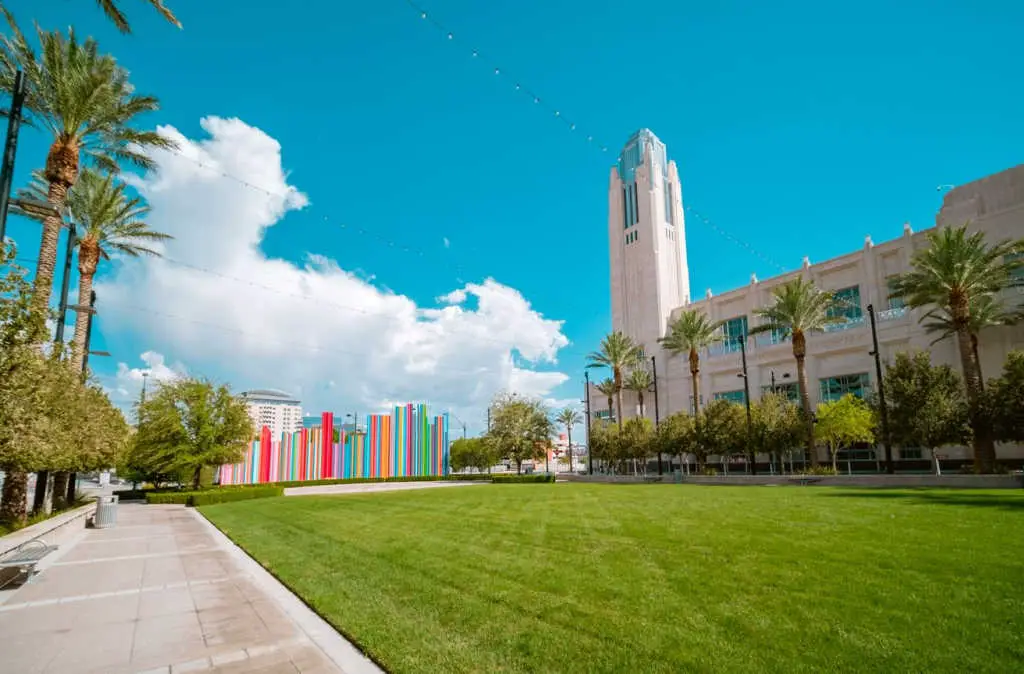 Throughout the city, numerous public parks are offering a variety of amenities for both locals and tourists. Symphony Park has received some recent attention, making it a quick pit stop for some noteworthy photography. The campus is home to the Discovery Children's Museum and the unusually constructed Cleveland Clinic Lou Ruvo Center for Brain Health. Vic's Symphony Park has a newly installed replica of Vegas Vic.
The "Larger Than Life" art installation features four brightly-colored steel musical notes. Besides other art installations, the colorful pipe wall is a local favorite for professional photo shoots. This quiet park offers benches, grass, and charming lighting, making it a nice place for a peaceful picnic.
As you can see, there are countless things to do in Vegas for free. Hopefully, this article allows visitors to tour Sin City on the cheap, saving a few dollars along the way. Perhaps that one saved dollar will go into a slot machine, causing $10,000 to come out!