Learning how to get free stuff in Vegas is easy. Anybody can do it! Luckily, it doesn't matter if you have a dollar in your pocket—or a thousand—there are tons of freebies to take advantage of if you know a few simple tricks. Prices are indeed increasing everywhere, however, Las Vegas continues to offer a wide array of complimentary things to take advantage of while in town.
Freebies in Vegas are often referred to as "comps." Of course, it's not just ordinary people who like getting free stuff, even wealthy visitors appreciate being comped too. Why? Because just about everyone enjoys taking advantage of free stuff.
HOW TO GET FREE STUFF IN VEGAS
Of course, gambling can be fun and exciting but it can also quickly ruin a nice vacation when losses become greater than expected. For this reason, gamblers need to set a gaming budget and stick to it—no matter what.
One of the best ways to avoid overspending and excessive gambling is to get stuff for free. After all, if you're gambling with the casino's money who cares if you blow it all?
Save up to 50% on Vegas Attractions
One of the easiest ways to save a ton of money in Las Vegas is with a Go City Explorer Pass. It includes all the best attractions, tours, and activities at one affordable rate. If you plan on hitting up just a couple of the major tourist attractions, it's an absolute no-brainer. 👇
Go City Explorer Pass > Buy Now
How to Get Free Rooms in Vegas
It seems like just about every Las Vegas movie includes a scene where the main character receives a comped room. As a result of this Hollywood conditioning, many visitors think they can play penny slots for a couple of hours and receive a free room.
Unfortunately, this scenario will most likely not happen as all comps come down to the level of play—in other words, how much you spend.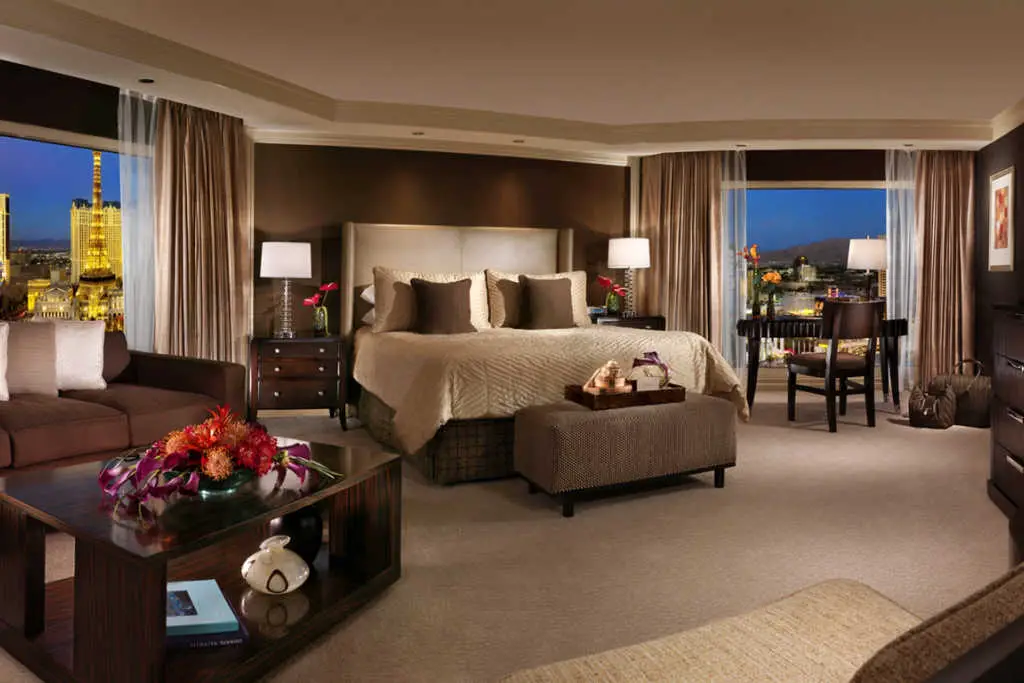 Fortunately, high rollers are not the only players who get free rooms in Vegas. Ordinary tourists can receive free rooms by following the steps below.
Join the hotel's loyalty program.
Only play in the hotel where you want to receive a free room.
Play consistently over many hours.
Unless you're betting large sums of money, playing table games that have better player odds typically pays fewer rewards. Slots, on the other hand, have better house odds and will generally pay more rewards.
For example, if two gamblers both spend $1,000 but one spends it on slots and the other on blackjack, the slot player will get more rewards because they most likely lost more.
Conversely, winners often receive the most rewards because the casino wants to get them back into their establishment.
The Art of Ask
Losing hundreds or even thousands of dollars at a casino is the ideal time to ask for a free room. Just make sure you have your player club transactions to verify it.
Approach the player's club and simply tell them how much you lost and ask if there are any promotions available to offset your losses. Of course, it takes a bit of humility but you might be rewarded with something to cheer you up! After all, none but the brave deserve the fair. Simply ask.
How to Get Free Tickets to Vegas Shows
Realistically, there are a ton of links, promotions, and websites that will claim to provide free or discounted tickets to the best shows in Vegas. Our advice: don't waste your time looking for something too good to be true.
Get Cheap Tickets to Vegas Show > Buy Now
While player's club members may get comped tickets based on their spending, non-gamblers may only hope for heavily discounted tickets through discount brokers. Moreover, two of the best places to get discounted tickets are Vegas.com and Groupon. We would go to Vegas.com first.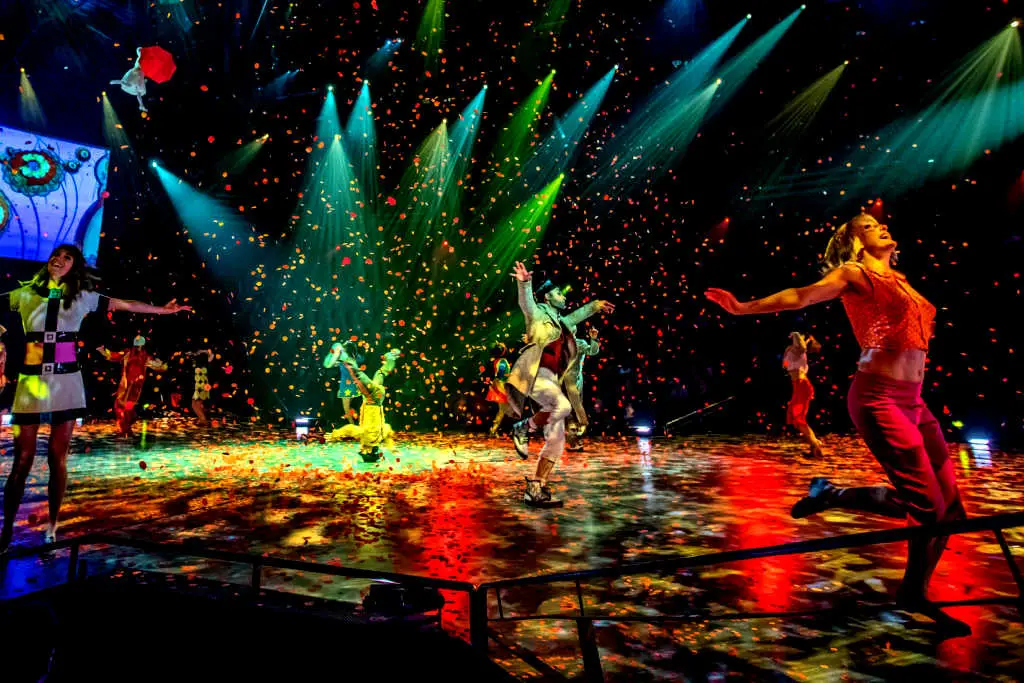 Pragmatically, tourists looking for free tickets to Vegas shows may desire to sit through a marketing timeshare spiel. Just about every major hotel will have someone at a desk offering "Free Vegas Show Tickets!" Of course, the catch is that you will have to attend a seminar with amazing salespeople who will try to convince you to buy something. Stand firm. Say "No thank you" and take your free tickets.
Arguably, all of Vegas is one giant free show. Hello, people-watching! There are plenty of free Vegas activities, from visiting Bellagio Fountains to touring the Ethel M Chocolates Factory. However, if you dream of seeing a classic Las Vegas show like Cirque du Soleil, there is one way to get tickets for free.
🎭 Best Shows in Las Vegas
Going to Vegas? You Must Read This ⇒ 🎰 Things To See and Do in Vegas for Free on the Cheap
How to Get Free Drinks and Food in Vegas
Generally, it's a bad idea to mix alcoholic drinks with gambling. Nevertheless, being offered a free drink while gambling is an iconic Vegas experience.
During our last trip to Vegas, Audrey's brother joined us for a few days. For the first couple, he mainly played blackjack and roulette but only gambled for about a half hour betting the minimum (for the most part). In short, he was disappointed nobody offered him a free drink.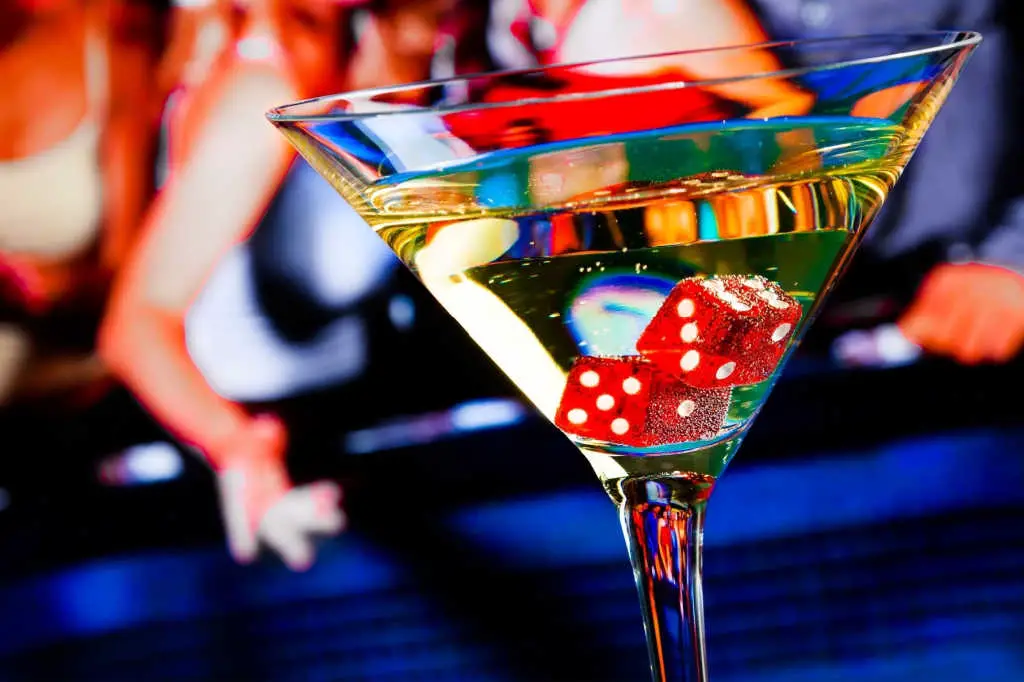 The next day, at the Venetian, he quickly lost about $75 playing blackjack. Many of the electronic games in Vegas are smart enough to alert the waitstaff when $20 has been inserted into the machine.
Did you know that many gaming machines have special lights that illuminate to indicate to the waitstaff that there is a player worthy of a free drink?
As he's getting crushed, a waitress finally asks him if he'd like a drink. Essentially, he paid $75 (plus one dollar for the tip) for a cocktail in a plastic cup. Of course, the lesson here is if you're looking for free drinks simply spend more time gambling and increase your average bet.
Better Alternative to Getting Free Drinks and Food
If you're going to gamble, remember to always record your transactions through the use of a loyalty card. While this is probably the most expensive way to get free drinks and food in Vegas, it is an option.
When receiving a loyalty card, members are typically given a coupon book filled with free or discounted goodies [click here to buy one], including drinks and food. However, a much better alternative to using rewards is to seek out promotions on Groupon. For example, whether it's a meal at a restaurant or a drink at a bar, Groupon typically has numerous two-for-one coupons available [click here to buy one].
Finally, when checking in at your hotel, ask the front desk attendant if they have any Las Vegas fun books or coupon books. You might be surprised how good the deals are.
Best Food Tours in Vegas
😋 On this small-group walking tour visit some of the most sought-after restaurants run by chefs like Gordon Ramsay and Giada De Laurentiis and try some of their signature dishes
🍲 Explore the larger-than-life casinos along the Las Vegas Strip and enjoy a decadent and wide-ranging tasting tour as you go on this small-group food tour
🍩 Join this donut adventure away from the Vegas strip and learn about the donut shops that only locals know in downtown Las Vegas and Fremont Street
How to Enjoy Free Vegas Entertainment
Las Vegas is the entertainment capital of the world. While the option to pay an arm-and-a-leg to go to a Cirque du Soleil show is always there (and most of the time worth it), many people (like ourselves) are always looking for free entertainment.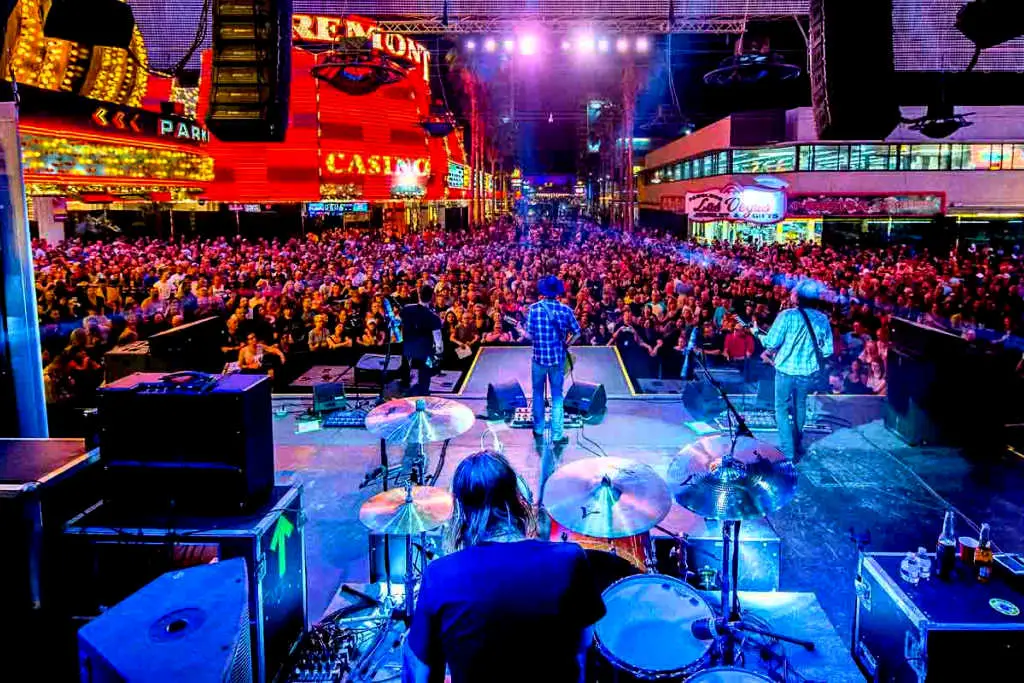 Whether it's Bellagio's fountains or "The Globe" at Resorts World, just about every hotel along the strip has some form of free entertainment. However, those looking for traditional live entertainment should seek out one of the venues below.
Downtown
Fremont Street Experience: Every night starting at 6 p.m. Also, during the summer months, on the first Friday of each month, special events are held from 9 p.m. to 4 a.m.
Rush Lounge at the Golden Nugget: It's no secret that downtown Vegas gets a bit wild. Guests can escape the madness with daily live music in Rush's intimate and stylish lounge.
The Strip
Gilley's Saloon & Dance Hall at Treasure Island: Free line dance lessons just about every day of the week starting at 7 p.m., followed by live music, karaoke, bikini bull-riding, etc. afterward.
Loser's Bar at MGM Grand: Fans of country music should head to Loser's Bar for an easygoing atmosphere filled with daily live music.
The Barbershop Cuts & Cocktails: Hit up this speakeasy at The Cosmopolitan to vibe out to live music in a prohibition-inspired environment.
The Park Las Vegas: As a newer addition to the strip, The Park is an outdoor space that sits between New York-New York and NoMad. At 5 p.m., on Tuesdays and Wednesdays, the party happens at The Park with giveaways, entertainment, and $5 beer and wine.
Harrah's Big Elvis Show: As the longest-running impersonator in Vegas, Pete Vallee puts on a great show, belting out all of the hits, and then some. Head to the Harrah's Piano Bar on Mondays, Wednesdays, and Fridays at 2 p.m., 3:30 p.m., and 5 p.m.
Delilah at Wynn: Tourists looking for a 1920s Great Gatsby vibe will enjoy the art-deco vibes and live music.
Interlude Casino Lounge at The Cromwell: Chill out to live music while playing video poker or mingling with friends at the Interlude. On weeknights, the party begins at 4 p.m. and ends at midnight. However, on the weekend the party kicks off at 8:30 p.m. and lasts until 3 a.m.
Off the Strip
Masquerade Village at Rio: Live music every Friday and Saturday night from 9 p.m. to 12 a.m.
Backstage Tours
KÀ 360 Experience: A free behind-the-scenes tour takes place Tuesdays and Saturdays from 12 p.m. to 12:30 p.m. Meet at the MGM Grand KÀ Theatre.
Magical Technical Tour – The Beatles LOVE: Take a behind-the-scenes tour to see one-of-a-kind stage set pieces and learn about the state-of-the-art technology used during the performance. Also, the tour takes place at the LOVE theatre on Fridays at 1 p.m.
Free Stuff on Your Birthday in Vegas
Anyone lucky enough to celebrate their birthday in Vegas will be gifted with tons of freebies. Just about every restaurant will provide some sort of birthday dessert, discount, or gift. However, the best bargains below are unique to Vegas or exceptional deals.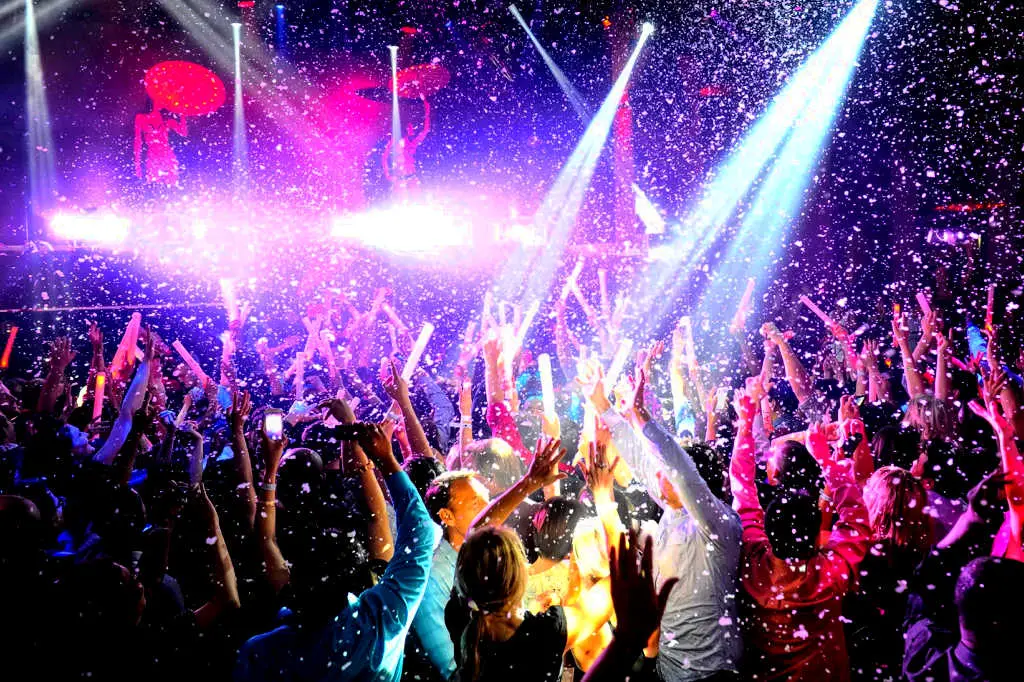 Tip: No matter where you go in Vegas, ask if they have any discounts or freebies for birthdays
Below are the best offers that you don't want to miss. Now, it's time to go get your free stuff!
Observation Deck at the Eiffel Tower: Free access to the 46th-floor observation tower. Call ahead at 888-727-4758 to make a reservation, spaces are limited.
SAHARA: Win up to $500 with a free scratch card or spin at the SAHARA Club 52 (loyalty program) desk.
Downtown Taco Foodie Adventure: Receive a free tour with Atomic Scooters when you bring 3+ friends. Call ahead at 702-836-0885.
The Plaza: Free bingo card, dessert, and 25% off room rates.
Grimaldi's Pizzeria: Enjoy a free 16″ cheese pizza by simply joining their rewards program—must be combined with a purchase.
Hooters: Hootclub members receive 10 free boneless wings.
Diablos at Luxor: Free birthday tequila shot.
Free Game Play: Use your MLife or Caesars Rewards loyalty cards to receive free gameplay. Depending on the hotel and your level of play expect to receive anywhere from $20 to $100.
Casinos With Free Self-Parking
With each passing year, it seems that it's getting exceedingly more difficult to find free parking in Vegas. Below are several major casinos that offer free unlimited self-parking.
Circus Circus
Downtown Grand Las Vegas
Encore
Golden Nugget Las Vegas
Hard Rock
OYO Casino
Palms
Rio
The Orleans
The STRAT
Treasure Island
Tropicana
Tuscany Suites
Westgate
Wynn
It's that easy to get free stuff in Vegas. With a few insider tips and tricks, a budget-savvy traveler can win big with some great free stuff in Vegas.
By far, the easiest way to get free stuff in Vegas is by earning rewards through apps and loyalty programs or player clubs. Visitors can use the rewards to offset gambling losses or simply use only the points towards gaming, restaurants, lodging, shows, and more.
Best Apps & Loyalty Programs
The myVegas apps are the best way to earn rewards while playing free casino games. Also, myVEGAS is the official Facebook and mobile game of MGM Rewards and MGM Resorts.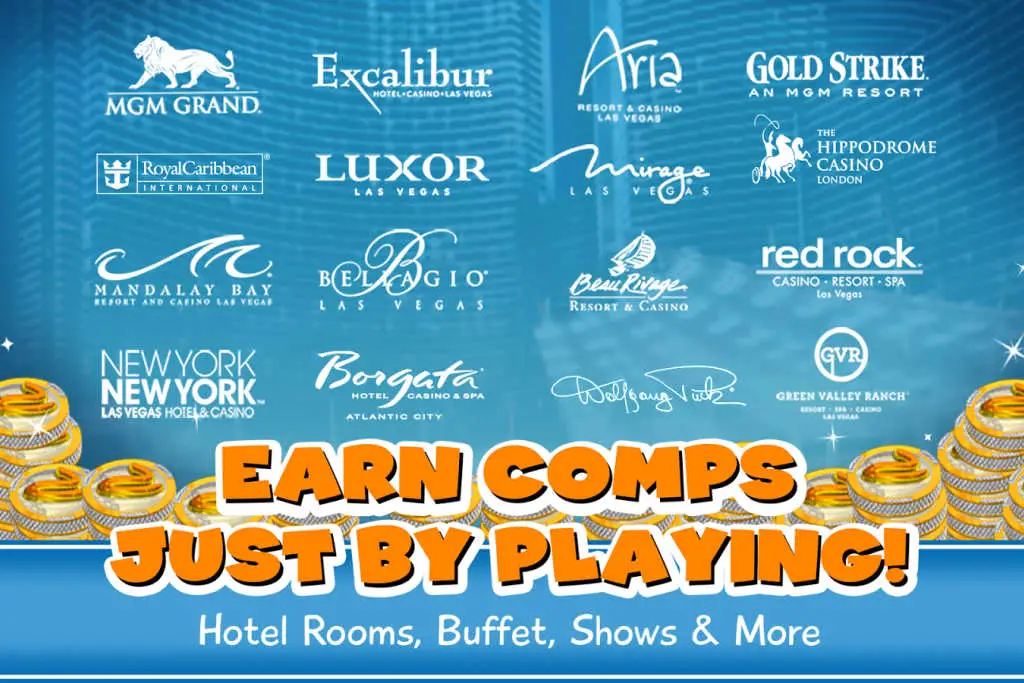 Not going to lie, the bingo game is addicting—and, I don't even like bingo! Finally, make sure to have your location on as they're targeting users who live outside Las Vegas.
Between gambling, restaurants, and accommodations, Vegas can be notoriously expensive. This is especially true for tourists who get into trouble while gambling when it comes to free bingo to win real money. In fact, first-time visitors often blow their entire gambling budget (and then some) within the first half hour.
Loyalty Programs/Players Clubs
Casinos use loyalty programs to track how much each guest spends while gambling, dining, shopping, etc. As a result, program participants are provided free perks such as free gameplay, comped rooms, meals, shows, and more!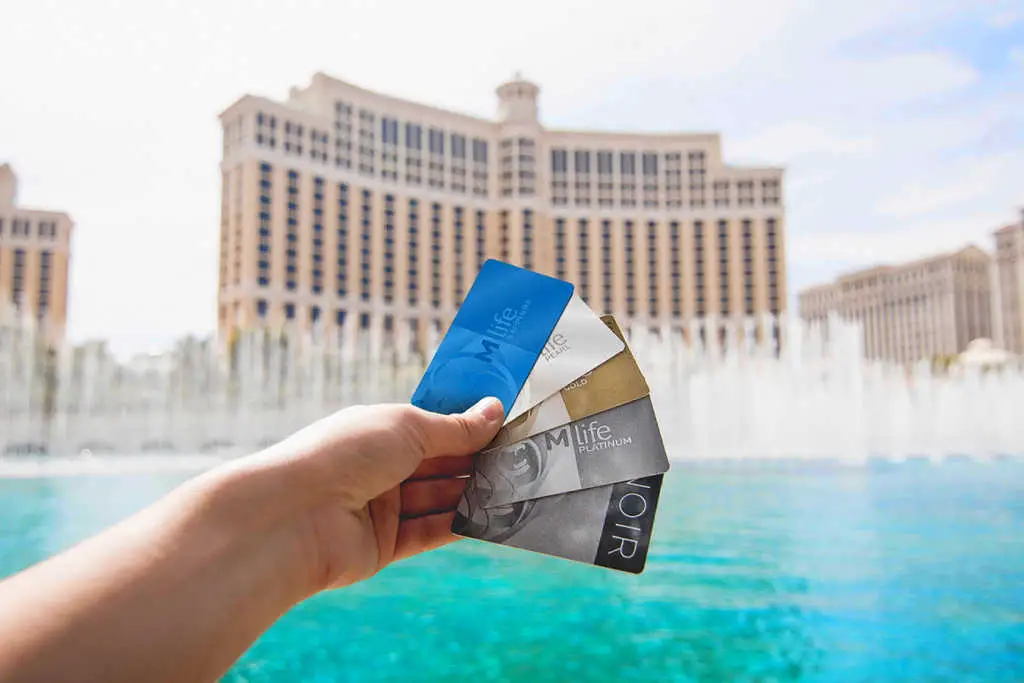 Fortunately, you don't have to open a membership with each hotel. Below are the clubs and hotels associated with the largest loyalty programs—these two nearly cover the entire strip!
MGM Resorts – M Life: ARIA, Bellagio, Delano, Excalibur, Luxor, Mandalay Bay, MGM Grand, New York-New York, NoMad, Park MGM, The Mirage, The Signature at MGM Grand, Vdara at ARIA
Caesars Rewards: Bally's, Caesars Palace, Caesars Sportsbook, Flamingo, Paris, Planet Hollywood, Rio, The Cromwell, The LINQ, Tropicana
Depending on where we want to stay, here's how we book with one of the above hotels. We go to TripAdvisor, select the hotel, and book directly with the hotel through TripAdvisor (this makes sure you're getting the best rate possible.)
Signing up for a loyalty program is one of the first steps in learning how to get free stuff in Vegas. Members will quickly be rewarded with free gameplay, partially/fully comped rooms and meals, and everything in between.
These Are the Places We Stay 😉 ⇒ 7 Cheap Las Vegas Hotels on the Strip – Hit the Jackpot!
Guests can sign up online or at the player's club located in each hotel. Moreover, members who sign up in person are typically rewarded with immediate freebies including free gameplay, branded clothing, and coupon books.
TRAVEL TIPS
🏘️ Book Your Accommodation
We use Tripadvisor and Priceline's Express Deals to compare prices and reviews in advance and check availability
✈️ Book Your Flight in Advance
To find the cheapest flight options, you can use WayAway and Skyscanner to find the most suitable option for you
🚗 Reserve Your Rental Car
Use DiscoverCars and Skyscanner to compare prices and view the largest selection of vehicles