Staying at one of our three favorite cheap and nice hotels in Las Vegas will allow you to have more money to enjoy all of the city's amazing nightlife and entertainment. Moreover, the three amazing resorts below can be enjoyed even on the tightest budget. In fact, we stayed at one of them for less than $75 per night—including all resort fees!
Generally, most visitors to Las Vegas are all looking for the same thing—easy access to the Strip, modern and clean accommodations, pools, hot tubs, and stress-free parking. Sure, there are high rollers who must be picked up and escorted from the airport in a Bentley to the presidential suite. However, for the rest of us, we're simply looking for a few nice amenities at an affordable rate.
Vegas does a great job making the average person feel very poor. – The Budget Savvy Travelers
Generally speaking, it makes little sense to stay at one of Vegas' most over-the-top expensive suites if you can't afford it. This is because there are numerous other expenses involved in an affordable vacation to Las Vegas, such as airline tickets, gambling, live entertainment and shows, dining out, and other miscellaneous excursions that will be included in the total cost of the vacation.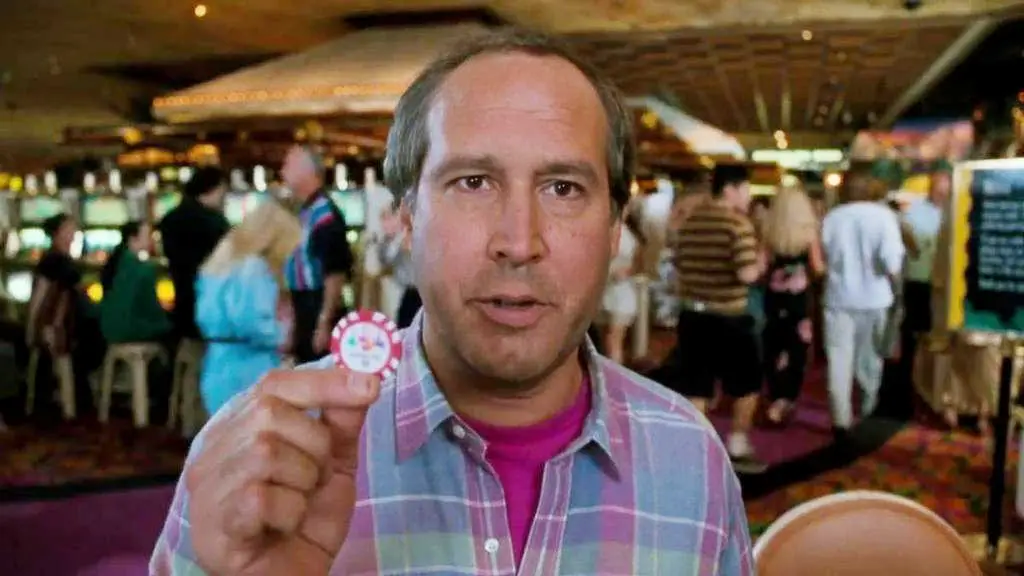 After spending tons of money on the typical Vegas expenses, and potentially losing more than planned while gambling, the last thing vacationers want to think about is the massive hotel bill waiting for them back in the real world. There's no need to overspend.
These three amazing resorts below are the best hotel deals in Vegas.
Cheap and Nice Hotels in Las Vegas
The ideal time to travel to Vegas is from March to May and from September to November, the shoulder seasons. Consequently, resorts and airlines will have the best prices and visitors can find the best Vegas hotel deals.
Visitors looking for the absolute lowest prices should avoid the weekends and book from Sunday to Thursday, or Sunday to Friday which is a bit more money.
💰 Budget Tip: Many cheap but nice hotels have full kitchens, separate bedrooms, and balconies. Also, budget-conscientious visitors will enjoy saving money on food by cooking some or all of their meals.
Generally, prices during the weekend can easily be two or three times as much for the same room and experience. However, keep in mind that most of the Vegas residency shows make Monday and Tuesday their days off.
Below are the three best cheap and nice hotels in Las Vegas—these resorts rock!
1. Hilton Vacation Club Desert Retreat
We stayed at Hilton Vacation Club Desert Retreat during our second to last trip to Vegas. It was perfect and only $86 per night. Actually, it felt like we stayed at a 5-star all-inclusive resort, minus the food. Moreover, the service and cleanliness were exceptional.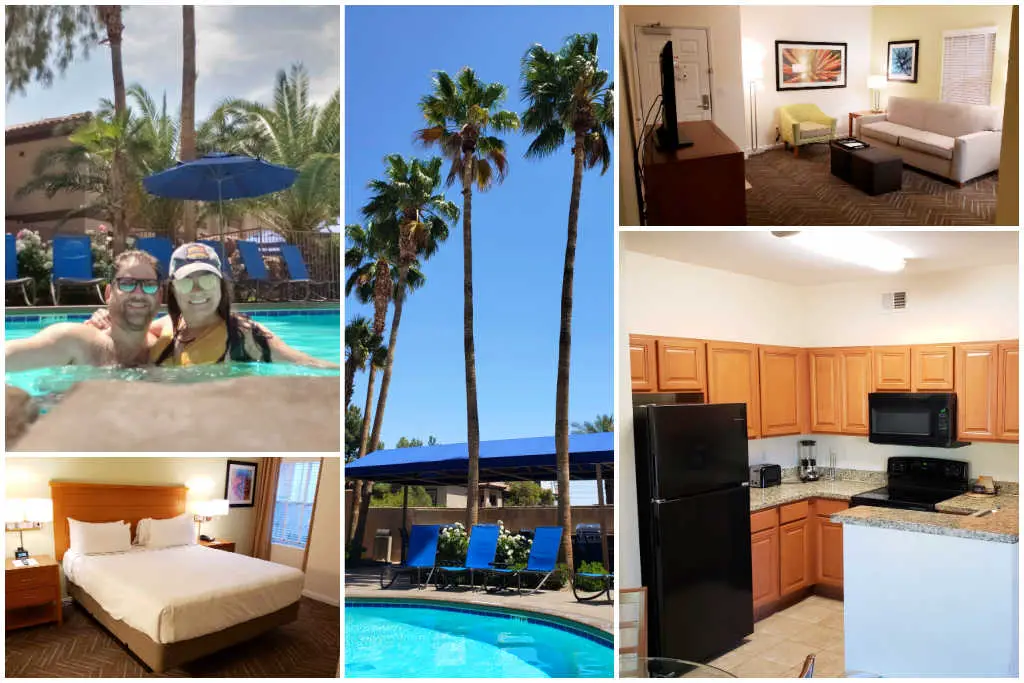 Complimentary Shuttle
Hilton Vacation Club Desert Retreat is located less than 2 miles from the Strip and on the complimentary shuttle, only about a 7-10 minute drive. Also, the gated parking lot makes it convenient to enter/exit the premises. To summarize, staying off the Strip will save a lot of aggravation, time, and money related to parking and retrieving vehicles.
Spacious Accommodations
Hilton Vacation Club Desert Retreat has one and two-bedroom apartment suites. Our suite was a massive one-bedroom apartment with a comfortable living space, huge walk-in closet, kitchen, laundry room, and private balcony.
In short, Hilton Vacation Club Desert Retreat has two pools and two hot tubs, one of each in the adults-only section. Also, there's a fitness and gaming center, several outdoor grills, an hourly shuttle to the Strip, and gated parking.
Compared to the colossal resorts on the Strip, Hilton Vacation Club Desert Retreat would be considered a micro-resort. This, however, makes it easily accessible and visitors don't have to waste much time getting from Point A to B.
For example, it could take 15 minutes to get from the room to the pool in a 5,000-room hotel. Furthermore, the small resort feel ensures each guest is provided with a more intimate experience, making requests fulfilled much more quickly.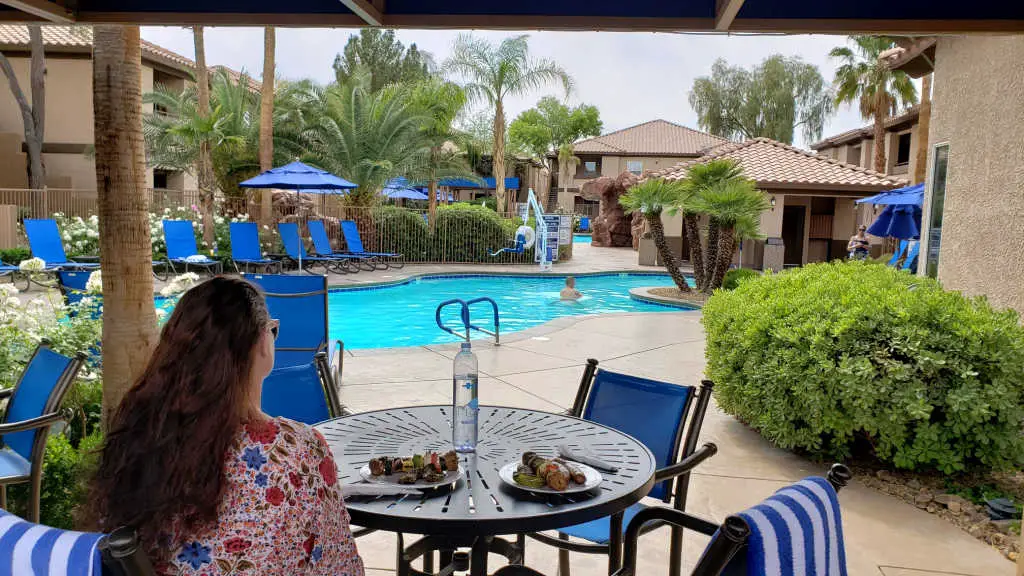 Customer Service
In terms of service, we enjoyed the way communication was done through text with the front desk/concierge. It was fast and reliable. For example, if we needed fresh towels, dishwasher tablets, coffee, etc., we would text them, and within 10 to 15 minutes, they would be at our door. Also, someone would follow up with a phone call to make sure it was delivered and if we needed anything else.
Hilton Vacation Club Desert Retreat > Check Availability
2. Desert Rose Resort
We stayed at the Desert Rose Resort during our last trip to Vegas. With its excellent location near the glitz and glamour of the Strip, the Desert Rose Resort is positioned just one block from Las Vegas Blvd., next to the Tropicana.
This posh micro-resort features a pool, hot tub, two grilling areas, coin laundry in each building, and one and two-bedroom suites with full kitchens and private balconies. Also, we paid about $85 per night when booking from Sunday to Thursday.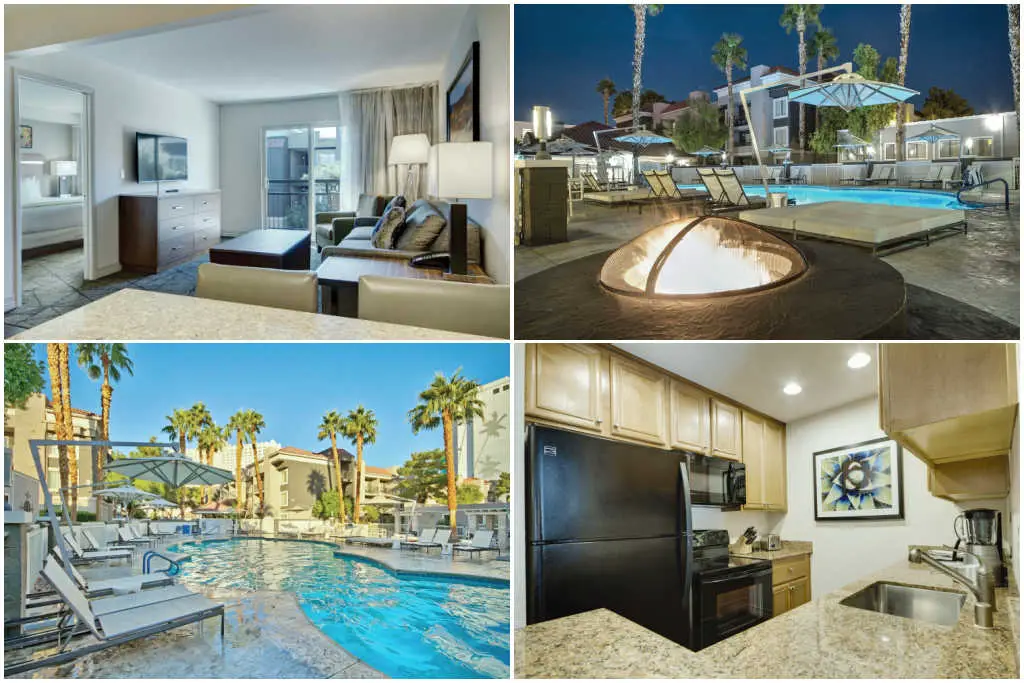 The resort's parking lot is easy to enter/exit, however, it's not gated. Moreover, it's important to note that the Desert Rose outside space, with only one pool and hot tub, is not as large as Desert Paradise. However, it does feature a poolside bar that offers food and drinks, including Starbucks coffee.
Also, the suites at Desert Rose are not as large as at Desert Paradise. For instance, the bedroom suite at Desert Rose is 650 feet² while at Desert Paradise it's 927 feet².
In conclusion, if being within walking distance of the Strip is the most important factor for your stay then the Desert Rose Resort is one of the best Vegas hotel deals available.
Desert Rose Resort > Check Availability
3 Best Hotels in Vegas With Balconies
Did you know that very few hotels in Las Vegas have balconies (for obvious reasons)? Many visitors to Las Vegas wonder what the best place to smoke is only after realizing that their hotel doesn't have a balcony.
Sure, you can walk down the Strip or find a parking lot but "technically," it's illegal to use in public. Wouldn't it be chill to smoke on a balcony overlooking the Strip? Of course, be courteous to other guests, and be sure to close your balcony door. 😉 On a side note, if you really can't find a place, just go to New York-New York's 'The Park' and find a cozy spot to sit.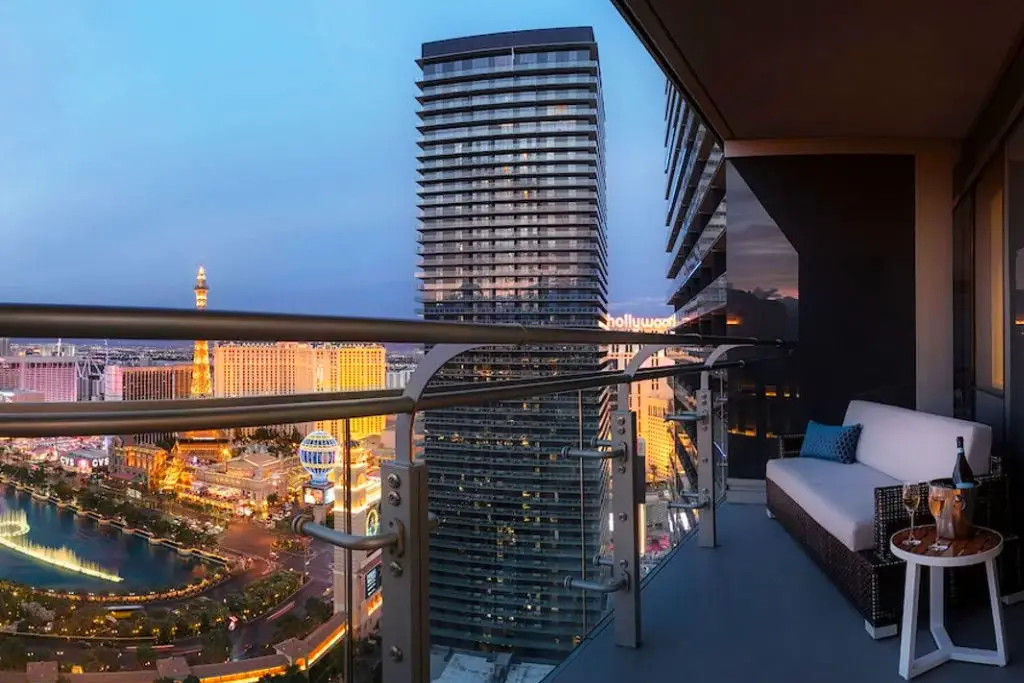 Nevertheless, below are pretty much the only three hotels with fantastic balcony views sorted from least expensive to most. Are you supposed to smoke on the balconies? Probably not. But a little puffy puff never hurt anyone and I won't tell anyone if you don't. However, be mindful of FreshAir sensors because they will bust you.
If your budget allows, The Cosmoplitan's Bellagio Fountain View Room is epic and it's the only hotel that permits guests to smoke on balconies worry/hassle-free.
💸 Hilton Vacation Club Polo Towers > 1 Bedroom 1 King Suite
💰 Signature at MGM Grand > Deluxe Balcony Strip View Suite
💎 The Cosmopolitan > Studio, Terrace, Bellagio Fountain View Room
3. The Carriage House – Hotel
As one of the best-reviewed accommodations in Vegas, The Carriage House is one of the best deals in Vegas. Basically, guests looking for exceptional value and location, and access to the Strip will find this hotel appealing—it offers spacious accommodations geared toward families in a non-gaming environment.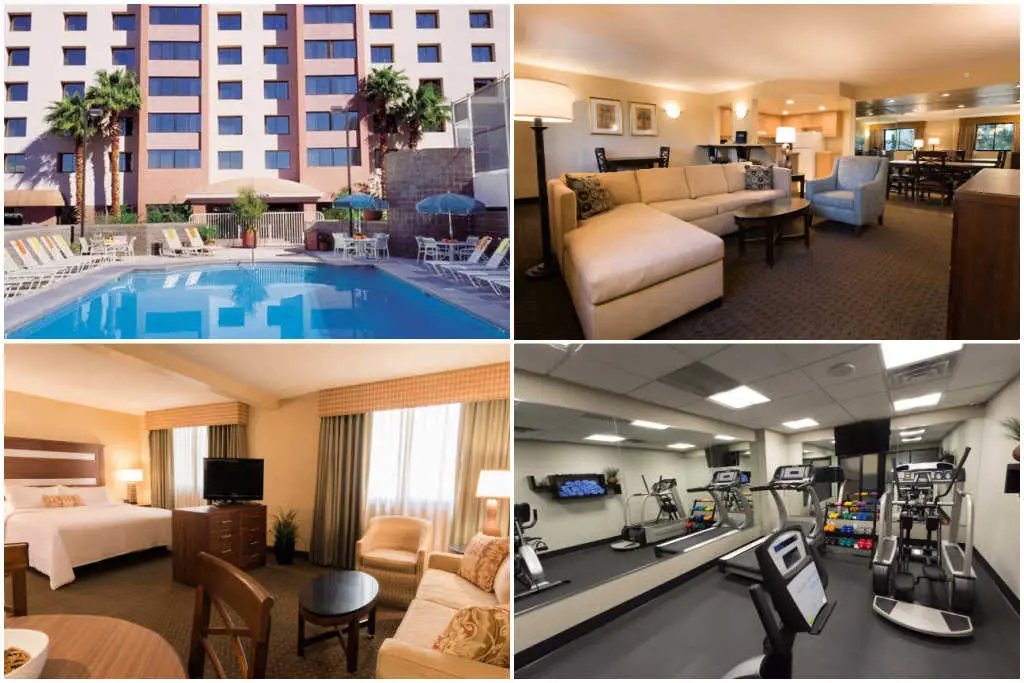 Located one block east of Las Vegas Blvd., between Planet Hollywood and MGM Grand, the hotel features comfortable accommodations, a pool, a tennis court, and a fitness room. The best part: there are no resort fees.
The Carriage House has the following room types, all are equipped with a kitchenette:
One king bed
Two double beds
Junior Suite
One bedroom suite with full kitchen
The Carriage House > Check Availability
Bonus – Best Vegas Hotel Deals
We had to include the hotel below because it's such great accommodation at an affordable rate.
4. Trump International Hotel
The Trump International Hotel resort is a great option for visitors who have a wee bit extra to spend on lodging, and desire a five-star Vegas experience. Also, fans of DJT will find this to be one of the most affordable Trump hotels to experience within the U.S.
Located one block off the Strip, basically, across the street from The Wynn. Trump International is ideally situated to explore the northern part of the Strip.
As a non-gaming hotel, there's no need to worry about smoking and all of those other hassles that go along with staying in a gaming establishment. Also, Trump International is located next door to Hilton Resorts World which allows easy access to gaming.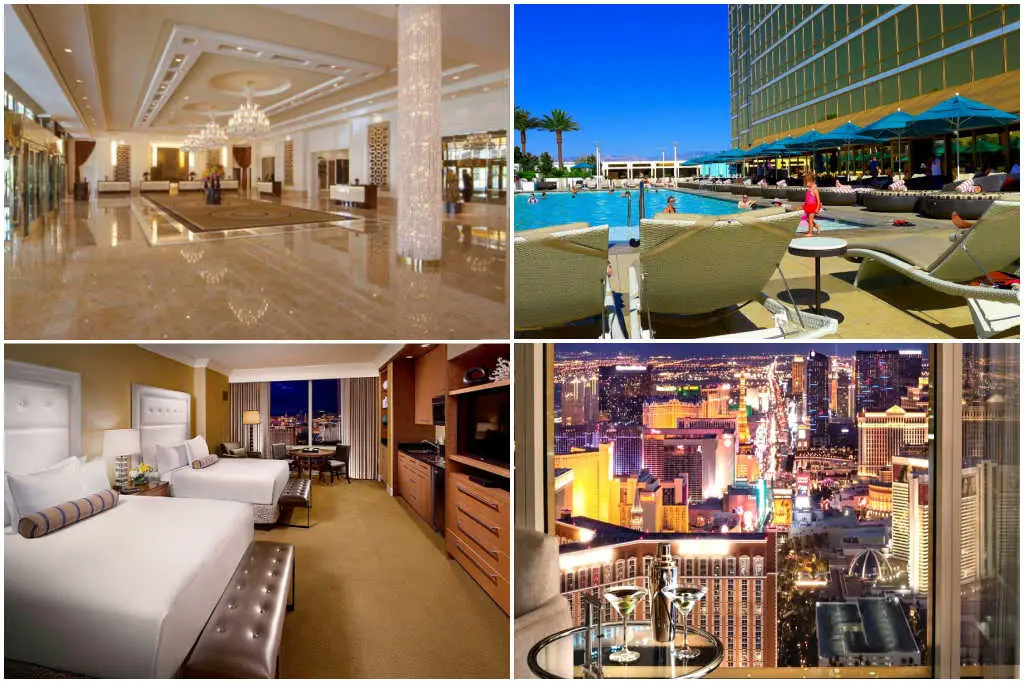 The resort hotel proclaims to have the best views of the Strip, so make sure to book a room with an epic view. Also, Trump International offers a variety of dining options, including a luxurious pool, a ritzy spa, and a fitness center. Finally, there is a free shuttle that runs to the shopping center and other popular casinos.
The best rate we've seen is $139 per night which includes taxes and a $35 resort fee. Still, at $139 per night, guests should sleep well knowing that they're receiving exceptional value.
Trump International Hotel > Check Availability
Resorts World – Vegas' Newest Resort
Resorts World is a brand new colossal 1,774-room resort on Las Vegas Blvd, that offers decent rates. It's reported to have numerous kinks to work out (in service and functionality) which is one reason why the rates are currently so cheap. Nevertheless, it's a fun place to explore, and because they're trying to attract guests, they have some of the best live entertainment options in the city.
The cheap and nice hotels in Las Vegas listed above are the best in the city. Pick one of the resorts above, which meets your needs, and spend less on lodging and more on gambling, entertainment, and dining out. Enjoy Vegas, baby!
TRAVEL TIPS
🏘️Book your accommodation
Tripadvisor.com will help you to book accommodation in advance and check availability
✈️Book your flight in advance
To find the cheapest flight options, you can use WayAway and find the most suitable option for you
🧾Get your tickets and tours
with Viator and GetYourGuide to get the most out of your journey