While there are several cheap Las Vegas Hotels on the Strip, most of them have seen better days. Whether it's outdated and smelly or packed with resort fees, finding the best place to stay in Sin City can feel overwhelming. After all, when it comes to the saying, "You get what you pay for" there's no destination where it's more true. No worries—the entertainment capital of the world still has plenty of nice hotels, even for the tightest of budgets.
For many tourists, the first glimpse of Las Vegas Boulevard is stunning. In fact, many people are simply left in a state of awe.
It doesn't matter how many times you may have seen Las Vegas in movies or on television, seeing it in real life the first time is awesome. It's not an experience you can prepare yourself for—it's that out-of-this-world.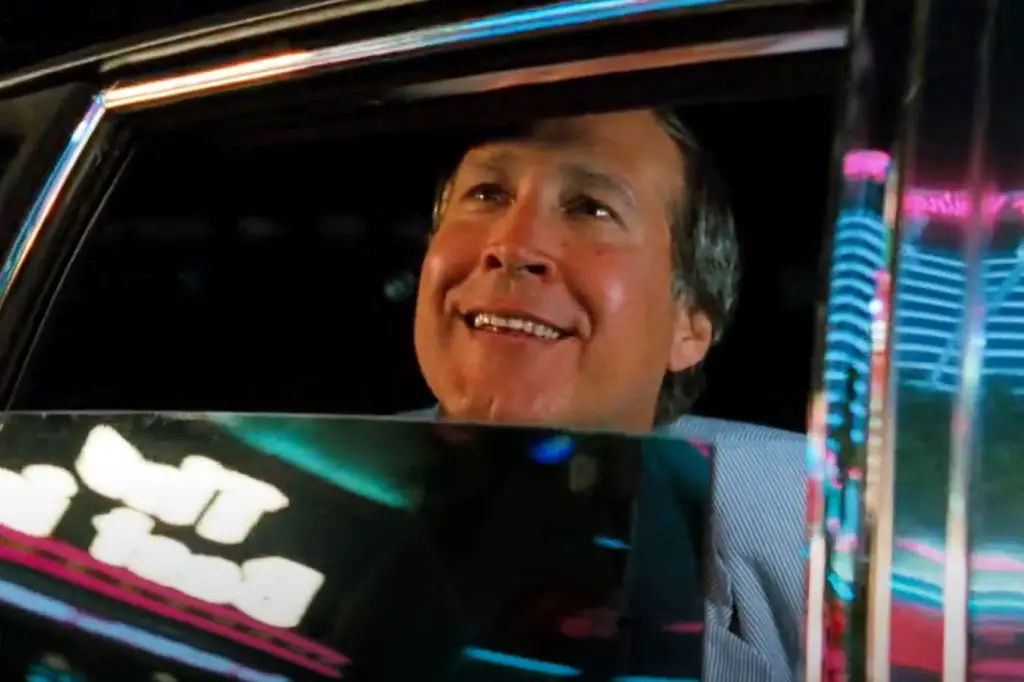 Typically, in cinema, characters cheerfully cruise down "the strip" with the windows down without a care in the world. Of course, they end up in front of one of Vegas' most luxurious casinos and are quickly escorted to a magnificent suite with an epic view.
In reality, however, there's tons of traffic, parking can be a headache, and extravagant suites can cost a small fortune. As a result, the average tourist should shoot for staying at one of the nicer cheap Las Vegas Hotels on the strip—one that's comfortable, with convenient parking, and in a great location.
Best Location Along "The Strip"
Many first-time visitors don't realize how vast the strip is. For example, the distance from Mandalay Bay to The Strat Hotel is about 4 miles. In short, visiting all of the casinos and all the attractions on foot could take weeks.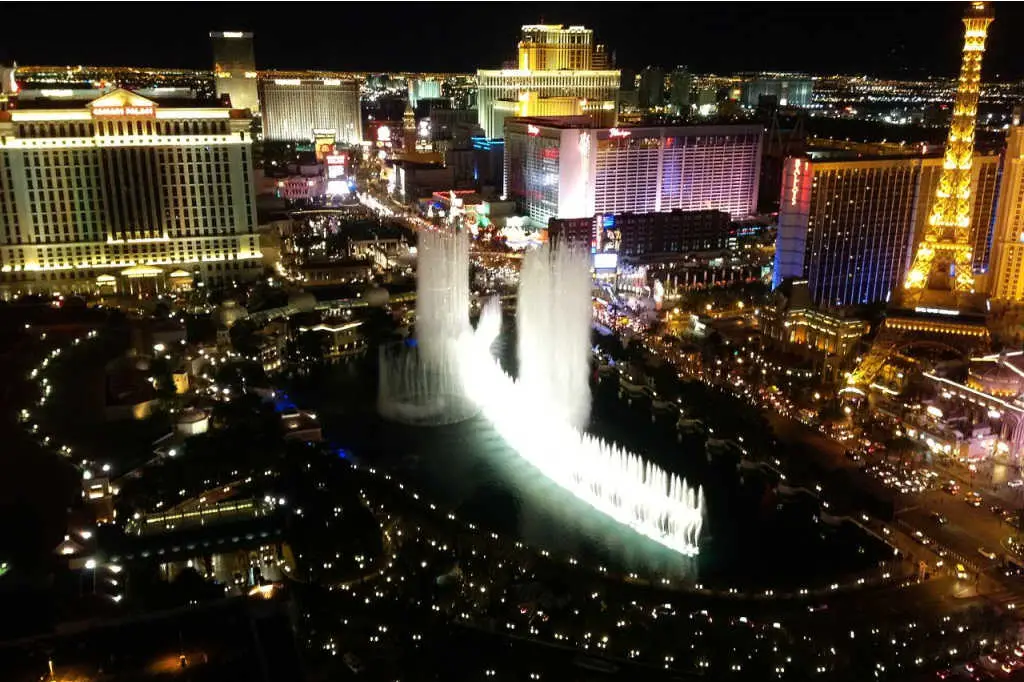 For instance, many tourists desire to see Vegas' famous hotels featuring replicas of a pyramid in Egypt, New York City's skyline, the Eiffel Tower, or Venice's grand canals. To summarize, much of the action takes place between the MGM and Treasure Island. Staying between these two hotels puts tourists in the heart of Las Vegas.
Tip: The cheapest months to visit Vegas are from September to November and January to April, excluding Spring Break.
During our first couple of trips to Vegas, we stayed along this section of the strip; and besides the traffic, the only other problem with this segment is that it's the most expensive. Generally, the farther from the strip the cheaper the hotel prices.
For that reason, we will typically stay off the strip at Hilton Vacation Club Desert Retreat—it features large condo-style lodging, the parking is easy, there are two pools and two hot tubs, and a shuttle takes guests back and forth to the strip.
During our last trip to Hilton Vacation Club Desert Retreat, we met an older guest who worked in Vegas casinos for 25 years. He told us that he knew all the in's-and-outs of Vegas; where to park, where to gamble, where to eat, and where to stay. Of course, he chose to stay at Hilton Vacation Club Desert Retreat because he knew it was an exceptional deal. – The Budget Savvy Travelers
7 Cheap But Nice Las Vegas Hotels on the Strip in 2024
While finding accommodation off the strip will typically save money, there's no travel experience on the planet like staying on the strip. Many first-time visitors mistakenly associate Vegas with low-cost buffets, comped suites, and penny slots. On the contrary, Sin City is notoriously expensive—leaving the average person feeling a bit poor.
Luckily, according to multiple Rewarded Play app reviews, there are several cheap but nice Las Vegas hotels on the strip that travelers won't have to fork over their life savings to enjoy. For example, several cool and comfortable hotels can be booked for less than $150 per night, easily freeing up funds to be used for restaurants, excursions, and of course, gambling.
7 CHEAP BUT NICE LAS VEGAS HOTELS ON THE STRIP
Below are seven nice and cheap Las Vegas hotels on the strip, and all prices include tax and resort fees.
1. Polo Towers by Diamond Resorts
Located in the heart of the strip, Polo Towers by Diamond Resorts is positioned between MGM Grand and Planet Hollywood. The Tuscan-inspired hotel features roomy condo-like suites with balconies and full kitchens—options include studios and one/two bedrooms. Furthermore, their rooftop pool overlooks the strip.
From our experience, Diamond Resorts makes great effort to make sure their guests are happy and depart satisfied. Therefore, when the location is combined with the comfort level and level of service, Polo Towers is probably one of the best cheap Las Vegas hotels on the strip.
Polo Towers by Diamond Resorts > Check Availability
2. Las Vegas Hilton at Resorts World
With its 100,000 square-foot LED screen, which takes up an entire tower, it's nearly impossible to miss the recently added Hilton at Resorts World hotel. Opened in June 2021, Resorts World is the "new kid on the block" on the Vegas strip. As a result, if you're looking for modern accommodation then this is the place for you.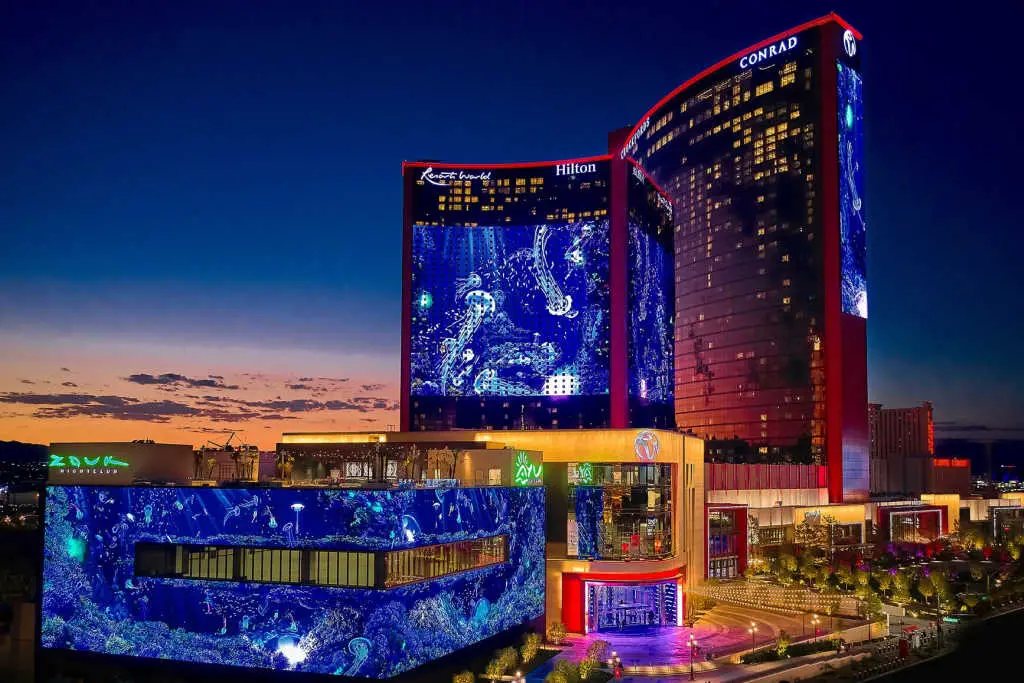 Highlights of Resorts World include a massive casino with a street food hall, a wellness spa, nightclubs, numerous restaurants and lounges, and an amazing outdoor space with seven pools. However, unless you're visiting the convention center, the location is a bit out of reach by foot to the rest of the strip—it's about ¾ mile to Treasure Island. Finally, if you decide to stay elsewhere at least make a trip to the resort to see "The Globe," a giant 50-foot-diameter LED globe.
Las Vegas Hilton at Resorts World > Check Availability
3. Club Wyndham Desert Rose Resort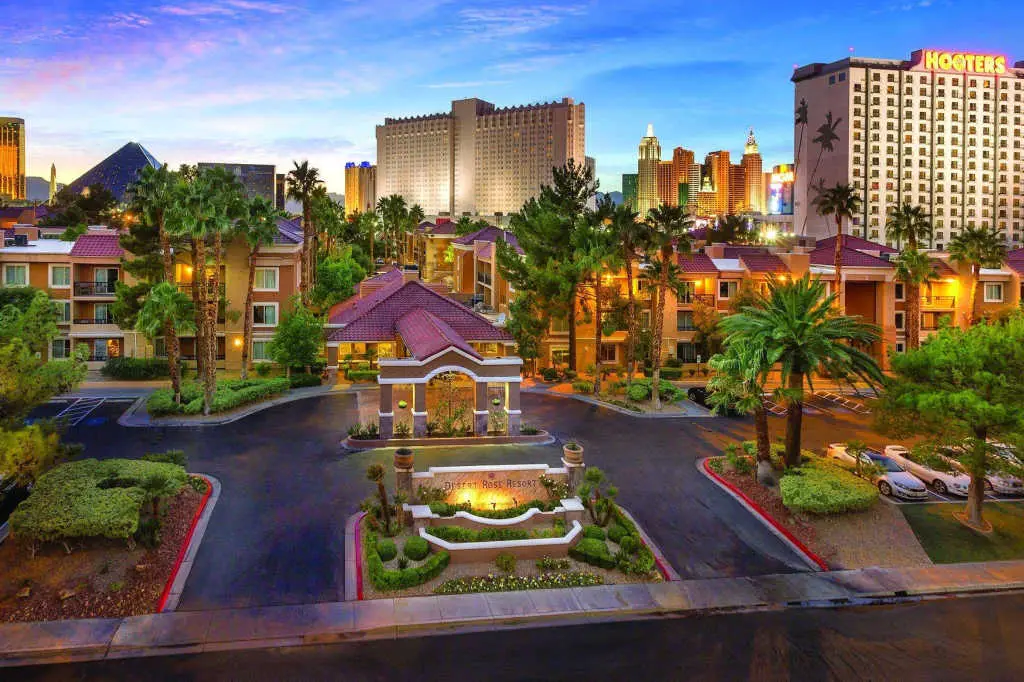 Located just behind the Tropicana, is one of Vegas' hidden gems—the Desert Rose Resort. This condo-style resort features one and two-bedroom suites with full kitchens, contemporary furnishings, a pool, hot tub, barbecue area, fitness center, and easy parking. Furthermore, the location provides easy access to Excalibur, Luxor, and Mandalay Bay.
Club Wyndham Desert Rose Resort > Check Availability
3 Best Hotels in Vegas With Balconies
Did you know that very few hotels in Las Vegas have balconies (for obvious reasons)? Many visitors to Las Vegas wonder what the best place to smoke is only after realizing that their hotel doesn't have a balcony.
Sure, you can walk down the Strip or find a parking lot but "technically," it's illegal to use in public. Wouldn't it be chill to smoke on a balcony overlooking the Strip? Of course, be courteous to other guests, and be sure to close your balcony door. 😉 On a side note, if you really can't find a place, just go to New York-New York's 'The Park' and find a cozy spot to sit.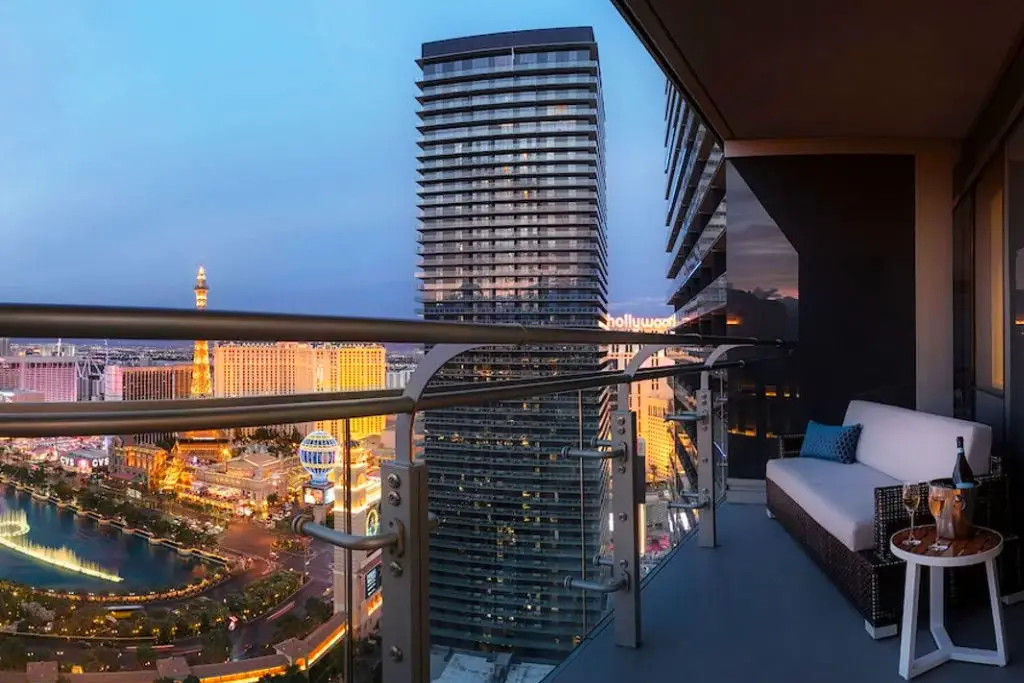 Nevertheless, below are pretty much the only three hotels with fantastic balcony views sorted from least expensive to most. Are you supposed to smoke on the balconies? Probably not. But a little puffy puff never hurt anyone and I won't tell anyone if you don't. However, be mindful of FreshAir sensors because they will bust you.
If your budget allows, The Cosmoplitan's Bellagio Fountain View Room is epic and it's the only hotel that permits guests to smoke on balconies worry/hassle-free.
💸 Hilton Vacation Club Polo Towers > 1 Bedroom 1 King Suite
💰 Signature at MGM Grand > Deluxe Balcony Strip View Suite
💎 The Cosmopolitan > Studio, Terrace, Bellagio Fountain View Room
4. The Mirage Hotel & Casino
Featured in the 1997 Hollywood hit movie "Vegas Vacation," Mirage was the accommodation of choice for the Griswold family. Nowadays, it's the best option for travelers looking to stay in one of Las Vegas' iconic hotels at an affordable rate.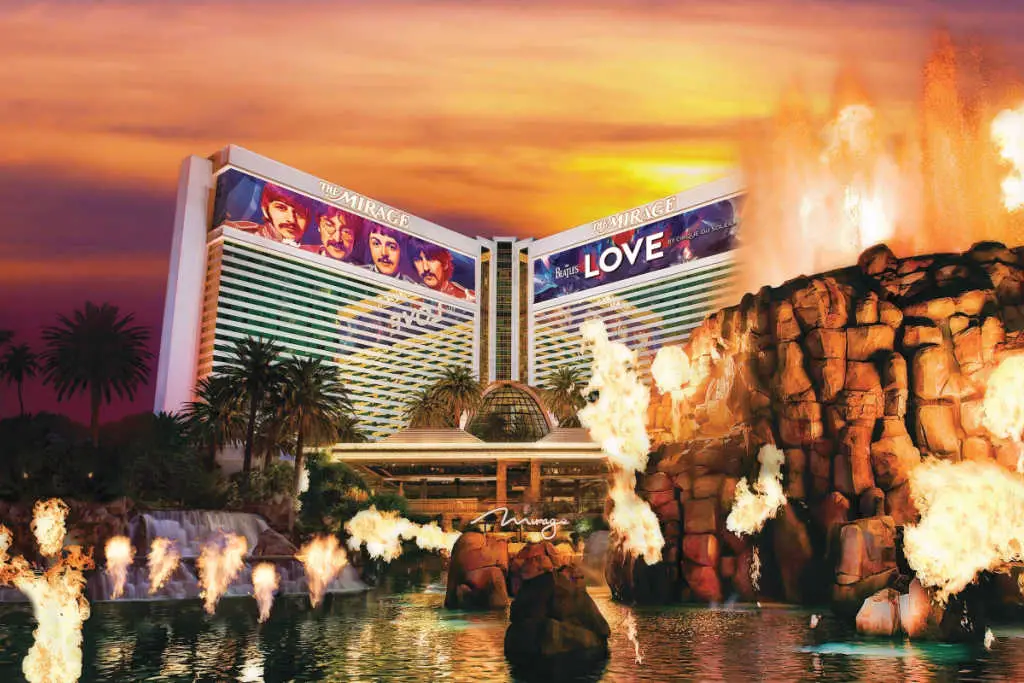 Furthermore, Mirage has everything one would look for from a Vegas hotel including a casino, entertainment, plenty of dining options, and an awesome pool scene. In short, we love the feel of Mirage's casino and did quite well playing blackjack during our last go-around. If you enjoy blackjack make sure you read this book before your trip.
The Mirage Hotel & Casino > Check Availability
5. Hilton Grand Vacations Club
If there is such a thing as a family-style resort on the Vegas strip then the Hilton Grand Vacations Club is it. Located nearly at the end of the northern strip, away from the hustle-and-bustle, this desert-deco-inspired resort features condo-style living with studios and one, two, and three-bedroom suites with full kitchens, and washers and dryers.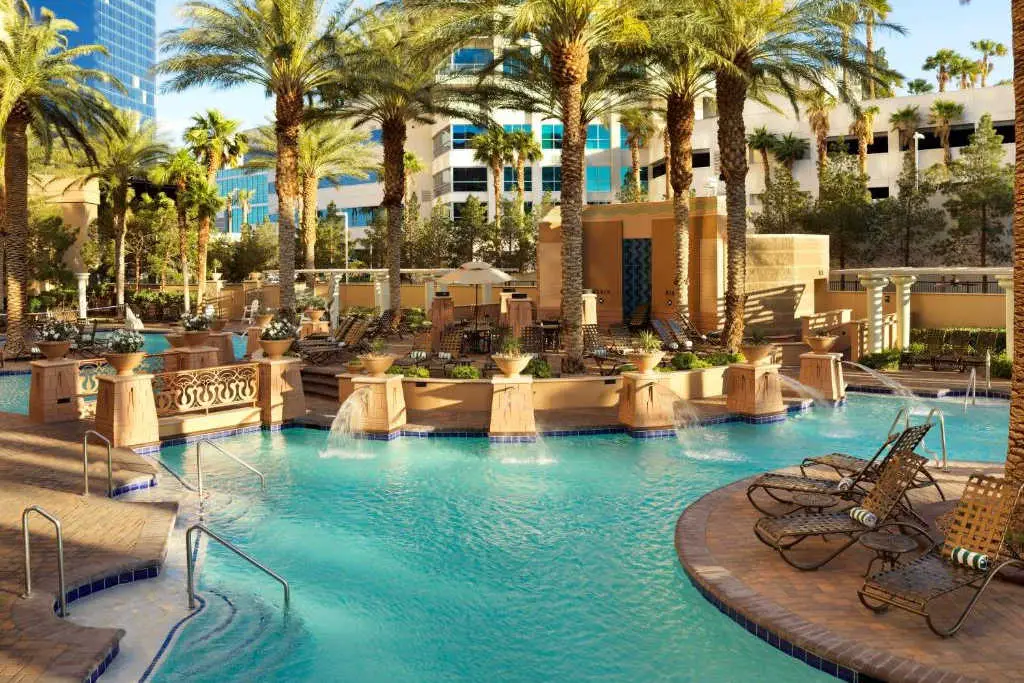 Other amenities include:
Two heated pools
Four hot tubs
Poolside bar & grill
Spa
Fitness center
Shuffleboard, pickleball, and basketball courts
Grocery store
Outdoor grills
Guests won't find pool parties, gambling, and smoking at the Hilton Grand Vacations Club. As a result, this is one of the best cheap hotels on the Vegas Strip for families.
Hilton Grand Vacations Club > Check Availability
6. Carriage House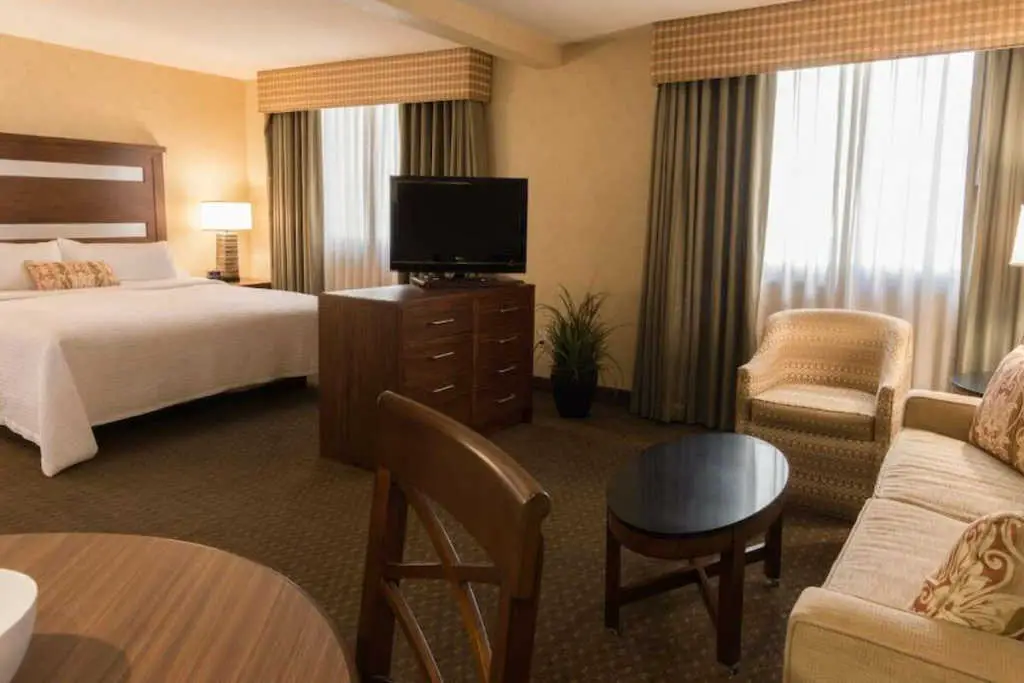 While technically not on the strip, the Carriage House is considered by many to be one of Vegas' best-kept secrets. Located between Planet Hollywood and MGM Grand, the Carriage House features traditional hotel rooms with kitchenettes and larger suites with full kitchens. Travelers looking for exceptionally clean comfortable accommodations with free parking, no resort fees, and a pool and hot tub are sure to find value in this hotel.
Carriage House > Check Availability
7. Trump International Hotel
Located between Treasure Island and Resorts World, and only about ½ block from the strip is the Trump International Hotel. While most people associate Trump Hotels with being ultra-expensive the Vegas location is quite affordable and easily one of the best cheap Las Vegas hotels on the strip.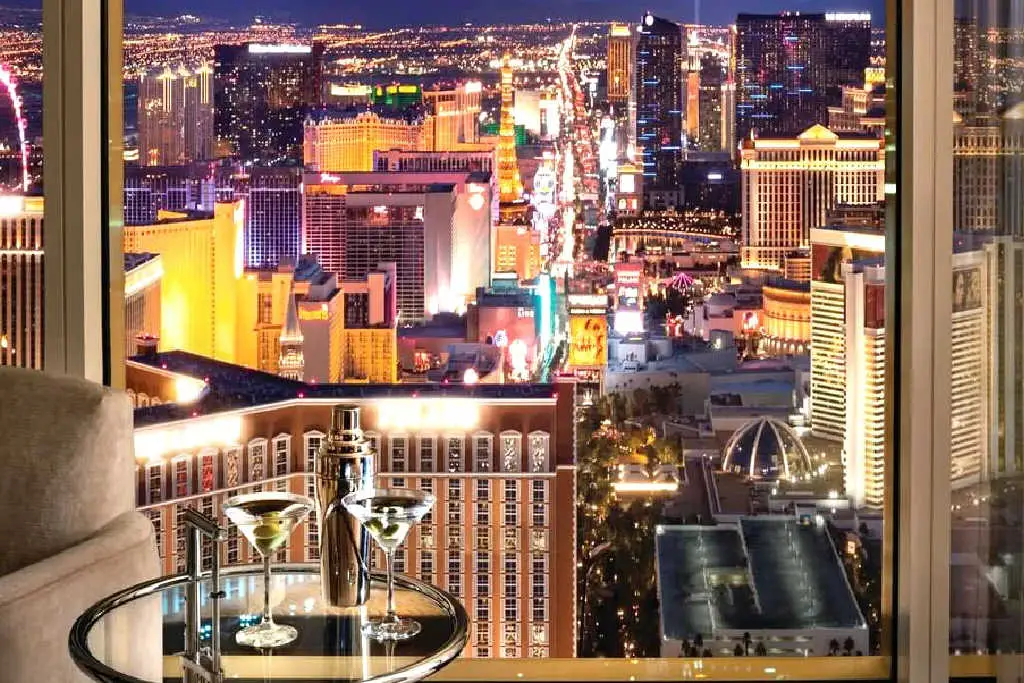 Furthermore, the non-gaming and non-smoking hotel features exemplary service, amazing dining and spa options, and a 7th-floor pool deck. Finally, the Trump International Hotel is acclaimed for having the best views of the Vegas Strip.
Trump International > Check Availability
Booking one of the seven cheap Las Vegas hotels on the strip listed above is a no-brainer. There's little doubt, that staying at any one of these accommodations will save you money and give you more funds to spend on entertainment, dining out, and of course, gambling. Here's to your big trip and we hope you hit the jackpot!
We Need Your Help
Did you find this article helpful? If so, bookmark it and when you're planning your next vacation click on any of the links below before finalizing reservations. You'll get the best price, we'll earn a small commission, and you'll help support future articles.
Thank you!
BEST TRAVEL SEARCH ENGINES
🏘️ Book Your Accommodation
We use Tripadvisor and Priceline's Express Deals to compare prices and reviews in advance and check availability
✈️ Book Your Flight in Advance
To find the cheapest flight options, you can use WayAway and Skyscanner to find the most suitable choice for you
🚗 Reserve Your Rental Car
Use DiscoverCars and Skyscanner to compare prices and view the largest selection of vehicles