Thrill seekers are wondering what happened to Insanity at The STRAT in Las Vegas. After becoming one of the most popular and terrifying rides on the planet, in March 2023 Insanity was closed until further notice.
As a city that is known for cheap thrills and once-in-a-lifetime exploits, it only makes sense that these rides are located in Sin City. This article will shed some light on what is going on with Insanity, one of the scariest rides in Las Vegas, and explain the current status and when it will reopen.
If you look at any Top Ten Lists of the scariest rides on the planet, many are shocked to see that Las Vegas hosts three of them—they are Insanity, Big Shot, and X-Scream—all of them are at The Strat Hotel, Casino & Tower. Moreover, if we were to rank them from most to least scariest we would position them as:
Insanity
Of course, measuring scariness is ambiguous and is something that can only be determined by the individual. However, for us, Insanity is physically torturous, Big Shot is just plain terrifying, and X-Scream is psychologically tormenting. Both Big Shot and X-Scream are still open to riders. 👇
🎢 Ride Big Shot or X-Scream at The STRAT > Buy Tickets
Insanity – The Ride
Insanity is a thrill ride unlike any other—after all, it isn't called Insanity for nothing! The joke is that the ride is perfectly named because the people who created it are psychotic, and the riders crazy.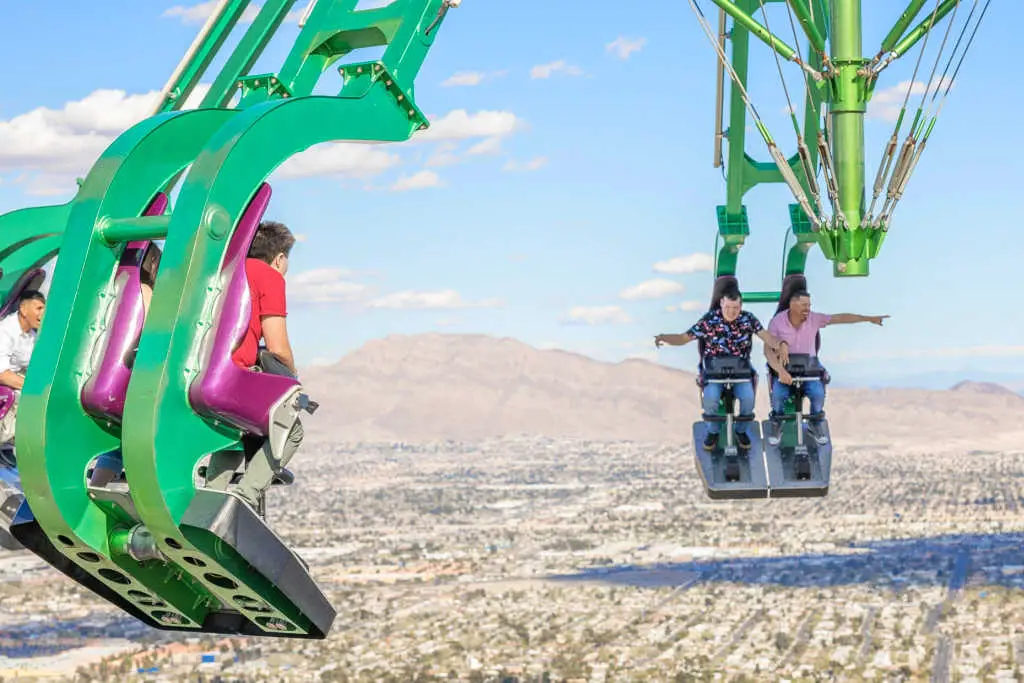 Insanity often ranks as "One of the Scariest Rides in the World" because it plays with the riders' senses. Spinning at this height makes people feel unsettled and unsafe.
Insanity also causes many riders to develop extreme vertigo and nausea which only adds to the challenge. For instance, because the ride is spinning so fast, it's difficult for many riders to find a focus point, which only enhances vertigo.
Test of Endurance
One passenger reported that after riding Insanity, he felt nauseous for the rest of the day because his equilibrium was so off-kilter. Furthermore, queasiness is so common that it is recommended not to ride with a full stomach.
Additionally, while you may think that being drunk or high may make you fearless, spinning this fast while intoxicated may not be the best idea either. As one reviewer described his experience as you, "Feel the fear to the point of vomiting."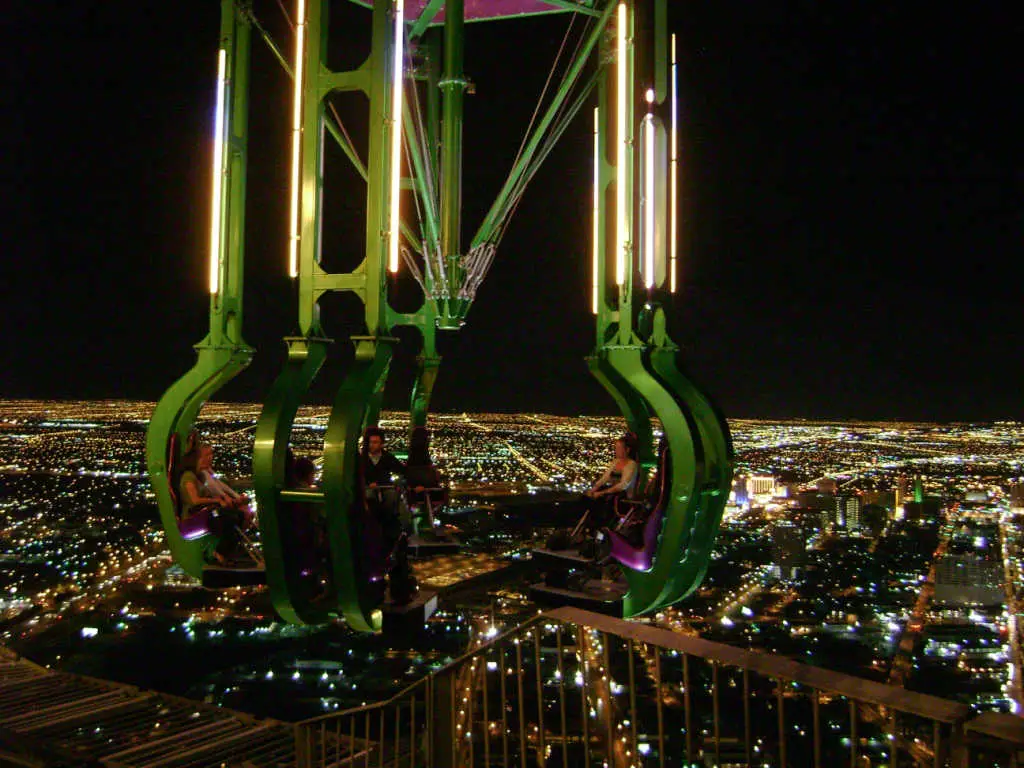 However, if spinning rides don't necessarily bother you, then you may be one of the unique few that describe the experience as peaceful, after the initial look over the 900-foot edge.
What's It Like To Ride Insanity?
Using a massive mechanical arm, seated riders glide 64 feet away from the SkyPod. Considered an inverted centrifuge ride, passengers spin at speeds up to 40 m.p.h. while tilted forward to see the ground beneath at an angle of 70 degrees. Also, while there is no age restriction riders must be at least 52 inches tall.
Another interesting feature is that the ride allows for several different motion sequences. For this reason, no two rides will feel the same. Also, one important safety feature prevents the ride from starting if the winds hit a certain speed.
Current Status – What We Know
In March 2023, rumors about Insanity started when the listing was quietly removed from The STRAT webpage.  Typically, when attractions remove a ride from their webpage, it's not a good sign. Furthermore, in a new promotion video for its thrill rides, The STRAT did not include Insanity in the footage.
Now consider that the ride's Google listing states that the ride is "permanently closed." However, this doesn't necessarily mean that the ride went to the thrill ride graveyard, just yet.
Google modified the listing because so many reviewers marked Insanity as closed. However, The Strat has not officially stated this. In other words, no one except the executives at The Strat no the complete story.
Insanity Rumors
In a Tweet from May 15, 2023, Vital Vegas claims that Insanity is closed down only for maintenance. Furthermore, Vegas.com has a notice on its online ticket page that states, "The Insanity Ride at The STRAT Skypod will be closed until further notice." When citizen journalists call The STRAT, employee responses about the ride's closure have been vague.
But after a few months of no news, thrill ride enthusiasts started digging into what is going on with Insanity. Apparently, this one-of-a-kind flat ride needs to be repaired. However, Interactive Rides, the ride's manufacturer, and creator of replacement parts went out of business in late 2022.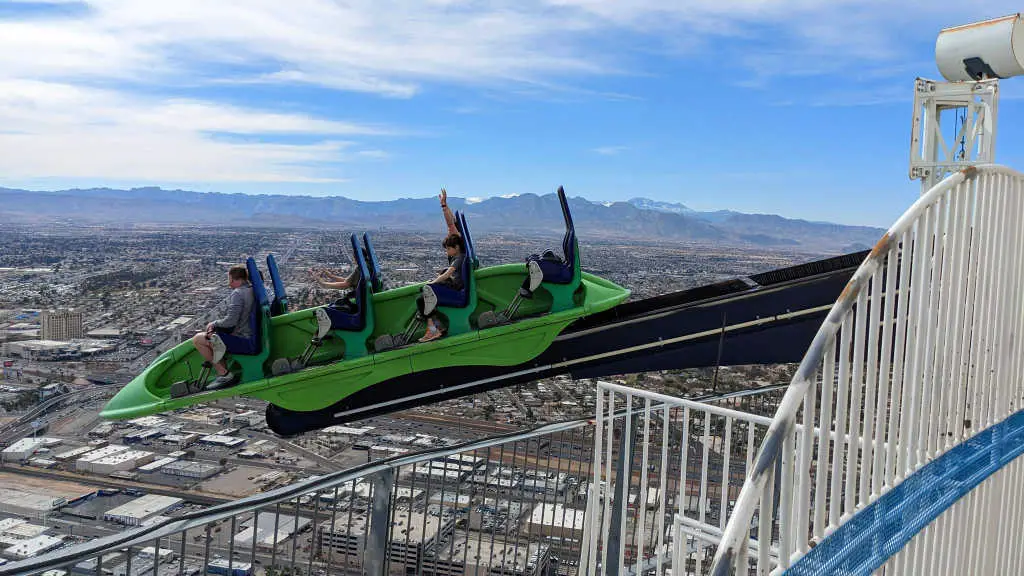 On Reddit, an individual in the roller coaster community said that the lawsuit over Turbulence at Hersheypark is what eventually did the company in. Interactive Rides was based in Logan, Utah, and was responsible for designing and manufacturing X-Scream, one of the other two thrill rides on top of the tower.
Now What?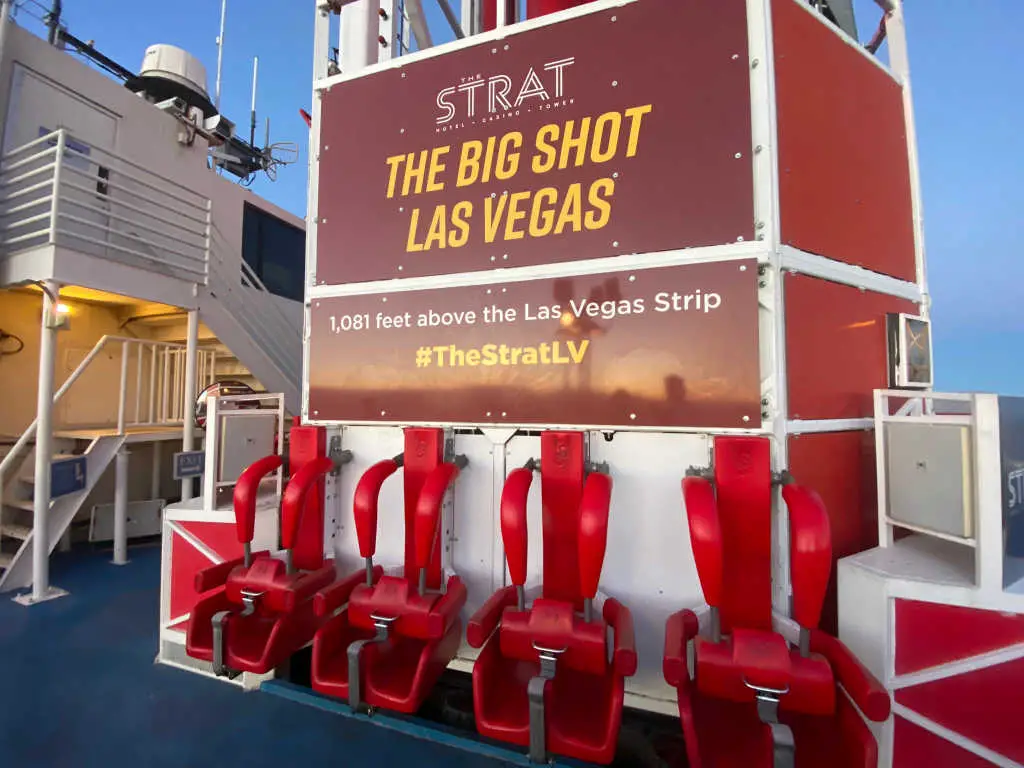 Insanity opened in 2005 and closed in March 2023. Even if it doesn't get repaired, it still had a long run. With minimal space on top of The STRAT, a state-of-the-art thrill ride could take its place to bring some new energy to the tallest structure in Las Vegas.
We Need Your Help
Did you find this article helpful? If so, bookmark it and when you're planning your next vacation click on any of the links below before finalizing reservations. You'll get the best price, we'll earn a small commission, and you'll help support future articles.
Thank you!
BEST TRAVEL SEARCH ENGINES
🏘️ Book Your Accommodation
We use Tripadvisor and Priceline's Express Deals to compare prices and reviews in advance and check availability
✈️ Book Your Flight in Advance
To find the cheapest flight options, you can use WayAway and Skyscanner to find the most suitable choice for you
🚗 Reserve Your Rental Car
Use DiscoverCars and Skyscanner to compare prices and view the largest selection of vehicles