When searching for hotels in Las Vegas, there's pretty much nothing more annoying than dealing with resort fees. What used to be a $10 or $15 expense is now $50+ per night, making it virtually impossible to compare prices. No worries. If you're looking for hotels without resort fees in Las Vegas there are several good options. However, there are many situations when simply paying the resort fee makes sense—which we'll cover below.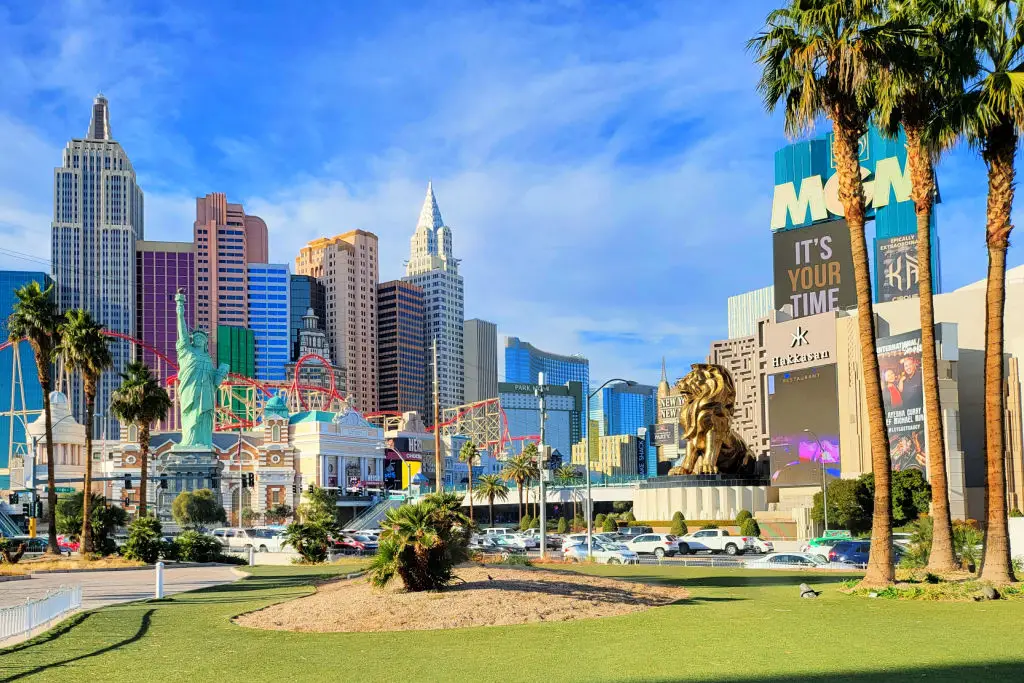 Just about every hotel in Las Vegas near the Strip charges a resort fee, the vast majority averaging about $50 per night. Probably the most shocking aspect of the resort fee is that it will most likely not include parking. As a result, anyone who drives to Vegas should expect to pay an additional $80, on top of the room rate, to cover parking and resort fees, per night. Of course, the nicer hotel the higher the cost.
Why Do Hotels Charge Resort Fees?
When it comes to Vegas, it's all about the profits. Hotels charge resort fees to reduce the commission paid to travel agents and booking sites.
For example, if you were to make a reservation at Bellagio through Trivago, you would pay for the room online and pay for the resort fee when checking in. As a result, Bellagio does not need to share the sale and enjoys all of the revenue.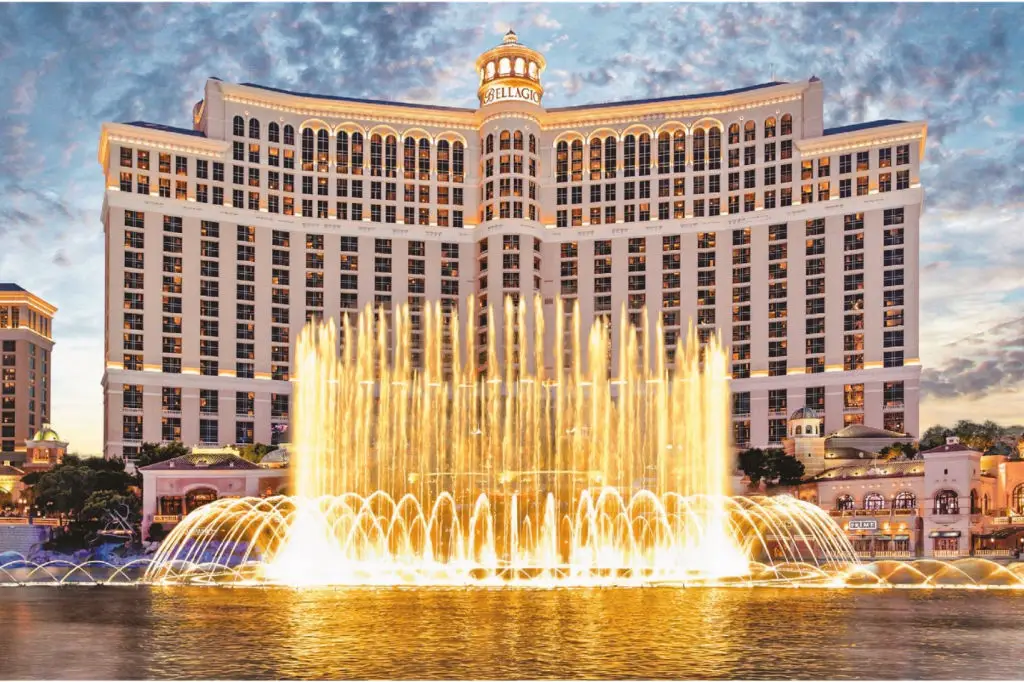 Another reason why hotels charge resort fees is to make their room prices appear lower in price than they actually are—it's all smoke and mirrors. Without a doubt, the resort fee is just another tactic used by Las Vegas casinos to get those dollar bills out of your pocket and into theirs.
For instance, many inexpensive hotels like Excalibur 👑, The STRAT 🗼, and Circus Circus 🎪 have nightly rates that are less than the resort fee! Nevertheless, there are better options for these three hotels below.
Budget Tip 💰
: Why do we like Las Vegas so much? Because these days when money is tight, there is still so much to do around the city for FREE!
Look at all the fun you can have
without spending a dime ⁠— with or without the kids in tow!
What's Included in a Resort Fee?
First off, a resort fee is a charge made by a hotel that is usually added to your nightly rate. Of course, to rub salt in the wound, guests must also pay tax on the resort fee.
Most people assume that paying a resort fee means that they'll receive some perk, nope! It's pretty pathetic what hotels try to include in the resort fee nowadays.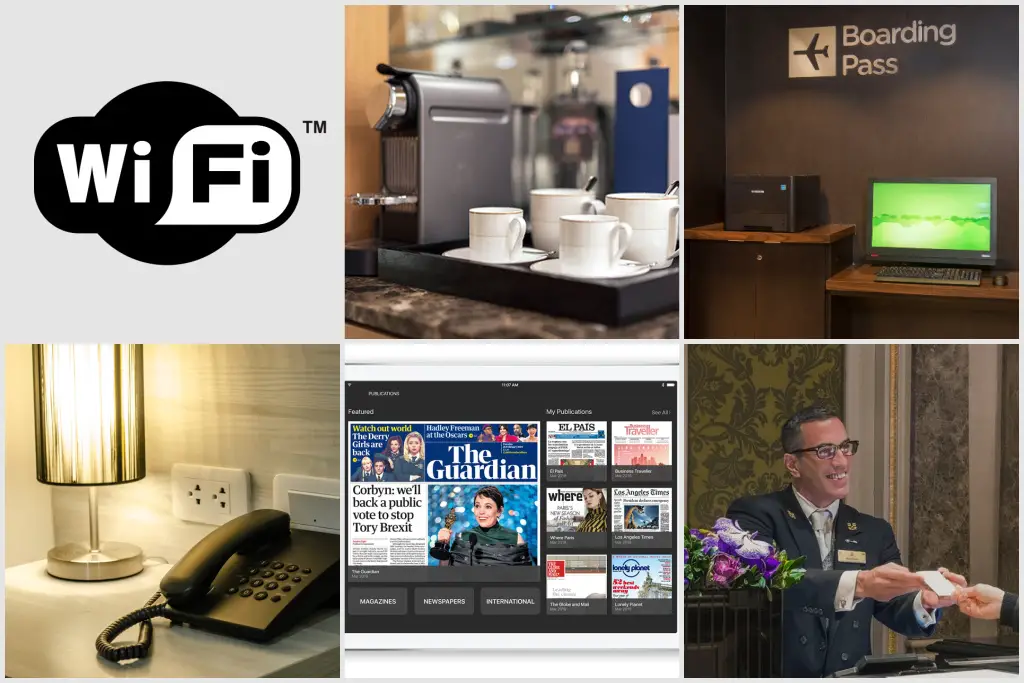 Sure, paying a resort fee allows guests to access the property's pool and fitness center, but shouldn't that be included in the room rate anyway? 🤔 We think so.
Here is a list of the typical amenities included in the resort fee that most guests would assume were standard hotel practices—after all, you can get pretty much all of these for free at a Super 8.
Wi-Fi: Sorry, providing Wi-Fi nowadays is like saying running water and electricity, it's a standard utility.
In-room coffee: Just about every hotel in the country provides complimentary java.
Printing boarding passes: Most travelers handle boarding tickets on their phones.
Local phone calls: Once again, most guests will simply use their phones. Oh, and thanks for throwing in toll-free telephone calls too. 🙄
Daily digital newspaper access: It's just getting worse. 🤦‍♂️
Notary services: We're speechless 😮
There's one amenity that used to be included in most resort fees that isn't anymore, parking. Of course, the amenity that adds value comes with an additional cost on top of the resort fee. Luckily, many of the hotels without resort fees in Las Vegas don't charge for parking either.
💰 Save up to 50% on Vegas Attractions
One of the easiest ways to save a ton of money in Las Vegas is with a Go City Explorer Pass. It includes all the best attractions, tours, and activities at one affordable rate. If you plan on hitting up just a couple of the major tourist attractions, it's an absolute no-brainer.
For example, going on a helicopter tour over the Las Vegas Strip is one of the best things to do in Las Vegas. Luckily, it's included in the Go City's 3-Day All-Inclusive Pass, making it more affordable than most think! If you want to see a ton of stuff and save a lot of money, we highly recommend the pass. Be sure to check out the 35+ attractions by clicking here. 👇
On the Strip – Hotels Without a Resort Fee in Las Vegas
Let's start with the bad news. Just about every hotel on the Strip is owned by either Caesars Entertainment or MGM Resorts, and both organizations charge resort fees. For this reason, if you're looking to stay on the Strip your options are minimal.
Here's a list of hotels owned by both Caesars and MGM.
Caesars
Caesars Palace
Flamingo
Harrah's
Horseshoe
Paris
Planet Hollywood
Rio
The Cromwell
The LINQ
MGM
ARIA
Bellagio
Delano Las Vegas
Excalibur
Four Seasons
Luxor
Mandalay Bay
MGM Grand
New York-New York
NoMad Las Vegas
Park MGM
The Cosmopolitan of Las Vegas
The Signature at MGM Grand
Vdara at ARIA
Nevertheless, there are still a few good options on the Strip, of hotels without a resort fee in Las Vegas.
As one of the lesser-known accommodations on the Strip, the Jockey Club Resort is conveniently located between City Center and Bellagio, right next to Cosmopolitan. Also, being an all-suite hotel the rooms feature fully equipped kitchens, allowing guests to save a ton of money on eating out—they have outdoor gas grills too.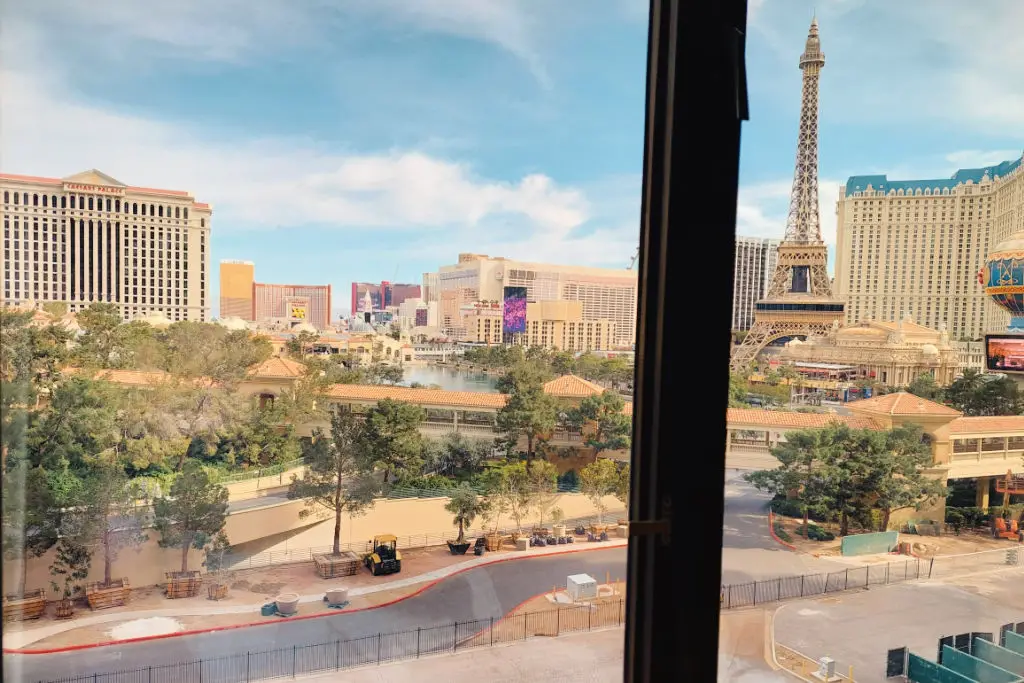 We've seen weekday rates as low as $123 per night, which is unheard of on this part of the Strip. Jockey Club is a bit of a hidden gem, simply because most travelers don't know it even exists. Finally, there's a simple outdoor pool and fitness center, and of course, no resort fee.
🏨 Jockey Club Resort > Check Availability
Budget Tip 💰
: Don't overpay for Vegas shows, concerts, or events.
Read this article
to get the best prices on Vegas entertainment.
Surrounded by highrise casino hotels, most travelers completely miss the Best Western Plus Casino Royale. Located just across from the Mirage and next to Harrah's, and the only White Castle on the Strip, this budget-savvy hotel is in the heart of Las Vegas.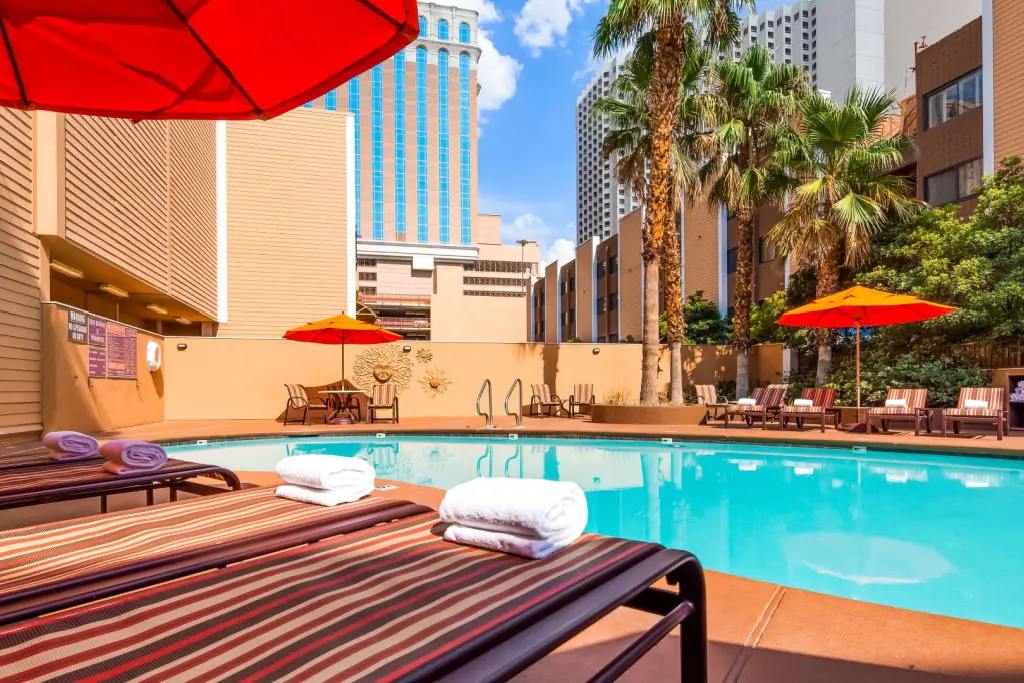 Sure, you're not getting much more than a room but it's Las Vegas, you're not supposed to be in your room. You should be out exploring the craziest city on the planet, going to Vegas shows, and hopefully winning some money. Notwithstanding, you're still getting a recently remodeled room, a clean bed, a hot shower, a halfway-decent pool, and free parking.
We've seen rates as low as $90 per night. This is just a bit lower than Mirage which is right next door, when including their resort fee.
🏨 Best Western Plus Casino Royale > Check Availability
When it comes to enjoying something nicer than a basic motel on the Strip, look no further than Marriot's Grand Chateau. Sure, it's about ½ a block from Las Vegas Blvd., but being just across the street from Planet Hollywood makes it worthwhile.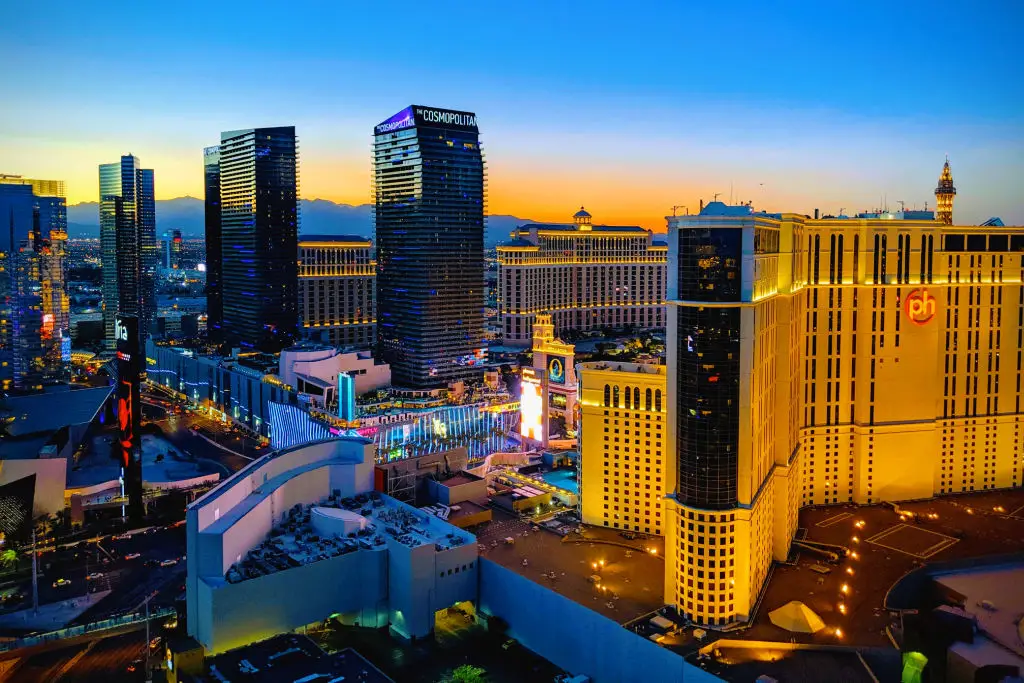 This place is pretty posh, nearby MGM-branded hotels would cost at least twice as much for comparable rooms. Featuring spacious suites and large one, two, and three-bedroom villas, if you're looking for room to stretch out this is the place. Also, free valet parking, a nice fitness center, and two small outdoor pools make Marriott's Grand Chateau a fantastic option for travelers looking to avoid those costly resort fees.
🏨 Marriott's Grand Chateau > Check Availability
Budget Tip 💰
: Budget-savvy travelers may want to consider the Carriage House, right next door to Marriot's Grand Chateau. It's made our list of the
best cheap but nice hotels on the Vegas Strip
and doesn't have any resort fees.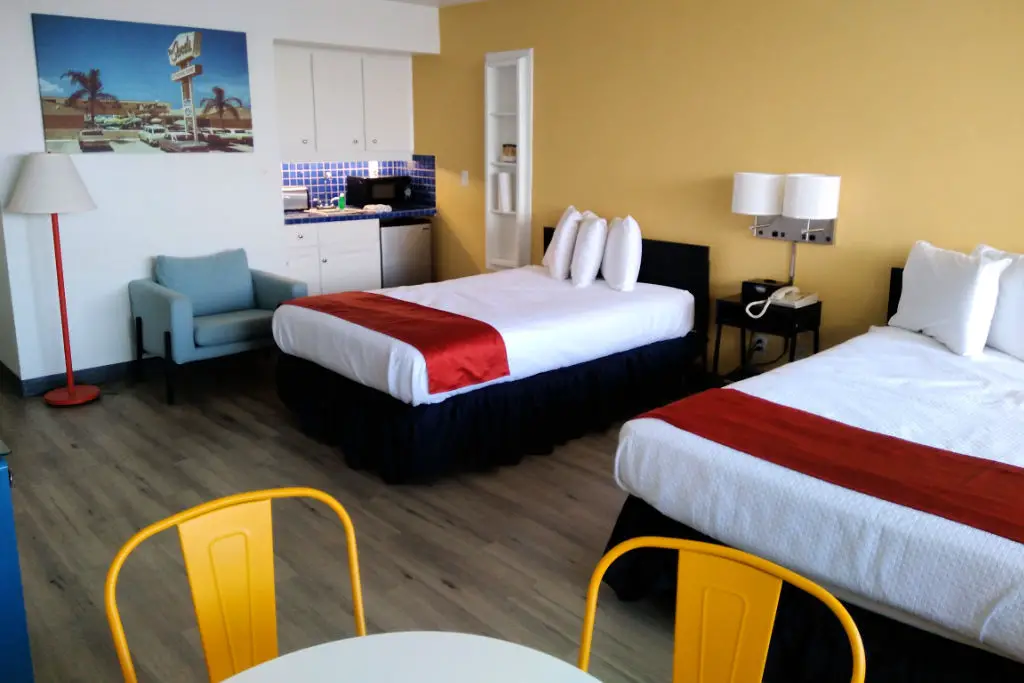 Located on the same street as Marriott's Grand Chateau and Carriage House, the Travelodge by Wyndham is pretty much the cheapest place to stay on the Vegas Strip. We've seen rates as low as $65 per night, and with Travelodge just steps away from the Strip this is crazy cheap.
🏨 Travelodge > Check Availability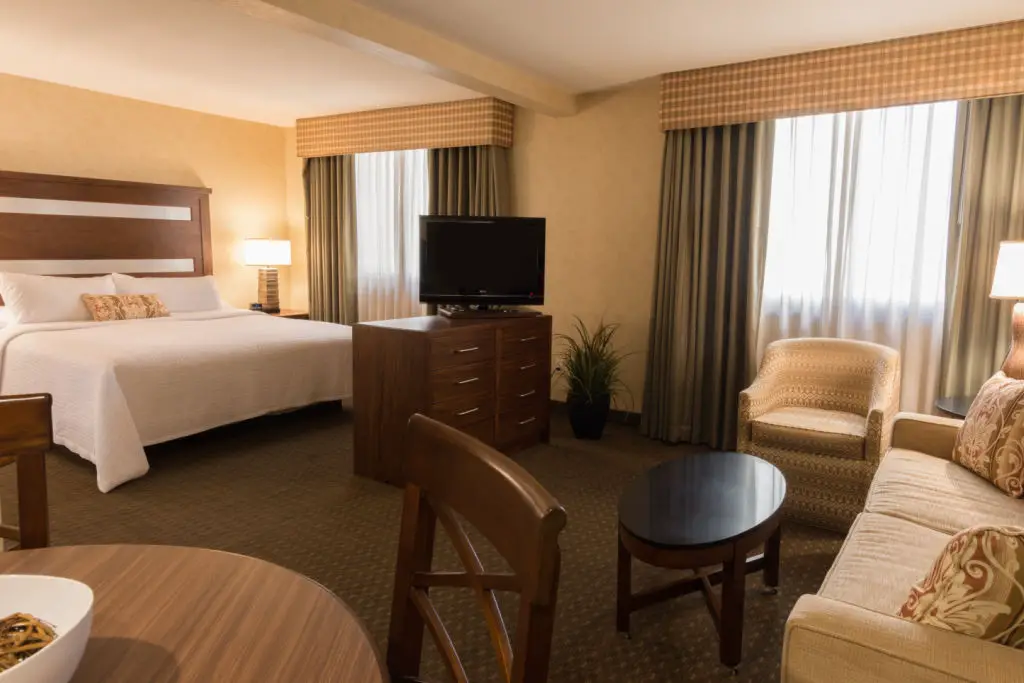 While the location is hard to beat, we're not really into Travelodge—since it can be hit or miss. For this reason, we suggest walking just a few hundred away from the street and staying at the Carriage House which is clean, comfortable, and a great deal being so close to the Strip.
🏨 Carriage House > Check Availability
Off the Strip – Hotels Without a Resort Fee in Las Vegas
Budget-savvy travelers looking for phenomenal deals, like us, will find the off-the-Strip hotels offering the best value. In fact, the last eight times we've been to Vegas we've stayed in:
For the record, the Hilton Vacation Club Desert Retreat is our favorite. Typically, we'll spend about $85 per night from Sunday to Thursday and have a one-bedroom suite with a full kitchen, adult pool and hot tub, and free shuttle to the Strip.
Rates are low and rooms are spacious with one and two-bedroom condos with full kitchens and laundry facilities. Also, being about two miles from the Strip parking is free and guests can easily place their vehicle near their apartment.
The Hilton Vacation Club Desert Retreat features two pools and two hot tubs, one for all ages and the other for adults. Finally, there's an hourly courtesy shuttle that transfers guests from the Strip to the resort and even stops at the local supermarket.
Weekday rates are less than $100 per night.
🏨 Desert Retreat > Check Availability
When Desert Retreat isn't available, the Desert Rose Retreat is our second preferred accommodation. As a similar condo-style resort, Desert Rose is only two blocks from the Strip and features a small pool, a nice fitness center, and free parking.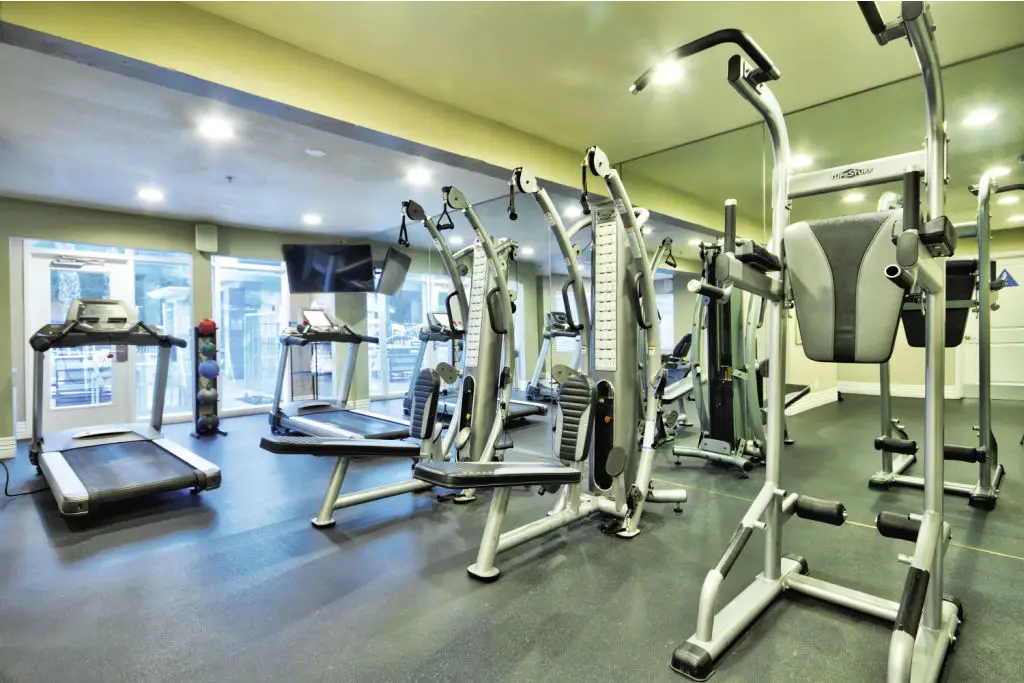 Overall, the condos are a bit smaller than Desert Retreat, but it's nice to hit up the Strip and not have to worry about driving. We've seen weekday rates as low as $80 per night.
🏨 Desert Rose Resort > Check Availability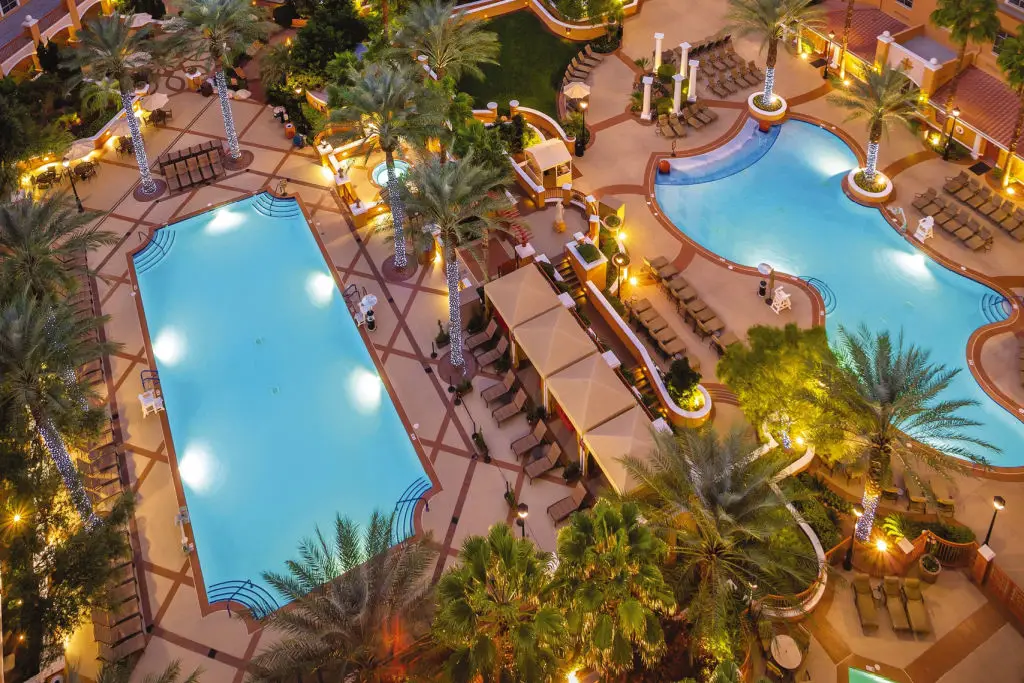 Consider the Club Wyndham Grand Desert if you would like to stay within walking distance of the Strip and must have in-unit laundry. Also, Grand Desert has three pools, four hot tubs, and a free shuttle to the Strip.
🏨 Grand Desert > Check Availability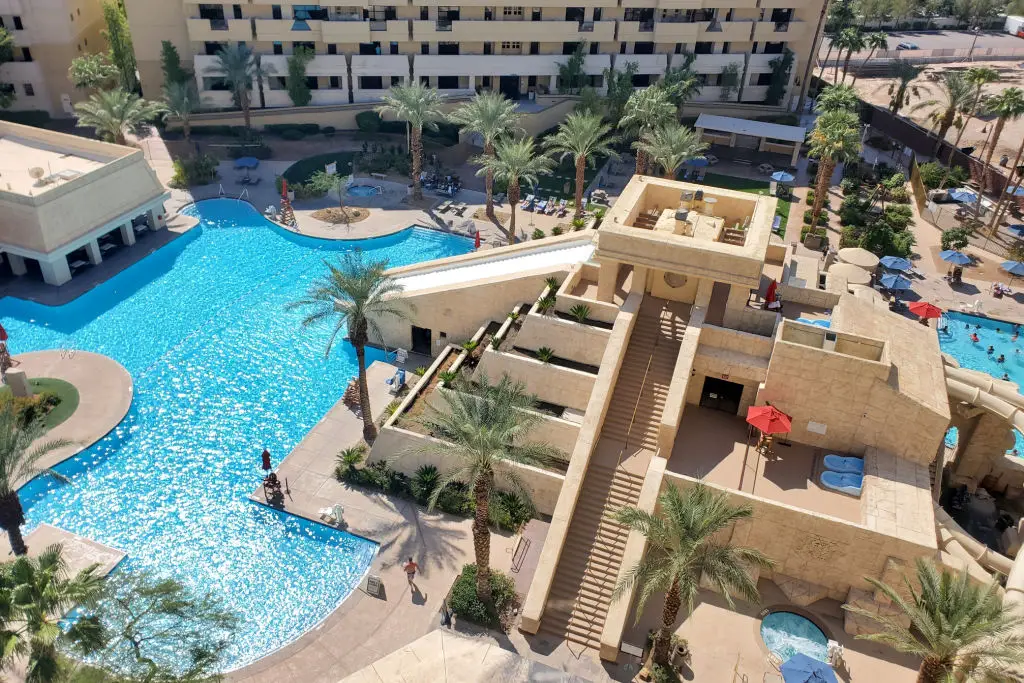 On our last visit to Las Vegas, we stayed at the Hilton Vacation Club Cancun Resort. Located about 5 miles south of the Strip, this accommodation is great for families with children—they have large pools with waterslides and a giant Mayan temple waterfall.
🏨 Cancun Resort > Check Availability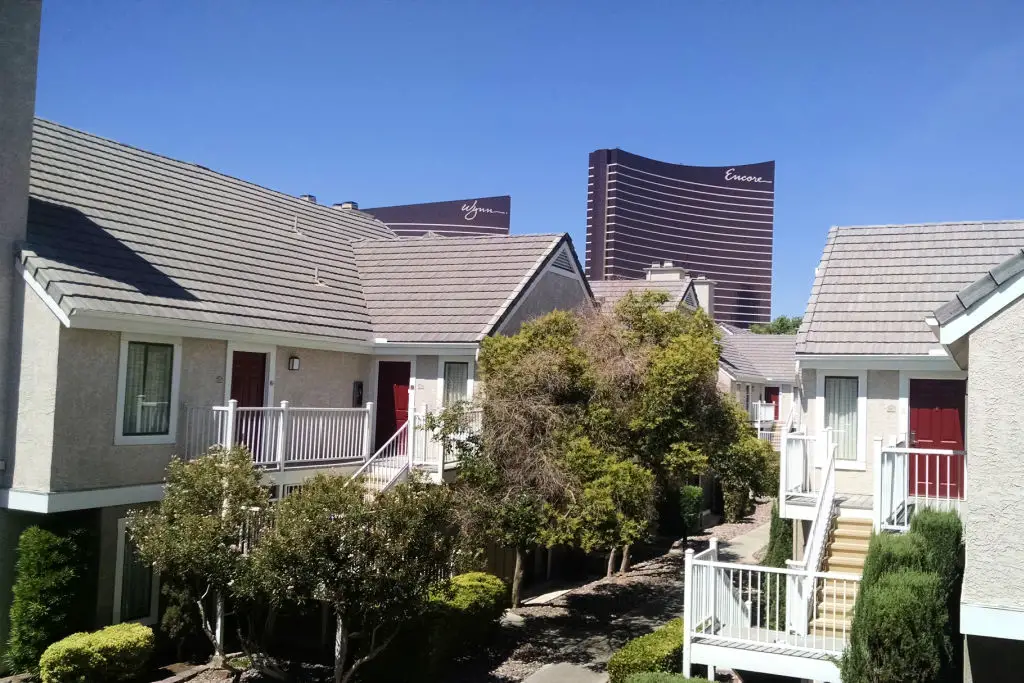 Travelers looking to enjoy a complimentary breakfast buffet and townhome-style living should consider Residence Inn by Marriott. While it does have comfortable facilities the location may seem a bit awkward if you're not visiting the convention center. However, it is across the street from the monorail station, and you can get a four-day monorail pass for about $40—making it super easy to get to various parts of the Strip. Finally, there's a $15 per day parking fee.
🏨 Residence Inn > Check Availability
Budget Tip 💰: If you're part of the Wyndham or Hilton programs, you may have resort fees waived if you have elite status.
Comparison Resorts With No Resort Fees
The abundance of resort fees in Las Vegas can make comparison shopping difficult—many times they're hidden until you're about to complete the booking. For this reason, the easiest thing to do is assume a $50 per night resort fee for major Las Vegas casino hotels. Also, there's no shame in paying resort fees, most people do.
Nevertheless, if you're looking to avoid resort fees and would like to stay within walking distance of the Strip stay at either Marriott's Grand Chateau, the Carriage House, or Desert Rose Resort. If you're willing to stay off the Strip, consider Club Wyndham Grand Desert, which is our personal favorite.
Just like our dreams, Las Vegas doesn't sleep — but there's no point in being uncomfortable for those few hours of rest, just to save a few dollars. Therefore, if you're looking to stay in a hotel without resort fees in Las Vegas be sure to book one of the recommendations listed above.
We Need Your Help
Did you find this article helpful? If so, bookmark it and when you're planning your next vacation click on any of the links below before finalizing reservations. You'll get the best price, we'll earn a small commission, and you'll help support future articles.
Thank you!
BEST TRAVEL SEARCH ENGINES
🏘️ Book Your Accommodation
We use Tripadvisor and Priceline's Express Deals to compare prices and reviews in advance and check availability
✈️ Book Your Flight in Advance
To find the cheapest flight options, you can use WayAway and Skyscanner to find the most suitable choice for you
🚗 Reserve Your Rental Car
Use DiscoverCars and Skyscanner to compare prices and view the largest selection of vehicles