We wish we could write our Oceania posts bragging about how budget-savvy we were, but Australia and New Zealand are tough on a backpacker's budget. We joked that perhaps that's why there are so many Australian backpackers out in the world because even the Aussies can't afford their own hostels!
North Island New Zealand | Itinerary and Best Things to Do!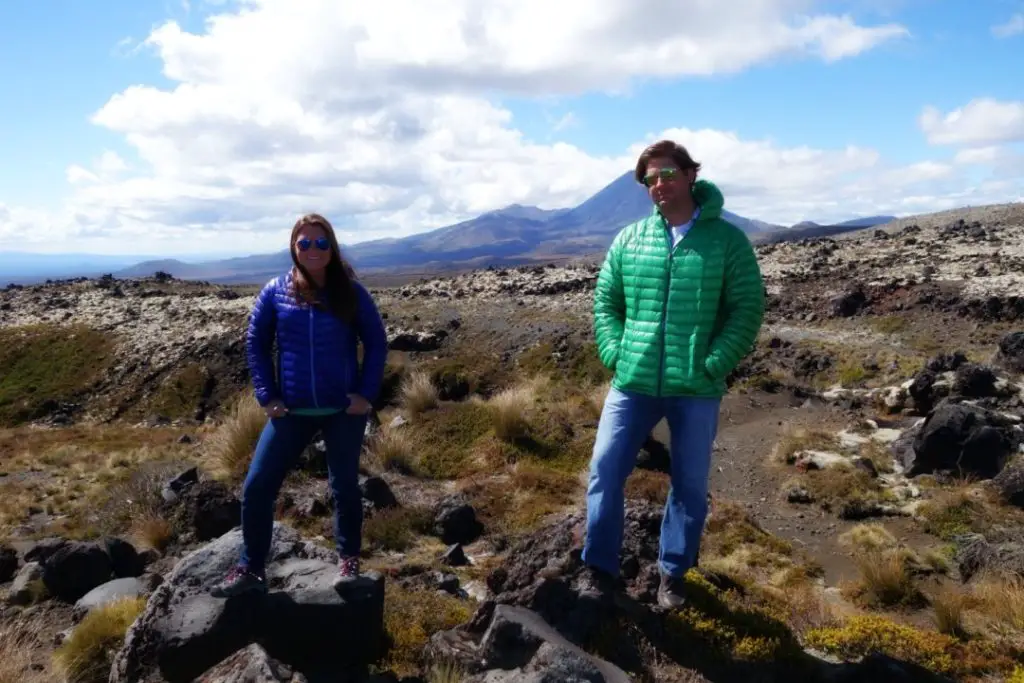 We would have liked to spend more time in both these countries, but with expensive wifi in the Cook Islands and NZ's limited wifi, we were left scrambling to plan this portion of our RTW trip. Due to the expensive nature of New Zealand, we opted to do a quick 9-night road trip through the North Island.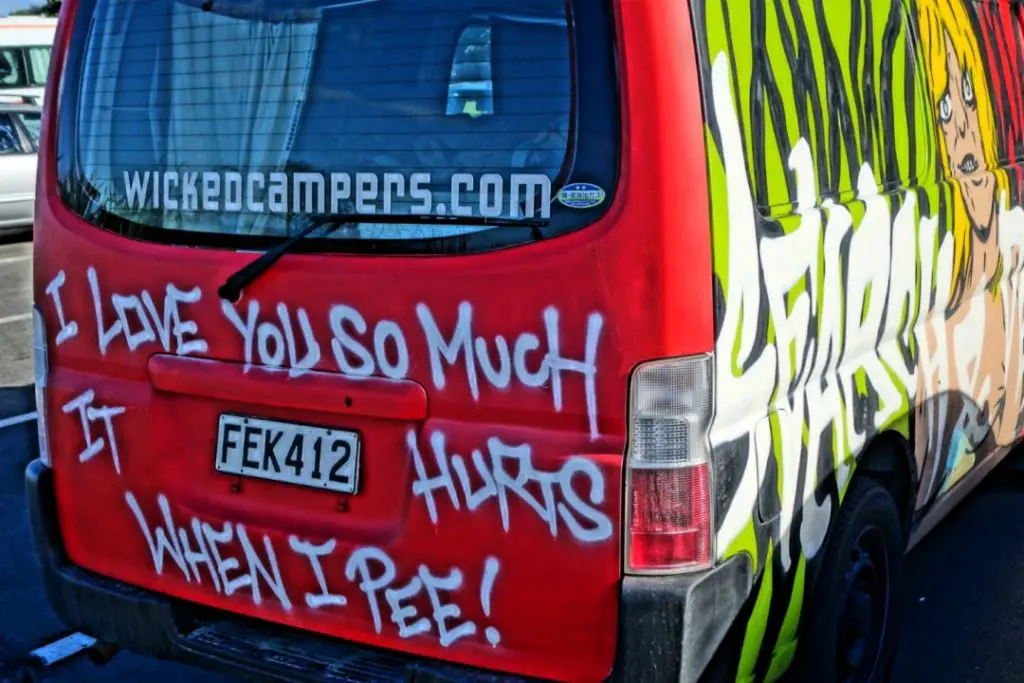 Below is our itinerary, accommodations, and details surrounding this portion of our journey. In previous travels, Harry and I explored the South Island of New Zealand on a 17 day holiday. We avoided the North Island then because everyone raved about how much better the South Island was. However, we were amazed at the beauty, landscapes, and vineyards that the North Island of New Zealand had to offer.
North Island New Zealand Itinerary
Due to an onward flight issue, we only had nine days to explore the North Island of New Zealand.  After some research, we decided that this was the best one-week itinerary we could put together. We wanted to make sure we were seeing and doing all of the best things to do.
Our North Island New Zealand itinerary consisted of finding accommodation in the cities below. The map helps to visually identify the route:
Auckland
Whitianga
Matamata (Hobbiton)
Taupo
Napier
Auckland
Don't Hire a Camper Van
Many backpackers hire camper vans to try to explore New Zealand on the cheap, however, we calculated that after paying for the van, petrol, camping supplies, etc., that it would make more sense for us to rent a car and stay in budget-friendly accommodations.
Rather than renting a camper van, it would be about the same cost (if not cheaper) to rent a car and find cheap accommodations. Good luck trying to convince us how living out of a van is better than staying in a cozy bed each night!
Rental Car | North Island New Zealand
We rented a car through <Scotty's Rental> at about USD 30 USD dollars a day. A staff member picked us up at our airport hotel to complete the rental. This was the first time Harry had driven a car in over 6 months!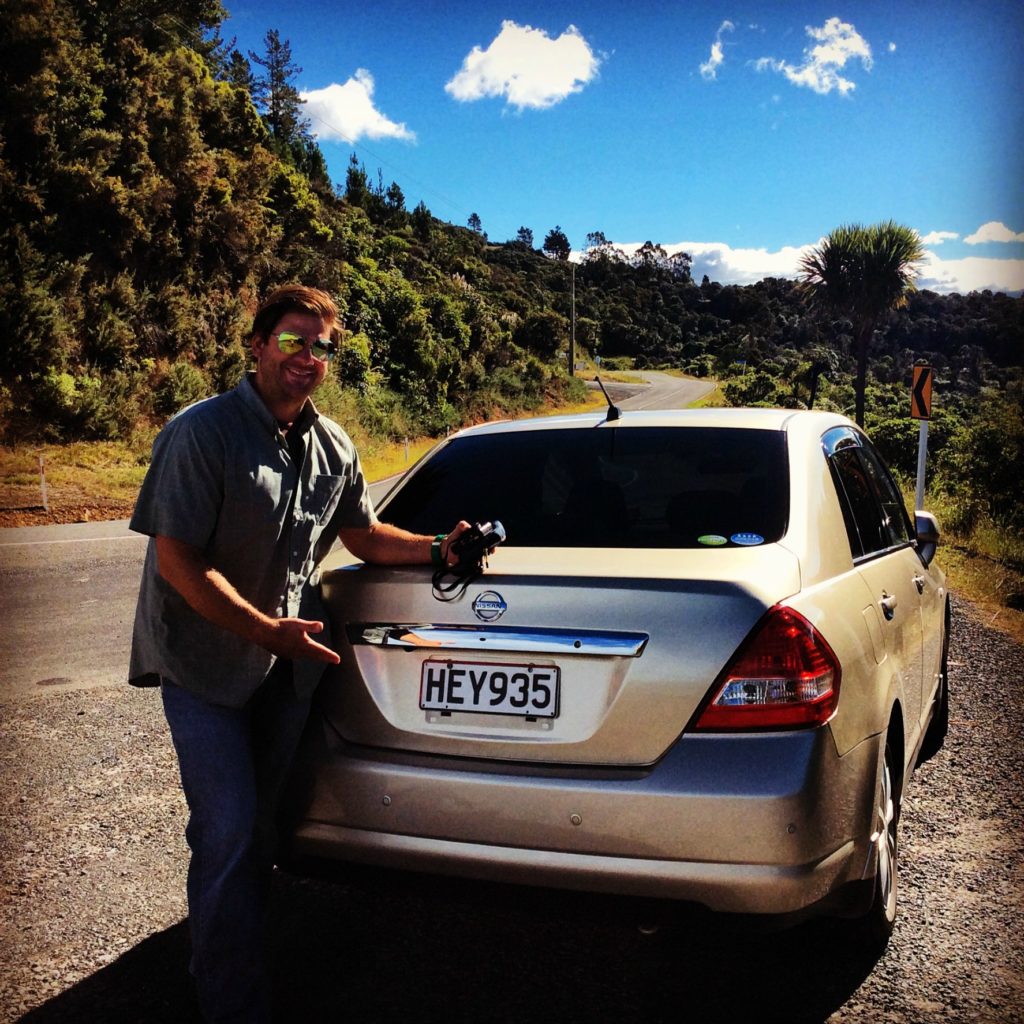 It's no surprise that New Zealand is probably one of most scenic countries to road trip through. By square miles, it's quite possibly the most beautiful country in the world. Every turn in the road brings another exclamation of, "Wow!" The good news is that you don't even need to fill your days with crazy excursions or expensive activities since traversing the country can satisfyingly fill your days.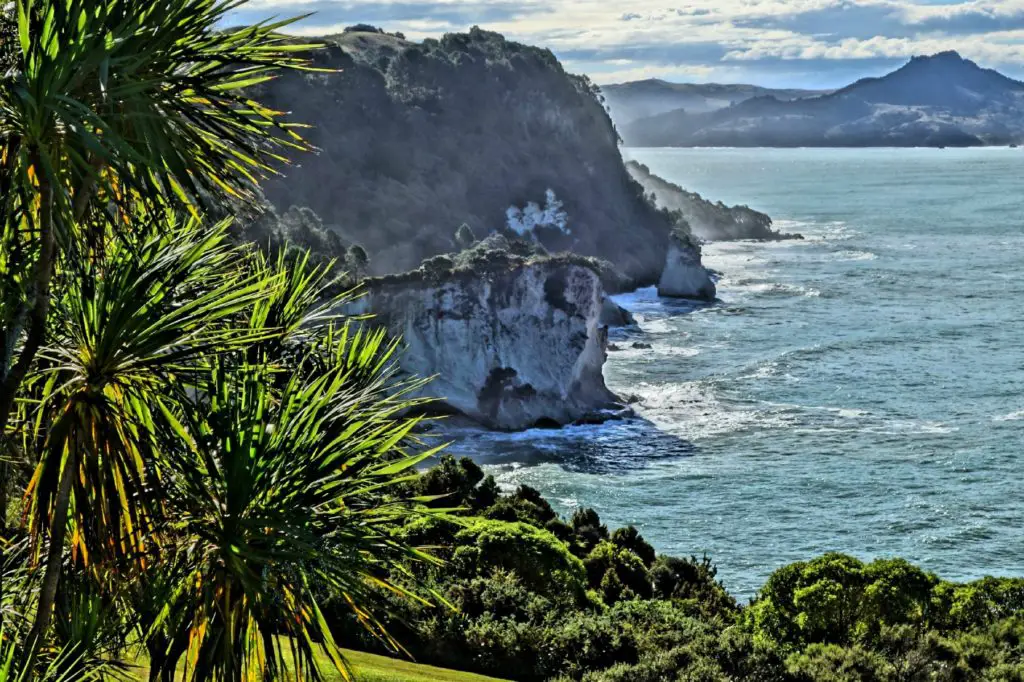 1. Auckland
Our trip began in Auckland where we stayed at the <Heartland Hotel>. It was close to the airport with a free shuttle. The night we arrived, NZ was preparing for Cyclone Pam which had just torn through and destroyed Vanuatu.
That night, the newscasters were dramatically warning of an unavoidable hit in the peninsula exactly where we were headed to the next day. However, we woke to a drizzle and eventually, a beautiful sunny day. We stayed for two nights (because we arrived at 2 AM) at USD 92 per day.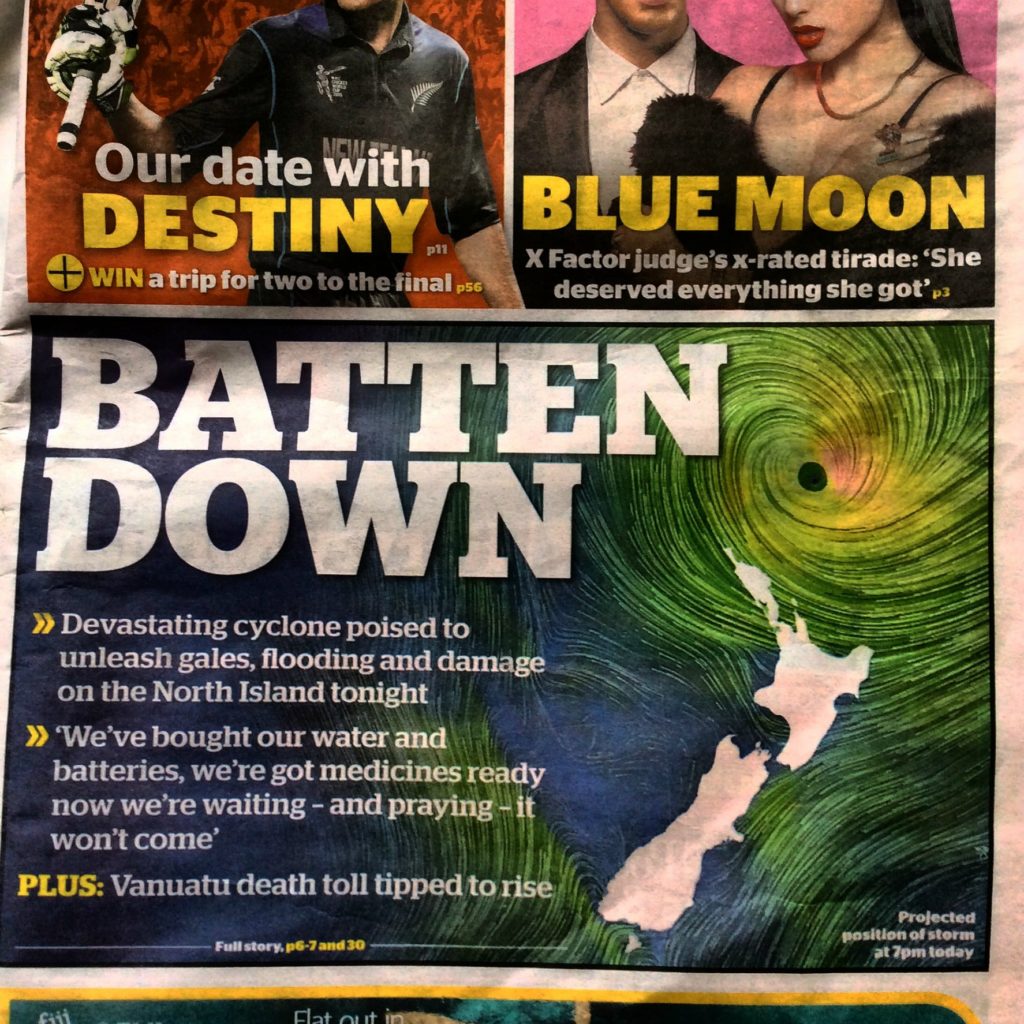 Tip- Ask the front desk about local delivery options for dinner. Since a Cyclone was heading our way, we stocked up on lots of pizza delivery, with some extras, just in case!
Coromandel Peninsula
We drove through Auckland and made our way to the Coromandel Peninsula. The drive through forests and rolling hills was breathtaking.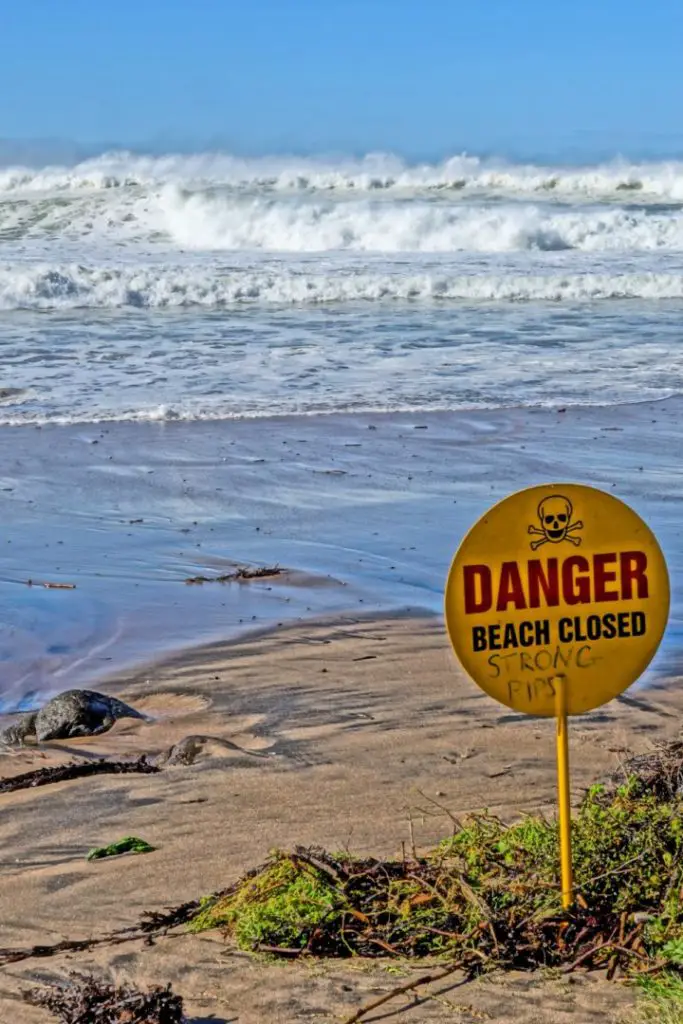 We stopped at scenic lookouts along the way and made a stop at Hot Water Beach. It's here that visitors dig holes in the sand to make their own thermal pool. Unfortunately, the effects of Cyclone Pam had created some massive waves and the beaches were closed for the day due to unsafe conditions.
2. Whitianga
We proceeded to Whitianga where we booked the most awesome B&B we have encountered in a long time. Situated right on the ocean, <Absolute Beach View B&B> was a home away from home. We felt like we had our own private apartment and the hosts were great!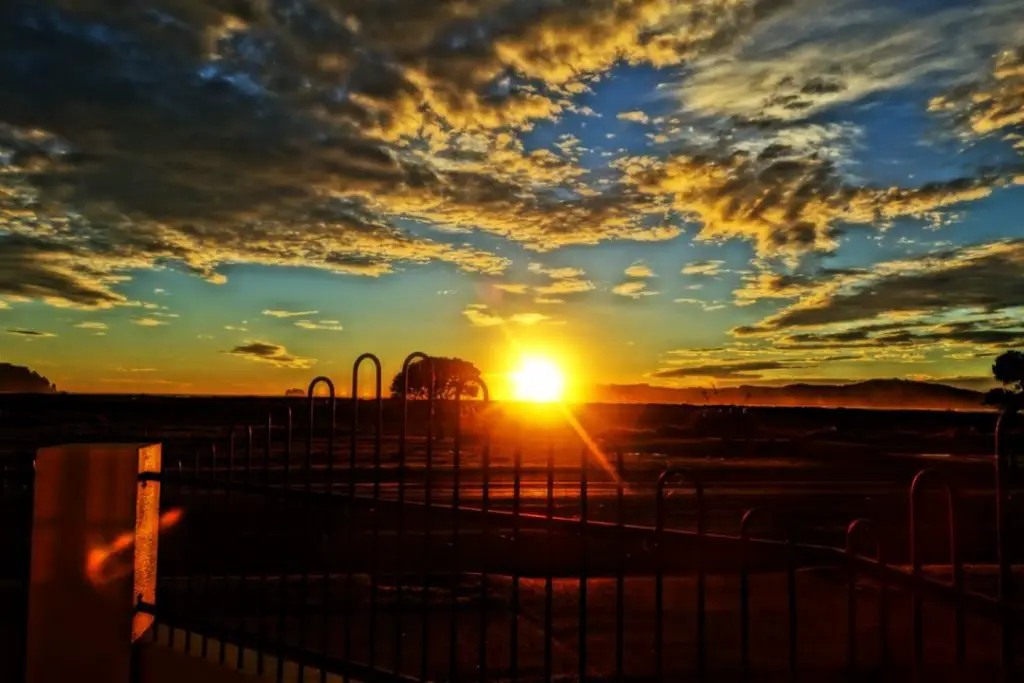 We enjoyed the amazing rooftop patio with views of the ocean at dinner and then breakfast. We went to the local grocery store and bought a bottle of New Zealand wine and some meat, cheese, pestos, and bread accompaniments for dinner under the stars.
The cost was about USD 70 per night. Also, the owner did our laundry for free (using lots of fabric softener…an appreciated touch for any weary traveler!).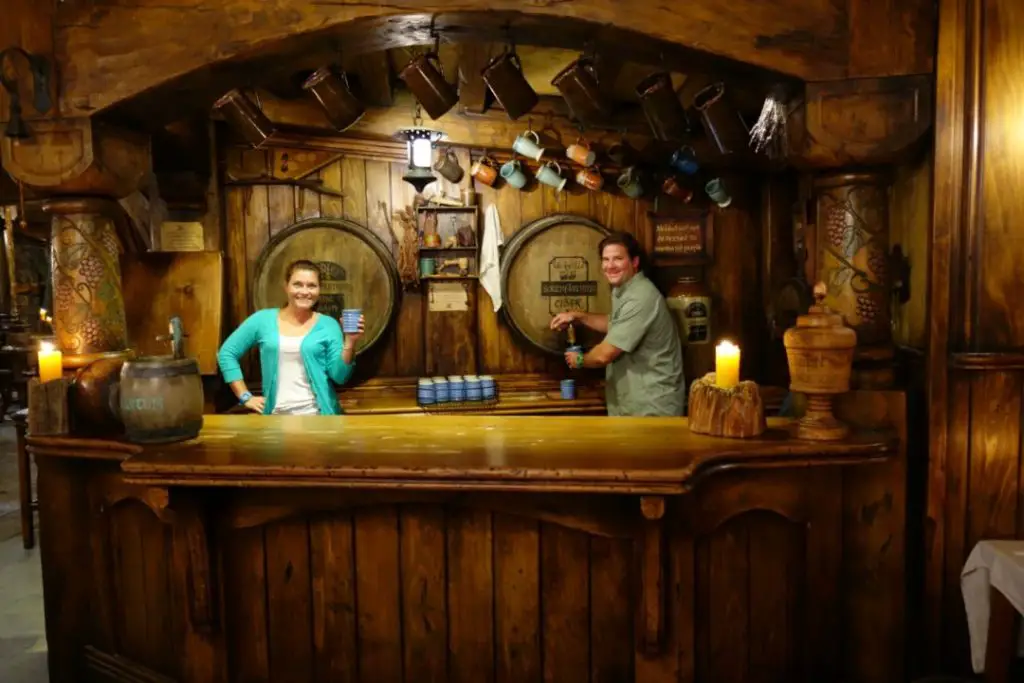 3. Matamata
Our one big excursion was visiting Hobbiton Movie Set in Matamata. As fans of the LOTR trilogy, we thought this would be a fun activity to do on Saint Patrick's Day.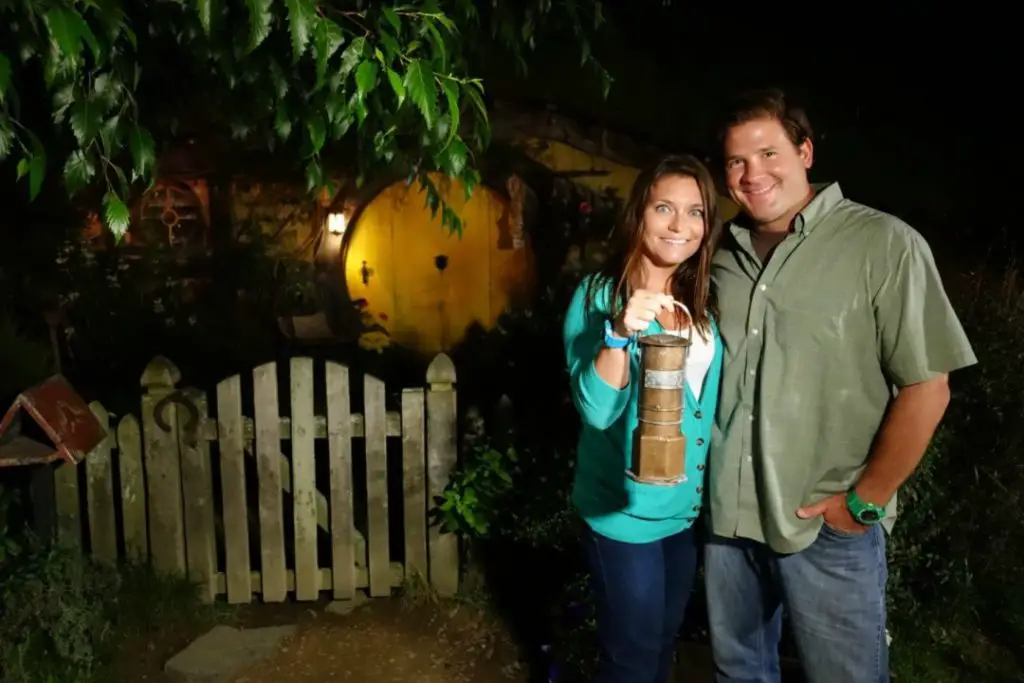 Briefly, at USD 263, we were expecting more from the experience and left feeling a little letdown. We stayed at the quaint <Tower Road Motel> at USD 70 a night.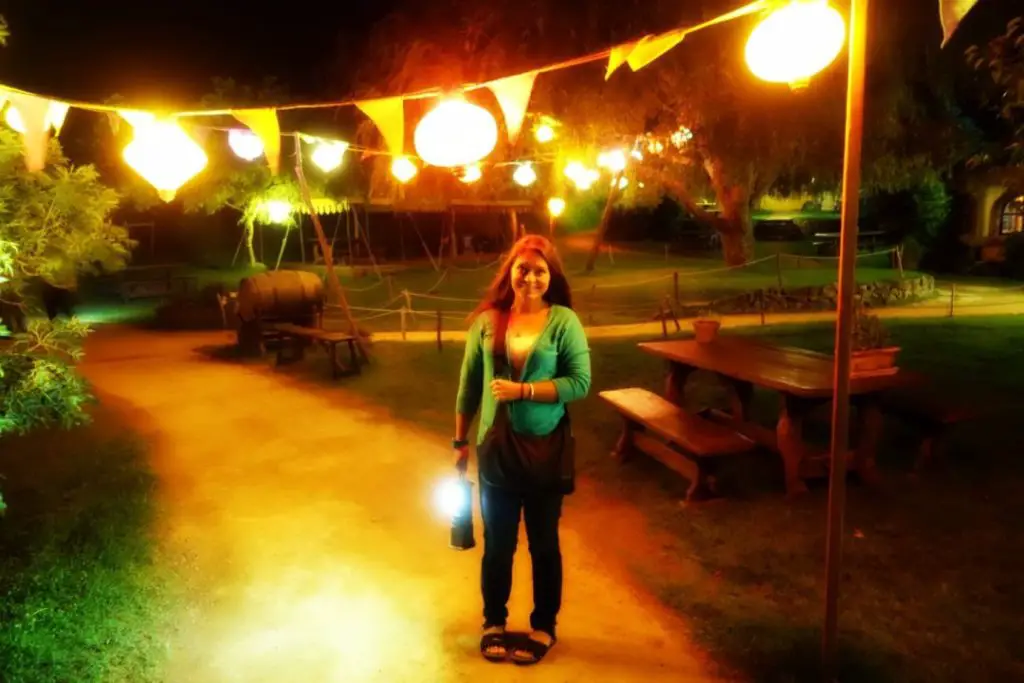 4. Taupo
The next stop was Taupo which is considered the Queenstown of the North Island. There is lots to explore here and the place to get your extreme adventure fix if you're an adrenaline junkie.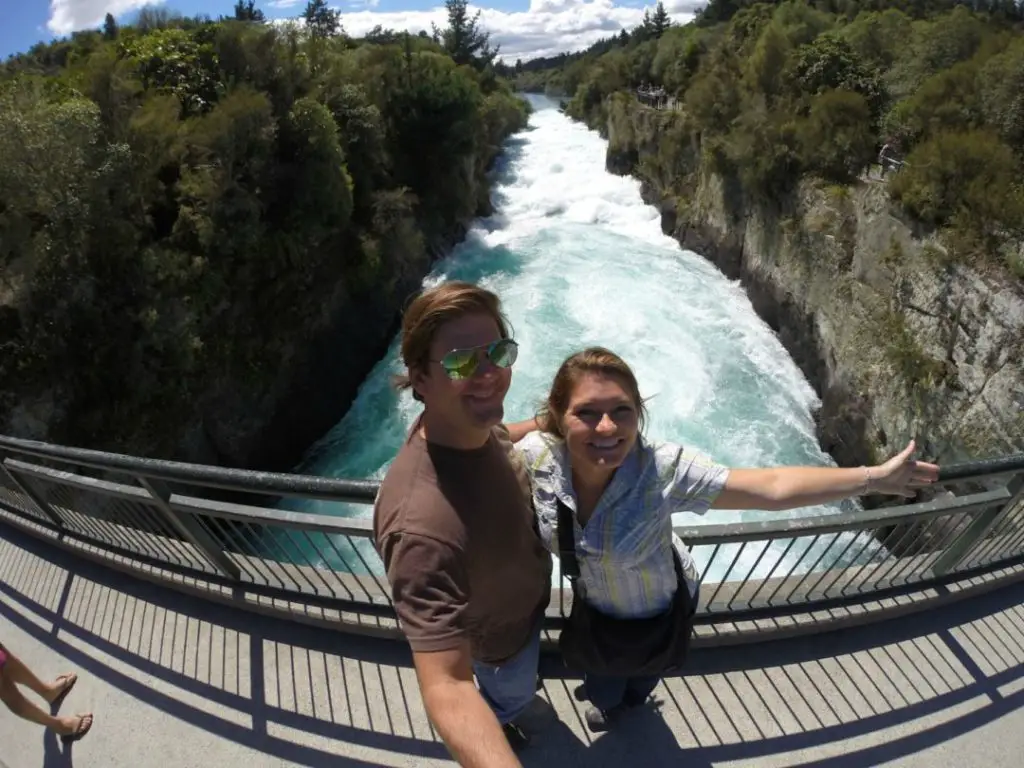 Huka Falls
We went to see the Huka Falls where you can jet boat around the falls. We tried jet boating on our South Island trip a few years ago but had fun watching visitors dart around the falls.
Orakei Korato
It is here that we drove some of the Thermal Explorer Highway stopping at geothermal parks such as Orakei Korato. We did not pay to enter the park but walked around the lakes feeling the water and observing the thermal activity.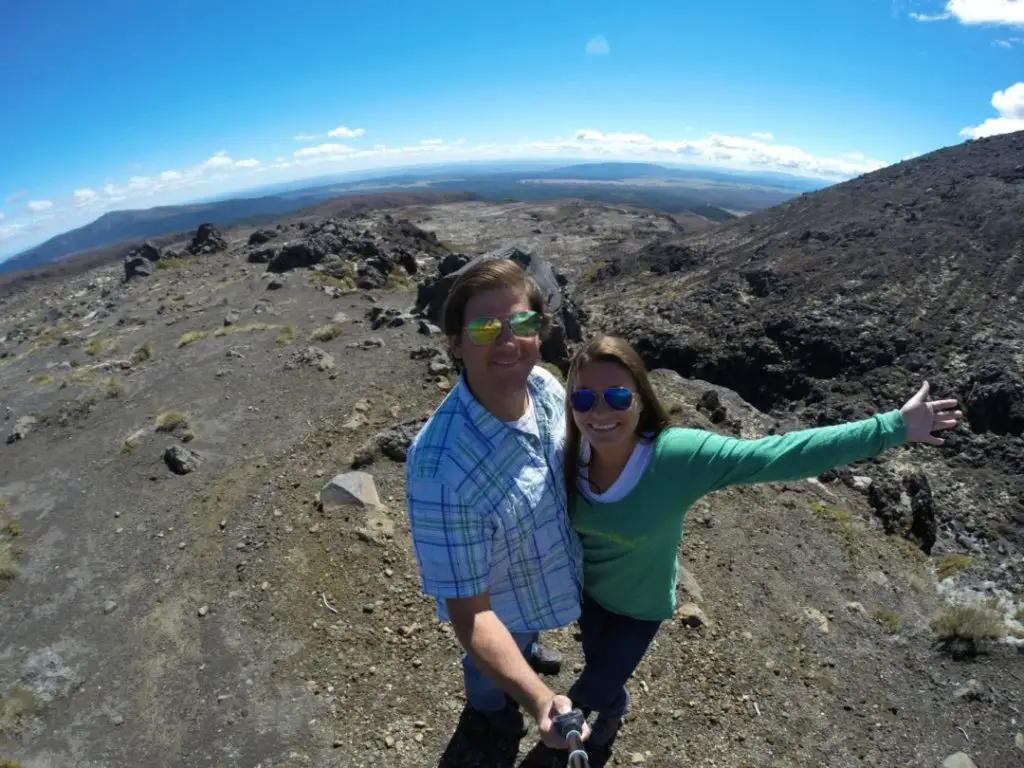 Tongariro National Park
The next day we went to Tongariro National Park which is a World Heritage site. If you are a hiker you can complete the ~12 mile Tongariro Alpine Crossing which takes about 7 steady hours of trekking in good weather. The scenery here is amazing with three volcanoes (Tongariro, Ngauruhoe and Ruapehu) situated right in a row.
We stayed in Taupo for two nights at <Huka Falls Resort> which was a budget-friendly 50 dollars a night. Situated on a vineyard, it features free laundry facilities, a pool, and free parking. It was a great bargain accommodation for this area. You may want to consider renting the larger units with a kitchen if you want to save money by cooking your meals.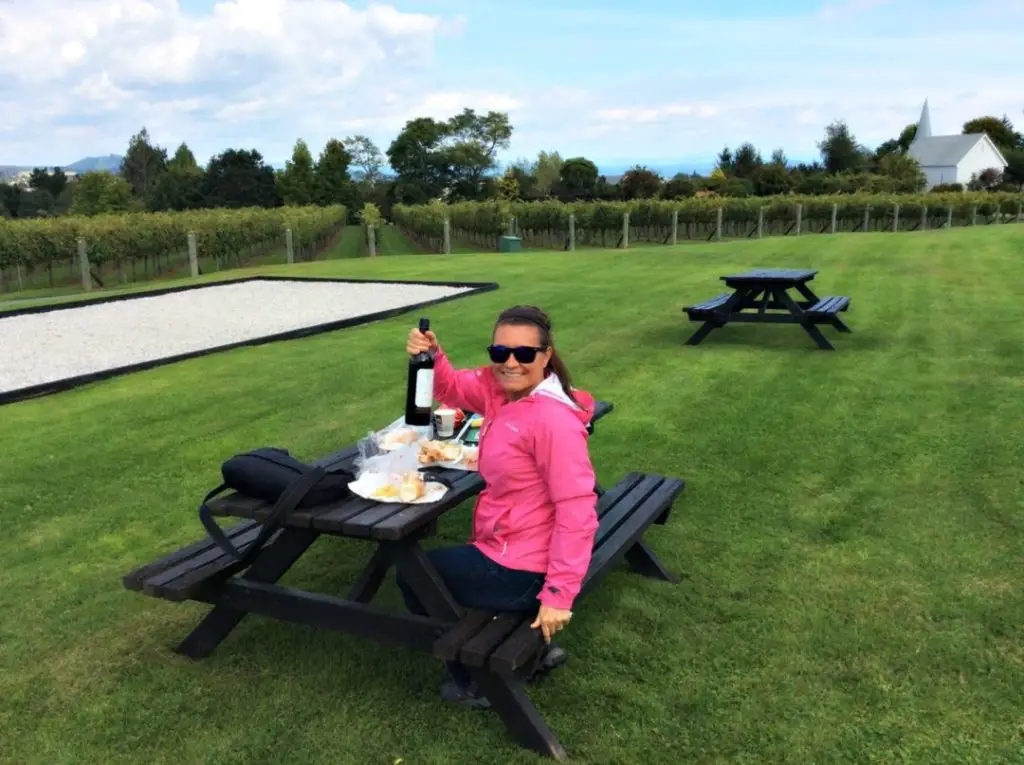 Tip – We ran out of time to do so and it was chilly during our stay, but there is a free spa thermal park at the Riverbank Recreational and Scenic Reserve that is highly ranked on TripAdvisor. Don't pay at the other thermal pools when you can get the same experience for free!
It's not often that travelers would recommend a fast-food restaurant, but consider a stop at one of the world's coolest McDonald's in Taupo. Its claim to fame is a decommissioned DC 3 airplane coming out of the front of the restaurant where visitors are welcome to dine inside of!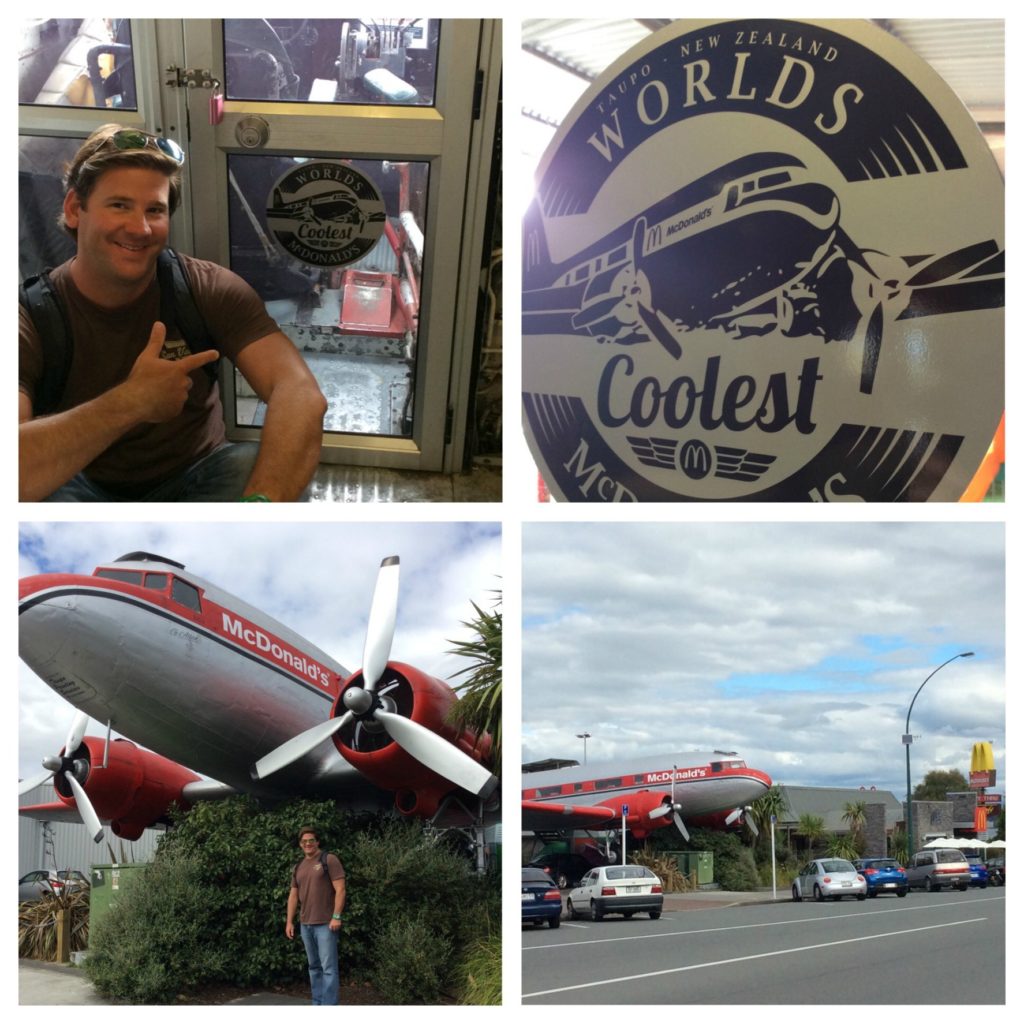 5. Napier
The final city on our road trip was Napier. Driving into Napier was like driving through a time warp. Known for its 1930's Art Deco style, it was a great city to stay in while we hit up Hawk's Bay wine country!
There are so many wineries in this area and with free tastings, it can get overwhelming to decide where to drink first! We went to Mission Estate Winery, where we ordered a bottle of 2013 Syrah and a delicious bread platter as we relaxed and enjoyed the warm, sunny day in the vineyards. We also completed tastings at Moana Hill, Pask, Black Barn, and Craggy Range.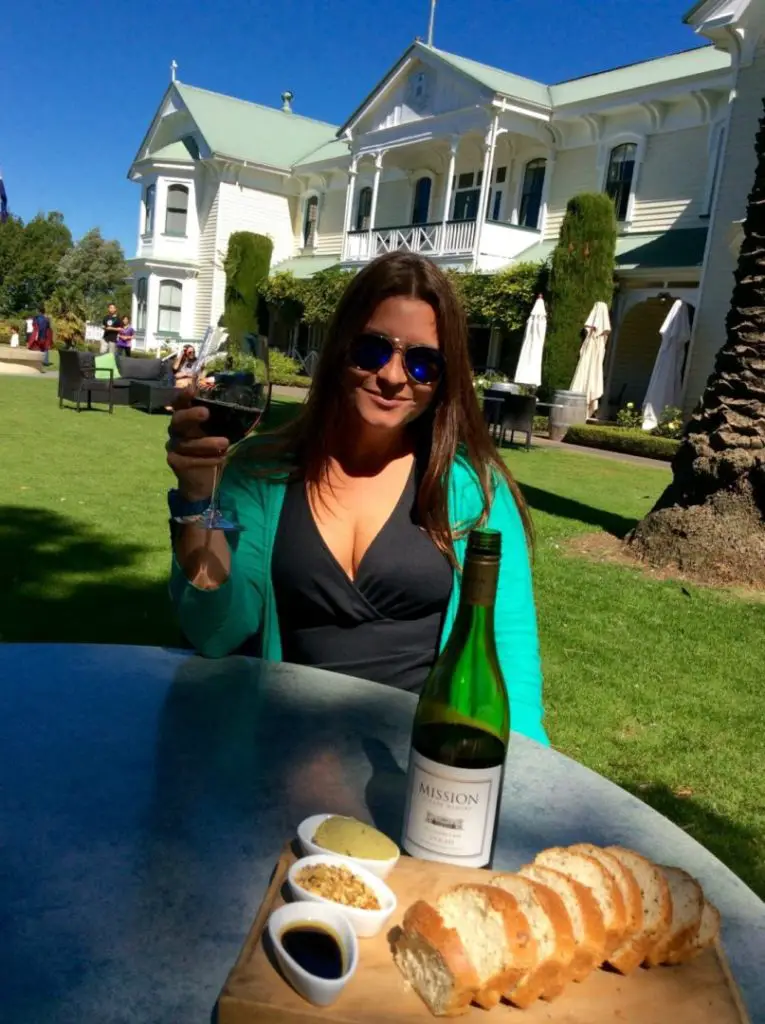 Fun wino tip – We were extremely lucky to come to Hawk's Bay at this time because all the wineries were offering tastings from the "vintage of a lifetime" – wines from 2013. AND ALL OF THE TASTINGS WERE FREE!! This was due to 2013 being the driest growing season in 70 years with the sunniest first three months of the year since 1930.
The last time conditions were this good were back in 1978! So if you have gotten this far in our write up, you have a great inside scoop! Run out now to try to find bottles from 2013 from the Hawk's Bay Area and please save us a bottle as compensation for sharing our secret!
Te Mata Peak
Tip – Take time to explore Te Mata Peak for the spectacular views of the area and some great hiking trails. (No cost)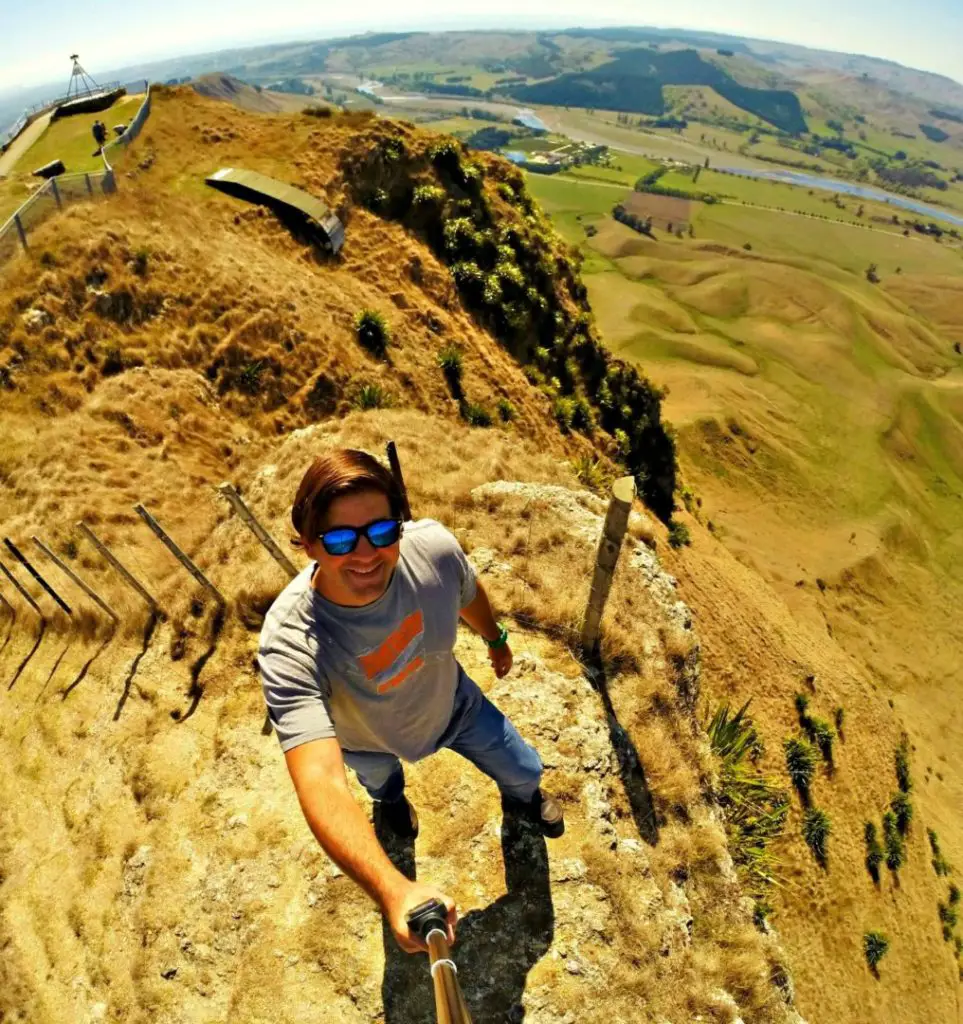 We stayed at a converted convalescent home called <Parkside Lodge>. With amenities similar to a hostel, we jumped on the opportunity to cook in the kitchen, enjoy the picnic benches on the patio with free coffee, and clean all our laundry before leaving NZ. The staff helps visitors plan their time in the area. At USD 68 per night, this super trendy accommodation was a great choice to explore wine country.
With all expenses including hotels, petrol, car rental, lots of picnic lunches/dinners, and fast food meals, we came in at a highly respectable USD 167 per day. Have you been to the North Island of New Zealand? If so, feel free to leave your favorite things to do in the comments section below!