No matter the season, Americans enjoy heading south of the border to vacation at all-inclusive resorts in Cancun. With low prices, warm temperatures, beautiful beaches, and scrumptious Mexican cuisine there's nothing not to like. If you're looking for an affordable and nice recommendation on where to stay from Cancun travel experts then you came to the right place.
As one of the Caribbean's most visited destinations, Cancun has successfully been designed to appease the American traveler. Repeat visitors come back time and time again for the white sand beaches, glitzy retail shopping therapy, and the fun nightlife—and, of course, the margaritas are a big draw too.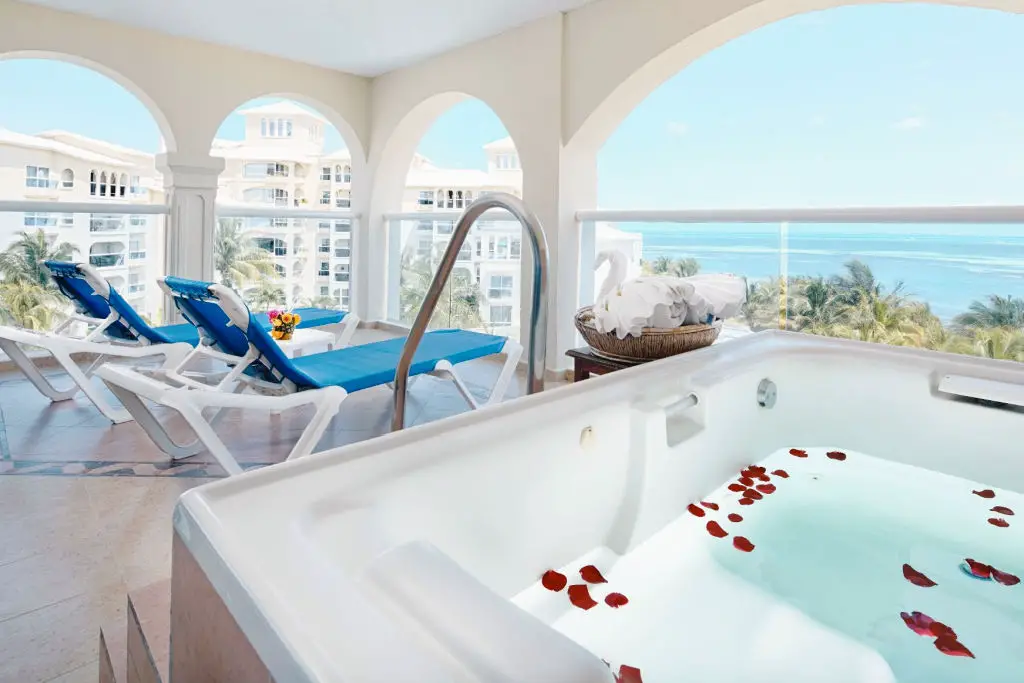 For many vacationers, one of the biggest attractions to Cancun is that it's only a short non-stop flight away from their hometown. Furthermore, flying into Cancun International Airport is generally quite affordable for most travelers from the lower 48. Also, the airport is only 12.5 miles from the Hotel Zone which means you can get from the airport to your all-inclusive resort in less than 30 minutes.
To get the best prices on flights, we use Skyscanner to compare costs, routes, and timetables. In our opinion, it's the best flight search engine for all of the reasons above AND because it includes low-cost carriers like Southwest Airlines (which Google Flights does not). Check out the prices from your hometown airport below to make sure you're not overspending on airfare.
5 Cheap(ish) Cancun All-Inclusive Resorts
These five cheap Cancun all-inclusive resorts are in the hotel zone and only a short drive from the airport. Also, they have all the amenities you'd expect from fabulous all-inclusive resorts including being on the beach, room service, unlimited high-quality meals and drinks, fabulous pools, and plenty of sports and entertainment options.
If you're expecting a Grand Fiesta Americana Coral Beach Cancun experience, which costs three times as much, we don't want to leave you disappointed. Keep in mind, that these five cheap Cancun all-inclusive resorts provide the best value.
The all-inclusive resorts listed above are all family-friendly. Therefore, if you're looking for the best adults-only cheap Cancun all-inclusive resort consider the Golden Parnassus All-Inclusive Resort & Spa Cancun.
Not only are these five Cancun all-inclusive resorts cheap but they're also some of the best throughout Mexico. At less than $300 per night for two adults, you can't afford to miss out.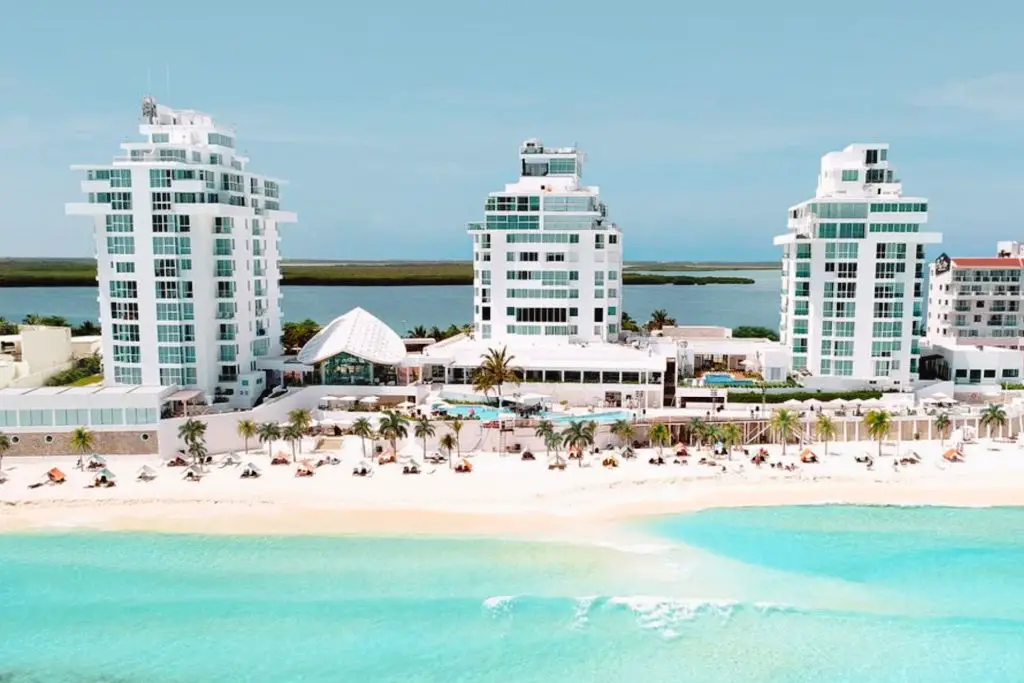 With modern vibes and a unique gastronomic experience, the sleek-looking ÓLEO Cancun Playa is one of the best options when it comes to cheap all-inclusive Cancun resorts. In particular, what separates this all-inclusive from other more expensive options is the level of service received—it's fantastic and will not disappoint.
Bars: 2
Restaurants: 5
Kid-Friendly: Yes
24 Hour Room Service: Yes
In-room Minibar: Yes
🏨 ÓLEO Cancun Playa – Check Availability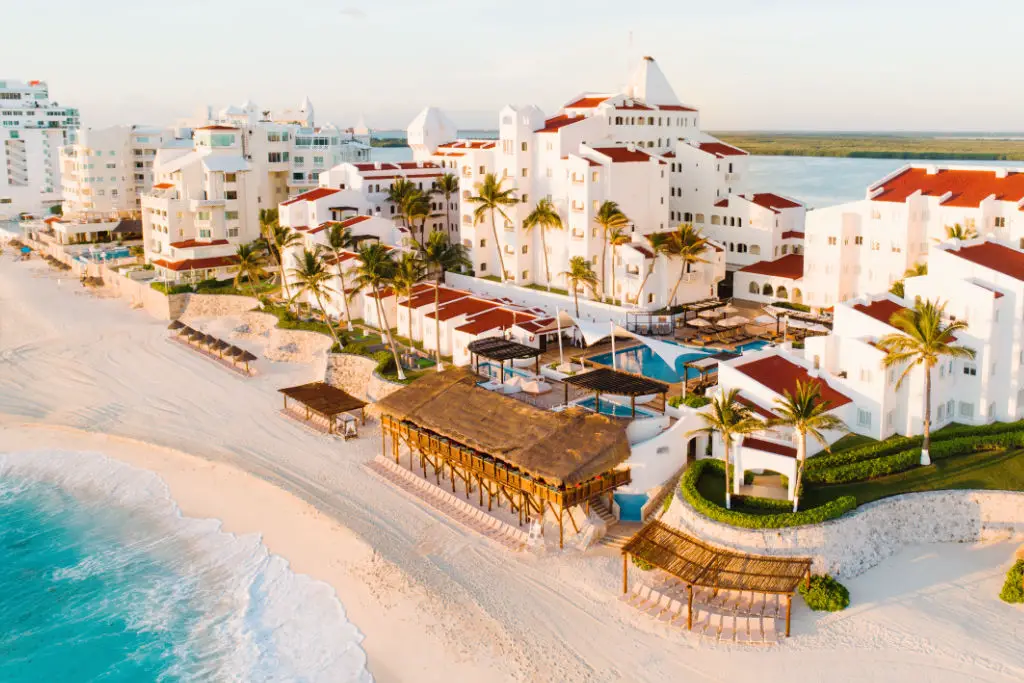 This coastal paradise is not just all-inclusive; it's an all-encompassing marvel. Everything you could envision for an idyllic escape is right here at GR Caribe by Solaris. Moreover, at every turn, opulence and indulgence await you. Whether it's unwinding at the stress-relieving spa, indulging in gourmet cuisine, or taking a dip in the azure seas, your vacation Nirvana awaits.
Bars: 2
Restaurants: 4
Kid-Friendly: Yes
24 Hour Room Service: Yes
In-room Minibar: Yes
🏨 GR Caribe by Solaris – Check Availability
🤑 Save up to 50% on Cancun Attractions
💰 Budget-Savvy Tip: When you're ready to explore the fun things to do around your all-inclusive be sure to check out the Go City Cancun All-Inclusive Pass to save some serious dough. It includes all the best attractions, tours, and activities at one affordable rate. If you plan on hitting up just a couple of the major tourist attractions, it's an absolute no-brainer.
For example, going on the dolphin encounter with lunch is one of the best things to do in Cancun. Luckily, it's included in Go City's 1-Day All-Inclusive Pass, making it more affordable than most think! If you want to see a ton of stuff and save a lot of money, we highly recommend the pass. Be sure to check out the 40+ attractions by clicking here.
Attention beach enthusiasts, the radiant and sensational Occidental Costa Cancun is a visual delight for your soul. Lounge on a bay adorned with white sands embraced by turquoise waters. Delight in breathtaking vistas of Playa Linda. Immerse yourself in the comprehensive offerings: delectable cuisine, refreshing drinks, water sports, and above all, serenity.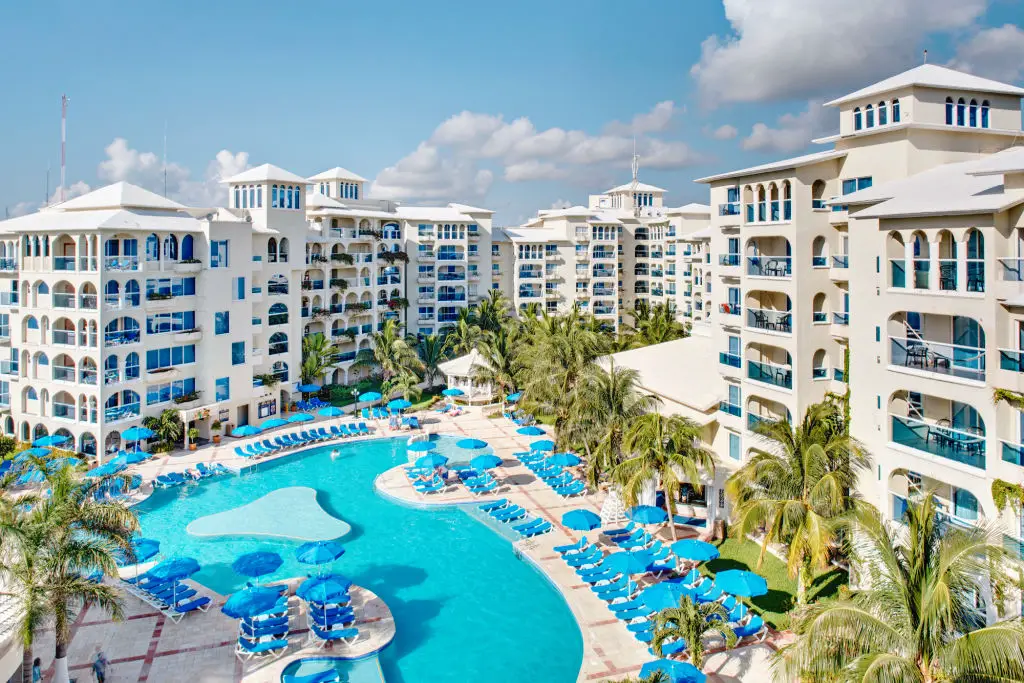 Your little ones can engage in delightful activities while you indulge in the stress-relieving spa. This is the well-deserved getaway you've earned. Remember: life is fleeting. It's time to head to the beach.
Bars: 2
Restaurants: 4
Kid-Friendly: Yes
24 Hour Room Service: Yes
In-room Minibar: Yes
🏨 Occidental Costa Cancun – Check Availability
💰
Budget-Savvy Tip
: While the all-inclusive resorts provide exceptional value for guests they do typically overcharge for airport transfers—a 15-minute ride could cost you USD 60+ each way! For this reason, book your
cheap private transfer here
. Also, if you do decide to rent a car, be sure to
read this Cancun car rental guide
to make sure you don't get ripped off.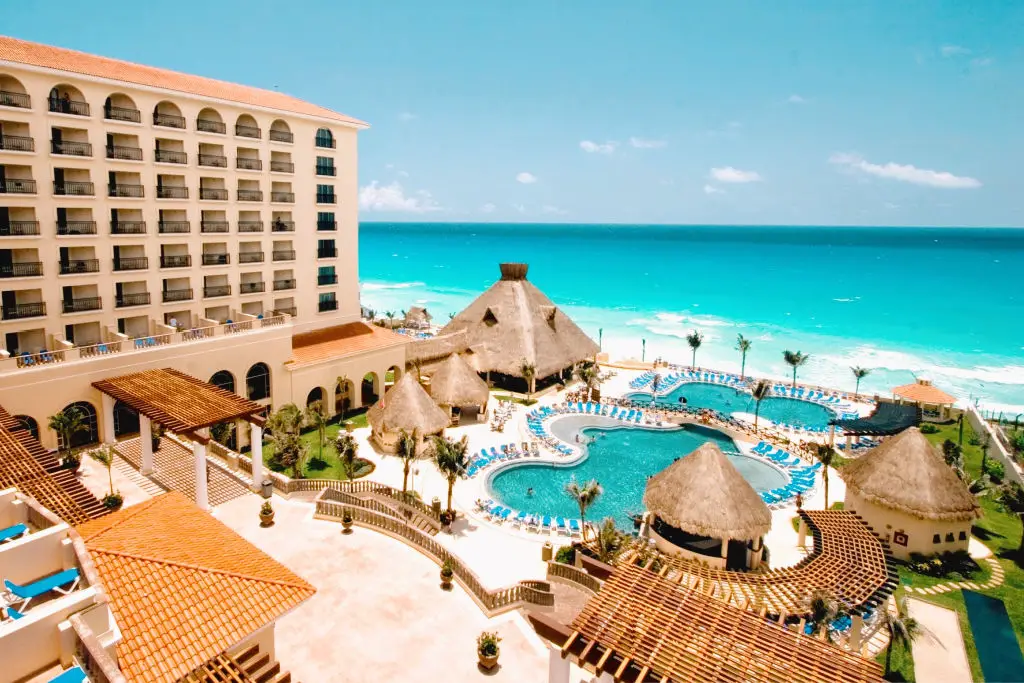 It's almost magical, this destination. Any desire or impulse you have, consider it fulfilled. Whether you fancy dining on the beach, sipping cocktails in the pool, strolling along the shore, mastering the art of scuba diving, or enjoying a cup of coffee from your balcony with endless turquoise views – the choice is yours. With its all-inclusive and amazing features, the possibilities are boundless at GR Solaris Cancun.
Bars: 3
Restaurants: 4
Kid-Friendly: Yes
24 Hour Room Service: Yes
In-room Minibar: Yes
🏨 GR Solaris Cancun – Check Availability
With all-inclusive havens like the Royal Solaris in Cancun, you have the opportunity to engage in lively local culture in a magical tropical setting. Typically, vacationers only see this level of opulent luxury in top-tier resorts.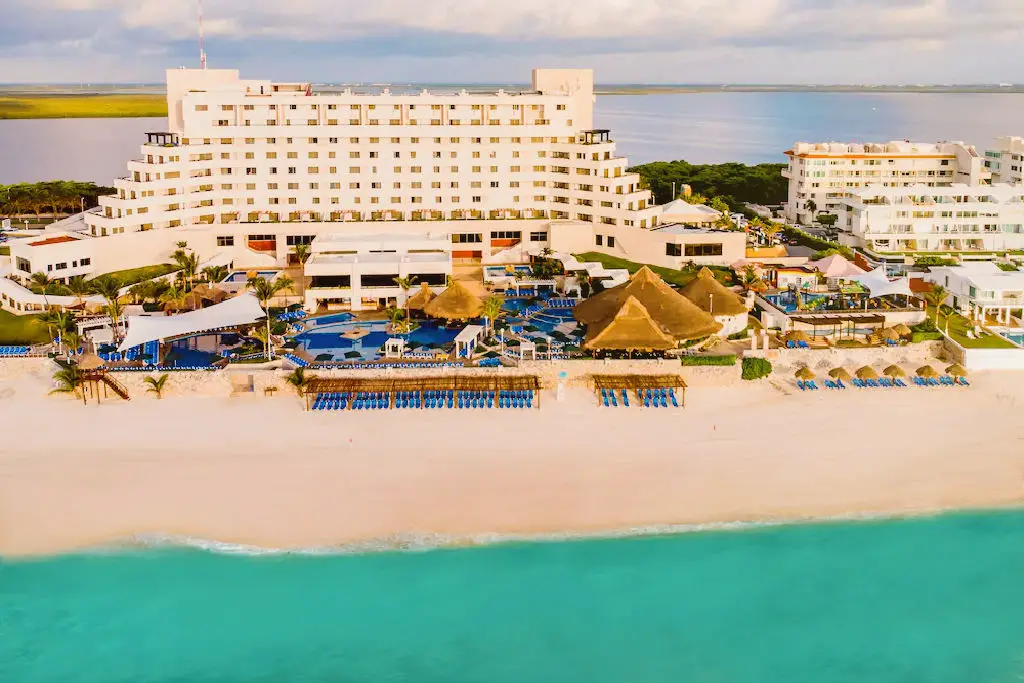 Offering four restaurants, two bars, and a diverse array of on-site activities and fitness facilities, you can indulge in dining, drinking, and merriment without stepping beyond the resort grounds. Whether you're on a romantic getaway, exploring solo, or enjoying an unforgettable summer vacation with the kids, there's something to captivate your imagination.
Bars: 2
Restaurants: 6
Kid-Friendly: Yes
24 Hour Room Service: Yes
In-room Minibar: Yes
🏨 Royal Solaris Cancun – Check Availability
We Need Your Help
Did you find this article helpful? If so, bookmark it and when you're planning your next vacation click on any of the links below before finalizing reservations. You'll get the best price, we'll earn a small commission, and you'll help support future articles.
Thank you!
BEST TRAVEL SEARCH ENGINES
🏘️ Book Your Accommodation
We use Tripadvisor and Priceline's Express Deals to compare prices and reviews in advance and check availability
✈️ Book Your Flight in Advance
To find the cheapest flight options, you can use WayAway and Skyscanner to find the most suitable choice for you
🚗 Reserve Your Rental Car
Use DiscoverCars and Skyscanner to compare prices and view the largest selection of vehicles