Journeying down the Mother Road and stopping at the best Route 66 attractions in each state is on many travelers' bucket lists. It's one of the few excursions that live up to the romanticized vision of a road trip. Driving Route 66 will forever change your perspective on traveling by automobile—the experience will transform you.
5 BEST ROUTE 66 ATTRACTIONS IN EACH STATE
The spirit and freedom granted to travelers along the 2,448-mile road were paved by risk-takers, pioneers, poets, disruptors, adventurers, and rule-breakers. For this reason, the energy of the voyage will become rhythmic and therapeutic as you continue seeking out interesting aspects of Americana. Along the way, be prepared to view inspiring attractions, charming roadside stops, and kitschy travel oddities.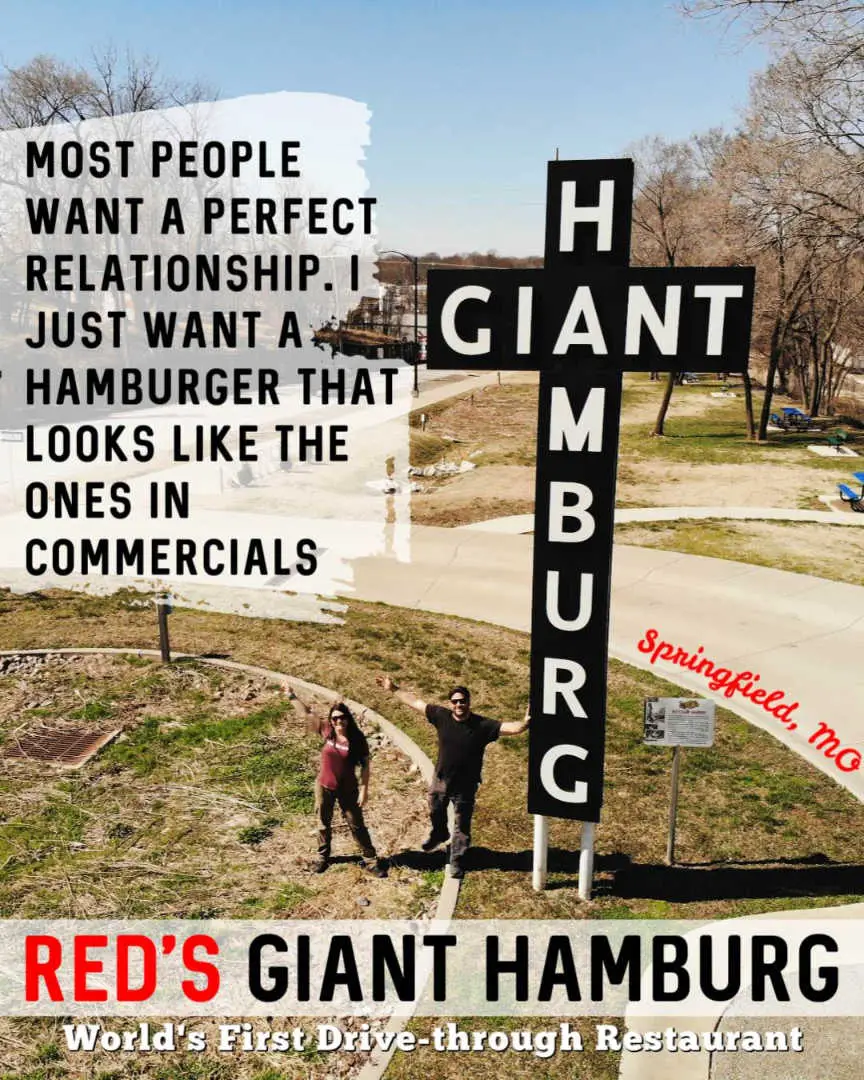 Route 66 crosses three time zones and eight states. There is a wide variety of attractions along the way including best-preserved areas of the road, vintage diners, historic sights, museums, neon lights, and classic 66 landmarks. The beauty of the journey is that you can stop at whatever piques your interest—and if it doesn't, you just keep on moving.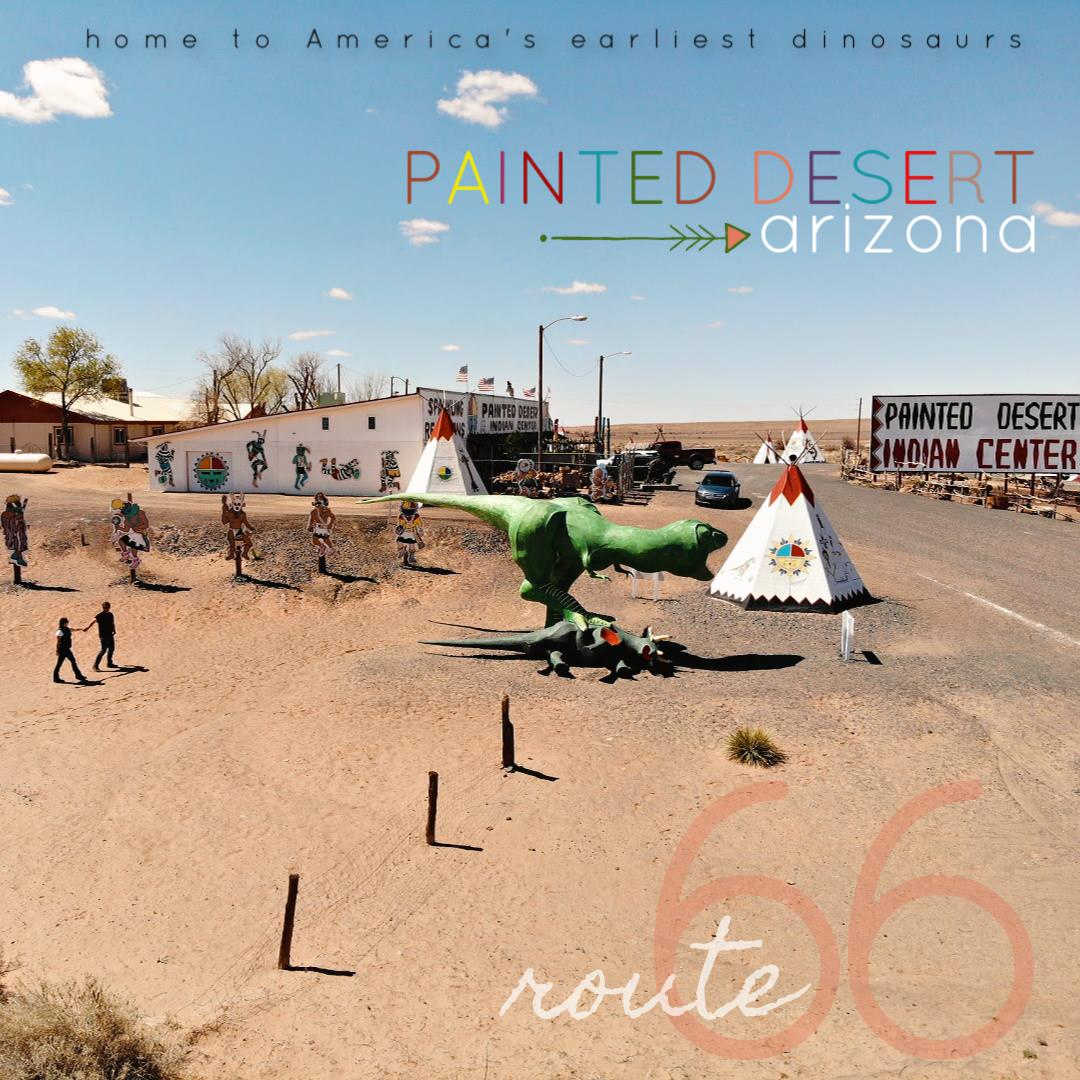 Route 66 Requires Endurance and Patience
Traveling the entire Route 66 will require endurance and patience. While much of the route is clearly marked, there were times when we questioned whether we were traveling the Mother Road. The original route has been paved over and realigned so many times that it can be quite challenging to stay on track.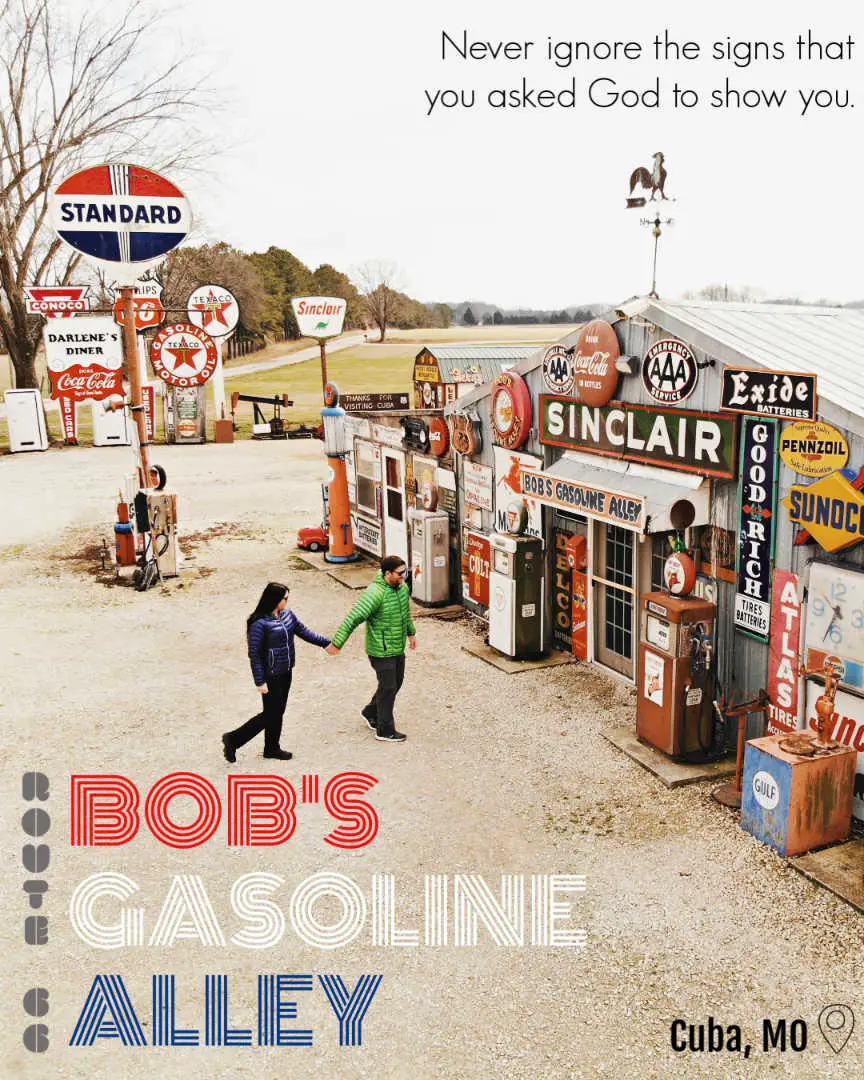 You Find Yourself Lost
If you find yourself lost (like us) and desire to stay on the route as much as possible, you have three options:
Acquire a Route 66 guidebook to assist with maps and navigation. This is the option we chose. While we may have gotten lost (or sidetracked) a few times, we never felt like we missed any significant Route 66 attractions.
Purchase an app to assist you, turn by turn. As co-pilot, Audrey used the Route 66 Navigation app to guide our route. We didn't purchase the navigation option. Rather, we used the app's free points of interest guide listed under each state and the free MAPS.ME app for navigation.
Research the various Route 66 alignments and plan every turn along the way.
If you do find yourself slightly off course, the most important thing to remember is: don't stress out. It may sound painfully obvious but recognize that no one's perfect. Take a deep breath, make your amends, and do your best to navigate back onto Route 66—usually, this means turning around.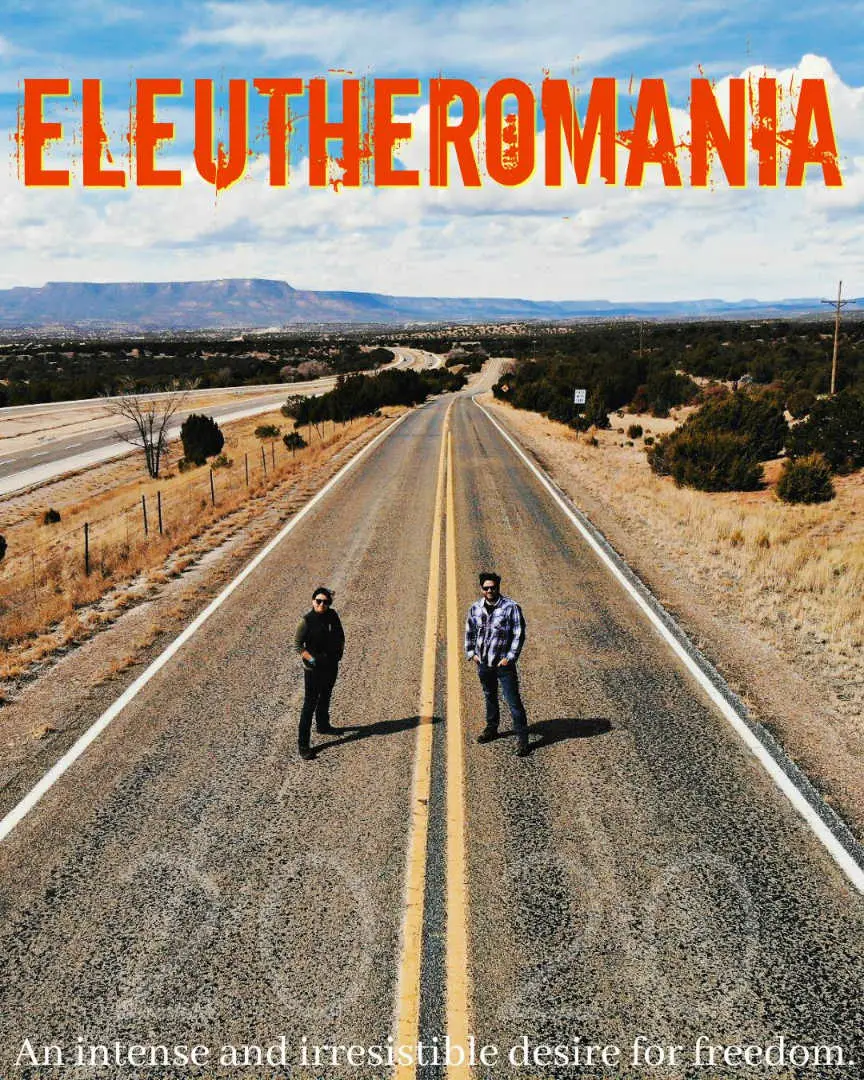 Feeling Rushed?
A little bit of the adventure is lost the second you begin feeling rushed. Unless you're planning on making the trip more than once, plan on allocating about 14 nights to complete the journey, one-way of course.
Everyone's exploration of Route 66 is unique to their experience and circumstances. There's no right or wrong way to make the journey. The goal is simply to enjoy it as much as possible.
For this reason, our favorite Route 66 attractions may be different than perhaps someone else's—because it is such a personal and unique journey. Nevertheless, during our Route 66 adventure, these were the five best Route 66 attractions by state. Enjoy the ride!
Illinois Route 66 Attractions
If you haven't visited Chicago before you'll want to spend a couple of extra days exploring the city. A great budget-savvy way to do this is by using the Chicago CityPASS. We recommend visiting the Willis/Aon Tower and Skydeck. On a clear day, it's possible to see about 50 miles from the Skydeck.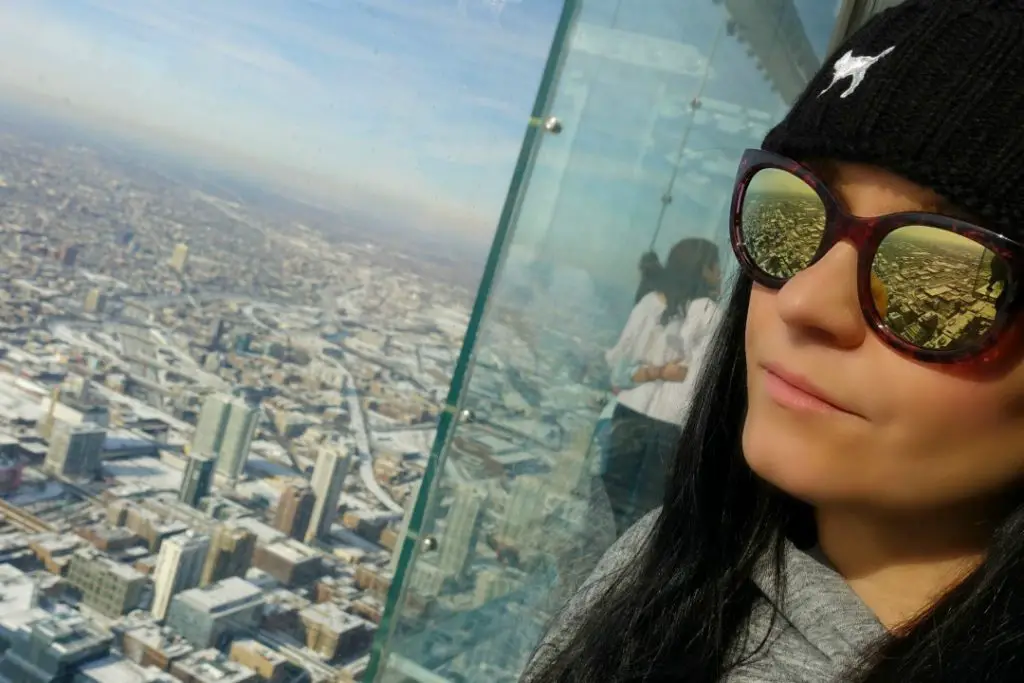 Being Illinois natives it was a little difficult to narrow down the five best Route 66 attractions. We met the challenge by focusing on the sites that encapsulate Route 66 and Americana for Illinois (and all other states).
1. Historic Route 66 Begin Sign – Chicago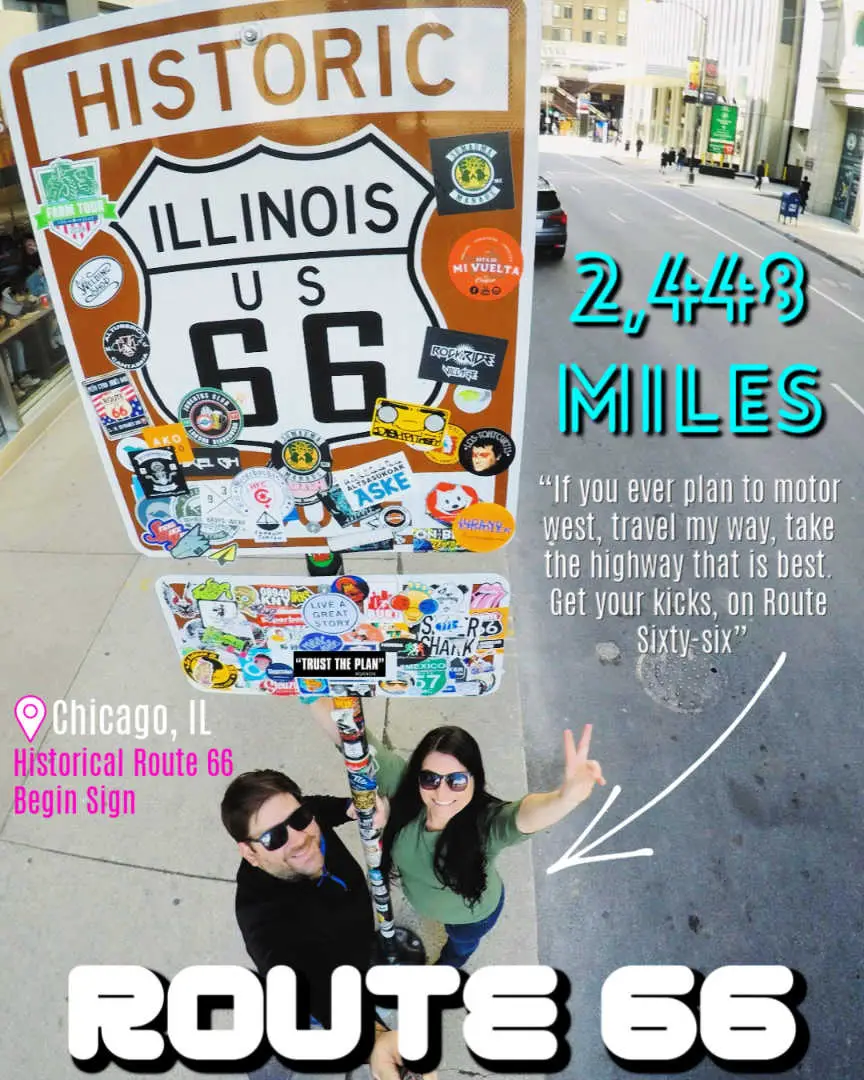 The starting point has changed many times over the years. Today, the route begins near the intersection of Adams St. and Michigan Ave., across the street from the Art Institute.
2. Gemini Giant – Wilmington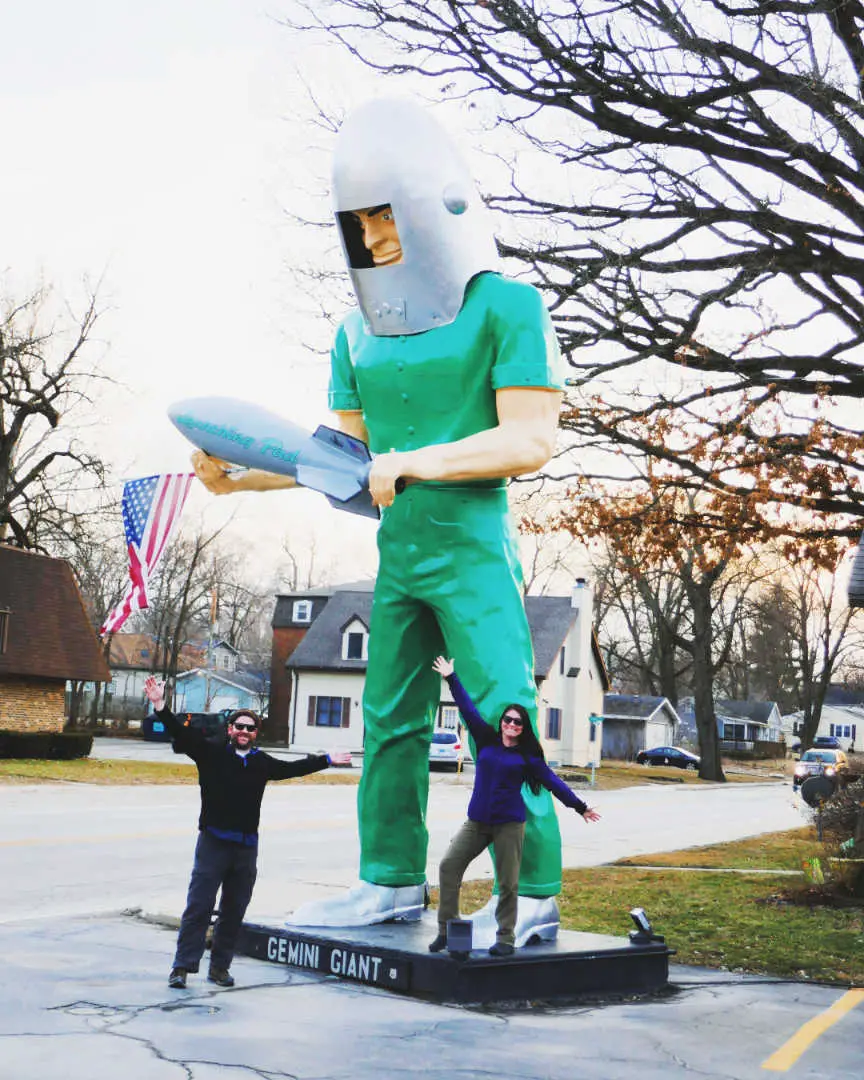 The 20-foot tall muffler man was named after NASA's Gemini human spaceflight program.
3. Paul Bunyan Muffler Man – Atlanta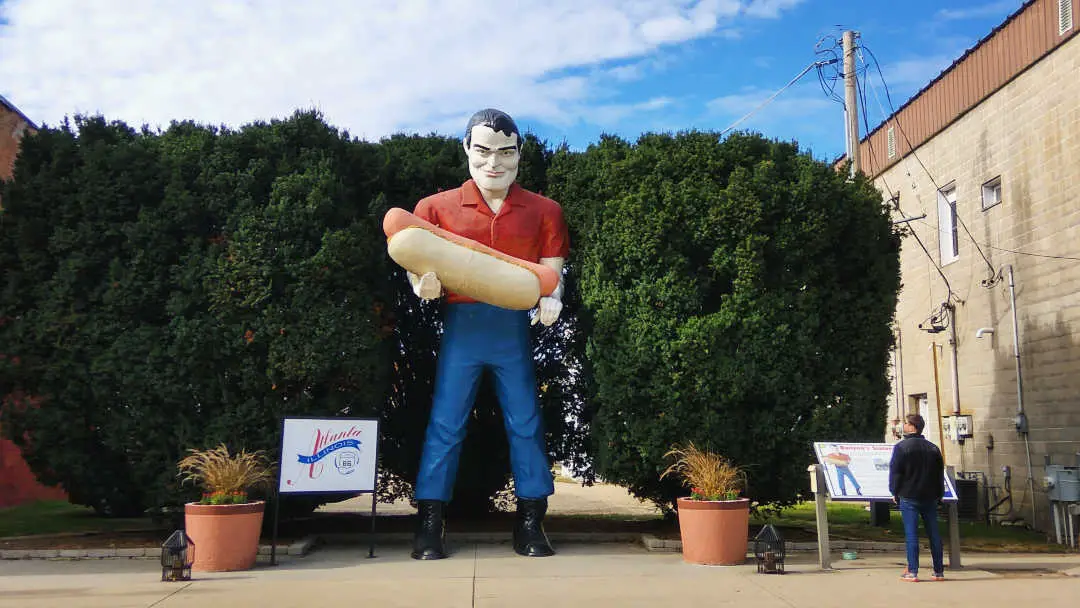 Sitting across the street from the Palms Grill Cafe is the giant 19-foot Paul Bunyan Muffler Man. The structure originally stood in Cicero, Illinois but was moved to Atlanta in 2003.
4. Lincoln Home National Historic Site – Springfield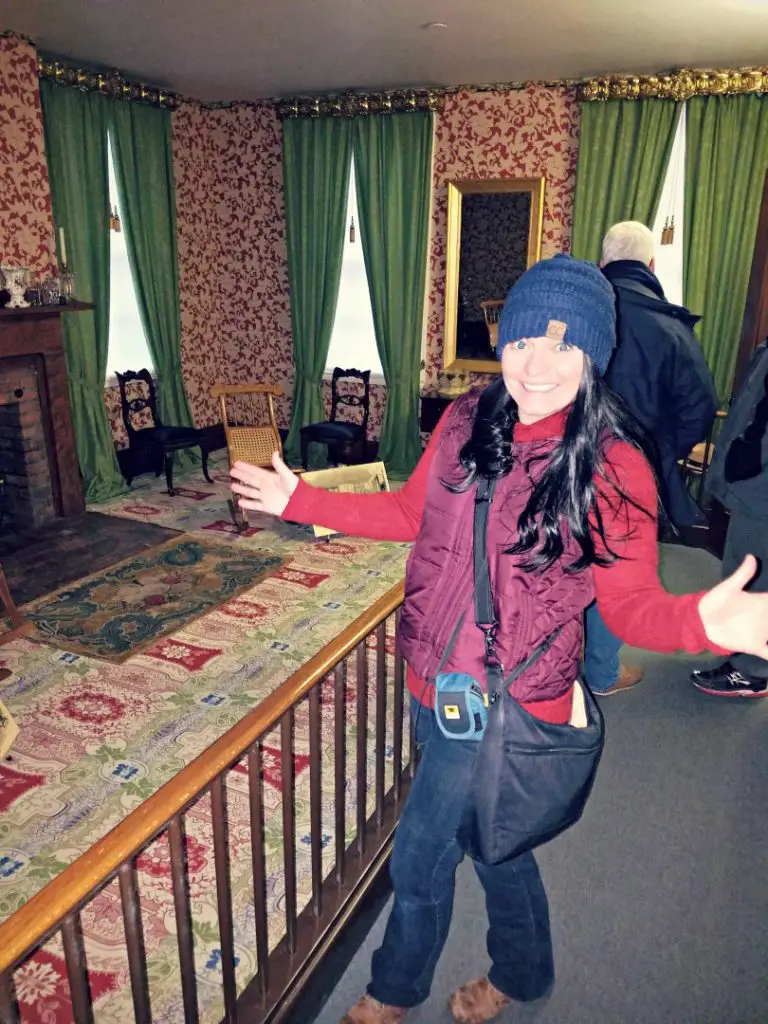 Simply put, the Lincoln home is one of the most fascinating stops along Route 66. Abe and his family lived here between 1844 and 1861. The property has been beautifully restored to appear as it did when Lincoln lived there.
5. Pink Elephant Antique Mall – Livingston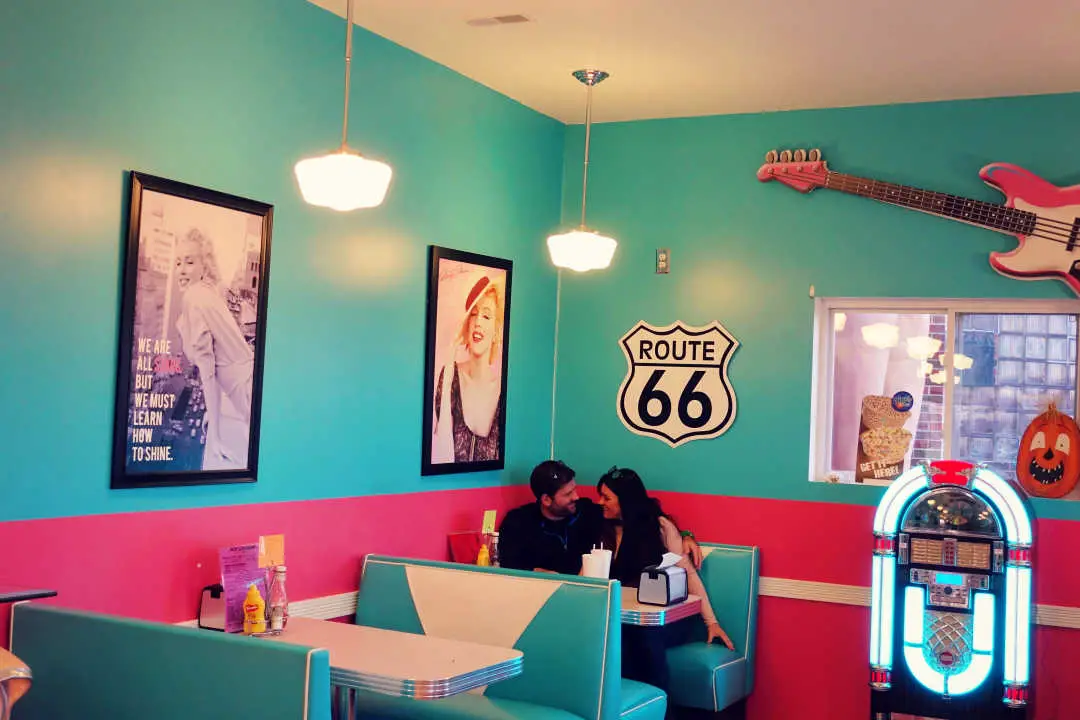 Oversized statues, a 50's diner, and an impressive antique mall make this one of the best Route 66 attractions in Illinois.
Honorable mentions include the town square in Pontiac, the Postville Courthouse State Historic Site in Lincoln, the Dana-Thomas House in Springfield, and the Cahokia Mounds State Historic Site in Collinsville.
Missouri Route 66 Attractions
You'll know you've reached Missouri when you spot the St. Louis Arch, which unbeknownst to us is also referred to as the Gateway Arch National Park. Audrey's made it to the observation deck. Sadly, Harry has only walked below it.
We're adding a four-minute ride to the top of our couple's bucket list. If you have the time, add a couple of days to see the downtown and the Forest Park area which is surprisingly pleasant.
1. Donut Drive-In – St. Louis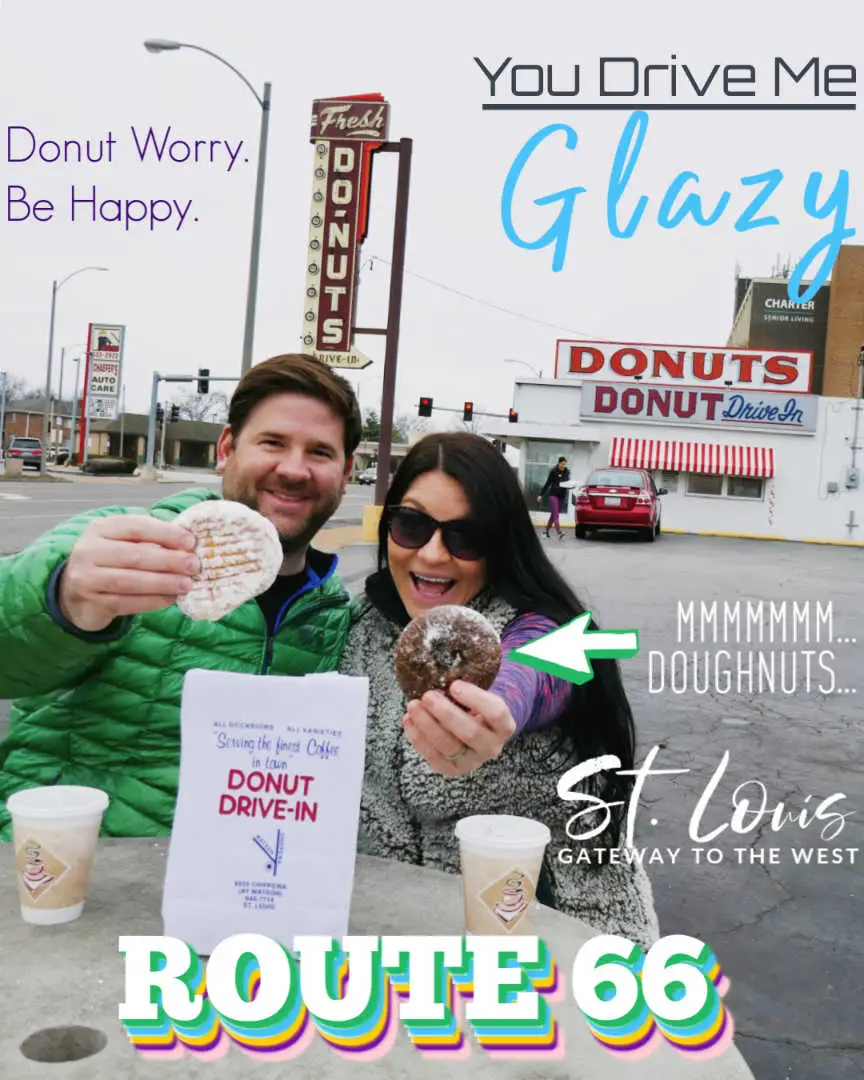 Old-fashioned, custard, chocolate iced, blueberry cake, buttermilk-glazed, jelly donuts—enough said.
2. Laumeier Sculpture Park – St. Louis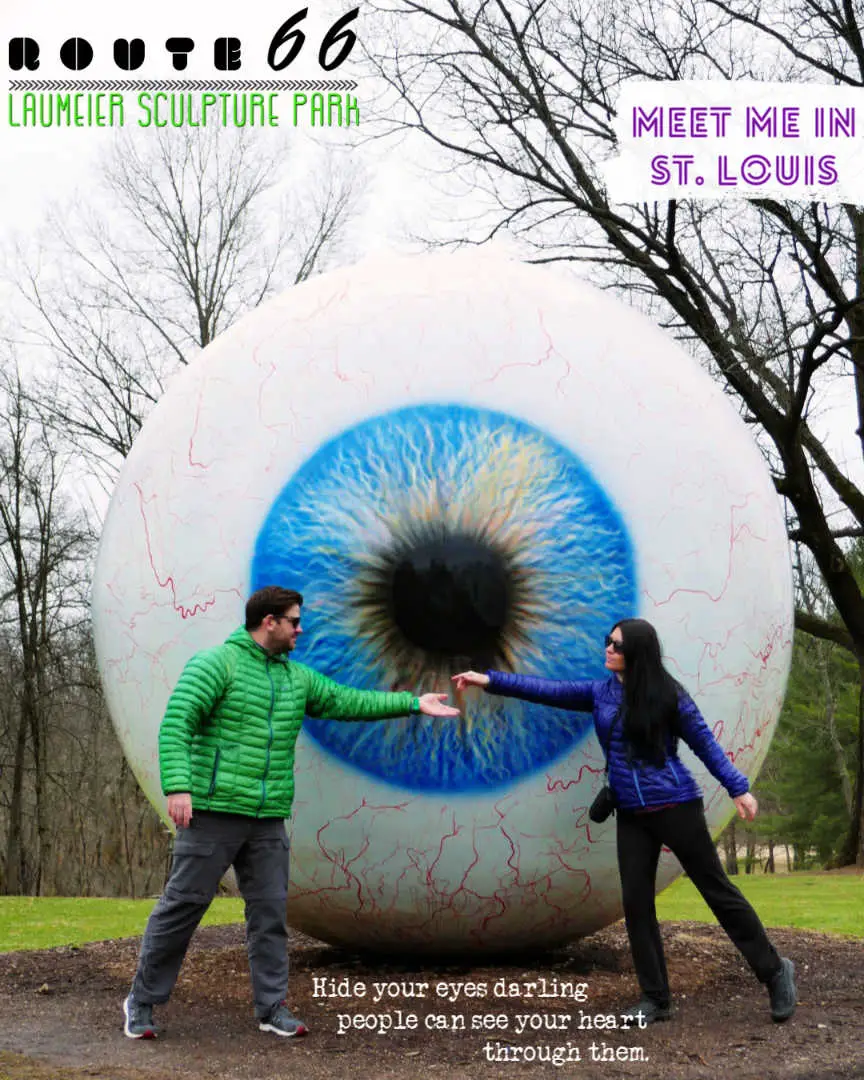 A great stop to stretch the legs and take pictures next to the impressive and ginormous sculptures. The best part is, it's free!
3. Fanning 66 Outpost Rocking Chair – Fanning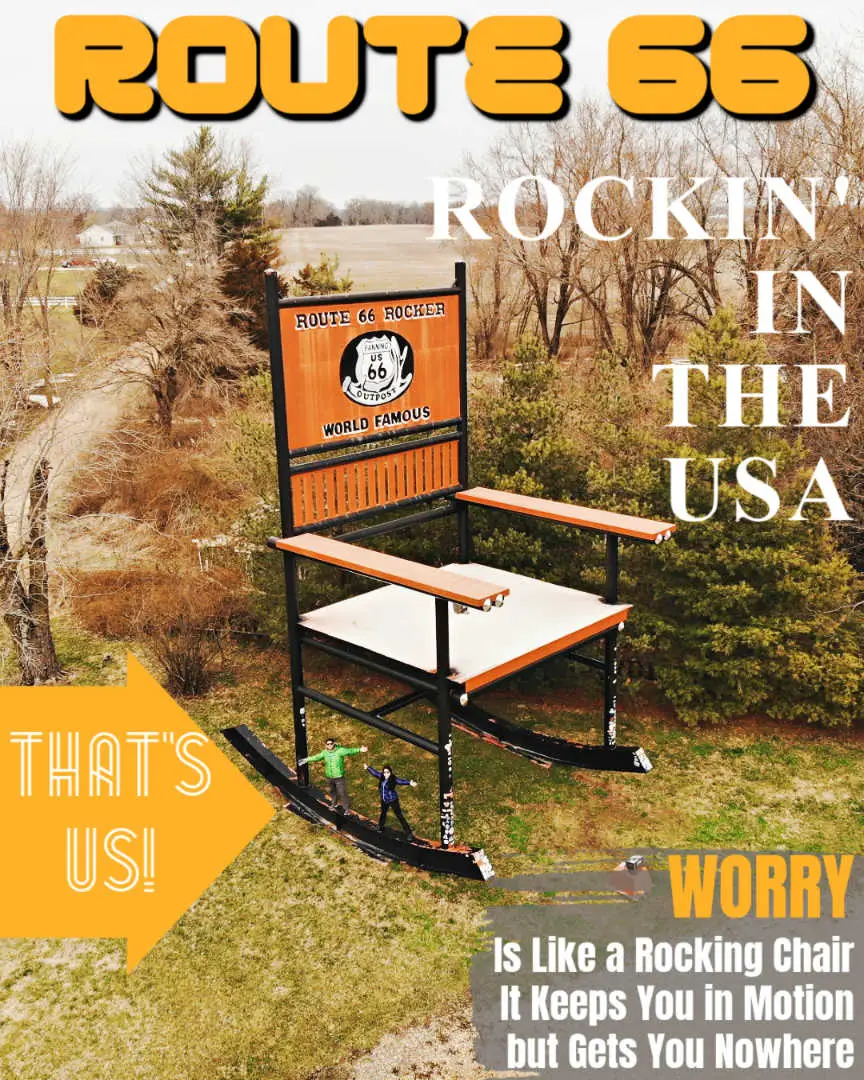 Worry is like a rocking chair. It keeps you moving but gets you nowhere. While only recently demoted to the World's Second Largest Rocking Chair, it's still ridiculously big. The Fanning 66 Outpost next door has a wonderful souvenir collection and clean bathrooms.
4. Best Western Route 66 Railhaven – Springfield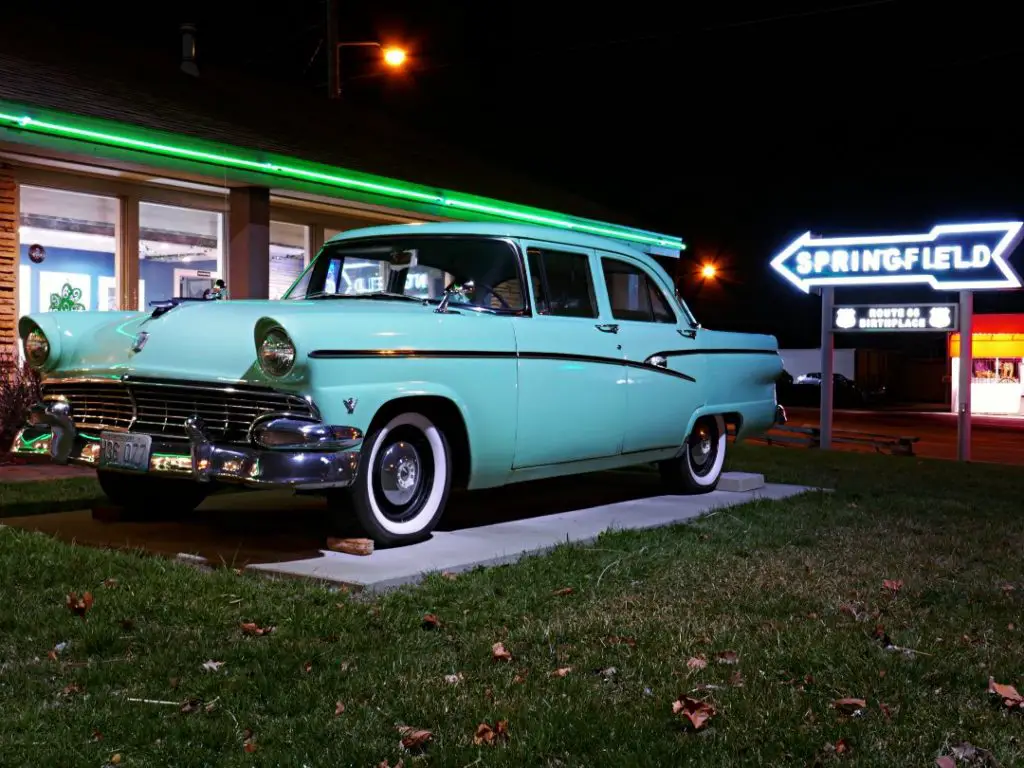 Elvis checked in and stayed in room No. 409, now named the Elvis Suite. Today, it's the priciest suite at the motel, furnished with a pink Cadillac-themed bed and Elvis photos. We highly recommend adding this stop to your Route 66 itinerary!
5. Gary's Gay Parita Sinclair – Paris Springs
"This road was made by entrepreneurs, for entrepreneurs. You got a passion for something you go out and do it but you gotta love it more than anything else." —Gary Turner, a Route 66 legend who owned and operated this iconic vintage gas station.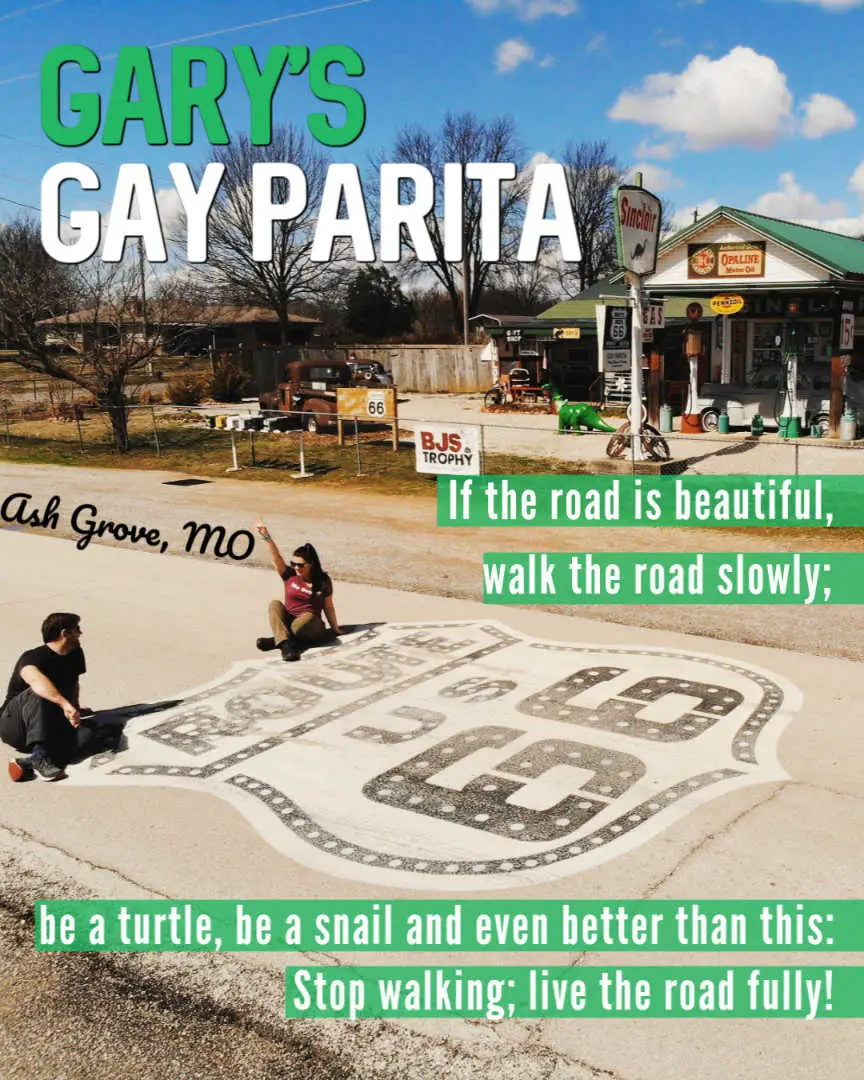 Today, the stop is managed by his daughter who welcomed us to the porch to share a chat about her parents' passion for this historic roadside attraction.
6. Red Oak II – Carthage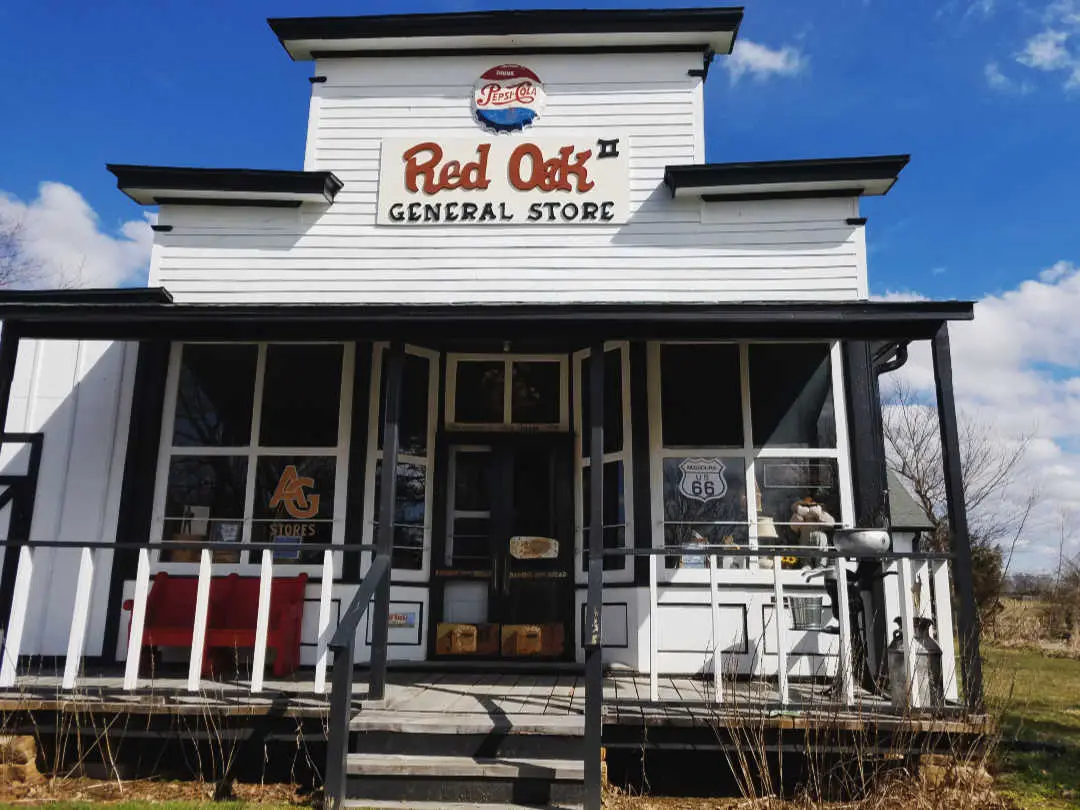 Lowell Davis came up with the idea to recreate his hometown of Red Oak, Illinois—and this fascinating and odd staged simulation is the result. Red Oak II includes a church, general store, homes, diner, jail, schoolhouse, a Phillips 66 gas station, and even a fake cemetery.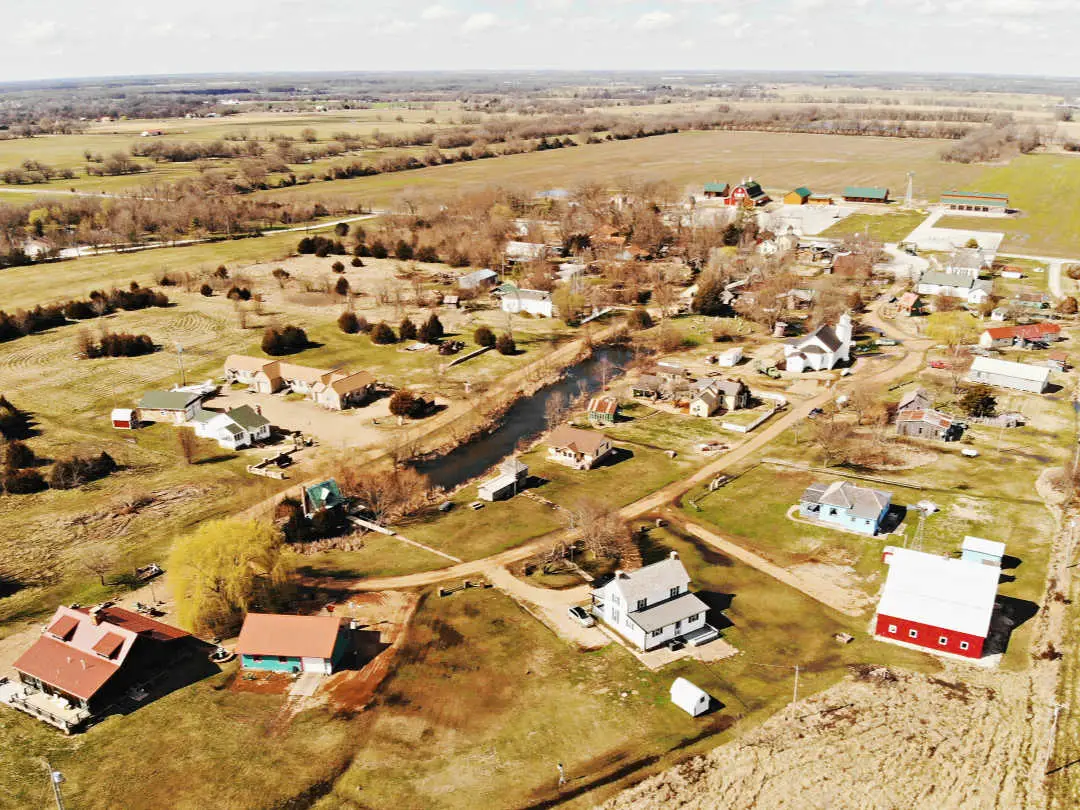 Honorable mentions include Ted Drewes Frozen Custard in St. Louis, Meramec Caverns in Stanton, Red's Giant Hamburg Sign in Springfield, the site of the Wild Bill Hickok shootout in Springfield, and Bass Pro Shop in Springfield.
Kansas Route 66 Attractions
The journey from Missouri to Oklahoma includes a short but charming 13-mile segment through Kansas. The main attraction along the way is the town of Galena which includes the historic service station named Cars on the Route. Overall, the town is more or less an assortment of rickety historic buildings.
1. Cars on the Route – Galena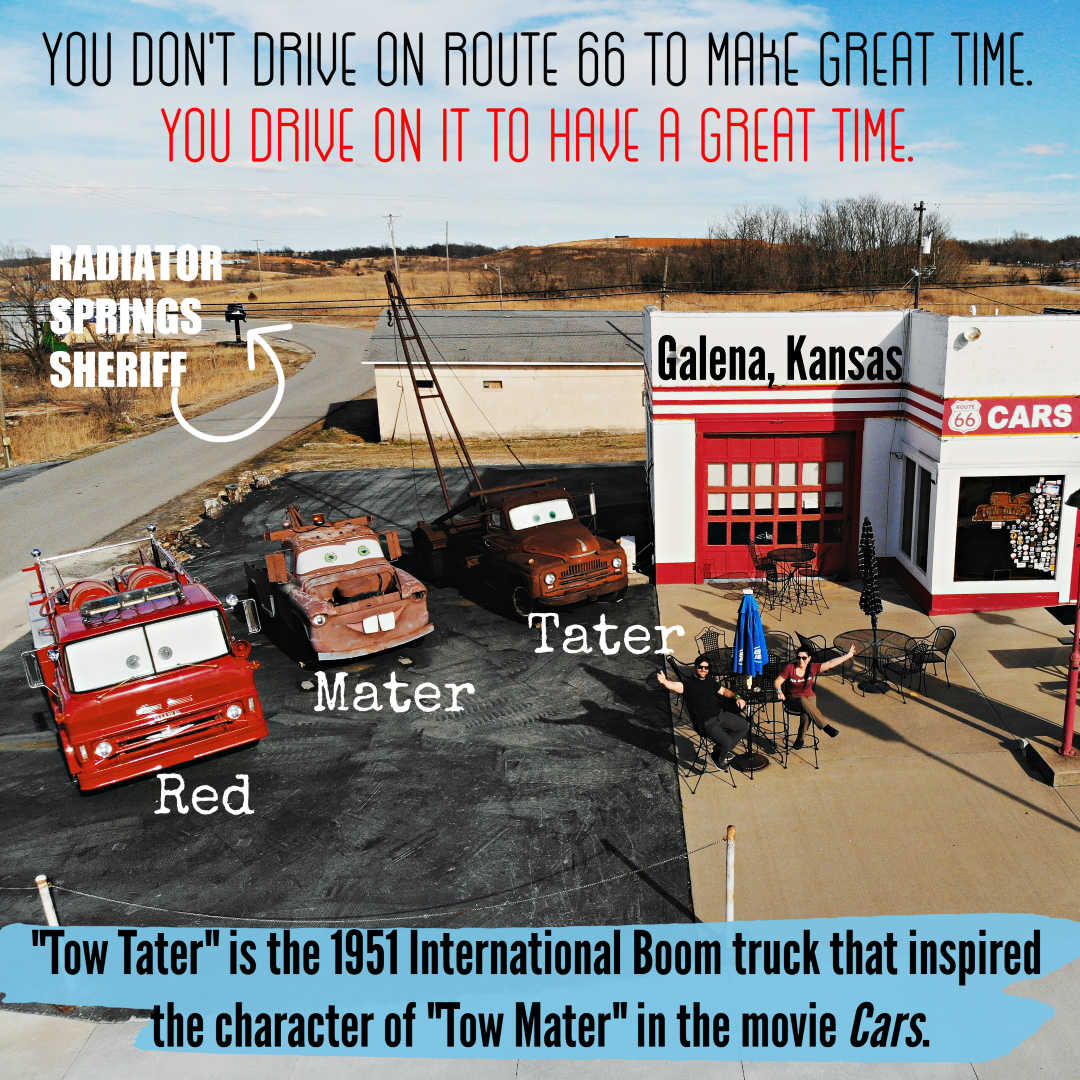 The state of Kansas hosts only 13 miles of Route 66, but that shortest stretch offers one of the cutest stops—Cars On The Route. It was here that the Pixar "Cars" directors saw the rusty old tow truck that inspired the character ', Tow Mater.'
Oklahoma Route 66 Attractions
We're theorizing that Oklahoma is keeping a low profile to ward off folks looking to flee their home state. We drove it thinking, "Why don't we ever hear anything about the beautiful state of Oklahoma?" Completely underrated!
1. Sidewalk Highway – Miami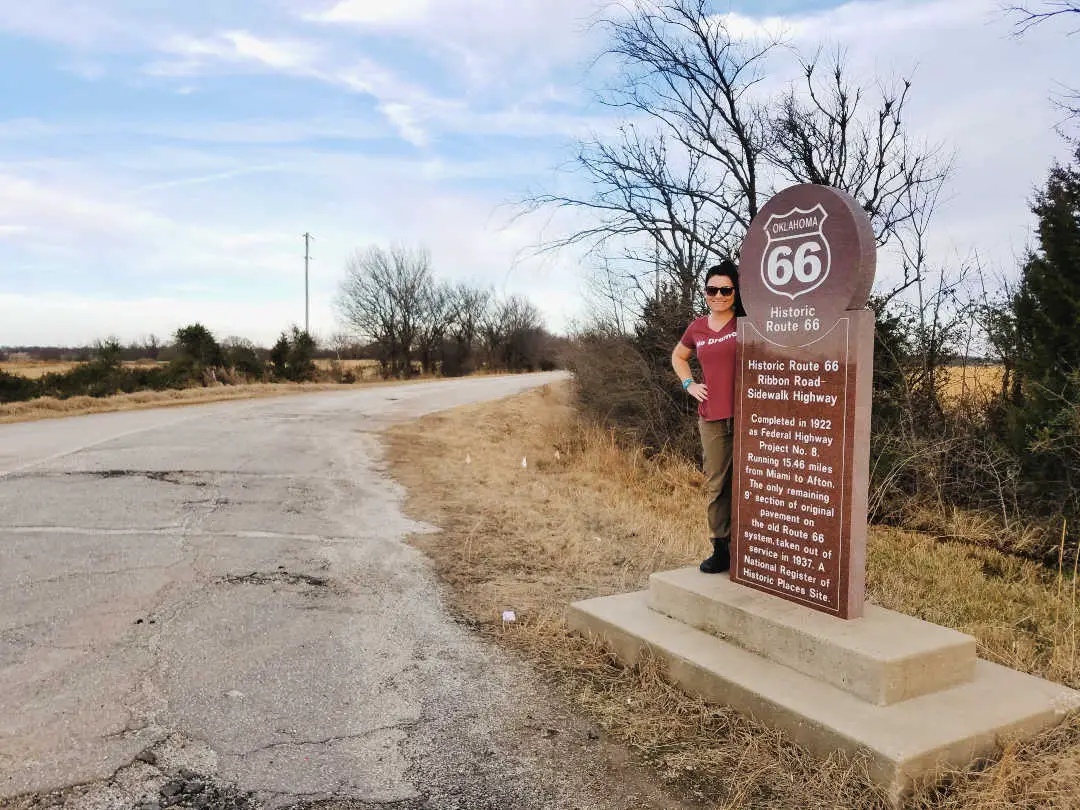 The Sidewalk Highway between Miami and Afton is 3 miles long, 9-feet-wide, and one of the oldest original segments of Route 66.
2. Blue Whale – Catoosa
The Blue Whale in Catoosa, Oklahoma is one of the most beloved historic landmarks along Route 66. It was built by zoologist Hugh Davis as a surprise anniversary gift to his wife who collected whale figurines.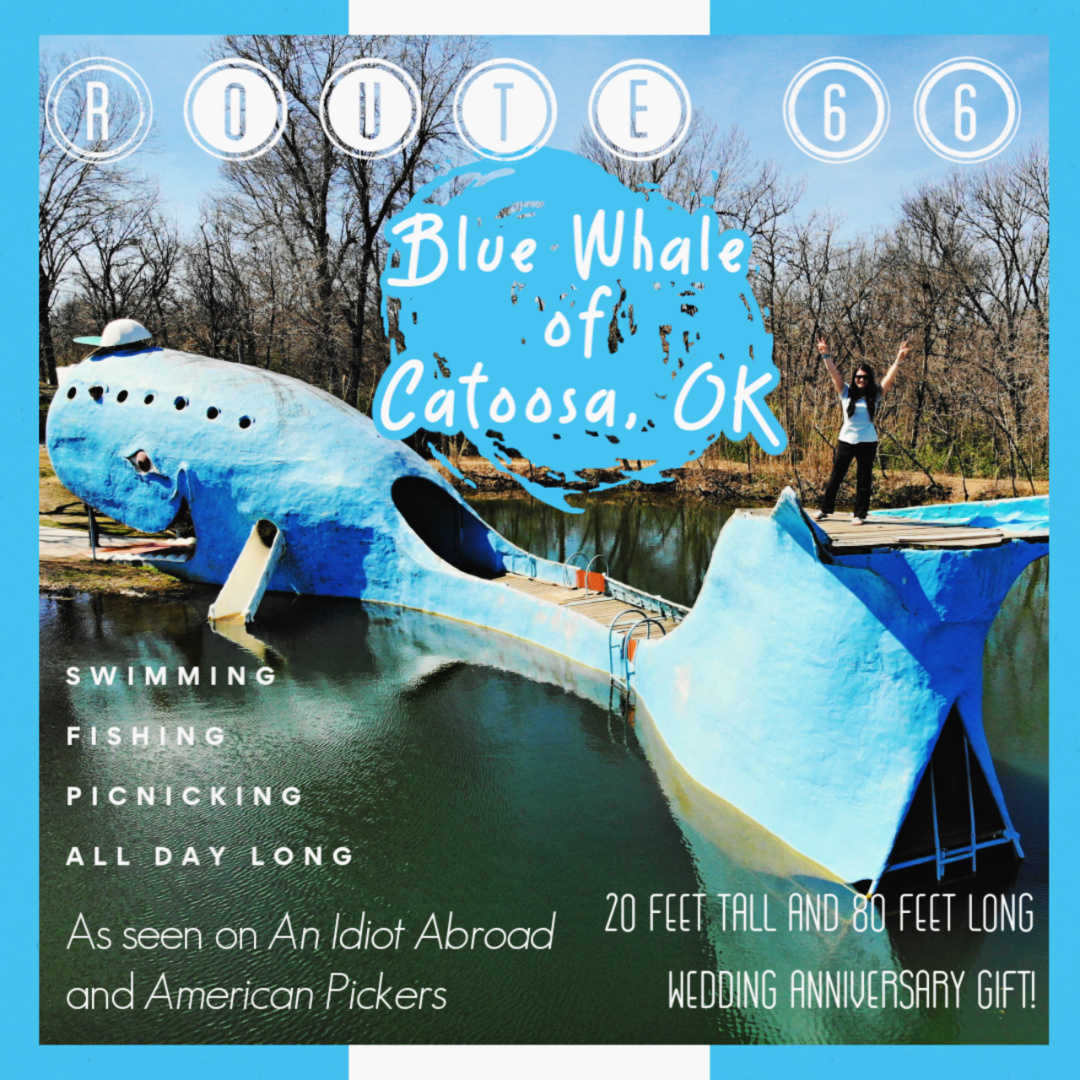 After it was completed in 1972, it became a favorite local swimming hole. Swimming is no longer allowed, but visitors are welcome to climb all over the whale for cool photo ops.
3. Golden Driller – Tulsa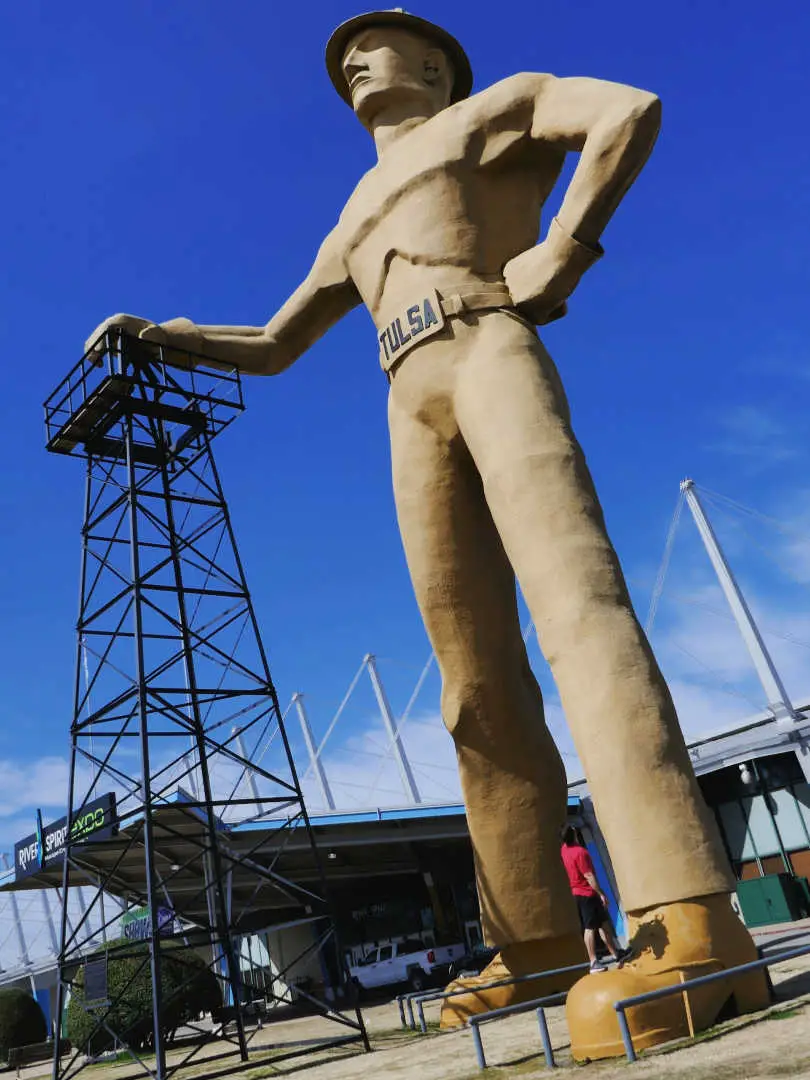 The 76-foot-tall statue of an oilman is one of the highest-reaching statues in the country.
4. Pops – Arcadia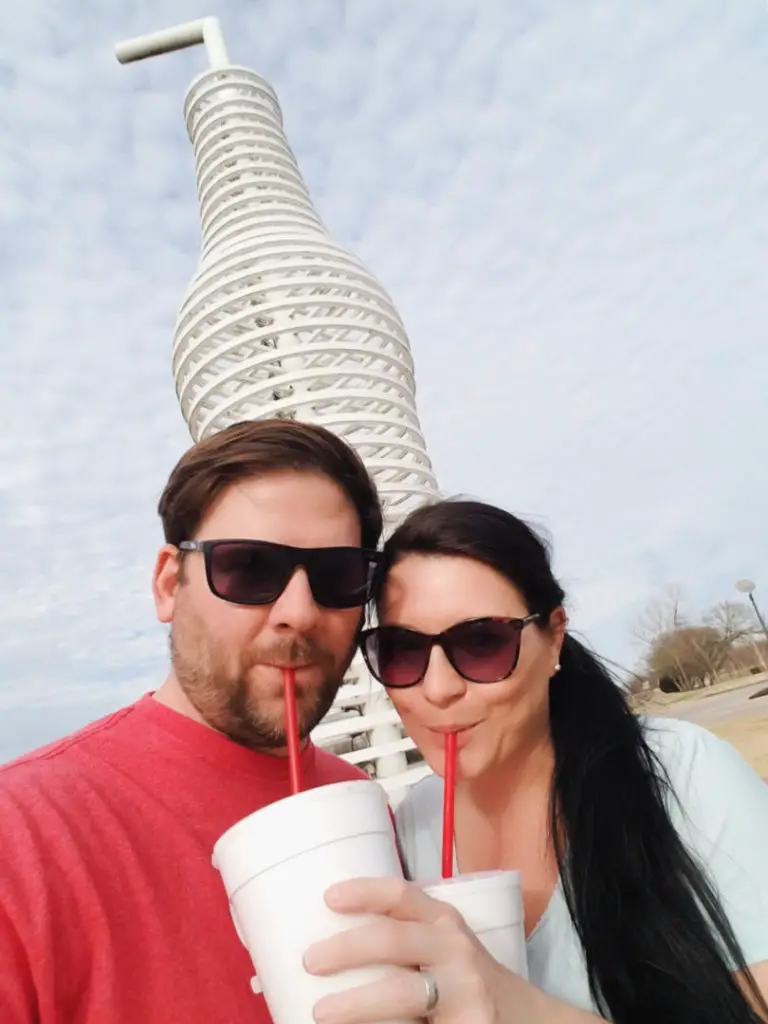 Once inside, you're sure to say, "Why didn't I think of this?" Every imaginable bottled soda (over 600 flavors ) is on display and sold at this neo-futuristic gas station and diner. You'll know you're there when you see the gigantic 66-foot-tall LED-lit soda bottle!
5. Sid's Diner – El Reno
During the great depression, when times were tough, folks used to throw a lot of cheap, but tasty onions into the hamburger meat. Today, the fried onion burger is an Oklahoma favorite and Sid's is the place to taste one—you'll love how the carmelized onions form a sweet and savory crust.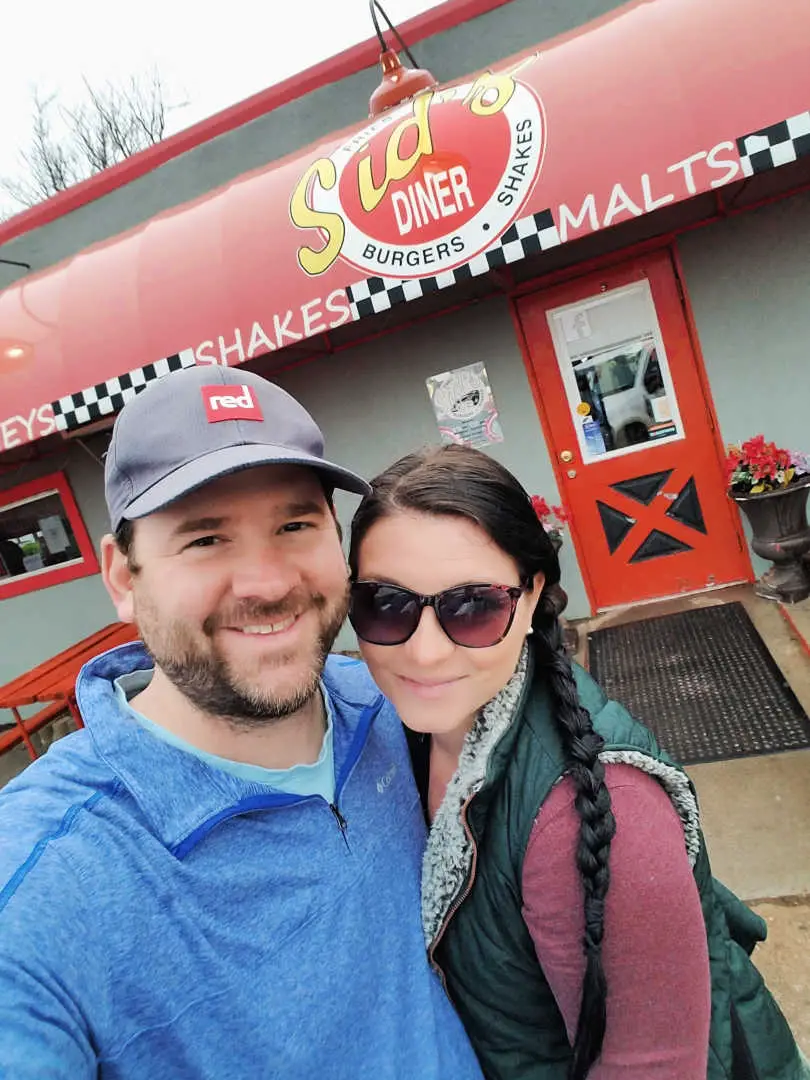 Honorable mentions include the Totem Pole Park near Chelsea, Round Barn in Arcadia, Oklahoma City National Memorial and Museum, and Sandhills Curiosity Shop in Erick.
Texas Route 66 Attractions
Of the eight states, Texas has the second shortest segment. The journey takes you through the panhandle. Plan on visiting one of the most laid-back and low-key areas of Texas. Much of the route travels down two-lane roads, through small back-country towns that accommodate fewer than 500 residents.
1. Tower Station and U-Drop Inn Cafe – Shamrock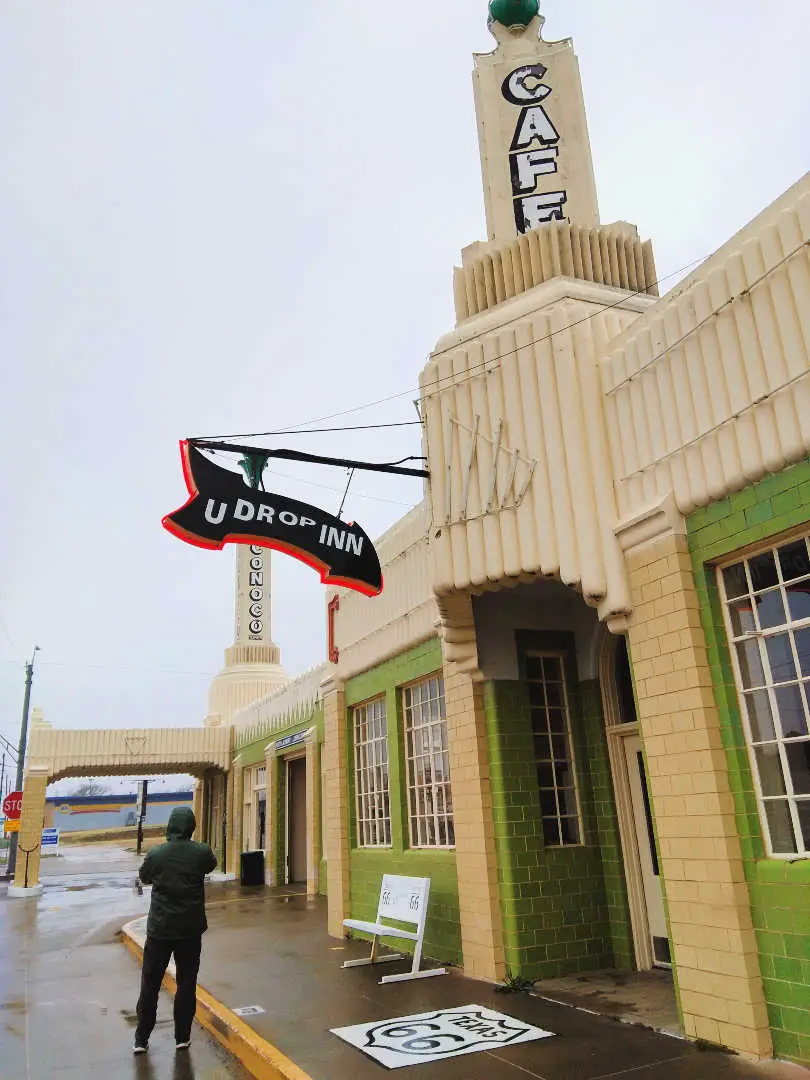 This former Conoco station features Art Deco architecture, a four-sided obelisk, and neon lights. Inspired by the image of a nail standing in the soil, its design is half cafe, half service station. Elvis visited here during his stay at the nearby Sun n' Sand Motel (now the Route 66 Inn) and you can sit in his booth!
2. Leaning Water Tower – Groom
The Leaning Tower of Texas was purposely constructed with a shocking tilt as a marketing ploy to lure Route 66 travelers to Ralph Britten's truck stop and restaurant. The good old marketing scheme worked like a charm.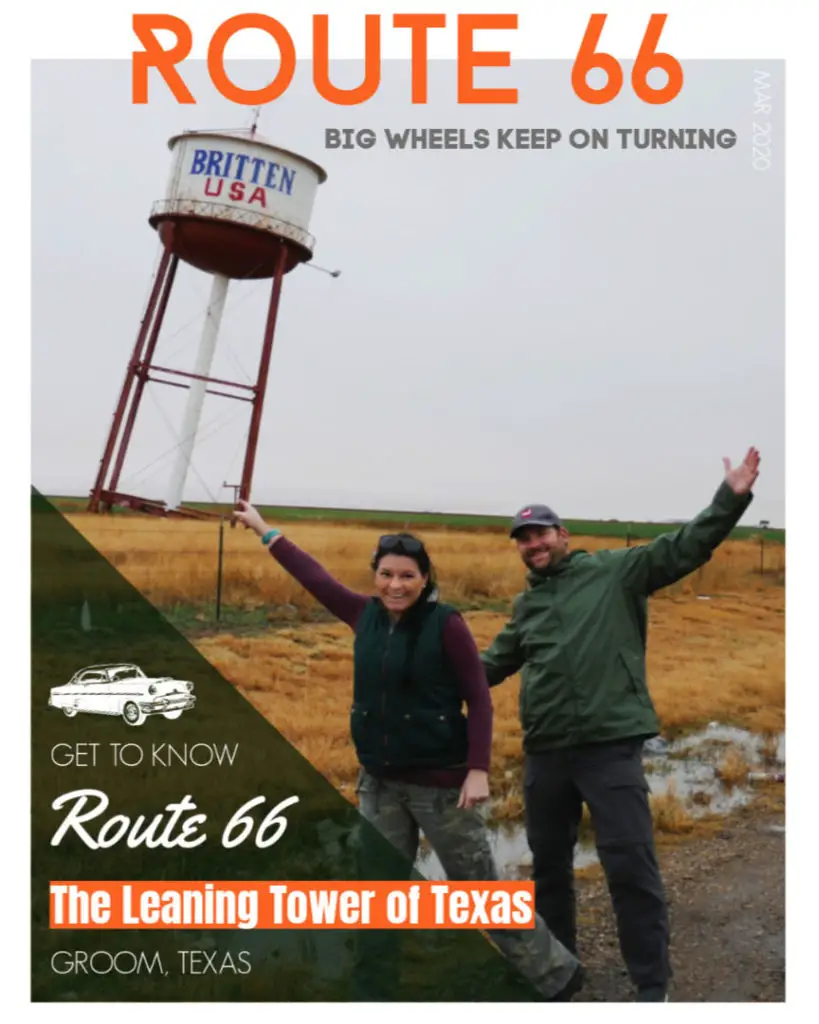 Curious motorists would drive to the tower to let Ralph know his tower was about to fall. The next thing they knew, they were standing in his restaurant and decided to stay because 'well, as long as we're here we may as well have a bite.' What a brilliant business plan using some definite out-of-the-box thinking
3. Big Texan Steak Ranch – Amarillo
If you've always wanted to taste authentic Texas steak, there's no better place than the Big Texan. Devour the entire 72-ounce steak dinner and the meal is free. By the way, the feat must be completed within one hour and it comes with a salad, baked potato, and shrimp cocktail. Good luck!
4. Cadillac Ranch – Near Amarillo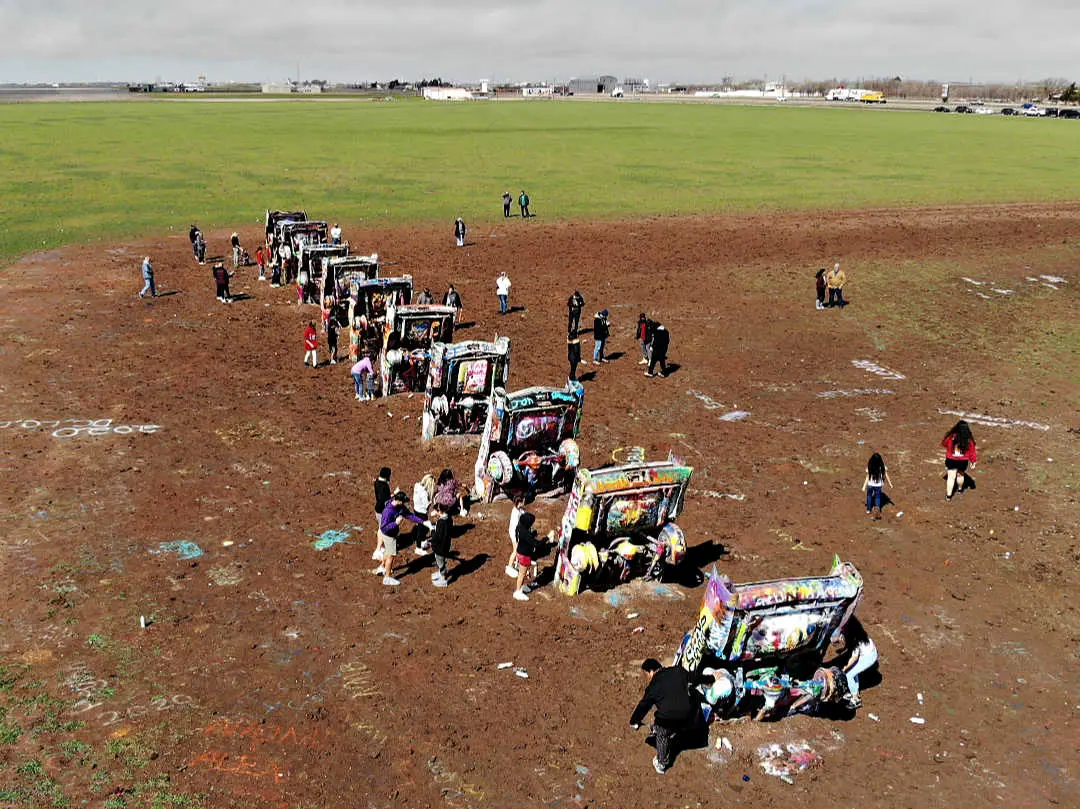 Sadly, this was one of the places we were looking forward to most visiting. However, the night before there was a massive thunderstorm. As a result, the field in which the Cadillacs sit became muddy, and we had nothing to protect our shoes. Unfortunately, we could only get a drone shot from the road.
5. MidPoint Cafe – Adrian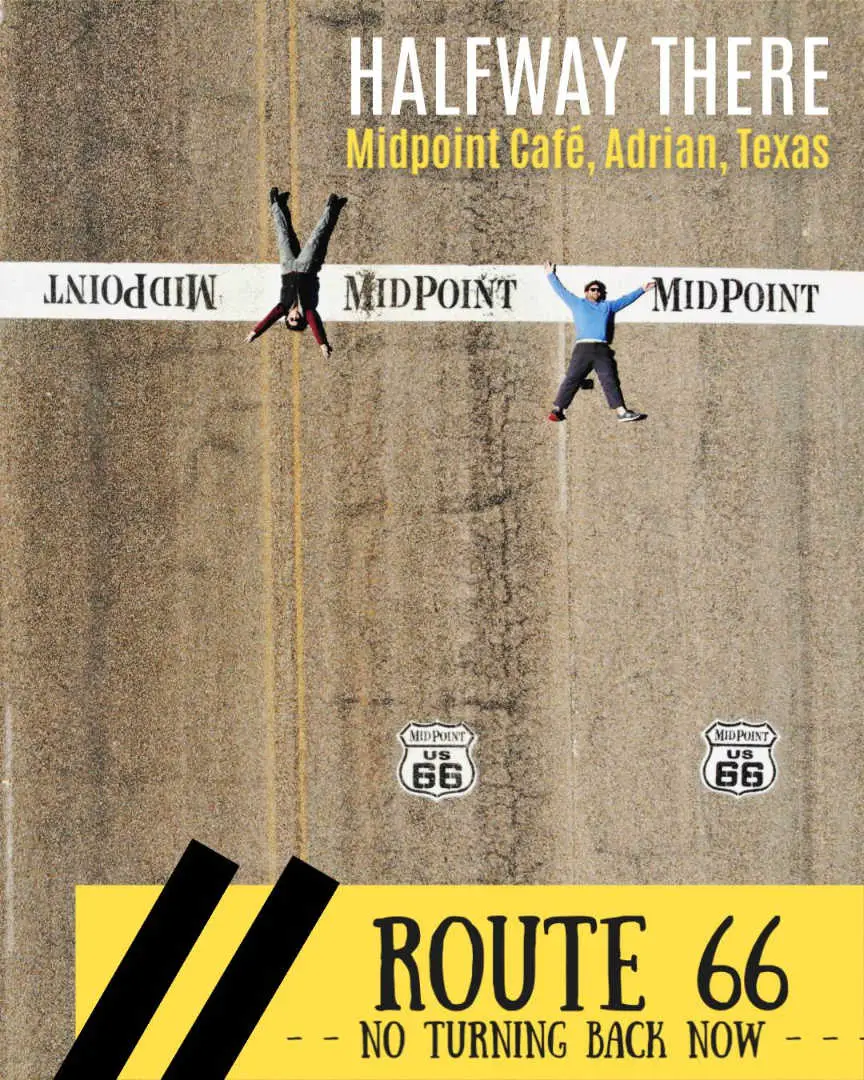 Once you get this far, there's no turning back. The Route 66 midway point features a cute 50s diner, a midway line (pictured here), and a famous autograph truck where travelers from all over the globe leave their signature marks.
Honorable mentions include Giant Cross in Groom and Dot's Mini-Museum & Boot Tree in Vega.
New Mexico Route 66 Attractions
When departing Texas and New Mexico, the landscape changes dramatically as it transitions from the Great Plains to the mountains. Also, the architecture transforms from conventional frame homes to adobe pueblos. For many travelers, visiting New Mexico is the highlight of their trip.
New Mexico has some of the oldest communities, churches, and buildings in the country, making it a fascinating state to visit. For this reason, New Mexico is known for having some of the best iconic Route 66 motels.
1. Blue Swallow Motel – Tucumcari
Since 1939, The Blue Swallow Motel has been welcoming weary Route 66 travelers to the city of Tucumcari, New Mexico. It's one of the longest continuously-operated motels along the New Mexico segment.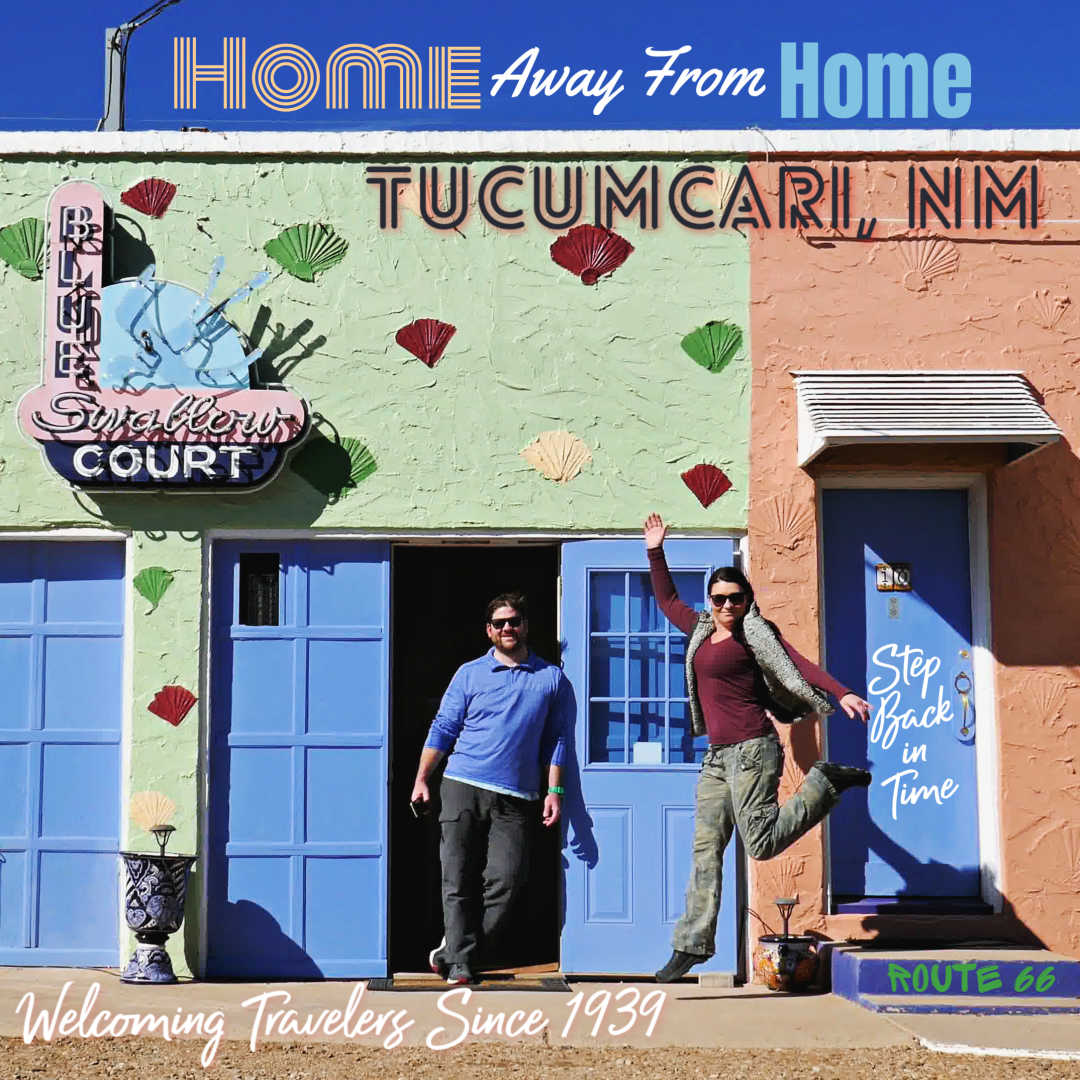 The reason it has persevered for so long was partly due to the warmth and kindness the owners have provided to their guests. We've been lucky to enjoy a number of these iconic motels during our own Route 66 journey.
2. Pecos National Historical Park – Pecos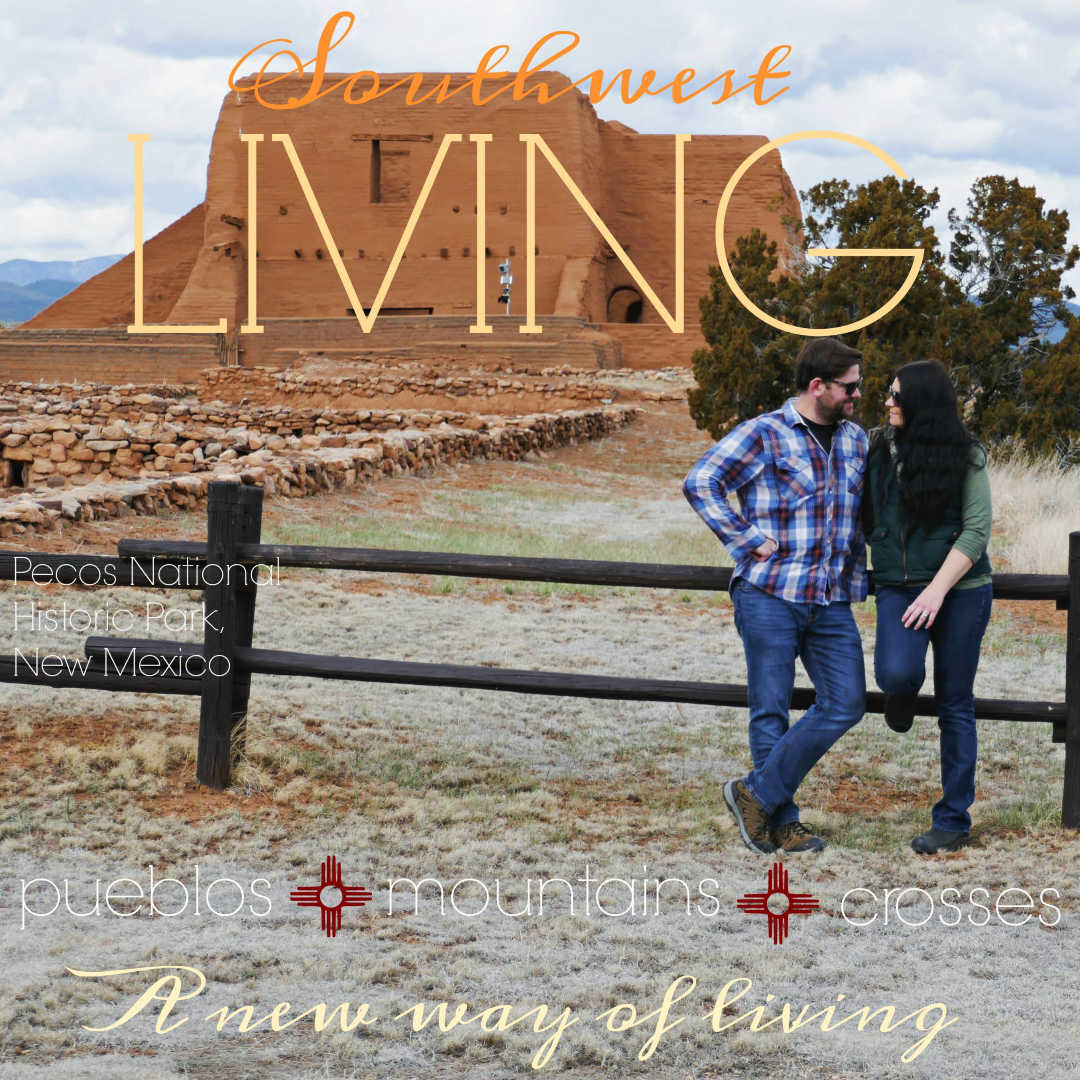 So many unique cultures and landscapes spread across 50 magnificent United States but we'll tell you, there's something wonderfully special about the state of New Mexico.
3. El Rey Court – Santa Fe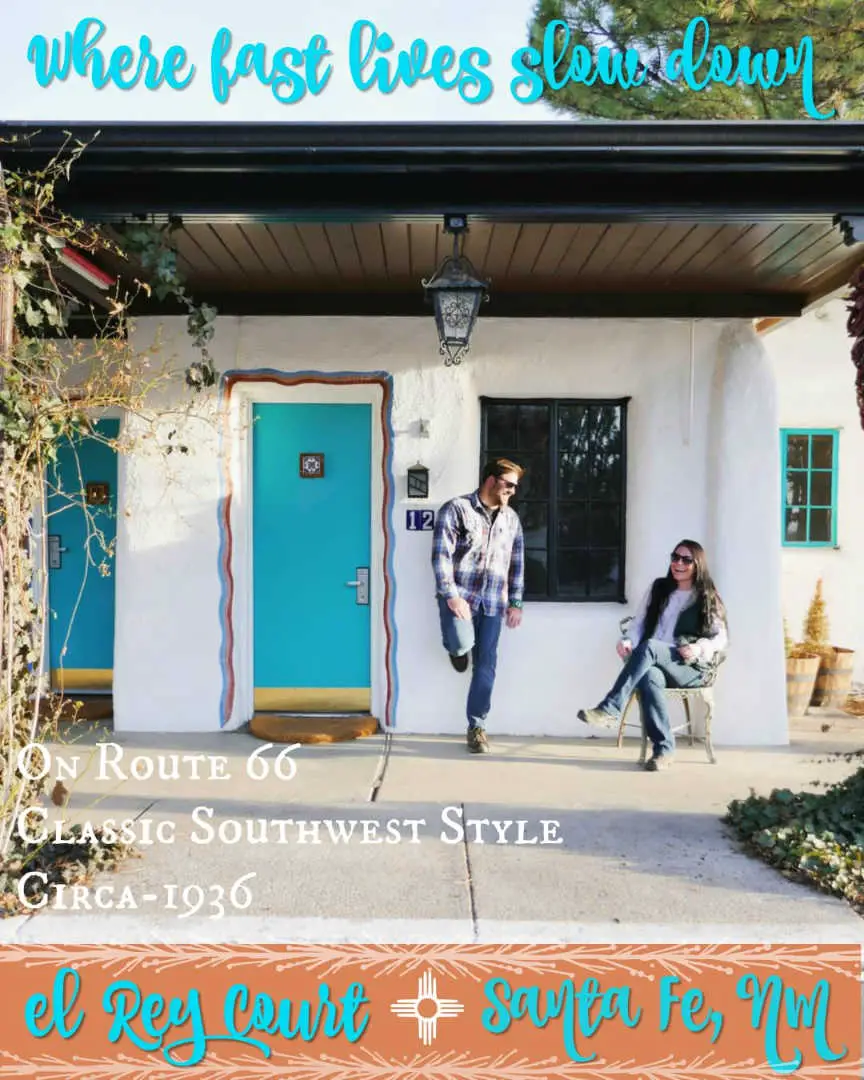 El Rey Court is one of Route 66's most iconic hotels. Since 1936, this motor court inn has offered travelers a cozy place to stay where a fast-paced life can slow down,' if only for a night or two.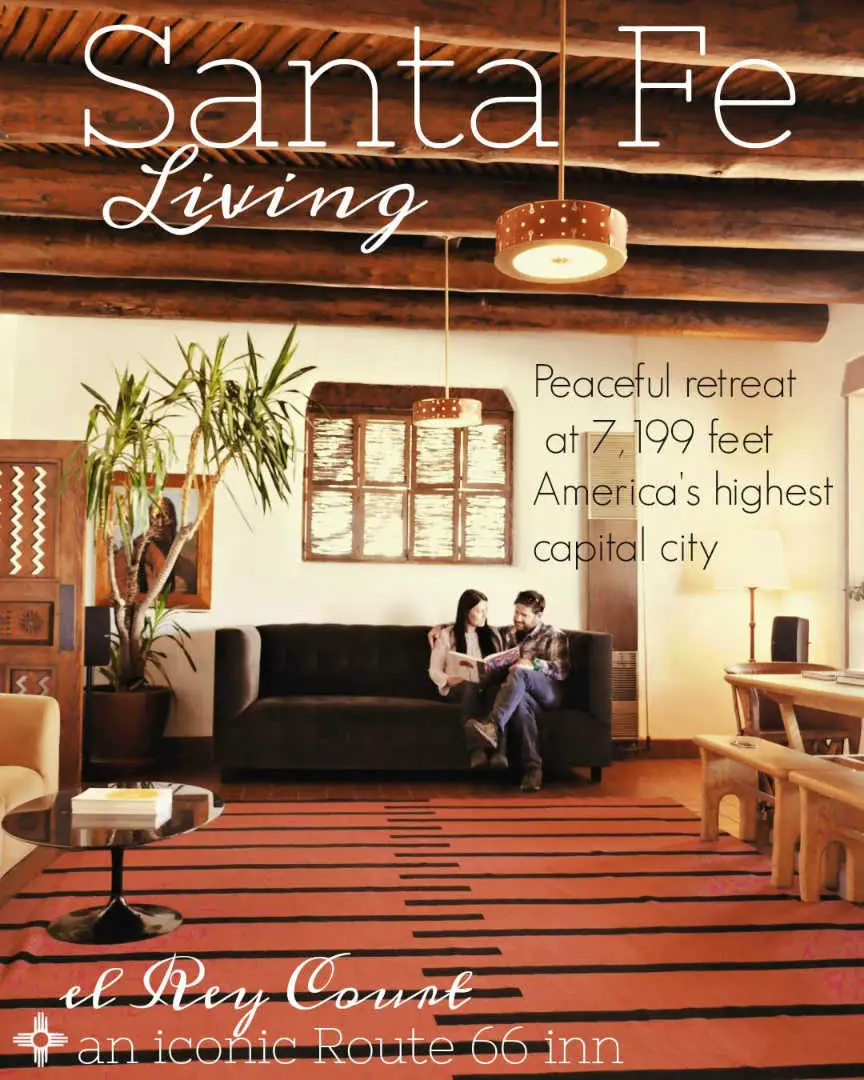 A visit to El Rey Court allows you to stay directly on Old Route 66 while overnighting in the highest capital city in the United States. Santa Fe is the third highest populated city in the country, sitting at 7,199 feet. And yes, we felt the elevation while hiking on the Chamisa Trail.
4. The De Vargas Street House – Santa Fe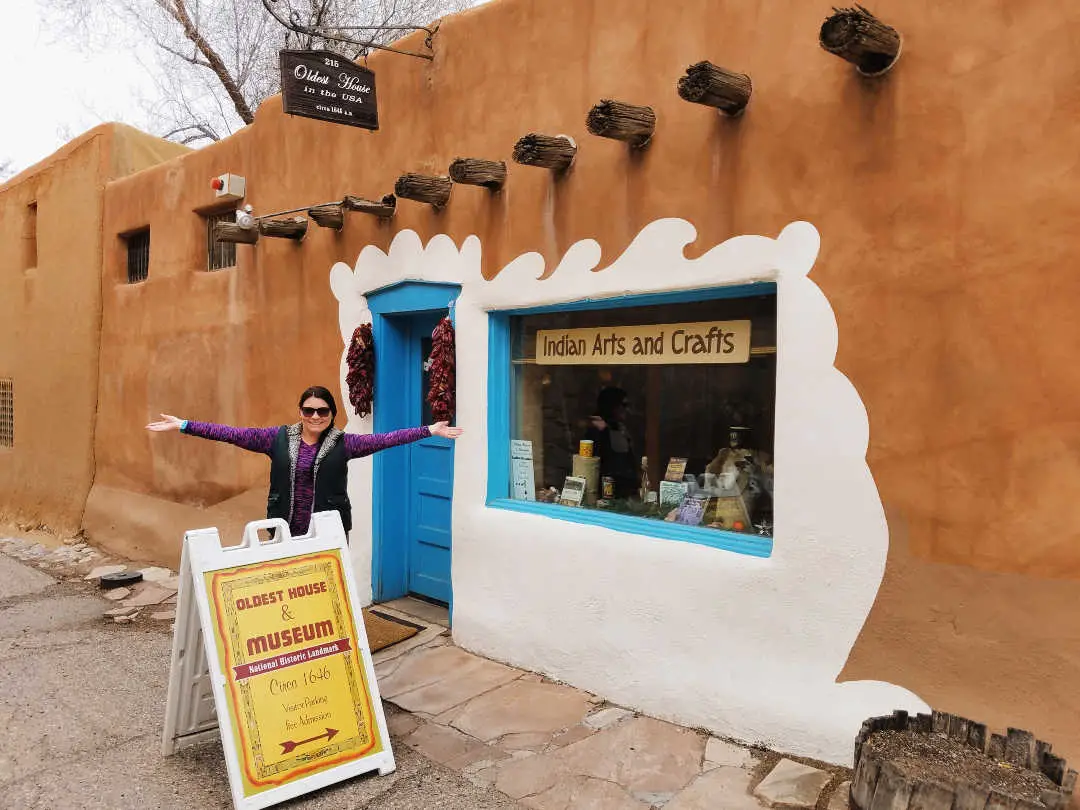 The De Vargas Street House may well be one of the oldest homes in the USA. It is believed to have been built by the Pueblo people using a poured mud process. The current owners run a souvenir shop here and date the building back to the 13th century. The oldest portion of the building has adobe-style walls, small windows, dirt floors, and low ceilings with exposed wooden beams.
5. El Rancho Hotel – Gallup
One of the most iconic hotels along Route 66 is the El Rancho. Here you can sleep in a room that a movie star slept in—all for a reasonable price. With minimal changes made to the rooms, guests can see what a 1930/40s hotel experience was like back in the day when stars would stay here while shooting popular Western films.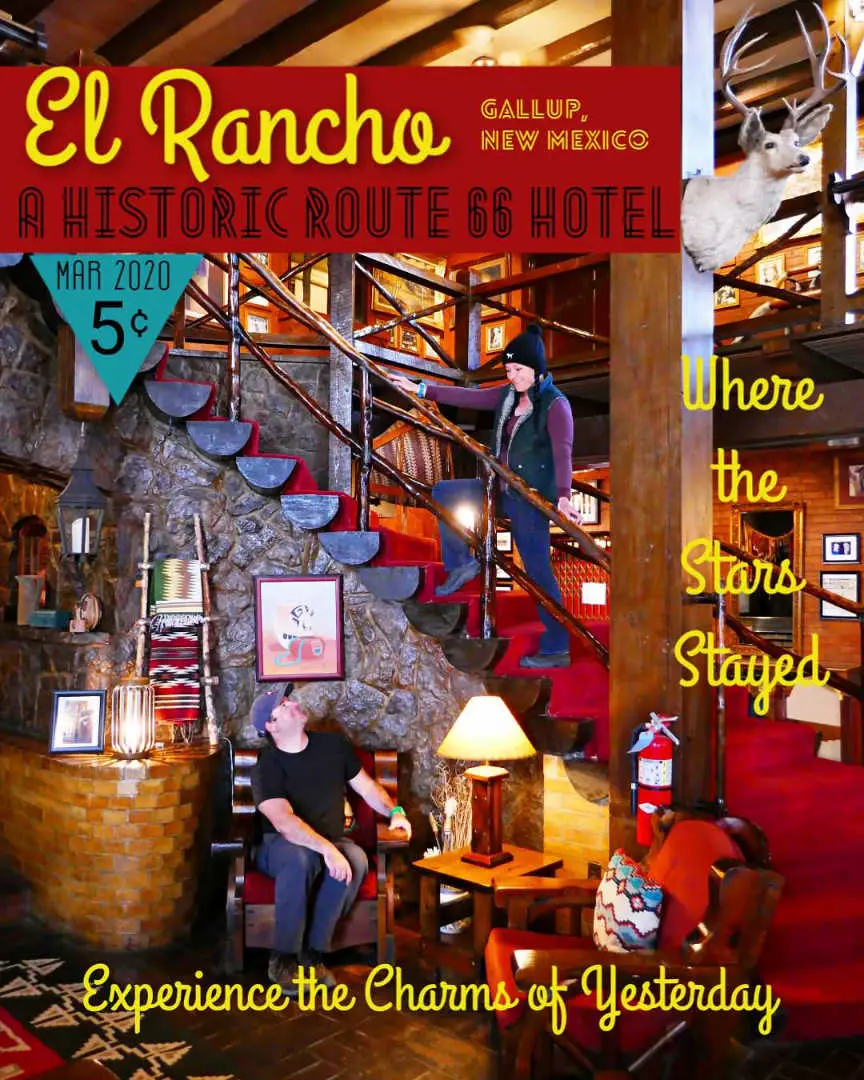 Honorable mentions include the Tucumcari City Mural Tour in Tucumcari, the Budville Gas Station in Budville, Walter White's Breaking Bad home in Albuquerque, and Acoma Pueblo, and the Route 66 Neon Drive-Thru in Grants.
Arizona Route 66 Attractions
The best Route 66 attractions in Arizona include kitschy travel oddities and amazing outdoor sites. Some of the most notable include the Painted Desert and Petrified National Forest Park, Meteor Crater, the Colorado River Recreational Park, and the Grand Canyon Caverns—all are located just minutes off the interstate. Iconic day trips like the Grand Canyon National Park, Sedona, and Lake Havasu are short drives away from the route.
1. Wigwam Motel – Holbrook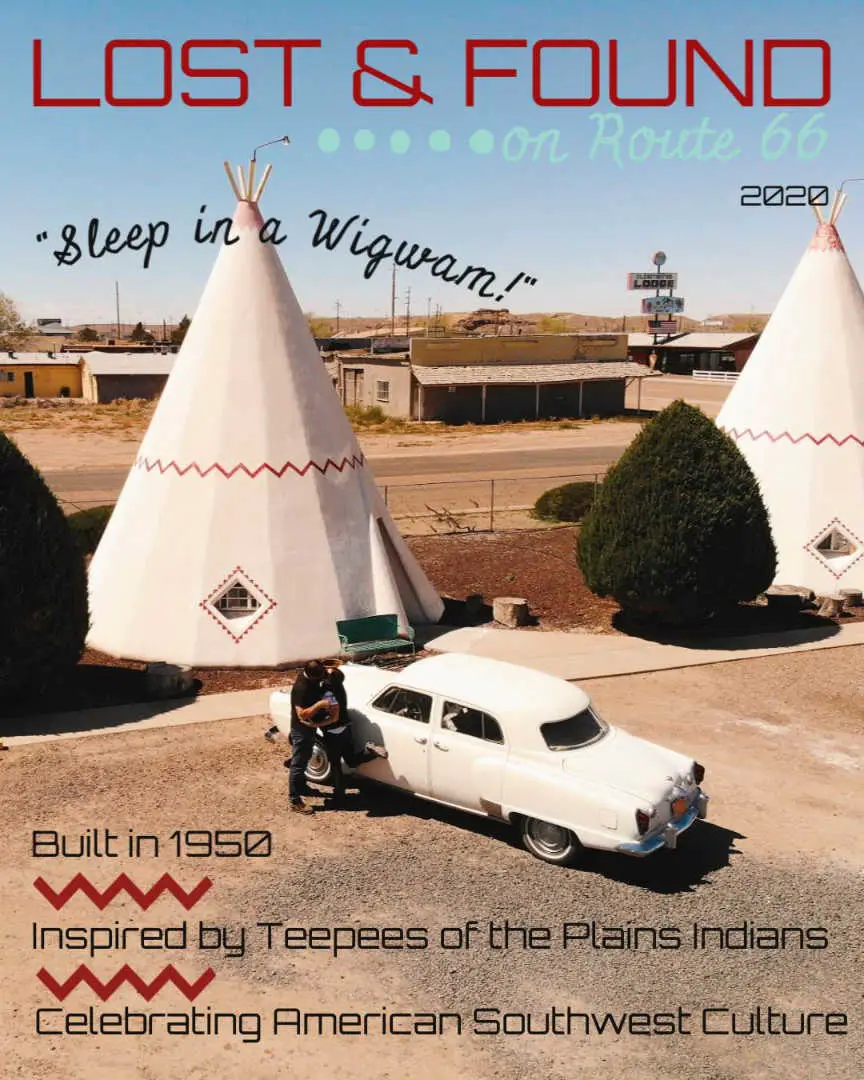 The Wigwam Motel in Holbrook, Arizona celebrates the 1950s philosophy of offering a clean, safe, and affordable roadside accommodation—which is perfect for budget-savvy travelers—just like us! Fun fact! Although there are 15 teepees, the rooms are numbered 1 to 16. There is no unlucky room #13.
2. Standin' On the Corner Park – Winslow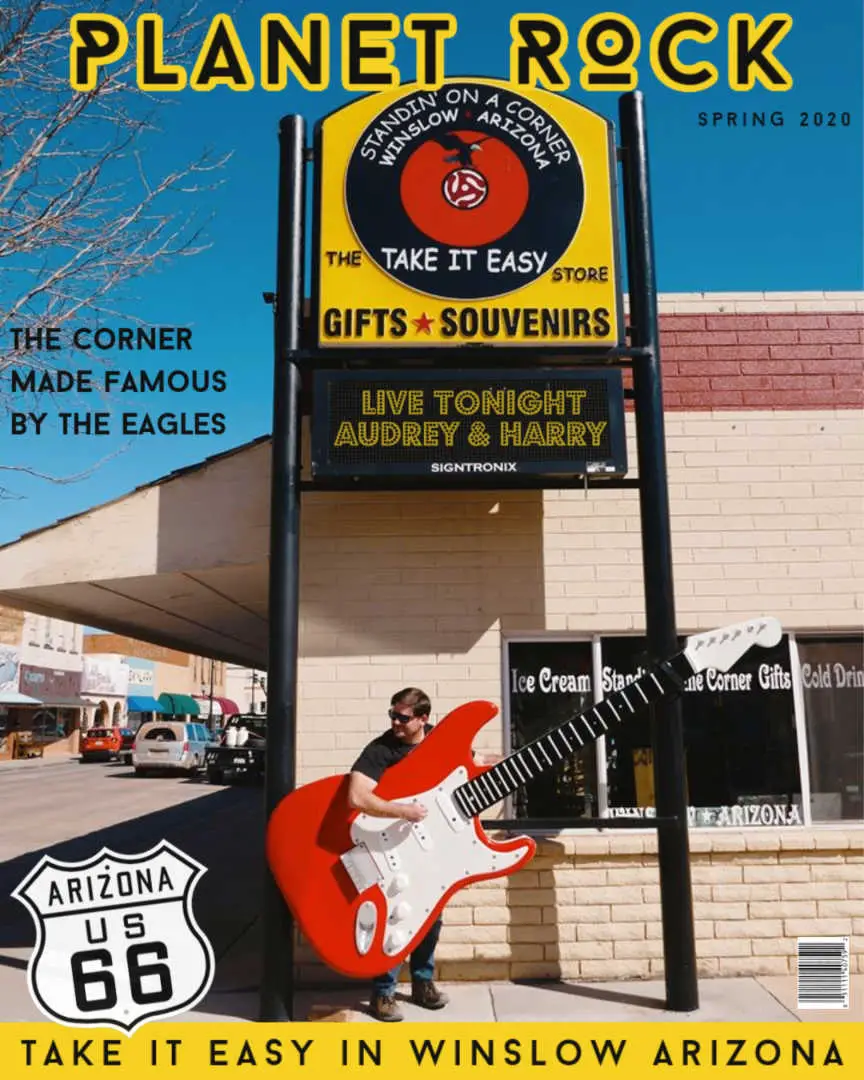 Don't let the sound of your wheels drive you crazy. We are among the estimated 100,000 people who will visit this same spot over the next 12 months, drawn by nostalgia for a town whose best days ended decades ago. Standin' On The Corner Park in Winslow, Arizona on Route 66—a destination made famous by The Eagles.
3. Grand Canyon National Park – Near Flagstaff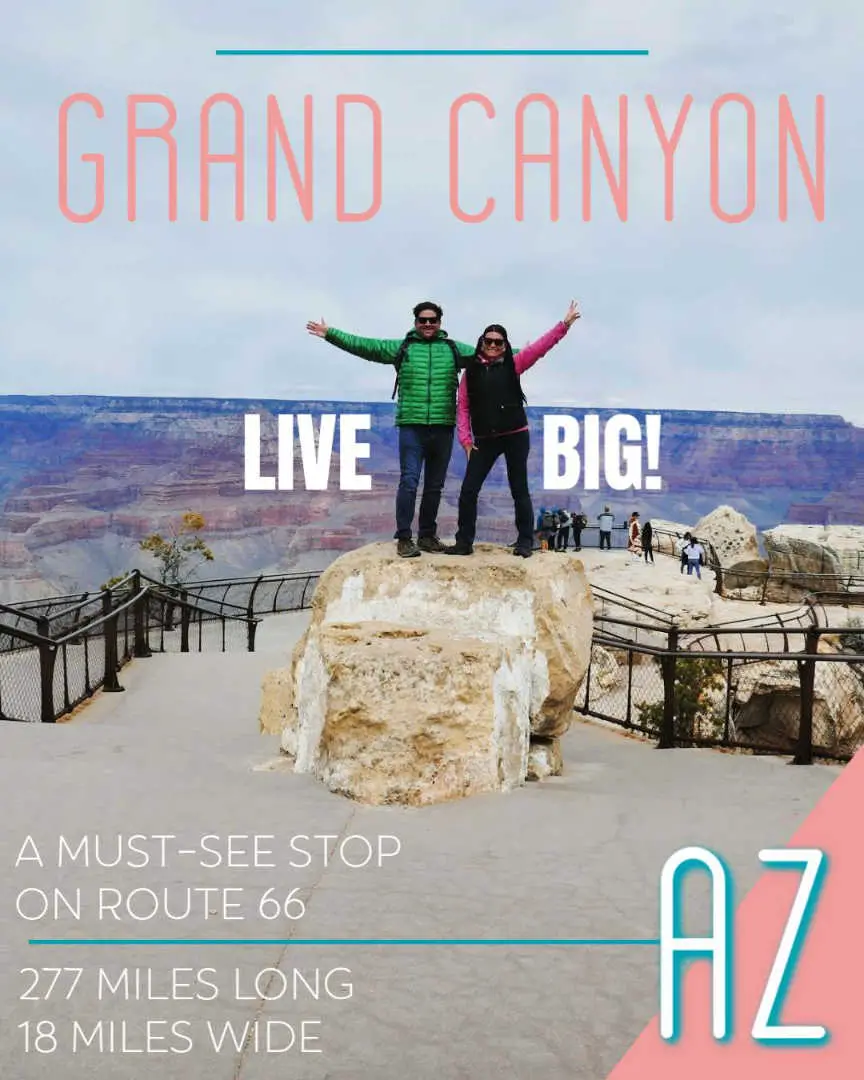 Did you know? Despite being the most famous, the Grand Canyon is not the world's deepest canyon. That award goes to Cotahuasi Canyon in Peru. Not surprisingly, the Grand Canyon is by far most travelers' favorite stop along Route 66
4. Seligman Strip – Seligman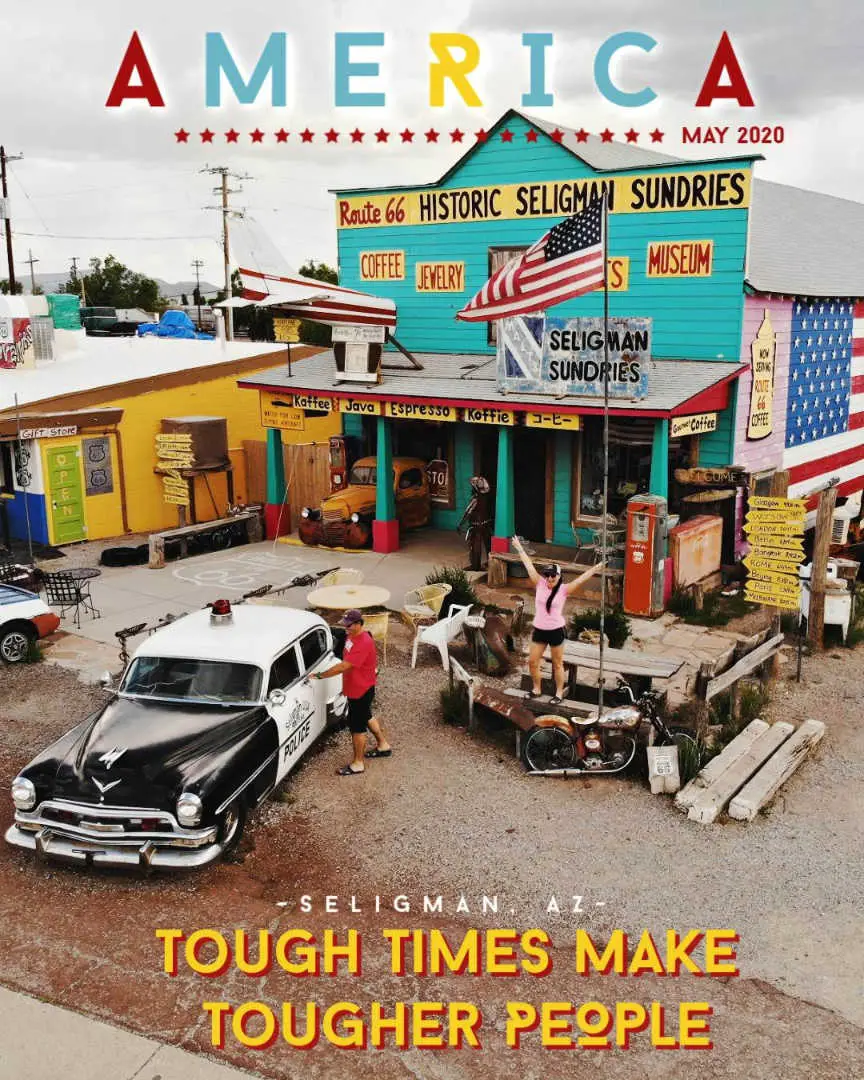 Seligman is a one-street town with a ton of Route 66 characters. It may be small but it packs some of the best "66" photo opportunities in Arizona. The town is known for being the first stop heading west along the longest stretch of uninterrupted Route 66 pavement.
5. Oatman Highway – Oatman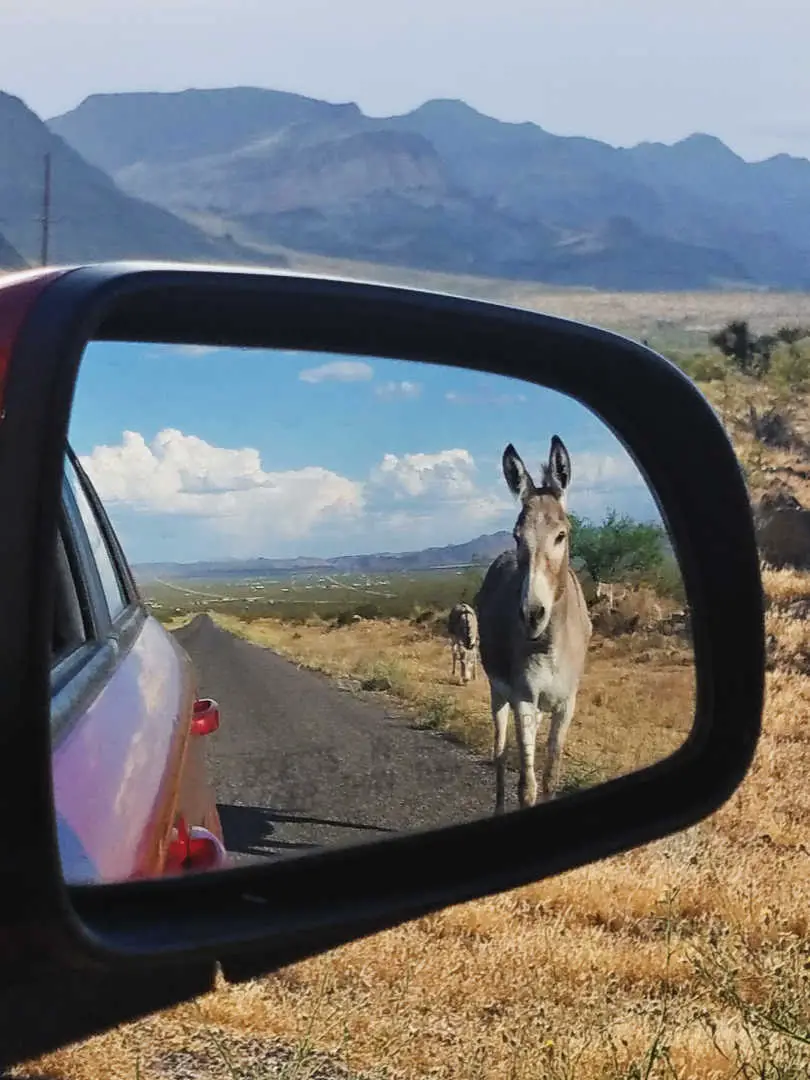 The beauty of the Oatman Highway is like nothing else you'll see along Route 66, making it probably (in our opinion) the prettiest segment of Route 66. During the drive, you'll cross over the Black Mountains, pass through the historic mining town of Oatman, and end in Cool Springs. Vehicles over 40 feet are not allowed on the Oatman Highway.
Honorable mentions include the Painted Desert and Petrified Forest National Park, the Jackrabbit Trading Post, and the Twin Arrows Trading Post.
California Route 66 Attractions
As we crossed the border into California we were greeted by border patrol, looking for fruits and vegetables, and the empty, eerie desert. The route through California is fairly lonely—highlights mainly consist of nature parks. It's only upon reaching San Bernardino that you begin to feel civilization breathing down your neck again.
1. Mojave National Preserve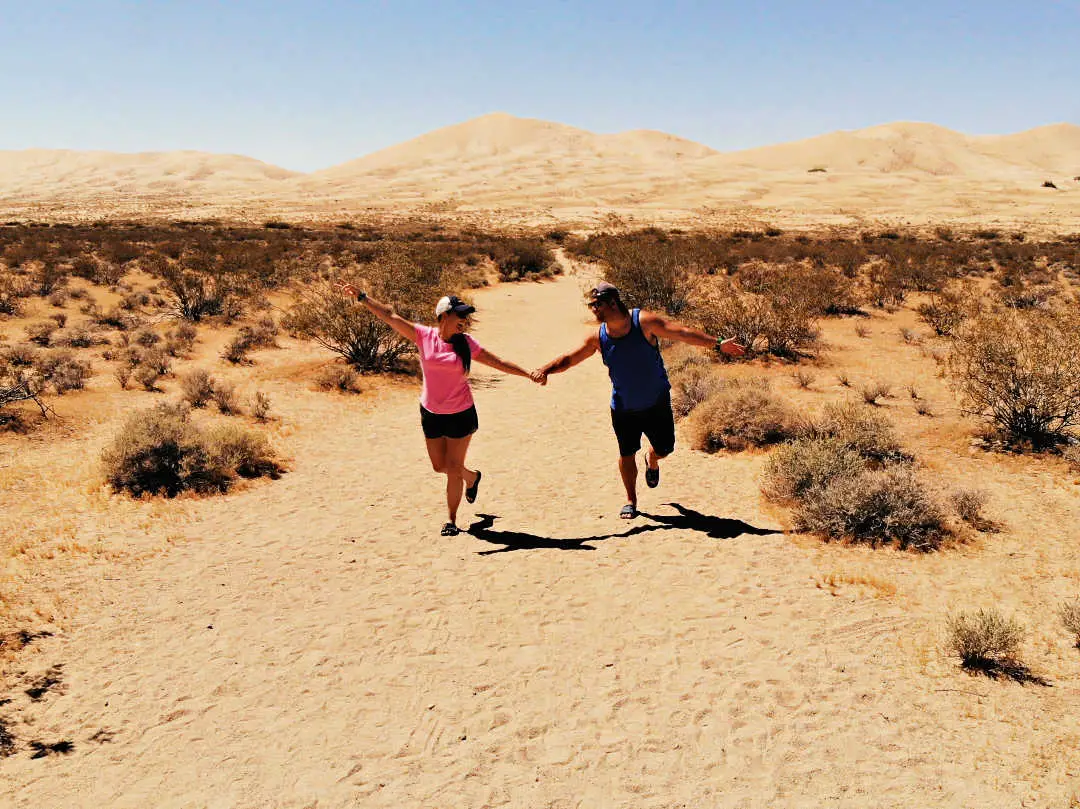 The short detour off Route 66 is well worth the trip. The road passes through a supernatural landscape of dunes that were created by ancient volcanic activity.
2. Elmer Long's Bottle Tree Ranch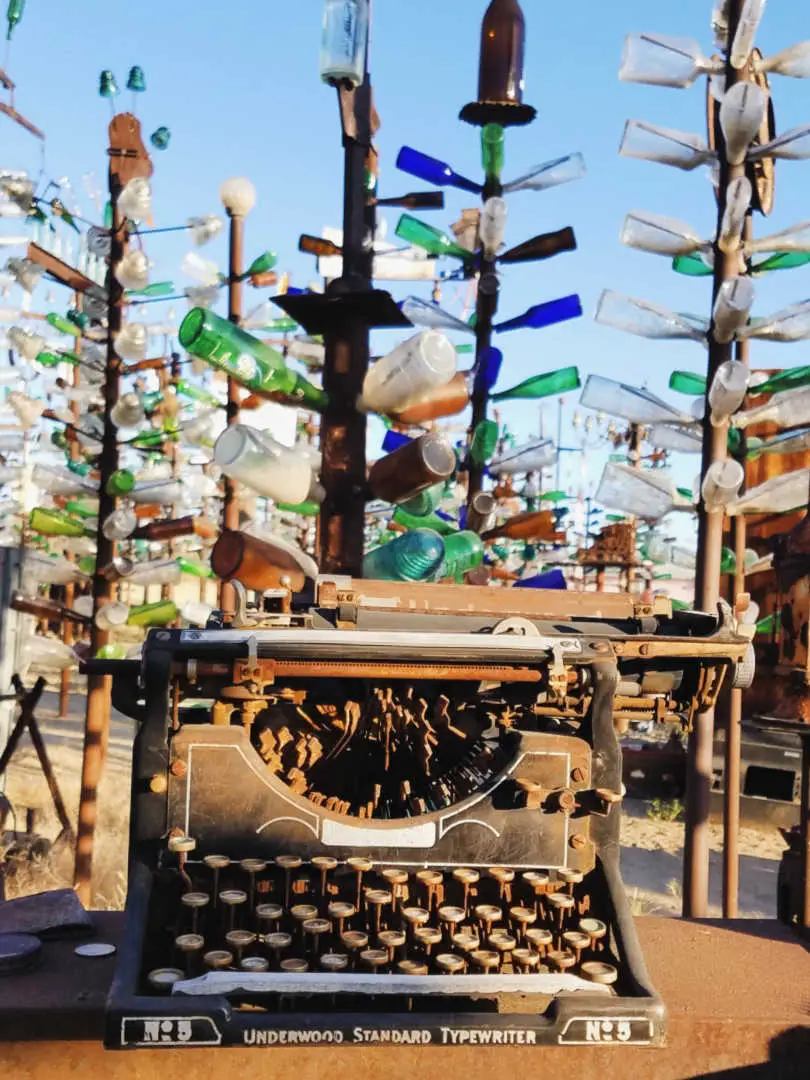 This art collection of colored bottles has become one of the most iconic stops along Route 66. Leave a donation and you can take a piece of glass with you.
3. Original McDonald's Site and Museum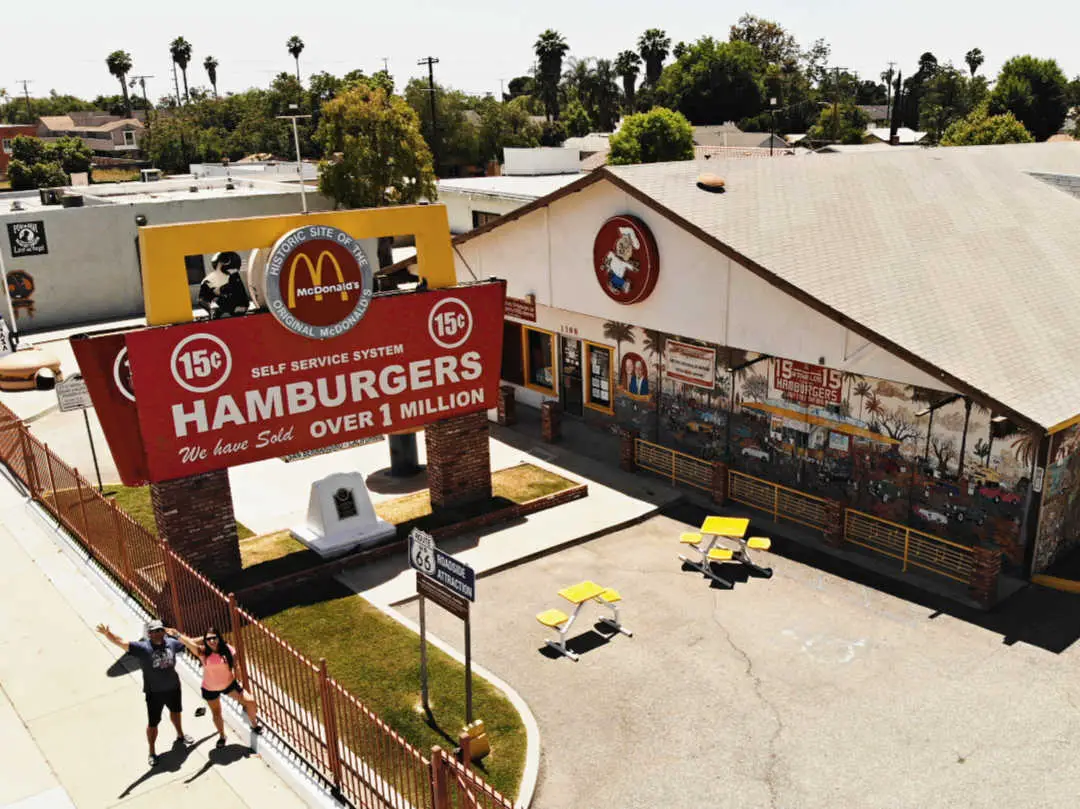 Childhood Nostalgia?! One of Route 66 California's best stops is the site of the original McDonald's. Although currently closed for COVID-19, you can explore the grounds and see some of the retro playground equipment. Who remembers climbing up into the hamburger jail? The tunnel hamburger was only slightly familiar and jogged some very early childhood memories!
4. Hollywood Forever Cemetery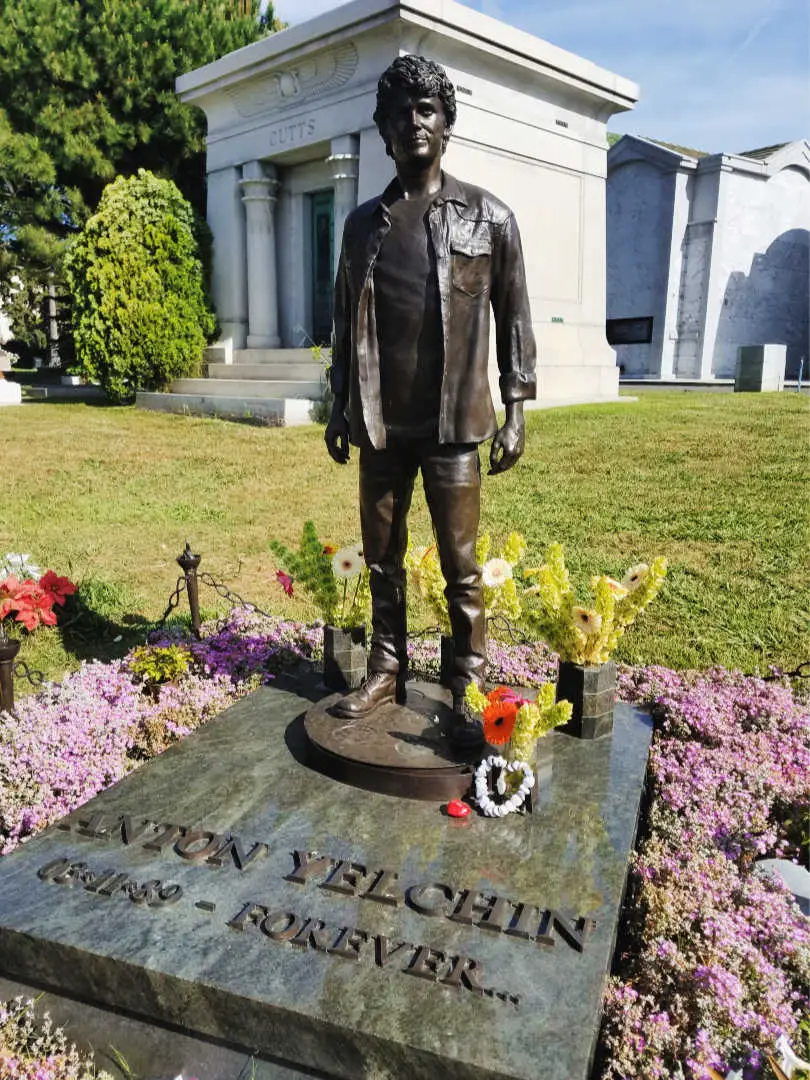 There is something unnervingly peaceful about visiting this cemetery—it is surrounded by the chaos of Hollywood after all. Our favorite plots include Chris Cornell, Anton Yelchin, Johnny Ramone, and Valerie Harper.
5. Ocean Avenue and Santa Monica Pier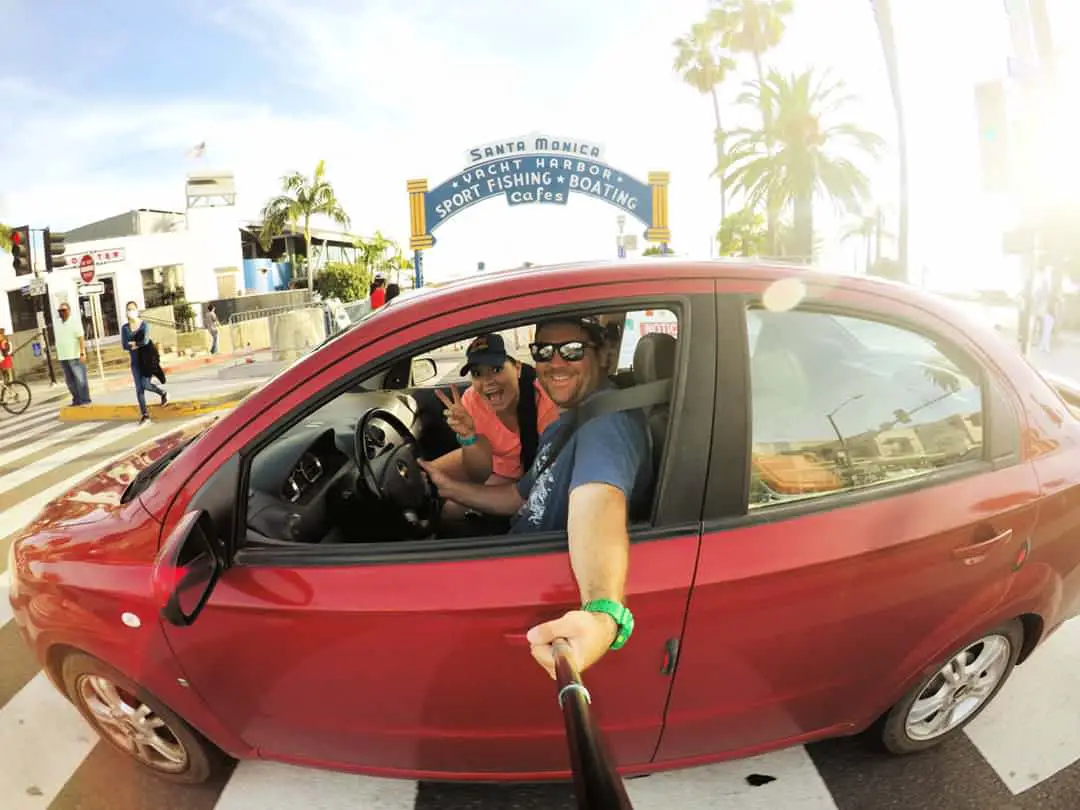 End of the Mother Road
We made it to "The End of the Trail Route 66" driving about 2,278 miles (3665 km) across 8 states. It's equivalent to driving from Barcelona to Moscow! Given California's strict lockdown, we were unsure of what to expect at the end.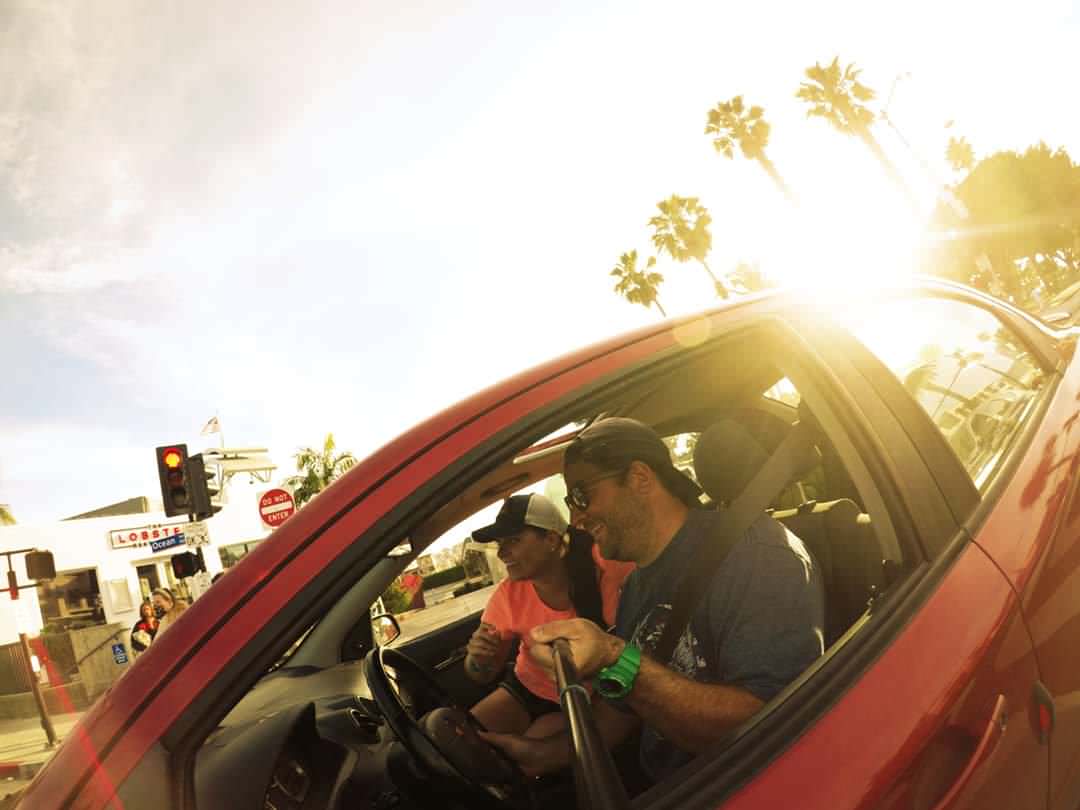 Typically, travelers head to Santa Monica pier to enjoy the beach and sign the official "End of the Trail" book. Unfortunately, the pier was closed and no parking was permitted anywhere along the California coastline due to COVID-19.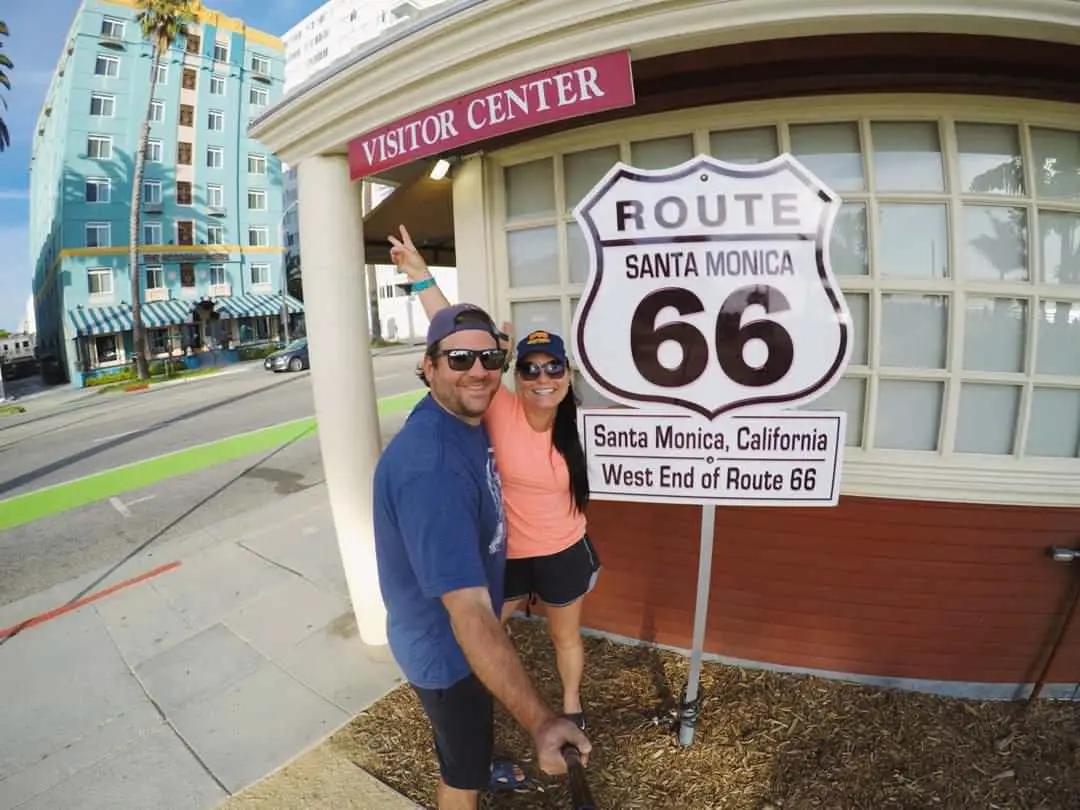 We were so bummed that we couldn't document the end of our journey. However, as we drove down Ocean Ave, we spotted this sign in front of an information center. We pulled over and quickly snapped this capture to finalize and commemorate the end of our Route 66 adventure.
Honorable mentions include a side trip to Las Vegas, Calico Ghost Town, Joshua Tree National Park, Wigwam Hotel, The Donut Man, Fair Oaks Pharmacy, and the Griffith Observatory.
Every Traveler's Journey is Unique
The best Route 66 attractions will tend to be in the eye of the beholder, or traveler in this case. Everyone's journey will be different but all will include an open road, quirky travel oddities, natural wonders, and something unexpected. Route 66 may simply be a road but it's your road while you're on it. Others may drive it but no one can drive it for you—every crossing is unique.
We Need Your Help
Did you find this article useful? If so, bookmark it and when you're planning your next vacation click on any of the links below before finalizing reservations. You'll get the best price, we'll earn a small commission, and you'll help support future articles.
Thank you!
TRAVEL TIPS
🏘️ Book Your Accommodation
We use Tripadvisor and Priceline's Express Deals to compare prices and reviews in advance and check availability
✈️ Book Your Flight in Advance
To find the cheapest flight options, you can use WayAway and Skyscanner to find the most suitable choice for you
🚗 Reserve Your Rental Car
Use DiscoverCars and Skyscanner to compare prices and view the largest selection of vehicles