Many followers have asked us how much we spent to travel the world for two years. However, many long-term travelers do not disclose their financial information to their followers. This makes it even more challenging for future travelers to plan their own Round-The-World (RTW) trip. Finances always seem to be a very private subject.
However, throughout our RTW trip, we have always been very transparent with our budget so that other couples embarking on this type of travel could have a useful resource to plan accordingly. In fact, we tracked every penny we spent for two years in order to show other travelers that it is financially feasible. It doesn't take a million dollars, as so many people think.
How Much We Spent to Travel The World for Two Years
We hope that others embarking on this journey will find this information helpful. Our goal has always been to illustrate to others that if we could do it, so could they.
Sure, we probably could have spent less, but we pride ourselves on the fact that we attempt to travel very comfortably and do extensive research to find great value for the dollar.
After 2 years on the road, including traveling to 35 countries and 6 continents (including Antarctica), we've spent a total of $87,751.
Last Six Month Summary | Travel the World
Following our journey through Central Europe, we traveled by train to Croatia where we spent the three months exploring Zagreb, Zadar, Sibenik, Krka National Park, Plitvice Lakes National Park, and the surrounding area of Split, including, the island Brac, Mostar, Bosnia, Medjugorje, Bosnia, and Imotski, Croatia.
We then traveled by plane to Belgrade where we spent one week enjoying the land of nightclubs and cevap. From Belgrade, we traveled east until we hit the Black Sea. We spent the entire month of July traveling throughout Bulgaria, enjoying 17 nights on the Black Sea. Proceeding north, we spent the next three weeks visiting Romania and Moldova.
Continuing our journey north, we spent the following two weeks visiting Ukraine. From Ukraine, we headed west to Warsaw, where we found a flight for approximately $100 per person (with baggage) that would transfer us from Warsaw back to Split, Croatia.
Rather than purchase things, why don't more people save their money to buy financial freedom instead?
The chart below breaks out the total cost and average daily expenses for these 6 months of travel. During this time frame, we traveled to 7 countries. We spent a total of $11,557. Our daily average for this initial time frame equates to $61 per day. *Click on chart to expand.

After 2 years on the road, including traveling to 35 countries and 6 continents, we've spent a total of $73,761 (without including the cost of Antarctica). At this point in our travels, our overall daily average is $102 per day. When we include credit card reward statement credits the overall daily average is down to $99 per day! *Click on the table below to expand.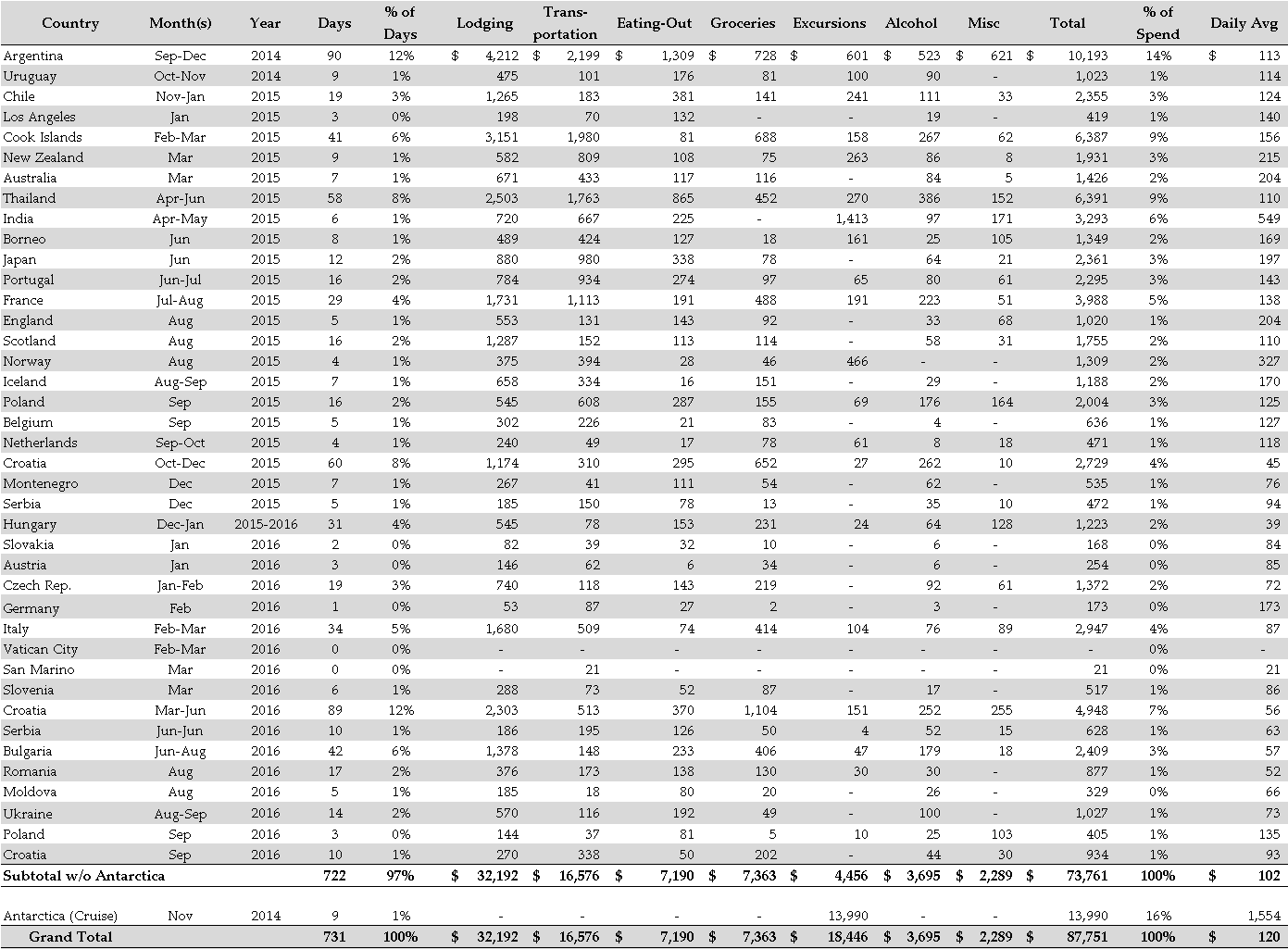 Of Course, We Have to Include Everyone's Favorite, "How many?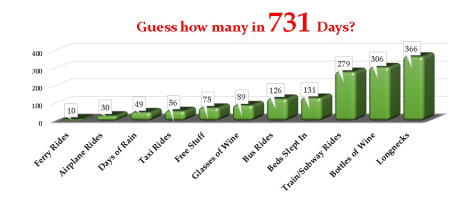 Final Thoughts
As we have recently stated, we have officially declared our RTW over! Most couples set out to take a career break spanning anywhere from a few months to a few years.
We've successfully hit our goal and now we're just calling this "our nomadic life." To be honest, it's a huge relief not to have to account for every single penny and every receipt every single day.
Since the beginning of our trip, we've documented all expenses through detailed blog posts to share with followers and other travelers. At this point, we accomplished what we've set out to do, proving that if we can do it, so can you!
One of the biggest questions that people still ask us to this day is how did we do this, financially? The answer is quite simple. We saved.
When others rushed out to purchase the latest smart phone? We saved.
When others went out to dinner because they didn't feel like cooking? We saved.
When others purchased an impressive car or house to proclaim their "success?" We saved.
When others spent their days fighting boredom or depression by shopping? We saved.
When others made poor financial decisions based on emotion rather than logic. We saved.
We made acquiring financial freedom a priority. Financial freedom doesn't mean you need to sell everything you own and travel the world. But it does mean that you will be able to do what you want, when you want, without having to worry about financial constraints.
The truth is, anyone who truly cares about you (and your dreams) won't make you feel bad about saving for your dream life. After two years of making precious memories, and all of our amazing adventures, we'll always agree, it was worth every single cent. We'll never understand why people would rather spend their money on material things, rather than save to acquire their financial freedom.
Anyone asking us anything money-related after this disclosure? Take note! Our pocketbook is officially closed for your viewing pleasure!