The best couples massages in Portland, Oregon deliver serenity as well as the latest innovations in skin care, providing the ultimate day of relaxation, wellness, and health. Whether it's to celebrate a vacation day, a special occasion, or simply the need to take a few minutes to escape the chaos of the world, a trip to the spa is a great way to give yourselves some "us" time.
Designed to revitalize your body, mind, and soul, the spas below offer the best couples massages in Portland, Oregon. To plan the perfect romantic couple's escape, the 10 spas include boutiques, hotels, and resort options. Also, to stay within budget, each alternative includes the price.
Daycations don't get much better than being pampered, with your partner by your side. Whether it's as simple as a foot massage or as comprehensive as reserving a VIP room with a hot tub and champagne the perfect treatment is waiting for you.
If you've got more than a day, extend the spa experience into a weekend getaway or even a spa vacation with additional resort options listed below.
10 Best Couples Massages in Portland Oregon
These 10 spas provide a wide assortment of treatments and massages that will leave you both feeling carefree in no time. Select one of the locations below to enhance the romance. All prices are listed per couple unless otherwise indicated.
1. Zama Massage Therapeutic Spa
With six couples treatments ranging from foot treatments to a 2.5-hour "Couples Escape Package" ($595), Zama Massage Therapeutic Spa focuses on providing an inviting atmosphere.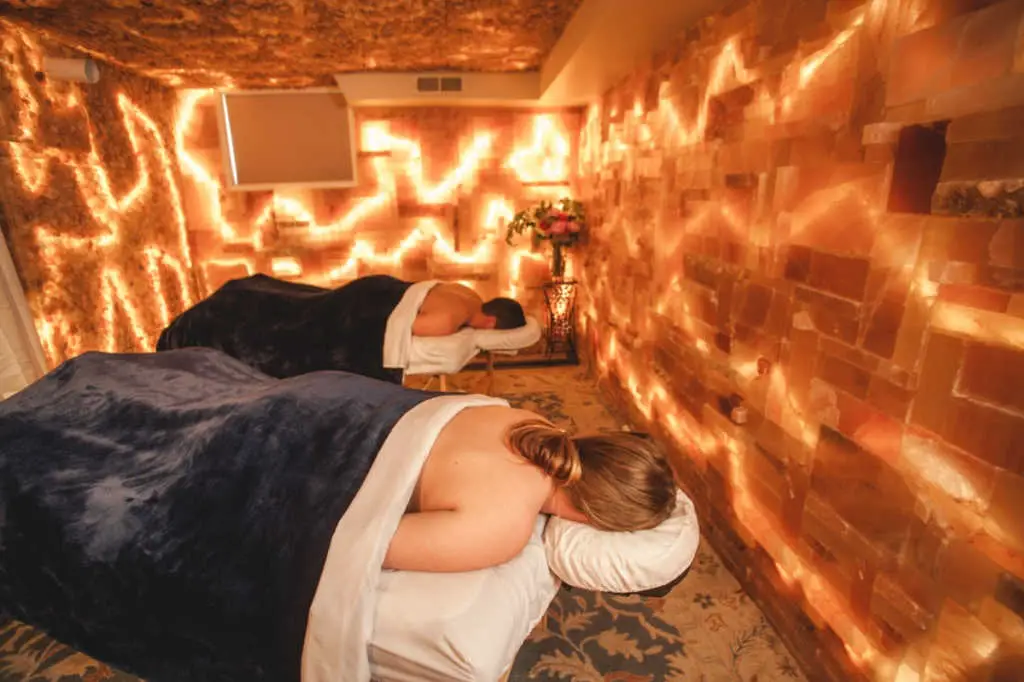 Be sure to check out the "Couples Date Night" ($269) service which includes custom massages, relaxing aromatherapy, a glass of wine, salted caramel truffles, and chocolates. Add a foot treatment ($100) or finish the evening in a salt cave ($25) to increase your overall sense of well-being.
6 Popular Tours in Portland to Pair up With a Spa Day
2. The Allison Inn & Spa
Located only 40 minutes from downtown Portland, in Oregon's Willamette Valley, is The Allison Inn & Spa. This luxurious boutique resort is the ideal escape for couples looking to combine a spa weekend with some wining and dining—there's probably no better place in the state to do so.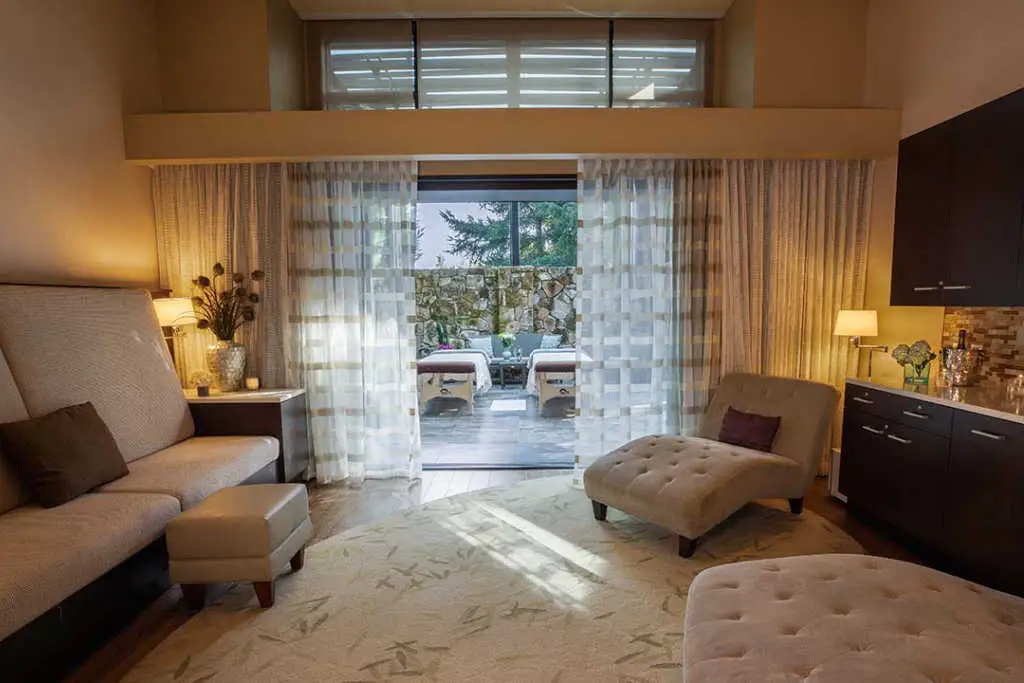 Focusing on lavishness, and organic natural ingredients, The Allison Spa claims that "neither stress nor worry can survive in this environment." Spa services include the 60-minute Zen Den Garden Massage ($310) which takes place in a private outdoor garden or the ultra-luxurious 2-hour Sky Suite Lounge massage ($420) which is accompanied by a bottle of wine.
The Allison Inn & Spa > Check Availability
Budget Tip: Enjoy endless couples spa treatments at home with a massage gun, a complete home spa kit, or a foot bath spa massager.
3. Kiva Tea Bar and Spa
Proclaimed to be a peaceful sanctuary that transports guests to Bali or India, the Kiva Tea Bar, and Spa may be the ideal couples retreat. Finish your experience with a complimentary cup of exotic tea.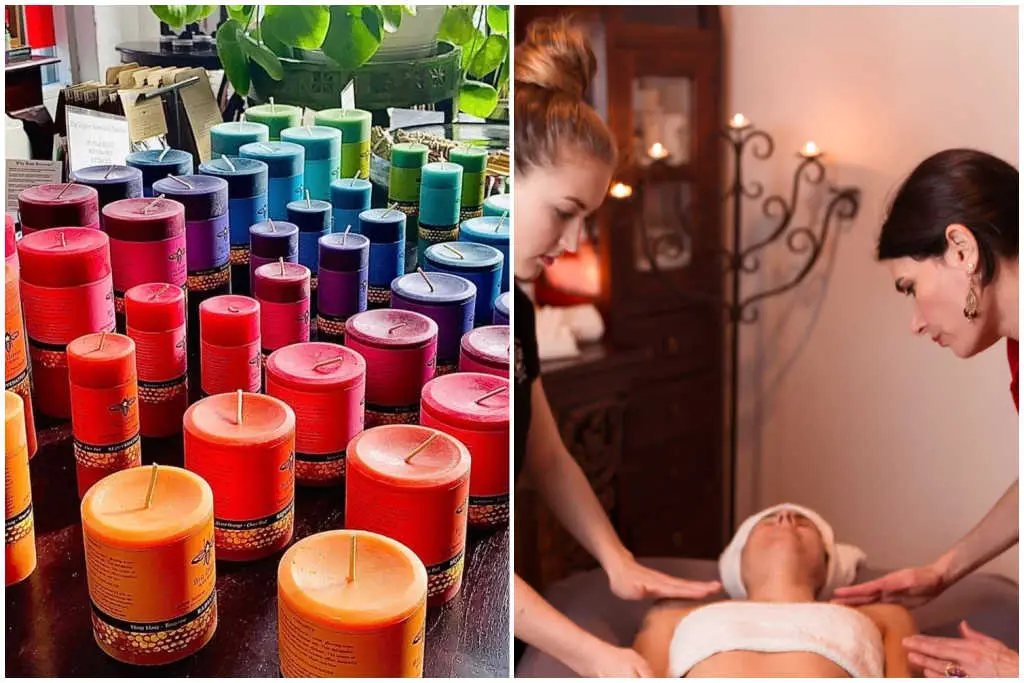 Similar to a speakeasy, the hidden spa is located behind the coffee shop, where the revitalization process begins. Offering everything from facials, body treatments, foot soaks, and couples massages ($252). With candles glowing, Kiva makes it easy to customize the needs of their guests to create the ideal romantic ambiance.
4. Kimpton Hotel Vintage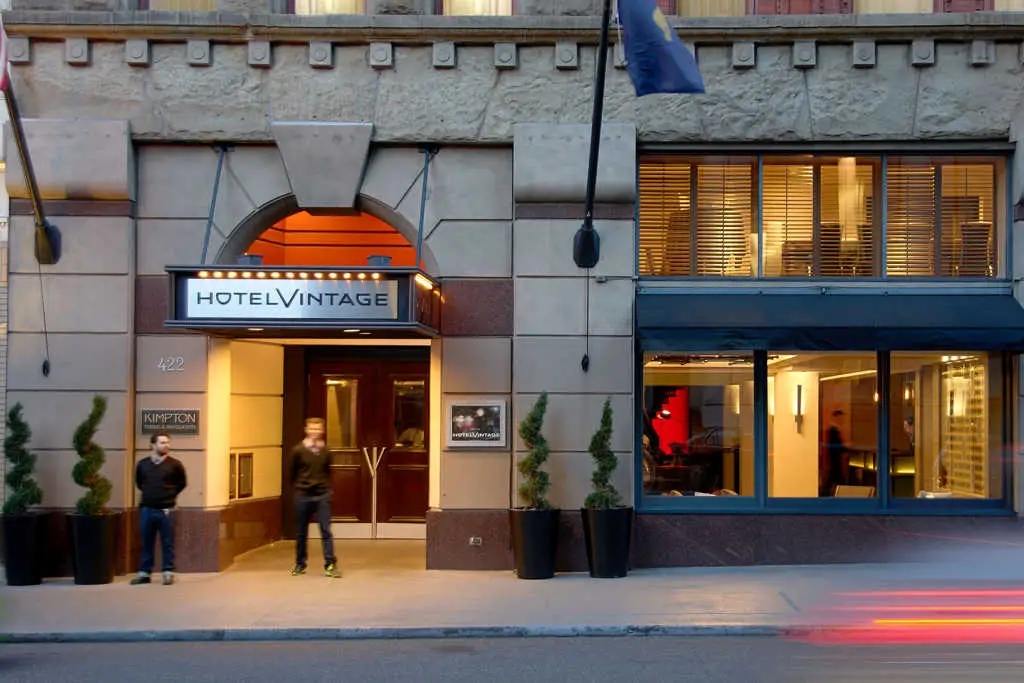 The Kimpton Hotel Vintage is one of the few accommodations that offer in-room couples massages ($300) in Portland, Oregon. Along with couples massages, the spa service offers body treatments and facials. If staying in Portland, there may be no more convenient option.
Kimpton Hotel Vintage > Check Availability
5. Spa Sasse'
Located in the heart of downtown Portland, Spa Sasse' specializes in natural healing and minimally invasive treatments. In short, the highlight of the med spa is the two-hour "Couples Spa Day" ($530) which includes hydrotherapy, a massage, rain treatment, champagne, and chocolate truffles.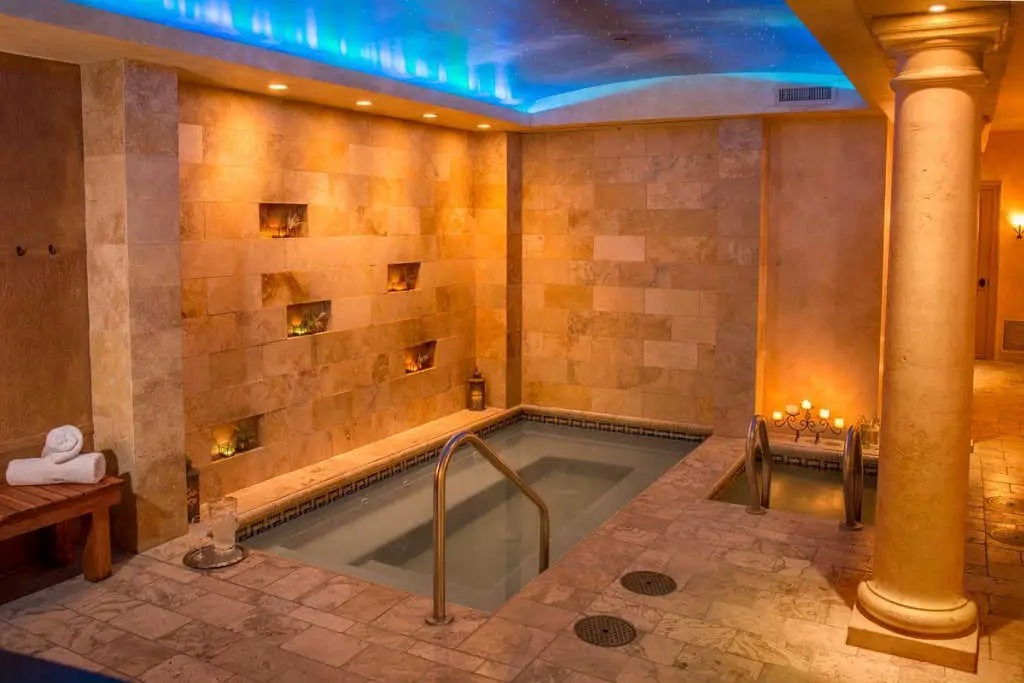 Furthermore, they offer a variety of accenting treatments including a honey bee myofascial, a salt glow, rain treatment, and foot treatment. Finally, the standard couples massage without add-ons is $260, respectfully.
6. Mt. Hood Oregon Resort
Located about one hour southeast of downtown Portland is one of Oregon's premier resorts. Set amidst the pure splendor of Mt. Hood National Forest, streams, and mountains, Mt. Hood Oregon Resort is a magical place for a couple's getaway.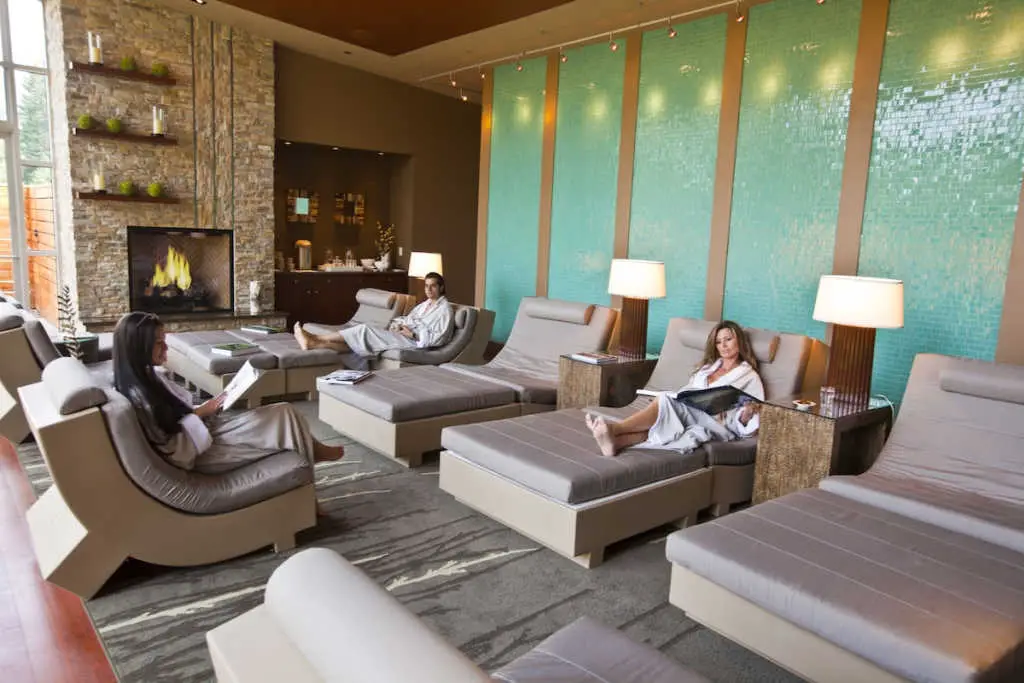 At 5,000 square feet, the large spa features three massage rooms, an oversized two-person hydrotherapy tub, and a Vichy shower. Upon completing your treatment be sure to make time to kick back in the lovely relaxation area with the Infiniti Tea Garden.
Mt. Hood Oregon Resort > Check Availability
7. Blooming Moon Wellness Spa
Famous in Portland for being the city's best eco-friendly spa, Blooming Moon Wellness Spa focuses on providing therapeutic massage and other services featuring cruelty-free, vegan, and non-toxic products. Furthermore, to customize the session, their skilled massage therapists will design the experience around the client's needs, whether it's on the menu or not.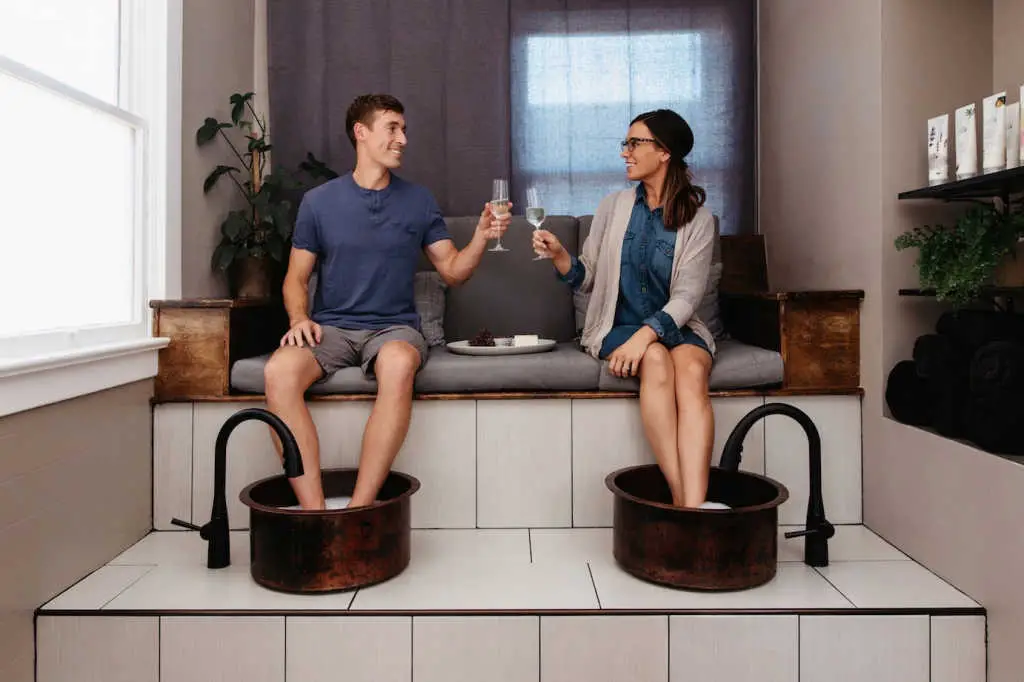 Intimately luxurious, the couples massage ($250) is performed in a peaceful, tranquil setting. Moreover, the serene space allows couples to share a relaxing experience together. Before or afterward, accent the massage with the Soak + Steam treatment ($220)—an outdoor soak in a hot tub and an indoor steam room. The experience comes with everything imaginable including small snacks, fruit water, robes, sandals, and herbal teas.
8. Bay Foot Spa
Couples looking to share a massage experience on a budget may appreciate Bay Foot Spa. Located in the Southeast neighborhood, in a strip mall, repeat customers claim that it's the best massage they've ever had.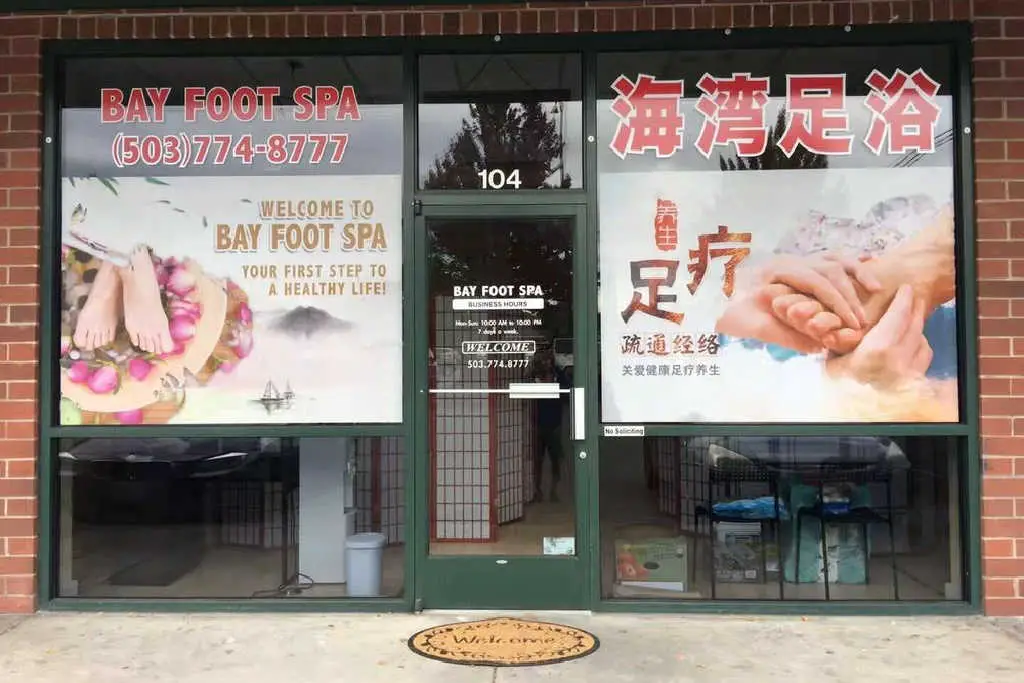 While by no means high-end, the spa is surprisingly well-furnished and comfortable. The couple's 60-minute foot massage costs $50 and the couples 60-minute full body massage costs $95. By the way, with their loyalty program, if you receive 10-foot massages the 11th one is free. Easily, the best spa deal in Portland.
9. McMenamins Edgefield Spa
Built on the same property as the county's poor farm in 1911, yesteryear's once decrepit countryside is now one of the state's best destination resorts. Covering 74 stunning acres, McMenamins Edgefield features over 100 guestrooms, a winery, brewery, distillery, small bars, movie theater, golf course, open spaces for live music and events, a soaking pool, and of course, a spa.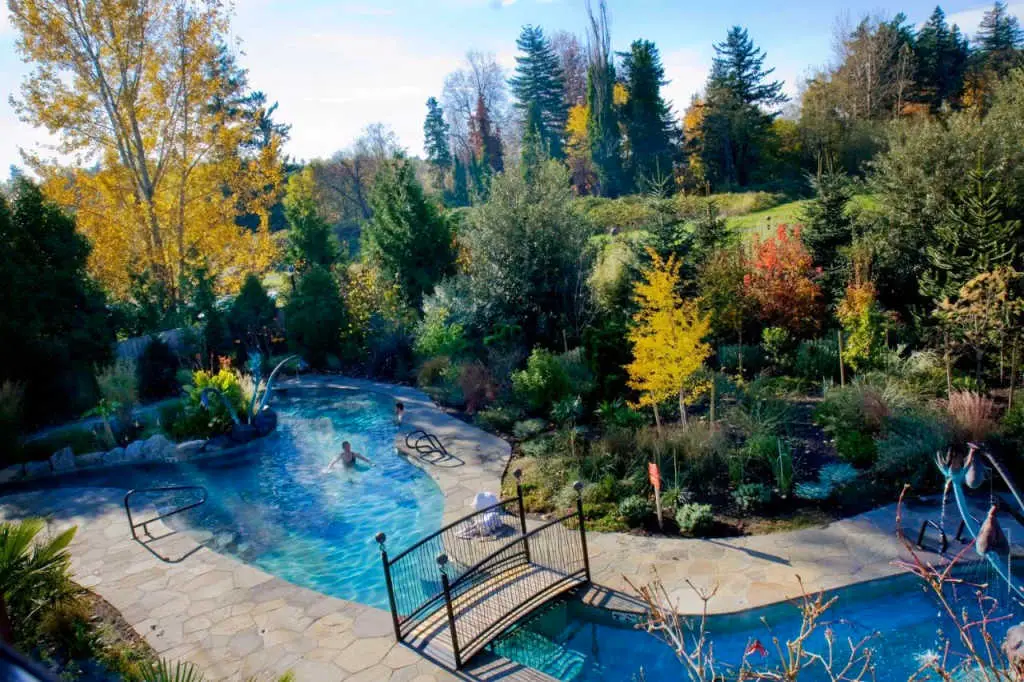 Edgefield Ruby's Spa is the ideal location to find complete relaxation in Portland, and its saltwater-soaking pool is out of this world. In brief, the tranquil lush oasis feels more like a secret garden and is unexpected considering it's in the middle of a bustling resort.
Ruby's Spa offers various treatments including massages, body treatments, pedicures, and manicures. Emphasizing natural luxury products, the spa uses the Eminence Organic Skin Care line from Hungary. Finally, the side-by-side couples massage ($285) lasts 60 minutes and is the ideal way to relieve stress and tension.
McMenamins Edgefield > Check Availability
10. Oregon Garden Resort – Moonstone Spa
Located within a garden-themed resort, about one hour south of Portland, the Moonstone Spa offers a tranquil space for rejuvenation and relaxation overlooking the lush Willamette Valley. Relaxed and unpretentious, most travelers coming for spa treatments choose to overnight at the cozy Oregon Garden Resort. Travelers appreciate that the property is pet and family-friendly and that it sits directly next to the Oregon Garden Botanical Gardens.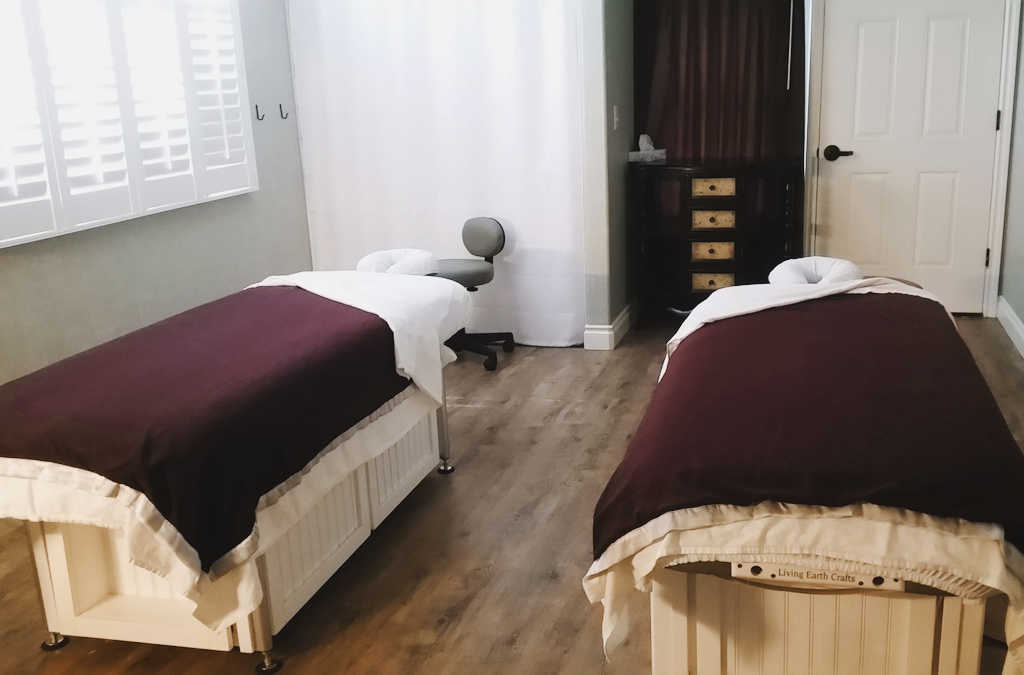 The spa resort offers many budget-friendly perks. For example, there is free parking, a seasonal pool and hot tub, nightly live music, and complimentary breakfast for guests. Moonstone Spa concentrates on holistic techniques with a focus on organic skincare facials, hot stone massages, nail care, and waxing. Of course, couples massages ($170) are available along with signature treatments specialized for gentlemen too.
Oregon Garden Resort > Check Availability
The 10 spas listed above should make it easy to find the ideal location for couples massages in Portland, Oregon. No matter what your budget there's a relaxing and intimate experience waiting for you.