If you're looking for romantic places in NYC to share with your partner, there are several spots in New York City that you can rely on. Whether it's for Valentine's Day, a honeymoon, or a proposal, the megapolis can be a great place to escape to.
Having said that, we present to you the top 5 great places in New York City that are romantic and easy on the pocket at the same time!
5 Romantic Places in NYC
While some people enjoy long romantic walks on the beach, others love dining at the best restaurants in the city. Considering how people have different personal interests, we have tried to make this list inclusive for everyone.
So, here are the top 5 romantic places in NYC that you can visit on a budget.
1. Central Park
From cheap but delicious food stalls to romantic boat riding, Central Park offers a myriad of possibilities for all kinds of couples.
Central Park is evergreen and beautiful, whether it's fall, winter, spring, or summer. Particularly in the summer, the park arranges super fun events such as concerts, operas, and more. Summerstage, which is easily the most famous of Central Park's events, features many free performances and concerts.
Moreover, if you and your partner share an appreciation for nature and the wilderness in general, you can check out the Central Park Zoo. It's the oldest municipal zoo in the whole of the U.S. and is home to all kinds of animals such as penguins, lions, sea lions, seals, and more. Also, you can enjoy carriage and boat rides that are waiting to take you and your date from below the Bow Bridge to the Conservatory Garden.
A personal favorite is the NY Classical Theater. Ever since 2000, professional actors have been holding plays at Central Park free of cost. You won't even have to worry about waiting in line as you don't need a ticket. The plays are usually very inclusive as you get to move around with the actors in the outdoor shows.
2. Brooklyn Botanical Garden
Next on our list is the Brooklyn Botanical Garden. Founded in 1910 and home to over 14,000 types of plants, it's the perfect place to be, if you and your partner are the types to connect with nature, enjoy fresh air, and marvel at the beauty of a 52-acre garden.
Brooklyn Botanical Garden has everything from cherry blossoms to desert shrubs, thanks to the excellent environment of the conservatory. The expansive wonderland covers 15 other, smaller gardens, and has many exhibits over the year. It is open to visitors at all times, so you can visit this botanical oasis with your date at any time of the year.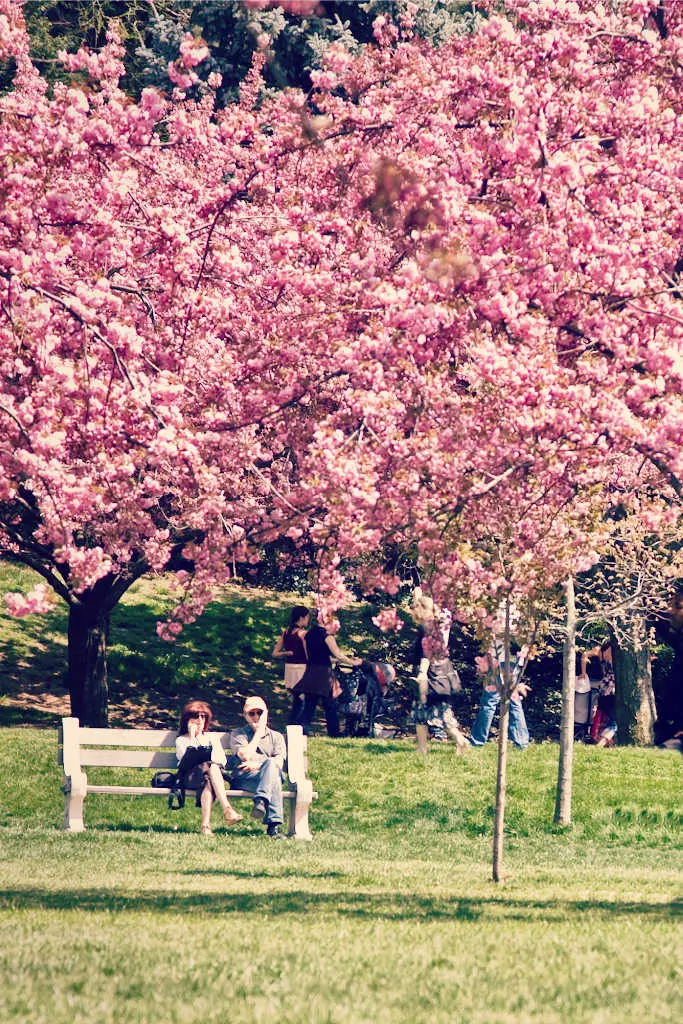 The Cranford Rose Garden has been a local favorite ever since it opened in 1928. It's the perfect place for a long slow walk or a romantic kiss. In the winters, the Desert Pavilion is full of life with wildflowers, cacti, and lithops. As we mentioned earlier, the Garden is open all around the year. However, it's the busiest around cherry blossom season and in the summer.
Getting into the Brooklyn Botanical Garden is highly affordable, whereas it's 100% free for members. There are also free visit days too, like all weekdays from December to February.
3. The Empire State Building
The scenic beauty atop the Empire State Building is simply unmatched throughout the whole of New York City. If you and your date are into sightseeing, the top of the Empire State Building is the ultimate budget date for you. You can see up to 80 kilometers far and at nighttime, the whole city comes alive under you. Even better, you can get the best of both worlds by visiting in the late afternoon.
The Empire State Observatory, which is on the 86th floor, is extremely popular among tourists and visitors. Usually, this would mean that you'd have to wait in line for hours, but we've got some tips for you that are going to make that number significantly lower!
You cannot skip the security line; however, you can buy your tickets online and skip the in-person ticketing system. If you've saved up some money, then consider buying an Express Pass, which will let you skip the elevator and security lines both.
While you're headed up there, visit the 102nd Floor Observatory, which was only recently opened for visitors. The only place better than the 86th floor is the 102nd floor, with a much prettier and grander view of the glowing New York City. But you would get better pictures on the 86th, though, as the area on the final floor is glassed shut.
4. Tarrytown
If you and your date want to run off on a one-night romantic vacation, Tarrytown just might be the place you're looking for. You can get there by an easy train ride through Metro-north. It's got a quiet main street laden with antique resellers and coffee shops. It is a solid place to consider if you need a laidback break from the bustling noise of New York City.
There's also the Tarrytown Music Hall, where you can pick from a mixed variety of acts. Originally built in 1885 and restored in 2015, it is the oldest running theater in Westchester County. Everything ranging from theatrical performances to music gigs goes on in this place.
Tarrytown Music Hall is like a cornucopia of culture and art. In addition to that, it has a quaint aura and a rejuvenating atmosphere, which makes it perfect for a cheap, romantic getaway.
5. NY Waterway
Another popular idea of a budget one-nighter in New York City is to go for a ride on the Staten Island Ferry. It's free and features a breathtaking view of the Statue of Liberty and the harbor. Moreover, the Manhattan waterfront offers awesome scenic beauty and fun kayaking opportunities.
Once you're tired of all the kayaking and riding, you can stay at Selina Hotel Chelsea, New York. Located in downtown Manhattan, it's a cultural hotspot with great accommodations. You can explore art galleries in the surrounding area or visit the pop-up shops in Chelsea Market. You'll also get a chance to fully indulge in the nightlife of New York City.
To Sum Up
New York City holds endless entertainment opportunities for not only couples but tourists in general. If you've never been to NYC before, here are 6 reasons why you must visit this massive urban complex.
With that being said, we hope you liked our list of the top 5 romantic places in NYC on a budget. From Central Park to Tarrytown, we tried to list spots for all kinds of couples. Hopefully, we helped narrow down your search!
We Need Your Help
Did you find this article helpful? If so, bookmark it and when you're planning your next vacation click on any of the links below before finalizing reservations. You'll get the best price, we'll earn a small commission, and you'll help support future articles.
Thank you!
BEST TRAVEL SEARCH ENGINES
🏘️ Book Your Accommodation
We use Tripadvisor and Priceline's Express Deals to compare prices and reviews in advance and check availability
✈️ Book Your Flight in Advance
To find the cheapest flight options, you can use WayAway and Skyscanner to find the most suitable choice for you
🚗 Reserve Your Rental Car
Use DiscoverCars and Skyscanner to compare prices and view the largest selection of vehicles