Kissing Cactus is located in the area around the Tucson Mountain Park in Tucson, Arizona. The hard-to-find cactus sits at the intersection of a backroad ATV trail and is easy to reach on foot. With the help of local news outlets and viral posts on social media, this cactus has reached a celebrity status of sorts.
In the past, the exact location of Kissing Cactus has been kept a tight-lipped secret by the few people who have found it. In fact, discoverers of the mystery cactus would go online and post their pictures and torment anyone who dared ask about the location. For example, the only clue they'll give is that it's near Old Tucson, which is a vast area that's full of tens of thousands of cacti.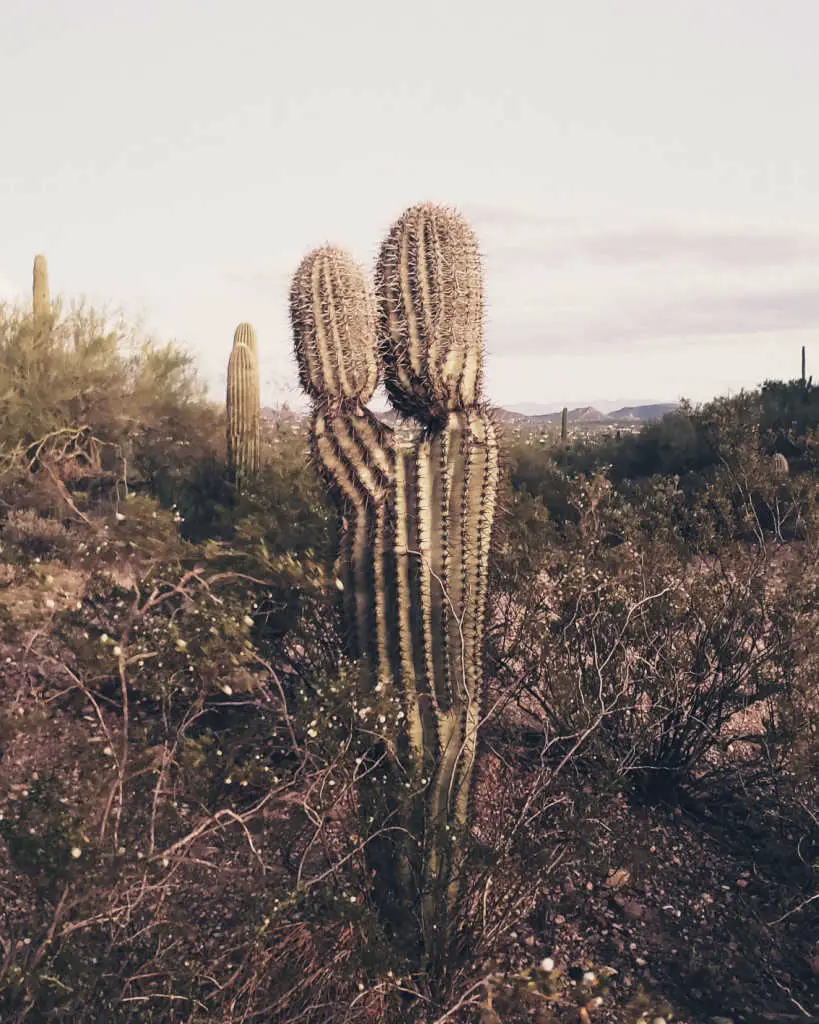 After learning about Tucson's Kissing Cactus, we were on a quest to photograph it ourselves. We reached out to fellow hikers, photographers, and local Tucsonans hoping to get some insight into the exact whereabouts of this unique plant. Our enthusiasm was met with odd hesitancy and downright refusal to share where its location was from those who had previously found it.
History of the Kissing Cactus
Across social media, it was interesting to see what people who already discovered the Kissing Cactus said about its location. For example, after one Tucsonan asked for more clues to avoid getting lost in the desert, one successful hiker stated that if the individual needed more help, "Maybe you're not meant to find it then."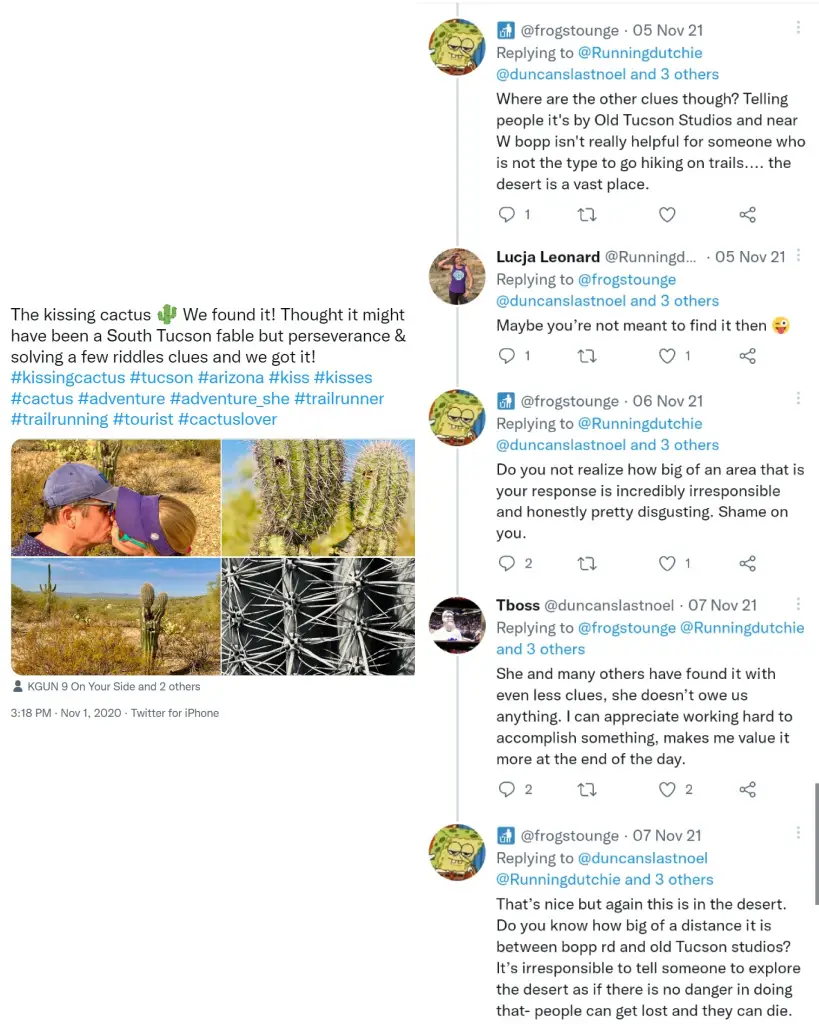 For the record, after becoming dehydrated, a 31-year-old hiker recently died in Lake Havasu City, Arizona while out walking, shockingly close to civilization. The summers are brutal in this area of the world and only experienced hikers who know their limits should explore the Tucson Mountain Park area during the summer months.
However, Ken Carter—the man who took the original photo that went viral on Facebook—earns the award for most entertaining comments. To discourage other people from looking for the cactus, he stated the following:
You need a Polaris Ranger a mule or a mountain goat to get up to this spot on the backside of Brown Mountain because it is a old mining area with mine and Roads and mine shafts I'm an old Marine so I qualify with Marines and mountain goats.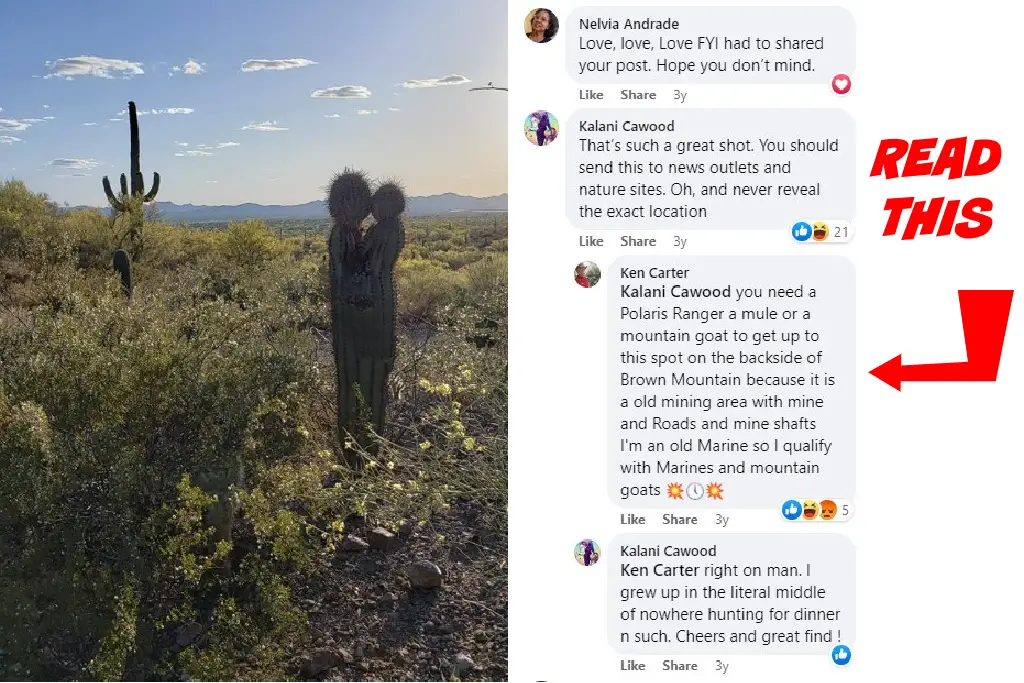 Pause for a moment to reflect on the notion of needing special clues and military training in order to look at a cactus. Ken Carter leads people down the wrong path by stating in various Facebook comments that it is located "by Old Tucson Studios" and "off Brown Mountain." His misinformation campaign is almost comical when you learn that the cactus actually sits along a wide and trafficked ATV trail about a half-mile hike from the street.
Our Mission
The Arizona desert offers a magnitude of gorgeous cacti and rare crested saguaros. Therefore, the social media rally behind keeping the location of the cactus a secret is absolutely mindboggling. These days, family-friendly activities like hiking, exploration, and enjoying our natural world should be celebrated and shared—not kept secret to fuel one's ego and hubris.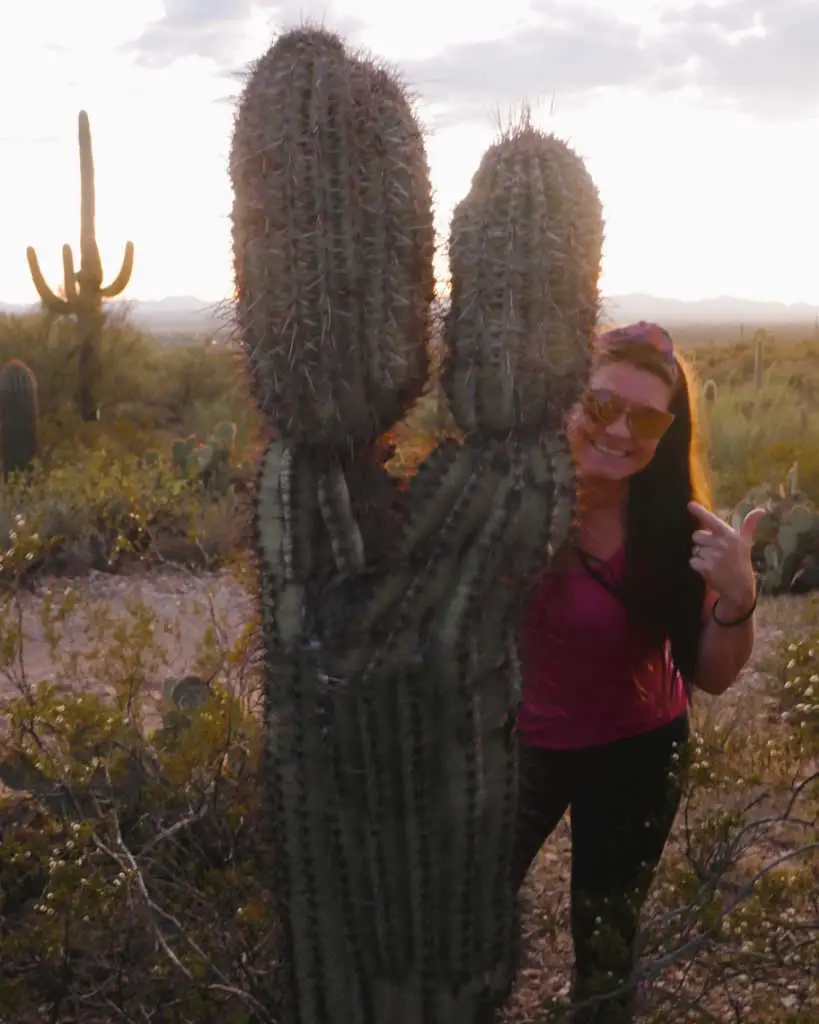 Rather than deter us, everyone's deception only ignited our passion to find it. Unfortunately, there wasn't much information about the Kissing Cactus beyond social media posts. Therefore, using what few clues we had in the form of others' pictures, our mission was to find the Kissing Cactus and share its precise location so others can also enjoy its beauty.
Do You Enjoy Scavenger Hunts Like Us?: Go on The Saguaro Adventurer Scavenger Hunt Excursion in Tucson!
Saguaros For All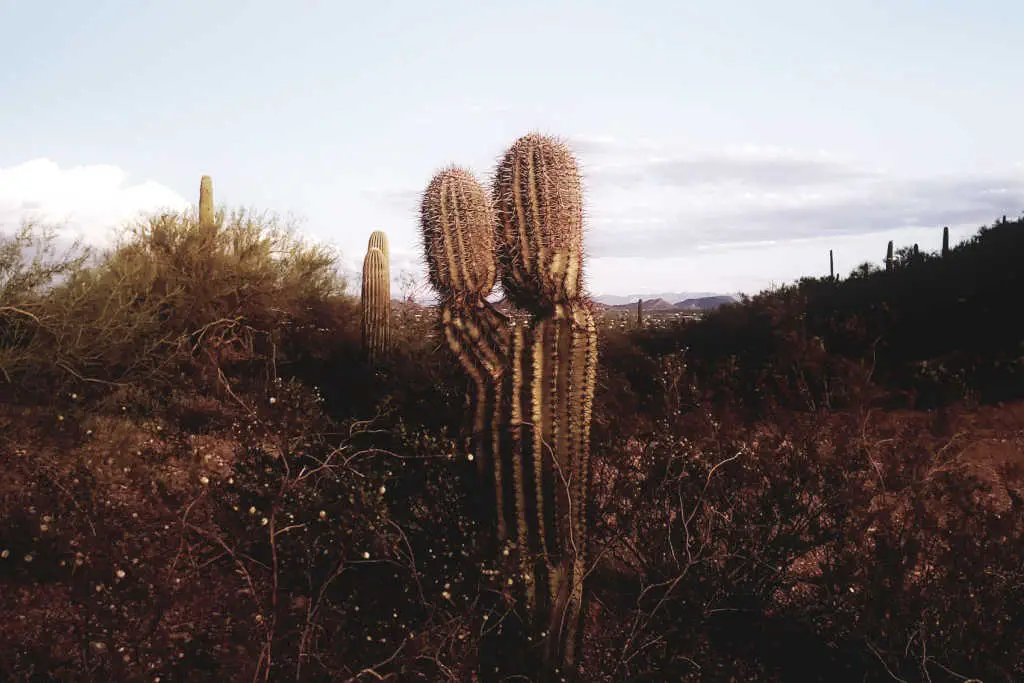 Through hiking and photography, many travelers appreciate the majestic essence of the saguaro cactus. Of course, when cacti grow into massive giants or peculiar forms, they become curiosities of the American Southwest. The Kissing Cactus is one of those memorable natural creations and thus, everyone should be able to enjoy them.
More Amazing Saguaros: 10 Funny and Unique Cacti in Arizona and How To Find Them
Depending on the angle in which you view it, the Kissing Cactus takes many shapes. Some see a couple slow dancing, while others see affectionate smooching. Personally, when we look at the cactus, we see it as a mother holding her young child, similar to the Willow Tree Tenderness figurine.
Step-by-Step Guide To Finding the Exact Location
Tourists flock to Tucson for its stunning terrain, 350+ days of sunshine, and marvelous outdoors-focused lifestyle. Located in a unique region of the U.S., only about 100 miles from the U.S.-Mexico border, the culture here is a blend of tribal, Mexican, and American. As a result, the food is just as diverse as the people, and Tucson was recognized as the first UNESCO World City of Gastronomy in the U.S.
---
Where To Celebrate
Make sure to celebrate finding the cactus by enjoying one of Tucson's best restaurants or bars. If you're looking to extend the outing, consider celebrating the find at one of Tucson's local haunts.
Sidebar is Tucson's premier cocktail bar, where you can toast with specialty drinks like the Rattler or the Rye Hanky Panky. Although on the pricier side, the mixologists know their craft and locals love the atmosphere and outdoor patio.
Another option is The Shelter Cocktail Lounge, an old-school cocktail bar with lots of flair and nostalgia. This retro bar offers affordable drinks and daily specials—think martinis and classic on-the-rocks cocktails.
Chef Alisah's has Eastern European fare while Seis Kitchen has Mexican cuisine—both offer fantastic experiences.
---
The Kissing Cactus can most be easily reached by heading towards Tucson Mountain Park. Some locals may refer to this area as "Old Tucson," because the Old Tucson outdoor movie studio, where some 400+ Westerns were filmed, is located nearby.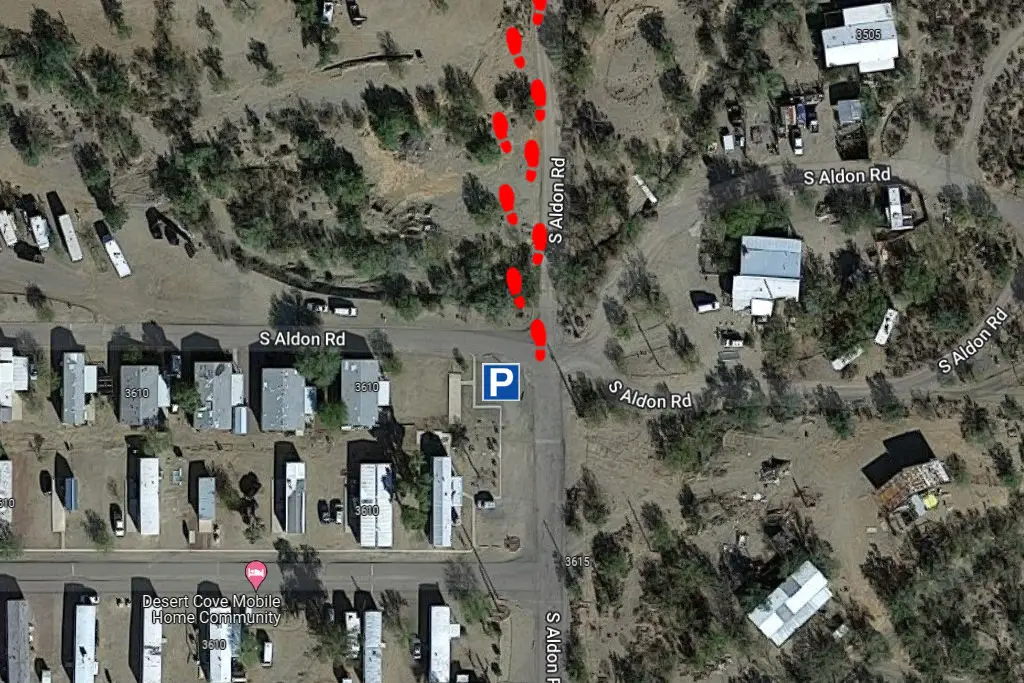 This area of Tucson is remarkable—we've spent countless days and nights exploring the desert here. Also, it's home to the Arizona-Sonora Desert Museum, the second most popular tourist attraction in Arizona, only behind the Grand Canyon. Until now, the Kissing Cactus never made the list of attractions, and that's most likely because only a select few could find it and no one shared the exact location.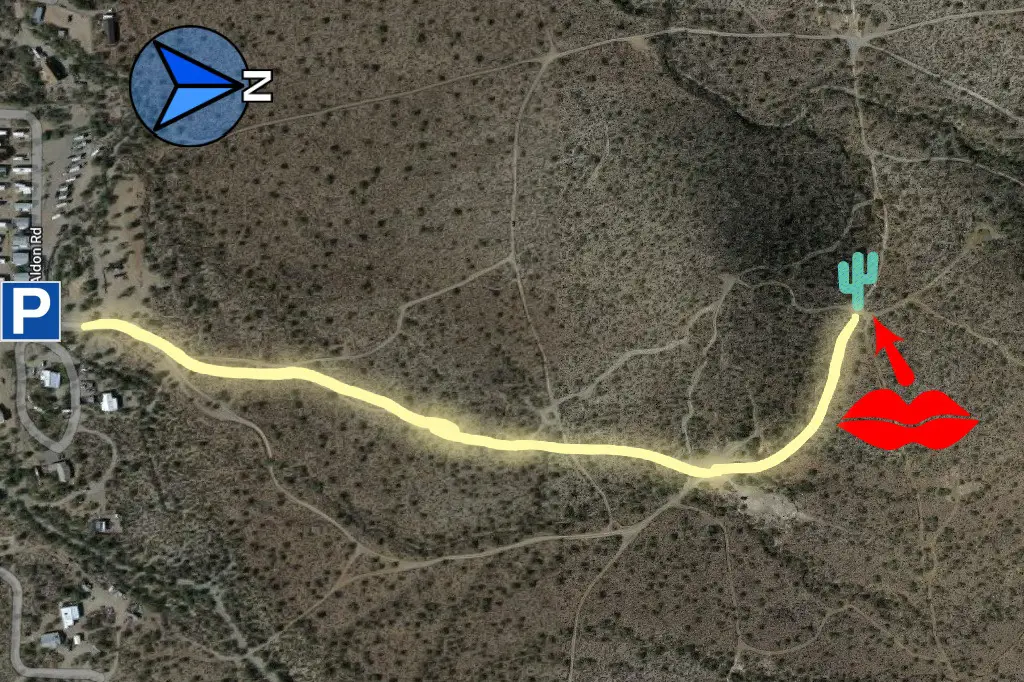 By the way, the best nearby accommodation is the Cat Mountain Lodge & Roadside Inn. It's an eclectic B&B located in one of the loveliest locations in Tucson and provides easy access to the Kissing Cactus and Arizona-Sonora Desert Museum.
Also, we recommend adding a couple of nights in the Catalina Foothills at the Hacienda Del Sol Guest Ranch Resort—for us, this is the most beautiful spot in all of Arizona!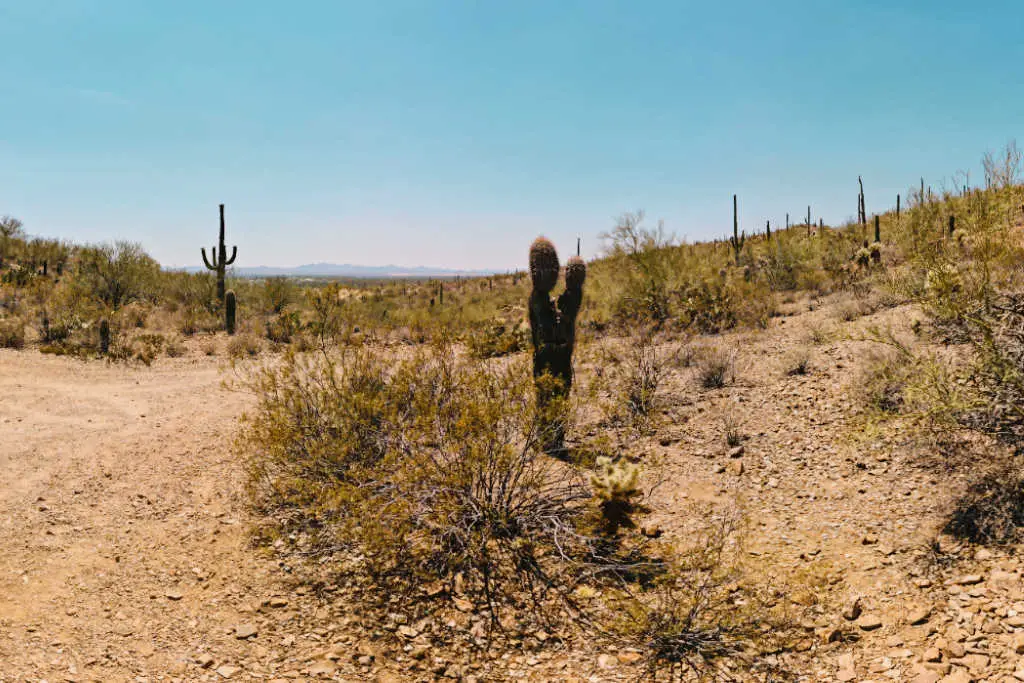 1.     From Downtown Tucson Get on I-10 E
The drive from downtown Tucson to Kissing Cactus will take about 20 minutes. From Tucson, hop on the I-10 E for about 1.5 miles and merge onto I-19 S for about another 1.5 miles. Afterward, you'll turn right onto AZ-86 W/W Ajo Way. This step takes about three to four minutes.
2.     Turn right Onto AZ-86 W/W Ajo Way
Once on AZ-86 W/W Ajo Way, proceed for another 6.5 miles, or about 10 minutes. Also, the road will quickly officially turn into AZ-86.
3.     Turn Right Onto S Tucson Estates Pkwy
After traveling down AZ-86 you'll want to turn right on S Tucson Estates Pkwy. Stay on this road for about 1 mile and then turn left onto W Bopp Rd.
4.     Turn Left Onto W Bopp Rd.
Carry on down W Bopp Rd. for about 1.5 miles and then turn right onto S Aldon Rd.
5.     Turn Right Onto S Aldon Rd
Yay! If you've made it this far, you're almost there. Drive down S Aldon Rd for about two blocks and find a parking spot on the left-hand side of the road.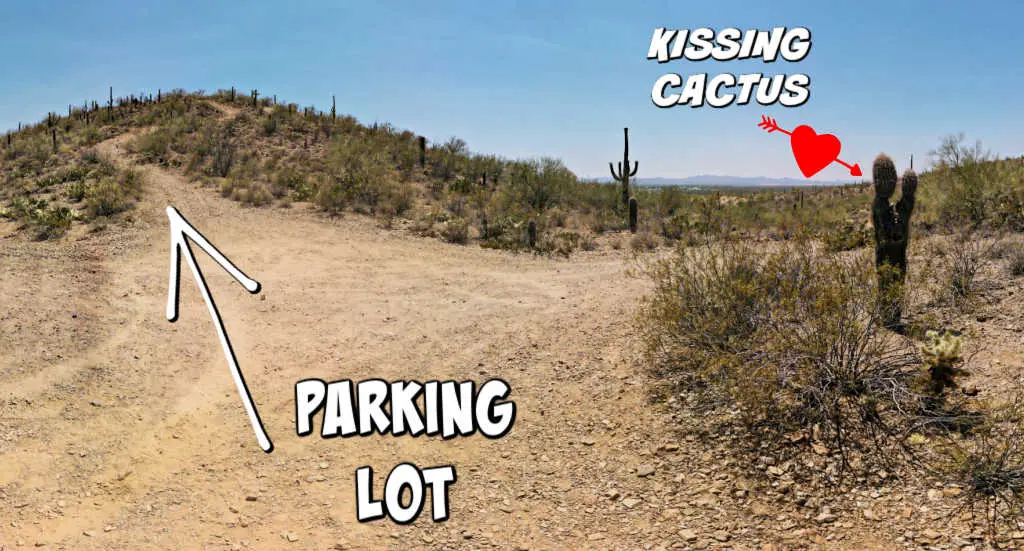 6.     Begin Hiking Up the Trail
From the parking lot, begin walking north on S Aldon Rd. You'll notice that the paved road has become a dirt road full of deep potholes. While it appears that someone with a hardcore 4×4 may be able to enter up to a certain point, we'd recommend tourists walk from the parking lot identified on the maps.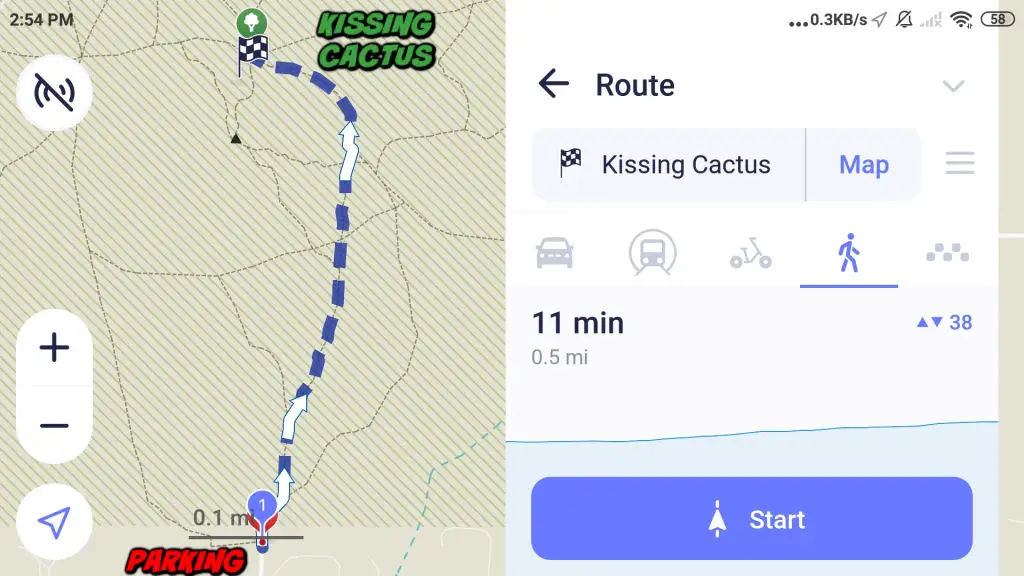 7.     Decide on Whether You'd Like to Take the Hill
As you begin walking on the trail, you may notice a hill in front of you. To reach the Kissing Cactus, you may walk over the hill or around the hill. We'd suggest you walk around the hill on the way to the cactus and on the way back to your vehicle go over the hill to take in some pretty amazing views.
Hopefully, the guide above will help you in finding the Kissing Cactus. Now, get outside, go for a hike, and take some memorable photos. Looking for another adventure? Check out these excursions—they're the best activities and sights in Tucson.