These cheap beach destinations in the U.S. are serene and the perfect place to take some relaxing time off. Beach vacations offer numerous proven health benefits. For example, did you know that spending time in the sunshine can help elevate your mood, fend off depression, and supports the health of your immune system through vitamin D?
No matter where you're located, one of these 17 cheap beach destinations in the U.S. is nearby. Additionally, it doesn't matter if you're looking to snorkel at fantastic reefs, build awe-inspiring sandcastles, or lounge and listen to Jimmy Buffet's "Margaritaville"—there's literally a beach on this list for everyone.
There's no time to waste, so pack a cooler, wax a surfboard, and prepare to dive into one of America's best beaches.
1. Cannon Beach, OR – Cannon Beach
Cannon Beach is surrounded by coniferous forests and state parks offering four miles of pristine shoreline to explore. It's easy to see why it sits atop the itinerary of nearly every traveler that tours the Pacific Northwest.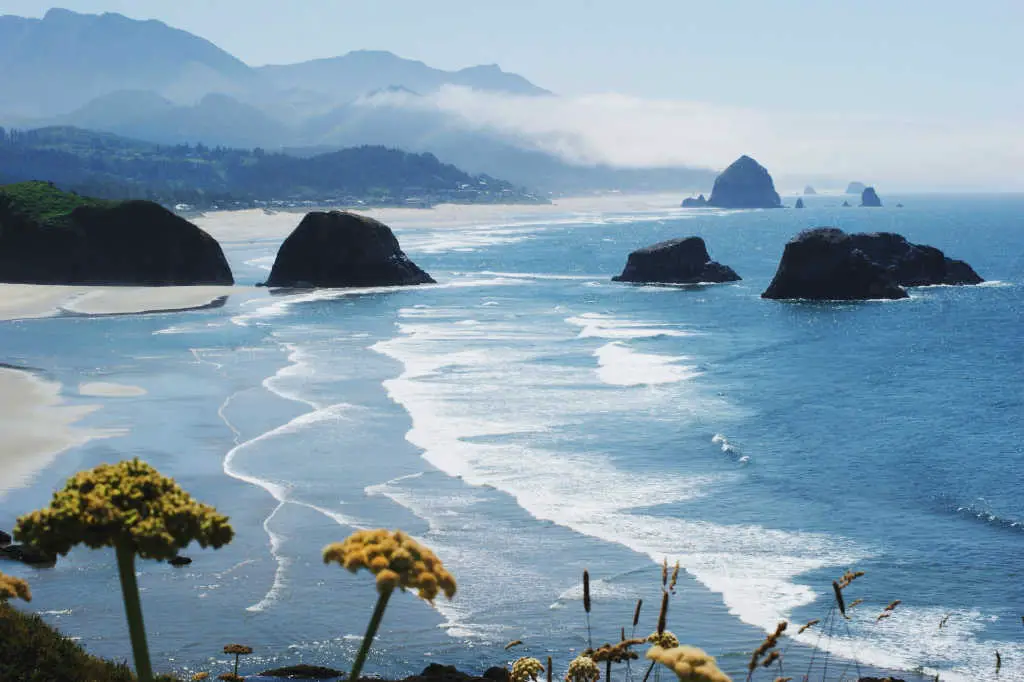 Search for starfish in Haystack's tide pools before heading to Tillamook Creamery to taste some of Oregon's best ice cream. Also, visitors love to snap photos of the infamous Haystack Rock—a 235-foot monolithic sea stack formed by lava roughly 16 million years ago.
Book Now: Ecola Creek Lodge – from $177
2. Chincoteague Island, VA – Chincoteague National Wildlife Refuge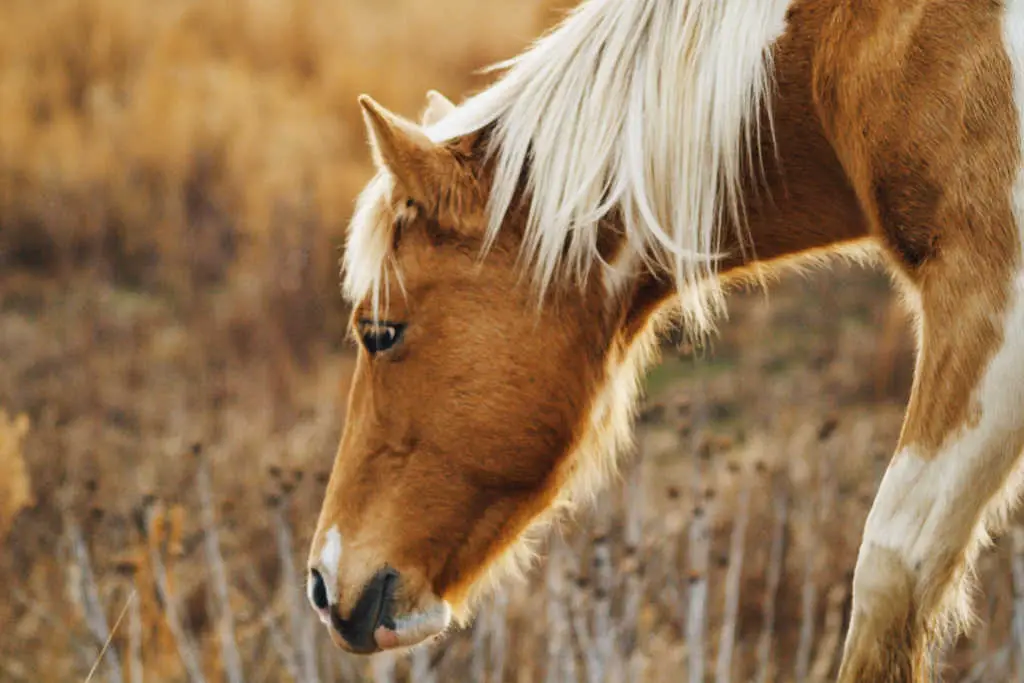 Located just south of the Maryland-Virginia border, Chincoteague Island is an ideal place to enjoy the usual beach pursuits in and around the protected Chincoteague National Wildlife Refuge. The most fascinating aspect of the island is the wild Chincoteague ponies that gracefully canter through the marshes and dunes. Travelers looking for sweeter pursuits should visit the island in late July to attend the annual Chincoteague Blueberry Festival.
Book Now: Refuge Inn – from $125
3. Duxbury, MA – Duxbury Beach Park
Duxbury Beach Park is a Cape Cod refuge that's loved by locals and in-the-know travelers and is accessible via the Powder Point Bridge. This seaside retreat is defined by its dramatic dunes.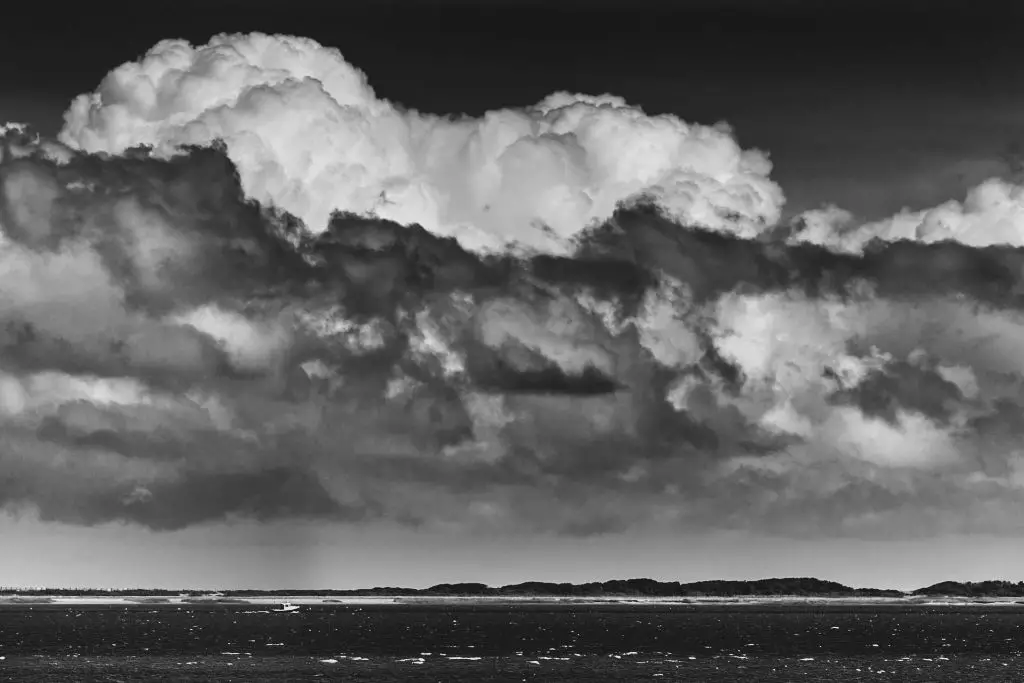 However, the true treasure is Duxbury's access to some of the best shellfish in the region. Clam-digging fanatics can play in the sand and search for snacks or head to The Raw Bar at Island Creek Oyster Farm and treat themselves to some freshly shucked bivalve mollusks.
Book Now: Best Western Plus Cold Spring – from $150
4. Galveston, TX – R.A. Apffel East Beach Park
Southerners looking to escape the scorching summer heat need only to travel to R.A. Apffel East Beach Park in Galveston, Texas. Informally referred to as "East Beach" by locals, the sandy seafront has amassed a reputation for being a great place to party, as live concerts and festivals draw huge crowds each year.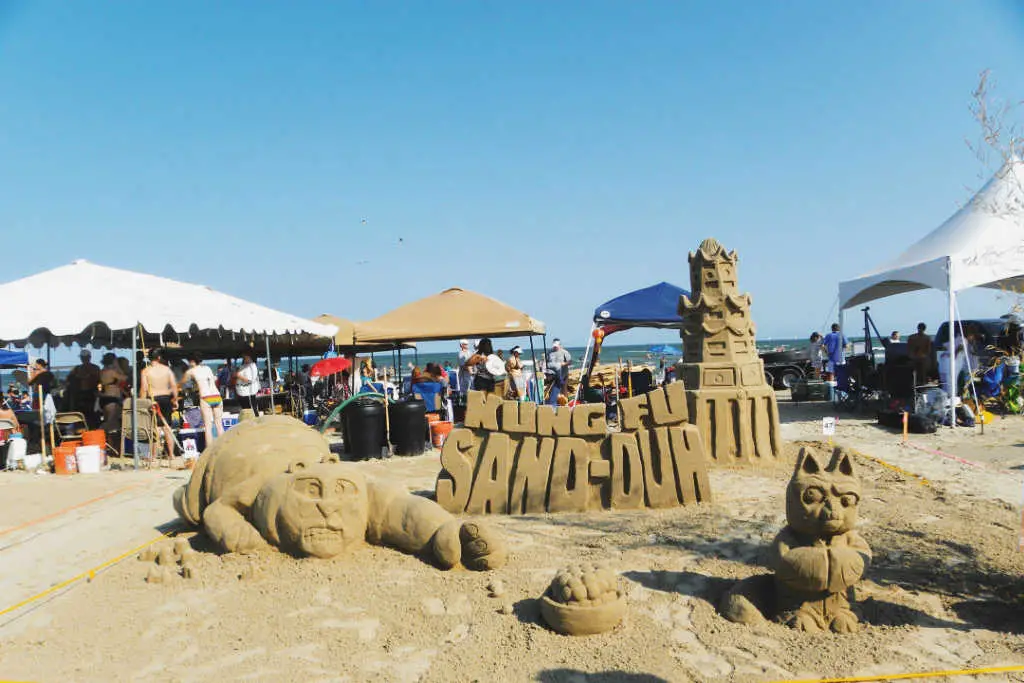 Those dreaming of sandcastles, surf, and sun should attend the annual American Institute of Architects Sandcastle Competition which takes place in late August. Also, this is one of the best cheap beach destinations in the U.S.!
Book Now: Best Western Plus Seawall Inn & Suites By The Beach – from $95
5. Hilton Head Island, SC – Coligny Beach Park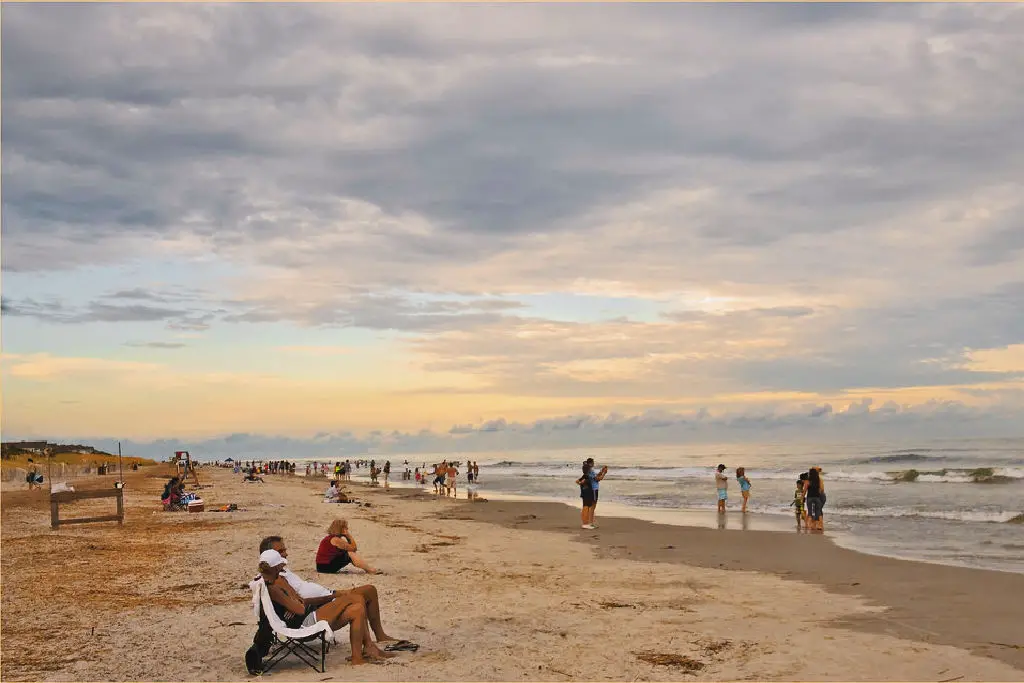 Hilton Head Island's Coligny Beach Park is a front-runner for beachcombers looking for numerous amenities to accompany their vacation. Considered to be the most popular beach in Hilton Head, Coligny has it all—free WiFi, changing rooms, and outdoor showers.
After a fun day of sea breezes, surf, and sun head over to the Frosty Frog Café and chill out with one (or more) of their 24 signature daiquiris.
Book Now: Palmera Inn and Suites – from $137
6. Jekyll Island, GA – Driftwood Beach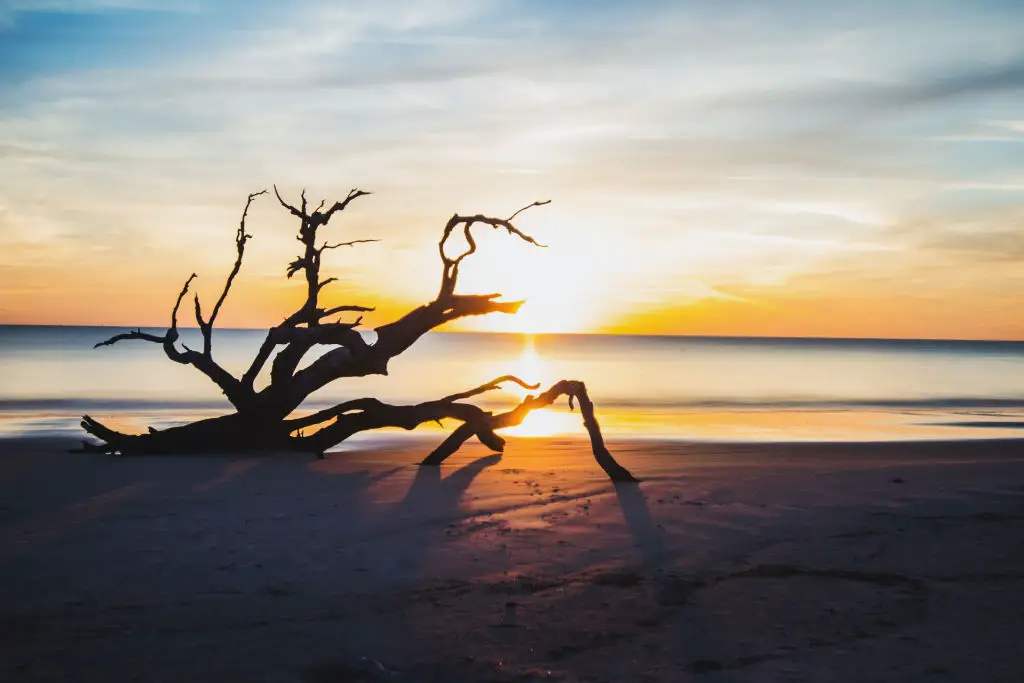 Georgia's history is full of captivating tidbits about Driftwood Beach. Situated on the north end of Jekyll Island, on one of Georgia's most unspoiled Golden Isles, Driftwood gets its name from the giant segments of weathered tree branches that eroded over time from what was once a massive forest. Head to the shores at night to stargaze, moon bathe, or simply take in the natural magnificence of this Georgia gem.
Book Now: Days Inn & Suites by Wyndham Jekyll Island – from $109
7. La Jolla, CA – La Jolla Cove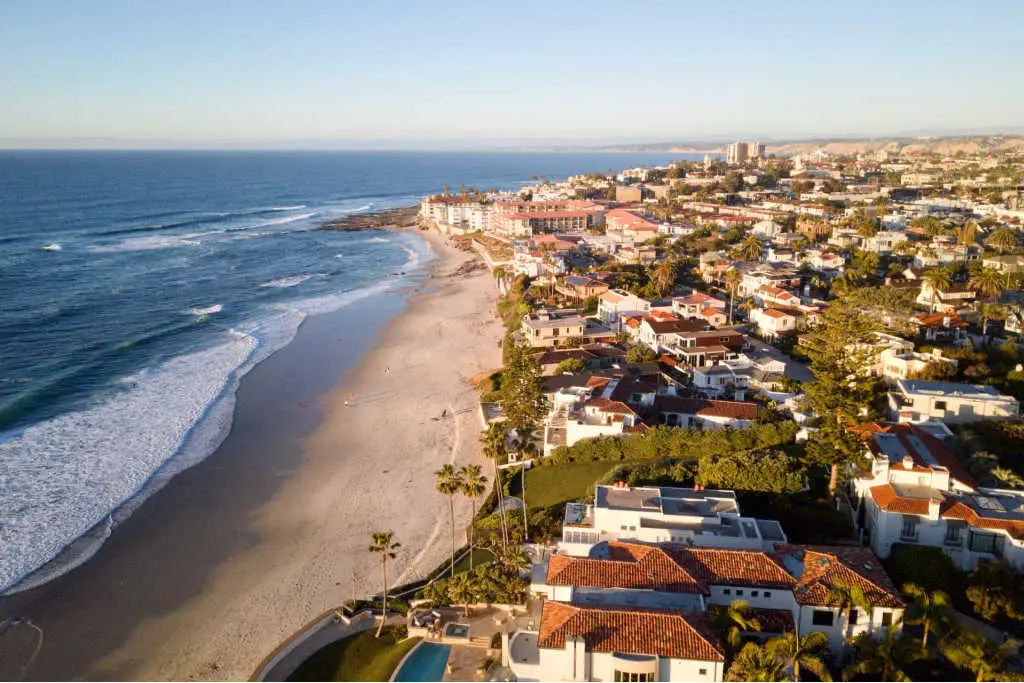 Nestled between sandstone cliffs and Point La Jolla, La Jolla Cove is an iconic destination loved by tourists and locals. The beach may be small, but it lends to its uniqueness and makes it all the better for spotting marine wildlife like barracuda and sea lions from the shore.
When you're ready to take a dip in the turquoise waters, explore the 6,000-acre Underwater Park & Ecological Reserve on a kayak or put on your favorite snorkel gear for subaquatic exploration.
Book Now: La Jolla Riviera Inn – from $189
8. San Diego, CA – Mission Beach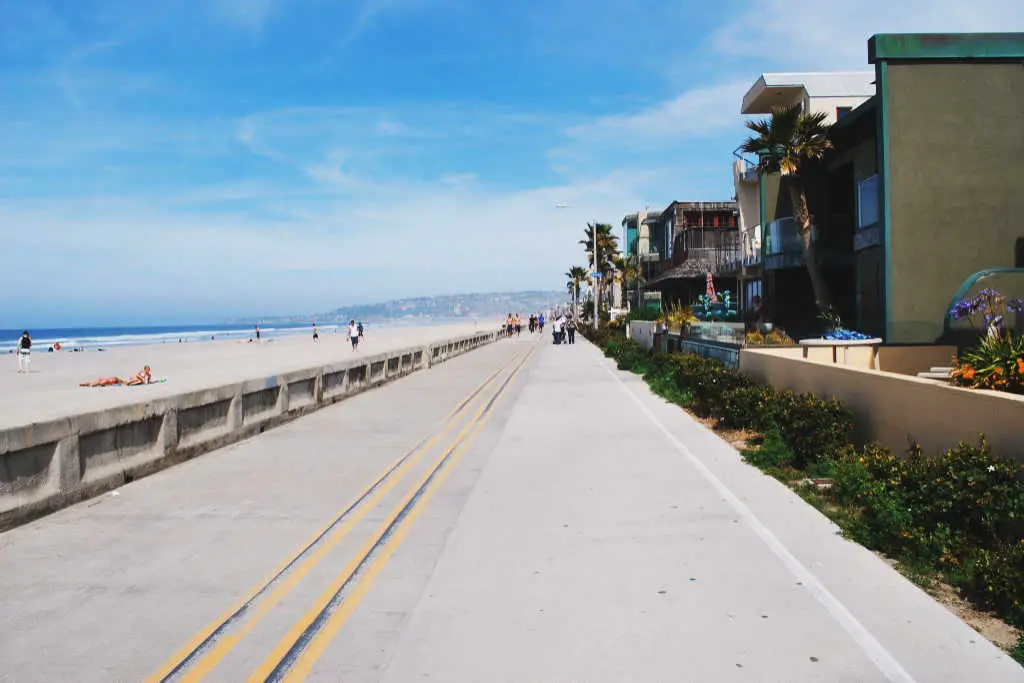 San Diego's Mission Beach seems like the type of destination that inspired Paul McCartney's hit single "Good Day Sunshine"—it's timeless, summery, and loved by all ages. The sandy escape boasts no shortage of activities for avid beachgoers, including lounging on the beach, jet-skiing, and surfing.
If the sound of watersports doesn't sound exciting, try skateboarding down the two-mile-long boardwalk or riding the celebrated Giant Dipper roller coaster at San Diego's beachfront Belmont Park amusement center.
Book Now: The Beach Cottages – from $150
9. Montauk, NY – Ditch Plains Beach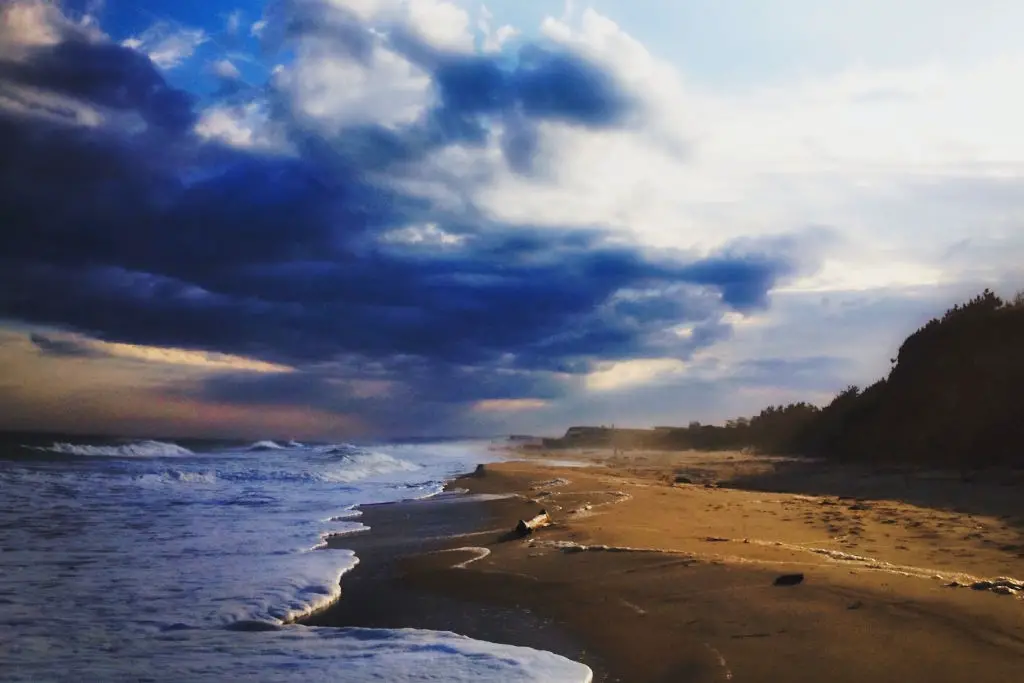 Ditch Plains Beach is considered the pearl of Montauk, New York. Surrounded by swooping cliffs and lush greenery, Ditch Plains has founded itself as one of the primary spots for surfing along the East Coast. Apart from the intense waves, Ditch Plain's salty waters are also home to various fish, making it the perfect spot for surf fishing. Visit the Montauk Lighthouse Museum to learn more about the history of one of the earliest lighthouses in the U.S.
Book Now: Daunt's Albatross Motel – from $109
10. Nantucket, MA – Great Point Beach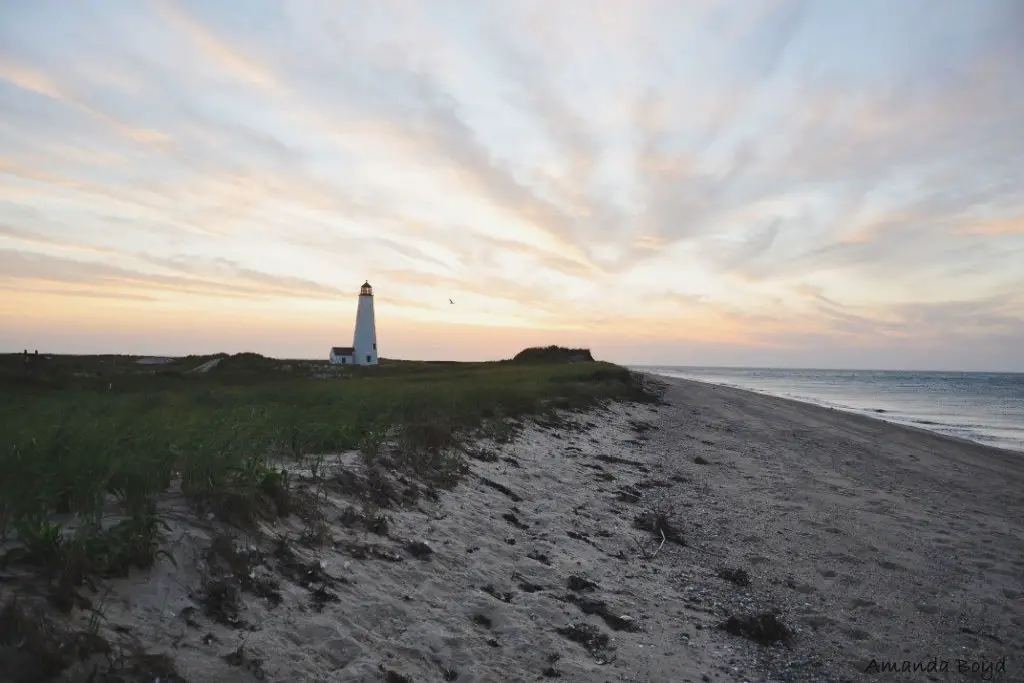 Great Point Beach is a must-visit destination if you're looking to enjoy quintessential Nantucket. Located in the secluded Nantucket National Wildlife Refuge, the charming Great Point Lighthouse is the backdrop for incredible seascapes and windswept grasses.
Rent an ATV or find a quiet spot on the beach for a quaint picnic among the waves and seabirds before trying a bit of surf fishing.
Book Now: Cliff Lodge – from $273
11. Ocean Springs, MS – Front Beach
Front Beach is located just off the coast of the Mississippi Sound—this area offers sunbathers some of the shallowest and calmest waters in the Hospitality State. As a result, Front Beach is an ideal destination for families with young children learning to swim.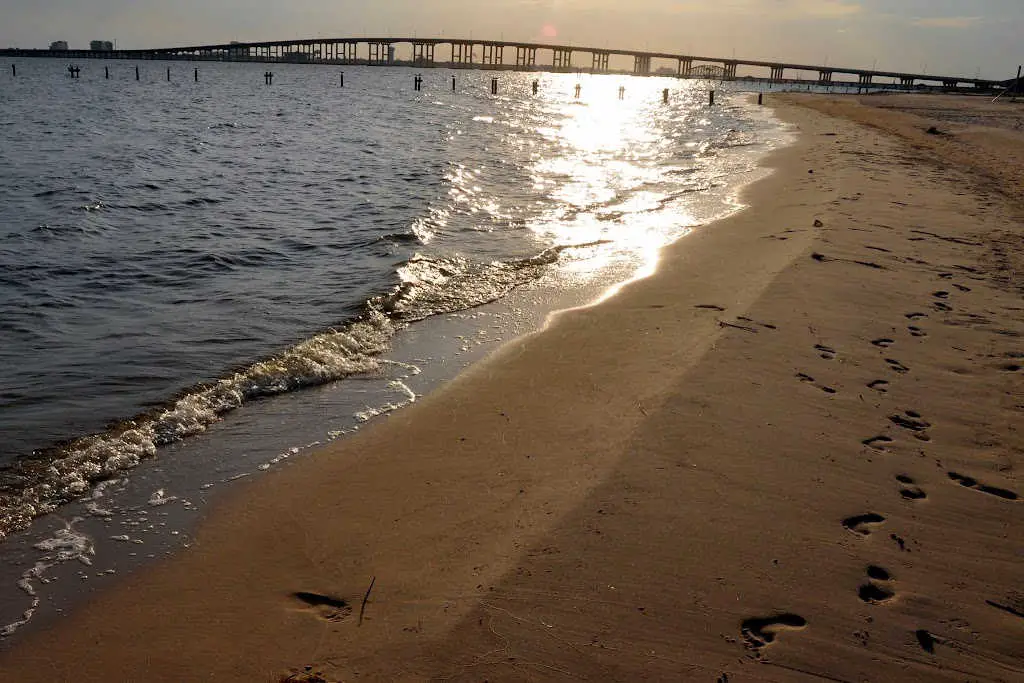 Day-trippers from Biloxi only need to trek about 10 minutes to the beach to practice their surf fishing skills. After a day of surf and sun, make a reservation at Vestige and revel in their tasting menu.
Book Now: Hampton Inn Biloxi/Ocean Springs – from $89
12. Ogunquit, ME – Ogunquit Beach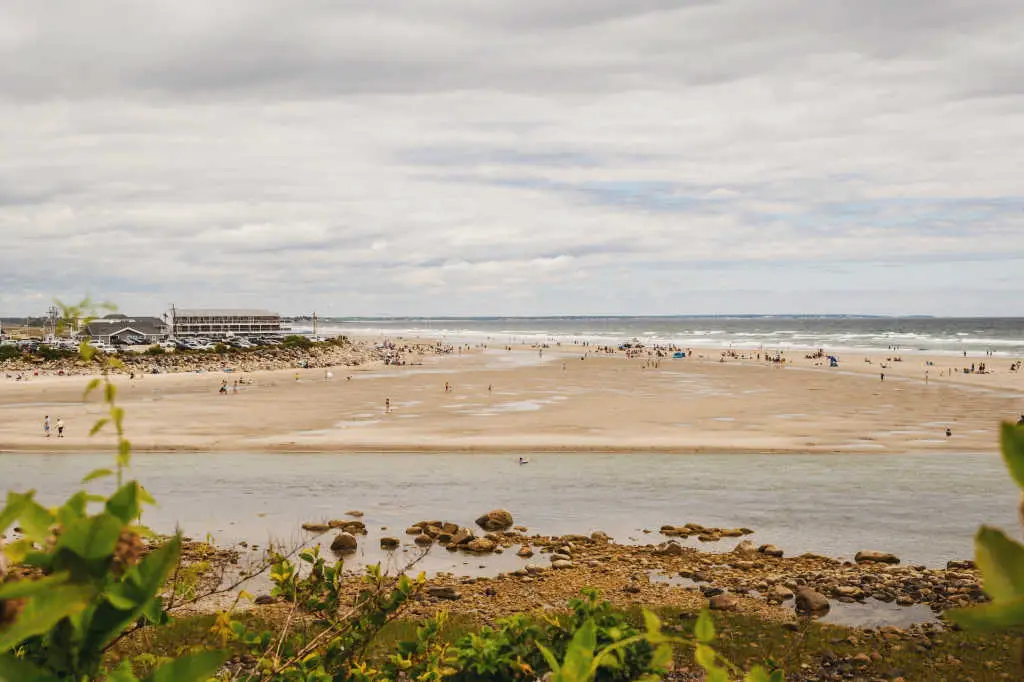 The sandy shores of Ogunquit Beach are less than an hour's drive south of Portland, Maine. With rushing low-tide waters, white sandy beaches, and 3.5 miles of coastline, visitors may live out their fantasy of feeling like they're in a music video. After a day of relaxing in the lovely sand, head into Ogunquit and visit the Lobster Shack to enjoy a proper Maine lobster roll.
Book Now: Pink Blossoms Resort – from $109
13. Orange Beach, AL – Cotton Bayou Beach
Few travelers associate white sandy beaches and vast reefs with the Heart of Dixie. However, a trip to Alabama's Cotton Bayou Beach provides Gulf Coast visitors with plenty of each. Cotton Bayou Beach is located in Gulf State Park, just east of Orange Beach, and features inviting boardwalks and sparkling sand.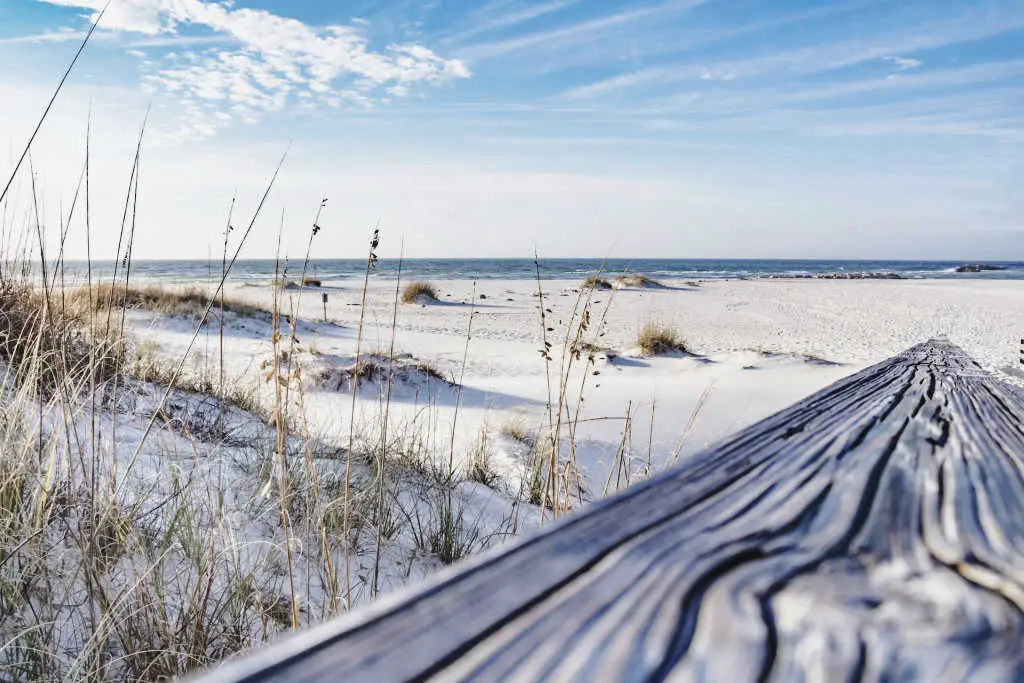 As one of the best cheap beach destinations in the US, families come to unwind on the beach, boogie board, and snorkel in the extensive artificial reef. Visitors looking to get out on the water may be interested in taking a romantic sunset dolphin cruise or an Orange Beach Islands 3-Hour Excursion tour through Cruisin Tikis Orange Beach.
Book Now: Hampton Inn & Suites Orange Beach/Gulf Front – $161
14. Outer Banks, NC – Kitty Hawk Beach
There are many beautiful shores spread along North Carolina's Outer Banks, however, Kitty Hawk Beach has become a popular destination for families and their pets. As a dog-friendly beach, Kitty Hawk receives wonderful swells making it the ideal spot for kayaking, skimboarding, and surfing.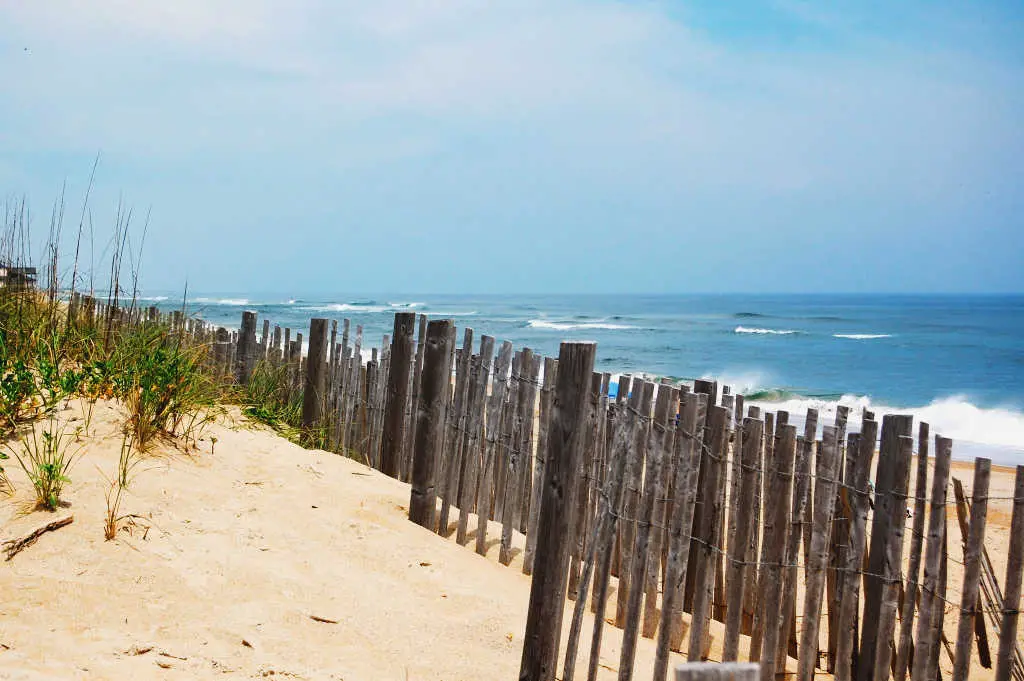 Visitors looking for additional shade should head to the nearby 461-acre Kitty Hawk Woods Coastal Reserve. It's here, where you'll find several hiking trails in a lovely, heavily wooded setting.
Book Now: Surf Side Hotel – from $169
15. Jefferson County, WA – Ruby Beach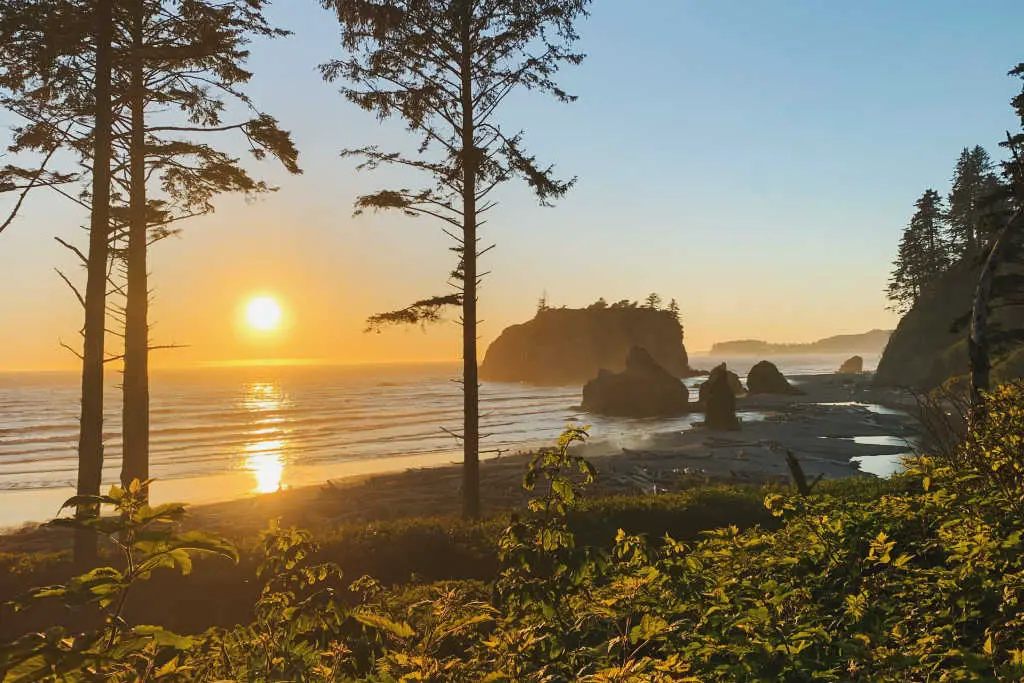 Some of the nicest beaches on the West Coast are located in Western Washington's Olympic National Park. While there might not be much opportunity for watersport lovers to jet ski and surf, Ruby Beach provides visitors with the chance to explore brilliant tide pools on the edge of an endless pine forest.
Think less beach resort, more grizzly bear. Check out the signature ruby-colored sand on the beach before standing in awe at the sea stack rock formations.
Book Now: The Pacific Inn Motel – from $164
16. Rye, NH – Jenness State Beach
Travel about an hour north of Boston to Jenness Beach to find a sanctuary for adventurous wave-riders. The surf culture in Rye may be the most popular on the East Coast. Jenness is a laidback seaboard enjoyed by both novices and seasoned surfers looking to learn to show off their skills.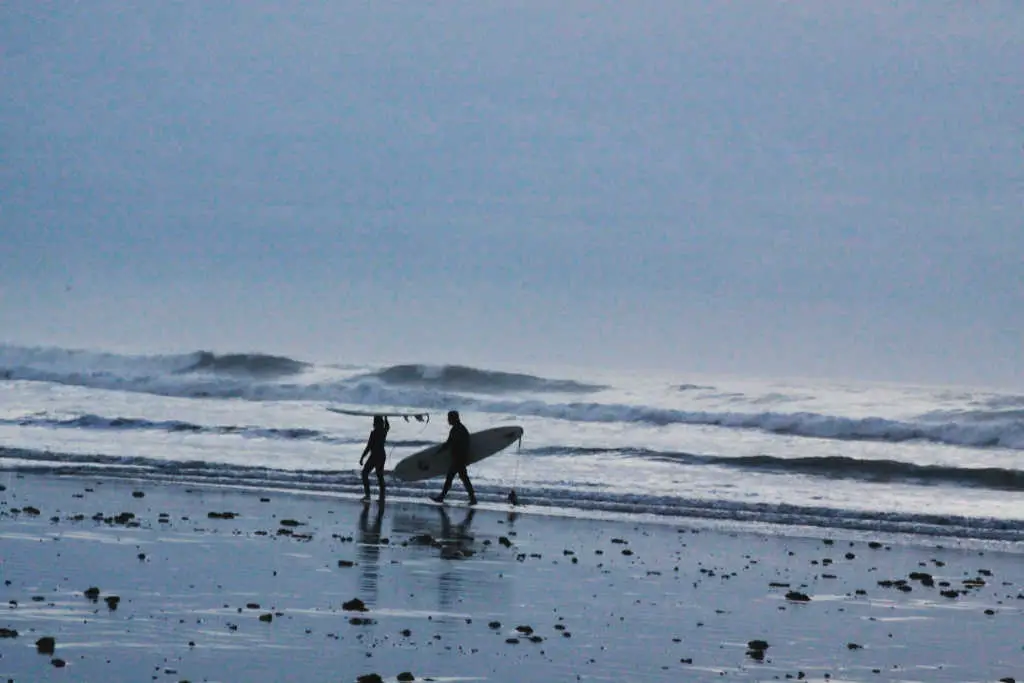 Luckily, Summer Sessions Surf Shop offers affordable surf lessons. Also, if surfing isn't your cup of tea, stretch out on the sand instead and take in the mellow atmosphere.
Book Now: Port Inn And Suites Portsmouth, Ascend Hotel Collection – from $191
17. Westerly, RI – Misquamicut State Beach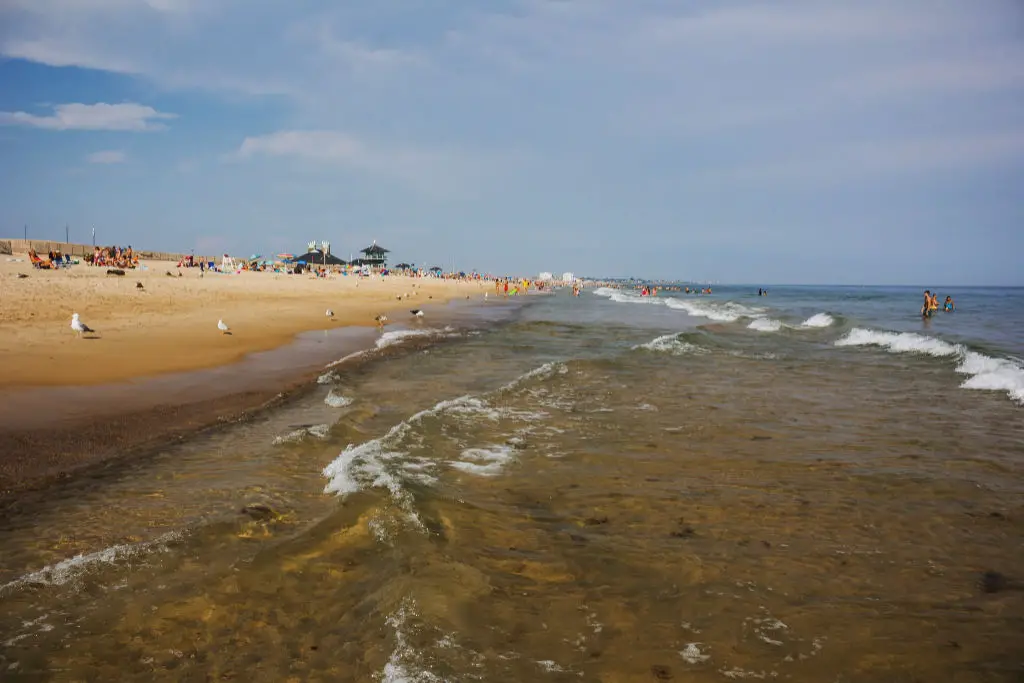 Families looking to frolic on one of the loveliest beaches in the Ocean State should visit Westerly's Misquamicut State Beach. A three-mile stretch of sand and calm waters make Misquamicut an awesome place for safe swimming and building sandcastles.
After the fun-in-the-sun, visit the Bayview Fun Park to cruise in the bumper boats or play mini-golf.
Book Now: Hampton Inn & Suites Mystic – from $152
You're sure to have a fun and relaxing vacation at any one of these cheap beach destinations in the U.S. What are you waiting for? Pick a beach and book accommodation now.