Couples looking for the best spa breaks in Scotland will need to look no further than Portavadie, on Argyll's Secret Coast. Ranked as one of the top spas in Scotland, Portavadie ⁠is probably the best luxury spa hotel in all of Scotland.
Portadvadie and the Argyll region is one of Scotland's best-kept secrets. The area is so mysterious that most visitors and many locals have no idea that this area of Scotland is remarkably fascinating.
Argyll's Secret Coast is a little-known area of Scotland that's celebrated for its ancient forests and shimmering sea lochs. The region sits on the southwest tip of the Cowal peninsula, located only about two hours from Glasgow. Furthermore, travelers come to explore the Scottish Highlands, history, deserted beaches, wildlife, and pure tranquility.
Best Spa Breaks in Scotland For Couples – Argyll's Secret Coast Revealed
The Cowal peninsula sits between Loch Fyne the Sound of Bute. The typical route for exploring Argyll's Secret Coast starts in Dunoon and winds down to Portavadie, where it then heads north to Cairndow. This region is so rarely visited by tourists, those who explore here will feel as though they have Scotland all to themselves.
As we toured this part of Scotland, we discovered breathtaking scenery, picturesque seaside villages, delicious local cuisine, relaxing spas, and beautiful beaches. For those looking for an active holiday, this is the ideal place to enjoy many outdoor activities: cycling, kayaking, windsurfing, sailing, and hiking.
Portavadie – The Perfect Base to Explore
Located directly on Argyll's Secret Coast, Portavadie Hotel offers one of the best escapes this side of Scotland. Due to its remote location, guests appreciate the convenience of having everything they need directly on-site.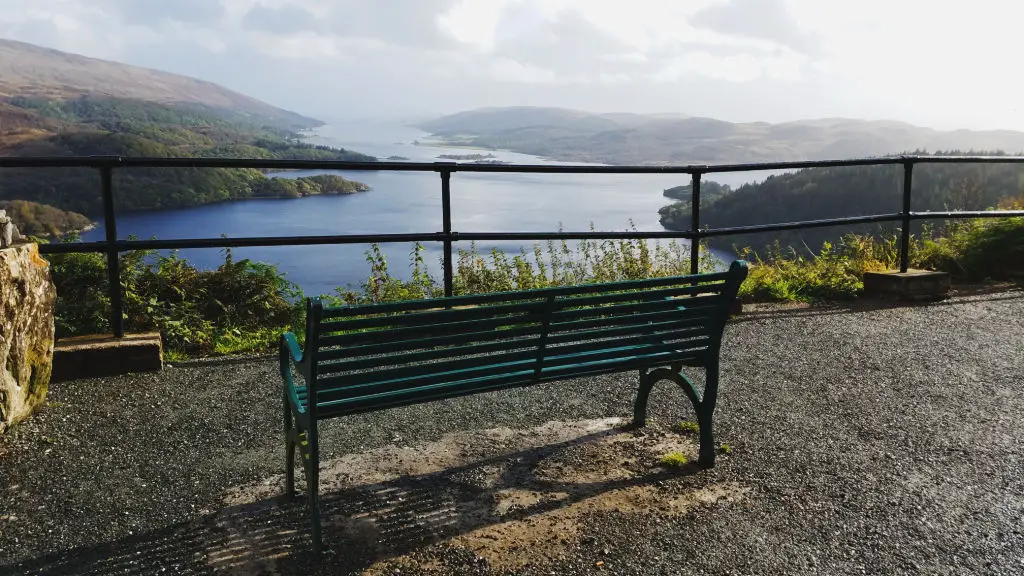 Dining at Portavadie
Portavadie offers three restaurants, they include the relaxed Leisure Cafe, the high-end, pub grub at the Lodge Kitchen and Bar, and the more elegant 2 AA Rosette-awarded Marina Restaurant & Bar. A traditional Scottish breakfast is served daily overlooking the marina offering gorgeous views to enjoy over morning coffee.
In brief, travelers that don't splurge a bit on the local seafood, venison, and wild boar are doing themselves a huge disservice. The freshest langoustines, mussels, salmon, scallops, oysters, crab, and lobster can be found in the waters surrounding Portavadie. Therefore, it is no surprise that Portavadie Marina Restaurant & Bar serves up some of the freshest seafood and meat dishes in the region.
The Spa at Portavadie
Portavadie is known for its Spa and Leisure Center which offers fun and relaxation for families, couples, and independent travelers. The exclusive spa includes a hydro pool, steam room, and sauna. As a rule, those seeking some serenity can savor tranquil views from the relaxation space pictured below.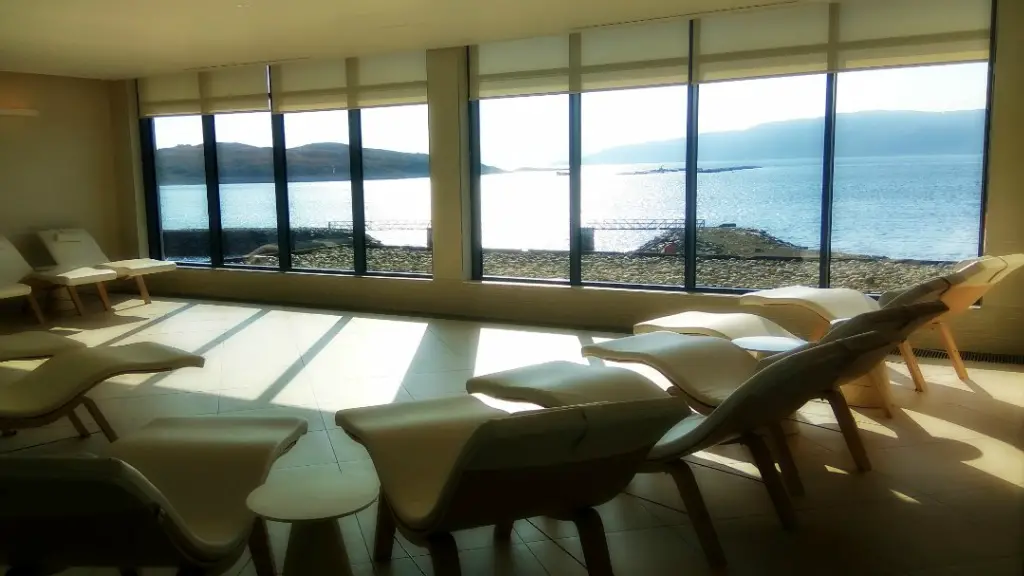 Specially trained therapists provide reviving beauty and spa treatments from luxury spa brands Ishga and DECLÉOR in lavish treatment rooms fitted with mood lighting. Generally, the most common spa services selected by guests are facials and massage therapy.
Portavadie's crown jewel is the outdoor pool, the largest heated infinity pool in Scotland. It provides guests with the opportunity to swim in warm waters year-round.  Furthermore, anyone seeking a destination that offers so much, but visited by so few, will appreciate Portavadie.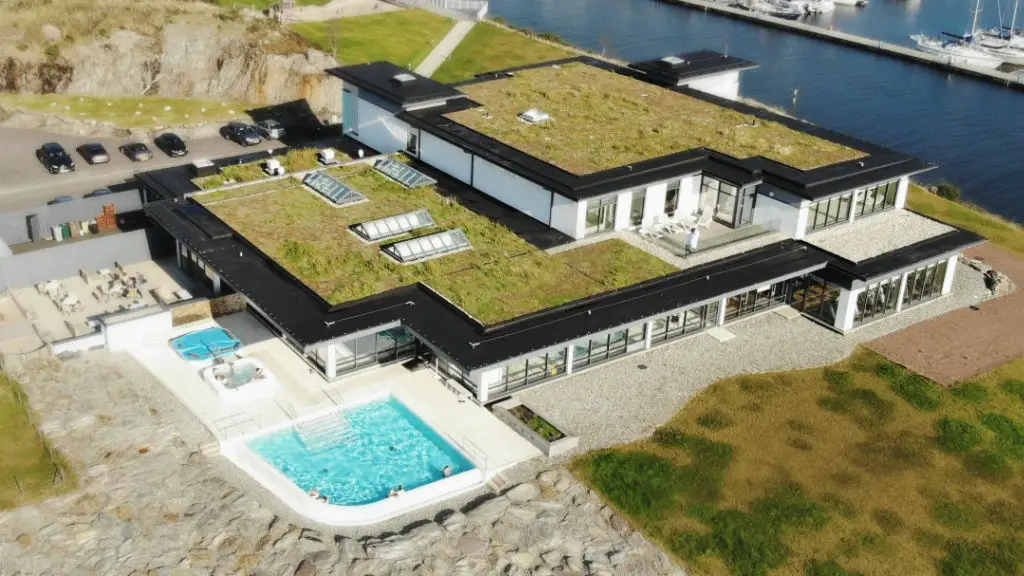 Fun Fact: Top Gear's Jeremy Clarkson ranks Argyll's Secret Coast road as one of his favorite drives in the world.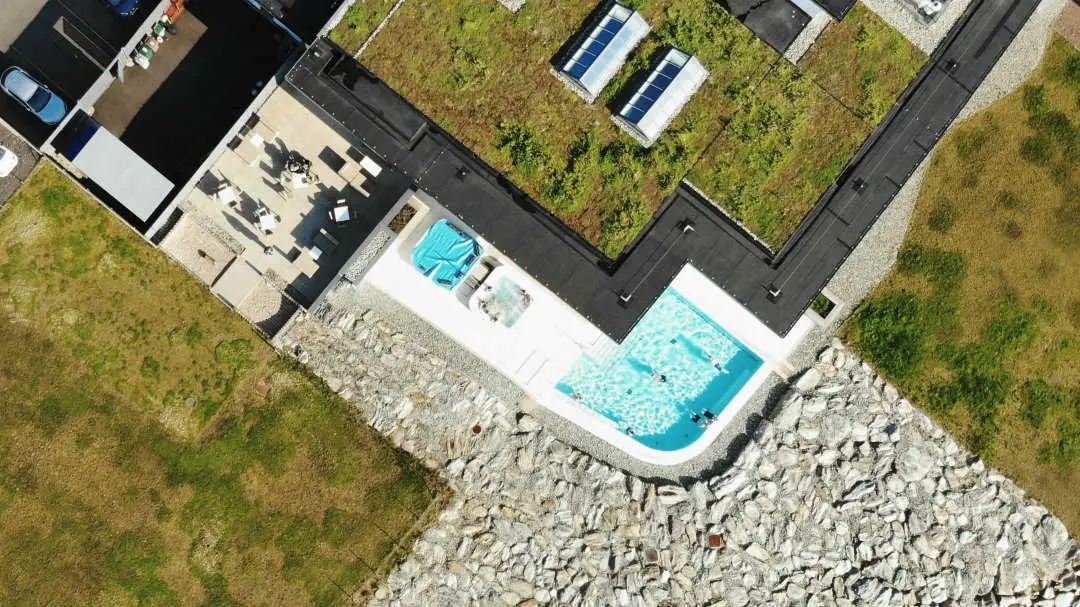 Things to Do Around Portavadie
Folks that find relaxation through exertion or exploration will have all their bases covered in this region. Cyclists, sailors, and outdoor enthusiasts enjoy Scotland's Adventure Coast because of the forest trails, rugged hills, or sparkling sea. As a result, the area is full of history with old castles and ancient sites to explore.
For Sailors
Portavadie's world-class marina offers a great base for sailors to explore the region. When the weather is warm, the marina comes alive with island hopping seafarers setting out to find serenity on one of Argyll's 23 inhabited islands. This is one of Scotland's premier sailing destinations.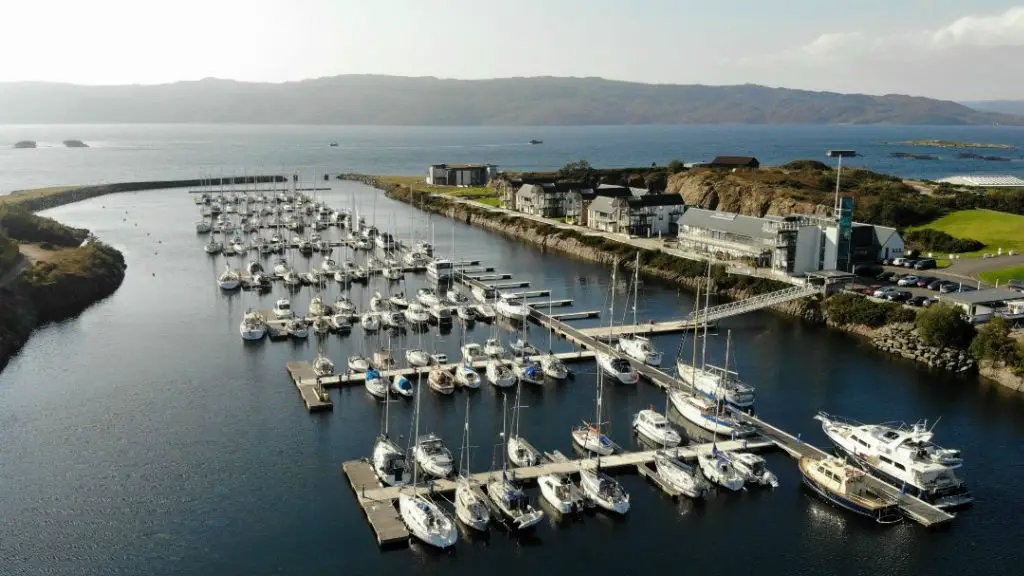 For Hikers
The most famous hike in the area is the Loch Lomond and Cowal Way, which begins at Portavadie and ends on the shores of Loch Lomond. The 56-mile hike passes through rugged countryside that's full of waterfalls and wildlife.
For Cyclists
Guests may rent bicycles from Portavadie. The roads surrounding Portavadie are low traffic and are fantastic for exploring Argyll's Secret Coast. There's a 20-mile (roundtrip) recommended route that starts at Kames and ends at Ardlamont Point. It's one of the best family-friendly cycling routes to take.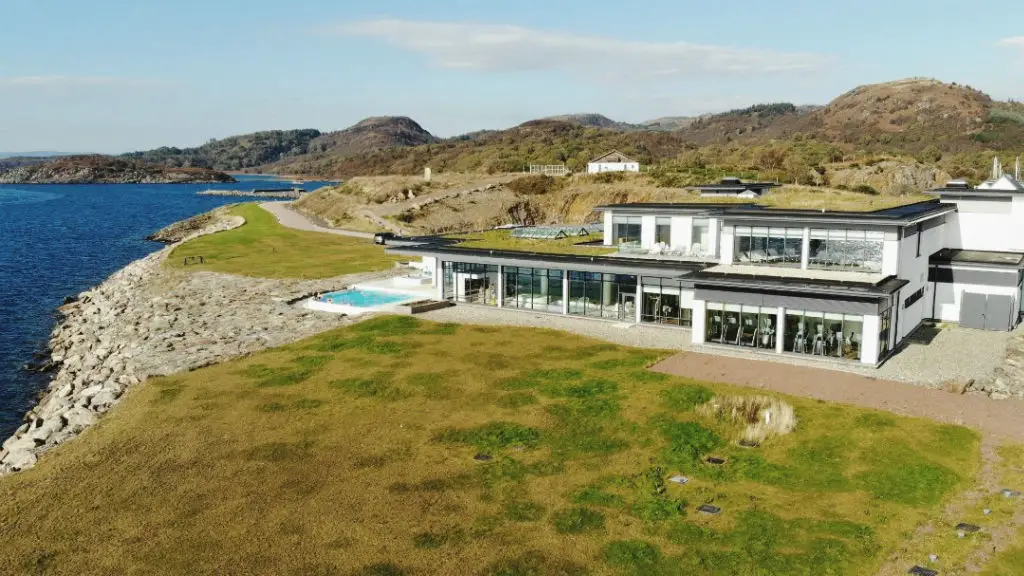 Avid cyclists who are looking for something a wee bit more challenging will enjoy riding on the Bealachandrain Pass to Glendaruel returning to Tighnabruaich.
For Sea Lovers
Those that are fueled by the sea will discover a region full of tranquil beaches, rock pools, and secluded bays. For instance, one of the best places to explore near Portavadie is Ostel Bay.  The beach is a great place to explore at sunset or low tide. When the sea conditions are just right, the sea retreats creating a huge, brilliant sandbar that is perfect for beachcombing.
You won't find many others at this hidden beach. To reach it, find the trailhead that leads folks through a twenty-minute walk through the countryside. Ask Portavadie staff for directions. Windsurfing, kayaking, and traditional surfing are all popular watersports to enjoy on Argyll's beautiful coastline.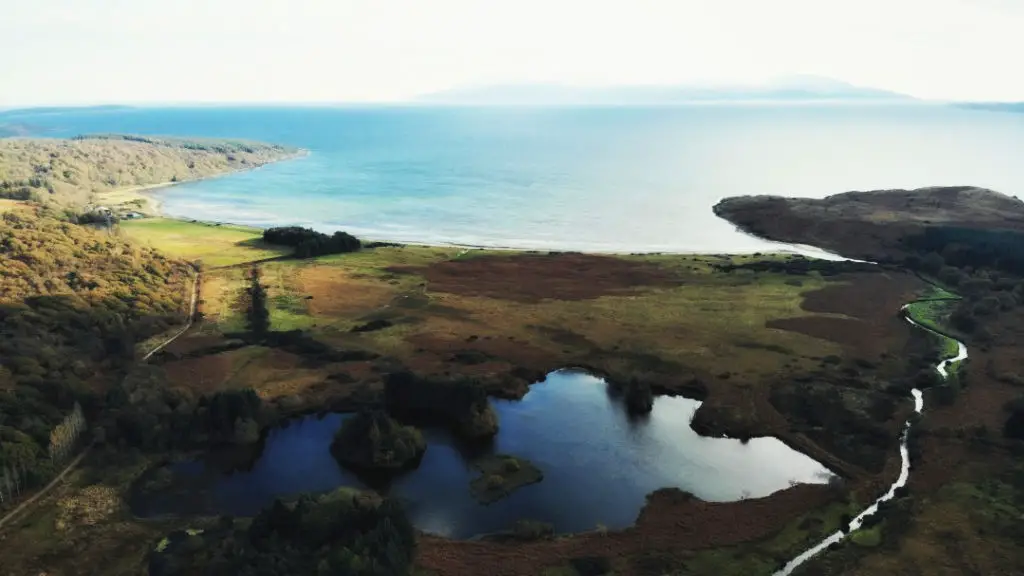 For Wildlife Lovers
Around Portavadie, wildlife enthusiasts should keep their eyes and binoculars peeled for deer, otters, red squirrels, dolphins, and whales. Also, if eagles strike your fancy, the Isle of Mull is a good day trip from Portavadie. Consequently, the Isle of Mull is one of the best destinations for spotting both white-tailed sea eagles and golden eagles. As a result, wildlife tours can be found throughout the region.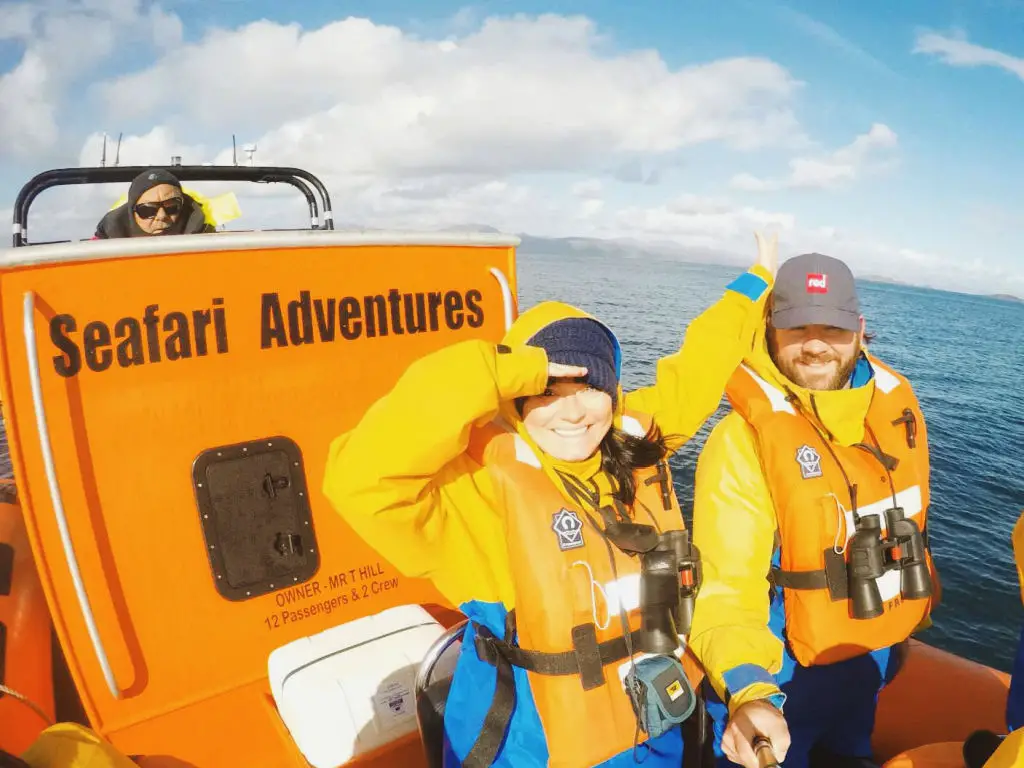 What Is Scotland's Big 5?
Be on the lookout for the Scottish big five: the golden eagle, red deer, red squirrel, common seal, and European otter.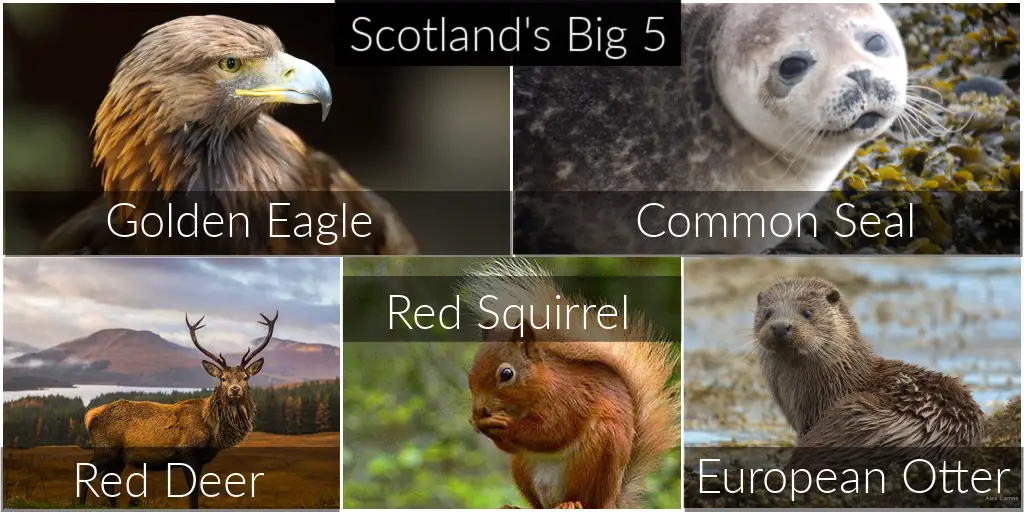 We stayed at Portavadie Loch Fyne Scotland for two nights during our holiday showcasing the very best of the Argyll region. With its premier spa and award-winning restaurant, Portavadie offers one of the best luxury-escapes on Argyll's Secret Coastline.
Inspired to visit this part of Scotland? Find out more at www.wildaboutargyll.co.uk