The Isle of Islay in Scotland is recognized for its unique Islay Scotch whisky. The smell of peaty smoke being discharged from an Islay distillery is so unique that one's entire perspective on Scotch may be completely changed upon one inhale. Nevertheless, this little Scottish island sitting in the Inner Southern Hebrides of Scotland has so much more to offer visitors than simply Scotch and distillery tours.
Islay is commonly referred to as the 'Queen of the Hebrides' because of its soft sandy white beaches, dramatic sea cliffs, and impressive sunsets. Anyone who's heard of Islay (pronounced eye-luh) will most likely associate the island with the smoky and peaty single malt whisky that's distilled there—but very few know that it's a great place for a couples vacation, especially if you're looking to combine Islay Scotch whisky and romance.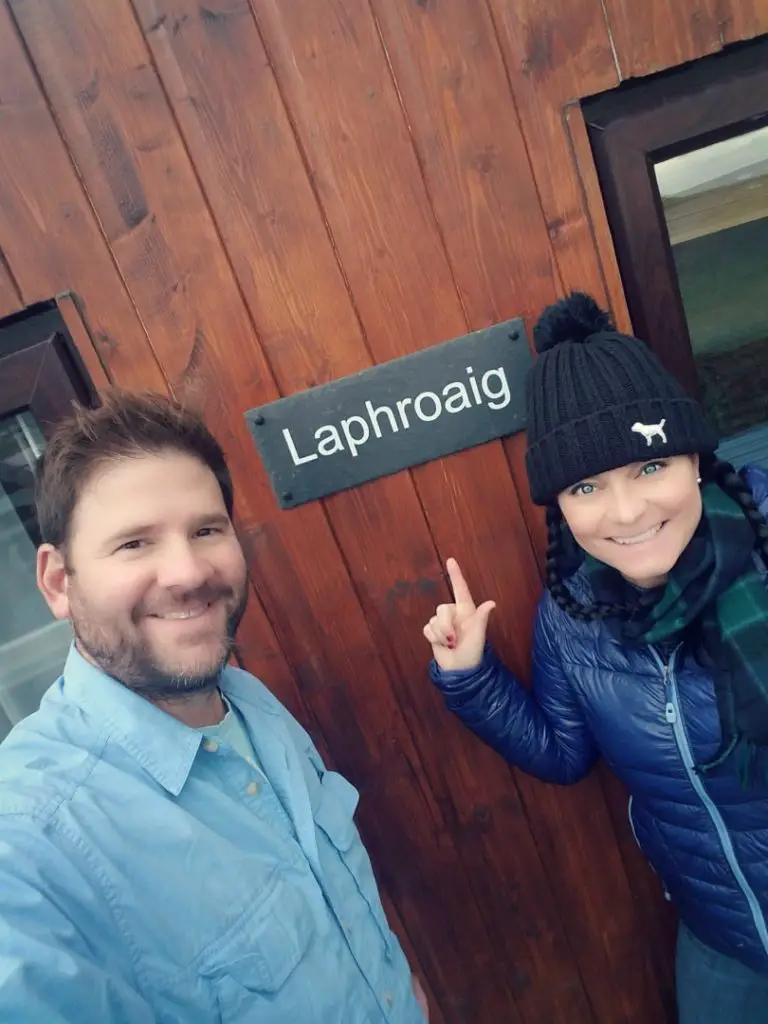 Islay Scotch Whisky and Romance
During our recent tour of Islay, we were quite amazed at the beauty of the island and a little angry at ourselves for not visiting it sooner. We met a few other travel couples on vacation and were amazed to hear their stories.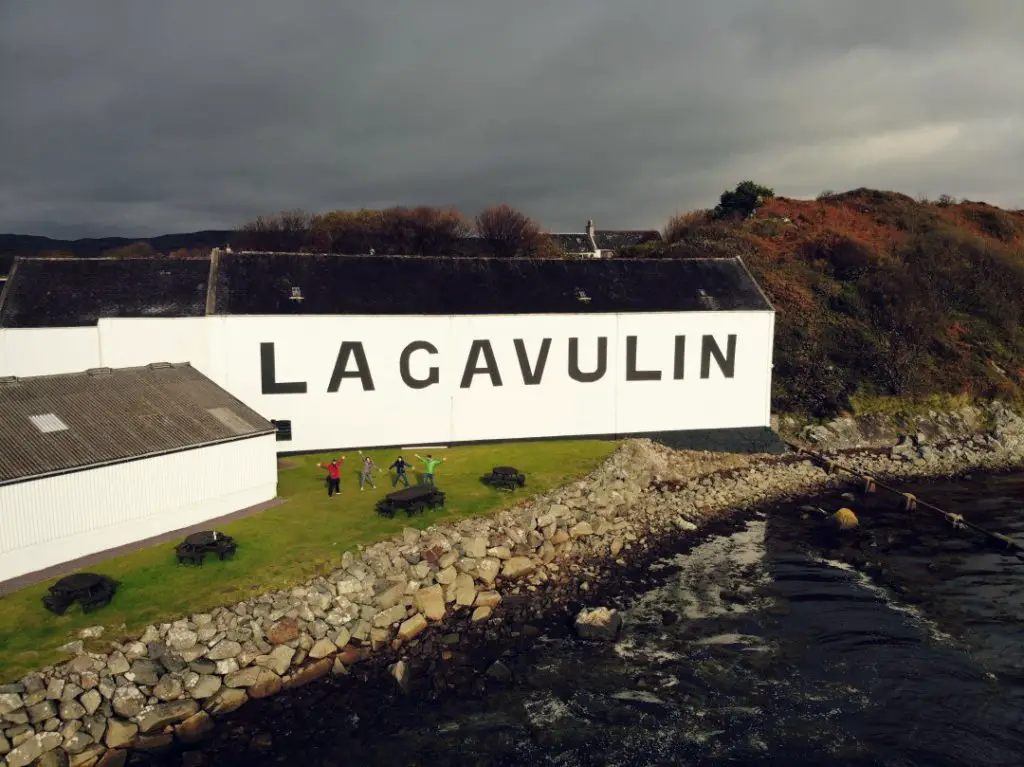 One couple was there on their honeymoon. Another couple was fascinated with spirits, especially Islay Scotch—they went on to show us pictures of their massively stocked bar at their home in Houston, Texas. Another couple was celebrating a special milestone birthday.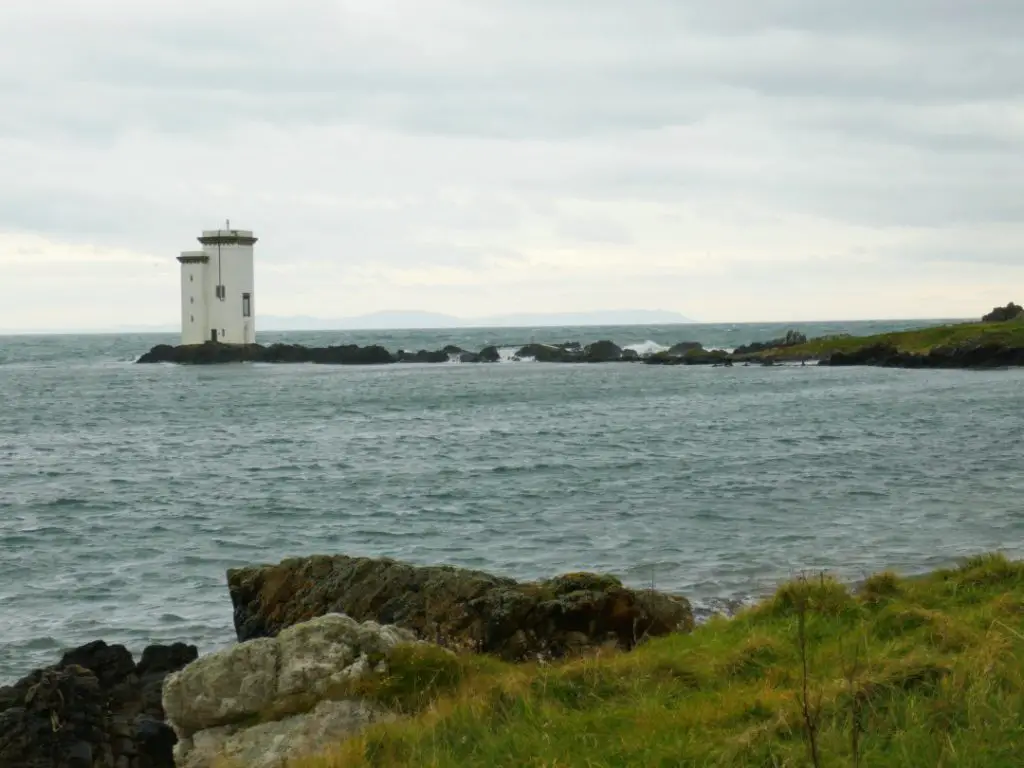 Our hostess Emma at the Glenegedale House also mentioned how many years ago a group of couples began staying with them each time they visited Islay. With each passing year, one by one, their families began growing. Nowadays, the entire group still visits but must rent out the entire property to accommodate all its new members. She describes it as one big, happy family reunion.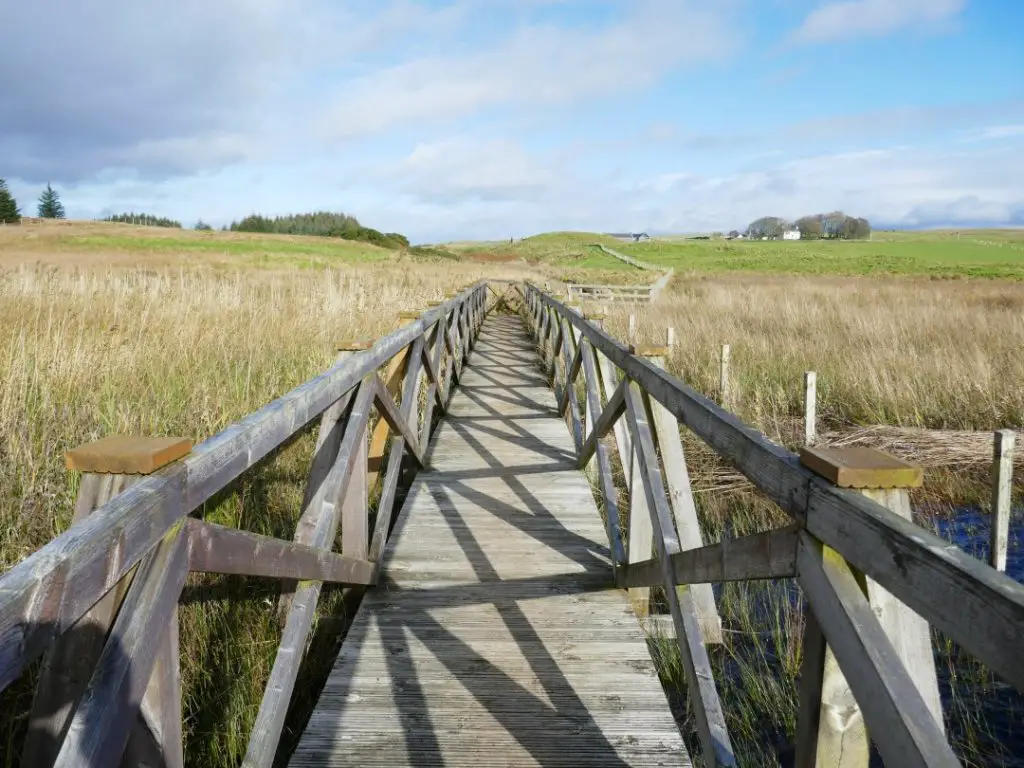 It's quite amazing to hear about how special the Isle of Islay has become to this group of friends and family. And after visiting, we understand why. There's so much more than Islay Scotch whisky here.
Islay Distilleries – Elephant in the Room
Let's face it, the main reason tourists flock to Islay is to visit the Islay distilleries—there's no denying this. The internet's inundated with information dissecting each distillery and its scotch, identifying differences in notes and level of peatiness, etc.
Without getting into all of the idiosyncrasies of Scottish whisky, understanding the basics and features of each distillery will go a long way toward maximizing your time during your visit.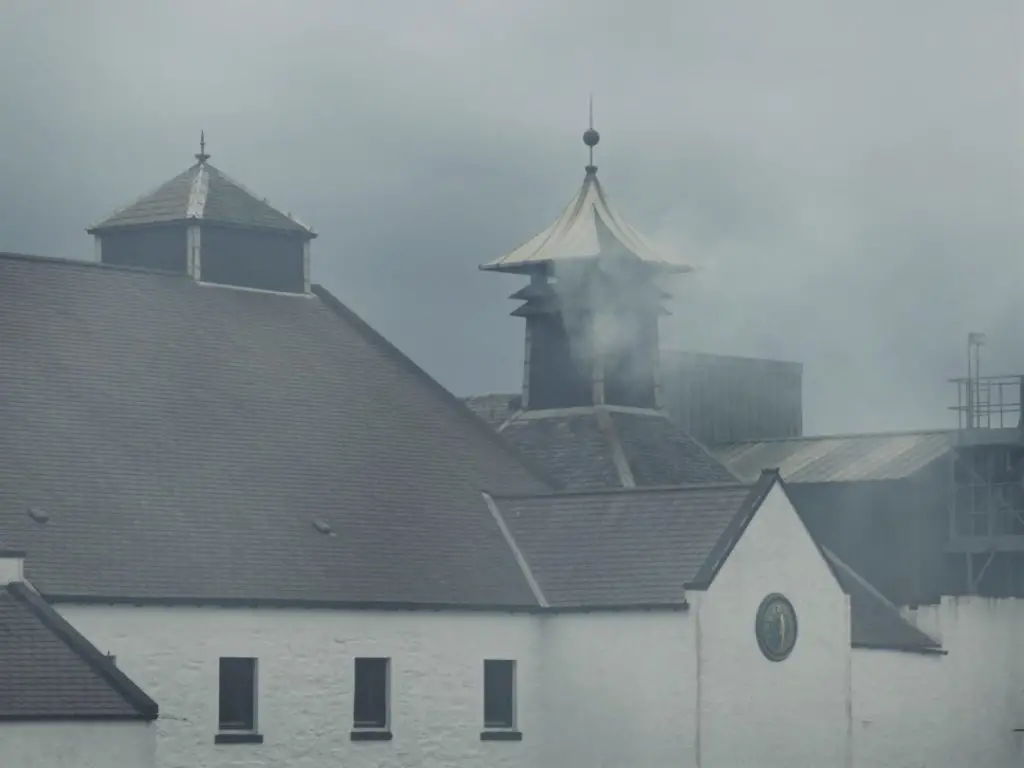 Think of many of these as insider tips or helpful suggestions. Let's take a moment to examine the elephant in the room and then we'll follow up with all of the other great things to do. Especially, the romantic ones!
Islay Whiskys
Most couples will visit for one or two days and try to squeeze in as many distillery visits as possible. Two nights is simply not enough time to fully enjoy the island. You can easily spend a week on the Isle of Islay—but I digress, for now.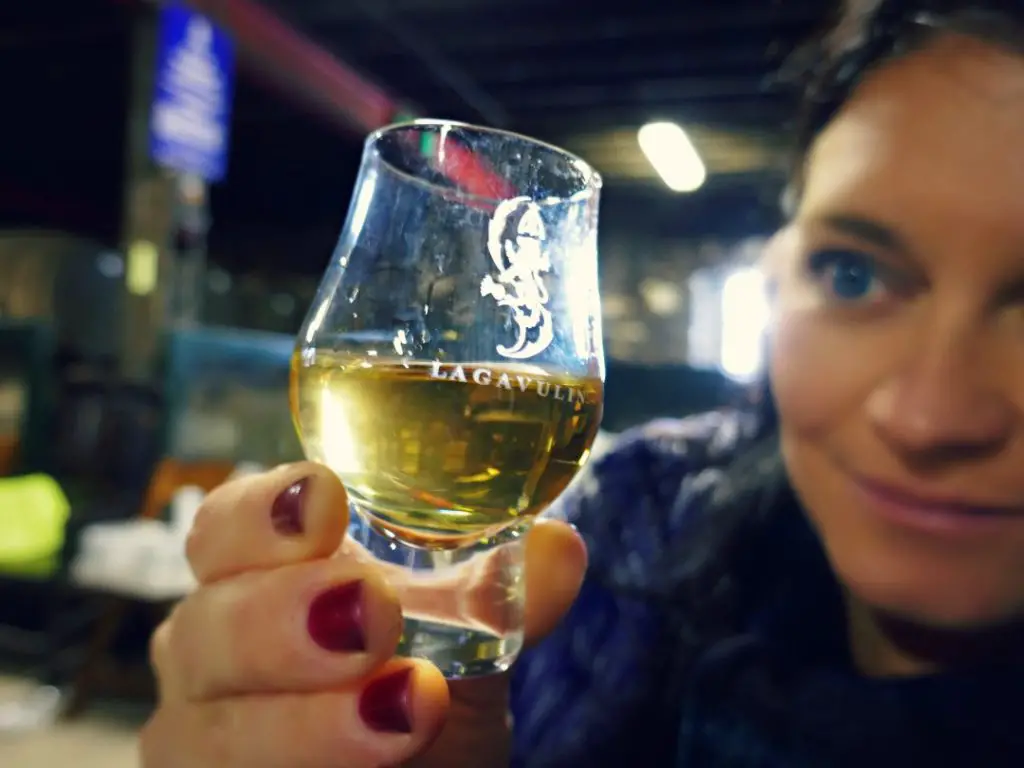 Islay's Scotch is famous for being a single malt because it's only made using barley. The local peat, which when burned adds notes of smokiness, seaweed, and sea air to the whisky. Also, to qualify as Scotch, it must be aged for a minimum of three years, distilled in Scotland, and aged in oak barrels.
How Many Distilleries Are on Islay?
There are currently nine distilleries on Scotland'sWhisky Island.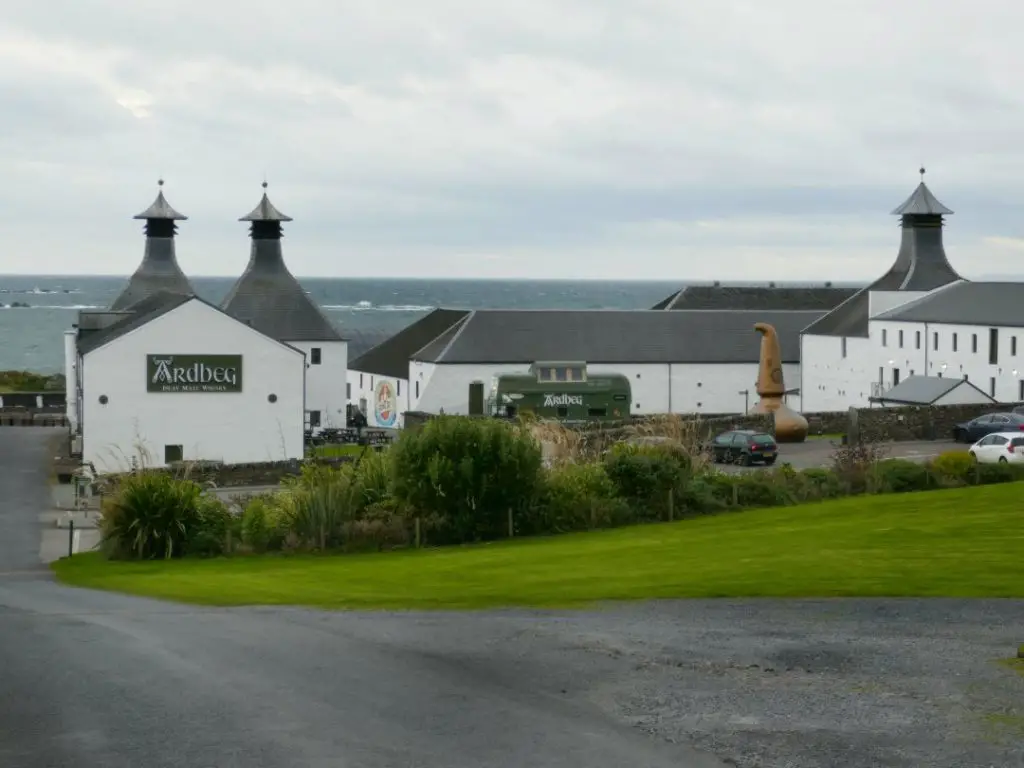 However, there will soon be 10 with the opening of the Farkin distillery. The nine distilleries are:
Ardbeg
Ardnahoe
Bowmore
Bruichladdich
Bunnahabhain
Caol Ila
Kilchoman
Lagavulin
Laphroaig
What Are the Best Islay Whisky Distilleries to Visit?
Of course, if you have a passion for a specific Islay whisky we encourage you to visit that distillery. However, each distillery has something special to offer tourists.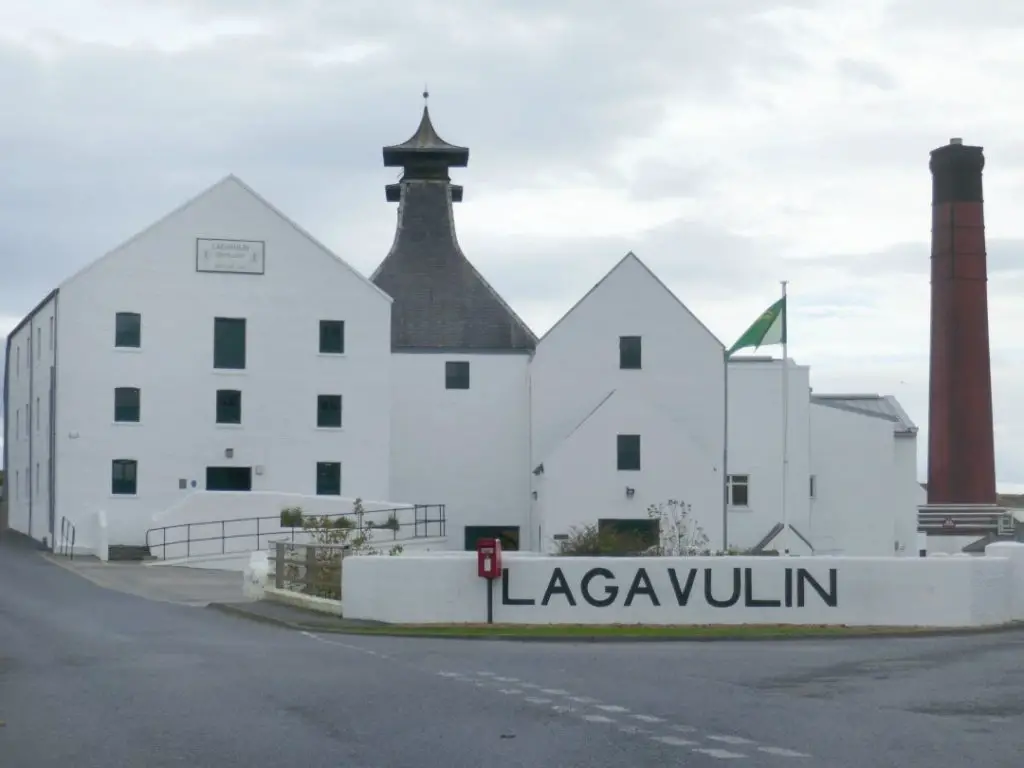 As a result, if you're novices like we were, here's a list of the 'best-of-the-best' Islay whisky distilleries to visit according to their specialty:
Islay whisky tasting: Lagavulin Warehouse Demonstration
Cocktails: Laphroaig
Lunch: Ardbeg
Scenic views: Caol Ila
Café: Kilchoman
Distillery tour: Bowmore
Newest distillery: Ardnahoe
Least peaty: Bruichladdich and Bunnahabhain
Most remote: Bunnahabhain
Most diverse: Bruichladdich (peated and unpeated Scotch and gin)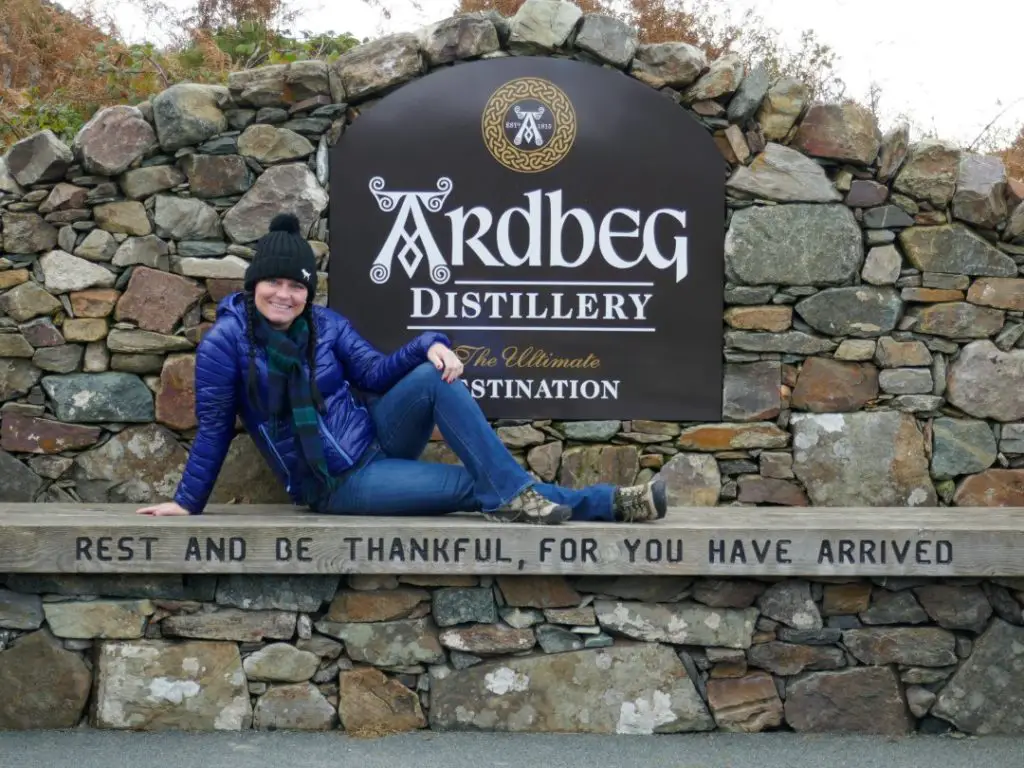 It can be fun to visit all of the distilleries. However, it can get quite expensive and monotonous to participate in more than a couple of distillery tours. With that in mind use the above 'best-of' list to help build the itinerary that makes sense for you.
Things to Do – Couples Vacations on the Isle of Islay
Romance may be found around nearly every corner on the Isle of Islay. However, if you'd like to loosen up before snuggling up you should head over to Lagavulin for the 'Lagavulin Warehouse Demonstration.'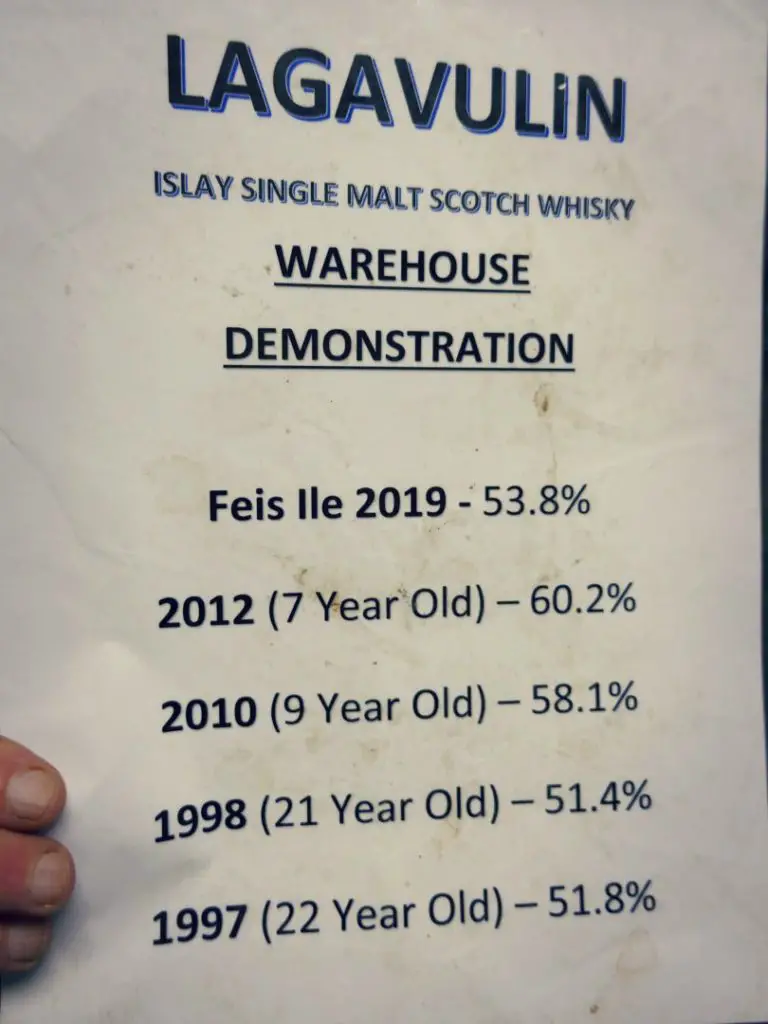 At about 39 USD per person, this excursion is a steal. Many of the whiskies you'll be sampling when bottled retail for well over 200 USD each.
Lagavulin Warehouse Demonstration
This experience walks you through the maturation process and is a great alternative to a distillery tour. Instead, you'll head to the warehouse where the whisky ages. You'll be sampling the whisky right from the cask. The 'Lagavulin Legend,' Ian MacArthur hosts this intimate experience.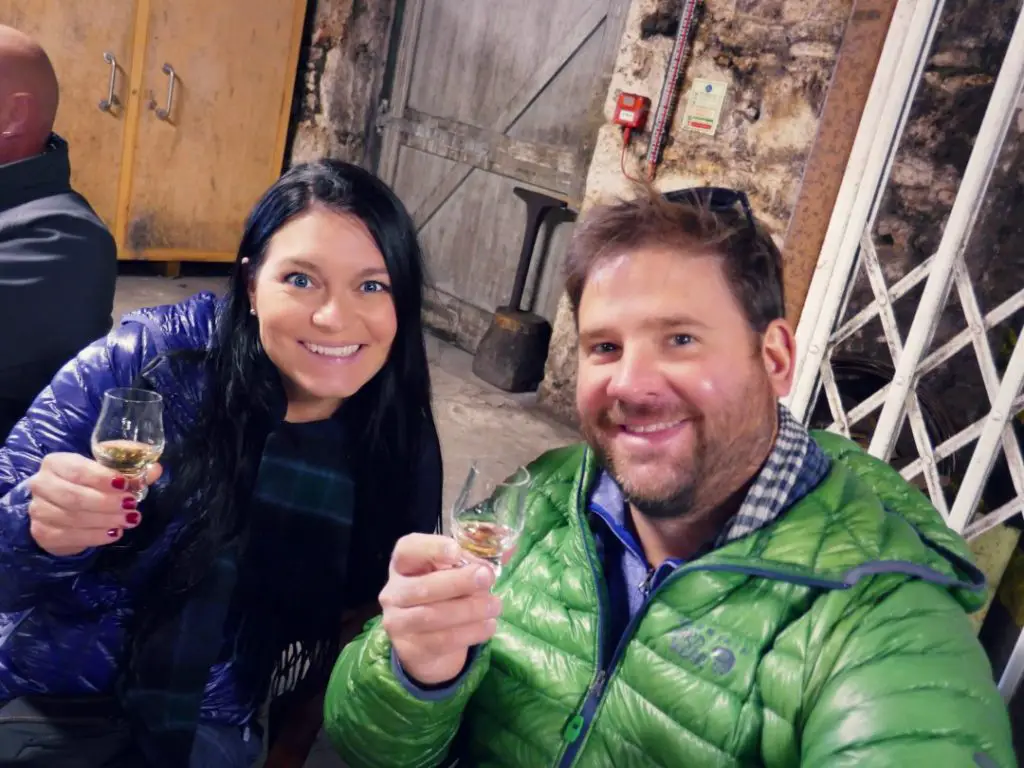 Upon arrival, you'll receive a complimentary dram (or shot). Then during the tasting, you'll receive five more. At the end of the demonstration, you'll have the ability to taste your favorite, one additional time. That's a whopping seven tastings. Don't worry. They give you glass vials for any drams you'd like to drink at a later date.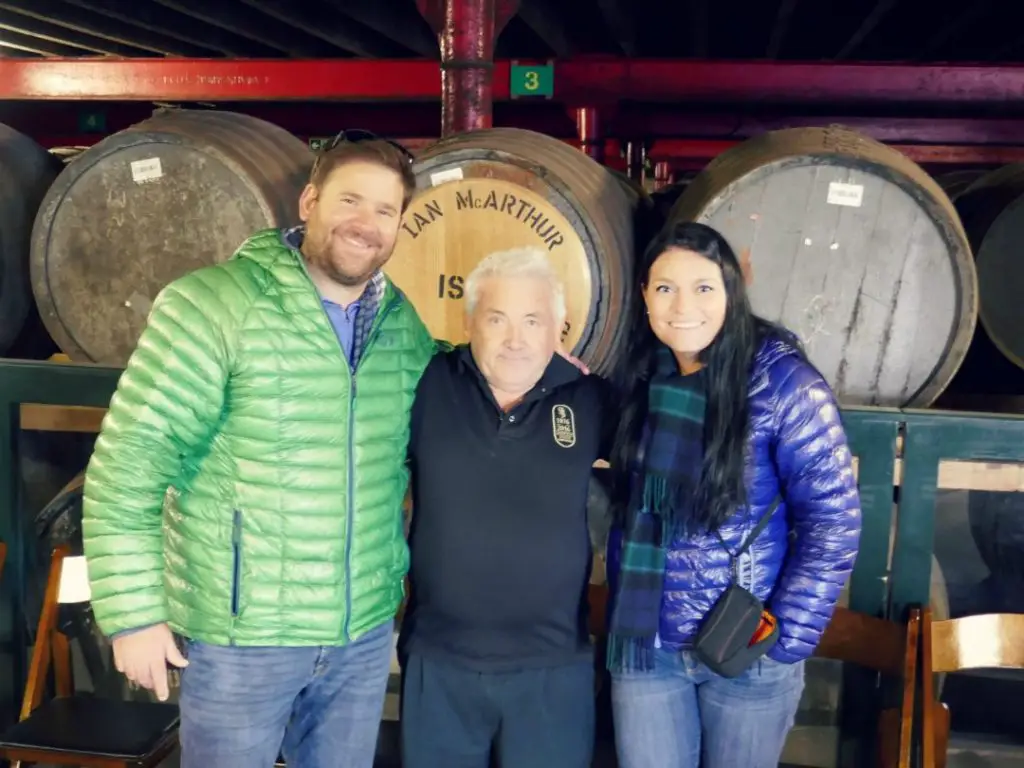 There's no other experience like this on the island and it's considered a 'must-do.' Ian is a hoot and entertains the attendees with his witty stories and Scottish charm.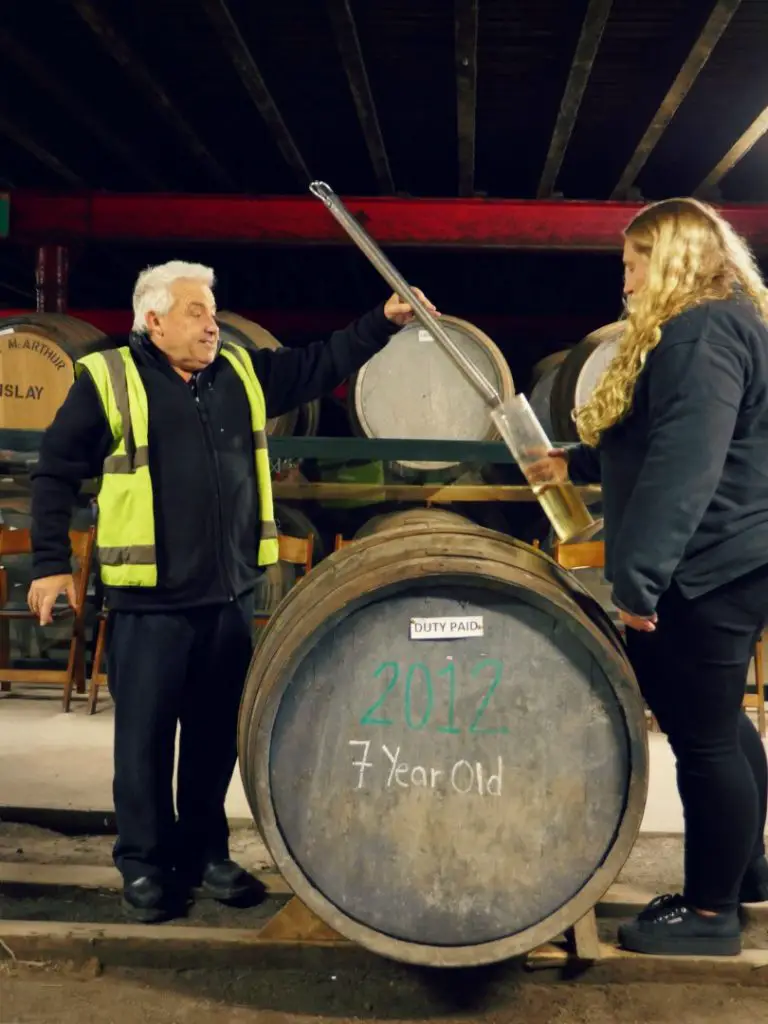 Now that your belly's nice and warm, it's a great time to tour the island. Before departing Lagavulin Distillery make sure to head to the coastline to view Dunyvaig Castle. After the demonstration, you'll probably want to head over to the nearby Ardberg distillery for a romantic lunch.
Persabus Pottery Painting Workshop
While it may never get as hot and steamy as Patrick Swayze and Demi Moore in the movie "Ghost," this pleasurable activity can be quite a romantic endeavor.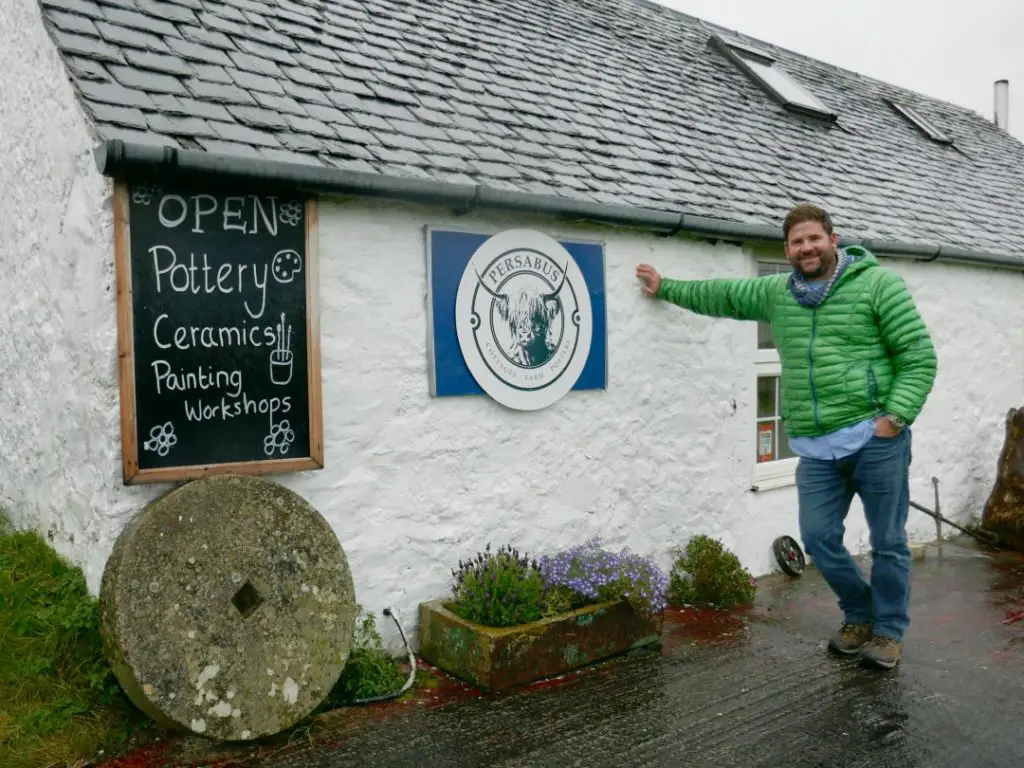 At Persabus Pottery, guests begin with the unglazed bisque shape of their choice. They then have the option to either create their own unique piece or replicate one of Rosemary's masterpieces. Rosemary will guide guests through the personalized workshop—providing tips and tricks to releasing their inner Picasso.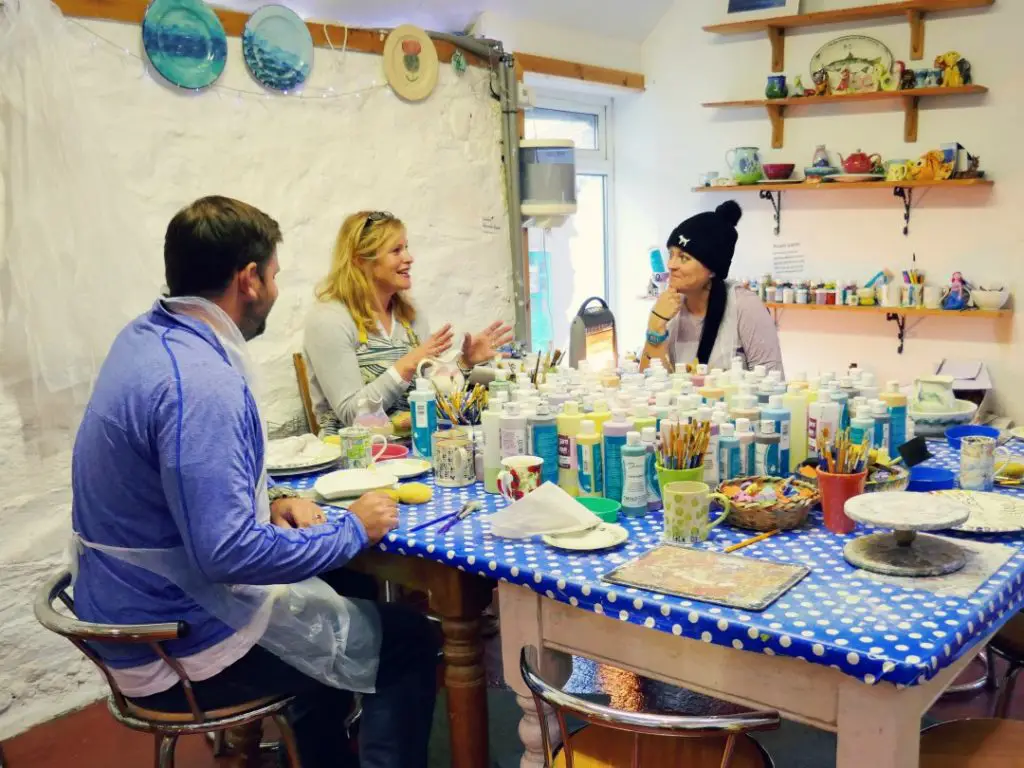 To get utterly romantic, we decided to dedicate and paint a heart-shaped dish to present to each other. Furthermore, the workshop is a great way to translate your love or simply your vacation to the Isle of Islay into a meaningful memento.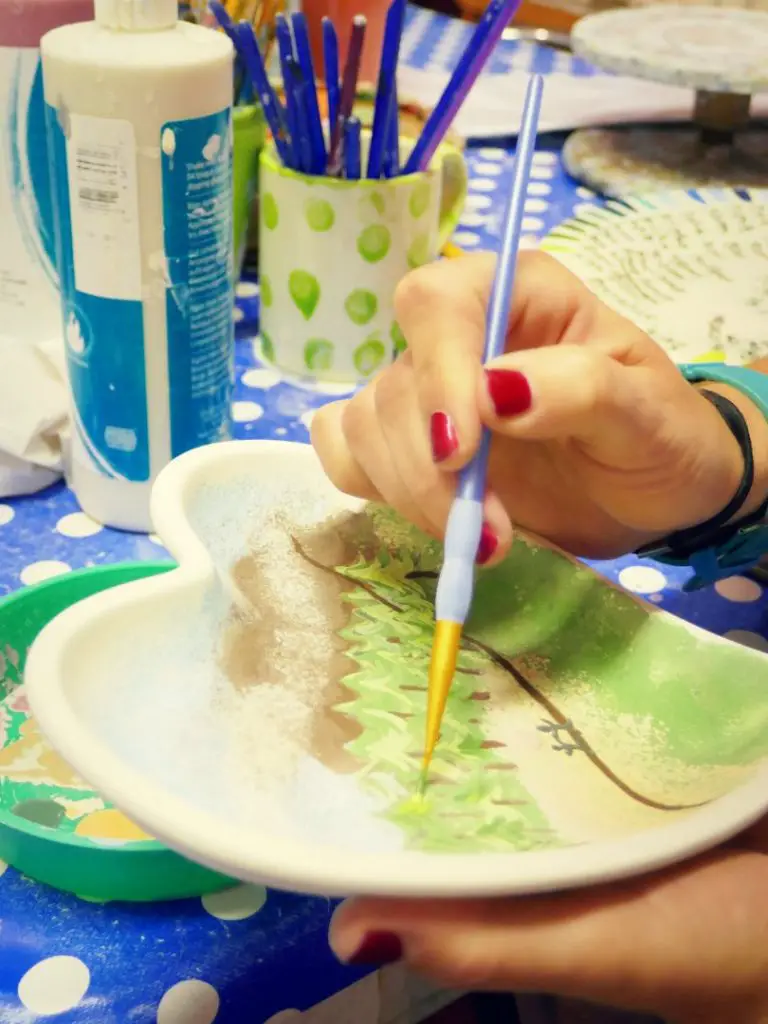 We sat across the table from one another and didn't allow any snooping so that it would be a total surprise. On the back of the heart dish, we each wrote a message along with the date and location.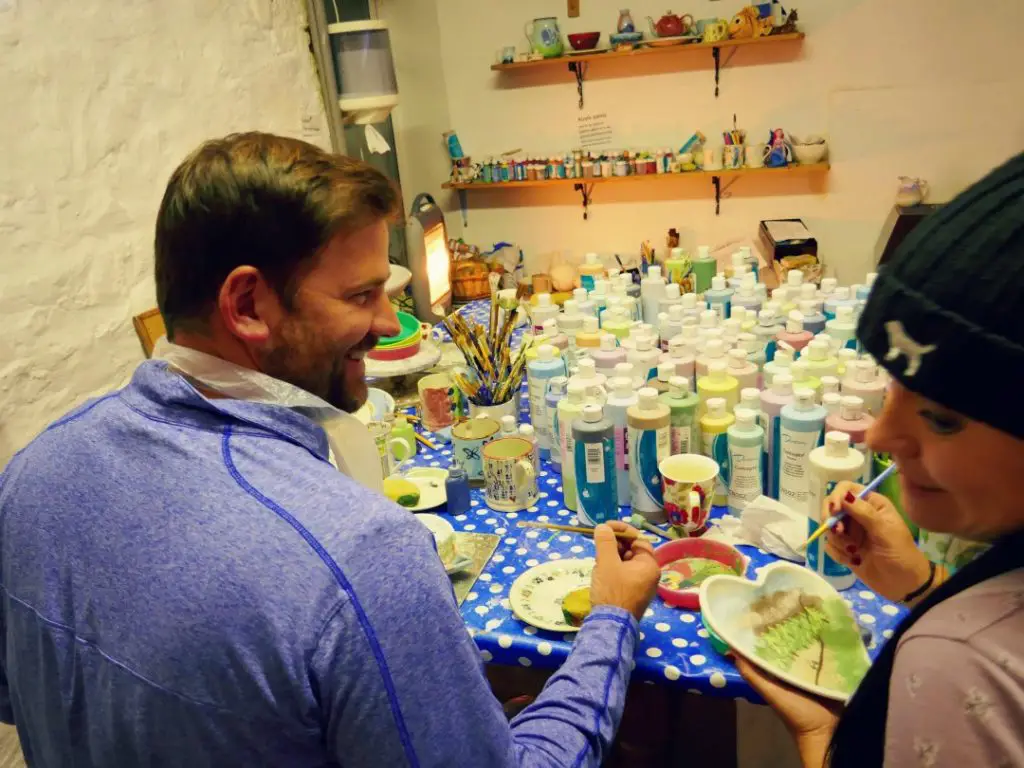 During the workshop, Rosemary discussed her life on the island with her husband Donald, who she refers to as "The Happy Farmer." As we all worked, we fell into an easy conversation over hot coffee while enjoying the warmth of the fire. We also appreciated Rosemary's local recommendations as to how we should spend our time on Islay.
Adding the Finishing Touches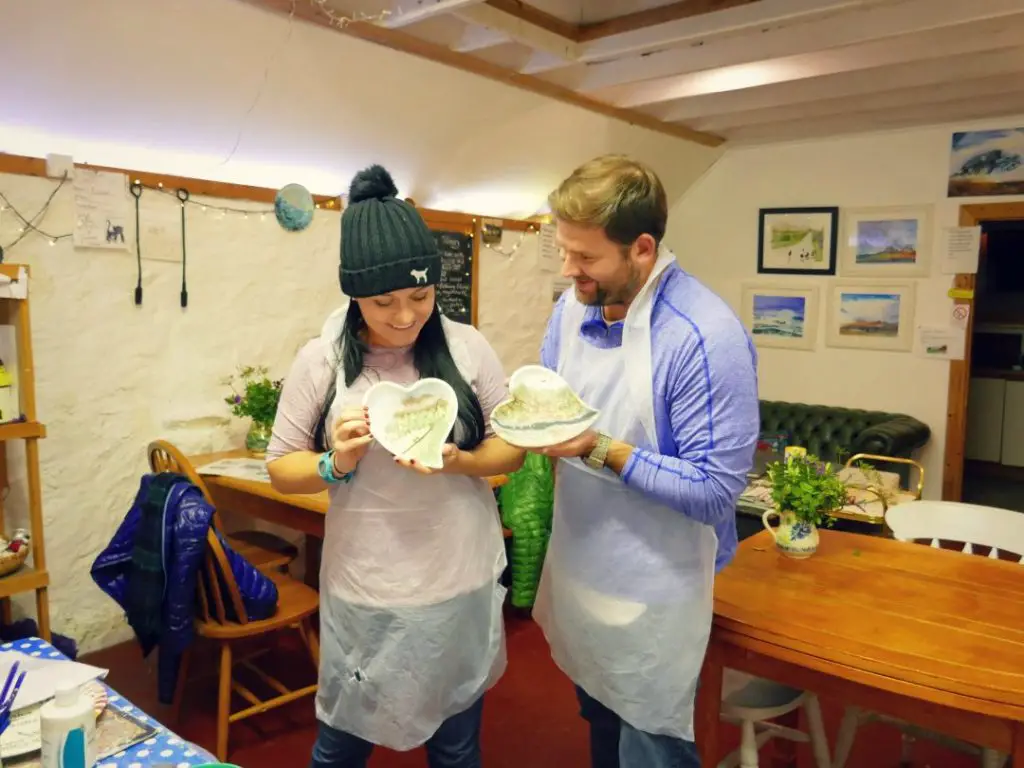 Our finished pieces were then glazed and fired. Keep in mind that it takes at least 24 hours for this process to take place so make sure you complete the painting at the beginning of your trip. We were incredibly pleased with how well the dishes turned out—such great souvenirs!
Persabus Farm Jewelry Workshop
Charlotte Hannett runs a small jewelry workshop in the building next to the Persabus Pottery Painting Workshop. It's here that you can purchase jewelry that she designs and makes by hand.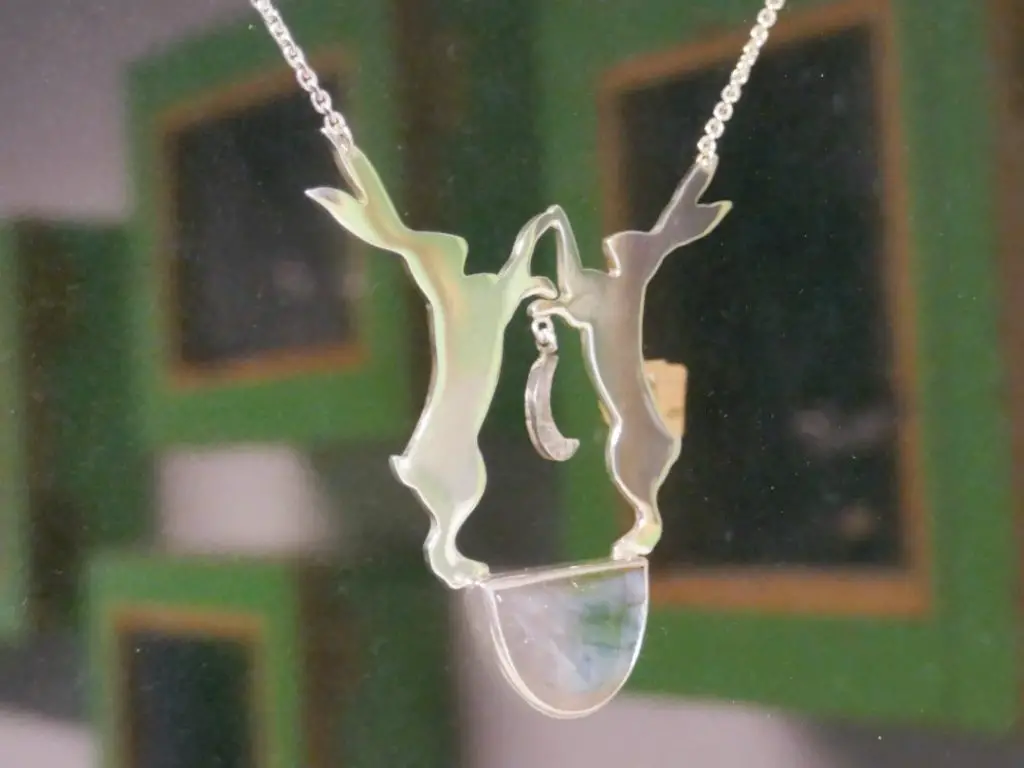 If you're celebrating a special occasion, there's probably no better souvenir than a piece of handcrafted jewelry. Charlotte told us that she loves Islay so much that she even spent her honeymoon here on the island. Our suggestion? Consider remembering your time in Islay by bringing home a custom piece of handmade jewelry as a special memento.
Machir Bay and Saligo Bay
There are many beautiful beaches on the Isle of Islay. However, two of the most dramatic are Machir Bay (also known as Machrie Beach or Kilchoman Beach) and Saligo Bay. Machrie Beach is easy to reach via a short walk from the parking lot.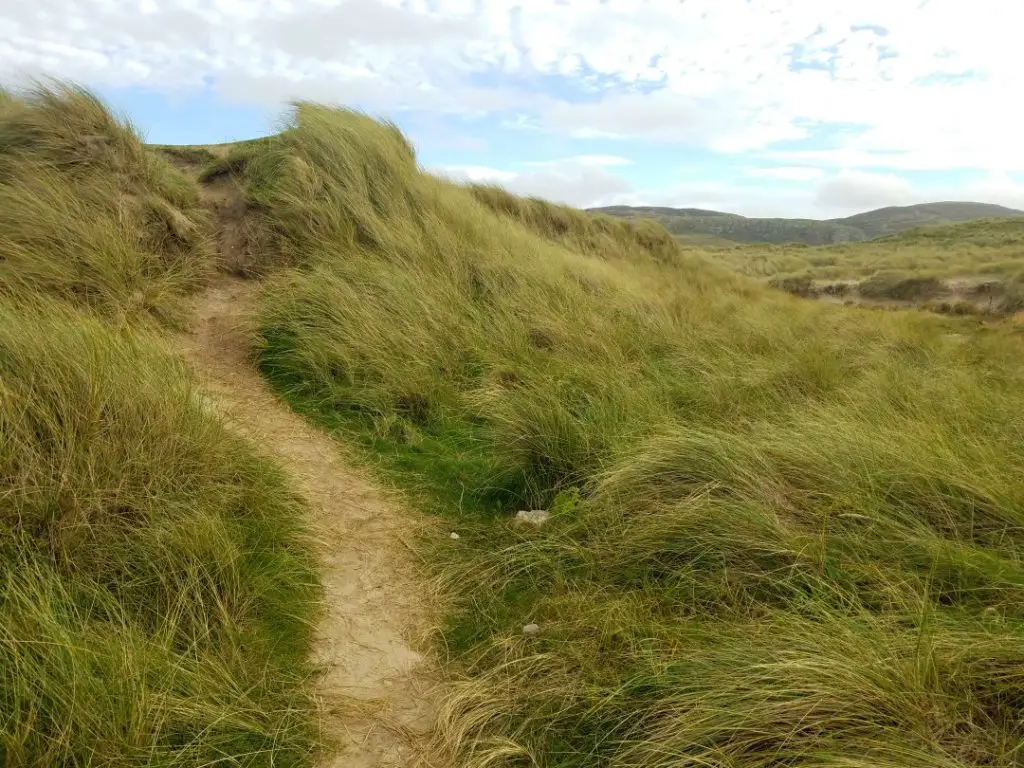 The wide beach is about 1.5 miles long and is the ideal place for a walk or a sunset. Make sure to touch the lovely white sand which is incredibly soft and fine. Nearby sights include the Old Kilchoman Parish Church, Grannies Rock, Dun Chroisprig (Iron Age fort), and Kilchiaran Bay.
Many of the locals consider Saligo Bay to be the most beautiful, especially for photography. The angle that the light hits the beach here apparently creates the most interesting lighting conditions. The large rocks on the beach add character and depth to the photography. Just a bit north of the bay is the Sleeping Giant rock formation.
Best Places for a Romantic Walk
The Isle of Islay is a wonderful place to walk because it's so quiet and remote. Also, there's so little traffic so it's easy to access trailheads.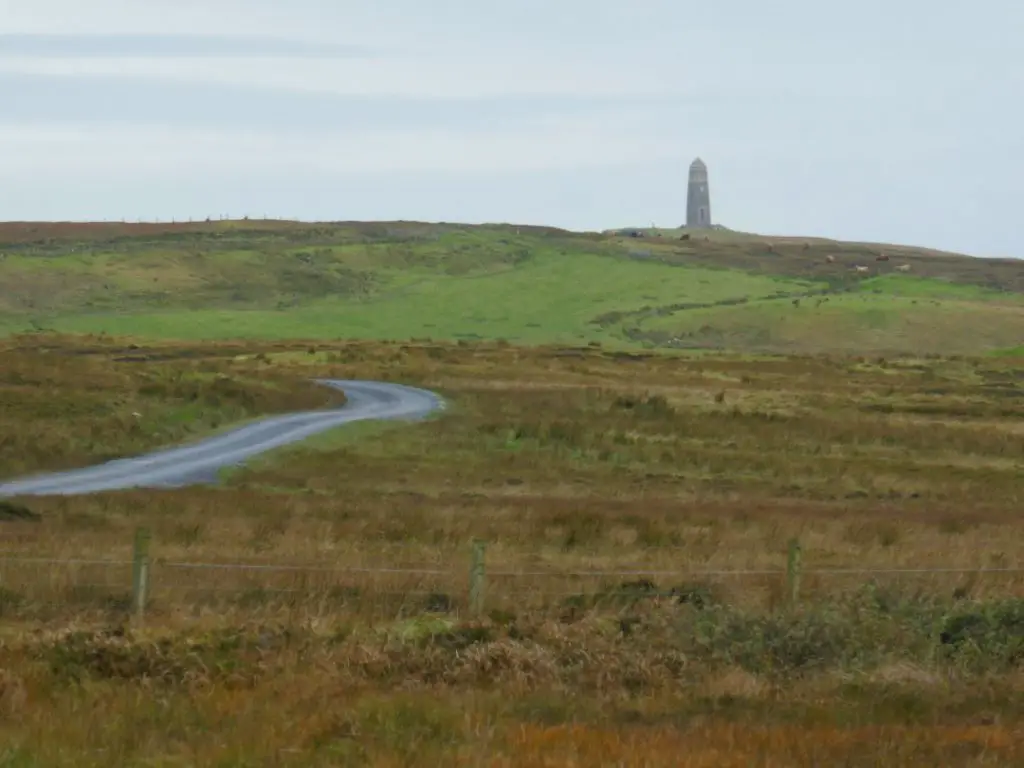 American Monument: This two-mile roundtrip walk will take about 1.5 hours to complete. American Monument sits atop a high cliff on the Oa (pronounced Oh) Peninsula. Built in 1920, and dedicated by Woodrow Wilson, the American monument commemorates two ships (the Tuscania and Otranto) that sank off the nearby coast. From a height of about 450 feet, the short trek provides walkers with some of the most spectacular views of Islay and the Atlantic Ocean.
Three Distilleries Pathway: This relatively new walk covers 4 miles and begins in Port Ellen and links the popular distilleries of Laphroaig, Lagavulin, and Ardbeg. You can cut this walk in half by only visiting the distilleries.
Soldier's Rock and Kintra Circuit: If you're looking for a challenging walk then this may be the one for you. Covering 5 miles and taking about four hours this walk traverses through moorland, derelict villages, and you'll need to cross burns and fences. The view of Soldier's Rock and the coastline are spectacular though and make it well worth the trek.
RSPB Loch Gruinart Nature Reserve: This is probably the most diverse section of Islay. The reserve provides walkers with the opportunity to see a vast array of Hebridean birds and other wildlife. It's considered an extremely special reserve because it's on a working farm. Guided walks are available.
Kildalton High Cross and Kilnave Chapel
The magnificent 8th-century Kildalton High Cross stands next to the ruins of the Kildaton Church. It was erected about 1,300 years ago and stands in its original location.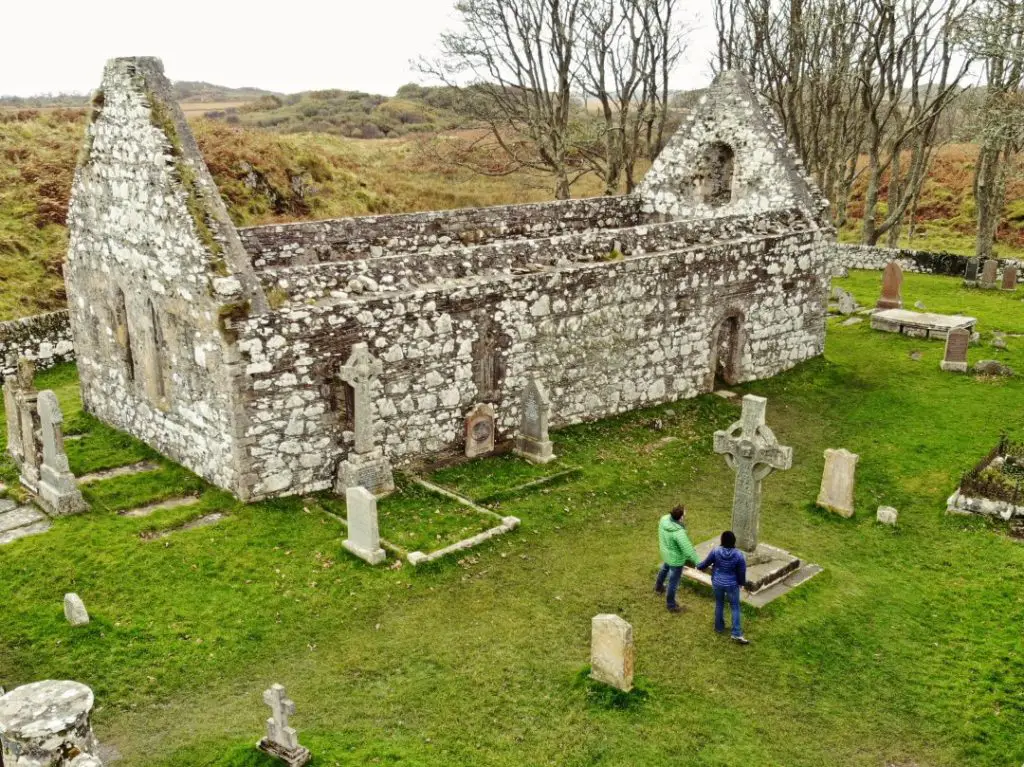 Look closely and you'll see carvings of angels, David and the Lion, birds eating grapes, Cain killing Abel, and the Virgin Mary with Christ. Across the street, on unconsecrated grounds is the Thief's Cross.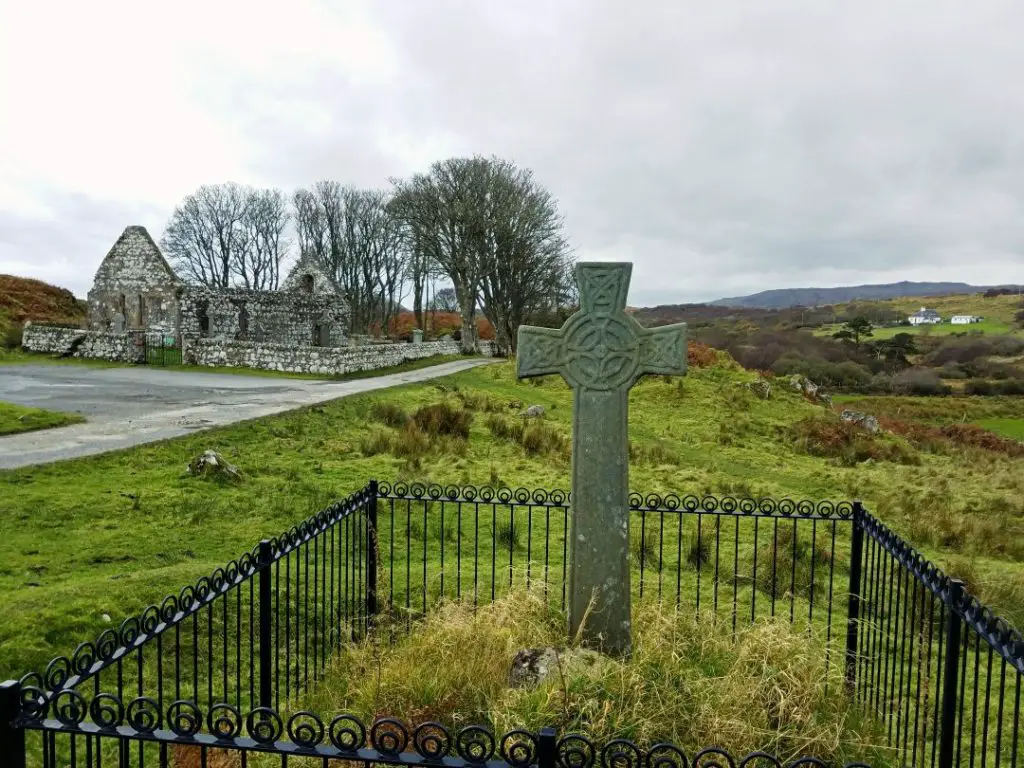 Both crosses are considered two of the most impressive in all of Scotland. Another beautiful cross to see is located at the Kilnave Chapel, in the northwest of Islay. Most visitors to the area are on their way to the nearby RSPB visitor center and many overlook this historical gem.
It's estimated that the Kilnave chapel was built during the late 1300s or early 1400s. The chapel was also the location for the Battle of Traigh Ghruinneart, fought between the Clan Donald and Clan Maclean.
Finlaggan
Finlaggan may not seem like spectacular ruins or relics at first glance. However, it provides an interesting glimpse into the world of the late middle ages.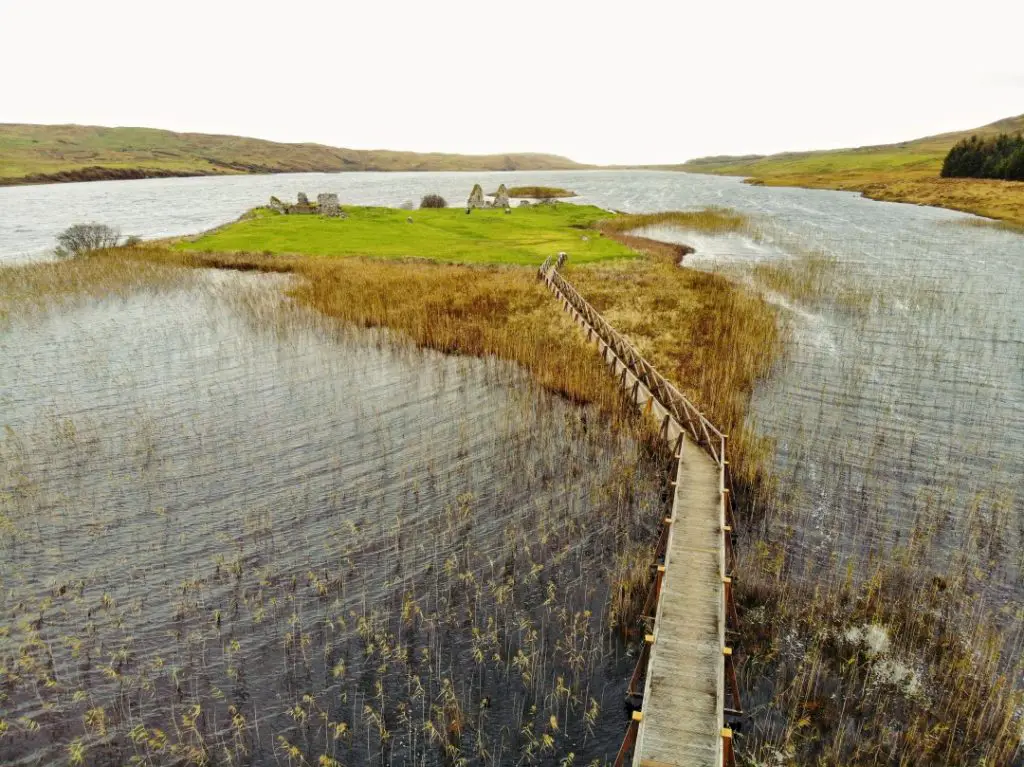 Finlaggan was the center of the Lordship of the Isles. During the middle ages, this was the site where the inauguration of the MacDonald Lords of the Isles took place.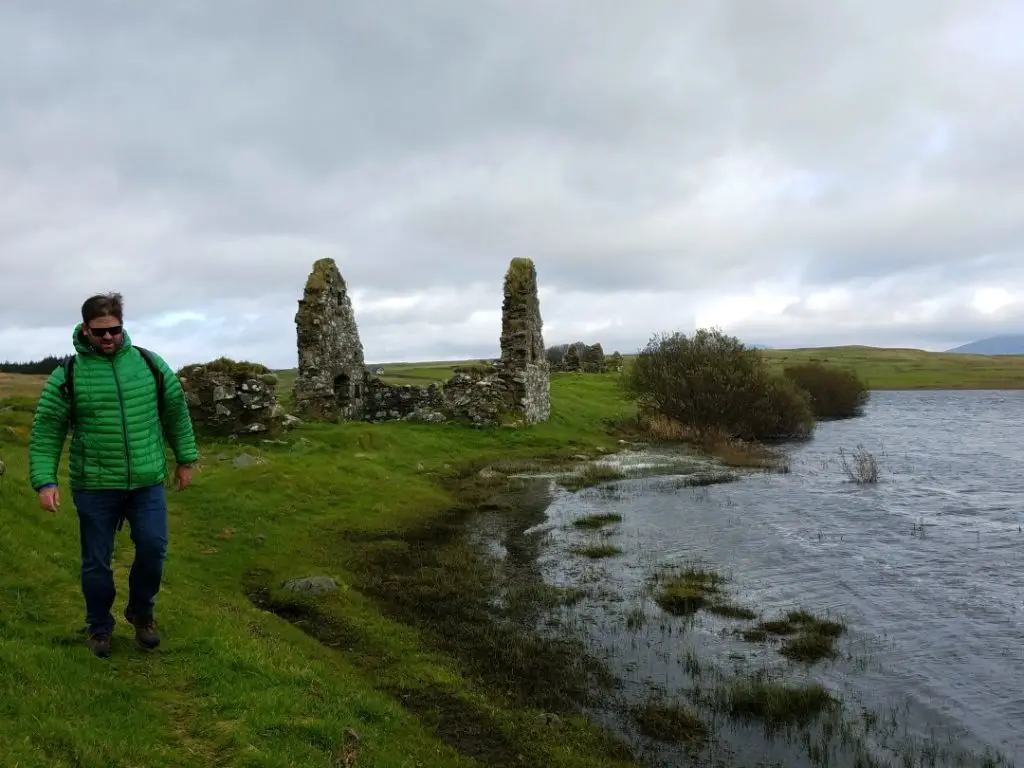 There are a few remains, some stone ruins, and some grave markers. However, the museum is full of interesting information which includes high-tech virtual reality reconstruction of the site. Finally, all of this sits in a beautiful heather moor setting. Brilliant!
Other Notable Things to See and Do
Museum of Islay Life: Showcases life on Islay from the Mesolithic period to the modern day.
Islay Woollen Mill: Cloth designed by the Islay Woollen Mill has been featured in many Hollywood blockbusters including Rob Roy, Forrest Gump, and Braveheart.
The Singing Sands & Carraig Fhada: The soles of your shoes will sing when walking on the Singing Sands. Make sure to see the nearby Carraig Fhada Lighthouse.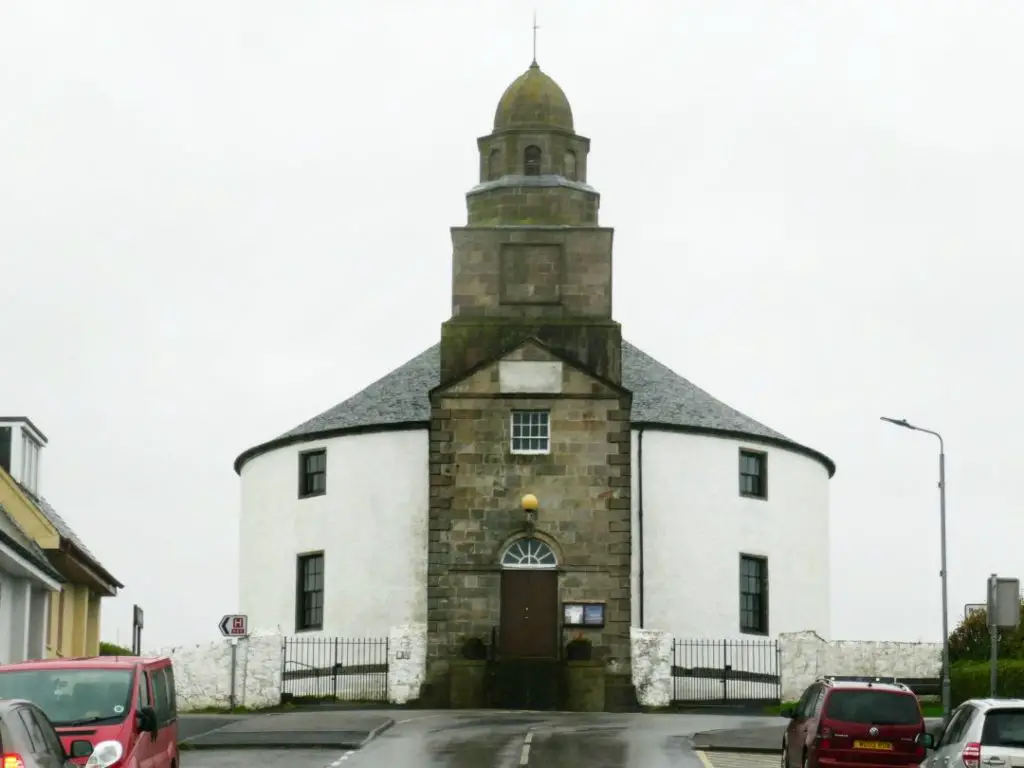 The Round Church: Impossible to miss. Overlooks the town of Bowmore.
Islay House Community Gardens: Free to visit the garden where vegetables, fruits, and herbs for the Islay community are grown.
Islay Wildlife Information & Visitor Center: Interesting exhibits and tips on how to spot the local wildlife.
Machrie Golf Course: Considered by many to be one of the best courses in all of Scotland.
Where to Stay
The Glenegedale House feels quite luxurious. We enjoyed a short but sweet stay at the Glenegedale House with Emma and Graeme.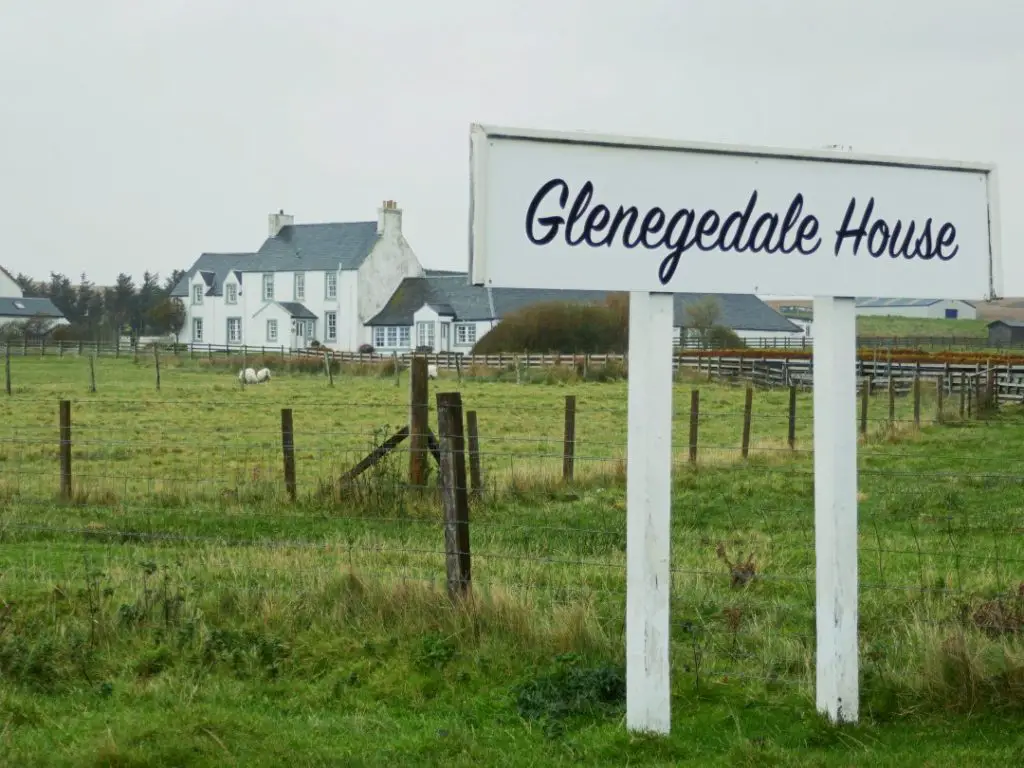 Is there a more lovely couple in all of Scotland than Emma and Graeme? Doubt it. The location is perfect and the hospitality is simply wonderful.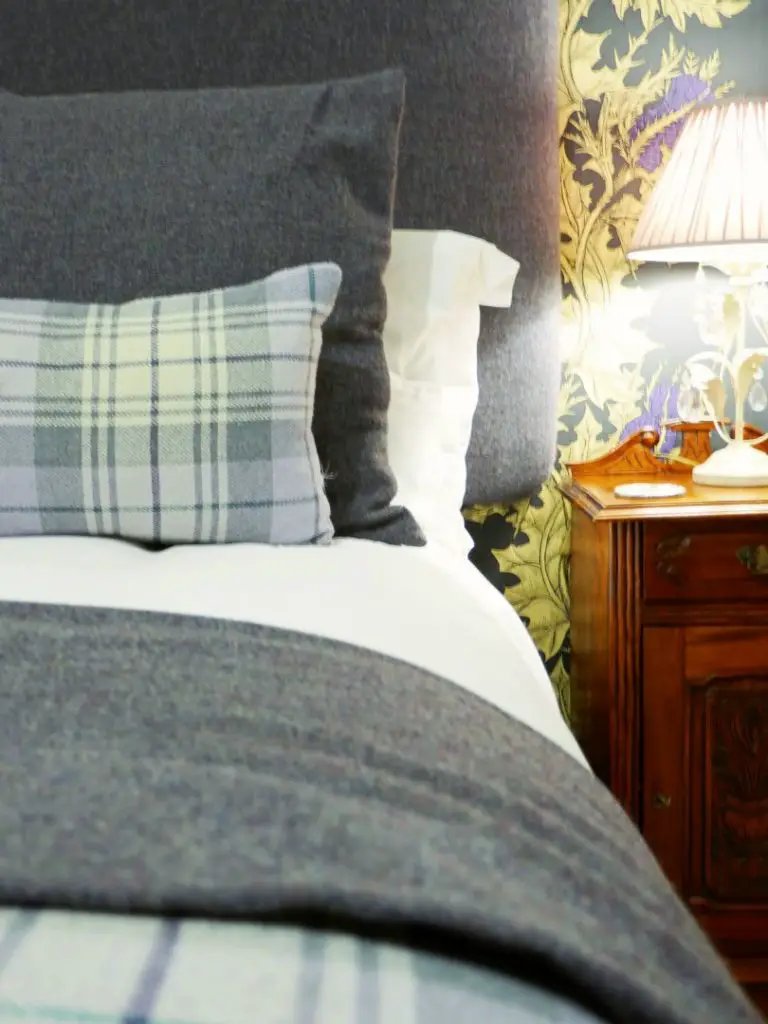 They were recently awarded as the most hospitable B&B or Guesthouse in the Highlands and Islands.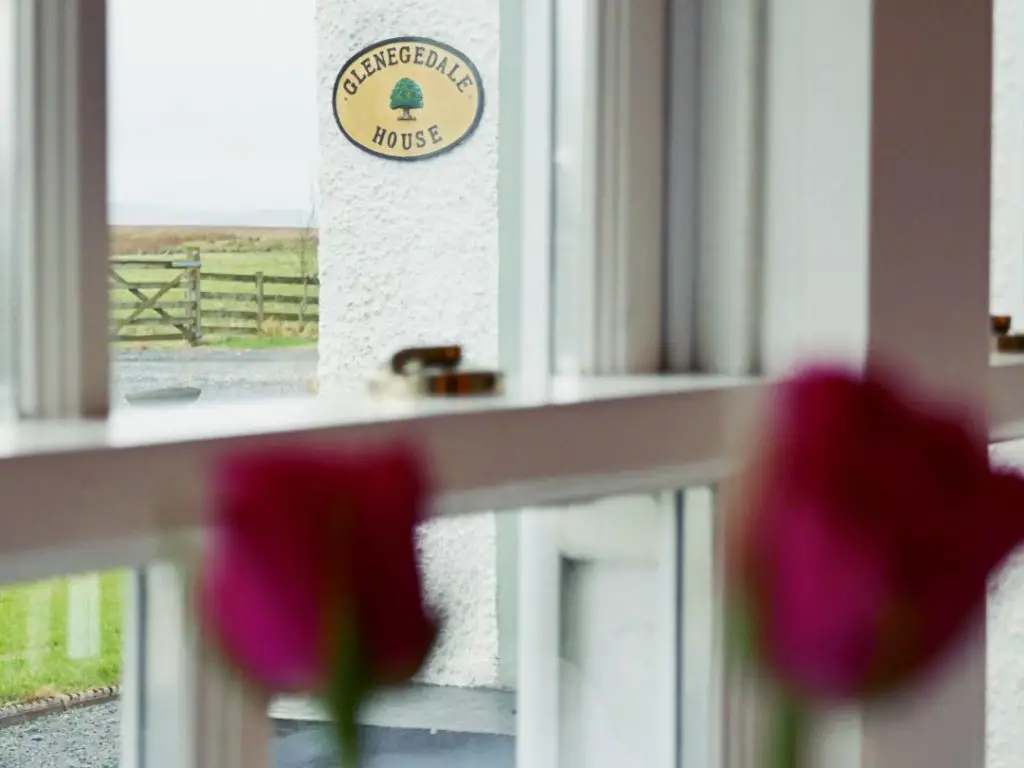 Glenegedale House is an outstanding luxury guesthouse because it's one of those places that make your visit feel like it's a special occasion.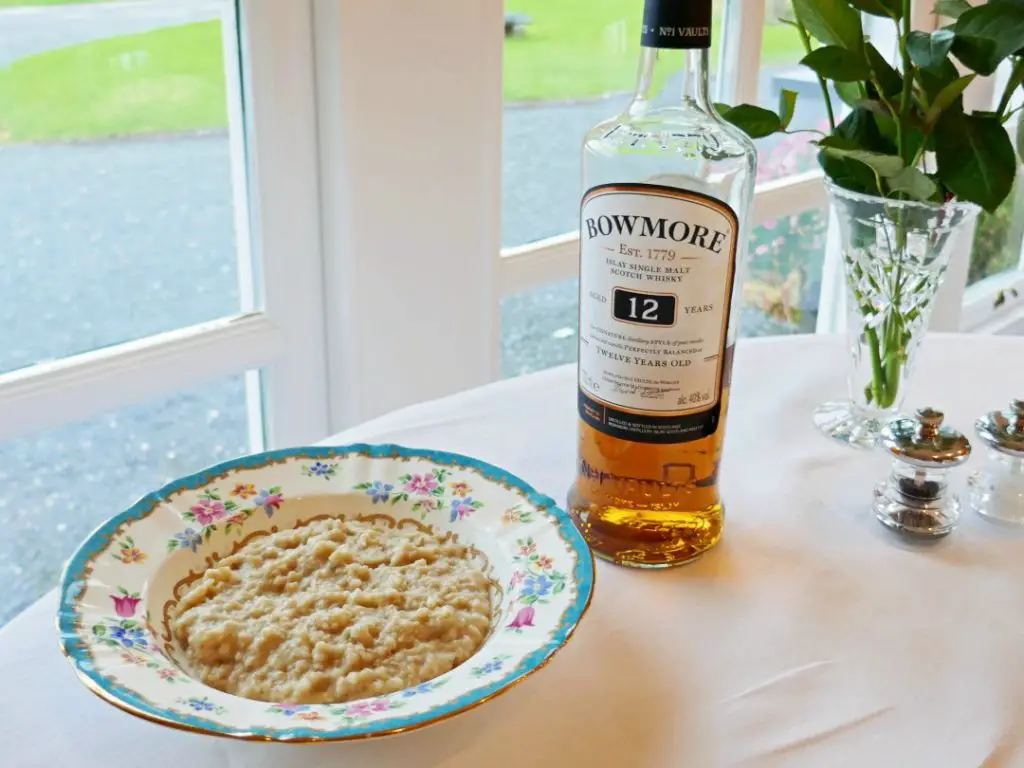 Let's put it this way, even Paul Hollywood (of GBBO) would be impressed with Graeme's homemade fresh baked bread.
Glenegedale House Scottish Sharing Platter
Don't forget to ask about starting the day with some Islay Scotch and porridge or finishing the night with a traditional Scottish Stave Sharing Platter. Highlights include Isle Of Kintyre Laphroaig Mature Cheddar, Argyll Smoker's salmon both cold and kiln roasted over barrel chips, and hot and cold smoked salmon from Argyll Smokery in Dunoon.
Budget: Storm Pods—consider a bit of glamping while on the Isle of Islay.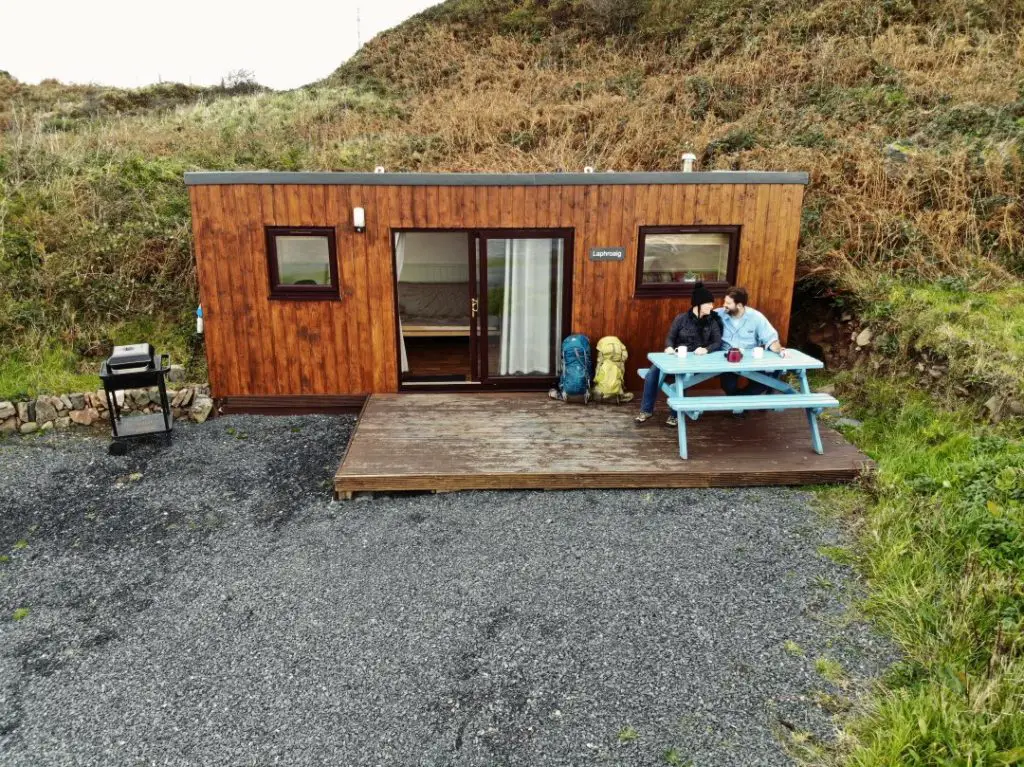 The Storm-pods provide the feeling like you're camping right on the beach, with all of the creature comforts that only a home can provide.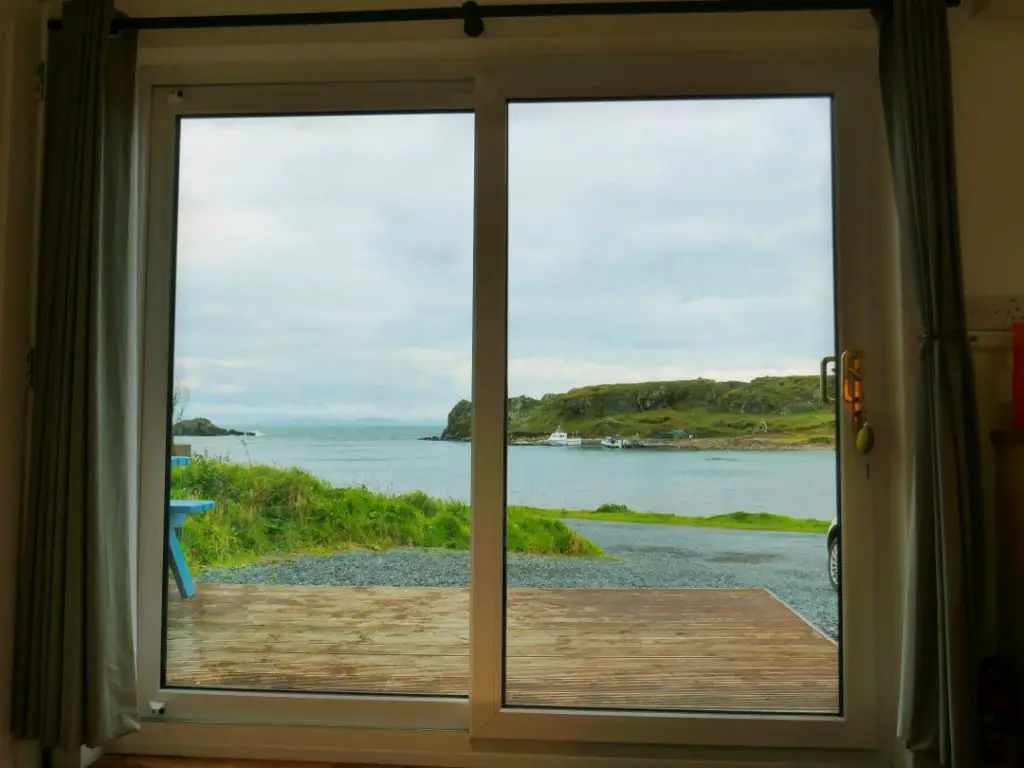 We stayed in the Laphroaig pod which was named after the nearby whisky distillery. All of the pods provide stunning views of Lagavulin Bay.
Where to Eat
The Islay Hotel: We went a bit crazy with the 'Beef and Reef' at The Islay Hotel but in our defense, we had to.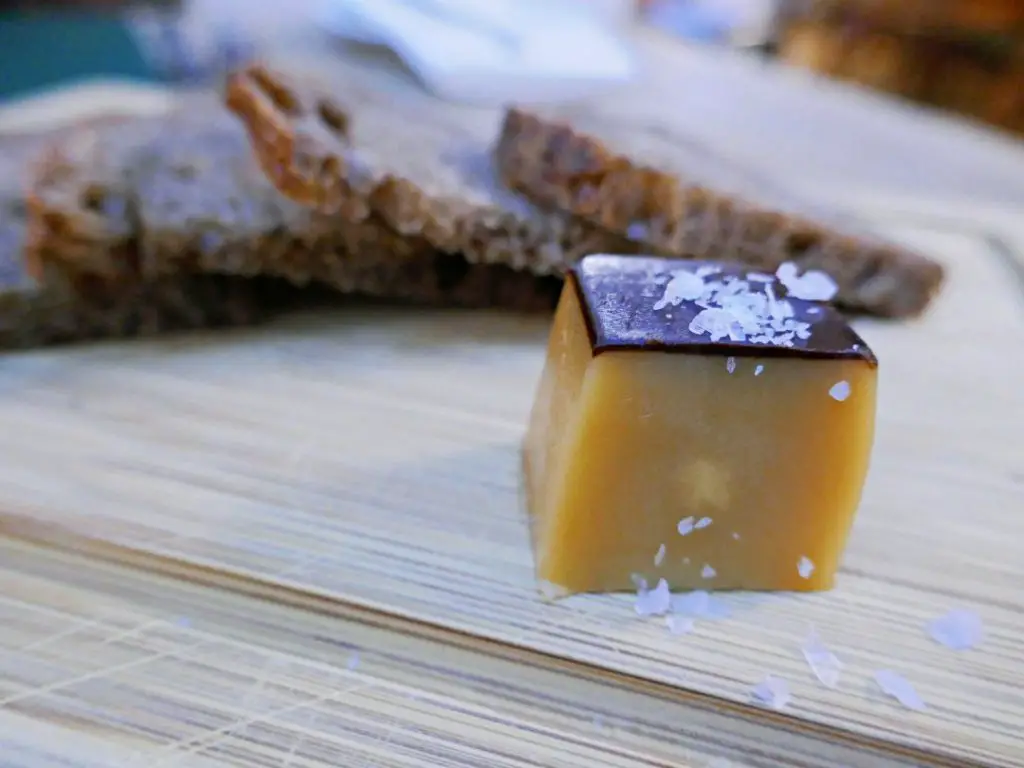 You see, all of the ingredients are locally sourced and produced.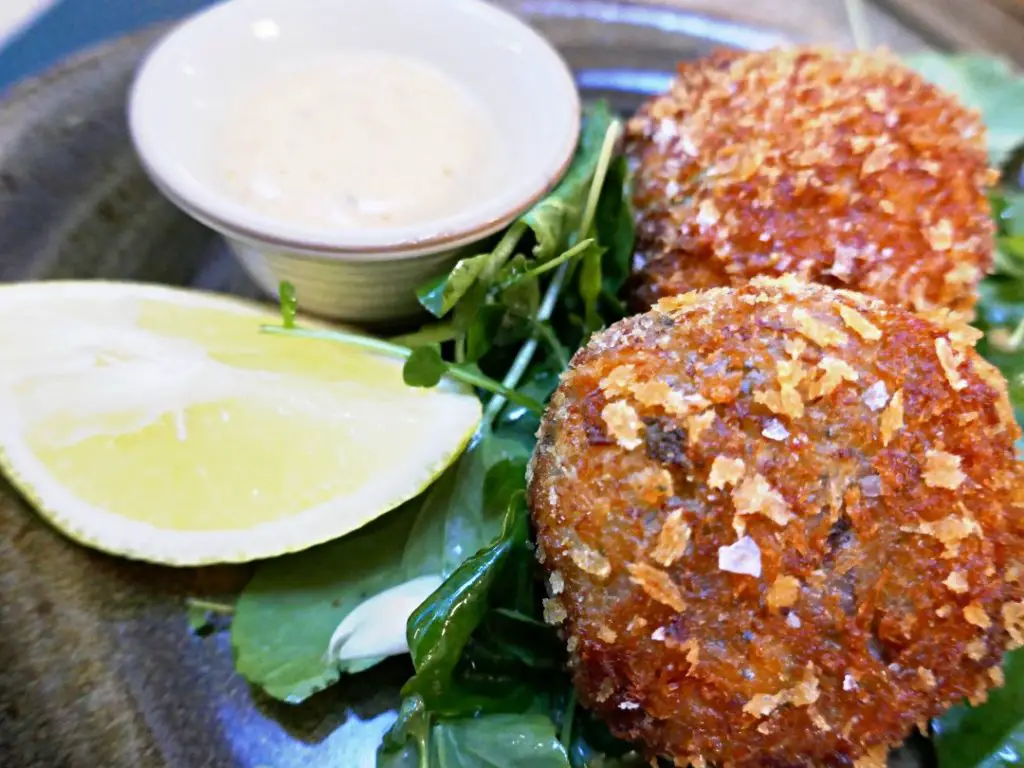 The seafood comes from local fishermen, who are a part of the Islay community and friends of the hotel. The beef comes from locally sourced cows.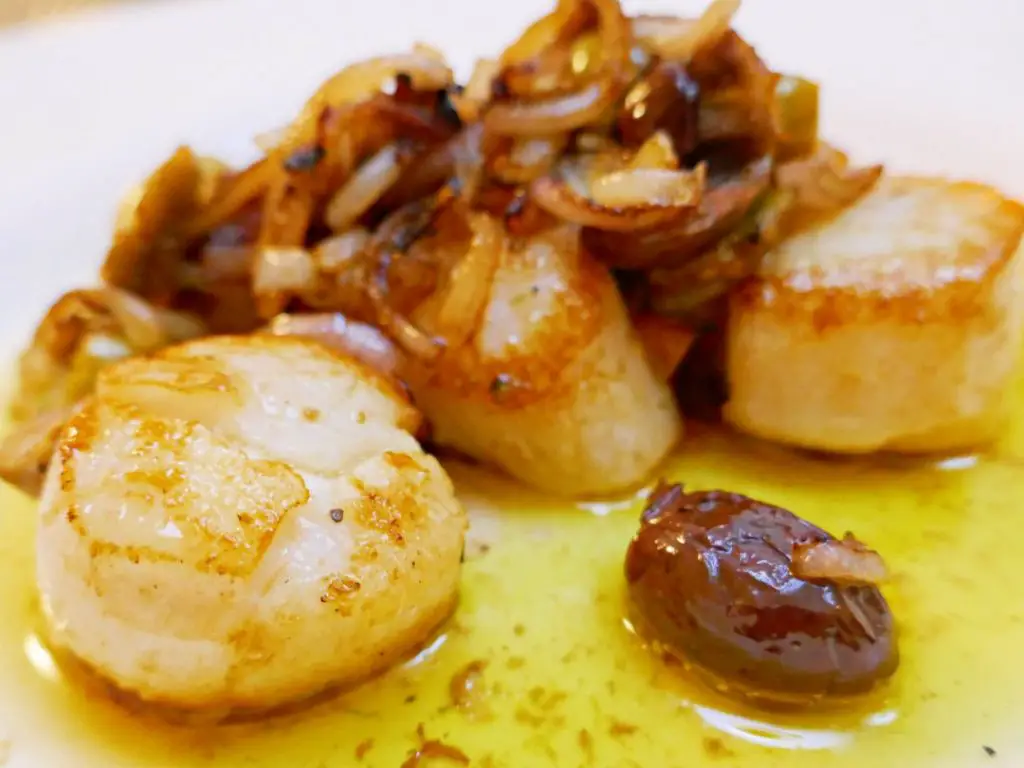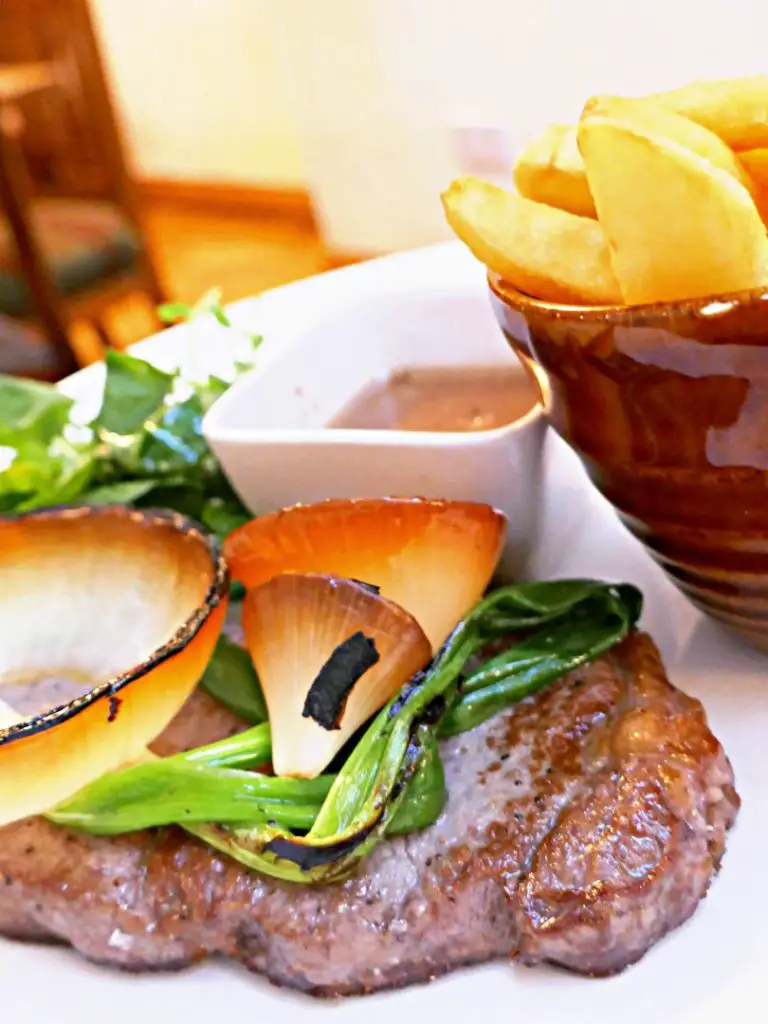 Sirloin Steak, Herb Crusted Tomato, Watercress, Fries, Peppercorn Sauce. We have to make a special shout-out to a couple of truly spectacular dishes—the crab cakes, scallops, and caramelized butter were some of the best plates we've had in the world.
Getting to Islay
The easiest and fastest way to reach the Isle of Islay is to fly in direct from Glasgow. With only three flights per day, it's a good idea to book the thirty-minute flight early. The Glenegedale House is directly across the street from the airport and car rental, making it a convenient location on the island.
The slower and more scenic route is to ferry in from Kennacraig, a few miles south of Tarbert on the Kintyre peninsula. The one-way trip will take about two hours.
Thinking About Extending Your Vacation?
Thinking about extending your vacation? Consider heading over to the Crinan Hotel. It sits on one of the most stunning sites in all of Scotland. Crinan is famous for its location on the Crinan Canal, which is nicknamed 'Scotland's most beautiful shortcut.'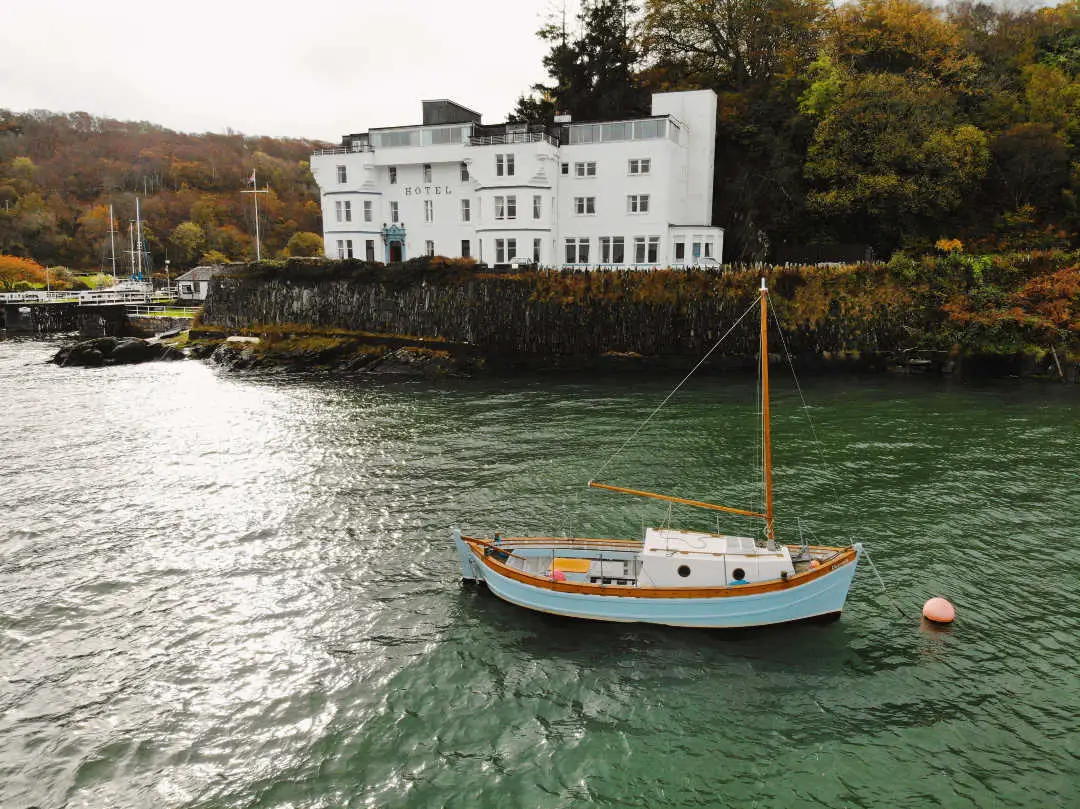 This is a very special place in Scotland. There is a marvelous network of lock gates, paths, and the most darling lighthouse we've ever seen. It looks like something out of a Department 56 village! Let's not forget about the Crinan Hotel which offers stunning views of Loch Crinan and the Duntrune Castle.
The Ross family has owned the Crinan Hotel for nearly 50 years. This family of artists showcases their pieces around the property. During our overnight, we appreciated "sleeping among the art."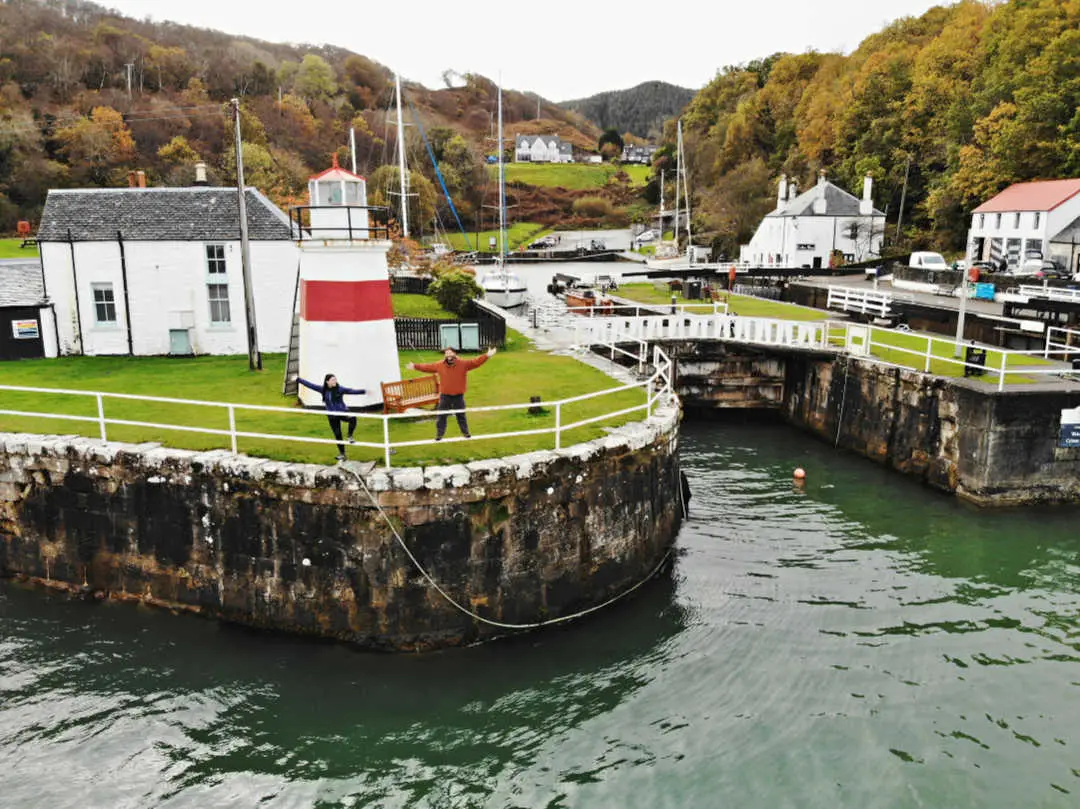 It's an interesting area of Scotland to explore for a day or two. The waterfront setting made it the ideal time to enjoy some of Scotland's outstanding seafood. The Crinan Seafood Bar had some of the best seafood stew we've ever eaten.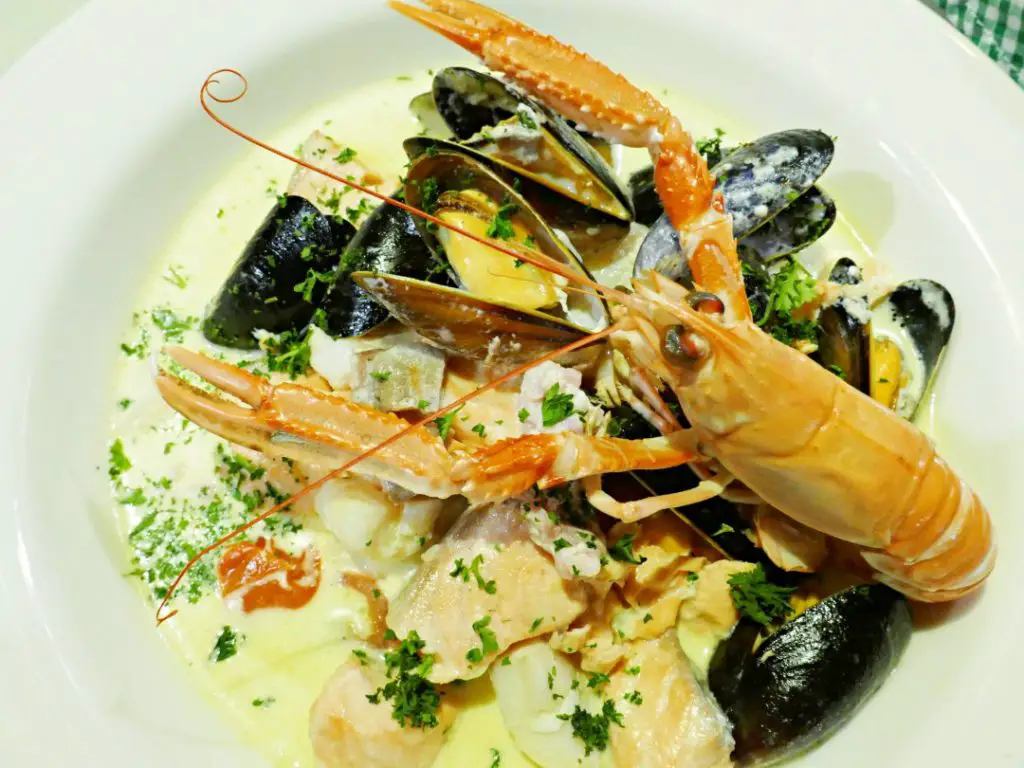 Epic Rainbow
Following our overnight stay, we were just about to depart the Crinan Hotel, when a member of the staff came out to our car with a piece of paper.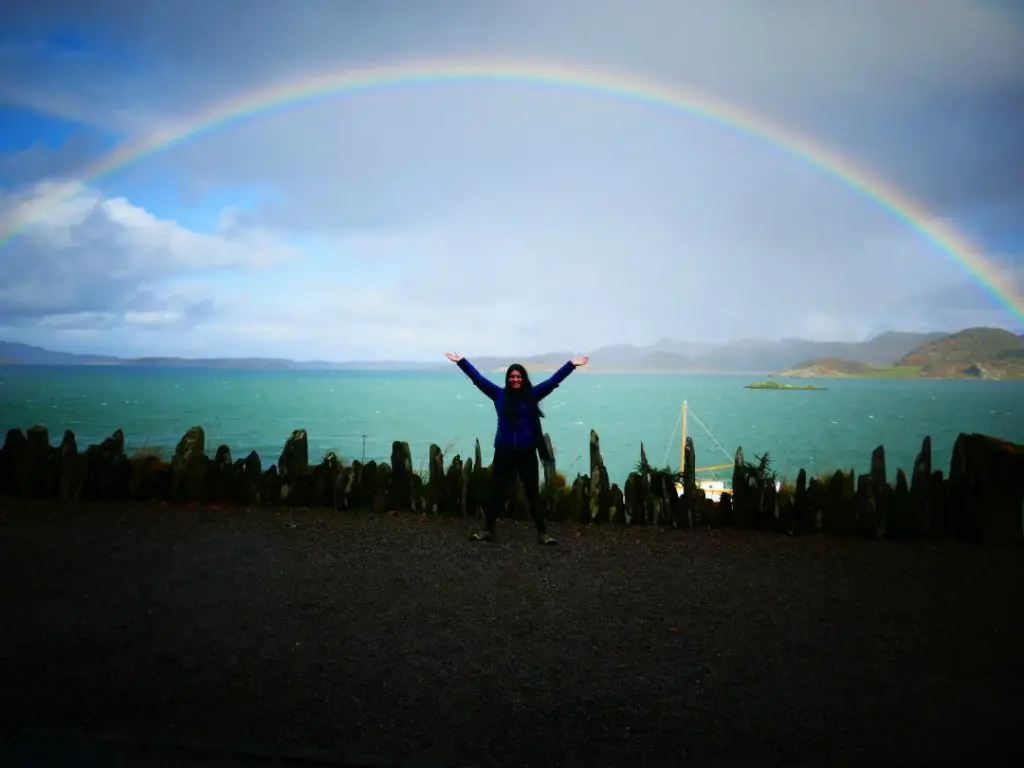 We immediately knew we forgot to pay our bar tab. We hurried back in with exclamations of, "We are so sorry!"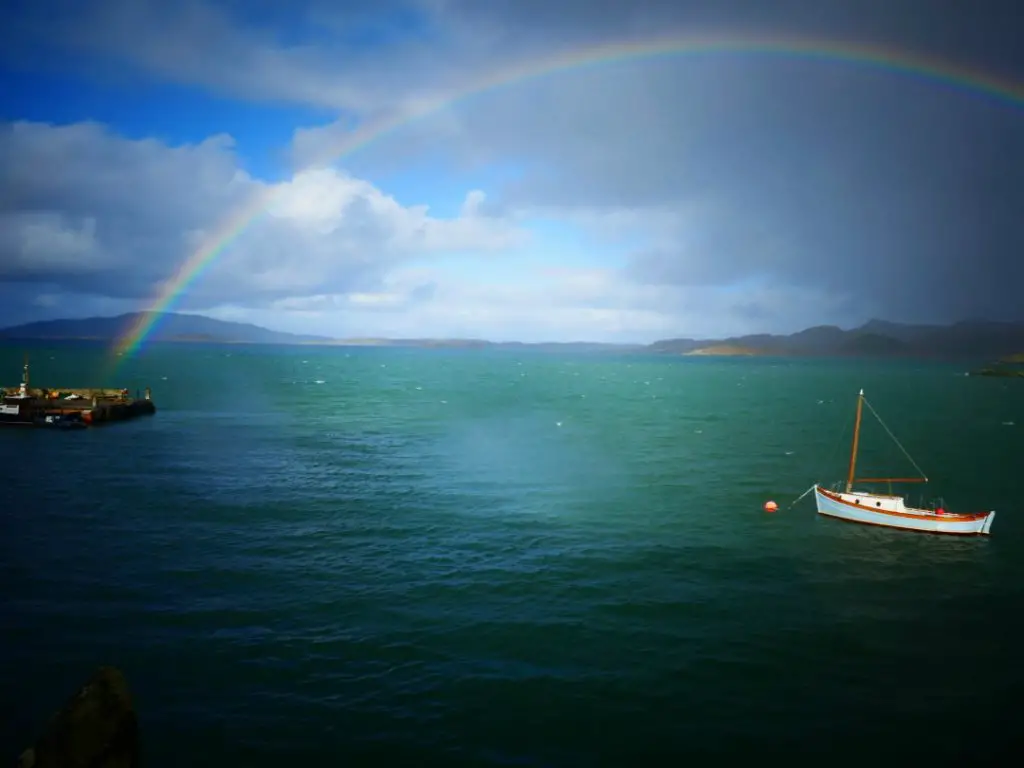 On our way out, the most amazing bright rainbow appeared directly in front of us. As we savored the view with the hotel staff, we all shared a laugh when Harry joked, "Thank God we forgot to pay our bar tab." It was the perfect ending to our three-week tour around Scotland.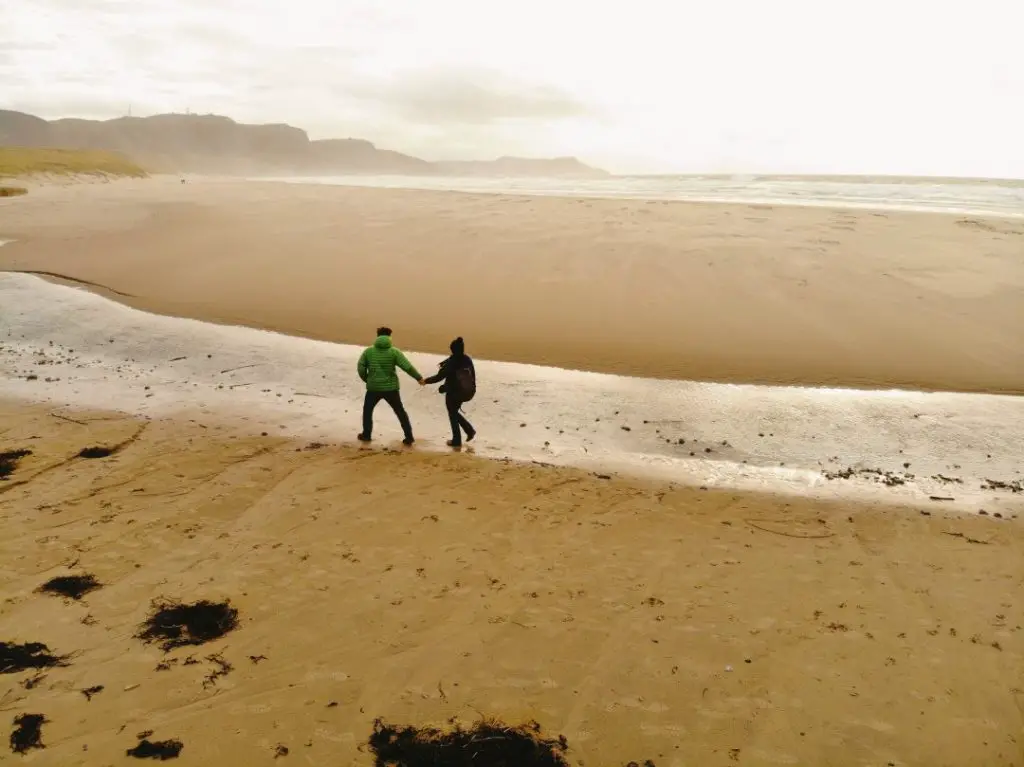 Have you visited the Isle of Islay in Scotland? Please share your experience or questions in the comments section.