Each year, we spend time reflecting on a year of experiences by writing a year-end review. Truth be told, I am forcing myself to keep up the tradition this year. Ah, 2020—what a disastrous year on so many levels. 
It's hard to enthusiastically write about travel when the world has practically been at a stand-still for almost a year. Each month, we try to stay positive and think that this insanity has to be over soon. Unfortunately, the lockdowns and travel bans just continue. How long will it take for people to wake up and finally demand an end to all this? 
Our 2020 Mission | Kicking Off the Radical Twenties
For us, 2020 was a quest for normalcy. As the world fell victim to oppressive leadership, we did everything in our power to not succumb to the madness. We stayed informed but questioned everything. It quickly became evident who were the self-thinkers and who were the sheep. In the end, we trusted our gut and marched to the beat of our own drum.
Let's Get on the Road
The first case of COVID was documented in Chicago on January 24, 2020. We witnessed the growing uncertainty and the unsettling tone that was quickly sweeping across the United States. Cases began popping up along America's coasts.
The media quickly took advantage of the moment, inciting fear and panic using charts and graphs to warn of outlandish death toll numbers. 
By March 9 we were on the road, headed toward America's more stable heartland. Only a few weeks later, on March 20, the Illinois Governor mandated the state's first stay-at-home order. By then, we were already a long way from 'The Windy City.' We never looked back nor questioned our strategy. 
While the media told the public to stay home to save lives, we road-tripped across the United States. We received quite a bit of backlash initially from friends and followers.
Sadly, the groupthink mob forgot that everyone has the God-given right to take ownership of their life's own path. Thankfully, when we look back on our pandemic story, we'll always know that we lived in the year 2020 fully, without fear or regret.
2020 Travels and Blogging Confessions
Unlike our previous visits to Chicago, this past winter we shied away from pursuing trips and collaborations in the Midwest. In today's blogging climate, many businesses desire a week's worth of work in exchange for a complimentary one-night stay.
For the most part, many of these opportunities are no longer enticing. Instead, we worked on revamping our website and content creation.
In February, we were "on-call" because we had a new niece on the way! We decided to stick around Chicago for a wee bit longer to help welcome the new addition to the family.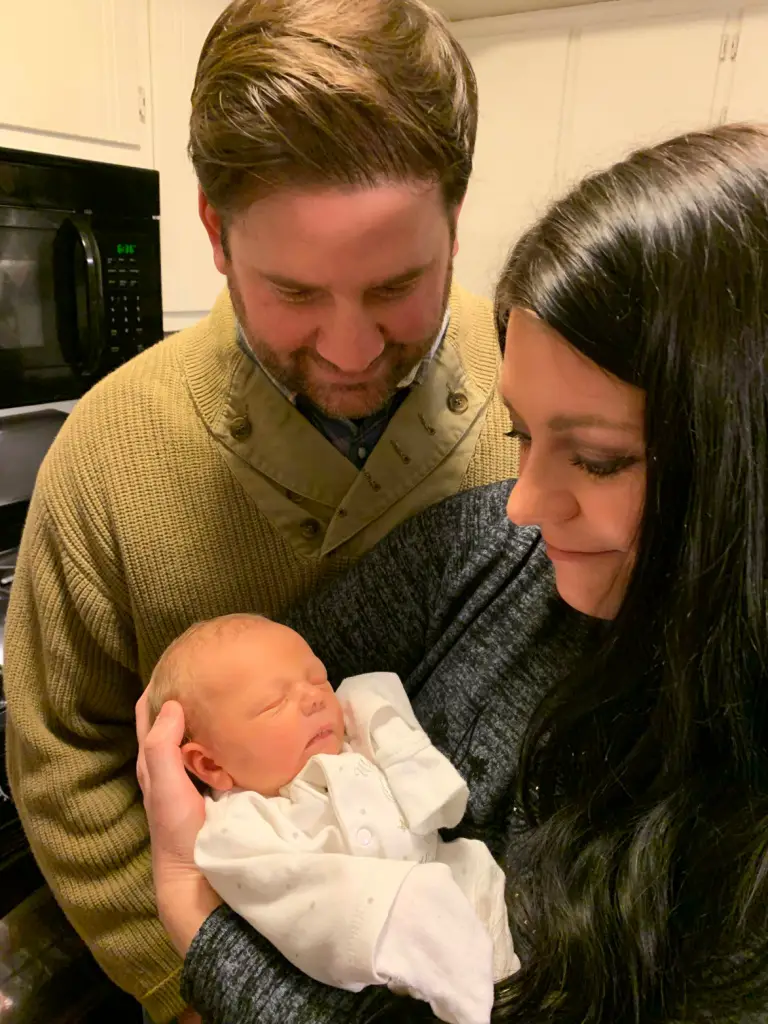 The decision to stay ended up shaping our entire year. On March 17, the European Union closed its borders to Americans—and it remains closed till this day. As a result, staying in Chicago sealed our fate for the year—we would not be flying back to Europe anytime soon. 
When Life Gives You Lemons, Make Margaritas
Driving Route 66 was always on our bucket list, however, exploring the Western United States was always something we planned on doing—later in life. But with international travel questionable, and oil at historical lows, we saw a glimmer of opportunity. Upon putting two and two together, we set off on a Great American Road Trip.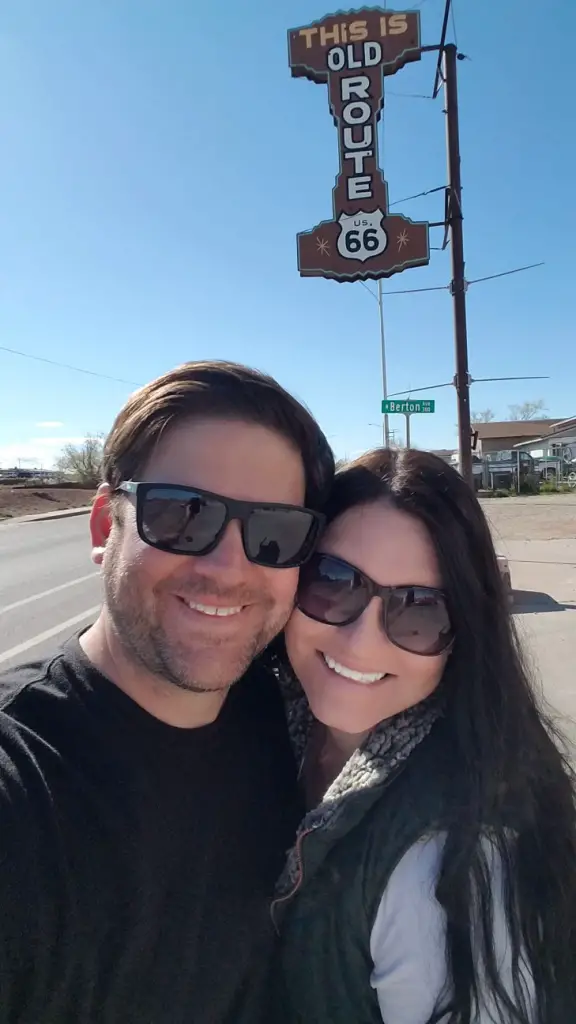 Get Your Kicks on Route 66
Driving Route 66 is pure Americana. It's both a symbol of comfort and hardship. Traveling this sometimes desolate road, makes you appreciate the fact that the "good times" may not last, and how important it is to appreciate them while you can.
If there ever was a journey to represent the ups and downs of 2020, Route 66 would be it. Truth be told, we knew we'd "get our kicks on Route 66," but never realized how therapeutic driving the Mother Road would be until our adventure was over.
Route 66 surpassed our expectations. Mainly because there is no other journey like it in the world. It's the perfect combination of history, food, quirky roadside attractions, scenic landscapes, and American nostalgia. You actually feel the essence of camaraderie with your fellow traveler as you make your way across the country. 
While we felt the stigma of traveling this year on social media, in real life, the people along Route 66 were ecstatic to see us. For nearly 100 years, generations of families working The Mother Road have been welcoming weary travelers, just like us.
Many of these businesses are desperately trying to keep the now decommissioned, historic road alive but are struggling to survive the hardships of 2020. So while we were receiving messages of hate online, small-town America greeted us with smiles and warm hospitality.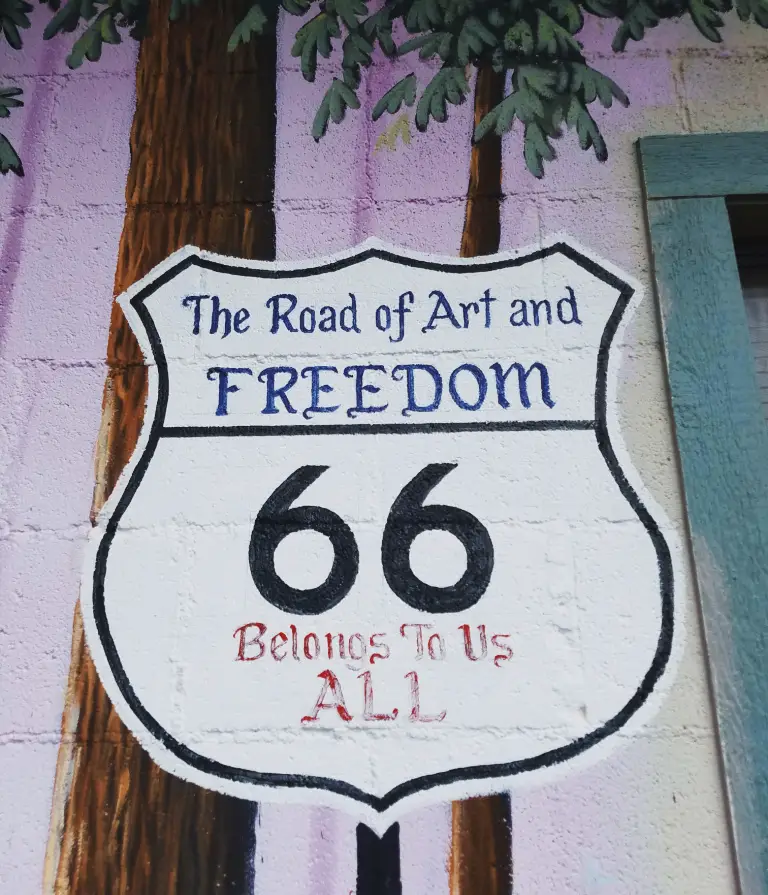 Summary of Route 66
In our opinion, Illinois and Missouri offer the best, kitschy roadside attractions. Once you make it to the halfway point in Adrian, Texas, there's no turning back. 
New Mexico and Arizona were our favorite Route 66 states—during our 100-day road trip adventure, we spent the majority of our time here, extending our stays in Las Cruces, Phoenix, Tucson, and Lake Havasu.
Not only did these cities resonate with us but California's strict lockdown measures kept us in a holding pattern. We kept waiting for lockdown measures to ease but they never did. In fact, as of today, they're even worse—even as scientific evidence verifies that lockdowns don't work.
When webcams revealed people starting to gather on California beaches again, we made the mad dash to the Route 66 finish line. Thus, finally completing our Chicago-to-California journey at the iconic Santa Monica Pier. 
With our Moon Route 66 Road Trip book in hand, that we borrowed from our local library, we set off on an estimated two or three week journey across the US. Unbeknowst to us at the time, we wouldn't return to Illinois for about 3½ months. Thankfully, due to COVID, the library extended our checkout date which prevented us from incurring a late fee.
America's National Parks 
After reaching the California coastline, we slowly headed east, back toward Chicago. Although, at the time, we weren't rushing to return to locked-down Illinois when other states were open and free. So we meandered from state to state, stopping at as many attractions as possible.
We drove across the country—through Nevada, Utah, Colorado, Montana, Wyoming, South Dakota, and Iowa—taking in America's landscapes along the way.
Of course, no Great American Road Trip would be complete without seeing some of America's National Parks. 
Another perk of road-tripping this summer was the free admission to almost every state and national park. All of the country's national parks offer something unique but the stand out ones for us included:
Yellowstone National Park, Wyoming 
White Sands National Park, New Mexico
Chaco Canyon National Park, New Mexico
Bryce Canyon National Park, Utah
Hiking the Narrows at Zion National Park, Utah
Arches National Park, Utah
Sometimes we wonder how long we would have just kept on driving. Sadly, during our tour, Harry's mom's health had taken a turn for the worse. We quickly drove back to Chicago and made it just in time to say our final goodbyes. JoAnn passed away on June 21, 2020. 
Costs of Our Road Tripping Across America
During our 3½ month road trip across the US, we stayed at motels, hotels, and apartments. We used a combination of Priceline, booking.com, and Airbnb to find the best places to stay, averaging about 60 USD per night. Overall, we were impressed by the level of comfort and cleanliness for the price. Initially, we thought it was going to be much more costly.
For much of our trip, gas prices hovered around 2 USD per gallon or 0.52 USD per liter. Typically, while touring, we'd drive about 150 miles per day, spending about 10 USD on gas. Also, we borrowed the vehicle from a colleague of Audrey's mother, so we didn't have to incur rental car costs.
In terms of food, most of the motels and hotels offered complimentary breakfast. In regards to lunch and dinner, we oftentimes visited the local grocery store, trying to avoid fast food as much as possible. Typically, this involved fresh salads and frozen meals, as most motel/hotel rooms had a microwave.
Overall, the road trip cost about 90 USD per day. However, keep in mind that when we rented an apartment for a long-term stay, those costs were closer to 60 USD per day.
Pulling Off International Travel
Chicago's dog days of summer—in July and August—were happily spent in our family's backyard patios. We cherished this time with our family, especially our nieces and nephews. 
During the late summer months, we were continually researching, noting any country that potentially would allow American travelers to enter. At this point, we had been in the US for nearly 10 months and stayed with family for seven of them.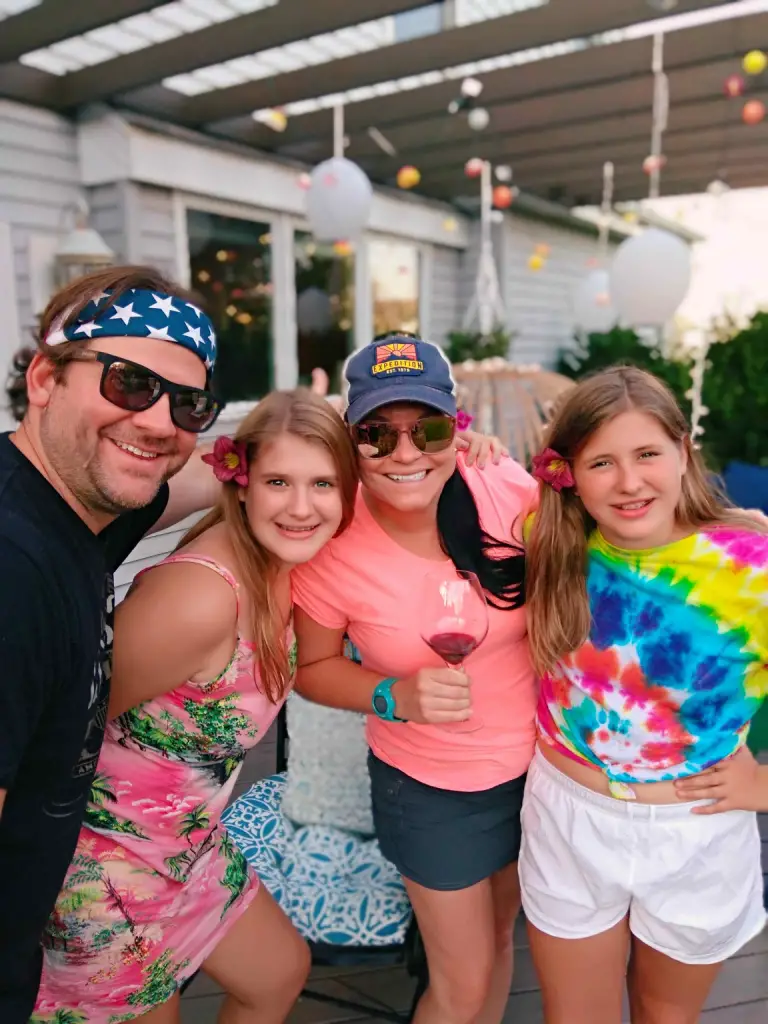 Thankfully, our favorite region in the world offered the easiest passage. Many Balkan countries were open and welcoming Americans, some without testing or quarantine restrictions. 
Ultimately, we decided to travel to Albania. The combination of sandy beaches, mild Mediterranean climate, affordable apartments, and the "anything goes" attitude is what lured us here.
We booked flights departing on September 24, purposely choosing the same date we first departed for our Round-the-World trip back in 2014.
It's been almost four months since we've arrived—and given the current state of travel? Guess what? We're still here! Here, in Sarandë, we celebrated our 41st birthdays, our 15th wedding anniversary, Christmas, and brought in 2021.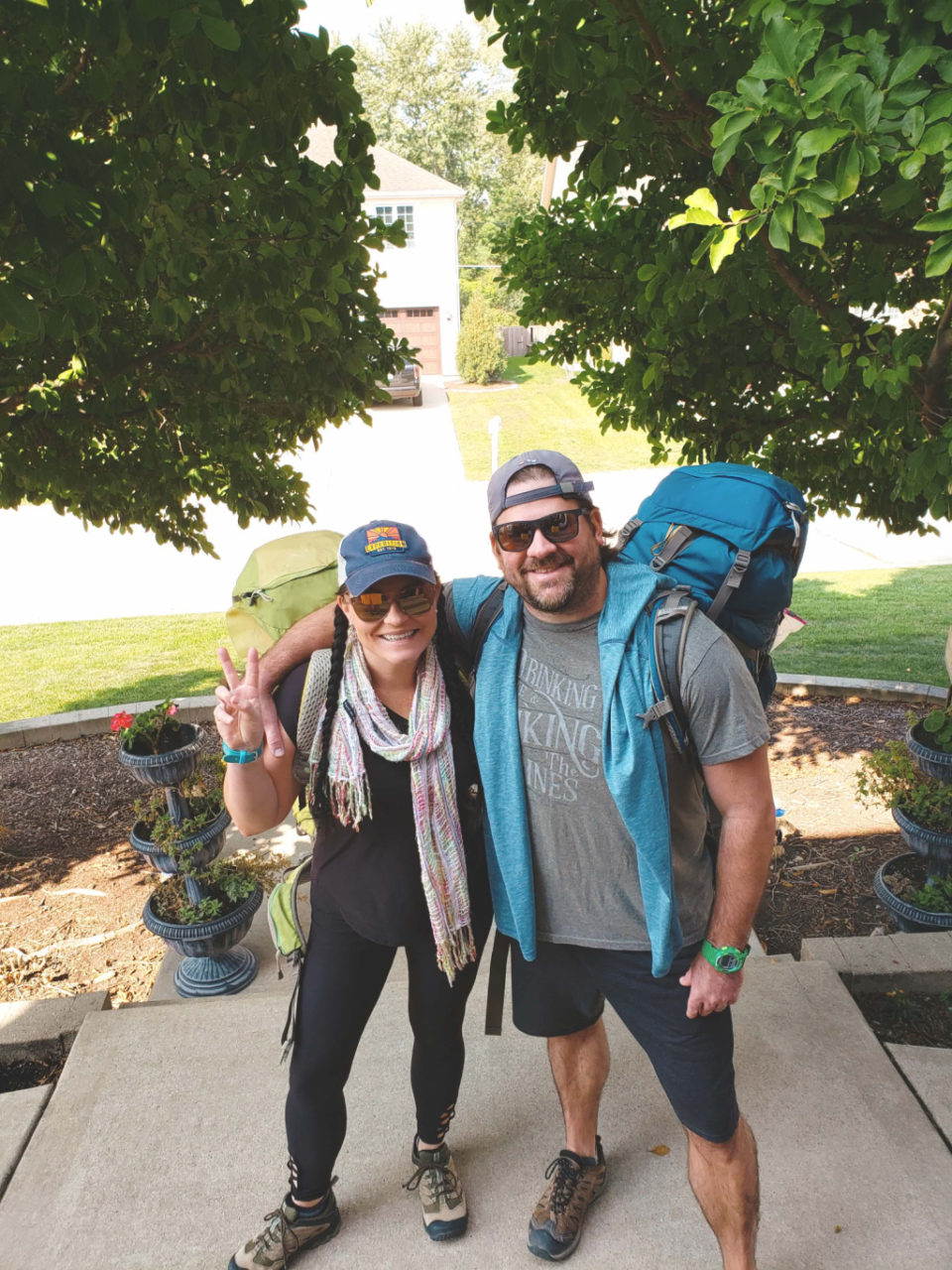 Reflecting on Our Current State
Although we're glad to be out of the US, a feeling of being stuck remains. Currently, there are very few countries that Americans can visit, no questions asked. Mainly due to the weather, we're staying in the most southern part of Europe that's open to Americans right now. 
Our flat is nice and comfortable. The weather is mild. We have expansive views of the Ionian Sea, Greek isles, and palm trees.
However, would we be in Albania right now if the world was open? Probably not. But like so many others, we are just trying to do the best we can at this point in the game.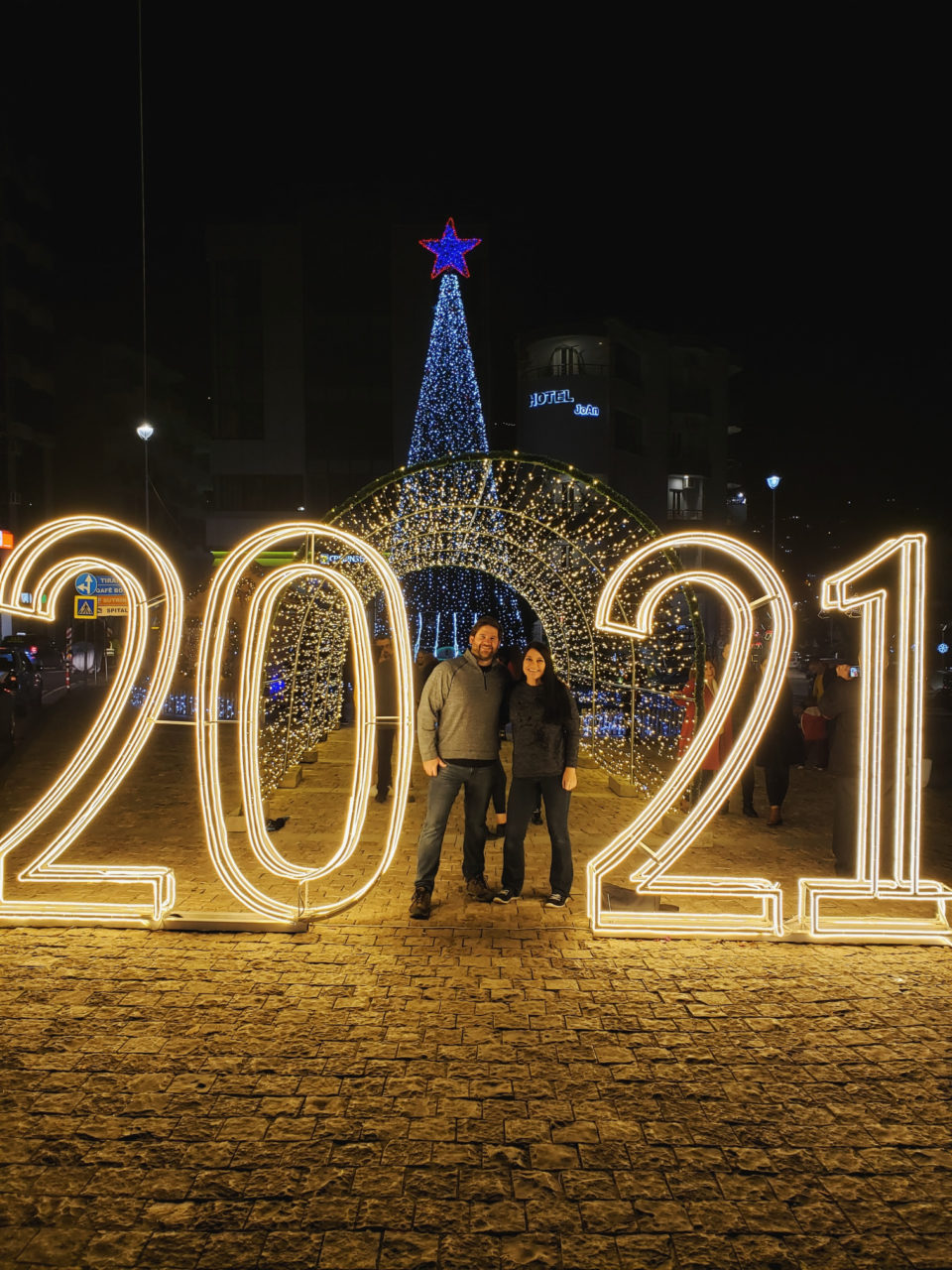 What Will 2021 Hold?
Typically a portion of our year-end review includes tentatively planning what the following year may entail for us as travelers. This takes into account countries that may be on our radar and where we can best live and explore on a backpacker's budget. However, it's pointless to try to plan our 2021 travels in this unpredictable global environment.
With few countries open to Americans and the EU still closed, unfortunately, we are taking life on a month-by-month basis. Sadly, Serbia now requires Americans to get tested for COVID before entering. Therefore, the Kikinda owl safari must be put on hold.
Not only do we not want to get tested but we also don't want to pay 120 euros per person. Especially, if we're not sick and asymptomatic spread has been proven to be highly unlikely, if not impossible.
For now, we are in a holding pattern in southern Albania. If the EU does open without travel restrictions, our immediate plan is to ferry to Corfu and explore more of the Greek islands.
Thank goodness that Albania offers a one-year visa for American travelers. There's a significant chance we may be here for a while, or even longer.
2020 Summary
Countries Visited in 2019: the United States and Albania
States Visited: Missouri, Oklahoma, Kansas, Texas, New Mexico, Arizona, California, Nevada, Utah, Colorado, Montana, Wyoming, South Dakota, and Iowa. 
New Passport Stamps: None
Current Country Count: 69
Previous Year-End Reviews
2017: Our 2017 Year In Review and 2018 Travel Plans
2018: How to Write a Year-End Review and 2019 Travel Plans
2019: Our 2019 Year-End Review and 2020 Travel Plans