Maggie Daley Park in Chicago Illinois is considered by some to be a hidden gem. However, there are a few important things to know before visiting. Located next to Millennium Park, in Chicago's 'The Loop' central business district, the park offers the potential of a great way to spend some family-friendly time in Chicago.
Unfortunately, these days it's hard finding ways to entertain kids on a tight budget. On a positive note, Maggie Daley Park offers an open, green space where people of all ages can gather for free in downtown Chicago.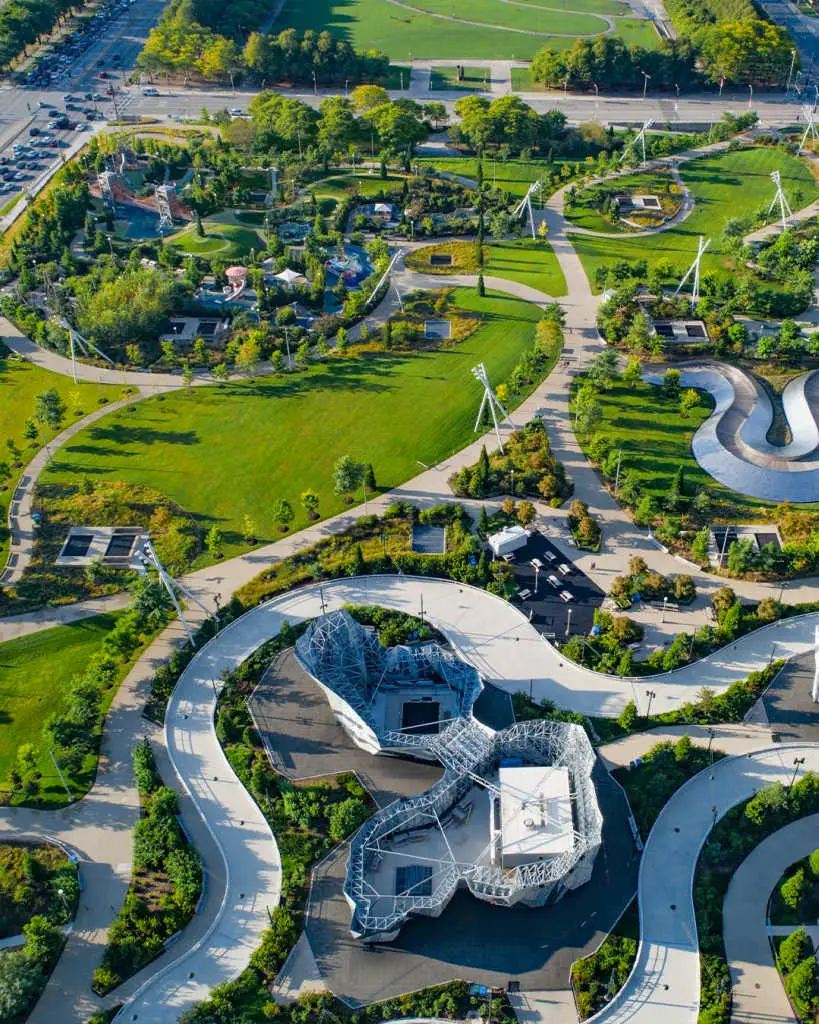 Overall, parents express a fondness for the park where children under 12 can stay busy for a few hours under the backdrop of Chicago's amazing architecture. Maggie Daley Park is also within walking distance of The Bean and Buckingham Fountain.
Best Budget-Savvy Hotel: Whether you're visiting from another country or one of Chicago's suburbs, the StayPineapple, an Iconic Hotel is the best accommodation option at the best price. In fact, this is where we stay when visiting downtown Chicago. Highlights include an amazing location on State Street in a historic building, cozy robes, comfy beds, complimentary coffee and treats, valet parking, and the entire hotel is dog-friendly.
Know Before You Go
Before visiting, there are a few important things to know before coming here with your family. Here is what they don't tell you about Maggie Daley Park in Chicago Illinois.
1. There's a New Youth Escort Policy
According to the Maggie Daley Park official website, this part of the city is under a Youth Escort Policy. This means that from Thursday through Sunday, guests under 18 must be accompanied by an adult aged 21 and over after 6 p.m. In addition, groups may be asked for ID, while one adult can escort up to 4 youths.
Some local parents feel that the Chicago Park District has made city recreation sites unwelcoming for tweens and teens. There are reports of security guards being present throughout the park as a deterrent for older children from using any of the park's playground facilities.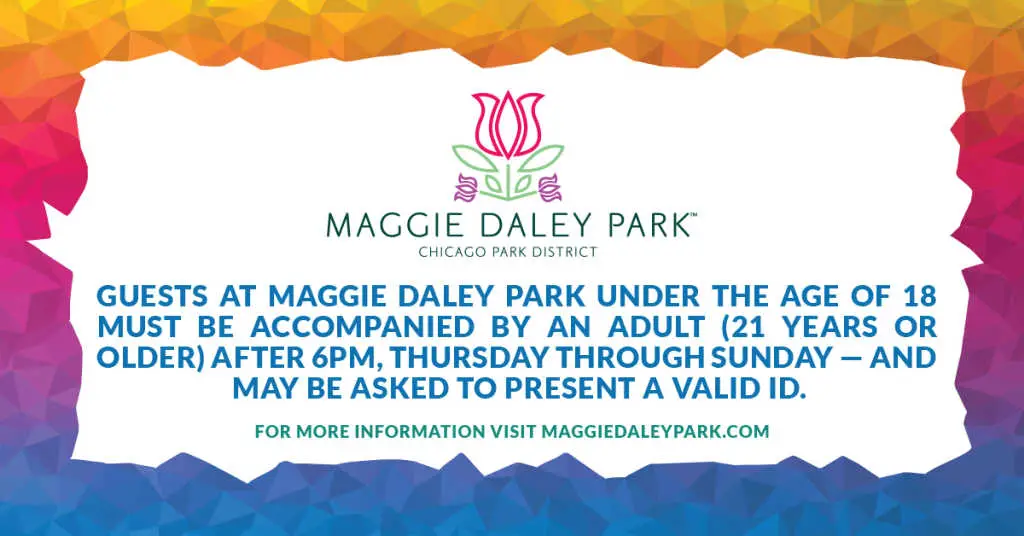 Generally, there is not much for older children older than 12 to do that doesn't cost money. This is problematic for families with kids in multiple age ranges. The free play gardens aren't fun when only a part of your family is welcome to enjoy them.
---
Budget Tip: Whether you're a local or a tourist, the most affordable way to visit Chicago's museums is with the Official Chicago CityPass. Passholders save a ton of money and are granted access to five attractions including Shedd Aquarium, Skydeck Chicago (express entry to the top of Willis Tower), Field Museum, and two of the following attractions: Art Institute of Chicago, Museum of Science and Industry, 360 Chicago Observation Deck (express entry to the top of John Hancock Building), or Adler Planetarium. Check out our experience with CityPass in Chicago.
---
One suggestion for a free activity for teens is to bring nonmotorized scooters or rollerblades to use on the Ice Ribbon, permitted during summertime in the park. There is a skate and scooter rental counter for those that don't own equipment. Another option is to play tennis on courts that are on a first-come-first-served basis.
2. It's Easy to Lose Track of Your Child
Maggie Daley Park is open seven days a week, from 6:00 a.m. to 10 p.m. Parents in the know report that the best time to come is before 9:30 a.m. In the afternoon, the park gets busy, especially during the busy tourist season. Of course, when too many children are on the playgrounds, it causes parents to lose sight of their children.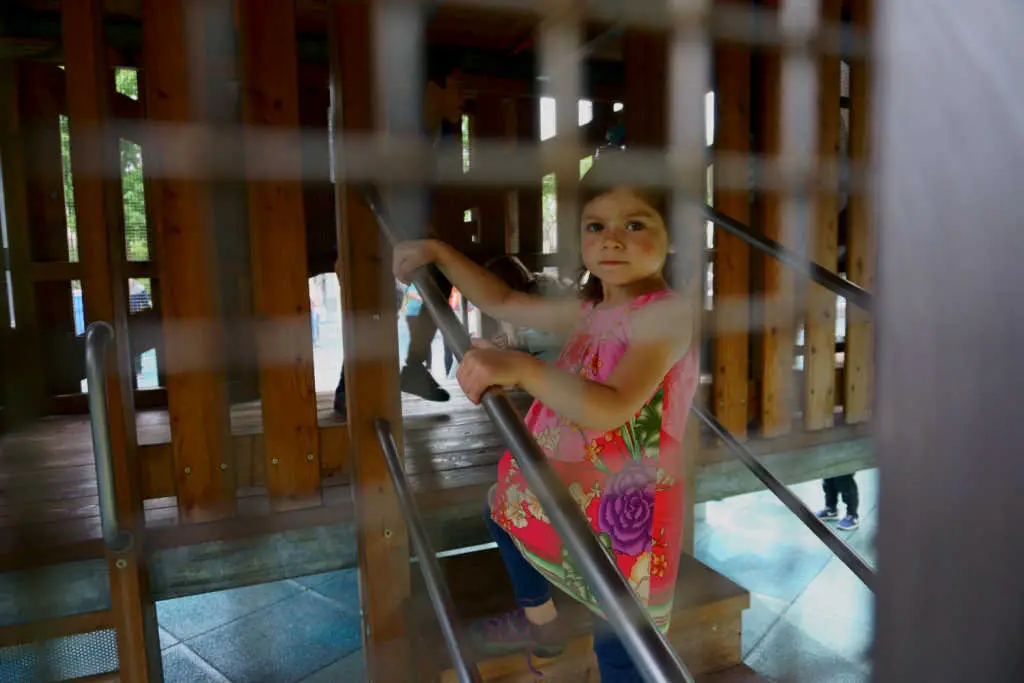 One of the design features of Maggie Daley Park is the rolling topography. With play features at various heights, the designer himself intended the area to be used to play hide and seek. Many parents complain that their children appear to get lost among the hills and slopes. Busy weekends can cause caregivers much anxiety, in fear of losing their little ones among seas of strangers.
Clever parents suggest putting children in brightly colored shirts to make tracking them among the crowds easier. Another tip is to agree on a designated place to meet if you get separated.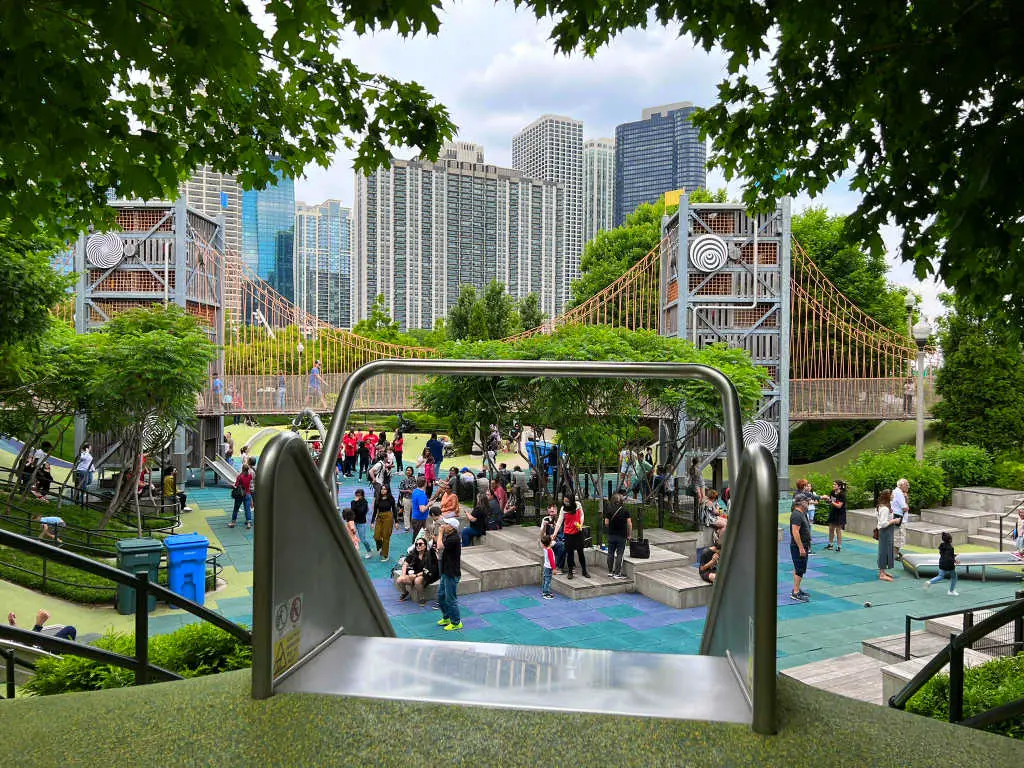 3. Crime Is a Concern
Chicago crime is spilling over to tourist areas. The city has implemented measures like curfews, security checkpoints, and increasing police presence. Additionally, the Youth Escort Policy is meant to deter teens from getting rowdy in the children's park. Nonetheless, at times there isn't anyone of authority enforcing the posted age restrictions in the different play gardens.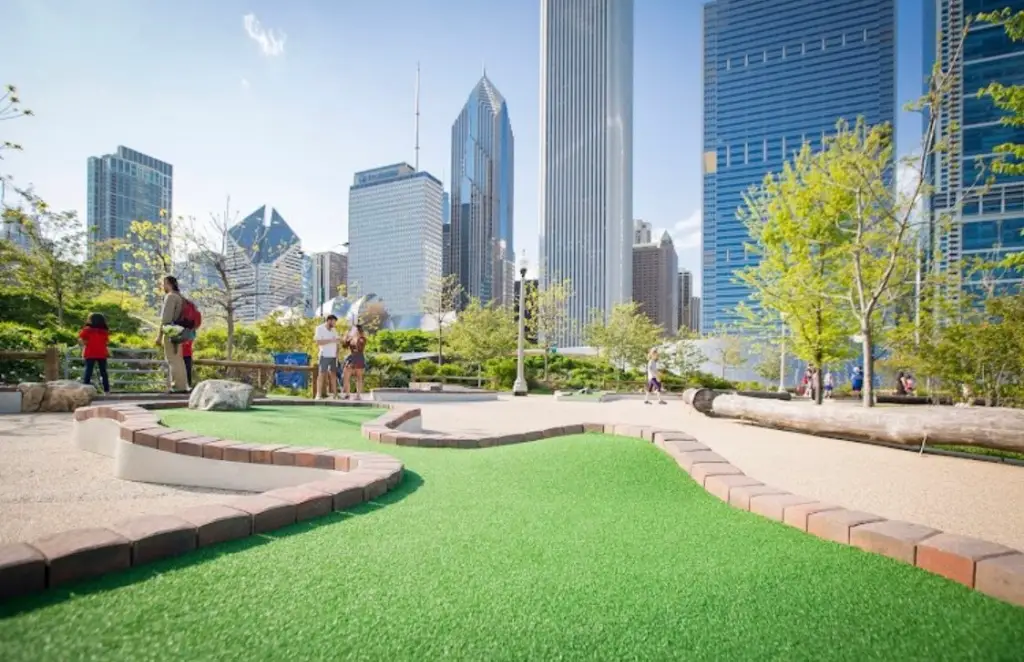 To ensure a calm experience, visit on weekdays and in the early morning. Additionally, lockers are located in the Fieldhouse (next to the bathrooms at the Ice Ribbon) if you would like to lock up your belongings, especially when skating, rock climbing, and mini-golfing.
4. Lots of Things You Can't Do Among The Things to Do
Unfortunately, as the crowds grow so do the number of rules. Some of the restrictions make sense due to the presence of small children in the park. However, take note that everyday family-friendly items like dogs, bikes, and motorized scooters are not permitted.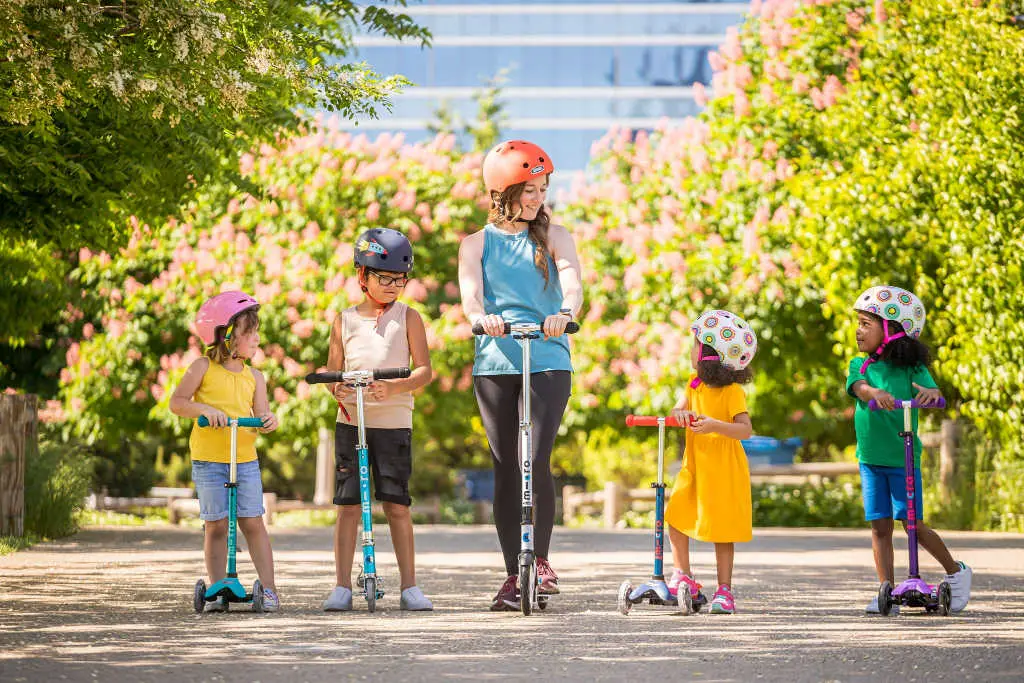 By law, the following are not allowed in Maggie Daley Park:
Alcohol
Animals, other than service animals
Dogs are welcome on outskirt walking paths only, not within the park
Bikes or bike riding
Smoking
Open fires, grilling, or barbequing
Drones
Large gatherings without a permit
Personal motorized vehicles
Segways
Organized sports
Bicycles must be walked through the park. Rollerblading and skateboarding are allowed at controlled speeds. However, there's always the option to take Chicago's favorite Segway Tour.
5. Come Prepared for Summer Heat
Although Maggie Daley Park truly offers one of the best playgrounds in the country, one of its design flaws is the lack of shady areas. During the summer, be prepared for the heat with shade umbrellas, sun hats, and plenty of water. Additionally, the park's metal slides get notoriously hot in the sun.
A good suggestion is to pack bathing suits for children ages two to five to take advantage of the park's splash pads. Alternatively, try another Chicagoland water play area, such as the Crown Fountain in Millenium Park which is open for all ages.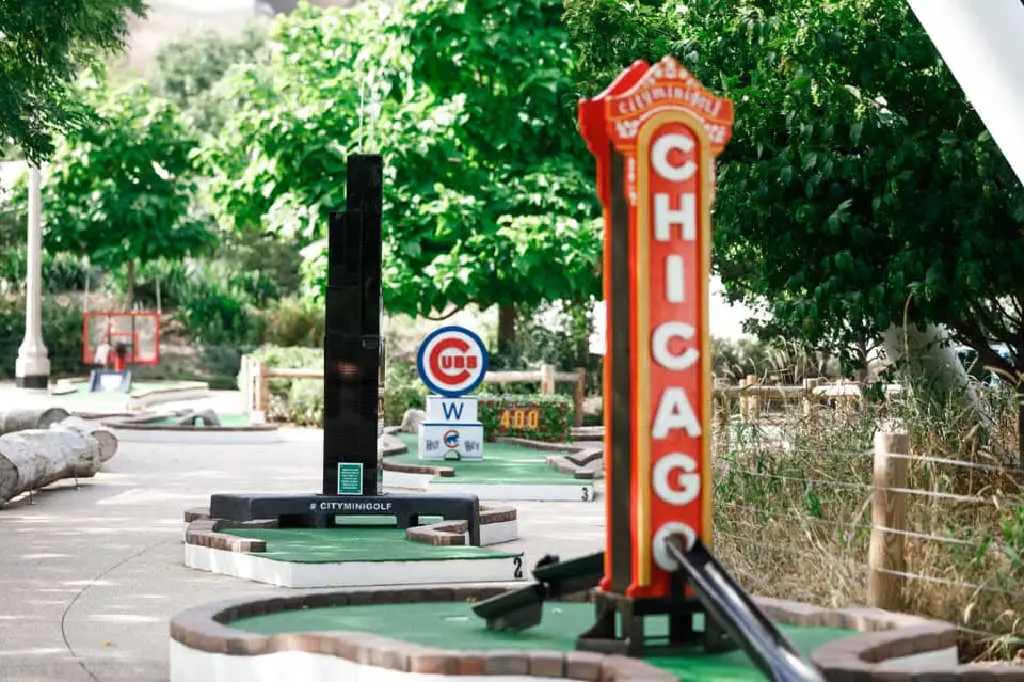 6. Washrooms Are Hard to Find
Parents always want to know where the closest washrooms are to prevent accidents. Throughout the park, there are a few portable toilets hidden but the cleanliness isn't favorable for small children. Also, the best restroom facilities are in the Fieldhouse. The building and washrooms are modern and wheelchair accessible.
7. Discounted Parking Is Available Online
Parking in the city can be such a nightmare. Fortunately, the Maggie Daley Park website offers discount parking for visitors who plan ahead. Near the park, metered street parking costs 7 USD per hour. However, reserving a parking space online before arriving costs about $13 for 12 hours at the Millennium Park Garage. This parking lot is conveniently located underneath the park.
Maggie Daley Park is one of the best family-friend parks in Chicago, Illinois. Being prepared and knowing what to expect will help families enjoy a budget-savvy day in the city.