Looking for hidden gems and travel oddities around Warsaw Poland? On our third visit to Warsaw, we stayed in the city for two months, using it as a base as we worked and enjoyed living like local Varsovians. This time around, we had time to travel deep into the city to discover some great hidden gems and travel oddities. Generally, these are places that you may not necessarily find on a typical tourist map but may be worth exploring if they pique your curiosity.
15 Unique Things to Do in Warsaw
Many travelers through Warsaw may accidentally stumble across one or two of these unique things to do in Warsaw. However, most people have no idea that many of these things exist.
Scroll through these 15 unique things to do in Warsaw to determine how many you've seen.
Where to Stay
Below are the recommended places to stay based on budget and location.
Budget: Ibis Warszawa Stare Miasto (clean, modern, and comfortable)
Mid-Range: Castle Inn (boutique in a great location)
Luxury: Hotel Bellotto (casino onsite) or MONDRIAN Luxury Suites & Apartments (views of Old Town)
Castle Inn in Warsaw Old Town > Check Availability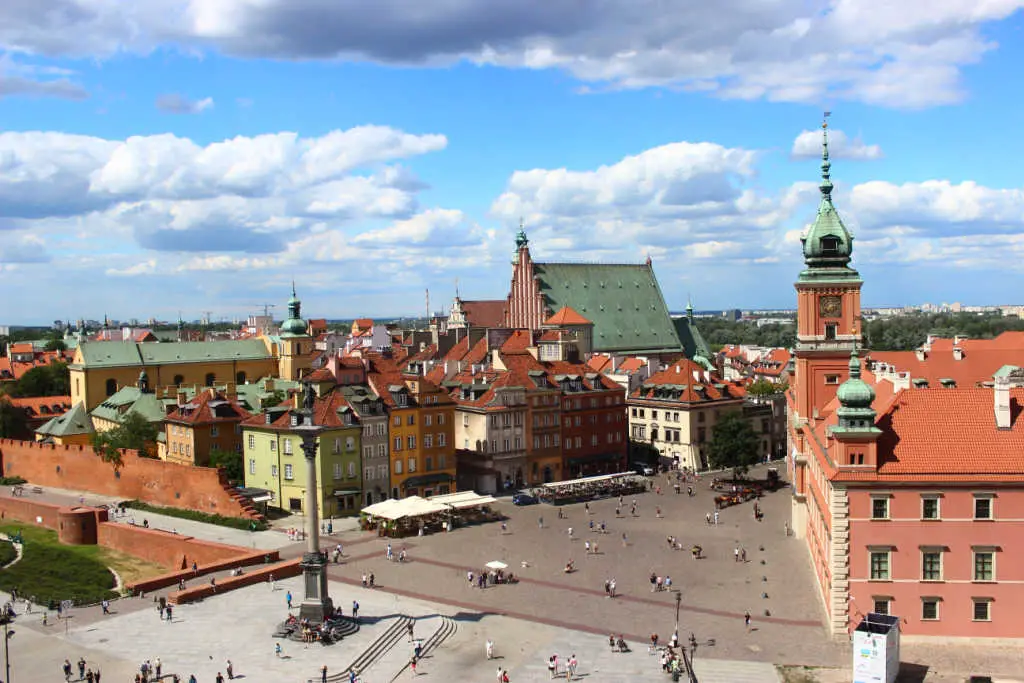 Castle Inn is one of the few hotels that is located in Warsaw Old Town.
Top-5 Tours in Warsaw
✈️ Need a transfer to Warsaw from Warsaw Modlin Airport? If you're not renting a car and staying in Warsaw, book a private transfer for up to 3 people to your hotel.
Short on Time? > Book an Auschwitz–Birkenau and Krakow Day Trip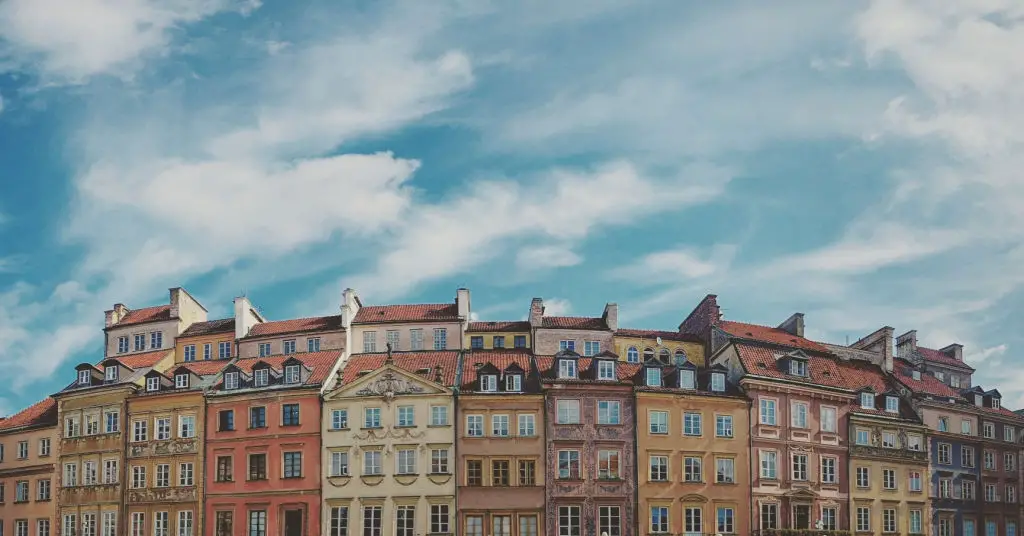 1. Poland's Only Palm Tree
Clearly artificial, a 15-meter palm tree stands at the intersection of Jerusalem Avenue and Nowy Świat Street. "Greetings from Jerusalem" is a modern art project to brighten up  Warsaw, Poland. Moreover, it was manufactured in California and made of plastic and metal. In fact, there was a rumor that initially there was a plan to have an entire row of palm trees, but the project was rejected. Nevertheless, just this one random palm tree baffled city officials when it was first unveiled.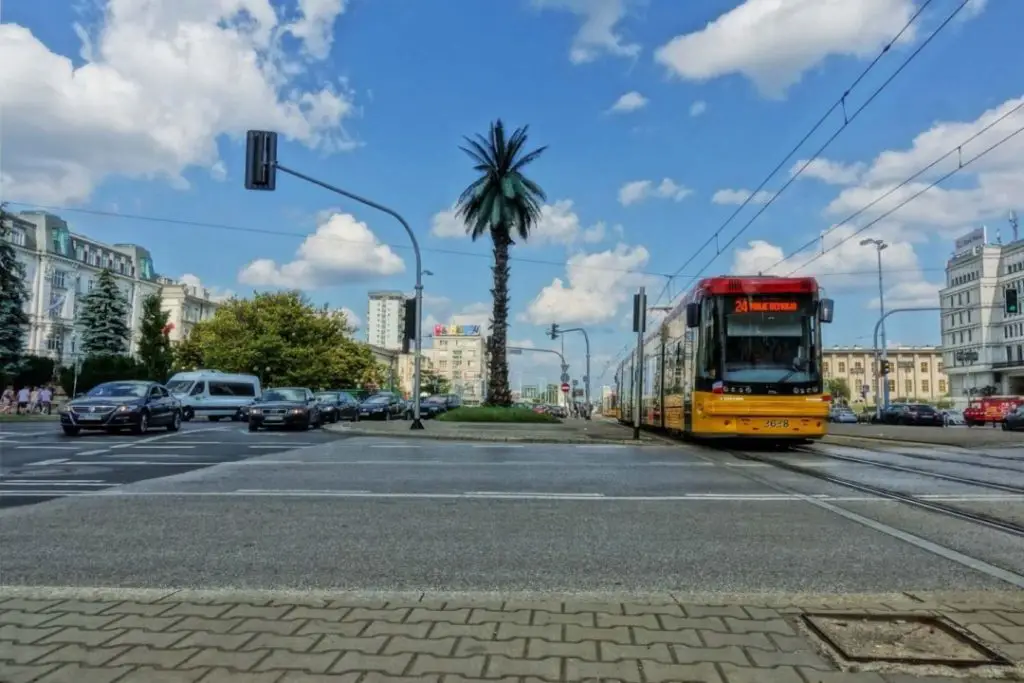 Today, the tree is a fun travel oddity in Warsaw and claims to be "Poland's Only Palm Tree." Interestingly enough, the claim isn't true because the Palm House in the city of Zielona Góra offers an indoor garden full of palm trees.
Location: Rondo de Gaulle at the intersection of Nowy Śwait and Al. Jerozolimskie, Metro Nowy Śwait-Uniwersytet
2. Temple of Divine Providence
The Temple of Divine Providence is one of the most important Roman Catholic buildings in Poland. The church's groundwork began in 1792, but a Russian invasion, two world wars, and communist domination halted its completion for over 200 years until it was finally consecrated in 2016. Some call it one of the ugliest buildings in Warsaw, with an exterior that looks more like a nuclear power plant rather than one of Poland's most important religious and national symbols.
Location: Warsaw's Wilanów District, Nowogrodzka 49
3. The Monument of the Pawiak Tree
Next to the surviving fragment of the Pawiak Prison gate stands an eye-catching bronze tree which is a memorial for those who perished and suffered in prison.  It is said that this famous white elm stood as a witness to suffering, heroism, and terrible crime.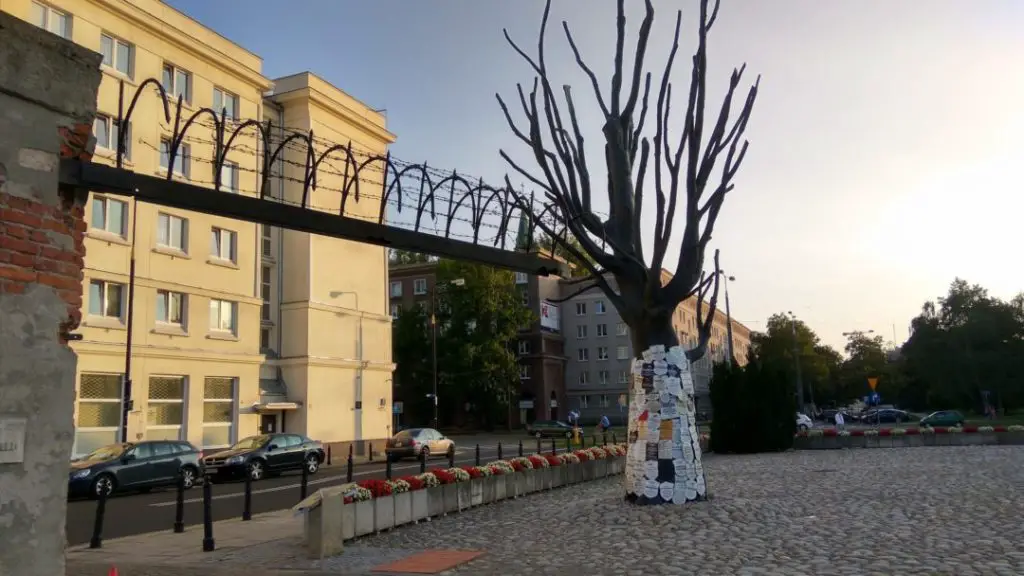 When the Nazis blew up the prison in August 1944, the only thing that remained standing was the strong white elm. In 1945, family members placed plaques on the tree bearing the names of the victims. Sadly, the original tree died in 1984 from Dutch Elm Disease. Modifications and preservation allowed it to stand for another 11 years.
In 2004, conservationist experts declared it unsalvageable and replaced the tree with a bronze copy. The original can be seen inside the Pawiak Prison.
Location: Pawiak Prison, Dzielna 24/26
4. Ghetto Bridge Memorial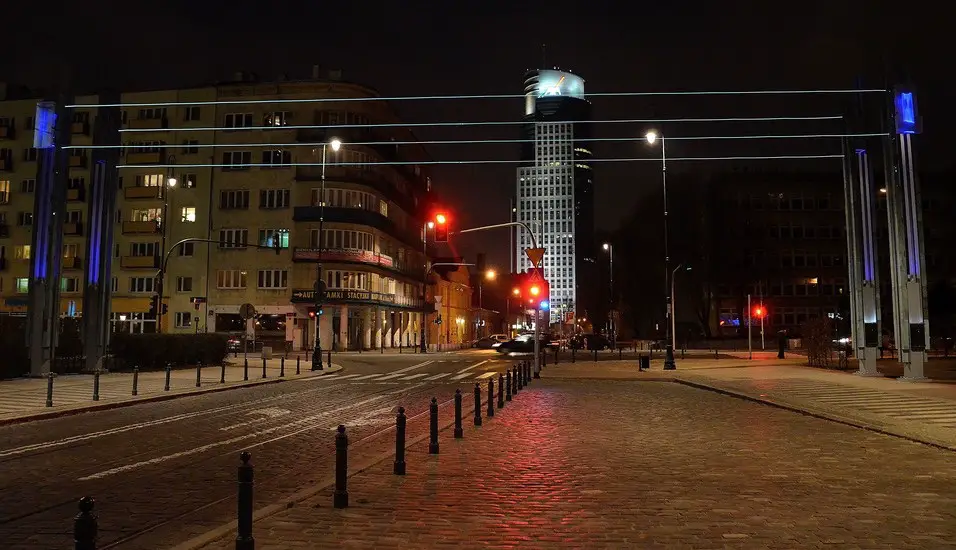 One of the most significant images of occupied Warsaw is the photo of the wooden footbridge constructed over Chłodna Street. The bridge was built to connect the small and large ghettos. Today, there is a memorial at the site where the ghetto bridge once stood in 1942. Consider visiting at night when projected light provides the illusion of a bridge suspended over the road.
Location: The memorial is at the intersection of Chłodna and Żelazna Street in the Wola district. A few steps away, you'll find the Keret House described below.
5. Winne the Pooh Street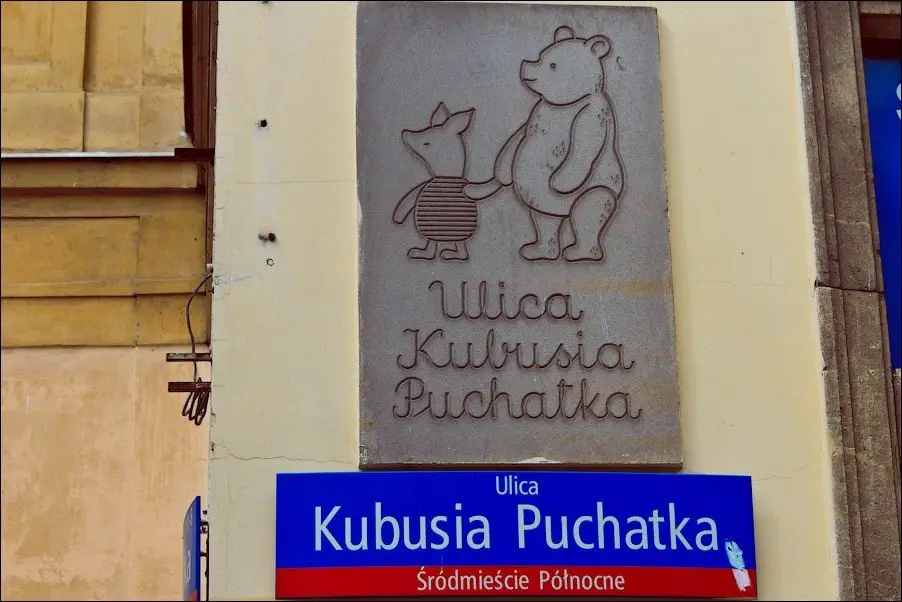 Did you know that there is a street in Warsaw, Poland named after Winnie the Pooh?  A memorial plaque on the corner shows Piglet and Pooh heading out for an adventure.
Why is there a Winnie the Pooh sign in Warsaw? In Polish, the street is called, "Kubusia Puchatka" which translates to "Winnie the Pooh." An interesting find here in Warsaw.
6. Ronald Reagan Monument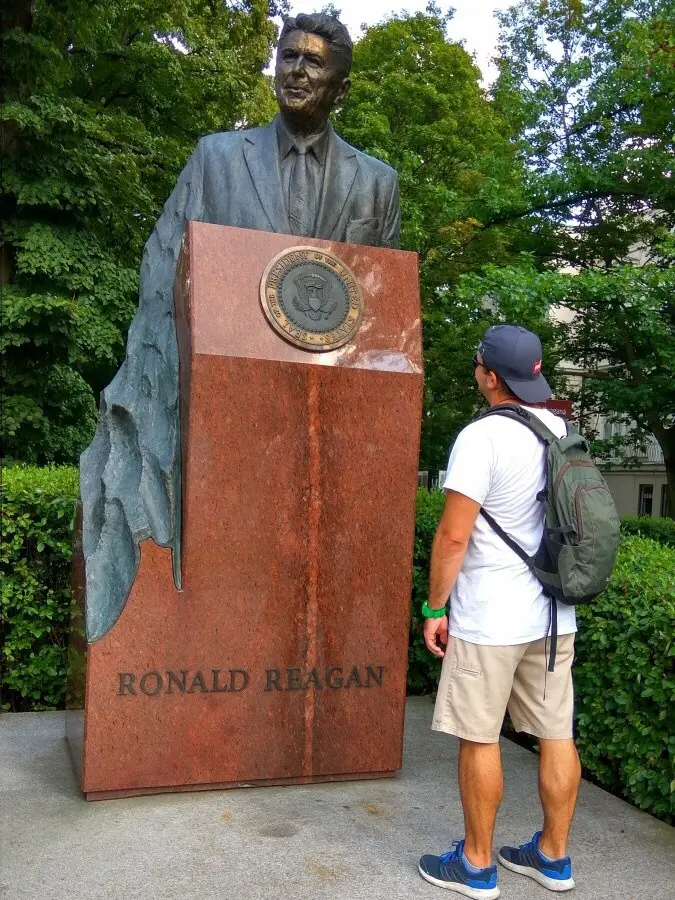 American travelers may appreciate a stop at the Ronald Reagan monument on Ronald Reagan Street while touring Warsaw. In 2011, a monument was erected to honor the 40th President of the United States for his role in supporting the Polish anti-communist movement in Poland. The monument faces the United States Embassy in Warsaw's Embassy Row.
Location: Ujazdów Avenue across the street from the Embassy of the United States in the Śrómieście district
7. Chopin's Heart
Upon his death, Chopin asked for his heart to be removed before burial so that it could be returned to his beloved Warsaw. Due to political conflict, Chopin knew his body would never leave Paris. There's a rumor that his eldest sister transported his heart back to Warsaw in a jar full of booze.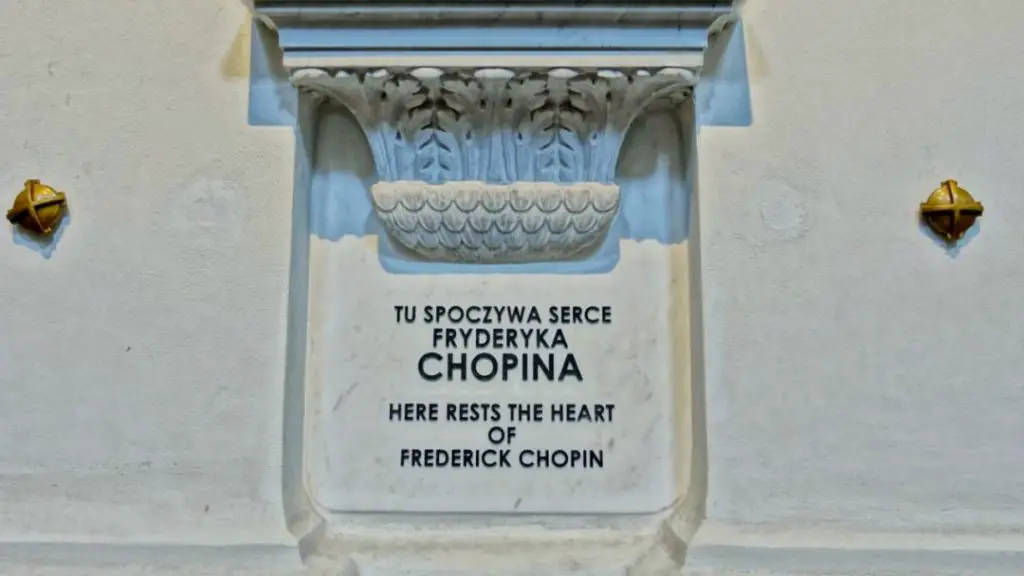 Chopin was so loved in his native Poland, that his heart became a symbol for proud Polish nationalists. Therefore, during WWII the Nazis stole the heart and outlawed playing his music. Located in one of the most beautiful historical buildings in the city, Chopin's heart now lays peacefully in one of the church pillars.
Location: Holy Cross Church, Warsaw, Poland
8. Rainbow Center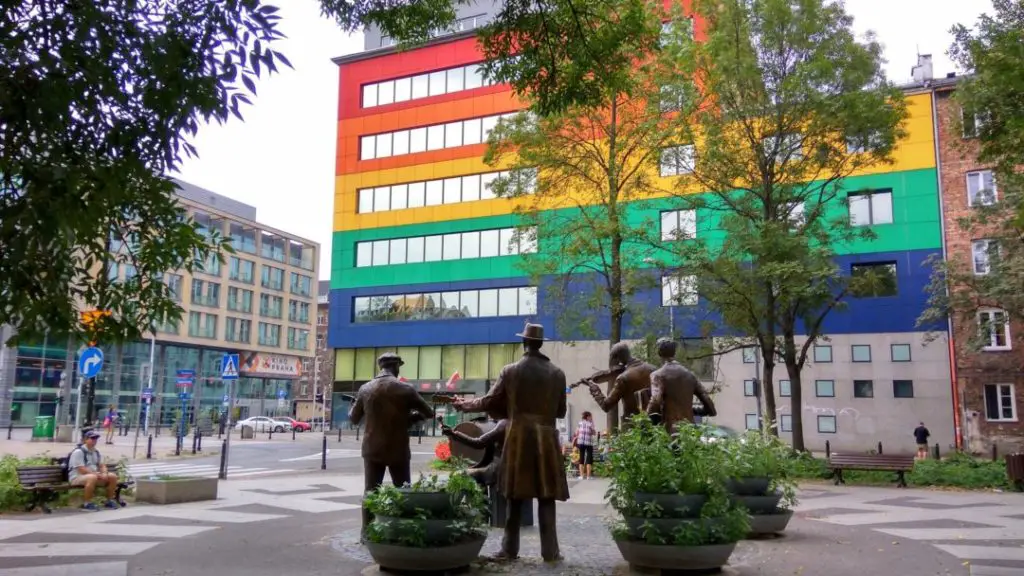 Quite the festive building for the Polish Tax Office. This building called the "Rainbow Center" is an interesting architectural find on a walking tour through Warsaw's Praga district. The building was a shopping center until it was later converted into a center for taxes.
Location: Ulica  Jagiellońska 15, Praga district
9. Praga Walk of Fame

Did you know that Warsaw, Poland has its very own "Walk of Fame?" Hidden on Stalowa Street, the Prague Hall of Fame was created to honor local stars from Praga Północ who have contributed great things to society through education, literature, architecture, and leadership.
Location: Stalowa Street, Praga district
10. Keret House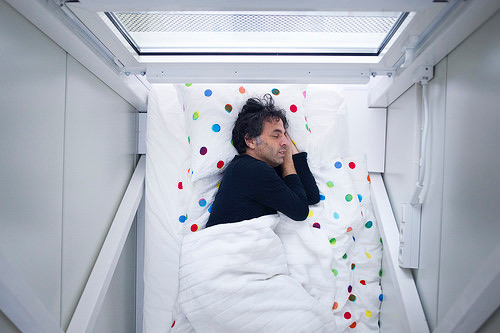 Designed by a Polish architect, the Keret House claims to be the world's skinniest house. While the interior is over 30 feet tall, it is only 28 inches wide at its narrowest point and four feet wide at its widest. The home has 46 square feet of floor space and holds a record for the world's most narrow house. Inside is a bedroom, bathroom, kitchen, and when the staircase is retracted, a very claustrophobic living room.
Location: Zelazna 16 near the Wola district. A few steps away from the Ghetto Bridge Memorial.
11. Warsaw Fotoplastikon
The Warsaw Fotoplastikon is one of the coolest hidden attractions in the city. Built in 1905, this 3-D theater is like an enormous-sized View-Master.  Visitors sit around a cylinder while looking through eyeglasses that display mini-slides of historic scenes of Warsaw. Surprisingly, this amazing piece of cinema survived both the Nazi invasion and the Soviet occupation.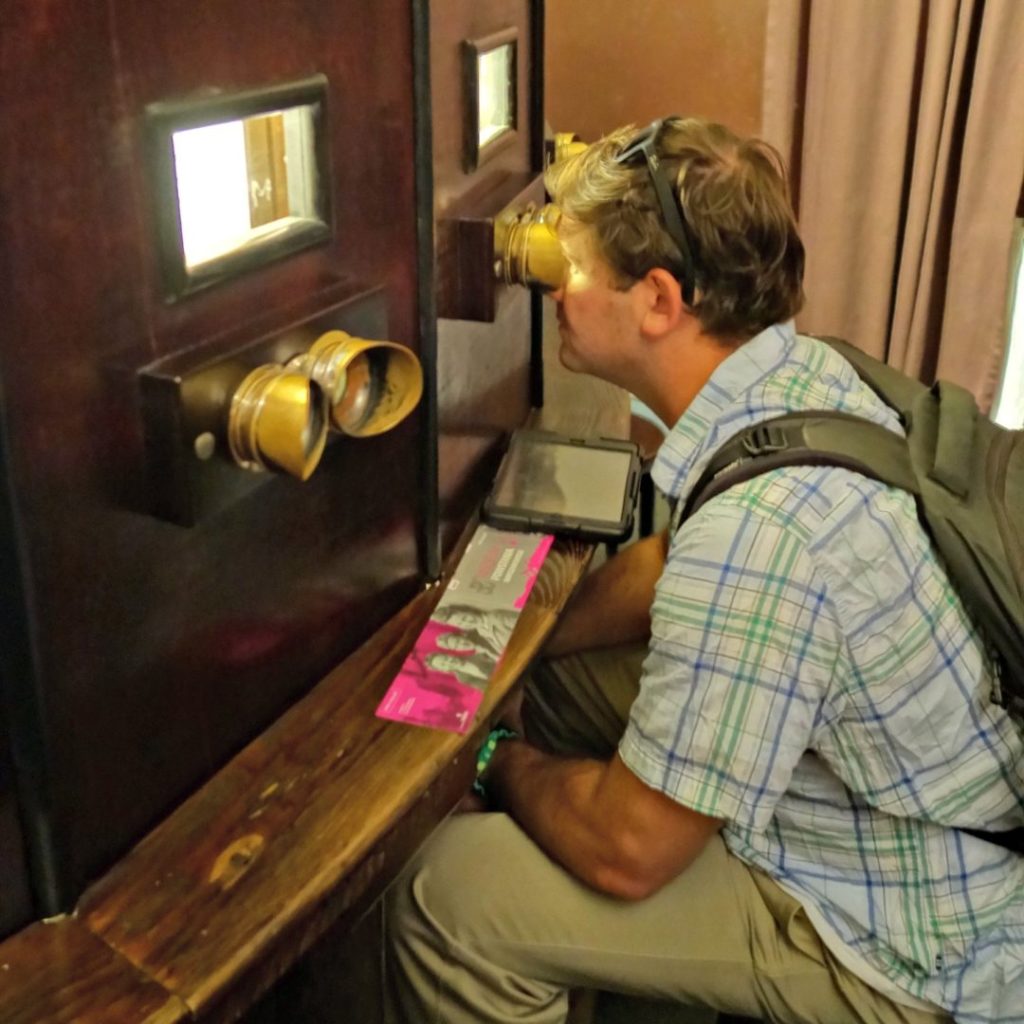 The Warsaw Fotoplastikon is closed on Tuesdays but is open Monday, Wednesday through Sunday from 10 a.m. to 6 p.m. and costs 10 zł per admission. Finally, try to come on a Thursday when admission is free.
Location: 51 Aleje Jerozolimskie, Warsaw
12. Warsaw Gasworks Museum
Two Colosseum-like buildings sit on the edge of Warsaw's Wola district. Up close, the huge, spherical structures are beautifully decrepit. Broken windows, crumbling brick, and wild vegetation make it a prime example of urban decay.
Many photographers go behind the museum to try to capture the ruins. However, this part of the property is roped off and video cameras are installed to prevent people from exploring the premises. Take note, the two Colosseum structures are not where the museum is housed!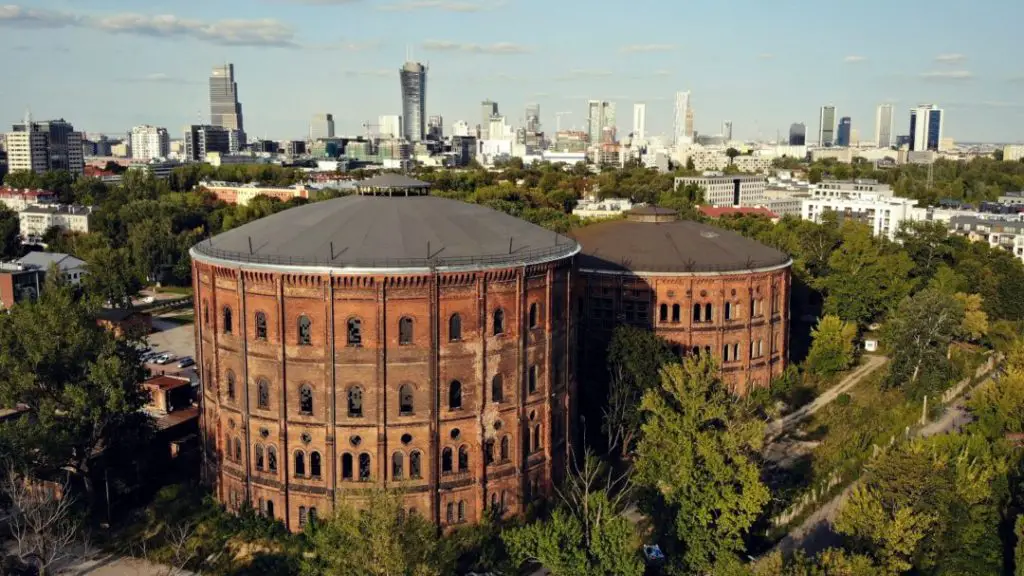 The original neoclassical buildings were built in 1888 but were destroyed in 1939 during WWII. After the war, they were reconstructed and used until the early 1970s, when natural gas became Warsaw's main source of fuel.
Location: ul. Marcin Kasprzak 2, Wola district
13. Wilanow Trampoline Park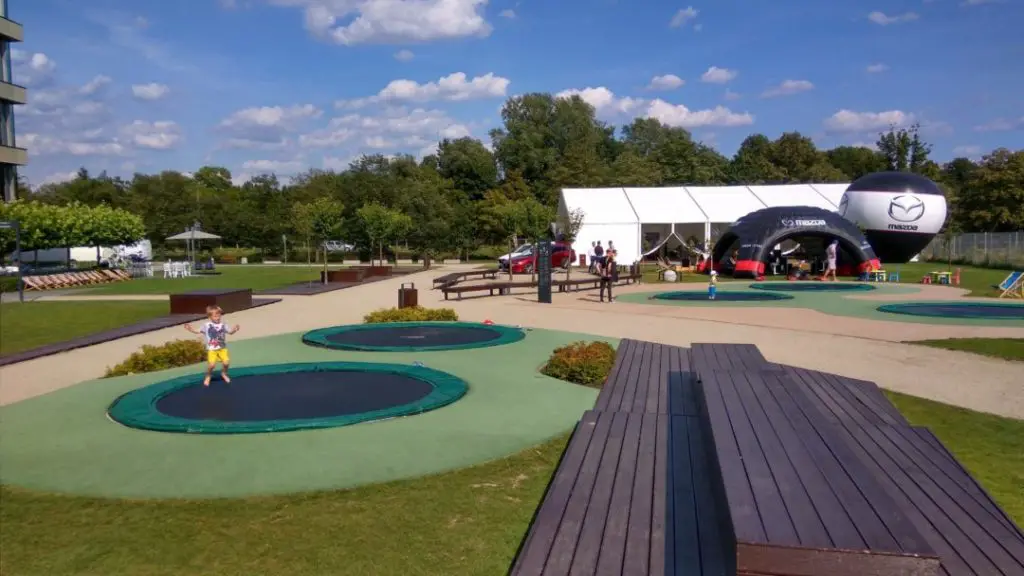 Anytime we stumble upon something and exclaim, "Well, I've never seen that before, "it's worth a mention. Also, in Warsaw's Wilanów district, there's a free trampoline park where kids and those still young at heart can enjoy a little exercise and outdoor fun.
Location: the park can be found at the Royal Wilanów Mall on Franciszka Klimczaka 1
14. The Różyckiego Bazaar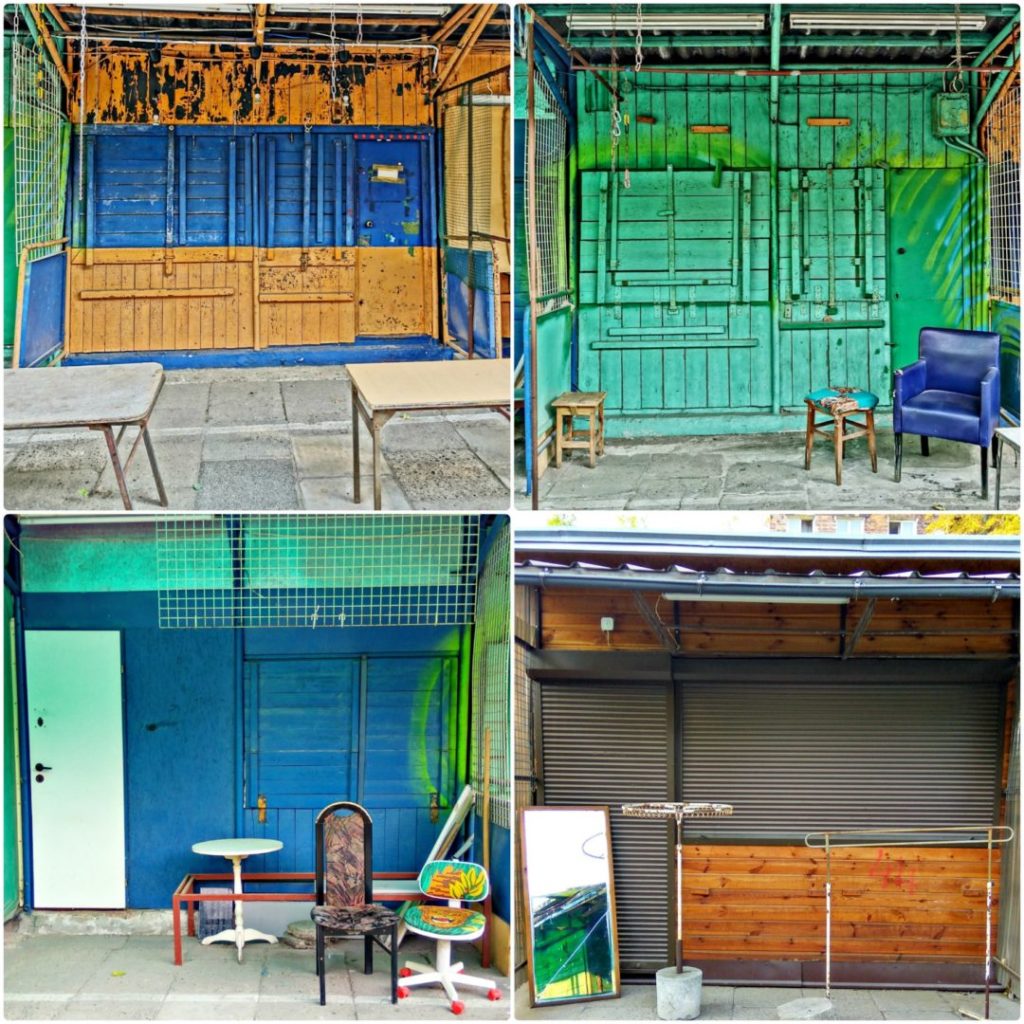 In its day, the Old Bazaar in the Warsaw Praga district was one of the most popular markets in all of the city. Also, weapons that were taken from Nazi troops were once traded in this bazaar.
Today, visitors often overlook the depressing market. Indeed, its charm and atmosphere can only be appreciated with a great imagination for what it once was.
Location: Targowa 54, Praga district
15. Blood-Stained Steps From a Soldier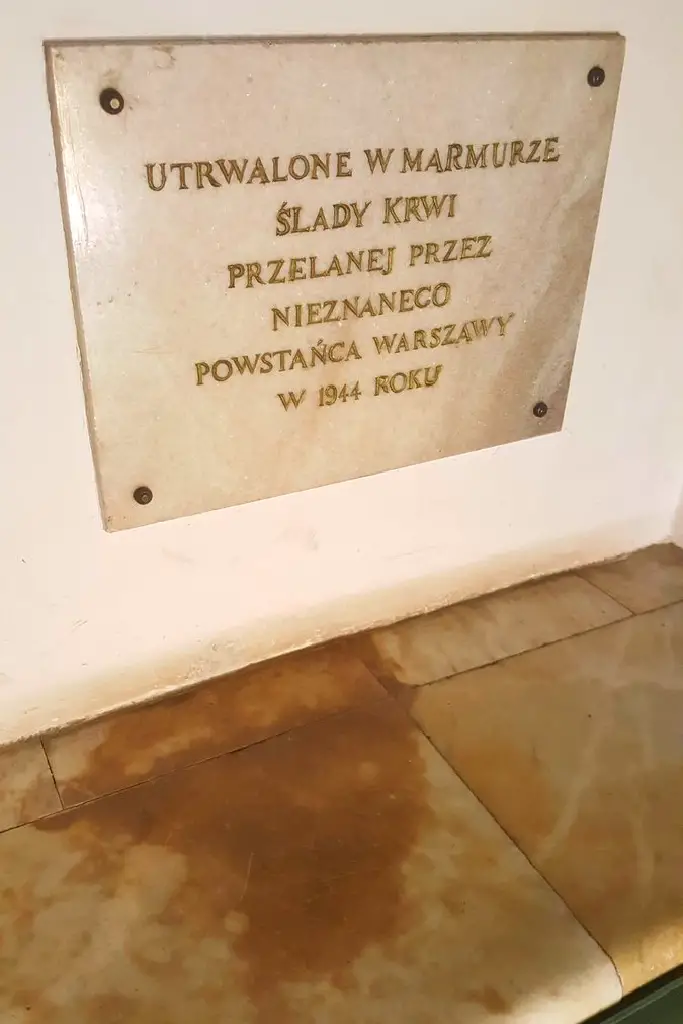 Around Warsaw, there are mysterious red-colored stains embedded on floors scattered throughout the city. Moreover, some are in apartment hallways, and others are located on marble steps. Furthermore, many believe these sites are stained with the blood of heroic insurgents of the Warsaw Uprising. Finally, these are local people who fell into battle to help liberate Warsaw from its barbaric German occupants.
Oftentimes, bodies that were killed would lay in the same positions for several months, causing deep red stains in the marble. Also, although there are a few around the city, only one has been officially confirmed through scientific analysis and commemorated with a plaque.
Location: The Earth Museum on ul. Na Skarpie behind the National Museum
We Need Your Help
Did you find this article helpful? If so, bookmark it and when you're planning your next vacation click on any of the links below before finalizing reservations. You'll get the best price, we'll earn a small commission, and you'll help support future articles.
Thank you!
BEST TRAVEL SEARCH ENGINES
🏘️ Book Your Accommodation
We use Tripadvisor and Priceline's Express Deals to compare prices and reviews in advance and check availability
✈️ Book Your Flight in Advance
To find the cheapest flight options, you can use WayAway and Skyscanner to find the most suitable choice for you
🚗 Reserve Your Rental Car
Use DiscoverCars and Skyscanner to compare prices and view the largest selection of vehicles