What is the significance of the Warsaw Ghetto Bridge Memorial? One of the most significant captures of the Warsaw Ghetto is the photo of the wooden footbridge constructed over Chłodna Street. The bridge was built to connect the small and large ghettos. Today, there is a memorial at the site where the ghetto bridge once stood in 1942.
Warsaw Ghetto Bridge Memorial | The Story Behind the Bridge
The original wooden bridge reached the third floor of the nearby buildings. It was tall enough to let trams and German vehicles pass by underneath. The bridge offered a panoramic view of  free "Aryan Warsaw." Those contained in the ghetto walls could see views of Saxon Garden, church steeples, and the Vistula River.
Therefore, it was with good reason it was often referred to as "The Bridge of Sighs." However, there was no stopping to savor the views. Policemen firmly told the residents to keep moving when crossing over the bridge.
What was the most photographed location in occupied Warsaw?
Although burned into the memory of many people, the wooden bridge was only in use for about a year and a half; from January to August 1942. After the ghetto was cleared, it was no longer needed and was dismantled. Many say this location was one of the most photographed locations in occupied Warsaw. The bridge is featured in Roman Polanski's film, "The Pianist."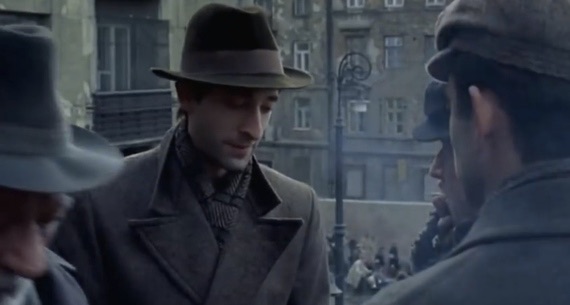 When was the Warsaw Ghetto Bridge Memorial Built?
In September 2011, the Warsaw Ghetto Bridge Memorial was constructed to commemorate the iconic location. Two sets of metal poles are connected via optical fibers that illuminate after sunset. The light projects recreating the shape of the footbridge providing an illusion of a bridge suspended over the road. It was designed by Tomasz de Tuscan-Lec.
In the metal poles, there are viewfinders where visitors can flip through images of life in the ghetto and in Warsaw during that time period.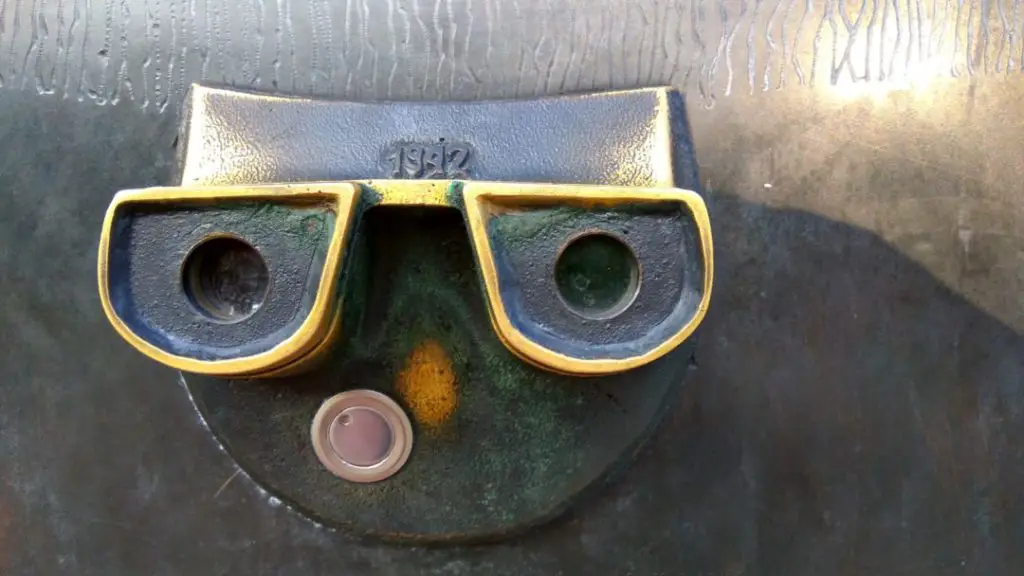 What Are Other Attractions Nearby
Just under your feet, you'll notice the pavement marker which represents the ghetto wall borders. If you're seeking out the memorial, be sure to stop and visit the Keret House. It is only a few steps away. The home may be the narrowest in the world. At its widest point, it measures only five feet in length.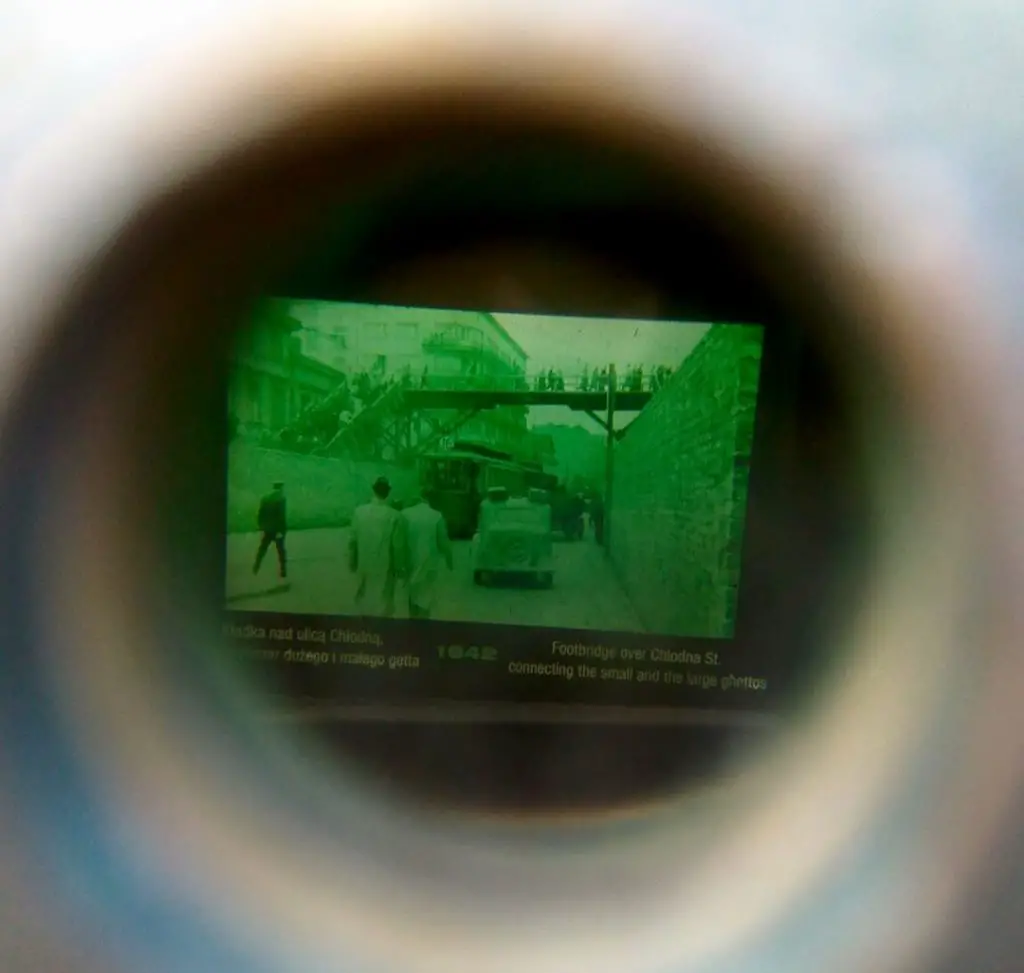 Where is the Warsaw Ghetto Bridge Located?
The Warsaw Ghetto Bridge Memorial is located at the intersection of Chłodna and Żelazna Street in the Wola district. It is accessible 24-hours a day. Consider visiting at night to see the optics illuminated. There is no charge.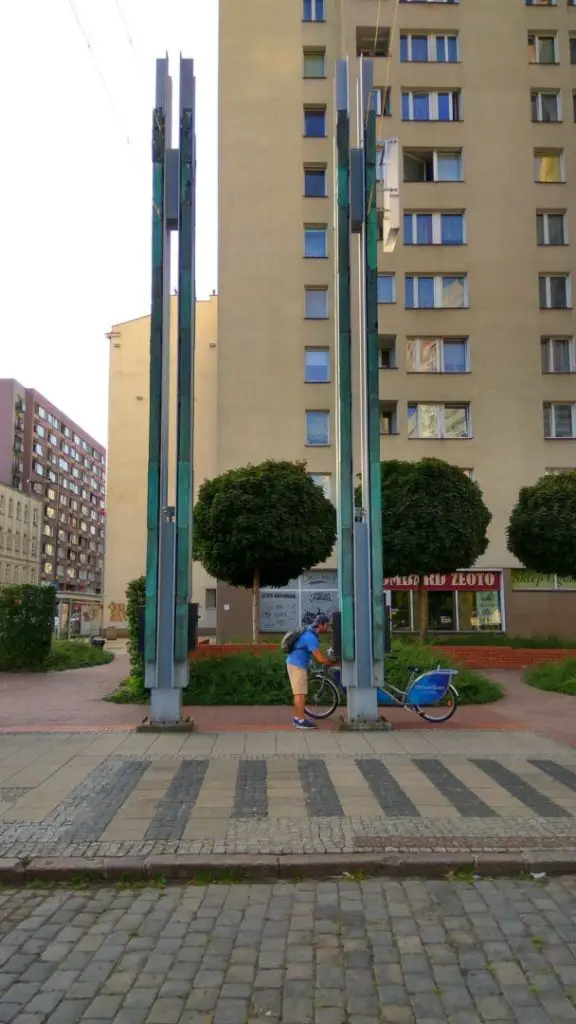 Where to Stay
Below are the recommended places to stay based on budget and having an amazing location!
Budget: Ibis Warszawa Stare Miasto (clean, modern, and comfortable)
Mid-Range: Castle Inn (boutique in great location)
Luxury: Hotel Bellotto (casino onsite) or MONDRIAN Luxury Suites & Apartments (views of Old Town)
What to Do
These are the most popular tours in Warsaw!