Fryderyk Chopin's brilliant musical career began in Warsaw. Here he learned to play the piano, captured the hearts of aristocrats with his performances, and often made the headlines in Warsaw's press. One of the best ways to reflect on his life is to go to Chopin summer concerts in Łazienki Park.
Chopin Summer Concerts in Łazienki Park
Fryderyk Chopin Monument
Today, many associate Chopin with the gorgeous memorial in the Łazienki Royal Park. Erected in 1926, the statue represents the composer lost in thought while seated in the shade of a willow tree blowing which is blowing in the wind. 
Interestingly, during World War II the Chopin Monument was one of the first monuments to be blown up by the Nazis. It was reconstructed to look just like the original and has become a symbol of the city.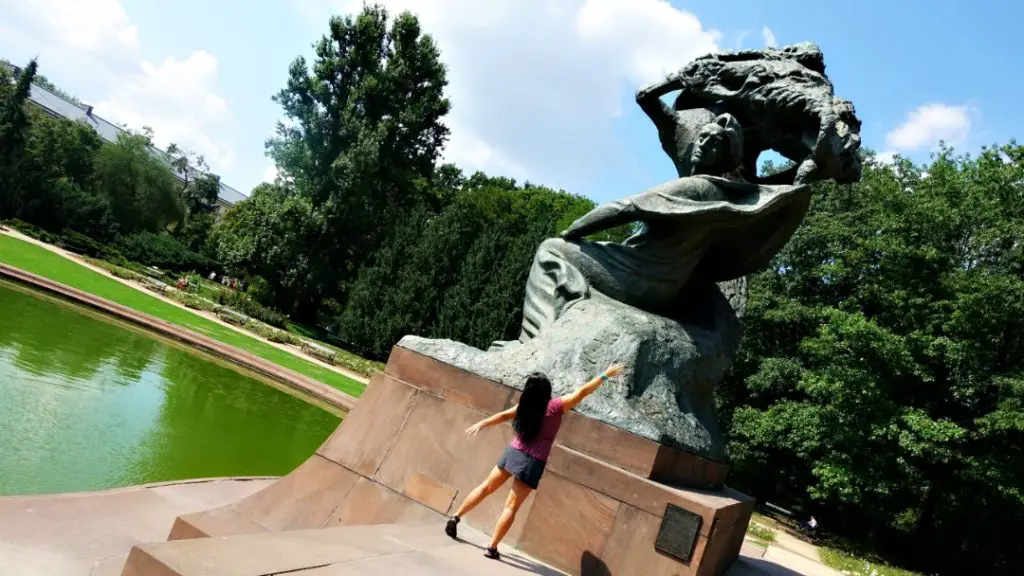 Summer Concerts
On our self-guided tour of Chopin, we learned that for more than fifty years concerts have been held at the monument. Talented pianists perform every Sunday from mid-May until late September at noon and again at 4 p.m. Each concert lasts about an hour. 
The concerts are popular and are free of charge. Both locals and tourists come out to enjoy a lazy Sunday afternoon in Łazienki Royal Park.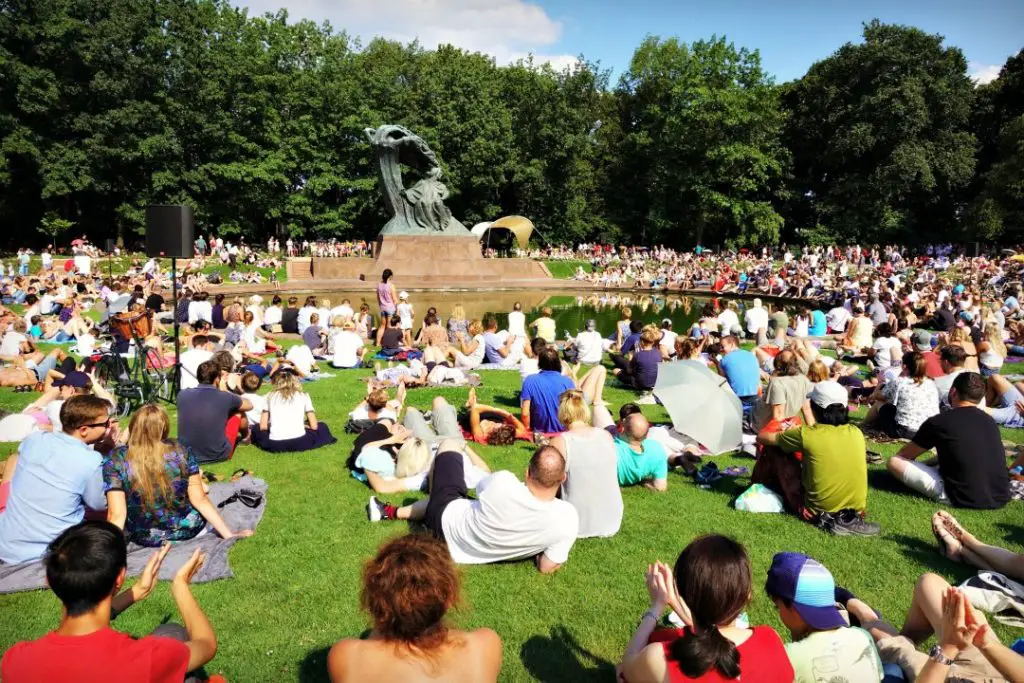 The following are some insider tips to make Chopin Sundays in Łazienki Park more enjoyable.
Bring a picnic lunch. There are a few food stalls outside the park, but grab some snacks and cold drinks to enjoy a light lunch in the park.

 

Most folks sit in the grass or on blankets, we were lucky and brought our new easily inflated comfort pad. (More information below.) The older you get, the harder it is to relax that long on the ground.
Go early and seek out a shady spot. On sunny days, the park can get hot and there is limited shade available.

 

Try to seek out a small place of your own, away from potential annoyances. A tourist sat next to me crinkling his lunch bag and constantly playing with his toenails. The more isolated, the more you'll find your zen and enjoy the relaxing music.

 

Bring sunglasses, hats, visors, shade umbrellas, etc.

 

Bicycles are not allowed in the park.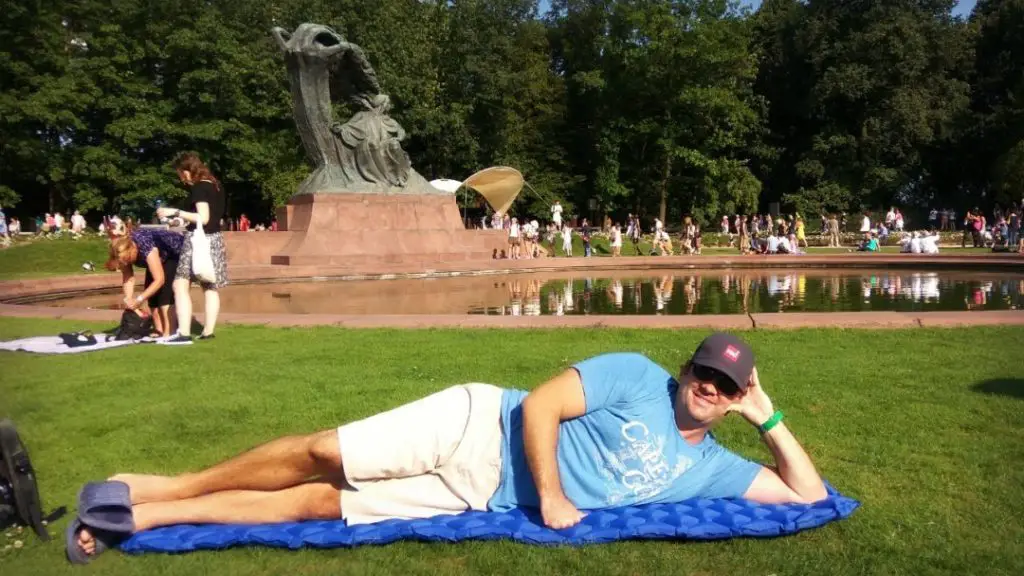 Our Inflatable Comfort Pad
We recently acquired a comfort pad. It is ultra-light, small, and very portable! It is made from durable and waterproof nylon fabric. The best part is it only takes about 10-15 breaths to inflate it. It also deflates in seconds. 
Bringing this pad to relax made relaxing at the concert a lot more enjoyable. This pad will fit easily in our backpack and is going to come in handy for outdoor events, camping, and even relaxing on our local beach! 
Based on the size of the Inflatable Comfort Pad we thought it was going to take about 1/2 hour to blow up. But somehow the engineers have designed it where it takes only about 10 normal size breaths to quickly fill it up. It easily fills up in less than one minute!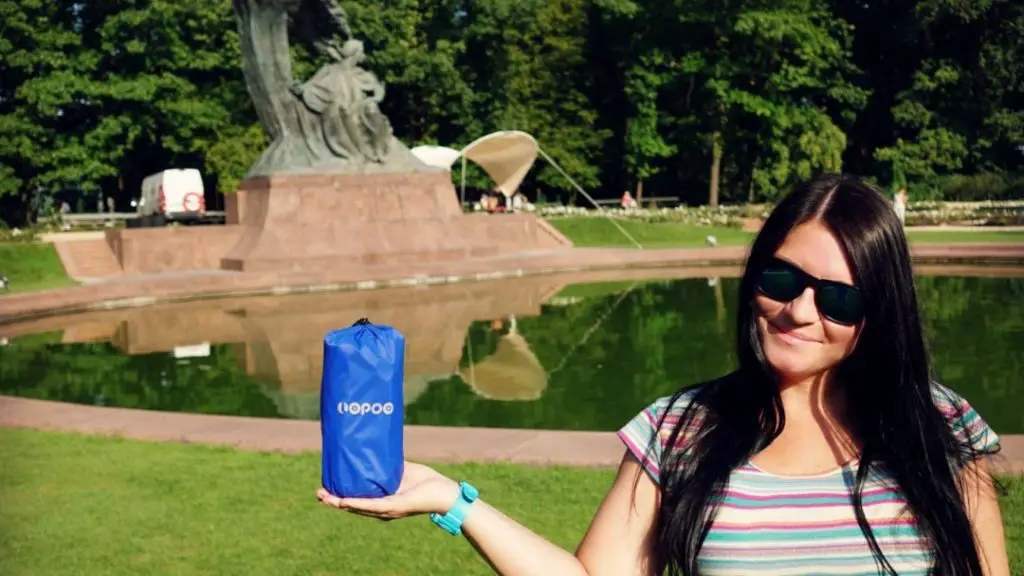 Lazy Days of Summer
Our afternoon at the Łazienki Royal Park was a great way to experience a typical weekend in Warsaw. Listening to the sweet sounds of Chopin brought us back to a time when the aristocratic elite would spend the lazy days of summer, enjoying the countryside while listening to the popular music of their time.