"The Strip" is Las Vegas' major gambling boulevard and one of the most fascinating places on the planet to dine out. Whether you're looking to experience the meal of a lifetime or simply a fun night out, the restaurants below are the best places to eat on the Vegas Strip.
With fresh seafood flown in daily and a steakhouse in just about every hotel, The Strip is the fine-dining mecca of the world. At only about 4 miles long, no other place on Earth compares. In fact, the abundance of awesome restaurants in such a small space can make selecting one feel overwhelming.
We use this

travel search engine

to get the cheapest prices on Vegas shows, tickets, and events.
No worries! Simply, pick any one of the 10 restaurants below and you're sure to have a unique and enjoyable dining experience.
Places to Eat on Vegas Strip
While most visitors come to Las Vegas for gambling and amazing shows, many fail to realize that Sin City is a foodie lover's paradise. From restauranteurs looking to open something unique to Michelin-trained and celebrity chefs looking to make their mark on the gastronomy world, Las Vegas brings the talent.
The restaurants below include mind-blowing haute cuisine, stunning views of the Vegas Strip, or amusing themes, while some combine them all. Moreover, with Italian, French, and American-inspired theme hotels, it's possible to enjoy lunch in one country and dinner in another⁠—well, at least it may feel that way.
This is Where We Stay in Vegas!: 7 Cheap Las Vegas Hotels on the Strip
When it comes to the almighty dollar, most of these restaurants are not for the faint of heart. Many are extremely expensive, however, they represent once-in-a-lifetime dining extravaganzas. Below are 10 unique places to eat on the Vegas Strip.
1. Nusr-Et Steakhouse
For those that don't know the Salt Bae meme, it's a 5 ft 6 in Turkish man in a tight form-fitting white V-neck shirt with small round sunglasses flicking salt onto a steak using a cobra pose. If you haven't seen it, this probably makes no sense. You can see it here.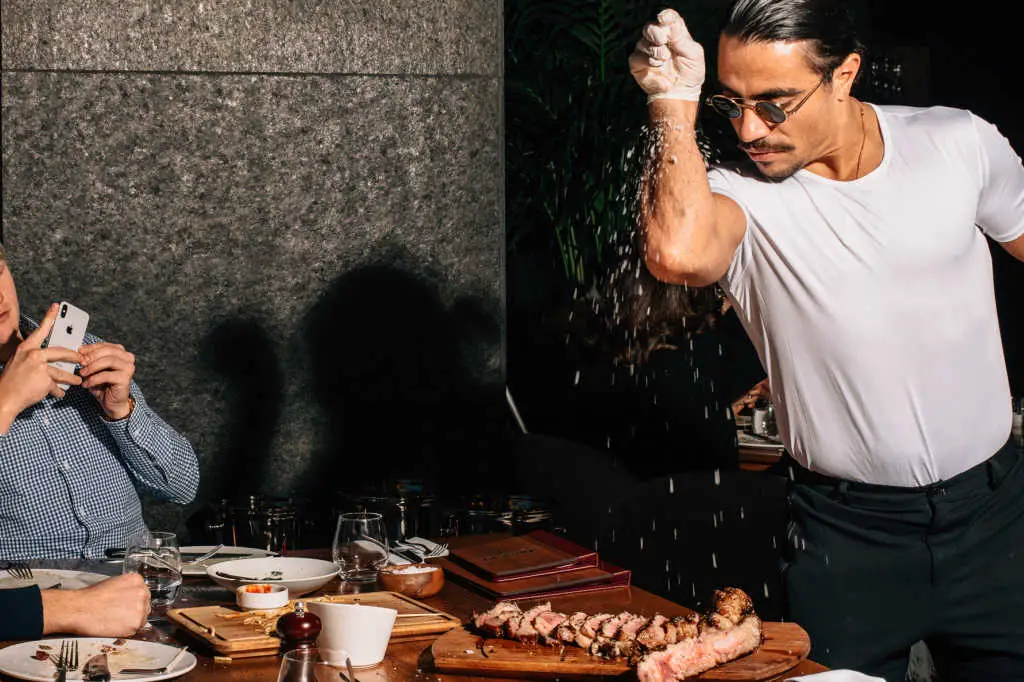 When this theatrical seasoning maneuver went viral, it broke the internet. Since then, Nusr-et Gökçe (aka "Salt Bae") has opened up several restaurants, and celebrities and professional athletes can't seem to get enough of him or his cuisine.
The energetic atmosphere of Nusr-Et Steakhouse and the hope of seeing a celebrity make it one of the most sought-out restaurants in Vegas. Overall, the food is priced similarly to any other high-end steakhouse in Vegas, of course, very expensive. However, what sets Nusr-Et apart is its gold-leafed menu items, including:
$100 – Slice of Golden Baklava
$180 – Golden Burger
$2,700 – 70 oz. 24 Karat Gold Coated, Highly Marbled Wagyu Tomahawk
Location: The Park
When you're ready to book your flight, follow these three easy steps to get the best price.
2. Mercato Della Pescheria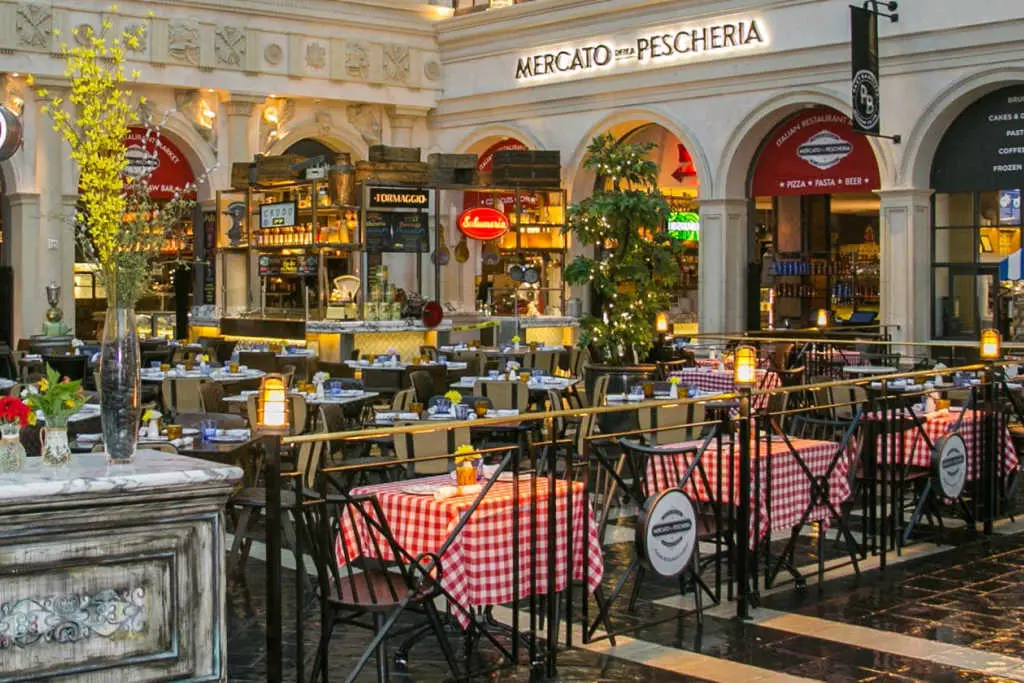 Escape to a fish market in Venice right off the Vegas Strip. Translated to "fish market," Mercato della Pescheria is located in St. Mark's Square at The Venetian's Grand Canal Shoppes. Moreover, the interior is designed to make guests feel like they're sitting along the canals of "La Serenissima," with fresh fish on ice, checkered tablecloths, Venetian streetlamps, and of course authentic Italian cuisine.
Location: The Grand Canal Shoppes at The Venetian
Don't Overpay for Vegas Shows: Get Cheap Tickets to Las Vegas Shows, Concerts, and Events
3. The X Pot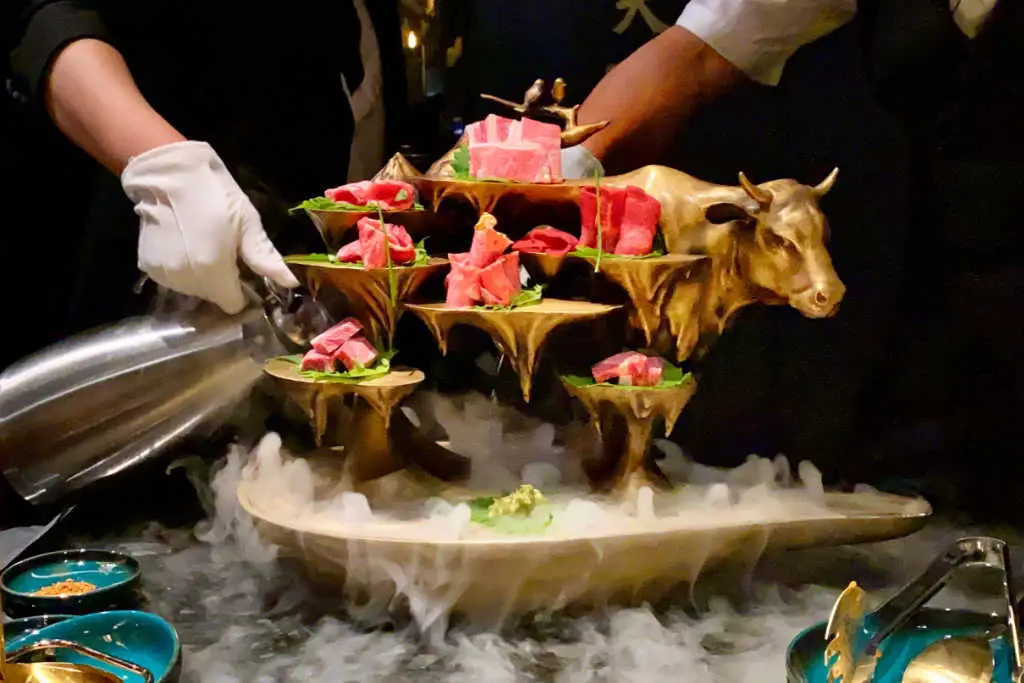 By linking American and Asian cultures, and adding a modern twist on the age-old tradition of hot pot, The X Pot offers both a unique and fun dining experience. Not only does The X Pot focus on taste, but with interactive lights and soundscapes, the immersive-style restaurant looks to stimulate all senses. Flown in daily from Japan, purebred A5 Wagyu beef is the focal point here.
Location: Grand Canal Shops at The Palazzo
Have You Tried Dining in the Dark?: BLACKOUT "Dining In The Dark" turns the conventional fine dining experience into an anything-but-conventional all-out sensory experience. Vegas is one of the best places on the earth to try this.
4. Best Friend by Roy Choi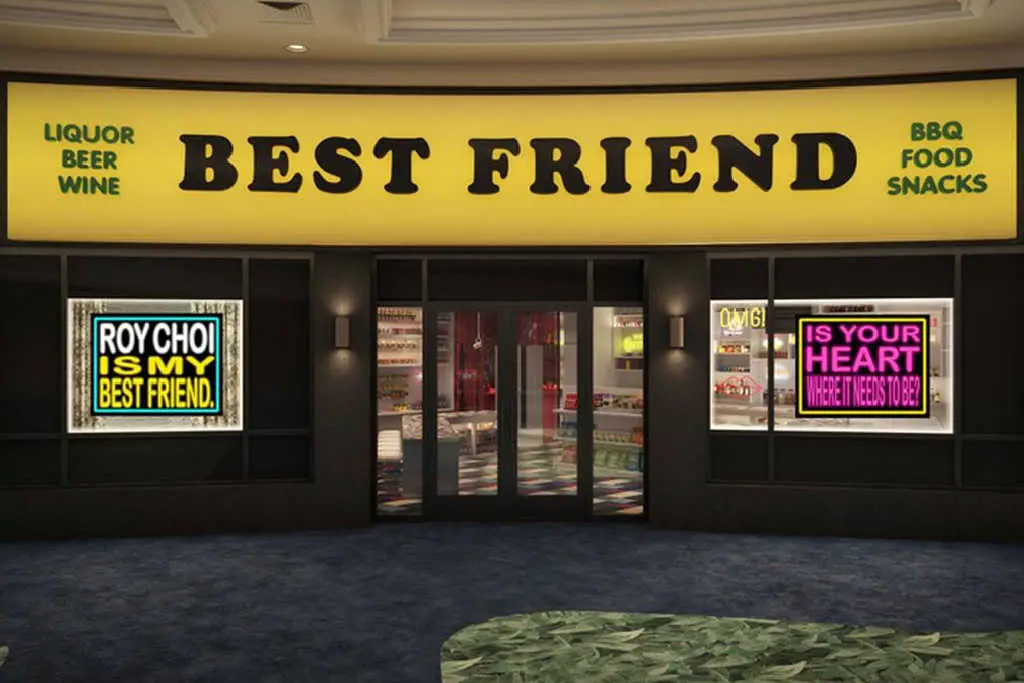 When walking through Park MGM, you may wonder why there's a Korean convenience store next to the casino floor. Well, this mom-and-pop shop is actually an undercover Korean barbecue joint. Walking through the doors of Best Friend will take you back to the late 80s early 90s streets of LA. Menu highlights include Slippery Shrimp, Spicy Pork, and the Chego Pork Belly Bowl.
Location: Park MGM
5. Delilah Supper Club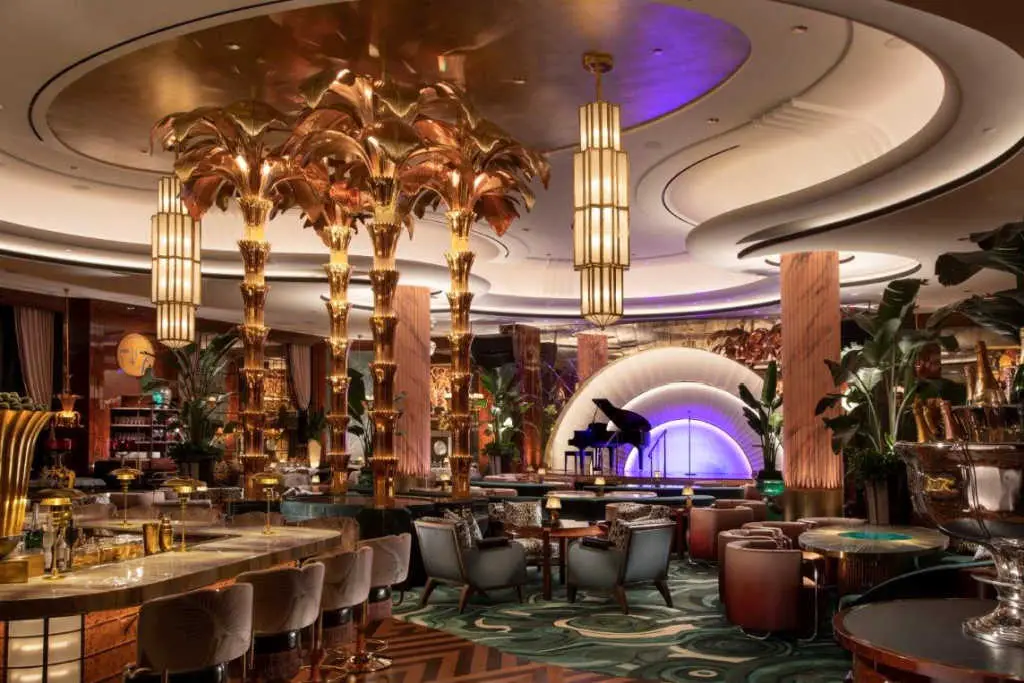 Have you ever dreamed of visiting Old Vegas? With the opening of Delilah Supper Club in July 2021, you now can. Feeling more like the roaring '20s, but inspired by Vegas' "Golden Age" of the 1950s, when showrooms and supper clubs were extravagant and the place to be on a Saturday night, Delilah does not disappoint. Come for dinner before 10:30 p.m. and enjoy the late-night entertainment—⁠it will elevate to a lounge/club atmosphere as the night progresses.
Location: Wynn
6. Mon Ami Gabi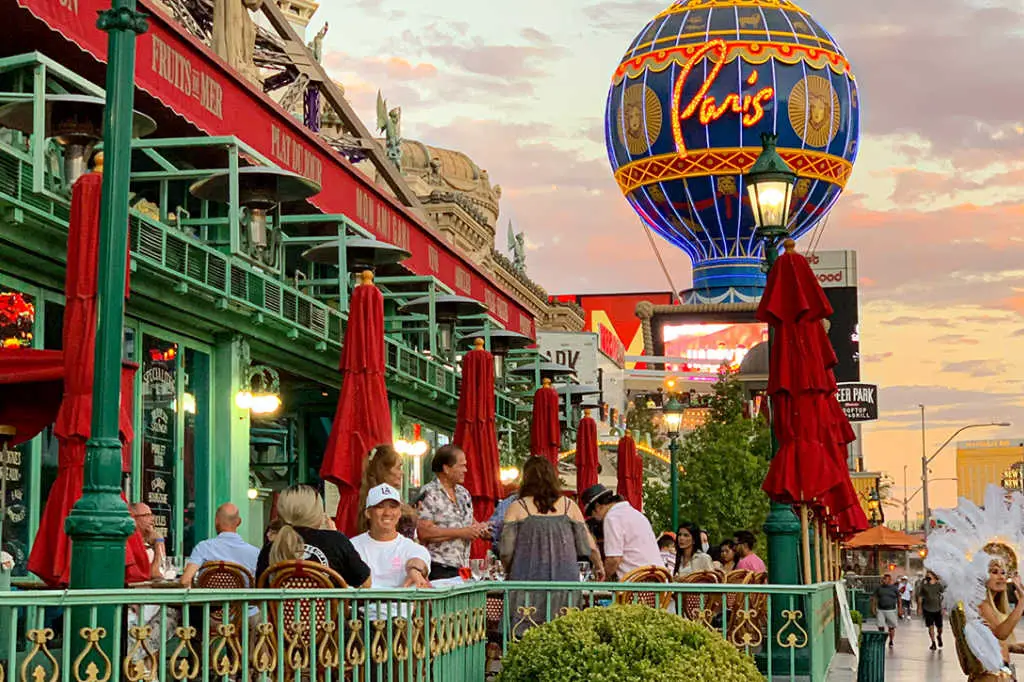 While it has a few other U.S. locations, Mon Ami Gabi's Las Vegas restaurant is unique in the fact that it's located at the Paris Resort underneath the Eiffel Tower and across the street from Bellagio's fountains. Also, it's one of the few restaurants on The Strip that offers al fresco dining. They're open from 7 a.m. to 11 p.m., making it easy to fit into any schedule.
Location: Paris Hotel
7. Eiffel Tower Restaurant
Tourists who can't seem to get enough of Parisian life will enjoy dinner at the Eiffel Tower Restaurant. While Mon Ami Gabi may be the budget-savvy version of teleporting to Paris, the Eiffel Tower Restaurant is the elegant, much more expensive option—with some of the best views in the city.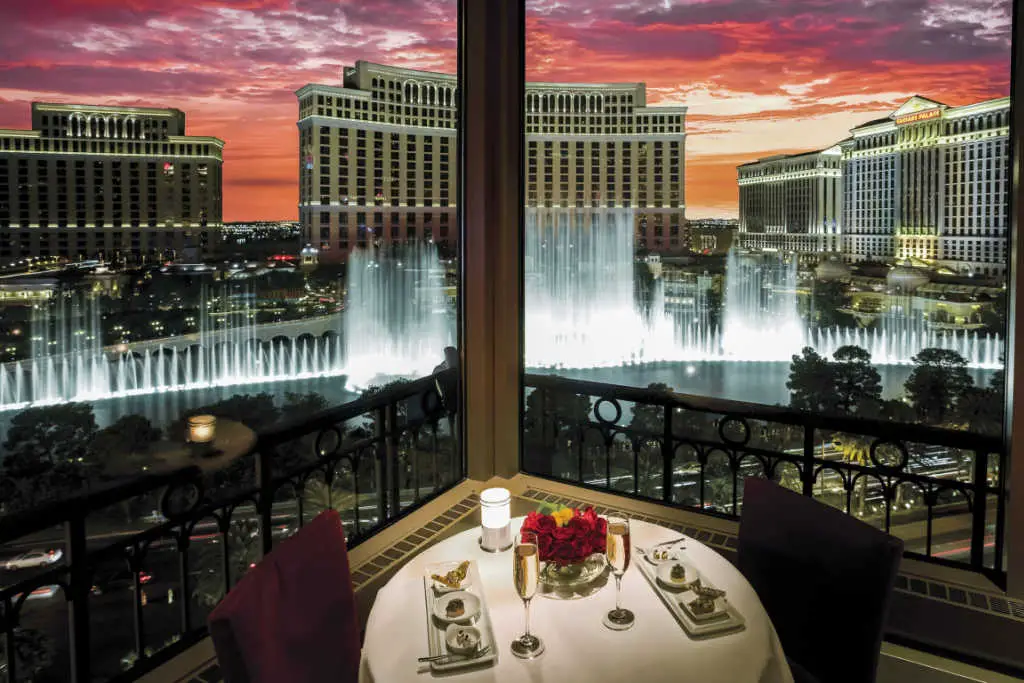 Perched about 100 feet above The Strip, and overlooking Bellagio's fountains, the Eiffel Tower Restaurant is a once-in-a-lifetime dining experience and one of those places you have to eat on the Vegas Strip. There's an additional booking fee of about $40 to reserve a table by a window. Do it. Don't think about it. It's worth it.
Location: Paris Hotel
8. Heart Attack Grill
There's probably no other restaurant in Vegas that combines American culture with ridiculousness more than Heart Attack Grill. This is an absolutely bizarre and unique dining experience. For example, people who weigh 350+ pounds eat for free. What?!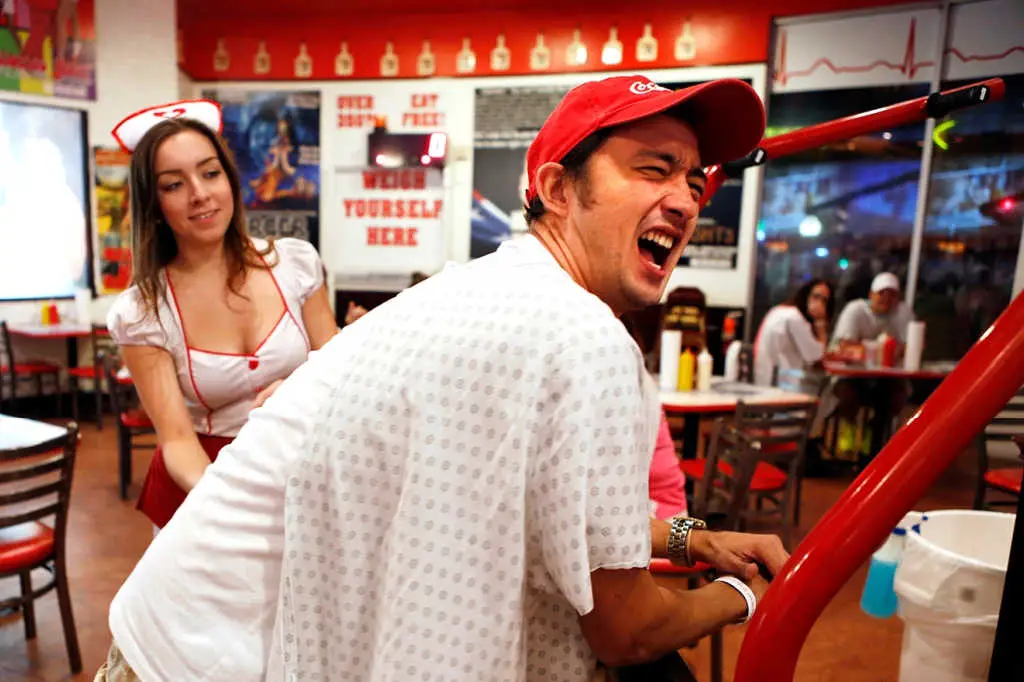 With hospital-inspired decor, waitresses dressed as nurses, and customers covered in hospital gowns, Heart Attack Grill is a one-of-a-kind "Man vs Food" adventure. Red wine is served in an IV bag, jello shots in a syringe, and several customers have literally dropped dead in the restaurant while eating, which the restaurant takes great pride in.
By the way, if you order more than you can eat, your waitress/nurse will give you a spanking in front of the entire restaurant, and she's not messing around—we're pretty sure their hiring practices entail a desire to award pain.
Location: Downtown, on Las Vegas Blvd S. & Fremont St.
9. é by José Andrés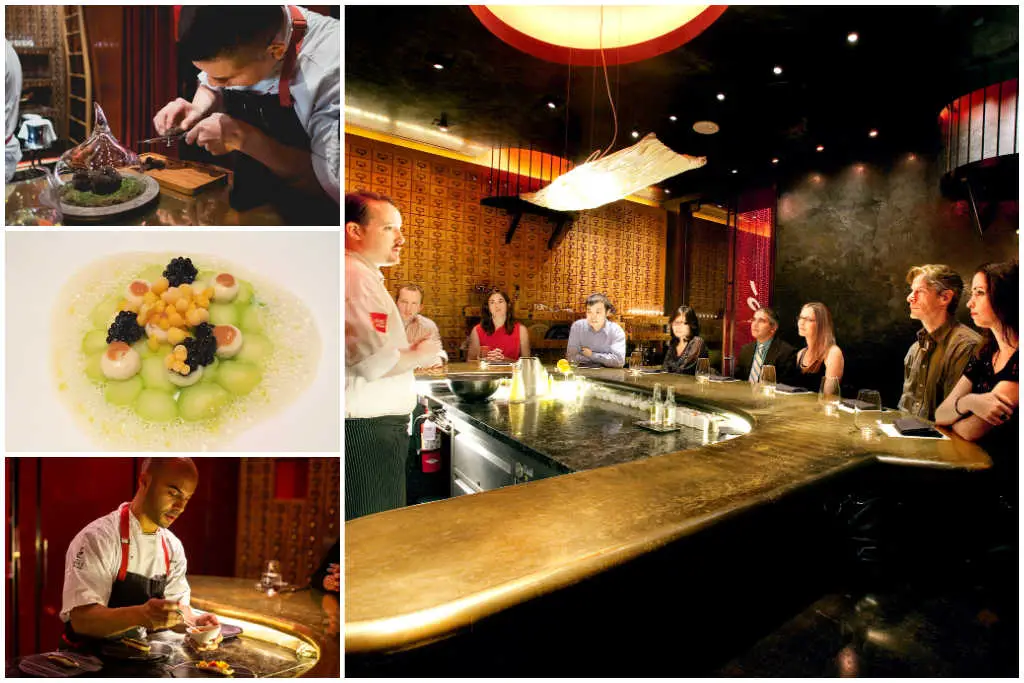 Looking for an ultra-exclusive dining experience in Vegas? Then, é by José Andrés is probably your best option. Situated in The Cosmopolitan hotel is a small private room with seating for nine. The Spanish avant-garde cuisine is presented through a vast tasting menu that takes place twice a night, one at 5:30 p.m. and the other at 8:30 p.m. With only 18 diners per evening, this may be one of the most difficult reservations to make in Vegas, best to make it as far in advance as possible.
Location: The Cosmpolitan
10. Kabuto-Edomae Sushi
Okay, technically, Kabuto-Edomae Sushi is not on The Strip, however, if you're a sushi lover then the short 1.5-mile jaunt to Chinatown is worth the trip. Specializing in Edomae-style sushi (the combination of cooked rice and fresh raw fish, season with vinegar), and served omakase-style, which basically translates to "letting the chef decide what is best." In other words, customers sit down and are presented with a carefully-crafted dining experience fulfilled by a head sushi chef. You are simply there to enjoy. Pair it with sake, of course.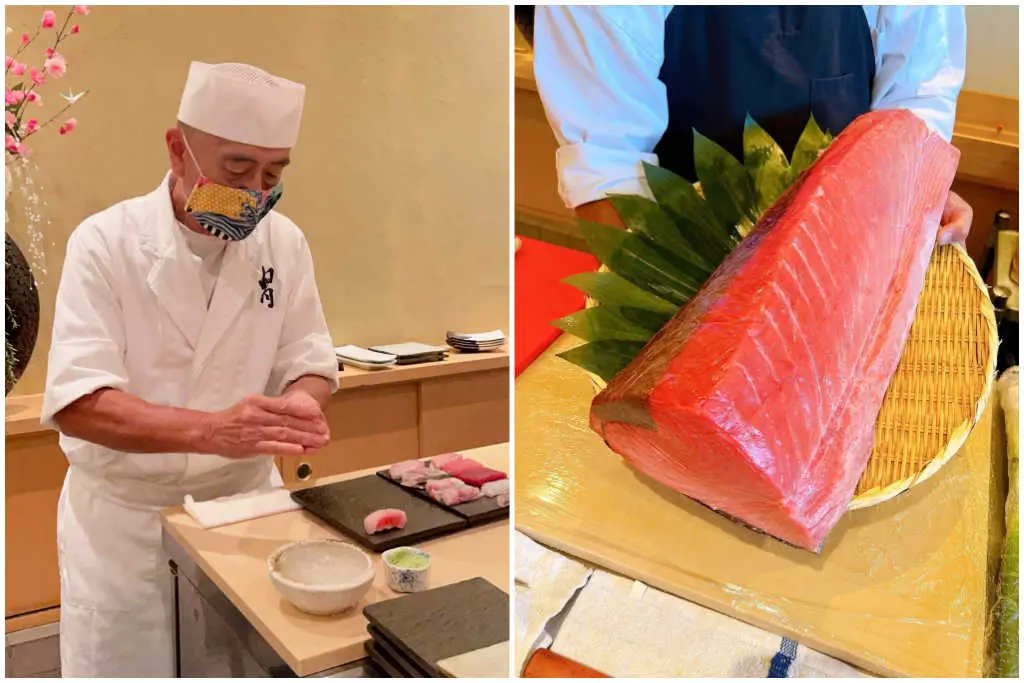 Reservations are accepted up to 30 days in advance by phone or RESY. Furthermore, reservations made via email and voicemail are not accepted.
Location: 5040 W Spring Mountain Rd.