No visit to California is complete without walking on the beach. While it can be fun to drive down to the ocean, it can also be confusing and frustrating dealing with traffic and parking. To avoid the hassle, book one of the best resorts in California on the beach and spend your time pleasurably and stress-free.
It comes as little surprise that the best resorts in California on the beach are some of the most sought accommodations in the country. Generally, the beaches in California are brimming with soft white sand, beautiful people, fantastic restaurants, and some of the most lovely sunsets in the world.
When it comes to beaches, southern California is the epicenter. However, coastlines along Big Sur and Lake Tahoe are equally spectacular, perhaps unexpectedly.
Therefore, if you're looking for a happening beach in SoCal, a deserted dramatic beach in central California, or a high-altitude crystal clear turquoise lagoon surrounded by pine trees, there's something for everyone.
10 Best Resorts in California on the Beach
Feel good knowing that booking any one of the 10 resorts below will basically guarantee a great vacation—these are the best of the best. Below are the 10 best resorts in California sorted by nightly rate from cheapest to most expensive for one room with two people.
10 BEST CALIFORNIA RESORTS ON THE BEACH
Select a hotel or scroll down to view all.
1. El Cordova – San Diego
Okay, technically the historic hotel El Cordova is not on the beach. However, being only a short hop, skip, and jump away (about a four-minute walk) makes it one of the best resorts in San Diego at an outlandishly affordable price.
With Mediterranean vibes, this boutique resort transports guests to a hacienda in Spain. Moreover, it's within walking distance of the area's best restaurants, shopping, and multiple beaches.
Guests are treated to two on-site restaurants, a bar/lounge, a pool, and spacious suites. When you're ready to explore San Diego, jump right onto the Old Town Trolley to cruise around stress-free—one of their stops is a two-minute walk from El Cordova.
🏨 Book Now: El Cordova (from $156)
How to Save Money on Reservations
For the best prices on hotel reservations, we recommend comparing prices between TripAdvisor, Priceline (Express Deals), and Skyscanner.
Willing to choose the best places to stay by yourself or are you interested in getting off the beaten path? Try Trivago: a service comparing the best prices.
Priceline Booking Tip: From our experience, Priceline always emails a coupon offering a discount from 5 to 15% off our next stay after completing a reservation. Therefore, make sure you sign up on Priceline's home page for special deals and promotions via text message. Sometimes Priceline will send you a coupon right away that you can use for your trip—that way you don't have to wait.
2. Cavalier Oceanfront Resort – San Simeon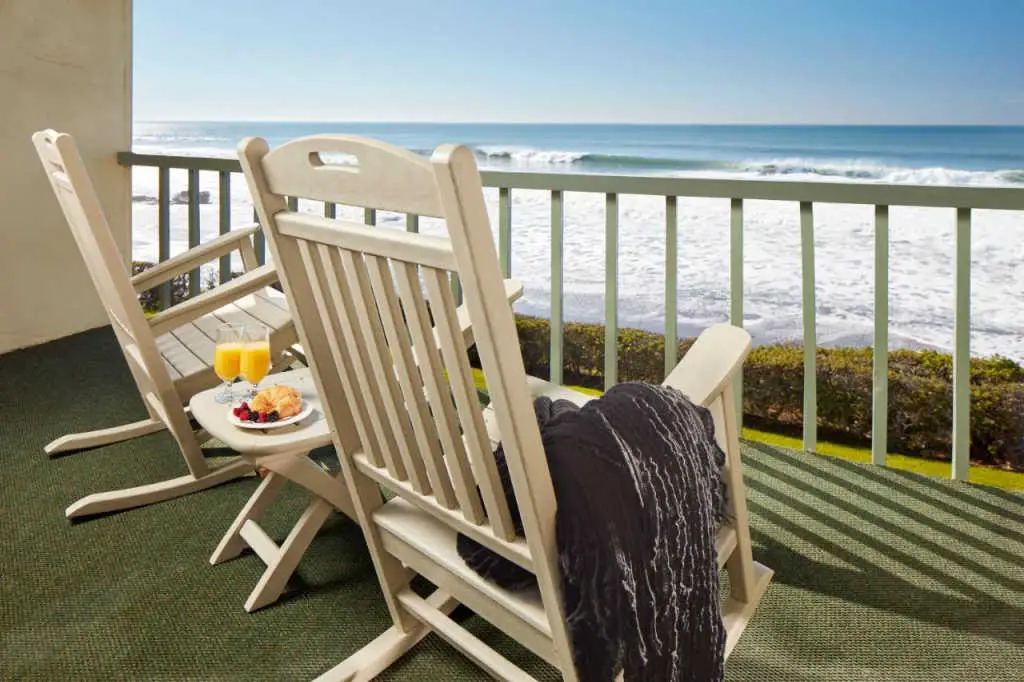 Located on Highway 1, along a stunning stretch of beach, the Cavalier Oceanfront Resort is one of the best resort deals in California. Sure, it's a bit dated but the views and location are priceless.
If you're willing to sacrifice a smidgen of modernity then this may be the ideal location to explore the Central Coast which of course includes Hearst Castle, Cambria, the Elephant Seal rookery, and the Paso Robles wine country.
🏨 Book Now: Cavalier Oceanfront Resort (from $169)
3. Hyatt Regency Resort, Spa & Casino – Lake Tahoe
While technically located in Nevada, the Hyatt Regency Resort, Spa & Casino sits on the California-Nevada border and is one of the best resorts in California on the beach. Most people don't consider California's "east coast" for a beach vacation but with one of the most beautiful lakes in the country, there's no reason not to.
In fact, Lake Tahoe is one of the deepest and cleanest freshwater lakes in the world—making it the perfect location for a beach vacation.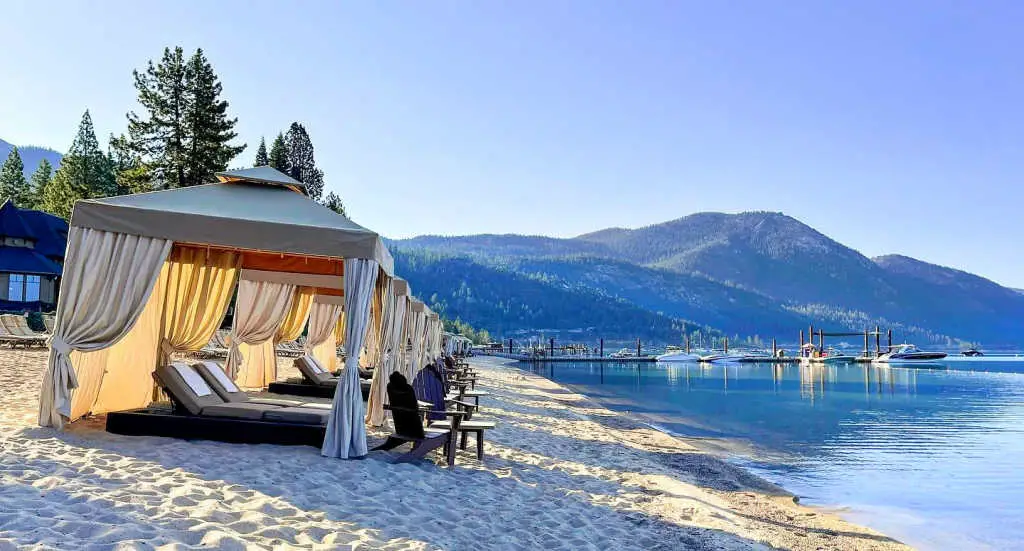 Expect to be wowed by the alpine atmosphere, scenery, and surplus of dining options. Finally, the best time to enjoy swimming at Lake Tahoe is during the summer, while Fall, with fall foliage, is the perfect time to hike.
🏨 Book Now: Hyatt Regency Resort, Spa & Casino (from $179)
4. The Seabird Resort – part of Destination by Hyatt – Oceanside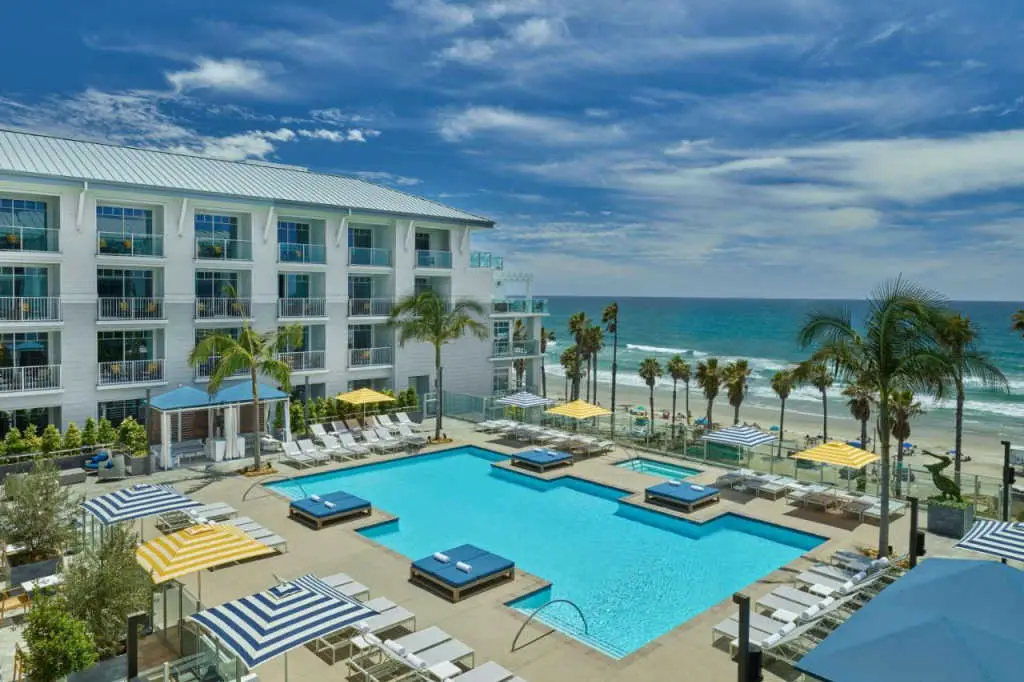 Overlooking Oceanside Beach and Pier, The Seabird Resort is the epitome of the best resorts in California on the beach. Adding a modern twist to the SoCal resort experience, Seabird's grand coastal architecture sets the tone for a wonderful family or couple's vacation.
Guests are treated to ocean views from their rooms and balconies, as well as from the expansive pool deck. Finally, enjoy local farm-to-table California fare at Piper, one of two onsite restaurants.
🏨 Book Now: The Seabird Resort (from $305)
5. The Waterfront Beach Resort, A Hilton Hotel – Huntington Beach
Looking out over Huntington Beach's oceanfront and white soft sand, The Waterfront Beach Resort, a Hilton Hotel is a great choice for beach-loving travelers looking to blend luxury with beach life. Also, it's ideally located within walking distance of the iconic Huntington Beach Pier and dining and shopping at Pacific City.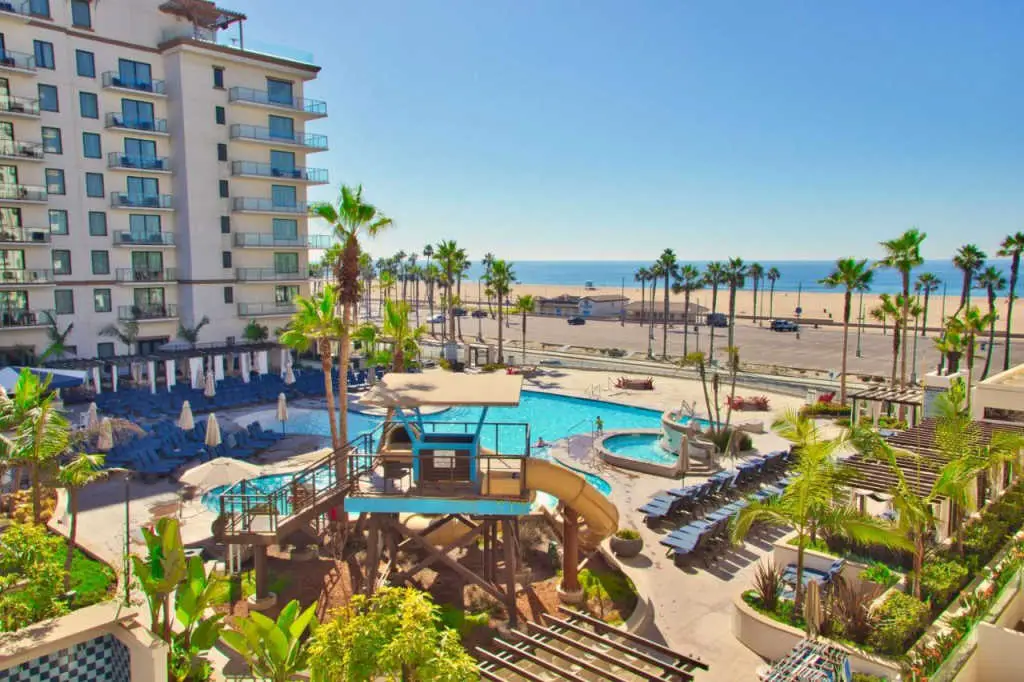 As one of the best resorts in California on the beach, the Waterfront is especially popular with families. It's easy to see why, the resort features two pools, one with two waterslides, four dining options, a rooftop lounge, and a kids club, and it's just 30 minutes to Disneyland.
🏨 Book Now: The Waterfront Beach Resort (from $319)
6. Loews Beach Hotel – Santa Monica
Only steps away from Santa Monica Pier, families looking for a posh resort in the center of Santa Monica's action will find the Loews Beach Hotel as the quintessential option. Because Loews loves family, the resort caters to all ages, and every member of the family is destined to have a fabulous vacation.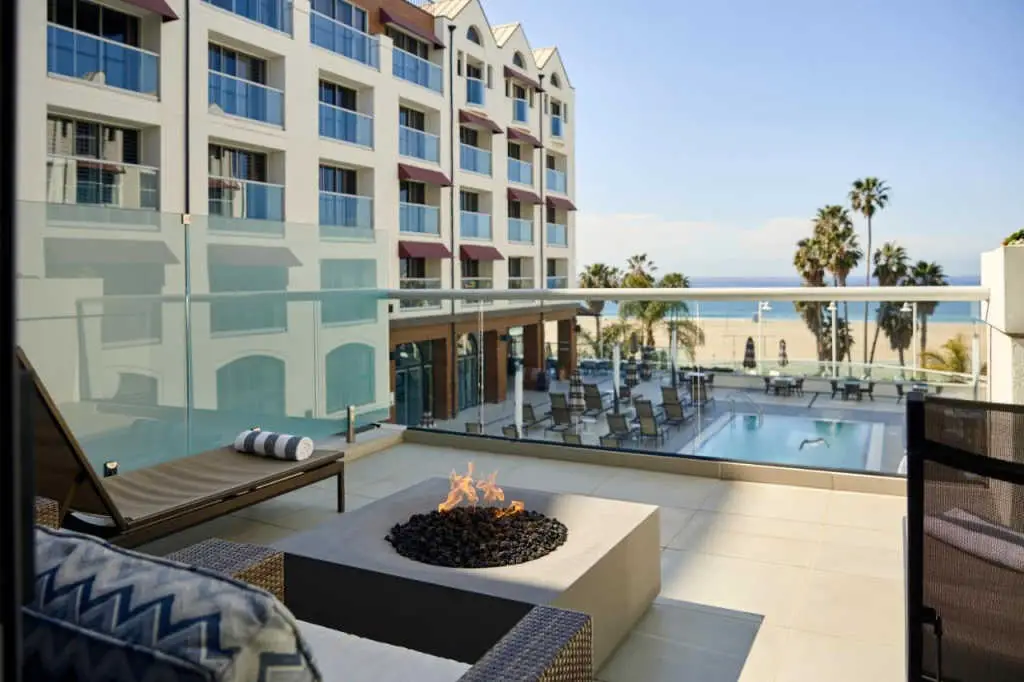 Featuring modern California design, the guest experience at Loews includes a 4th-floor elevated pool, 13 cozy fire pits, Blue Streak Restaurant, For Five Coffee Roasters, all-day room service, and comfortable yet luxurious guest rooms and suites with the most stunning views of Santa Monica Pier and the Pacific Ocean.
🏨 Book Now: Loews Beach Hotel (from $390)
7. Hotel Casa Del Mar – Santa Monica
Built in 1926 to be the most opulent and grandest resort on the beach, Hotel Casa Del Mar continues its mission to this day. The resort features luxurious decor, and meticulously blends SoCal and Mediterranean architecture. Moreover, the cheerful public areas radiate relaxed beachy vibes.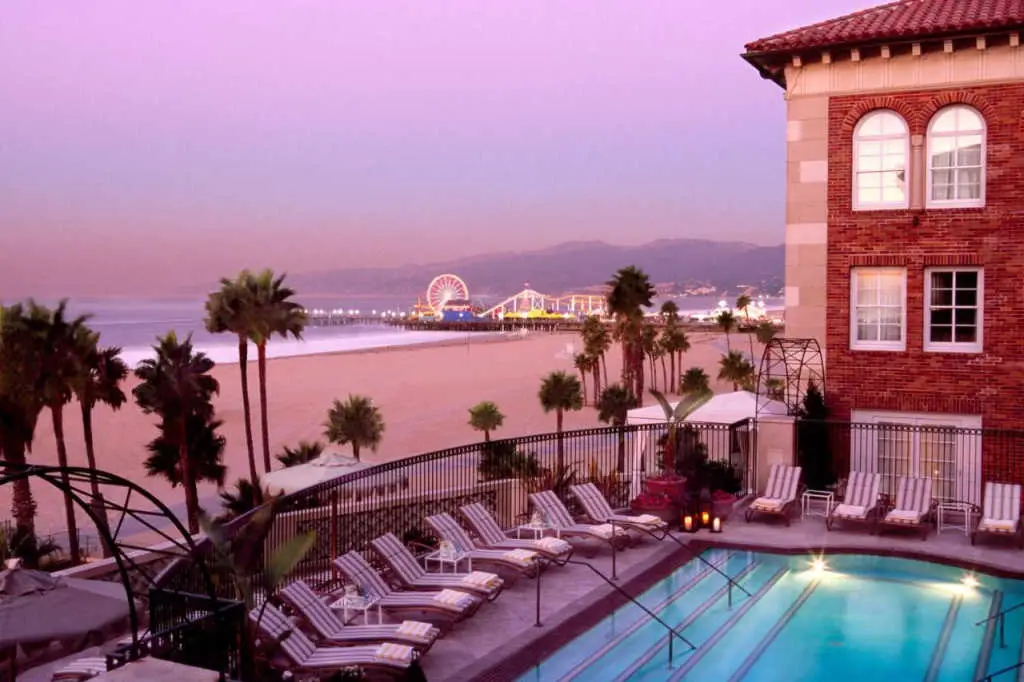 A short walk to Santa Monica and providing views from Malibu to Palos Verdes, guests will find the location ideal. But let's be honest, most people won't want to leave the resort. However, those that do decide to explore the area will find Venice Beach, the Third Street Promenade, and tons of shopping and dining options. Finally, Palisades 'cliff-top' Park is also within a short walking distance.
🏨 Book Now: Hotel Casa Del Mar (from $555)
8. Hotel Californian – Santa Barbara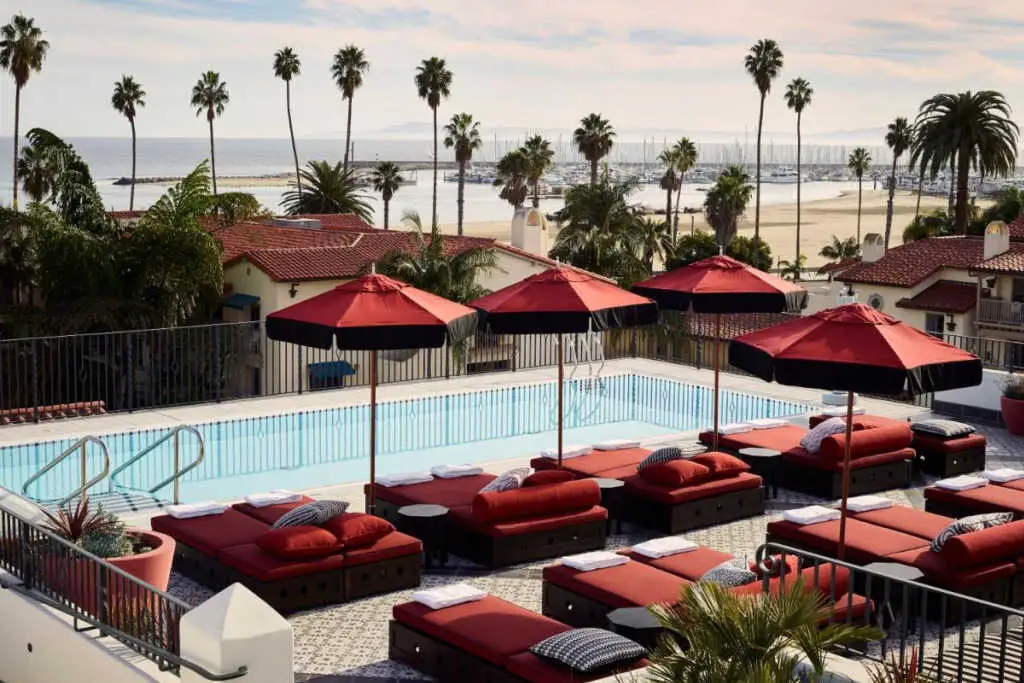 Referred to as the "American Riviera" by locals, Santa Barbara is blessed with wonderful wine, cinematic festivals, oceanfront views, and the Hotel Californian. With the Pacific Ocean in the foreground and the Santa Ynez mountains in the background, this Moroccan-inspired luxury resort sits a stone's throw away from the beach.
Travelers seeking out an adventure may opt to arrive in Santa Barbara by train. Conveniently located, Hotel Californian is just one block from the Santa Barbara Amtrak station.
🏨 Book Now: Hotel Californian (from $650)
9. Oceana Santa Monica, LXR Hotels & Resorts – Santa Monica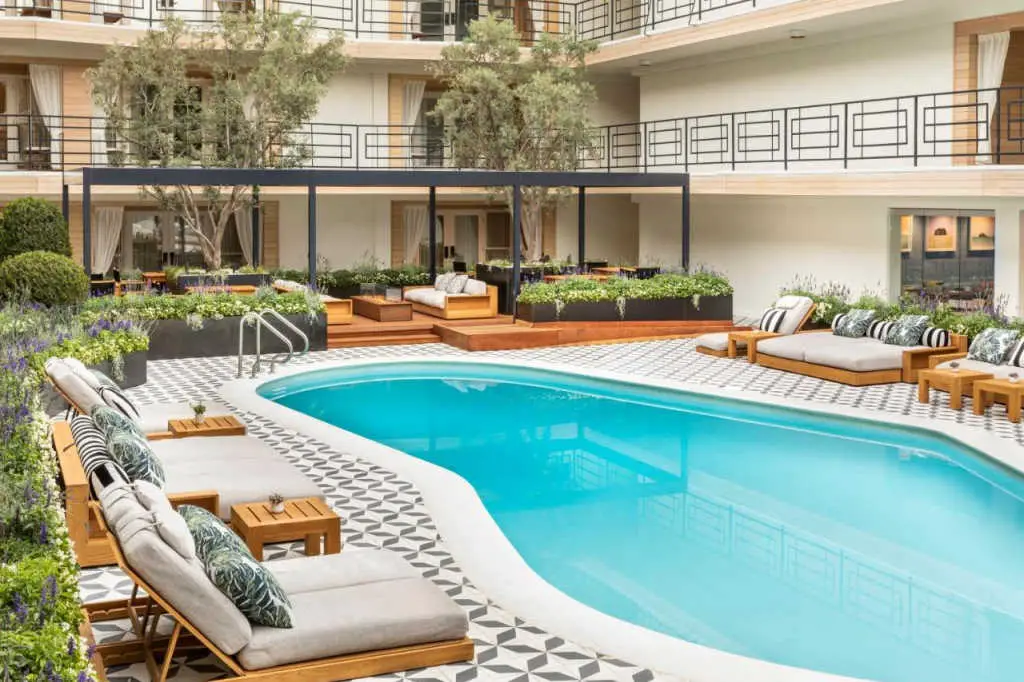 Located in one of Santa Monica's most prestigious neighborhoods, Oceana Santa Monica, LXR Hotels & Resorts offers unparalleled service. Their specialty: providing guests with a personalized stay that focuses on rejuvenation and relaxation. Moreover, its cozy courtyard and luxury suites emanate romance and intimacy. While kids are allowed, this resort is designed for couples.
🏨 Book Now: Oceana Santa Monica (from $935)
10. Montage – Laguna Beach
Perched on top of a coastal cliff on the Pacific Ocean, Montage Laguna Beach offers pure California seaside luxury. Guests describe their stay as a combination of both comfort and elegance.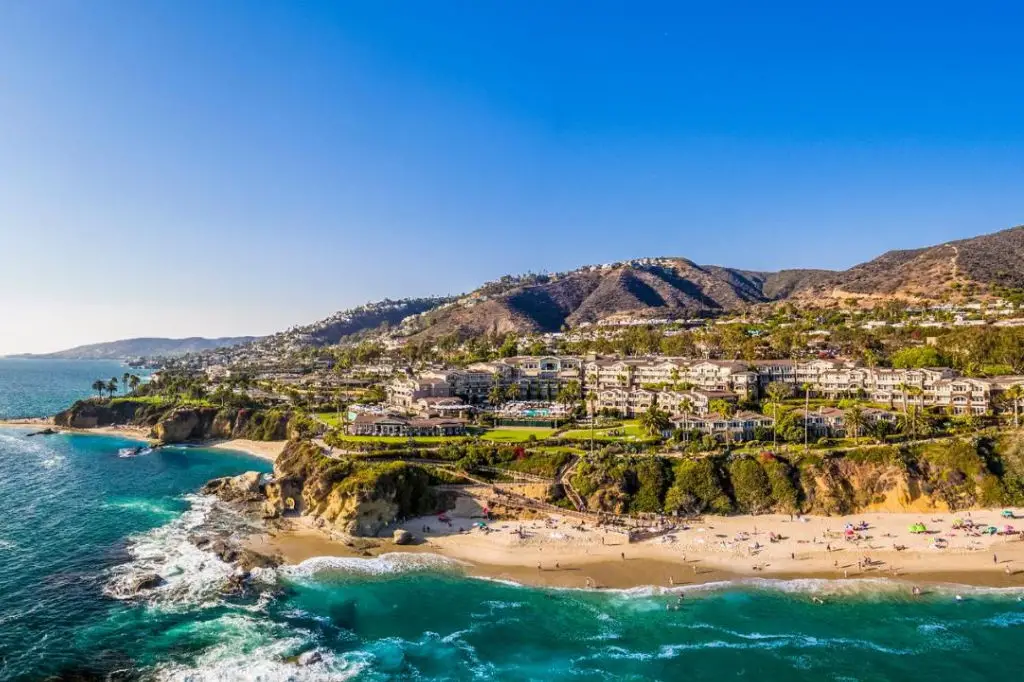 Although a popular venue for glam weddings, the property ensures privacy and serenity for every guest. Each room provides an ocean view and events are held away from rooms and suites.
Ready for pampering? With bathrobes, a soaking tub, and spa-like amenities, each room allows for a mini-spa getaway.
Reviews here are consistently and overwhelmingly stellar. With three on-site 5-star restaurants, outside dining patios, poolside cabanas, and evening cocktails with live entertainment, it's awesome. The Montage Laguna Beach is truly one of California's premier resort experiences.
🏨 Book Now: Montage Laguna Beach (from $950)
We Need Your Help
Did you find this article helpful? If so, bookmark it and when you're planning your next vacation click on any of the links below before finalizing reservations. You'll get the best price, we'll earn a small commission, and you'll help support future articles.
Thank you!
BEST TRAVEL SEARCH ENGINES
🏘️ Book Your Accommodation
We use Tripadvisor and Priceline's Express Deals to compare prices and reviews in advance and check availability
✈️ Book Your Flight in Advance
To find the cheapest flight options, you can use WayAway and Skyscanner to find the most suitable choice for you
🚗 Reserve Your Rental Car
Use DiscoverCars and Skyscanner to compare prices and view the largest selection of vehicles