Islay distilleries are famous for producing some of the best Scotch whisky in the world. Any fan of the TV program "Parks and Recreation" will surely remember the episode where Ron Swanson (played by Nick Offerman) jets off to the Isle of Islay in Scotland to make a pilgrimage to the Lagavulin Distillery.
RON SWANSON'S GUIDE TO ISLAY DISTILLERIES
Throughout the episode, Swanson proclaims his love for Lagavulin whisky—at one point, he even attempts to purchase a house within sight of the Lagavulin Distillery so that he could be "downwind from the world's sweetest aroma."
Irrationally, Swanson reassures viewers that his new wife and two children will unquestionably understand the purchase and change in lifestyle, even though they know nothing about it.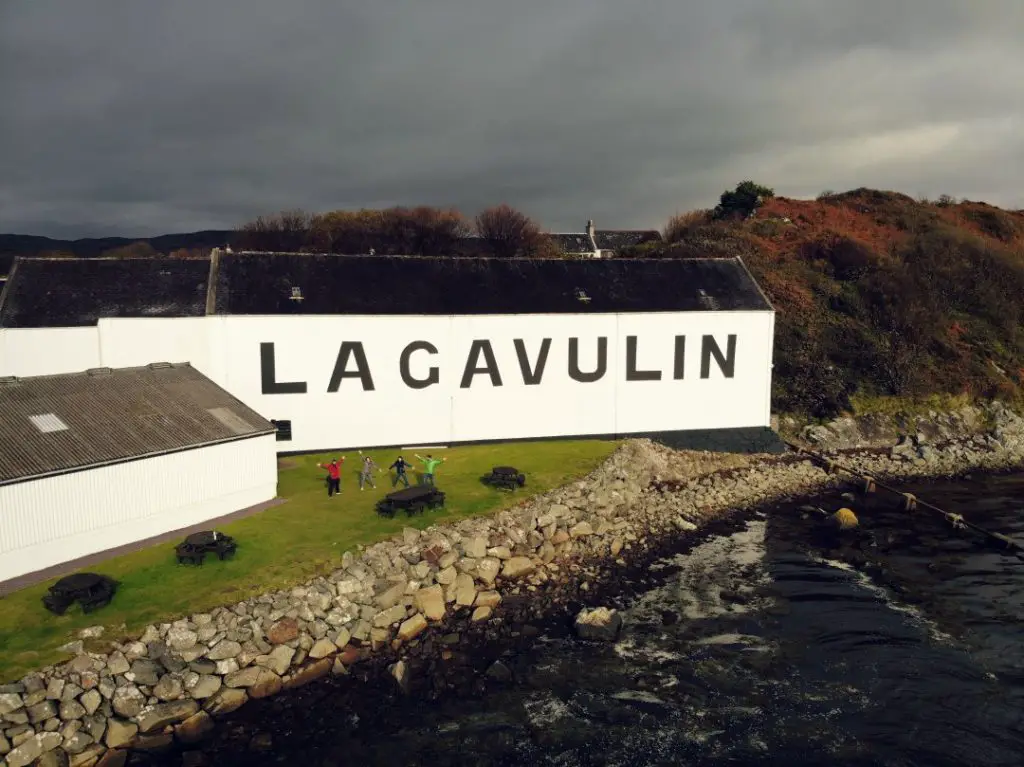 One Place in Europe That Is Worth Seeing
The series does an excellent job of introducing the Isle of Islay and the Lagavulin Distillery to American television viewers by incorporating some beautiful footage of the island into the show. It may come as a surprise, but we only watched the episode featuring Lagavulin after returning to the U.S. from the island. You can watch the YouTube video below.
An American couple we met at the Lagavulin Distillery Warehouse Demonstration asked us if we'd "seen the episode featuring Lagavulin Distillery on "Parks and Recreation" with Ron Swanson." We sadly informed them we had not.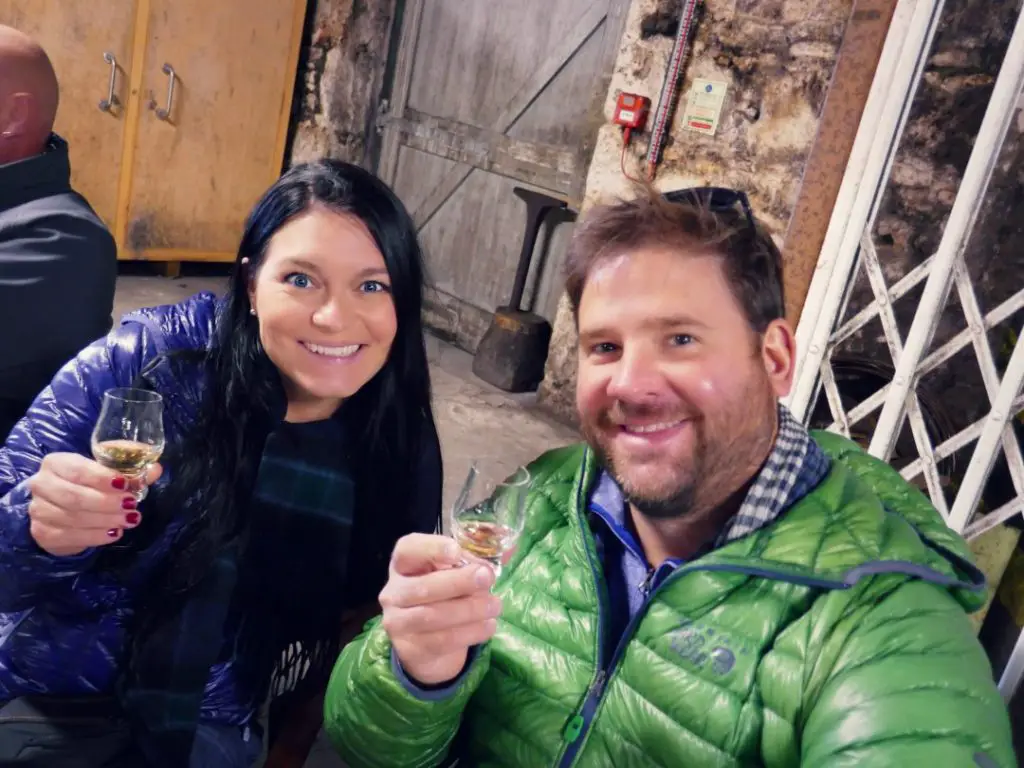 We sure wish we would have seen it before our visit, especially after meeting and tasting whisky with Ian McArthur, the Lagavulin Legend, who makes a cameo appearance during the episode. Regardless, our trip to the Isle of Islay was spectacular.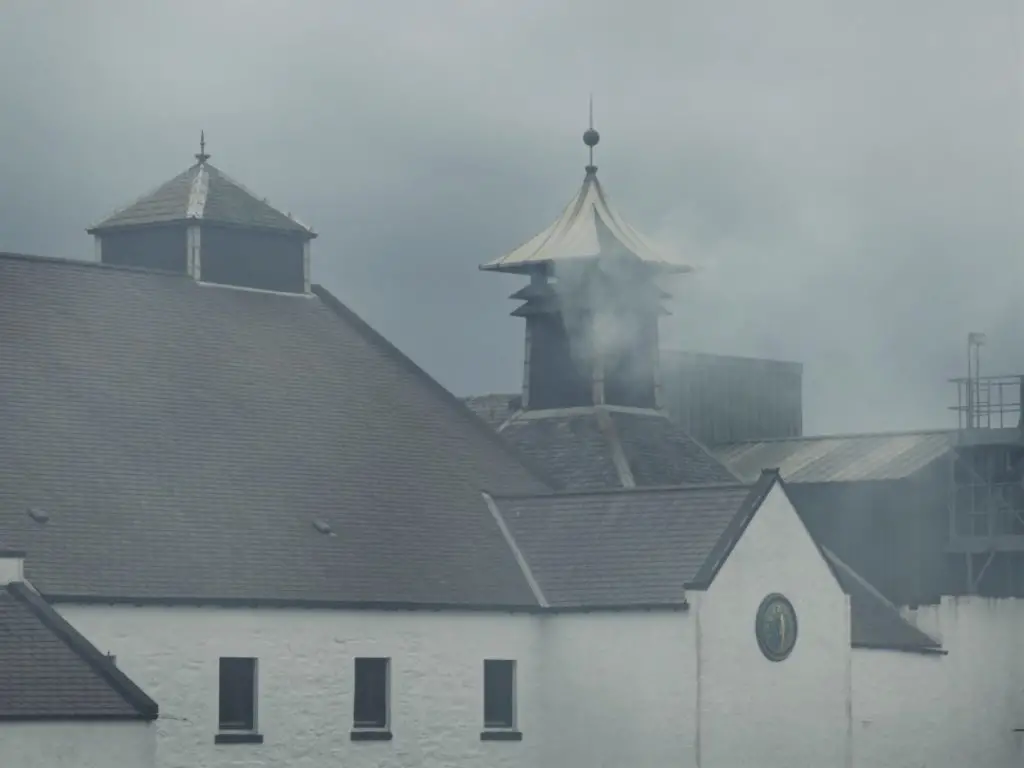 When you're ready to book your flight, use > this travel aggregator site to get the best price.
Islay (pronounced eye-luh)
Anyone who's heard of Islay (pronounced eye-luh) will most likely associate the island with the smoky and peaty single malt whisky that's distilled there—but very few know that it's also a great place for a vacation.
All my life I've avoided Europe and its multitudes of terribleness, but it turns out, much to my surprise there is actually one place in Europe that is worth seeing. These tiny islands off the coast of Scotland where God's chosen elixirs are distilled, barreled, and prepared for consumption. This is worth the trip. – Ron Swanson
Queen of the Hebrides
Along with 'Whisky Island,' Islay is commonly referred to as the 'Queen of the Hebrides' because of its soft sandy white beaches, dramatic sea cliffs, and impressive sunsets. It may come as a surprise to you (and Ron Swanson) but there's so much more to see and do on the island than simply visiting Lagavulin Distillery.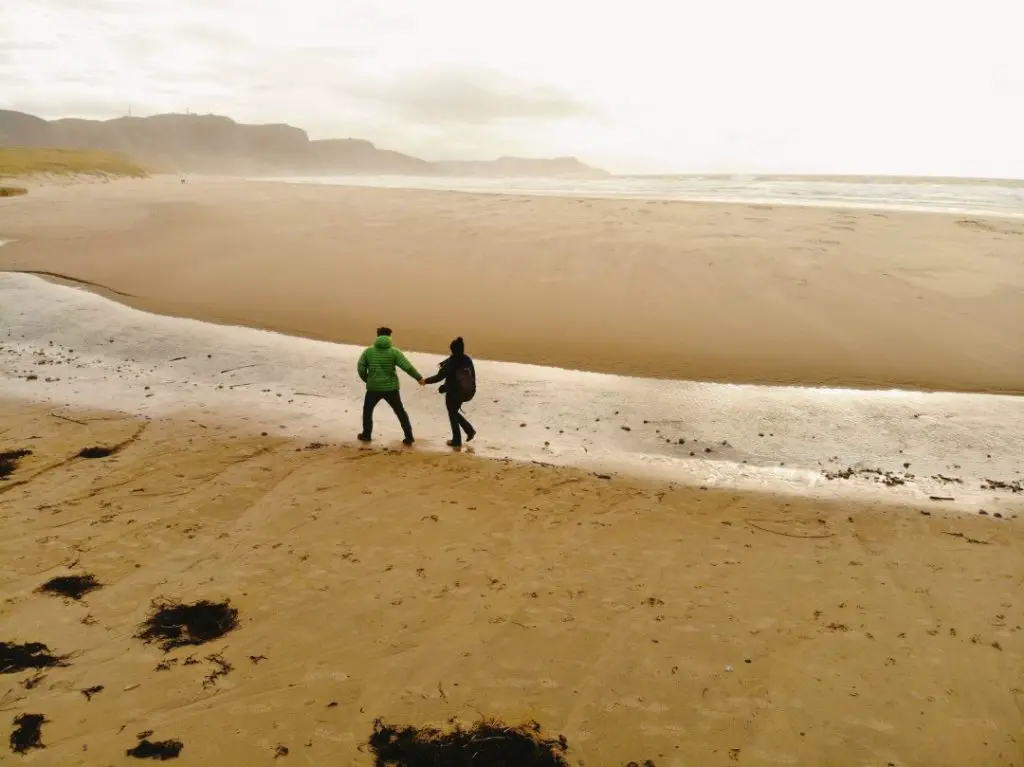 Unfortunately, most tourists only visit Islay for two or three nights. We would encourage you to check out our other article to see how you can create a one or two-week vacation on the island.
Where to Stay on Islay
Budget: The Trout Fly Guest House > comfortable, clean rooms with hearty Scottish breakfasts in Port Ellen.
Mid-Range: Glenegedale Guest House > B&B with amazing hosts [Emma & Graeme], and a well-stocked liquor cabinet.
Luxury: The Machrie > Luxury golf hotel with fantastic restaurants, and a stunning golf course on 7-mile Beach.
Which one of these three did we stay at? >> We stayed at the Glenegedale Guest House.
Glenegedale Guest House > Check Availability
How Many Distilleries Are on Islay?
Even though Ron Swanson holds the Lagavulin Distillery in such high regard⁠—almost to a point where it's blasphemous to mention any other whisky⁠—there are eight other Islay distilleries on the island. Each one has its specialty and is unique in its way.
One of the most preferred ways of visiting the best Islay distilleries is on a 4-Day Islay and the Whisky Coast Small-Group Tour from Edinburgh. This stress-free excursion also includes round-trip transport with three nights accommodation.
Here is a list of all nine Islay distilleries:
Ardbeg
Ardnahoe
Bowmore
Bruichladdich
Bunnahabhain
Caol Ila
Kilchoman
Lagavulin
Laphroaig
However, there will soon be 10 with the opening of the Farkin distillery.
We use this budget-savvy travel health insurance to protect our trips – get a quick quote.
Best Islay Distilleries to Visit – Planner
It can be entertaining to visit all of the distilleries. However, it can get quite costly and repetitive to tour more than two Islay distilleries, especially, when the recipes for making Islay Scotch are so similar.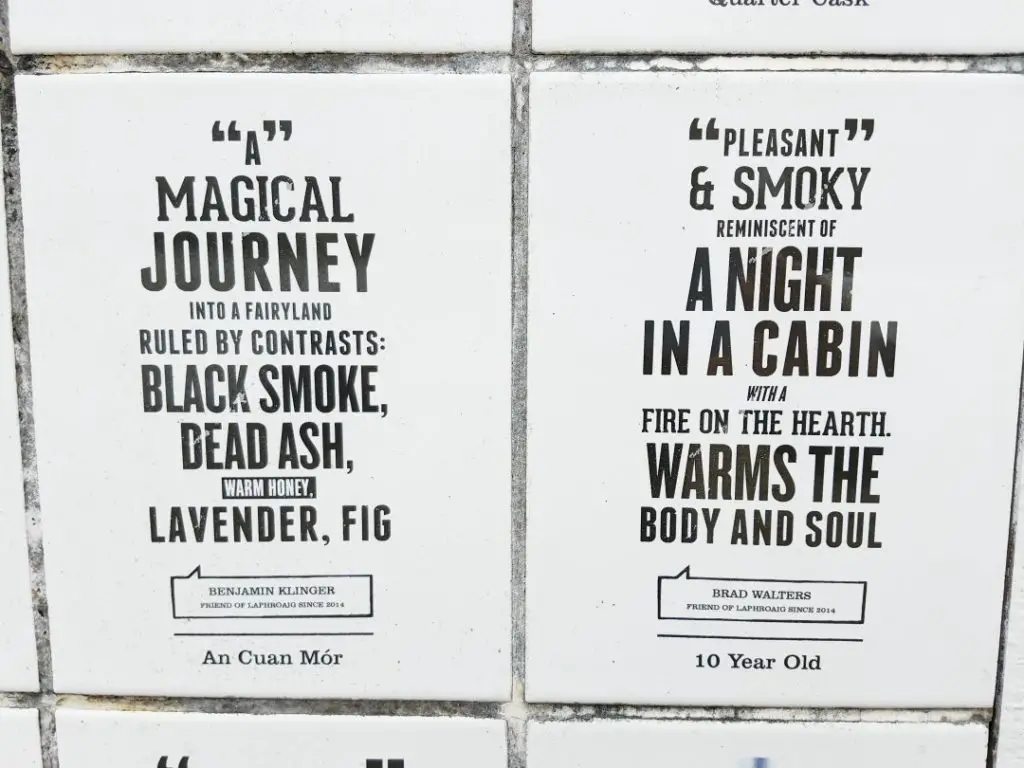 However, the list below is not meant to discourage you from visiting your favorite Islay distillery. Instead, it's meant to make sure you're spending your time most efficiently. With that in mind, use the 'best-of' list below to shape your ideal itinerary.
Most Popular Whisky Tour From Glasgow/Edinburgh
🥃 > The full-day private Whisky Distillery Trifecta Tour takes care of all of the details as you visit three of the best distilleries in Scotland hassle-free: 1.) Glenlivet, 2.) Glenfiddich, and 3.) Macallan. You will enjoy tastings and gain valuable insight into the world of Scotch—truly, a remarkable tour!
Best Islay Whisky Tasting – Lagavulin
C'mon, it's an article about Ron Swanson! Of course, the best Islay whisky tasting is going to take place at the Lagavulin Warehouse Experience. There's no other experience like this on the island and both locals and tourists consider it a 'must-do.' Ian McArthur's as entertaining as it gets and his Scottish charm and witty stories accent the Scotch wonderfully.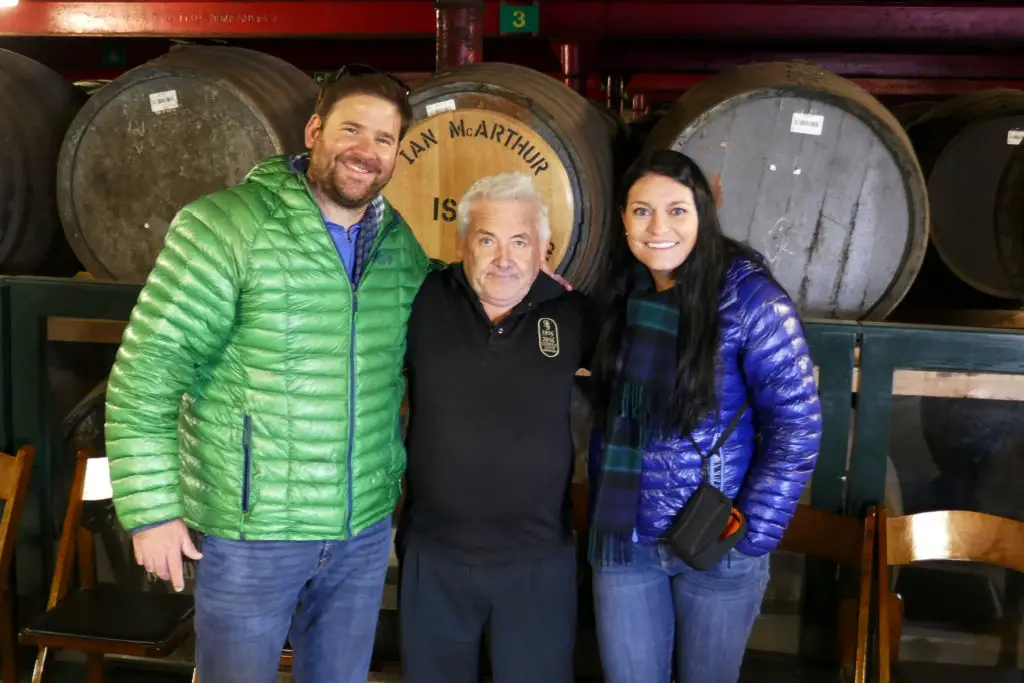 The Lagavulin Warehouse Experience guides visitors through the maturation process and is an excellent alternative to the typical distillery tour. Here, guests are welcomed to the warehouse where the aging of the whisky occurs.
You'll have the opportunity to sample the whisky directly from the cask. Ian MacArthur the 'Lagavulin Legend' hosts the intimate experience.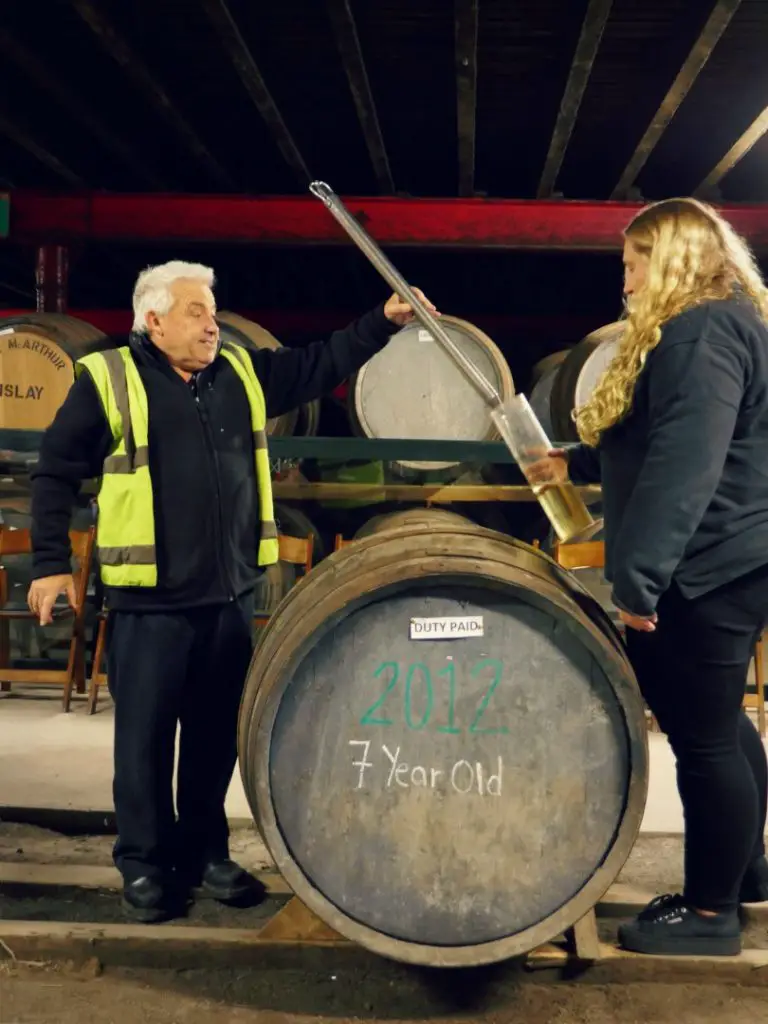 Upon arrival, guests receive a complimentary shot (or dram). Then, during the tasting, they receive five more. In the end, you'll have the ability to taste your favorite, one more time. That's a tremendous seven tastings.
No worries though. Glass vials are provided for any drams you're unable to finish onsite. In fact, we actually took some back with us to Chicago with these 3-ounce glass containers, in our luggage.
Best Cocktails – Laphroaig
The Laphroaig Distillery (La-froi'g) offers one of the best distillery tours on the island. However, if you're looking for a quick way to visit the most popular distillery on Islay, the easiest way is to stop by the Laphroaig Lounge Bar and enjoy a dram, tasting flight, or a cocktail.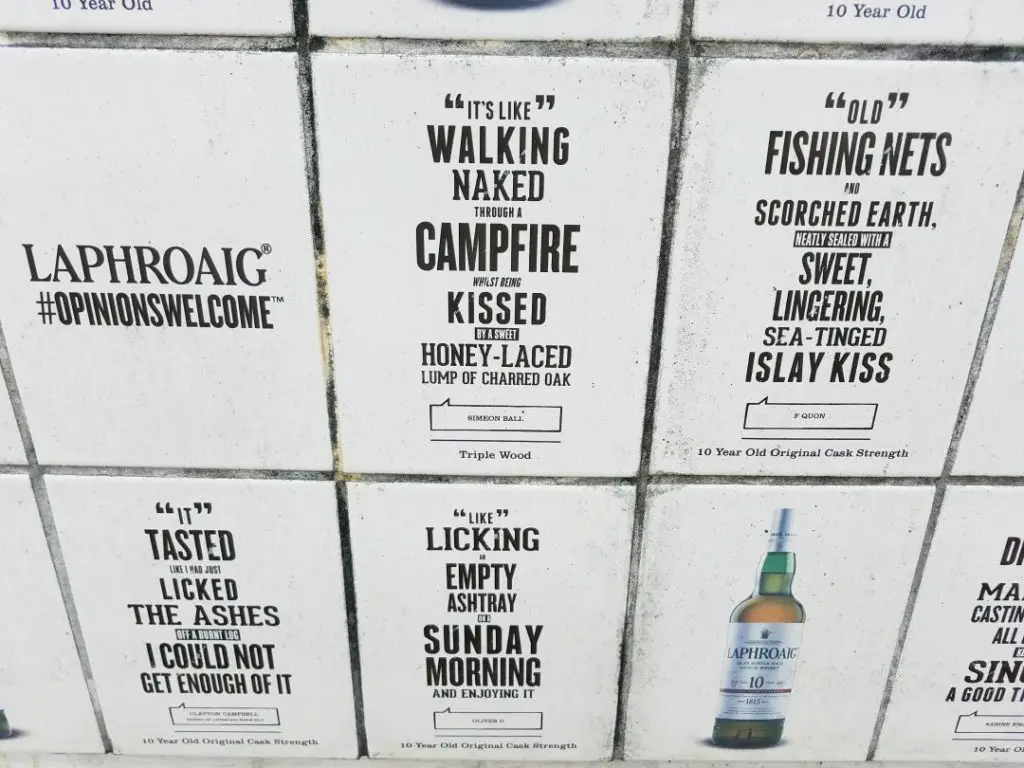 Our recommended cocktail to try is Penicillin. It combines a confident aroma of peat and brine with a sweet and subtle finish. Ingredients include Laphroaig 10 Year, fresh lemon juice, and honey-ginger syrup.
Best Lunch – Ardbeg
The Old Kiln Café at Ardbeg may be the best lunch stop on the island. The café offers a large selection of food including sandwiches, baked potatoes, light bites, and hearty meals.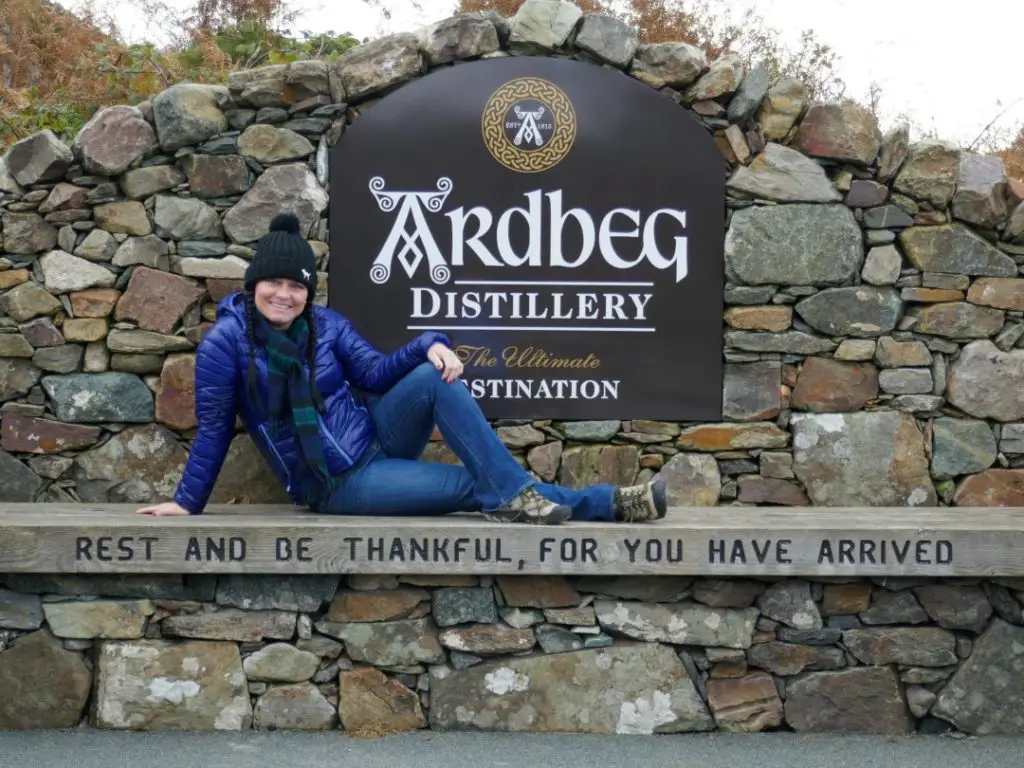 One of the most popular dishes is the Ardberg Fish Pie, which is chunky Scottish seafood in a rich white sauce that's topped with cheesy mashed potatoes. They also have creative daily specials so be sure to check them out before making a selection. Lunch is served from 10 a.m. to 4:30 p.m. with the last orders at 3:45 p.m.
Distillery With Best Scenic Views – Caol Ila
The Caol Ila Distillery (Cull-eela) is located on the North-Eastern shores of Islay, just north of the Port Askaig ferry terminal. The ideal location provides spectacular views across the Sound of Islay. You can even see the mountainous Paps of Jura from the distillery floor.
Best Café – Kilchoman
Located just down the street from Machir Bay is the Kilchoman Distillery. Their small but charming café serves up some tasty food. Prices are fair and portions are generous.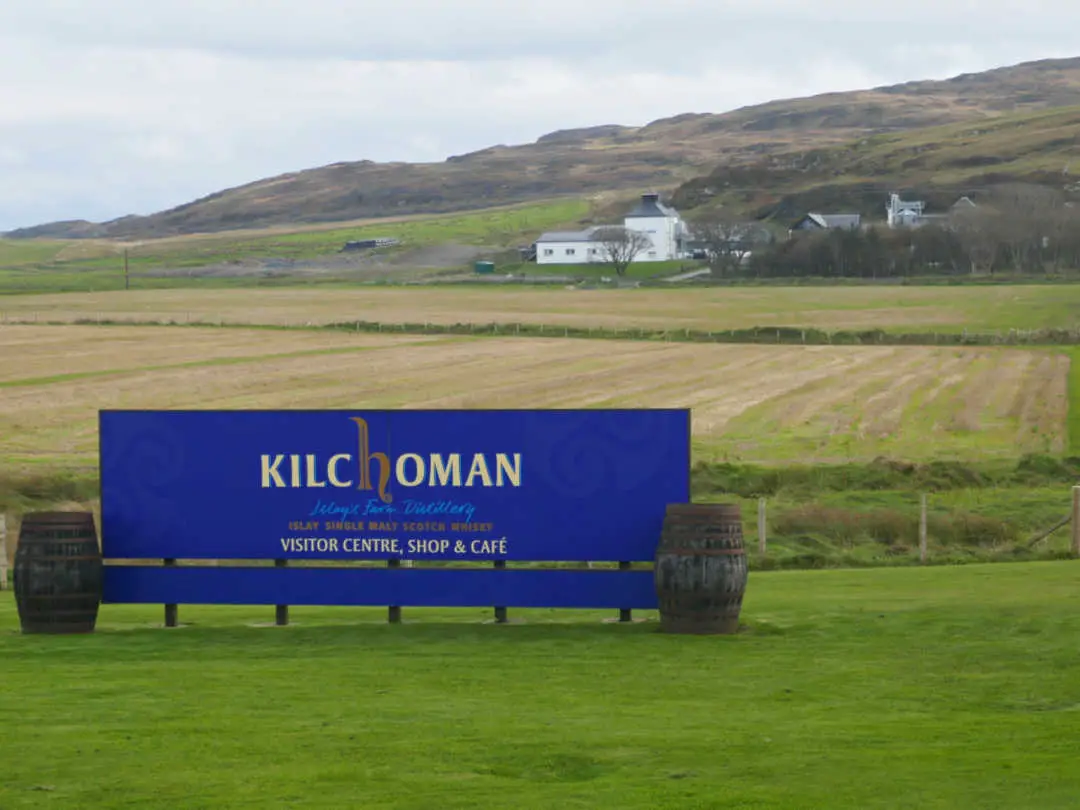 Save room for one of their specialties—the chocolate brownie is served with a dram and cream. The Kilchoman Visitor Centre, shop, and café are open every day from 9:45 a.m. to 5 p.m. during the high season.
Best Distillery Tour – Bowmore
Bowmore Distillery is one of three distilleries on the island that still floor malts their barley on-site—the other two are Laphroaig and Kilchoman. The malting of barley is so crucial in the making of Scotch whisky that you must go to one of these three distilleries to experience it.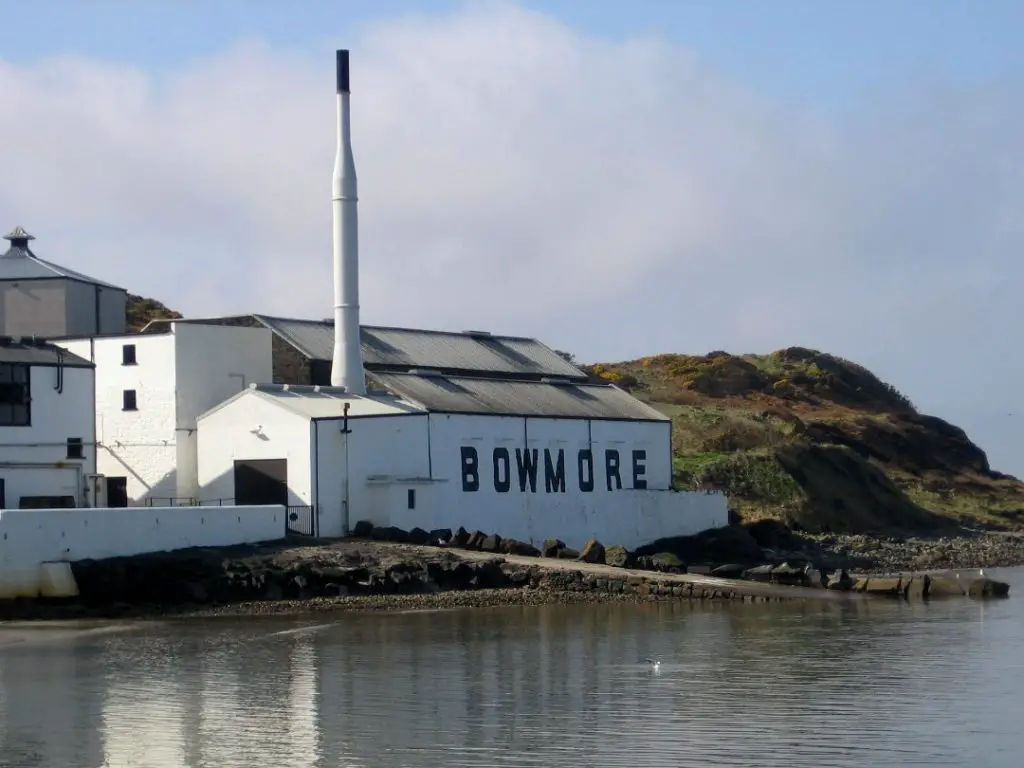 One of the best-appreciated tours on Islay is the Vaults Secret Tasting Tour. It takes guests to the exclusive Vaults Secrets Tasting Room. Visitors can taste three different whiskies and a branded 100 ml glass cask is given as a parting gift.
Newest Distillery – Ardnahoe
Ardnahoe Distillery is Islay's ninth distillery and opened in late 2016. The first run of distillation was in October 2018. Located just a couple of miles north of Caol Ila Distillery, Ardnahoe probably has some of the most scenic views of any of the Islay distilleries.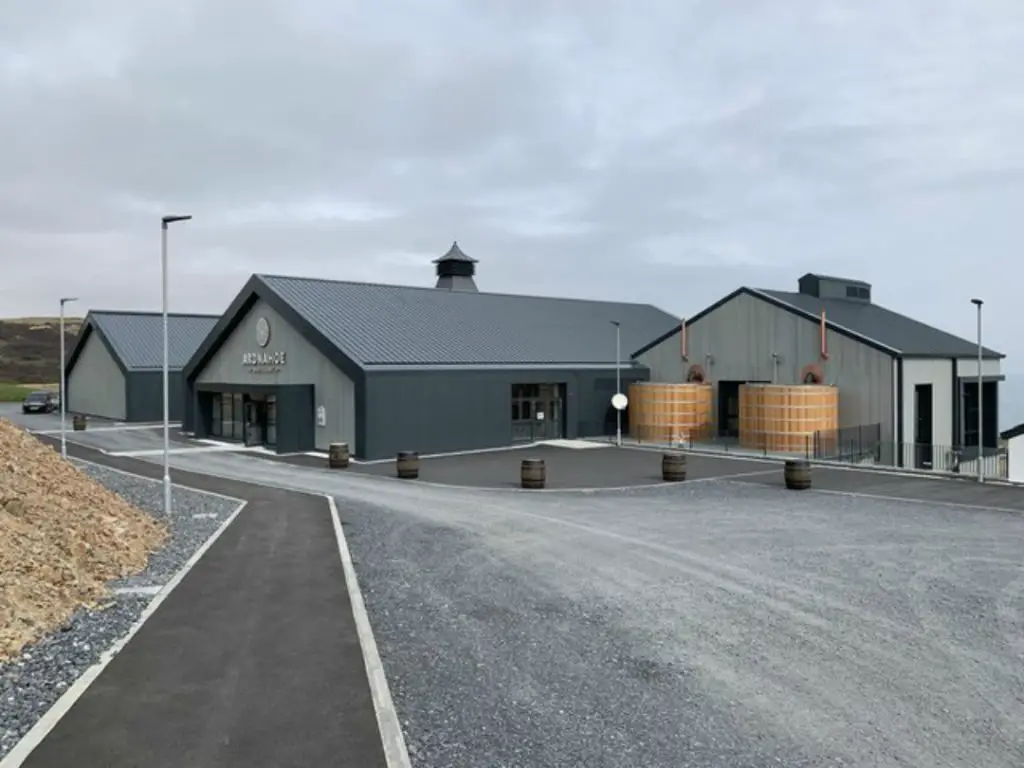 The distillery takes its name from its beautiful location. Ardnahoe is Scottish Gaelic for "Height of the Hollow."
Least Peaty Whisky – Bruichladdich & Bunnahabhain
While the Isle of Islay is famous for its peated Scotch whisky, Bruichladdich (Brook-laddie) and Bunnahabhain (Boon-a-havn) are the two Islay distilleries that produce unpeated whisky.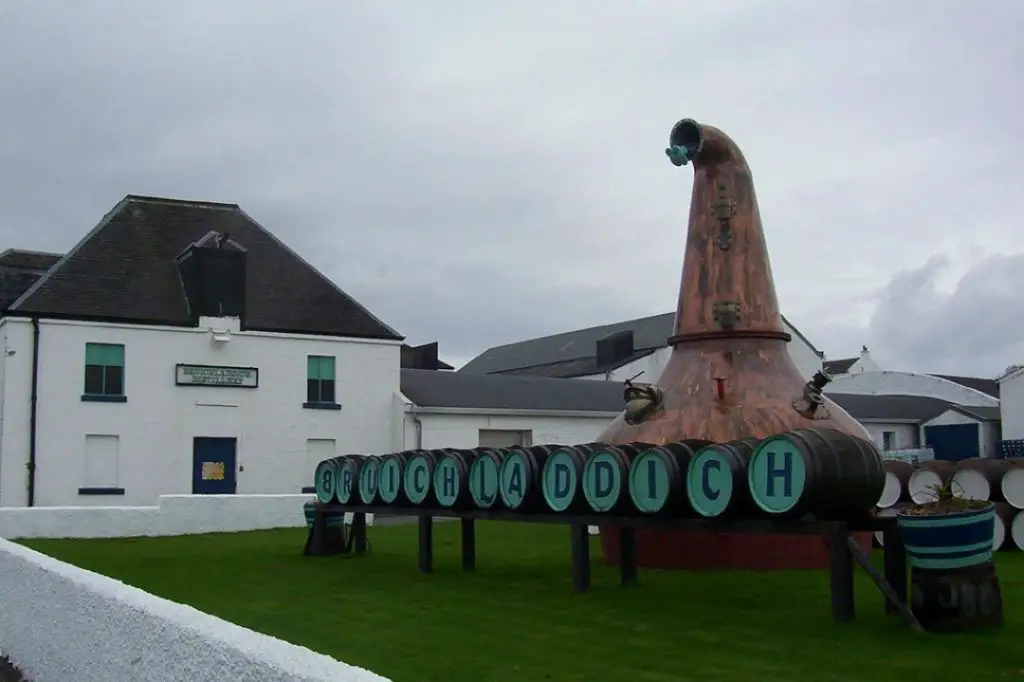 However, both distilleries also produce peaty whisky too. Visiting either distillery can make for an exciting way to compare the two styles.
Most Remote Distillery – Bunnahabhain
Located about eight miles north of the Port Askaig ferry terminal, Bunnahabhain Distillery is probably the most remote distillery on the island.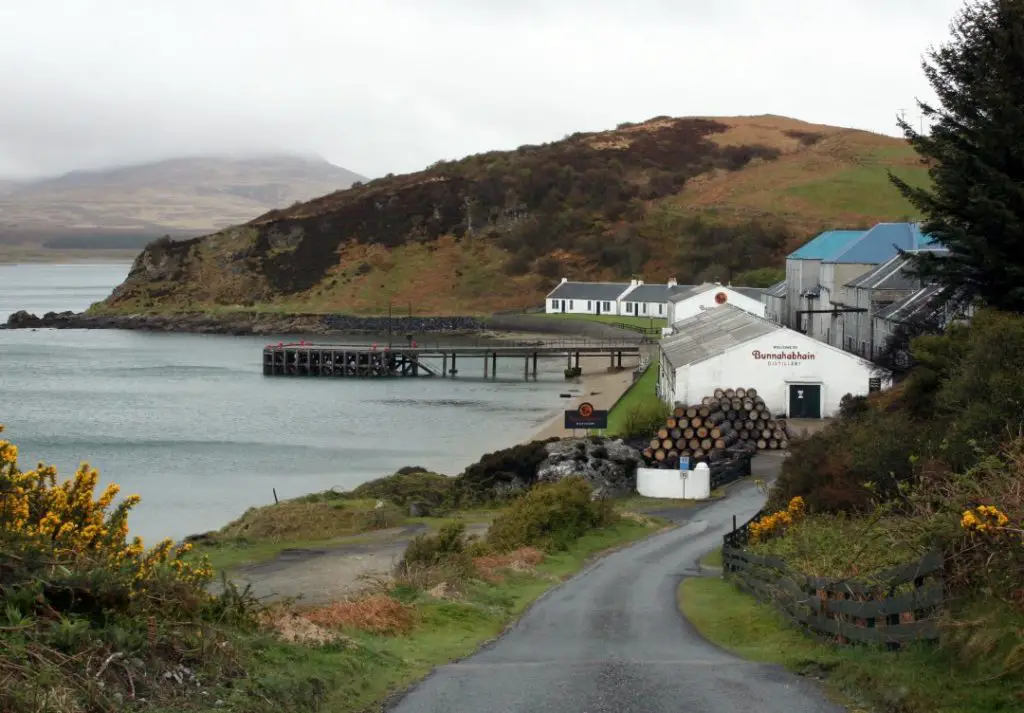 The views are breathtaking and include the Sound of Islay and the Paps of Jura. The current owners also produce the "Black Bottle" and "The Famous Grouse."
Most Diverse Distillery – Bruichladdich
Like most Islay distilleries, Bruichladdich produces peated Scotch whisky. Like very few, they also produce unpeated. Finally, unlike any other distillery on the island, Bruichladdich produces gin.
Recommended Tour
Recommended Tour > 4-Day Islay and the Whisky Coast Small-Group Tour from Edinburgh
If you have any questions, please feel free to reach out in the comments section below.