Some of the best hiking in Scotland can be found along the Loch Lomond and Cowal Way. The nickname for the walk is "Scotland in 57 miles," mainly because of the immense amount of scenic, cultural, and historical diversity passed along the way. The stunning journey not only involves the most breathtaking scenery but also exposes walkers to some of the very best in Scottish hospitality.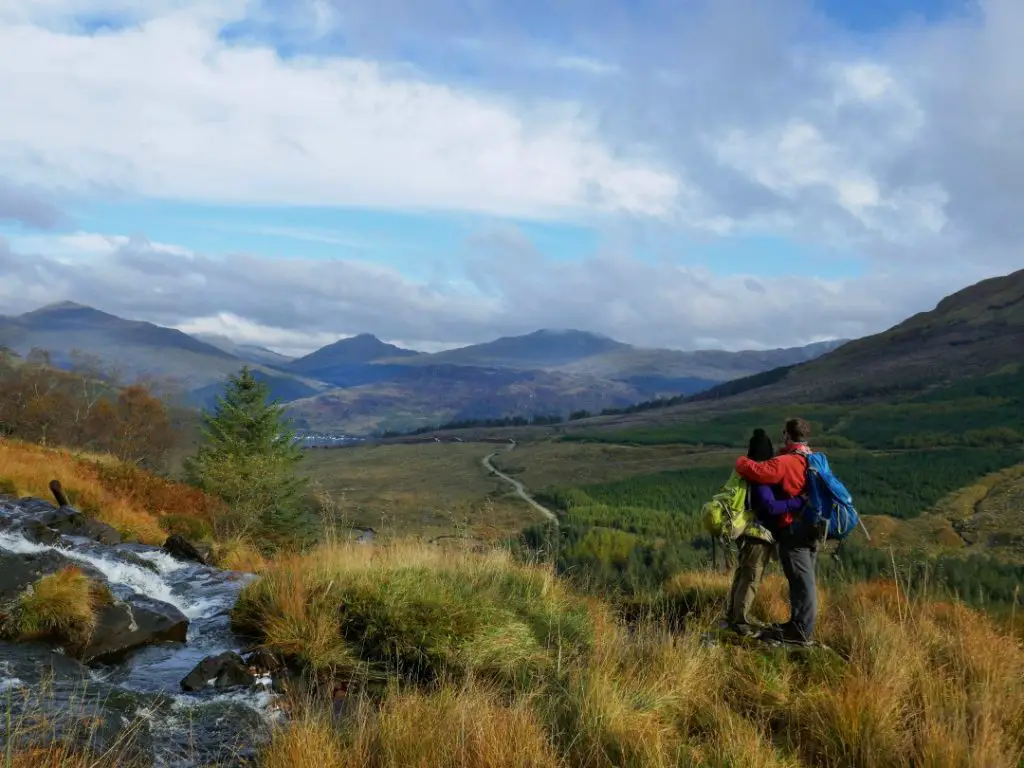 The Loch Lomond and Cowal Way (LL&CW) is one of Scotland's best-kept secrets. Only recently, in 2016, was it awarded the designation of "Scotland's Great Trail" status by the Scottish Natural Heritage. While many avid hikers will make the West Highland Way their first choice, if you want to really get off the beaten path, you may want to consider the LL&CW when hiking in Scotland.
BEST HIKING IN SCOTLAND > LOCH LOMOND & COWAL WAY
Why Take a Long-Distance Hike
We've done a few long-distance hikes, including the West Highland Way. We love to get on the trails and experience the peace that only the wilderness can deliver.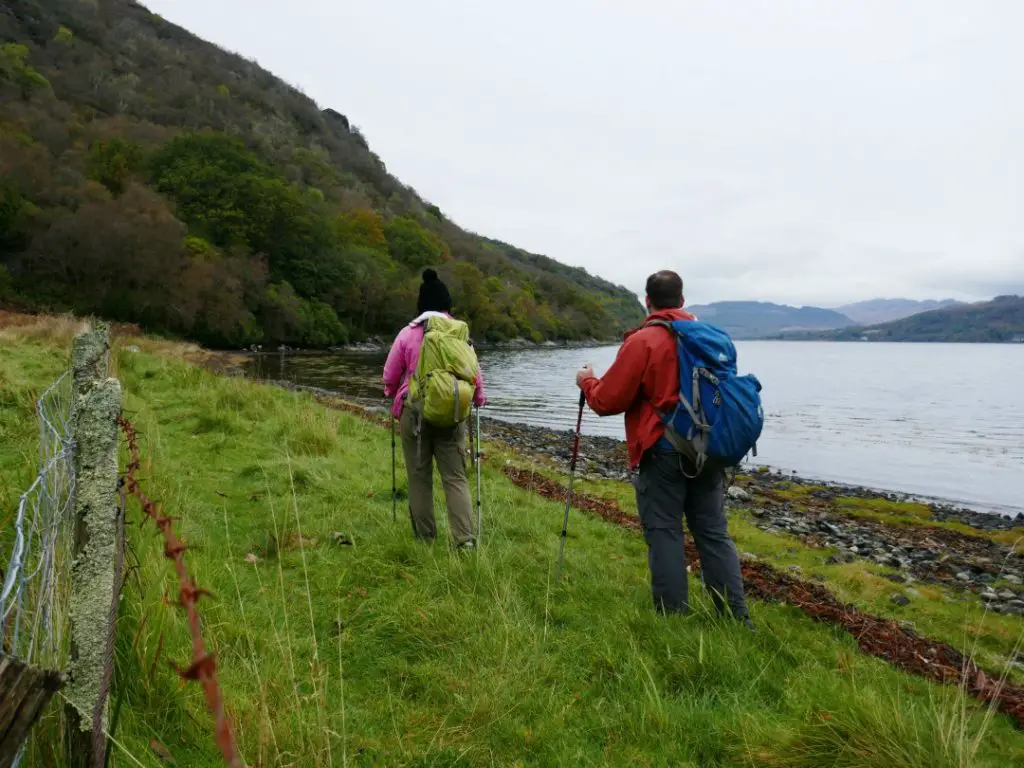 For us, there's nothing better than taking a multi-day hike.  Slowing down and traveling by foot over vast distances is a great way to clear up problems and train your mind to listen. There are very few times in life when you're granted the opportunity to simply be.
"Gonna put the world away for a minute.
Pretend I don't live in it.
Sunshine gonna wash my blues away."
While walking, it's easier to ignore all of the ugly distractions that the world puts forth. You're granted the opportunity to be within your mind, with limited interruptions, at least for a few days.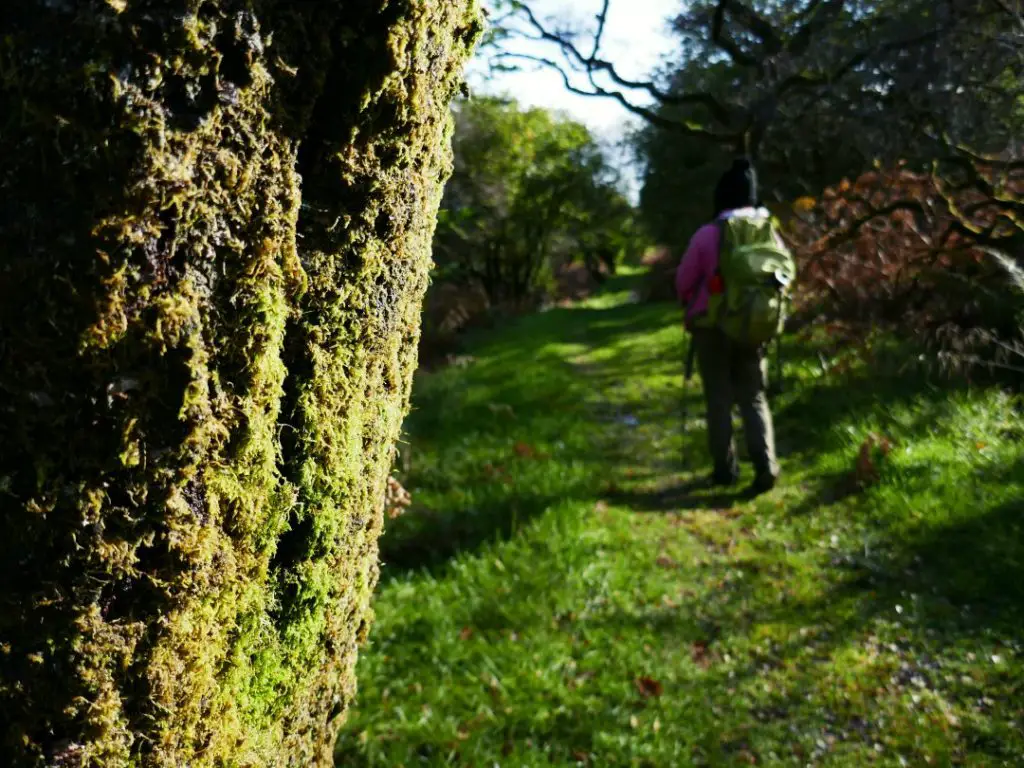 Essentially, you're gifting yourself a little break from the chaos of the world. Anyone looking for enhanced mindfulness and inner peace will appreciate hiking in Scotland.
Why Walk the Loch Lomond & Cowal Way
The LL&CW (the Way) is the perfect distance for a one-week vacation. Additionally, if you're looking to add a hike to a tour of Scotland, it's a great option. At 57 miles, it will typically take between four to six nights to complete.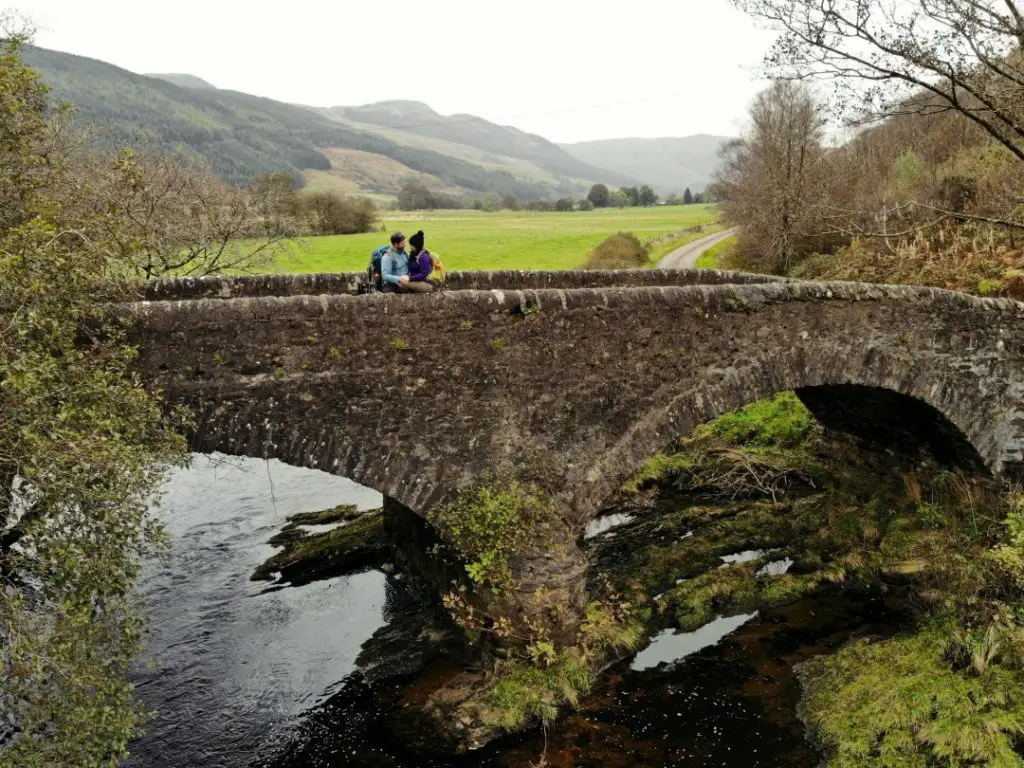 While walking the Way may feel remote (we didn't spot another walker the entire time) you're never so isolated that you can't easily find a cozy place to stay at the end of the day.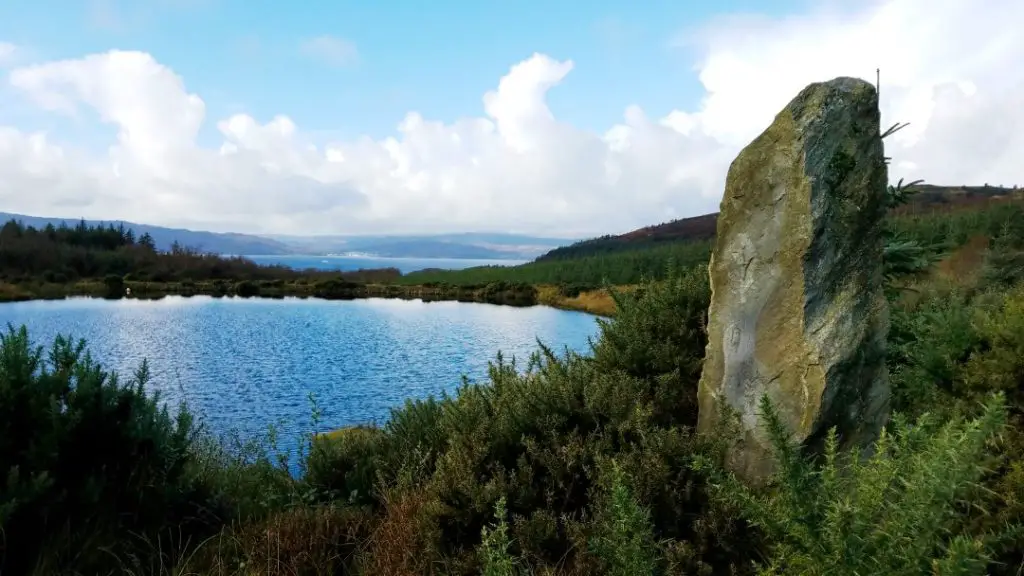 The Way crosses the entire Cowal Peninsula and either begins or ends on Loch Lomond, depending on where you begin. However, most walkers begin in Portavadie along Loch Fyne and head inland, putting the prevailing southwesterly winds behind them
"Argyll's Secret Coast" the Cowal Peninsula
While most tourists have not heard of "Argyll's Secret Coast," or as we like to call it, Scotland's best-kept secret, among Scots, the Cowal Peninsula has slowly transformed itself into the country's outdoor adventure playground.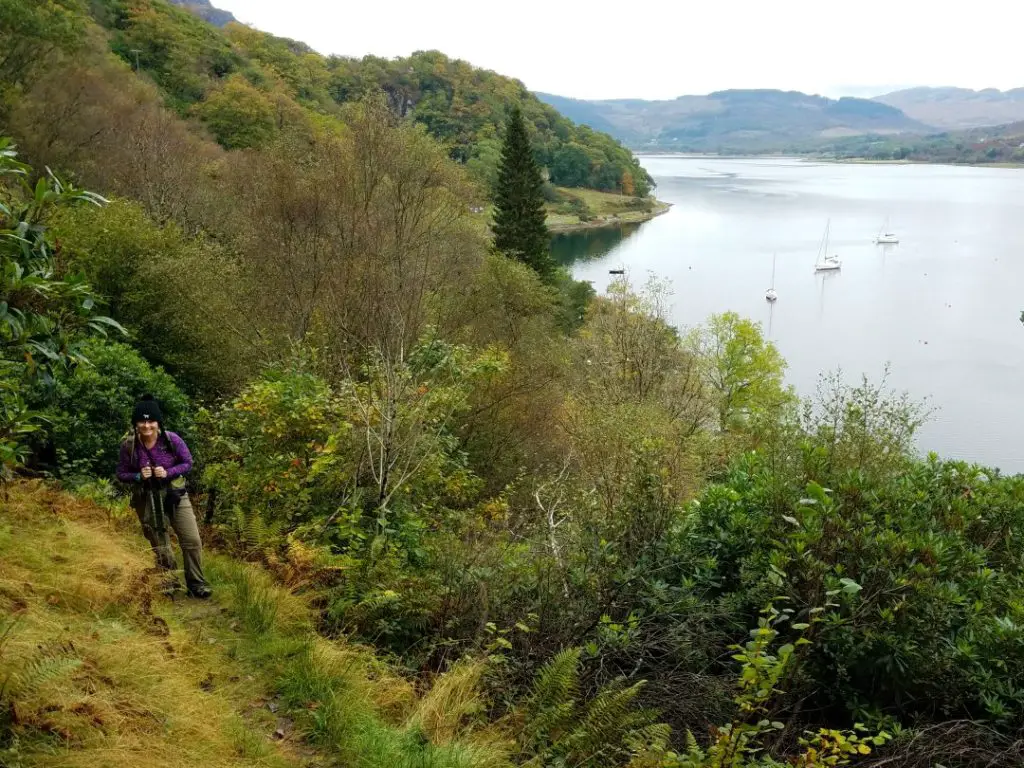 Local walkers, sailors, cyclists, and wildlife lovers searching for Scotland's Big Five (red squirrel, red deer, common seal, European otter, and the golden eagle) escape to this little section of Scotland to enjoy the outdoors and nature.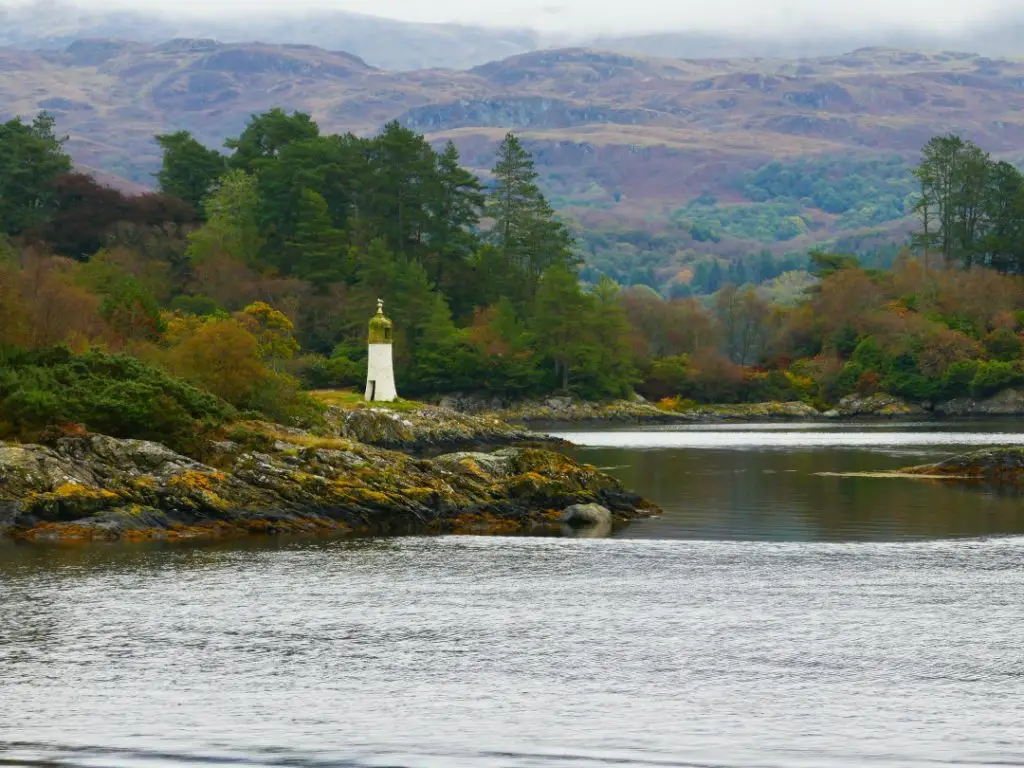 Along the Way, as you're heading southwest to northeast be prepared for the landscape of the Cowal Peninsula to change dramatically, from flat coastlines and forestry walks to exciting hill climbs and stunning waterfalls.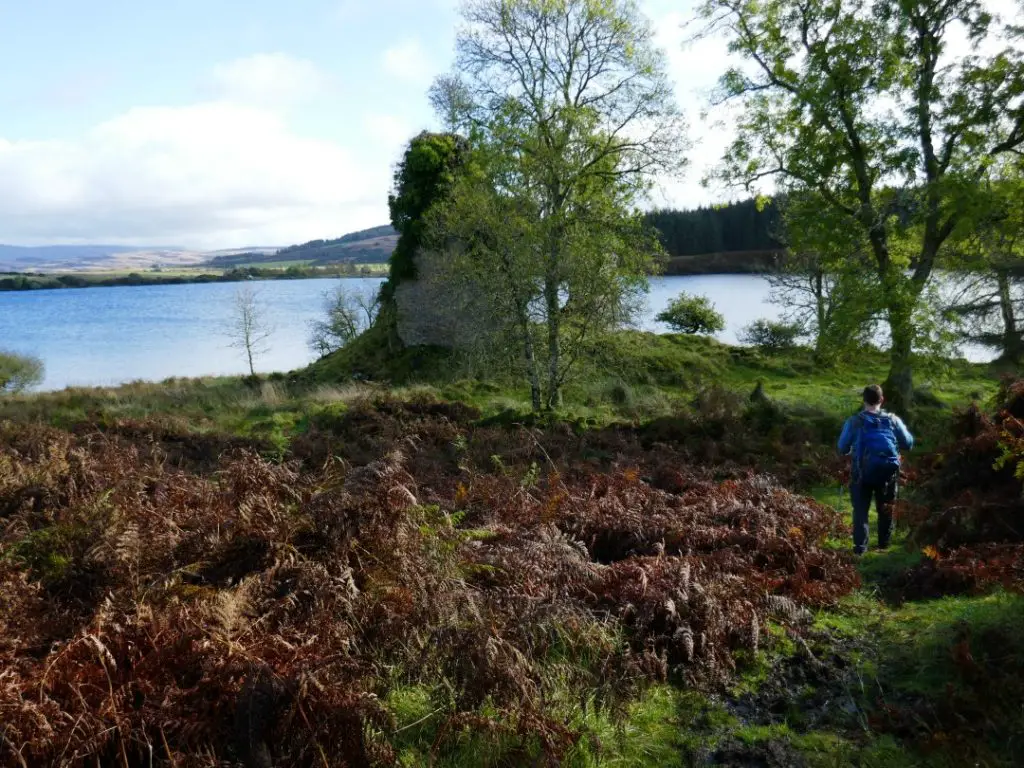 You'll pass through five charming villages on your way to Loch Lomond, made up of Tighnabruaich, Glendaruel, Strachur, Lochgoilhead, and Arrochar.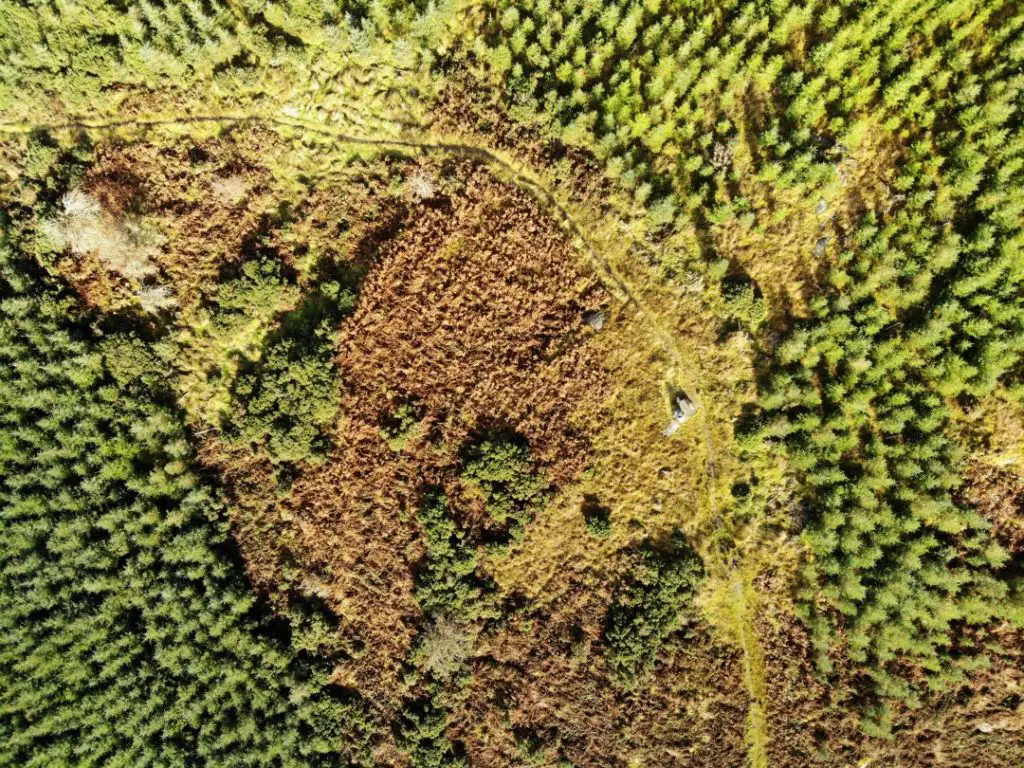 The variety and brilliance in the scenery include the Kyles (or straits) of Bute, the dreamy valley of Glendaruel, remote forests, and the soaring Arrochar Alps.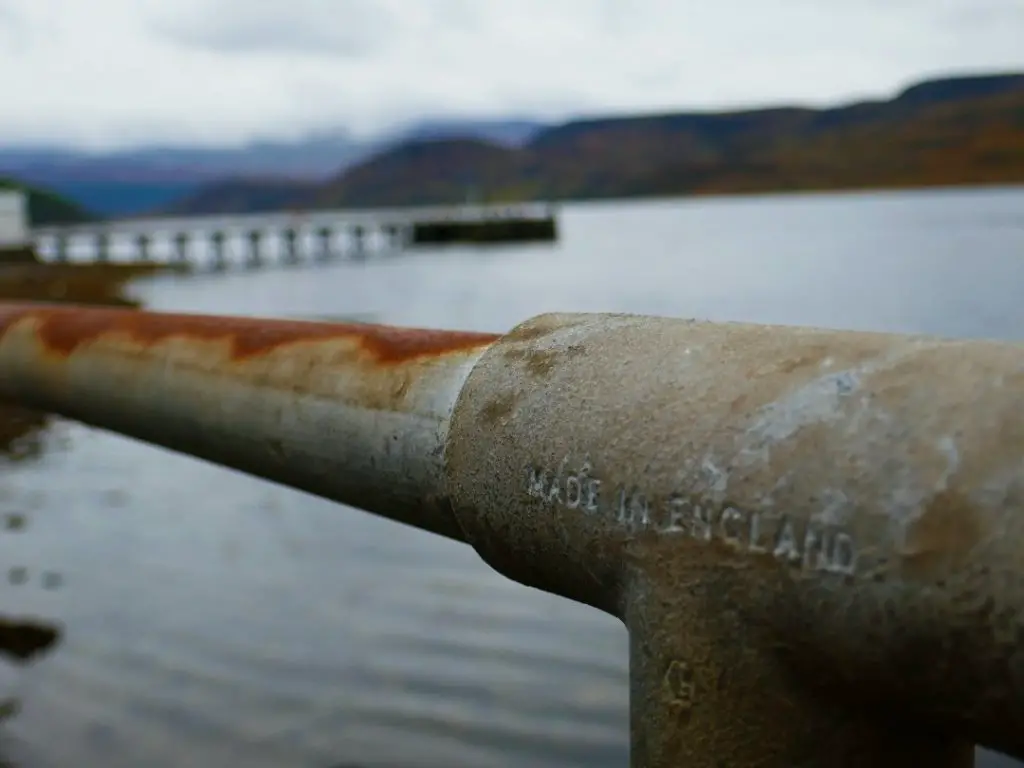 Also, thanks to its consistently mild climate, and unlike many of Scotland's other great trails, the extremes in temperature are fairly uncommon, making for some of the best hiking in Scotland.
Loch Lomond & Cowal Way > Everything You Need to Know
The official Loch Lomond & Cowal Way website provides you with pretty much everything you need to know about the walk. However, during our research, we were still a bit puzzled as to what the terrain along the Way would look like.
We'll break it down for you in pictures and videos throughout the post so that you get a sense of what to expect. Also, we were a bit confused about what to do when we finished the walk, which we'll explain in the "Logistical Challenges of the Loch Lomond & Cowal Way" section below.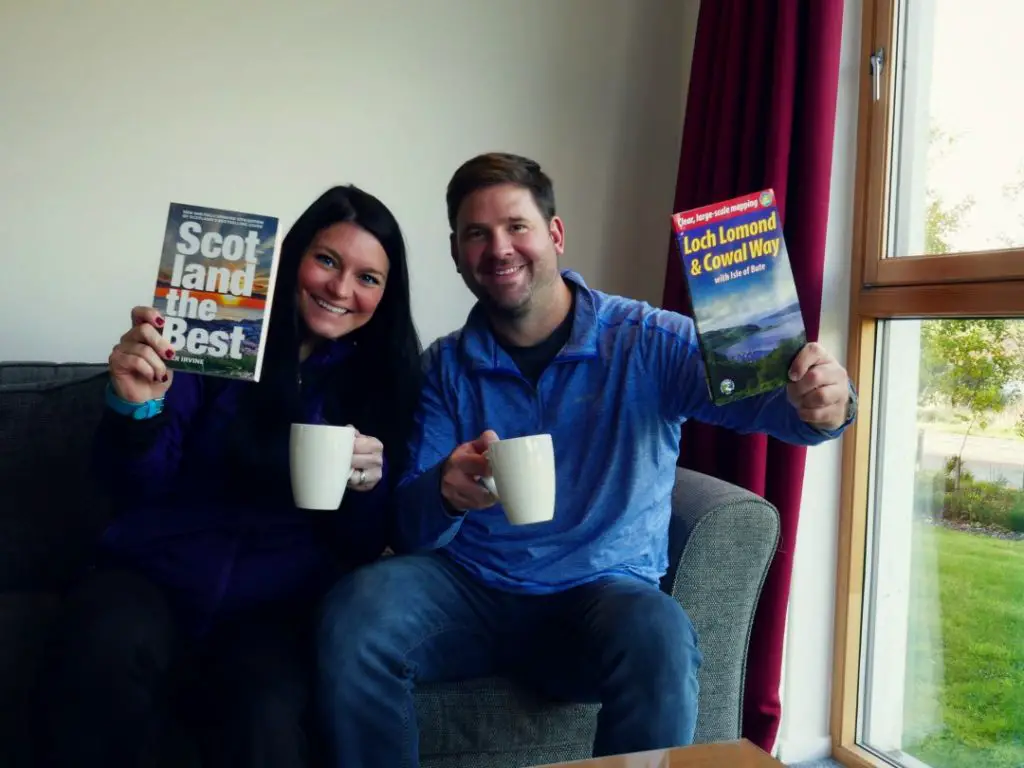 Lomond & Cowal Way Rucksack Reader
However, before we do that, let's take a minute to discuss the Loch Lomond & Cowal Way Rucksack Reader by James McLuckie. We purchased the book and thought it was a nice short read at about 70 pages. While the guide was informative and made for a nice souvenir, it proved to be a bit misguided as it led us to worry about things that we didn't need to.
For example, numerous sections of the book discuss tide awareness—informing us that we would need to time our walk for low tide. Recent updates to the trail have made this irrelevant. However, we're still glad we brought it along for the journey!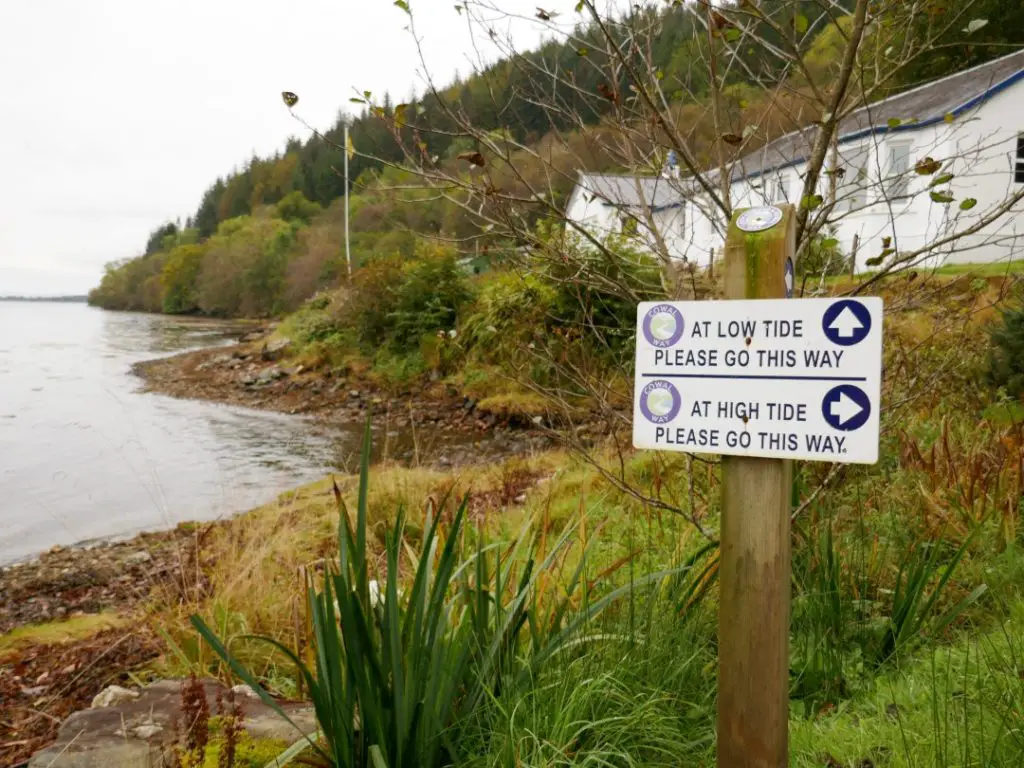 Also, the book made us a little nervous about getting lost while hiking in Scotland. It mentioned numerous times about bringing a compass because the trail may be hard to follow, especially in extreme conditions. However, through our experience, the trail was clearly marked, and extremely easy to follow. Keep in mind, in dense fog you may need a GPS or compass. Also, the free app Maps.me easily kept us on the trail.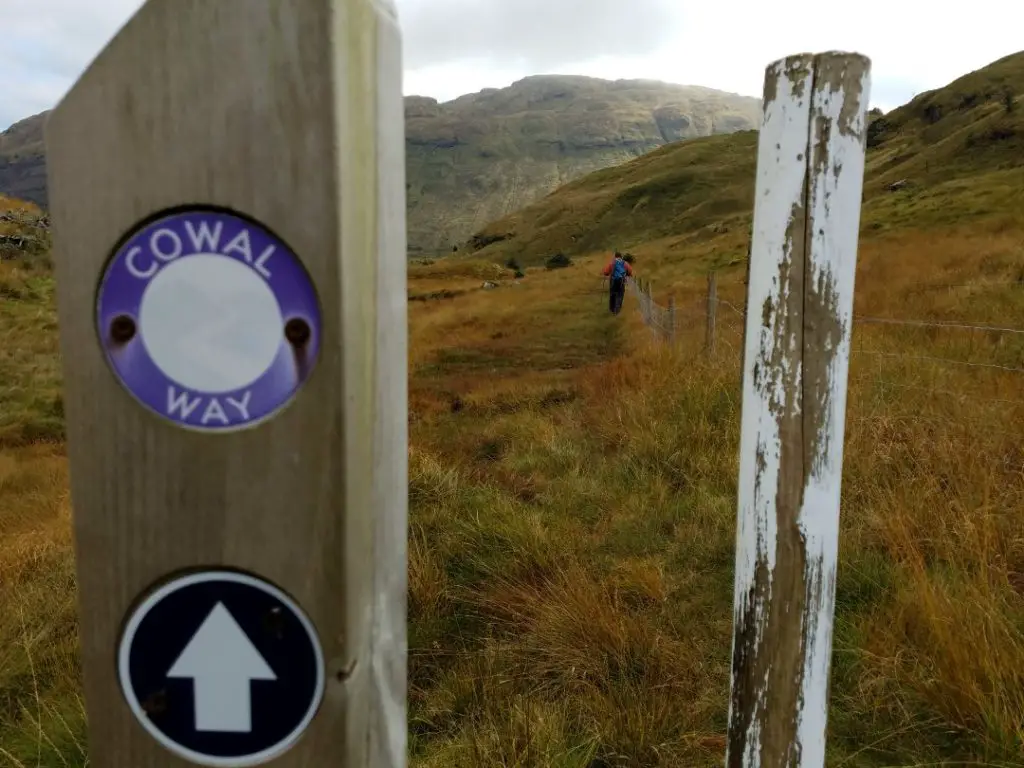 We were so nervous about getting lost that we printed each day's route description off (from the official Loch Lomond & Cowal Way website) and ended up carrying both the book and the printed pages.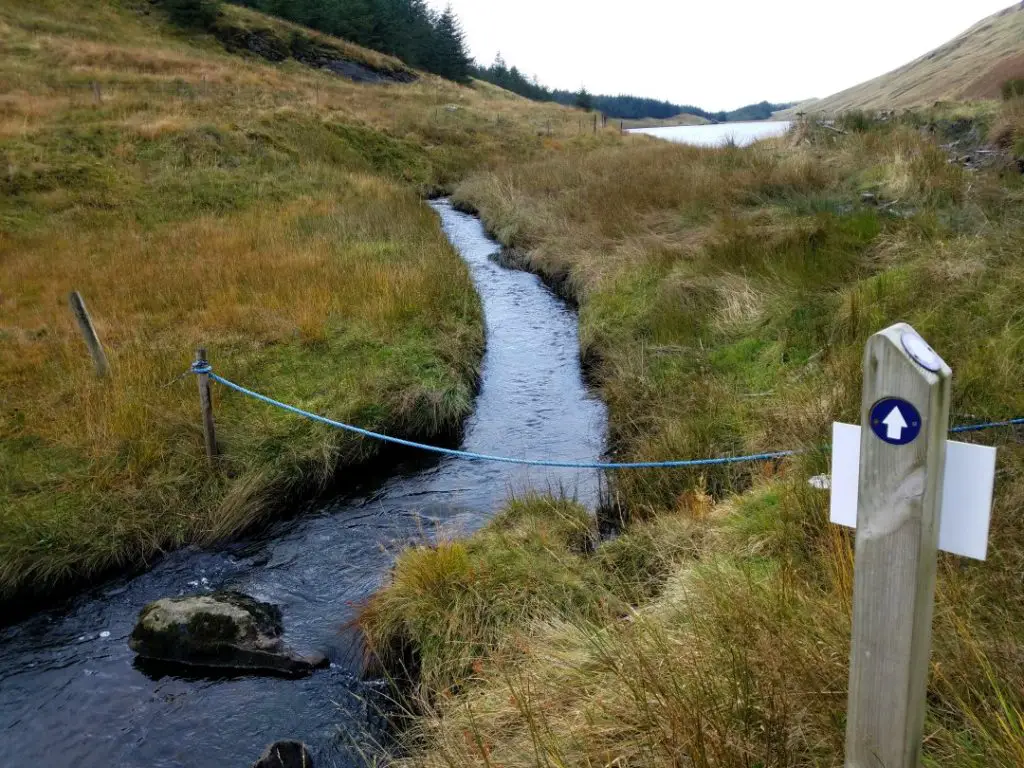 We found it much easier to pull that day's pages out from one of our pockets rather than removing the book from the backpack. With that in mind, during the walk, the book was rarely used. At the end of each day, we would dispose of that day's route description which lightened our load just a bit.
Our Route > Hiking in Scotland
We started our walk in Portavadie and stayed overnight at the Portavadie Hotel.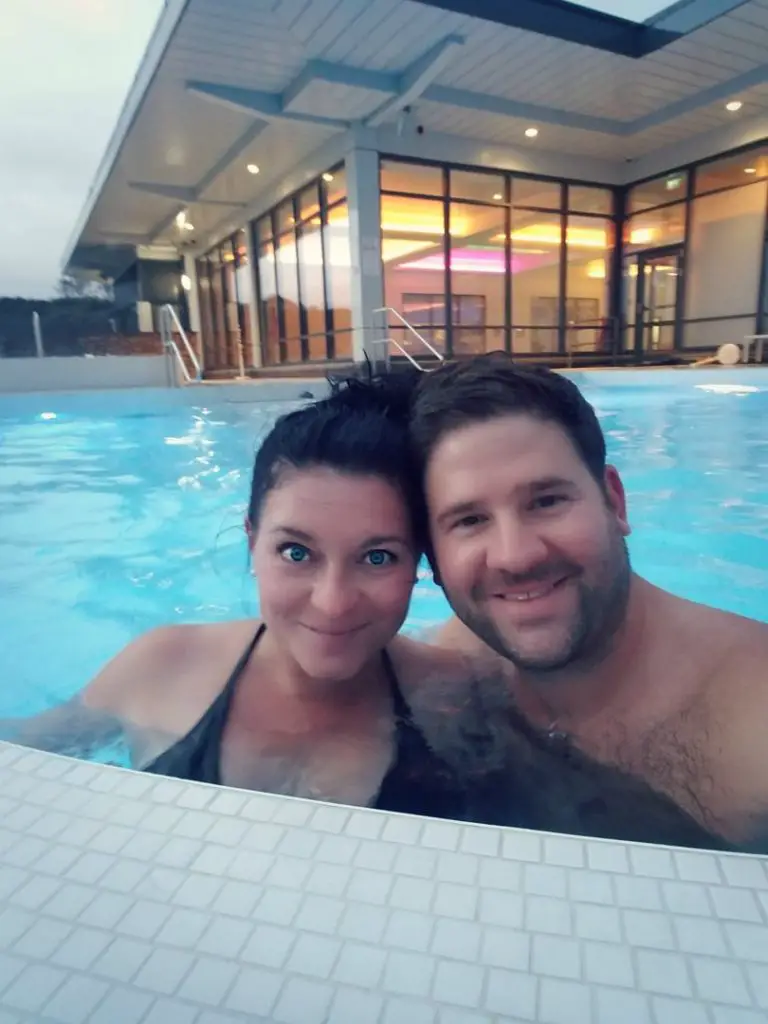 This is a great hotel to kick off your walk. It features fabulous accommodations, scrumptious restaurants, and the most amazing infinity pool and spa.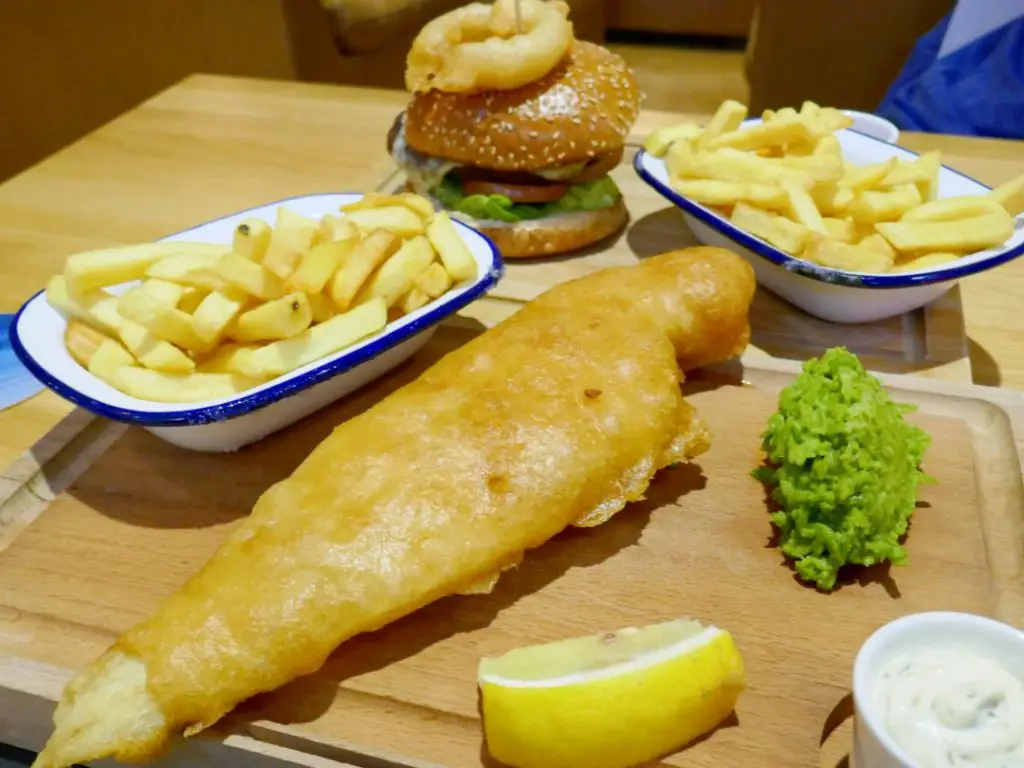 Also, because they have a huge parking lot, this is where we left our car rental for the four nights during our walk. Check out our experience of Portavadie.
Book Now: Portavadie
Day 1 > Portavadie to Tighnabruaich
At 6.6 miles, the first day is relatively easy terrain. However, depending on how muddy the trail is it may take you longer than you expect. We took our time and stopped for a bit at the ruins of Asgog Castle.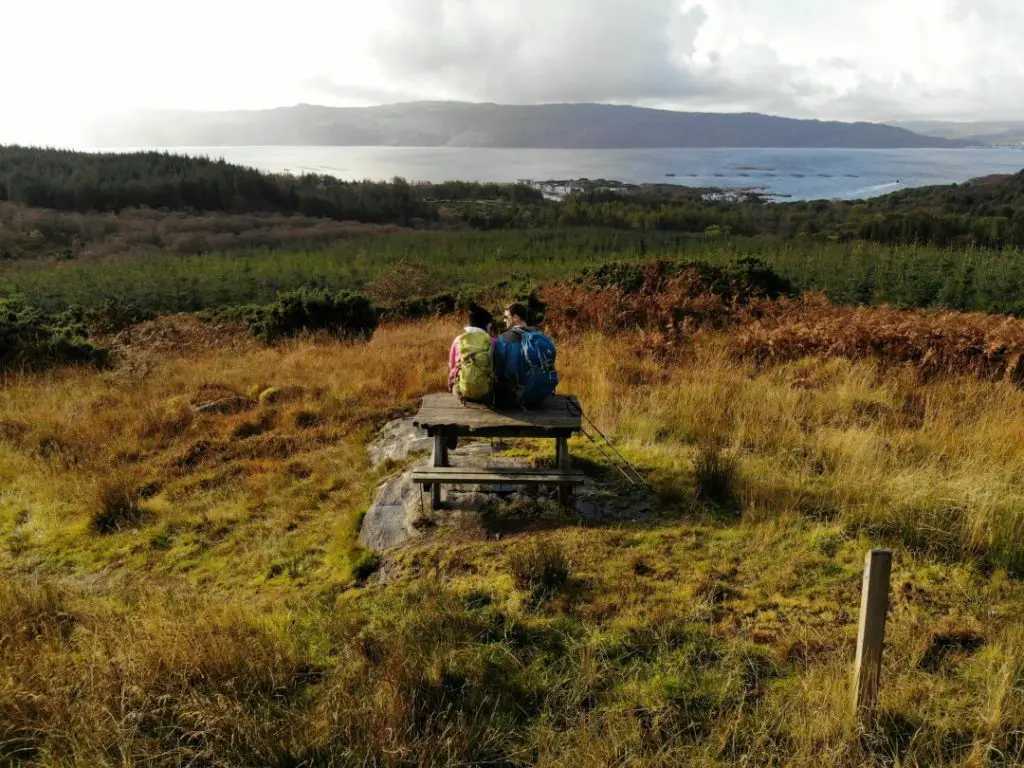 Also, we quickly looked at the remains of the gunpowder mill, and a World War II tank landing slip.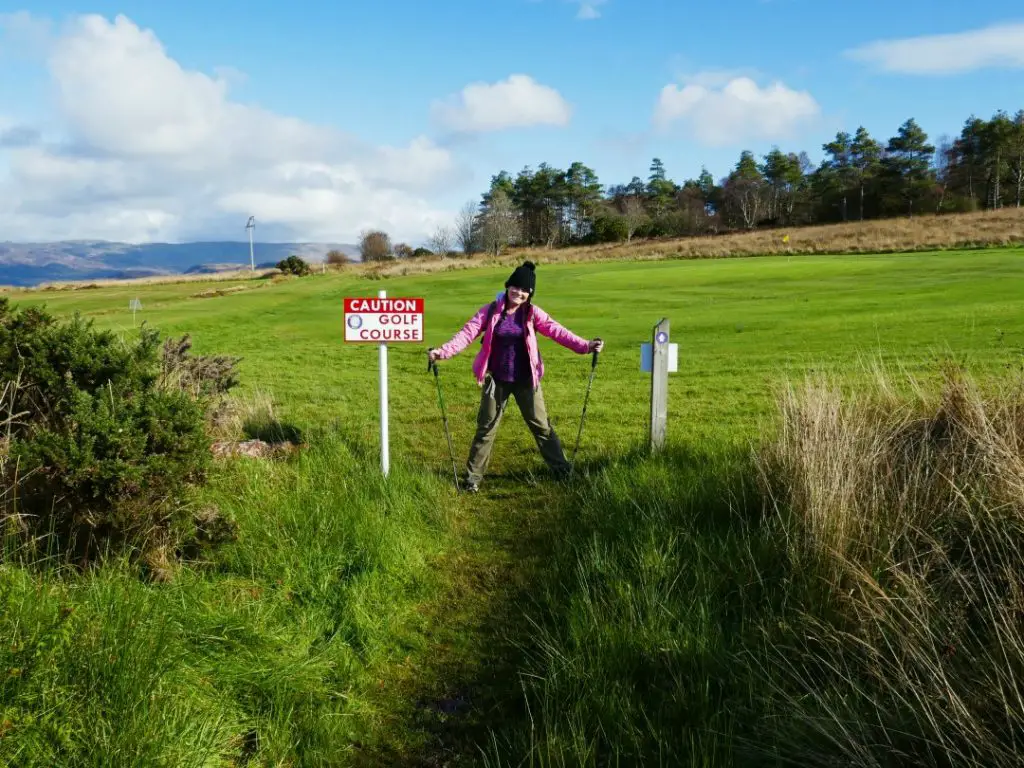 Finally, we took about a half-hour lunch break. Overall, the first day took about six hours to complete.
Where to Stay
Tregortha Bed & Breakfast: Karmen and Gabor own and operate this charming B&B. The rooms are cozy and exceptionally clean.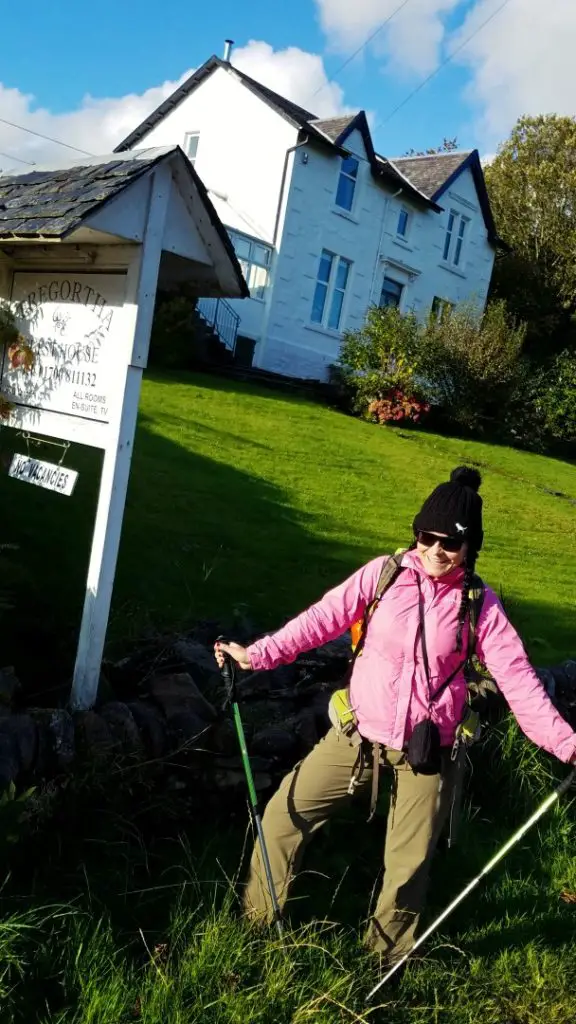 High-powered space heaters easily dry damp clothes and shoes.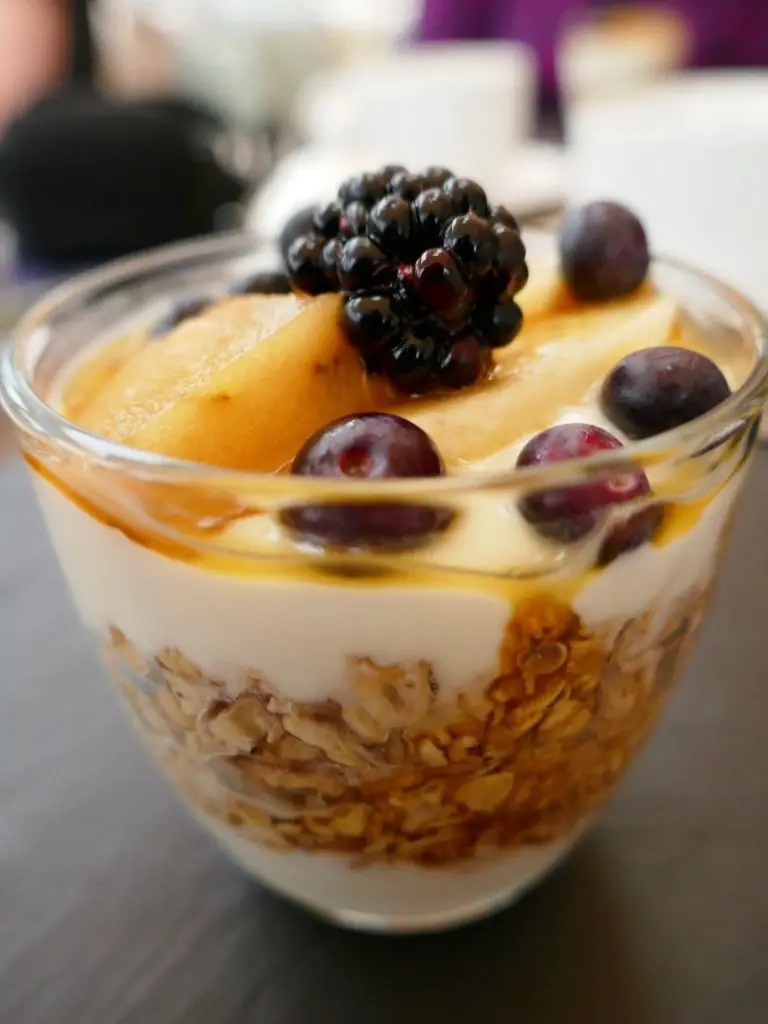 Hosts are a delight and make a wonderful breakfast with scenic views over the Kyles of Bute. The nearby convenience store makes it a great location to stock up on supplies.
Book Now: Tregortha Bed and Breakfast
Where to Eat
The Royal an Lochan: Only about a five-minute walk from Tregortha B&B is The Royal an Lochan, where we celebrated our first day of hiking.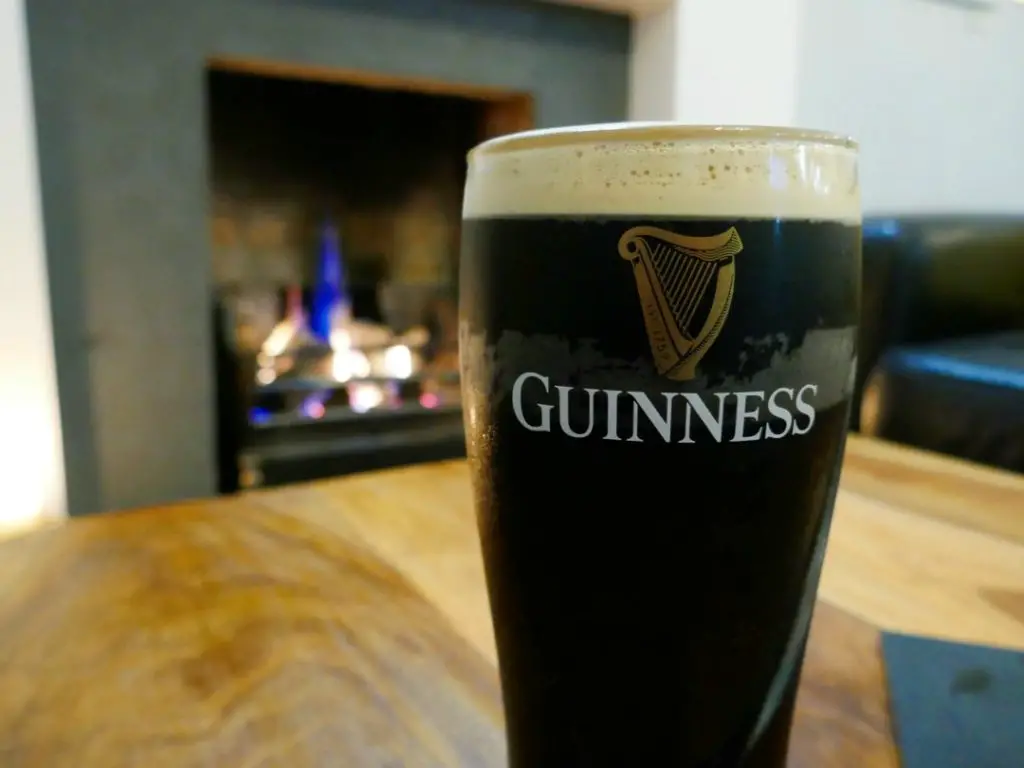 It was a special treat to enjoy a welcome drink by the fire—it's been years since Harry enjoyed a proper draft of Guinness!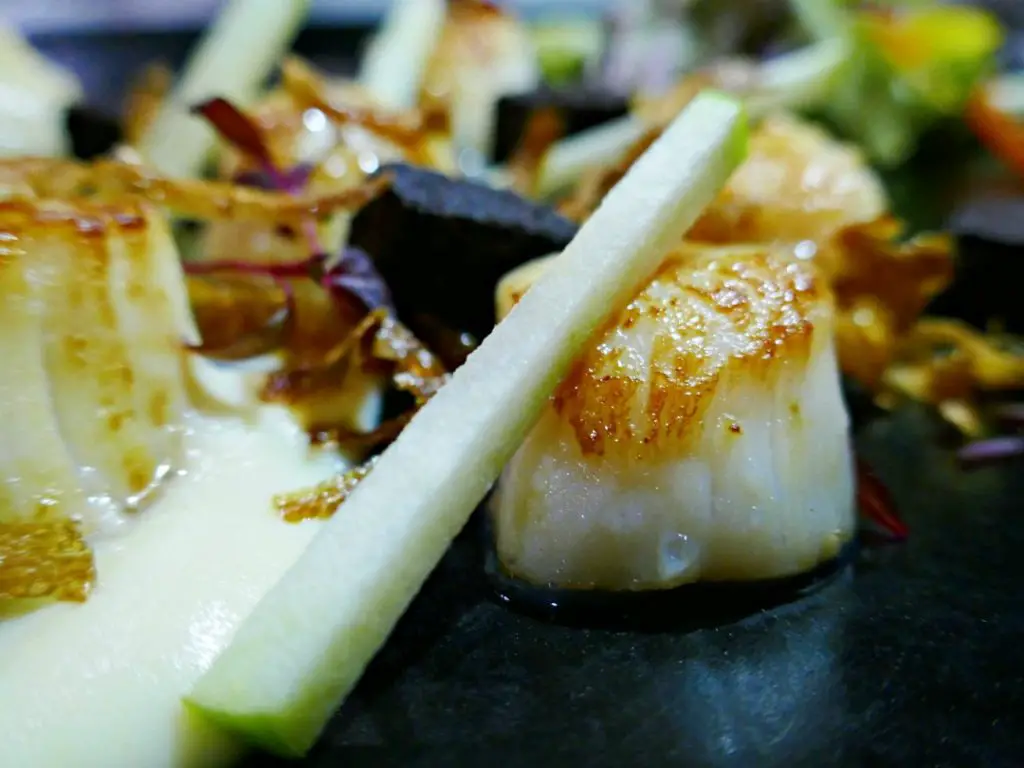 For dinner, we enjoyed Scottish Smoked Salmon, Oriental Duck, Loch Fyne Scallops, and Grilled Gammon Steak (hind leg of pork). And for dessert?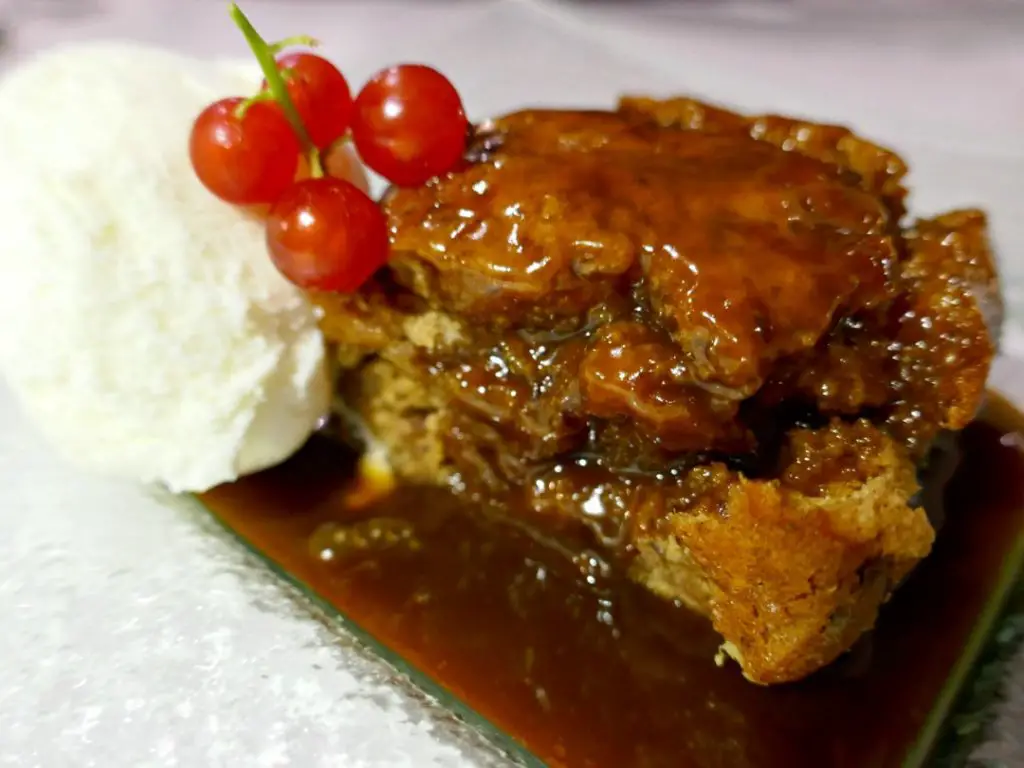 Of course, some Sticky Toffee.
Day 2 > Tighnabruaich to Glendaruel
Since we were departing relatively early we thought the second day was going to be a bit easier, even though it was 11 miles.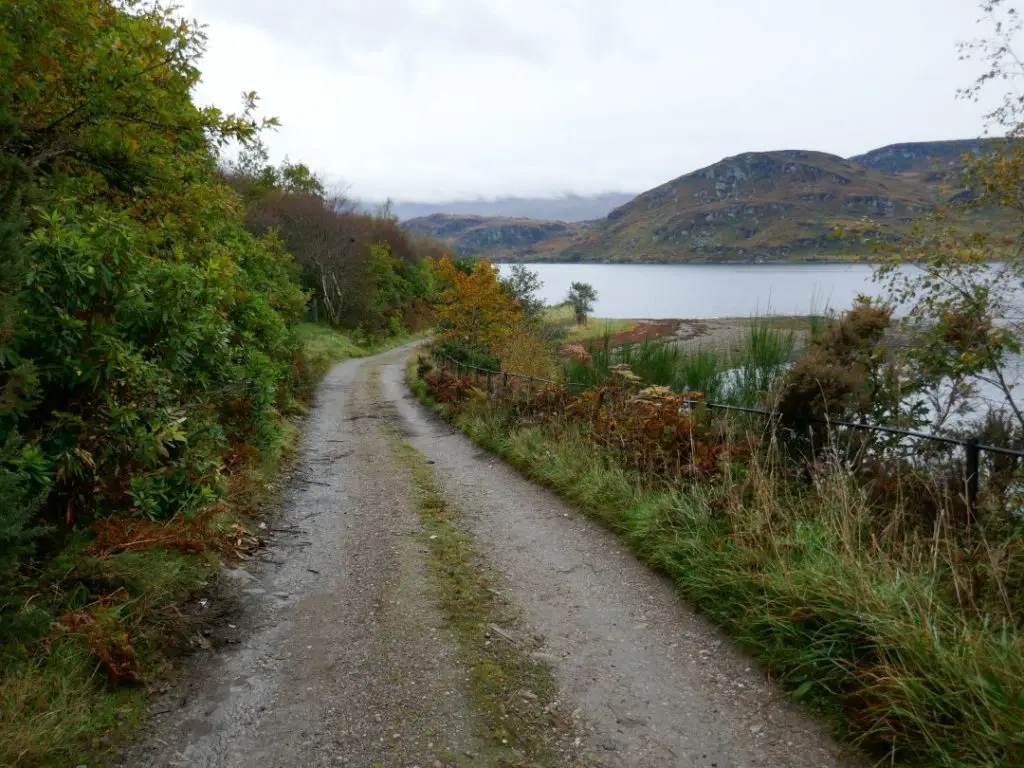 However, there is a stretch between Glen Caladh Farm and Ormidale Lodge that took much longer than normal.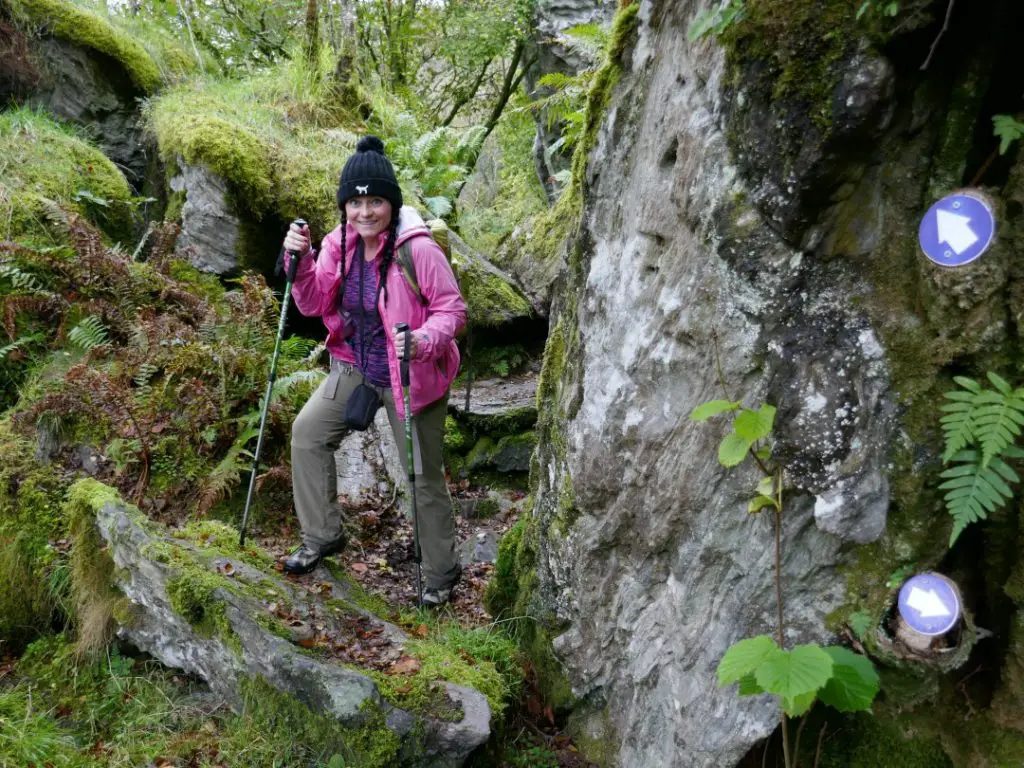 It rained for about one week straight before we started the walk and this section was terribly muddy and slippery.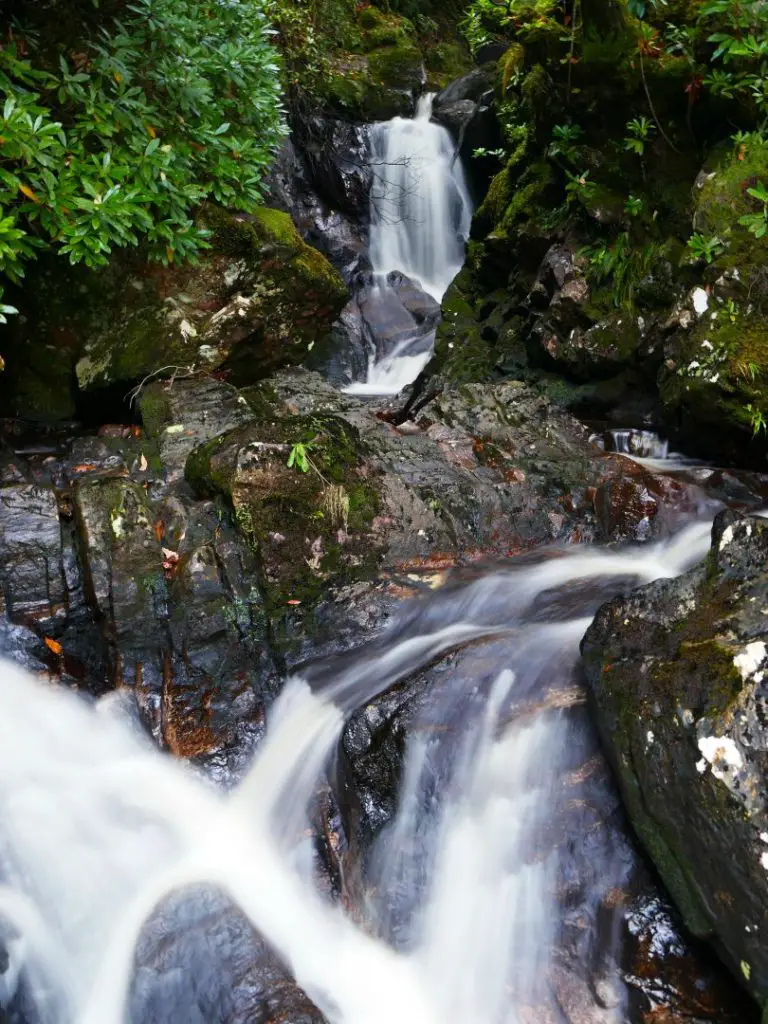 Also, we stopped at the Kilmodon Church and Carved Stones for about half an hour. Overall, the second day took about six hours, without stopping for lunch.
Where to Stay
The Bothy at the Glendaruel Caravan Park or a room at The Water Mill. The camping bothies at Glendaruel Caravan Park make it easy for walkers to enjoy an overnight pit stop along the Loch Lomond and Cowal Way.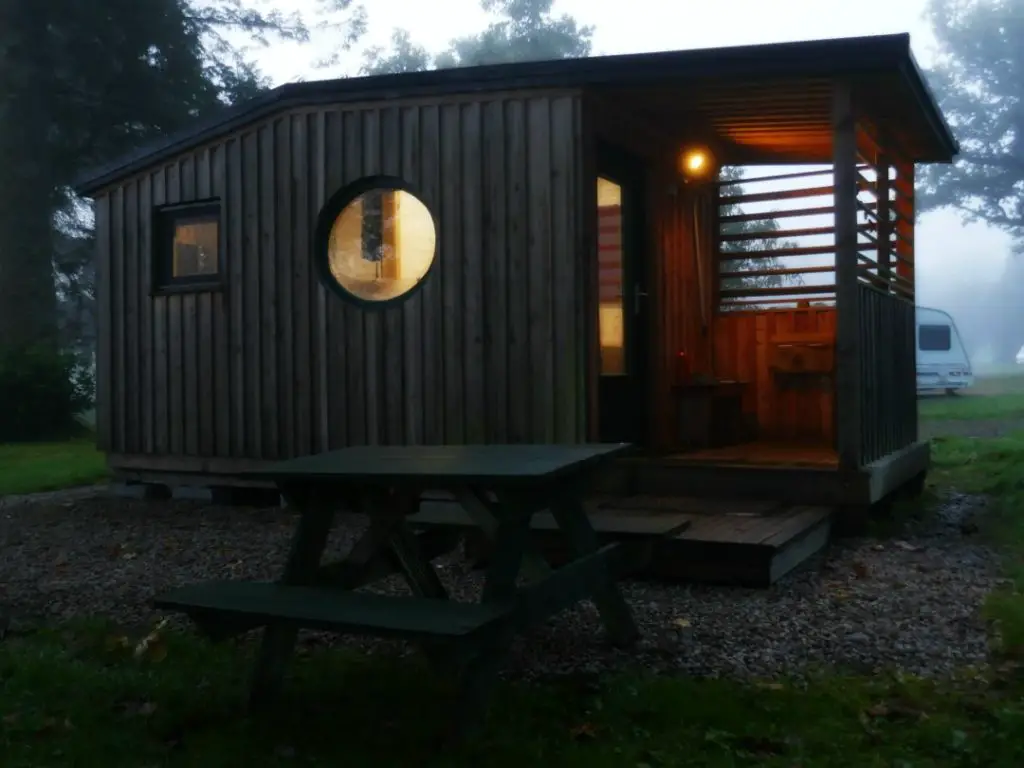 We experienced a true off-the-grid glamping experience.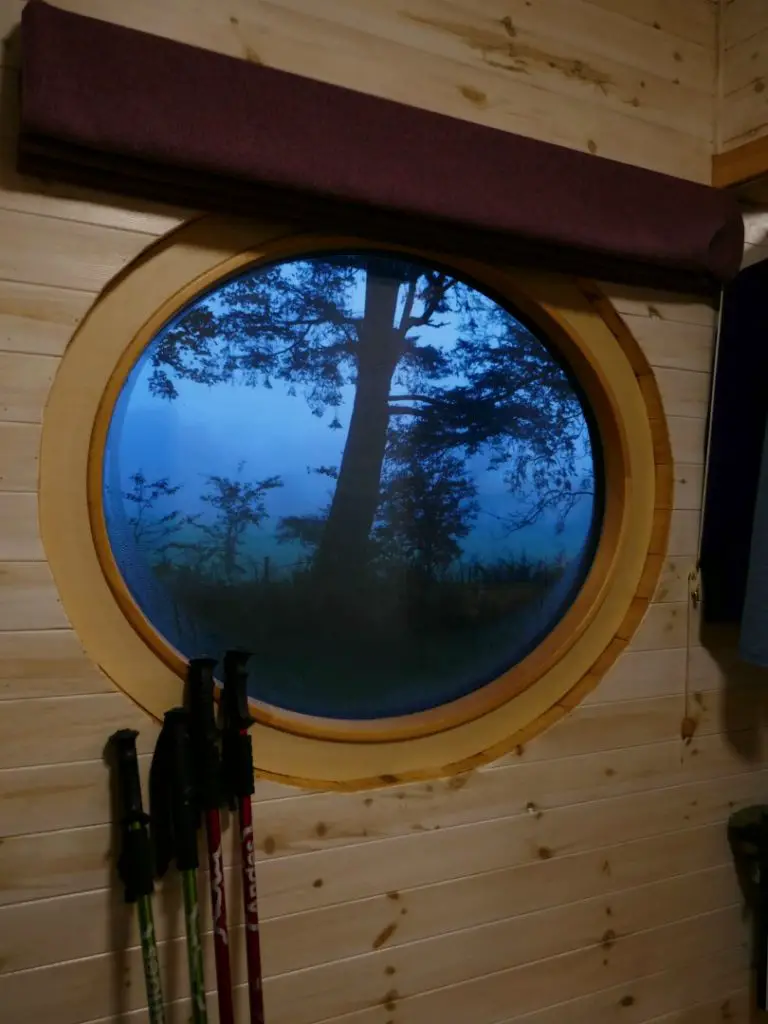 Without being connected, we spent the evening discussing our journey over some tomato soup, scones, hot dogs, and baked beans. Wi-Fi is available at the check-in booth if you need to check your email or post a quick photo.
Where to Eat
There are limited options in this neck of the woods. If you're staying at The Water Mill, they may be able to arrange a dinner for you but you should verify that with them beforehand. If you're staying in a Bothy then you will need to bring food with you.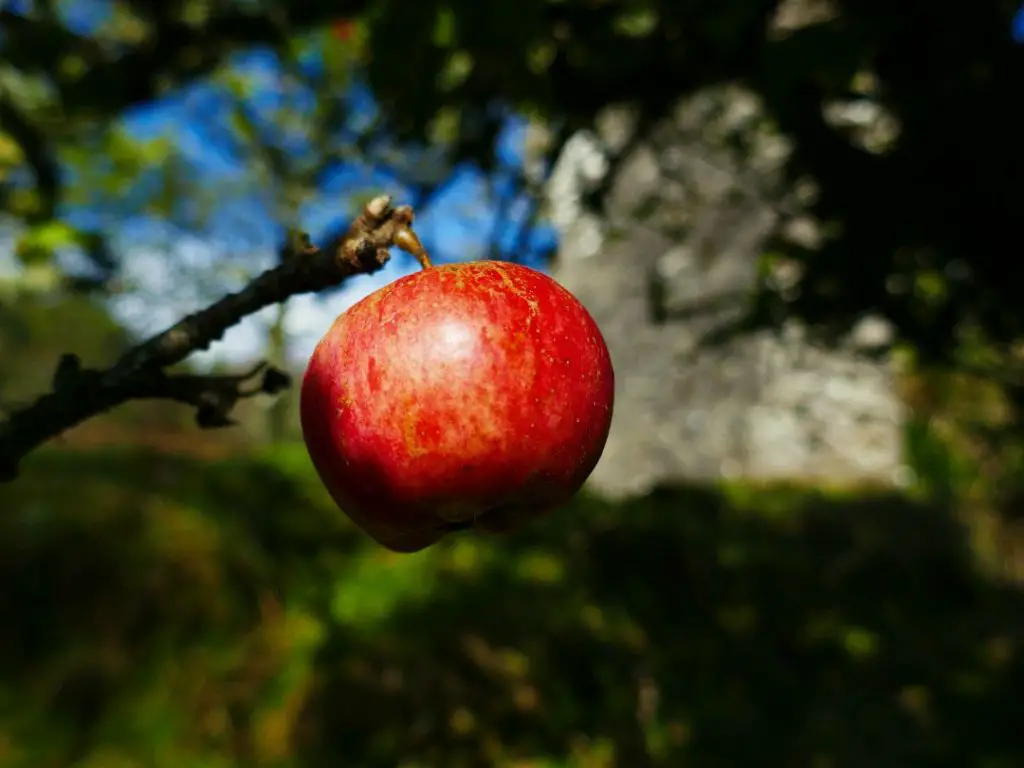 In Tighnabruaich, there's a grocery store next to the post office that has plenty of options, including premade sandwiches and microwavable dinners.
We would recommend that you throw these items in your bag and have them transferred to the Caravan Park. It will be waiting for you upon your arrival!
Day 3 > Glendaruel to Strachur
We woke to a beautiful day and enjoyed a lovely walk through the Glendaruel Valley while enjoying the Scottish morning mist.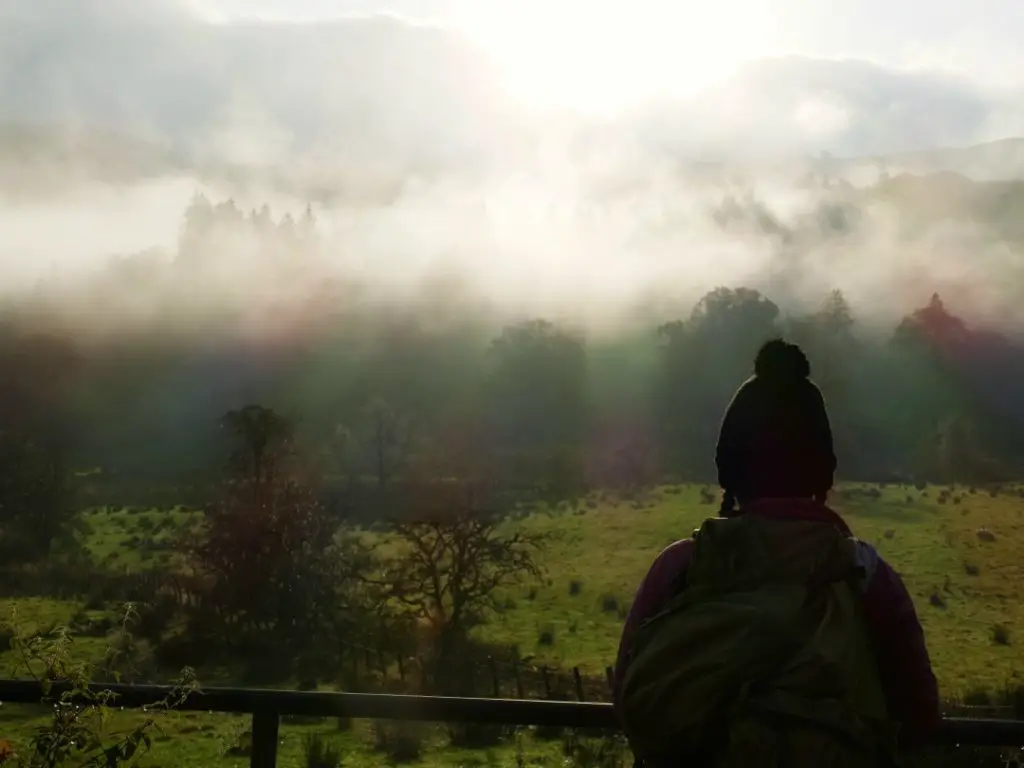 At 15.7 miles, day three is one of the more challenging. While not terribly physically challenging, it is a long day of walking, so be prepared.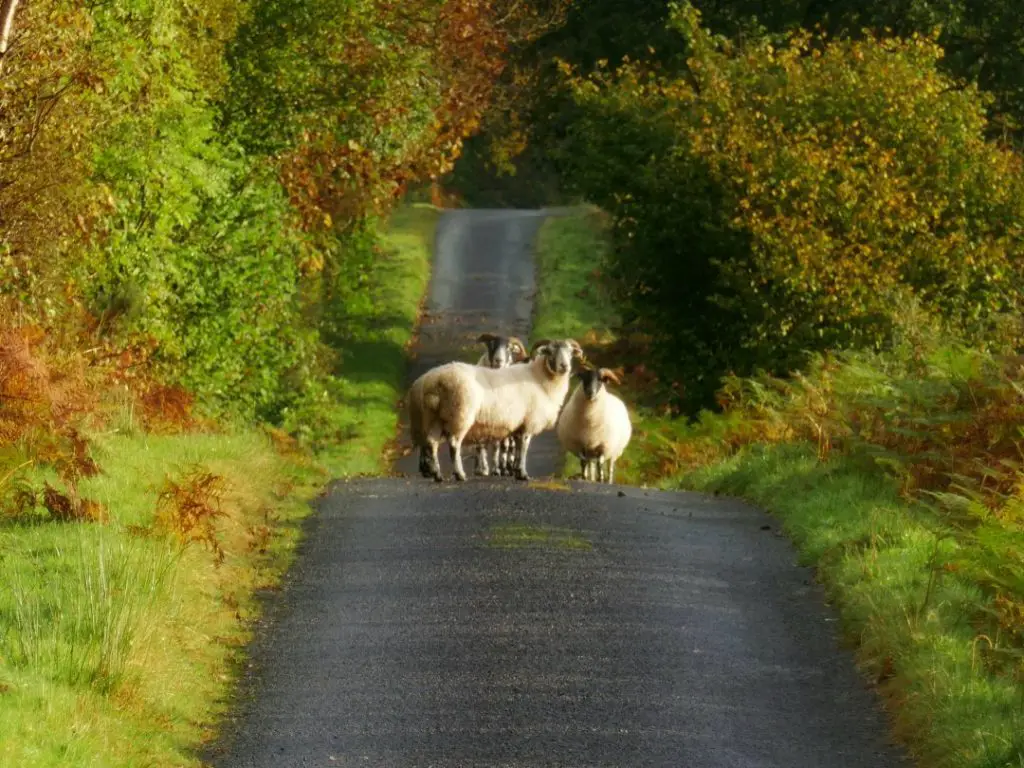 The ground was still wet and there was nowhere to rest (unless we wanted to sit on wet ground).
It wasn't until we reached the Forestry Commission's District Office at Glenbranter, which had a couple of picnic tables that we had an opportunity to sit down and have lunch. This was at about mile 13.
Where to Stay
Balliemeanoch Farmhouse B&B: It's an absolute pleasure to stay in an amazing B&B like Balliemeanoch Breaks after a long day of hiking. Our host, Angela, has a keen eye for detail.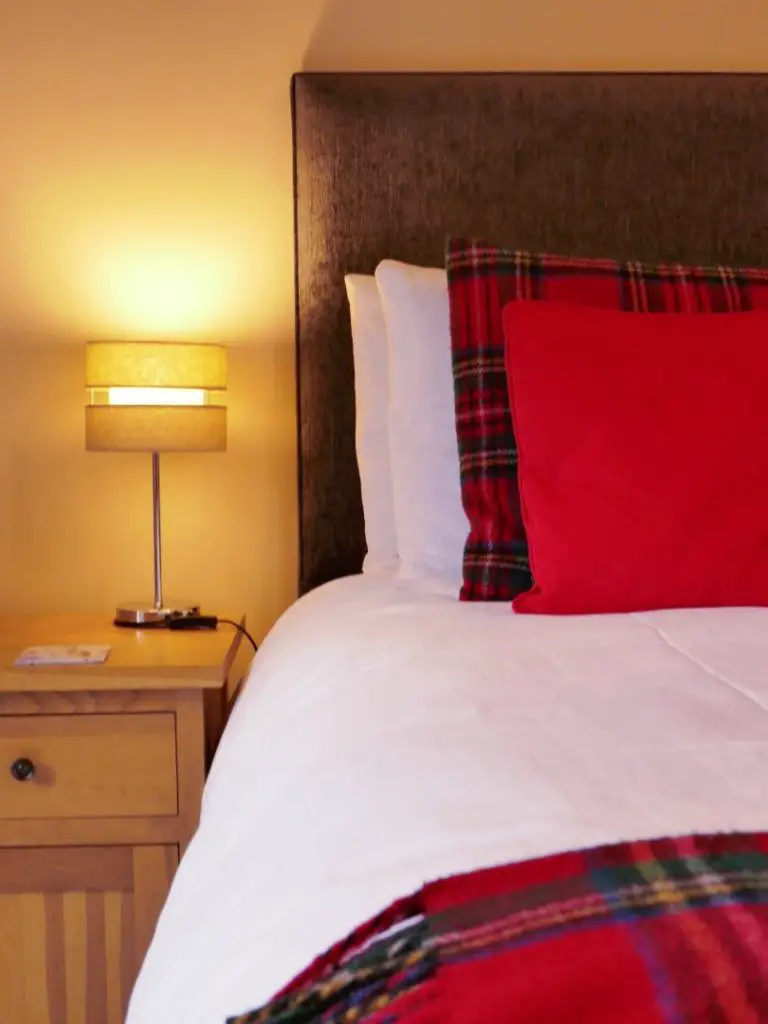 Every little aspect of our stay was perfect. We had a spacious well-decorated room, a modern bathroom, fresh flowers, the most luxurious towels and toiletries, and a scrumptious breakfast!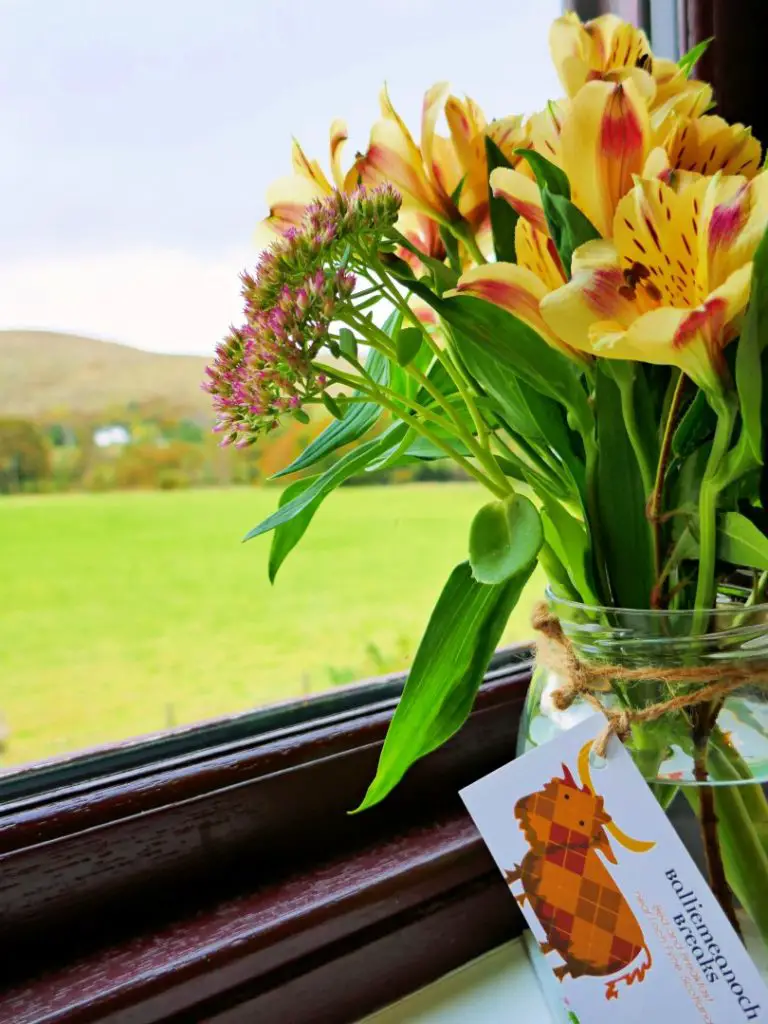 It's a must-stop on any journey along the Loch Lomond & Cowal Way. Especially, since it's right on the way, and other accommodation options are far from the trail.
Where to Eat
Angela (from Balliemeanoch Farmhouse B&B) can recommend a restaurant or there's a nearby gas station (Strachur Filling Station) with plenty of budget-friendly options—including wine!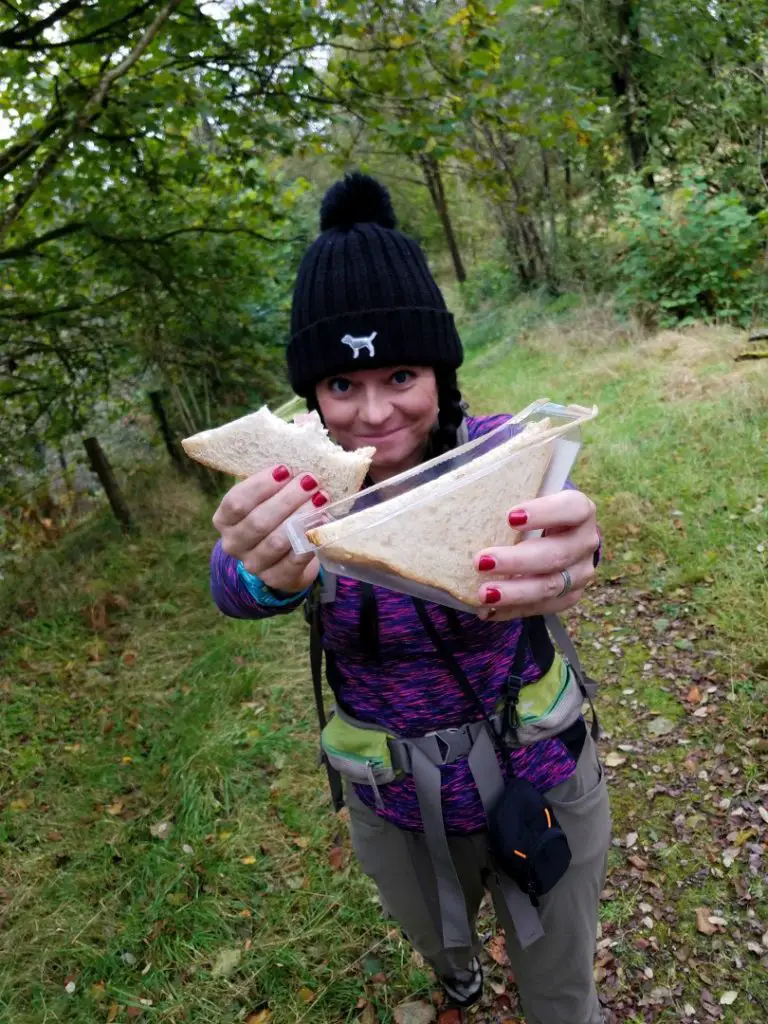 If you want to stay in, you may want to stop at the filling station before proceeding to the B&B. It's about a five-minute diversion from the trail each way.
Day 4 > Strachur to Lochgoilhead
Day four was one of the best hiking days we've ever had in our lives.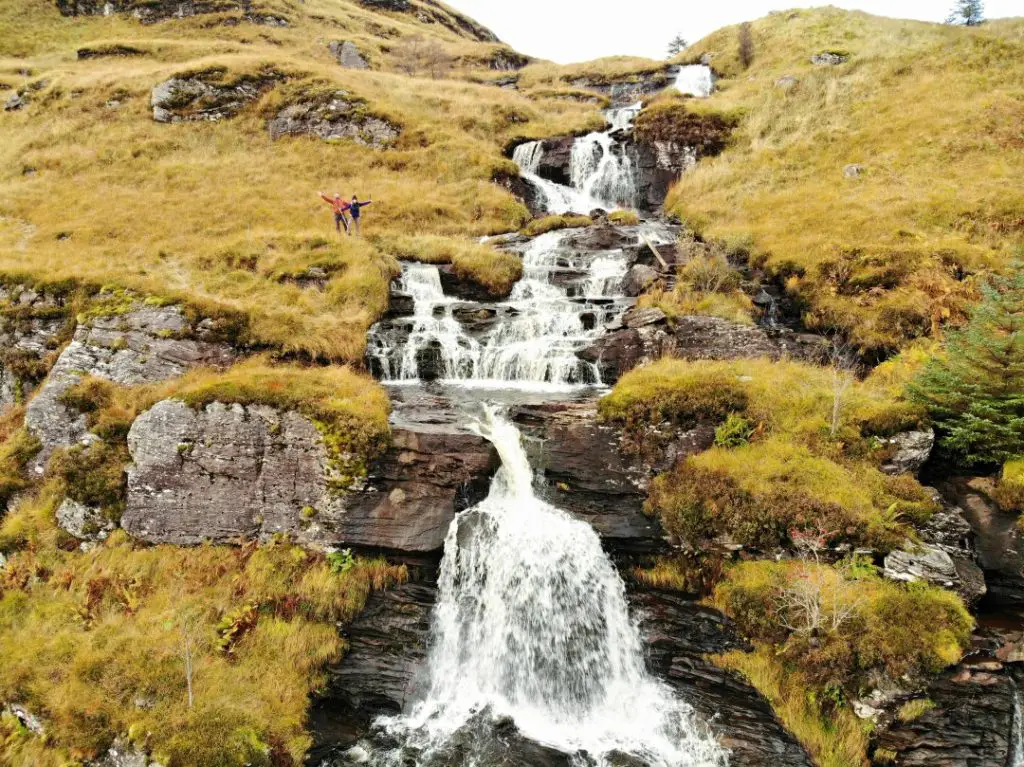 Walking down Struth Ban Falls from the top of Curra Lochain was absolutely thrilling.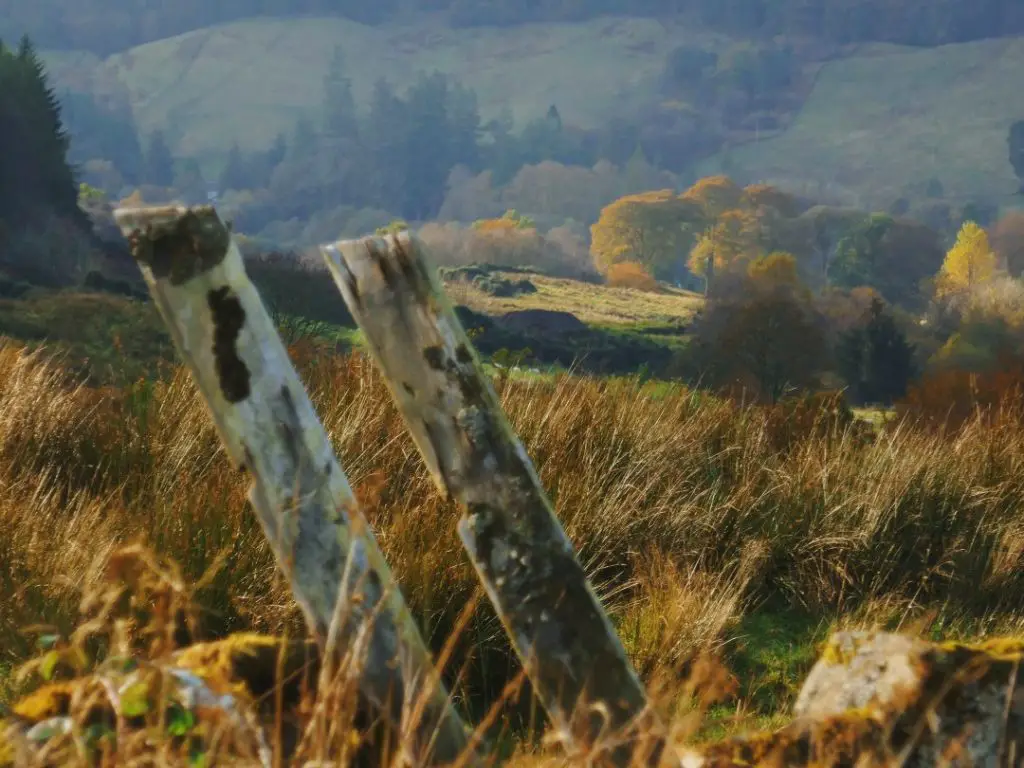 This section is extremely boggy and slow-moving on the way down but well worth the trip!
Where to Stay
Book Now: Lochwood House or The Goil Inn.
Where to Eat
The Goil Inn Restaurant or the Costcutter, a small convenience store, are two options for post-hike pints and dining.
Day 5 > Lochgoilhead to Inveruglas
At 14.6 miles, and with a strenuous ascent, the final section is one of the most demanding.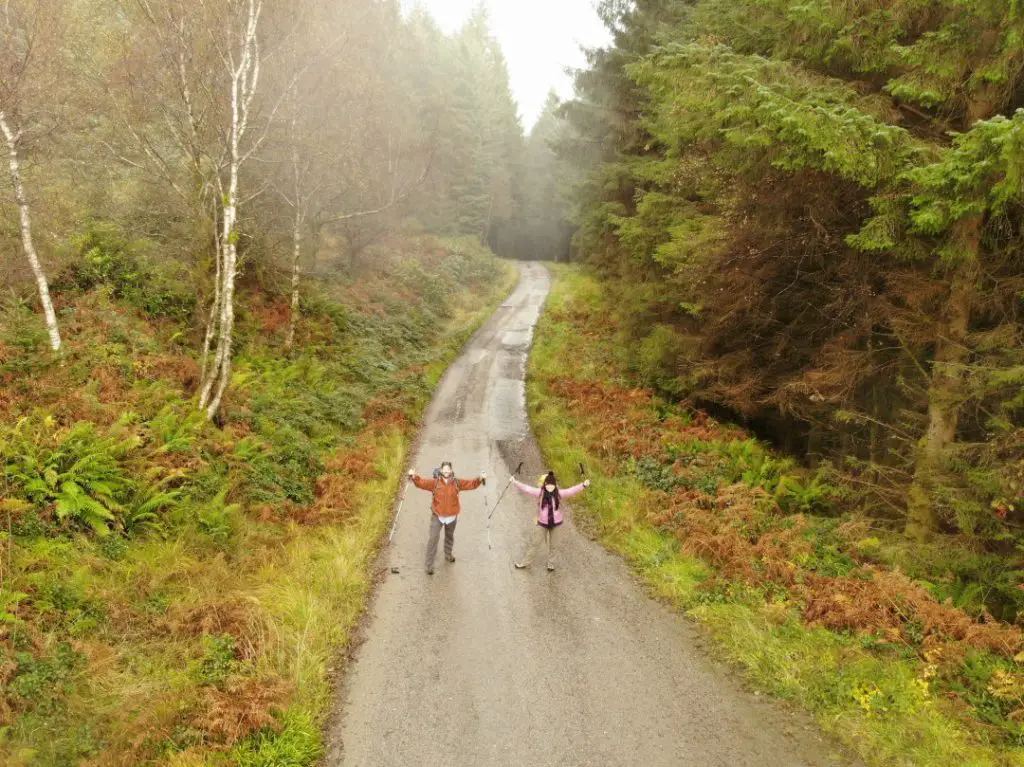 We hear that the views are supposed to be amazing but the weather took a turn for the worst. For us, the first four days offered beautiful though.
Regardless, the walk along with Loch Long and finally making it to the finish line made it all worth it!
Where to Eat
In Arrochar, if you're passing through and planning on finishing in Inverglus, the Kitchen Garden serves a quick burger.
Baggage Transfer Service
Balliemeanoch Baggage transfer service will move all of your luggage, so you don't have to. With door-to-door service and low prices, there's no need to carry extra items.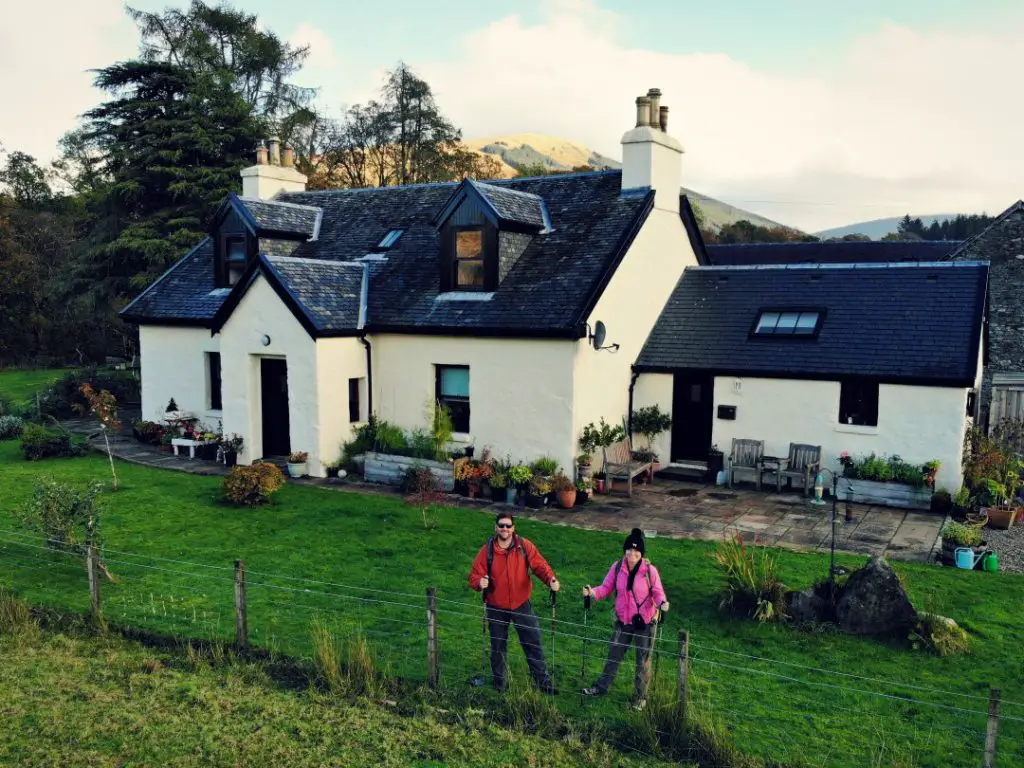 Angela Brown, the owner of Balliemeanoch Baggage can also move people and bikes, making her a good option to transfer you from Inverglus back to Arrochar or possibly even Portavadie at the end of your hike.
As part of the baggage booking process, we always check the end of walk plan and make arrangements with the walkers accordingly.  – Angela Brown, Balliemeanoch Baggage
Angela handles all of the transfers from Portavadie to Inverglus and resides in Strachur (at Balliemeanoch Farmhouse B&B). Pickups and deliveries need to be well-planned to keep Angela's pickups and deliveries on schedule.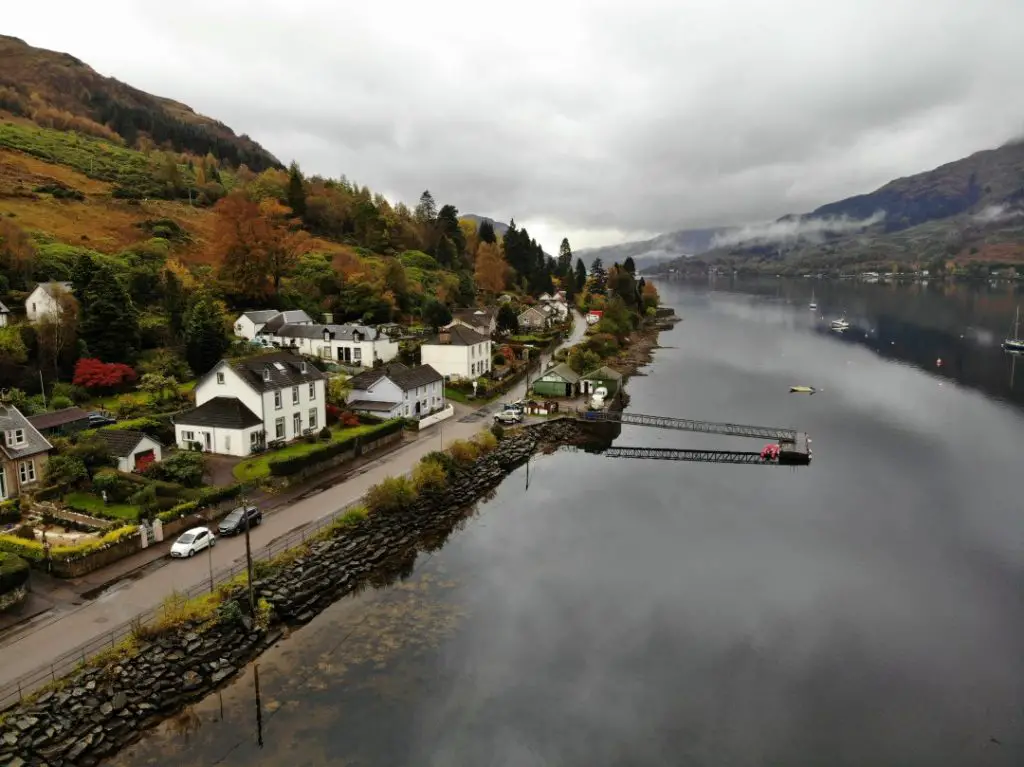 Contact Angela directly to work out the details of your itinerary. The volume of walkers is still fairly low, so Angela is pretty flexible and can generally organize something that suits everyone.
Logistical Challenges of the Loch Lomond & Cowal Way
Over 30,000 people walk the West Highland Way each year. Only a small fraction of that number walk the LL&CW. Millions of dollars have been invested in the WHW to support the infrastructure of the route.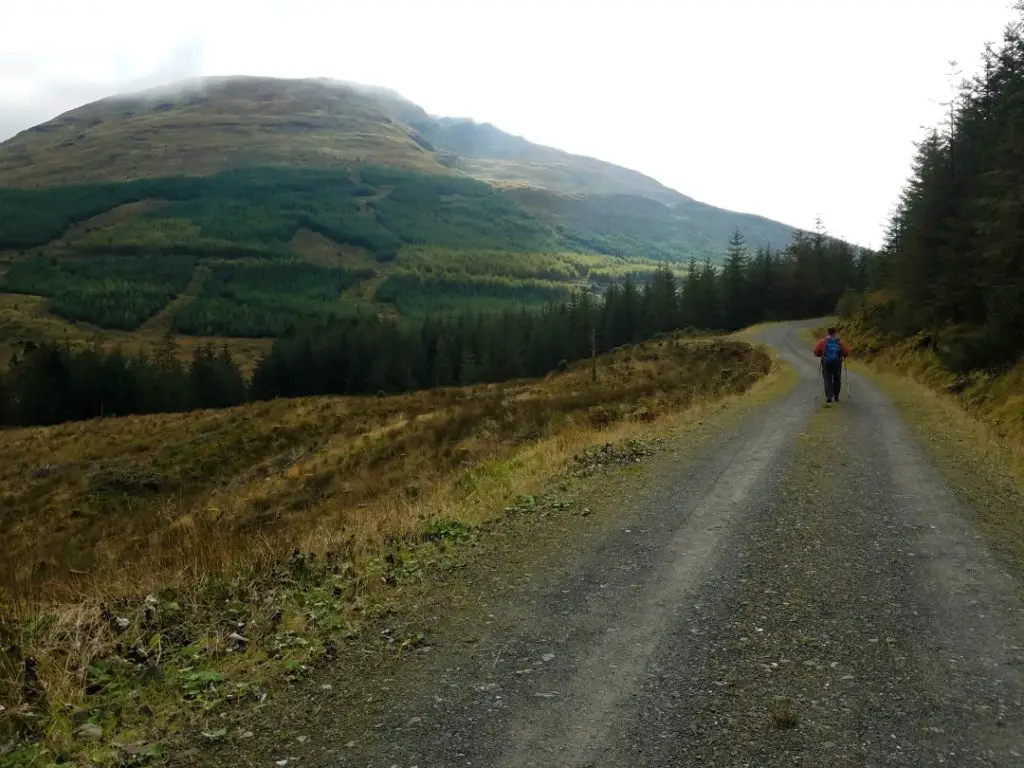 For example, the WHW ends in the middle of Fort William where there are plenty of options for lodging, restaurants, and transportation. The LL&CW, on the other hand, ends at the Inverglus Visitor Center.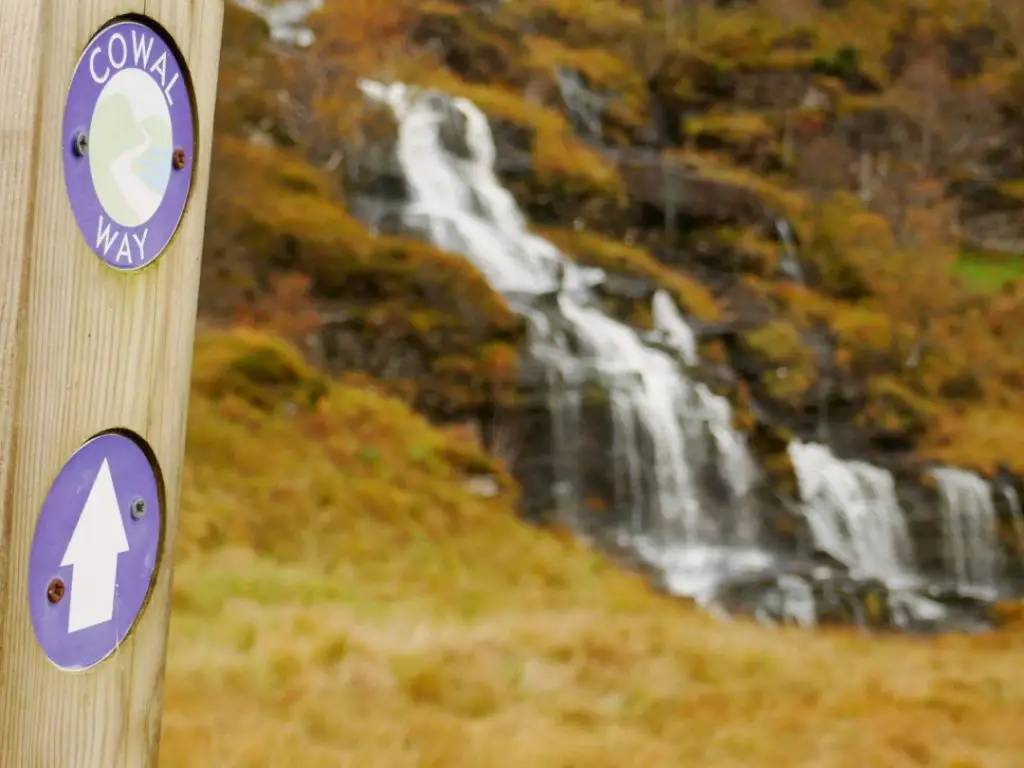 The LL&CW is only in its infancy stage—think of it as taking the path less traveled. Essentially, this means that you're going to cross paths with fewer walkers and your experience will feel collectively more intimate when compared to more popular walks.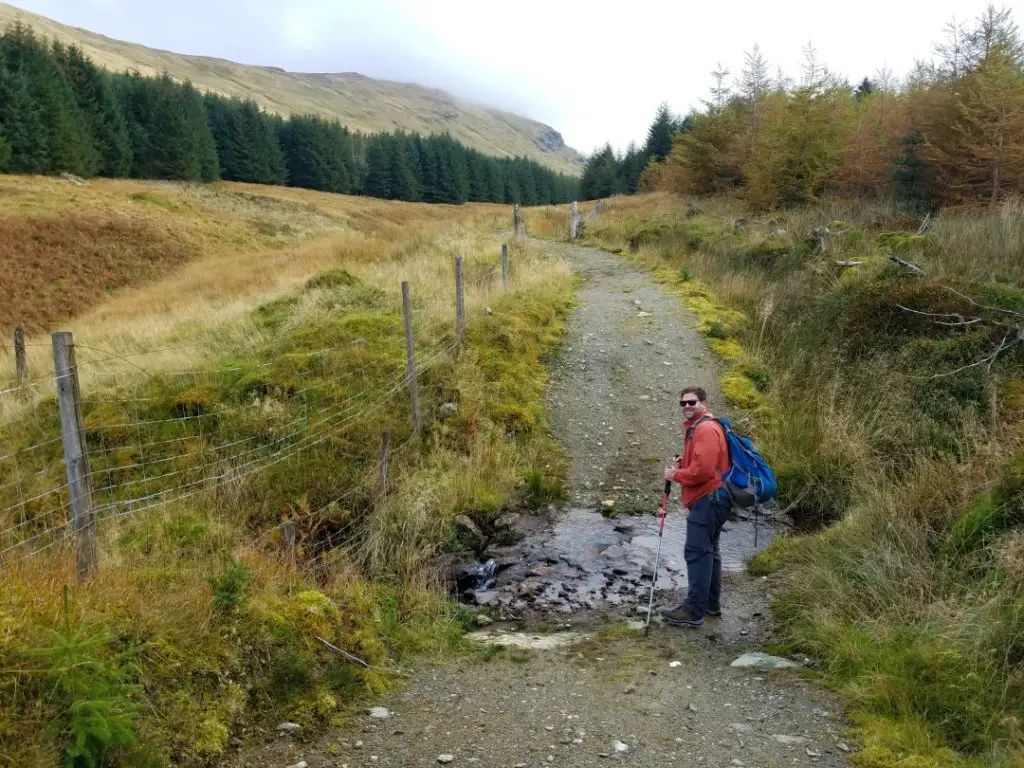 From a logistical perspective, the experience as a whole will take a bit more effort. Mainly, when it comes to planning for food, along with transportation options when you complete the walk.
Options For Completing the Walk
We completed the walk in five nights based on the standard route. When we finished in the late afternoon, we had Angela (from Balliemeanoch Baggage) transfer us from the Inverglus Visitor Center to Portavadie so that we could pick up our rental car.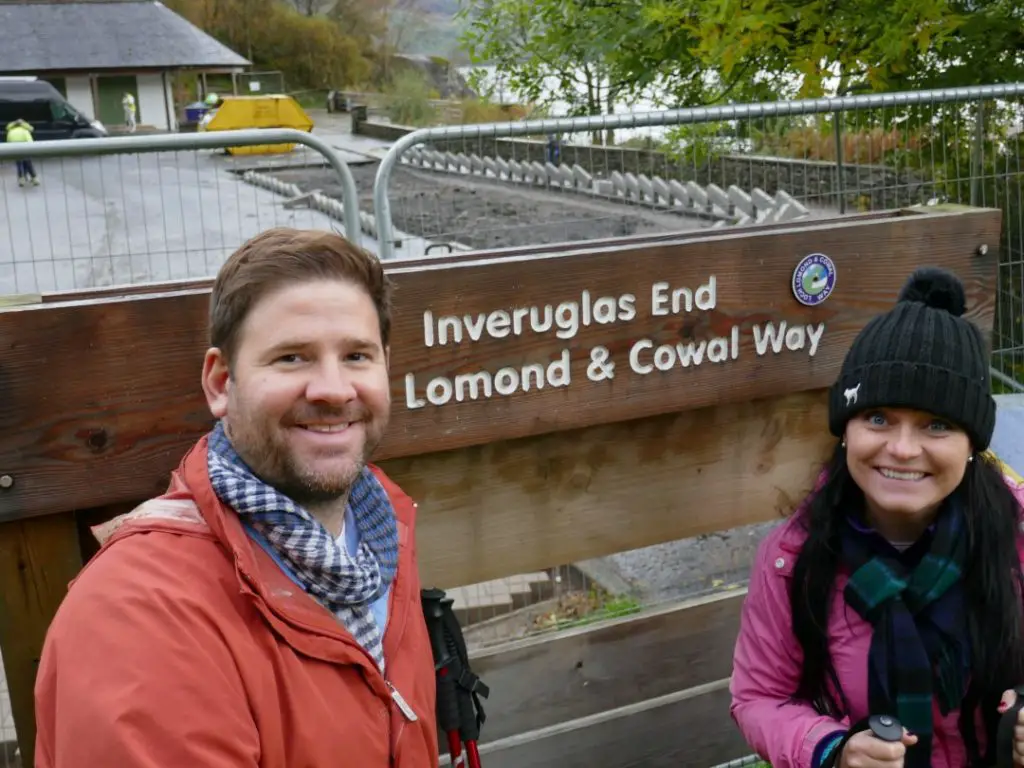 We hiked in October during the low season so Angela was able to arrange this for us. Here are some other options for completing the LL&CW:
If you find yourself in a situation where Angela is unable to transfer you back to your car rental in Portavadie you will be able to arrange a transfer with the taxi service based out of Strachur.
During the high season, most walkers will stay overnight in Arrochar—this is because Arrochar has many good accommodations including the Lochside Guest House (great value). Also, there are many food options and a train station. The next morning, they'll take the short walk to Inveruglas and meet up in the early afternoon with Angela (at the Inverglus Visitor Center). She'll be there with their luggage and will be able to provide a lift based on their negotiated arrangement.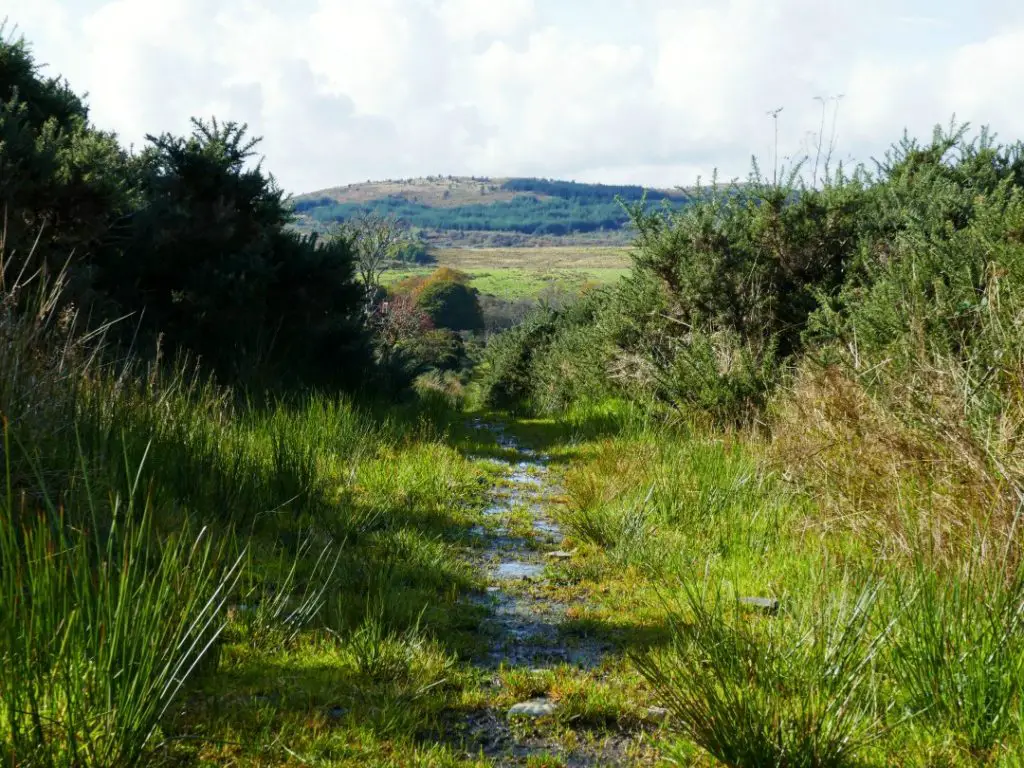 More Good Alternatives
Not everyone continues to Inverglus to cross the finish line, and that's okay. Many choose to finish in Arrochar because of the convenience of public transportation. Also,  Arrochar is the starting point for climbing Ben Arthur, also known as The Cobbler. It's not categorized as a Munro (a mountain in Scotland over 3,000 feet) but is close at 2,900 ft. The Cobbler is a popular way to finish the walk, and is considered one of the best hiking opportunities in Scotland!
Some walkers will finish at Inveruglas and decide to take a bus from the nearby Sloy Power Station stop and either head south to Glasgow or north to Fort William. Once again, they'll arrange a time with Angela for the final baggage transfer.
If you'd like to continue onto the WHW or the Scottish coast-to-coast walk, you'll need to take a ferry across Loch Lomond to Inversnaid. Ferries operate from both Inverglus and the nearby town of Tarbert.
The closest accommodations to Inverglus are in Ardlui and Tarbet, a short bus ride away.
Best Time of Year to Walk the Loch Lomond & Cowal Way
With relatively warm winters and cool summers, the LL&CW makes for some of the best hiking in Scotland. The best time of year to walk the LL&CW is during the spring and fall months. Preferably, mid-June and mid-September as they make for the ideal periods.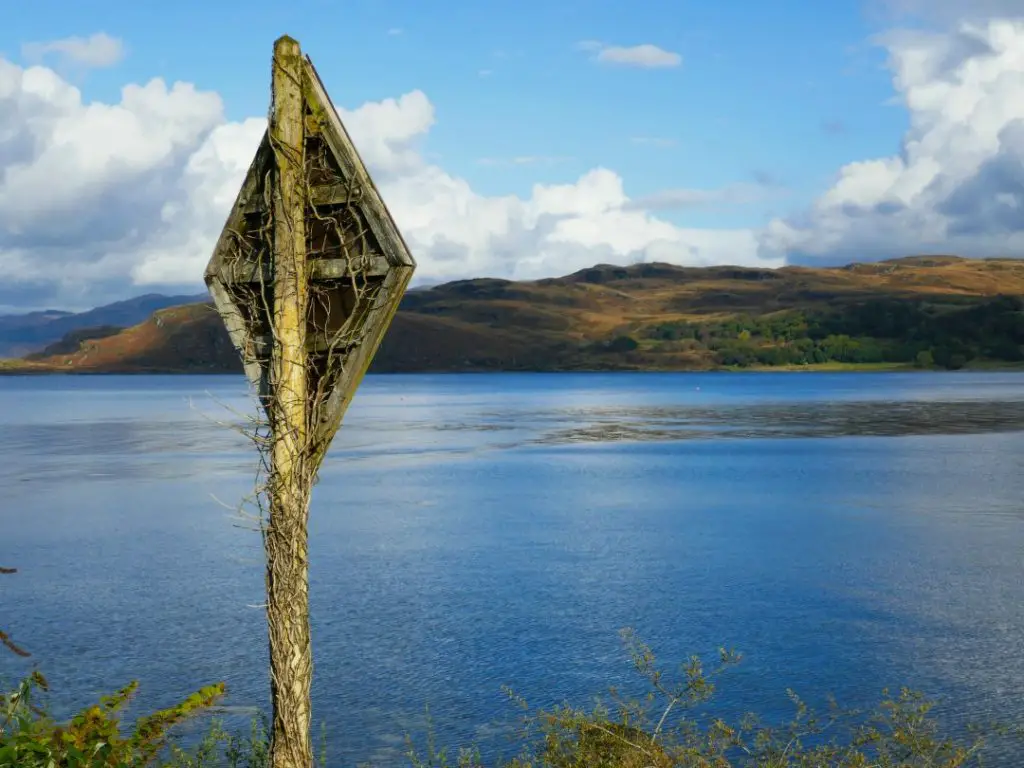 We hiked in October, which was pleasant during the first four days. However, on our last day, a terrible storm moved in. This is fairly typical as low-pressure systems begin rolling in off the Atlantic as early as September. Try to avoid the month of August entirely. This is when the Cowal Highland Gathering takes place and when midges are the most aggressive.
Other Things to Know
The Inverglus Visitor Center has a cafe and toilets. Walkers are generally comfortable hanging out for a bit while waiting for their baggage transfer.
In 2018, the name of the Cowal Way was formally changed to the Loch Lomond & Cowal Way. This was done because about 50 percent of it runs within the Loch Lomond & Trossachs National Park.
The Loch Lomond & Cowal Way links to the Kintyre Way, the Three Lochs Way, and the West Highland Way. If you're looking to extend your walk, we would suggest starting in Machrihanish and taking the ferry from Tarbert to Portavadie to begin the LL&CW.
There are many options for getting to Portavadie. However, the fastest will be a rental car, taxi, or Uber.
To plan your full travel route via public transport from anywhere in the U.K. use https://www.traveline.info/.
If we could do the walk all over again, the only thing we would change is the last section. From Lochgoilhead, we would stay overnight in Arrochar. The next morning we would complete a roundtrip hike to The Cobbler. The public transportation options in Arrochar make this a convenient endpoint.
We Need Your Help
Did you find this article helpful? If so, bookmark it and when you're planning your next vacation click on any of the links below before finalizing reservations. You'll get the best price, we'll earn a small commission, and you'll help support future articles.
Thank you!
BEST TRAVEL SEARCH ENGINES
🏘️ Book Your Accommodation
We use Tripadvisor and Priceline's Express Deals to compare prices and reviews in advance and check availability
✈️ Book Your Flight in Advance
To find the cheapest flight options, you can use WayAway and Skyscanner to find the most suitable choice for you
🚗 Reserve Your Rental Car
Use DiscoverCars and Skyscanner to compare prices and view the largest selection of vehicles