Each week millions of viewers tune in to Below Deck, watching that season's crew work hard/play hard in some of the most gorgeous destinations on the planet—Australia, the Caribbean, and our personal favorite, the Mediterranean. No doubt many viewers suffer from a bit of location envy, secretly wishing that we could somehow swap places to live the Below Deck lifestyle.

Tuning in, sometimes it's hard to determine which aspect of the show is the most stunning—the megayachts, the sexy crew members, or the holiday backdrops. Surprisingly, most of us are so enamored by the idea of yacht life that given the opportunity to clean toilets as a 3rd stew, we probably would jump at the chance.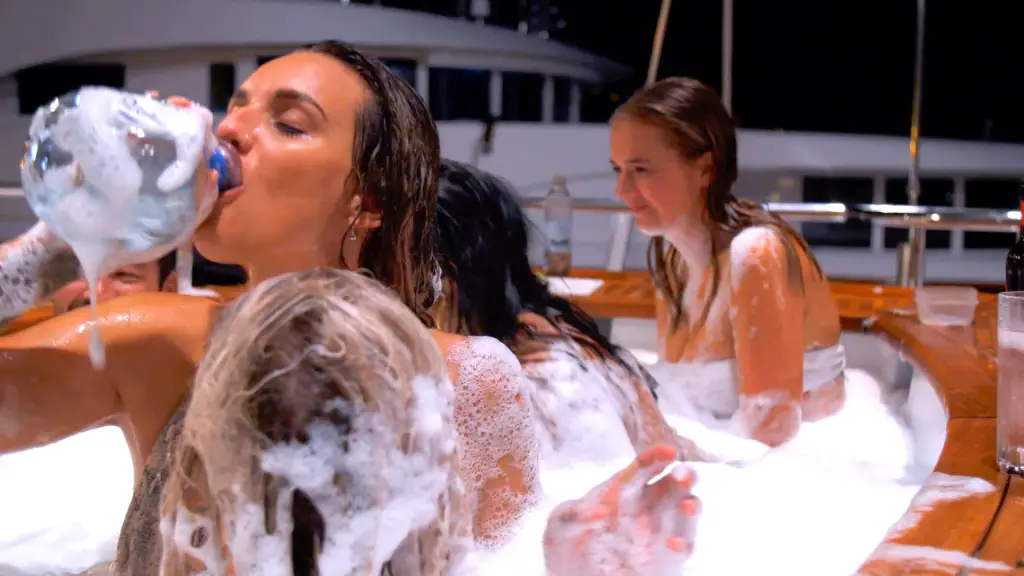 However, what if I told you that everyday normies could experience a luxury yacht vacation—not as working staff but as charter guests?
Yachties Unite
Throughout the years, we've been blessed to create so many special memories aboard yachts. Like you, we understand the magic of being on the water. It's exotic and euphoric to experience the wind in your hair while being sprayed by the ocean's salty mist.
Why do you think the most elite people on the planet take yachting holidays? It's one of the best ways to travel.
After sailing in Greece, yachting in the Adriatic Sea, and island hopping in Croatia—we're addicted to yachting. We even hosted our wedding reception aboard a yacht too! That's one of the reasons why we're so passionate about helping people get out on the water and showing them how to experience the Below Deck yachting lifestyle on a budget.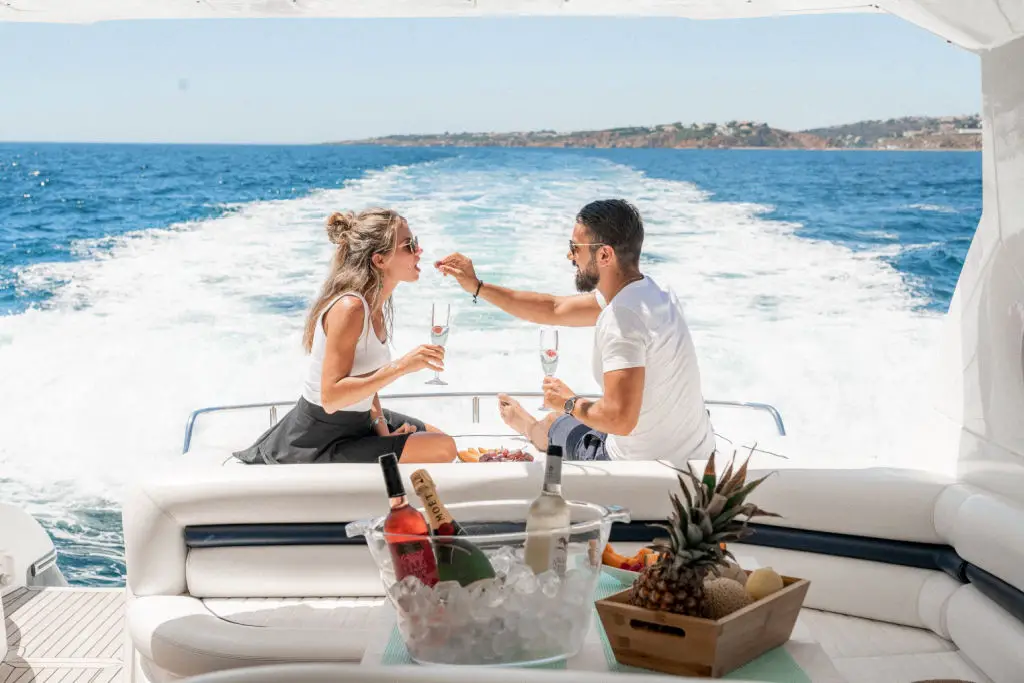 The Preference Sheet
Honestly, one of our favorite scenes of Below Deck is when the captain calls over the crew to go over the guest list and preference sheets. Who are these people wealthy enough to charter a luxury megayacht? What do they do for a living? What are their dietary restrictions?
Below Deck's Most Famous Charter Guests
Throughout the years, we've seen American MLB legend, Johnny Damon featured on the show – which was highly entertaining when he got drunk and urinated off the side of the ship. This took place in S05 E14 of Below Deck Mediterranean.
America's Next Top Model Cycle 10 winner Whitney Thompson chartered a Below Deck yacht. Both noteworthy names, Ace of Base singer Ulf Ekberg and son of rock and roll legend, Roy Orbison Jr chartered a yacht together.
Cost of a Typical Below Deck Yacht Charter
In a Reddit thread, Below Deck producer Mark Cronin spilled some juicy behind-the-scenes details. He admitted that the charter guests do receive a steep discount for agreeing to be filmed while abroad on their luxury cruise. In addition, the show pays for the guests' airfare. However, he explains, that even with the discounts, it still is not a cheap vacation.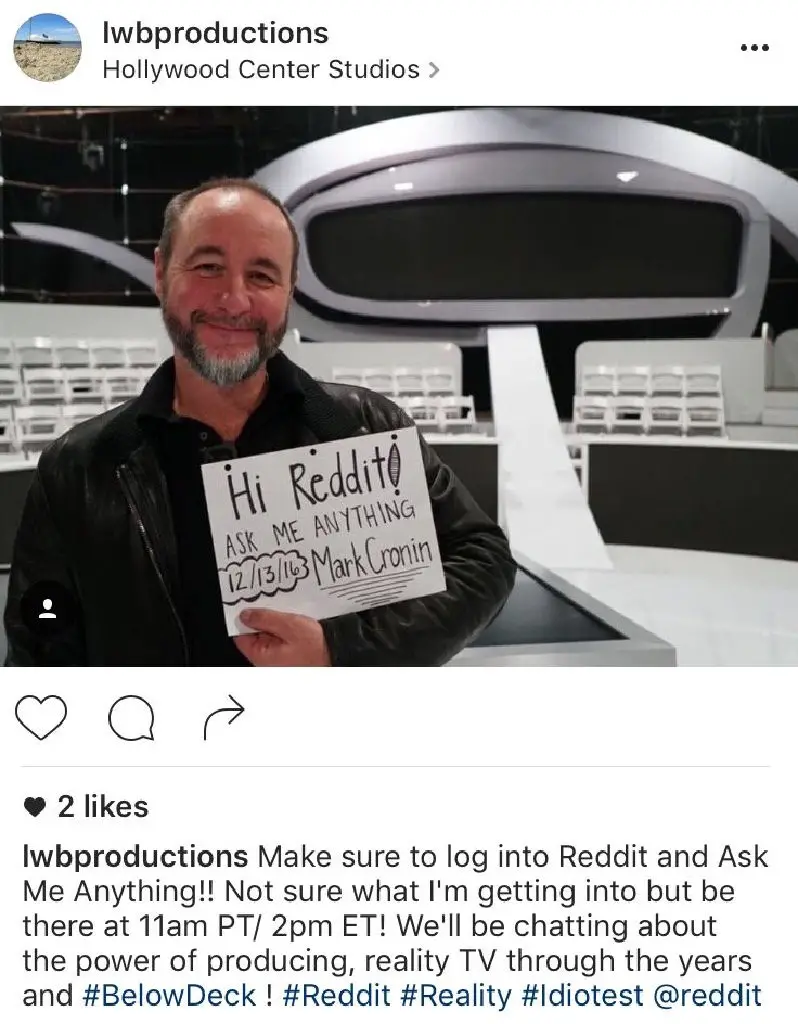 One Week – $200,000
A week aboard one of the typical charter yachts costs around $150,000 to $200,000, which provides an idea of the cost of a three-day charter. Cronin admits that generally, guests receive "about 50 percent" off of the charter rate.
However, guests are still expected to tip about 15 to 20 percent of the full price. Guests also receive no compensation for appearing on the program. As we know, each crew member typically receives about $1,000 to $2,000 per charter in tip money.
How Are Guests Selected?
Last, unlike the crew, Below Deck charter guests are not carefully selected by Bravo in advance. Although Cronin admits that they wish that could be selective about who is featured on the show, in reality, whoever's check clears first is chosen for the show.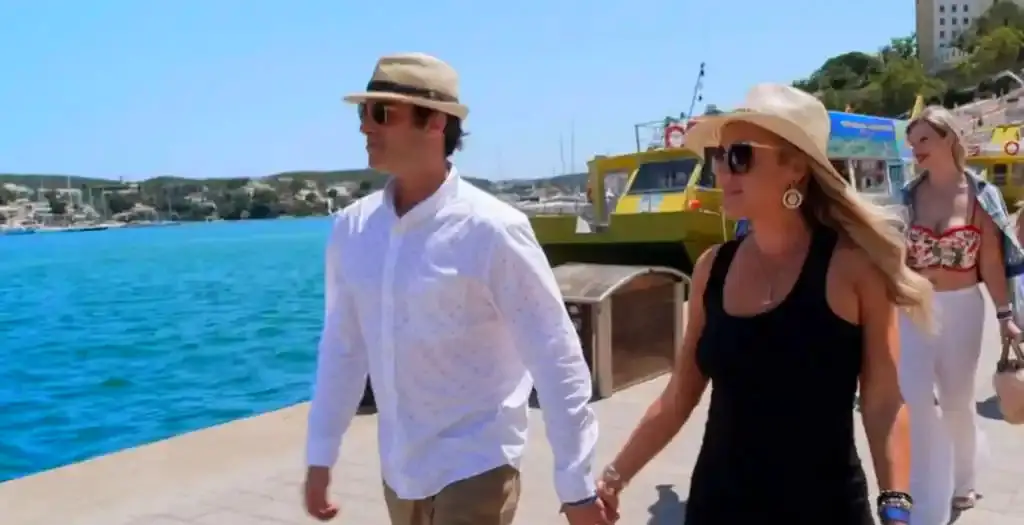 Although the commotion of the crew does a great job providing entertainment for Below Deck fans, for the most part, guests have offered some pretty solid drama too.
We'll Get This Party Started!
Before each charter commences, Captain Lee always ceremoniously and unenthusiastically states, "We'll get this party started." So in the spirit of Captain Lee, let's get down to the dirty details on how to rent a yacht charter on a budget.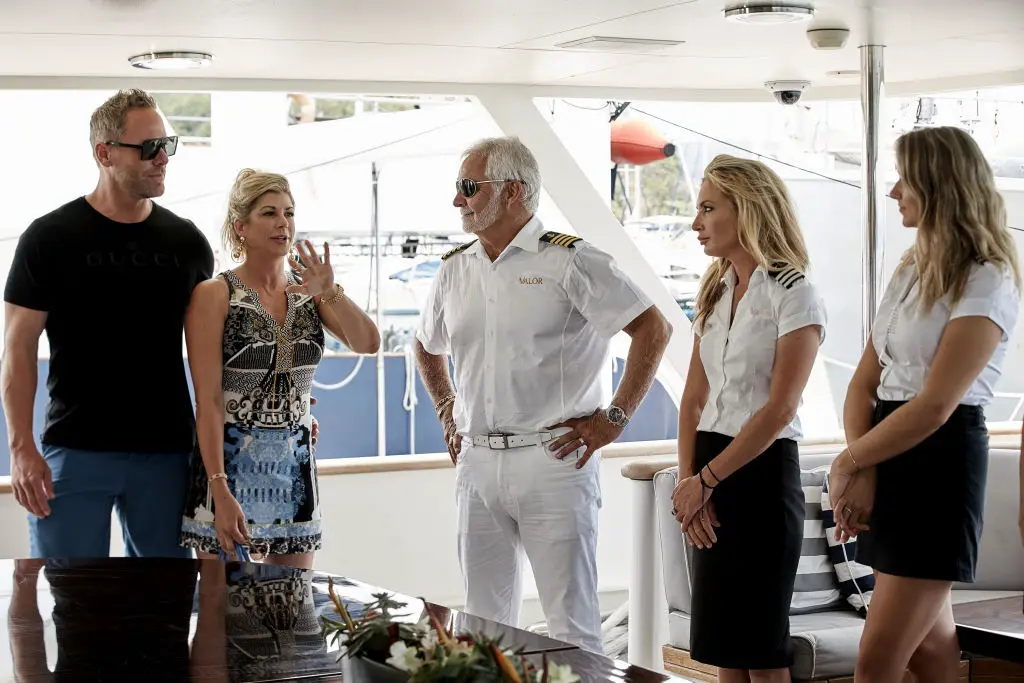 How to Charter a Yacht On a Budget
Sailo is a popular booking site. It's kind of like the Airbnb of charter boat rentals as you book directly with the owner of the yacht. Although there are verified opportunities available worldwide, the most popular rental destinations in the U.S. are New York, California, Miami, and Miami Beach.
Other Florida hotspots include the Florida Keys, Fort Lauderdale, and Cape Coral. If your budget allows, the Bahamas is also accessible via a weekend trip from Miami or Key West.
Budget Tip: If a luxury yacht is a bit out of budget, consider renting a smaller motor yacht on Tripadvisor. Typically, for less than $1,000 per day, you can rent a pretty amazing 35 to 50-foot yacht. Some of our favorites include:
However, international viewers, don't fret. Sailo operates worldwide and all of the yachting destinations featured on Below Deck offer yacht charter options too.
Luckily, sometimes the weekly pricing is even more affordable and realistic in more popular yachting destinations. These would include countries such as Croatia, Turkey, Spain, and Greece. Of course, the greater the supply of available yachts, the more competitive the charter rates.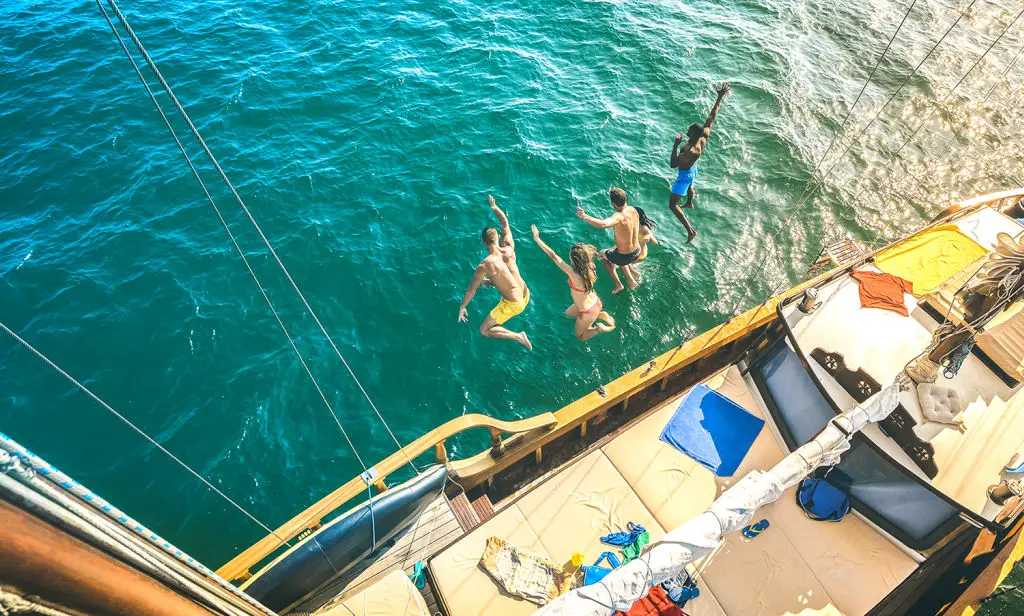 How Yacht Renting Works
The Sailo charter process is simple. First, search through thousands of boat rentals—party pontoons, motorboats, sailboats, catamarans, or luxury yachts. Next, filter by dates, price, crew, and/or trip duration. If you have any questions, guests can easily contact the owner/captain via Sailo's message option.
Work Out the Dirty Details
Keep in mind that there are a few important factors to confirm before securing your yacht rental. The group should all agree on an established budget, the desired location, and the guest list. This will ensure that you secure the right boat within your price range and have enough space to accommodate all of your friends.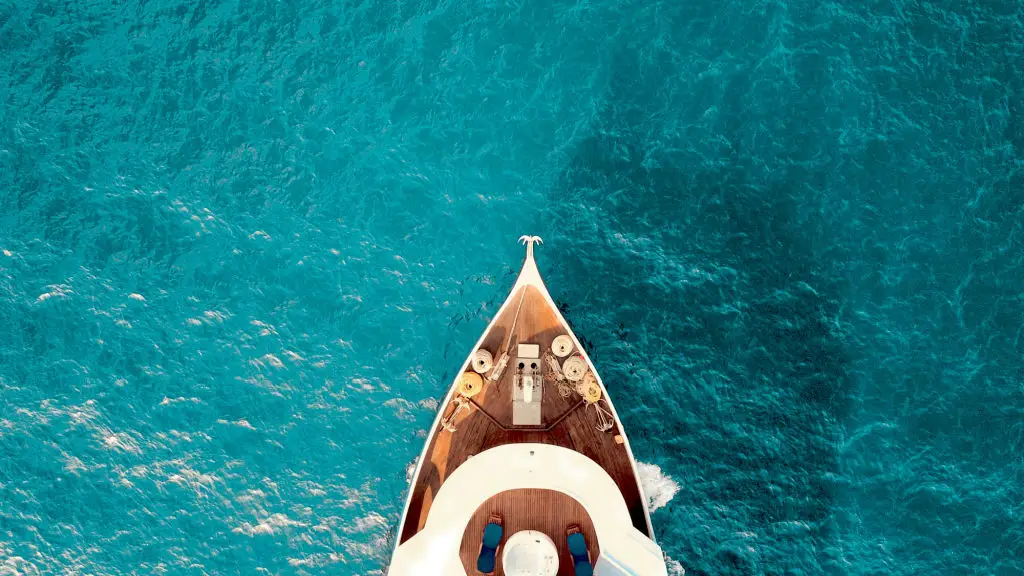 Numbers Matter
Have you ever noticed that Below Deck yacht charter groups are actually quite large in number? Only A-list celebrities, Saudi prices, Russian oligarchs, and Silicon Valley moguls are the ones privately cruising on huge superyachts.
The key to chartering a proper yacht is the size of your group. Remember, the larger your squad the cheaper the overall cost per person when you share the expense. To illustrate, a full-day $1,100 yacht charter will cost approximately $85 per person for a group of 13.
Upon booking, the final price may include extra charges such as service, captain, and fuel fees. To get an idea, the average starting price to charter a yacht for the day in Miami Shores is $1,100. However, affordable rentals are available for as little as $250.
Some Typical Sailo Yachts Available
The hardest part of chartering the yacht is determining the best listing. Again, if it seems overwhelming, reach out to the listing's contact person and ask questions. Be cognizant of how responsive and informative the owner is when inquiring about your trip. Also, be sure to confirm that the vessel in the listing is the same boat that you'll be chartering.
To give you an idea of what's available, we took some time to research a few yachting options that look really good to us. It is best practice to select listings that have written, positive reviews and owners with prompt response times.
Option One: Miami Yacht Charter
Have an unforgettable time cruising around Miami on this Sea Ray 540 Sundancer. The yacht features three air-conditioned bedrooms, two bathrooms, a captain, and a host. Fuel costs are included in this listing.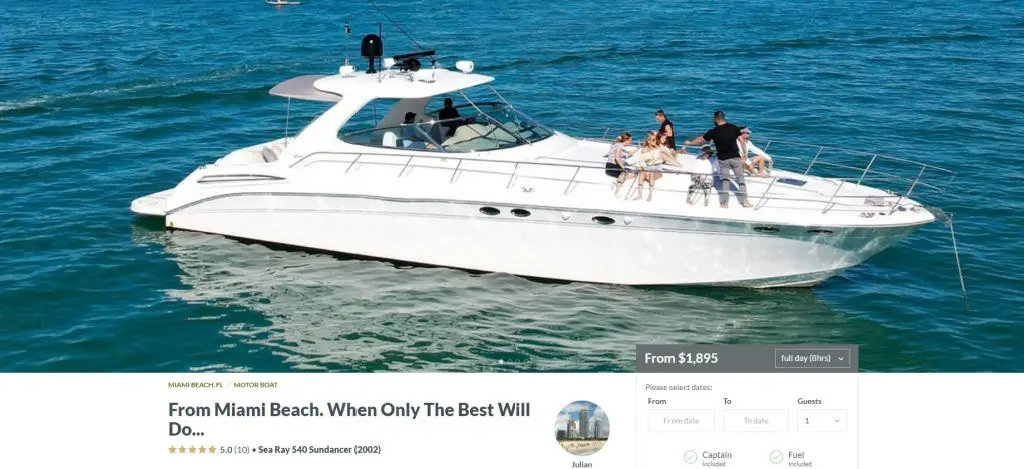 Prices start at $1,895 or approximately $315 per person, per day for an overnight 6-person charter. Alternatively, a full-day charter with a maximum number of 13 guests is about $145 per person.
Option Two: The Florida Keys
This highly-ranked catamaran is available for charter in Key Biscayne, Florida. Constructed by a prestigious French shipbuilder, this is a comfortable vessel to cruise the Florida Keys. There are three cabins, each one having its own private bathroom. In a pinch, the main salon has a convertible table that sleeps two extra guests.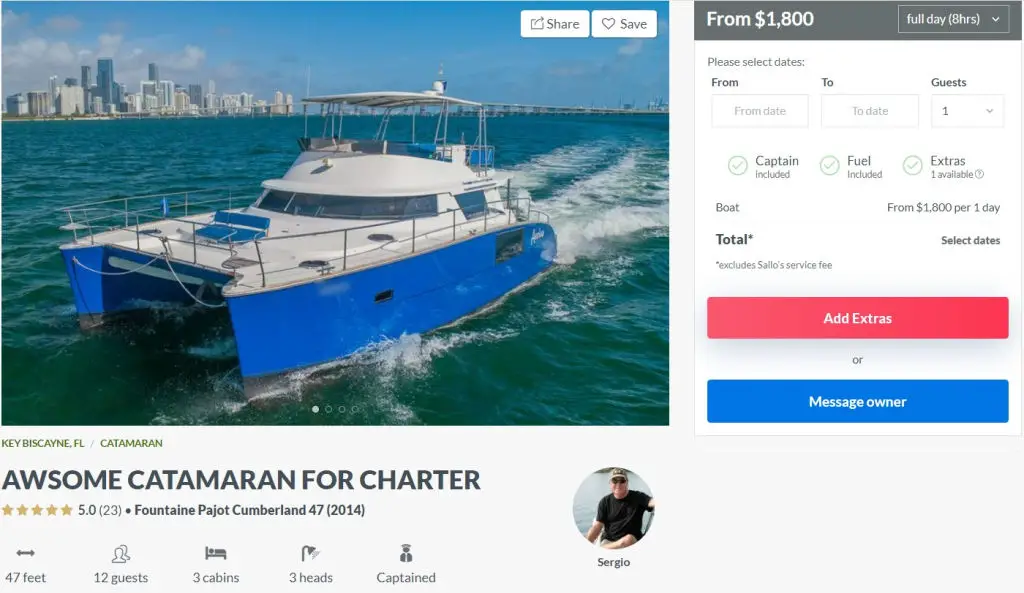 Both Captain Sergio and fuel are included in the charter rate. Prices start at $1,800 per day.
Option Three: Rovinj, Croatia
Explore Croatia's gorgeous Istrian coast on this 36-foot classic family vessel. Captain and fuel are included in the rate. The rate is 1,600€ a day or 4,000€ per week for the two-bedroom, one-bath yacht. Please message the owner for availability.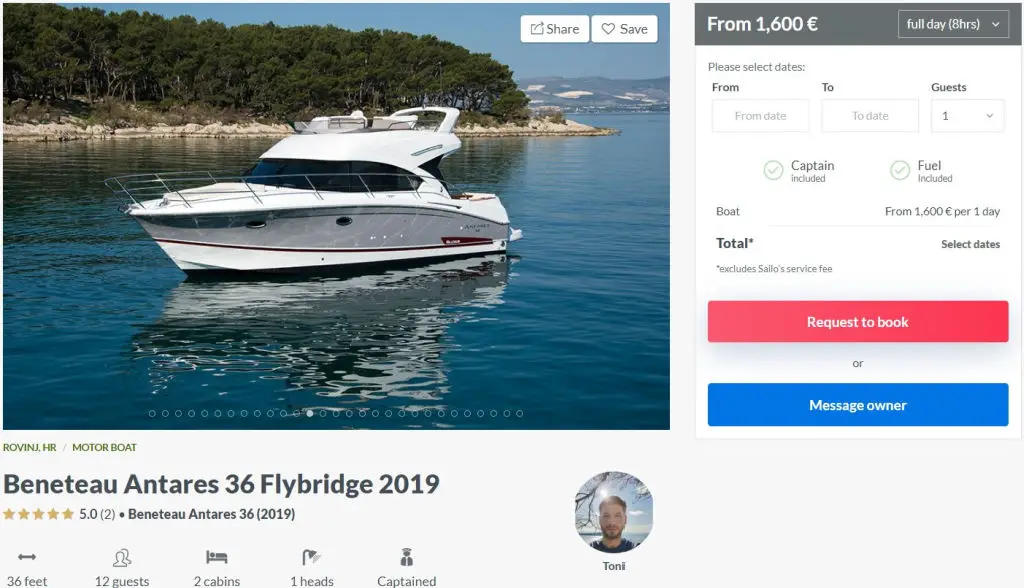 Our Below Deck Connection
As my favorite region on the globe, we spend a lot of time in the Mediterranean—a destination practically synonymous with yachting. In fact, Below Deck Sailing Yacht Season 2 was based in Podstrana, Croatia, a seaside city where we lived for over two years. Remember when Glen smashed Parsifal III into the marina? That was our old backyard!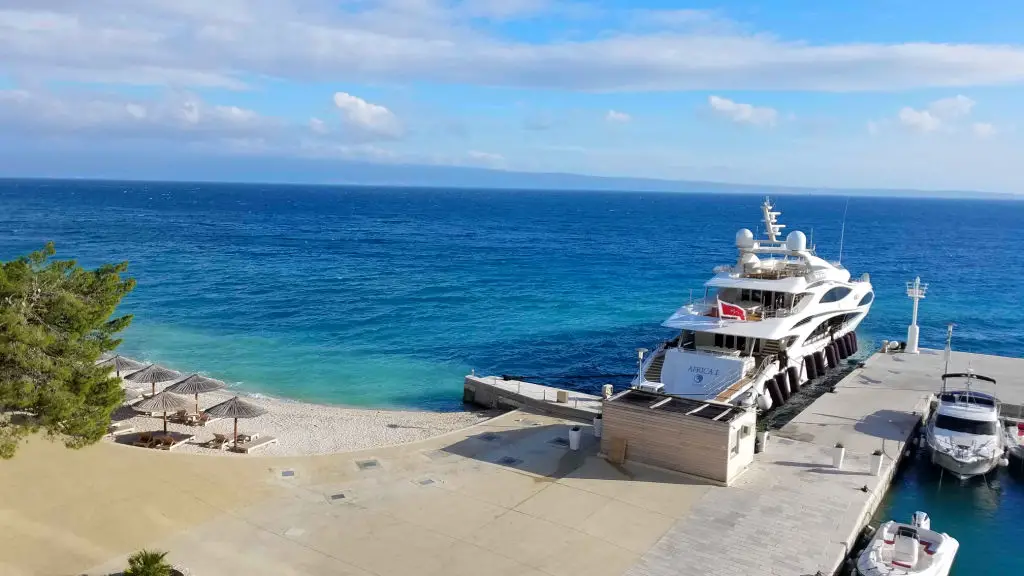 Friends With Glen and Gary
In 2021, we were living in Sarandë, located on the beautiful Albanian Riviera. While on our balcony, Harry immediately recognized Parsifal III cruising into the city port.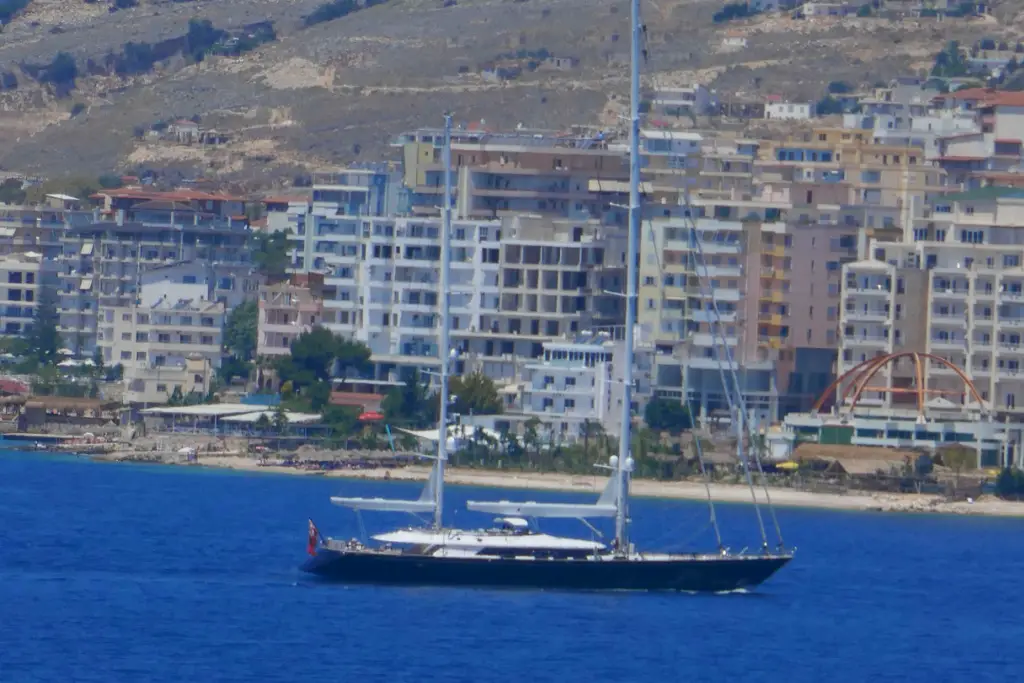 We quickly went to Captain Glen's Instagram account and saw his recent posts of him sailing around Corfu, Greece, a huge island that sits directly next to southern Albania. This had to be him!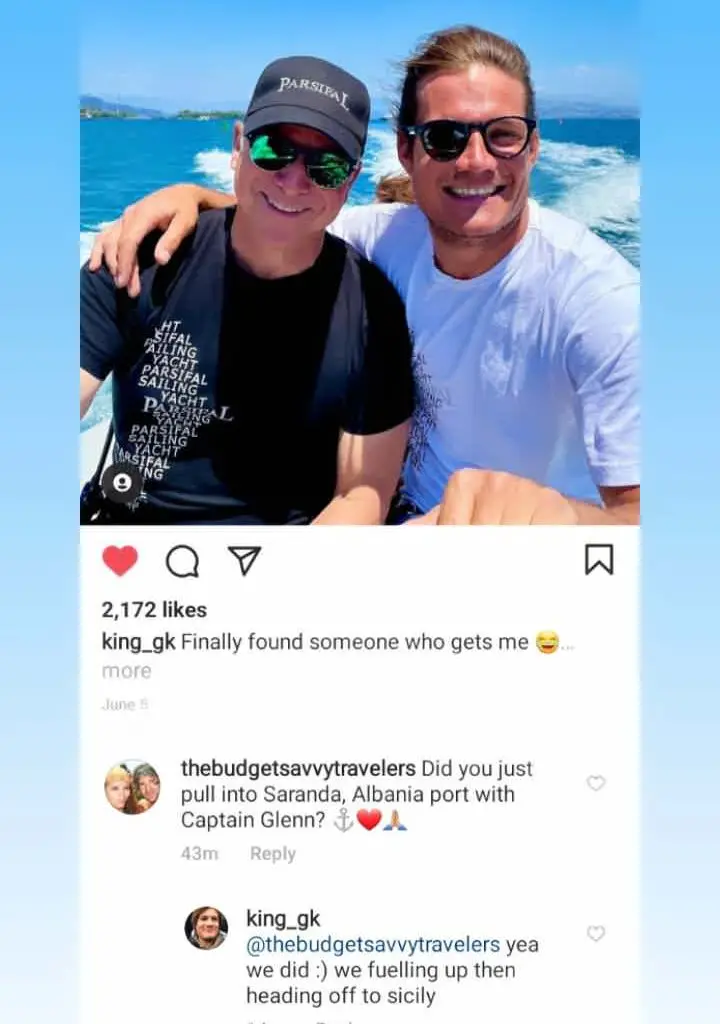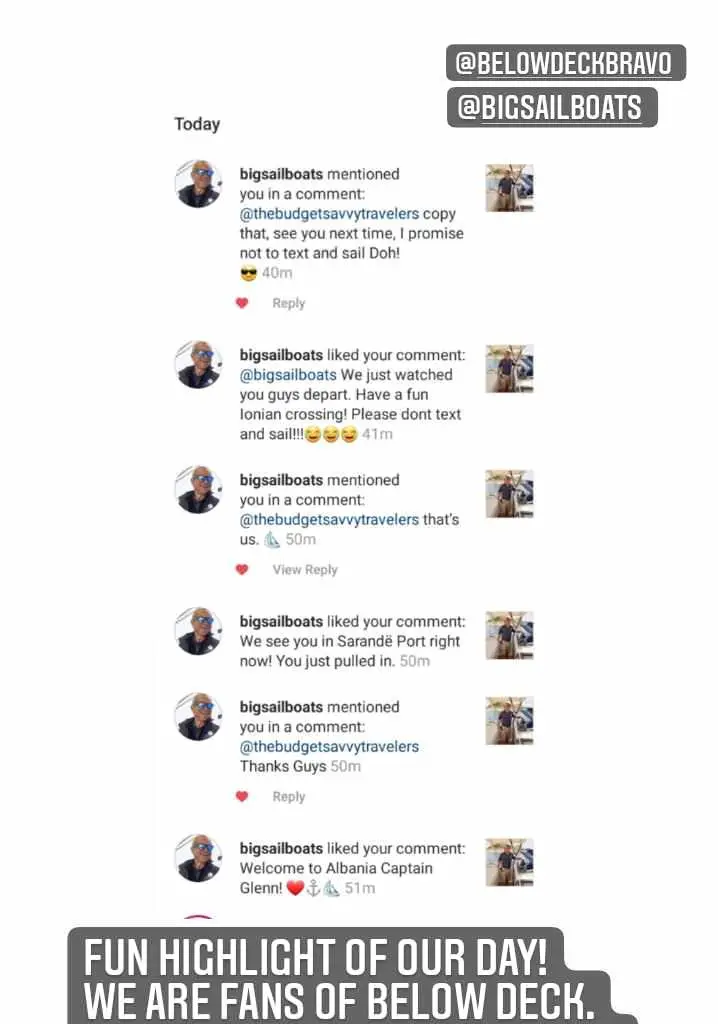 Excitedly, we reached out to the Below Deck captain via Instagram and discovered that both Glen and Gary were indeed refueling in Albania, due to lower fuel costs.
They kindly chatted with us for a bit as we watched the gorgeous sailboat maneuver back out to sea. It was awesome to connect with the same folks that we enjoy watching on Below Deck Mediterranean.