Sign of the Cross: Bless us, Father, for we have sinned. It has been quite some time since our last confession. A little dramatic, maybe? Yes, we know, but let us confide in you. As the world falls even deeper into mass chaos, it almost feels sinful how carefree life is for us right now.

You see, we visited Albania for nine months, in 2021. Things felt good there, almost normal.
And, with virtually no other tourists, we had the beaches all to ourselves.
How We Spend Our Days
So what's the secret? We spend most of our days enjoying the best beaches in Albania and living what we like to call "Med Life."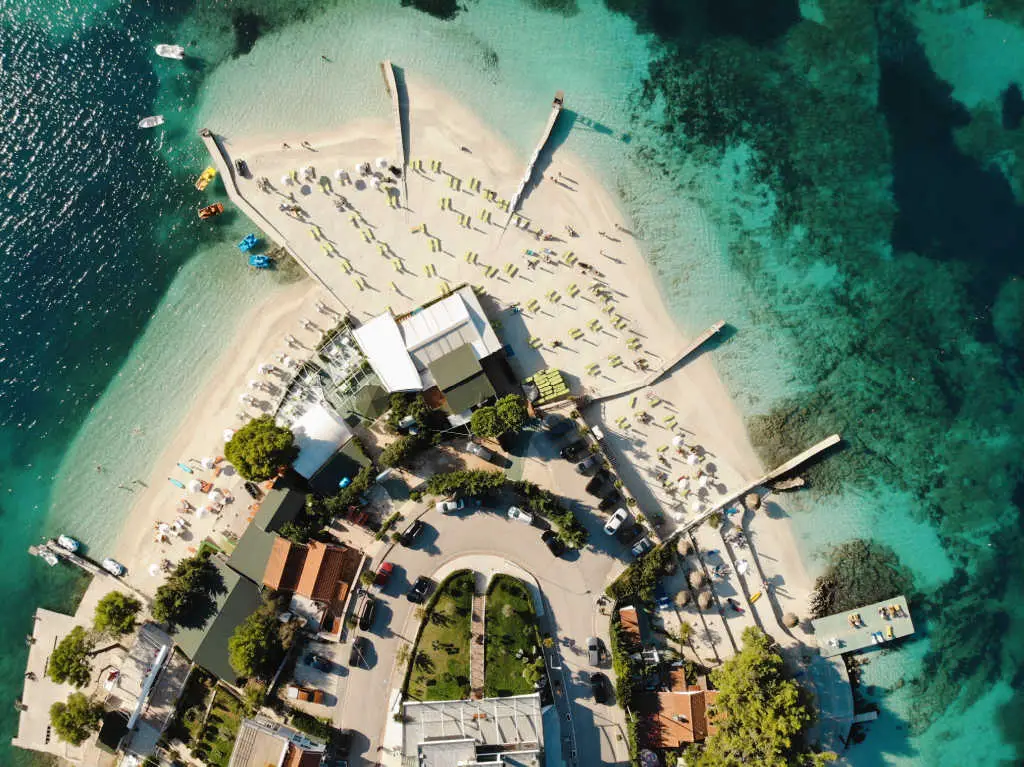 Never early risers, we find ourselves excited to start our days here. We begin the day with a coffee, enjoying our apartment's fantastic location on the coast. Our balcony has an expansive Ionian Sea view. We just can't get enough of it. It's the main reason we extended our stay until December—and possibly longer.
5 Popular Tours in Albania
✈️ Need a transfer from Tirana Airport to Saranda or any other Albanian city? If you're not renting a car and staying in Saranda, book a private transfer to your hotel or vacation rental.
As nomads, we realize that in Western European countries, an apartment like the one we're staying in would cost considerably more than what we're paying. There's even a small beach right in front that we can walk to. We found a great deal on an apartment on Booking.com.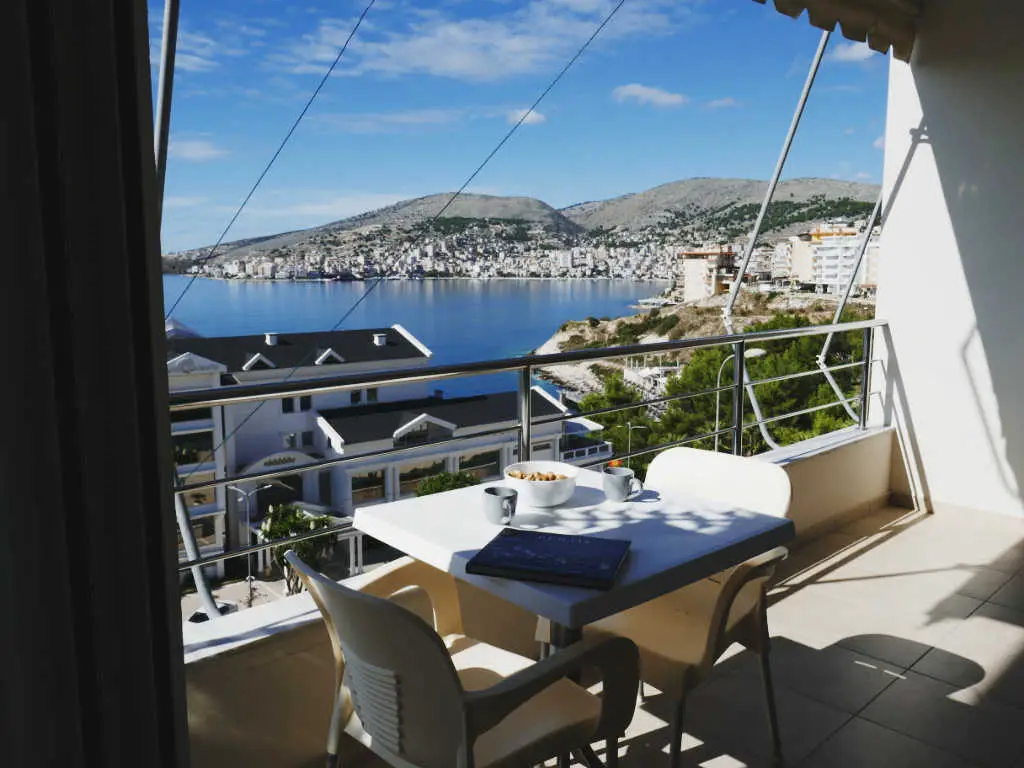 Still Warm in November
Our outdoor space is a great place to work. Although it's November, the weather is still warm and sunny in Southern Albania. We could move on to another city or destination in the Balkans but why leave the sea and the sunshine? This is Med Life at its finest.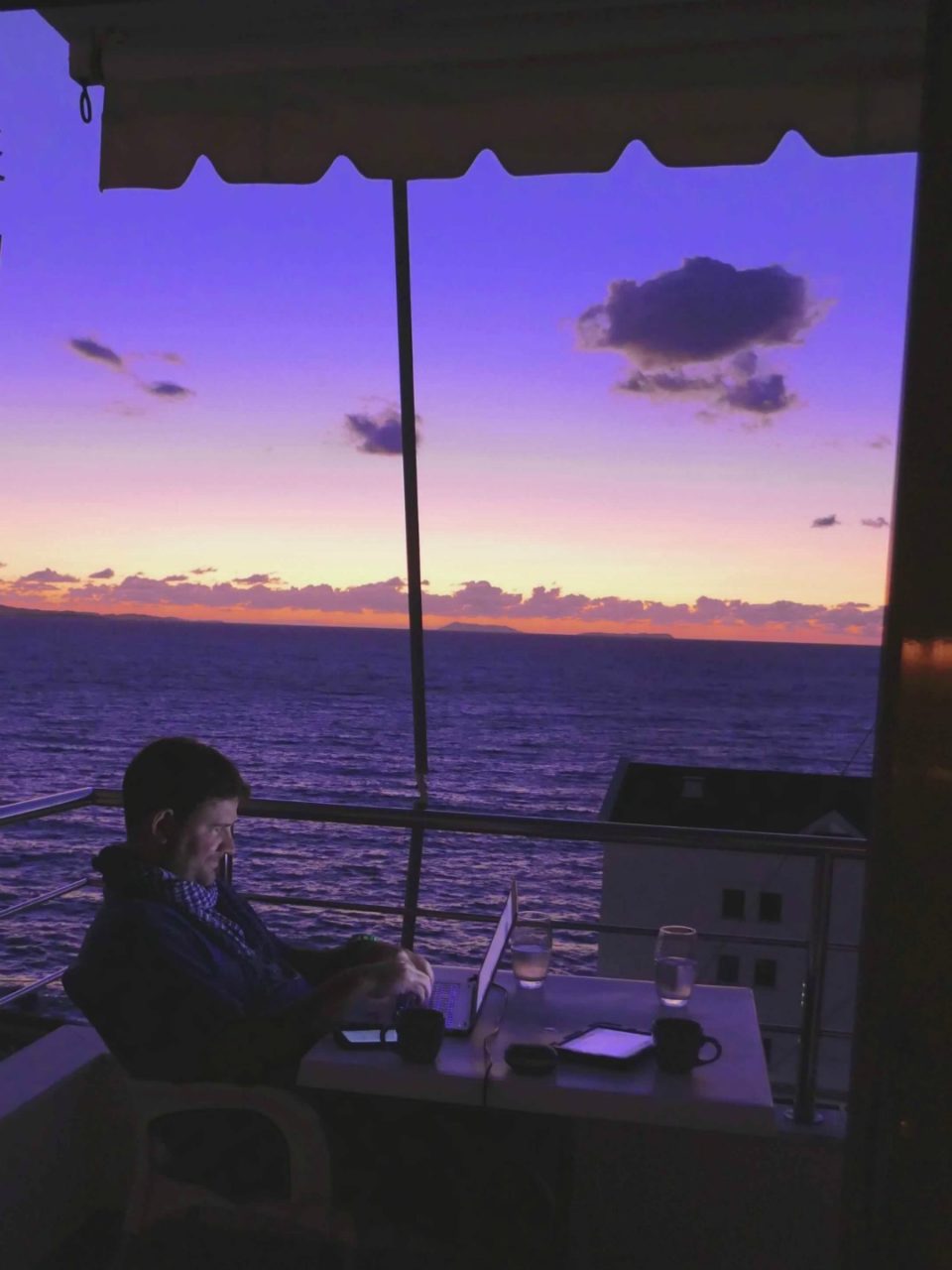 When you're ready to book your flight, follow these three easy steps to get the best price.
Best Beaches in Albania – Med Life
Ksamil is our official local hangout and offers the best beaches in Albania. We learned about this part of Albania from our two Macedonian friends who vacation here. Last summer, while in Ohrid together, they highly recommended it to us. We've had it on our Balkan radar ever since. 
Every day, we make a short drive to the Ksamil beaches. If you ever consider traveling to this region, Ksamil is where you'll find postcard-perfect scenes of Mediterranean paradise. Also, the Ksamil beaches are the most beautiful in Saranda (or Sarandë) and the most visited during the summer.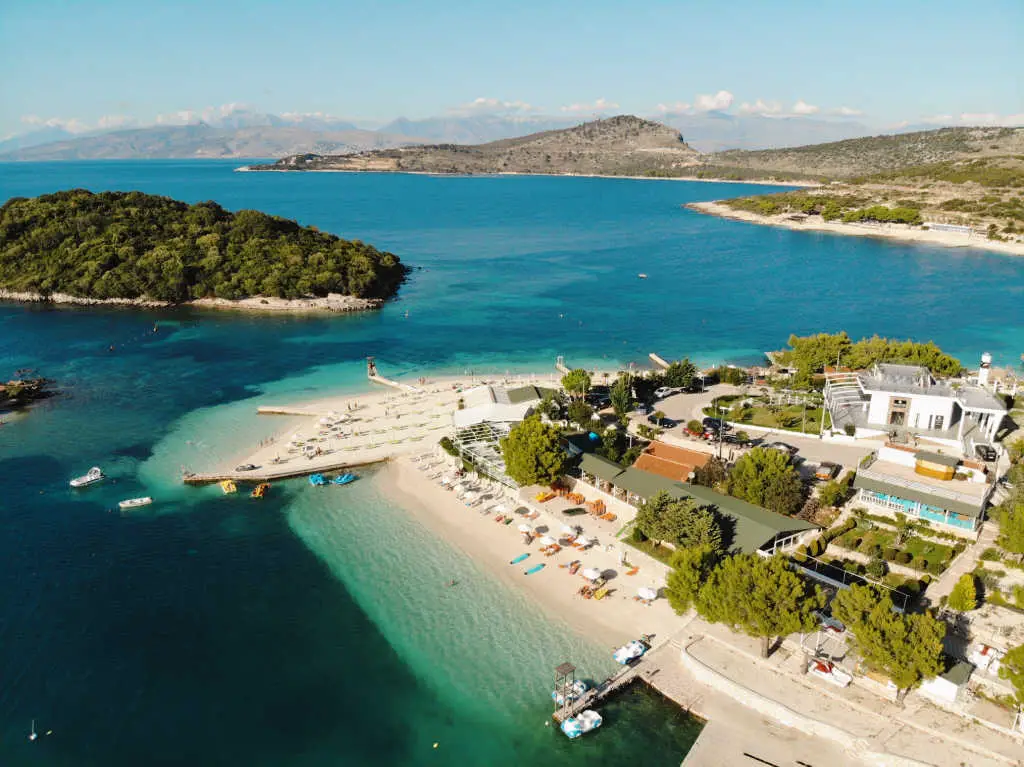 Legisi Beach
Our favorite stretch is directly in front of Legisi Beach Restaurant. This is because their beaches are maintained daily.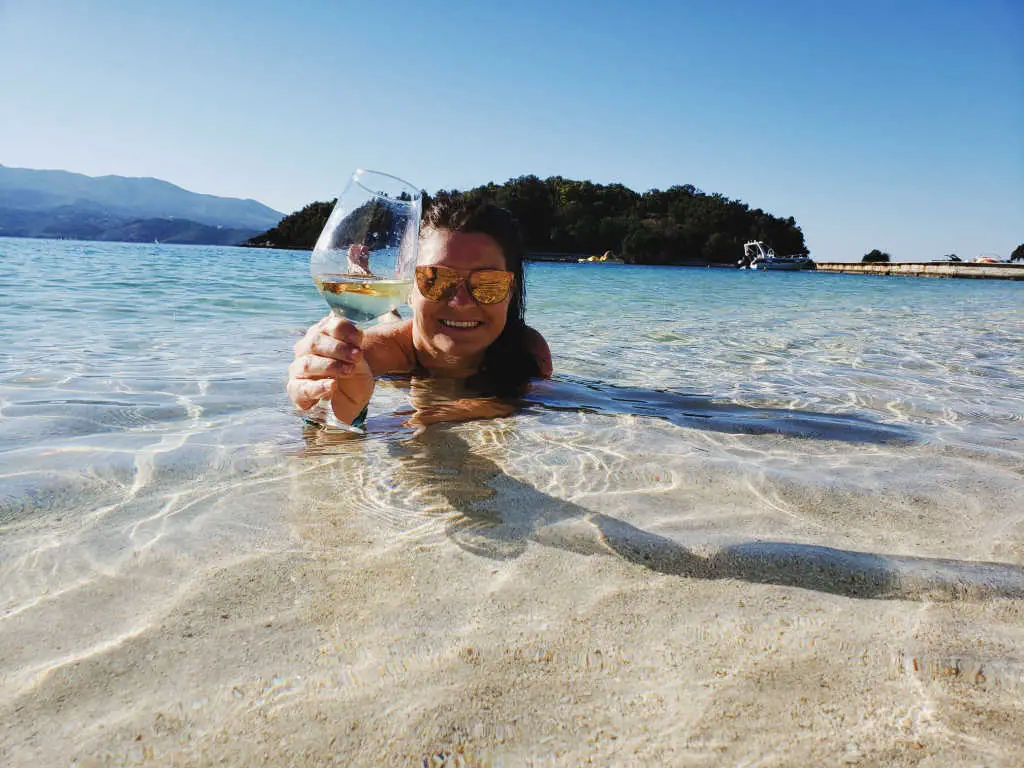 The powdered sand here is soft under your feet and the water is clean and crystal clear. Additionally, if you enjoy lunch or drinks at Legisi Beach Restaurant, a lounger comes free of charge to enjoy after your meal.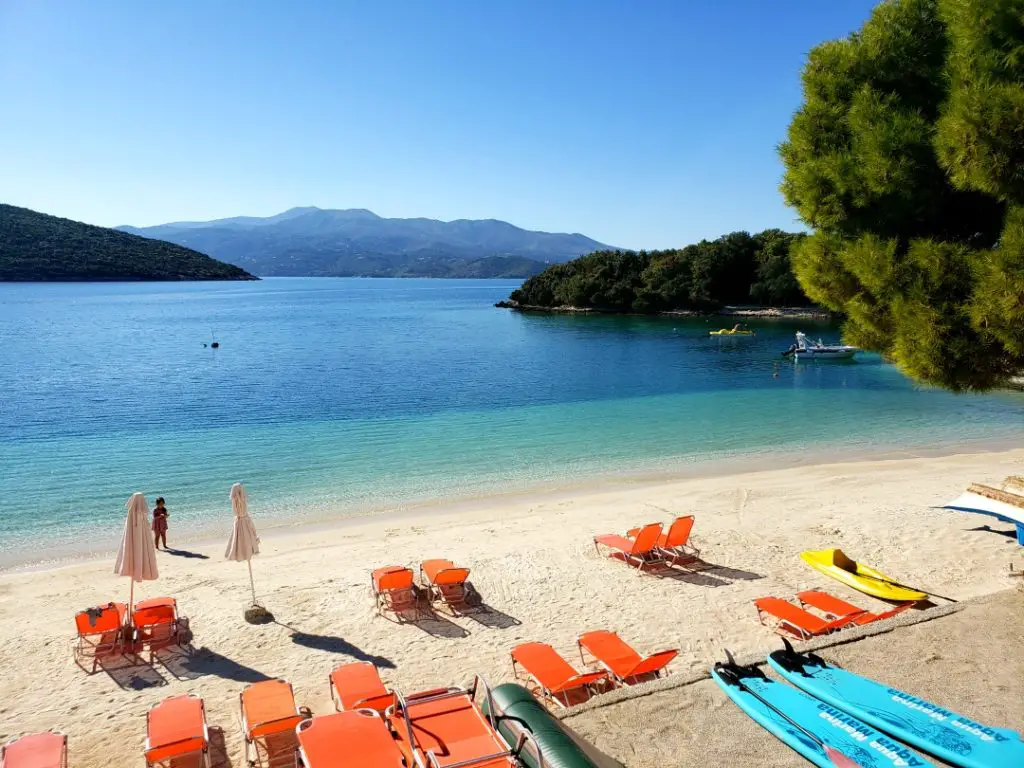 We use this budget-savvy travel health insurance to protect our trips – get a quick quote.
The Twin Islands
From Legisi Beach Restaurant, we highly recommend renting a water taxi and making the short "drive" to the Twin Islands. In total, there are four small islands easily reachable from shore, however, the Twin Islands are the most notable.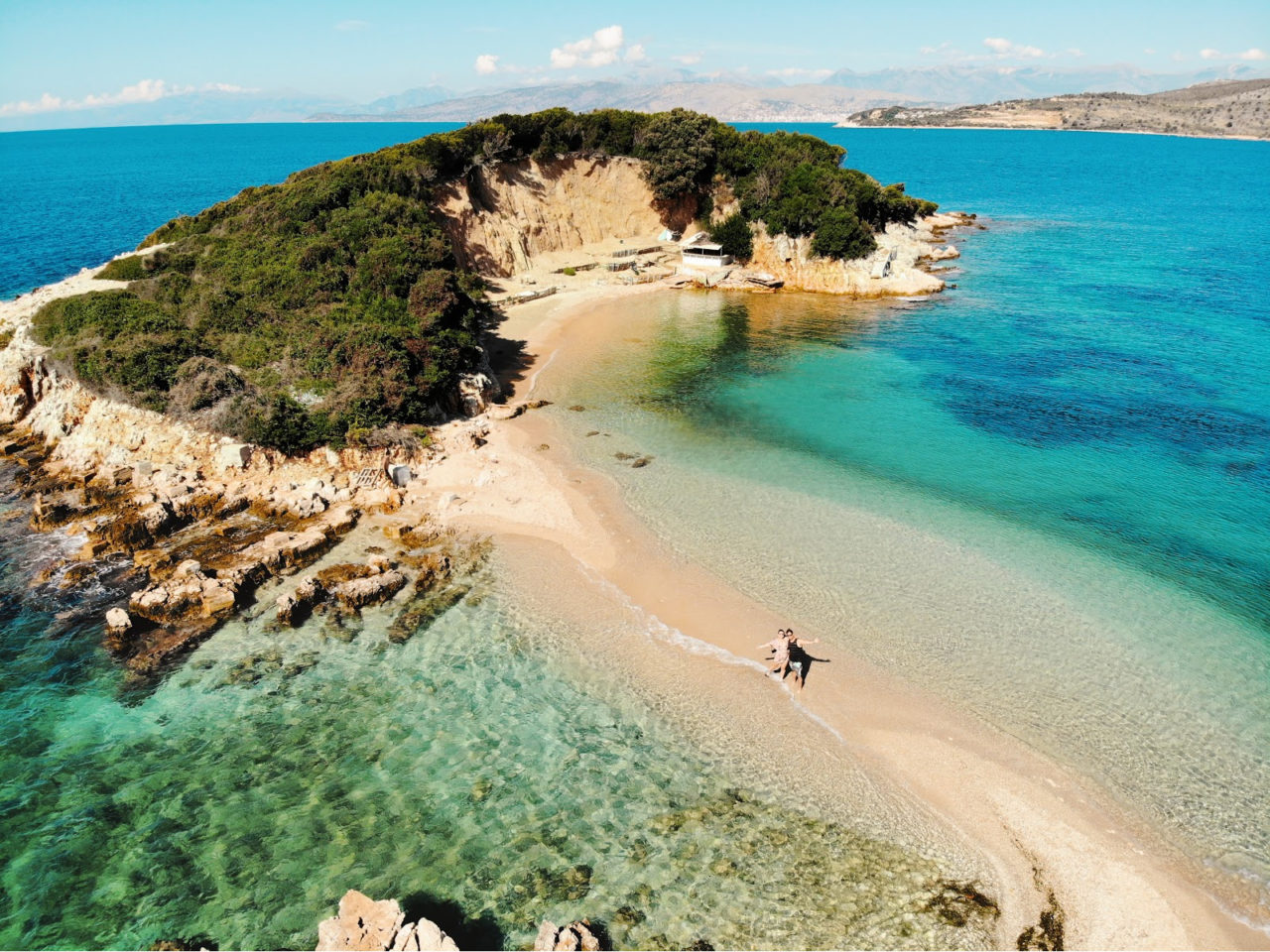 Sadly, during the socialist period, access to these idyllic islands was strictly prohibited. The regime feared that the islets would be used as stepping stones for Albanians to escape to Greece. 
With the distance between the two countries being less than 2 miles (or about 3 kilometers), the strait between Saranda and Corfu is swimmable. Therefore, armed guards heavily patrolled this section of the Ionian Sea. If discovered, escapees were shot or drowned on the spot.
Today, this piece of Albania is considered a beach-lovers paradise. Northwesterly winds push waves from the Ionian Sea, which crash against the two rock-covered islands. After breaking, the water laps across a creamy sand bar. On the other side, a calm and protected bay sits waiting for swimmers to enjoy its crystal clear water. The video above offers a quick peek at the beauty of the Twin Islands. 
Plazhi Ksamil 9/Ksamil Beach 9
Ksamil Beach 9 is a shallow beach that's very family-friendly. The Saranda municipality takes care of the beach, changing the sand every year.
There are several restaurants on and near the beach, making it an ideal place for a "beach day."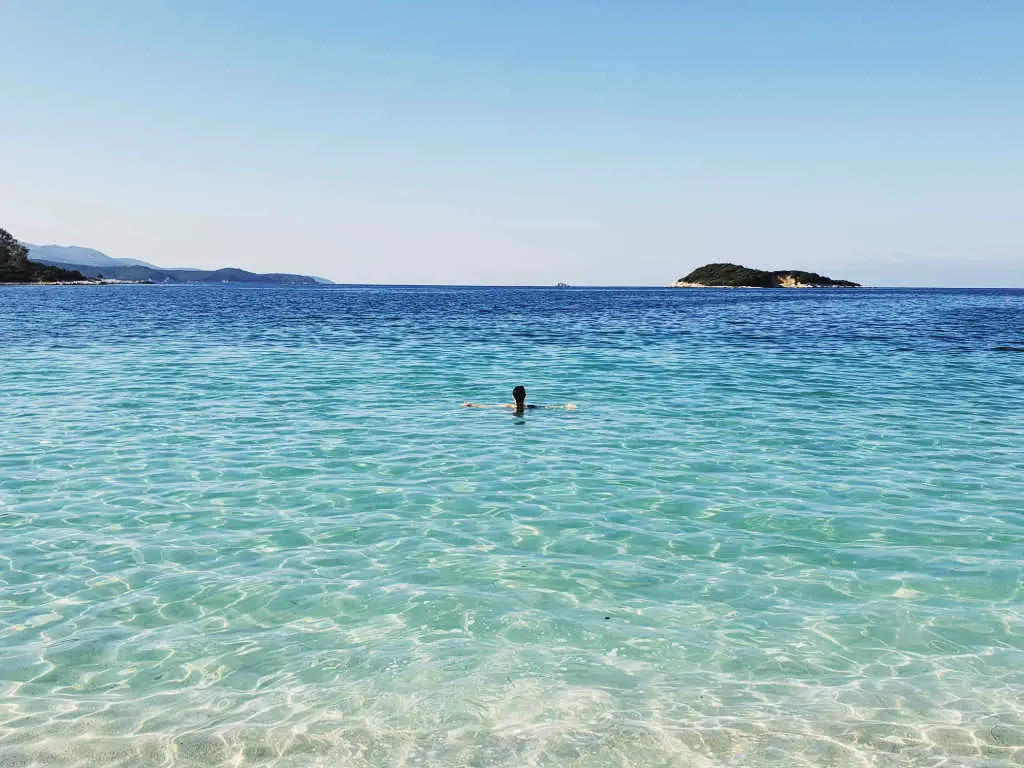 Monastery Beach
Monastery Beach is our favorite beach outside the town of Ksamil. It is situated near the Monastery, along the Saranda-Ksamil road. The relatively remote and rocky beach sits in a lovely bay with crystal clear water.
Pasqyra Beach/Mirror Beach
Mirror Beach is an exotic, clean water beach with interesting rock formations sitting just off the shore. The beach is not protected so on windy days the water can be a bit rough.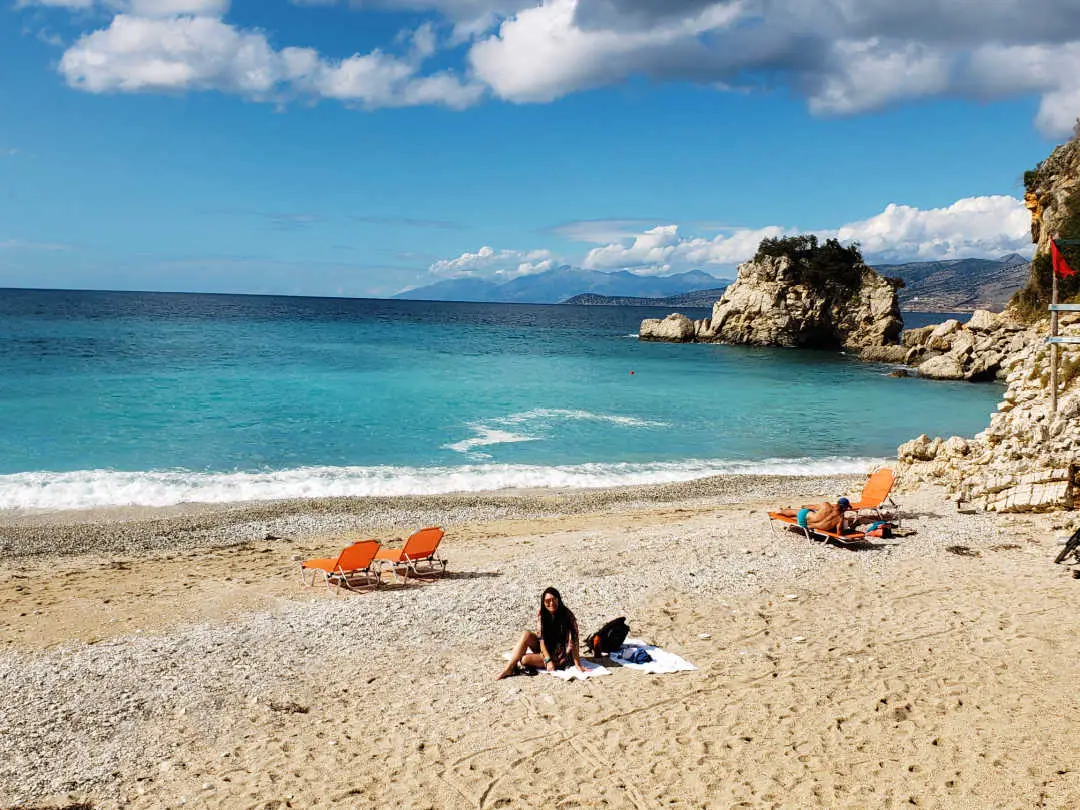 It's also located along the Saranda-Ksamil road.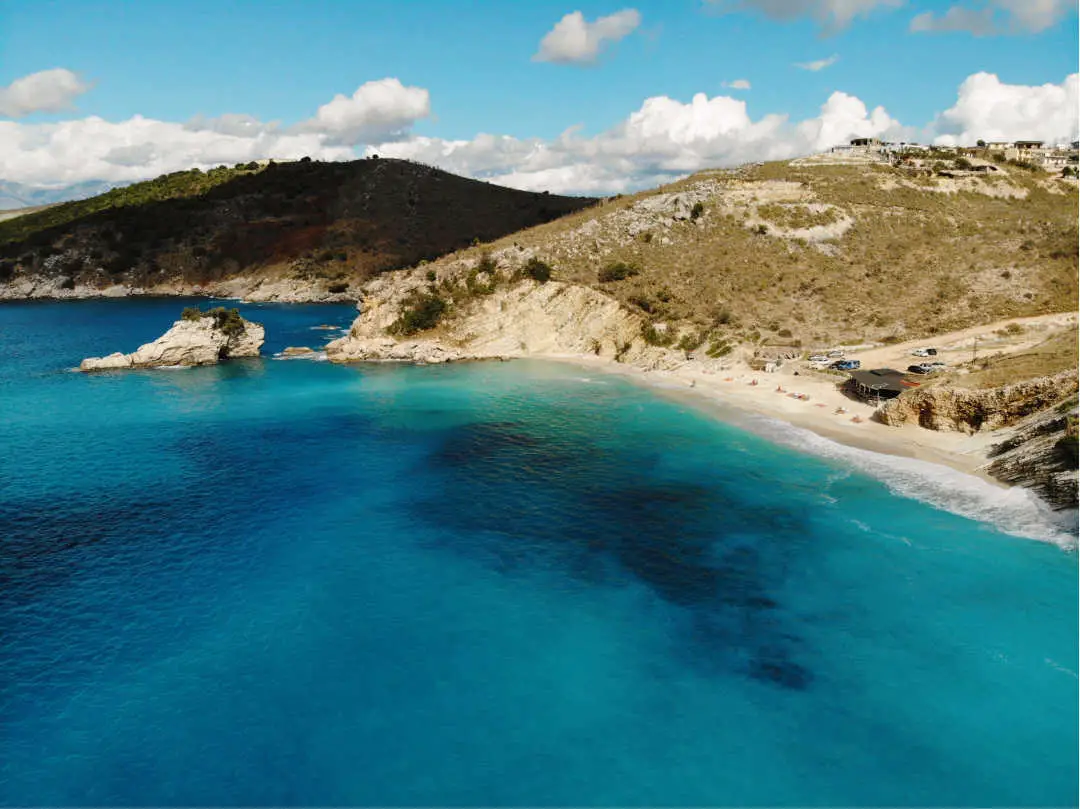 Pulëbardha Beach/Seagull Beach
Translated to Seagull Beach, this stretch is both secluded and quiet. It takes a bit of an off-road adventure to reach, however, it's well worth it. The turquoise-colored water is extremely clear and there's plenty of room to walk the coast. This is also a popular spot for octopus diving. If you're looking to pretend that you and your loved one have escaped to a deserted island—if only for the afternoon—may we suggest Seagull Beach?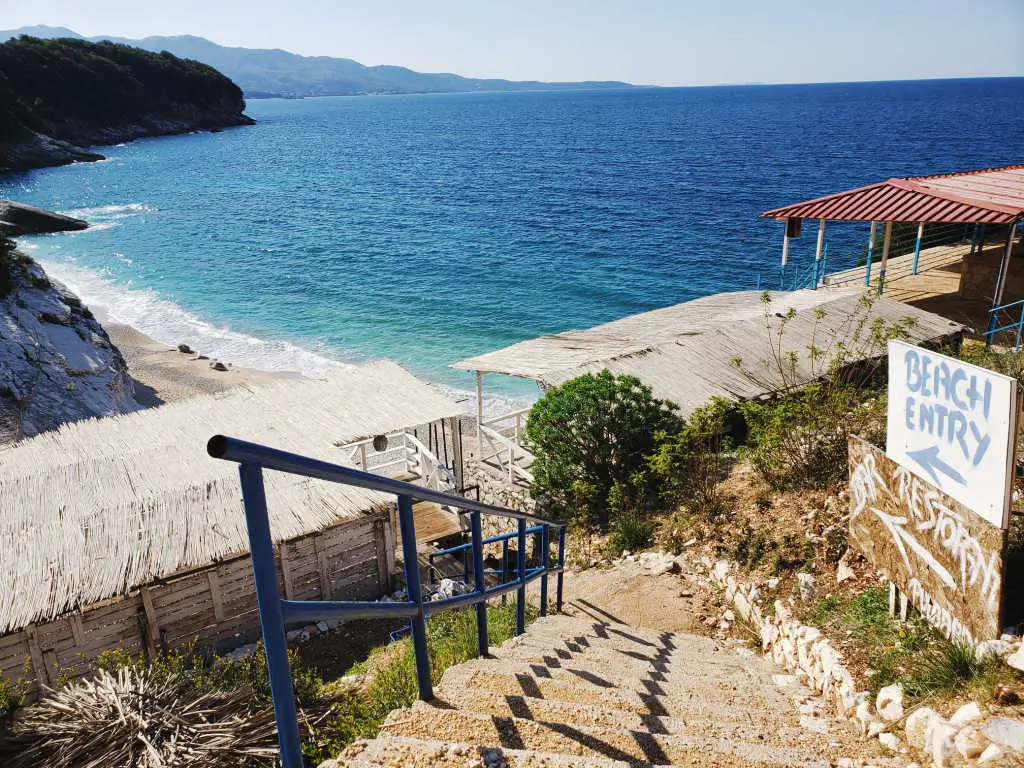 Borsch Beach
We've gone on a few day trips to explore the hinterland and the coast. One of our first stops was Borsh Beach, which features a beautiful four-mile-long shoreline.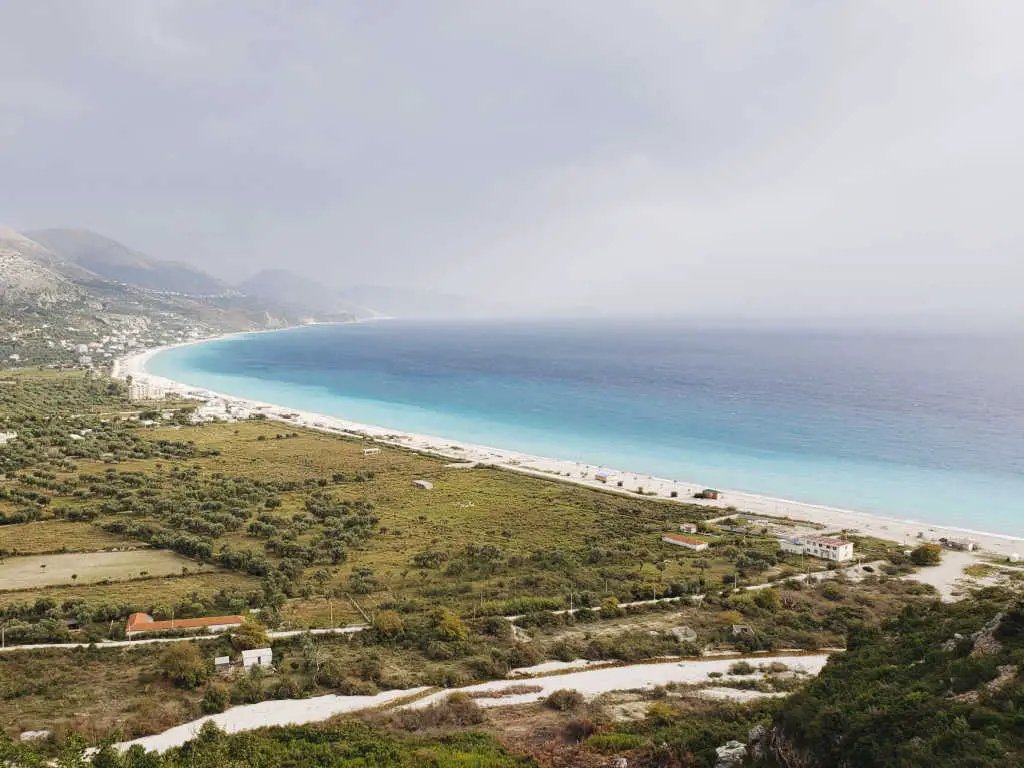 Driving down from the mountains, the stunning shades of turquoise and ultramarine are mesmerizing to view from a distance. It is the longest stretch of beach on the Albanian Ionian coast.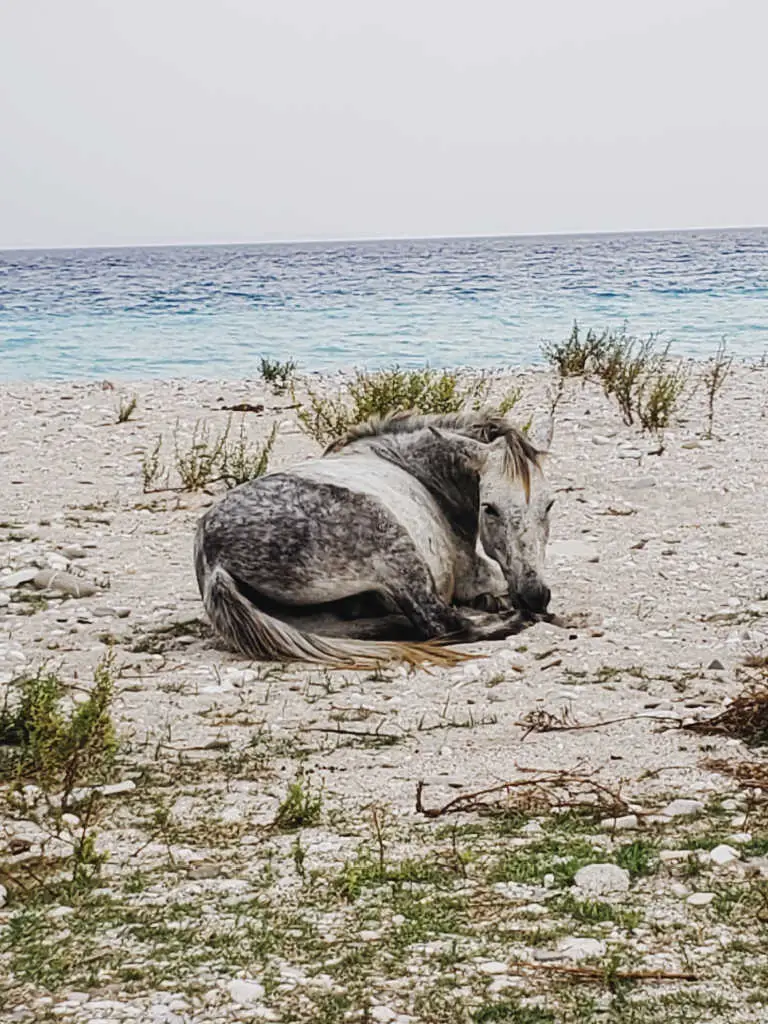 Before visiting Albania, we were considering using Borsch as a home base. After visiting, we're glad we didn't. The area is a bit rundown with limited accommodations, and the beach seems a bit polluted from the currents.
Borsch Beach is a great example of a beach that looks great from a distance but isn't necessarily optimal for a day of relaxation. Below are a few beaches going further north that are worthy of the title, the best beaches in Albania.
Llamani Beach
About a 1¼ drive north of Saranda is Llamani Beach. With bathrooms and restaurants, Llamani is a great beach to visit for the day.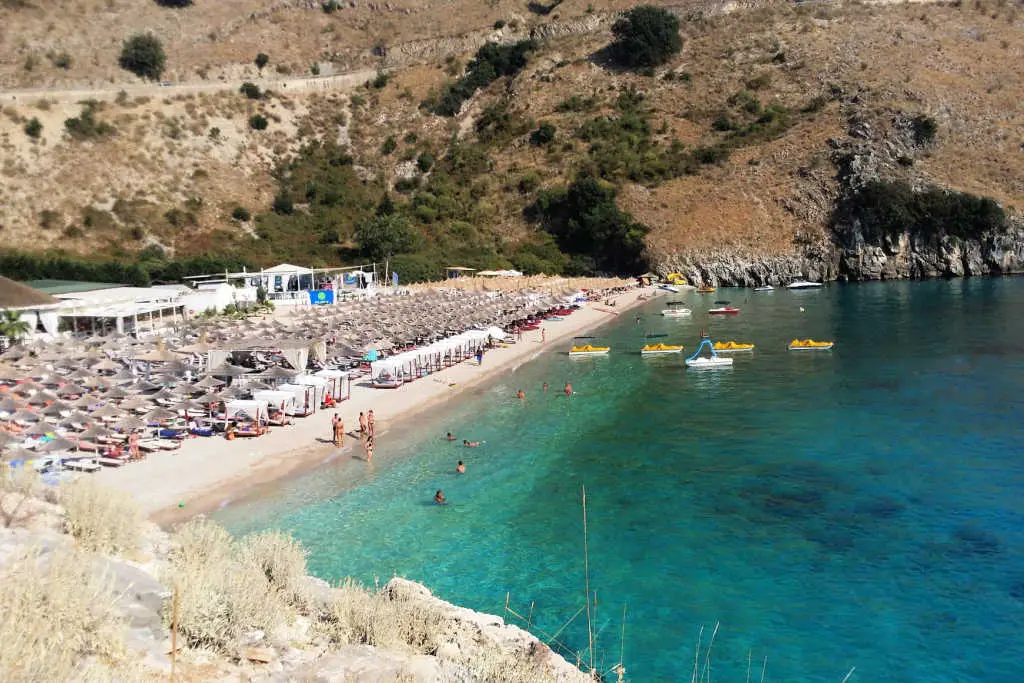 Jale Beach
From Himarë to Dhërmi several beautiful beaches line the coastal towns. However, one of the best is Jale Beach.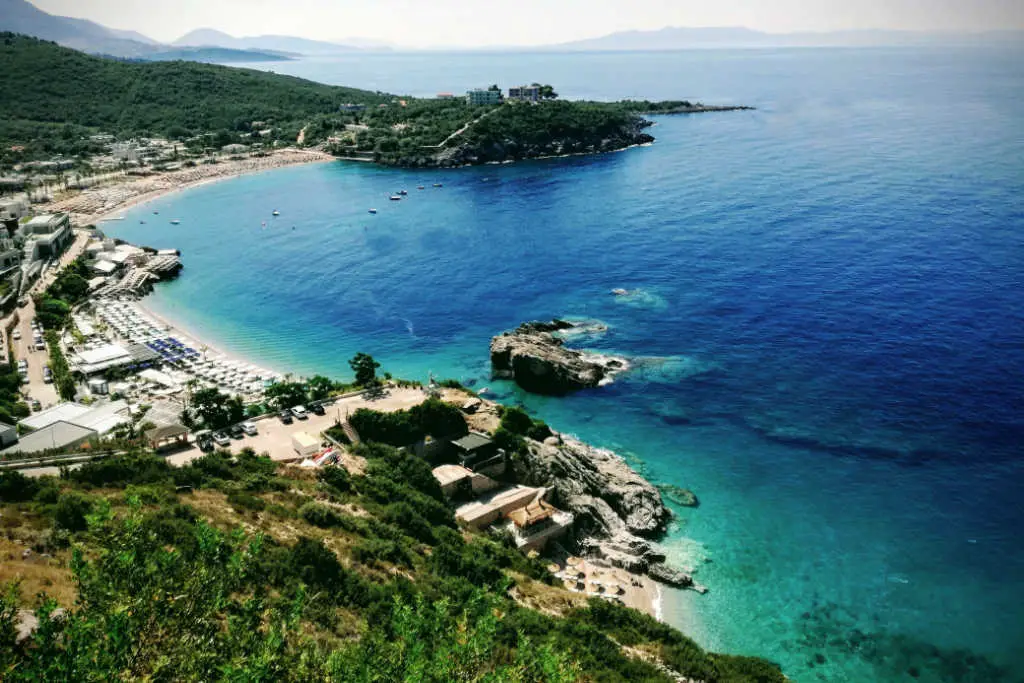 Karaburun Peninsula – Dafina Bay
The Karaburun Peninsula has some of the most remote and hard-to-reach beaches in the country. Moreover, because of their lack of people, they're also some of the best wild beaches in Albania. Dafina Bay is located at 40.3149, and 19.37812.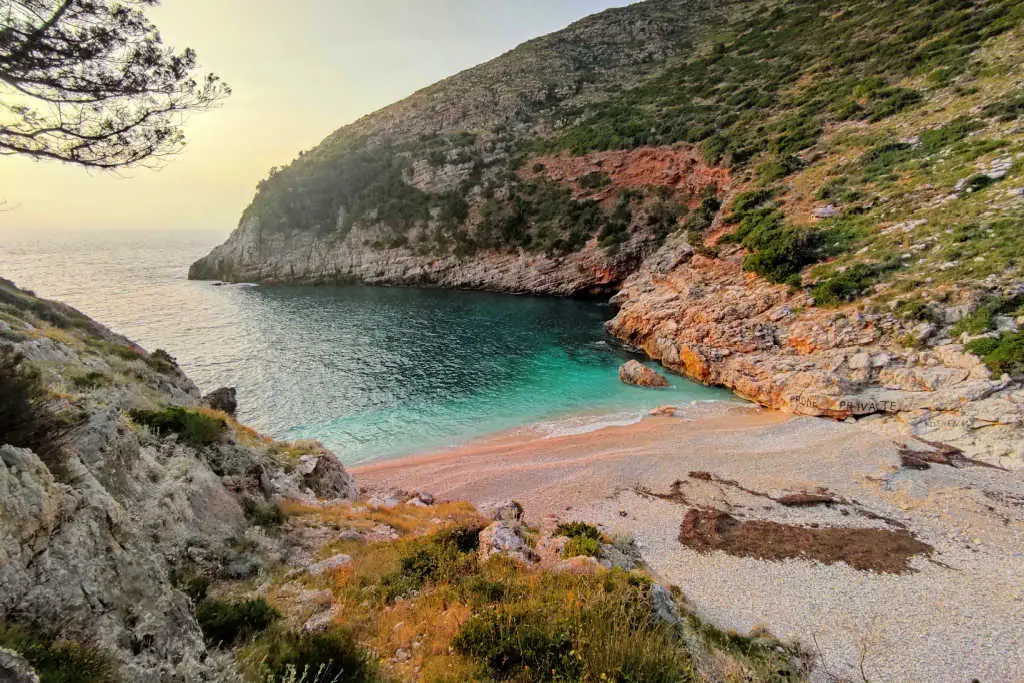 Vlorë – Hotel Nimfa Beach
From the city of Vlore, south to Vega Beach, there are tons of little beaches. One of our personal favorites was at the Hotel Nimfa. It had a giant rock with a diving board to jump into the water.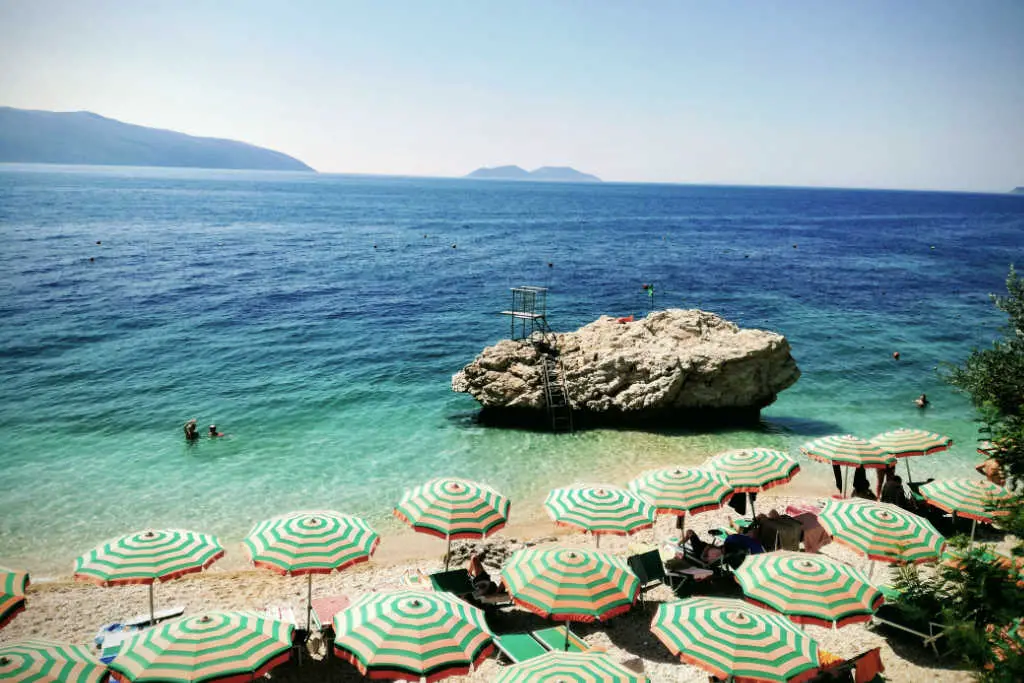 The terrain north of Vlore becomes significantly flatter and, as a result, the beaches become less dramatic. For this reason, the best beaches in Albania will be from Vlore south to Ksamil.
Where to Stay in Saranda
Sunny Saranda is the best home base if you're looking to explore the best beaches in Albania, however, Vlore is a close second. The town has a beautiful brand-new promenade lined with numerous restaurants and bars. There are nice beaches in town, however, those in the small village of Ksamili, some 7 miles to the south, are the best in the country.
Best Rental Car Options
We decided to stay in Saranda because we had a rental car and the city has the best options for accommodations, restaurants, nightlife, and grocery stores. We used AutoEurope to rent a car for about USD 7 per day. However, always compare AutoEurope against DiscoverCars.com to make sure you're getting the best price available.
AutoEurope Rental Car > Check Availability
Best Accommodation Options
Below are the best places to stay in Saranda.
Budget: Hotel Qurku 2 (city center)
Midrange: Hotel Sole (near Mango Beach)
Luxury: Buzë Boutique Hotel (outdoor pool and on the beach!)
Apartment: Modern apartment With Sea View
Hotel Sole > Check Availability
Willing to choose the best places to stay by yourself or are you interested in getting off the beaten path? Try Trivago: a service comparing the best prices.
Get Lost in Albania
There are days when we have a restaurant, beach, and sea to ourselves. Despite being the only customers, we are welcomed to a dining table with a warm smile and timely service. Southern Albanians have mastered hospitality, perhaps better than some of the other Balkan countries we have visited. 
Finding solitude is easy. Driving down the primitive, dirt roads is the tricky part. The coastline of the Albanian Riviera is made up of dozens of beach coves to explore—some pebbly and wild, while others are sandy and calm. It's easy to fly under the radar. 
Road Trippin' to the Castle of Ali Pasha Tepelena/Porto Palermo
Just a bit north of Borsh Beach is the Porto Palermo Castle (Ali Pasha Castle) which was designed by a French engineer in the shape of a pentagon. Its design is very unusual because it does not have a central courtyard.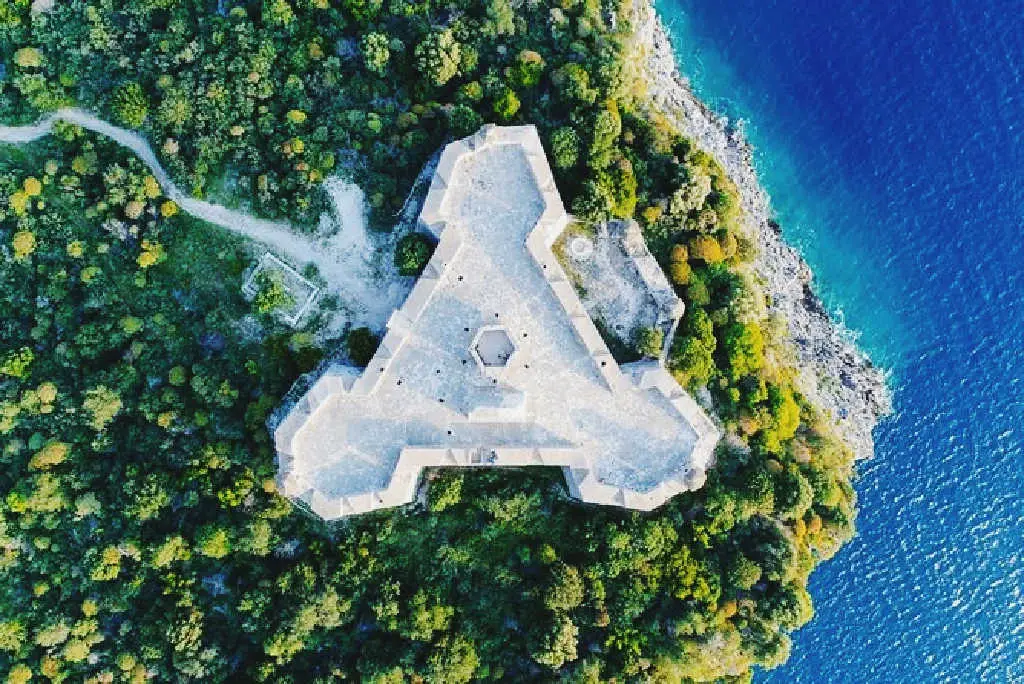 Pay attention to the missing plaque above the entryway. Some historians believe that the plaque would confirm the identity of the castle's builders. From the weathering, it is clear the plaque hasn't been gone for too many decades. Although removed, the plaque would certainly have the iconic Venetian carving of the lion of St. Mark.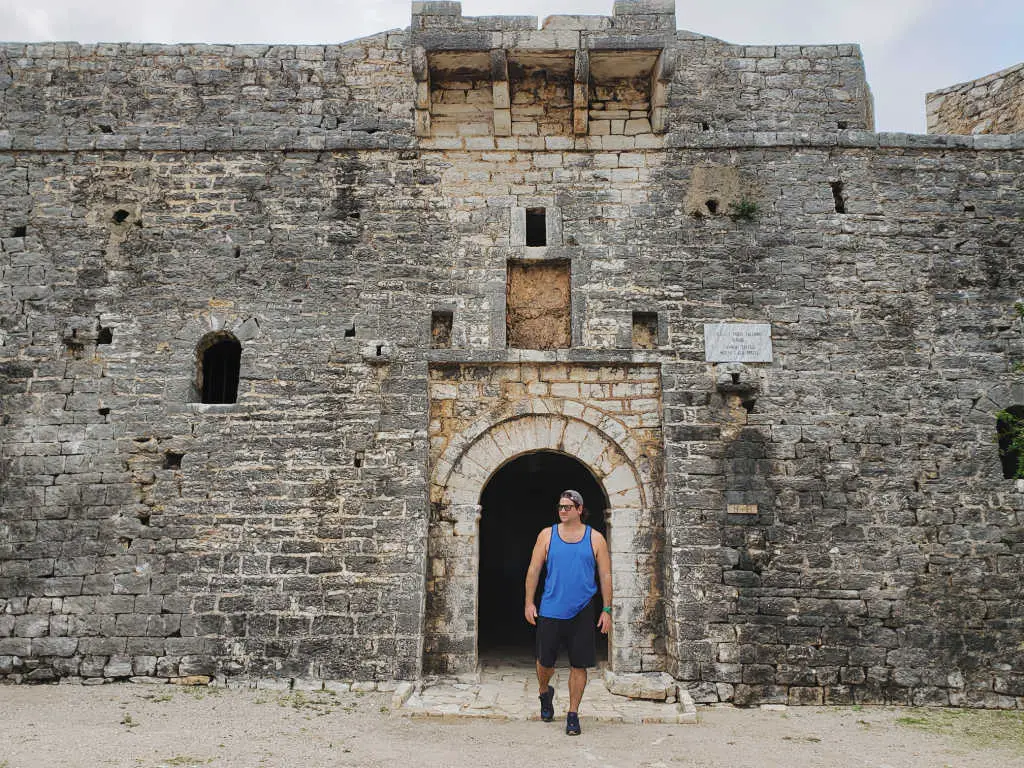 Blue Eye Spring
The hypnotic pool of deep blue water surrounded by electric-blue edges makes Blue Eye Spring a special place to visit. The spring is reportedly over 150 feet deep and visitors can stand directly over it.
Right now, we're enjoying our time visiting the best beaches in Albania and living a simple but satisfying life. With the world moving toward another lockdown, now is a good time to just get lost. Thankfully, this is a good place to do it.