Podstrana is a seaside town located about seven kilometers from Split, Croatia's city center. The region features a beautiful stretch of small pebble beaches with turquoise bays and small cafe bars.
Situated at the foot of Perun Hill with Mosor Mountain in the background, visitors of Podstrana are blessed with both sea and mountain views. Moreover, the dramatic backdrop offers breathtaking and dynamic views.
Podstrana Croatia – Insider Travel Guide
In the last few years, Podstrana has become one of the most elite suburbs outside Split. Locals love the beaches, biking and hiking trails, accessible marina, and seaside cafes. The land used to be comprised of family vineyards and orchards, with some small plots still actively growing fruit and vegetable gardens. Today, Podstrana consists of five different villages: Old Podstrana, Stožanac, St. Martin, Grljevac, and Mutogras.
Expat Tip: If you have time for only one full-day excursion while in Split, make sure to book the Blue Cave and Hvar Tour – 5 Islands Tour from Split and Trogir. Stops include Blue Cave, the island of Vis, where Mamma Mia 2 was filmed, and the party island of Hvar—it's an epic tour!
Those thinking of exploring Podstrana will appreciate these incredible photos captured by a drone, offering a truly unique perspective of this picturesque resort town. We've lived in this village for over a year and a half, so we're pleased to show you around our neighborhood.
5 Popular Tours in Podstrana
✈️ Need a transfer to Podstrana from Split Airport? If you're not renting a car and staying in Podstrana, book a private transfer for up to 8 people to your hotel or vacation rental.
Most Popular Beaches
Welcome to one of the most popular beaches in Podstrana—Plaža Strožanac. We call this our local beach. Take a few steps into the water and the seabed turns to soft sand.
In the summer, people gather at café bars, like Life's a Beach Cocktail & Bistrobar, to sip on cold beers, iced coffee, and cappuccinos. In the shoulder months of June, September, and October the beach becomes extremely quiet with just a few locals out relaxing in the sun and enjoying the sea.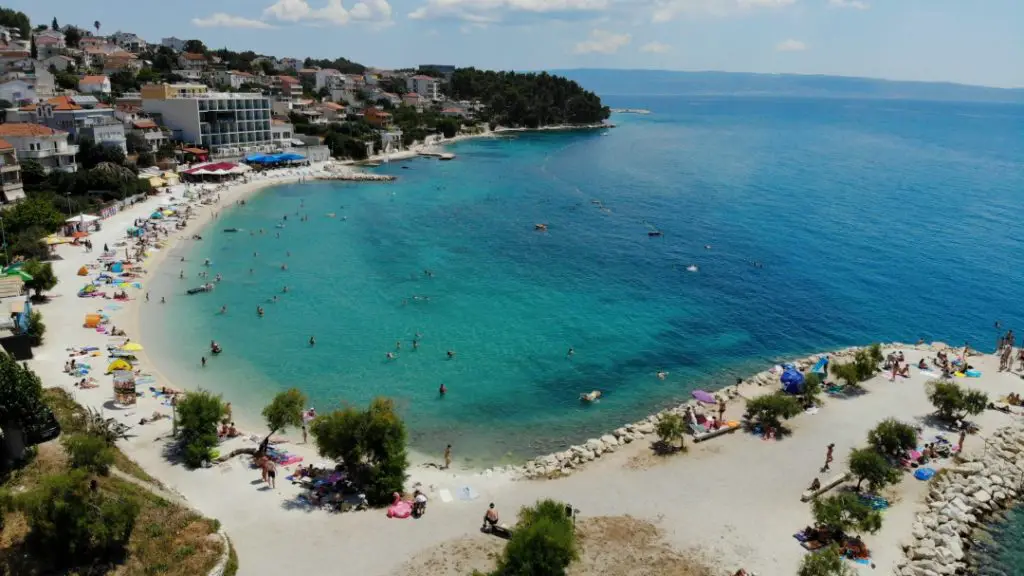 Perun Hill and Mosor Mountain
From this angle, you can see both Perun Hill (forefront) and Mosor Mountain (backdrop). There are great hiking trails accessible from right outside your front door.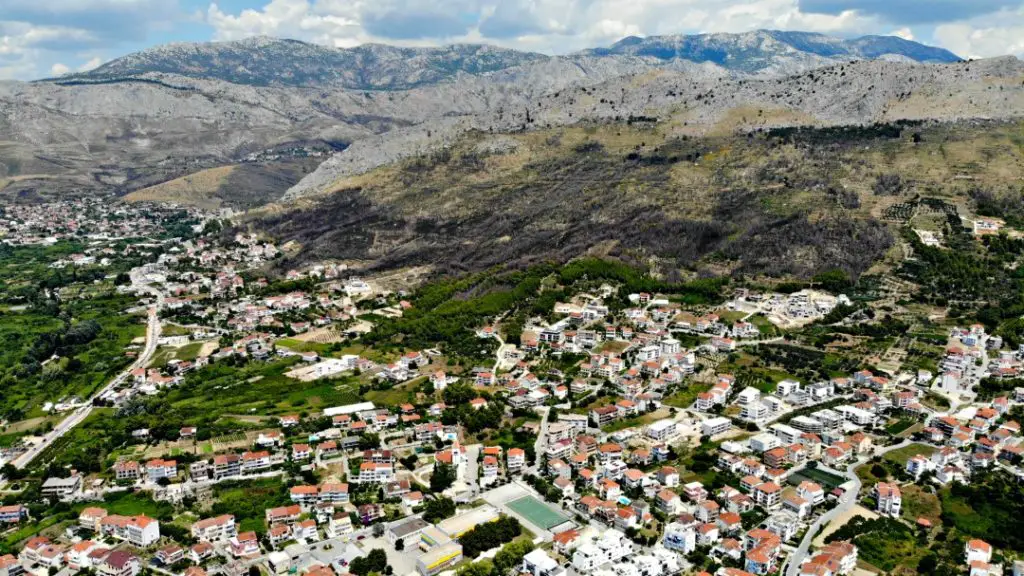 Consider a hike up to Old Podstrana or to Saint George Church at the top of Perun Hill, which is pictured below. A round-trip hike takes about 2 to 3 hours from sea level. Serious hikers should head to Mosor Mountain. However, to get the most out of the experience, we do recommend that you go on a guided hiking tour.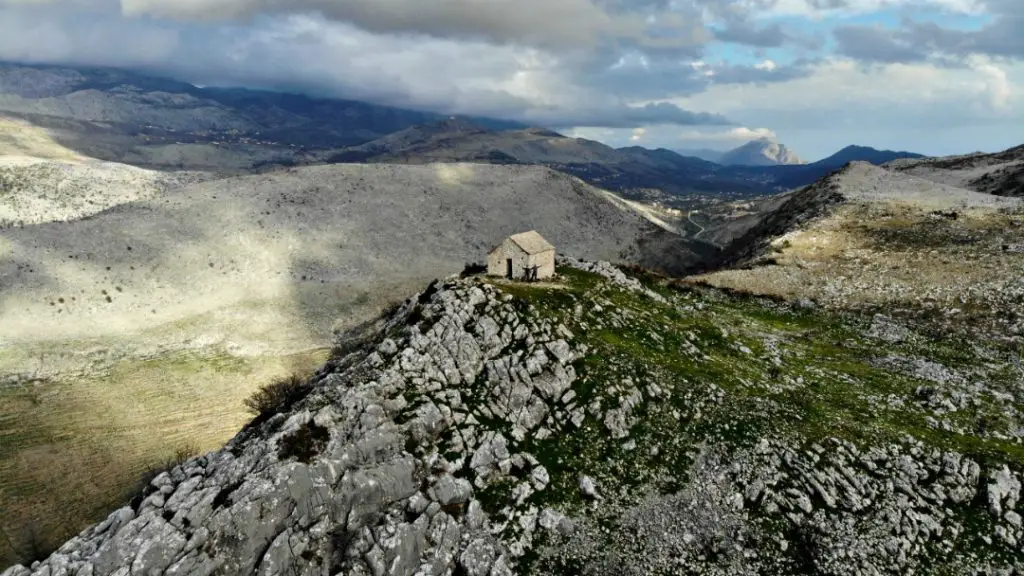 Krka Waterfalls, Food & Wine Tasting tour from Split > Check Availability
Žrnovnica River
The Žrnovnica River runs through part of Podstrana and empties into a bay in the Adriatic Sea.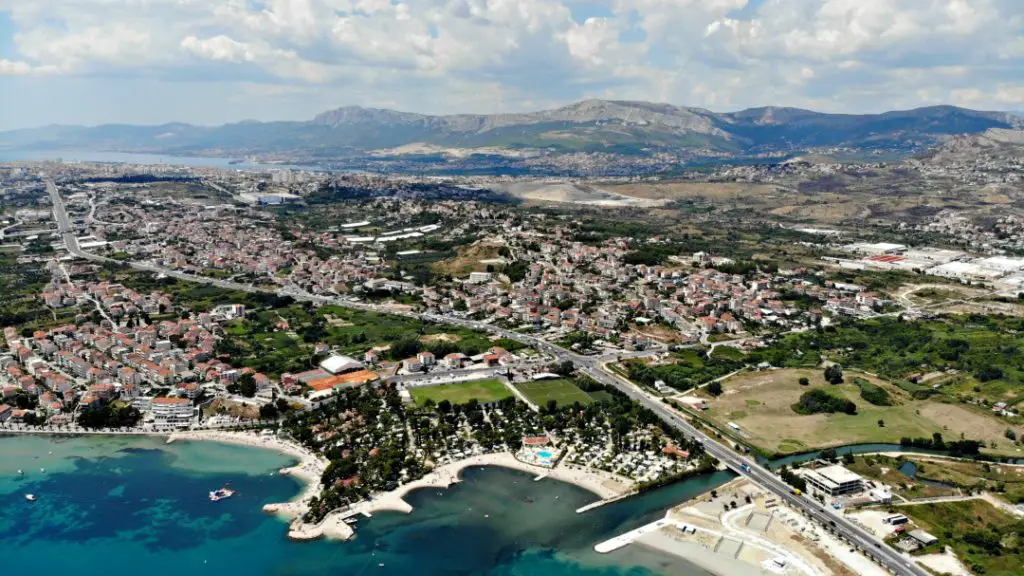 A walking path follows alongside the Žrnovnica River and leads to a small man-made waterfall and a local horse farm. If staying in Podstrana, consider taking a local horseback riding tour up Perun Hill. It's a great way to learn more about the surrounding history from a local and easily enjoy the surrounding hillside views. The tour concludes with snacks and a celebratory wine toast.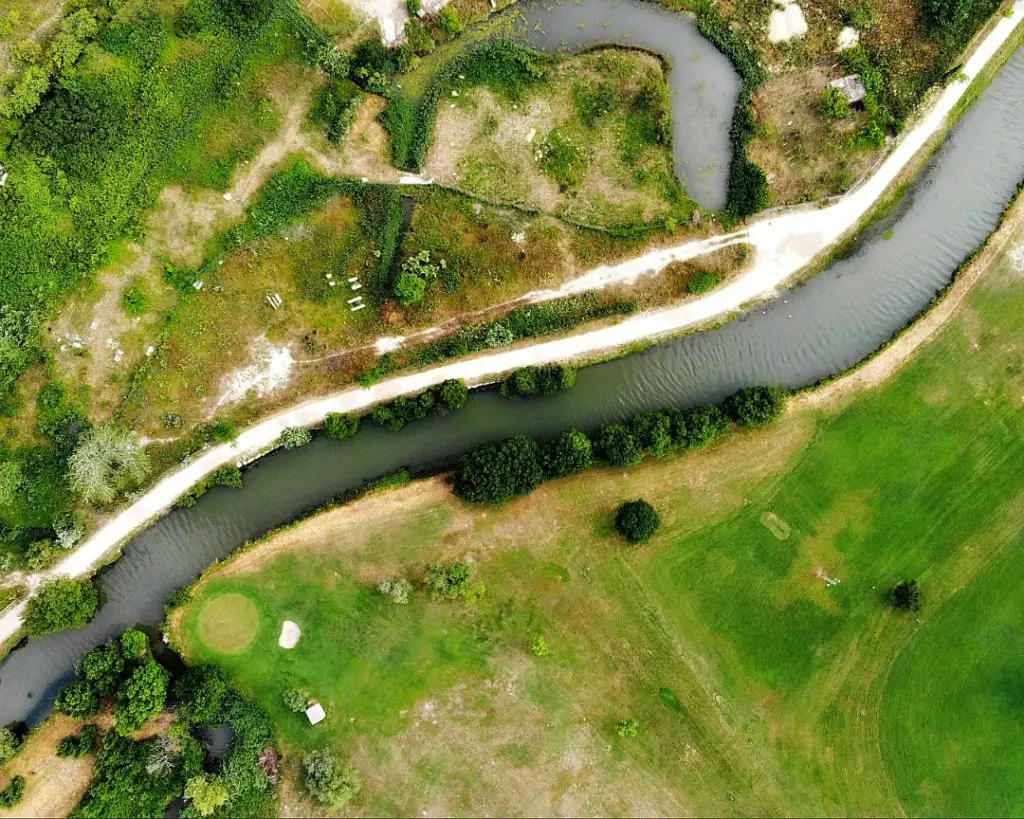 One of the most popular ways to enjoy the outdoors in the area is to take the Sea Kayak & Snorkel in Podstrana Bay tour.
Sea Kayak & Snorkel in Podstrana Bay > Check Availability
Stobreč
A short walk from Podstrana is the neighboring village of Stobreč. Part of Stobreč is located on a beautiful scenic peninsula. Stobreč is a popular family camping destination in the summer. It has a mini-promenade lined with palm trees, café bars, and pizza restaurants. If you haven't made plans to see Trogir and Blue Lagoon, you must!
Blue Lagoon and Trogir From Split Tour > Check Availability
In the summer, this beach is popular for families, campers, and those looking for watersport activities like SUPing, kayaking, and jet skiing. There is even a platform for high-diving or daring jumps into the sea in Strobreč.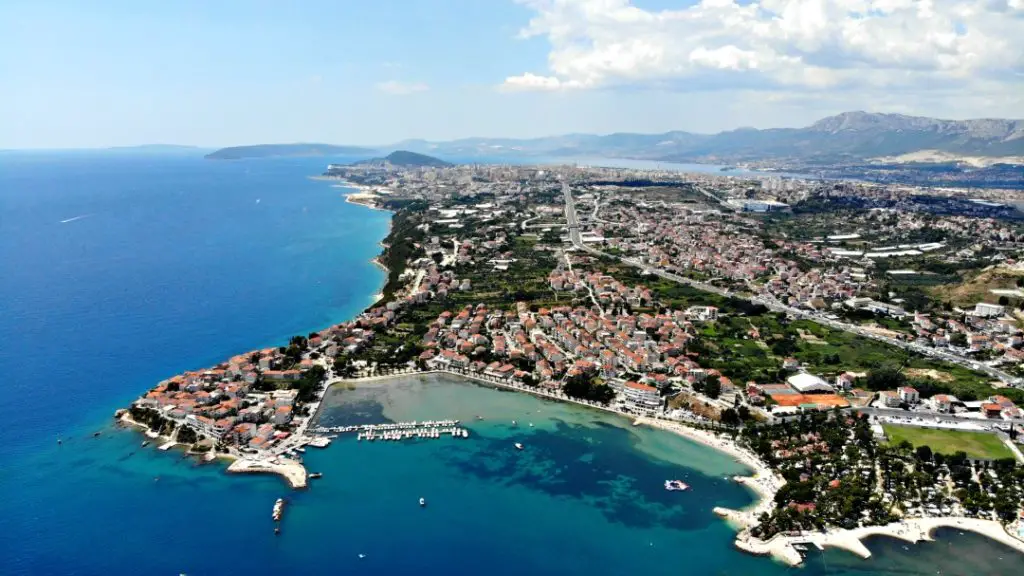 Just off the coast, fishermen take their small boats out from the marina to find their catch of the day.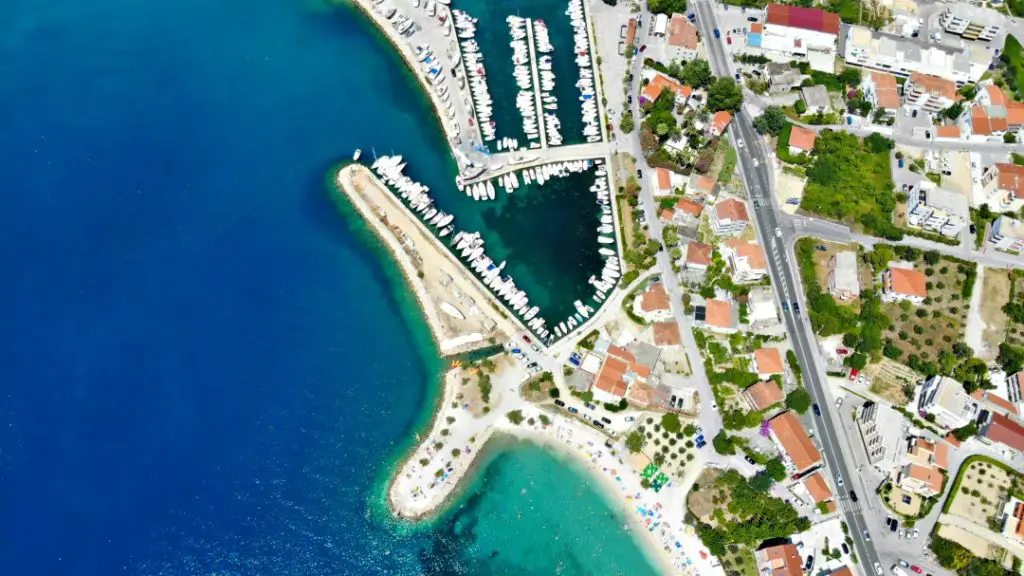 With a beautiful calm sea and crystal-clear water, you may want to spend all day on one of the Podstrana beaches. We often do.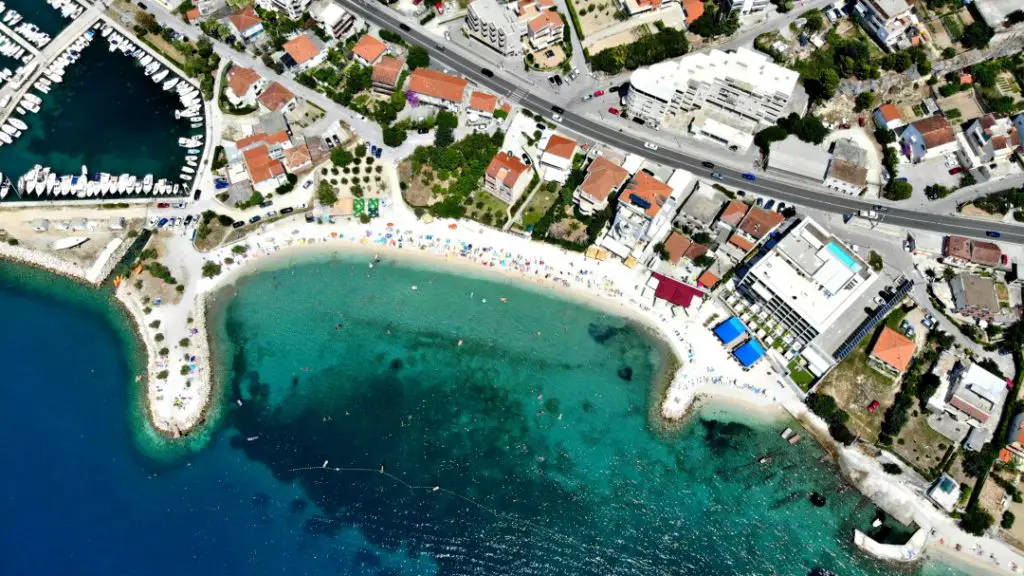 Colorful umbrellas are scattered along the beach on a hot July afternoon.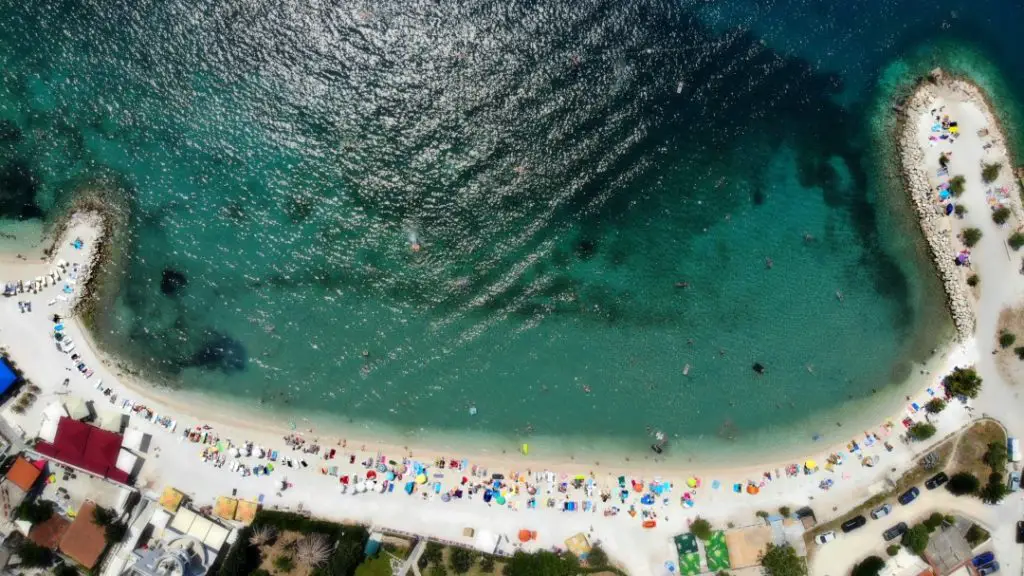 Podstrana Riviera
The below photo is a great capture of the Podstrana Riviera. This stretch of coastline includes the beach at Le Méridien Lav, Split. This is one of the few five-star hotels located in the Balkans. Thankfully, the beaches in Croatia are free and open to the public, so we often enjoy the pristine emerald waters of the Adriatic Sea in front of the resort.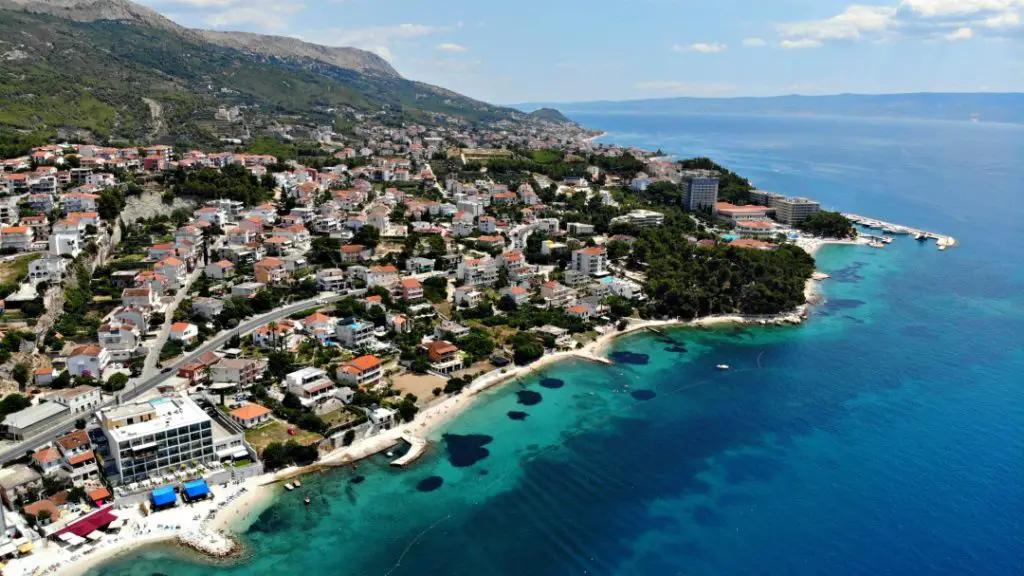 The Strožanac Marina offers folks the opportunity to get out on the Adriatic Sea. In fact, Podstrana's Strožanac Marina is a convenient gateway to the outer islands.
Luckily, there's an island tour that leaves right from Le Méridien Lav, Split so there is no need to try to rush off to Split's city center. Travelers can easily organize island-hopping boat tours to see all the Croatian hotspots like Hvar, the Blue Cave, the Blue Lagoon on Budikovac, and Palmižana Islands right from Podstrana.
Blue Cave and 6 Islands Tour Pick Up From Podstrana > Check Availability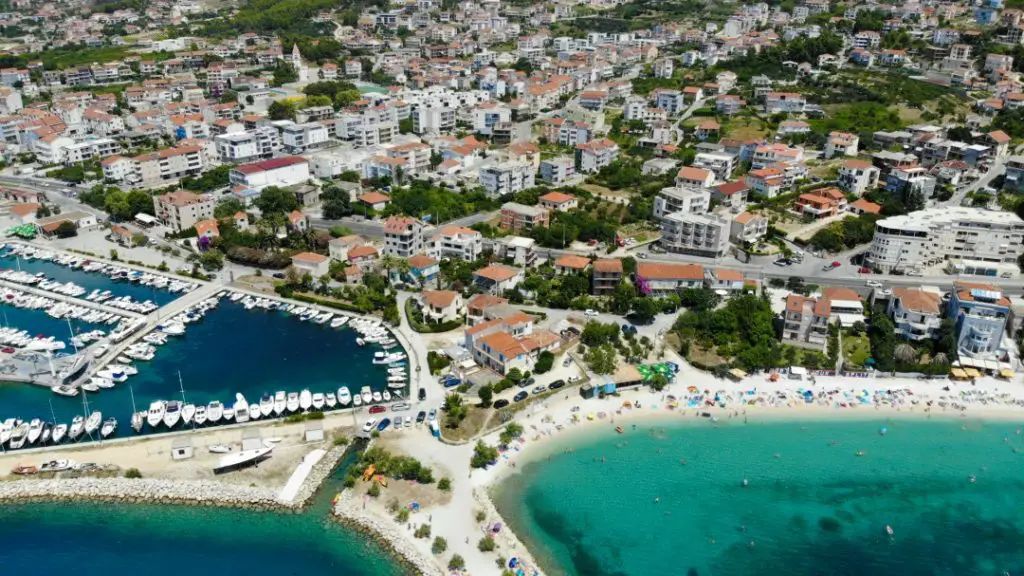 Rocky piers offer a sunny, elevated place for sunbathing. Look closely at this pier and take note of the diving platform at the end. On the last day of school, it's a tradition for local teens to jump into the sea with their school clothes still on to celebrate the end of summer.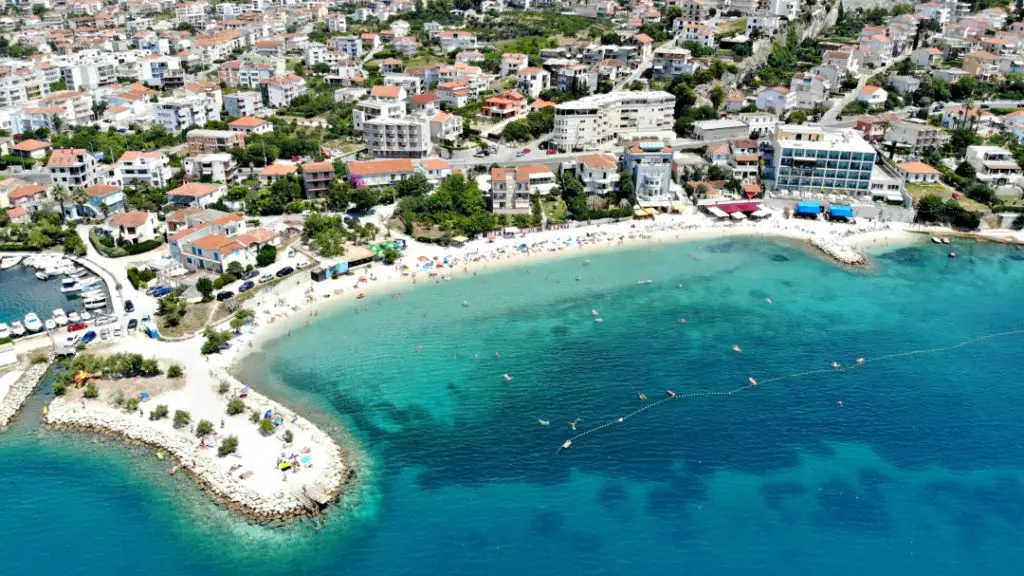 Le Méridien Lav
When the umbrellas are up, you know that the beaches are summer-ready. The beaches at Le Méridien Lav, Split are some of the dreamiest along Croatia's coastline.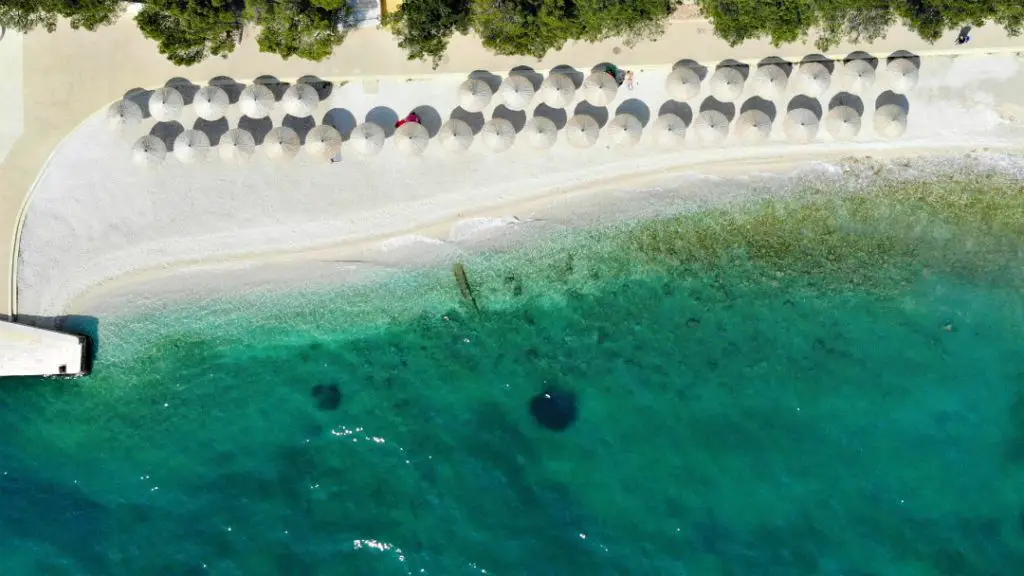 Below is some dramatic footage of the views from the top of Perun Hill.  What a blessing to walk out your front door and experience a hike like this.
Thinking of visiting or staying in Podstrana? Feel free to ask us your travel questions if seeking advice. We'd be happy to help!
Enjoy your stay in the beautiful village of Podstrana, Croatia.