There are plenty of unique and fun family things to do in Tucson, Arizona. Of course, Tucson is known for its saguaros, but that's not all that the city has to offer. Nicknamed 'The Old Pueblo,' Tucson is full of quirky sites and attractions, you just have to know where to look.
On this list, you'll find a wide range of roadside attractions and natural wonders that you'll definitely want to see while in the city. Thankfully, no matter what kind of hidden gems appeal to you, there is something cool in Tucson worth exploring today!
Need a Place to Stay?: Enjoy One of Tucson's Most Affordable Luxury Resorts
15 Fun Family Things to Do in Tucson
Not only will visiting the locations below create great memories, but it will also make for amazing family vacation photos.
Below are 15 fun family things to do in Tucson!
1. Kissing Cactus
Through photography and hiking, many travelers appreciate the beauty of the saguaro cactus. Of course, when cacti grow into massive giants or peculiar forms, they become curiosities of the American Southwest.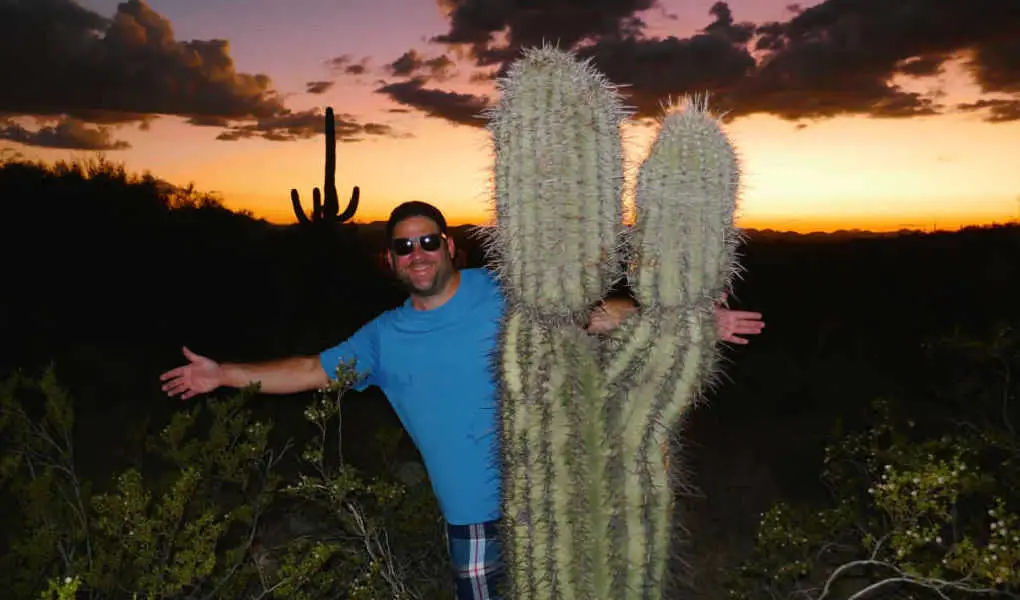 Tucson's Kissing Cactus is one of the area's best natural creations. Moreover, a short hike near Tucson Mountain Park takes visitors to the stunning natural creation, making it one of the best family things to do in Tucson.
Read: 11 Funny and Unique Cacti in Arizona and Where to Find Them
2. Trail Dust Town
Best described as a miniature Western theme park and outdoor shopping center, Tucson's Trail Dust Town is a free outdoor park to explore. It offers restaurants, specialty stores, and Polly Anna Park. The amusement park attractions at Polly Anna Park are geared toward children ages 5 years old and under, costing only a few dollars per ride, making it one of the best family things to do in Tucson.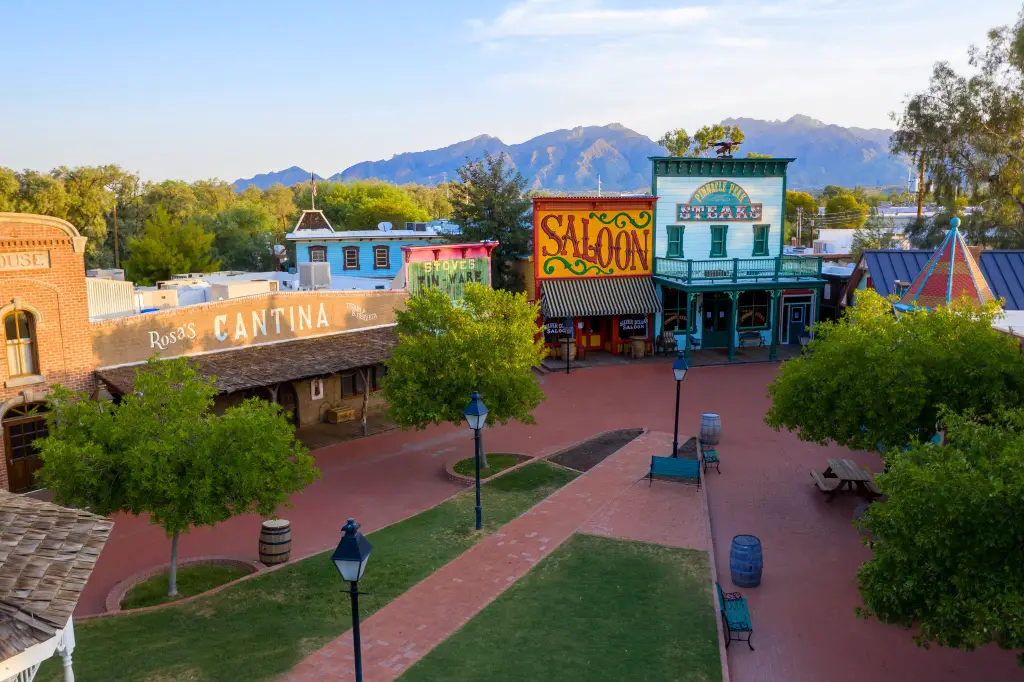 Many visitors come to take advantage of the fun photo opportunities, enjoy drinks and dinner at the cowboy-themed steakhouse Pinnacle Peak, or watch one of the entertaining stunt shows.
3. Fast Food Dinosaurs
Sitting at the intersection between Tanque Verde and Grant Road, Roxy Rex is a celebrated icon of Tucson. In 1994, the T-rex was purchased from Universal Studios after it was used in the Jurassic Park movie.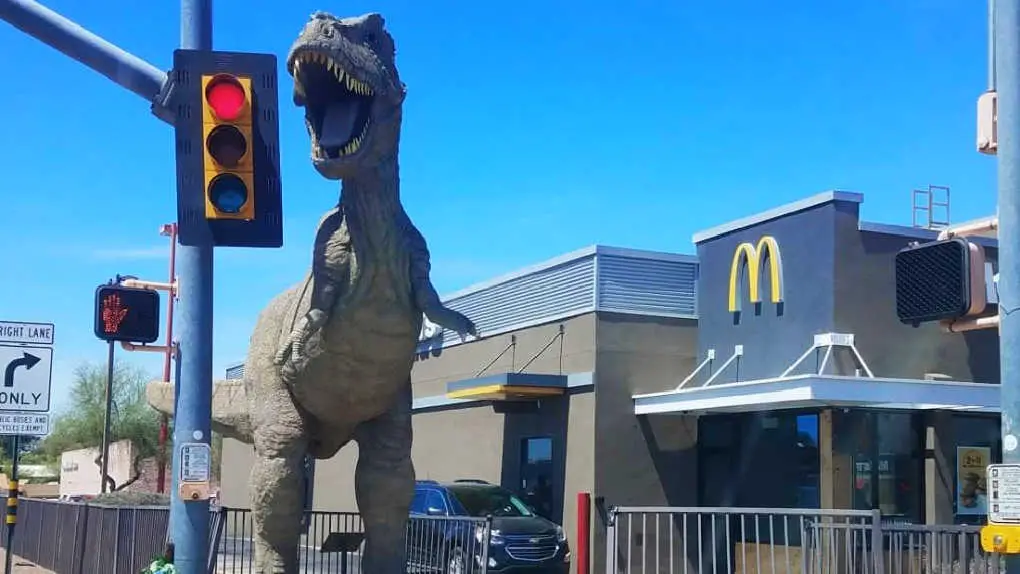 At the time, the restaurant owners had a young son who loved dinosaurs. Already popular with Tucsonans, the T-rex McDonald's reached viral status after its feature on the Nonstandard McDonald's Twitter account.
4. Gateway Neon Saguaro
Marking the first divided roadway in Arizona, the Neon Saguaro represents the history of neon along Arizona's highways. The landmark sign is a popular place to take photos, especially at night when the sign is bright and the traffic is light.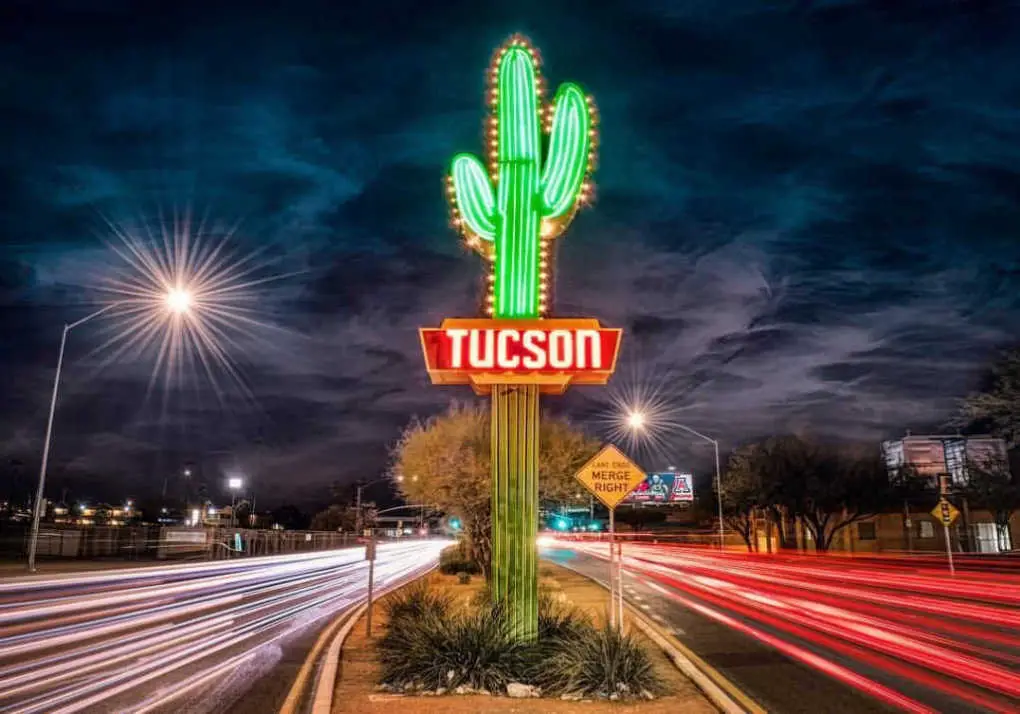 The neon saguaro also represents the gateway to Tucson's other classic neon signs, made popular during the 1930s automotive-based tourism period.
5. The Neon Pueblo Vintage Signs
Along Drachman Street, between Oracle Road and Stone Avenue, the Neon Pueblo offers drivers the opportunity to take a trip down memory lane. The Tucson Historic Preservation Foundation has lovingly restored a series of several classic neon signs, which run down a historic strip of Tucson deemed the Miracle Mile.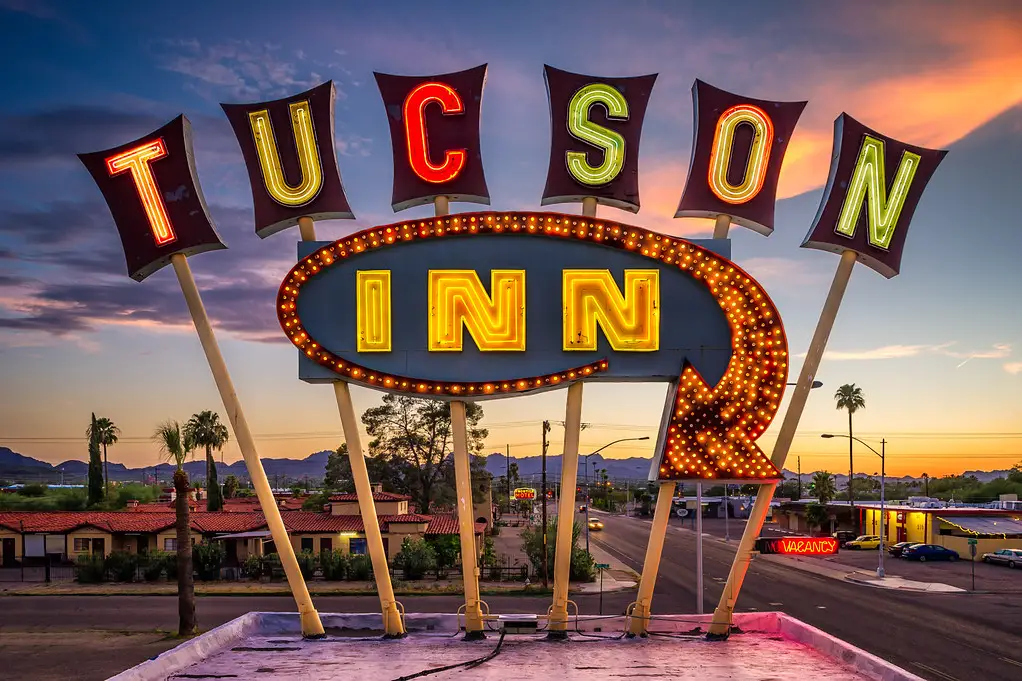 Fans of these types of neon restoration projects are in luck if they find themselves in Tucson. The foundation offers two downloadable tour guides: one walking tour and one complete guide to all the neon signs in Tucson.
6. Muffler Men
Muffler Men are an iconic part of 1960s roadside Americana. Unfortunately, less than 200 fiberglass statues remain today. Arizona is lucky to have a few along its driving roads, especially on Route 66.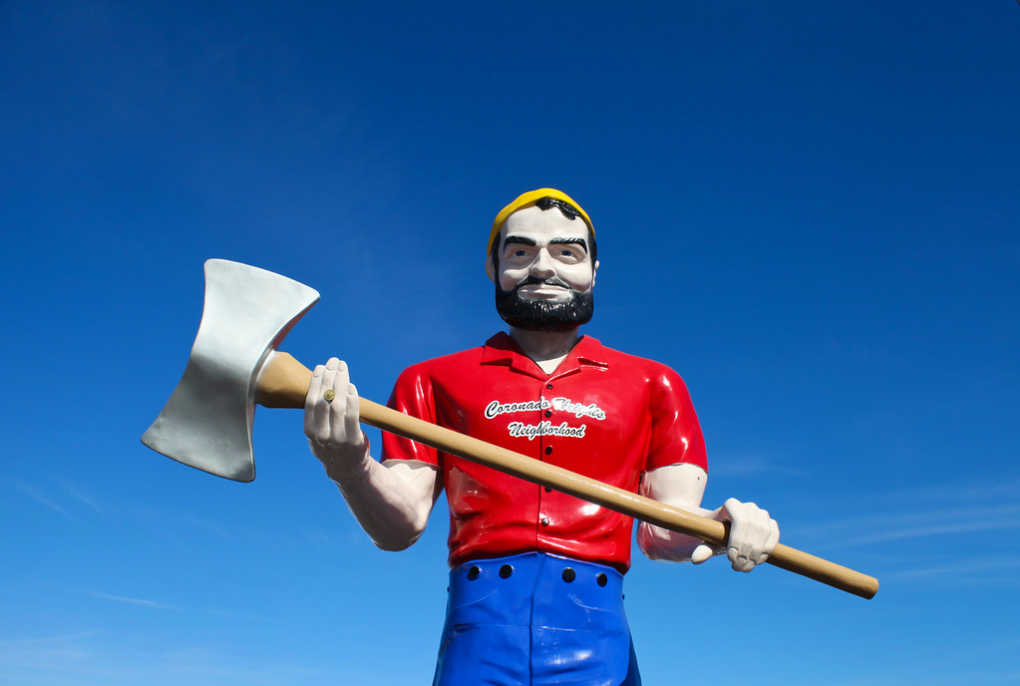 Tucson has a nicely refurbished Muffler Man named Glen Stone, constructed in 1964 to promote a local auto shop. Glen Stone is located at Don's Hot Rod Shop located at 2811 N. Stone Avenue.
Read: The Story Behind Route 66 Giant Men
7. Misplaced Airplane Tail
Tucson has an abundance of public art and installation sculptures around the city. In fact, the Pima County public art collection includes over 100 integrated works scattered around town. One of the works is an 800-pound tail of a C-130 military plane sitting at the entry of the Philabaum Glass Gallery.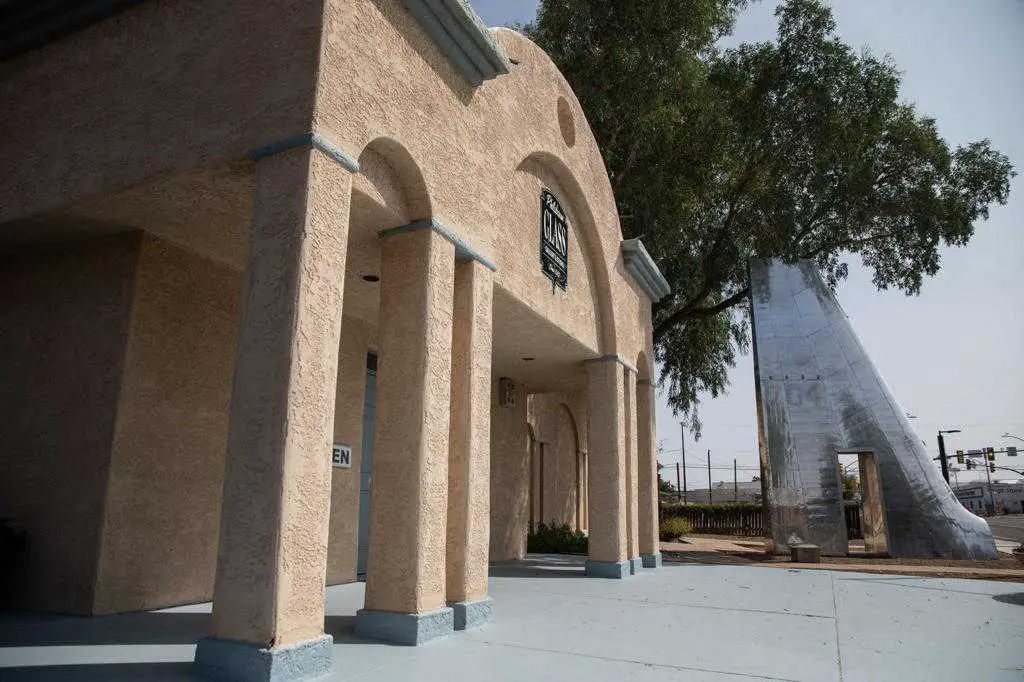 The sculpture is a creation by Konreid Meunch. The tail has a doorway cut through the middle. Finally, the misplaced airplane tail is located at 711 South 6th Ave
8. Fox Tucson Theatre
After a 14+ million dollar renovation, the Fox Tucson Theatre finally made the list of the National Register of Historic Places following its grand reopening in 2006. The theatre celebrates a unique architectural style, Southwestern Art Deco, and offers over 150 shows a year with various performing artists.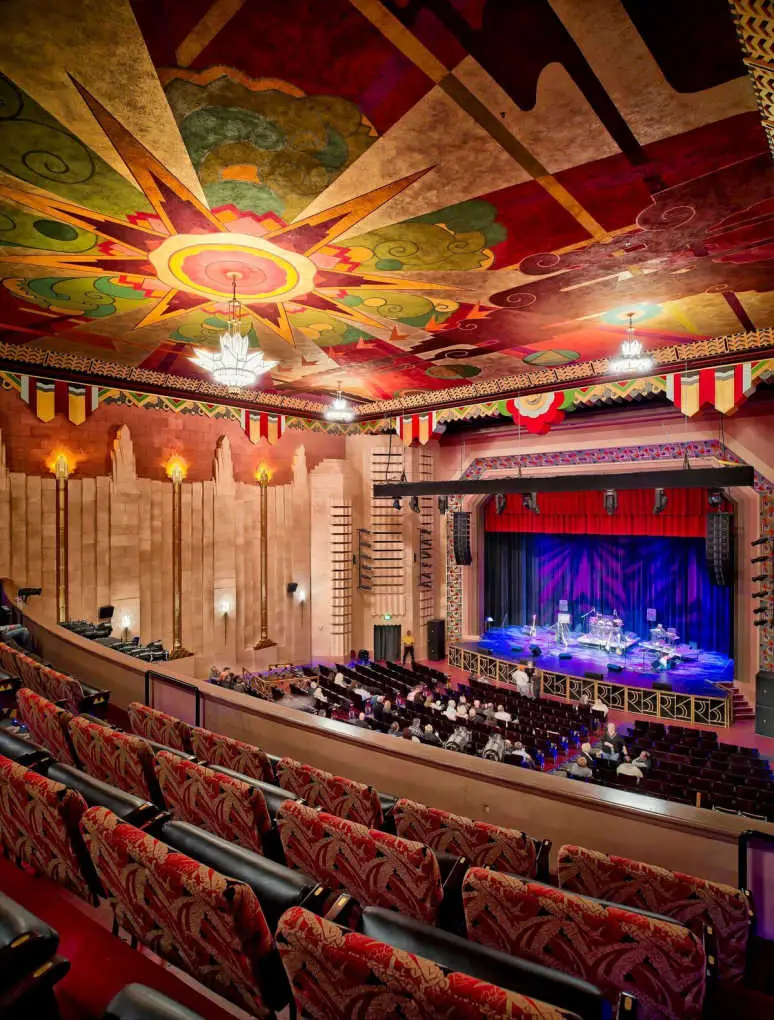 Visitation is only permitted during an organized tour, which is offered once a month by a local historian for free. The Fox Tucson Theatre first opened in 1930 and still sits in the same location at 17 W. Congress Street.
9. Windy Point Vista
Mount Lemmon offers the highest point in Tucson's Santa Catalina Mountains. A drive up to the peak provides cooling temperatures and expansive views of the Tucson Basin. Along the way, Windy Point Vista is one of the city's most photo-worthy destinations.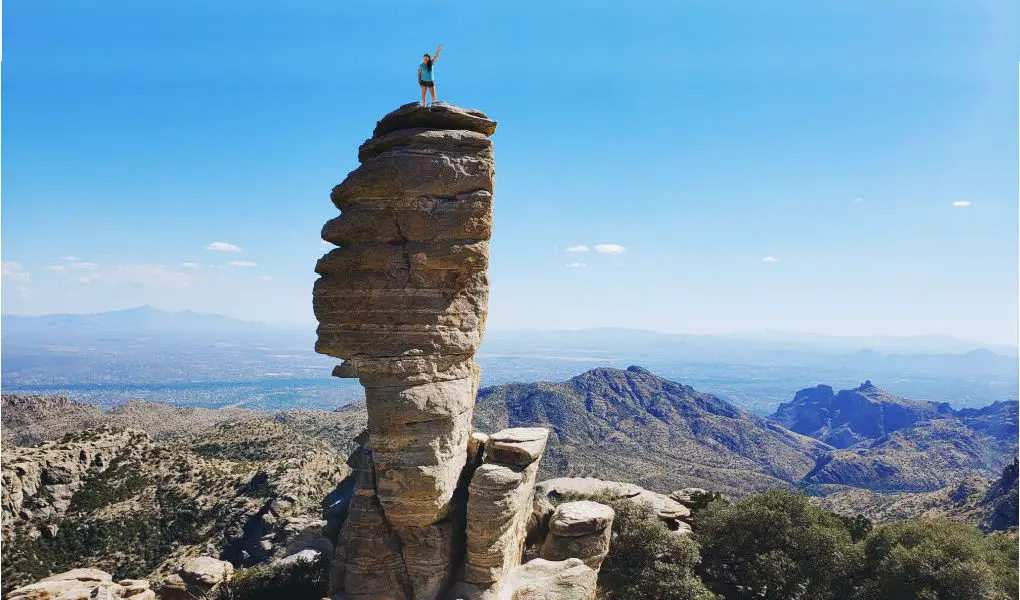 With today's mantra of "do it for the gram," travelers brave enough to climb can achieve this eye-catching image. The three different hoodoos offer various heights so no climbing equipment is necessary.
10. Bowen Homestead via Camino de Oeste
Best accessed from September through April, a desert trail brings visitors to what remains of the 1930s Bowen Homestead. Originally from the Midwest, the Bowen family chose this space to build their remote desert ranch. The route to the homestead is fairly easy and the highlight, of course, is exploring the old ruins.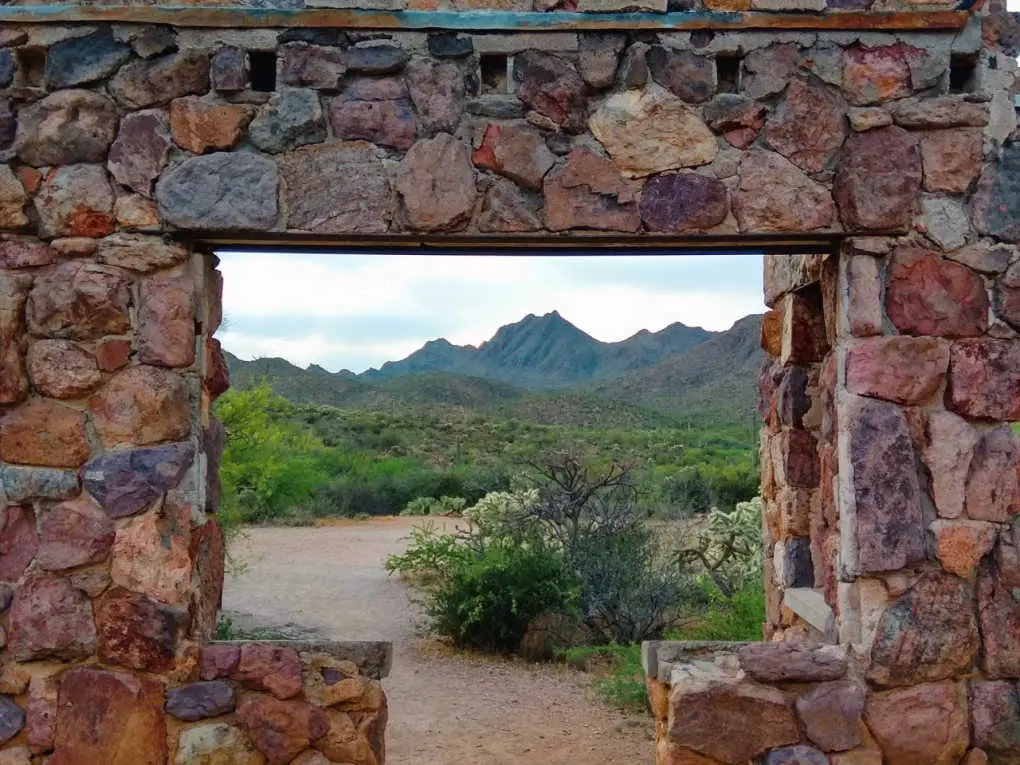 The trek from the trailhead to the house is about 2 miles roundtrip. Also, there are about 10 available spaces for parking and there is no associated cost to hike this trail.
11. Pima County Courthouse
Although not a usual landmark, visitors should make a point to see the Pima County Courthouse. The architecture and colorful dome are simply gorgeous!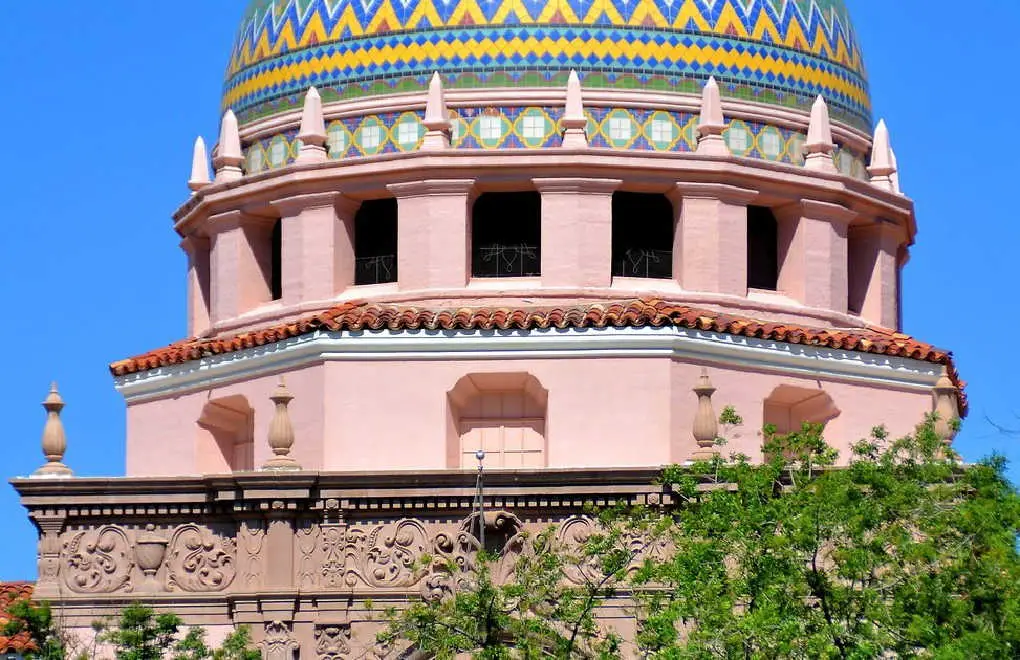 Listed on the National Register of Historic Places, the construction of the building was completed in 1929. Additionally, it is considered the best example of Spanish Colonial Mission Revival architecture in Arizona.
12. Rattlesnake Bridge
Artist Simon Donovan's Rattlesnake Bridge was so cleverly designed that the Federal Highway Administration awarded it one of the country's best road projects. The huge diamondback has some gorgeous details—glowing eyes, a hollow belly, shiny fangs, and a winding tail.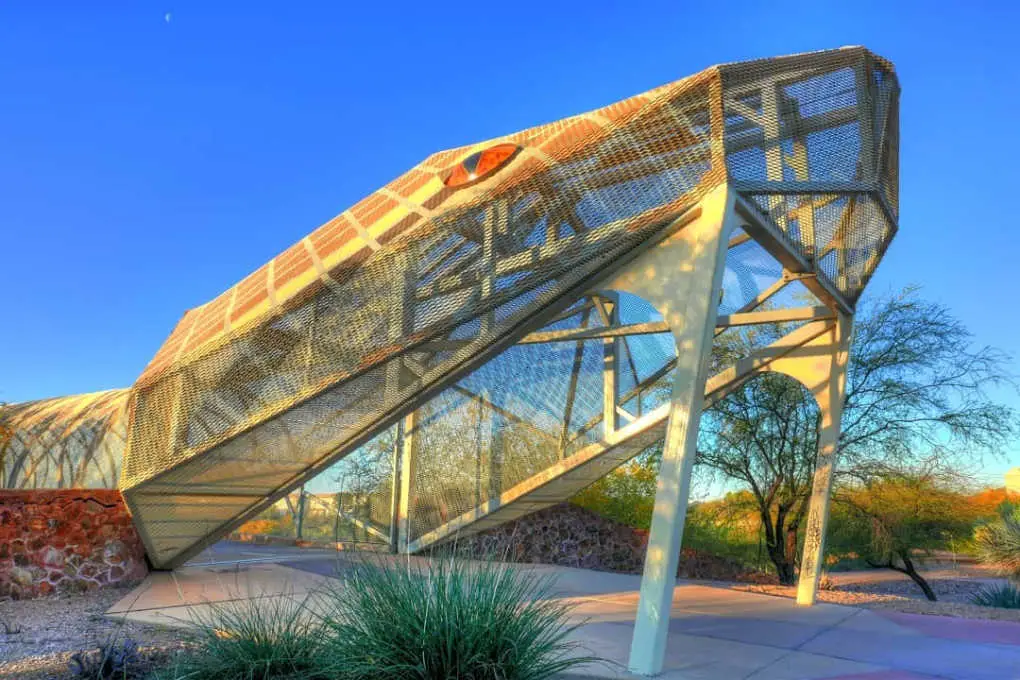 The Rattlesnake Bridge sits just east of downtown Tucson and is used as a pedestrian and cycling bridge over Broadway Blvd. It is one of Tucson's most treasured public art-city improvement projects.
13. El Tiradito Wishing Shrine
Located in Tucson's historic Barrio Viejo neighborhood, the El Tiradito Wishing Shrine claims to be the only shrine with a dedication to a murdered sinner. Frequently visited at night, visitors can purchase a candle from the La Pilita Museum which is next to the shrine. Legend says that if you light a candle at the shrine and make a wish, it will only come true if the flame stays lit all night.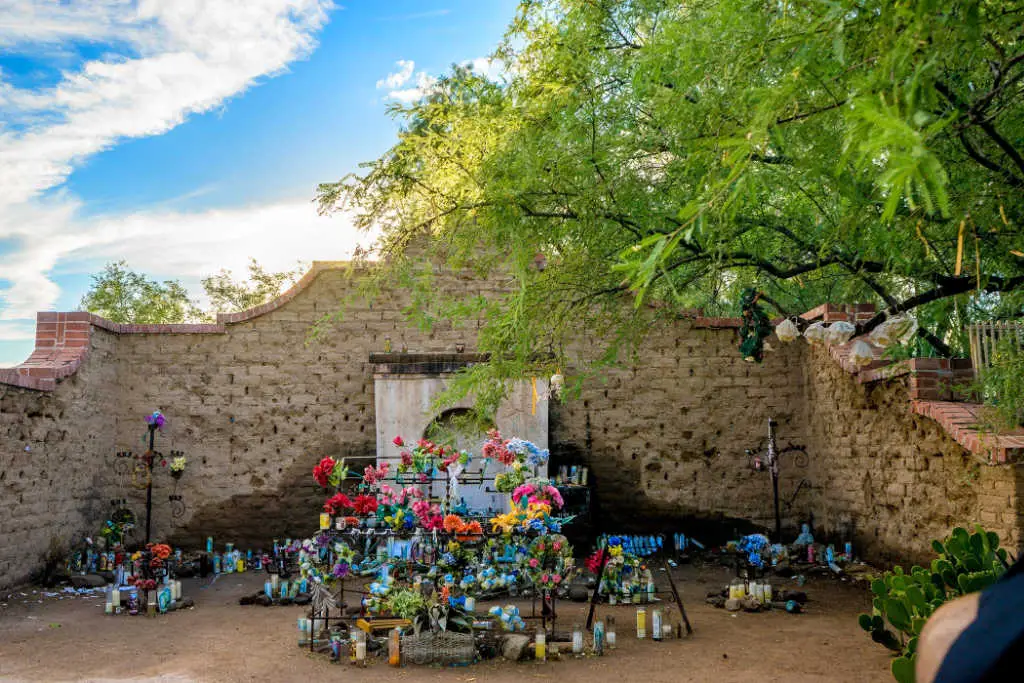 14. Bike Church
Created to honor the memory of cyclists who have died on the streets, Bike Church is a permanent public art piece that uses religious iconography to celebrate bike culture through religious architecture. Moreover, visitors will notice Christian stained glass windows, an Islamic temple top, two Stars of David, and a Pascua Yaqui Dancer.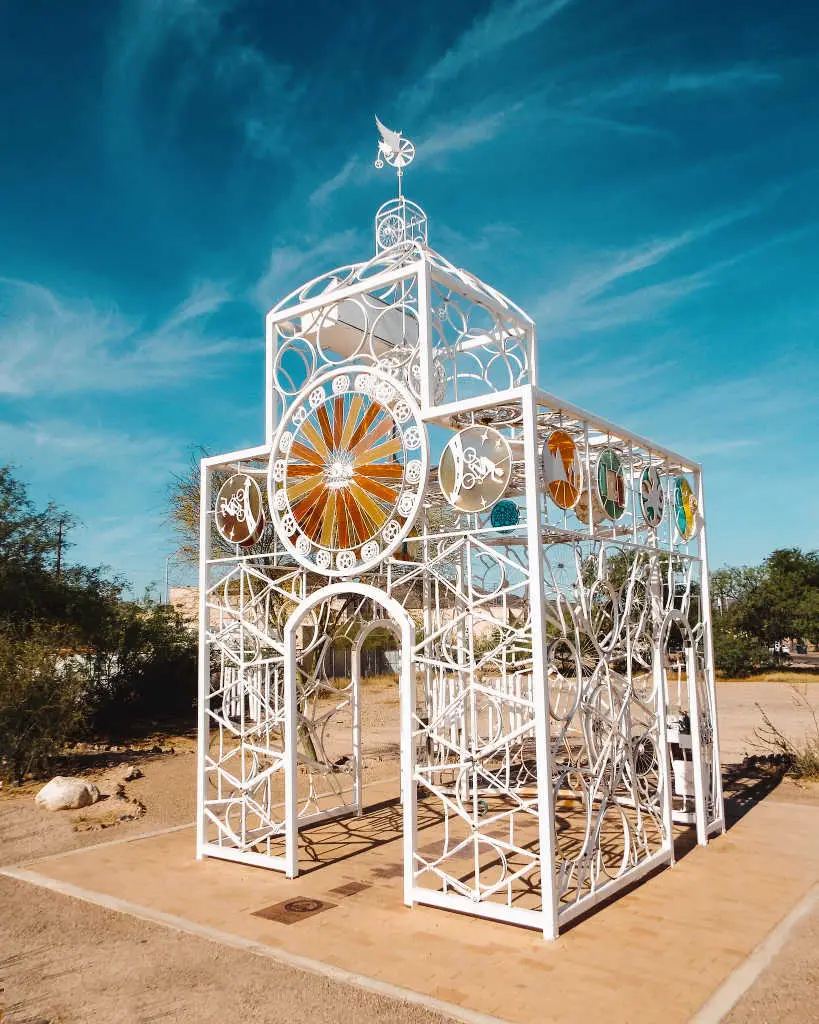 The solar-powdered and musical church was constructed by Joe O'Connell and Blessing Hancock, along with a team of teens. It's a space for celebrations, photography, and memorializing those who have died while cycling. Finally, it's located at Granada Avenue and Davis Street.
15. The Boneyard
The Davis-Monthan Air Force Base is home to a true boneyard, storing over 4,000 worn-out or damaged aircraft on its grounds. Due to Tucson's dry climate, retired military aircraft stay here until they are repurposed or used for spare parts.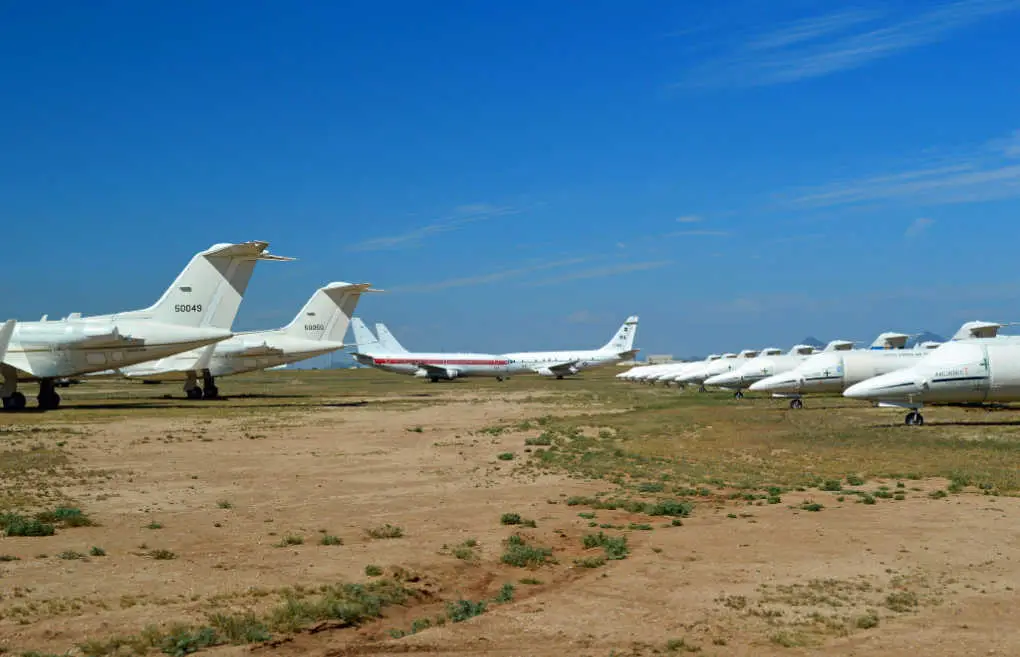 The Boneyard used to offer outdoor tours to the public via tram. However, due to U.S. Airforce security considerations, all tram tours were canceled in 2020 with no plans to restart. Thankfully, visitors can still visit the Pima Air and Space Museum.
Now, pick out one or all of the fun family things to do in Tucson items listed above, and begin exploring one of America's best cities.
We Need Your Help
Did you find this article helpful? If so, bookmark it and when you're planning your next vacation click on any of the links below before finalizing reservations. You'll get the best price, we'll earn a small commission, and you'll help support future articles.
Thank you!
BEST TRAVEL SEARCH ENGINES
🏘️ Book Your Accommodation
We use Tripadvisor and Priceline's Express Deals to compare prices and reviews in advance and check availability
✈️ Book Your Flight in Advance
To find the cheapest flight options, you can use WayAway and Skyscanner to find the most suitable choice for you
🚗 Reserve Your Rental Car
Use DiscoverCars and Skyscanner to compare prices and view the largest selection of vehicles