While exploring the state, many travelers wonder where Arizona's most funny and unique cacti are located. Cacti are synonymous with the American Southwest, gracing the state's landscape, license plates, and tourist souvenirs. This guide will showcase where to find Arizona's most outrageous prickly plants and natural creations.
Where Cacti Live
Before we begin, it's helpful to know where unique cacti are typically found around the world.  Although many different regions have cacti, there are only one species that is native to both the Old World and the Americas.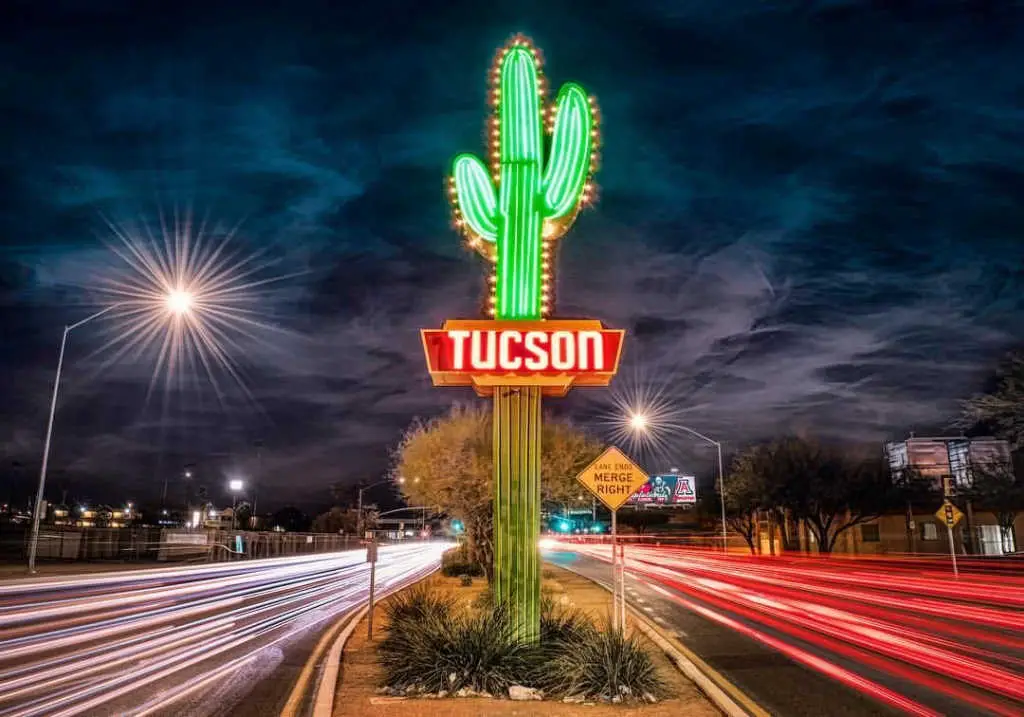 This species is called Rhipsalis baccifera or Mistletoe cactus. Outside the Americas, it is found in Sri Lanka, Madagascar, and tropical Africa. The species is likely spread by seeds in the digestive tracts of migratory birds.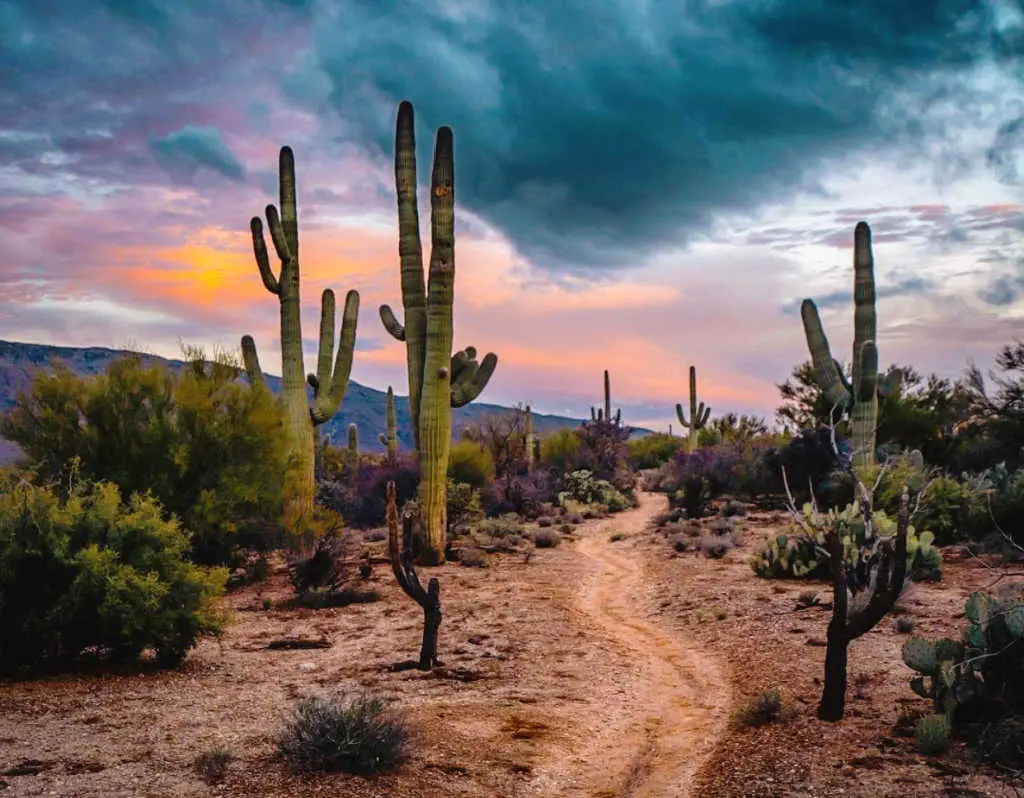 Nevertheless, destinations like Hawaii, Australia, the Arabian Peninsula, and even the Mediterranean have cacti that were imported by humans. These cacti were brought in for natural agricultural fencing, ornamental landscape use, or farming for prickly pear cacti.
Fun Tip: Cactus and succulent lovers must go on The Saguaro Adventurer Scavenger Hunt while visiting Tucson.
Cacti Capital of the World
Interestingly, Mexico is considered the "Cacti Capital of the World" with the most significant number of cacti, along with the most variety of species of cacti in the world. The Mexican flag and coat of arms even depict an eagle perched on a prickly pear cactus.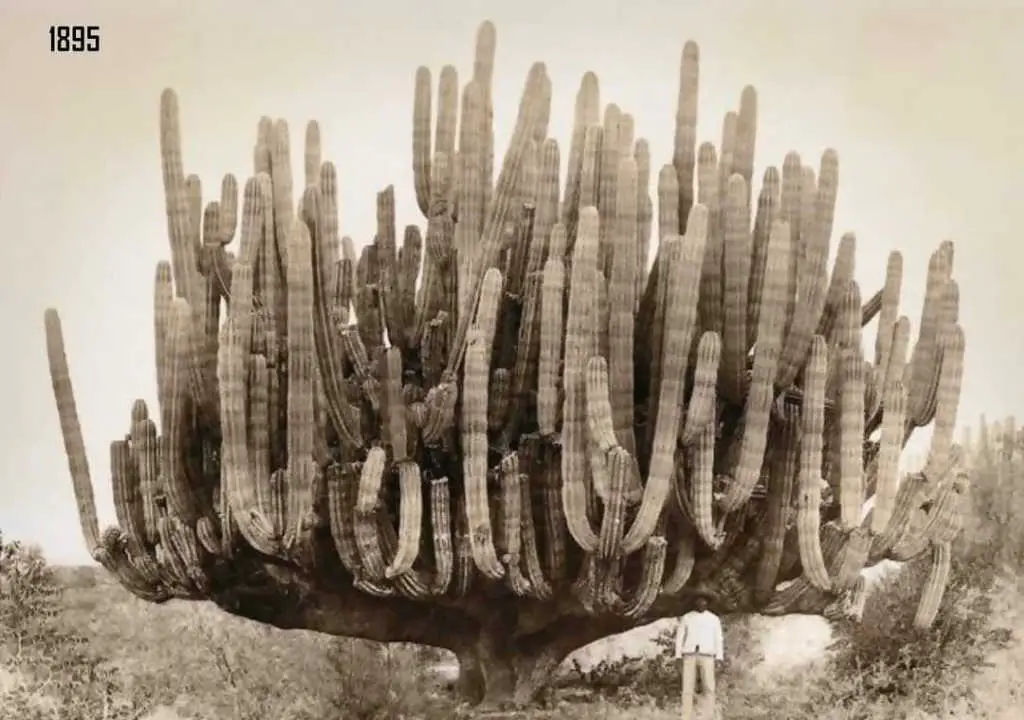 Arizona's Saguaro Cactus
Saguaros only grow naturally in the Sonoran Desert which is located in Arizona, California, and Mexico's northwestern states. With its proximity to Mexico, it makes sense that Arizona offers great cacti viewing in the U.S. with over 60 different varieties of cacti.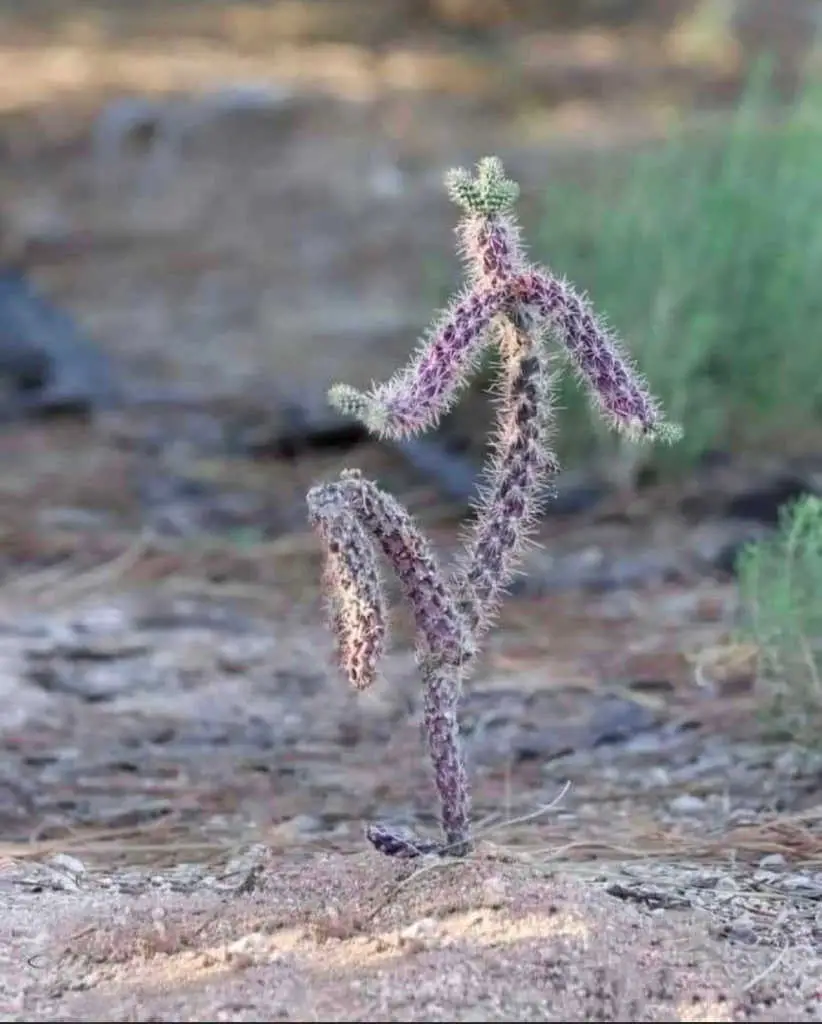 As you travel around Arizona, be on the lookout for the most unique cacti. Also, to save money, you can find the best price for accommodation options in Arizona here. Some hikers find it useful to bring along a field guide to help identify the most common cactus species and to make your time exploring more productive.
Learn more about the Sonoran Desert: A Natural History of the Sonoran Desert
11 Funny and Unique Cacti in Arizona
Below are 11 of Arizona's most funny and unique cacti.
1. T-Rex Dinsosaur Cacti
Cacti are like clouds look at them long enough and you begin to see objects and animals. Located in the Superstition Mountains, the T-Rex Dinosaur is a fun natural creation accessible by Jacob's Crossout Trail #58, leading up to Broadway Cave.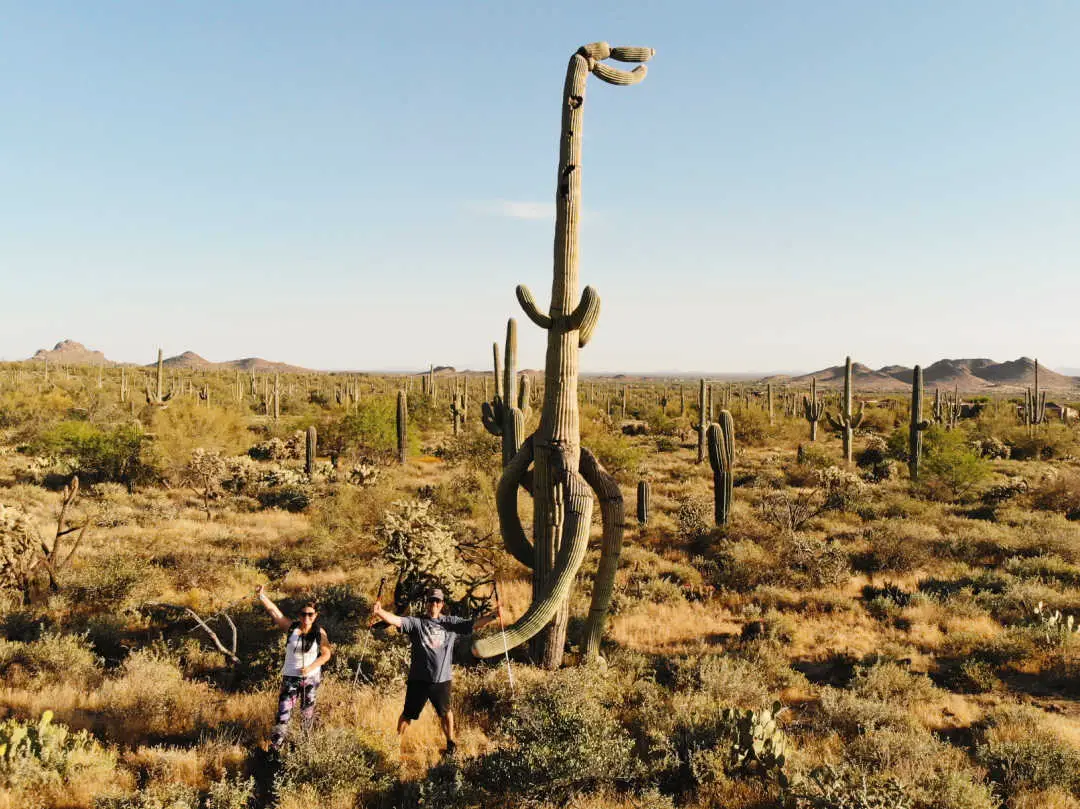 It sits among thousands of cacti and as a result, many hikers walk right past this supersecret dinosaur cactus without ever even noticing it. Click here for directions to easily locate the T-Rex dinosaur cactus.
2. Christmas Saguaro – Arizona's Most Impressive Cactus?
Typically, an impressive cactus has many natural arms. As a general rule, unique cacti with over 70 arms are newsworthy and those with over 100 are history-making. Recently, a cactus in Avra Valley made local news headlines with 78 arms, resembling a Christmas tree. Moreover, its nickname is the Christmas Saguaro, and it's located near the Titan Missle Museum.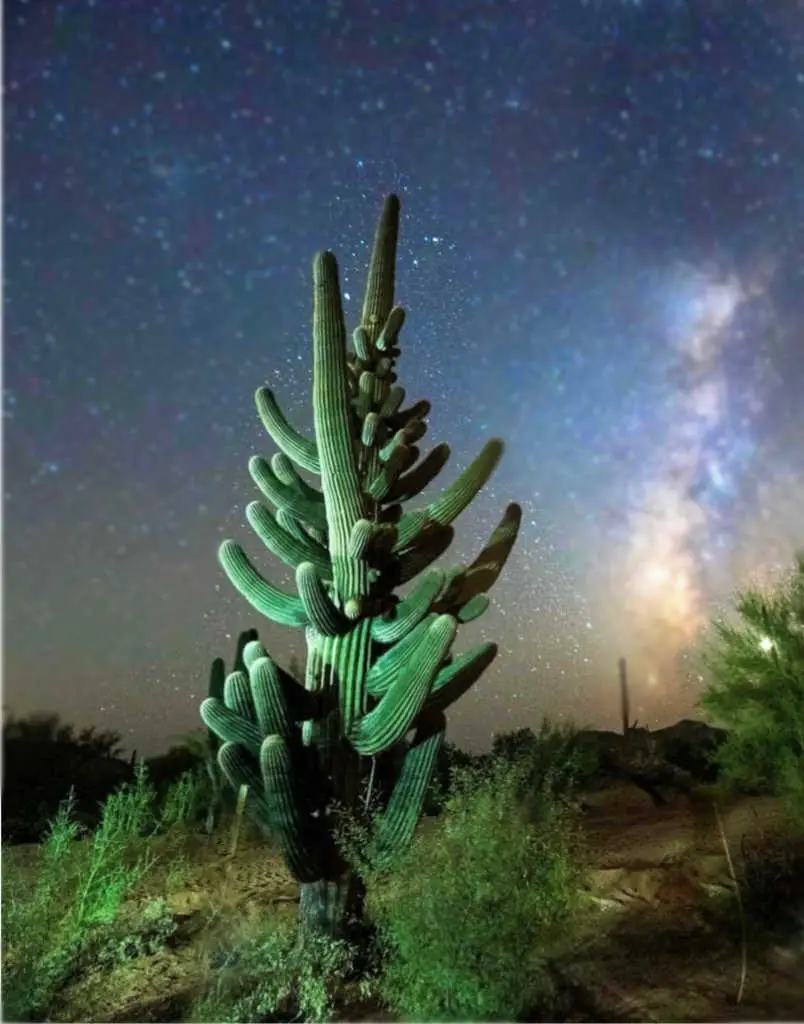 Unfortunately, it can be hard to keep track of these prickly monsters because many succumb to age, weather events, or vandalism. Additionally, Arizona's monsoon season is not kind to cacti. Heavy rain and windy conditions often uproot cacti due to the plant's natural shallow root system.
Become a Saguaro Expert: The Saguaro Cactus: A Natural History
3. Kissing Cactus
The kissing cactus is one of the region's most cherished natural creations. Some see the locally famous cactus as a romantic gesture, while others think it resembles the mother-child Willow Tree Tenderness statue. Sadly, growing up near an old shooting range, rumor has it that the cactus sustained a gunshot wound when it was young. Eventually, the damage resulted in the plant separating into two separate heads.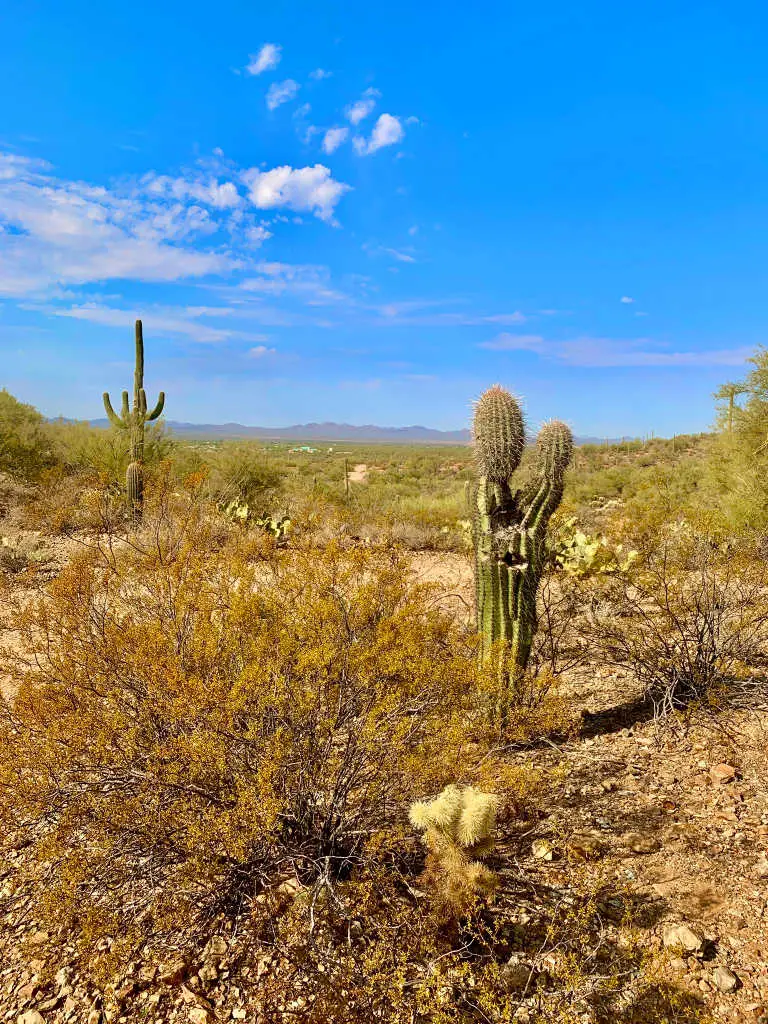 Tucson explorers say that the fun is in the hunt, so the exact location of the kissing cactus is not widely unknown. Some clues provided are that it is located off Brown Mountain, near the Old Tucson Studios. We're going to go out and find it. We'll update this article with the exact location, so come back.
4. Me and My Crazy Brother
These unique cacti pay homage to the fact that we all have that one relative that's "off his rocker." Although they grew in such proximity to one another, side-by-side these two cacti illustrate how differently each plant develops individually. One local joked, "He must be on the fertilizer."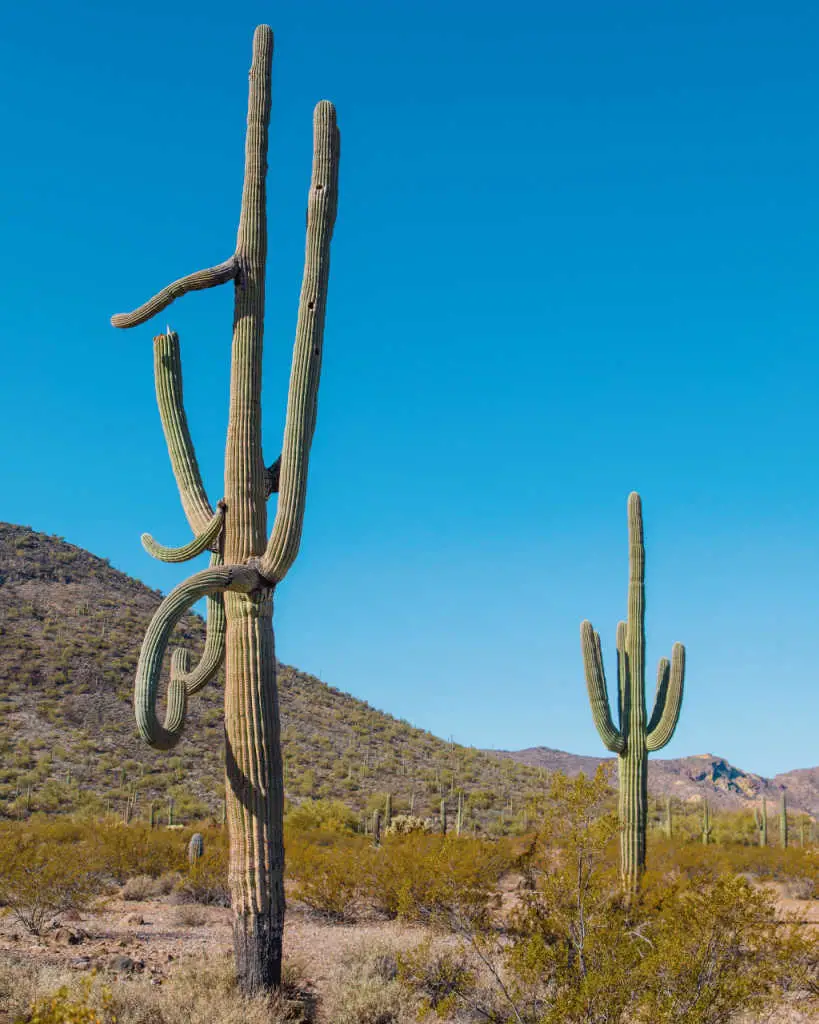 5. High Five Cactus
Arizona is truly a hiker's paradise. While out on the trails, there is so much to visually experience—wildlife, scenic vistas, and desert plants. Some of the best natural creations to discover lie off the beaten path.
Take, for example, the super-tall Five-Five Cactus. This crazy cactus is located on the Butterfield Pass Trail, sitting between the Maricopa and Gila Bend. This lengthy trail runs through one of the best saguaro forest habitats near Phoenix's southern city limits.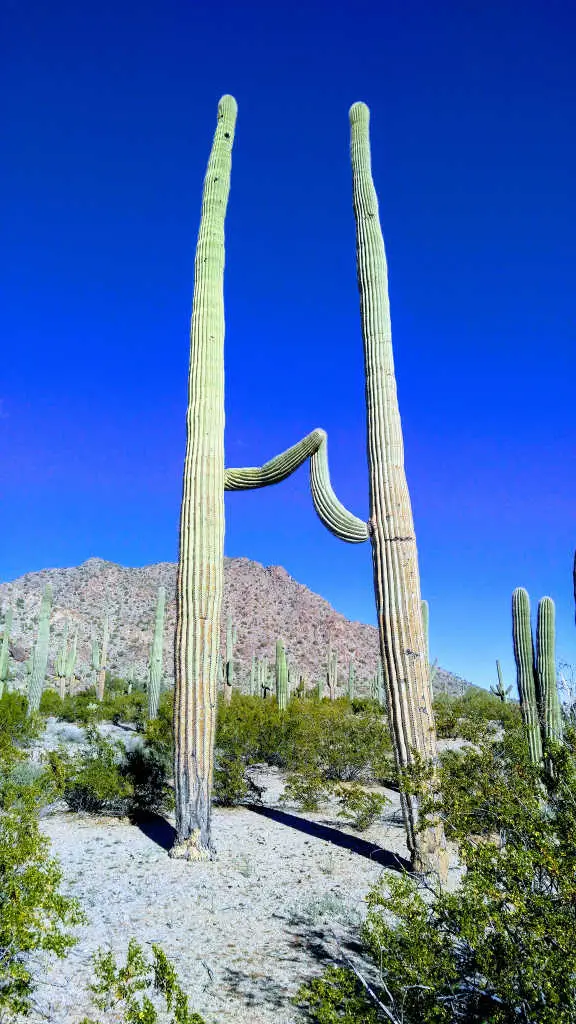 Of course, Tucson is also a popular city for Arizona hiking, especially on the trails in Saguaro National Park. One Arizonan shared her photo of a High Five Cactus located on the west side of the national park.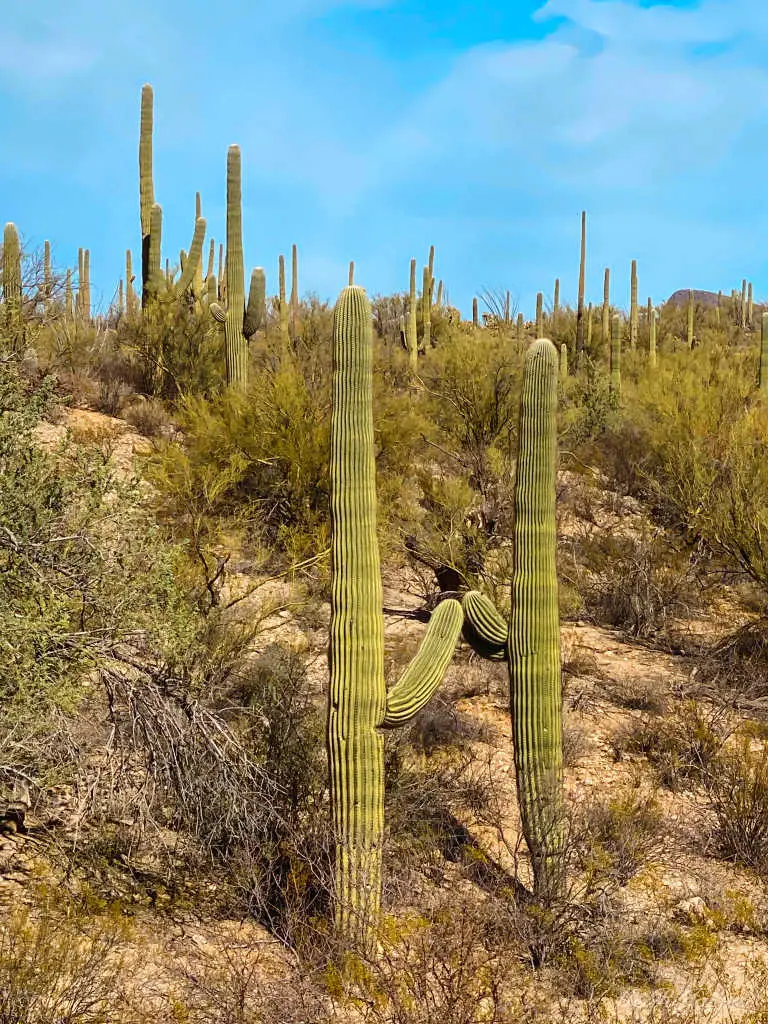 The advantage of staying in Tucson is that it's the closest city to other great outdoor attractions like Mount Lemmon, Madera Canyon, and the Arizona-Sonoran Desert Museum, the second most popular tourist attraction in Arizona (only behind the Grand Canyon). Thankfully, the rugged landscape is full of both budget and mid-range accommodations and plenty of excellent restaurants and tours including the Taco Bike Tour.
6. Upside Down Cactus
Located in Honey Bee Canyon Park in Oro Valley, this bizarre saguaro appears to be growing upside down. Saguaro's arms droop when the plant is exposed to freezing weather. Mainly comprised of water, the cold weather weakens the delicate arms, causing the tissue to turn to mush.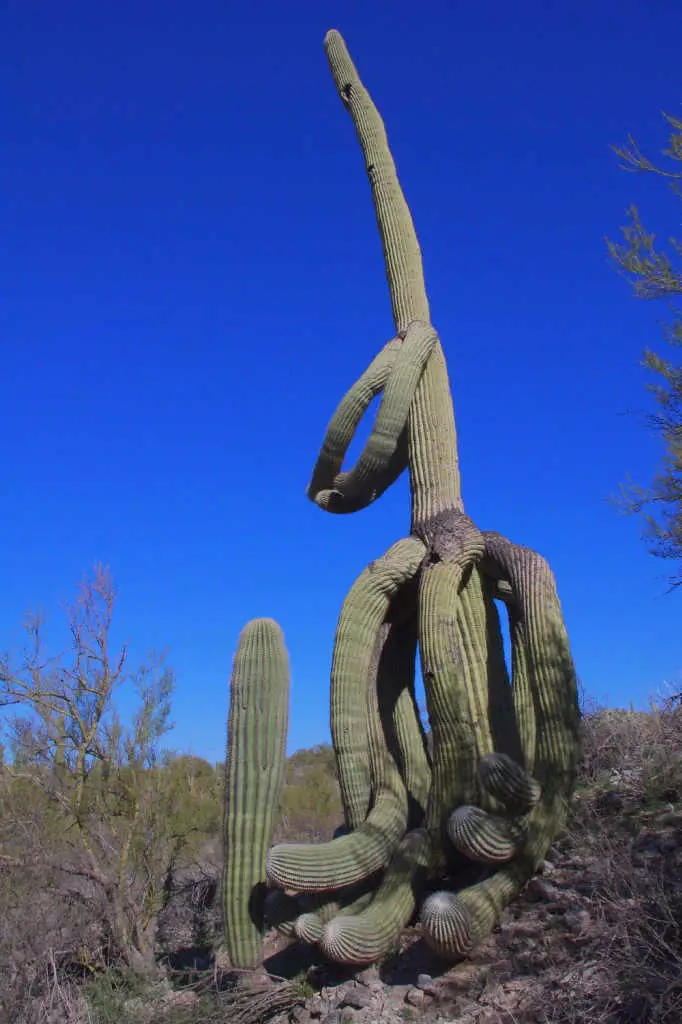 7. Elephant Trunk Saguaro
When the arms of saguaros aim downward, the plants become alive with interesting shapes. Some observers claim cacti look like octopuses, elephants, and dinosaurs. This cactus is located in Scottsdale, sitting off a mountain biking trail. Its nickname is the Elephant Trunk Saguaro.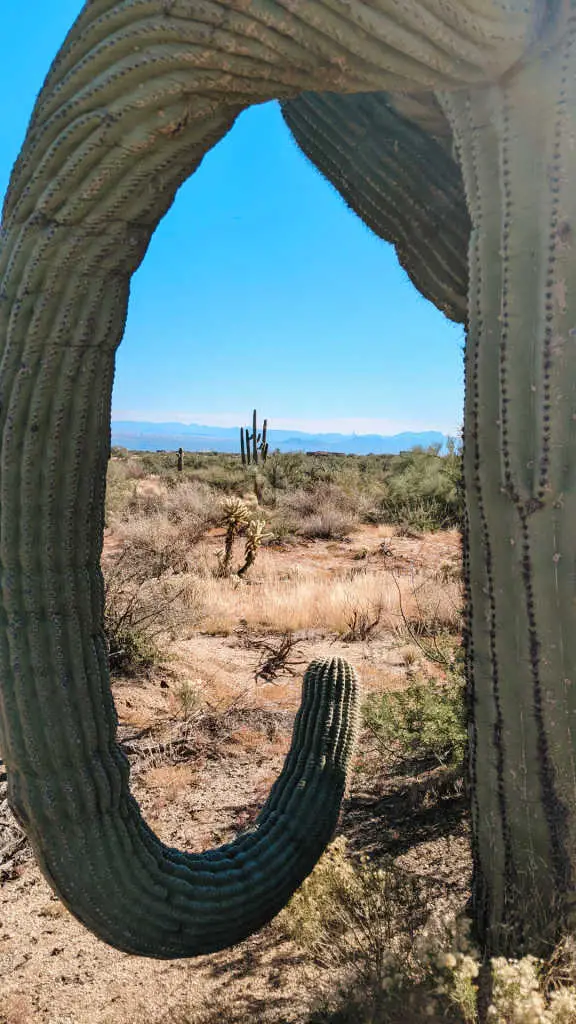 8. Crested Saguaro
Near Tucson, tens of thousands of saguaros grow in Saguaro National Park. However, according to the park's official website, over 25 crested saguaros are within the park's boundaries.
Creepy fan-shaped growths characterize these highly unusual crested cacti. Biologists have yet to figure out what causes the gross disformity but lightning strikes, viruses, deep freezes, abnormal sprouting, or genetic mutations are all hypotheses.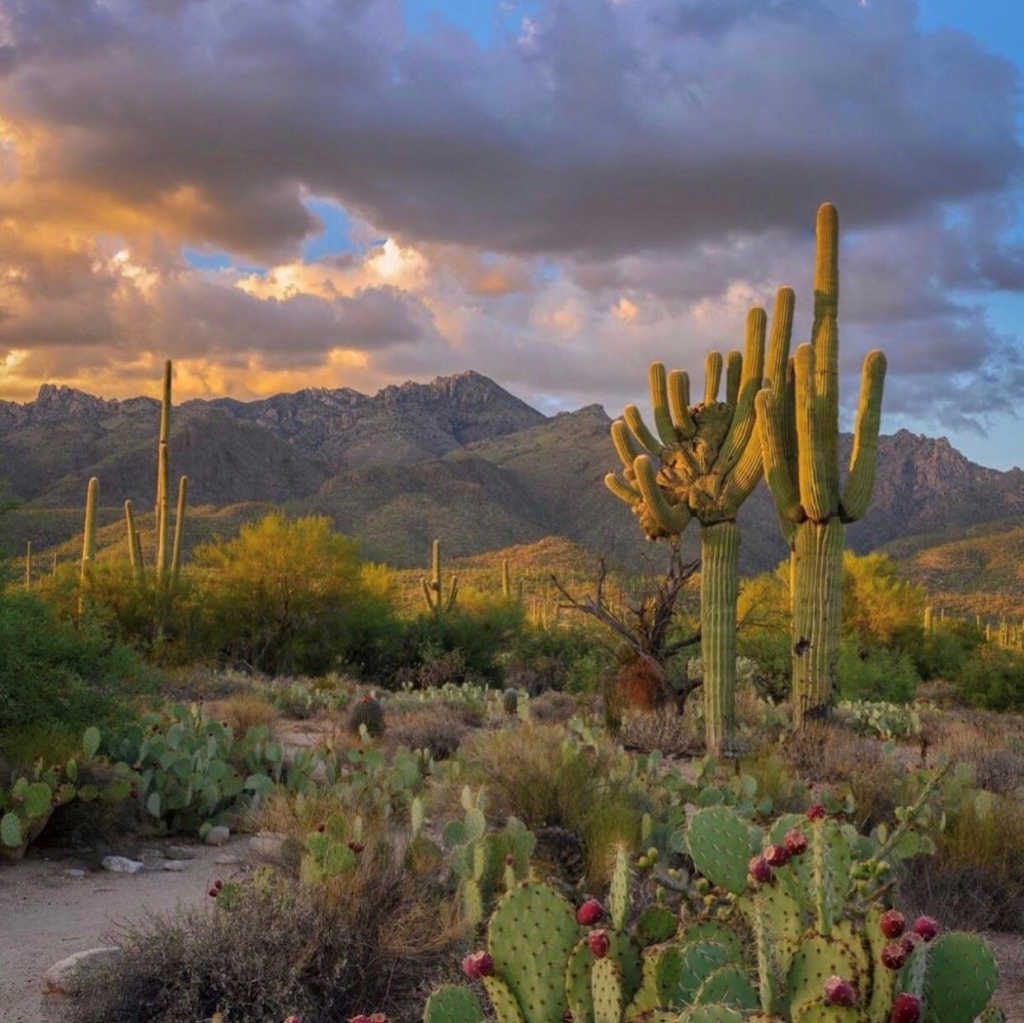 Due to their rarity, crested cacti usually are closely monitored. Thankfully, there are many documented places to see one in person. One of the most accessible crested saguaros is the Sabino Canyon on the Bajada Loop Nature Trail. This flat trail is located just next to the Sabino Canyon Visitor Center. This popular trail is safe and easy, even for families.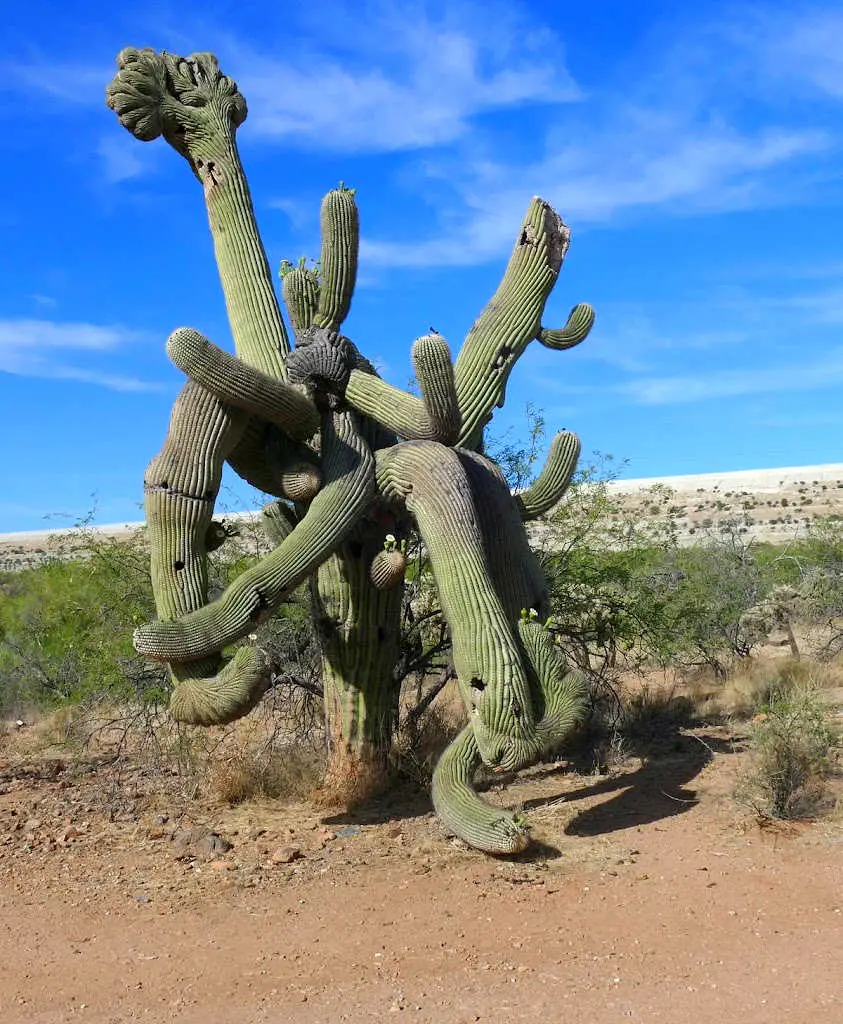 Where to See Crested Cacti in Arizona
Spotting crested saguaro is a lot like finding a needle in a haystack, but it isn't impossible. Travelers that want to see crested cacti in Arizona have a few places to see the unique species first-hand. These include:
The Tucson Botanical Gardens – Tucson
The Pima Canyon Trail – Tucson's Santa Catalina Mountains
The University of Arizona beside Old Main Street – Tucson
Tohono Chul Park – Tucson
Arizona-Sonora Desert Museum – Tucson
Saguaro National Park – Tucson
Cave Creek Regional Park and Frontier Town – Cave Creek
Granite Mountain Loop Trail in the McDowell Sonoran Preserve – Scottsdale
Desert Botanical Garden – Phoenix
Carefree Desert Gardens – Carefree
Arizonian RV Resort – Gold Canyon
Read: Secret Tucson: A Guide to the Weird, Wonderful, and Obscure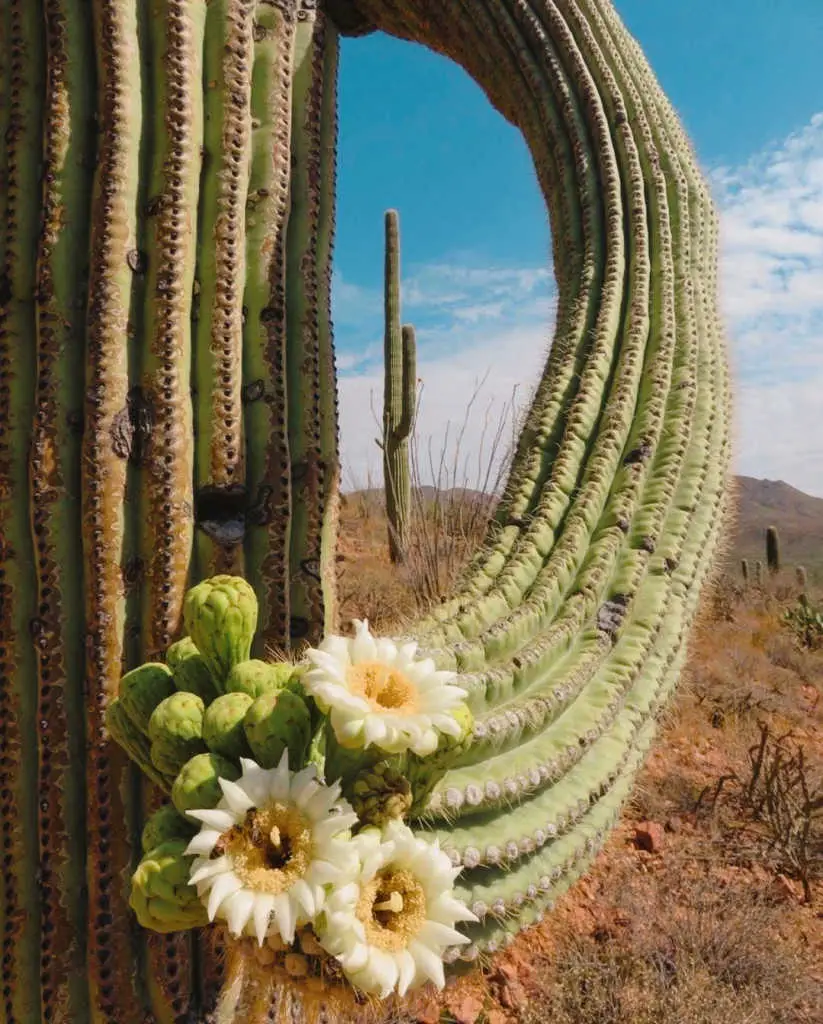 Crested Saguaro Society
There's a group of naturalists called the Crested Saguaro Society who are solely dedicated to finding and documenting crested saguaros. Since its start, the group has registered over 3,200 crested cacti. They believe crested saguaros are not as rare as many biologists and governmental agencies claim them to be.
9. Organ Pipe Cactus
Created in 1937, the Organ Pipe Cactus National Monument is the only place in the United States to see the organ pipe cactus growing in the wild. These unique cacti are the second largest columnar cacti and can grow to be up to around 23 feet tall.
The organ pipe cactus will typically live about 150 years and produce its first flowers around the age of 35. Also, they normally bloom in May and June, opening their white, creamy flowers only at night.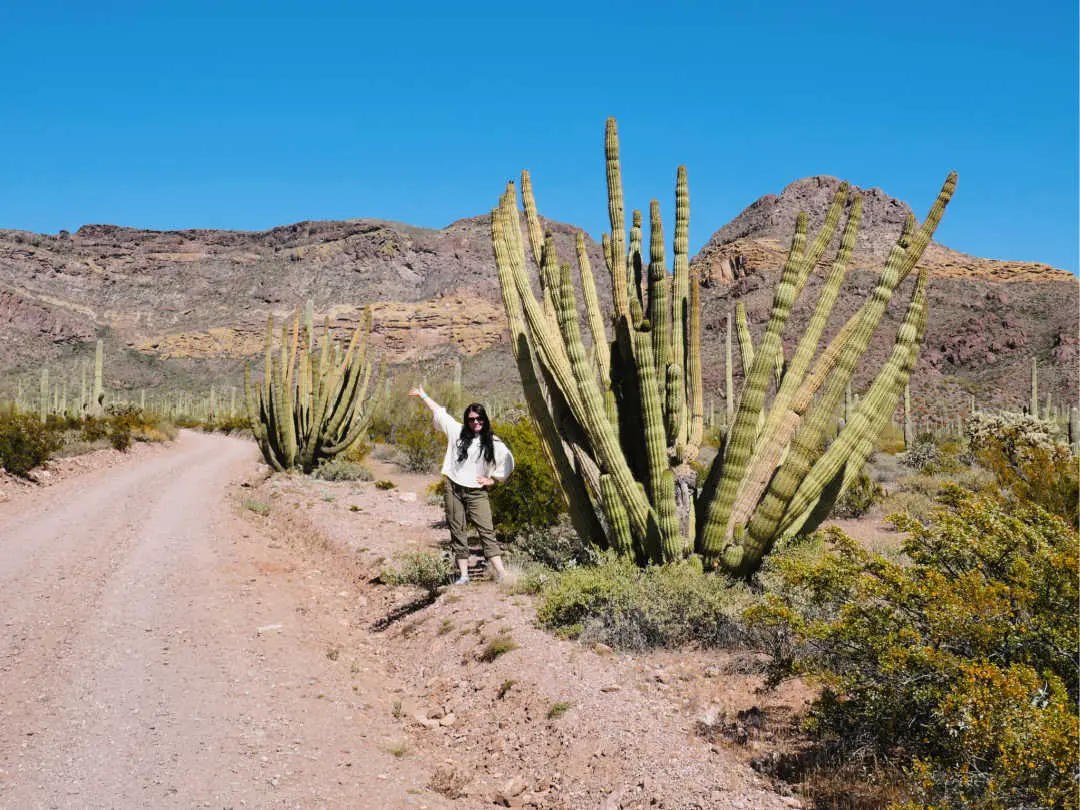 10. Towering Cacti
Researching the world's largest cactus is a complicated task. This is because many of the tallest cacti ever recorded in history have already collapsed. Generally, in the United States, the tallest cactus is the saguaro cactus, which can grow up to about 40 feet tall.
However, the largest species of cactus in the world is the Mexican Giant Cardon. Located only in northwestern Mexico, the maximum height ever recorded was 63 feet. The mighty saguaro looks tiny beside its Mexican cousins to the south. Those interested in experiencing the Giant Cardon may want to travel to The Valley of the Giants in Baja California.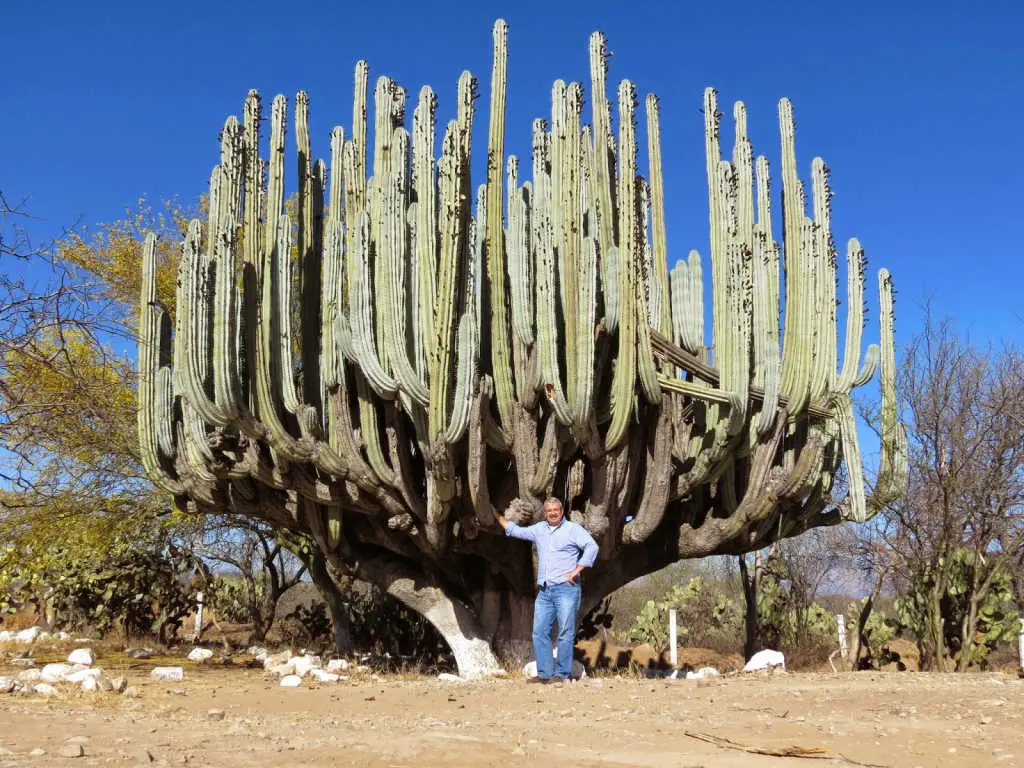 According to the Guinness Book of World Records, the largest cactus is a 63-foot Mexican Giant Cardon discovered by Marc Salak and Jeff Brown in April 1995.
Head to Cave Creek Regional Park
There are reports that the largest cacti ever recorded was an armless saguaro cactus that was located in Cave Creek, Arizona. Before it toppled in a windstorm back in 1986, it measured a towering 78 feet. This claim is supported on the Organ Pipe Cactus National Monument website and by the Guinness Book of World Records.
Cave Creek was also home to a cactus known as "The Grand One." In its prime, the 200-year-old cactus stood tall at 46 feet. Sadly, this cactus died in 2007 due to fire damage that occurred two years prior.

These days, if you're looking to witness some of the tallest unique cacti in the world, Cave Creek Regional Park is still a great place to go. As a state park, an entrance fee is required, however, admission grants access to a visitor center, clean bathroom facilities, and organized trails for every skill level.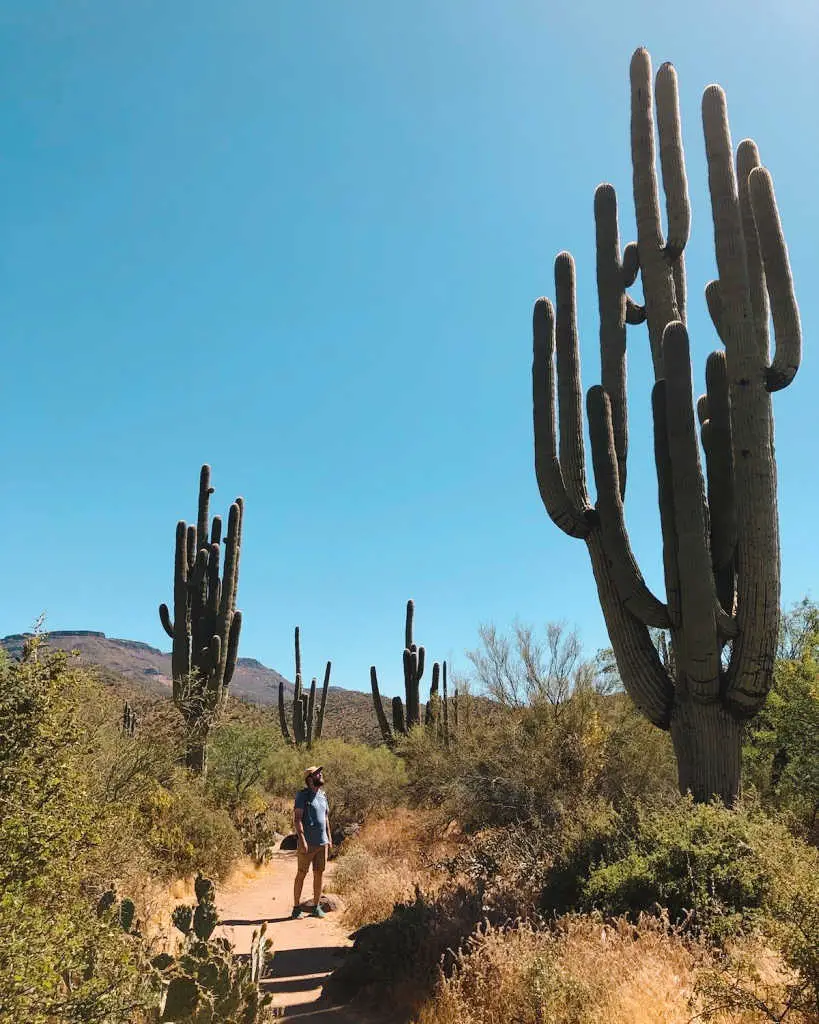 Check out Spur Cross Ranch Conservation Area which offers a comparable experience with access to a variety of hiking trails and the region's densest stands of saguaro cactus—meaning there's a significant number of saguaro crammed into one open space. Visitors can also enjoy local Native American history, 90 archeological sites, and desert wildlife. Also, the admission cost is USD 3 per person.
11. Saguarohenge
Located in Pima Prickly Pear Park, a ring of eight tall saguaros celebrates Tucson's very own natural Stonehenge. An easy flat trail leads visitors to the site, which predates the park.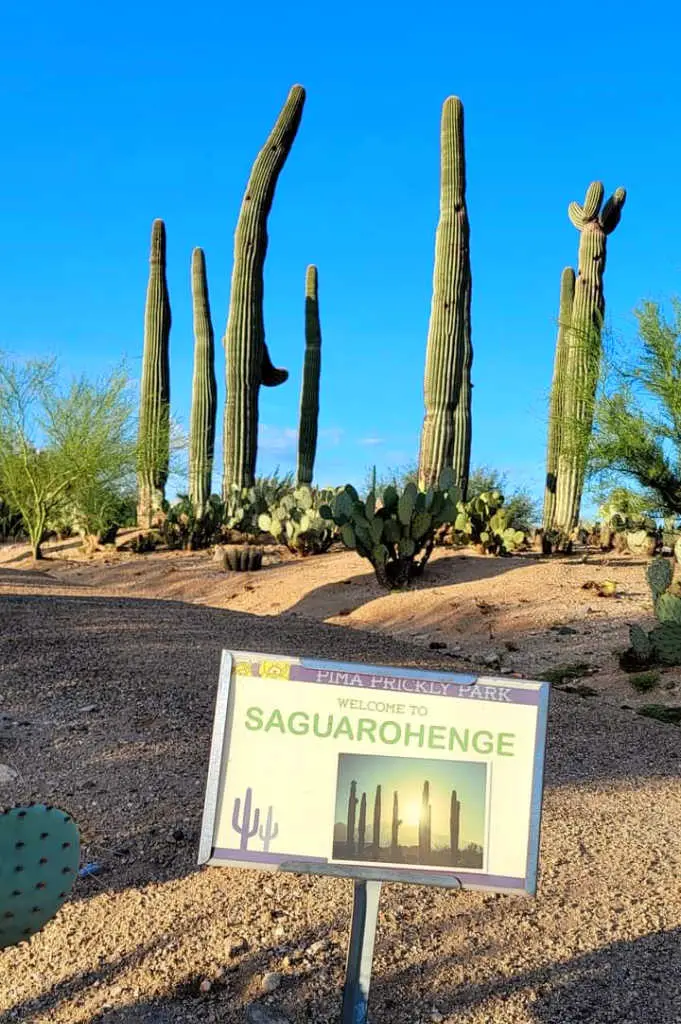 Saguarohenge was designed by a landscape architect as a tribute to his mother. The park describes the site as a sacred place for reflection and a way to ponder the relationship between people and the Sonoran Desert.
Rock Climber Saguaro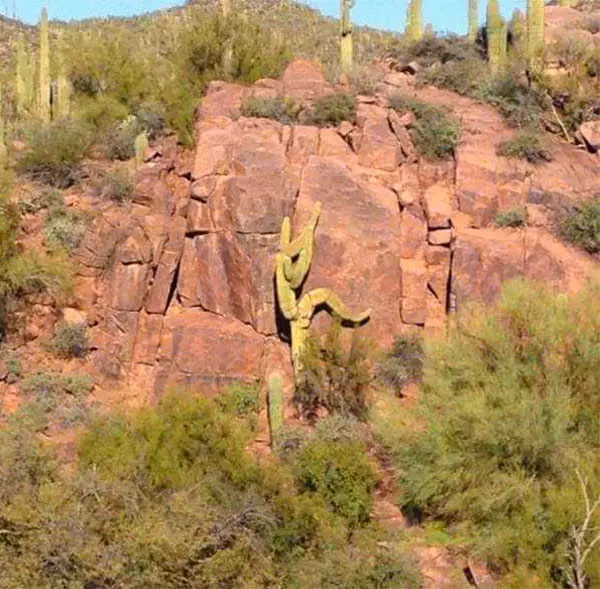 Saguaro Cactus Removal Tucson
It may be surprising to learn that it's against the law to harm or dig up a saguaro cactus in Arizona. For instance, municipalities require permits if you wish to remove a saguaro cactus from a private residence or construction site.
Saguaro cacti only grow one foot per decade, making the tallest ones extremely rare and valuable. As a result, it typically takes anywhere from 60 to 100 years to grow their first arm.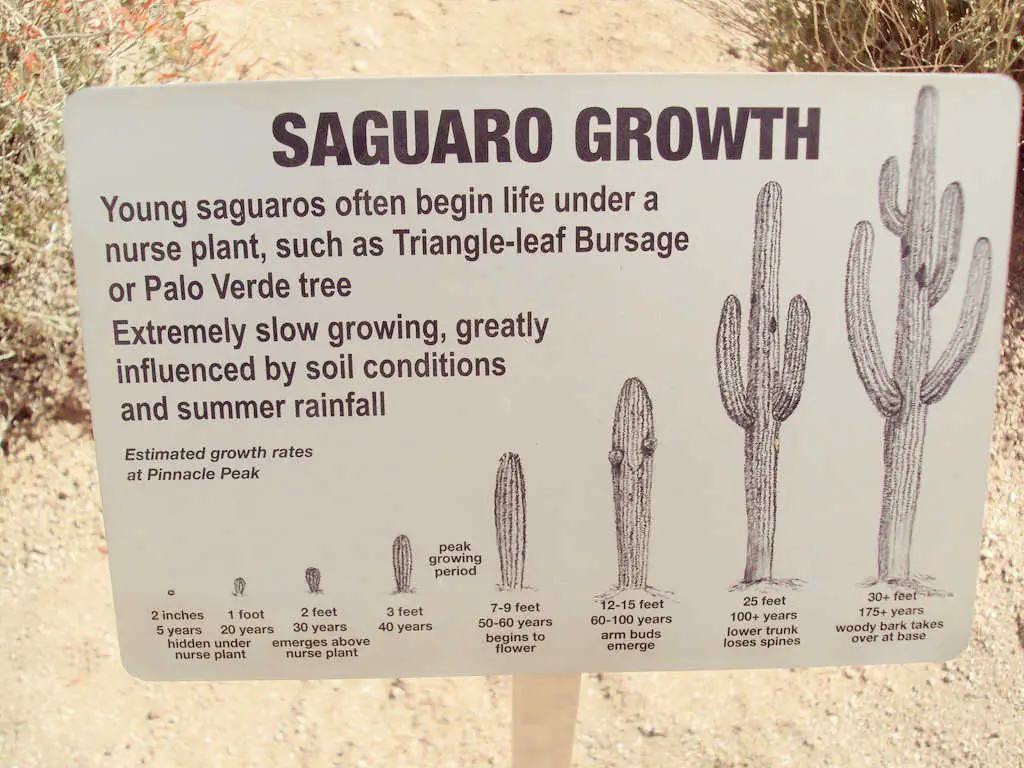 It's also important to know that there is currently a black market for saguaros. Furthermore, wealthy homeowners pay thousands of dollars to add them as lawn adornments. Therefore, some poachers sneak into the desert and dig up the best cactus they can find in the hope of making a hefty profit. Also, landscapers pay up to $100 per foot for these illegally poached cacti on the black market.
While this guide offers a glimpse of some of Arizona's most unique cacti, new natural wonders are constantly being discovered around the state. Finally, the best way to experience nature's unique creations is to get out and explore the beauty and magic of Arizona.