During the wintertime, dog sledding in Jackson Hole, Wyoming is one of the most popular activities. Tourists enjoy spotting wildlife in the nearby parks and taking in the spectacular landscapes. However, for many people, the highlight of their trip to this area of the country is going on a dog sledding adventure.
Typically, dog sledding tours in Jackson Hole consist of half and full-day tours into the Bridger Teton National Forest pulled by Alaskan sled dogs. Conveniently, the number one tour below even includes pickup from your accommodation. Furthermore, these tours offer an experience most people consider a 'bucket-list' item. After all, it doesn't get much better than mushing through white powdery snow while gliding past tall conifers, all in one of the most scenic areas of the world.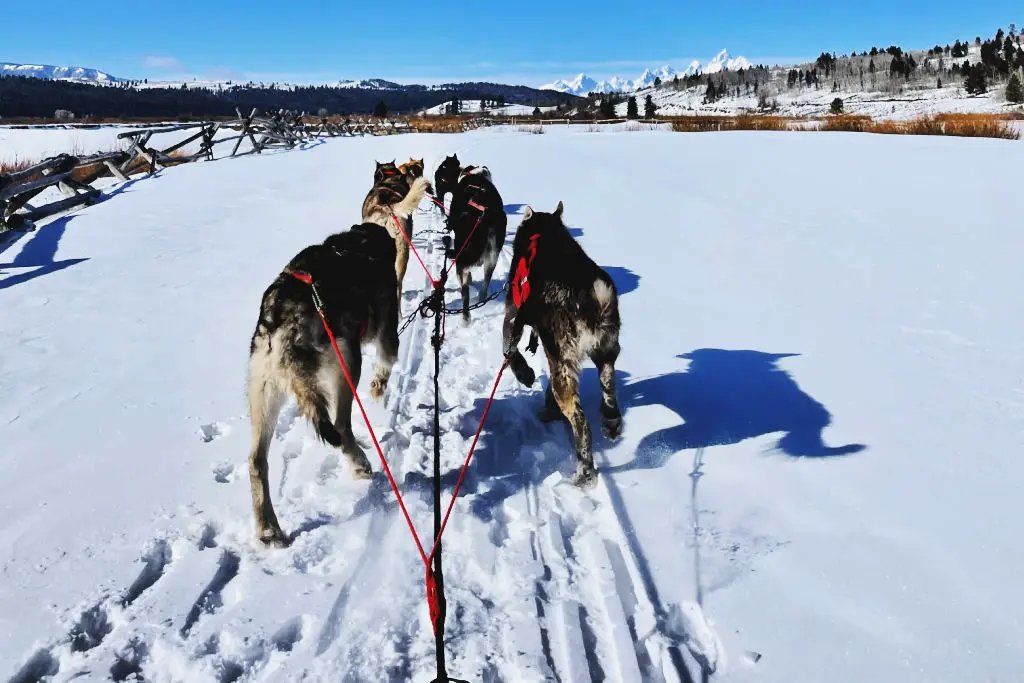 While serious mushers race in Alaska's Iditarod, an annual 1,100-mile dog sled race⁠—out in Jackson Hole, it's all about having fun. Seasoned mushers take passengers on exciting and entertaining tours, and encourage guests to meet and greet (aka cuddle) with the dogs.
Where to Stay
There are several nice places to stay in and around Jackson, Wyoming. Much of the decision on where to stay will depend on your budget. For example, we stayed at the Elk Refuge Inn, a budget accommodation that sits across the street from the National Elk Refuge. Depending on the time of year, guests may view wonderful wildlife right from the balcony.

For tourists looking to stay in the heart of Jackson, near the best shopping and restaurants, two great options are The Lexington at Jackson Hole and Parkway Inn of Jackson Hole. While both accommodations feature Western decor and hospitality, The Lexington also provides a complimentary breakfast buffet and airport transfers.
High rollers will enjoy the Amangani, one of only five Aman properties in the U.S., located just outside Jackson. While those visitors looking to stay in town should stay at Hotel Jackson, a luxury boutique accommodation.
Cost of Dog Sledding
There are only a few places in the world where dog sledding is economically priced. Generally speaking, dog sledding is a costly sport and activity because of how expensive it is to care for sled dogs.
Furthermore, because of the high number of tourists just about everything is more expensive around Jackson Hole and Yellowstone National Park. As a result, you should expect to pay around $200 to $700 per sled (each sled holds one to two passengers) for the tours below.
If the high cost of dog sledding feels discouraging, two good alternatives include taking a sleigh ride at the National Elk Refuge for about $30 per person or going on a snowmobile tour. Also, a nice alternative is to take a guided Day Trip of Grand Teton and the National Elk Refuge Winter Tour, which includes a sleigh ride.
However, if money's no object, one of the most exciting things to do is the Yellowstone Snowmobile Tour to Old Faithful tour. Hotel pickup, breakfast, lunch, gear, and 45 miles of groomed trails to and through Yellowstone National Park are included.
Dog Sledding in Jackson Hole
If you're visiting Yellowstone or the Grand Teton national parks during the winter months then going on a dog sledding tour is a must-do excursion. Below are our picks for the four best dog sledding tours in Jackson Hole.
1. Heart Six Guest Ranch Jackson Hole Dog Sledding Adventure
One of the more popular and budget-friendly dog sled tours in the area is the Heart Six Ranch Dog Sledding Adventure. It combines dog sledding with a fun sleigh ride that straddles the Buffalo Fork River.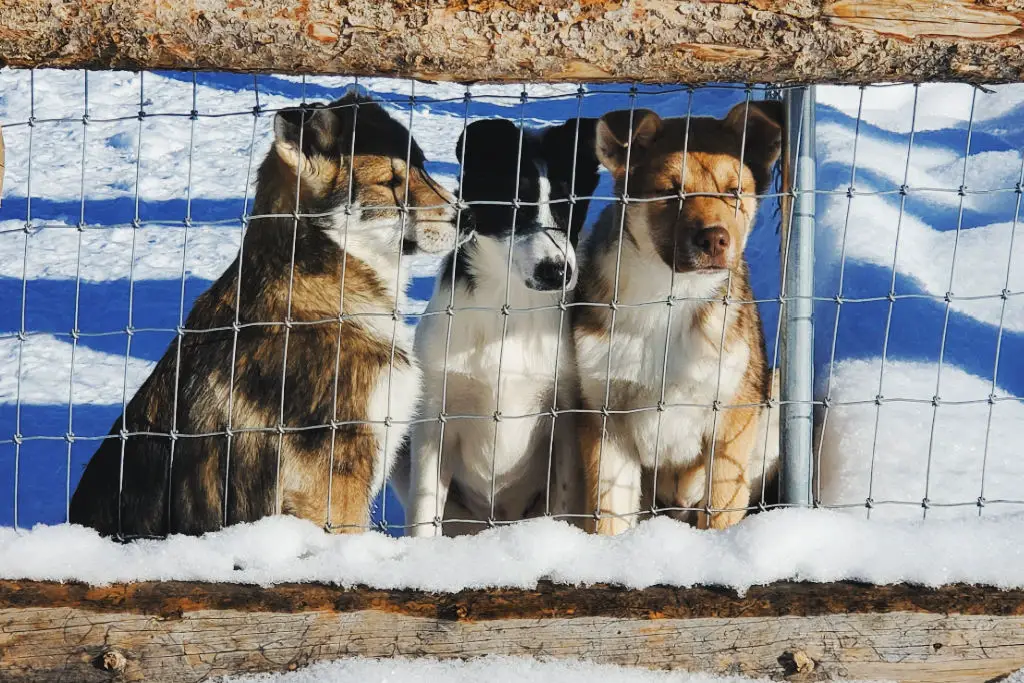 Riders are treated to stunning views of Grand Teton's snow-capped mountains, all from the coziness of a warm sled bag. You're sure to feel like an old-time fur trapper as professional mushers guide highly-trained sled dogs along snow-covered tracks.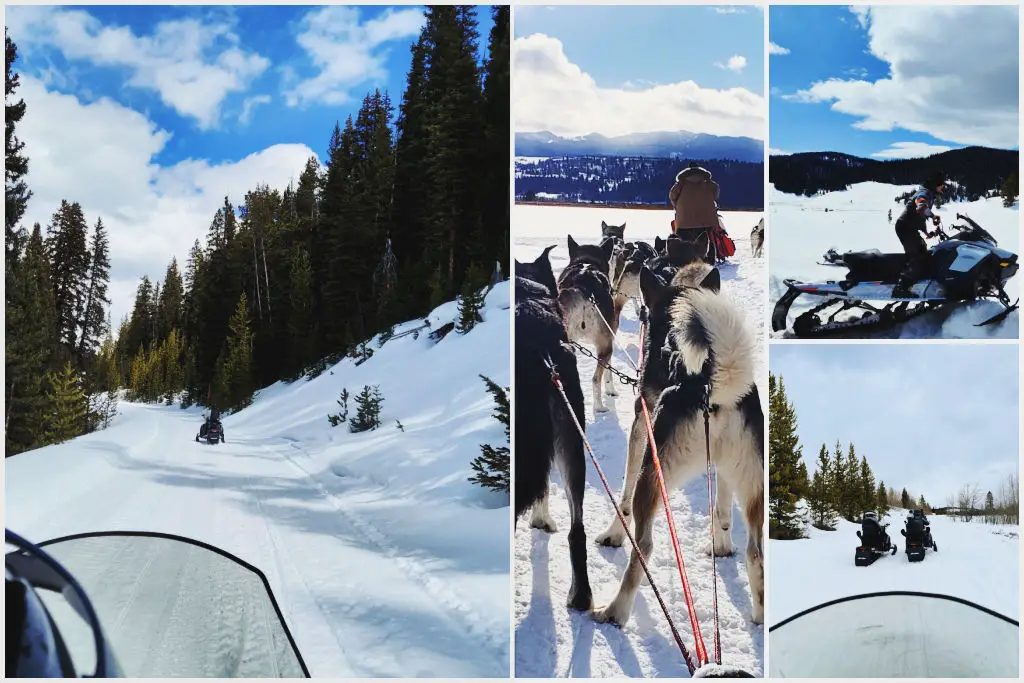 However, for us, the best part is that there is no motorized traffic such as snowmobiles allowed on Heart Six's private land. For this reason, the experience takes riders to the days of old, on a real "Out West" adventure.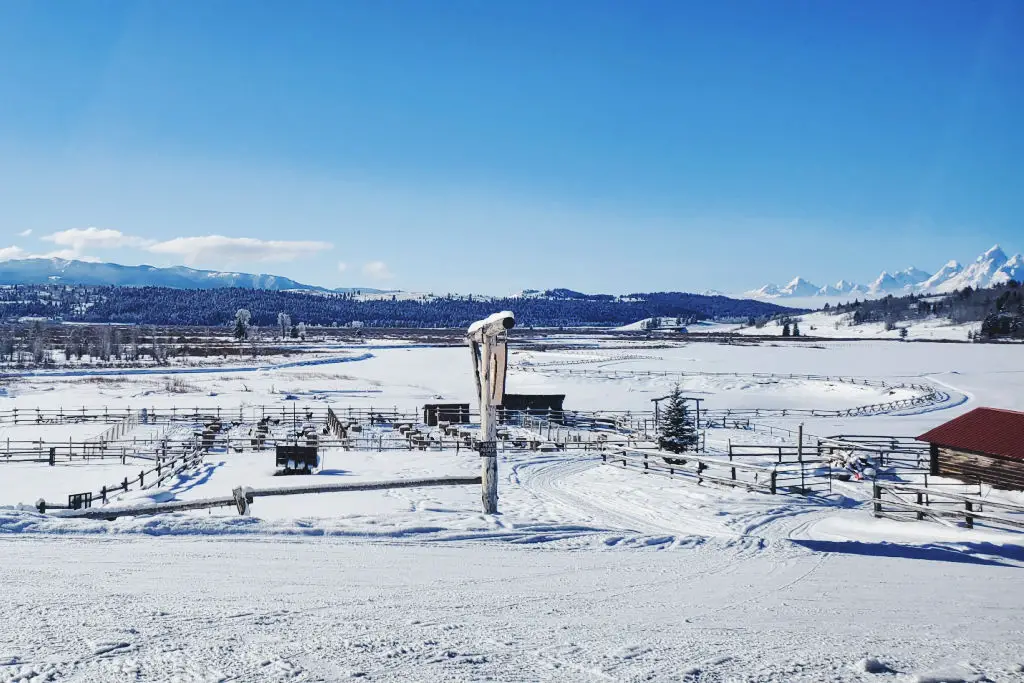 For those adrenaline seekers with extra time, the ranch offers a snowmobile and dog sledding combo tour, at a different time of day from the tour mentioned above. The Full-Day Dog Sledding and Snowmobiling Combo Trip small group tour provide riders with training, guidance, and even winter gear.
2. Jackson Hole Iditarod Sled Dog Tours
As the area's original dog sledding operator, Jackson Hole Iditarod Sled Dog Tours is one of the best. Started by Frank Teasley, an eight-time Iditarod seasoned veteran, who amusingly began the company as a "pension plan" for his accomplished dogs and a "high school" for his youngins.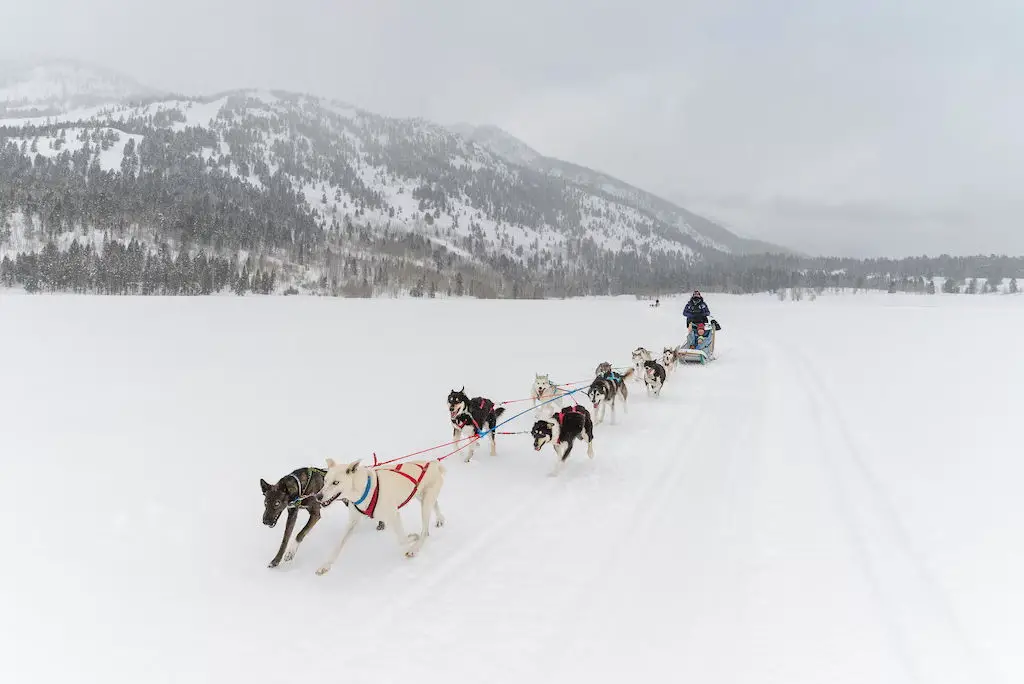 Jackson Hole Iditarod can accommodate both small and large groups and offers both half and full-day tours. Also, both tours visit the Granite Hot Springs which reach temperatures of up to 112 F—during full-day tours, you'll even have the option to go for a dip! Finally, one of the perks of booking with Iditarod is that offer complimentary in-town pickup.
When Is the Best Time of Year To Go Dogsledding in Jackson Hole?
Depending on snow conditions, the dog sledding season may start in late November and end in mid-April. However, the best time of year to go dogsledding in Jackson Hole is in January and February when the snow is typically the best. Also, during late January and early February, the International Pedigree Stage Stop sled dog race takes place which is a fantastic event to witness.
3. Continental Divide Dogsled Adventures
If you're looking for some excitement in life then there may be no better place than Continental Divide Dogsled Adventures—their website has some great videos showing exactly what you should expect from a visit. Founded by Billy Snodgrass, a Wyoming cowboy that competed in his first Iditarod race in 1998, Continental Divide is proclaimed by repeat visitors to be the adventure of a lifetime.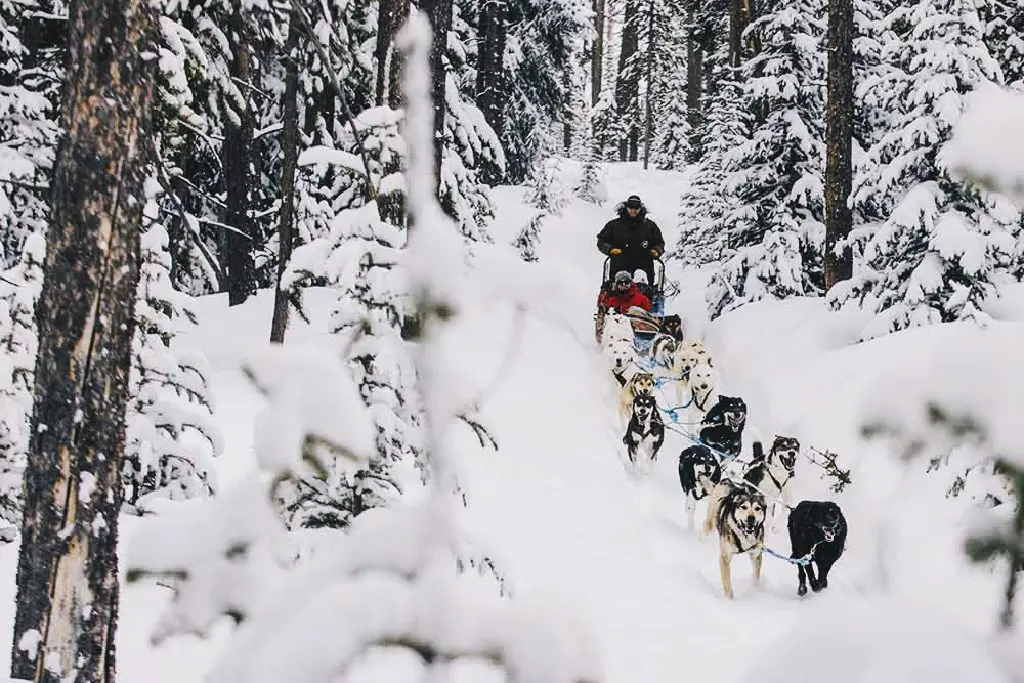 Located at Togwotee Mountain Lodge, Continental Divide offers pickup/dropoff for a fee, however, it does come with a hearty lunch at the resort. Like Iditarod Sled Dog Tours, Continental Divide explores the Bridger-Teton National Forest. Finally, the best part is that if you end up falling in love with one of the Alaskan Huskies, they have an adoption program for older dogs—they're supposed to be remarkably loyal companions.
4. Call of the WYld Dogsled Tours
Touring along the base of the Teton range, Call of the WYld Dogsled Tours offers private tours with a maximum of six people. It can be quite easy to make a reservation with Call of the Wyld as they provide tours nearly every day of the week with three hourly time slots in both the morning and afternoon, however, you shouldn't delay if interested.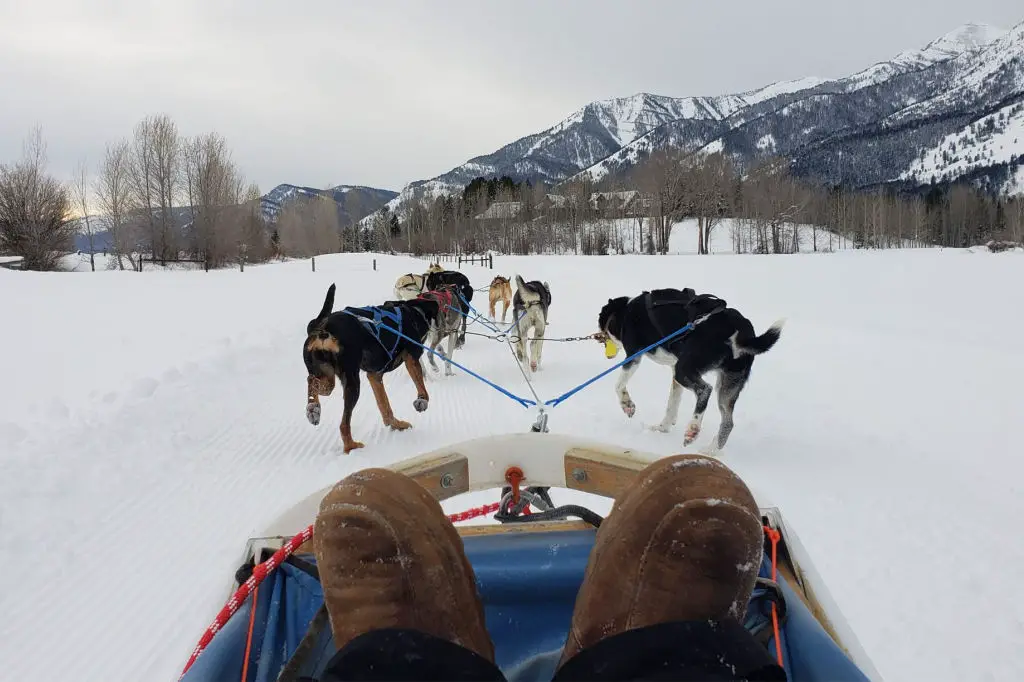 Additionally, on every day of the week, except for Tuesday, they hold a meet and greet with their Alaskan huskies. It's open to the public and reservations are not required.