Summertime gets hot in the Balkans, the best pools and waterparks in Macedonia will keep you cool. There's little doubt, that Macedonia's warm climate is perfect for summertime travel. The period from June through September is typically sunny, dry, and hot. Naturally, during the height of summer, both tourists and locals appreciate a place to cool off from the heat.
Of course, there's no better place to refresh than Lake Ohrid. Nevertheless, we found ourselves traveling throughout the country during the heat of summer wondering where we could cool off. Unfortunately, as a tourist, finding a local pool or waterpark may not be as easy as it sounds. Additionally, tourists may be hesitant to leave the lake to explore other travel-worthy cities knowing that the summer heat can make touring uncomfortable.
Top-6 Tours in Macedonia
The good news is that there are many great places to stay cool during summer in Macedonia—you just need to know where to look. This insider guide shares some of the best pools and waterparks in Macedonia.
Best Pools and Waterparks in Skopje
Summer is the perfect time to enjoy a coffee or a cold drink at one of Skopje's best pool bars. In fact, hidden around the city, these mini-oases make it easy to stay cool while meeting friends, enjoying a poolside lunch, or even working while in a bathing suit. Travelers may even consider staying at one of the city's best hotel pools.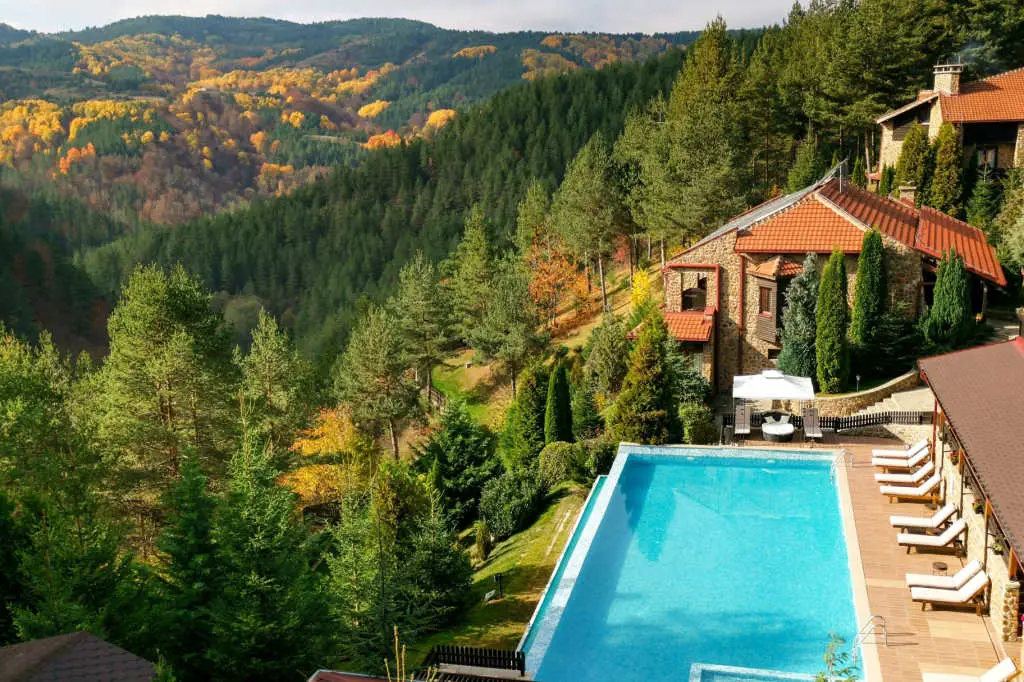 Proclaimed to be a destination of "peace and tranquility," the Aurora Resort & Spa in Berovo seems to be just that, and then some. Overlooking Lake Berovo in the eastern mountains of Macedonia, the main pool overlooks a stunningly picturesque canyon. Often referred to as Little Switzerland, the air here is as pure as the surrounding forest. As a five-star eco-hotel, Aurora Resort effortlessly incorporates hardwood accents and volcanic rock into modern-day elegance, all for about USD 100 per night—providing excellent value.
🏨 Aurora Resort & Spa > Check Availability
Pool House Pintija
Another place to enjoy some drinks and a refreshing dip in the pool is Pool House Snacks & Drinks in Skopje located at Sasa бб. This daytime pool bar is a summer playground, attracting those looking for some fun in the sun, with access to a pool bar and a place to lounge under large umbrellas.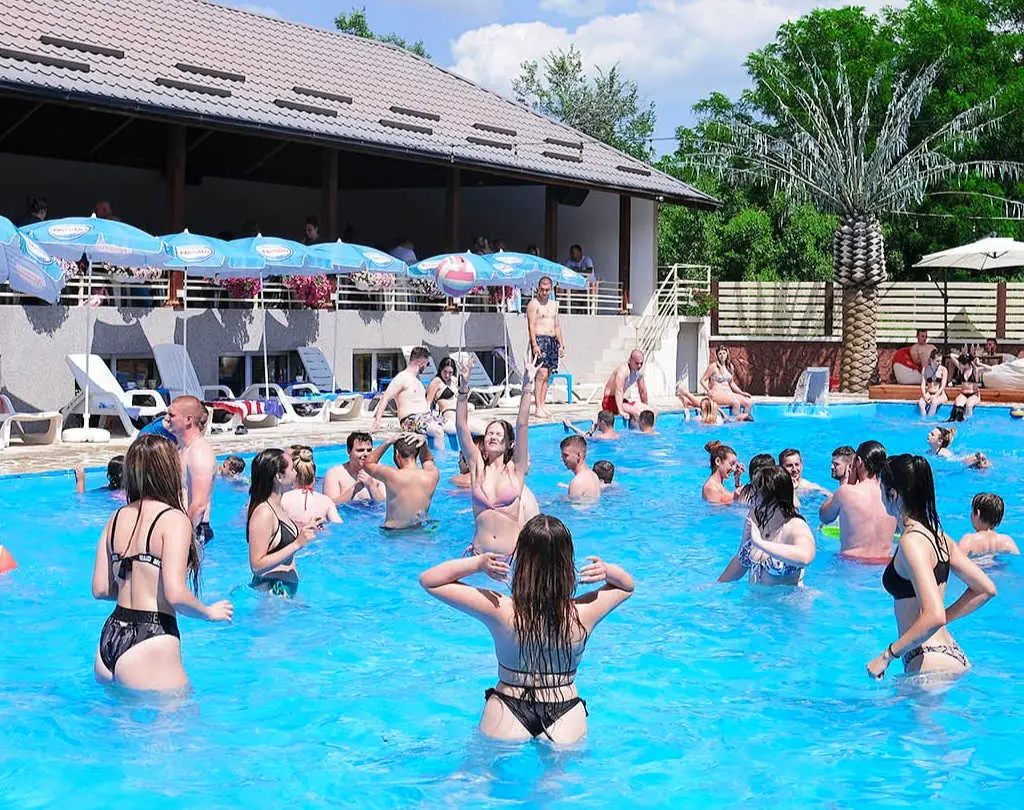 Surprisingly, the bar has been open for 10 years! Children are also welcome. Operating hours are from 10 a.m. to 6 p.m., with evenings reversed for private parties.
Aqua Park Skopje
In the summer, Skopje can get uncomfortably hot, and touring the city isn't enjoyable until later in the day. Open daily from 10 a.m. to 6 p.m., the aqua park is affiliated with the Boris Trajkovski Sports Center. Guests can enjoy a lazy river, a children's water play area, tube rides, and waterslides⁠.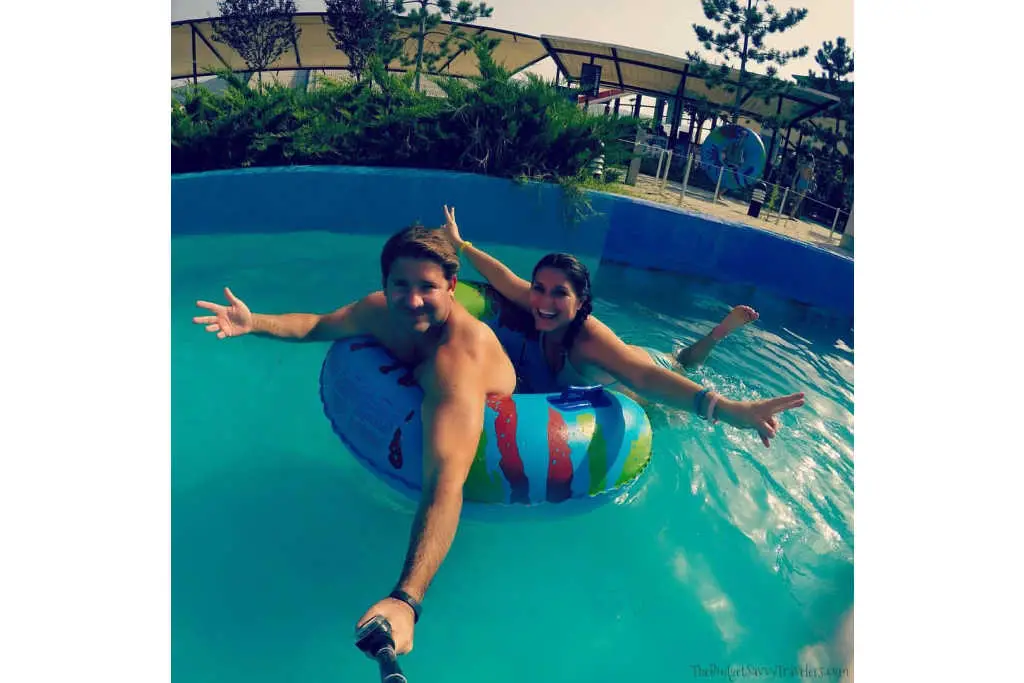 A day pass costs about MKD 350 per person. The use of lockers is included in the price.
Oasis Skopje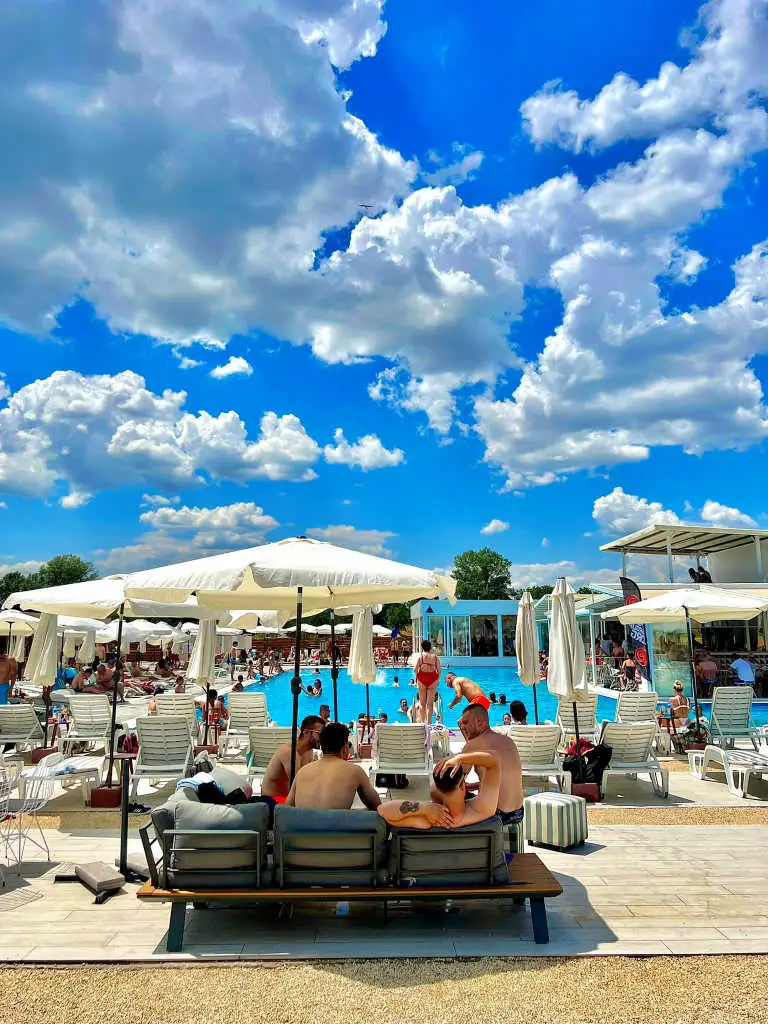 Located in the Drachevo neighborhood, this sexy poolside bar offers a fun atmosphere with cocktails, foam parties, and live music. The menu is simple bar food like burgers and pizza. Lounge chairs come at an additional price. Oasis Skopje is a pool bar open all day in summer, from 10 a.m. to late.
Best Hotel Pool – DoubleTree by Hilton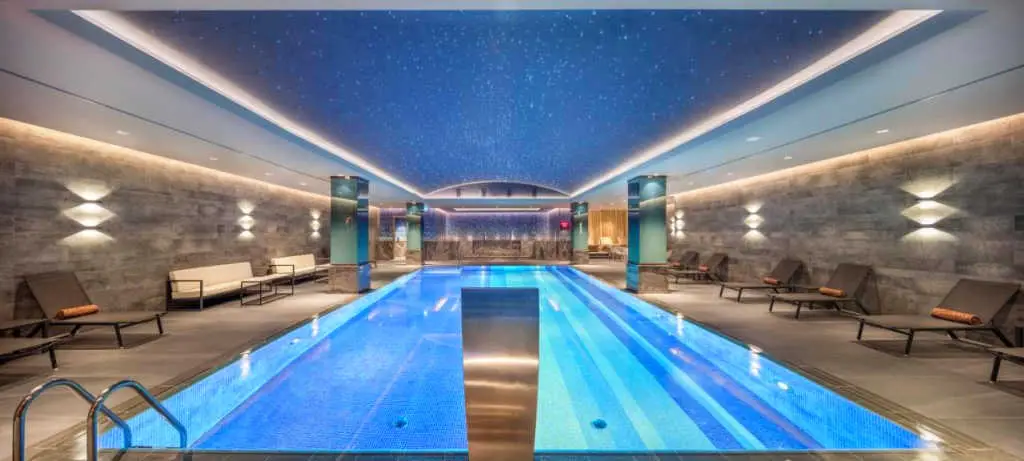 Sitting along the Vardar River, about 3 miles from the city center, DoubleTree by Hilton features a large and impressive indoor pool. Moreover, the hotel attracts many tourists and business travelers with its luxurious rooms, fitness center, spa, and dramatic rooftop bar.
🏨 DoubleTree by Hilton > Check Availability
Best Rental Apartment Pool – Azure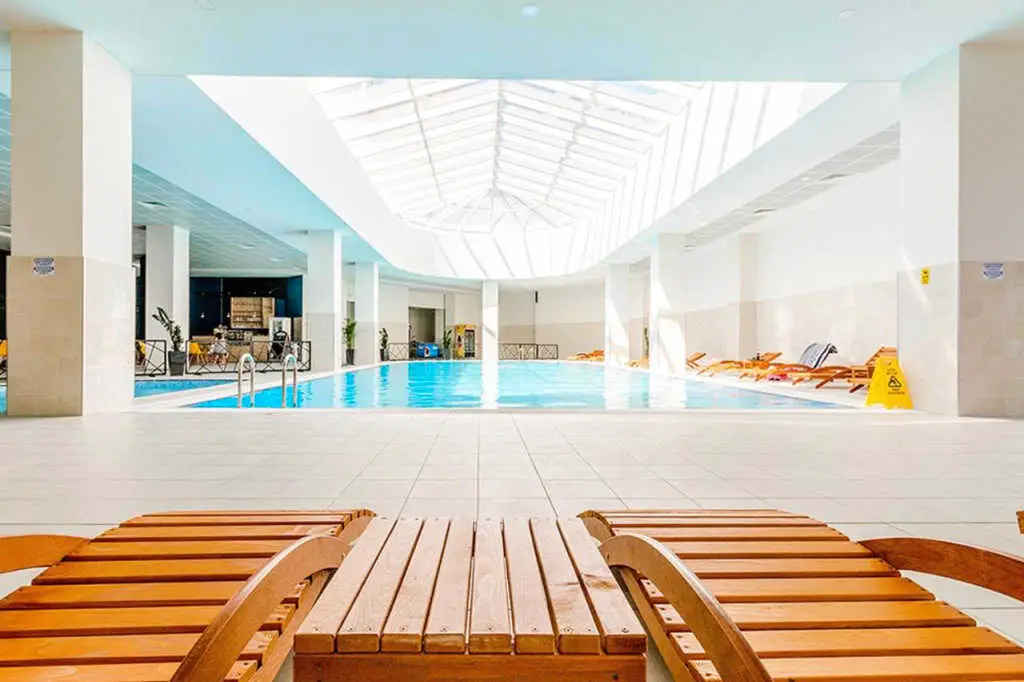 Located in one of Skopje's brand-new luxury skyscrapers, Azure Luxury Sky Apartment has epic views of the city and a legendary indoor pool. This 24th-floor one-bedroom apartment features a fully-equipped kitchen and stunning city views from the patio. Nevertheless, the highlight of a stay here is enjoying probably the nicest pool in the city.
🏨 Azure Luxury Sky Apartment > Check Availability
Best Pool Near Skopje International Airport – Hotel Mirror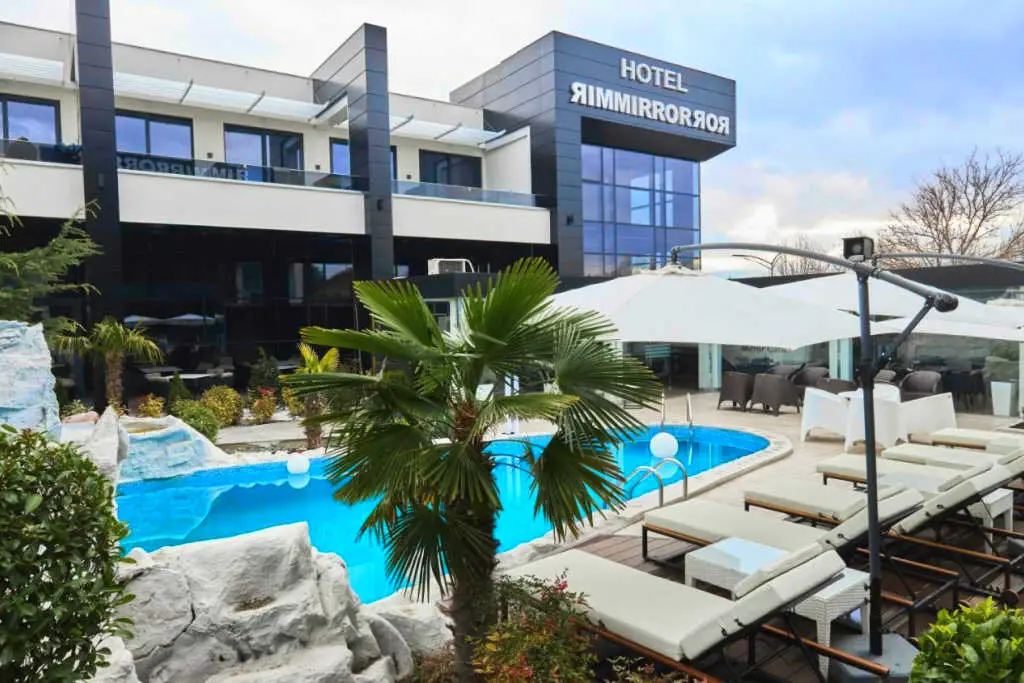 Travelers looking to stay near the airport for an early morning flight will enjoy Hotel Mirror. Located in Petrovec, only about 1 mile from the airport, Hotel Mirror features an amazing pool, along with luxurious rooms, a restaurant, a poolside bar, and room service.
🏨 Hotel Mirror > Check Availability
Best Pools and Waterparks Near Lake Ohrid
Considered Macedonia's summer playground, Lake Ohrid is the number one destination in the country. Between Lake Ohrid, the River Drim, Struga's waterpark hotel, and endless villas with pools—there's something for everyone to find refreshment in the heat of the summer.
The closest waterpark to Lake Ohrid is at Hotel Izgrev—a popular accommodation choice for travelers who want to stay on the shores of Lake Ohrid while also having access to a pretty cool water park.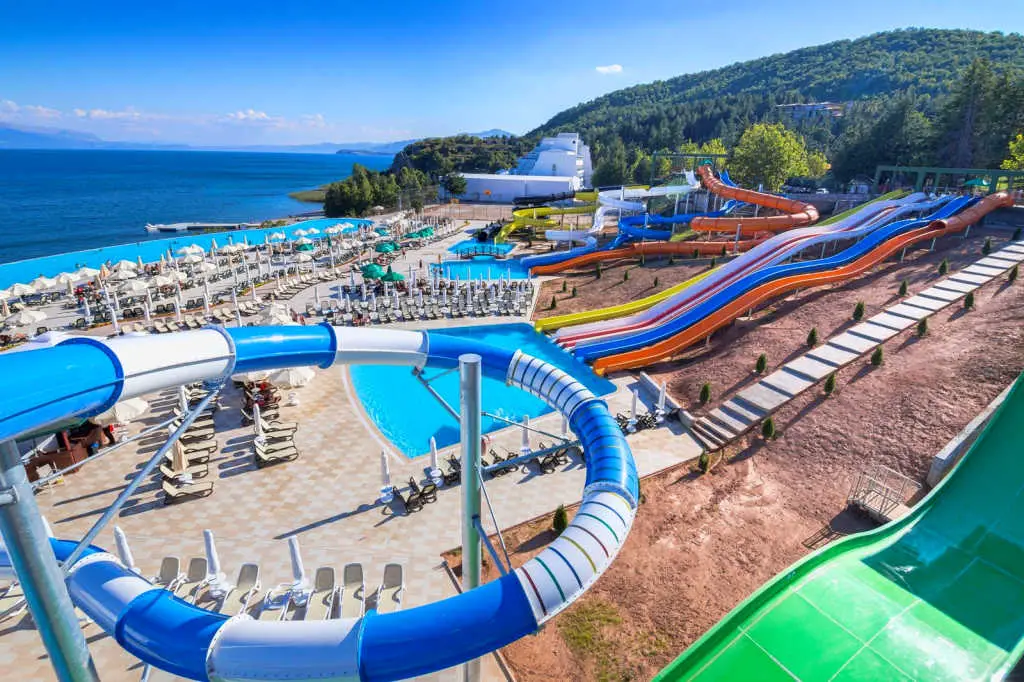 With six pools and numerous waterslides, Hotel Izgrev's waterpark is one of the largest in the country. Furthermore, beach chairs and umbrellas are included in the price. The waterpark is also open to the public, costing MKD 650 per person if you are not a guest of the hotel.
🏨 Hotel Izgrev > Check Availability
The opening hours are from 10 a.m. to 6. p.m. daily. Finally, offering the best of both worlds for guests, the hotel offers a private beach along Lake Ohrid.
Other Amazing Lake Ohrid Hotel Pools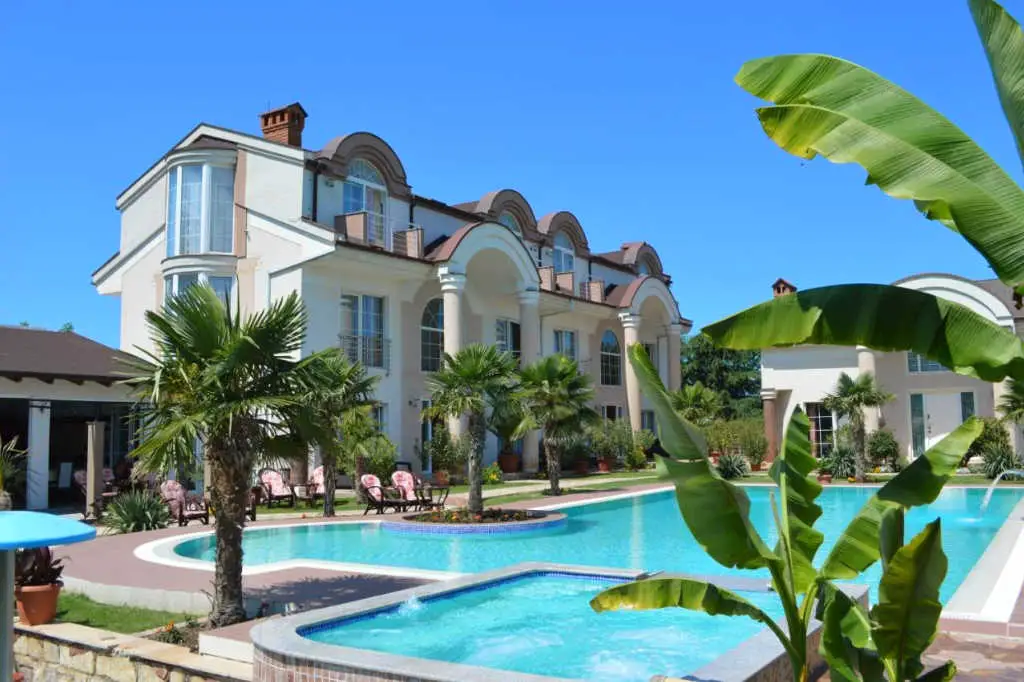 Several hotels around Lake Ohrid offer posh accommodations along with refreshing pools. Three of the best options include:
Villa Trep in Trpejca
Unique Resort and Spa in Ohrid
Aleksandar Villa and Spa (eastern lakefront Lake Ohrid)
Other Amazing Pools and Waterparks
If you're traveling beyond Skopje or Lake Ohrid—don't fret! Some of Macedonia's best public pools and waterparks are located outside the major cities. Additionally, some luxury properties offer some amazing private schools that will gift you the summer to remember.
Tikvesh Lake Villas
Created in 1968, and located in southern Macedonia, about 2 miles from Kavadarci, Lake Tikvesh is the largest artificial lake in the country. Furthermore, there are three islands in the lake and the climate is an interesting blend of Mediterranean, mountain, and continental.
Villa Princess
Located in Povardarie, Macedonia's wine country which is famous for having the best vino in the Balkans, Villa Princess and Villa Tikvesh sit along Lake Tikvesh and provide guests with lakefront accommodations and epic views.
Villa Princess has three bedrooms and an amazing terrace with a pool. With a nightly rate of about USD 135, Villa Princess might be one of the best deals in Europe!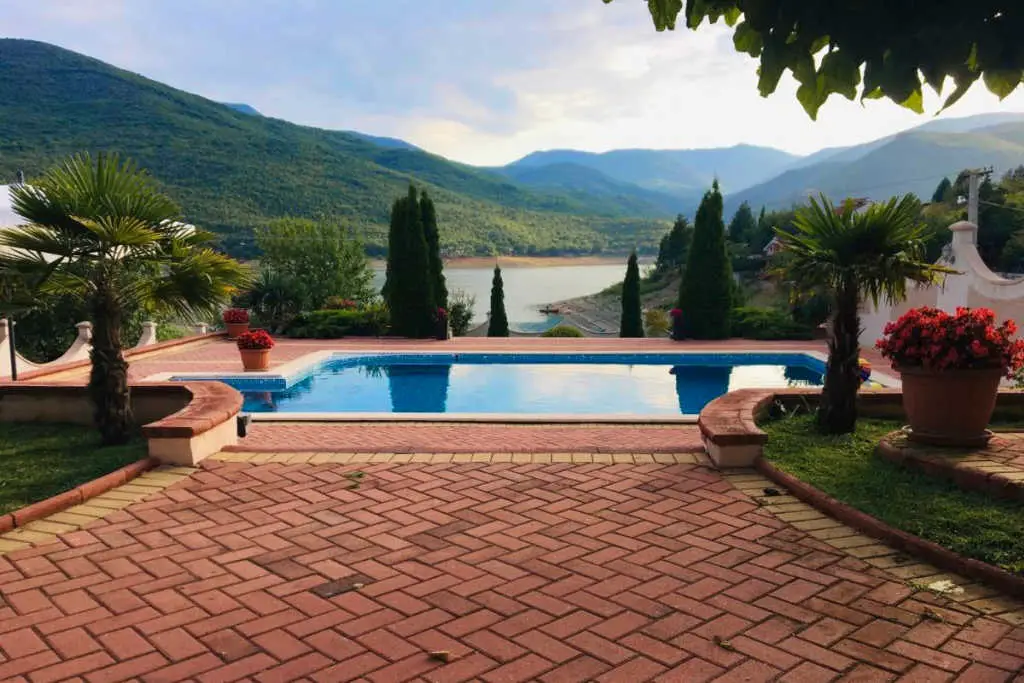 🏨 Villa Princess > Check Availability
Villa Tikvesh Lake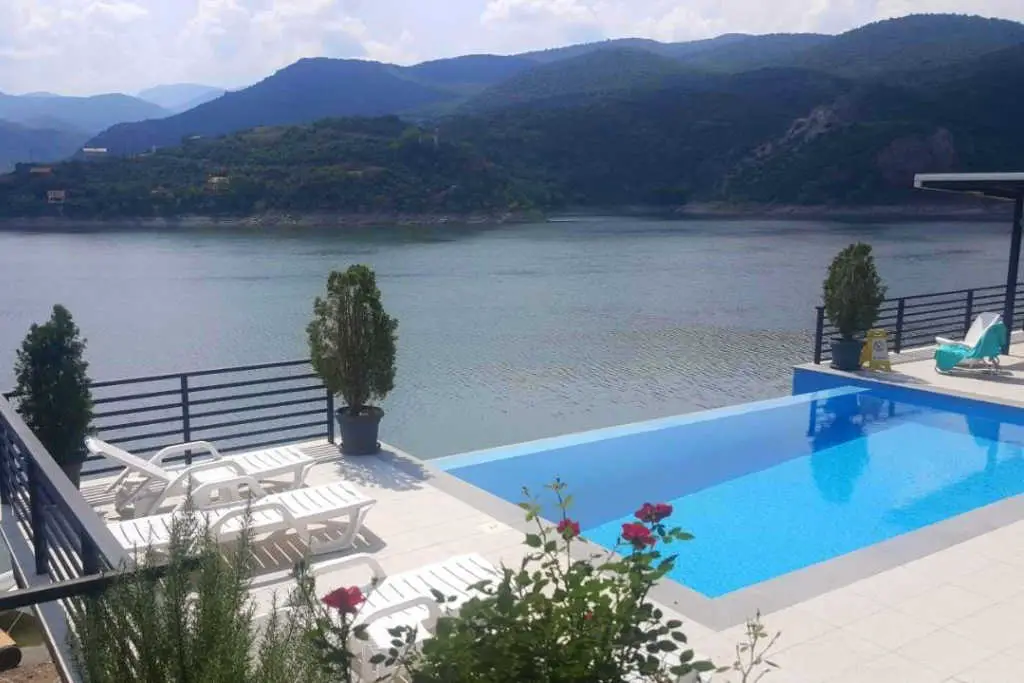 The simple one-bedroom apartment at Villa Tikvesh Lake features the most lovely infinity pool. Also, guests enjoy a well-equipped unit with access to a private beach and patio with lake views.
🏨 Villa Tikvesh Lake > Check Availability
Prilep – Salida Aqua Park
Considered a great park to enjoy on a hot Macedonian summer day, Prilep's Salida Aqua Park has lots of room to swim. The park features cocktails, sun loungers, food, and poolside parties throughout the season. The children's water play area also makes it popular with families.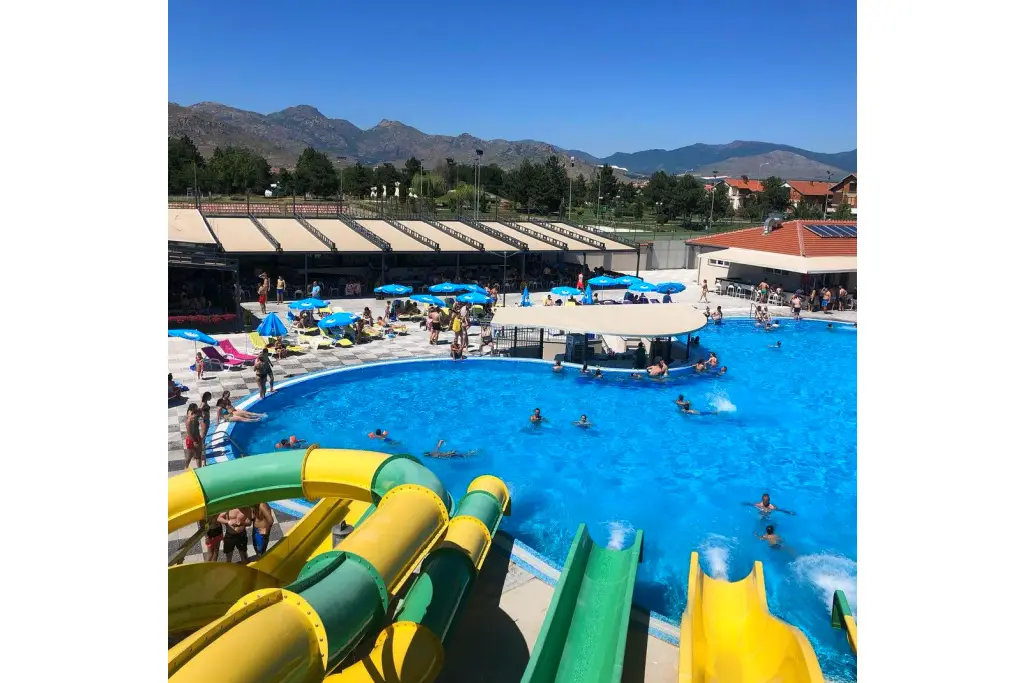 Admission fees are MKD 200 for entry, MKD 100 for a sun lounger, and MKD 100 for waterslides. Locals or long-term vacationers can purchase a season pass for MKD 4000. The aqua park is open from 10 a.m. to 6 p.m. During special evenings, the property also hosts nighttime swim parties and live music concerts, a perfect way to enjoy one of Macedonia's only swim-up bars.
Shtip – AquaBella Resort
During the hot days of summer, the community pool at the AquaBella Resort is a great place to spend the day. The property offers a poolside restaurant and bar, waterslides, and a children's water play area. Welcoming tourists, the pool offers both daily and monthly rates.
Stay: After a day at the pool, a lovely place to unwind is at VNVP Apartment, one of Štip's nicest accommodation options. This chic boutique hotel comes highly rated by guests with an excellent location, free parking, and clean and modern apartments.
Vinica – Vinica City Pool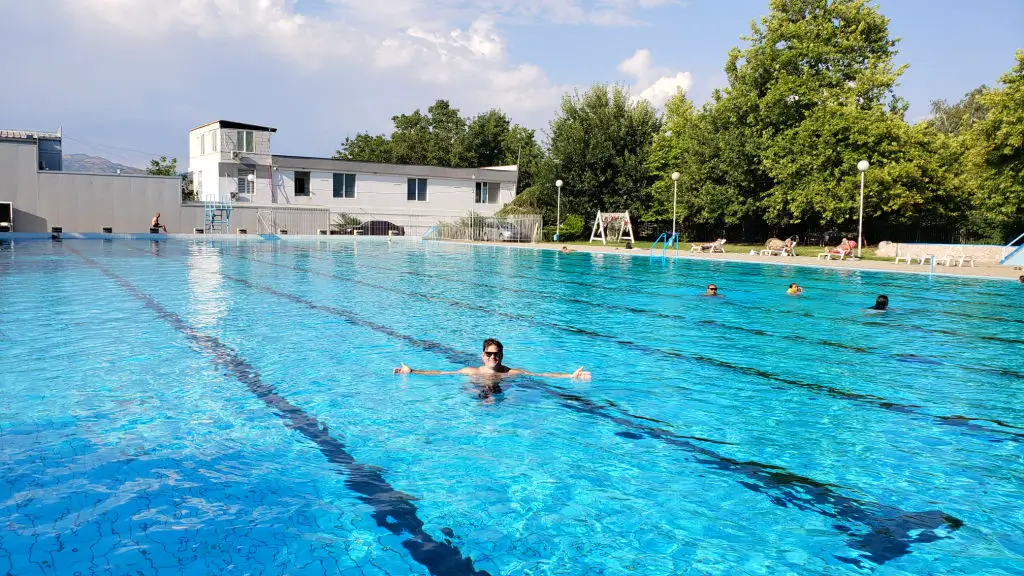 Costing MKD 100 per person, the Vinica City Pool is a huge pool with free parking. The water is deep, so lap swimming and diving boards are popular with guests. There are restrooms, lounges, and a grassy lawn to relax in.
Negotino – Havana Pool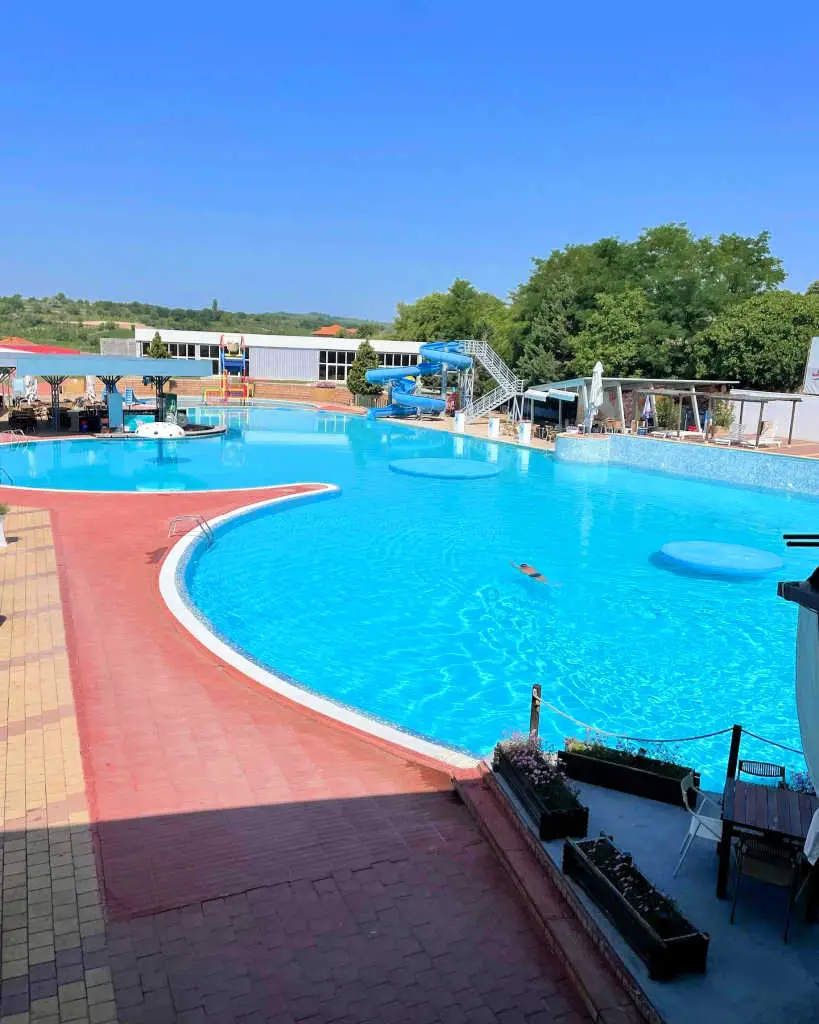 Macedonia is popular for summer parties, hosting DJs to perform at local pools throughout the country. Located near Macedonia wine country, Havana Pool Negotino offers drinks, music, and a place to escape the summer sun.
The public pool has a large pool, slides, and a children's climbing apparatus located in the water. It is open both day and night, typically from 10 a.m. to 1 a.m. There are loungers and cabanas available.
Probištip – AquaPark Macedonia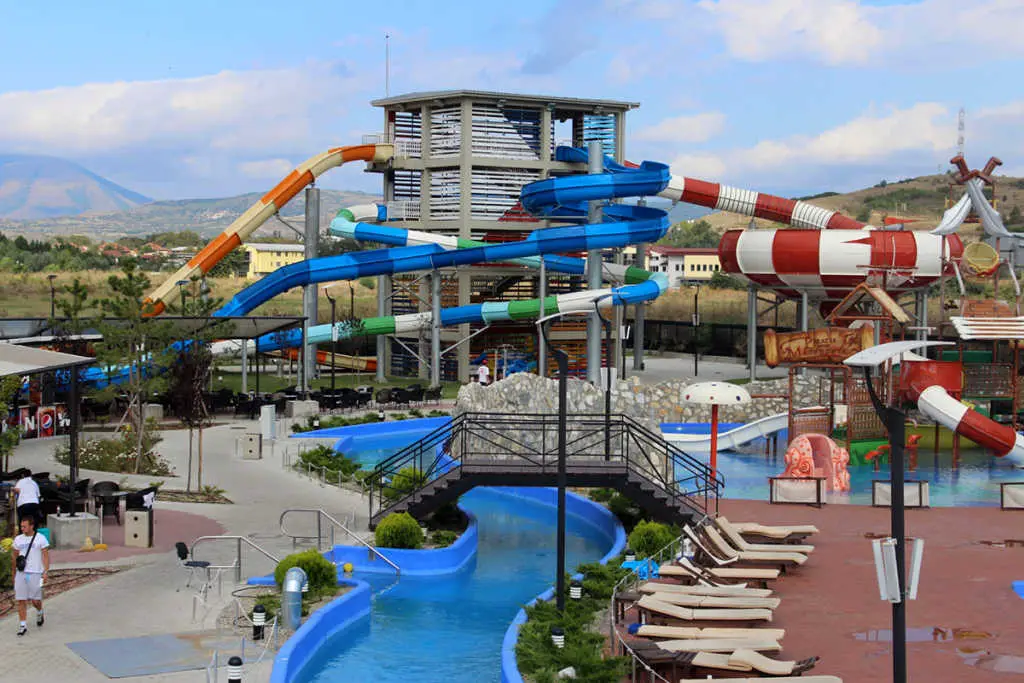 Considered the first waterpark in the country, AquaPark Macedonia – Probištip continues to offer summertime fun under the Osogovski Mountains. Currently, the property is popular for live summer music and concerts, while the waterpark offers a variety of pools, waterslides, and a children's water play area.
It is highly advised to avoid weekends when the park becomes busy with families and limited parking becomes problematic. The admission price includes lawn chairs. Of course, no outside food or drink is permitted.
Olympic Swimming Pool – Bitola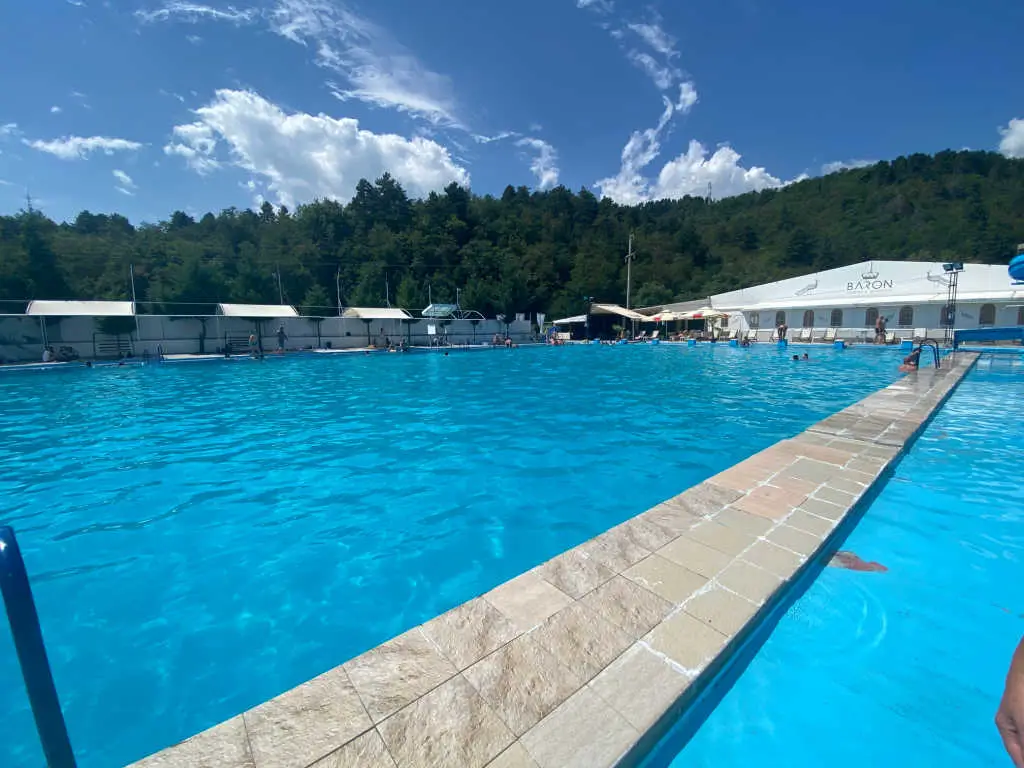 Summer days in Bitola can get hot! Thankfully, the Olympic Swimming Pool allows a cool place to relax when the heat rises. The complex has waterslides and an onsite restaurant, which is a great place to break for coffee, cool drinks, and a quick bite to eat.
Debar – Aqua Spark Kosovrastm
This particular waterpark is unique because it is associated with the thermal waters and wellness center constructed in the Kosovrast complex. Using thermal waters within a waterpark environment was quite the feat due to the water's mineral content, but Aqua Spark managed to open up a 6,000 square meter (about 1.5 acres) fun and wellness facility.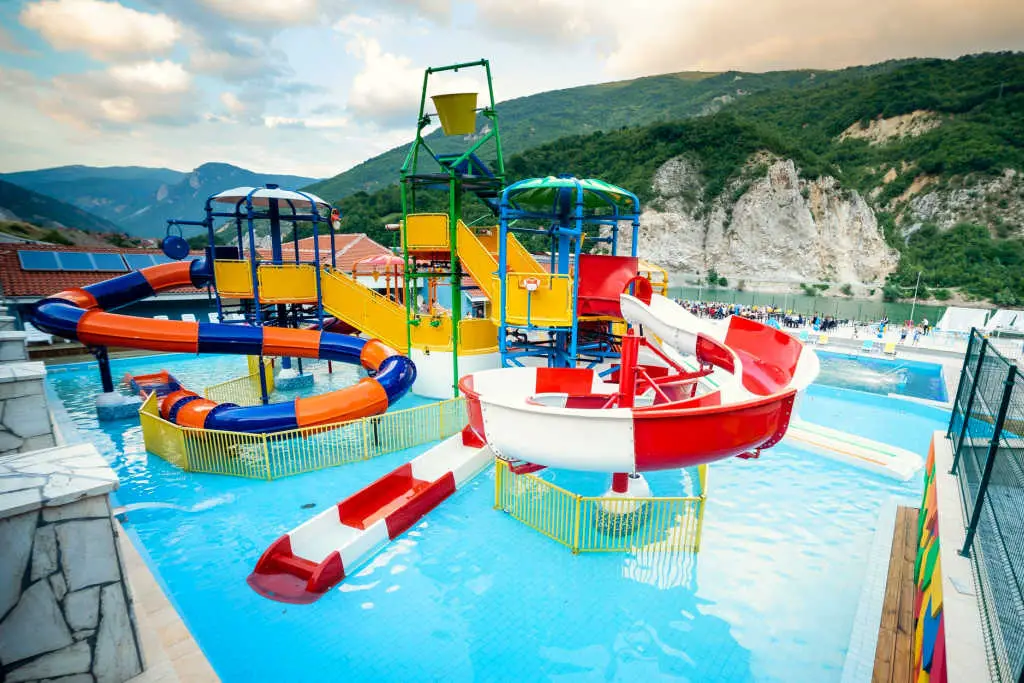 The waterpark features 62 different entertainment points, including a lazy river, outdoor pool, waterfall, and various waterslides. The name Aqua Spark cleverly comes from the combination of the words SPA and PARK.
Kumanovo – City Pool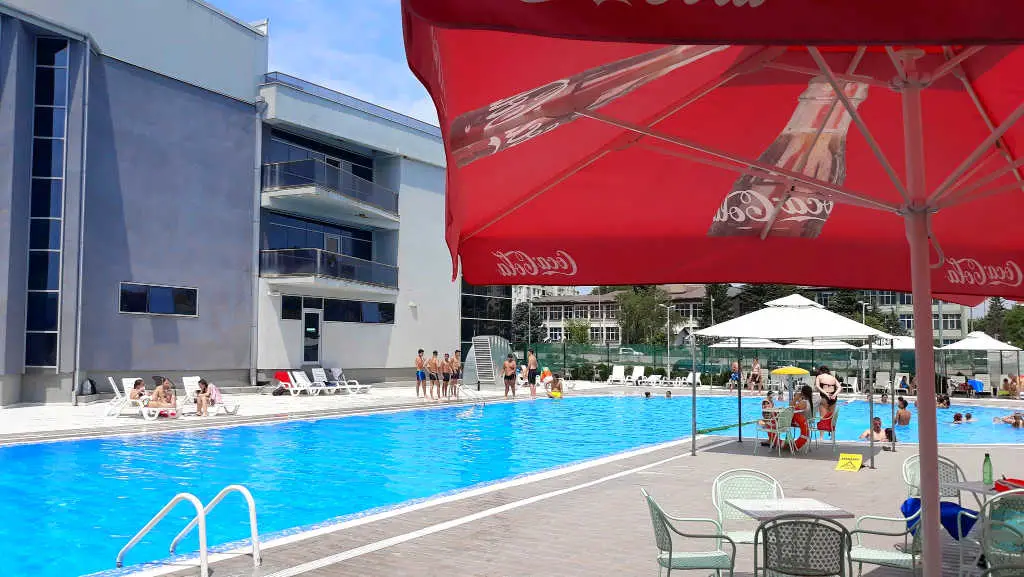 The municipality of Kumanovo offers both an indoor and outdoor swimming complex. The pools are very well-maintained as competitive swimming clubs and tournaments are hosted in the indoor swimming facility. In the summer season, the outdoor swimming pool is typically open from 10 a.m. to 6 p.m. daily.
Opaje – Aqua Grand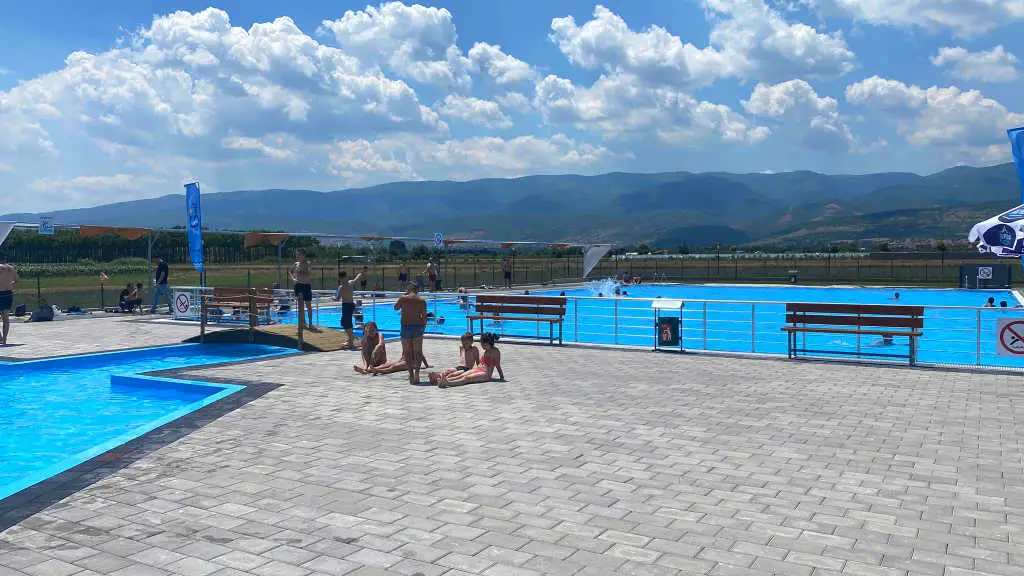 Considered one of the better public pools in Macedonia, Aqua Grand is popular and is located in the Opaje neighborhood outside Kumanovo. The outdoor pool is extremely large with lovely surrounding mountain views. There is a small pool for young children. The cost for admission price for 14 years and older is MKD 200, under 14 years of age is MKD 100, and children under 5 are free.
It's easy to see how the best pools and water parks in Macedonia will help to stay cool during hot summer days. From public pools to waterparks, to hotels and villas, there are a ton of pools in Macedonia to choose to relax at, now you just have to choose one.
Budget Tip: Check out WayAway—a new flight aggregator platform that provides travelers with the best rates on airline tickets. Users can also purchase the WayAway Plus membership plan, which gives cashback on flights, accommodation, car rentals, tours, and more.
We Need Your Help
Did you find this article helpful? If so, bookmark it and when you're planning your next vacation click on any of the links below before finalizing reservations. You'll get the best price, we'll earn a small commission, and you'll help support future articles.
Thank you!
BEST TRAVEL SEARCH ENGINES
🏘️ Book Your Accommodation
We use Tripadvisor and Priceline's Express Deals to compare prices and reviews in advance and check availability
✈️ Book Your Flight in Advance
To find the cheapest flight options, you can use WayAway and Skyscanner to find the most suitable choice for you
🚗 Reserve Your Rental Car
Use DiscoverCars and Skyscanner to compare prices and view the largest selection of vehicles