Chances are if you're a wildlife lover, you've heard of the Big Five. The Big Five is a term used to name the must-see animals in a particular wildlife region around the world.
In Africa, the Big Five are considered the buffalo, elephant, lion, rhino, and leopard. Since Yellowstone National Park has been deemed the Serengeti of North America, many may wonder what animals are the park's Big Five Animals. This post will identify Yellowstone's Big Five and share insider tips on where the best chances of spotting these animals are in the park.
North America's Take on the Serengeti
Due to the fairly open landscape and abundance of wildlife, Yellowstone National Park is nicknamed the Serengeti of North America. Typically, the highest concentration of animals is in the Lamar and Hayden Valleys.
Within these sections of the park, there are free-roaming wolves, bison, grizzly bears, and over 300 species of birds. Yellowstone's wide-open valleys make for excellent wildlife viewing. This is because the animals come here to feed on grasses, roots, and animal carcasses.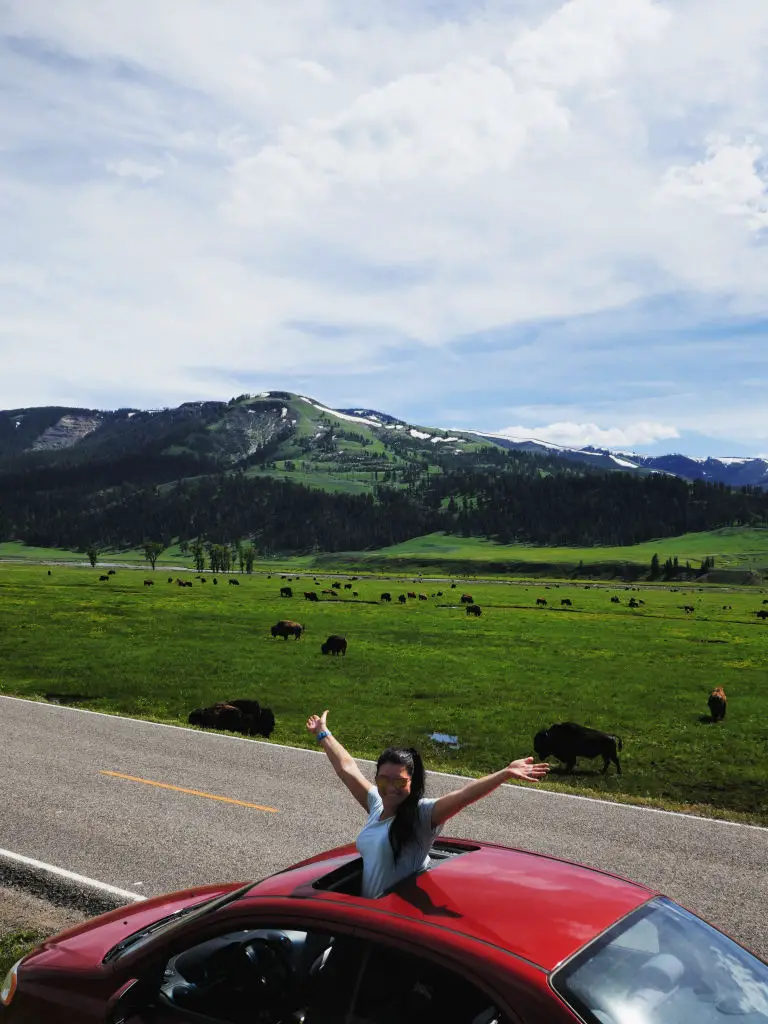 Accommodation
West Yellowstone is an ideal place to stay for the evening. It's actually very cute! There are plenty of options for lodging, food, and shopping.
We recommend eating at Firehole BBQ CO. or Wild West Pizzeria & Saloon. Also, next door to the pizzeria is a supermarket—make sure to pick up some snacks for the next day of touring the park. Below are recommendations for accommodations in the town of West Yellowstone.
Budget-Savvy: Super 8 by Wyndham West Yellowstone
Mid-Range: Evergreen Motel
Luxury: Kelly Inn West Yellowstone
Tours: Tourists looking to kick back and have the professionals take care of the rest may appreciate the Yellowstone One-Day Tour that departs from Jackson. Another option is the Grand Teton & Yellowstone 2-Day 1-Night Tour which overnights in Cooke City, near the Northeast Entrance.
No Traveler Left Behind
The beauty of Yellowstone is that wildlife spotting is accessible to all. Everyone—from adventurous backcountry hikers to multi-generational families traveling by family van—can witness amazing things.
This is why many Americans choose Yellowstone National Park for their vacation. People of all ages and physical abilities leave feeling like they've experienced some of the best wildlife watching in the United States. Many main attractions feature above-ground boardwalks, a welcoming sight for families with small children and seniors too.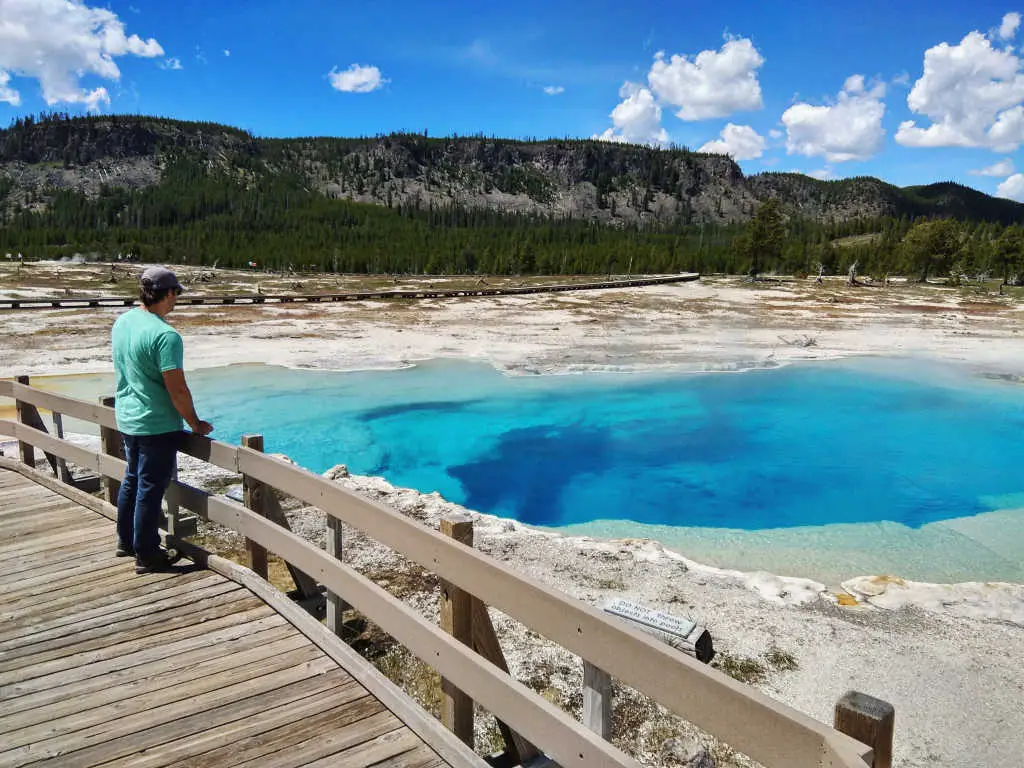 Yellowstone's Big Five Animals
While there are hundreds of species in the park, Yellowstone's Big Five are considered the most spectacular. Interestingly enough, the Big Five are actually the largest animals you may encounter.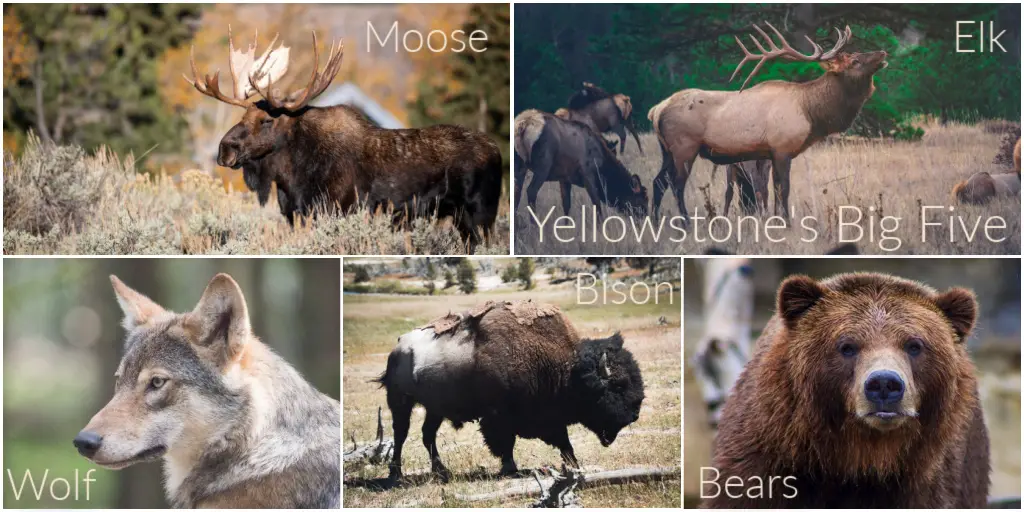 Bison
In 2020, 4,800 roaming bison were estimated to be in Yellowstone. This national park is the only destination in the lower 48 that has a free-range bison population since prehistoric times. Luckily, bison are everywhere!
By the end of your visit, you may see hundreds, without even leaving the car. Bison will be an easy animal to check off your Yellowstone's Big Five checklist.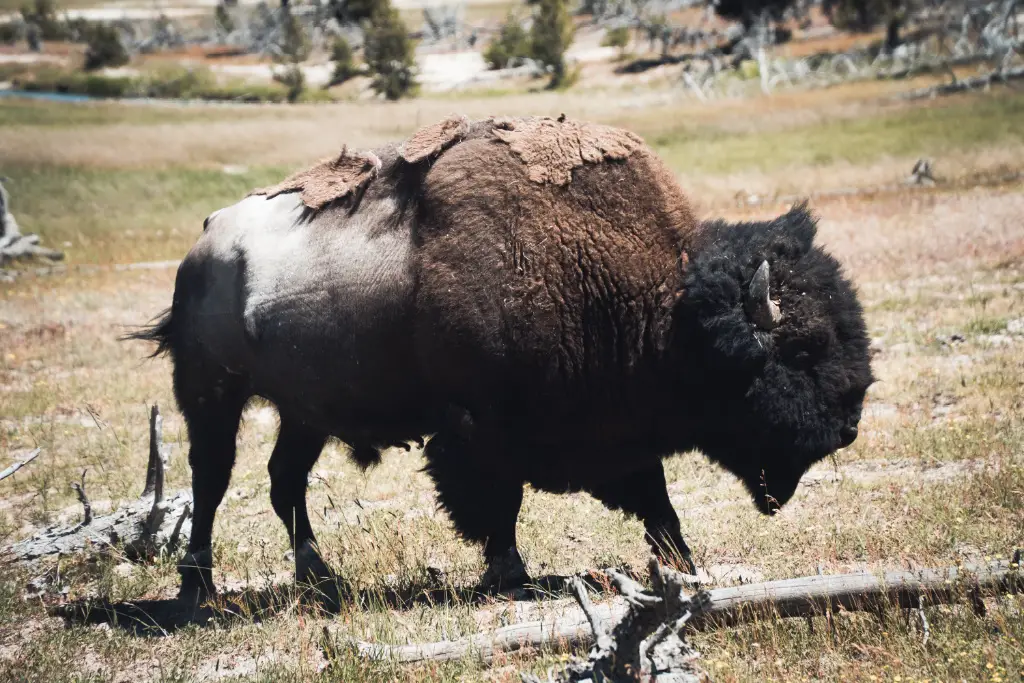 Bear
There is no doubt that bears are Yellowstone's most popular animal. Whether it be black bears or grizzly bears, people from all over the world come to try to get a glimpse of one of these majestic creatures in their natural habitat.
Some travelers can spend days in the park, never witnessing a bear in the landscape. Take note! If you see a massive traffic jam while in the park, most likely it's due to a bear sighting. Be forewarned, people can get aggressive when trying to compete for their souvenir Yellowstone bear photograph.
Yellowstone Bear Data
As of 2019, there were an estimated 730+ grizzly bears in the greater Yellowstone region. However, only about 150 of them actually live within the park's borders. Alternatively, black bears are considered the most common bear found in the United States.
Therefore, numbers within the park are just now being researched and have not been previously recorded. Interestingly enough, Yellowstone is one of the very few regions outside of Canada where grizzly bears and black bears co-exist.
Elk
Elk are the most abundant animal in Yellowstone. In the summer, there are an estimated 10,000 to 20,000 elk, in six to seven different established herds.
The number falls to less than 4,000 in the winter when elk herds migrate in search of more high-quality food. Surprisingly, only one elk herd stays in the park year-round.
Bull elk are actually the most sought-after animal of Yellowstone's Big Five. This is because a male bull with huge antlers is a dream shot for many wildlife photographers.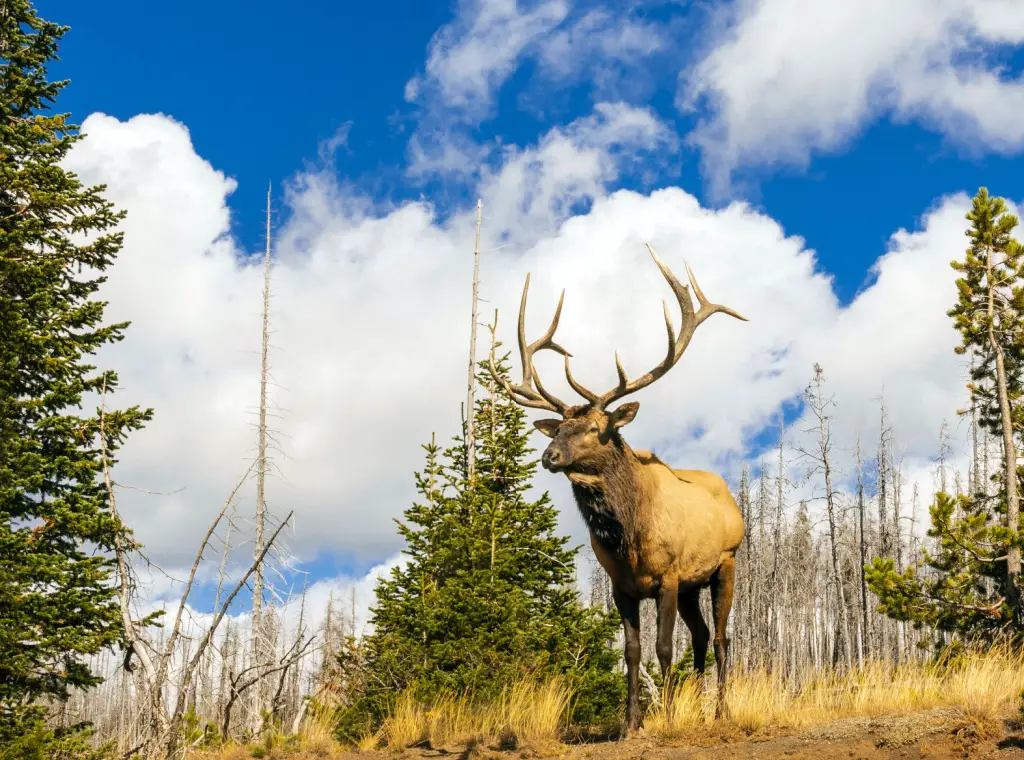 Wolf
Wolves may be the hardest Big Five animal to spot in Yellowstone. In 2015, an estimated 528 wolves were in the greater Yellowstone region.
However, as of January 2020, eight packs of only 94 wolves were living in the park. In the last few years, the wolf population has fluctuated from 83 to 108 animals.
Although their numbers are few, they do traverse the entire park in packs, so you never quite know when you'll experience an encounter. Unfortunately, they spend most of the day lying under shady trees and hiding in tall grasses. As with most wildlife, the majority of sightings occur at dawn or dusk.
Generally, the greatest number of sightings have been in Yellowstone's Northern Range. Specifically, this is in the Lamar Valley from Gardiner and Cooke City. Also, the winter is a great time to observe wolves in the natural habitat.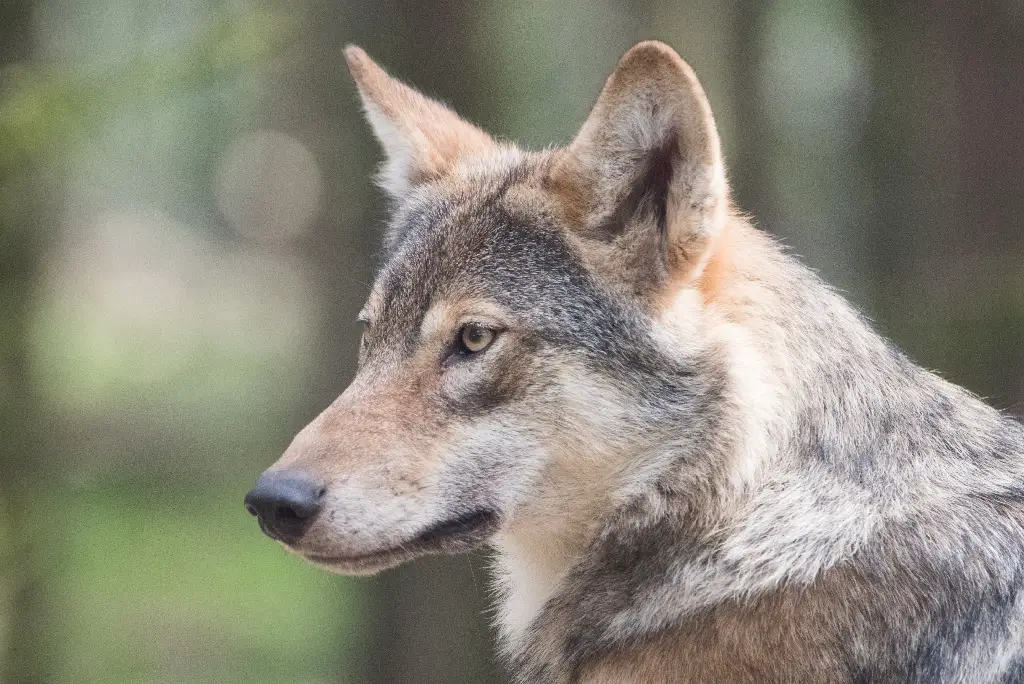 Moose
Unfortunately, moose sightings are quite rare in Yellowstone and thus, this will be another tricky animal to check off your Big Five list. On the last count, an estimated 200 moose remain in Yellowstone National Park. However, their elusive behavior makes it quite difficult for rangers and scientists to get an accurate population count.
Moose hang out in very well-concealed habitats—marshy meadows, lakeshores, and river banks. They are also very solitary animals, which makes them even harder to spot.
The only time they tend to congregate is during the moose rut which peaks in late September and early October. If you are in the vicinity of one, their size makes them easy to notice. Consider yourself lucky if you experience a moose sighting while in Yellowstone.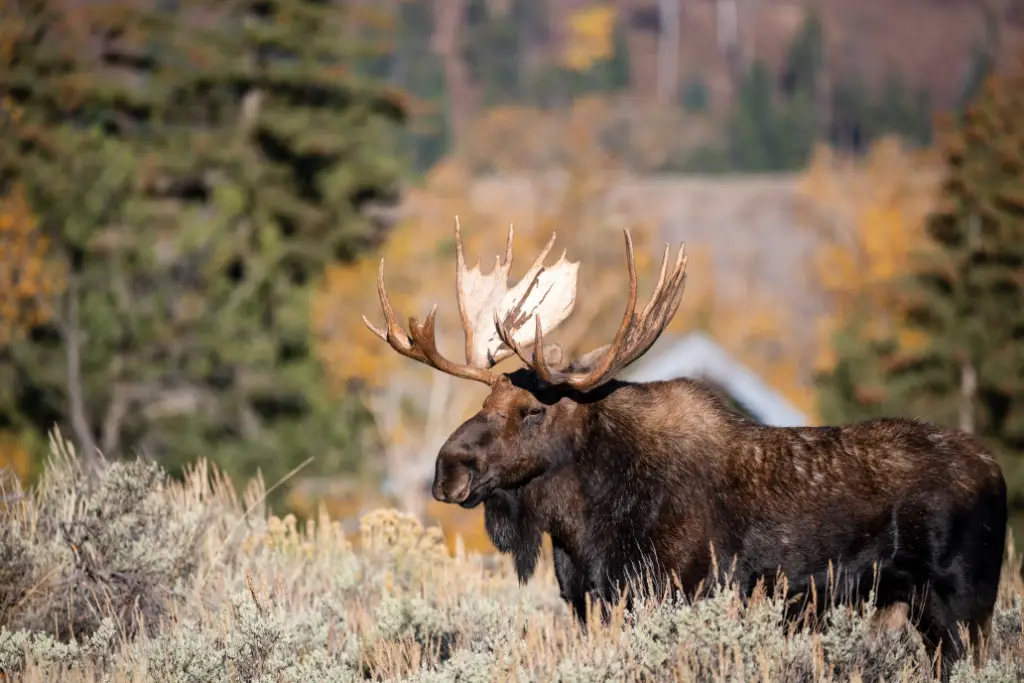 Wildlife and the Seasons
In Yellowstone, wildlife activity will vary with the season. Additionally, habitat preferences, weather, and seasonal movement will also impact your animal spotting. It is important to have an idea of where the animals will be congregating to get the most from your visit.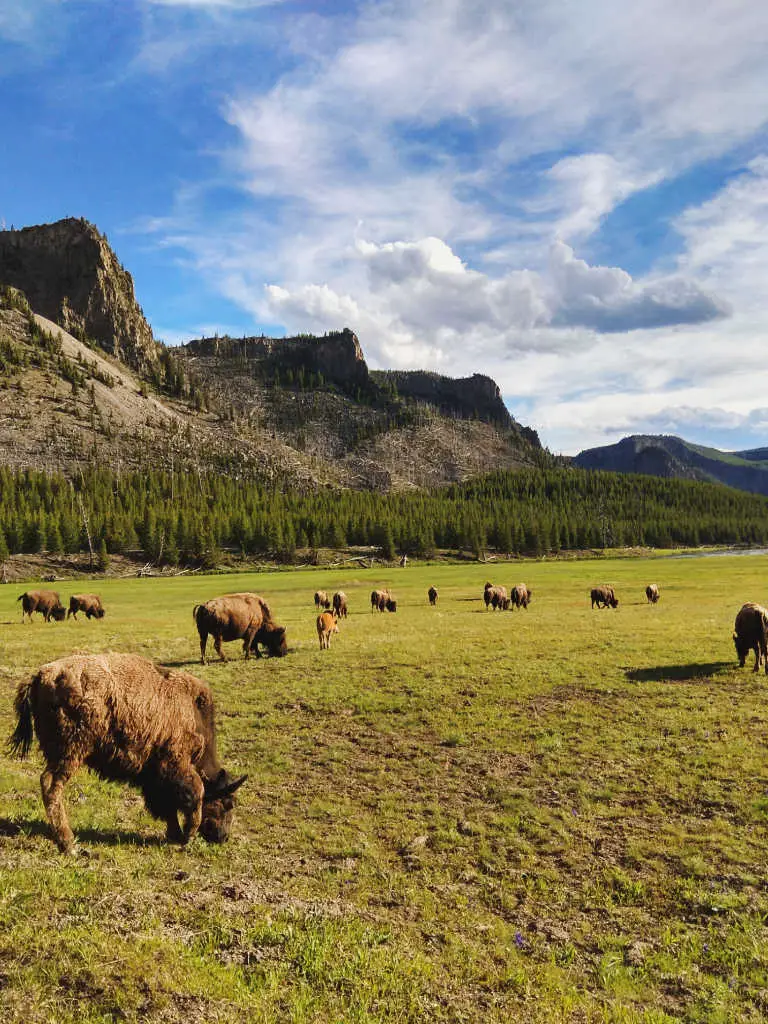 Spring in Yellowstone (April to Early June)
In the spring, head to the Lamar and Hayden Valleys. This is the period when baby animals, such as bison, moose, elk, and bear are being born. This is also a good season for spotting wolves and grizzly bears.
Specifically, grey wolves may be spotted roaming the valleys. Bears often hang out around the shores of Yellowstone Lake and are most active at dawn, dusk, and night.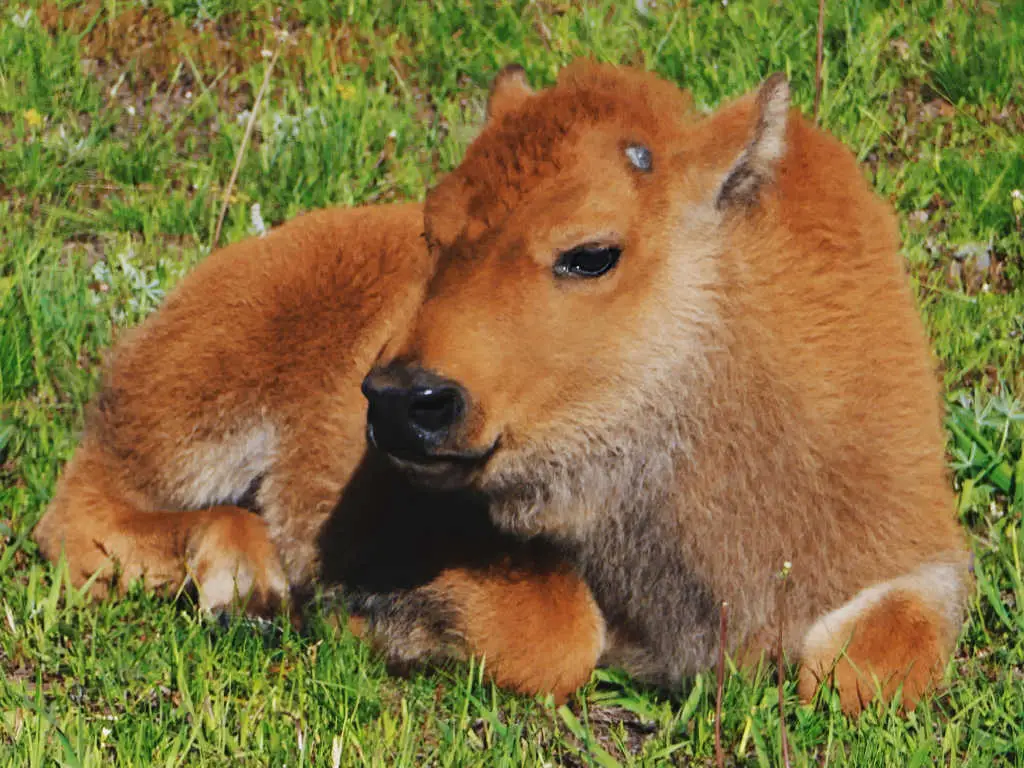 Summer in Yellowstone (Mid-June to August)
Warm weather lures tourists, many on guided tours, to the park during the summer months. During this period, grizzly and black bear sightings become less frequent. This is because the bears leave the valleys and head to higher elevations.
Spottings in the valleys still occur in June but become very unlikely in July and August. Bison begin to rut in August and you'll see males fighting for females throughout the summer. These interactions can get quite heated and are very exciting to experience.
Fall in Yellowstone (September to October)
Visiting Yellowstone in the autumn comes with many benefits. Not only are wildlife photographs enhanced with colorful fall foliage, but the summer crowds leave the park and the animals return to the valleys.
In fact, after Labor Day, the national park gets fairly quiet. September is the height of the elk rut season.
This is when bulls are looking to breed with a cow in estrus. Rangers suggest heading to Mammoth Hot Springs, near the northern entrance to get an up-close look at the elk rut.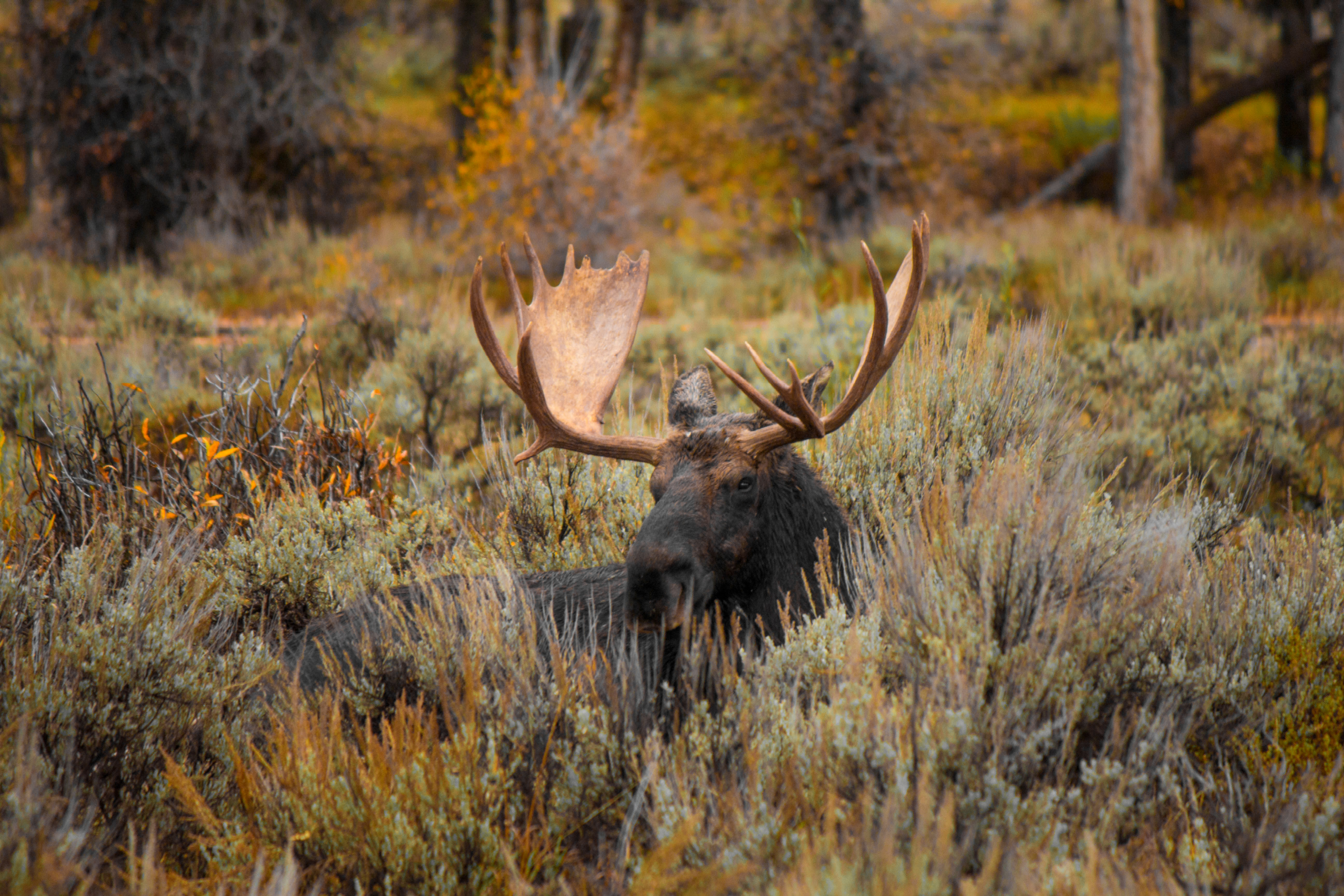 Winter in Yellowstone (November to March)
Winter is an excellent time for wildlife spotting in Yellowstone. This is because the foliage has disappeared and animals are more visible against the white snow.
Many world-class photographers agree that a snowy Yellowstone landscape adds even more drama and contrast to wildlife images. Some visitors even enjoy looking for animal tracks in the snow.
Bison and elk sometimes congregate near the geysers, steam vents, and mud pots near Old Faithful. The Yellowstone River will provide sightings of bison, elk, bobcats, and trumpeter swans.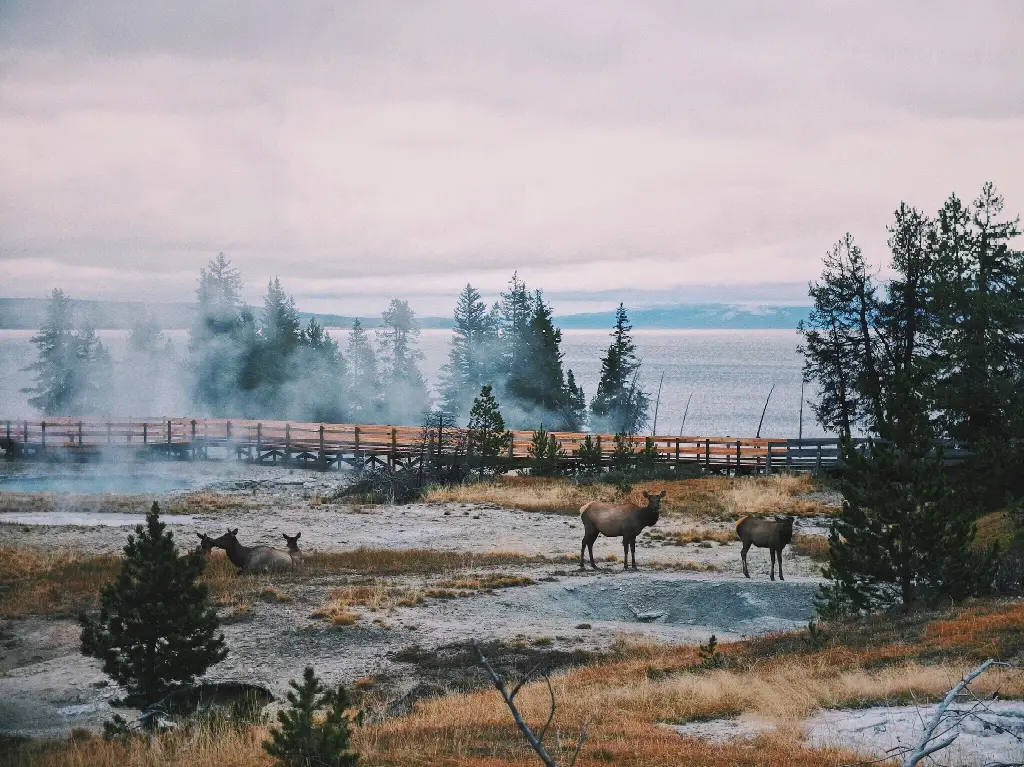 Winter is the best season for spotting wolves and coyotes. In fact, Yellowstone ranks as one of the best destinations in the world to observe wolves in their natural environment.
Bison, mule deer, moose, elk, bighorn, and owls move to the open valleys to look for food. Luckily, many of these open meadows are located near roads. Grizzly bears hibernate until mid-March and won't be seen.
Remember, the only road that remains open to visitors' vehicles in the winter is located between the North Entrance at Gardiner, Montana to the park's northeast entrance near Silver Gate and into Cooke City, Montana.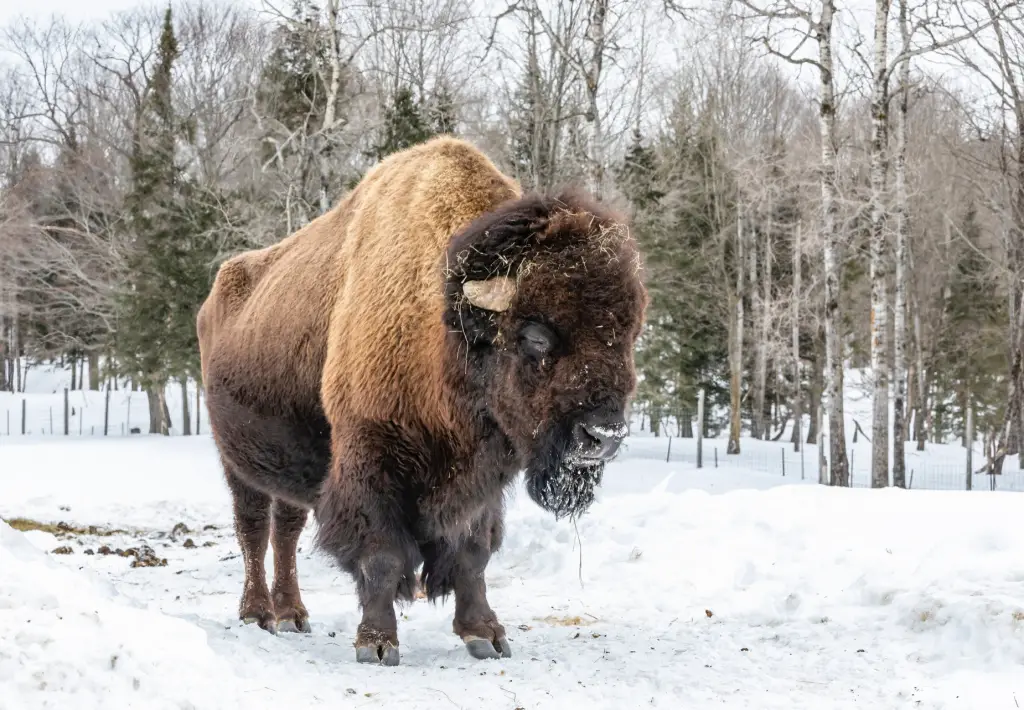 Best Time of Day to View Wildlife at Yellowstone
The best time for wildlife viewing in Yellowstone National Park is either at dawn or dusk. This is when the animals are most active. Visibility improves during the morning and evening when animals feed.
If you're an early riser, you're in luck because dawn is really the best spotting time. We recommend being in the valleys just before dawn and staying until about 9 a.m. If you're more of a night owl, don't fret. Dusk, especially in September, is the best time to see the elusive elk.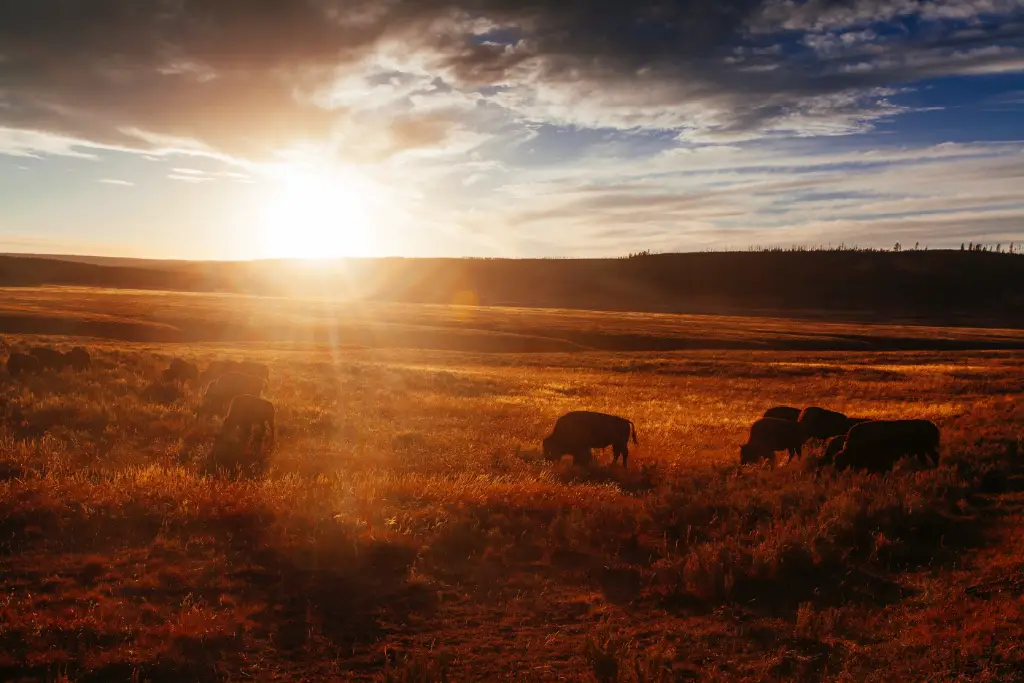 With some insider knowledge and good timing, you'll be lucky to catch a glimpse of Yellowstone's Big Five during your tour of Yellowstone National Park.
Tip: There are only a few sections in the park that receive cell service, and even that coverage is spotty and unreliable. Come prepared with maps, guidebooks (we recommend the Moon USA National Parks: The Complete Guide to All 62 Parks), audio guides, and travel apps that have already been downloaded.
Big Five Animal Regions Around the World
Wildlife lovers who are interested in other Big Five animal regions, may want to explore the exciting travel itineraries below.