What's the best safari in South Africa? For us, it was all about finding the best value for the money. And we did! Have you been daydreaming of going on safari in Africa and chasing the Big Five (Cape buffalo, rhinoceros, elephant, leopard, and lion) through the bush?
As you begin researching for your safari you're sure to fall into the same dilemma as we did. It seems like African lodges are either ridiculously expensive or alarmingly rundown (cheap). You'll easily see rates for a five-star luxury safari lodge costing thousands of dollars per night.
What Is the Best Safari in South Africa? – Best Value for Money
While you will have to save a nice sum of money to take a proper safari, let us reassure you that there are alternative ways to have an amazing experience while not having to break the bank.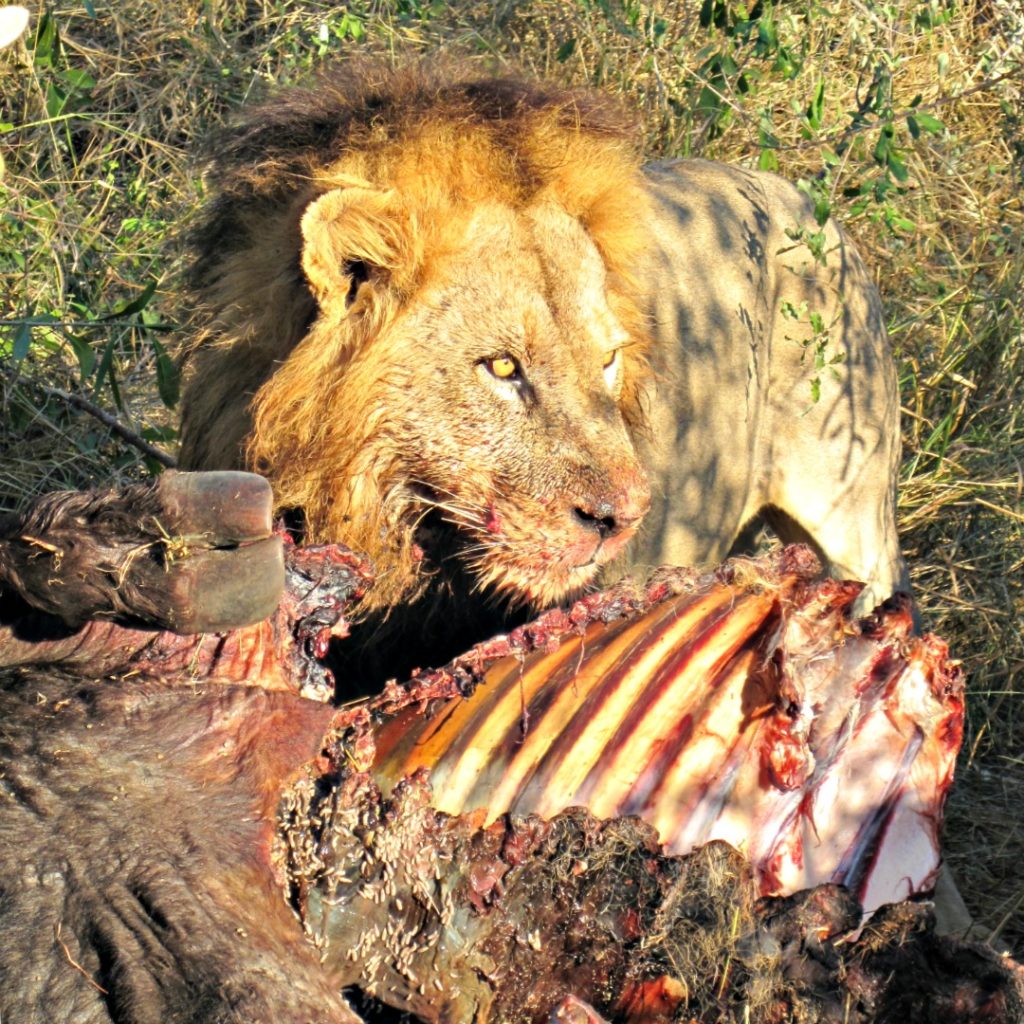 We traveled to Africa two times before departing on our round-the-world trip. Both times we used Go2Africa, and to this day we highly recommend anyone considering going to Africa use them. This was back when we had professional careers and would binge-travel.
Budget Tip: Use this automated quiz tool to easily build the perfect safari for your budget.
Find the Perfect Safari for Your Budget > Get a Free Quote Now
During our travels through Africa we went on game drives in Tanzania, Zambia, and South Africa and visited the following parks and lodges:
Sabi Sands Private Game Reserve: Arathusa Safari Lodge
Musi O-Tunya National Park: Chundukwa River Lodge
Serengeti National Park: Lemala Explorer Kigelia Tented Camp, Lemala Ewanjan Tented Camp
Tarangire & Lake Manyara National Park: Tarangire Treetops (ultimate safari luxury!)
Arusha National Park: Mt. Meru Game Lodge, Mt Meru Hotel
Ngorongoro Crater: Kitela Lodge
Africa is not a cheap place to visit and not somewhere you want to "go cheap." You will get exactly what you pay for and there is no scheme to getting around it. However, below are some tips which will assist you in making sure you're receiving good value. – The Budget Savvy Travelers
Must Read ⇒: 5 Affordable African Safari Options – How To Do It Right
Basic to Ultra-Luxurious
Along the way, we stayed in simple and basic lodges to ultra-luxurious game lodges. With that in mind, our favorite safari experience was at Arathusa Safari Lodge.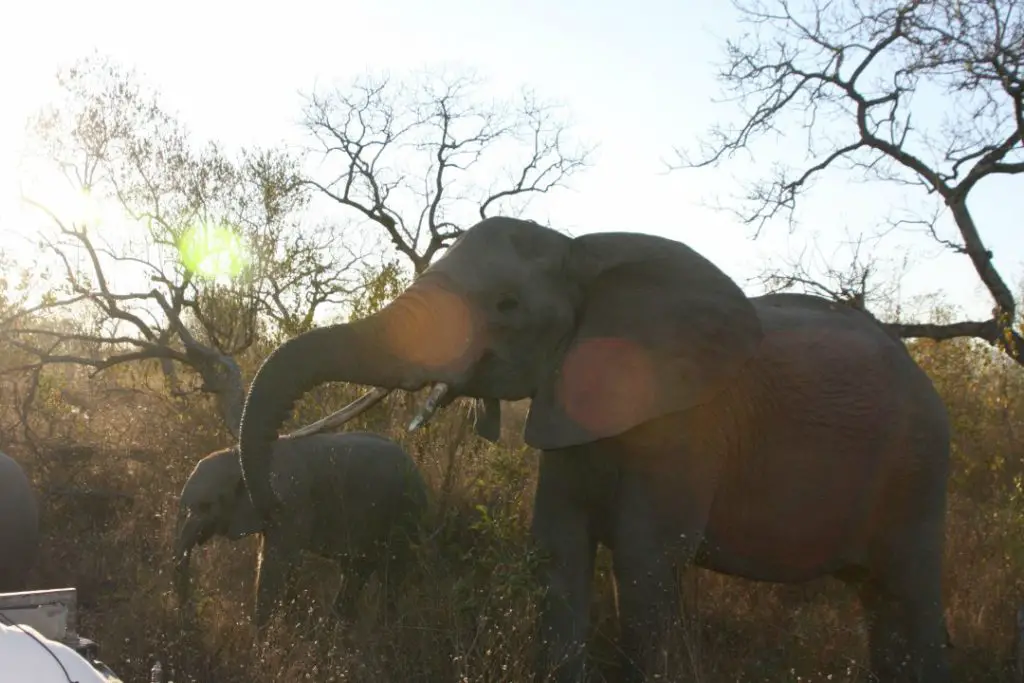 Although not the cheapest, there are plenty of ways to do it affordably, we believe it provides great value when looking at the entire package. We're first going to explain why this lodge was amazing and then we'll delve into some alternative options.
Arathusa Safari Lodge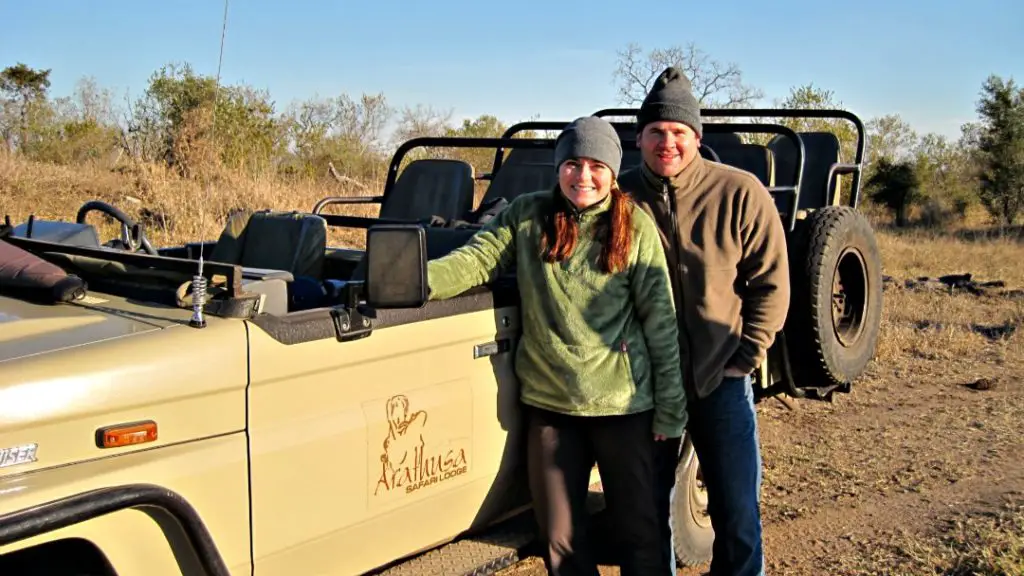 Arathusa Safari Lodge is located within the Sabi Sands Private Game Reserve. It's considered by many to be the best and most famous private game reserve in all of the world. This is probably why the billionaire Richard Branson owns a lodge there called Ulusaba Safari Lodge.
Sabi Sands is next to the extremely busy Kruger National Park. There aren't any fences between Sabi Sands and Kruger National Park, so wildlife's able to roam freely in a massive natural environment.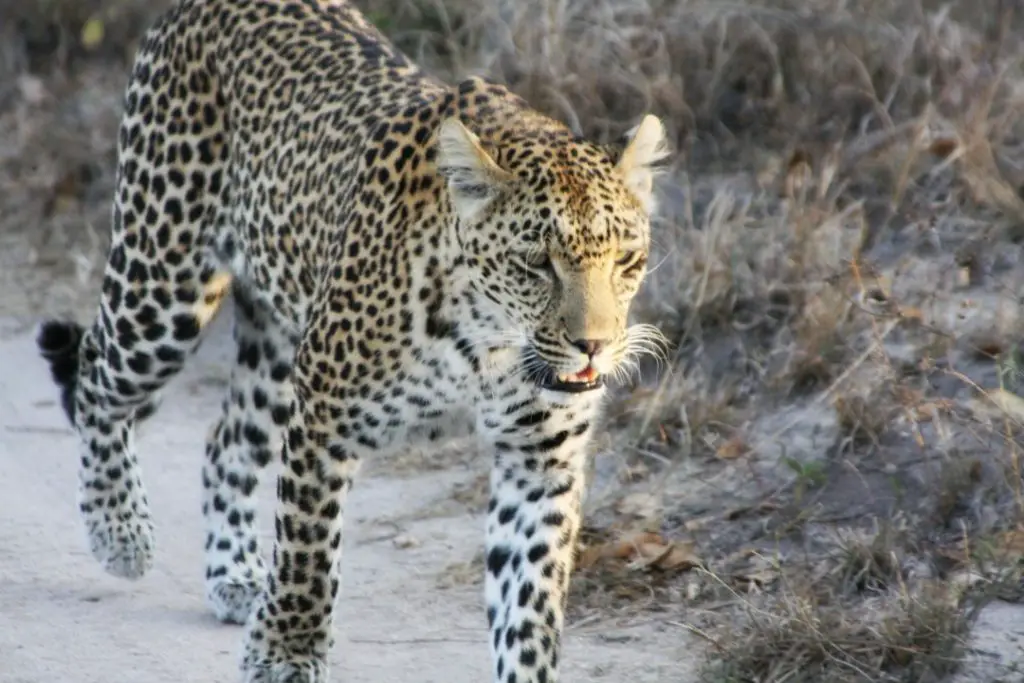 The reserve is particularly recognized for its unbelievable leopard sightings, the most difficult animal to spot in the Big Five. For example, as we approached the entrance to the lodge during our transfer from the airport, a massive leopard walked directly in front of our vehicle!
Safari Lodge vs. Self-Guided Game Drive – What's the Difference?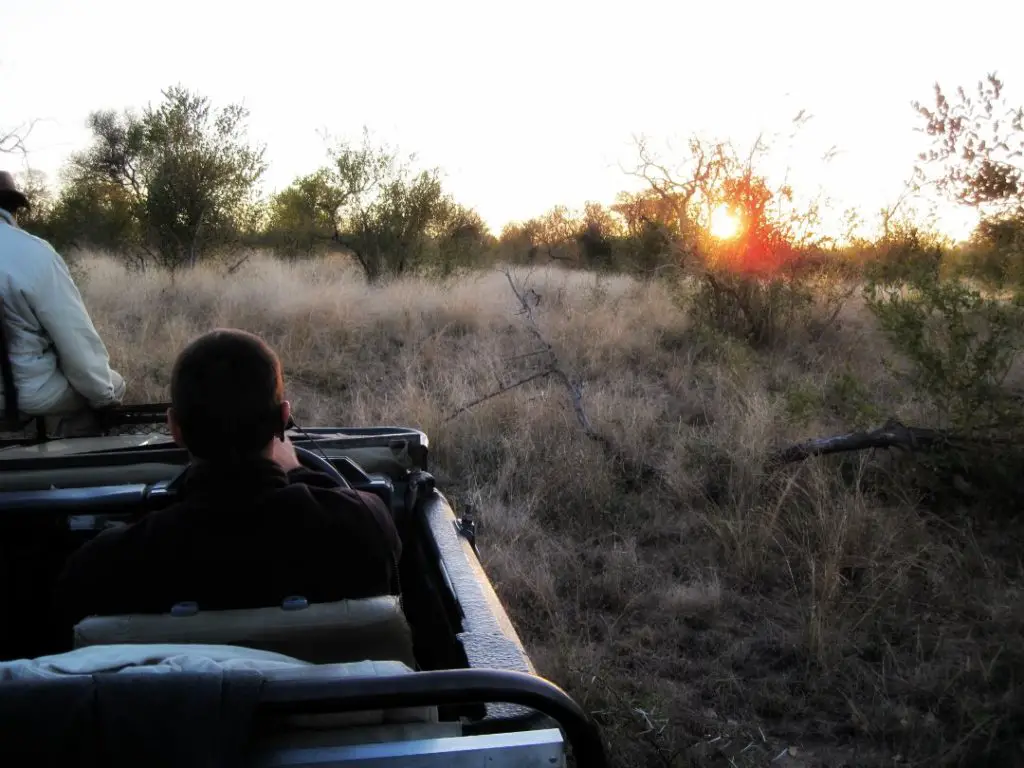 It's important to understand the difference between staying at a safari lodge vs. doing a self-guided game drive. Many people will save money by doing a self-guided tour of a national park. For example, because Kruger National Park is right next to Sabi Sands, many people will visit the park by renting a car. Drivers must stay on the roads and are unable to follow the game into the bush.
Best African Lodges Include This…
While it's okay to go this route, we highly recommend making sure you're going on a proper safari, especially if it's something that you've added to your bucket list.  When staying at a safari lodge you're going to be:
Escorted by an informative game ranger and spotter in an open-air vehicle
Quickly transferred to the best game viewing areas as rangers communicate via two-way radios
Stopping for cocktails at sunset while animals make their way to their local watering hole
Amazed at what game spotters see from hundreds of feet away (while you probably don't see it until it's 20 feet away)
Celebrating with other guests and sharing stories
Taken on bush walks with a ranger that carries a big gun
Enjoying dinner around a massive fire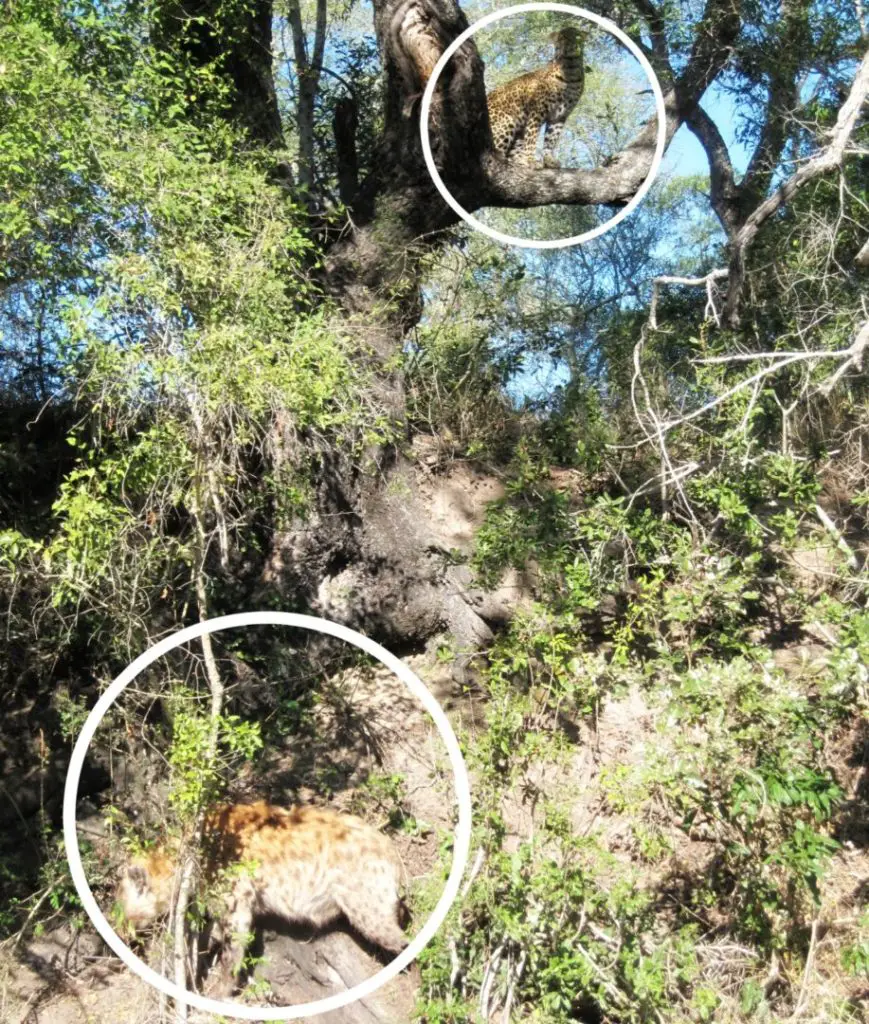 On a self-guided game drive you're going to be:
Renting a vehicle and driving around a park trying to spot game (by yourself), while hoping you don't hit an animal
Responsible for bringing your food and drinks into the park while also making sure not to stay past the closing time
Without a guide, you'll need to rely on your own expertise or travel guidebook
Staying in accommodations outside of the park with no hope of going on a nighttime safari
Taking a Proper Safari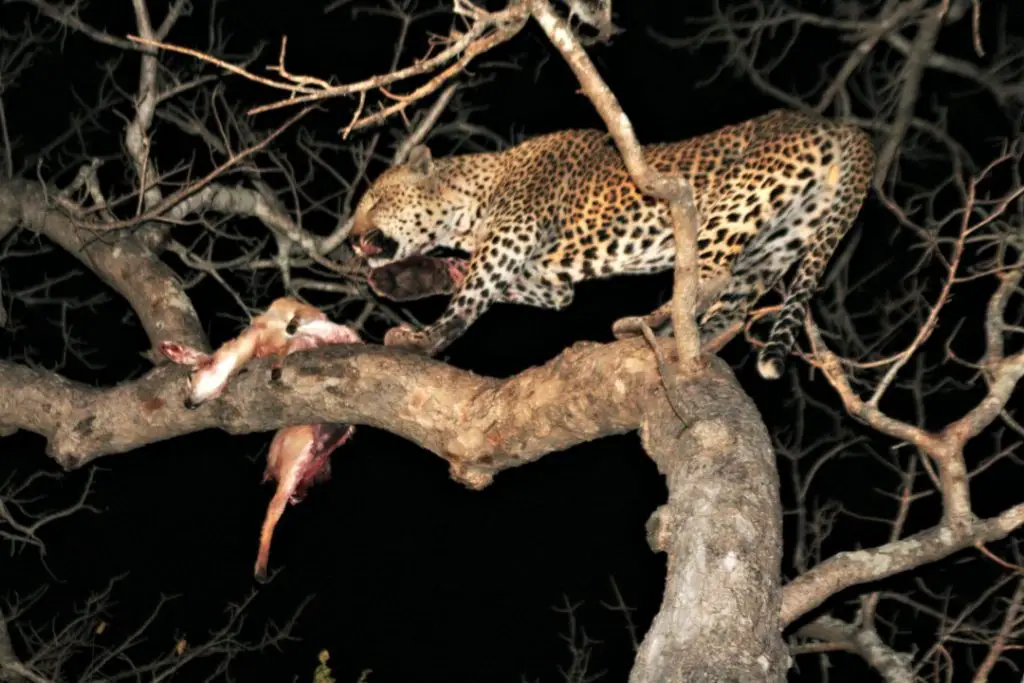 After exploring Tanzania, we left the Serengeti National Park a little disappointed. We stayed at amazing lodges with great guides and saw amazing wildlife but it did not compare to the thrills in South Africa at Arathusa.
Hot Air Balloon Ride
We even went on a hot air balloon ride where we saw an alligator eating a lion from the air! However, the whole time we kept saying, "I wish this was more like Arathusa." The night-time game drives there were just that unbelievable and out of this world.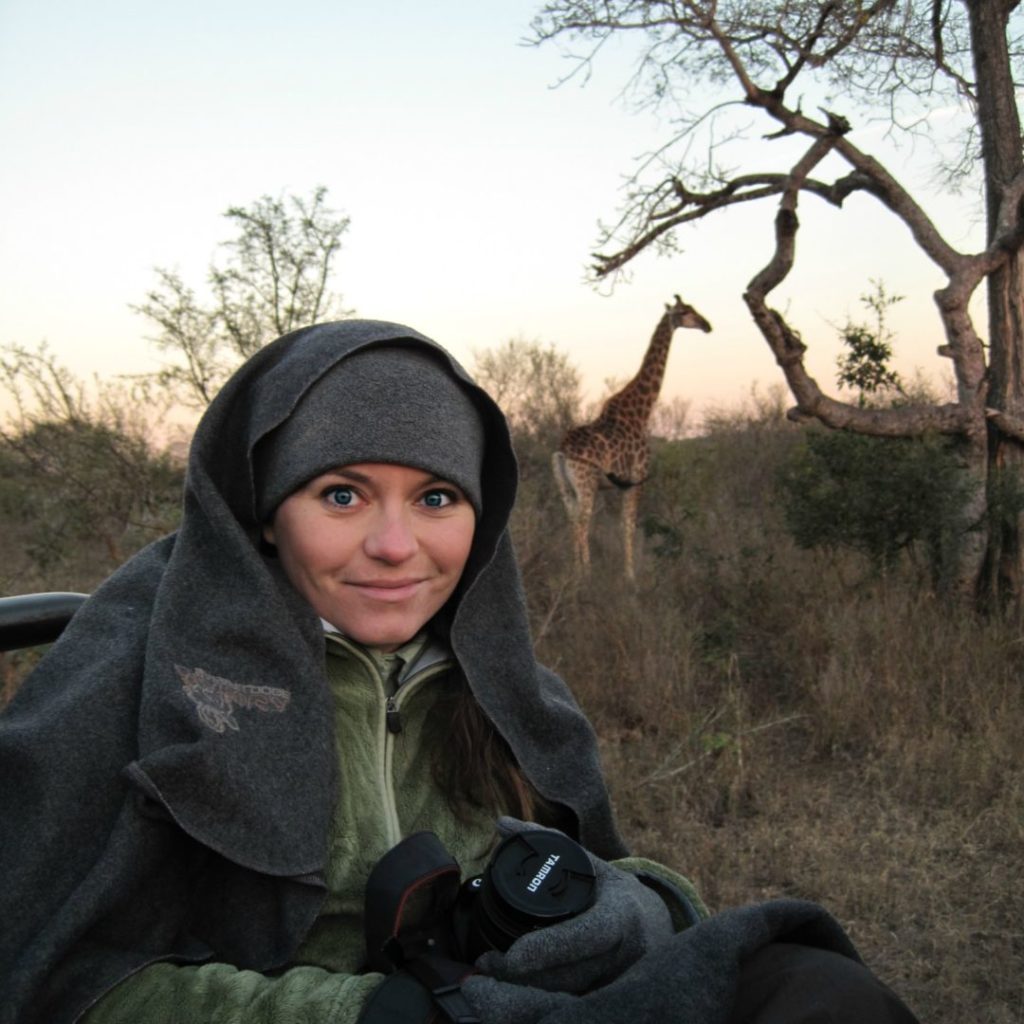 When you're on a game drive in a national park, like the Serengeti, you're not allowed to leave the road. You may only view animals from the marked paths. If you're really lucky, they'll walk near your vehicle.
On the other hand, in a private game reserve, the world is your oyster. You're able to follow animals anywhere they go. The level of excitement that this generates is almost incomparable. It's thrilling!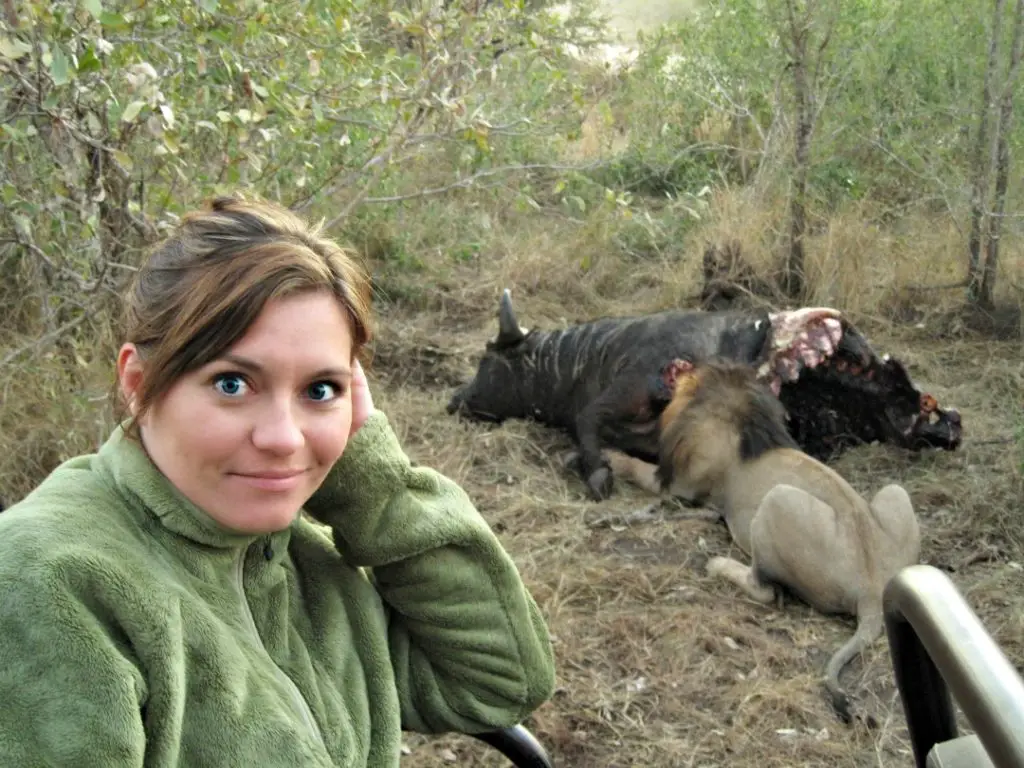 Safari with Cowboys
In fact, after our experience at Arathusa, we now refer to the rangers there as "cowboys." All the other game drives we've been on before and after Arathusa have been not nearly as memorable. Some might even say tame.
When you're out in the bush with the rangers from Arathusa, you're tracking animals, driving over trees, and off-roading and your adrenaline begins pumping — hard.
Try to picture yourself driving through the bush in an open-air vehicle at nighttime. The spotter is swinging his spotlight, the 4×4 vehicle is chugging along a dirt road, and a gentile wind is hitting your face. You slowly look up into the night sky and see the entire Milky Way galaxy, and then all at once, a shooting star goes by.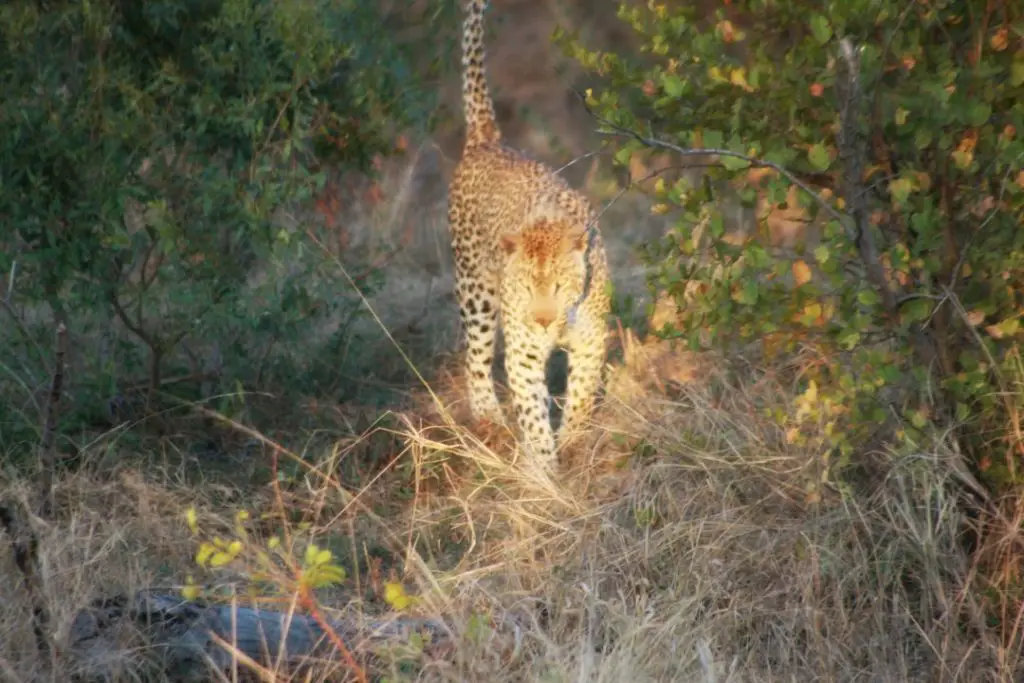 Before you know it, the spotter is notifying the driver that he sees something out in the bush. The driver quickly makes a sharp left turn off the path and now you're off-roading (something that is strictly prohibited in nearby Kruger National Park).
The Thrill of a Lifetime
The terrain becomes bumpy and there are several small trees ahead. The driver hits the gas and the vehicle effortlessly drives directly over the trees. In fact, any tree less than about four inches in diameter is no match for this monster of a vehicle. The branches from nearby trees snap and fall into the vehicle.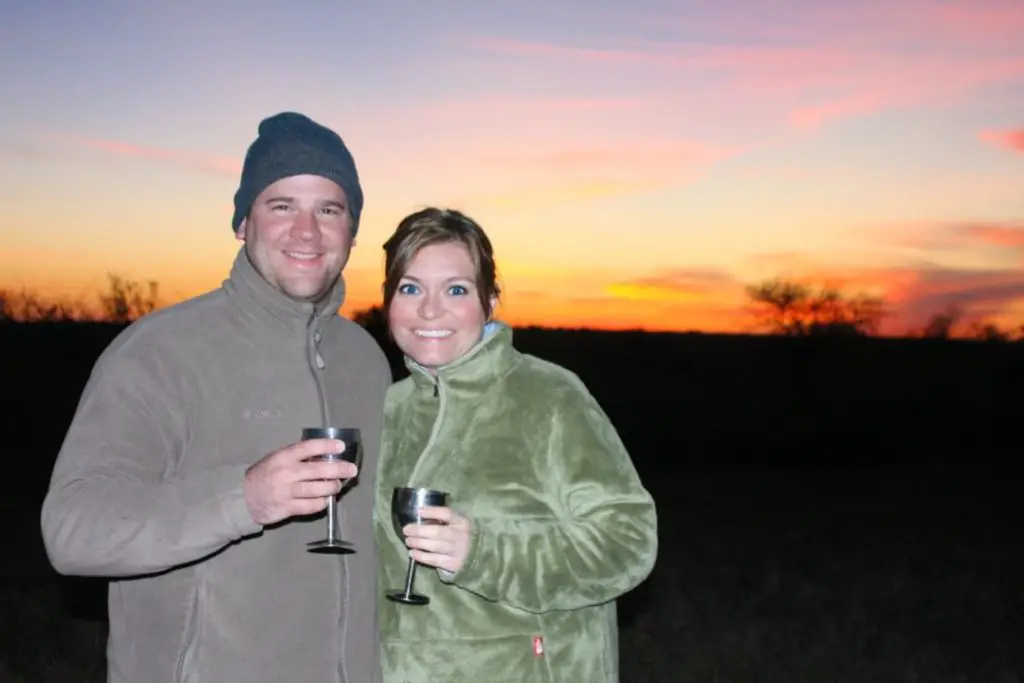 As you get closer, to whatever it is the spotter saw, the driver turns off the headlamps. The vehicle begins to slow down and it's now absolutely pitch black all around you. After what feels like an eternity, but was more like 20 or 30 seconds, the ranger turns the headlamps back on.
You're now moving slowly and looking directly at a lion in the headlights. Continuing to look around, you quickly realize the vehicle is traveling with a pride of seven lions.
This was just one of the experiences we shared while touring Sabi Sands. Rest assured, every game drive out into the bush, whether in the early morning or returning to the lodge at night, always led to a wild and crazy adventure.
What Do the Rates Include?
Arathusa Safari Lodge is not a budget lodge by any stretch of the imagination, but it's also not considered an ultra-luxurious one either which is why we like it. In fact, when including food, accommodations, wines & spirits, game drives, and guided walks, the lodge's rates seem like an exceptional value.
It's also important to mention that no outside guests are allowed to drive their vehicles in the private game reserve. In other words, there's much less traffic and other people to deal with once you're within the reserve.
Alternative Options
For the average person, going on a safari in Africa will never be budget-friendly. It costs a lot of money and it's not something you want to go cheap on. Remember, part of what you're paying for at these lodges includes personal safety from animals and hygiene regarding how food is managed and prepared. There's just nothing in life that compares to it.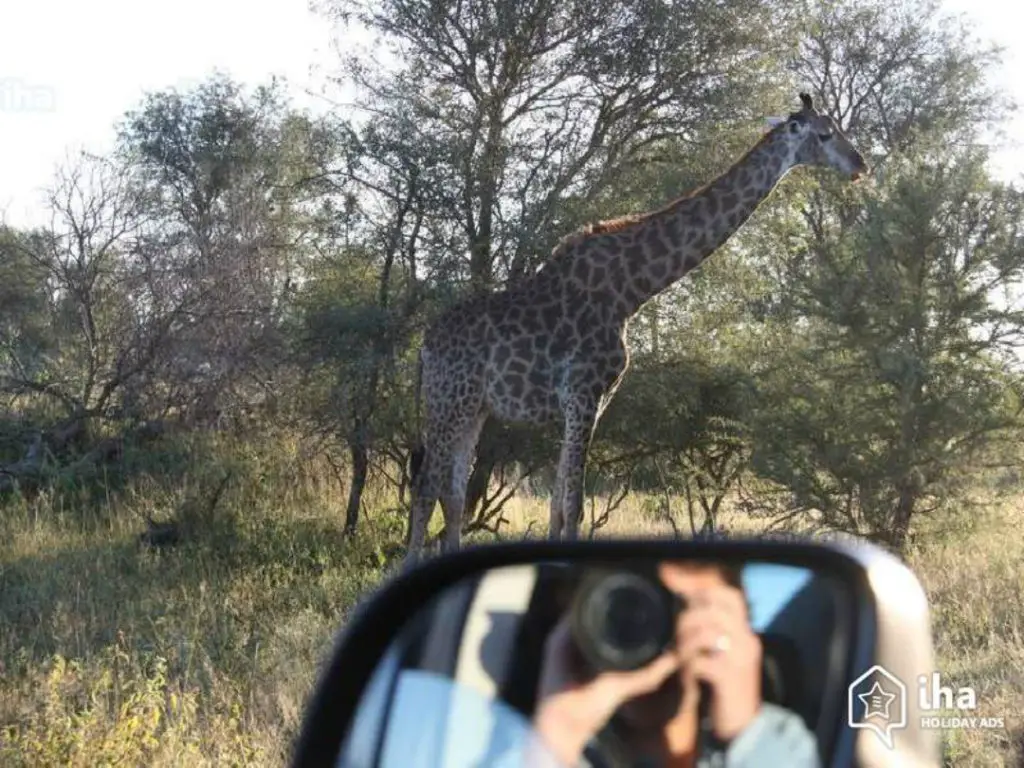 With that in mind, a good way to cut costs is to diversify your time between self-guided tours and private game reserves. We'd suggest that you do the self-guided tour or a wildlife photography safari tour in Kruger National Park before visiting the private game reserves because if you do it vice versa you won't be ending your time in the area on a highlight. Trust us!
Another budget option that we've seen many fellow travel bloggers go on is an African overland tour. After viewing some of their experiences, this is something we'd never want to do. In fact, it kind of sounds like a nightmare.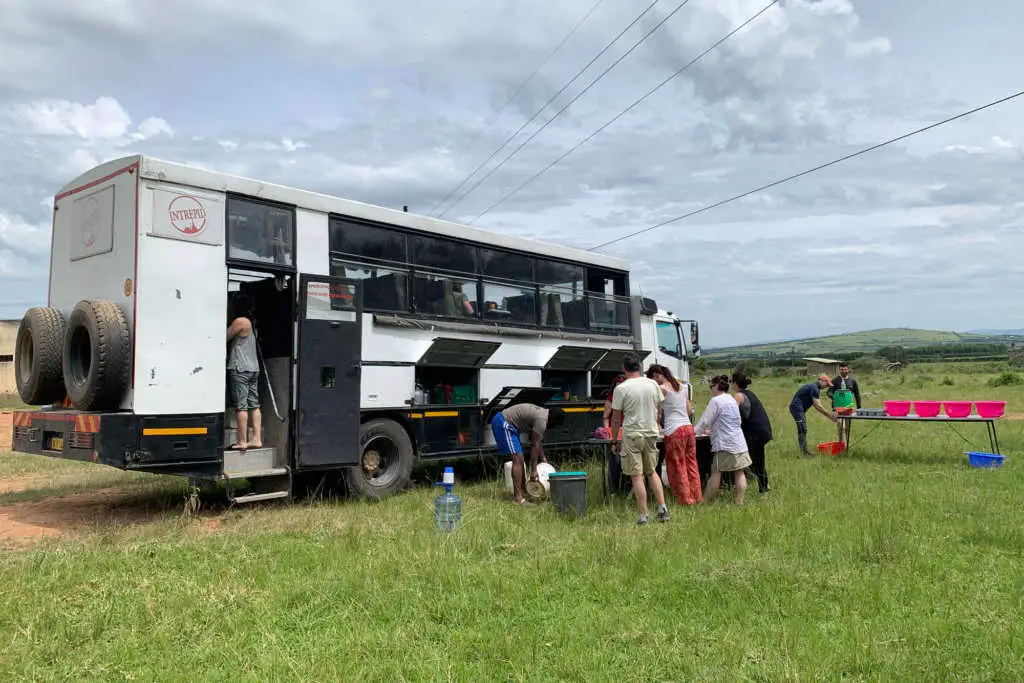 Most travel writers will try to paint a rosy picture of their experience. They'll write about only the positive things that happened, usually throwing in the phrase "spiritual experience" to summarize their journey.
African Overland Tours
However, thanks to some honest travel bloggers, we finally got to the truth. Another travel couple described their overland journey adventure as:
It's the stuff you wish you knew upfront, the "minor" details tour companies "forget" to outline in their trip itineraries. We knew we weren't signing up for a Bora Bora. Then again, I wasn't expecting to go pee outside my tent at one in the morning either. – Passenger on African Overland Tour
Here are some more details about their budget trip. Let us know if any of this sounds like your idea of a great African safari:
Nearly half of the day is spent on a bus for 10+ hour daily rides on bumpy roads.
What's for lunch? White bread, mystery meat, lettuce, tomato, onion, and strange cheese with runny mayonnaise.
Arriving late and leaving early means there's no time to wash (by hand) and more importantly dry clothes.
Time to do chores: You'll need to help in cleaning the truck, dishwashing, setting up camp, chopping vegetables, etc.
What happens when you're driving all day and need to use the bathroom?  It's time to pull over to the side of the road and find a decent bush. Make sure to watch out for lions!
Keep in mind that these overland trips are by no means cheap either. They will usually cost at least a few thousand dollars per person.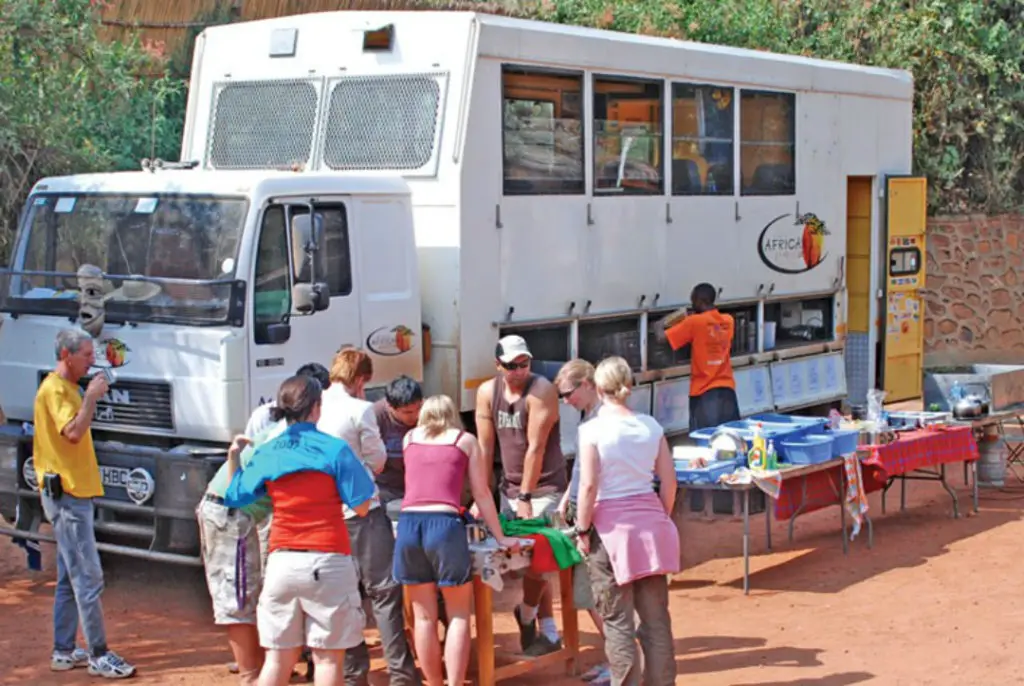 For us, an African safari isn't about quantity, it's about quality. In other words, if you're going to go on safari, then it's worth doing it right because the alternatives will most likely not live up to your expectations.
Best Time of Year to Visit
The best time to visit Sabi Sands is at the beginning or end of the region's dry season, which falls between April and September. We spent four nights at Arathusa in June. During this time of year, the temperatures vary dramatically (temps may dip into the high 30s at night and during the day may reach the mid-70s).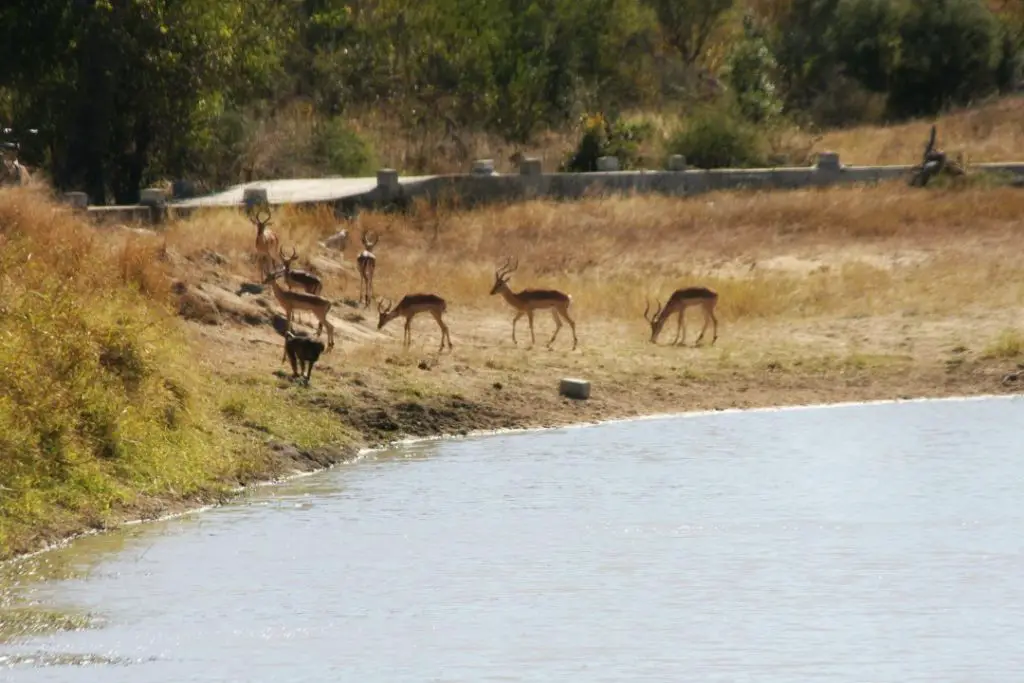 Visiting during June felt ideal for us as the bush was much more open allowing for great visibility. The grass was low, the trees and bushes were faintly leaved and because it is so dry, with no rain, the wildlife migrated towards the watering holes. Guess who has a massive watering hole right next to their lodge? Arathusa!
💰 Budget Tip: Check out WayAway—a new flight aggregator platform that provides travelers with the best rates on airline tickets. Users can also purchase the WayAway Plus membership plan, which gives cashback on flights, accommodation, car rentals, tours, and more.