Planning a Yellowstone itinerary may seem a bit overwhelming at first glance. After all, it covers nearly 2.2 million acres — 3,500 square miles — and it's bigger than the states of Delaware and Rhode Island combined. For this reason, and a few others which we'll address below, many visitors to the park miss out on the wonders of Wonderland.
Planning a Trip to America's Wonderland
In 1872, Yellowstone became the first national park in America. It's also widely held to be the first in the world. Looking to attract tourists, and taking advantage of the recent popularity of the book, "Alice's Adventures in Wonderland," the Northern Pacific Railroad built a marketing campaign that focused on selling Yellowstone as the "New Wonderland."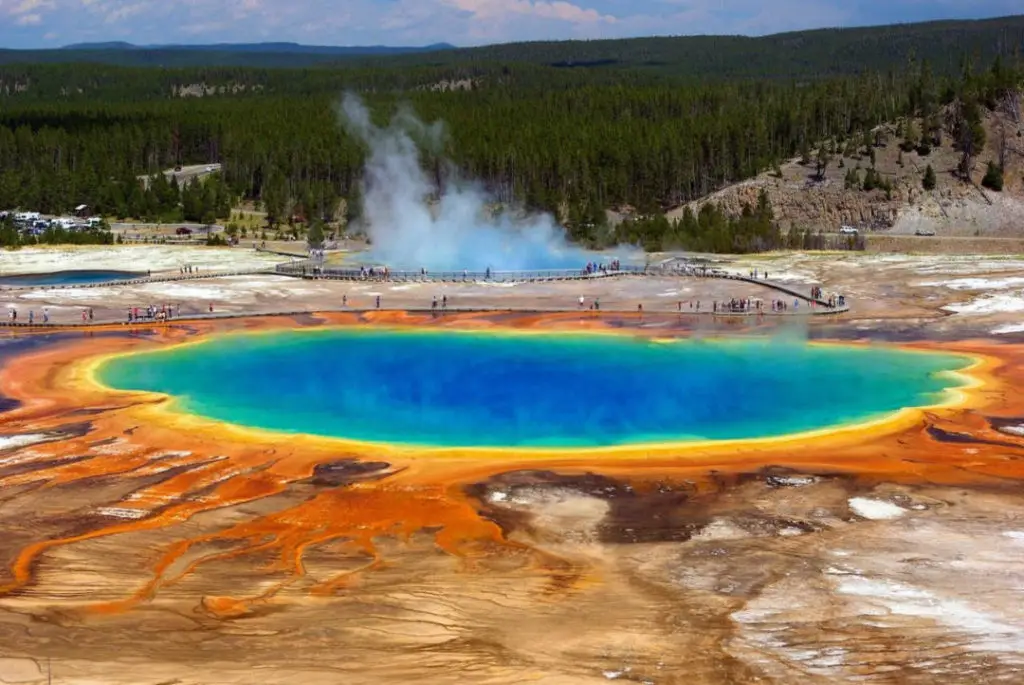 After visiting the park numerous times, it's quite easy to see how a comparison between the fictional Wonderland and the physical Yellowstone materialized. The sites, sounds, and colors experienced in Yellowstone are like nowhere else on earth—the imagination runs wild with geothermal features like Demon's Cave, Dragon's Mouth, Cooking Hillside, Skeleton Pool, and Hurricane Vent.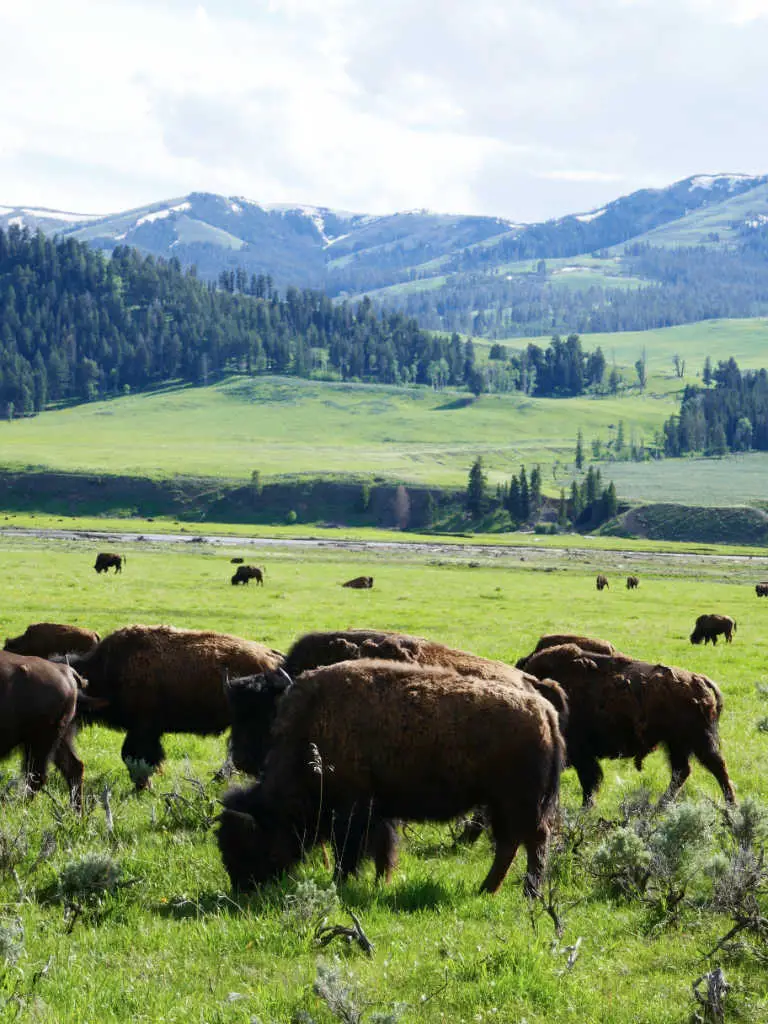 With a bit of smart planning, travelers can make sure their visit to Yellowstone goes off without a hitch. At the same time, trying to include as much as possible in your itinerary may ruin the adventure. Therefore, it's important that you find a nice balance between an efficient itinerary, and making sure that you're not cramming too much into it.
Creating a Yellowstone Itinerary With the Right Mindset
One of the biggest complaints we hear from people is that they feel like they spent too much time in their vehicles. No worries, we'll address this issue in greater detail below. However, at this point, it's a good time to address the elephant in the room—and that's the enormity of the park.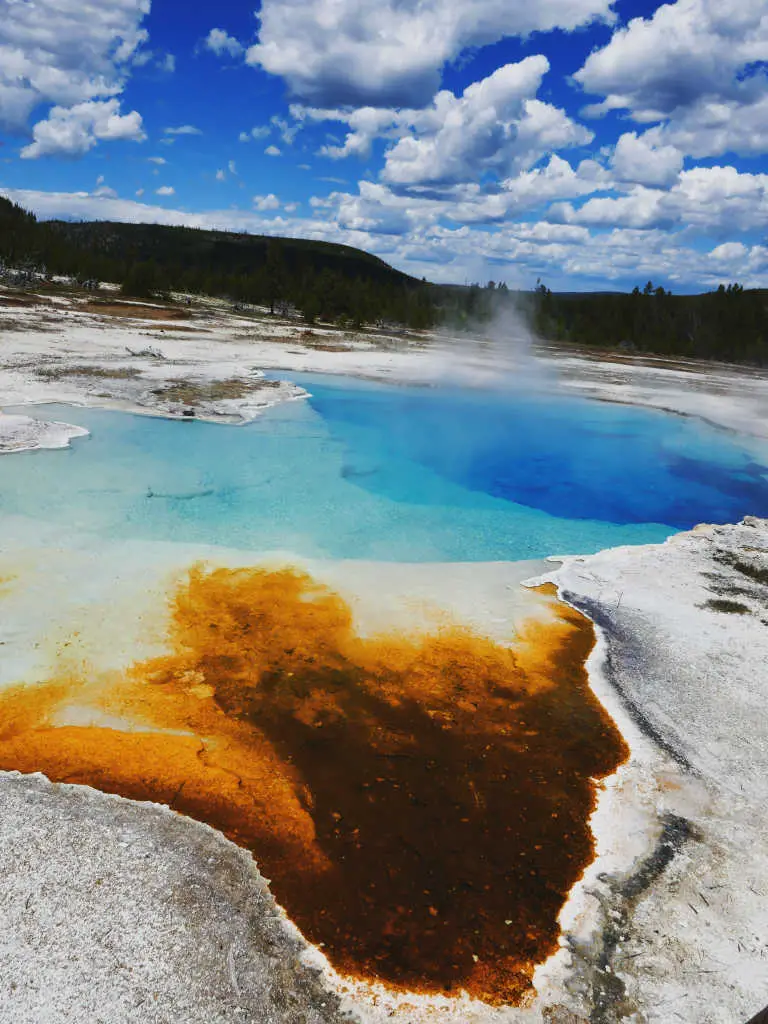 You wouldn't go to Delaware and Rhode Island over three days to see everything. Like pretty much every other considerable destination on earth, it's impossible to take in every little thing. Therefore, you'll need to make sure your Yellowstone itinerary includes the attractions that you would regret not seeing if in the worst-case scenario, you never make it back.
Travel Tip: If you enjoy hiking but are scared of getting eaten by bears (like us) then you should consider the Lamar Valley Safari Hiking Tour with Lunch. An expert guide leads hikers on a six-mile journey through the Lamar Valley to scenic viewpoints that are unattainable by road. Also, be prepared to see amazing wildlife as the Lamar Valley has the highest density of wildlife in the park.
Quick Pep Talk
At certain times in life, all the stars may not align and unforeseen circumstances may impact your experience. This is true for basically every vacation you may go on. Regarding Yellowstone, when we visited there were road closures preventing access to certain areas of the park, and all of the accommodations within the park were closed due to COVID.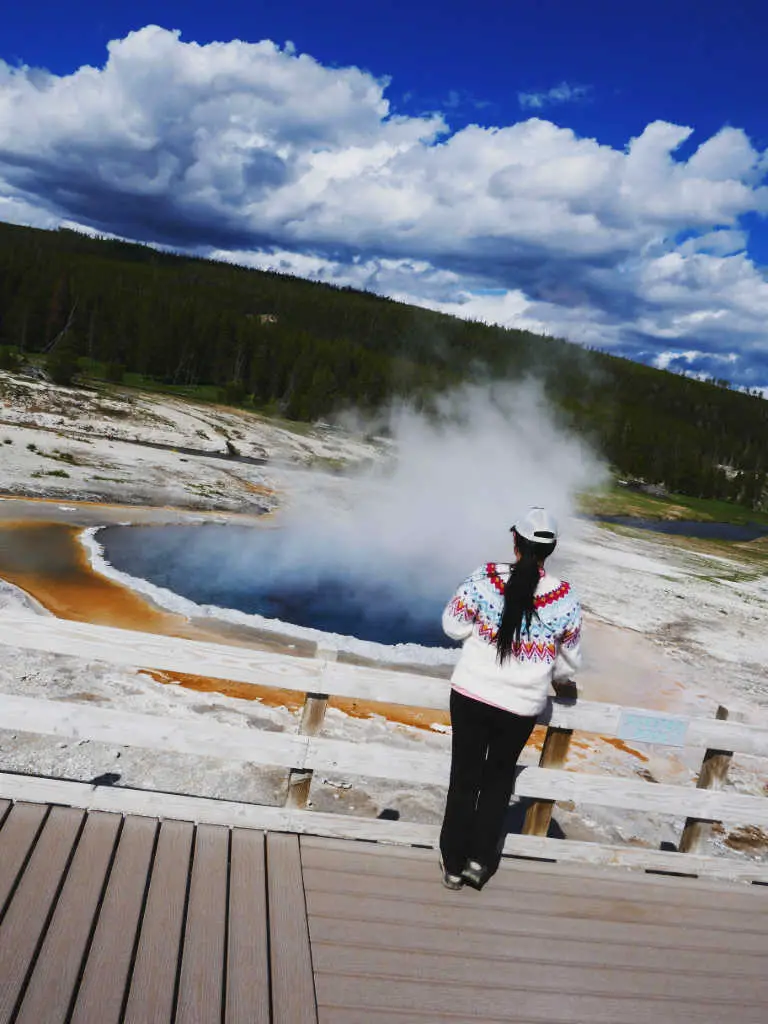 When we experience roadblocks in life or while traveling, we refer back to a few simple rules or reminders to make sure that we never leave disappointed:
Make sure you see or do the few things you were looking forward to the most (if possible).
Gently remind yourself that there's no way to see everything.
Enjoy what you're doing now.
Adopt the mantra, "This is the best we can do at this point in our lives."
If you love it that much, you can always come back.
With a bit of luck, you may end up visiting Yellowstone again in the future. For example, we visited Scotland for the first time in 2015 and ended up returning two more times—somehow it just happened. When you hear the saying, "You never know what the future holds," let us reassure you that it's true.
Understanding the Basics
Understanding the basic layout of the park will help you plan the perfect Yellowstone itinerary. Yellowstone National Park is configured in a figure eight, and it's referred to as the "grand loop" or Grand Loop Road.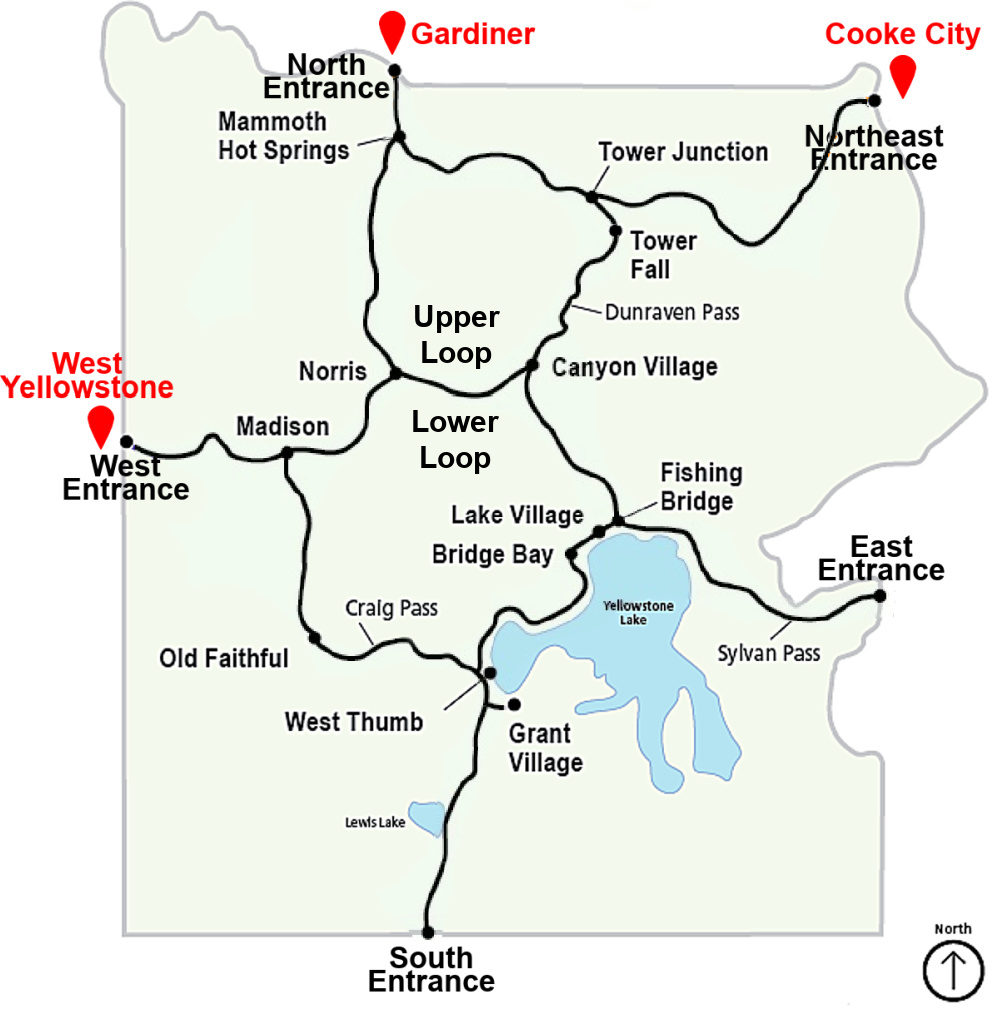 As a result, the bottom of the 8 is named Lower Loop Road, and the top of the 8 is named Upper Loop Road. Also, several villages with bathrooms, shops, etc., are located along Grand Loop Road, mainly along the junctions.
The best route to tour Grand Loop Road will depend on the entrance(s) that you will use to enter/exit the park. Also, it's a good idea to make sure that the entrances that you're planning to use are open. For example, during the June 2022 flood, the north entrance was closed for several months.
Unless you're entering the park by snowmobile or snow coach, most of the roads are closed from early November to mid-April except for the north entrance. Before commencing your journey, it's a good idea to check road closures within the park.
Entrance Into the Park
Before you head off to the park, make sure you purchase the America the Beautiful National Parks Pass. The pass costs $80 and we ended up selling it for $68 on eBay about two months after buying it (after making plans to leave the country). Also, when entering the park, many of the entrances have lanes especially for passes, making your admission much faster!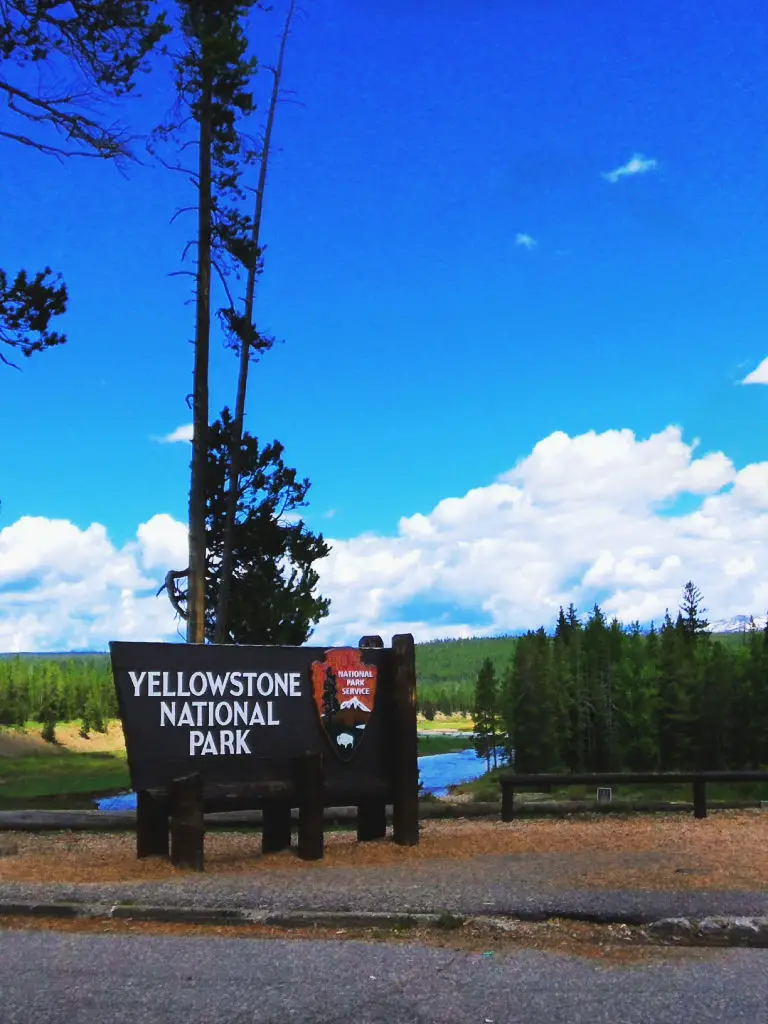 There are five entrances to the park: South, West, East, North, and Northeast. Most visitors will enter the park from either the south or east entrances. The towns of West Yellowstone (west entrance) and Gardiner (north entrance) have the most options for accommodation and food.
Winter Tours: Many wonderful tours take place during the winter. The excursions range from single-day to multi-day journeys. Below are some of the most unique ways to explore Yellowstone:
Best Time of Year to Visit Yellowstone
The best time of year to visit Yellowstone is in late May, late August, and early September. During these periods, the park tends to be less crowded and the temperatures are generally comfortable for touring.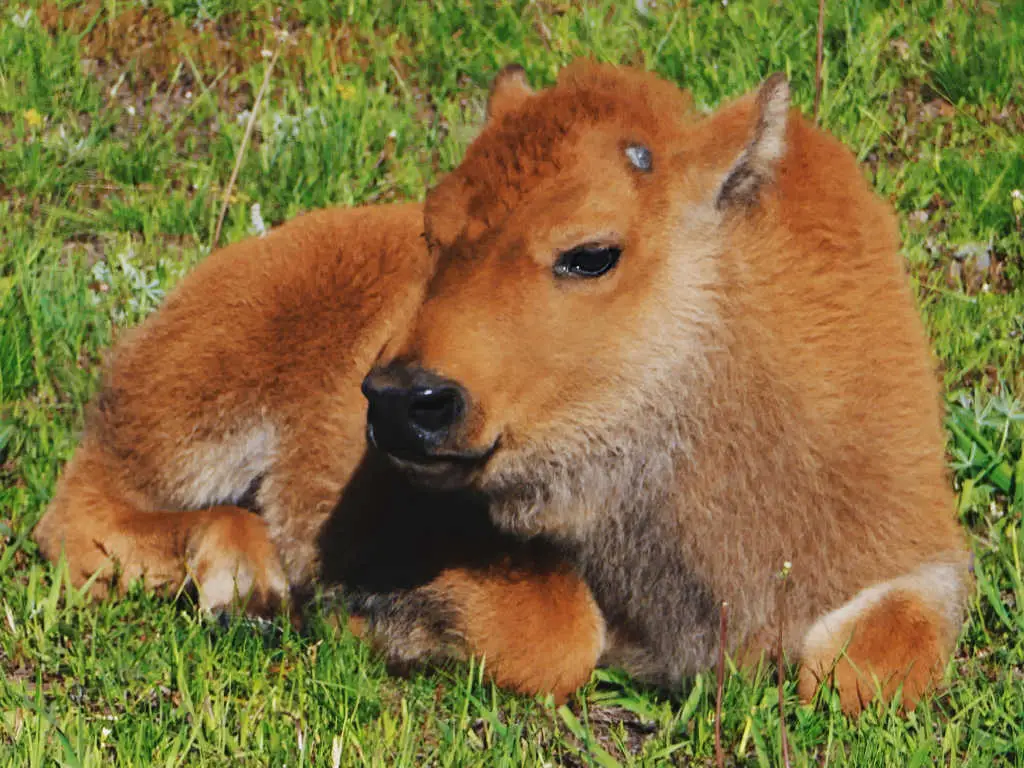 Also, in terms of wildlife, there are many opportunities to see bears with their cubs, baby bison, wolves, and other mammals in the spring. While in the fall, elk rut is occurring—when bulls are looking to breed with a cow in estrus.
Accommodations
When securing your Yellowstone accommodations, remember to book as soon as possible. During the high season, rooms and campsites can sell out a year in advance.
Another important consideration is the location of your accommodation. The prices for lodging will rise exponentially as you get closer to the park and can get shockingly expensive inside the park. Hence, based on the cost and level of comfort, we recommend staying outside the park.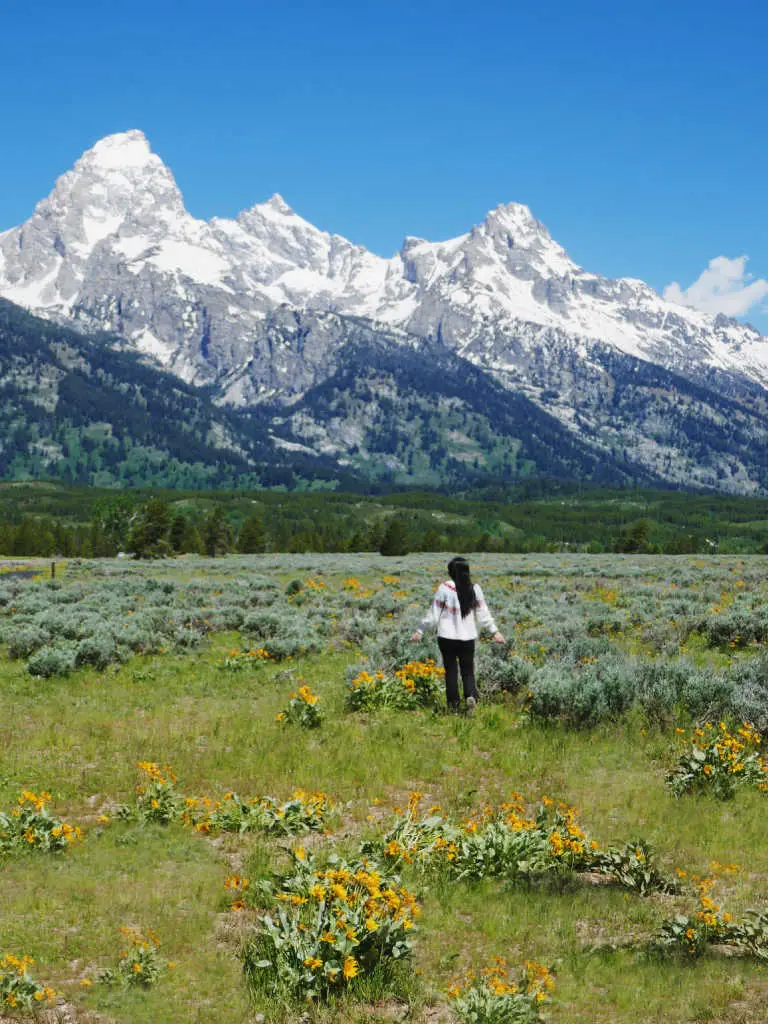 For example, we stayed four nights in Jackson so that we could explore Jackson Hole, Grand Teton National Park, and the southern section of Yellowstone—then, spent one night on the outskirts of West Yellowstone at the Super 8 by Wyndham West Yellowstone, mainly because we had Wyndham points.
As you plan your itinerary, keep in mind logistics such as where you will sleep each night, where to purchase groceries, or get dinner. After a long day exploring, the last thing you will want to do is spend your evening searching for food. We'll provide some tips in the itinerary below.
The three accommodation locations include:
1. Inside the Park
There are nine different lodging facilities located within Yellowstone National Park offering over 2,000 rooms for tourists. Generally, the park's accommodations are open from late spring through fall. Only the Old Faithful Snow Lodge and Mammoth Hot Springs Hotel remain open during the winter months.
2. Outside the Park
Yellowstone has three small towns bordering the park and three major gateway communities to choose from when staying outside the park. Below are the names and locations of the three small three towns, we'll discuss them in greater detail in the itinerary section.  Furthermore, these are the closest lodging options to Yellowstone NP.
West Yellowstone, Montana (borders the West Entrance)
Of the three closest towns to the park, West Yellowstone is the biggest and has the largest array of lodging options. Also, it's the most expensive with some of the nicest accommodation.
Budget-Savvy: Yellowstone Inn > Intimate cabin
Mid-Range: Kelly Inn West Yellowstone > Family hotel with indoor pool
Luxury: 1872 Inn – Adults Exclusive > Luxury for adults
Glamping: Under Canvas West Yellowstone > Safari-inspired tents
Gardiner, Montana (borders the North Entrance)
Gardiner is the second largest town and has many very nice mid-range accommodation options. If you're looking for value then Gardiner is a great place to stay, especially with Yellowstone Riverside Cottages.
Budget-Savvy: Cowboy's Lodge > excellent location
Mid-Range: Yellowstone Riverside Cottages (lovely patio overlooking river) or Yellowstone Gateway Inn (full kitchen)
Luxury: n/a
Glamping: Dreamcatcher Tipi Hotel > nightly community campfire with s'mores and cocktails
Cooke City, Montana (5 miles past the Northeast Entrance)
Cooke City is the smallest town and has much fewer options in about the same price range as Gardiner.
Budget-Savvy: Alpine Motel of Cooke City > simple yet clean
Mid-Range: High Country Motel and Cabins (charming cabins) or Silver Gate Lodging (closest cabin to national park)
Luxury: n/a
Glamping: n/a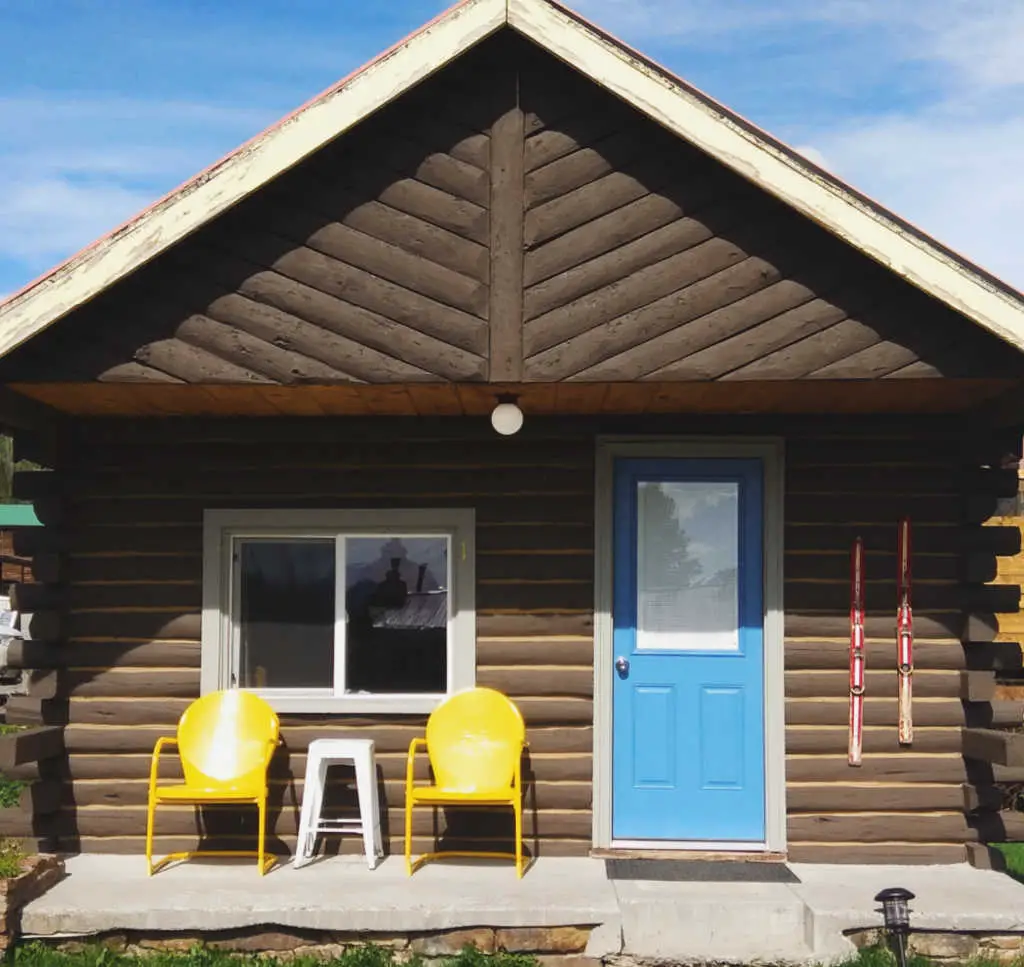 Below are the three major gateway communities and a few recommended lodging options:
1.) Jackson, Wyoming (60 miles south)
Budget-Savvy: Elk Refuge Inn
Mid-Range: Elk Country Inn
Luxury: Wyoming Inn of Jackson Hole
2.) Cody, Wyoming (50 miles east)
Budget-Savvy: Cody Legacy Inn & Suites
Mid-Range: Robins Nest Bed & Breakfast
Luxury: Chamberlin Inn
3.) Dubois, Wyoming (80 miles southeast)
Budget-Savvy: The Longhorn Ranch Lodge & RV Resort or Stagecoach Inn & Suites or Rocky Mountain Lodge
Mid-Range: Jakey's Fork Homestead
Luxury: Brooks Lake Lodge & Spa
Even the smaller towns bordering the park offer a variety of lodges, cabins, hotels, and cozy vacation rentals. Although some vacation rentals may not be the most budget-savvy option, some travelers may appreciate the amenities that many properties offer. For example, some include firepits, fully-stocked kitchens, a washer/dryer, grills, patios, and hot tubs.
3. Campgrounds
Yellowstone campgrounds are divided into two different types; reserved sites and queued sites. Specifically, there are five campgrounds with 1,700 reservation-only sites and seven campgrounds offering 450 first-come, first-served sites. Backcountry camping sites are also available with a permit.
Must-See Features at a Glance
Yellowstone offers 2.2 million acres of natural beauty to explore. It's famous for its surreal landscapes—erupting geysers, rainbow-colored hot springs, geothermal features, and travertine terraces.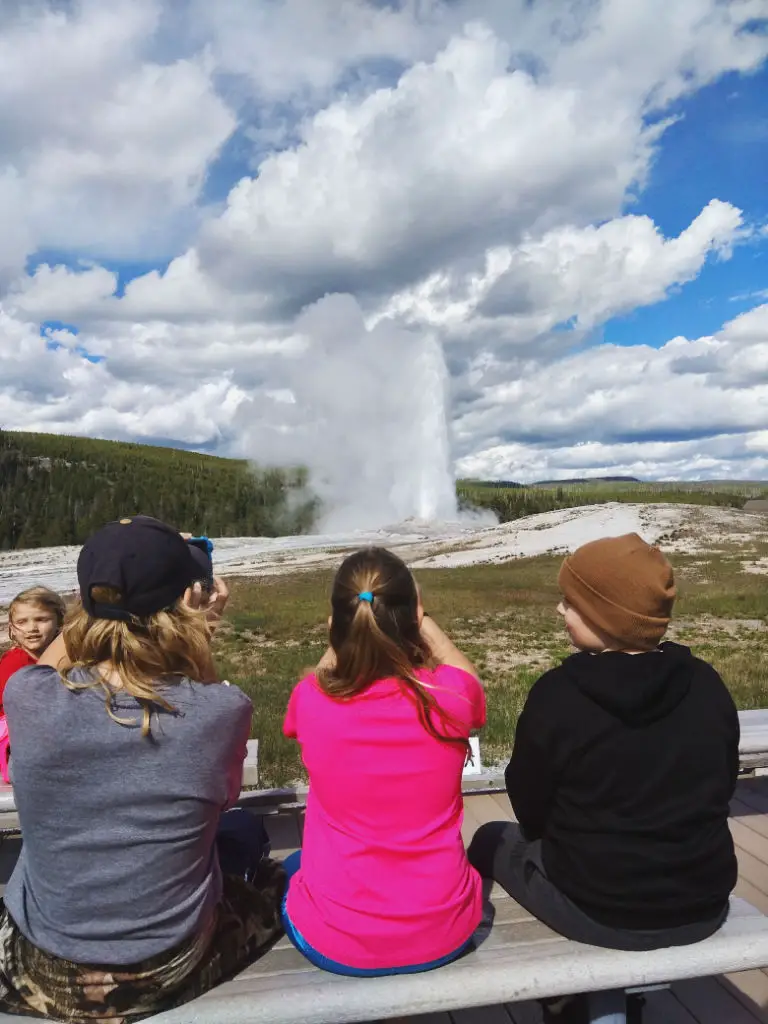 Most travelers won't have enough time to see the entire park so it's important to focus on the highlights and must-see attractions. For those blessed with time, there are 300 active geysers, 1,000 miles of backcountry hiking trails, and 350 waterfalls. In other words, there are plenty of things to see and do!
Old Faithful and the Upper Geyser Basin
Geysers are another natural feature of Yellowstone. In fact, this park has more of them than anywhere else in the world. Geyers are natural hot springs that frequently erupt under pressure.
The park's most famous geyser is Old Faithful. It erupts every 60 to 110 minutes drawing huge crowds, especially during summer. Some suggest viewing the eruption at night, to enjoy the serenity of the site with a sky full of stars.
Visitors can try to catch one of the other spectacular geysers, such as the Steamboat, Grand, or Castle. However, these are much less predictable.
Old Faithful Inn
Crafted from 1903 to 1904 from stone and logs, the Old Faithful Inn is a National Historic Landmark. Due to its central location, some consider it the most desirable accommodation in Yellowstone National Park. The spirit of the American West is celebrated in its woodsy decor and live music events.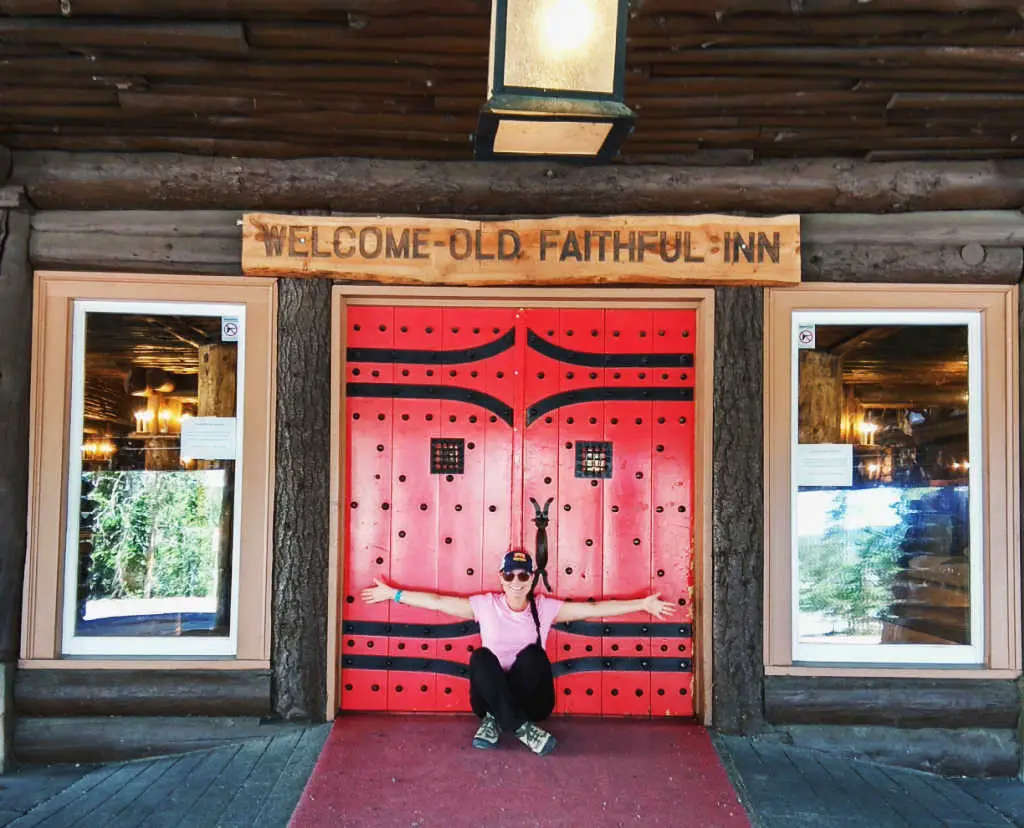 Guests are amazed by the massive fireplace, grand lobby, and observation deck which overlooks Old Faithful and surrounding geysers. The Old Faithful Inn is considered the largest log structure in the world and one of the last remaining log hotels in the United States.
Insider Tip: If you walk upstairs to the second level, there's a covered deck that offers fantastic views of Old Faithful. Some travelers choose to enjoy their sack lunches here or order a drink from the bar. It is often uncrowded and provides shade from the hot summer sun.
Grand Prismatic Spring and the Midway Geyser Basin
Yellowstone's most photographed thermal feature is the Grand Prismatic Spring. The brilliance of the spring's colors is due to thermopile bacteria, a particular bacteria that thrive at extremely high temperatures. The park's other brightly colored springs include the Morning Glory, Opal, Perforated, and Turquoise pools.
Norris Geyser Basin
Norris Geyser Basin is Yellowstone's hottest geyser basin. Furthermore, it's considered to be the most unpredictable and exciting basin in the park—and, it has the tallest active geyser in the world, Steamboat Geyser.
With about 24 active geysers (the number is constantly changing), steam shooting out of the earth everywhere you look, and an eerie lunar landscape, exploring this area of the park will make you feel like you're on another planet. Many visitors experience a sense of uneasiness when touring the Norris Geyser Basin, everything in their bodies is telling them to flee.
Yellowstone Falls
There are hundreds of waterfalls to explore in Yellowstone. One of the best places to chase waterfalls is at "The Grand Canyon of Yellowstone." Three can be viewed from along the ridge—the off-the-beaten-trek Crystal Falls, the rushing Upper Falls, and the magnificent Lower Falls. Take note, standing at a height of 308 feet, the Lower Falls is the tallest waterfall in the park and is twice the height of Niagara Falls.
Hayden and Lamar Valleys
Yellowstone is where Americans go to experience the country's best wildlife safari. Typically, the highest concentration of animals is in the Lamar and Hayden Valleys. Within these sections of the park, there are free-roaming wolves, bison, grizzly bears, and over 300 species of birds.
Insider Tip: Head to the wildlife outlooks located at the northeastern corner of the Lamar Valley and near the center of Hayden Valley. Here, the reward is gorgeous views of mountains and winding waterways.
Stroll the Boardwalks of Mammoth Hot Springs
The scenery at the Mammoth Hot Springs seems out of this world! Thankfully, the site is easy to explore with the help of 1.75 miles of sturdy boardwalks which provide an elevated view. From above, it's easy to see the various shades of tan, white, and orange emerge from naturally-created hot pools, created by travertine deposits.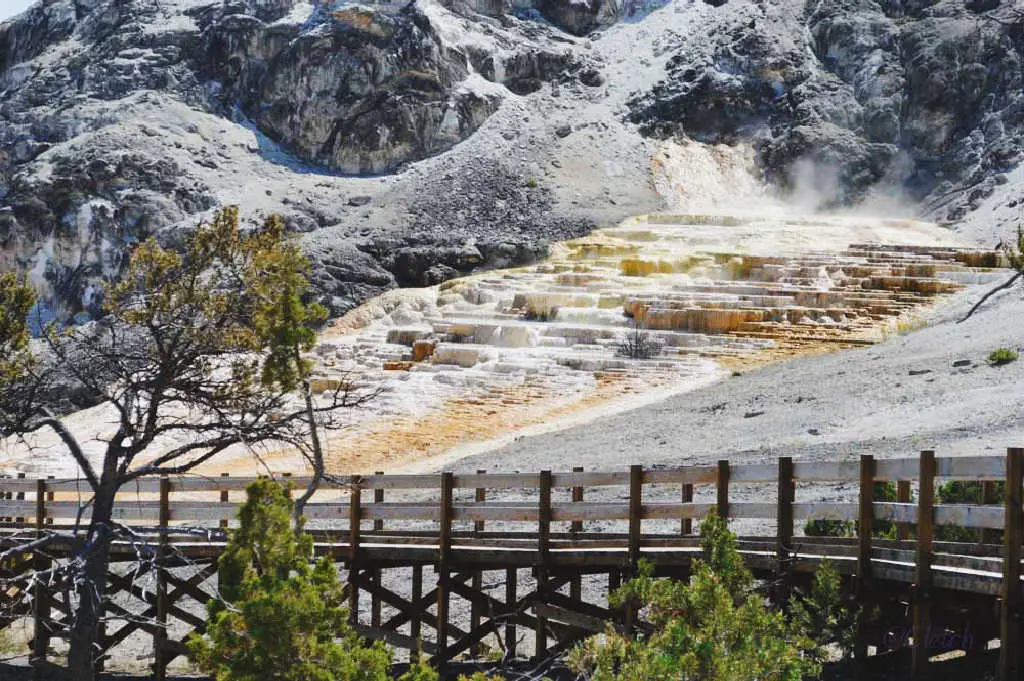 Fort Yellowstone
From the late 1800s to the early 1900s, Fort Yellowstone housed US Army soldiers stationed in the area. Their job was to protect the land from vandals, squatters, and poachers who were taking advantage of the park's natural resources.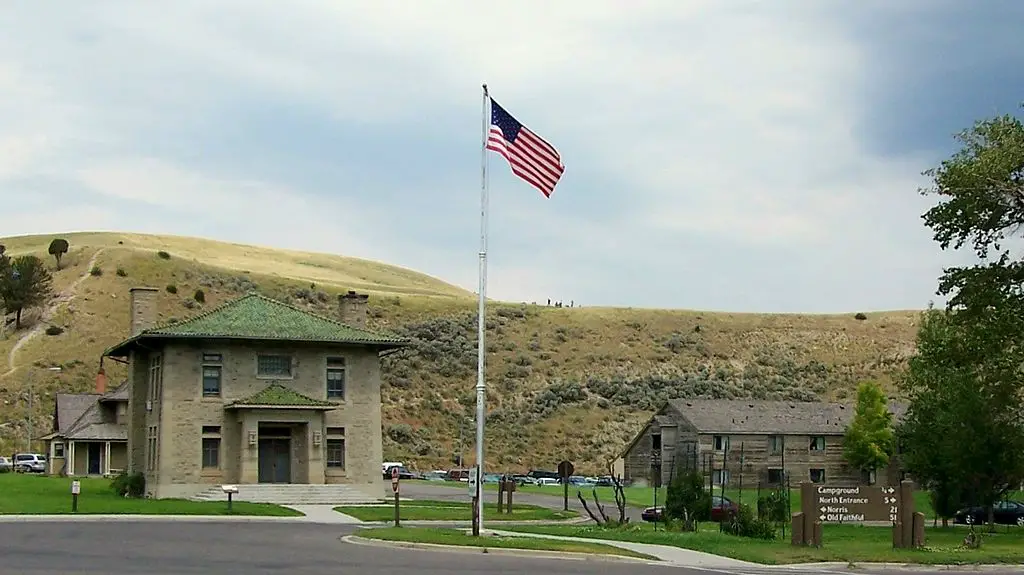 For example, people destroyed geysers, and poachers killed wildlife. Additionally, tourists camped, littered, and used the hot springs for laundry and bathing. Today, the historic fort has 35 remaining structures and is the park's official headquarters.
Yellowstone Itinerary > 1 Day
Unfortunately, some people will only have one day to "do" Yellowstone. While it is possible to see the most popular features in Yellowstone in 24 hours, we don't recommend it. Once again, the park is so massive that it can take 2½ to 3 hours to traverse from the north entrance to the south entrance.
The best Yellowstone itinerary in one day will include visiting the sites below. Simply put, these are the features and attractions you must see, along with an estimated time to complete each stop.
1. Upper Geyser Basin: Witness the eruption of Old Faithful and tour the boardwalk.—2 hours.
2. Midway Geyser Basin: Many people consider Grand Prismatic Spring to be the most stunning feature in the entire park.—1 hour
3. Norris Geyser Basin: Tour the boardwalk along Porcelain Basin and Back Basin, which feels like a lunar landscape.—2 hours
4. Yellowstone Falls: Made up of the upper and lower falls, and many scenic viewpoints in what is considered the "Grand Canyon of Yellowstone."—1 hour
5. Lamar Valley: Referred to as "America's Serengeti" because of its large and easy-to-see population of large animals. Wildlife lovers will most likely consider this the highlight of their trip.—1 to 2 hours
Please keep in mind that the above schedule is an exceptionally aggressive Yellowstone itinerary. It will take about 2½ hours of driving time to complete the route.
Getting Sidetracked
Also, "bear" in mind that if you cross paths with wildlife while visiting an attraction or traveling from point A to B, you could end up spending a considerable amount of time marveling at their beauty. Consequently, the time spent viewing wildlife will consume the time needed to visit the must-see features. Hence, it's a good idea to spend at least two days visiting the park.
To illustrate, despite knowing that wildlife spotting requires time and patience, we were getting frustrated that we hadn't seen Yellowstone's Big Five animals. It was only on our very last day in the park that we spotted four bears and a massive male elk.
Regardless, if you woke up early, traversed the park in a highly efficient manner, and feel like you have a bit of extra time then feel free to include Mammoth Hot Springs in your one-day itinerary.
Accommodation in West Yellowstone
West Yellowstone is an ideal place to stay for the evening. It's actually very cute! There are plenty of options for lodging, food, and shopping.
We recommend eating at Firehole BBQ CO. or Wild West Pizzeria & Saloon. Also, next door to the pizzeria is a supermarket—make sure to pick up some snacks for the next day of touring the park. Below are recommendations for accommodations in the town of West Yellowstone.
Budget-Savvy: Yellowstone Inn > Intimate cabin
Mid-Range: Kelly Inn West Yellowstone > Family hotel with indoor pool
Luxury: 1872 Inn – Adults Exclusive > Luxury for adults
Glamping: Under Canvas West Yellowstone > Safari-inspired tents
Tourists looking to kick back and have the professionals take care of the rest may appreciate the Yellowstone One-Day Tour that departs from Jackson. Another option is the Grand Teton & Yellowstone 2-Day 1-Night Tour which overnights in Cooke City, near the Northeast Entrance.
Yellowstone Itinerary > 2 Days
The typical tourist will spend two full days in Yellowstone and feel like they received a solid tour of the park. Moreover, adding a second day to your Yellowstone itinerary will supply some additional time to see a few more geothermal features.
Also, it will add some breathing room to the "Yellowstone Itinerary in One Day," to prevent you from feeling rushed. Furthermore, in case you didn't make it to all five of the features on your first day, the second day will allow you to make sure you didn't miss one of the must-see features within the park.
Featured Attractions
The best Yellowstone itinerary in two days will take you to a new section of the park (the lower right loop) and include three features. Begin your second day at West Thumb Geyser Basin Trail and head north from there. Spend the night in Gardiner, near the North Entrance.
1. West Thumb Geyser Basin Trail: Highlights along the boardwalk and trail include the Painted Pool, Fishing Cone, Abyss Pool, and legendary views of Lake Yellowstone.—1 to 2 hours
2. Mud Volcano Trail: Take the 0.6-mile loop trail our the boardwalk to see one of the spookiest features in the park, Dragon's Mouth Spring.—1 to 2 hours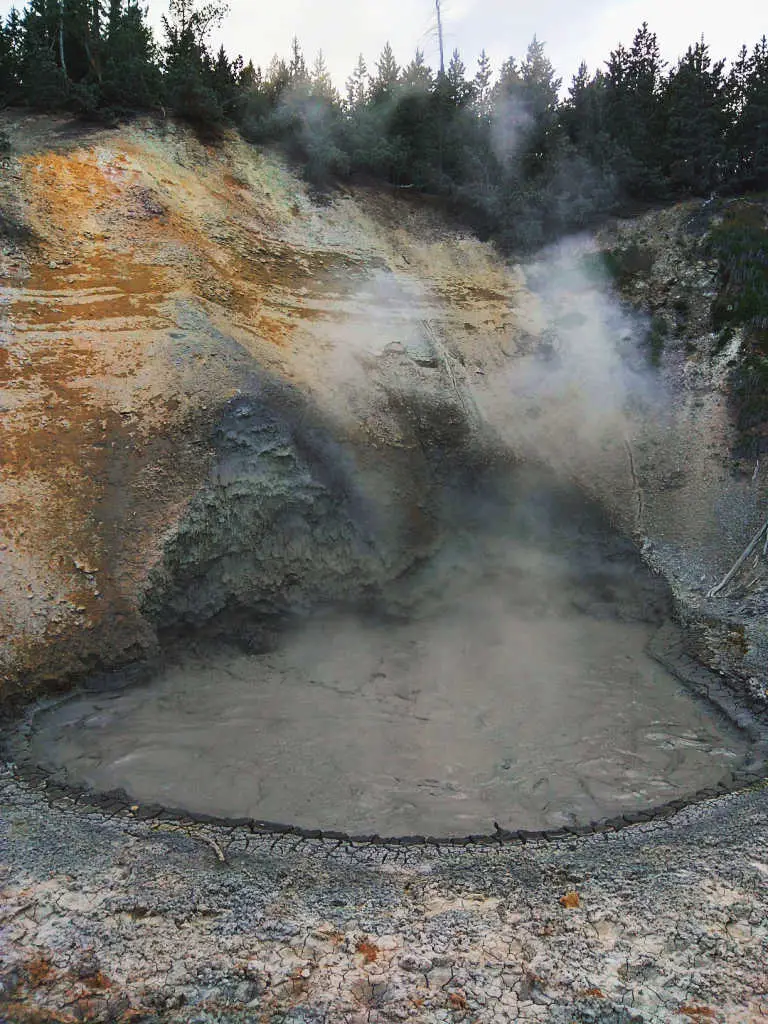 3. Gibbon Falls: Walk along the Gibbon Falls Wildlife Trail to capture epic views of the 84-foot tall waterfall.—15 to 30 minutes
4. Mammoth Hot Springs: Explore the boardwalks above the hydrothermal features. Afterward, head over to the nearby town of Mammoth and tour the historic Fort Yellowstone.—1 to 2 hours
Accommodation
Gardiner is all about the small-town Montana charm. Located just outside the North Entrance, Gardiner is home to a wide range of lodging, dining, and shopping options. It's ranked 2nd in cuteness, just behind West Yellowstone.
We're going to recommend eating at Firehole BBQ CO. or Wild West Pizzeria & Saloon. Also, next door to the pizzeria is a supermarket—make sure to pick up some snacks for the next day of touring the park. Below are recommendations for accommodations in the town of West Yellowstone.
Budget-Savvy: Cowboy's Lodge > excellent location
Mid-Range: Yellowstone Riverside Cottages (lovely patio overlooking river) or Yellowstone Gateway Inn (full kitchen)
Glamping: Dreamcatcher Tipi Hotel > nightly community campfire with s'mores and cocktails
Guided two-day tours include the > Yellowstone National Park: 2-Day Guided Tour with Lunches.
Yellowstone Itinerary > 3 to 5 Days
Having three to five days (or more) to explore Yellowstone will allow you to tour the park at a leisurely pace, especially when compared to the one or two-day itinerary. Also, the extra day(s) will allow you to visit any unseen areas or features, revisit the most interesting features, and grant the opportunity to participate in some fun and interesting activities. Additionally, it will ensure that you don't feel like you're sitting in your car all day long.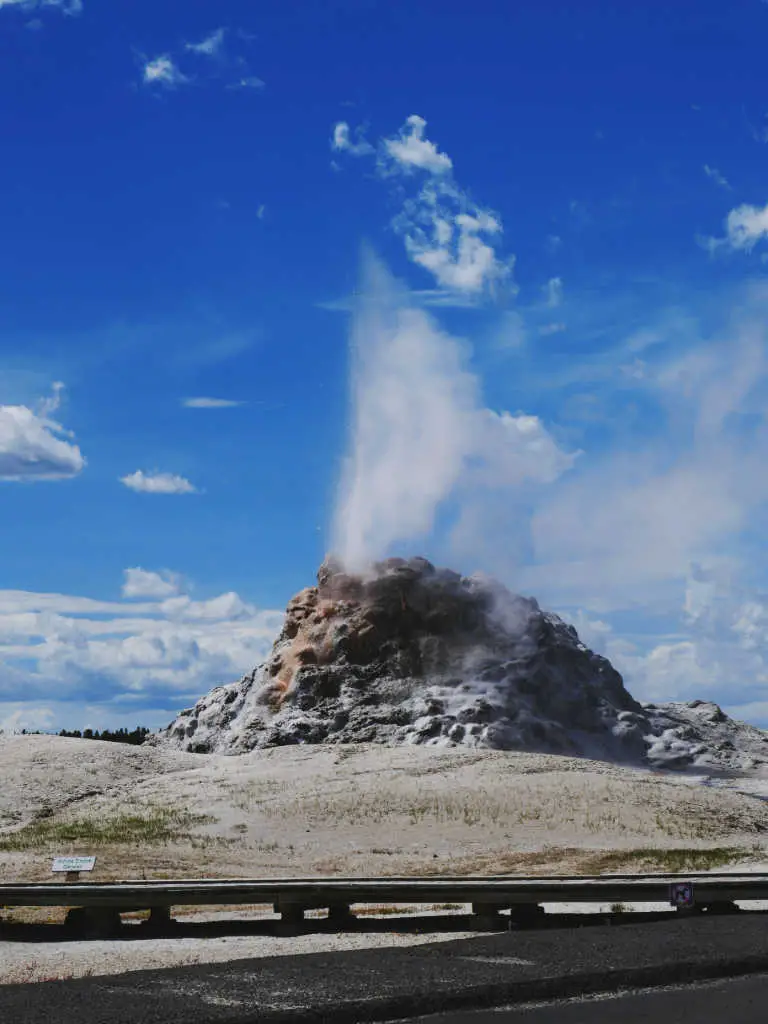 If you're still looking to explore unchartered territory or want to participate in a few tours or activities, then the list below will accentuate your current Yellowstone itinerary nicely.
View Firehole Falls
A small 40-ft. drop waterfall in the Firehole River with canyon walls formed from lava.
Go Swimming
There are only two swimming areas in Yellowstone: Firehole River and Boiling Point. Firehole River is not warmed by hot springs and maintains a cool temperature while Boiling Point is considered warm, as both hot and cool waters mix. Check the park's current conditions page to verify if swimming is allowed during your visit.
Make a Grand Entrance at Roosevelt Arch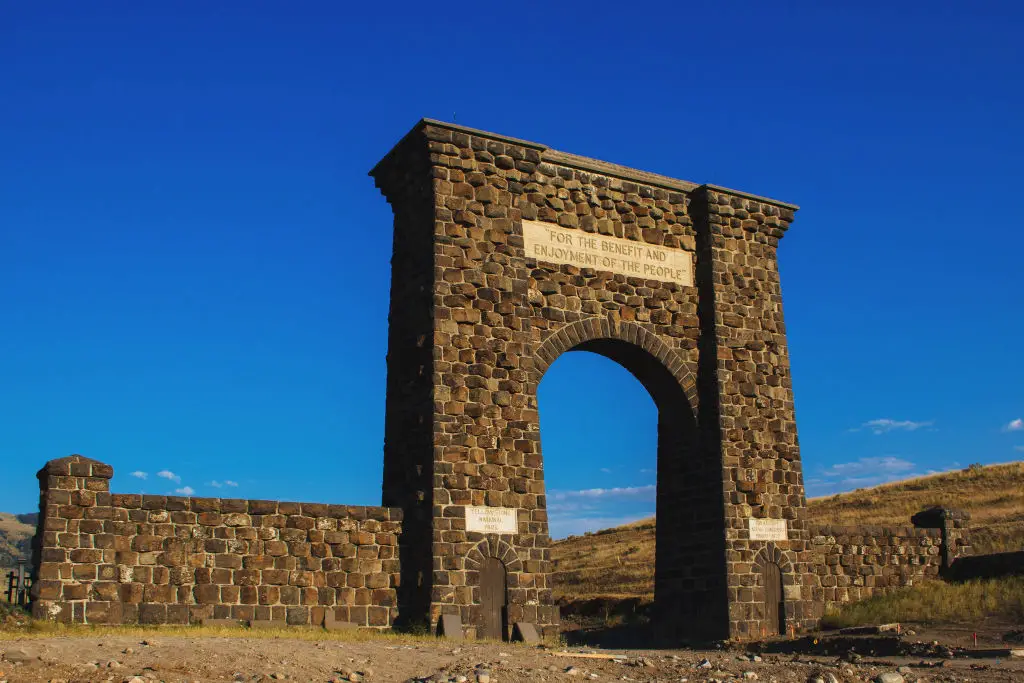 The original entrance and the only formal way to gain access to Yellowstone was along the northern boundary. In 1903, the Roosevelt Arch was constructed as a way to welcome visitors. The triumphal arch still stands near the North Entrance and is inscribed with the following message: "For the Benefit and Enjoyment of the People."
Take a Hike
We enjoy using All Trails to help us find local hikes—they have over 100 hikes in Yellowstone ranked by hikers. The top four hikes are:
Mystic Falls, Fairy Creek, and Little Firehole Loop
West Thumb Geyser Basin Trail
Catch a Fish
Take a private tour to fish for trout on Lewis Lake with up to five anglers or embark on your own fishing expedition.
Relax With a Picnic
Our two favorite spots for picnicking in Yellowstone are the Sand Point Picnic Area and Nez Perce Picnic Area. Both areas provide picnic tables, restrooms, and wonderful areas to take in nature. As previously mentioned, the Old Faithful Inn offers a shaded outdoor patio where guests are welcome to enjoy their sack lunches.
Tour the Small Town of Cooke City [the town is accessible from the east but there is no access to the northeast entrance of Yellowstone]
If you're out near the Lamar Valley and a bit hungry then head towards the Northeast Entrance. About 5 miles outside the park is the town of Cooke City.
Stop at the Beartooth Cafe for a bite to eat—it has a lovely outdoor seating area. Afterward, take a stroll through the Cooke City Store which is on the list of the National Register of Historic Places. Constructed during the late 1880s, the store is worth a visit because much of the architecture and fixtures are original.
Best Guided Tours in Yellowstone
Travelers interested in exploring the best-guided tours in and around Yellowstone will want to check out these popular tours, sorted from least to most expensive:
Visitors looking to take a guided tour of Grand Teton National Park may enjoy the Grand Teton National Park Tour from Jackson Hole.
General Tips for Visiting Yellowstone National Park
Logistics are an important factor for any successful tour of Yellowstone. These insider tips will leave you feeling prepared and well-informed.
Driving
Depending on the number of visitors, congestion in the park may cause travel times to increase dramatically. The speed limit is 45 m.p.h. in much of the park.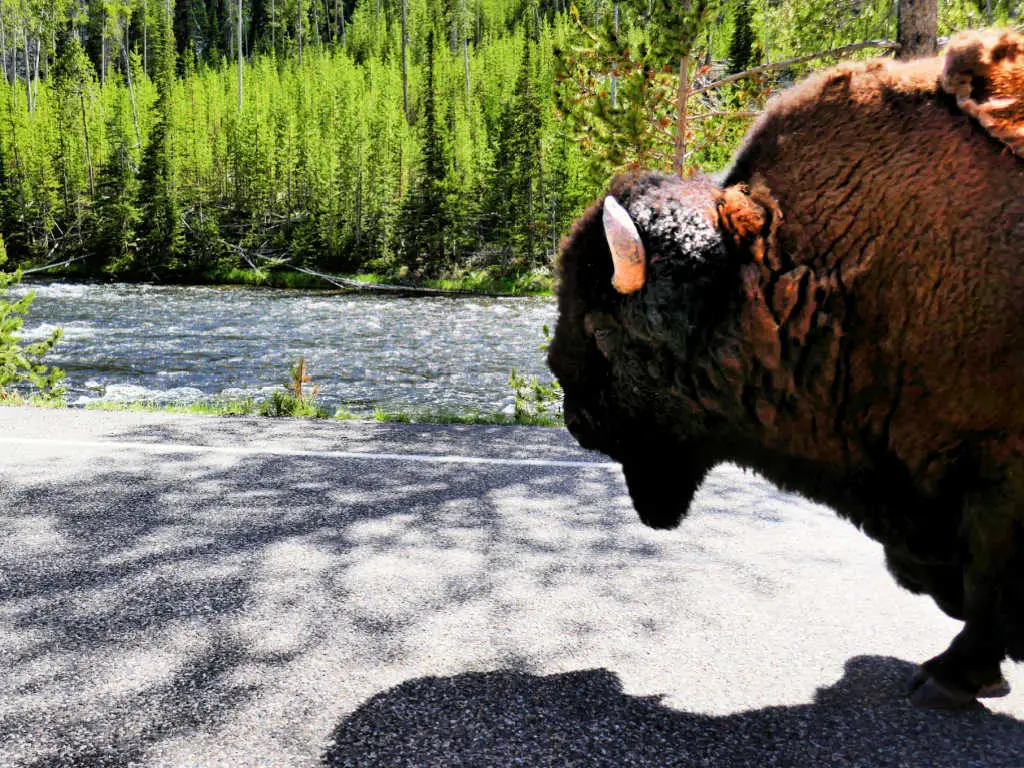 However, at night, slower driving is encouraged because it's much more challenging to anticipate wildlife crossing the road. Finally, colliding with wildlife is a quick way to ruin your trip.
Cell Service
There are a few sections in the park that receive cell service, and even that coverage is spotty and unreliable. Come prepared with maps, guidebooks (we recommend the Moon USA National Parks: The Complete Guide to All 62 Parks), audio guides, and travel apps that have already been downloaded.
Some great free options include:
National Parks App by Chimani
Grab a free visitor's guide distributed at the entrances of the park. The pamphlet shares seasonal park information, such as road closures, special events, and activity schedules.
Come Prepared
Come prepared as you would for any proper road trip. Stock up with snacks, water, lunch, cell phone chargers, and sunglasses. For visitors who plan on hiking, bring comfortable hiking shoes and bear and bug spray. Be advised, that bear spray is not permitted in checked baggage. Therefore, hikers must purchase it after landing.
Getting to Yellowstone
Located near the park's east entrance, the Yellowstone Regional Airport is about 3 miles outside Cody, Wyoming. Typically, it offers direct flights from Salt Lake City, Chicago, and Denver. Alternatively, Jackson Hole Airport is approximately 60 miles south of the park and offers service to/from various cities. A current schedule can be viewed here. Finally, the closest major airport is five hours away in Salt Lake City, Utah.
Additionally, both airports have car rentals and shuttle services to the park's lodges, surrounding towns, and regional hotels.
If you're road-tripping across the US, you're sure to come across many spots where your cell phone won't work. If you're old-school (like us) you may appreciate going with the Rand McNally Road Atlas & National Park Guide (Rand McNally Road Atlas).
Yellowstone Frequently Asked Questions
Below are some of the most frequently asked questions by tourists planning a trip to Yellowstone National Park.
Is visiting Yellowstone worth it?
Absolutely, yes! As the largest national park outside of Alaska, Yellowstone is one of the country's most notable attractions.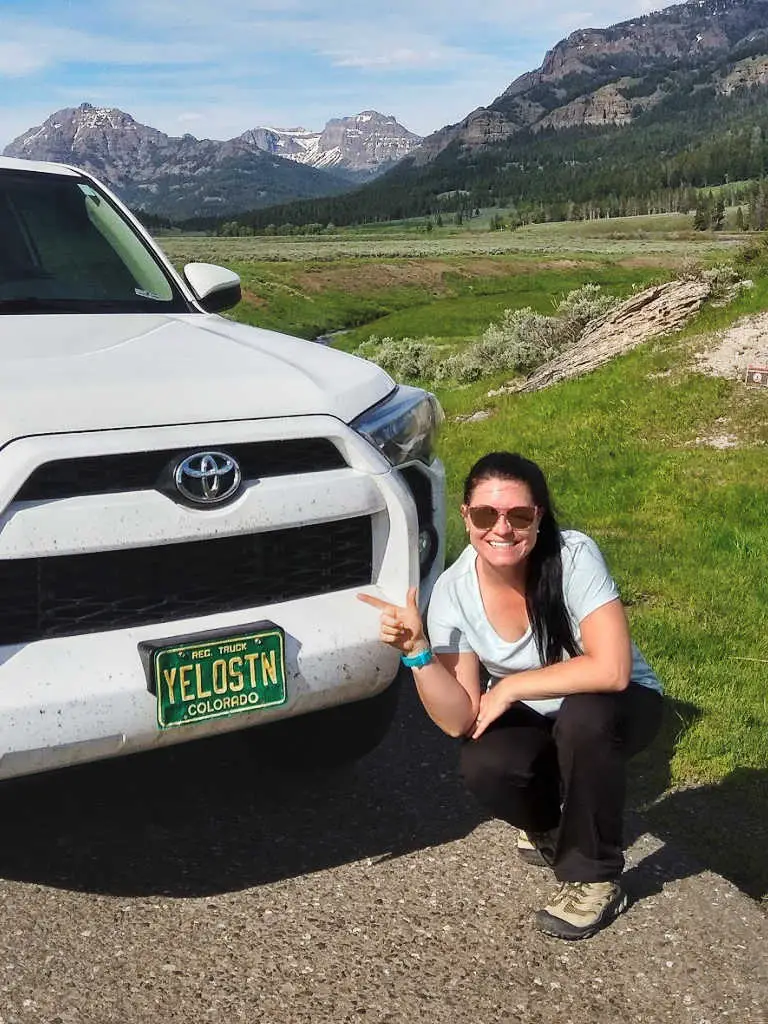 In fact, considered the Serengeti of North America, this is probably the best wildlife destination in the United States.
Can you see all of Yellowstone in one day?
Yes, the Grand Loop Road connects all of Yellowstone's major attractions, making it possible to see the park on one busy, yet fun-filled day. However, many travelers regret only allowing one day to see the park because they typically feel rushed.
How many days do I need in Yellowstone National Park?
Three to five days are the ideal amount of time to visit Yellowstone for most travelers. With three to five days, visitors can explore the park at a leisurely pace, especially when compared to the one or two-day itinerary. Also, the extra day(s) allow visitors to visit any unseen areas or features from the first two days, revisit the most interesting features, and grant them the opportunity to participate in some fun and interesting excursions. Additionally, it will ensure that you don't feel like you're sitting in your car all day long.
Where are the hot springs in Yellowstone National Park?
Yellowstone National Park's hot springs and thermal features are located throughout the park. However, the most brilliant hot springs are located in the southwest of the park near Old Faithful and at Grand Prismatic Spring.
What is the best time to visit Yellowstone?
The best time to visit Yellowstone is in late May, late August, and early September, when the weather is warm, kids are in school, and most families are not vacationing. Touring Yellowstone during this time of year should allow for easier access to the sites, with less congestion, and more opportunities to see wildlife.
Can we swim in rivers and lakes?
There are two specific areas where swimming is allowed in Yellowstone, dependent on NPS alerts, they are 1.) Boiling River and 2.) Firehole Swim Area. To make sure swimming is allowed, be sure to check the NPS website or speak with a ranger on the day of your visit.
Lakes and rivers are typically dangerously cold, even in the warm months, so swimming is generally not recommended. Also, swimming is not allowed in any hot springs or other geothermal features. Finally, swimming in designated areas is only allowed during daylight hours.
Where can I see bears in Yellowstone?
During one of our trips, we saw four bears in one day! We spotted two grizzlies near Terrace Spring, a black bear in the Lamar Valley, and a brown bear about a miles south of Mammoth Springs.
However, one of the sure bets is to see bear #399 with her cub just south of the South Entrance. Bear #399, probably the most famous bear in North America keeps her den near the street in between the South Entrance and Jackson Lake. As a protective measure, she keeps her den near the street, and near the tourists, to protect her cub(s) from male grizzlies.
Typically, there will be a swarm of people with huge cameras, park rangers, and dozens of cars—that's when you'll know a bear has been spotted. Also, upon entering the park feel free to ask a park ranger if any bears have been spotted today.
Where can I see bison walk on the street?
It is possible to see bison just about everywhere in the park. However, if you're looking to see them walking on the street next to vehicles then head towards the West Entrance. Most frequently, bison will walk on the street between Seven Mile Bridge and the Madison Campground.
Yellowstone continuously ranks as one of the top must-see attractions in North America. If you have any questions about your upcoming tour of Yellowstone, let us help you in the comments section below.