Malaysia, Borneo is one of the most amazing places we've ever visited. Back in our corporate days, we would scroll through Pinterest's travel pins and always stop when we came across anything related to Borneo. The trees. The misty jungle. The unusual animals. This made Borneo one of our top destinations to see on our backpacking tour.
However, due to the extremely high cost of the Borneo Rainforest Lodge, we almost gave up on visiting this beautiful area of the world. After many hours of research, we had difficulty finding mid-range accommodation options.
It was either sleep on mats in jungle huts or stay at luxury jungle lodges. Neither option was going to work for us. We quickly realized that we needed to find a way to do Malaysia, Borneo on a budget.
Malaysia Borneo | Best Things to Do While Exploring the Island
We contacted about six different travel agencies and Borneo holiday planners explaining our budget and inquiring about alternative options. Also, we read endless forums about how others visited Malaysia, Borneo on the cheap. We even considered staying at the scientific research centers, such as Deramakot and Danum Valley Field Center.
Although it sounded awesome to hang out with jungle scientists and researchers, it is very difficult to get in contact with these centers. Additionally, ratings on Trip Advisor were hit or miss (think about finding a cobra under your bed), and securing a reservation meant that we were still responsible for logistics such as food, transfers, and hiring local guides.
We almost threw in the towel, until we finally found the answer to our Malaysia Borneo prayers. The information below will explain how we visited Sabah, Borneo on a budget with the overall goal to see the Borneo Big Five.
What Are the Borneo Big Five?
Chances are if you're a wildlife lover, you've heard of the Big Five, a term used to name the must-see animals in a particular wildlife region around the world. For example, in Africa, the Big Five are considered the buffalo, elephant, lion, rhino, and leopard. In Borneo, on the other hand, the Big Five animals are the Pygmy Elephant, Proboscis monkey, crocodile, orangutan, and the rhinoceros hornbill, which is the national bird of Malaysia.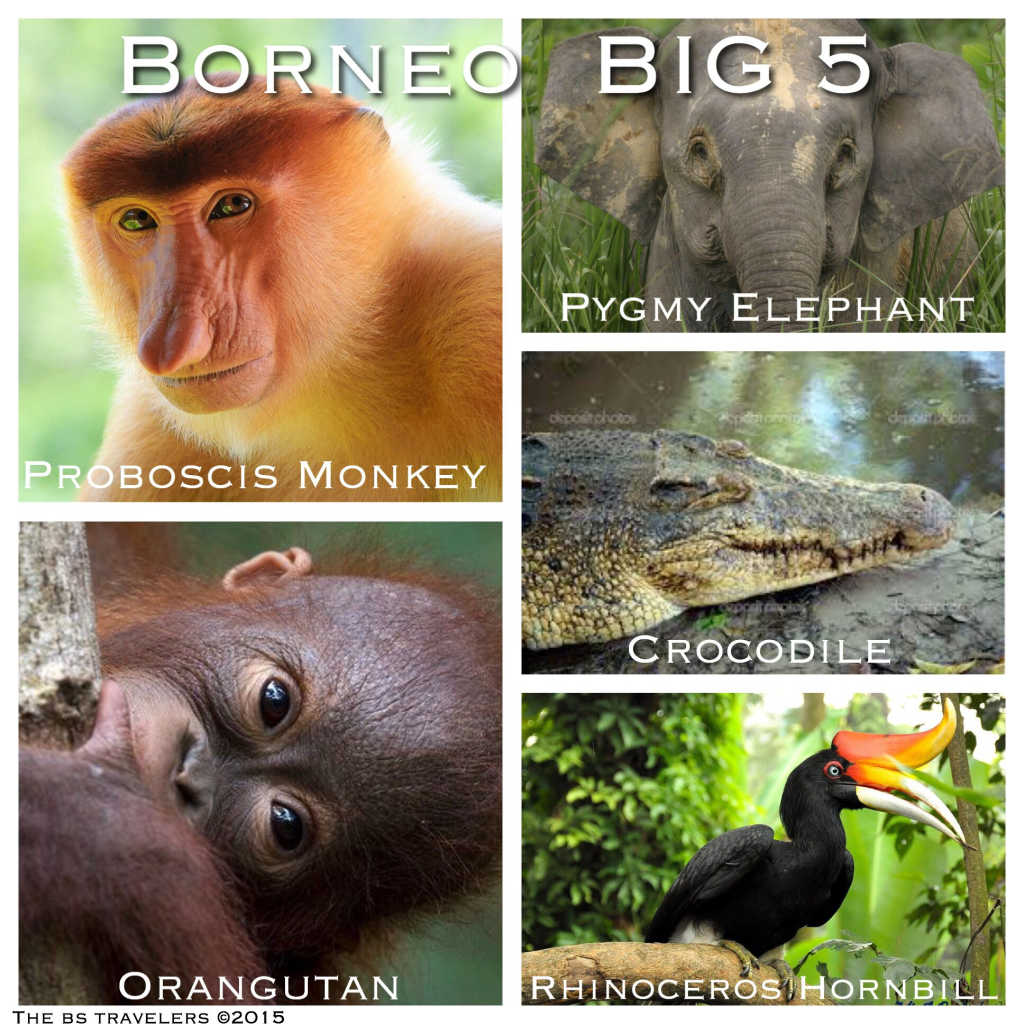 Borneo on a Budget Logistics
We flew from Phuket to Malaysia (Phuket to Kuala Lumpur to Kota Kinabalu). We overnighted in Kota Kinabalu at the Oceania Hotel (USD 35) which had an airport shuttle and was a 15-minute walk to the marina which had many restaurants and bars to choose from for dinner.
Then, we flew to Sandakan which served as the base for our Sabah, Borneo adventure. Many travelers begin their Borneo tours in Sandakan as it is home to many sanctuaries and conservation centers that provide visitors with an up-close and personal viewing experience of some of Borneo's unique wildlife.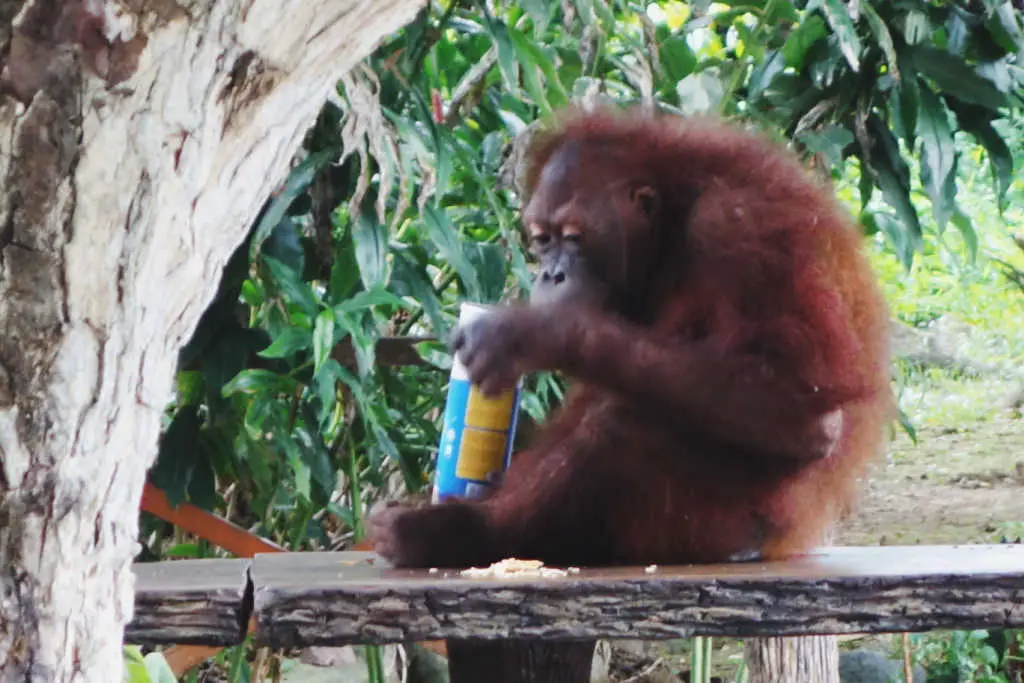 Honestly, at first, we weren't excited to visit these sanctuaries/centers, as we didn't want our tour of Borneo to feel like a zoo. However, we had a great afternoon with the primates and didn't regret the visit. We visited two of the sanctuaries, the Orangutan Sanctuary and the Labuk Bay Proboscis Monkey Sanctuary.
Sepilok Orangutan Sanctuary | Malaysia Borneo
When we arrived at the Sepilok Orangutan Sanctuary, there was a small group of people gathered around the main entrance. We walked over to find a young orangutan who had escaped the reserve and was putting on a great show for the tourists.
The young male stole a can of Pringles from one of the tourists and the staff was trying to take it away. He, however, was not having it! It was an amazing experience to watch this juvenile oragutan cause mayhem.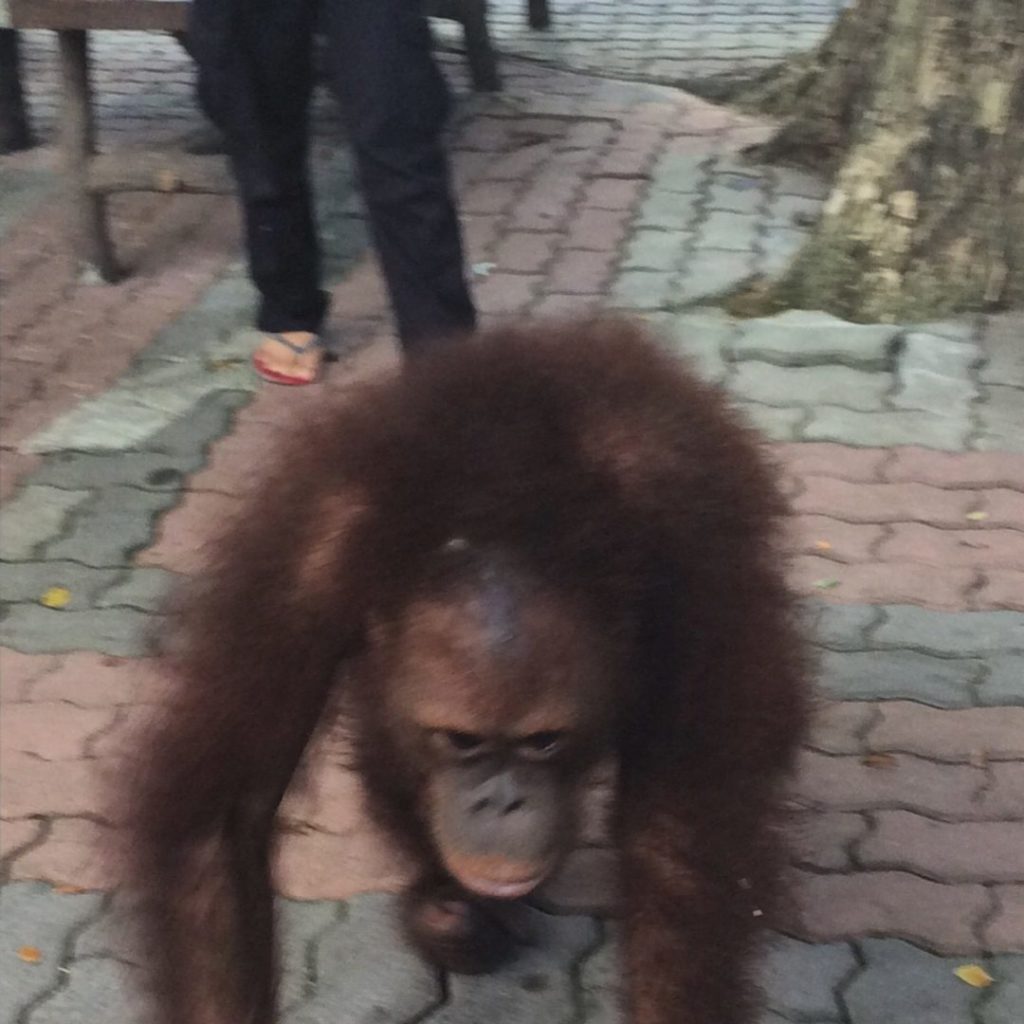 Visitors should schedule their visits around feeding times to increase their odds of catching a view of the wild orangutans. However, we were in luck because we got an up-close and personal experience with this beautiful animal. And when I mean up close, this little guy came up to me and grabbed onto my leg.
I probably would have scooped him right up, but the staff was urging me to back away. They were trying to get him away from the parking lot as they were worried about the safety of the animal and the visitors.
One Hour Later
We ended up watching this escaped orangutan for nearly an hour. Needless to say, our experience felt so personalized that we never ended up entering the rehabilitation center and paying the admission, as we had to move on to the Proboscis Monkey Sanctuary.
The cost to tour the sanctuary is about USD 8 per person (plus a USD 3 fee if you want to use any recording equipment such as cameras, GoPros, phones). Also, there is no guarantee to see orangutans.
Insider Tip: Negotiate costs with your taxi driver. We cut a deal with the taxi driver for the additional cost of going to the Proboscis Sanctuary. He originally requested USD 70 for the afternoon, but we talked him down to USD 42.
Proboscis Monkey Sanctuary
We made our way to our next stop, the Proboscis Monkey Sanctuary. When we arrived, we paid USD 20 for 2 admissions and one camera fee. We then walked along a wooden plank path that took us to the feeding site.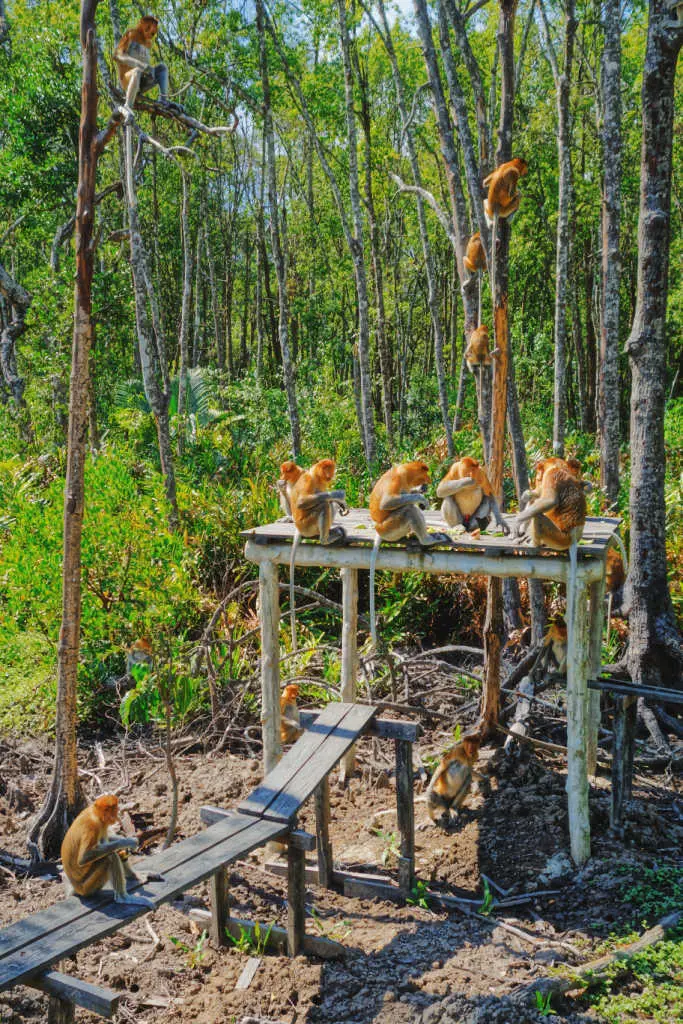 The feeding takes about an hour and the staff is available for questions. It was an intimate, quiet experience with only one other couple there. We observed both Silver Leaf and Proboscis monkeys, posed for pictures, and enjoyed watching the behaviors of this peculiar animal.
We would have stayed for the next feeding and stayed to watch a movie that provides more information, but we were worried about the taxi charging us more. As we departed, we caught our first glimpse of a group of common Hornbill birds.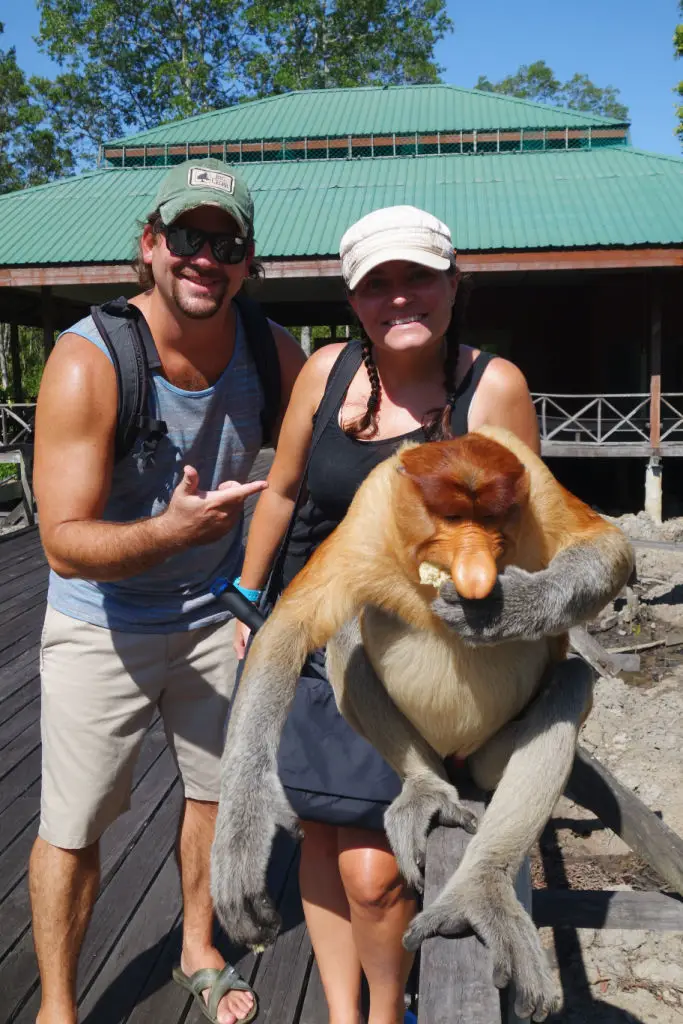 It is important to note that the sanctuary is owned by a palm oil plantation owner who dedicated a small bit of space for these animals to remain in their natural habitat. In theory, it sounds like a great conservation effort, until you realize that the palm plantation owners are the ones that are destroying their natural habitat in the first place.
How to Get to the Orangutan Sanctuary and the Sun Bear Conservatory Center
There is a local bus, #14, that takes visitors to the Orangutan Sanctuary and the Sun Bear Conservatory Center for only a few dollars. From the Sheraton, it is a short ten-minute walk to the bus terminal.
Here's the problem—we couldn't find anyone to tell us the bus schedule. (Information online said it leaves hourly from the terminal.) We walked around the chaotic bus terminal, looking for a ticket agent or information center but there was no one to help us. When a local finally asked if we needed help, he told us the next #14 bus wouldn't be back until 2 hours later!
Additionally, some reports online indicate depending on what local #14 bus you take they may or may not drop you off at the sanctuary entrance. If the driver doesn't, it causes you to walk 1.5 kilometers from the drop-off point.
Furthermore, when we inquired about using local transport to our concierge, he advised us to take a taxi. So we took a taxi for the day, costing us USD 40 after Harry negotiated the price down. This was our only option as the Proboscis Monkey Sanctuary was not on the local bus route anyway.
Where to Stay in Sandakan
We stayed in the Sheraton Four Points Sandakan for 3 nights, which recently closed (the best alternative is Sabah Hotel). The hotel had a promotion, buy two nights get one free. So we were able to treat ourselves to a pretty nice hotel stay for approximately USD 54.00 per night.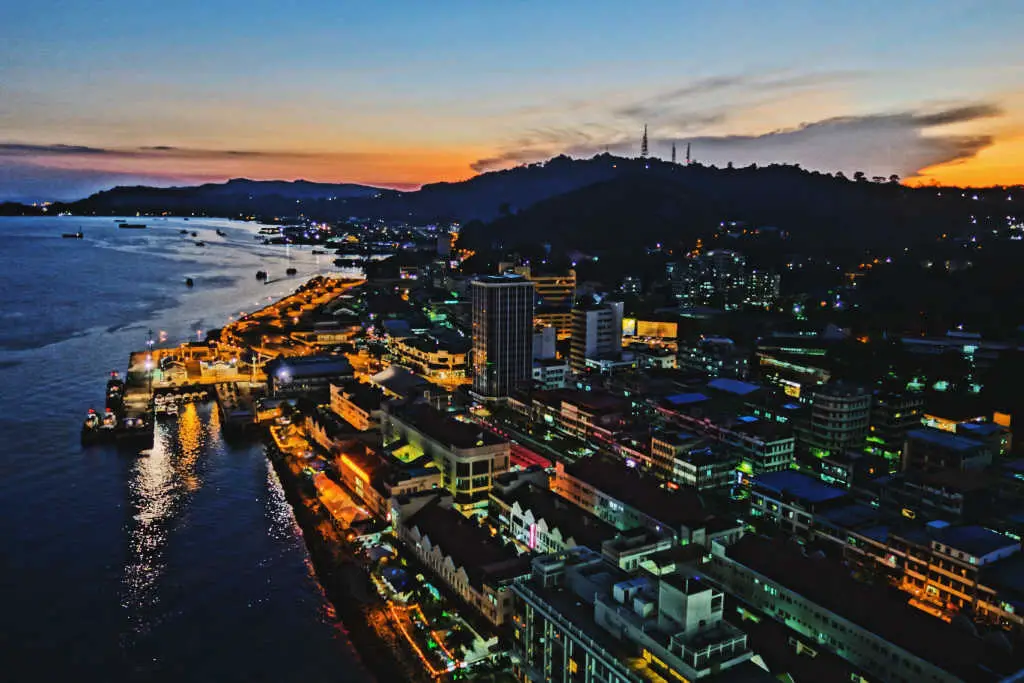 Many of the local restaurants near our hotel had a lot of their cooked food laid out. My Harbor Restaurant was one of the better ones to eat at and is located next to the former Sheraton.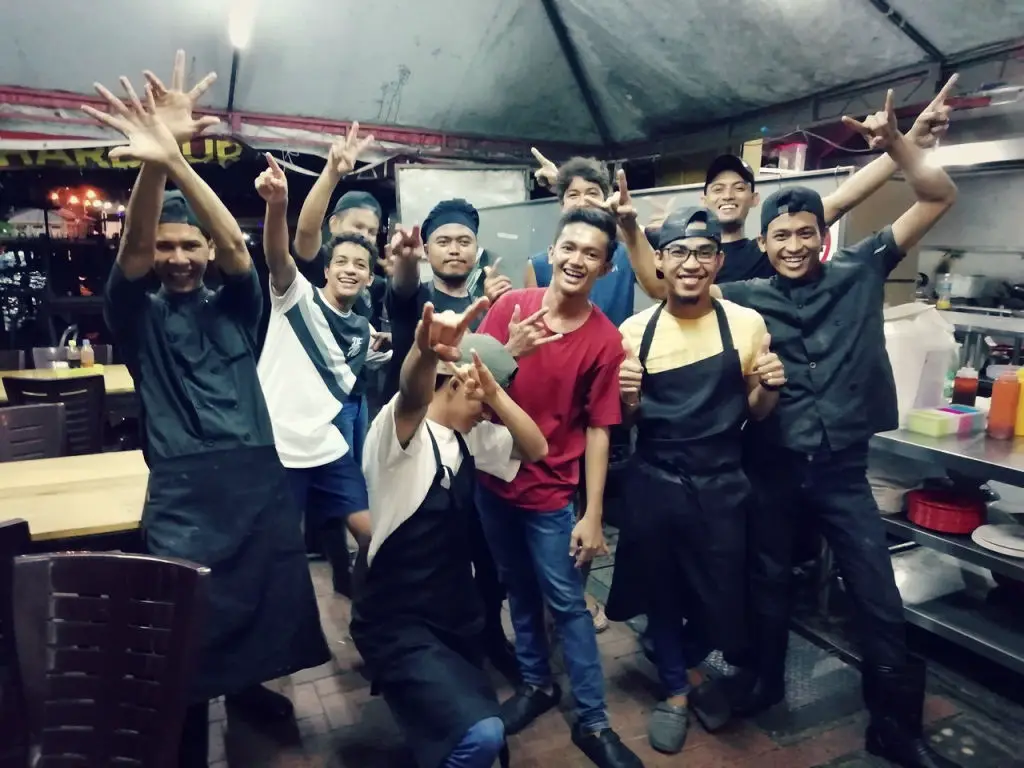 Also, we never told our mothers this, but a gunman (a.k.a. pirate) raided one of the oceanfront restaurants taking two people hostage two weeks before our visit. So we weren't so keen on hanging out near the waterfront where lots of people dine.
A Massive Earthquake Hits Malaysia
Our second morning in Sandakan, Malaysia imagine our surprise when we awoke from the rattling and swaying from one of Malaysia's biggest earthquakes ever recorded. The 6.0 quake sadly caused the deaths of 18 hikers and forever changed the iconic "donkey ear formations" on Mt. Kinabalu.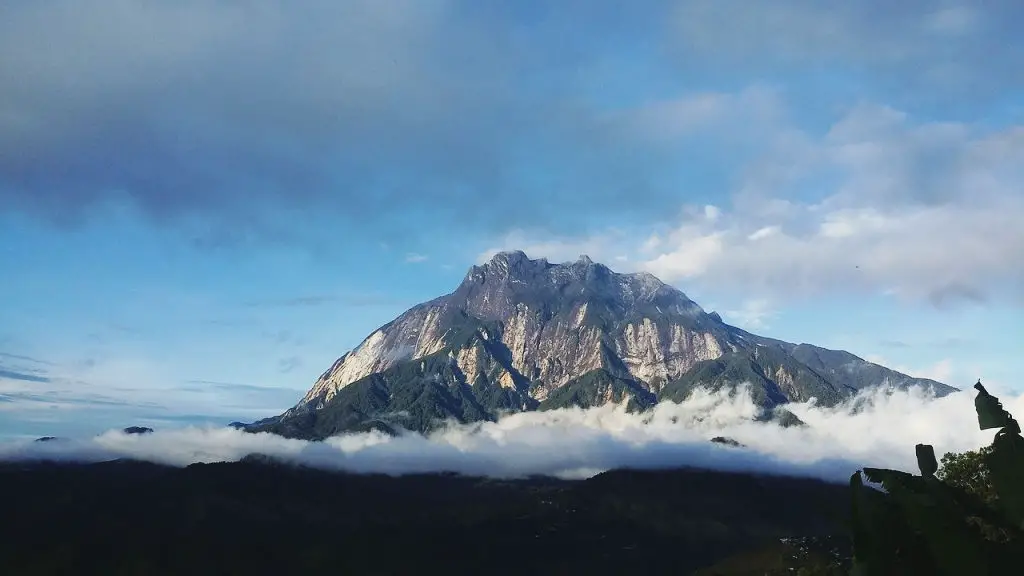 We considered hiking his mountain as it is not a technical, difficult climb but opted out because it was a little too costly for accommodations at the base and it would have been a little rough on the knees. It's strange to think about what the circumstances may have been like on the mountain that day.
Kinabatangan Jungle Camp | Malaysia Borneo
After chilling at the pool and enjoying the Sheraton's comfy bed for a few nights, it was time to get into the jungle! We booked a 3-night package at the Kinabatangan Jungle Camp on the Kinabatangan River.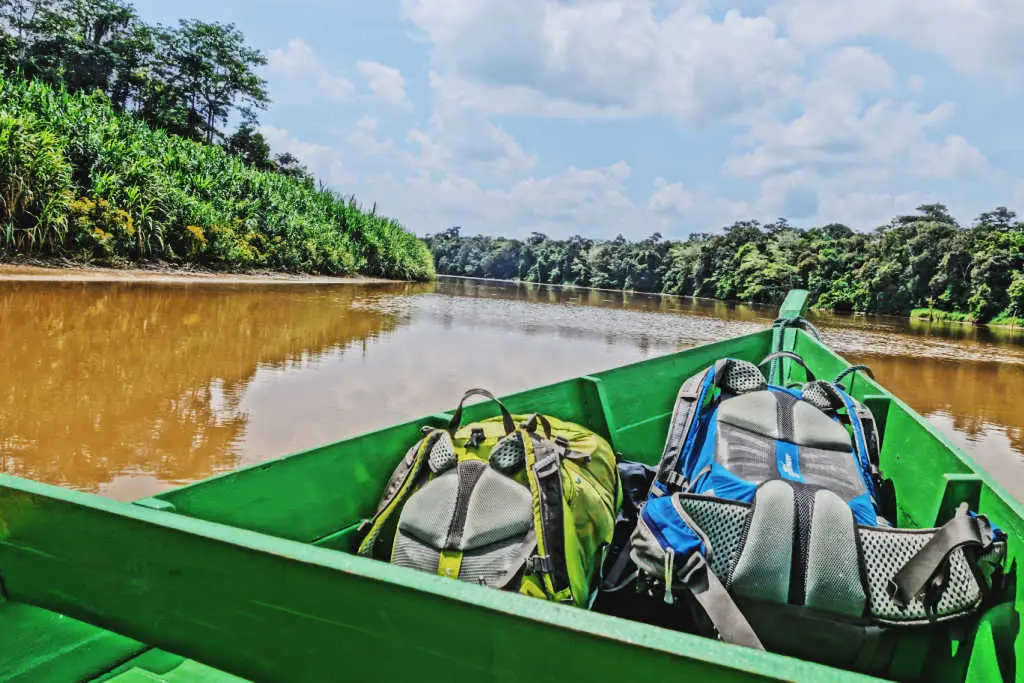 Upon arrival, guests are required to pay for their stay in cash. Our package included transfers, all meals, and activities (6 boat cruises, one night cruise, and one jungle walk) and cost us 1590 RM, or USD 429.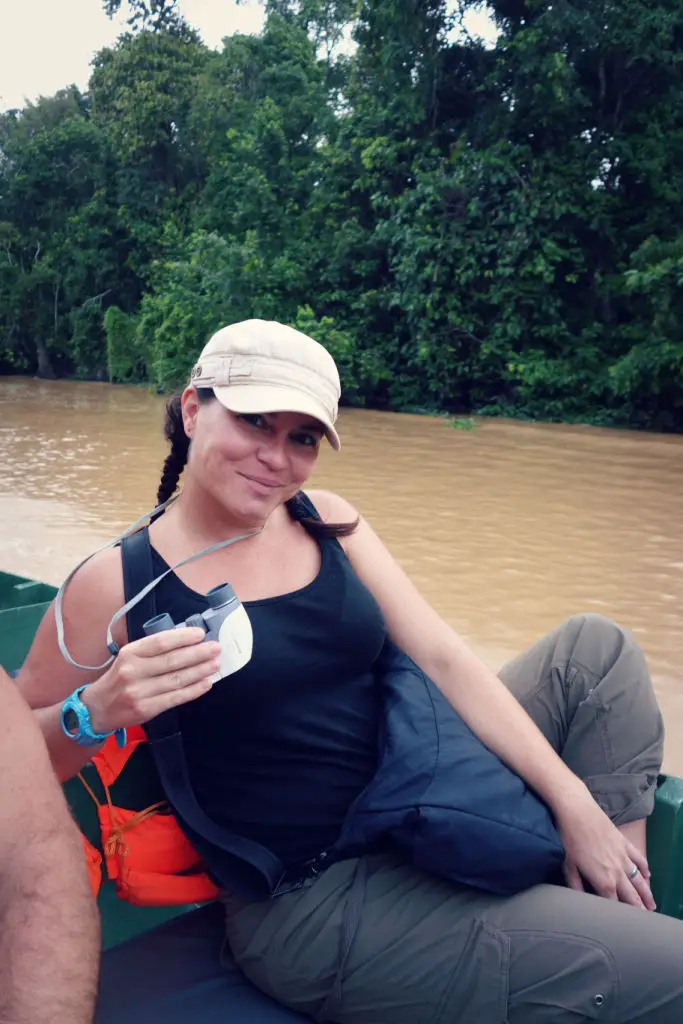 Mornings started at 6:30 A.M. when we would board our boat in search of Borneo's Big Five. We had luck on our side because on our first morning, after about 2 minutes on the river, we came across a mother orangutan and young child high on a tree near our lodge. Sighting orangutans in the wild is supposed to be very rare! (Hence, why many decide to visit the Orangutan Sanctuary.)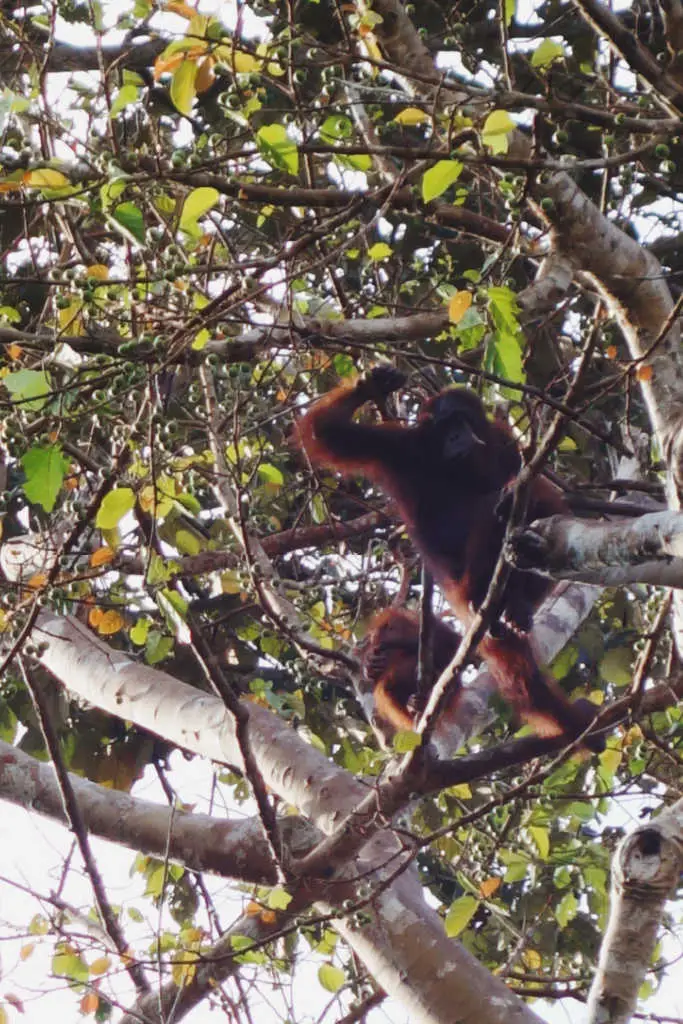 Kinabatangan River Cruises
Morning river cruises last from 6:30 a.m. to 8:30 a.m. Then you come back to the lodge for breakfast. Afternoons can feel long because the next river cruise is at 4:30 p.m. Often after our 1:00 pm lunch, we'd sit over a cup of coffee and watch all the wildlife right from our table.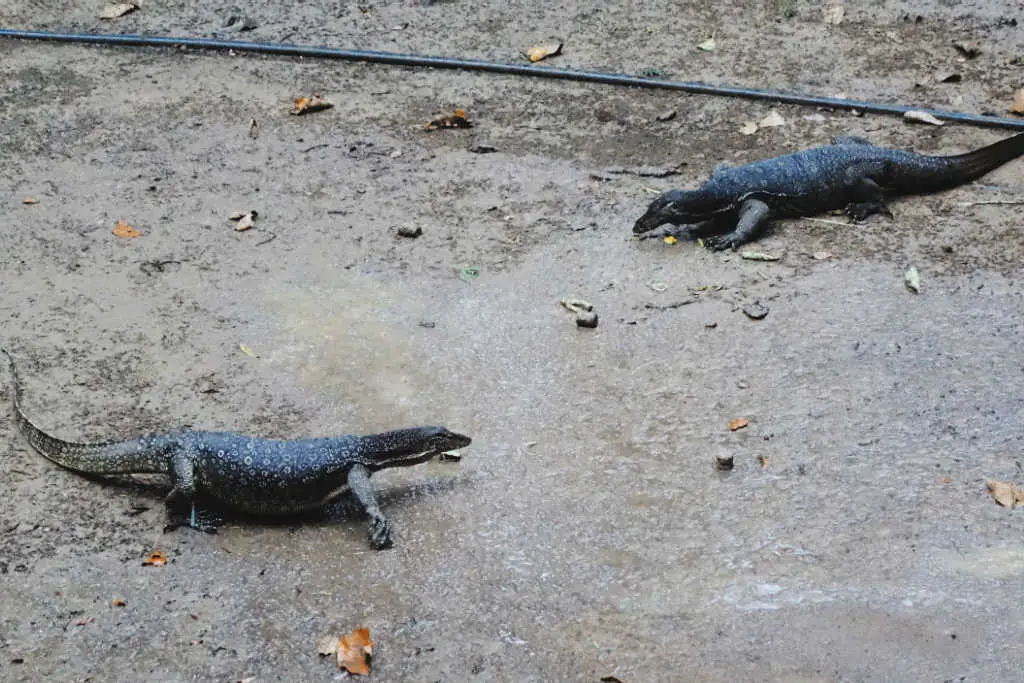 One afternoon, I completed the jungle walk with our guide Ramzi. Although we didn't see much in the heat of the day, he made it more interesting by deciding to create some new trails with his machete through the thick Malaysian jungle. Then at 4:30 p.m., it's time to get back out on the river where you explore for another two hours until it's time to head back for dinner at 7:30 p.m.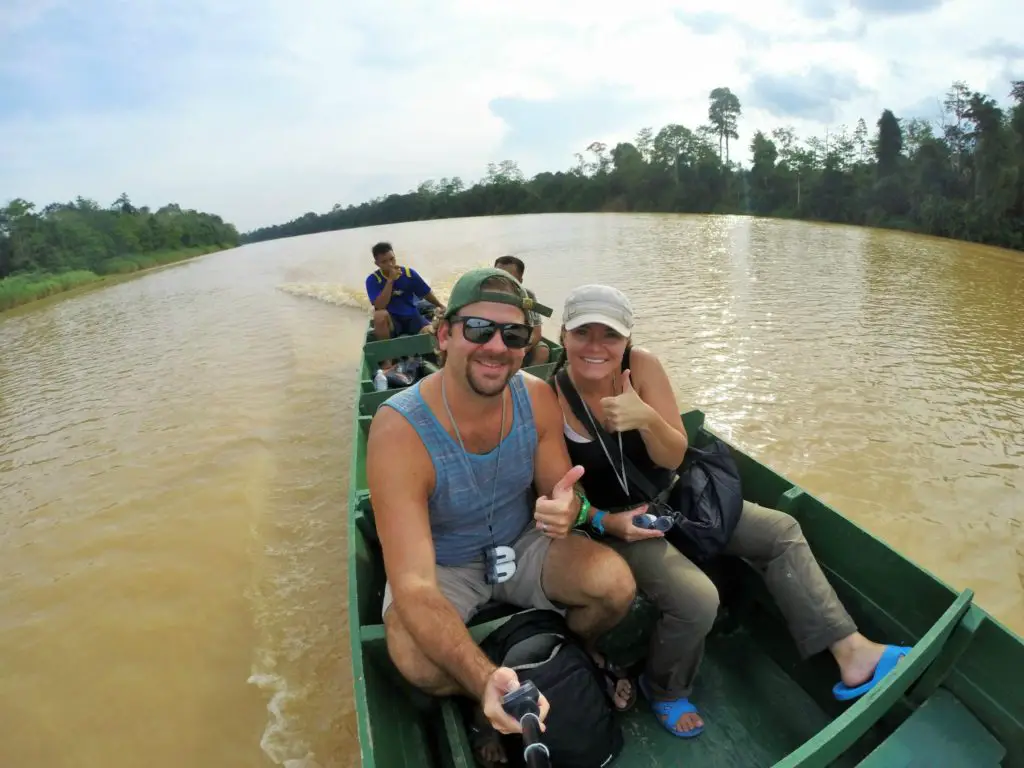 Overall, we believed Kinabatangan Jungle Camp was a great value for what we paid. If interested, our very detailed review of the camp can be found on this link on <TripAdvisor> or feel free to contact us with questions. Note! We completed our reservations by email. You can contact the camp at kjcjunglecamp@yahoo.com.my
Where to Stay in Kota Kinabalu on a Budget
We overnighted in Kota Kinabalu at the Soluxe Hotel, currently closed (a good alternative is Ibis Styles Kota Kinabalu Inanam). We paid USD 67 for one night with a late 6 pm check out the next day as we had an evening flight out.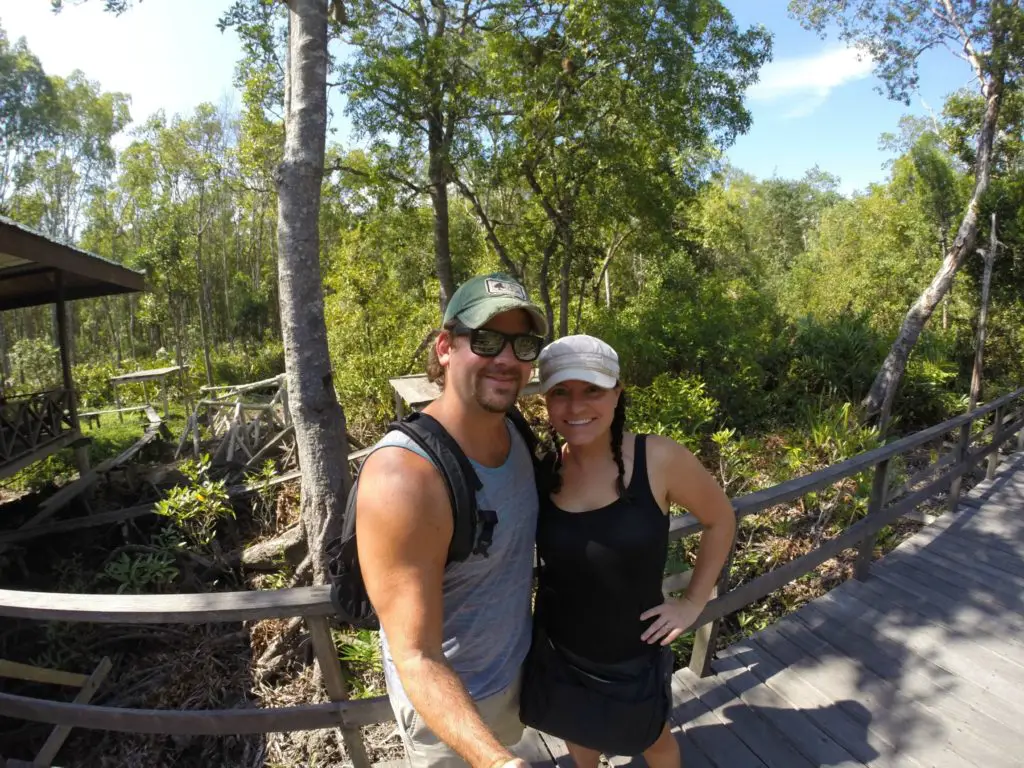 For us, Malaysia was one of the countries where we felt like we didn't have enough time to explore (even after returning a second time, we still feel this way!). Being in the Sabah, Borneo jungle, was a highlight for us on our round-the-world trip.
Not only is the wildlife amazing, but the local people were always smiling and happy. Harry and I also loved getting off the beaten path where some locals didn't even know where Chicago was and immigration was taken back to see an American passport. For eight nights in Sabah, Borneo, we spent in total USD 1,300, or USD 169 per day, which also includes transportation from Thailand.
How to Do Borneo on a Budget
Before we lay out our itinerary, travelers may want to take some time to watch our vlog on how we visited Borneo on a budget.
Watch this short clip as we discuss how to do Borneo on a budget
Update: About one year later we ended up visiting the Borneo Rainforest Lodge and it was the most amazing experience! Click here to see what it was like. For additional travel tips and in-depth discussion, we invite you to watch our Sabah, Borneo travel vlog above.